Have you been thinking about starting a blog? I can tell you now it's a long process and not something you can do in one night and be done with it. After one year of blogging and learning everything by myself without any courses, I've come up with these 23 beginner travel blogger mistakes I wish I could have avoided.
This is the post I should have read when I first started researching travel blogging. There are so many resources on the internet that seem to tell you conflicting things. It's easy to get overwhelmed and simply stick to what you think is right. However, the idea you might have of blogging in your mind is probably not correct. There are so many ways to get it all completely wrong and end up giving up on blogging again after a few months because it wasn't working out. If you try to steer clear of these beginner travel blogger mistakes you'll have a huge advantage to others just starting out.
This post may contain affiliate links, which means we'll receive a commission if you purchase through our links, at no extra cost to you. This helps us keep Guide your Travel free and provide high-quality content for you. Please read the full disclaimer for more information.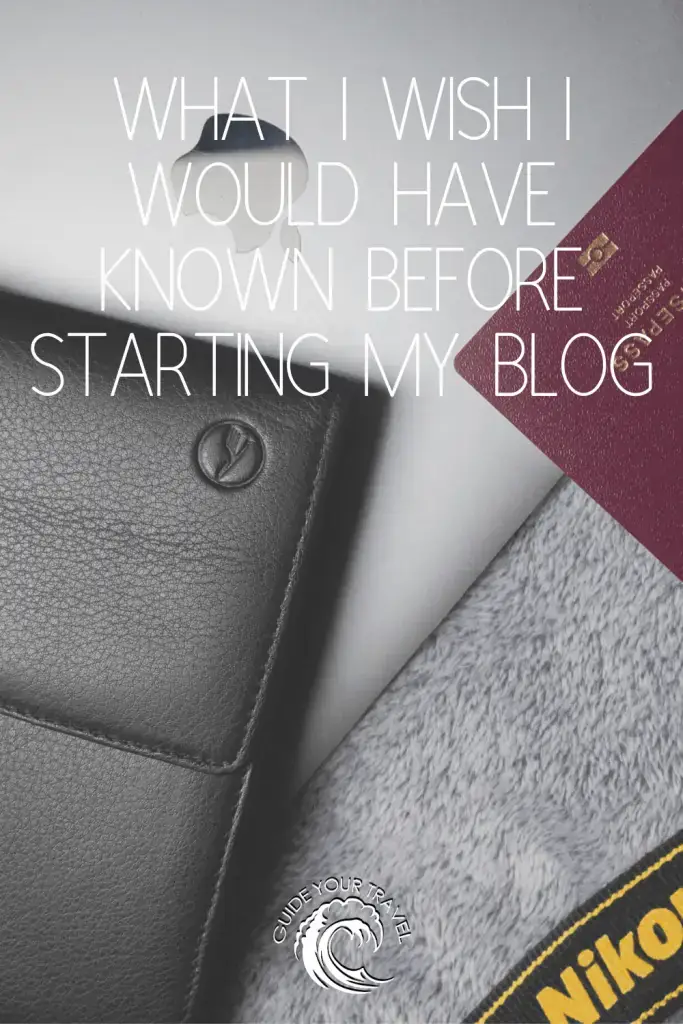 WHO SHOULD AVOID THESE BEGINNER TRAVEL BLOGGER MISTAKES
It's very important to note that you can be very happy with blogging without following any of the advice in this post. You need to realise that these tips are geared towards people who want to make money as a travel blogger and increase their traffic. Do not confuse this with someone who is blogging because it's fun and to share their experiences with friends and family.
If you're interested in the latter then feel free to ignore (almost) anything I'm about to tell you (although points 7, 11 and 16 are still really important). If you enjoy writing and want to share some of your knowledge on travelling then go ahead and get a free website and write whenever you feel like it. However, that is not going to make you money or turn you into a famous travel blogger. You need to set up your blog completely differently if that's a road you'd be interested in taking in the future.
So let's get started with 22 beginner travel blogger mistakes.
1. UNDERESTIMATING HOW MUCH WORK IT IS
If you want to grow your blog quickly and sustainably, travel blogging is a full-time job. Of course, you can do the bare minimum and only spend a few hours a week with your blog but that's not going to get you very far. You need to put a lot of work in before you see any sort of success which can be frustrating. Blogging can be draining because the work never ends. There is a constantly rotating cycle of writing, optimising, web design, answering comments, promoting, editing photos, making Pinterest graphics and then engaging on social media. You need to make sure you have enough time to take on a new endeavour like that so you don't end up quitting again after a few months.
2. NOT KNOWING THE DIFFERENCE BETWEEN A HOBBY BLOG AND A PROFESSIONAL BLOG
As I mentioned before there are very different types of travel blogs out there. You might have friends who go on a gap year and start a blog to keep their family and friends updated. That's not the type of blog that will ever make you money. While you can (and should) blog about personal stories you need to make sure that you see your blog as a business and not just a hobby. Setting it up in a professional way with useful content will make all the difference when it comes to growing an audience that is interested in what you write about.
3. USING PINTEREST WRONG
When you research how to drive traffic to your blog every single article online will tell you Pinterest (next to SEO but more on that later) is the best way to do that. Luckily I had been using Pinterest for years so I was sure that this wouldn't be a problem for me. Turns out pinning random recipes and hairstyles to a board called "Inspiration" is not how you're supposed to use Pinterest as a blogger. There is a whole science behind Pinterest. You need to know exactly what to pin, when to pin it and to how many boards. Then you also need to make your own pins which is a whole other story. If you have no idea how to do all that then I highly encourage you to do some research. Avoiding these mistakes is the best way to really gain traffic as a beginner travel blogger.
4. THINKING YOU DON'T NEED TAILWIND
If you've already done some research into how to use Pinterest as a blogger you'll no doubt have heard about Tailwind. It's the holy grail of scheduling softwares. You need to pin at least 10-25 (opinions on the exact number tend to diverge) pins every single day to really maximise your traffic. If that sounds stressful and hard to do in your daily life Tailwind will save the day. It has saved me so much time and has a lot of features that will really help you understand Pinterest and connect to other bloggers. Plus you can also use it for Instagram scheduling! Click this link to check out Tailwind and the free trial they offer.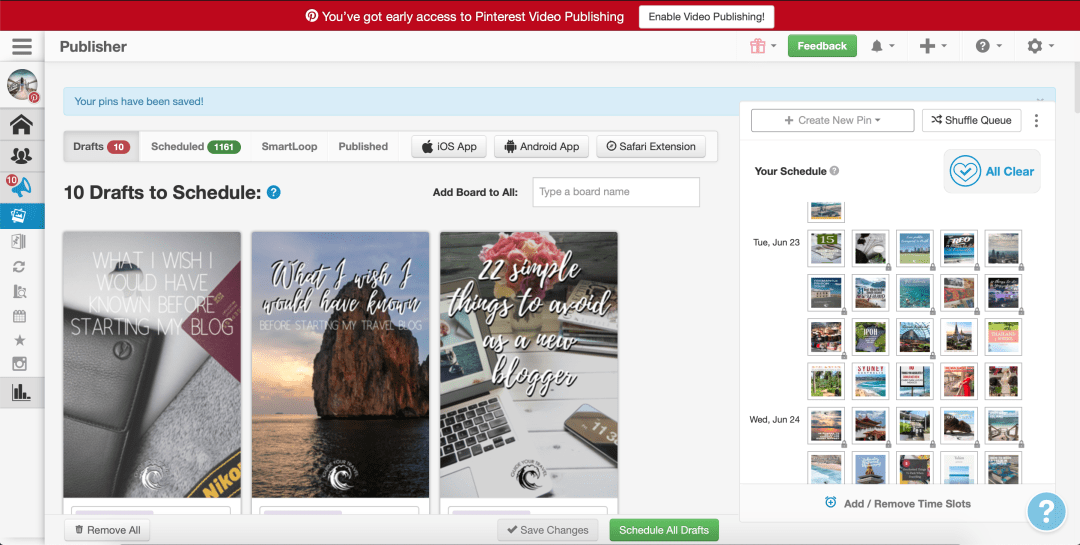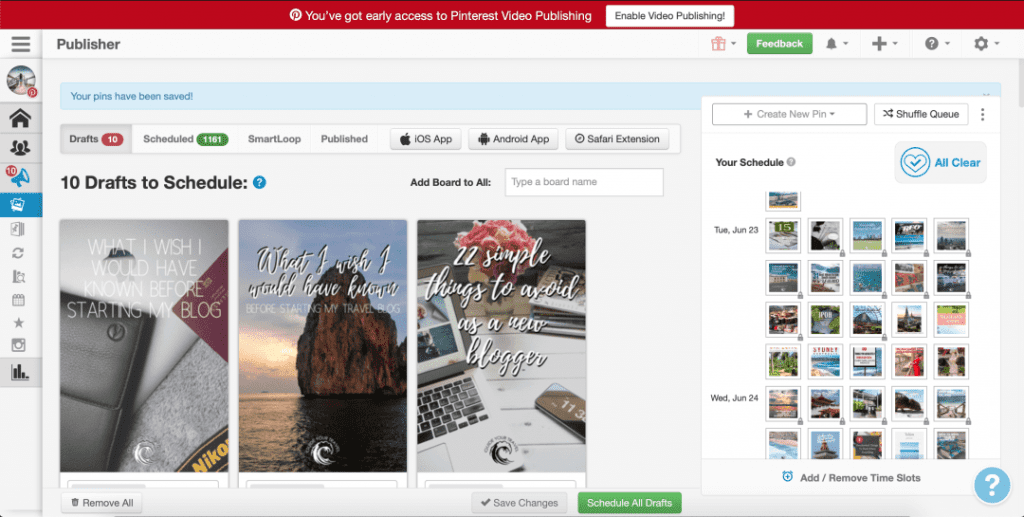 5. THINKING ADS ARE THE BEST WAY TO MAKE MONEY QUICKLY
If you're thinking about ways to monetise a blog the first thing that will probably come to mind are ads. You might think you can sell ad space on your website and earn money that way. While this is definitely an option later on as a beginner focusing on ads is one of the travel blogger mistakes I would avoid. With little traffic, most of the ads you'll be able to put on your blog tend to pay you per purchase made through them or per click if you get lucky. This will end up not making you a lot of money and slow down your site considerably.
WHAT TO DO INSTEAD
Focus on gaining traffic first and then adding a few well-placed ads that relate to your audience. Make sure they come directly from the advertiser or a high-quality network so you don't sacrifice site speed. Still, you won't make a huge amount from ads in the beginning. You should put your monetisation focus elsewhere for example with affiliate marketing.
6. IGNORING AFFILIATE MARKETING BECAUSE YOU THINK YOU DON'T HAVE ENOUGH TRAFFIC
Affiliate marketing is a monetisation strategy where you promote a product or service on your website through a code given to you by the brand. When people click on that link and make a purchase you'll be paid a commission. As a new blogger, I thought you needed a large audience in order to qualify for affiliate marketing. That's why I didn't even bother to research it for a long time and simply ignored the topic. If I had put a little bit of effort into doing some research I would have found out how easy it is to monetise your blog with affiliate marketing right from the start.
My whole blogging life changed when I joined shareasale.com which has an incredible network of brands including Agoda, Qatar Airways, Nomatic and many more industry leaders in the travel niche. The application is really quick and easy and you'll be earning money with them in no time. Definitely check out shareasale.com through our (affiliate!) link to get started with affiliate marketing.
7. FALLING FOR AN MLM OR PYRAMID SCHEME
You might think pyramid schemes belong in the early 2000s and with suburban mums selling overpriced skincare products. Unfortunately, they are still around in the form of MLMs (Multi-level Marketing) and are very present in the travel industry. Even if you actively try to avoid them sometimes they're just really hard to spot. You'll come across "a group of girls helping each other start an online business" – definitely an MLM. "Super easy free course to become an independent travel agent" – MLM. Anything that promises you to make money quick online is usually a pyramid scheme and will not get you anywhere. Don't fall for it even if it sounds really tempting.


8. ASSUMING THAT BLOGGING ONLY MEANS WRITING
I always thought I can definitely be a blogger. I just need to write one post per week which I can easily do in a day and then I'll be done. That's definitely very far from the truth. While you should spend a good amount of time coming up with high-quality content the majority of your time will not be spent writing. A huge part of blogging is promoting your blog posts and engaging with people. You can't just write an article, click post and be done. The real work begins after you finished writing and now need to make sure the world actually sees your post. If you love writing that's great, but blogging is about so much more. Just being a good writer won't guarantee success.
9. MAKING A FREE WEBSITE
You might be thinking you'll just start with a free website until you're sure you want to invest money into blogging. That seems like a good plan but I think you'll end up regretting it. It's hard to do much with free websites. You can't monetise them, you won't have your own domain and they're just not very effective. The free plans from WordPress, Wix or Squarespace are great for hobby blogs but if you want to go professional they're less than ideal. You'll lack credibility and won't be taken very seriously in the blogging world. Plus once you're sure you want to stick with blogging the transfer will be a pain. Better to start properly in the beginning and invest (a small amount) of money. Bluehost has some amazing affordable hosting plans to get you started. The setup is so quick and easy and really useful for beginners. Click this link to check out their plans.
10. NEGLECTING PHOTOGRAPHY
There are essentially two ways to use photos in your blog. Either you take your own or you pay to use stock photos from other photographers. The benefit of stock images is that they look very professional and will get you lots of clicks on Pinterest. However, you will need to get a paid membership since free stock photos are usually over-used and very limited. Taking your own photos gives you a much larger variety but it's also a lot more work. I only use my own pictures (with a few exceptions) because I enjoy photography and have the right equipment. Investing in learning how to take high-quality photos will really take your blog to the next level. Stock photos are great but especially for travel bloggers you can't rely on them all the time.
11. HAVING NO IDEA WHAT LIGHTROOM IS AND HOW TO EDIT PHOTOS
Now that you might want to spend more time on photography how do you really take your photos to a professional level? The best editing software out there used by all the professionals is Adobe Lightroom. You can edit your photos quickly and efficiently and make them look like a stock photo. If you're still a beginner you can use Lightroom presets to edit your photos in just one click. Many travel bloggers sell their own presets or provide them for free so you can edit your images exactly like they do.
TRY IT FOR FREE
Adobe offers a free trial for all its programs which also includes Photoshop. I did the free trial for Lightroom years ago and wasn't too sure if this program was for me. Needless to say after two days I immediately started my subscription and have never looked back. It completely changed the way I use images in my blog posts and helped me understand professional photography more. Click here to read our post about which Lightroom version is right for you. This link will take you to Adobe's website where you can start your free Lightroom trial and learn more about their different plans.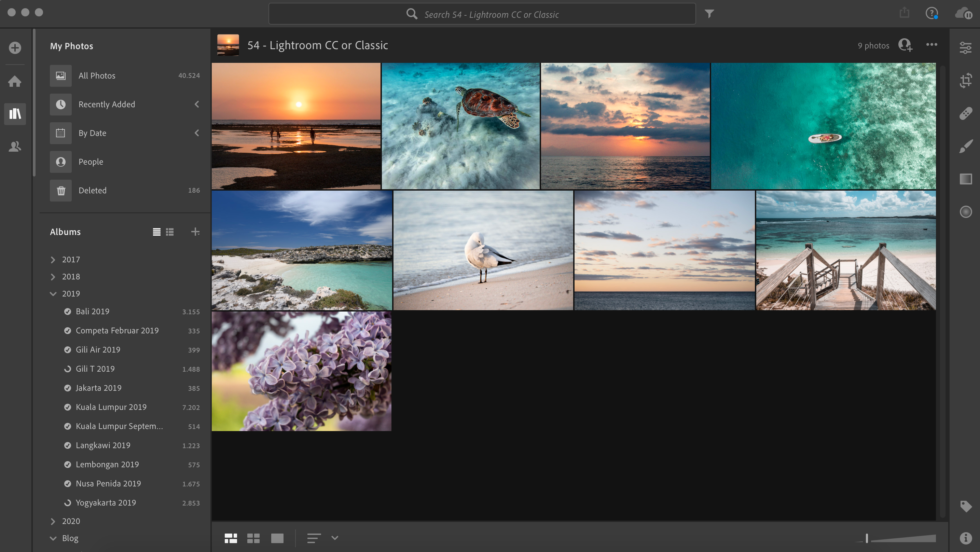 12. NOT DOING YOUR RESEARCH ON SEO
SEO stands for search engine optimisation. Essentially you need to build your website and write your blog posts in a certain way so that search engines like Google can find your posts and show them to people. It's every blogger's dream to have their blog post on the first page of Google which will send you tons of traffic. Researching how exactly SEO works should be one of your first steps when you begin blogging. It's not rocket science but it can get confusing so don't worry if you're overwhelmed in the beginning. A good place to start for beginners is downloading the Yoast SEO plugin.
13. NOT USING FACEBOOK GROUPS
If you are unfamiliar with the world of Facebook groups you need to dive in. There is a Facebook group (or ten) for almost anything. Especially for blogging, you'll find so many resources and opportunities to promote your blog on Facebook. Join as many groups as you can and then weed out which ones are active and useful to you. In my opinion, you can never have too many Facebook groups. They are incredible to ask for advice if you have tech problems or don't understand something. In my experience, a quick Facebook post has solved any issues I was having 9 out of 10 times. Especially in the blogging community people tend to be very helpful and kind if you're a beginner and answer even the stupidest of questions. Plus you might just be able to help others and promote your blog.
14. NOT BEING CONSISTENT
Blogging is about consistency. Naturally, you'll have some weeks where you're less active and that's okay. Just make sure that you don't have weeks where you're not active at all. Because once you're out of the game it can be very hard to get back in. Consistently posting is very important for building an audience as well as SEO. If you disappear off social media for a few weeks people will start to lose interest and the connections you worked so hard to build crumble again. If you struggle to find time for your blog every day definitely look into scheduling apps like Tailwind or Later.com. Both amazing options to keep your blog moving on those busy days.
15. ONLY WRITING ABOUT THINGS THAT ARE FUN TO WRITE ABOUT FOR YOU
This is one of the biggest mistakes I tend to see with a beginner travel blogger (and I'm still guilty of it sometimes). You need to make a clear distinction between what you enjoy writing about and what others might want to read. In an ideal world, those two things are the same. However, in my experience, they're usually not. Try to read other blogs in your niche to get an idea of what people like to read. You will most likely have to make some adjustments to what you want to write about. It's okay to sometimes add in a post that you know might not be as interesting to others. However, to really grow your traffic you need to give your readers clickable posts. Don't rely on some obscure topic that someone might google once per month. These posts will end up not helping your blog grow.
16. GETTING YOUR BLOG LINK BLOCKED ON FACEBOOK OR INSTAGRAM
This one might be one of those very personal mistakes I made as a beginner travel blogger. I was seeing huge amounts of traffic from Facebook groups where I was posting my articles. Because I was still very new I got so excited about all this new traffic that I ended up going overboard. I posted links to my blog posts in up to 20 groups per day which you should never do.
I ended up being suspended multiple times until I had my blog link permanently marked as spam. Unfortunately, Facebook has one of the least user-friendly customer supports on the whole internet and it was one of the worst experience I have ever had to fix the problem. To this day I am traumatised and super careful now how often I post my link. Because, of course, Facebook is connected to Instagram which means you'll be blocked off both platforms. They won't even let you have the link in your description or send it via messenger which makes you essentially unable to promote your blog. Learn from my mistakes and avoid spamming your link too much.
17. MAKING NO PLAN OR SCHEDULE
The most googled question for new bloggers is probably "How often should I post?". There is no right or wrong answer to this question. You can post as much or as little as you like but you need to do it consistently. Please don't fall into the trap of posting every day for a week and then again two months later. Quality is always more important than quantity so if you only produce one really good blog post every two weeks that's okay. Much better than posting a bad one every two days.
MAKE YOUR BLOGGING SCHEDULE
When you set up your blog consider how much time and material you have and then come up with a schedule. I post once a week which is really manageable and gives me plenty of time to do other things as well. If blogging is your full-time job or you work in a team you might be able to post more often. Just pick a schedule you can actually stick to so you don't end up giving up after a while. Consider what is sustainable to keep up long term and won't stress you out too much. Then you can build your social media around that and come up with a daily to-do list and plan.
18. IGNORING YOUR MAILING LIST
Building your mailing list should be your ultimate goal when starting your blog. It's the best way to reach your audience directly and an amazing resource. Mailing lists aren't built overnight so you'll thank yourself later for starting early. There are great programs like Mailchimp that will make the setup quick and easy.
Are you interested in joining our mailing list? We offer our travel guide ebook for free when you enter your email in the form on the sidebar of this post. It's quick and easy and we won't spam you with unnecessary emails ever!
19. BEING TOO PERFECTIONISTIC
Being a perfectionist is one of those mistakes that are really hard to avoid as a beginner travel blogger. Paying attention to detail and really caring about what you put out is definitely important. But sometimes perfectionism will stop you from actually taking a chance and posting something that might still be really good. This goes especially for the very beginnings of a blog where you're afraid to launch it because it's not perfect. Unfortunately most of the time the day when something is perfect just never comes. Making mistakes is normal and since you're still a beginner travel blogger you shouldn't put too much pressure on yourself.
20. FAILING TO NETWORK AND INTERACT WITH OTHER BLOGGERS
I can't stress enough how important this is. You need to network and get to know other bloggers in your niche. Making friends has so many benefits and opens doors to guest posting opportunities or collaborations. But it's also just good to have support from people who are going through the same journey as you are and most likely have the exact same problems. Exchanging ideas and asking for help can really take your blog to the next level. Again Facebook groups are great for connecting to other bloggers but I've also found Instagram and Twitter to be really helpful. You'll be surprised at how big the blogging world really is.
21. HAVING NO IDEA WHAT BACKLINKING IS
Backlinking is an important part of SEO which involves linking other peoples websites in your posts and having yours linked by them. This essentially tells Google that your site is a good source of information since other blogs are linking it. In an ideal world, you would get backlinks automatically from bloggers reading your posts and mentioning them because they think they are helpful. However, as a beginner travel blogger, one of the biggest mistakes can be to assume backlinks will happen naturally over time. They probably won't for a long time which will hurt your SEO. You need to actively search backlinking opportunities by contacting other bloggers or joining specific backlinking Facebook groups. You should definitely research the topic more.
22. NOT DOING ENOUGH RESEARCH
This essentially summarises the entire contents of this post. Do research. And not just an afternoon of googling. You need to spend weeks looking into travel blogging before you take the step and actually launch your blog. Try to venture beyond the first page of Google and really dive deep into topics like hosting, domains, logos, mailing lists, HTML code, themes and copywriting. There is a whole world out there and you're most likely only scraping the surface.
My most important travel tips and resources
Book your flights
Skyscanner is the best website for finding cheap flights since it works like a search engine so you can find the best deals across all airlines.

Book hotels and hostels
• Booking.com: Best world-wide
• Agoda: Best in South East Asia
• Hostelworld: Best for hostels

Book tours, transport and rental cars
•Viator: The best place to book tours, day trips and excursions for al budgets
•12Go: Great for ferries, trains, transfers and buses in South East Asia
•Discover Cars: Best deals for rental cars around the word

Get travel insurance
Every traveller needs travel insurance and I mean every single one. SafetyWing covers you in case of injury, illness or worse and they've got your back if your bag is stolen, flights are cancelled or in case of a natural disaster.

Pay abroad
Ask any traveller, Wise is the best choice when it comes to sending money abroad. They've always got the best exchange rates, lowest fees and their visa card is great for getting cash out or paying abroad.

Things every traveller needs:
➼ Osprey Farpoint 70 Backpack
Detachable daypack, ultra-light, durable and free repairs for life. There's a reason why so many backpackers have this bag.
➼ Packing Cubes
Packing cubes are a gamer changer, keeping your luggage organised and providing tons of extra space.
➼ Power bank
There is nothing worse than running out of battery on an overnight bus journey or a long flight. With a powerbank you can charge your eletronics on the go and make sure you're always connected.
➼ Micro-fibre towel
These lightweight towels are foldable, fast-drying and so useful when you're travelling.

➼ You can find 15 more things every traveller needs here. Some might be a bit controversial but I warned you!
Did I miss anything?
If you have any questions or feel like something is missing from this post please leave a comment below or contact me.