If you've ever posted an Instagram photo and it somehow didn't do as well as your usual content then it almost always has something to do with the reach. Reach is closely linked with engagement and will be one of the most important factors for deciding whether your account gets a lot of likes and comments or if your posts will tank. There are many different ways to increase your Instagram reach but you also need to consider that the app can be unpredictable and that some things are just our of your control. Sometimes you're doing everything right and your reach will still be low for no reason. Don't put too much pressure on your social media and try to still have fun with it.
Not sure why your Instagram account isn't successful? You could be making one of these 33 beginner Instagram mistakes.
This post may contain affiliate links, which means we'll receive a commission if you purchase through our links, at no extra cost to you. This helps us keep Guide your Travel free and provide high-quality content for you. Please read the full disclaimer for more information.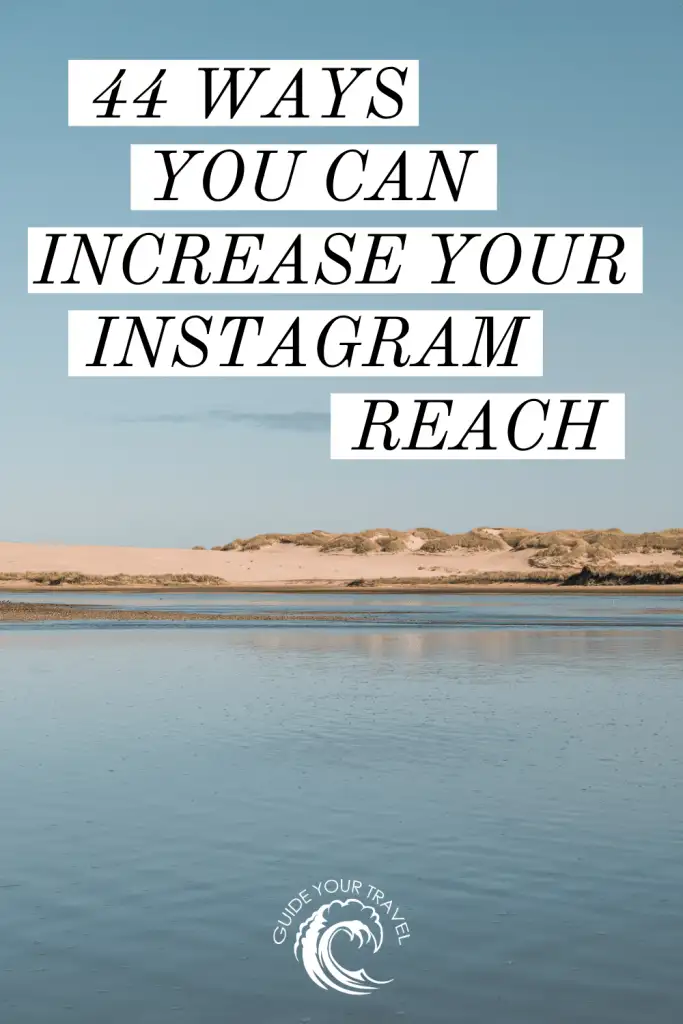 HOW INSTAGRAM REACH AND ENGAGEMENT WORK
Instagram reach and engagement are actually two very different things although they are closely related. Find our complete guide to how they work here. There are essentially two ways you can increase your Instagram reach.
GETTING PEOPLE TO SPEND MORE TIME ON YOUR POSTS
Instagram reach and engagement are complex concepts that interact and take some time to master. To make a long story short, Instagram wants its users to spend as much time as possible on the app. The longer people spend looking at your photos, reading your caption or watching your stories and reels the more the app will reward you by showing your posts to even more people. This means that your ultimate goal for increasing your Instagram reach should be to get people to spend more time on your posts.
GETTING YOU TO SPEND MORE TIME ON THE APP
Instagram sees you as one of its users so it, of course, also wants you to spend as much time as possible on the app. This means you'll be rewarded with more reach if you post consistently and are just active in general. Don't assume this to work instantly though. As mentioned before Instagram is unpredictable and just because you use the app every day your reach won't explode. It's just one approach to giving it a boost.
Check out our complete guide to Instagram reach and engagement in 2023 here.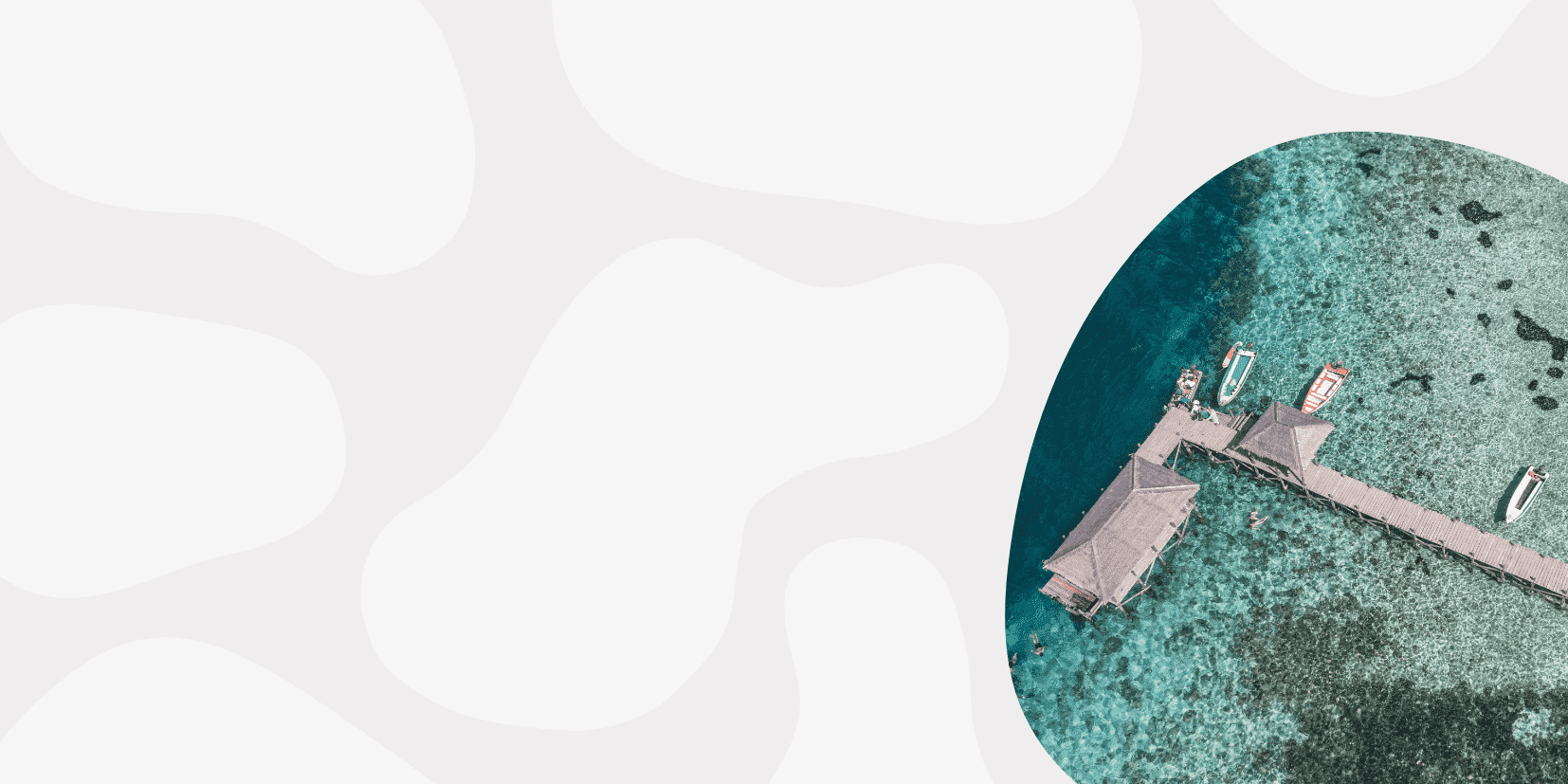 Let me save you time and effort when you're travel planning!

➼ Best travel insurance? SafetyWing
➼ Best place to find cheap flights? Skyscanner
➼ Best bank & credit card for travellers? Wise
➼ Best travel backpack? Osprey Farpoint 70
55 WAYS TO INCREASE YOUR INSTAGRAM REACH AND ENGAGEMENT IN 2021
1. POST CONSISTENTLY
This might be the most important tip for increasing your Instagram engagement and reach. You need to be present on Instagram and that means posting at least once a week, ideally more. If your account looks inactive you'll start losing followers and Instagram might decrease the reach of your posts. How much you should post will depend on your content and niche. You need to find a sweet spot between being able to post high-quality content and still posting frequently. The best posting frequency usually lies somewhere between once every two to four days.
2. USE ALL OF INSTAGRAM'S FEATURES
Instagram wants you to use all parts of the app which means posting stories, reels, IGTV posts, guides, carousels and going live. You might not feel like coming up with all these new types of content but if you truly want to increase your Instagram reach and engagement you need to use all of these features (or as many as possible).
3. USE CAROUSELS
You want to make your audience spend as much time as possible on your post. A great way to do this is by using carousels which let you add up to ten photos. The first one should be one that grabs attention and also fits your feed. When people see your posts they will either scroll through every photo which will boost the reach of your post or they will just look at the first one. This means that Instagram will show them the following photos on their news feed another time which will prompt more engagement. Plus more photos means more things for people to comment on. If you're not already using carousels now is the time to start.
4. POST INSTAGRAM REELS
Let's face it; everyone uses TikTok and reels are still somewhat underused. However, in a desperate attempt to make the app compete with TikTok Instagram is really pushing reels. While it's hard to determine how much of a difference it actually makes, many people report huge increases in reach after they started posting reels. The odd thing is that most reels seem to do quite badly on Instagram compared to other posts. However, the content you post afterwards usually gets an increase in reach.
5. USE ALT TEXT
Not a lot of people know that you can add alt text to Instagram content. This is a little snippet of keywords that is useful for post categorisation and for the visually impaired. When posting click on advanced settings and type in a few descriptive words for your post. This is said to increase reach as Instagram can do a better job at telling what your image is about.
6. POST STORIES REGULARLY
It can be tedious to have to be online all the time. In the case of Instagram, it's worth it though. It's been proven that Instagram rewards accounts that are more active on the app with more reach. It's advisable to post stories as much as possible to keep your audience engaged and interested in your content.
7. POST USEFUL AND SAVEABLE CONTENT
A large part of creating an active audience is creating some sort of value. Value means people will spend more time on your posts and will be more likely to comment, like or save. Instagram notices this and will increase your reach in return. Posting content that encourages people to save for later or interact in some way is highly advisable. You could think of your Instagram captions as little blog posts that contain something useful which will encourage people to save.
8. USE LONG CAPTIONS
Instagram monitors how long its users spend on your content and then rewards you with more reach. Of course, a great way to increase this this is to simply make your captions longer. However, keep in mind that what you're writing needs to be interesting and helpful otherwise people will just click away.


9. DO HASHTAG RESEARCH
Hashtags play a large role in getting your reach up as they show your content to new people who've never seen your profile before. But not all hashtags are created equal and you shouldn't use them randomly. Instead, do actual hashtag research and spend time picking a mixture of trending hashtags, location hashtags and ones that fit a specific post.
10. HIDE YOUR HASHTAGS
Using hashtags is an absolute must on Instagram if you want to increase your reach. However, they look ugly and you don't necessarily want everyone to see them. A good strategy is to hide them in the comments so that your followers won't immediately see them which could look unprofessional.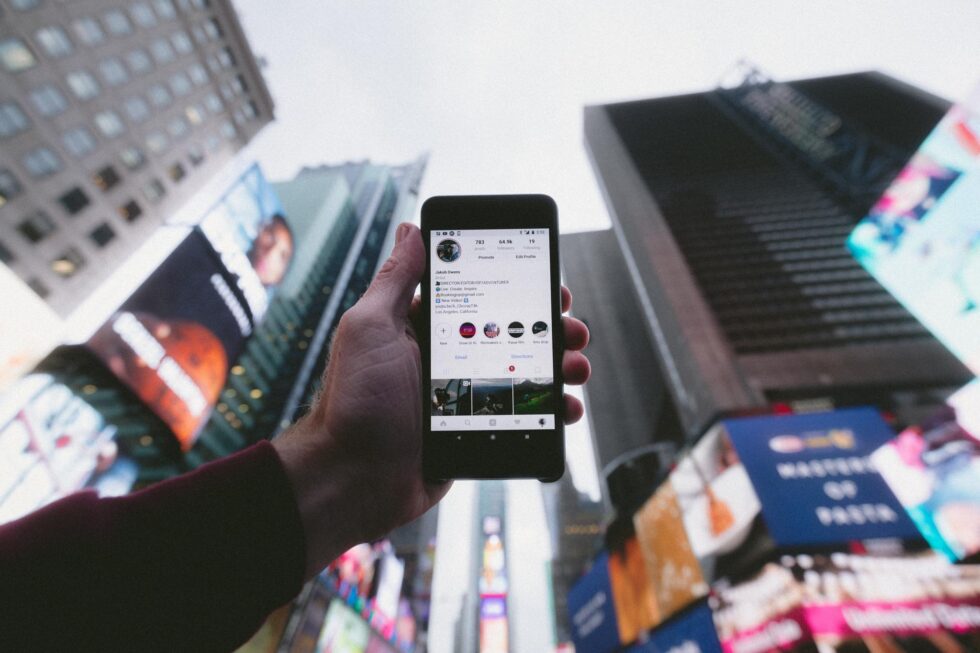 11. REMOVE GHOST FOLLOWERS
Instagram shows your posts to your followers first and then monitors whether they are engaging with your content or just clicking away. If a lot of your followers are so-called ghost followers which are inactive or dead accounts then they won't interact with your posts and your reach will shrivel up and die. It's really important to remove ghost followers every once in a while and your reach will increase significantly.
12. CONTROL WHO YOU'RE FOLLOWING
Following too many people will mean you won't be able to engage with the content on your feed and you'll miss out on building relationships with the people you follow. It also looks really unprofessional to be following too many accounts and might keep people from wanting to follow you. Make sure you only follow accounts you actually care about and try to keep the number as low as possible.
13. USE VIDEOS IN YOUR CAROUSELS
A great way to get people to stay on your posts for longer is to use videos in your carousel posts. This means people will most likely spend a few extra seconds on your posts which will boost your reach. Even if they only look at the first image, the post might show up on their timeline again and they'll see the video which could spark more enagement.
14. BE ACTIVE ON INSTAGRAM BEFORE AND AFTER YOU POST
The first hour after you post something new on Instagram is the most important when it comes to reach. You'll want to be really active during this time and like and comment on a lot of photos in your niche. That way you're increasing the chances of new people interacting with your content which will increase your reach.
15. USE A CALL TO ACTION EVERYWHERE
A call to action is basically a question or a set of instructions for your followers which encourages them to interact with your content in some way. This could be a sticker in your story saying like, comment and save or a question at the end of your caption. A call to action will encourage your audience to interact which will give your reach an additional boost.
16. CLEAN UP YOUR PROFILE
Looks play a large role on social media. This includes beautiful photos and videos but also means that your profile should look appealing overall. Following too many people or having a lot of followers but only a few likes on each post is not a good look. You need to clean up your Instagram profile every once in a while and make it look neat and tidy. Here are 8 easy steps to get started today.
Having great captions, doing hashtag research, posting frequently and engaging with your audience will only get you so far. In the end, Instagram is a visual platform which means that how your photos look will play a role in your reach as well. None of these tips will help if your content is not great. Luckily we've gathered the 33 most common Instagram photo mistakes and how you can fix them.
18. CREATE A BRANDED HASHTAG
Whether you're running a small business, are an influencer or are just trying to boost your own Instagram account, you should have a branded hashtag. This means posting all of your content under a specific hashtag and encouraging your followers to do the same. This facilitates the development of a community and shows Instagram you're really putting in the work.
These tips to increase Instagram reach can technically be used for any type of account. If you're running a blog there are some very specific strategies you should be following to really get the most out of the platform and drive traffic. We came up with a complete guide on how to use Instagram for blogging which you can find here.
20. MAKE YOUR FEED APPEALING
On Instagram, it works wonders if your feed follows a specific colour scheme or theme. Even if your individual photos are not doing incredibly well, a cohesive feed will be a great tool for attracting new followers and will give your account an overall more professional look. A good looking account will mean more new followers and more engagement which will be rewarded with a higher reach.
21. ENGAGE WITH BOTH NEW ACCOUNTS AND PEOPLE IN YOUR EXISTING COMMUNITY
Everyone always says you need to be active on Instagram and engage with your audience to improve your reach. However, this shouldn't only be the people you follow. Split your time and engagement between both new accounts and your existing audience and community. That way you're attracting fresh eyes and keeping your friends close as well.
22. FIND OUT WHAT PEOPLE ARE LOOKING FOR AND PROVIDE THAT CONTENT
If none of your posts is doing well you might have to consider whether there is a need for the content you are providing. You need to solve a problem for your followers or give them something that is of value. This might just be beautiful photos but with an overload of incredible content on Instagram chances that that just won't be enough. Do some research within your niche to find out what people are looking for or what would really spark their interested and then provide just that.
23. PROMOTE OTHER ACCOUNTS
Instagram can feel like everybody is just looking out for themselves. But you want to create a community, not only push your own account. A great way to interact with fellow creators is to promote them on your story. This doesn't mean giving mindless shoutouts whenever you feel like it. Avoid cluttering your story and only occasionally promote other accounts. If used correctly this strategy will facilitate engagement and help you gain access to new audiences.
24. MAKE FRIENDS AND NETWORK
This might be the most important tip on this list. You need to make friends in your niche to grow your account in a sustainable way. This won't have a direct impact on your reach but is more of a long term strategy that will really help you out. Networking will help you share knowledge, broaden your audience and simply find more joy in using social media.
25. ADD A PERSONAL TOUCH
So many Instagram accounts are run by faceless companies or people who are just trying to push their own products. Some of the most successful ones out there have managed to find a balance between sharing personal aspects while still providing some sort of value. Of course, sharing personal things can also provide value although it can quickly become uninteresting as well so use with caution.
26. APPLY SEO TO YOUR INSTAGRAM ACCOUNT
SEO (Search Engine Optimisation) might be something you know from the world of blogging and websites but few people know to apply it to their social media as well. Use keywords in your bio to help people in your niche find your account. If you're a travel blogger using these keywords might make your account pop up sooner in search results. Plus, everyone's had that moment where they're looking for an Instagram account but just can't remember the name. If people can find your account easily with a few keywords you've done your job correctly.
27. LEARN FROM YOUR INSIGHTS
Instagram is very stingy with the information and analytics it shares with its users. That's why you need to make use of every tiny bit of information you can get. Check your insights regularly to learn from the data and adjust your Instagram strategies according to your audience. Was a new piece of content you were trying not working? You'll never know if you don't check your insights.
28. POST WHEN YOUR FOLLOWERS ARE MOST ACTIVE
This is quite straightforward and one of the first pieces of advice people will give you for increasing your Instagram reach. You'll want as many people as possible to see your content so you need to post it when most of your audience is online. Again, check your insights for this information and have a look at which time zone your followers are in.
29. TRIAL NEW CONTENT AND SEE WHAT WORKS
One of the biggest mistakes successful Instagram accounts make is getting too comfortable with the content they post. Just because something works right now doesn't mean it will work forever. You should be trying out new content or strategies every once in a while to see what resonates with your audience. Consider what you enjoyed watching five years ago. Chances are it's very different from what you enjoy today. Sometimes you'll have to go with the times and give your followers what they want.
30. KEEP UP WITH TOPICAL AND SEASONAL CONTENT
People don't want to see the same content year-round. Luckily capitalism has provided us with an endless stream of new holidays to celebrate so it's never hard to come up with relevant seasonal content. This doesn't mean only Christmas, Easter and Halloween though. Keep an eye out for lesser known days of interest and consider using relevant hashtags for that extra boost in Instagram reach.
31. SEND A CONSISTENT MESSAGE
You need to look at your Instagram account as a branded storefront which represents your business, blog or even just your own personal brand. You want everything to be consistent and coherent so that a new follower will know what you are about. Trying new content is great but throwing in too much random stuff will hurt your engagement and reach. People follow you for a reason and you shouldn't confuse them too much.
32. USE INTERACTIVE CONTENT IN YOUR INSTAGRAM STORIES
This is a no-brainer and an Instagram reach tip as old as time. The app likes it when people interact with your content so you need to give them opportunities to do so. Polls, questions, emoji sliders or quizzes are all great ways to do just that. Give people the opportunity to click on something and watch as your reach increases.
33. SPACE OUT YOUR CAPTIONS
We've mentioned that long Instagram captions can help keep people on your posts for longer. But you know what won't encourage anyone to read your caption? A long block of text. Always make sure to space out your caption into tiny little paragraphs and chunks which will make reading a lot easier and more user friendly. Even if the topic is interesting most people will refuse to read a giant text with no paragraphs.
34. TELL YOUR FOLLOWERS HOW THEY CAN HELP YOUR ACCOUNT
This strategy should be used with caution and might not work in all cases. Most Instagram users don't know that engaging with content will help reach. They won't read your caption or hit save even if they enjoy your content. Every once in a while you could explain this to them in your story or briefly in an Instagram caption. Again, don't do this too often as it could start looking too pushy.
35. CREATE SHAREABLE CONTENT
Have you ever seen multiple people share the same post to their story because they found it really helpful or even funny? That is what you want your content to be like. To truly boost your reach you want to create something that encourages people to share it with their own audiences. This is often easier said than done of course but not impossible so why not give it a try?
36. SHARE YOUR AUDIENCE'S CONTENT
You want others to share your content but it's easy to forget about sharing that of others. If you come across an amazing post by someone you follow or a really helpful caption why not share it to your story? That way you're building trust with your own audience and providing value to them while also encouraging others to share valuable content (hopefully your own) in the future.
37. CHECK IN ON YOUR AUDIENCE AND ADJUST YOUR CONTENT TO FIT THEIR NEEDS
As mentioned, people's requirements and desires on social media change and if you don't change with the times you might find your account slowly dying. It's important to check in with your audience every once in a while and find out if they still want to see the same things they did a few months or years ago. Your content should solve a problem or answer questions that people have. But problems tend to change and no one will interact with your content if you're still stuck on answering a question that is outdated.
38. MAKE THE TOP OF YOUR CAPTION ATTENTION-GRABBING
Instagram only displays the first part of your caption. Users then have to click to reveal the rest. Of course, you want people to read the entire caption which will mean more time spent on the post and a boost in reach. That means that the first sentence needs to be really attention-grabbing and encourage people to read on. Put as much effort as possible into this first part, it's by far the most important.
39. ENGAGE IN HASHTAGS
Hashtags are one of the most popular ways to increase your reach on Instagram. To get your posts to the top of popular hashtags you need to be active in them and like and comment on other people's posts. This is especially important within the first hour of posting something new. It shows Instagram you're active on the app and will boost your reach.
40. BE CAREFUL WITH GIVEAWAYS
Giveaways were once the holy grail of tips to increase your Instagram reach. Today they should be used with caution. Essentially a giveaway encourages people to comment on a specific post a number of times or even follow specific accounts in order to win something. This can be great for engagement but Instagram doesn't look at them in a favourable light and can punish your account by cutting down the reach.
41. SPEND TIME COMING UP WITH GOOD IMAGES
Instagram is a visual platform so your photos should always have priority when you're working on your account. Upgrade your camera gear or invest time into learning how to take good photos. No amount of tips will help increase your Instagram reach if your photos aren't great. An hour invested into a great photo is better than an hour invested in commenting on hundreds of photos to try and get your reach up.
42. ALWAYS ADD A LOCATION TO YOUR POSTS
One of the main ways of reaching new people on Instagram is through location tags. Every single one of your photos should have a location. You're basically missing out on free reach if you don't do this. Some locations are better than others of course but even a small location tag could bring you considerable reach.
43. RESPOND TO COMMENTS AND CREATE A CONVERSATION
As long as it's manageable you should reply to every single comment you get on your posts. As your account grows this might not be possible anymore but even still you should try to at least answer a few. A great way of encouraging engagement is to facilitate a conversation that encourages people to comment multiple times. This is a great way you can increase your Instagram reach and create a virtual community in your comment section.
44. BE CREATIVE WITH INSTAGRAM STORIES
Instagram stories can get boring very quickly and you want to avoid people just clicking through them mindlessly. Get creative with what you post on your stories and don't just post the same photos of your food every day. There are hundreds of things you could do so sit down and brainstorm some new ideas. This is a fantastic way you can increase your Instagram reach and engage your audience.
My most important travel tips and resources
Book your flights
Skyscanner is the best website for finding cheap flights since it works like a search engine so you can find the best deals across all airlines.

Book hotels and hostels
• Booking.com: Best world-wide
• Agoda: Best in South East Asia
• Hostelworld: Best for hostels

Book tours, transport and rental cars
•Viator: The best place to book tours, day trips and excursions for al budgets
•12Go: Great for ferries, trains, transfers and buses in South East Asia
•Discover Cars: Best deals for rental cars around the word

Get travel insurance
Every traveller needs travel insurance and I mean every single one. SafetyWing covers you in case of injury, illness or worse and they've got your back if your bag is stolen, flights are cancelled or in case of a natural disaster.

Pay abroad
Ask any traveller, Wise is the best choice when it comes to sending money abroad. They've always got the best exchange rates, lowest fees and their visa card is great for getting cash out or paying abroad.

Things every traveller needs:
➼ Osprey Farpoint 70 Backpack
Detachable daypack, ultra-light, durable and free repairs for life. There's a reason why so many backpackers have this bag.
➼ Packing Cubes
Packing cubes are a gamer changer, keeping your luggage organised and providing tons of extra space.
➼ Power bank
There is nothing worse than running out of battery on an overnight bus journey or a long flight. With a powerbank you can charge your eletronics on the go and make sure you're always connected.
➼ Micro-fibre towel
These lightweight towels are foldable, fast-drying and so useful when you're travelling.

➼ You can find 15 more things every traveller needs here. Some might be a bit controversial but I warned you!
Did I miss anything?
If you have any questions or feel like something is missing from this post please leave a comment below or contact me.