Frigiliana is an absolute must-see when you visit Spain. It is part of Andalusia's famous white towns and the perfect vacation spot. Come to Frigiliana for amazing photography opportunities, incredible mountain vistas and a unique culture that you won't find anywhere else in Spain. You'll love the long walks through the mountains of Frigiliana, the authentic food and the artisanal shops. There is always more to do when you visit Frigiliana.
To help you plan your trip we came up with this complete guide to Frigiliana which includes all you need to know before you go. Find out where to stay, how to get to Frigiliana and when the best time to visit is. You'll fall in love with this beautiful village before you know it. Looking for things to do in Frigiliana? We wrote a whole blog post with the best activities and must-see places in town. Check it out now.
So what are you waiting for? Visit Frigiliana on your next trip to southern Spain.
This post may contain affiliate links, which means we'll receive a commission if you purchase through our links, at no extra cost to you. This helps us keep Guide your Travel free and provide high-quality content for you. Please read the full disclaimer for more information.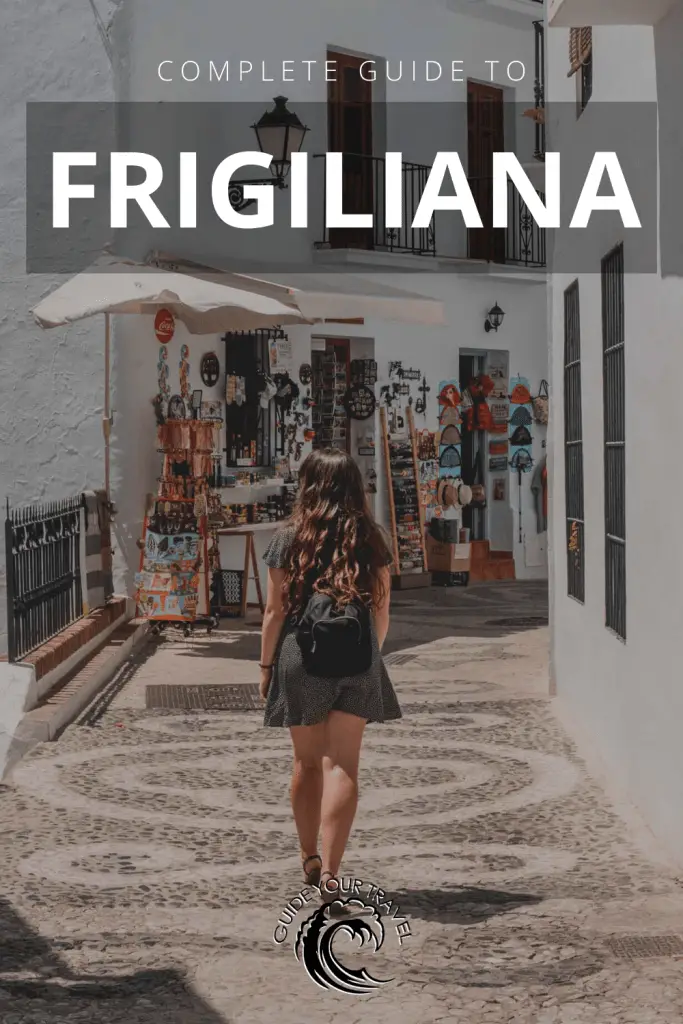 WHERE IS FRIGILIANA IN SPAIN?
Frigiliana is a little mountain town located 6 kilometres north of Nerja. It lies in Andalusia, the southern part of Spain, close to the Costa del Sol. It takes around an hour to drive to Frigiliana from Málaga and 40 minutes from Motril. Frigiliana lies on the edge of the Sierras de Tejeda, Almijara y Alhama Natural Park which makes it perfect for hiking and various walks.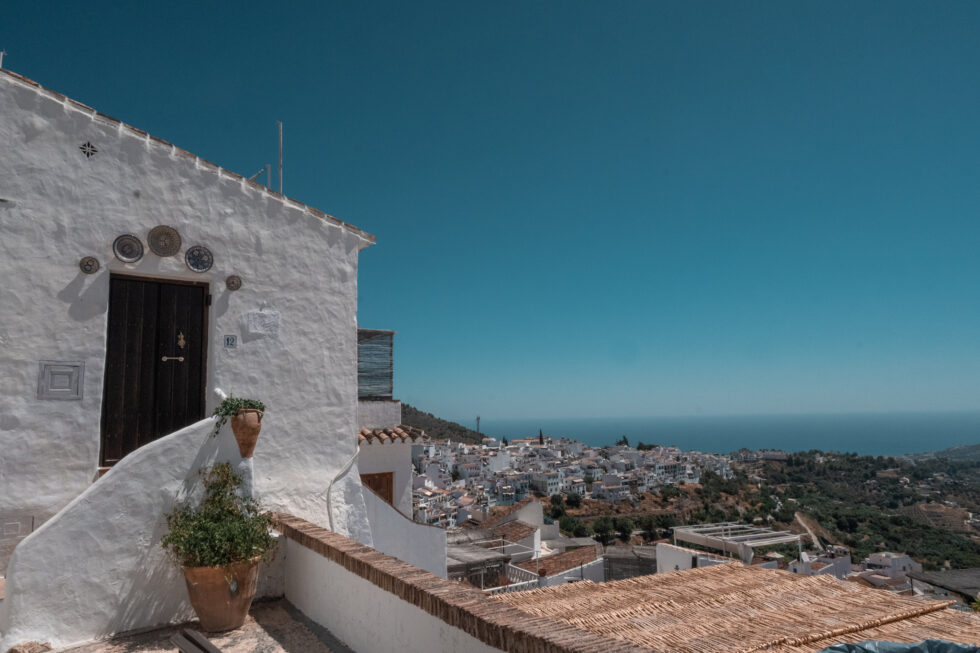 HOW TO GET TO FRIGILIANA
You can reach Frigiliana either by car or by bus. From Nerja, it takes just over 10 minutes to drive to the mountain town while the bus takes slightly longer. If you're seeing Frigiliana on a day-trip definitely consider taking the bus. It only costs 1€ and runs multiple times per day.
You can also hike to Frigiliana if you're up for long walks. It'll take you just over two hours and should be done on a cooler day. You can either take a longer route through the mountains or use the main road to guide you to Frigiliana for the quickest way.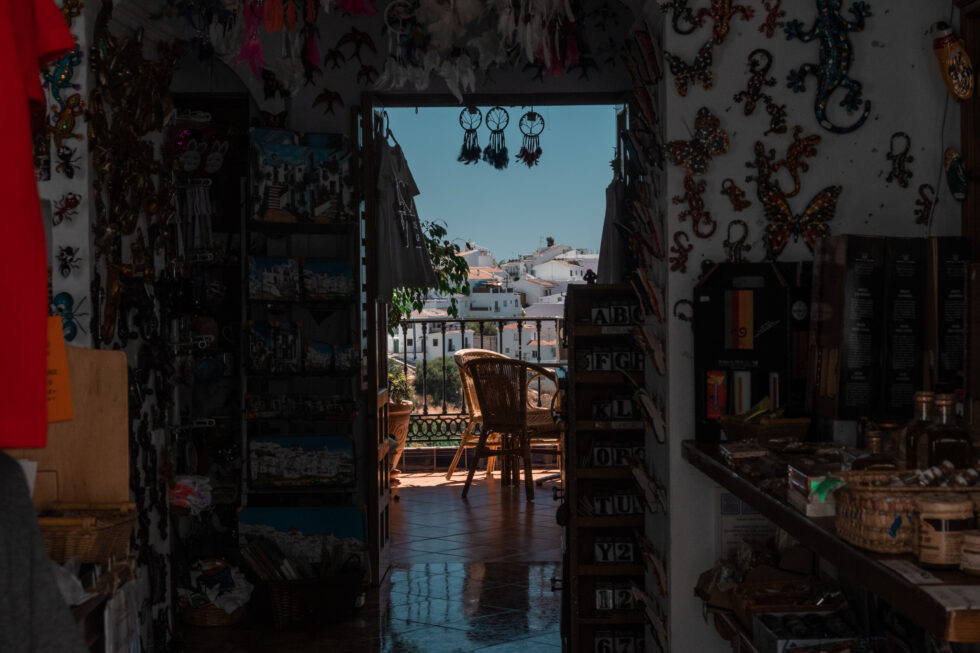 FRIGILIANA'S SHOCKING HISTORY
The town of Frigiliana was settled around 3,000 years before Christ. The Romans came to the area in 206 BC and named the town Frexiniusana which later became Frigiliana. They fortified the town and built a hilltop castle Castillo de Lizar remains of which you can still visit today.
In 711 the Moors came to Spain and Frigiliana began to grow. The town was now known as Fixiana and belonged to the Kingdom of Granada. It produced mostly oil, sugar cane, raisins, figs, and silk which made the local economy prosperous. The Moors built irrigation systems and terraces to boost farming activities. They even started the production of wine which was frowned upon in other Islamic settlements but became a popular tradition in the area.
As the Moorish era came to an end the three religions Christianity, Islam and Judaism managed to coexist peacefully. Frigiliana still celebrates this period of unity today with multiple works of art around town as well as the "Festival de Tres Culturas" which is celebrated in August each year.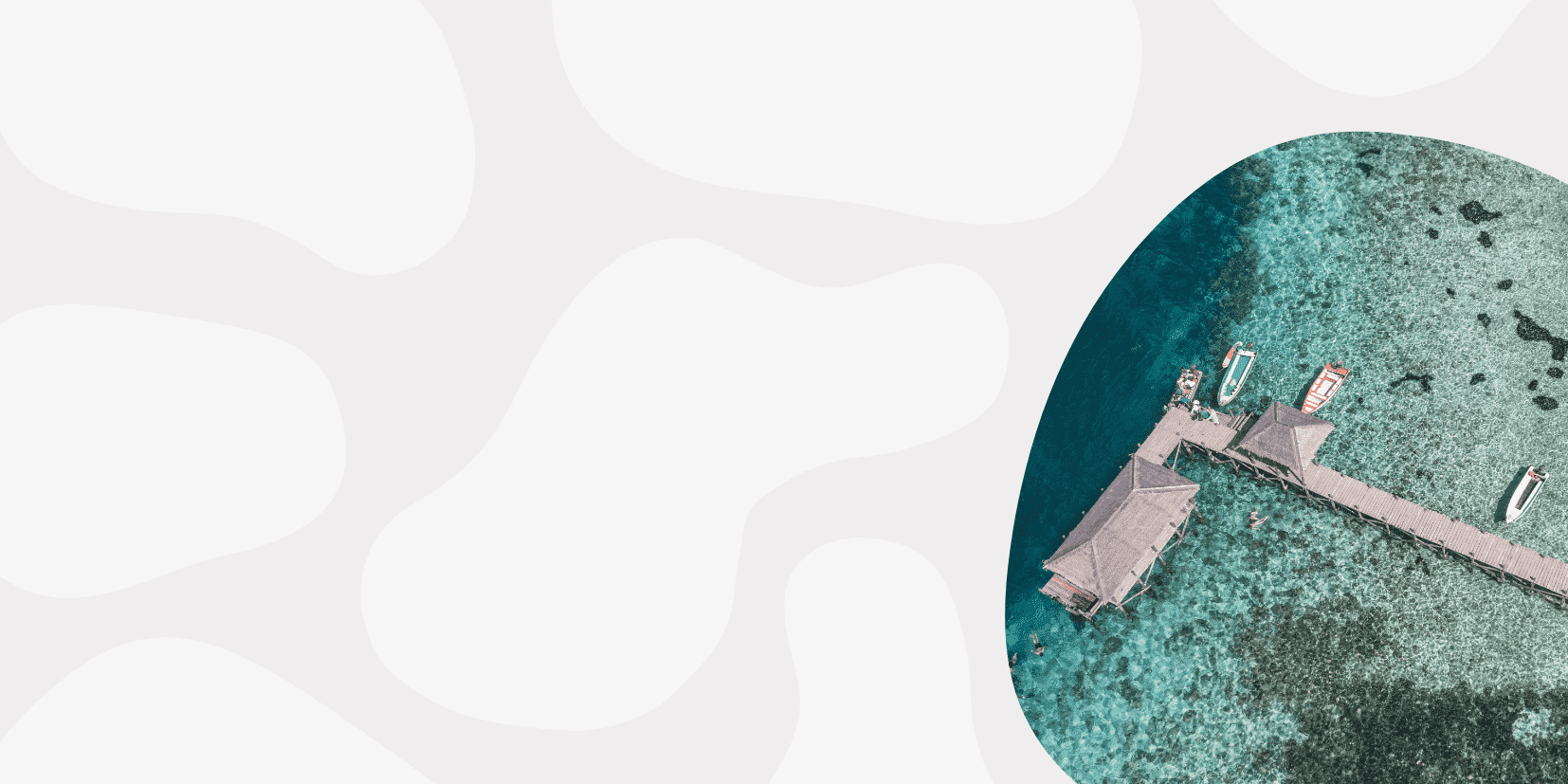 Let me save you time and effort when you're travel planning!

➼ Best travel insurance? SafetyWing
➼ Best place to find cheap flights? Skyscanner
➼ Best bank & credit card for travellers? Wise
➼ Best travel backpack? Osprey Farpoint 70
THE BLOODY WAR OF FRIGILIANA
Unfortunately, around 100 years later the delicate peace began to crack as the Christian rulers put more and more restrictions on the Moorish population. They forbid them to speak or write their language or wear traditional clothing. In 1569 it came to wide-spread uprisings and thousands of rebels gathered in the Castillo de Lizar where they managed to withstand the initial attacks of the local authorities.
More troops were sent as the governor of Vélez-Málaga asked for support and the famous Battle of the Peñon de Frigiliana (rock of Frigiliana) occurred. An estimate of six to seven thousand Moors fortified themselves on this strategic rocky outcrop. However, the Christian soldiers were supported by Italian forces and the Moors were barely armed with slingshots and only a few real weapons. They were eventually defeated and the Battle of the Peñon de Frigiliana became one of bloodiest in the history of Southern Spain. Around 2,000 Moorish fighters lost their lives that day, more than half of which were women and children. Some of the survivors managed to escape into the mountains but the majority were sold as slaves. On the Christian side, more than 500 soldiers were killed.
Frigiliana became a ghost town and was slowly repopulated by Christians as the era of peace between the three religions ended. Today you can still visit the Barribarto, the old Moorish neighbourhood. It is known as the most beautiful part of town.
Are you interested in learning more about the history of Frigiliana and southern Spain? Check out this article.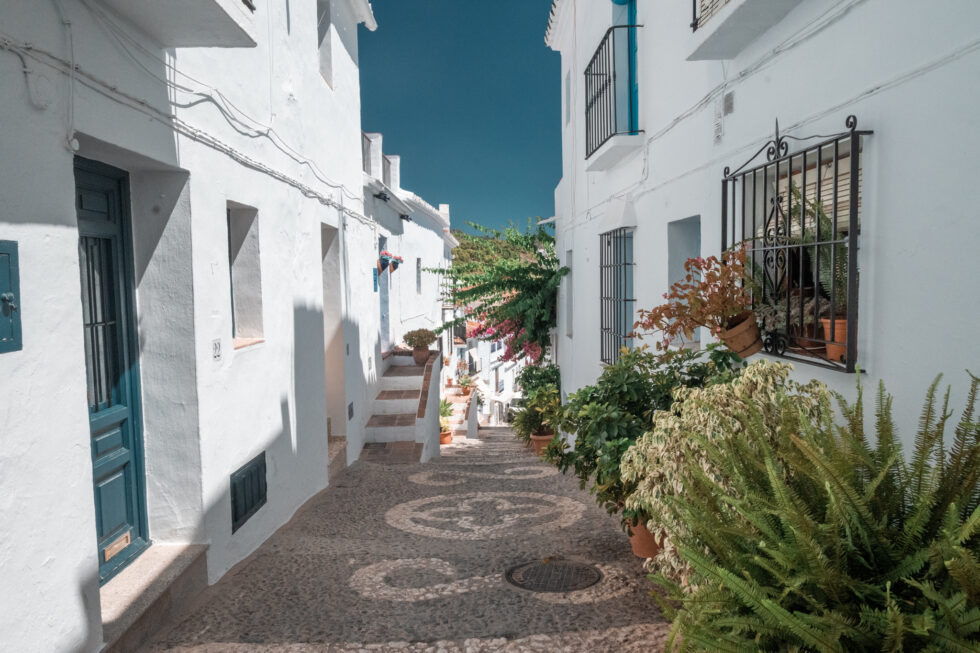 WHEN IS THE BEST TIME TO VISIT FRIGILIANA AND SOUTHERN SPAIN?
You can enjoy Frigiliana and this part of Spain year-round. As a rough guide always keep in mind that temperatures in Frigiliana will usually be a few degrees cooler than the coast.
June to September are the hottest months with temperatures of up to 35 degrees although you will get to enjoy some cooler days. This period is very dry with little to no rainfall. Accommodation prices are likely to be high during these months as it is the most popular time for tourists to visit.


If you want to escape the heat and the crowds you should consider visiting during the shoulder season. May or October could be great choices although you might experience some rain.
During the winter months as well as spring the weather is often unpredictable in Frigiliana and southern Spain. You might experience long periods of rain although temperatures will not go below around 10-15 degrees. Prices will be cheap during this time. If you enjoy walks and are planning to go hiking in the area around Frigiliana this might be a good time to go. The summer is usually too hot for longer hikes.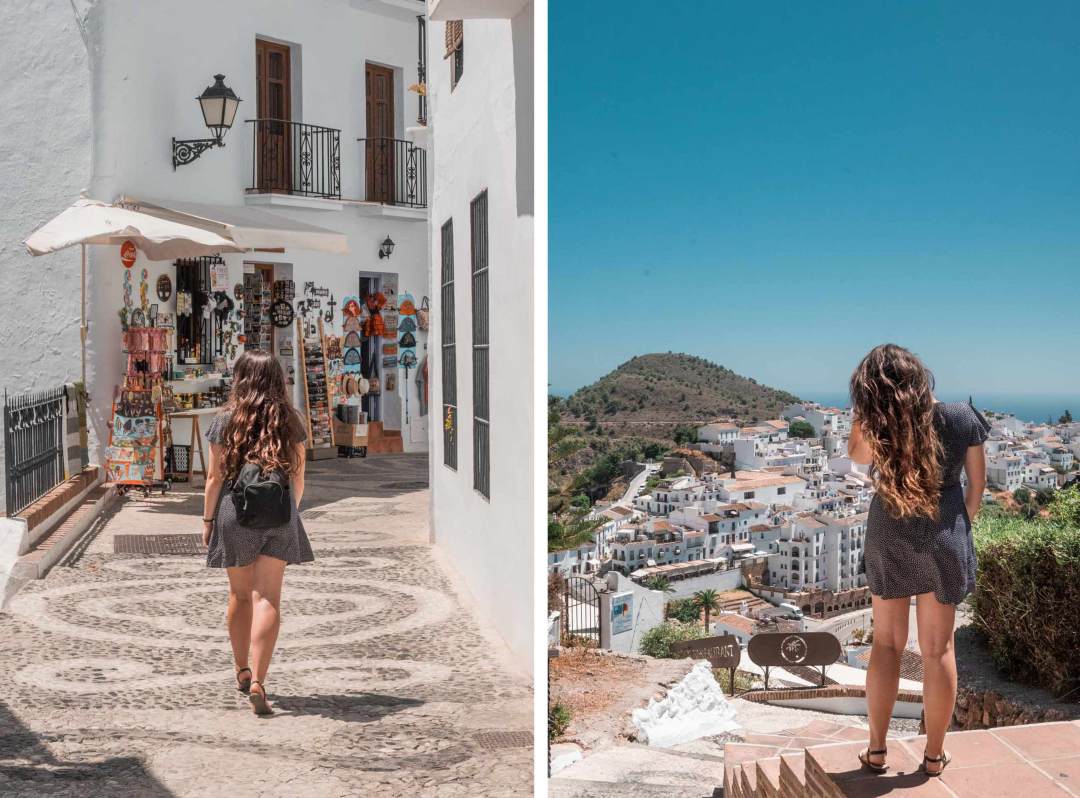 HOW TO GET AROUND FRIGILIANA
Frigiliana is not a very large village so the easiest and best way to get around is on foot. There is little to no public transport available in the town so if you're not keen on walking there aren't too many other options. While you can drive around some parts of Frigiliana most of the streets and alleys are so narrow that they are inaccessible by car. The old town, which is the most beautiful and popular part of Frigiliana is only accessible on foot.
A good compromise might be to take the tourist train which shows you some of the most important spots around town. A ticket costs only 3€ and you'll get an audio guide in English or Spanish to tell you all about the buildings and attractions around Frigiliana.
If you're planning to see the area around Frigiliana and other nearby parts of Spain you absolutely need a car. Look into renting one if you're interested in doing a few day-trips (scroll down to the What to see close to Frigiliana section). Shop the best car rental deals for Frigiliana and the rest of Spain here.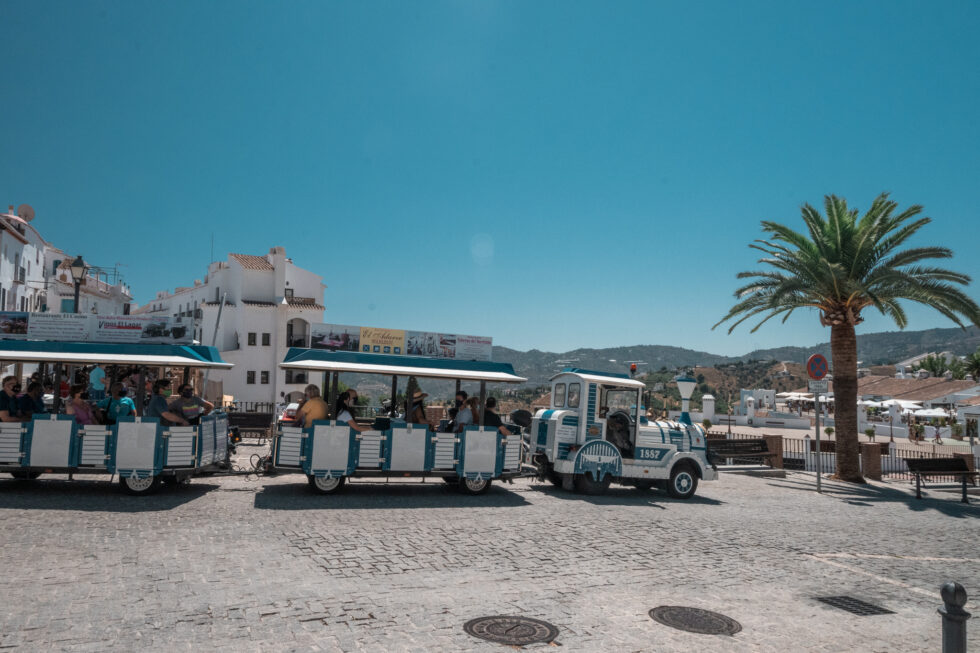 HOW LONG SHOULD YOU STAY IN FRIGILIANA?
Frigiliana is definitely a great place for a day-trip. The town is small so you'll get a good overview of the most important attractions if you only have one day to visit. In fact, going to Frigiliana for a day is very popular among the many tourists that visit Nerja each year which is a beach town close by. If you're staying somewhere in the area this guide definitely recommends adding a day-trip to Frigiliana to your to-do list.
There is plenty to see and do in Frigiliana. If you're not pressed on time why not stay in this pretty little village for a few days or a week? You'll get plenty of time to explore the surrounding natural park and visit other white towns nearby. If you love hiking and walks in nature then Frigiliana is the place to go. Enjoy the beauty of the area without being pressed on time. We'd recommend staying anywhere from 3-7 days.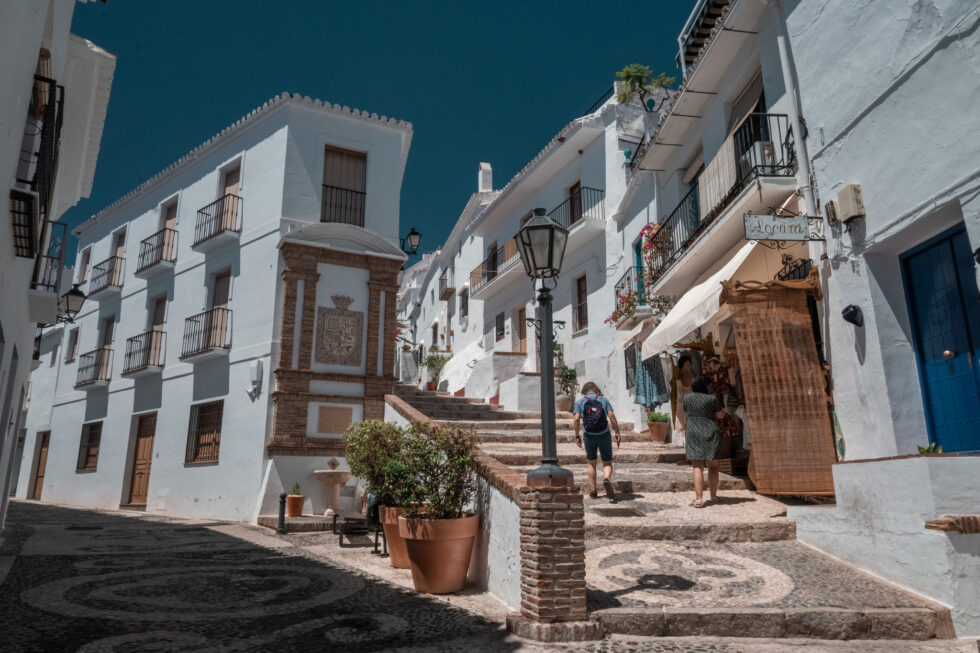 WHERE SHOULD YOU STAY IN FRIGILIANA?
If you're planning a trip to Frigiliana you basically have three options for accommodation. You can either choose to stay in a hotel, rent an apartment in the centre of town or rent an entire house or "Finca" somewhere in the surrounding mountains. What you choose is up to you, most likely the price difference between these options won't be very large, especially if you're travelling with a larger group of people.
Keep in mind that you'll most likely need a car to get around if you're renting a house in the natural park and that you'll have trouble finding parking if you're living in town. Apartments rarely have a pool so go for a hotel or house if that is important to you. If you're interested in having a few drinks in the evenings you might not want to worry about getting home to your Finca late at night. Staying in the centre of Frigiliana could be a more comfortable option to avoid long walks at night.
Top tip: Always compare prices for hotels. We at Guide your Travel prefer Booking.com, Agoda or Hostelworld for finding the best deals.
WHAT TO DO AND SEE IN FRIGILIANA, SPAIN
Frigiliana is known for its beautiful white houses, narrow alleyways and bright flowers. You'll fall in love with the historic buildings and traditional bars and restaurants. If you're struggling to plan your itinerary for Frigiliana or are just curious whether this town is worth a visit why not check out our guide to 19 unique things to do in Frigiliana, Spain? We'll tell you all you need to know about planning your next visit to Frigiliana in this handy guide.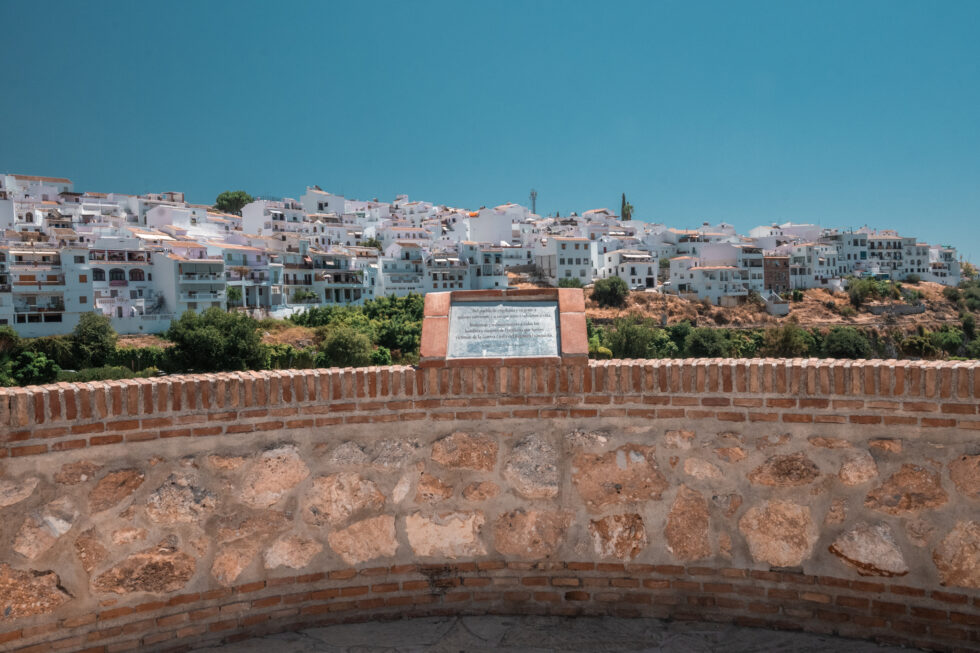 WHAT TO SEE CLOSE TO FRIGILIANA
Here are some of our favourite places in Spain close to Frigiliana. You can visit all of these amazing locations on a day-trip while you visit Frigiliana.
Málaga – The largest city in the area with plenty of things to see and do. Famous museums, beautiful beaches and incredible historic architecture. Málaga is the perfect place for a day-trip from Frigiliana.
Acebuchal – Also called the "lost village". Acebuchal is a tiny town in the mountains which lay abandoned for 50 years until it was rebuilt in the early 2000s. Amazing food and great hiking and walks close to Frigiliana, read our complete guide here.
Cómpeta – Another white village in the mountains of Spain with great nature walks quite similar to Frigiliana but less touristy. Amazing mountain vistas and well worth a visit.
Nerja – Popular beach town with white-sand beaches and decent nightlife. The perfect place for a beach-day or some souvenir shopping.
Caminito del Rey – An incredible hike inside a canyon not for the faint of heart. You need to book tickets online in advance.
Viñuela Lake – Beautiful man-made lake in the mountains above Velez Malaga. Great for camping and water activities.
Motril – Beautiful sea-side city with stunning beaches and historic buildings.
Granada – One of the most famous cities in Spain just over an hour away from Frigiliana. Incredible history and beautiful photo-locations.
La Maroma – The highest mountain in the Axarquia. Easy to climb even for inexperienced hikers.
My most important travel tips and resources
Book your flights
Skyscanner is the best website for finding cheap flights since it works like a search engine so you can find the best deals across all airlines.

Book hotels and hostels
• Booking.com: Best world-wide
• Agoda: Best in South East Asia
• Hostelworld: Best for hostels

Book tours, transport and rental cars
•Viator: The best place to book tours, day trips and excursions for al budgets
•12Go: Great for ferries, trains, transfers and buses in South East Asia
•Discover Cars: Best deals for rental cars around the word

Get travel insurance
Every traveller needs travel insurance and I mean every single one. SafetyWing covers you in case of injury, illness or worse and they've got your back if your bag is stolen, flights are cancelled or in case of a natural disaster.

Pay abroad
Ask any traveller, Wise is the best choice when it comes to sending money abroad. They've always got the best exchange rates, lowest fees and their visa card is great for getting cash out or paying abroad.

Things every traveller needs:
➼ Osprey Farpoint 70 Backpack
Detachable daypack, ultra-light, durable and free repairs for life. There's a reason why so many backpackers have this bag.
➼ Packing Cubes
Packing cubes are a gamer changer, keeping your luggage organised and providing tons of extra space.
➼ Power bank
There is nothing worse than running out of battery on an overnight bus journey or a long flight. With a powerbank you can charge your eletronics on the go and make sure you're always connected.
➼ Micro-fibre towel
These lightweight towels are foldable, fast-drying and so useful when you're travelling.

➼ You can find 15 more things every traveller needs here. Some might be a bit controversial but I warned you!
Did I miss anything?
If you have any questions or feel like something is missing from this post please leave a comment below or contact me.