The number of tourists visiting Nusa Penida every year is growing at insane speeds. This island off the coast of Bali has so much to offer. The picturesque landscapes at Diamond Beach, Atuh Beach and Kelingking Beach have long since become world-famous and are all over Instagram.
Nusa Penida is unique because, despite the increasing number of tourists, it's still a very authentic island with untouched nature and deserted beaches. With less than a third of the population density of Bali, most of the island is uninhabited and will likely be developed substantially in the coming years.
This is only one of the reasons why it's critical to visit Nusa Penida now, while it is still described as "Bali 30 years ago". At the moment you can still experience the island and its beauty largely undisturbed but that might not be the case anymore in a few year's time.
Are you planning a trip to Nusa Penida? Our 3-day itinerary will help make your trip perfect.
This post may contain affiliate links, which means we'll receive a commission if you purchase through our links, at no extra cost to you. This helps us keep Guide your Travel free and provide high-quality content for you. Please read the full disclaimer for more information.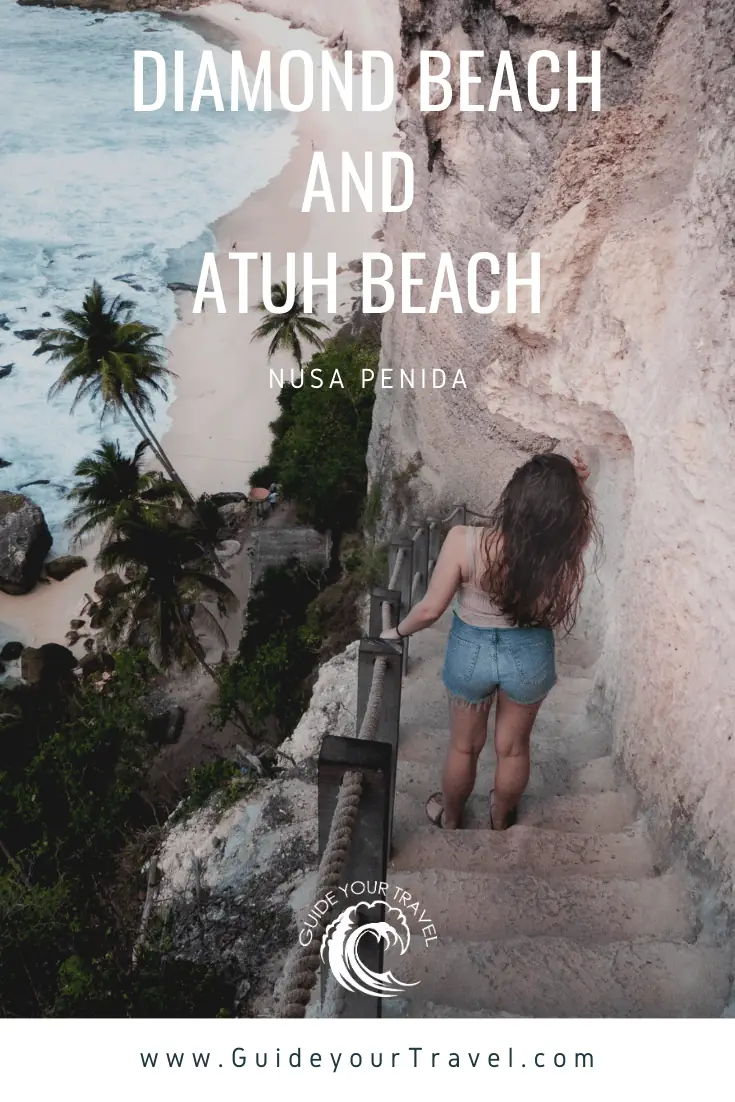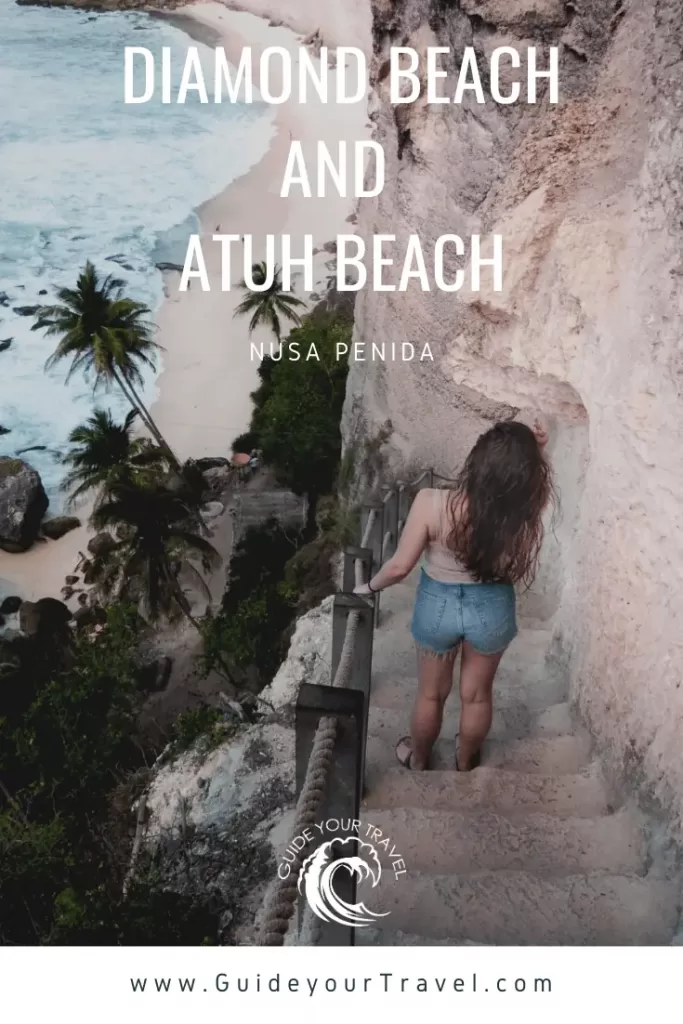 HOW TO PLAN YOUR VISIT TO NUSA PENIDA
Nusa Penida is a relatively small island, however, it is very difficult to get around since there is next to no infrastructure. The roads are extremely bad and dangerous in places. In addition to that, the tourist locations are scattered and difficult to reach. You might be trying to visit two beaches that are less than a kilometre apart but since there is no road connecting the two you have to drive 12 kilometres inland to retrace your steps.
Due to these problems, you will need at least two days to explore Nusa Penida, more if you want to see everything.
Most visitors split the island into east and west and visit each on one day separately.
While the famous Kelingking Beach and Angel's Billabong are located on the west side of the island, Atuh Beach and Diamond Beach can be found in the east. The map below shows the locations of some popular tourists spots in Nusa Penida.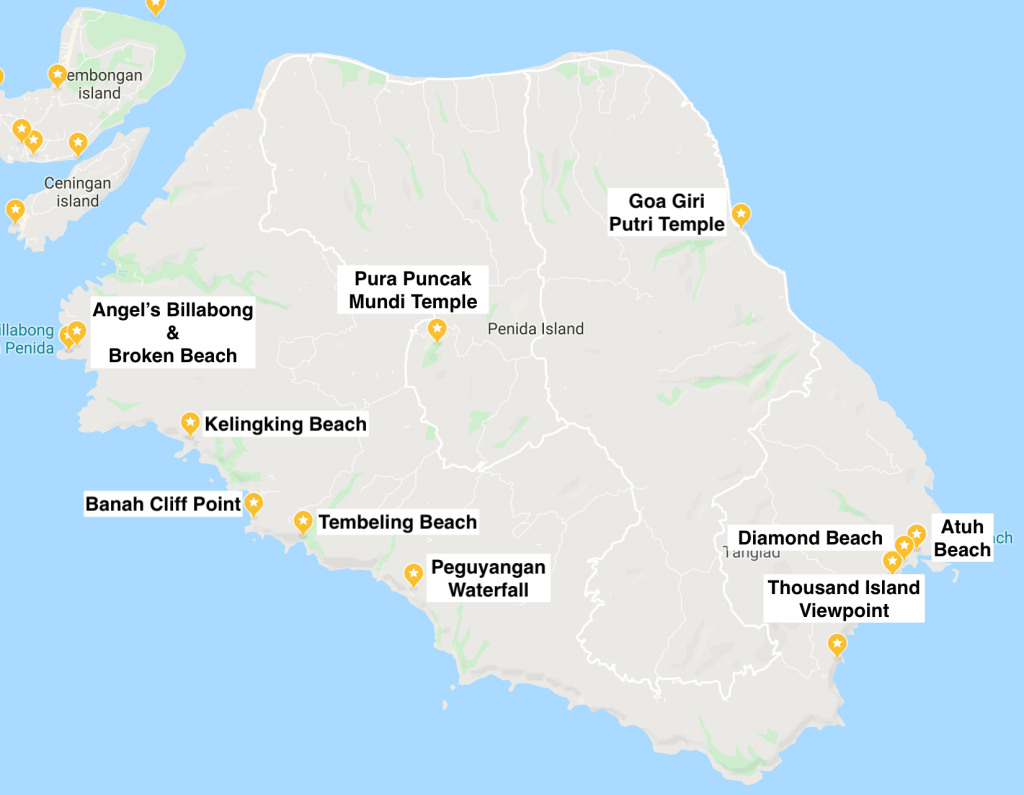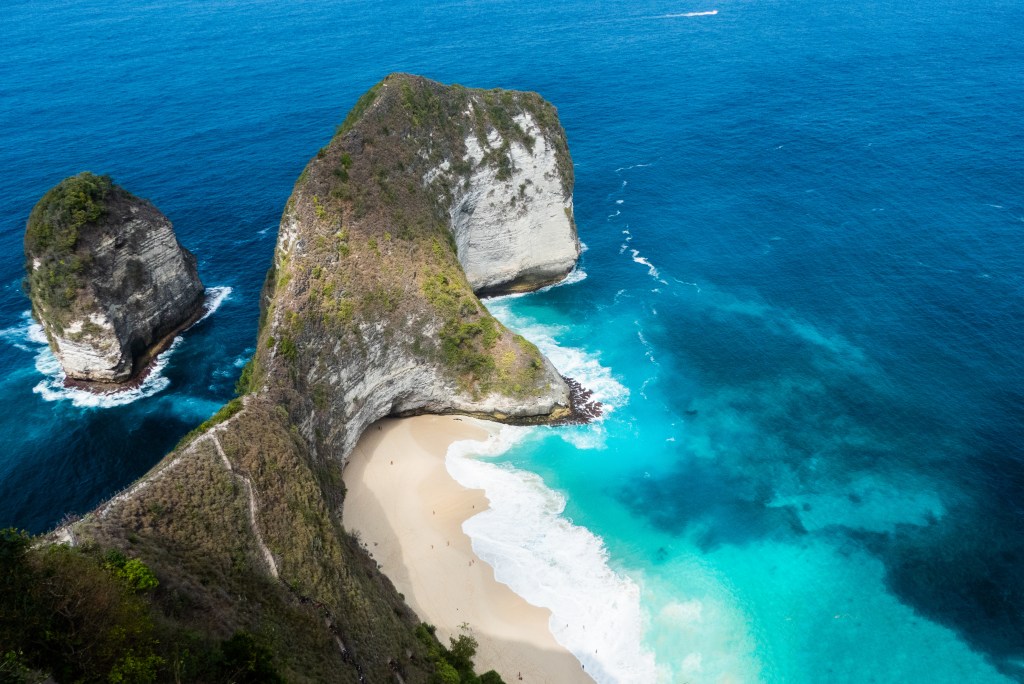 DIAMOND BEACH AND ATUH BEACH
Diamond Beach and Atuh Beach are some of the most beautiful locations you can visit in Nusa Penida. They are conveniently located right next to each other so they're easy to visit in one day.
The two beaches couldn't be more different although they are both stunningly beautiful. Keep reading to find out exactly how to make your trip there perfect.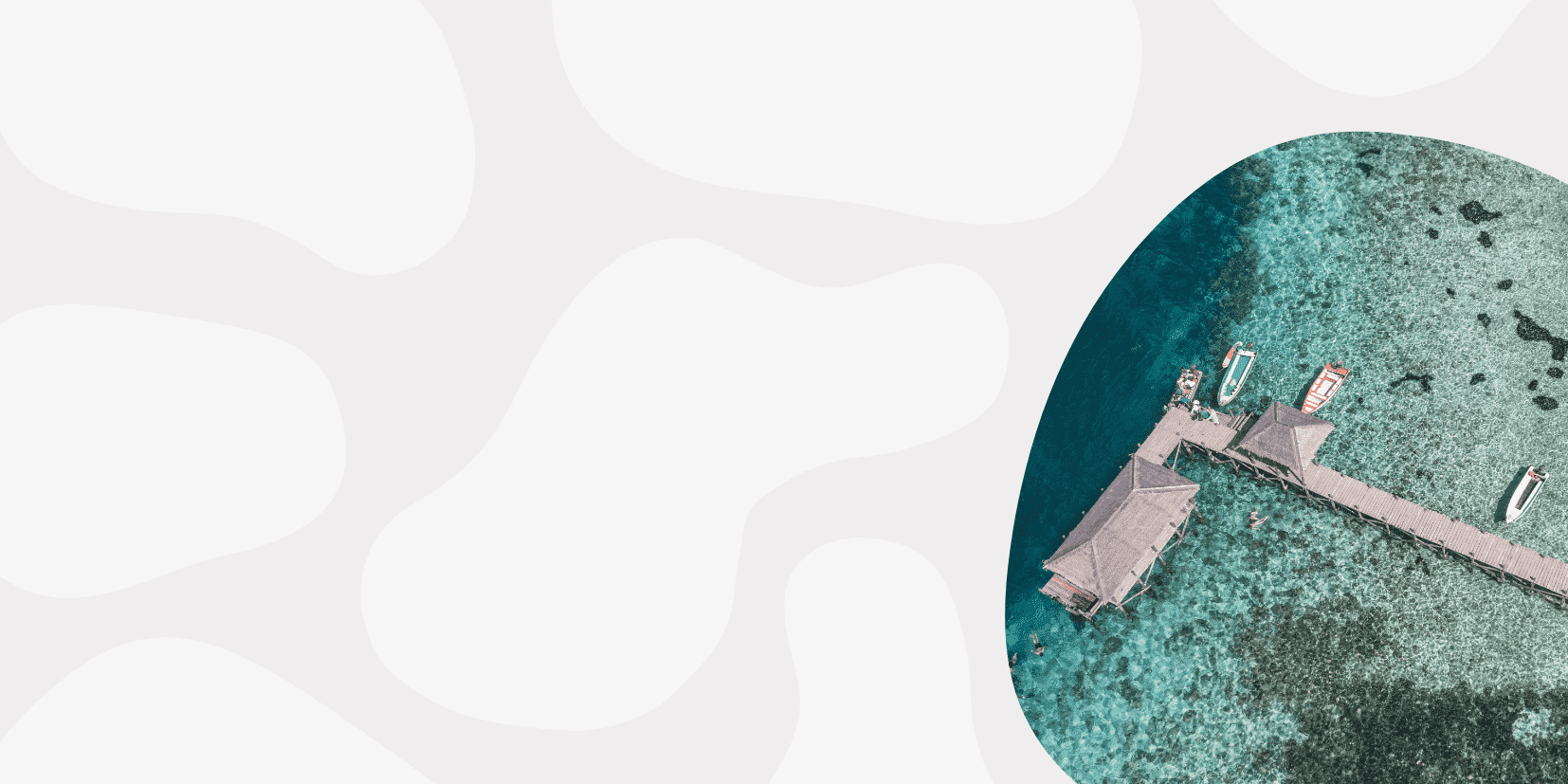 Let me save you time and effort when you're travel planning!

➼ Best travel insurance? SafetyWing
➼ Best place to find cheap flights? Skyscanner
➼ Best bank & credit card for travellers? Wise
➼ Best travel backpack? Osprey Farpoint 70
HOW TO GET TO DIAMOND AND ATUH BEACH
Atuh Beach is accessible from both sides while Diamond Beach can only be reached from one. The easiest way to see both beaches in one day is to drive to Diamond Beach lookout point and park there.
There is no real benefit in going to the left side of Atuh Beach (see map) since you will either have to climb all the way up to the Diamond Beach lookout point and back down again or drive nearly 45 minutes around.
If you're after the view you can still climb up the steps to the left side and then go back to the Diamond Beach lookout point.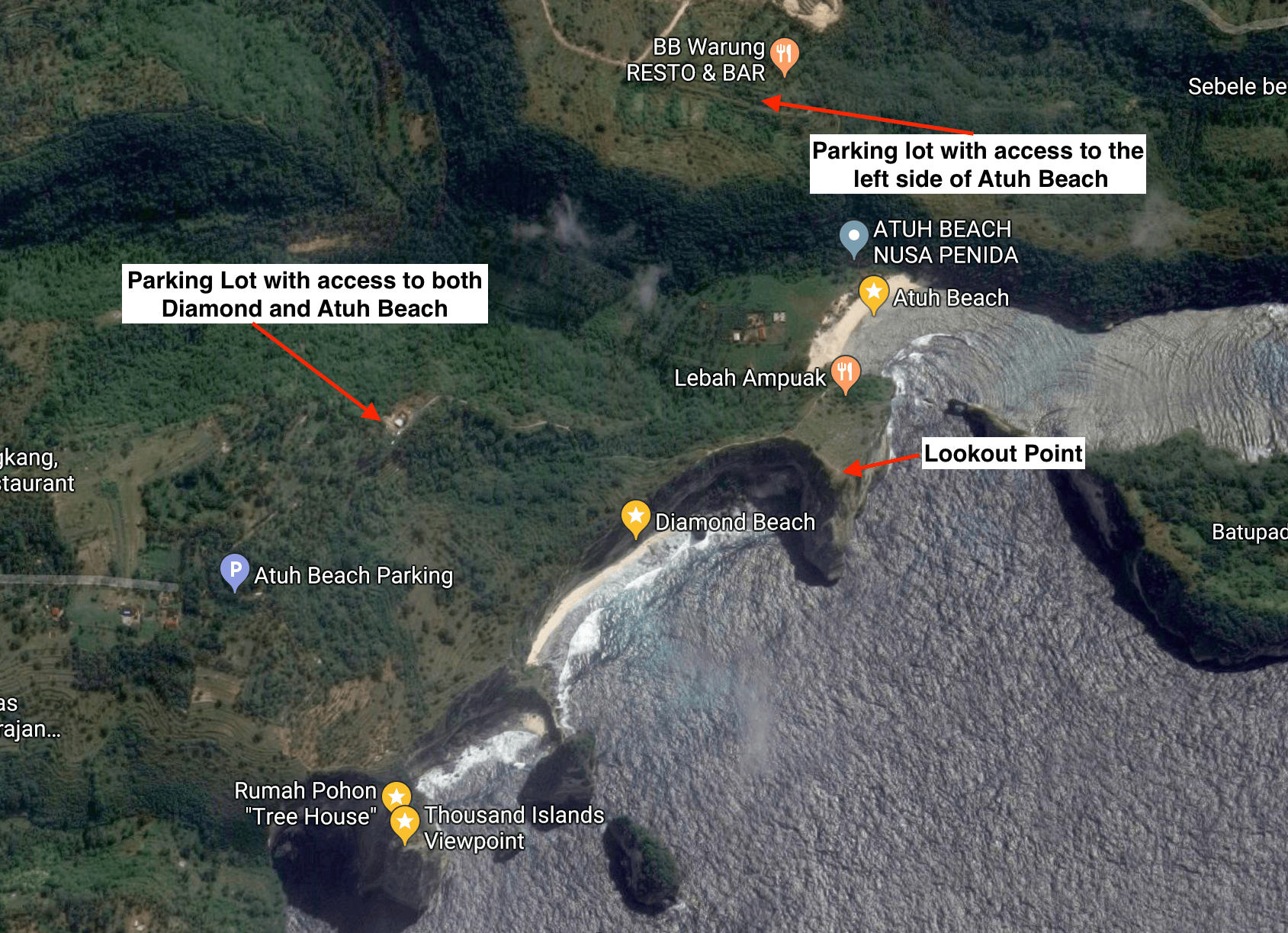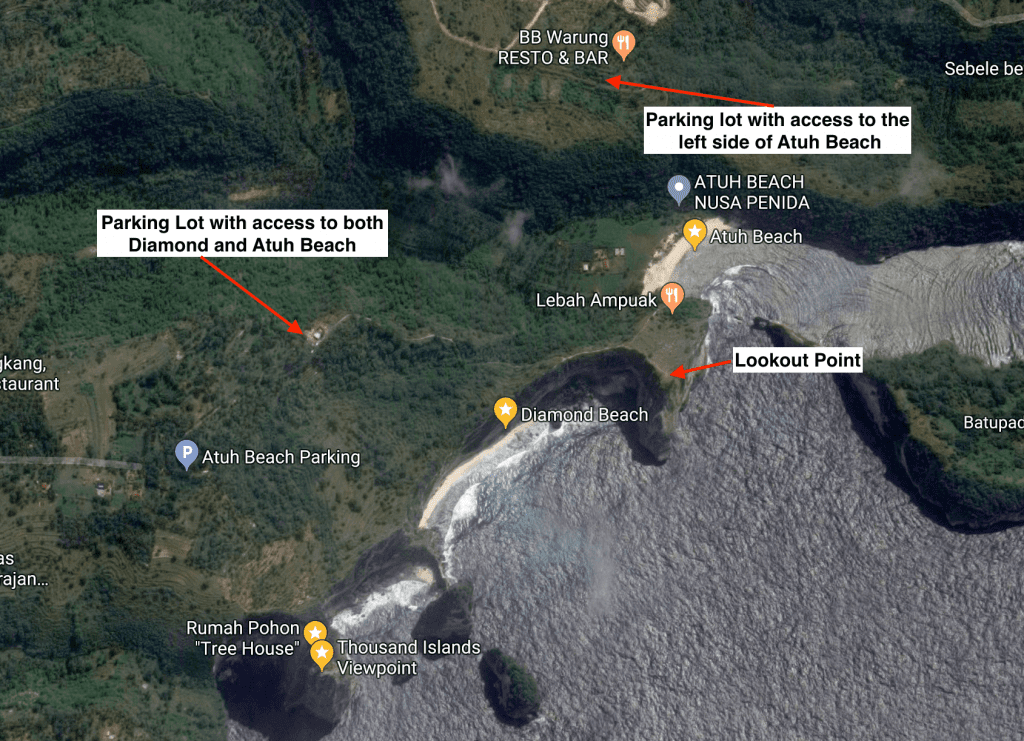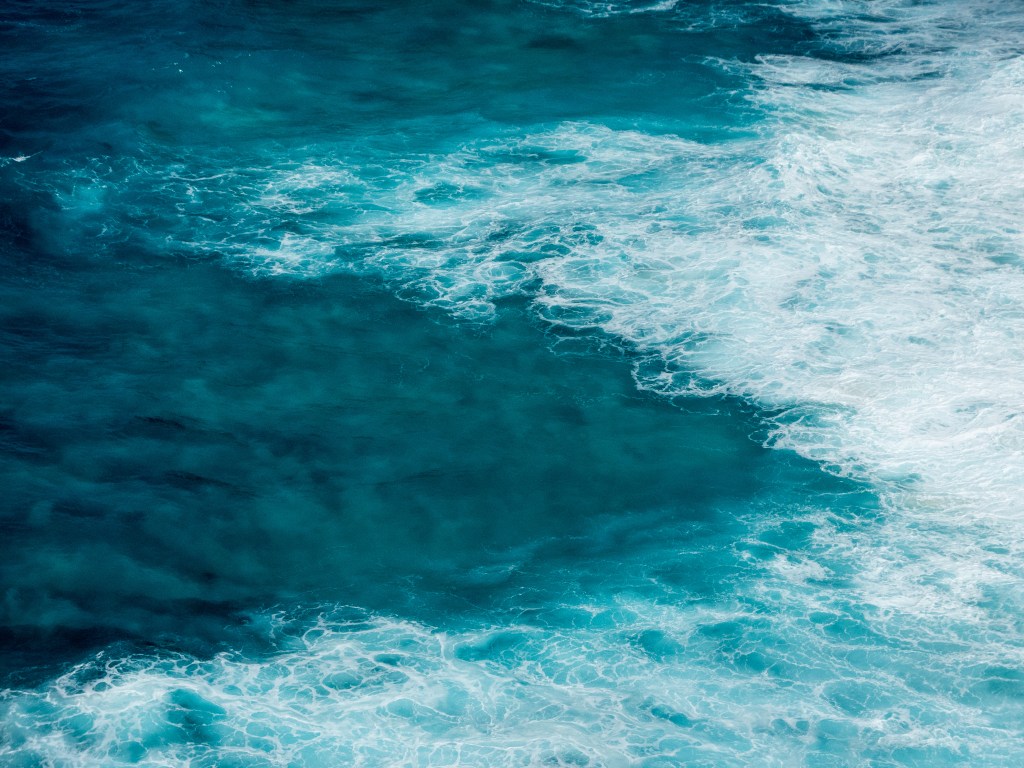 SCOOTER OR CAR?
Nusa Penida's roads are bad. Driving a scooter there is a nightmare if you're not extremely experienced. The island has large altitude changes which means you'll be pushing the scooter uphill in the scorching sun if you're not brave enough to go around the sharp corners at full speed.
Local drivers are reckless and pose the real danger to tourists on scooters. It may be a convenient way to get around most Indonesian islands but do yourself a favour and hire a driver in Nusa Penida.
Many drivers advertise their services either online or locally. Ask around when you arrive on the island and check Facebook groups for a contact. Many drivers will give you a better price if you book two or more days with them. Do not pay more than IDR500,000 (≈ 32€) for 10 hours with a driver. Bargain hard and you may be able to get it even cheaper.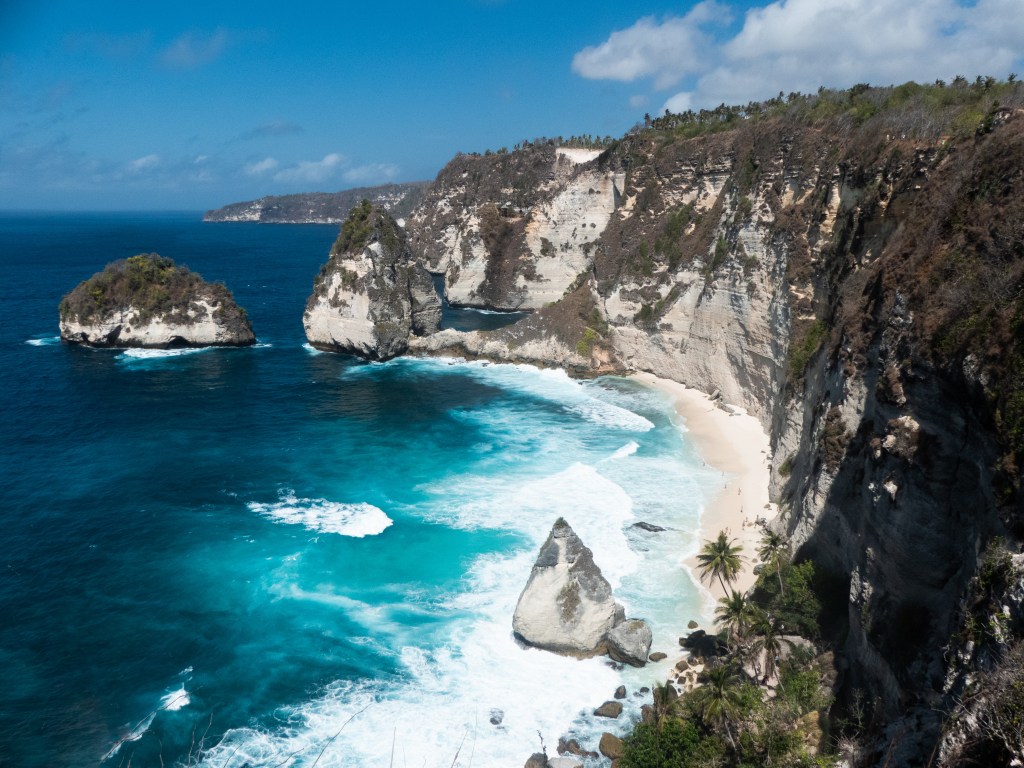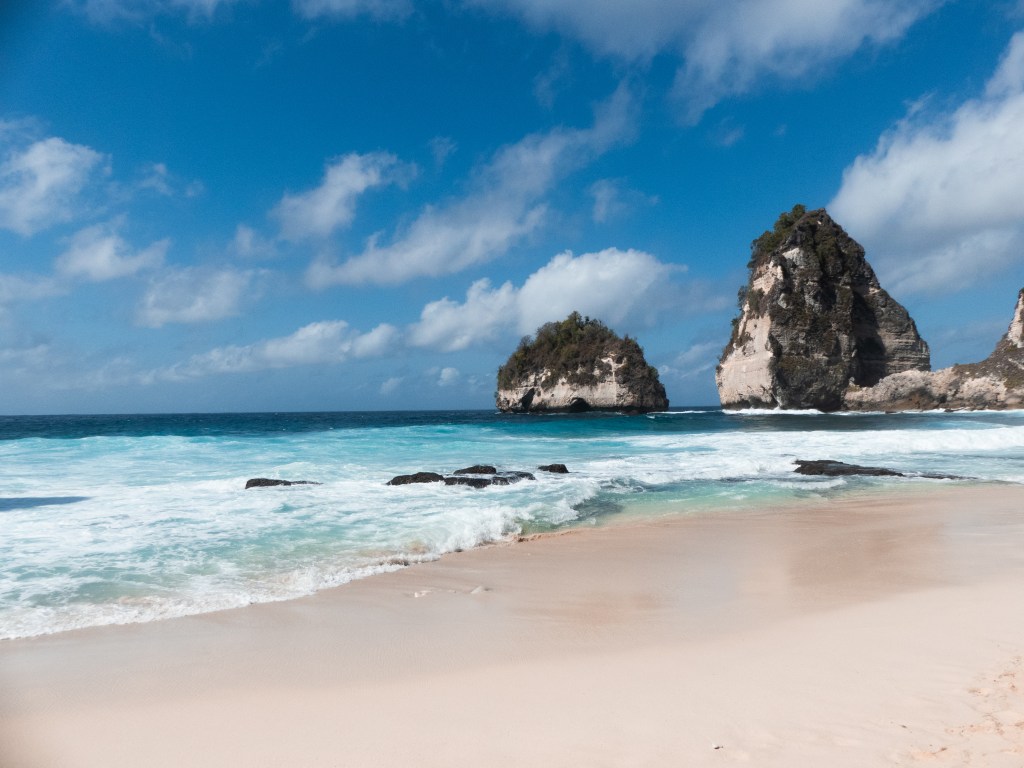 WHERE SHOULD YOU STAY TO VISIT ATUH AND DIAMOND BEACH?
The most popular areas to stay in Nusa Penida are around Banjar Njuh (Toya Pakeh) Harbour and Buyuk Harbour. This is where you will find a good selection of bars and restaurants and plenty of hotels to choose from.
The drive to Diamond and Atuh Beach takes around an hour from Banjar Njuh (Toya Pakeh) Harbour and 45 minutes from Buyuk Harbour.
It is advisable to stay on the north side of Nusa Penida even though it means you will have to hire a driver or rent a scooter to see the tourist sights. Find a hostel or homestay right on the beach to relax after your busy sightseeing trips.
No idea where to stay in Nusa Penida? Rama Homestay offers affordable beachfront bungalows with a great location. Check out our review here.
Top tip: Always compare prices for hotels. We at Guide your Travel prefer Booking.com, Agoda or Hostelworld for finding the best deals.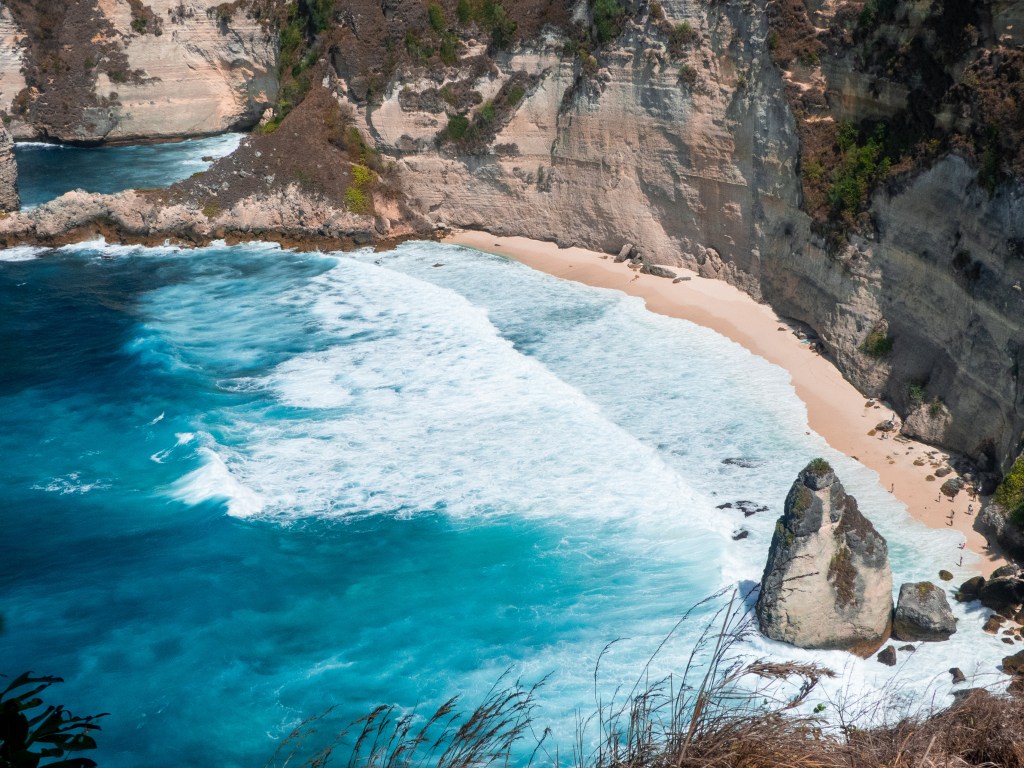 WHEN TO GO
Most of the people visiting Nusa Penida will be there for only one day. This is why the number of tourists staying on the island is actually not that large. The majority will book a day trip from Bali and then leave again in the afternoon.
For this reason places like Diamond and Atuh Beach get really crowded as soon as it hits 9:00 AM.
You should start your trip to these beaches early to get the best experience. Since they face east the sun will hit Diamond and Atuh Beach as it rises. It's the best time to get stunning photos.
The heat is also a major factor. The earlier you go, the less you will be sweating in the unrelenting sun. To get down to these beaches you will have to do some climbing. Thank yourself later by going early.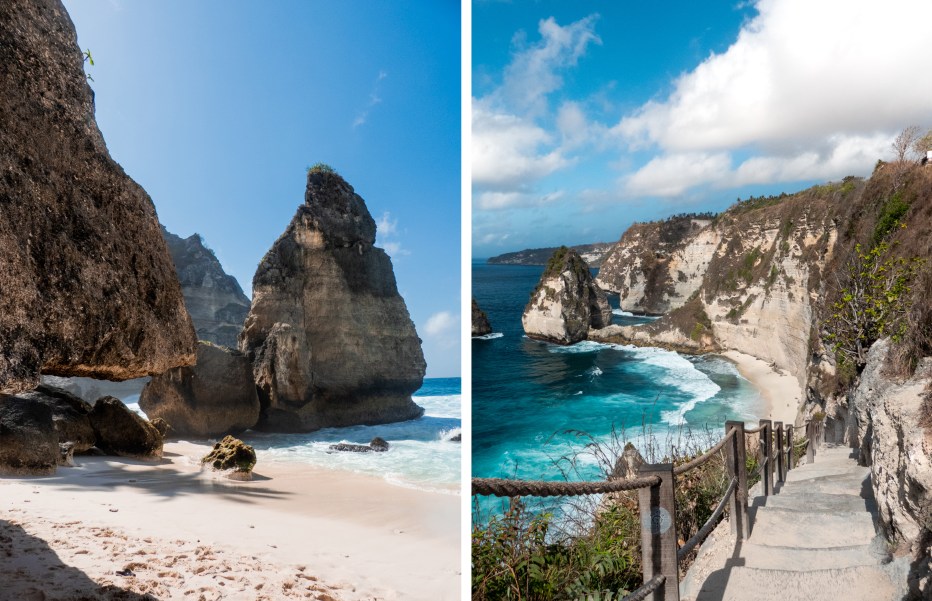 TIDES
Another thing to consider when planning your trip are the tides. Finding the perfect time to visit Atuh and Diamond Beach can be tricky.
Low tide at Atuh Beach means most of the seabed will be exposed which is not great if you want to take photos. It's far more beautiful if you visit during high tide.
Unfortunately, Diamond Beach is not accessible during high tide. You can still go down the stairs but won't be able to go onto the beach itself. The waves are especially dangerous during this time.
If you're visiting both Diamond and Atuh Beach you have to find a sweet spot where the tide is either going out or coming in. It's ideal to visit Diamond Beach as high tide is approaching and then Atuh Beach afterwards when the tide is high.
Definitely check the tides online before you visit.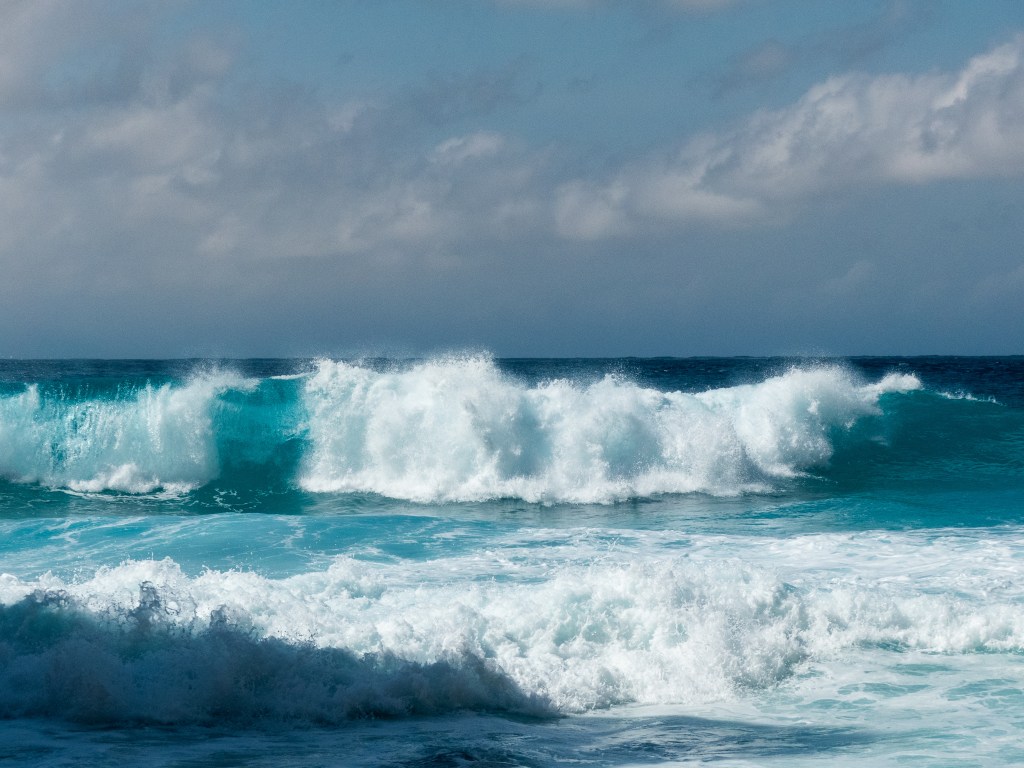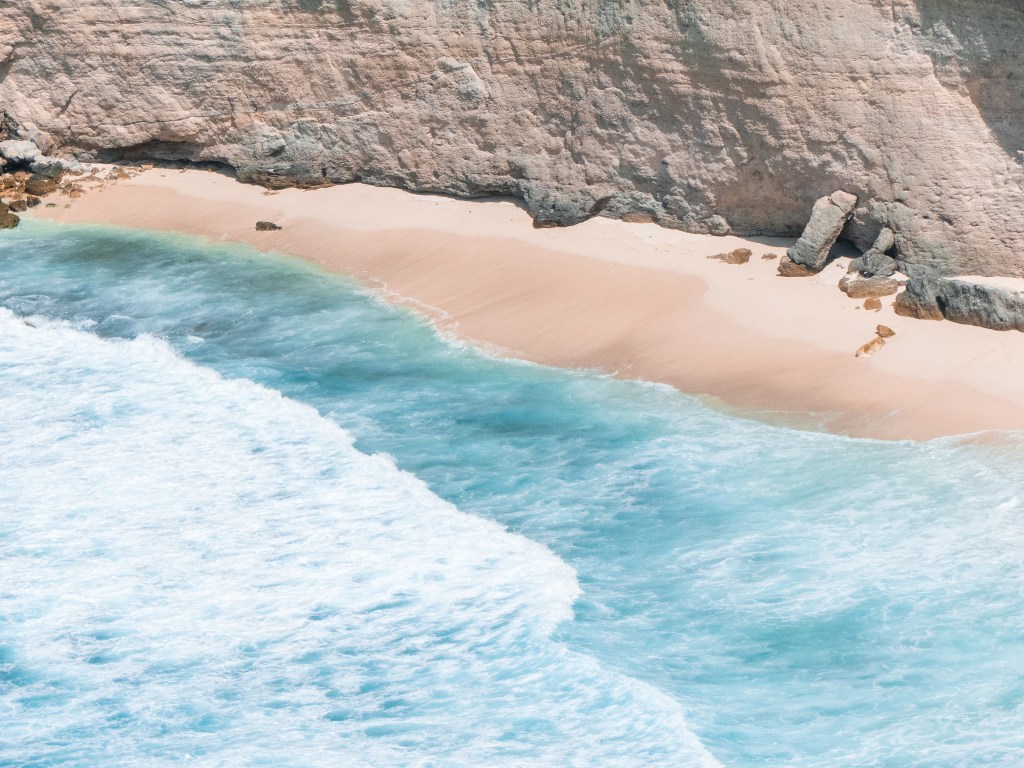 IS THERE AN ENTRY FEE?
Technically Diamond Beach and Atuh Beach are free to visit. However, at the entrance, you will be asked for a donation. This is not optional and you're free to decide the amount.
Parking costs IDR 10,000 (~ €0.60) per car but prices seem to differ according to accounts online. It should not be more expensive than IDR 15,000 (~ €1). There is no time limit on parking.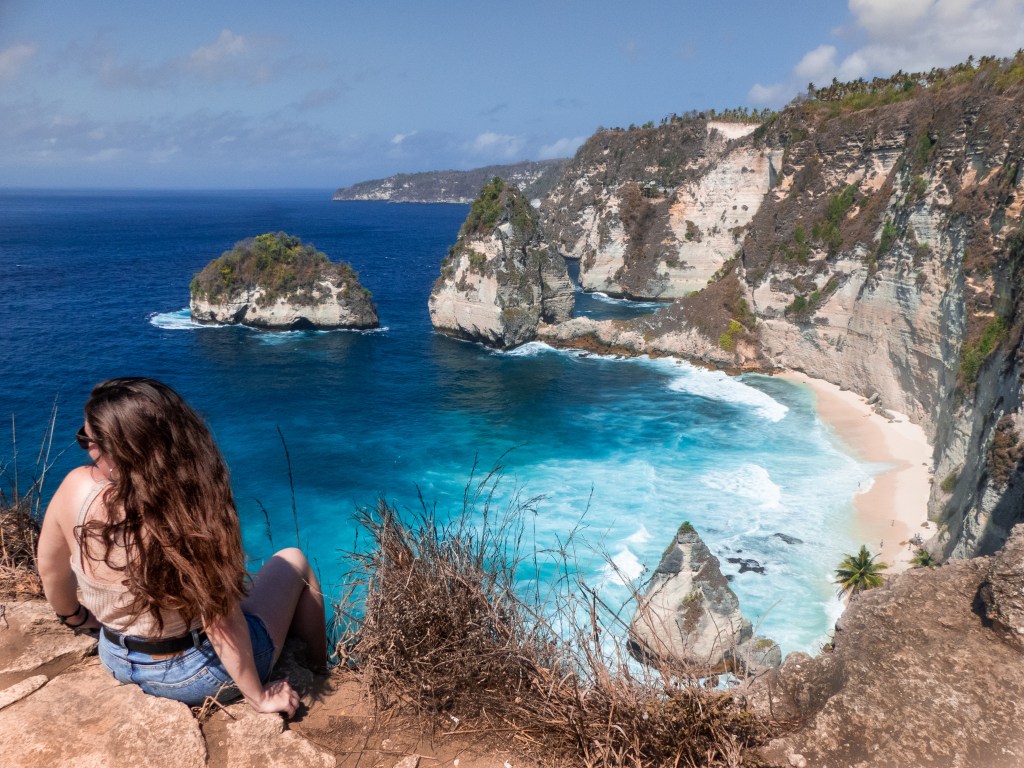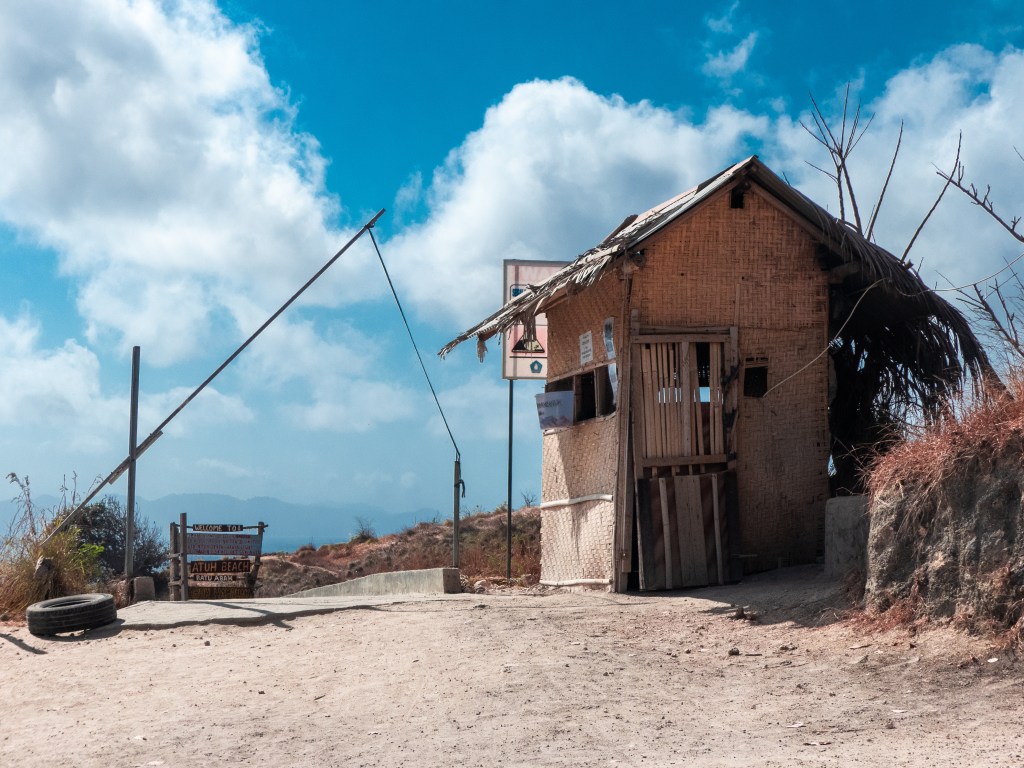 DIAMOND BEACH
Diamond Beach is probably one of the most beautiful beaches in Indonesia, if not the world. It's hidden at the bottom of spectacular limestone cliffs with palm trees and crystal clear waters.
At the end of 2018 a set of stairs was carved directly into the cliff which allowed tourists access to the beach below for the first time.
The stairs are fairly easy to climb, although there is no railing in some spots. It takes less than 20 minutes to go down and can be done in flip-flops.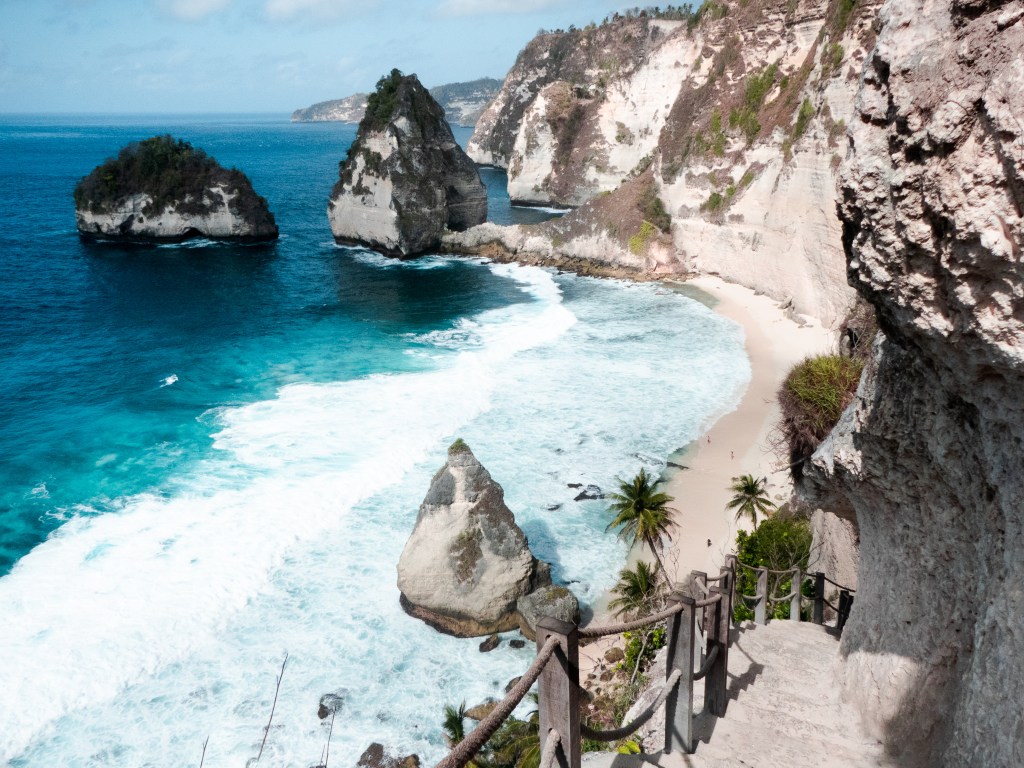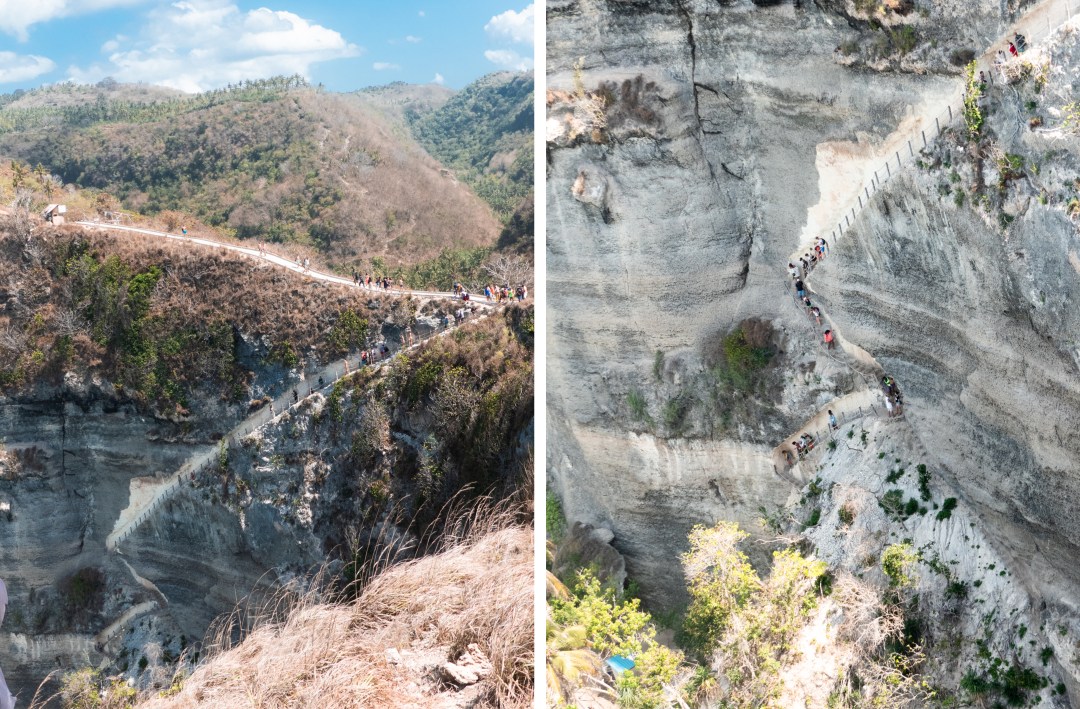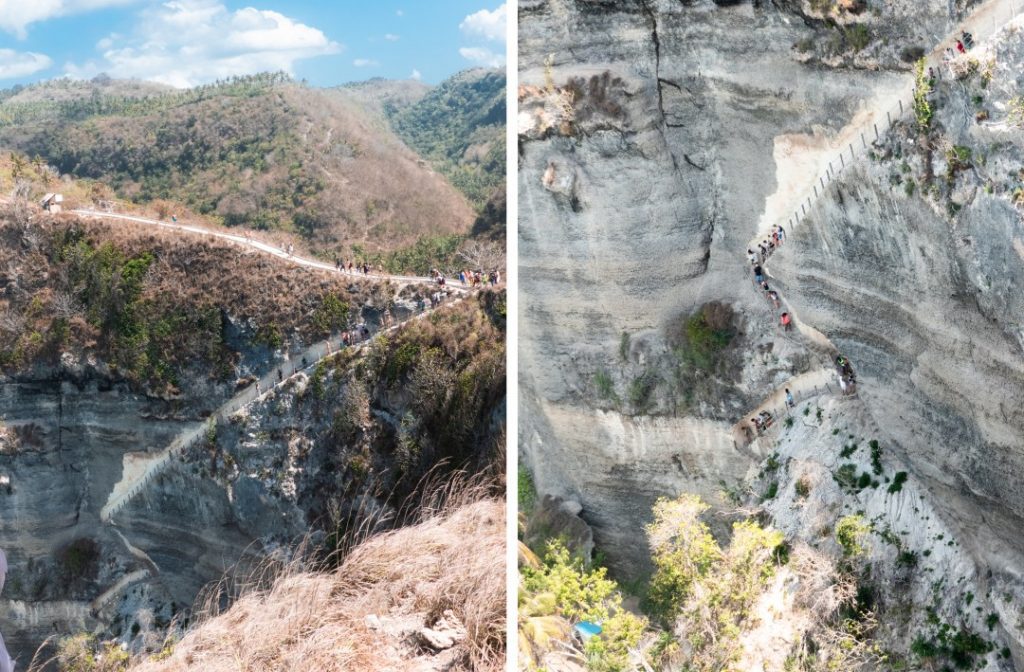 This is one of Nusa Penida's best photo spots. The stairs are still very new and you can see where they were chipped out of the limestone. It's insanely beautiful.
At the bottom, you'll find an overpriced swing and nests where you can take photos if you like. There are also basic toilets and changing rooms (charges apply).
You can swim at Diamond Beach but it can be very dangerous. The currents are strong and there are many sharp rocks in the water. In September 2019 a Malaysian tourist drowned as strong waves swept him out.
Try to avoid swimming at Diamond Beach especially during high tide.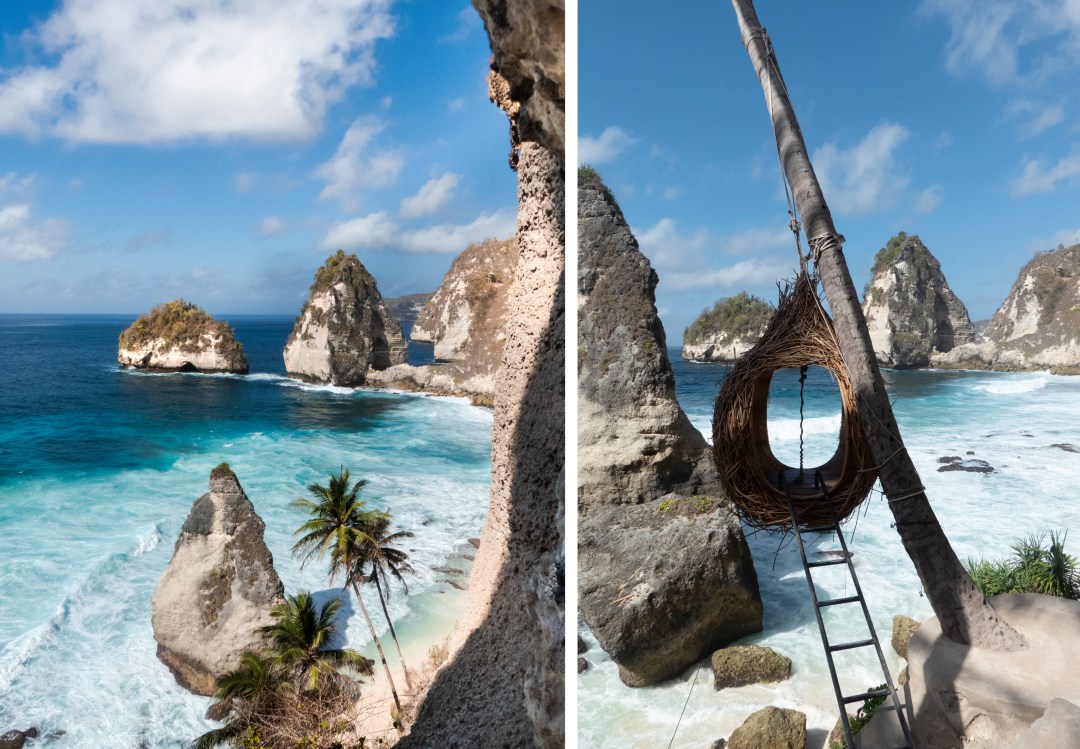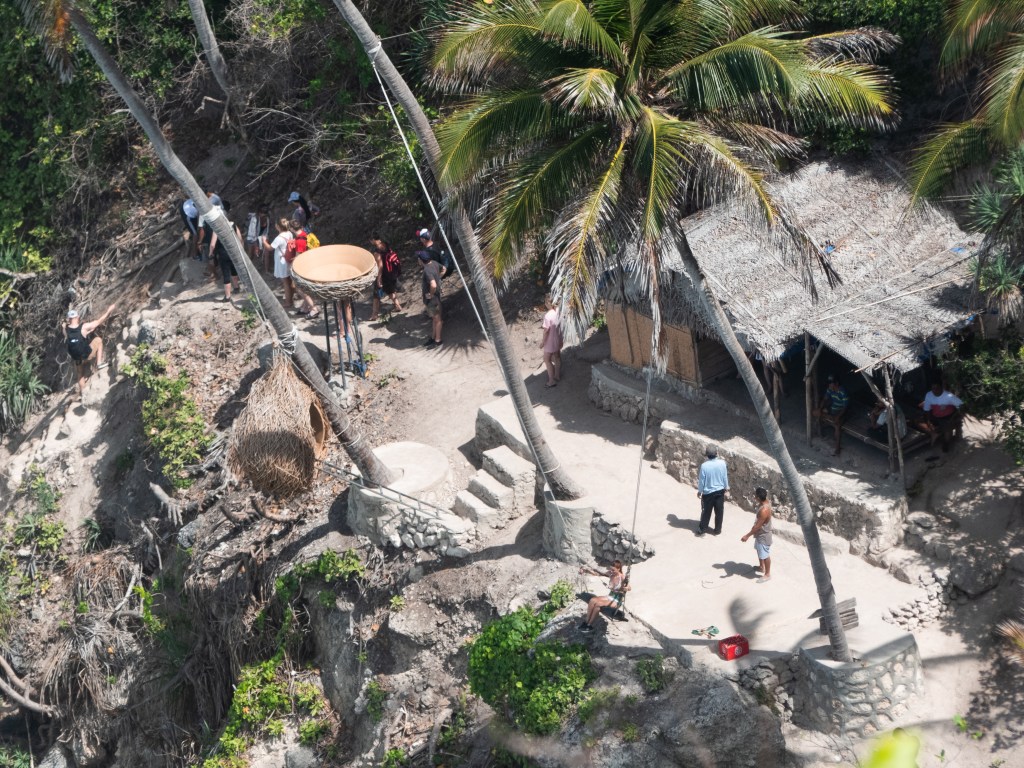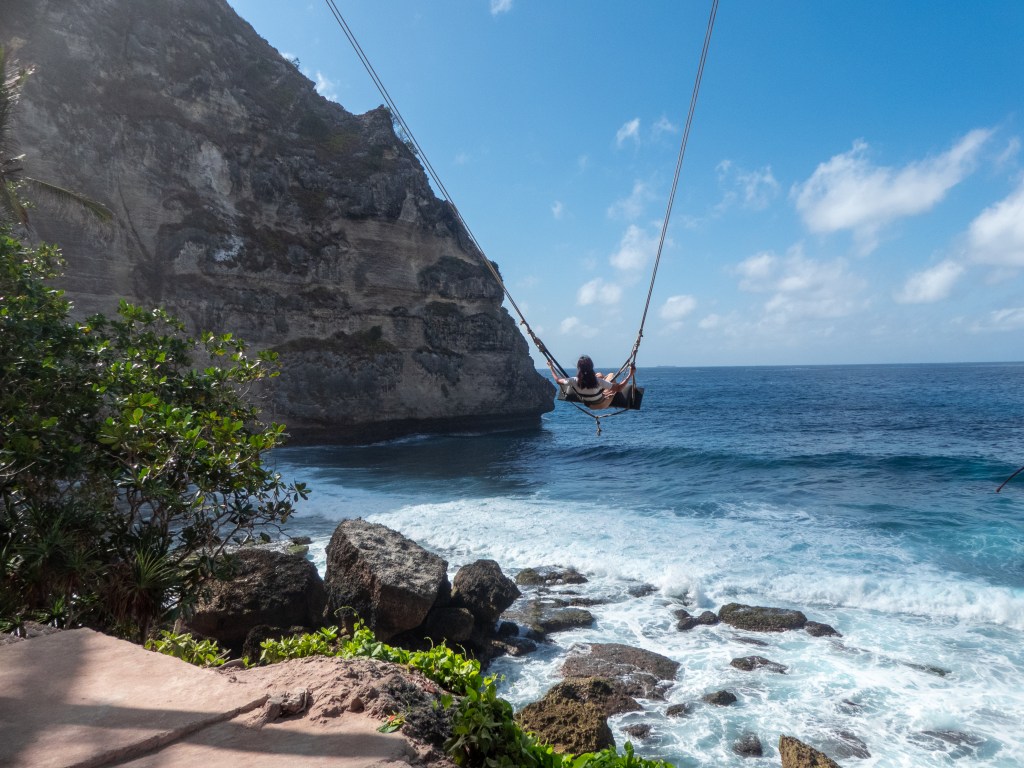 ATUH BEACH
Atuh Beach is right next to Diamond Beach and definitely not as spectacular. It only takes 15 minutes to walk down the steps to this beach and the climb is very easy.
At the bottom, you will find several small warung's selling traditional Indonesian dishes and cold drinks. They are relatively expensive compared to less popular destinations (a fresh coconut will cost IDR 50,000 (~ €3.20)). Unfortunately, you have to pay IDR 200,000 (~ €12.80) for a sunbed or beanbag in the shade even if you purchase food or drinks.
You can find basic toilets here.
You can swim at Atuh Beach but be careful of the strong currents especially as the tides change. In 2017 three tourists were dragged out to sea here and had to be rescued. Nusa Penida's waters are dangerous and you have to use your common sense. Usually, there are no lifeguards on duty so it's your own responsibility to keep yourself safe.
Visit Atuh Beach after you've been to Diamond Beach. That way you can relax with some food and cold drinks and recover from climbing the stairs.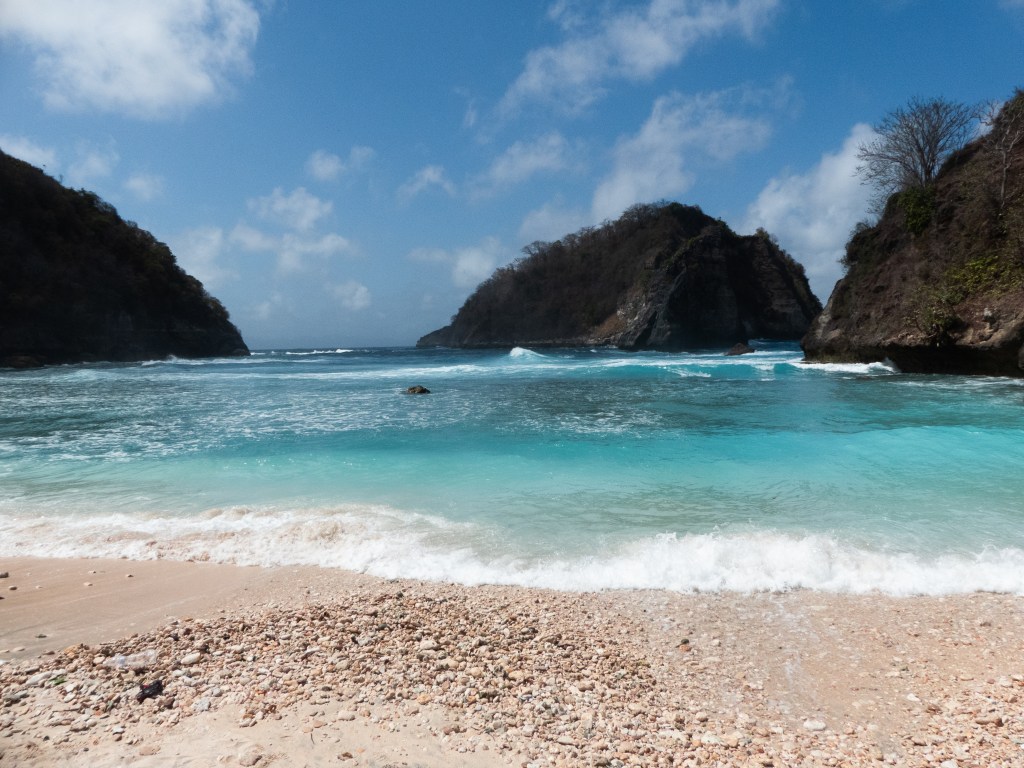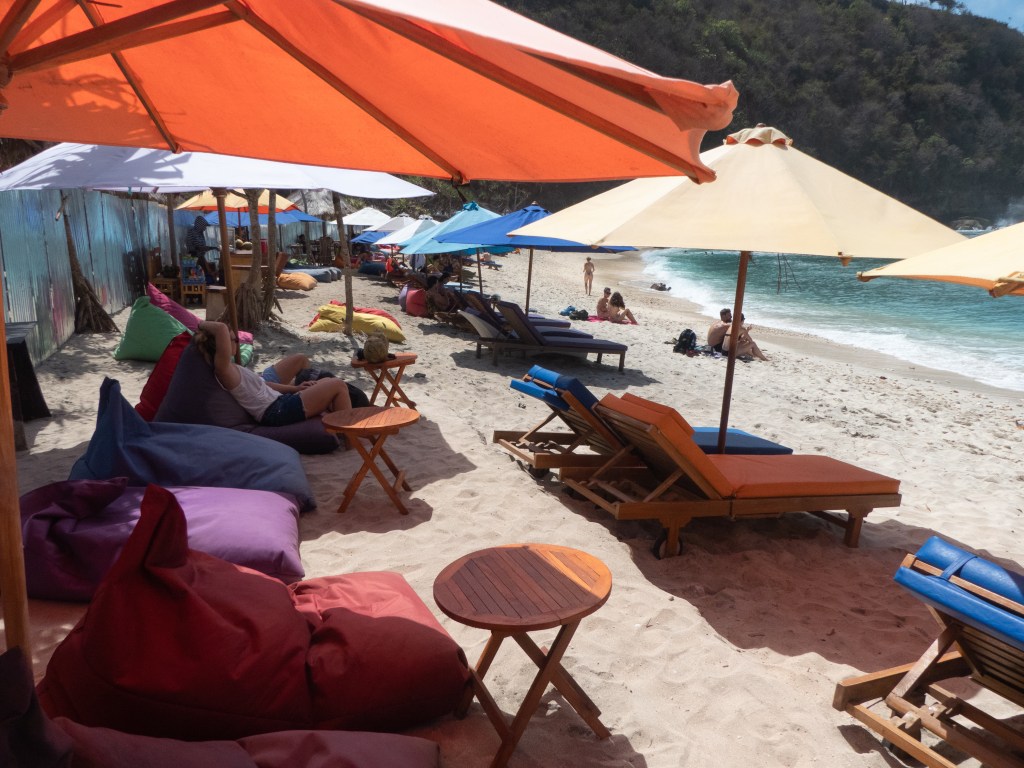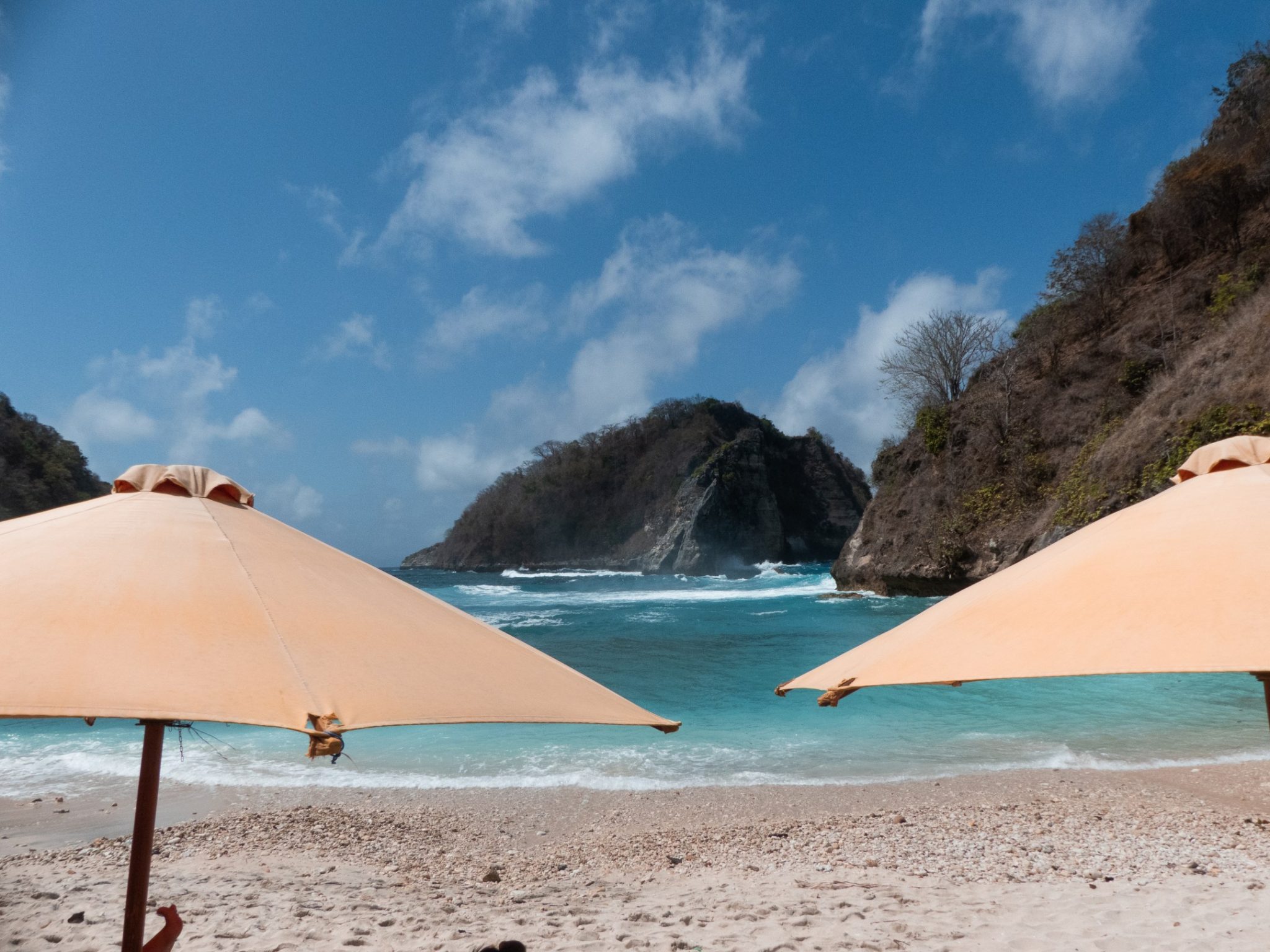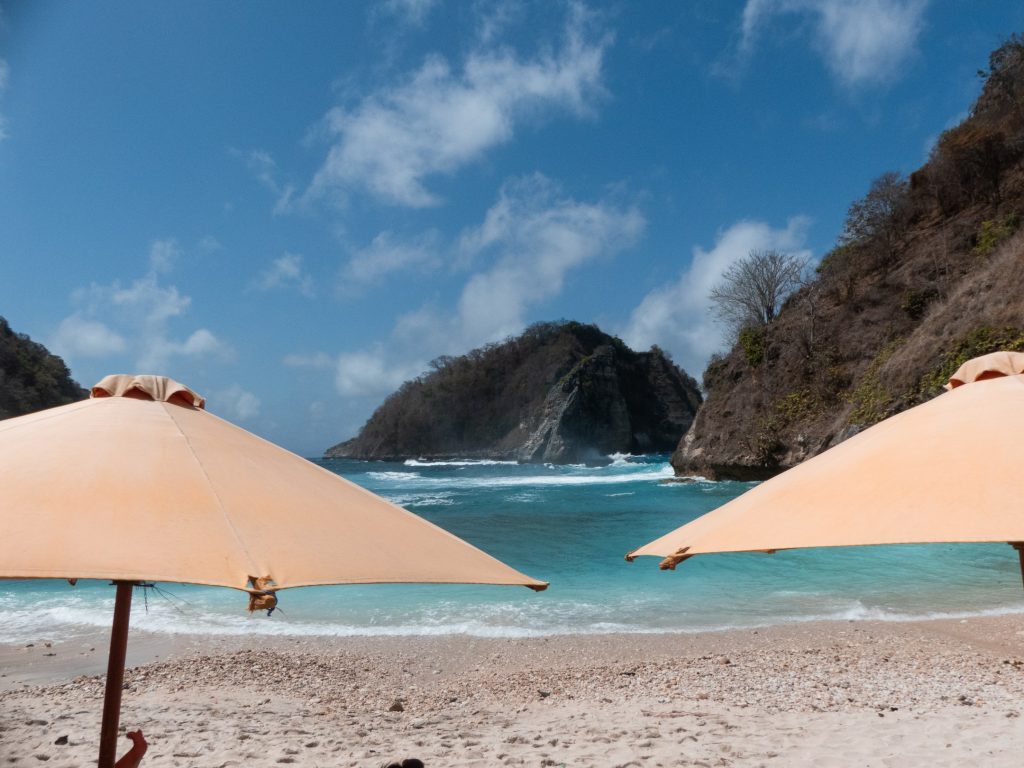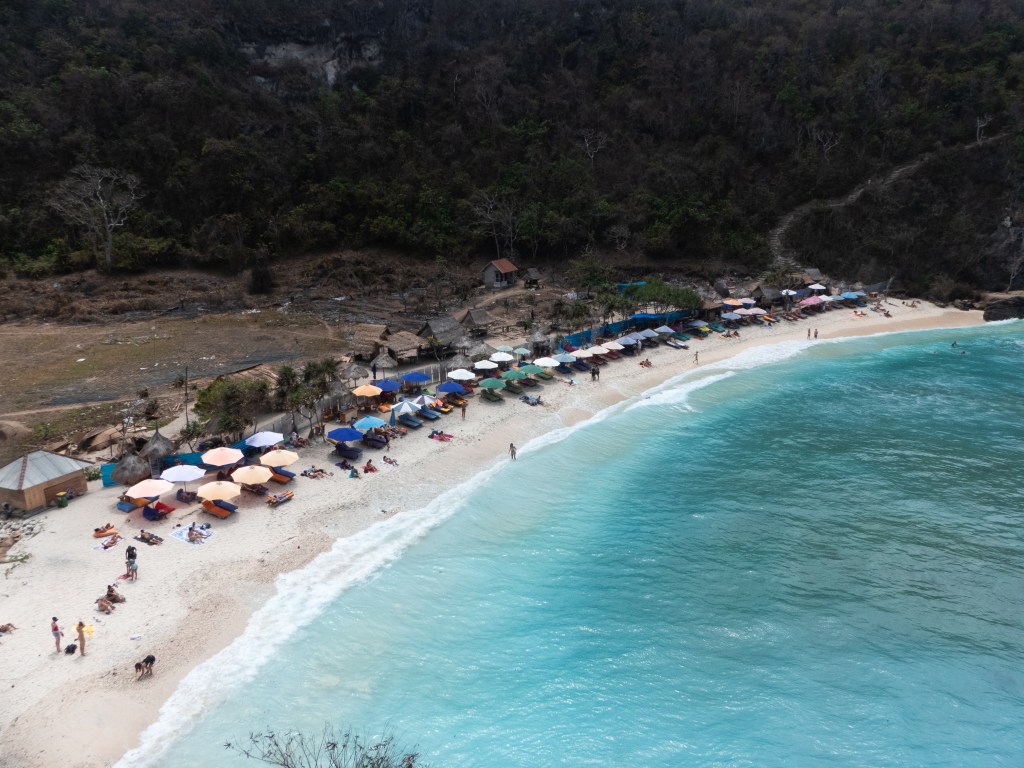 THE LOOKOUT POINT
If you follow the path past both beaches you'll reach a little abandoned hut from which you get a great view onto Diamond Beach. This is the perfect spot to fly a drone.
Be very careful when taking pictures here. The edge of the cliff is difficult to see in places and the drop is straight down.
Don't go too close to the edge and be safe.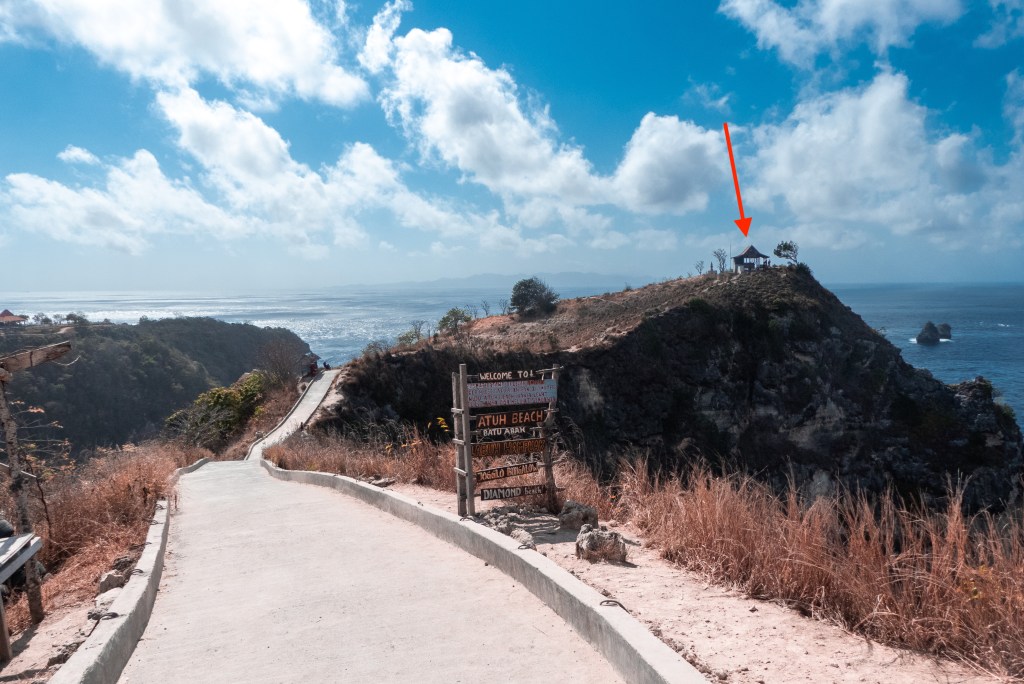 DRONES
You can fly a drone anywhere around Diamond and Atuh Beach. The best spots are close to the abandoned house and along the edge of the cliff.
There is also a warung at the top of the stairs leading down to Atuh Beach where you can fly your drone while sitting in the shade with a cold drink.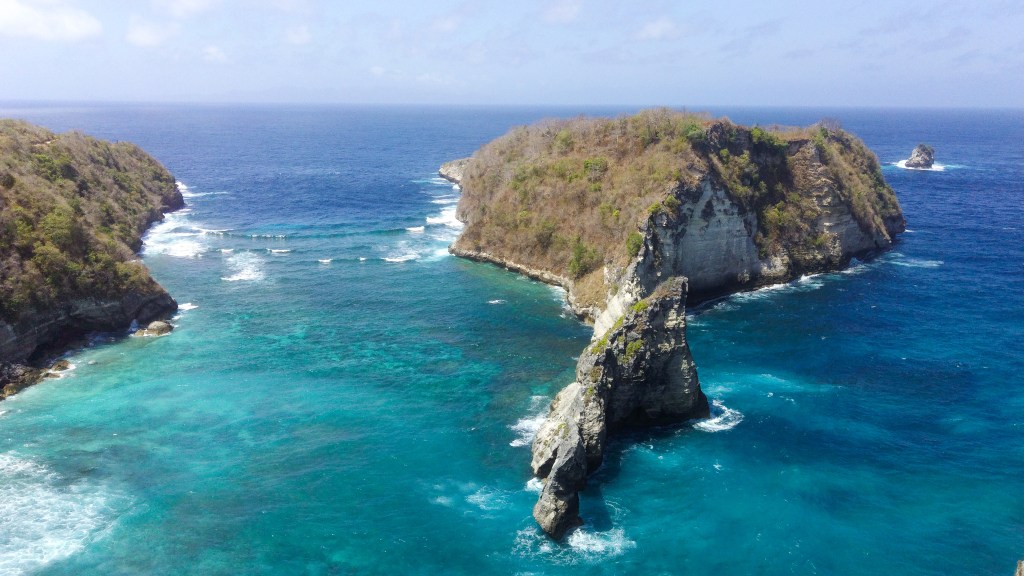 WHAT ELSE TO SEE AFTER YOU'VE VISITED DIAMOND AND ATUH BEACH
Definitely check out the Thousand Island Viewpoint which is on the other side of Diamond Beach. The views here are amazing. This is also the location of the famous Rumah Pohon Treehouse.
If you still have energy after all these attractions you can visit Suwehan Beach which is also on the east coast of the island. However, the roads to this beach are nearly always inaccessible by car so you have to ask your driver in advance.
If you're planning a trip to the west coast of Nusa Penida click here to read all about Kelingking Beach and why many say it is so dangerous. Or why not check out Tembeling Natural Pools, Broken Beach and Angel's Billabong.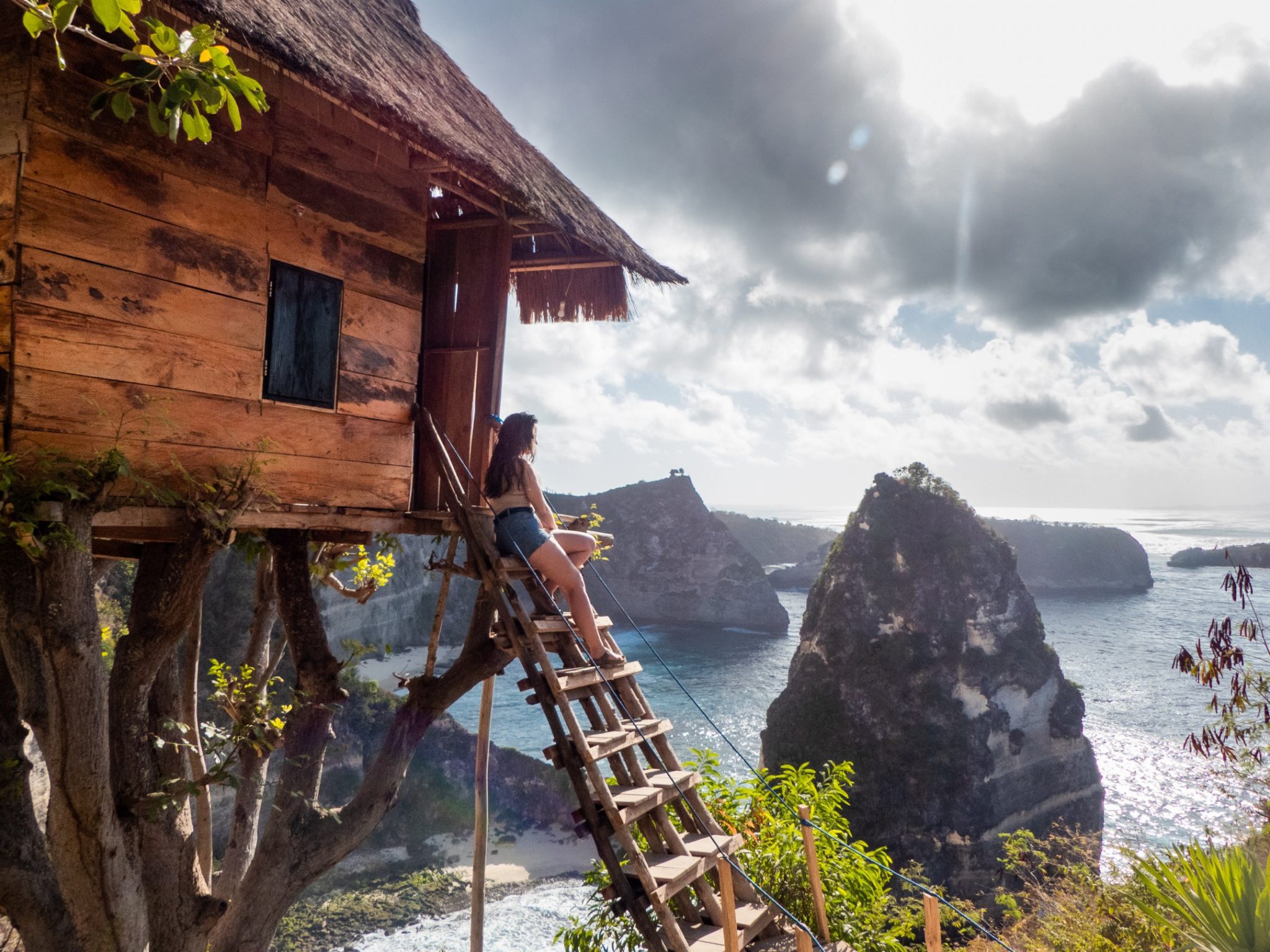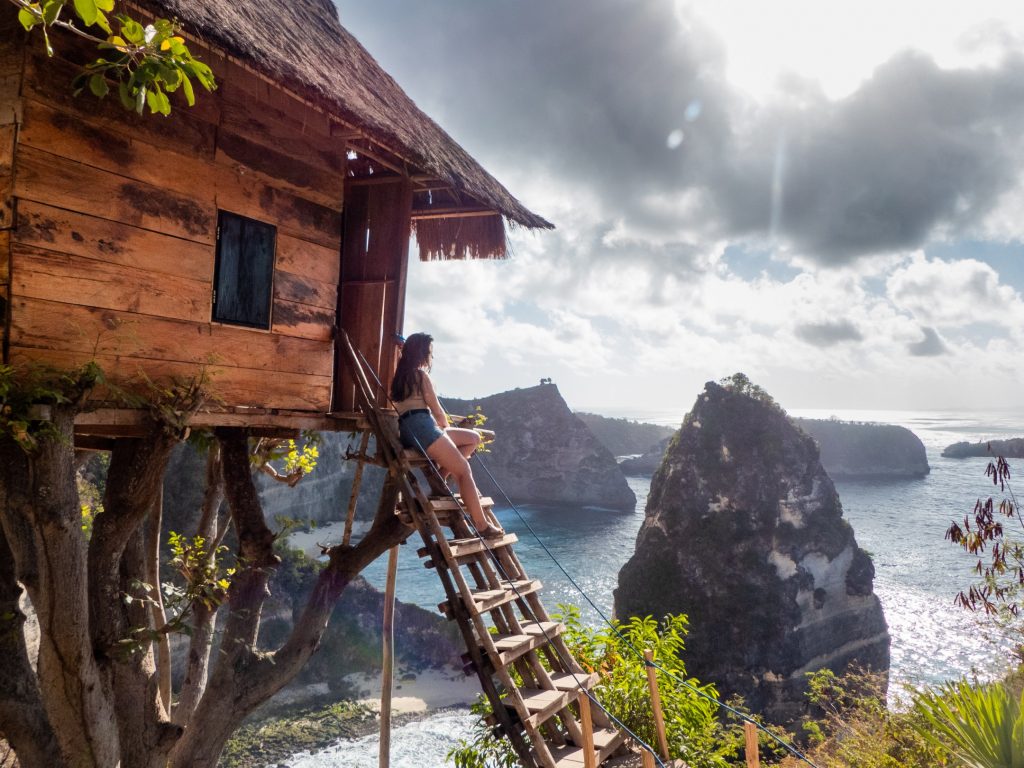 My most important travel tips and resources
Book your flights
Skyscanner is the best website for finding cheap flights since it works like a search engine so you can find the best deals across all airlines.

Book hotels and hostels
• Booking.com: Best world-wide
• Agoda: Best in South East Asia
• Hostelworld: Best for hostels

Book tours, transport and rental cars
•Viator: The best place to book tours, day trips and excursions for al budgets
•12Go: Great for ferries, trains, transfers and buses in South East Asia
•Discover Cars: Best deals for rental cars around the word

Get travel insurance
Every traveller needs travel insurance and I mean every single one. SafetyWing covers you in case of injury, illness or worse and they've got your back if your bag is stolen, flights are cancelled or in case of a natural disaster.

Pay abroad
Ask any traveller, Wise is the best choice when it comes to sending money abroad. They've always got the best exchange rates, lowest fees and their visa card is great for getting cash out or paying abroad.

Things every traveller needs:
➼ Osprey Farpoint 70 Backpack
Detachable daypack, ultra-light, durable and free repairs for life. There's a reason why so many backpackers have this bag.
➼ Packing Cubes
Packing cubes are a gamer changer, keeping your luggage organised and providing tons of extra space.
➼ Power bank
There is nothing worse than running out of battery on an overnight bus journey or a long flight. With a powerbank you can charge your eletronics on the go and make sure you're always connected.
➼ Micro-fibre towel
These lightweight towels are foldable, fast-drying and so useful when you're travelling.

➼ You can find 15 more things every traveller needs here. Some might be a bit controversial but I warned you!
Did I miss anything?
If you have any questions or feel like something is missing from this post please leave a comment below or contact me.