LEARNING HOW TO USE ADOBE LIGHTROOM
So you're thinking about learning how to use Adobe Lightroom or more specifically Lightroom CC. Searching for Lightroom tutorials for beginners can be overwhelming and confusing. The program can be daunting if you've never learned how to properly edit photos. However, Lightroom can also be easy if you know a few basics, and with a bit of practice, you'll be editing like a pro in just a few week's time. Don't expect to be perfect right from the start. Developing an eye for what looks good when you're editing takes time so even if you know how to use Lightroom you won't immediately be good at editing. Take your time and look at professional photographers' editing styles for inspiration. This easy Adobe Lightroom guide and beginner tutorial will help you learn the basics and get you started.
Our blog posts contain affiliate links. These don't cost you anything extra, but let us keep Guide your Travel free and provide high-quality content for you. Thank you for your support!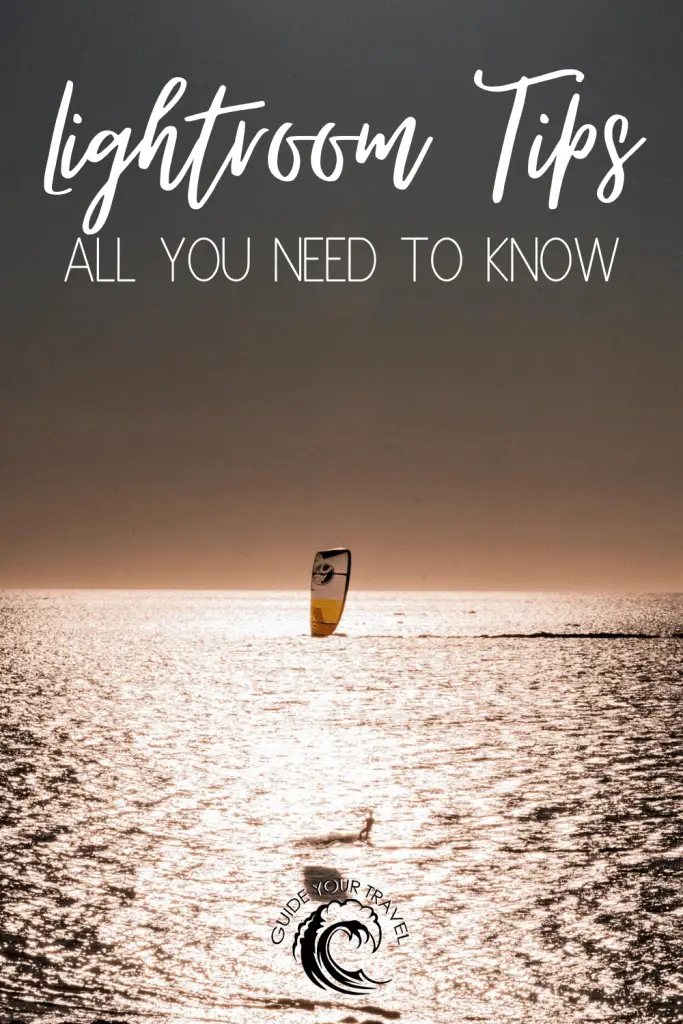 Before we start this Lightroom tutorial for beginners we need to first clarify which version of Lightroom we'll be using. This beginner guide is specifically for Lightroom CC which is different from Lightroom Classic CC. Both versions of Lightroom essentially do the same thing but their interfaces look completely different which makes it difficult to explain both in one article. If you know how to use one you'll have no trouble learning how to use the other so don't worry about that now.
Lightroom CC tends to be viewed as being a bit more user friendly and better for beginners. So if you have no idea how to edit photos I highly recommend starting with Lightroom CC as a complete beginner. If you want to know more about the different versions of Lightroom and which one is right for you check out this complete guide on how to choose between Lightroom CC and Lightroom Classic which also includes a beginner tutorial on choosing the right Adobe plan.
DO YOU REALLY NEED ADOBE LIGHTROOM TO LEARN HOW TO EDIT PHOTOS?
If you're at all interested in photography there is no way around Adobe Lightroom. This photo editing program will help you up your photography game and really take you to the next level. Any professionally taken photo you see online was probably edited using Lightroom. This Lightroom tutorial and guide for beginners will be the perfect introduction on how to edit like a pro.
But even if you don't consider yourself a pro photographer and just want to improve your Instagram game or brighten up those vacation pictures Lightroom is the way to go. It has so many more features than the editing programs you're probably using and once you start you'll never want to go back. Lightroom is easy to use and really user-friendly. It integrates seamlessly with both Mac and PC and is even available as a handy app for your phone. It's not only great for editing photos but also for organizing them. Check out Lightroom's affordable plans and student discount deals here.
WHICH LIGHTROOM PLAN IS RIGHT FOR YOU?
If you're still a complete Lightroom beginner and want to find out if the program is right for you then why not make use of Adobe's free trial. You'll get to use Lightroom and many other of Adobe's programs like Photoshop or InDesign for free for a week and then decide if you like it. Afterwards, you'll get to choose between a large selection of storage plans and payment options.
If you're still confused about which one you should choose and whether to prioritize Lightroom CC or Classic check out our post on how the two are different here. It's the perfect beginner tutorial to choosing the Adobe Lightroom plan that's perfect for you.
EASY LIGHTROOM GUIDE: THE MOST IMPORTANT THING ABOUT HOW TO EDIT PHOTOS WITH LIGHTROOM
Learning how to use Lightroom can be frustrating if you don't know how exactly it works. The key to really being able to make the most of all of the program's features to their full potential is using the right photos to begin with. This has a lot to do with the format you're editing.
If you're taking a photo on your phone or most cameras you'll end up with an image in the .jpeg or .jpg format. This is probably the most common image format there is and almost every photo you see is a .jpeg.
However, the format you need to really get the most out of your editing is not .jpeg but RAW. The RAW format essentially stores a lot more information about an image and therefore makes it a lot easier to edit and manipulate. Lightroom works best when you use RAW photos so if you have a camera you need to switch the format asap. The good news is that most cameras can do this fairly easily in their setup menu. Your phone, however, can not. You can still edit your .jpegs in Lightroom and get great results but a RAW is always superior. Keep that in mind the next time you take photos!
The two photos below might look the same at first but if you look closely you'll notice the differences in quality. They were edited exactly the same at the same resolution, however, the first is a .jpeg and the second a RAW file (note that their quality decreases when uploading them).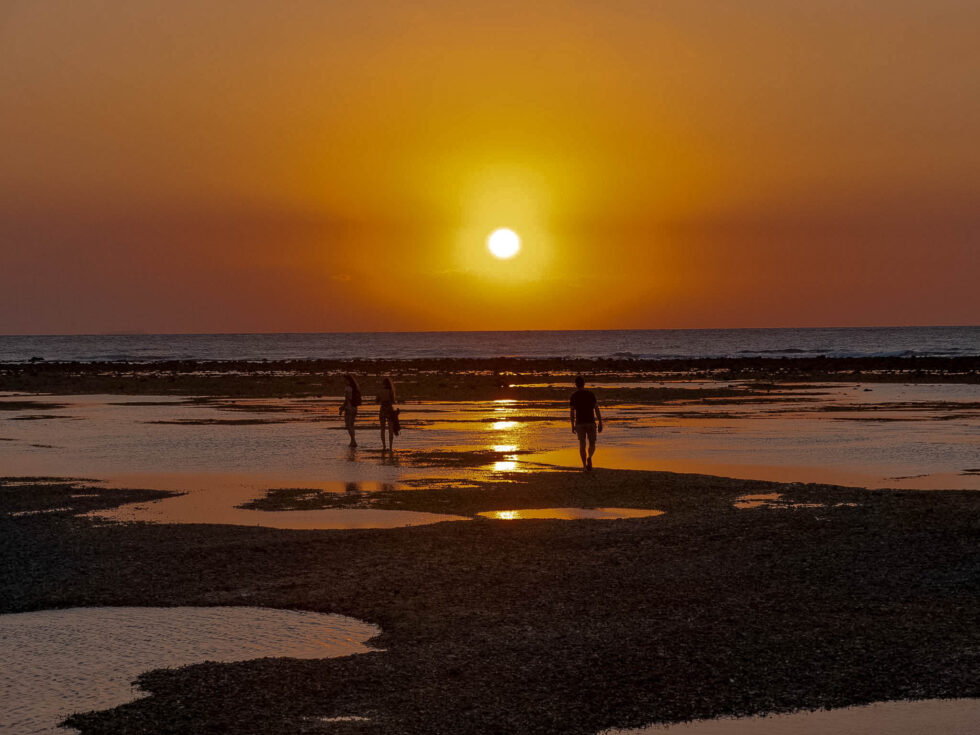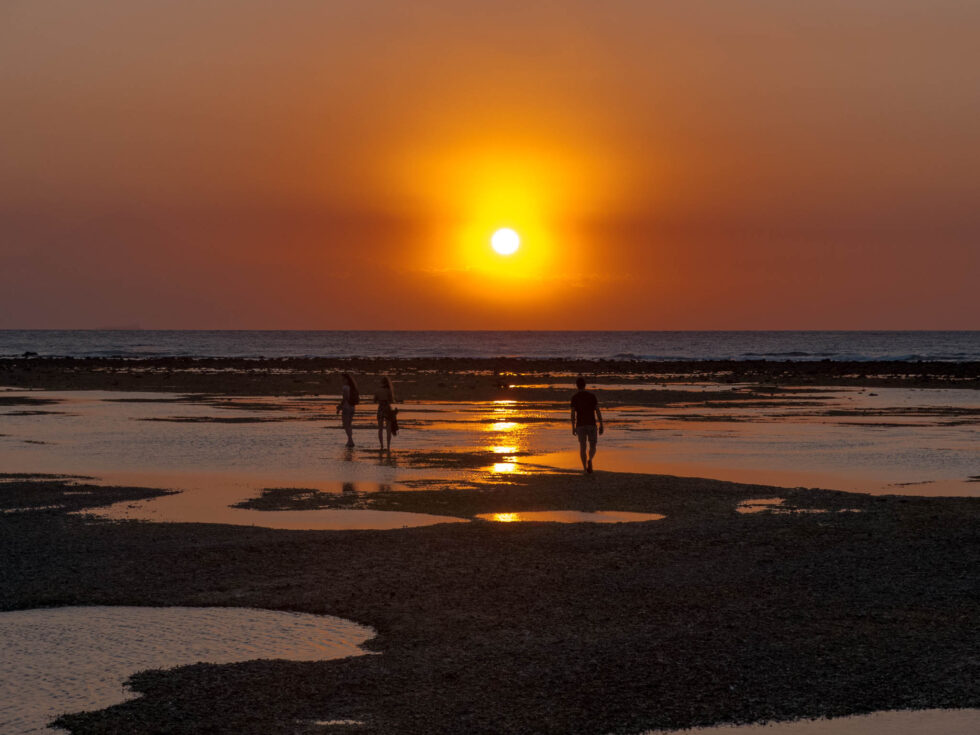 THE LIGHTROOM INTERFACE: TUTORIAL FOR BEGINNERS
Now that you know the basics of Lightroom and how to use it let's get started with the actual program and how to edit photos. Before we start learning how to use Lightroom CC we first need to familiarise ourselves with its interface and different menus.
Note that the screenshots you see in this Lightroom guide were taken on a Mac, however, the interface should look very similar on a PC.
THE MAIN ADOBE LIGHTROOM MENU
On the very left of Lightroom, you'll see the main menu. This consists of four symbols which will help you navigate through the program. The little plus on top is where you import new photos into Lightroom. Alternatively, you can also drag and drop them into the program.
Tip: Be careful! Lightroom automatically adds photos you import to the album or folder currently open on your screen. Click on All Photos if you don't want to add your newly imported photos to an album.
Below the plus symbol, you'll see the Home menu. This is where you'll find tutorials for Lightroom basics and can connect to and discover other photographers.
Underneath you'll find the most important category of this menu: the My Photos tab. Chances are you'll spend 90% of your time in Lightroom here. This is where your photo library lives with all your images. You can use Lightroom to edit photos and organize your files here. If you're still learning how to use Adobe Lightroom CC this is where you should start.
Last is the Sharing tab where you can add connections and share your images to the web. As a hobby photographer, you won't get too much use out of this tab but it can be useful to upload images in bulk.
This concludes the main Lightroom menu. Like I mentioned the My photos tab is by far the most important so let's have a look what it includes.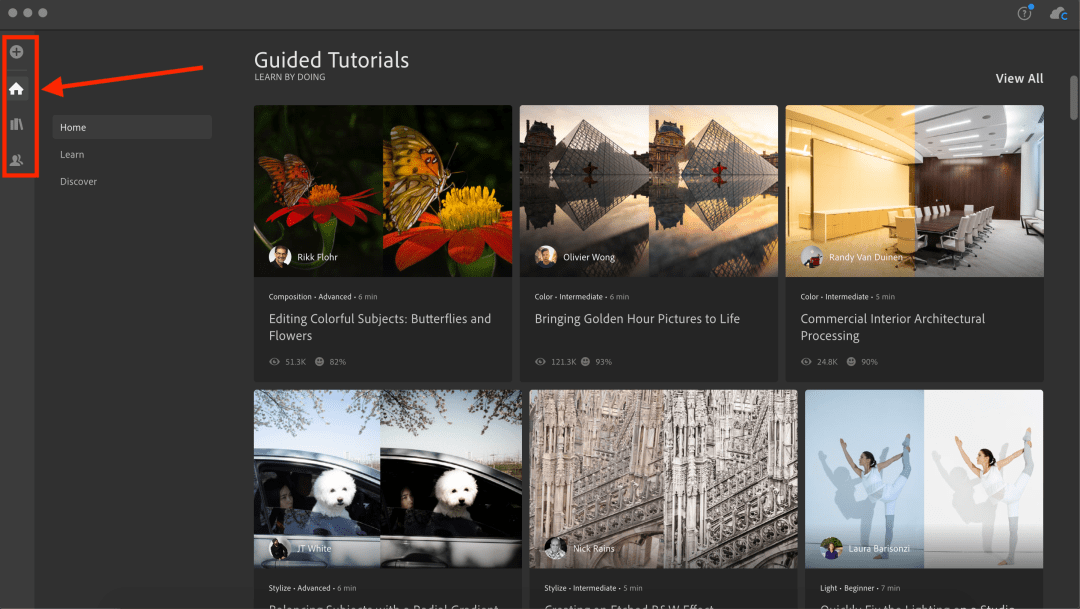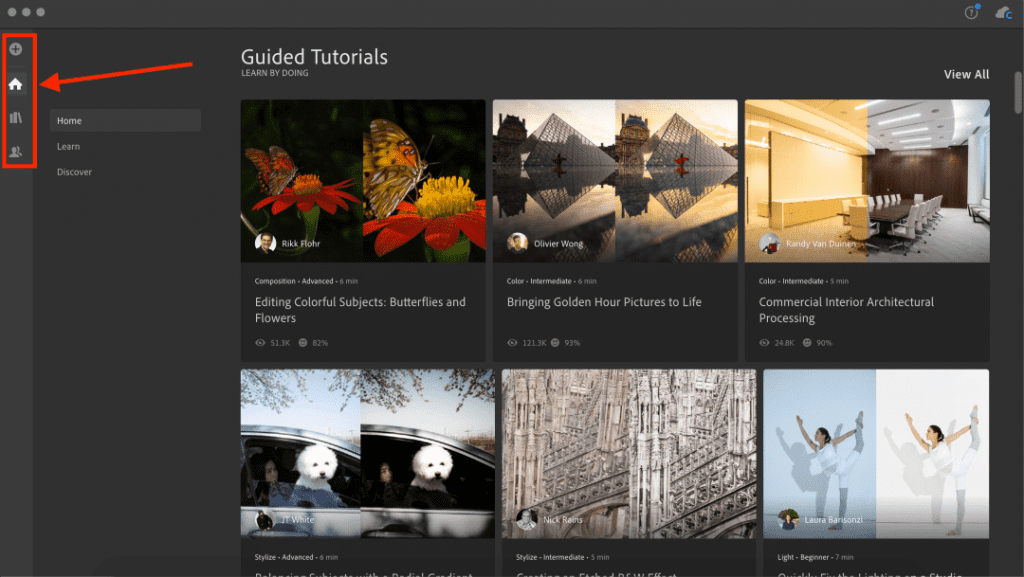 LIGHTROOM TUTORIAL FOR BEGINNERS: MY PHOTOS SIDEBAR
By clicking My Photos you'll enter your photo library. On the left, you have a handy navigation menu which makes Lightroom easy to use. If you select the top tab All Photos you'll see an overview of all your photos in chronological order. The top right of the screen tells you exactly how many there are. 
If you click Recently Added a drop-down menu opens up and shows you the last five times you imported photos into Lightroom. This is an especially useful category when you're learning how to use Lightroom since you'll never lose the photos you recently imported. The drop-down menu disappears again if you click on Recently Added a second time.
Next is the By date category. Here you'll get another handy drop-down menu that lets you pinpoint the exact year, month and day when each photo was taken. This is really useful if you're trying to find photos from a certain event, for example, a birthday or Christmas. You can simply select the right date without having to scroll all the way down in your All photos category.
Tip: Make sure to always close the drop-down menus after using them. That way your sidebar stays nice and clean and you always have a good overview.
The last tab in the Lightroom sidebar menu is the Deleted folder or trash can. Here Lightroom stores your deleted photos for 60 days before removing them permanently. That way you can always recover a picture that you deleted on accident. You can manually delete photos from this folder by clicking the three dots on the top right. Right-click a photo to restore it.
Is this beginner Adobe Lightroom tutorial helpful? Click an image in this post to pin it to Pinterest!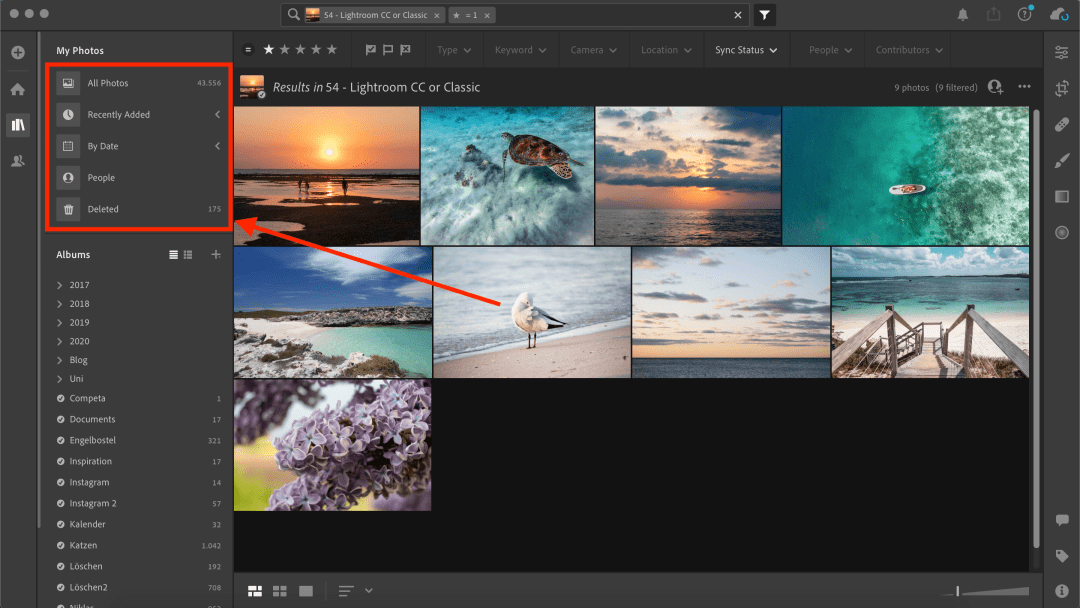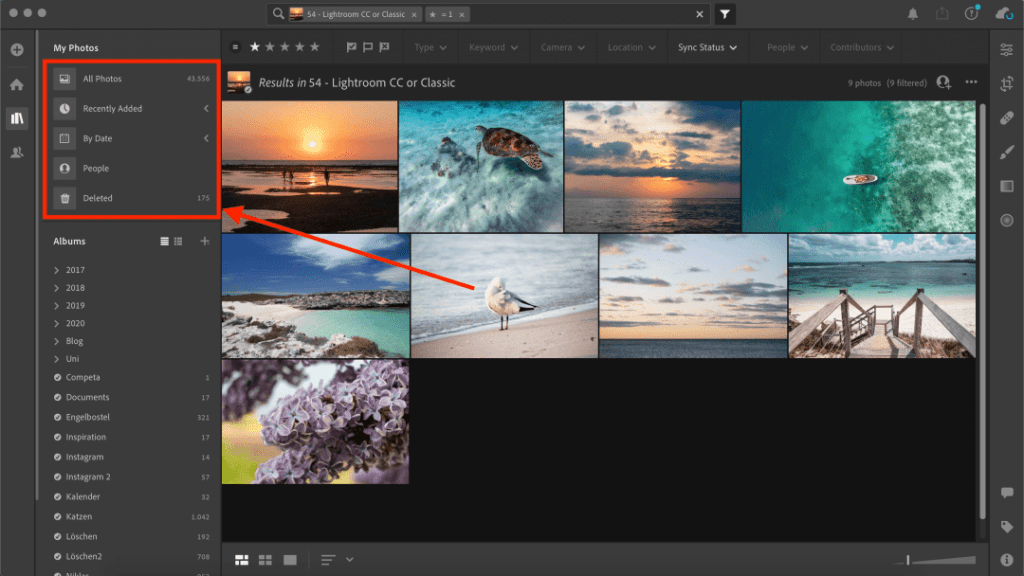 A GUIDE TO ALBUMS AND FOLDERS IN LIGHTROOM
Underneath the five categories explained above, you'll find your photo albums and folders. This is definitely one of the most important beginner tips in this easy Lightroom guide. Here is where you'll organize your photos and make sure you can find them again. Use the little plus sign to create a new album or folder. Be aware that all photos currently selected will automatically be added to a new album or folder.
What makes Lightroom so easy to use is the fact that you can create multiple levels of folders and albums. What I like to do is add a new folder for every year and then create handy little sub-folders to really organize my photos. You can easily drag and drop albums and folders and rename them. By right-clicking, you can also share, relocate or even store a specific album locally. 
Tip: Make sure to distinguish between deleting a photo from your library and removing it from an album. Do this by either right-clicking on an image and selecting an option from the pop-up menu or by pressing the "delete" key (will remove the photo from an album if it is in an album) or option-delete (will remove it permanently). Both options will open a pop-up window to confirm deleting..
LIGHTROOM OVERVIEW – BEGINNERS TUTORIAL ON HOW TO NAVIGATE THE INTERFACE
Now that we're familiar with the menu let's move on to what's going on in the centre of the screen. No matter in which album, folder or category you are the view in the middle will always be the same. You'll see all photos contained in this category and can switch between one of three different views. To do this click on the symbols on the bottom left. 
The first will show you a seamless mosaic of images with no further information. The second symbol shows you essentially the same view but in orderly columns. You can also see the image format as well as the rating for each image in this view. Lastly, you can switch to the one-image or editing mode which is where you can make easy Lightroom edits.
Next to these three symbols, you'll find the "sort" symbol where you can select how you'd like to organize the photos on your screen from several options. That way you can choose to sort your photos by import date, capture date, file name or rating.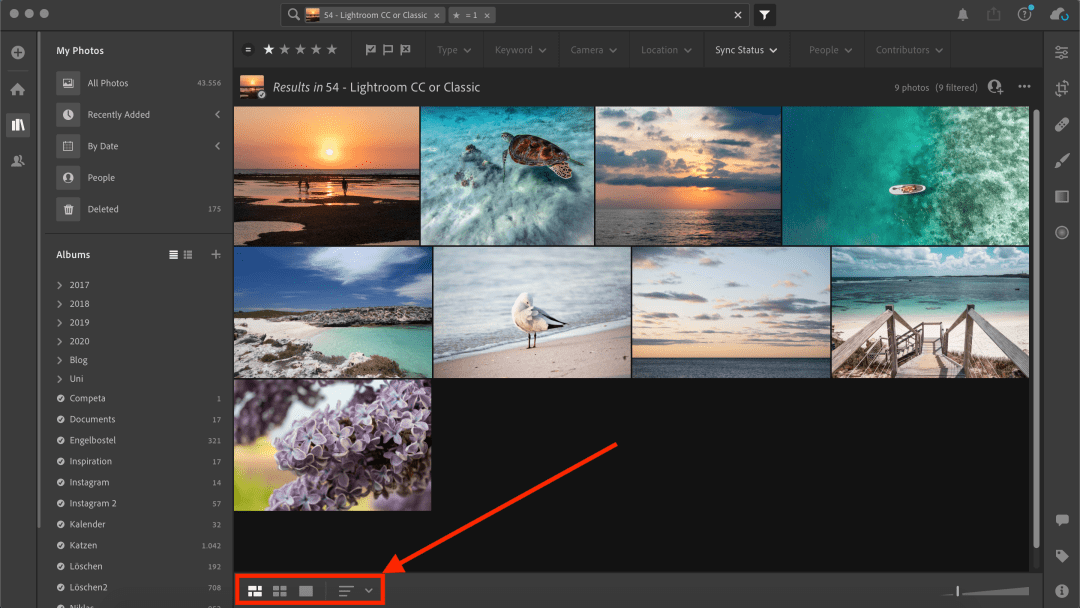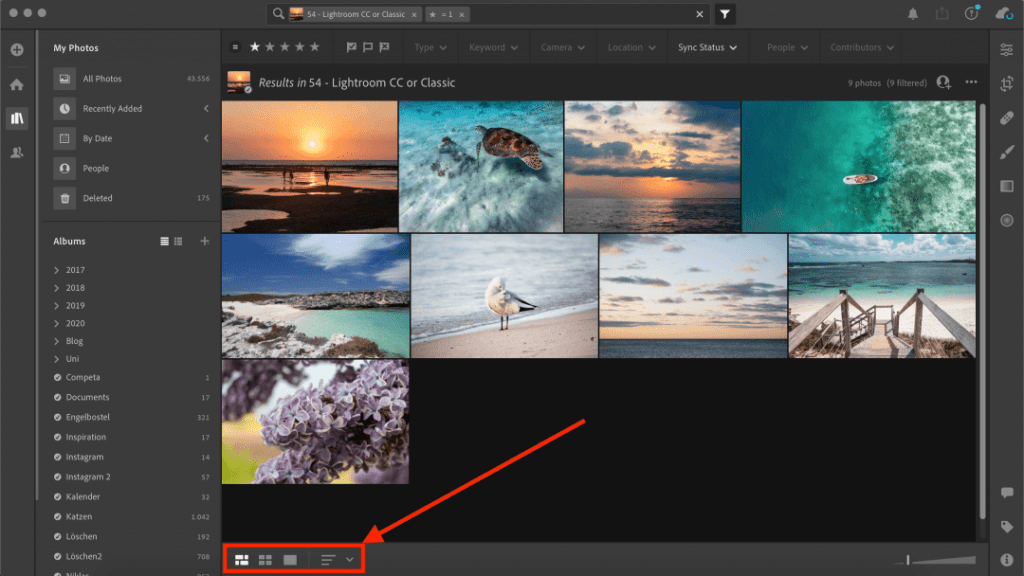 LIGHTROOM PHOTO RATINGS
A really useful feature for anyone learning how to use Lightroom CC are the star ratings and pick and reject functions. That way you can give each photo a specific rating which makes organisation a lot easier. You can either give a rating from 1 to 5 stars or flag a photo as picked or rejected. This is a great way to go through a large batch of photos and filtering out the best ones.
Rate a photo by either clicking the symbols on the bottom of the screen or using the menu that pops up when you right-click. You can also do this using the top menu option called Photo. The quickest and easiest way to rate photos, however, is by using your keyboard. Simply press the numbers 1 to 5 to set a star rating. Use the z-key to flag a photo as picked, the u-key to remove the flag and the x-key to flag as reject.
On the far right of the bottom bar, next to the star ratings is a handy zoom function that lets you increase or decrease the size of the pictures on the screen. Another very important feature that can't be overlooked in this Lightroom tutorial and guide for beginners.
LIGHTROOM VIEW – THE TOP RIGHT CORNER
All this might seem like too much information at once but once you start using Lightroom you'll realise how easy it is to use. The last important thing to know about the interface is the top-right corner. There are four symbols here which need to be included in this beginner Adobe Lightroom tutorial.
The first is the Notification bell. Here any notifications from collaborations with others will pop-up. Next is the Export tab that will let you export photos from Lightroom. I'll explain more about exporting photos later on in this article. Next, you'll find a little Questionmark which opens up a drop-down menu. Here you can get help on popular topics and access Adobe Lightroom beginner tutorials.
On the far right, you'll see a little cloud symbol which really helped me learn how to use Adobe Lightroom CC. By clicking the cloud you'll get an overview of how much cloud storage you're using, how many photos you have and whether you have any photos still syncing. Make sure to check this menu periodically to make sure you're not running out of storage. Here you can also see if all your images are securely backed up. Definitely very important for this Lightroom tutorial for beginners.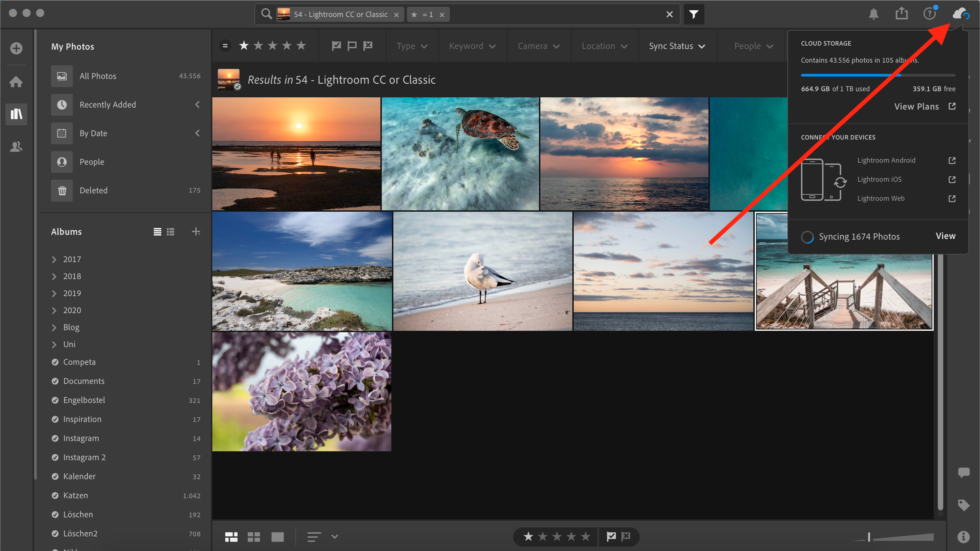 ADOBE LIGHTROOM: HOW TO EDIT PHOTOS
Now we're finally getting to the exciting part. Double-click on any image in Lightroom or select the single-image view on the bottom left to access the Lightroom editing menu and learn how to edit photos. Have a look at the right side-bar where you'll be able to create easy Lightroom edits.
By clicking the top symbol you'll open up the Edit menu which is arguably the most important. You'll see a big selection of sliders and menus. If all drop-down menus are closed you'll see six main categories (light, colour, effects, detail, optics and geometry). This is an Adobe Lightroom CC tutorial for beginners which is why I won't go into too much detail on what each slider does (I'll save that for another blog post). But if you're still learning how to use Lightroom to edit photos you should start by manipulating the Light sliders. Once you've mastered those work your way to the Colour category to change individual colours in your image. Remember! This will work best if you're editing a RAW photo.
The Effects and Detail categories are quite small and let you change things such as clarity, texture, grain, sharpening or the noise in the image. Definitely have a look at those even if you're just a Lightroom beginner looking for a tutorial. They can be really helpful.
The Optics and Geometry categories are a bit more advanced but definitely useful. Especially the Geometry menu can really help you fix the perspective of a photo or straighten it automatically.
This concludes the explanation of the Edit menu in this easy Lightroom guide. Underneath it you'll find the Crop and Rotate category which every Lightroom beginner should know. Use this tab to straighten your photos manually, change the aspect ratio and crop them. This can really help you edit photos to make them look more professional.
Next is the Healing Brush which is an amazing way to fix little things in your photo. This tool can be seen as a limited version of Photoshop's Stamp Tool. Change the size of your brush on the right-hand side and click on any mistake or blemish in your image to remove it. It works like magic.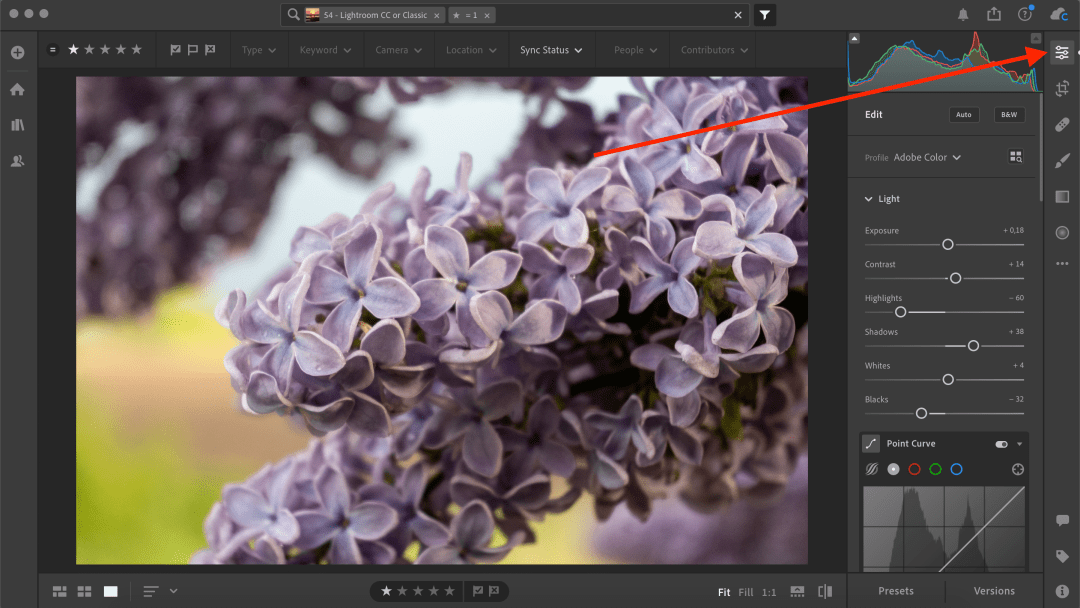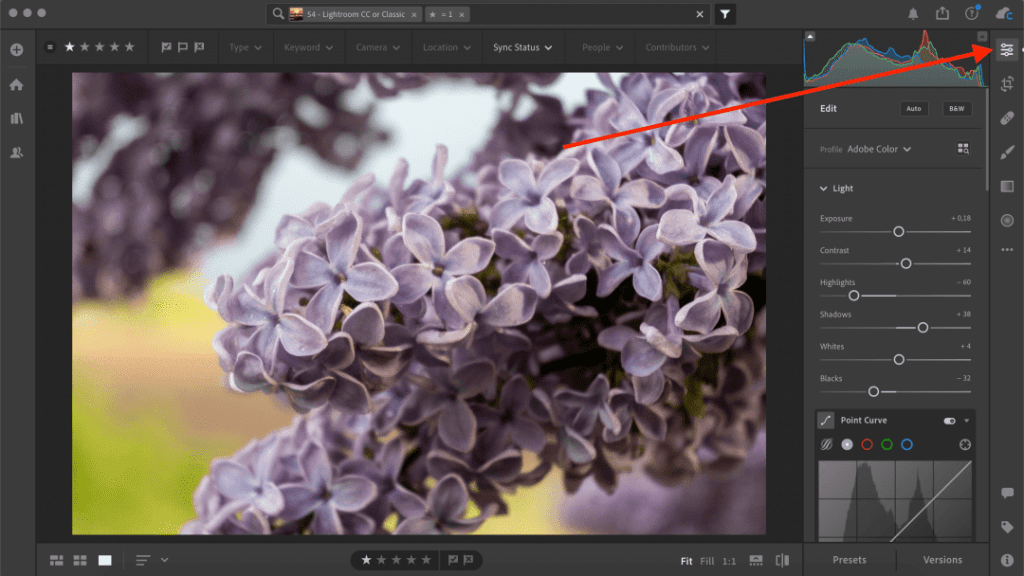 HOW TO EDIT PHOTOS IN LIGHTROOM: GRADIENTS AND BRUSHES
The next three menu options in the side-bar are the Brush Tool, Linear Gradient and Radial Gradient. These three essentially do the same thing but have different shapes. You can use them to select or "paint-over" a part of your image and then only manipulate this part. This is really useful if you have an image that is a bit too dark in some places. Under each of these three menu points, you'll find another editing menu that looks very similar to the main Edit category that was just explained. That way you can edit some parts of your image individually.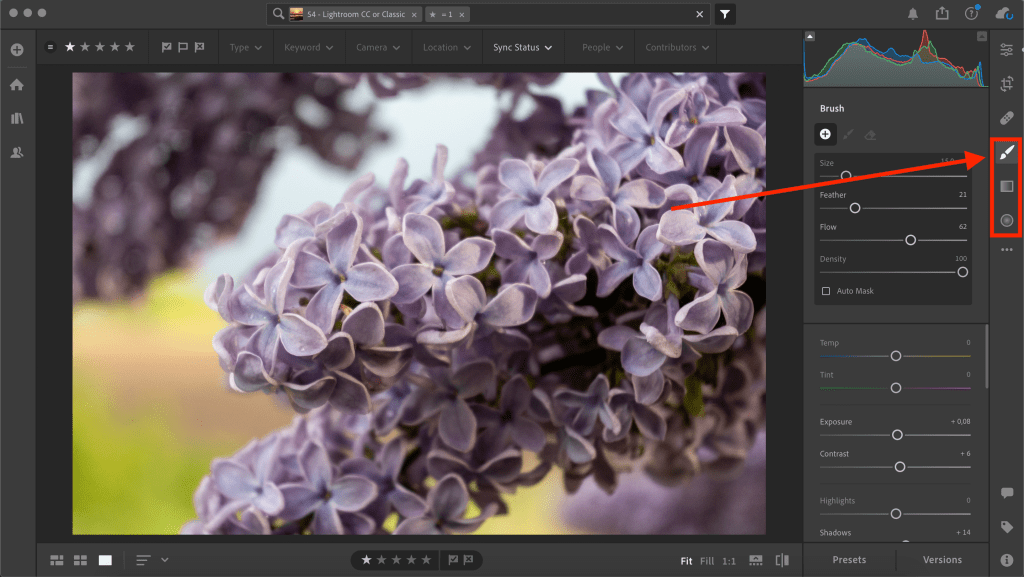 The last menu point in the right side-bar are the three little dots that open yet another drop-down menu. This is a catch-all for some handy tools to edit your image. For example, you can copy the edits from one photo and paste them onto another (also possible using command-c and command-v). You can also reset your edits, edit your image in Photoshop (if you have Photoshop) or revert your image to its original here. Since Lightroom is a non-destructive editing software this is always possible and you never mess up your original photo.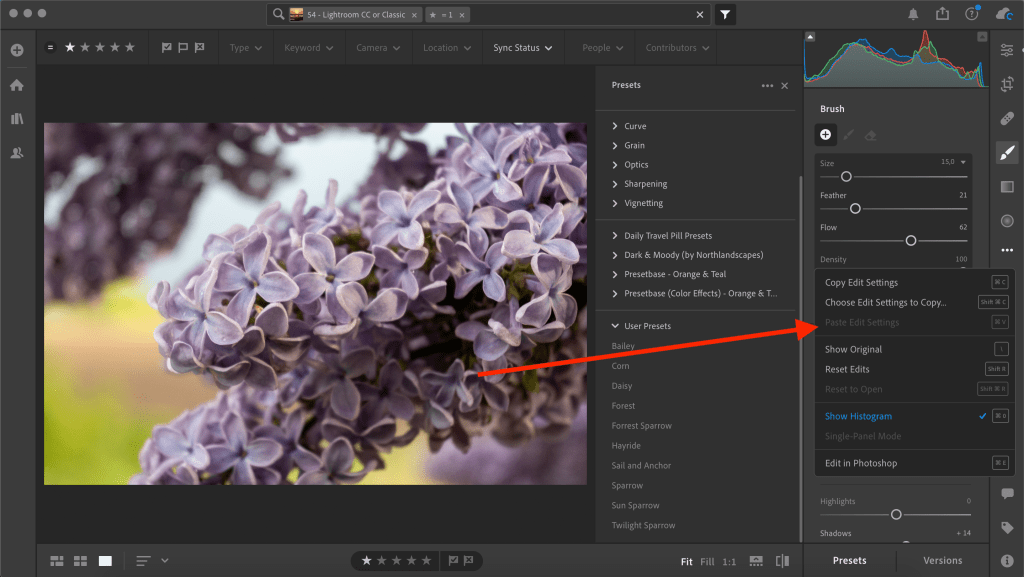 BEGINNER ADOBE LIGHTROOM CC GUIDE: USING PRESETS 
If you're looking into learning how to use Lightroom you might have heard of presets. These are essentially filters you can create yourself. If you like the way you edited a specific photo you can save it as a preset and apply the edits to others in the future. Many photographers and bloggers offer presets online for sale or even for free in some cases. Presets can be a great way to learn how to use Lightroom to edit photos if you're still a beginner. Lightroom also comes with a few default presets. You can access them by clicking the presets button on the bottom right. This will open a separate menu with all the presets you've created or downloaded. Click the three grey dots on the top to create your own preset.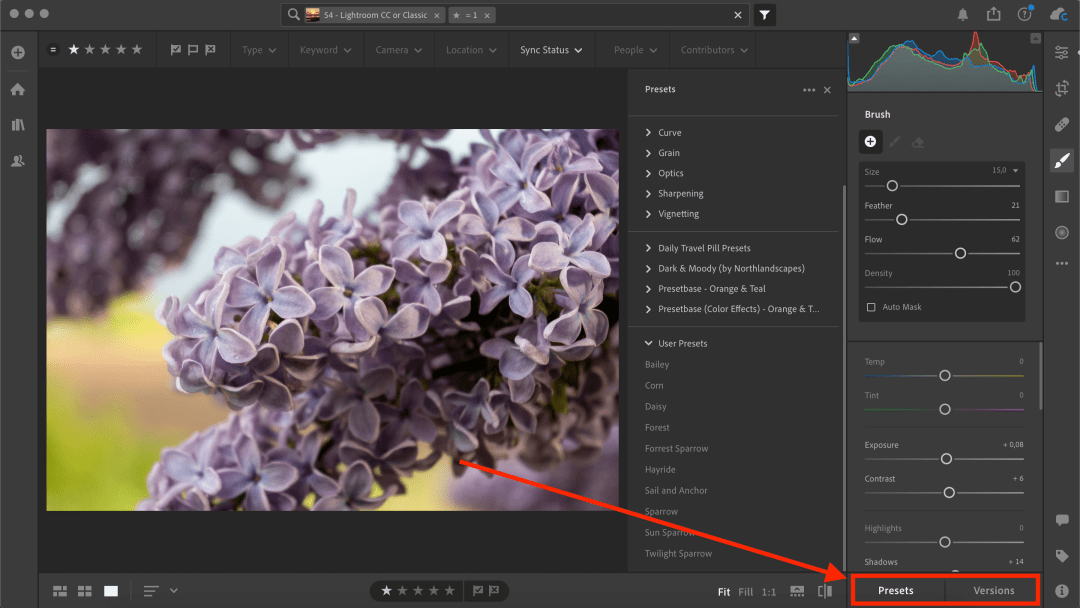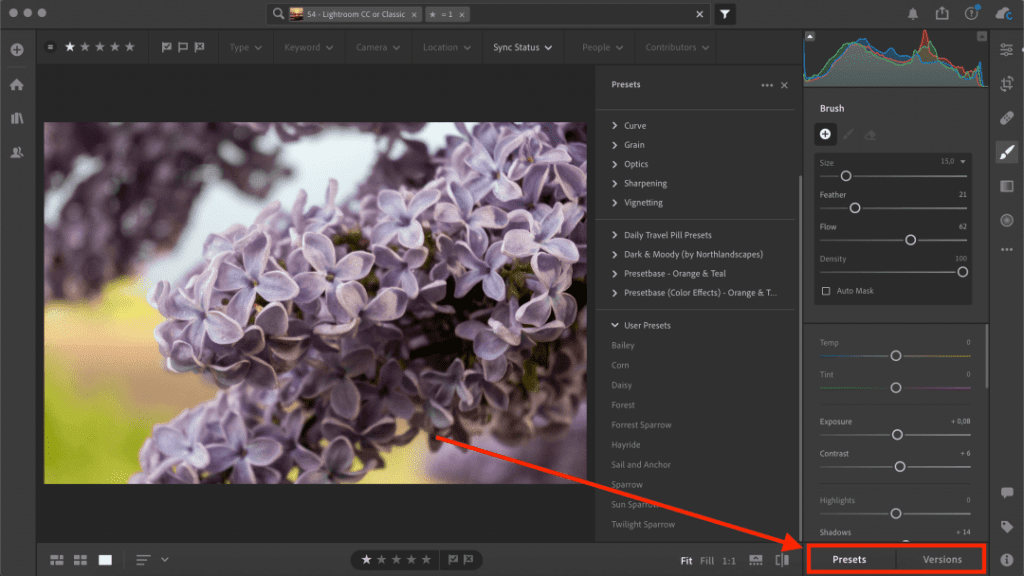 BEGINNER ADOBE LIGHTROOM CC TUTORIAL: VERSIONS
Recently Adobe added a cool new feature to Lightroom called Versions. You can now save different versions of an image in one file essentially without having to deal with a ton of annoying duplicates. Next to the Presets menu, you'll find the Versions button. Click it to get an overview of all the versions of one photo and to create a new one.
BEGINNER ADOBE LIGHTROOM CC TUTORIAL: THE BOTTOM OF THE SIDEBAR
Below the edit menu, you'll find three more options to help you edit and organise your photos. The first is the Photo Activity tab which shows you comments and likes on shared photos. This is only useful if you actually share your photos through Lightroom. Below that is the Keywords tab. This is another great feature that makes Lightroom so easy to use. You can assign keywords to each photo to make it easier to find when you're using the search function. A great way to organise your images.
Lastly in the very corner of Lightroom is the little Info tab. Click this to get all the data about your photo including image size, date and time of the capture, which camera it was taken on (and which settings were used), location and much more. An incredibly useful feature.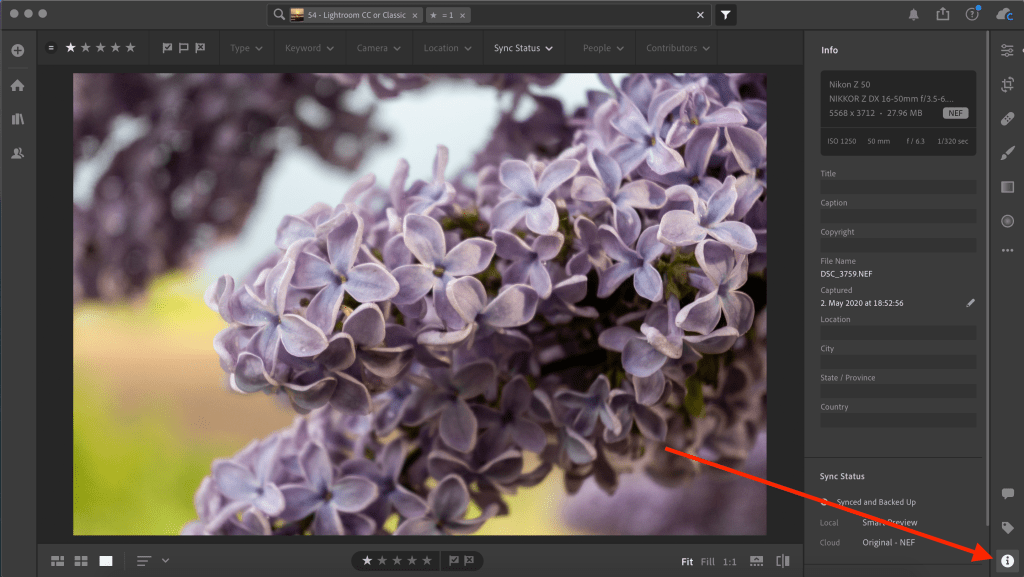 HOW TO EDIT PHOTOS IN LIGHTROOM: THE BOTTOM RIGHT
Something to note is that the bottom right of the screen looks slightly different when you're in single image mode. You'll get the options to either fit or fill your photo to the screen or even display it as a 1:1 ratio. Then there is the option to display little thumbnails at the bottom of the screen to give you an idea of the other images coming up. Lastly you can click on what is probably my favourite symbol in this Adobe Lightroom beginners guide. It lets you see your original image in just one click. A great way to compare your edited photo to what it used to look like.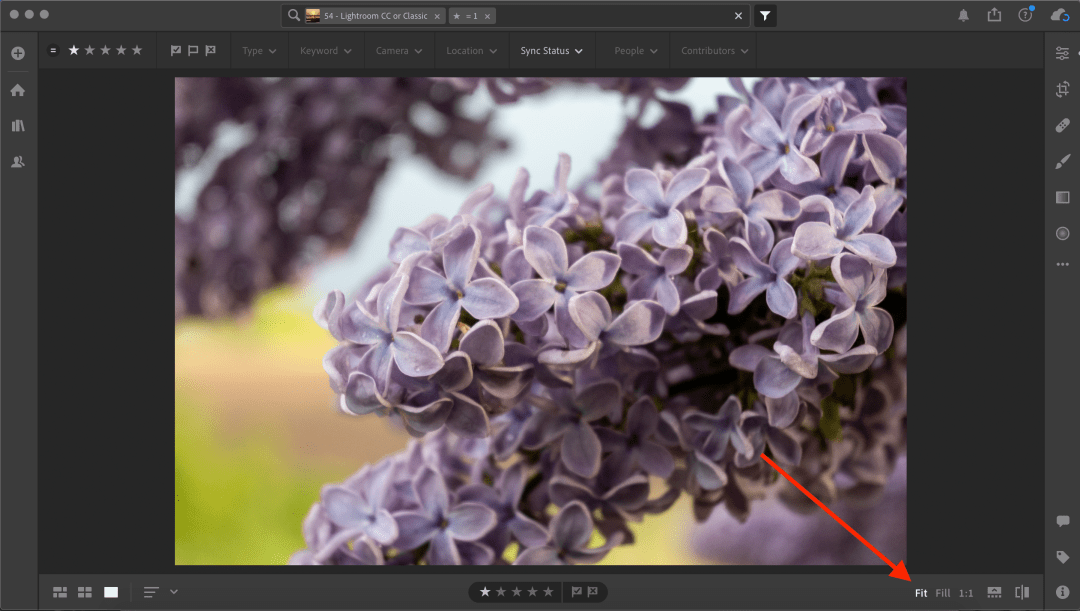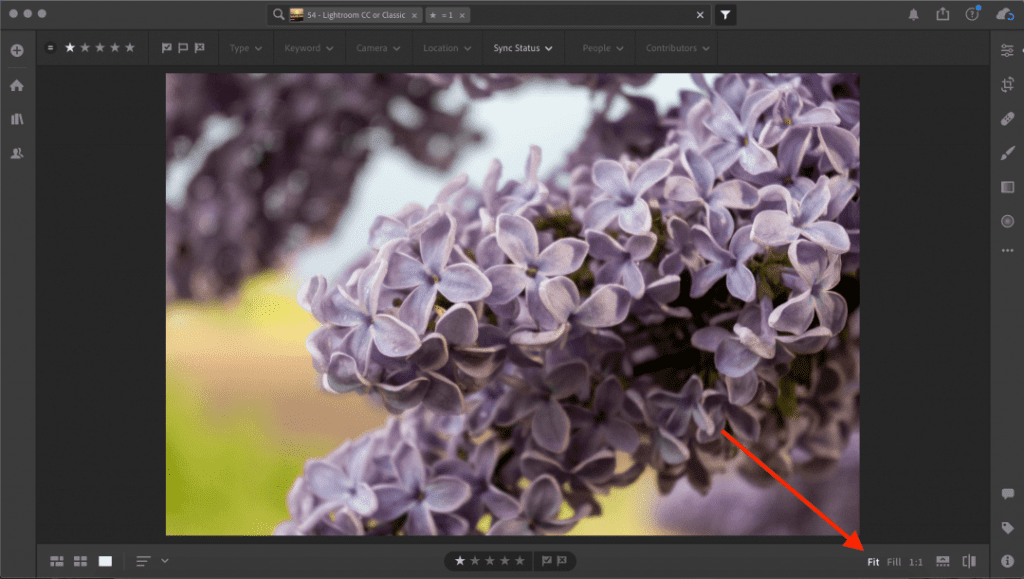 EASY LIGHTROOM GUIDE – THE TOP MENU
Now that we've gone through every single part of the Lightroom interface we can't forget about the top menu. This looks slightly different depending on whether you're using a MacBook or a PC computer but the functions are the same. Here you can find a majority of the features that were just explained and that can be accessed from the other menus. You can also access your Lightroom preferences here.
LIGHTROOM BASICS TUTORIAL: SEARCH AND FILTER
Below the top menu, you'll notice a section we've ignored so far. The search bar lets you find and filter photos in your Lightroom library using the keywords you've assigned to them. But even if you're too lazy to give each photo different keywords you can still enter generic words such as "beach" "dog" or "food" and Lightroom will help you find them. One of my favourite features!
Next to the search bar is a little filter icon which gives you even more control of which images should be displayed. You can, for example, choose to only show photos taken on a specific camera or filter by rating. Keep this filtering option in mind the next time you're looking through your photos.
Tip: Type in "not in any album" in the search bar to show photos that are not assigned to an album. That way you can locate those pictures that got lost or were never categorised.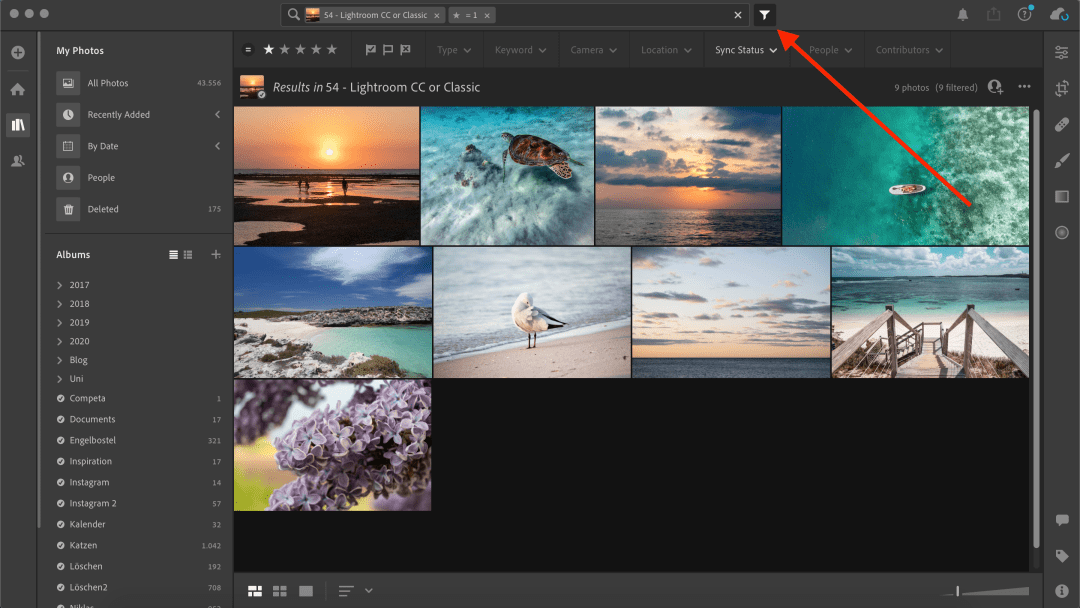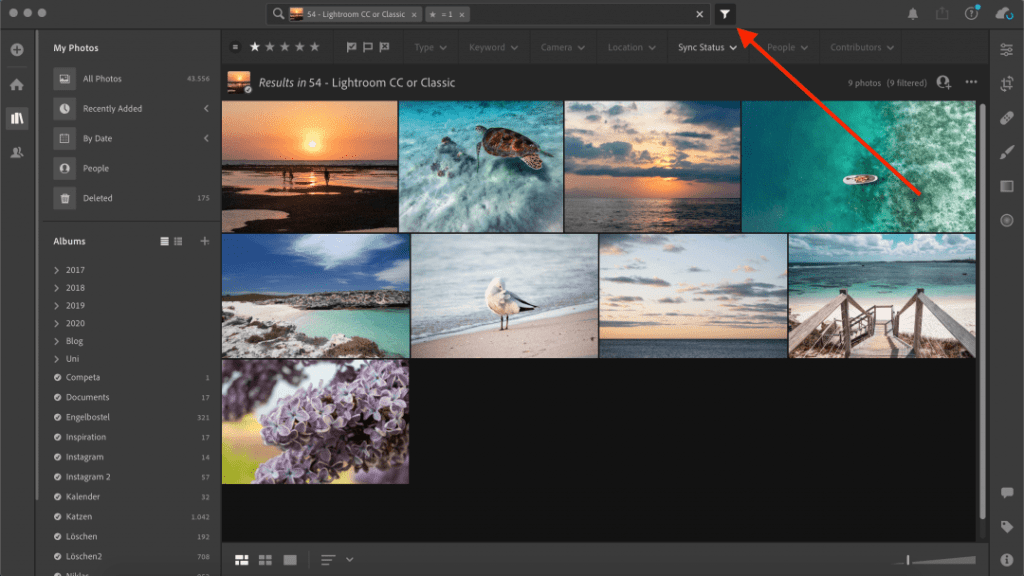 EXPORTING PHOTOS FROM LIGHTROOM
One last thing I want to include in this easy beginner Lightroom guide is how to export photos. To upload your photos somewhere or send them to someone you first need to extract them from Lightroom by exporting them. You can do this by using the export tab on the top right of Lightroom or right-clicking any image and selecting the export option from the pop-up menu. Once you click export you're lead to a new menu which lets you decide how exactly you want to export. You can choose which size you want your image to be, which format and you can even add a watermark or copyright option. Of course you can export more than one image at once.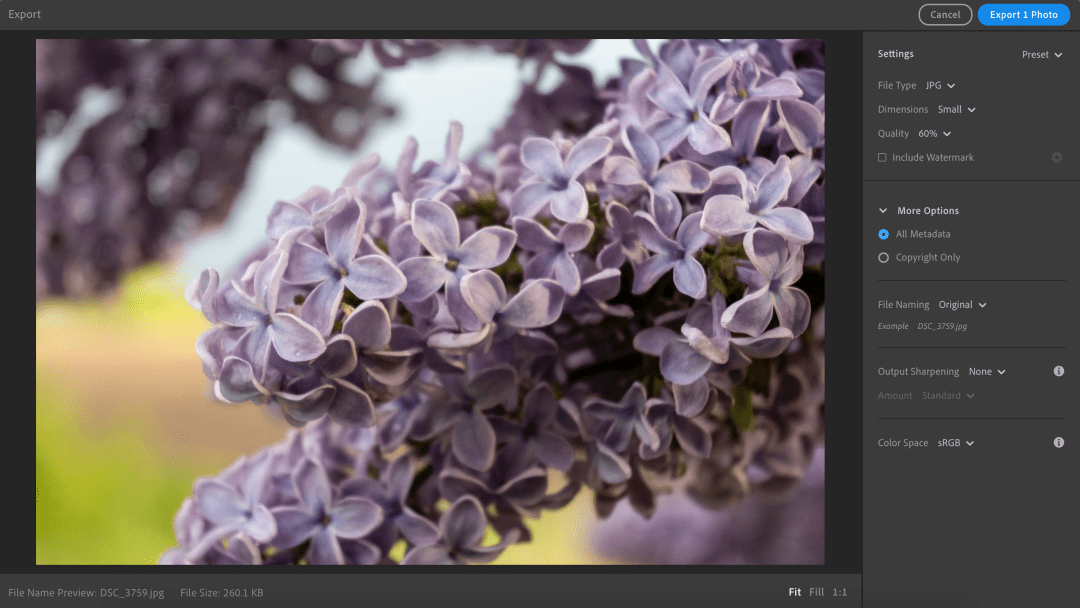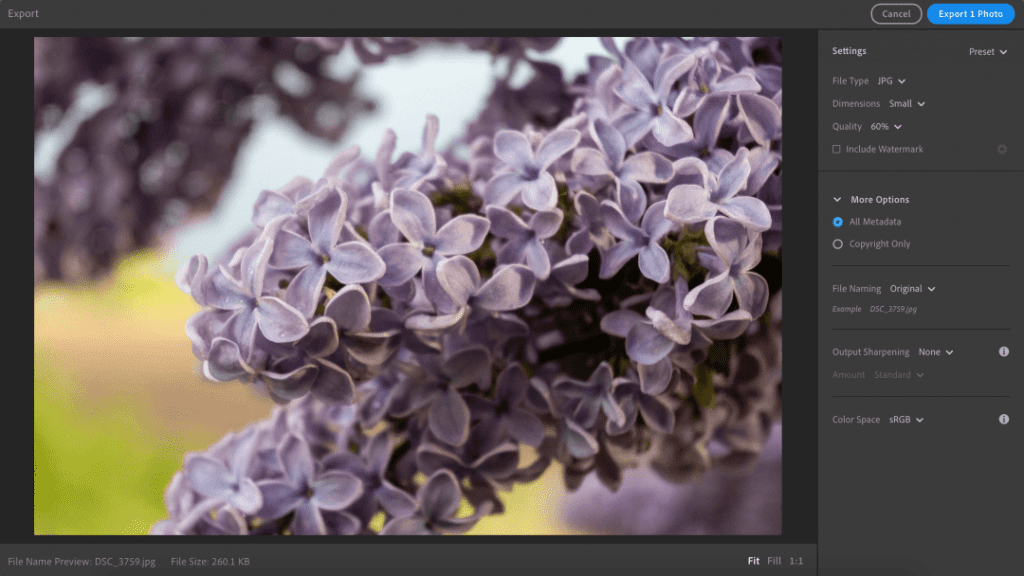 BEGINNER LIGHTROOM TUTORIAL – ARE YOU READY TO LEARN HOW TO USE ADOBE LIGHTROOM CC?
That concludes our easy Adobe Lightroom guide and beginner tutorial. You now have an introduction to all of Lightroom's features and how to navigate the interface. Make sure to check out Adobe's different plans for Lightroom and make use of their free trial. I did exactly that only a few years ago and immediately knew I'd never go back. Lightroom is simply the best editing program out there.
Are you an aspiring photographer? Check out Nomatic's professional camera bags and equipment. They're the way to go when looking for professional storage and luggage options.