Social media is one of the easiest ways you can promote your travel blog, especially if you're still new to blogging. It's free and not too difficult to learn. Facebook has 2.8 billion monthly active users making it one of the most popular social networks in the world. If you're not already using Facebook to promote your travel blog now is definitely the time to start coming up with a strategy. Facebook is a fantastic tool for bloggers to drive traffic and build a community.

Not using social media correctly was one of the biggest mistakes I made as a travel blogger. Find out why your travel blog isn't working in 2022 here.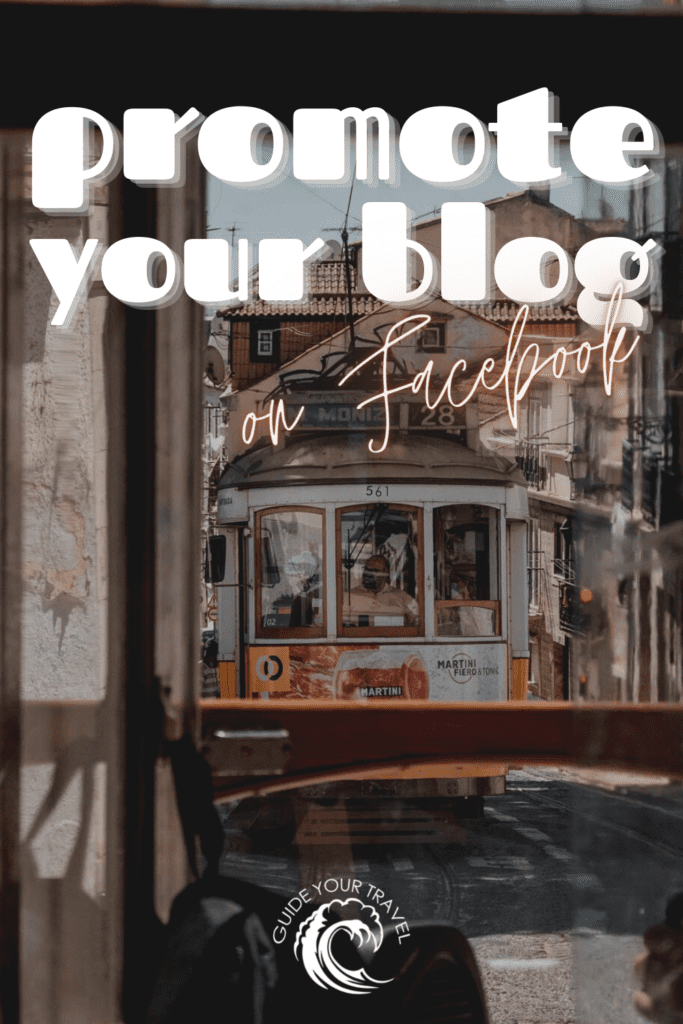 IS FACEBOOK A DEAD SOCIAL MEDIA PLATFORM FOR BLOGGERS?
It's no secret that Facebook is not as popular as it once used to be with the younger generation. All social media networks go through cycles and as a blogger it's really important to keep up with the most popular ones. If you're promoting your blog on a platform that isn't being used anymore even the best travel blog Facebook strategy won't help you.

It's definitely not the most modern social media out there but it also shouldn't be dismissed completely. Firstly, Facebook is an incredibly useful tool to connect with fellow bloggers and find business opportunities. Even if you don't get many clicks to your travel blog from Facebook it's still an important medium to have for this purpose.

Consider who your target audience for your blog is and try to find out which social media channels they tend to use. If you're writing for very young people then Facebook might not be the best choice. However, if your audience is a bit older or even from a mixed group definitely make sure to use Facebook.

Facebook might be objectively dead (and Instagram is not far behind) but that doesn't mean you should stop using these platforms completely. There are huge blogs out there that are having incredible success with Facebook so don't give up on it just yet.

Looking for alternative ways to promote your blog on social media? Check out my Instagram and Twitter guides here.
DO YOU NEED A FACEBOOK PAGE FOR YOUR TRAVEL BLOG?
In my experience, as a blogger, you should be represented on all major social media platforms. It looks more professional and shows that you are active.

This might be a personal preference but I do think that only having one or two social media channels is not enough. Of course, you'll end up focusing most of your attention on one or two platforms but you shouldn't give up on the others completely. What works for one blog doesn't work for all of them so try out as many social media platforms as possible and then decide which ones fit your needs.

If Facebook isn't among the ones that bring a lot of traffic that's fine. Try to keep your travel blog Facebook page active though by posting at least once or twice a week. Nothing is worse for a blogger than an inactive social media account. It shows a lack of commitment and will deter potential followers from joining your community.

You'll want to focus your time and energy on tasks that help your blog grow so don't spend too much effort keeping a social media platform alive that isn't really helping you out. Instead, use a scheduling programme and recycle content from other platforms that already exist. For example, post your Instagram photos to Facebook or use snippets from your blog posts.

With this strategy you can create a whole month's worth of Facebook posts for your travel blog in only a few hours.
5 WAYS YOU CAN PROMOTE YOUR TRAVEL BLOG ON FACEBOOK
There are multiple ways how you can promote your travel blog on Facebook. Here are some of the most common ones and how they can help bloggers make use of Facebook. Combine them to create a Facebook strategy for your travel blog.
1. MAKE A FACEBOOK PAGE FOR YOUR TRAVEL BLOG
Most businesses have a Facebook page so this method is arguably the most common. If you have a blog you should definitely have a Facebook page where you can post updates and come up with a strategy promote your travel blog posts. Getting likes for your page might be tricky in the beginning so put some effort into it so your page will look more professional.

Try to get at least 100 likes on your page by networking with other bloggers or getting your friends and family involved.

You should be posting at least once a week on your travel blog Facebook page; more if possible. In my opinion, once every one or two days is ideal. You'll want to keep your audience engaged without annoying them with constant posts on their newsfeed. Include questions and calls to action to encourage comments although you shouldn't be offended if your posts don't get too many likes or comments initially. Facebook isn't getting the activity it once used to so low engagement is unfortunately quite normal.
What to post on your travel blog Facebook page
A great way to get people to stop scrolling is to include a photo with every one of your posts. This takes up more space in the feed and will act as an eye-catcher. Use Canva to make sure you get the sizing of your photo right so it will display as large as possible (Facebook recommends 1,200 x 628 px). The better the photo, the better the engagement especially if it comes with a caption that has some sort of value.

While you should post on Facebook to promote your travel blog articles try to also include other posts that are unrelated to avoid only posting to promote. This will seem more personal and again, facilitate the creation of a community.

In my experience, overly personal content like life updates or recaps of your day don't perform incredibly well on Facebook for bloggers. Occasionally this could be fine to post if you have a very engaged audience but most people tend to like Facebook pages for more informative content. You need to experiment with this to find out what works for you and your readers.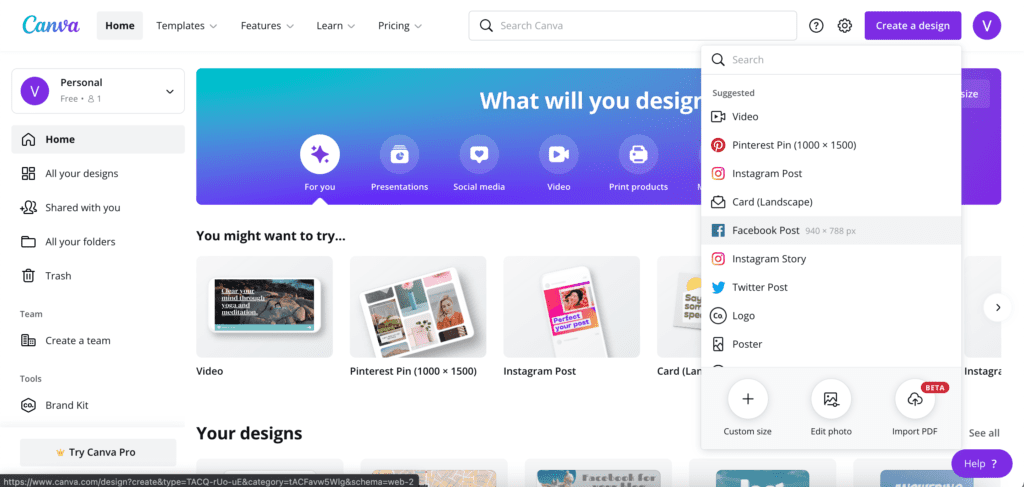 2. CONSIDER FACEBOOK GROUPS FOR BLOGGERS
A few years ago it became very popular for bloggers to create Facebook groups for their readers. This is definitely a lot of work but if done correctly can have many benefits.

Keep in mind that people will not join a Facebook group just to hear about updates from your blog. You need to provide some sort of incentive or benefit to encourage them to join. This could be a freebie like an ebook or download but it works much better if the incentive is more than just a one-time thing.

Many bloggers have success by creating more general Facebook groups that could be interesting for people to join even if they've never heard of the specific blog before.

For example, if you blog about social media and the world of blogging your Facebook group could collect information about these topics and encourage Q & As with weekly events or open discussions. Again, this is a lot of work and shouldn't be taken lightly. If you do manage to great a group like this your promotion opportunities will be incredible as you'll basically have a sales funnel taking your group members directly to your own business.

However, the selection of Facebook groups out there has become very large and the market is somewhat saturated. If you want to start a Facebook group for your blog in 2021 you need to have a lot of time on your hands and a bulletproof strategy. The best way to get started is to join a lot of groups yourself and do market research on what others are doing.

3. GET INTO FACEBOOK ADS FOR BLOG TRAFFIC
Facebook ads can be a great way to promote your business but they're also really easy to misuse. Definitely take time to research how social media advertisements work before you spend money on Facebook ads to drive blog traffic.

In my experience, they work best if you have a specific product to sell; not just to promote a blog in general. If you want to lead people to your email signup to get a freebie or to your online shop that's fantastic but it's usually not worth it to run an ad just for your blog.

Do your research, otherwise, you'll just be wasting money. That being said, if used correctly Facebook ads can increase your reach drastically and really drive blog traffic. Make sure to trial them on a small scale first and compare which apps are resonating with your audience before you invest a larger sum of money.
4. GIVE FACEBOOK STORIES A TRY
As all social media platforms do, Facebook of course has a story feature. This is definitely not as popular as Instagram's stories but they do still have some potential.

The one benefit of Facebook stories is that since so few people use them you're far more likely to pop up on someone's feed. You can simply repurpose your Instagram stories and put them onto Facebook. Even if just a handful of people end up clicking on them that's better than no one at all so you don't have much to lose.
Are you trying to come up with a Facebook stategy for your travel blog? Save this image to have all the important info!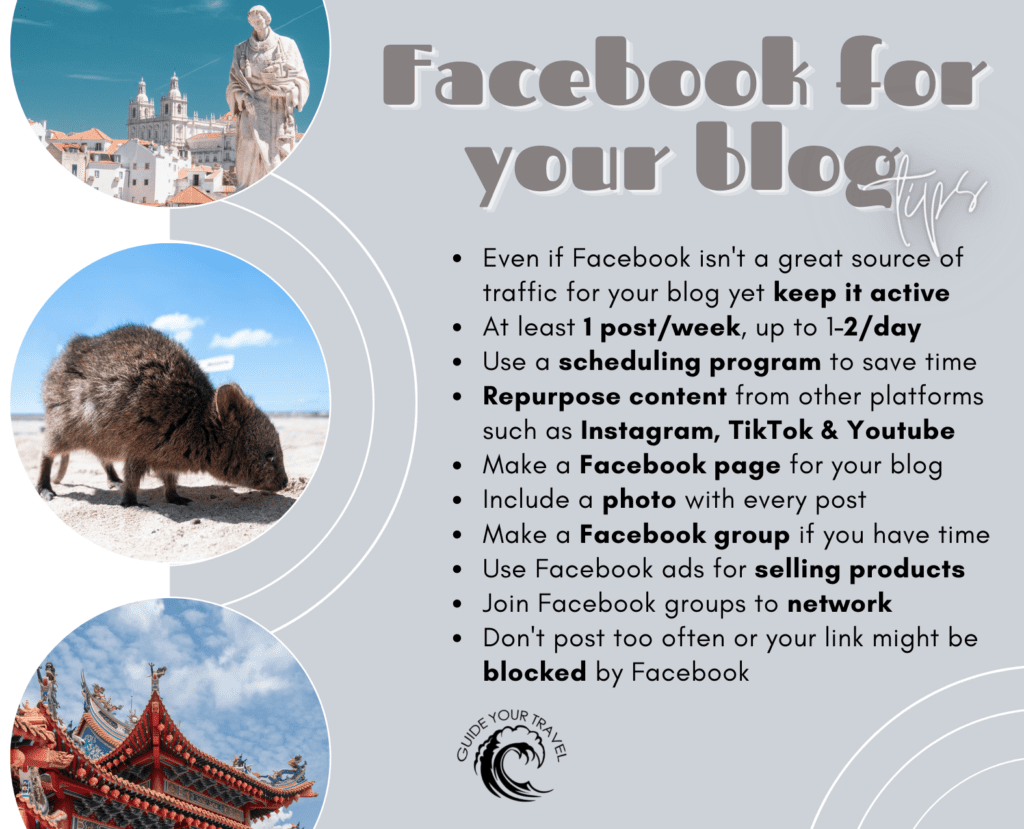 5. POST VIDEO CONTENT
If you're creating video content for other platforms anyway you need to start repurposing it for Facebook. This could include videos from Youtube, Instagram reels or TikTok. Just reformat your travel blog content and throw that content onto your Facebook page.

A lot of bloggers and Youtubers have incredible view counts on Facebook and the platform has a lot of potential. If you have video content anyway why not give it a try?
HOW TO USE FACEBOOK GROUPS TO PROMOTE YOUR BLOG
Okay, so we've talked about starting your own Facebook group for your travel blog but there are actually multiple ways you can utilise Facebook groups to promote your blog. Incorporating Facebook groups into your travel blog social media strategy is a game changer.

One of my favourite strategies is to join active groups in your niche. Lots of people will post questions that could range from travel advice or blogging questions.

Keep an eye out for questions you can answer and attach a link to one of your relevant blog posts. Always make sure to read the group rules first though as some groups might not allow links in their discussions. Most of the time people with similar questions will find your link and you'll gain new readers.

Even if you're not allowed to post your link in Facebook groups it's really helpful to stay active and give advice. You'll build a community and people will start coming to you for help in the future.

Learn how I use Facebook groups to build links and boost my blog DA.
SHOULD BLOGGERS USE THEIR PERSONAL FACEBOOK ACCOUNT?
Facebook is not a fan of brand-new accounts so I'd definitely recommend using your personal Facebook account to interact in Facebook groups. However, make sure the account is nice and tidy by removing any extremely private information or old photos. You could also change the privacy settings if you want to keep the account the way it is.

Facebook also gives you the option to join Facebook groups through pages so you could use your blog page to join. However, it tends to be a bit more difficult to see notifications so I prefer using my personal profile.

As a Facebook user, I also tend to prefer speaking to personal accounts rather than pages as you can put a face to the name which makes the interactions a bit more trustworthy. Some groups don't even allow pages to join so I personally prefer to use my own profile just to make the process a bit more simple.
HOW TO AVOID GETTING YOUR BLOG LINK BLOCKED ON FACEBOOK
One of the most important pieces of advice I can give is to be careful how often you post your blog link on Facebook. The platform is really sensitive about spam content and it's actually very easy to get your blog link blocked if you post it too often.

This will also apply to Instagram and getting it unblocked is extremely difficult or even impossible. Only post your URL around once or twice per day and avoid copy-pasting messages which contain your link.

Don't spam groups with the same post or Facebook might flag you. Once you've been blocked you won't be able to post your link anywhere which will make your blogging life very difficult in the future.

Facebook has notoriously bad customer service so finding someone to unblock you is nearly impossible for most people.
Click the images below to pin this post to Pinterest and save for later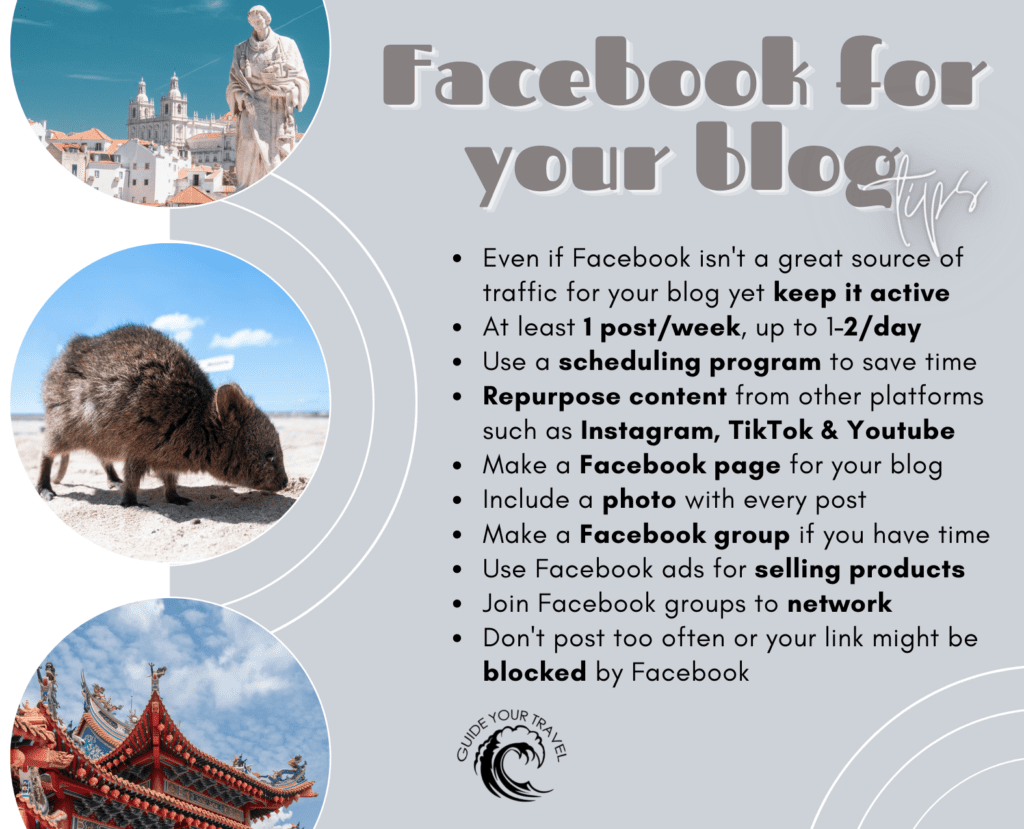 Did I miss anything?
If you have any questions or feel like something is missing from this post please leave a comment below or contact me