Applying for a visa whilst you are in a foreign country can involve lots of paperwork and time spent in waiting rooms. To make the process easier for you I've compiled this step-by-step guide on how to apply for an Indonesian Visa in Perth.
Why Perth? Many backpackers and travellers visit Australia and South East Asia back-to-back. Perth offers great flight connections to Denpasar and the embassy is used to issuing tourist visas since Bali is such a hotspot for Australians. That's why the process is quick and easy.
Why not make the most of the time in Perth while you wait for your passport? Check out Rottnest Island or Fremantle while you're there and fall in love with this beautiful Australian city.
Are you camping in Australia? Find out all you need to know about wild camping in our complete guide.
This post may contain affiliate links, which means we'll receive a commission if you purchase through our links, at no extra cost to you. This helps us keep Guide your Travel free and provide high-quality content for you. Please read the full disclaimer for more information.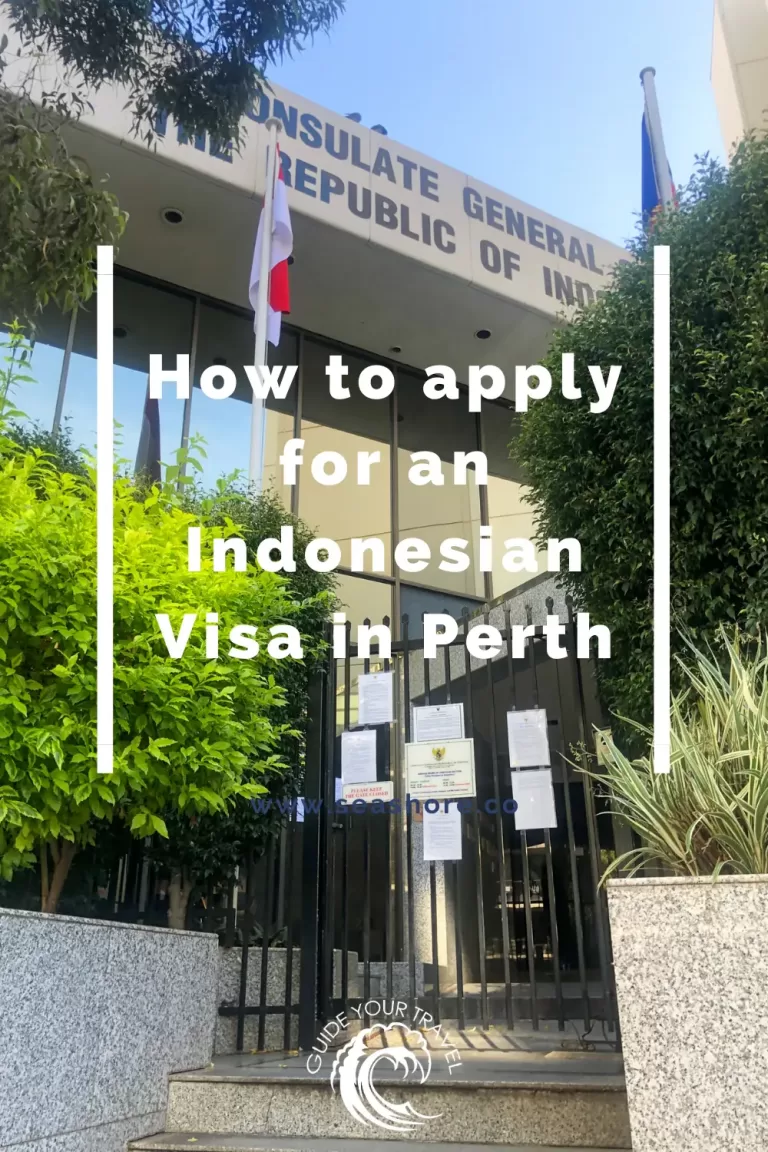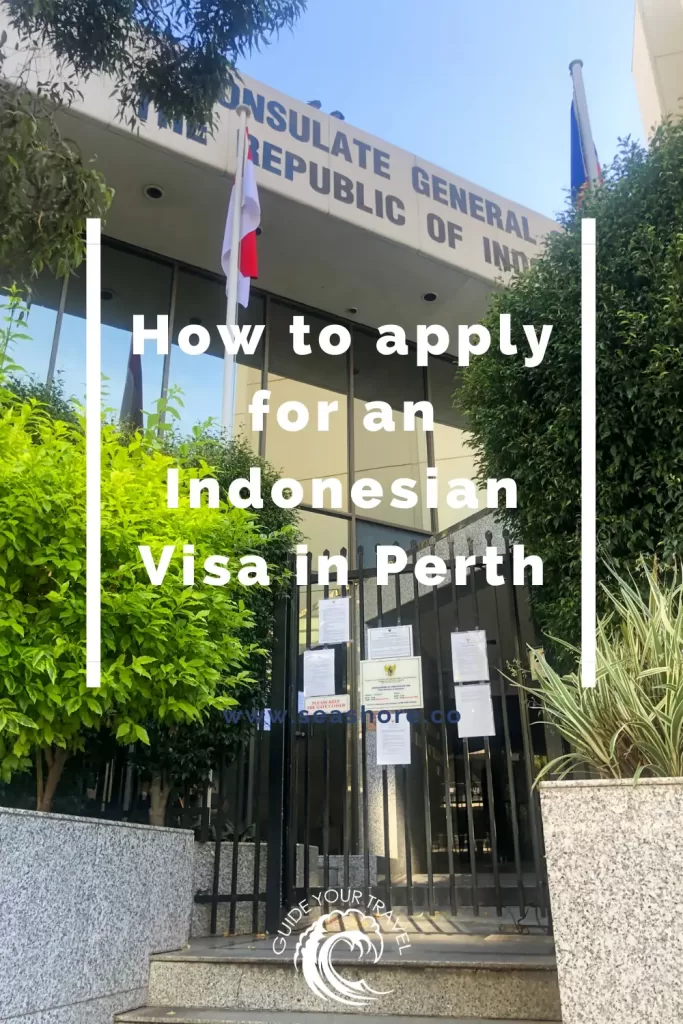 WHY WOULD YOU NEED A VISA FOR INDONESIA?
Most countries do not need a visa to enter Indonesia. You are permitted to stay for 30 days after which you have to leave the country. If you're planning to stay longer however you can opt to get a visa on arrival at the airport. This costs 35 USD (≈ 30 €) and gives you the chance to extend your stay in Indonesia.
Check out this article to see if your nationality is one of the 60 that qualify for a visa on arrival. It also provides some helpful information on other types of Indonesian visas and what happens if you overstay.
HOW CAN I STAY FOR LONGER THAN 30 DAYS?
If you already know that you're going to be staying in the country for more than 30 days I recommend getting a 60-day visa before you arrive. This will save you a lot of time and worrying.
If you chose not to do this you will have to go to an immigration office in Indonesia to extend your 30-day visa. It takes three trips and you have to leave your passport there for around a week. This means you will be forced to stay in a larger city for a while, while you wait to get your passport back.
There is no guarantee of how long they keep it and you will be unable to travel on.
There are many instructional posts online on how to apply for a visa extension if you're already in Indonesia. I have linked one here. It gives instructions specifically for Bali but the process is similar in other places.
SHOULD YOU DO A VISA RUN?
Alternatively, you can do a classic visa run where you leave the country just to return a few days later to get a new visa. This may be a viable option if you've managed to find cheap flights or plan to visit another country such as Singapore or Malaysia anyway.
If this is not the case a visa run will just be a waste of your time and money and I would avoid it if you can.
THE 60-DAY VISA (B211A VISIT VISA)
I think it's much simpler to just get a 60-day visa before you go so you can enjoy your trip without wasting time in the immigration office. It's probably easiest to do this while you are still at home but that may not always be possible.
Once you obtain your visa you have to enter the country within 90 days or it will no longer be valid. That means if you are going to be travelling somewhere else before Indonesia you might not have time to apply for the visa in your home country.
Travelling can also be spontaneous and sometimes it's hard to predict where you are going next. It's easy to find yourself in the predicament of having to apply for a foreign visa while outside of your home country. If you are somewhere close to home it might be a possibility to send your application via mail but if you are further across the globe this may not be a realistic option.
This quick guide tells you exactly how to apply for an Indonesian Visa, specifically a tourist visa in Perth. Of course, most of this information can be applied to any of the other available visas as well.
So let's begin…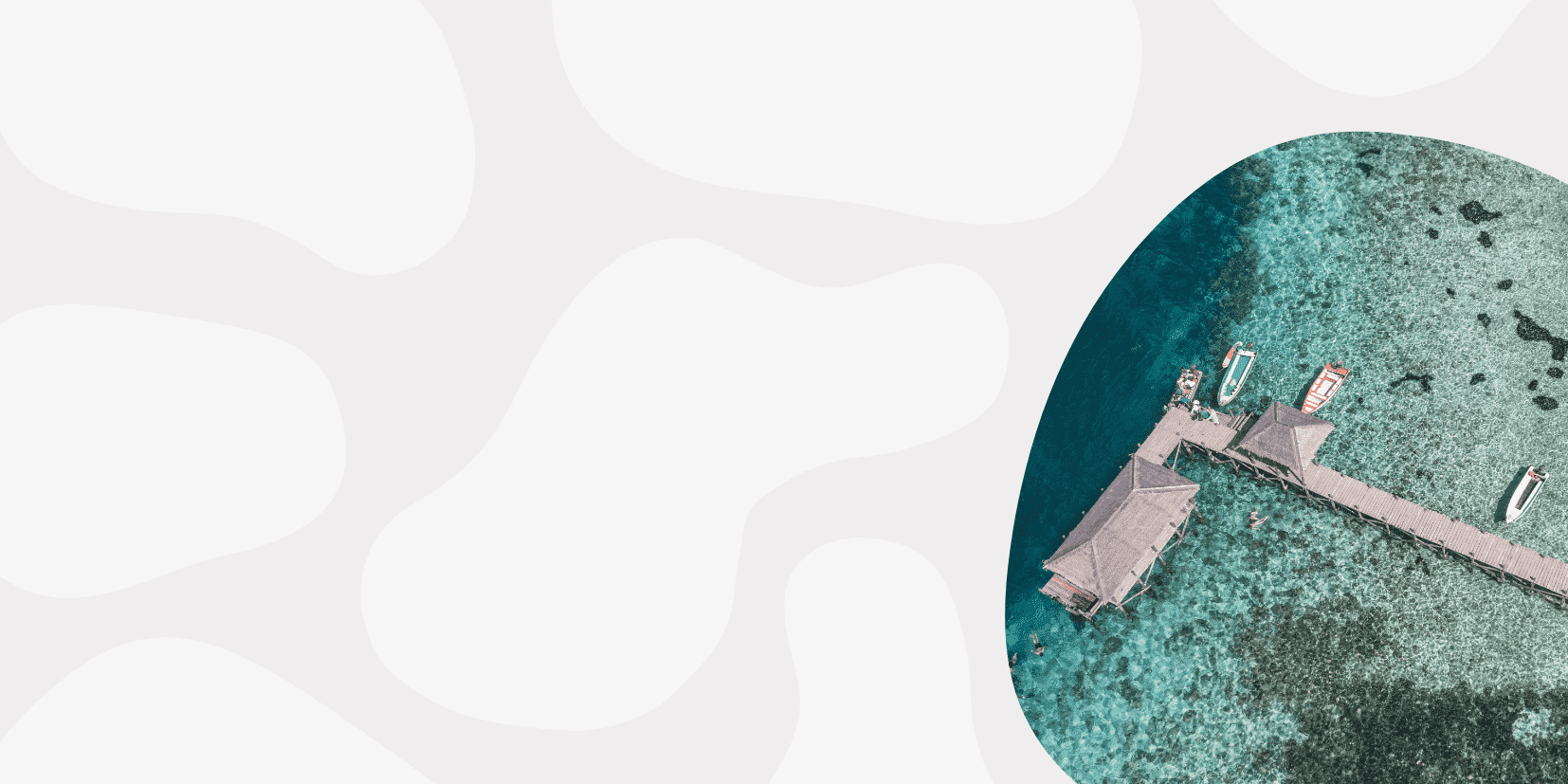 Let me save you time and effort when you're travel planning!

➼ Best travel insurance? SafetyWing
➼ Best place to find cheap flights? Skyscanner
➼ Best bank & credit card for travellers? Wise
➼ Best travel backpack? Osprey Farpoint 70
WHAT DO YOU NEED TO APPLY FOR AN INDONESIAN VISA IN PERTH?
To apply for an Indonesian Visa in Perth your first point of contact should be the embassy. This is a link to their website where you'll find up-to-date information on visa requirements. The 60-day visa can be found under the single visit visa category in the dropdown menu for visa services and visa types.
See the visa requirements as of April 2020 below.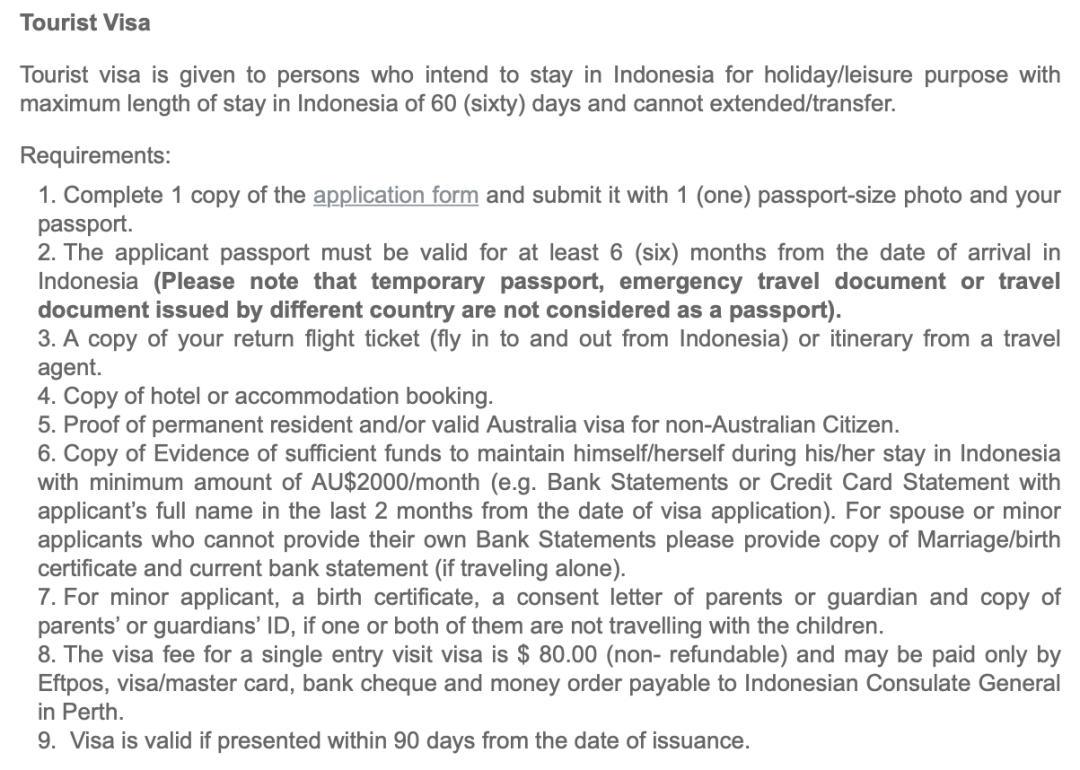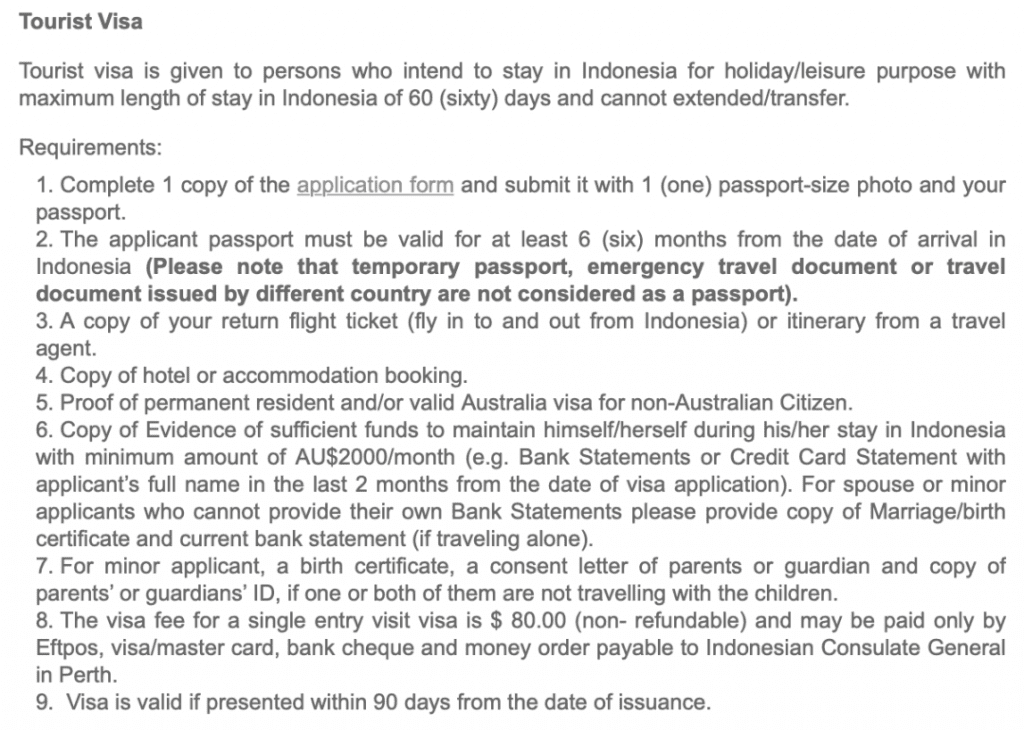 Let's go through some of the steps.
THE APPLICATION FORM
Make sure that you download this form from the embassy website in case they have made changes to it recently. Click this link or the image below to access it directly. I recommend printing this form at home and filling it out before you go. In case you don't have a printer you can fill it out at the embassy when you hand in your documents. However, they sometimes run out of forms so it's good to come prepared with yours ready to go.
A few things to note:
In the very first box, the form asks you to pick a number for the visa you are applying for. Write down number 2 if you are applying for the 60-day tourist visa (Single visit Visa Type 211)
If you are a student or currently not employed you can leave the section asking for the name and address of your employer blank.
For reason for applying for visa simply write "tourism"
Leave the section for "name and address of sponsor in Indonesia" blank. It doesn't apply to the 60-day tourist visa.
The second page of the document is for official purposes only. You don't have to fill it out.
Stick your passport photo to the bottom of the first page.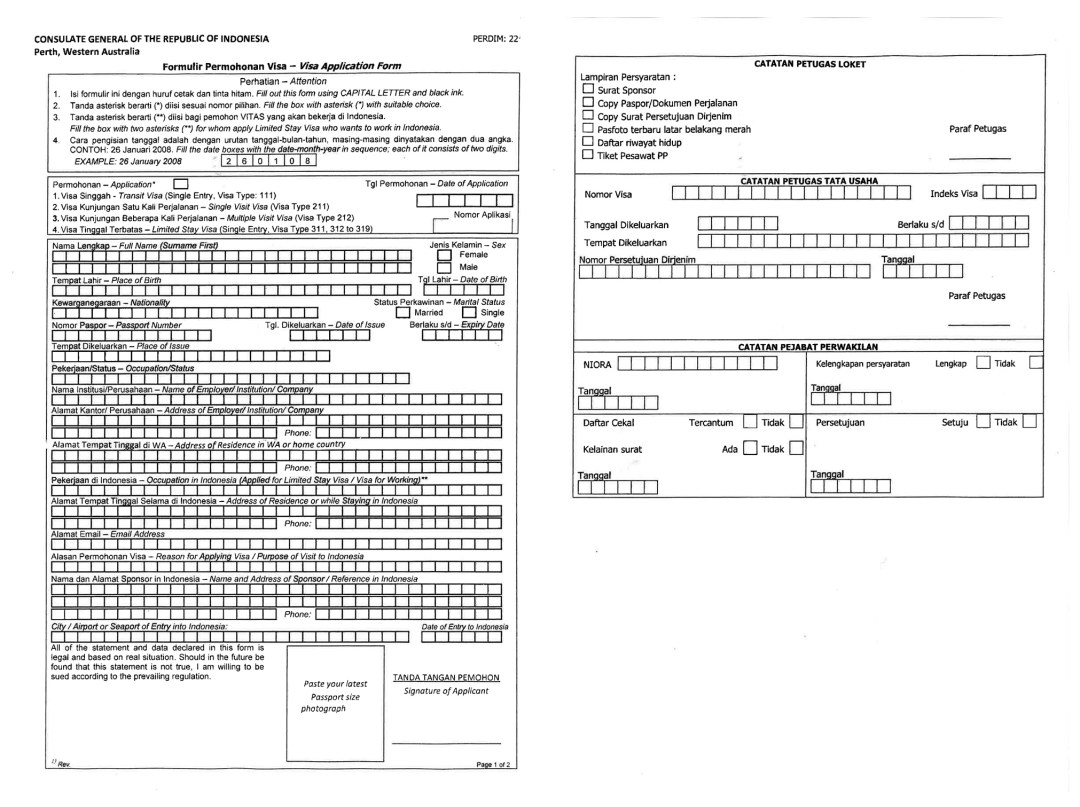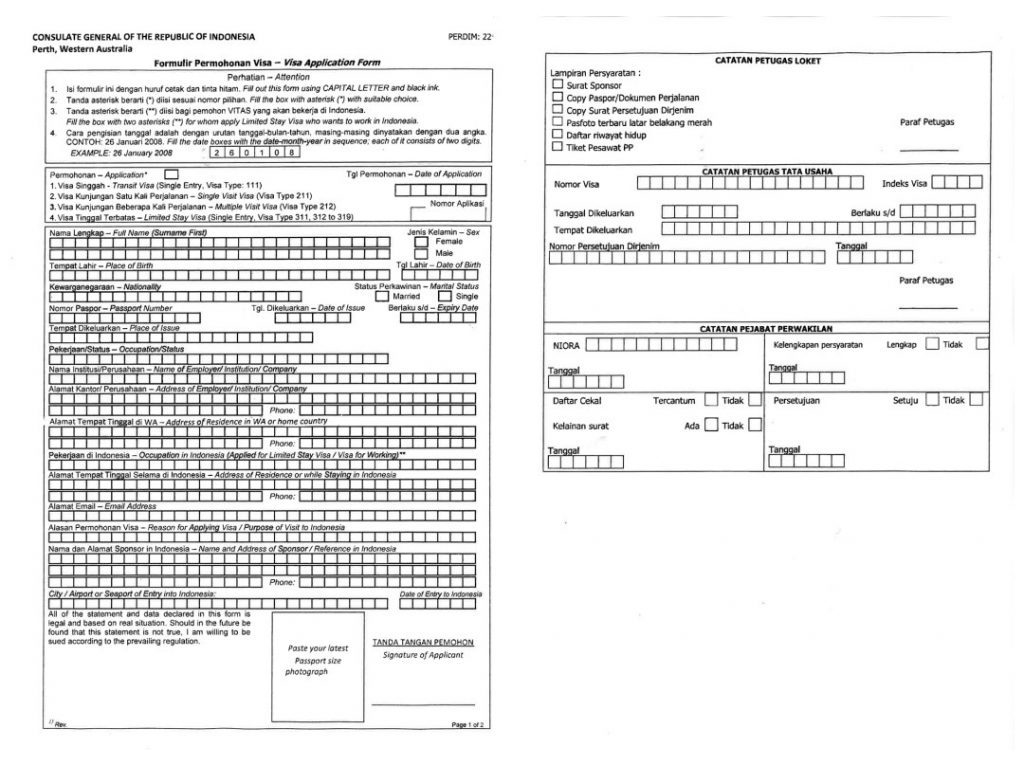 FLIGHT TICKETS
The embassy requires you to show proof of both a flight to Indonesia and a flight out of the country. These flights do not necessarily need to be the ones you actually take, you can simply book an approximate date and change it later. Make sure that the dates match up to what you write down in the application form though. You also need to be careful that the flights are no more than 60 days apart from each other even if you plan to extend your visa later on.
Simply print out your flight itinerary that you receive via email and hand it in with the application.
HOTEL BOOKING
Similar to the flights you can provide an accommodation booking that you might not end up using. Simply book a hotel or hostel for the first few nights in Indonesia. You do not have to book accommodation for the entire 60 days in advance.
Print out the booking confirmation that you receive via email from the hotel.
Top tip: Always compare prices for hotels. We at Guide your Travel prefer Booking.com, Agoda or Hostelworld for finding the best deals.
PROOF OF VALID RESIDENCE OR AUSTRALIAN VISA
What you submit here depends on whether you are an Australian citizen or just visiting the country. If you have an Australian passport you need to provide proof of residence. You can find details about how to obtain one here.
If you're a foreigner from another country you need to provide a copy of the visa you used to enter Australia. You usually receive this via email which you need to print out for this visa application.
EVIDENCE OF SUFFICIENT FUNDS
A guarantee of funds is something you need to have anyway most of the time when you enter a country. As you may know, immigration rarely checks this but they are entitled to deny you entrance if you cannot prove sufficient funds. This is an annoying side effect of having to apply for a visa since you rarely need to prove your funds when obtaining a visa on arrival.
As proof, they suggest bank statements from the last two months. When I showed mine to the immigration officer at the embassy he did not spend much time looking at them. He just wanted to see a number. It was also readily accepted that they were in German, so no need to provide a translation.
CAN YOU APPLY ONLINE FOR AN INDONESIAN VISA IN PERTH?
Unfortunately, you cannot submit your visa application entirely online. However, the Indonesian embassy in Perth offers an online visa application registration service which helps you pre-register. They let you select a 10-minute time slot up to two days in advance. Then you are required to fill out an online form which is essentially the same as the application form mentioned above. However, parts of it are in Indonesian which makes it a bit tricky if you don't speak Bahasa.
I can't say that pre-registering online is very helpful though. You usually still have to wait the same amount of time at the embassy and it doesn't really make a difference since the appointment system isn't really utilised. So don't bother with the online application.
HOW TO GET TO THE INDONESIAN EMBASSY IN PERTH
The Indonesian Embassy in Perth is conveniently located close to the city centre on Adelaide Terrace. It's really easy to reach via bus or you can walk for about 20 minutes from Perth Underground Station. The closest bus stops are Adelaide Terrace After Plain Street, Plain Street after Hay St or Adelaide Terrace Before Bennett St.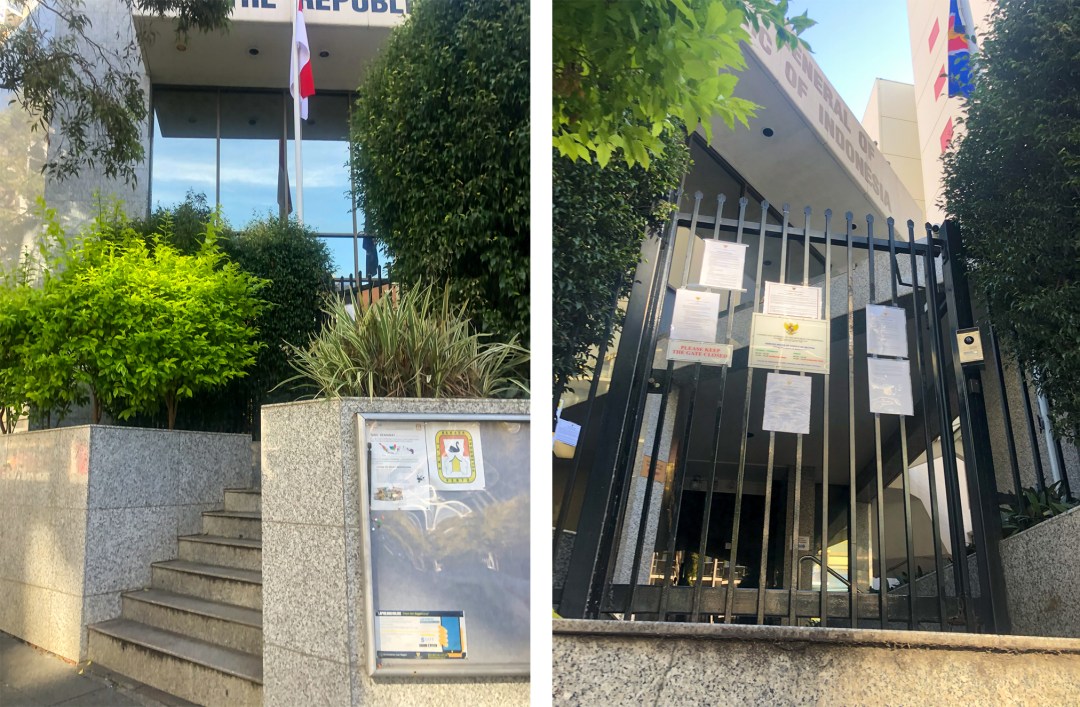 WHEN IS THE BEST TIME TO GO?
The embassy is open for visa submission from:
9:30 AM – 12.30 PM Monday to Friday
It's open for visa collection from:
9:30 AM – 12:30 PM and 2:00 PM – 3.30 PM Monday to Thursday
and
9:30 amAM– 12:30 PM and 2:30 PM – 4:00 PM Fridays
Note that you cannot submit your application during collection times.
It's always good to go early, especially when submitting your visa. Since the time slot for this is not very long they sometimes start turning people away close to 12:00 PM.
The embassy is closed on both Indonesian as well as Australian public holidays.
IS THERE A DRESS CODE?
Many Indonesian embassies require you to wear modest clothing with long sleeves and pants. This is not the case for the embassy in Perth though, there is no dress code.
GOING TO THE EMBASSY TO GET YOUR INDONESIAN VISA IN PERTH
There is a gate at the entrance which is sometimes open but usually closed. You have to ring a bell and speak to someone on the intercom system before they let you in. The part of the embassy that is open to the public is very small. It's just one little room with three booths which is why waiting times can get quite long during busy times.
Draw a number at the machine when you walk in and pay attention to the screen to see when you are called. You'll find a table with application forms at one side of the room in case you haven't filled yours out at home.
Simply give all your documents to the employee in the booth and answer any questions they might have. You can pay the 80 AUD (~ €47.25) fee via card or cash (note: they recently stopped accepting cash due to COVID-19). In return, you receive a little slip which tells you when you can pick your passport up again. The process takes 5 working days.
Make sure you come back at the time stated on the pickup slip. The pickup process is usually fast and easy. Don't forget to take your slip of paper!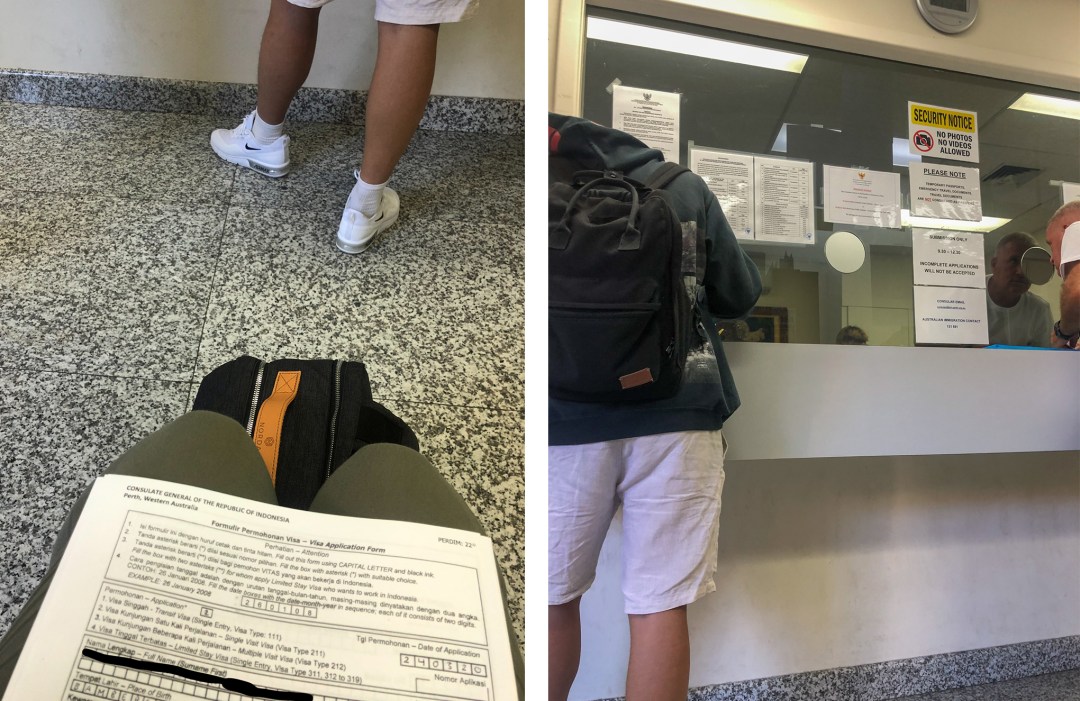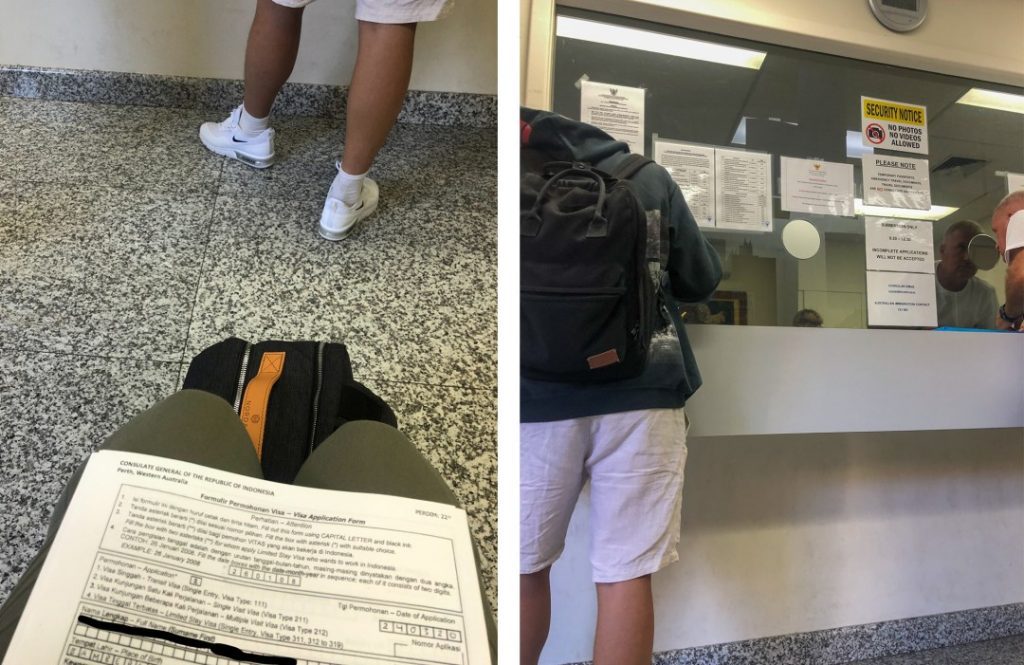 LAST THOUGHTS
In conclusion, the visa application process for an Indonesian visa in Perth is fairly straightforward and fast. You can have your visa ready within five days and do not have to deal with a lot of paperwork if you're organised and smart about it.
Feel free to comment below with any questions you might have and I'll be happy to help!
Not sure if you'll be applying for an Indonesian Visa in Perth? Check out our guide on how to apply for one in Kuala Lumpur here!
My most important travel tips and resources
Book your flights
Skyscanner is the best website for finding cheap flights since it works like a search engine so you can find the best deals across all airlines.

Book hotels and hostels
• Booking.com: Best world-wide
• Agoda: Best in South East Asia
• Hostelworld: Best for hostels

Book tours, transport and rental cars
•Viator: The best place to book tours, day trips and excursions for al budgets
•12Go: Great for ferries, trains, transfers and buses in South East Asia
•Discover Cars: Best deals for rental cars around the word

Get travel insurance
Every traveller needs travel insurance and I mean every single one. SafetyWing covers you in case of injury, illness or worse and they've got your back if your bag is stolen, flights are cancelled or in case of a natural disaster.

Pay abroad
Ask any traveller, Wise is the best choice when it comes to sending money abroad. They've always got the best exchange rates, lowest fees and their visa card is great for getting cash out or paying abroad.

Things every traveller needs:
➼ Osprey Farpoint 70 Backpack
Detachable daypack, ultra-light, durable and free repairs for life. There's a reason why so many backpackers have this bag.
➼ Packing Cubes
Packing cubes are a gamer changer, keeping your luggage organised and providing tons of extra space.
➼ Power bank
There is nothing worse than running out of battery on an overnight bus journey or a long flight. With a powerbank you can charge your eletronics on the go and make sure you're always connected.
➼ Micro-fibre towel
These lightweight towels are foldable, fast-drying and so useful when you're travelling.

➼ You can find 15 more things every traveller needs here. Some might be a bit controversial but I warned you!
Did I miss anything?
If you have any questions or feel like something is missing from this post please leave a comment below or contact me.