Perth is the most isolated city in the world and an absolute must-visit if you're travelling around the west coast of Australia. It's slightly cheaper than other large cities in the country such as Melbourne, Sydney or Brisbane and has a lot to offer for tourists. Before you go you should have a rough idea of how to get around Perth and what your approximate budget for transport should be.
Definitely do some research beforehand to make sure you're ready to go once you arrive. Always consider your own personal needs and what your expectations for this trip are. Are you travelling in a large group? A rental car might be the best option for you. Is your budget very tight? You should stick to public buses. Consider which attractions you want to visit and if they can be easily reached with public transport.
Our site contains affiliate links to products and services. We may receive a commission for purchases made through links on this page. This is at no extra cost to you if you click one of our links. We really appreciate your support!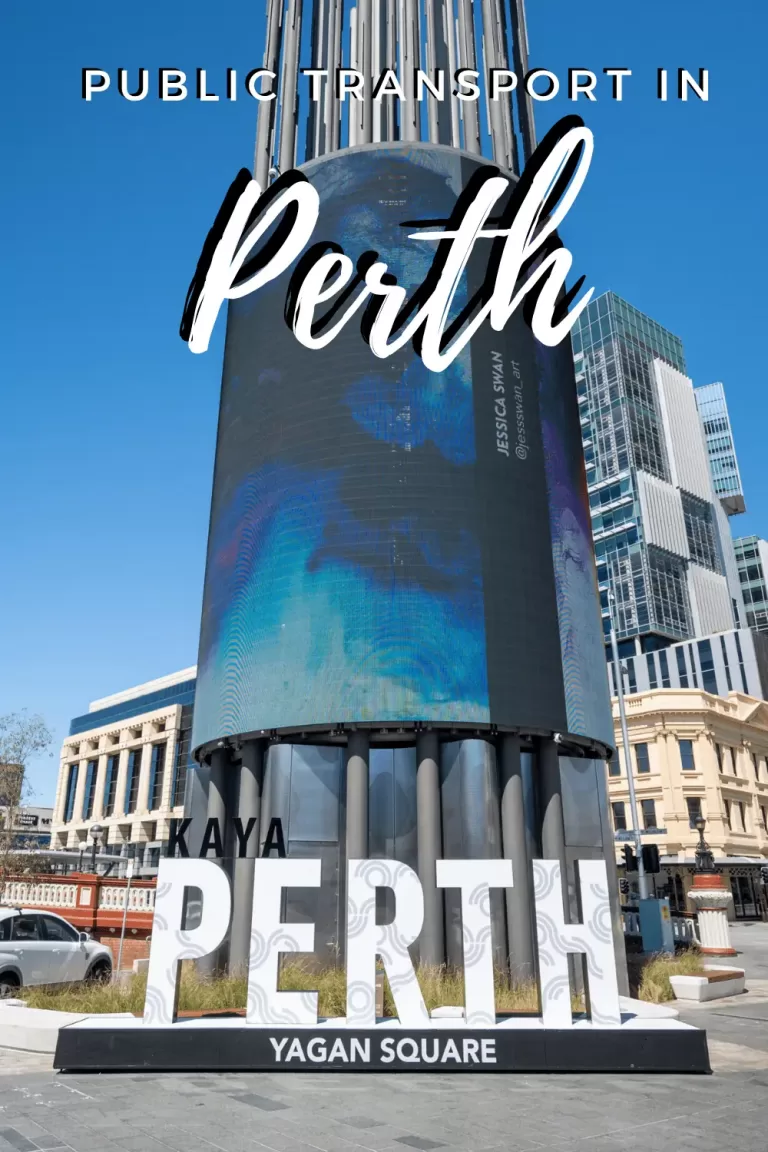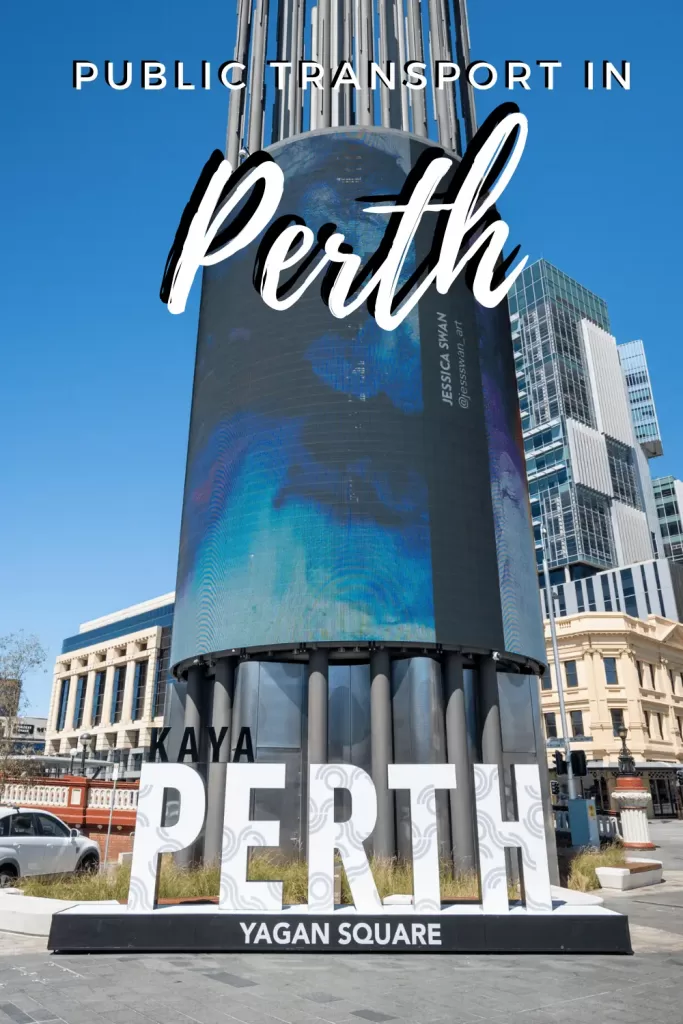 WHERE TO STAY IN PERTH
Where you're staying in the city will have a huge effect on how you can get around Perth. I would recommend picking a hotel or hostel close to the city centre north of the Swan River. Always double-check how far away the nearest bus or train stop is from your accommodation and which transport lines stop there. A bus stop next to your hotel will be no use at all if the buses that stop there only go once every 30 minutes and you have to change lines twice to get anywhere of interest.
In general, I would prioritise train stations over bus stops if you can. Trains are always a bit more reliable and faster in taking you around the area. Plus they will take you to almost all of the important tourist hotspots you'll want to see.
Top tip: Always compare prices for hotels. We at Guide your Travel prefer Booking.com, Agoda or Hostelworld for finding the best deals.
FREMANTLE
While the city centre is the first choice for many tourists visiting Perth I highly recommend looking into Fremantle as well. This little town is right by the beach and has great bus and train connections. It's a tourist and backpacker hotspot and has a great selection of things to do and see. It's also the ferry port to go to Rottnest Island and, in my opinion, far more relaxed and pretty than actual Perth. Build your itinerary with these 19 unique things to do in Fremantle.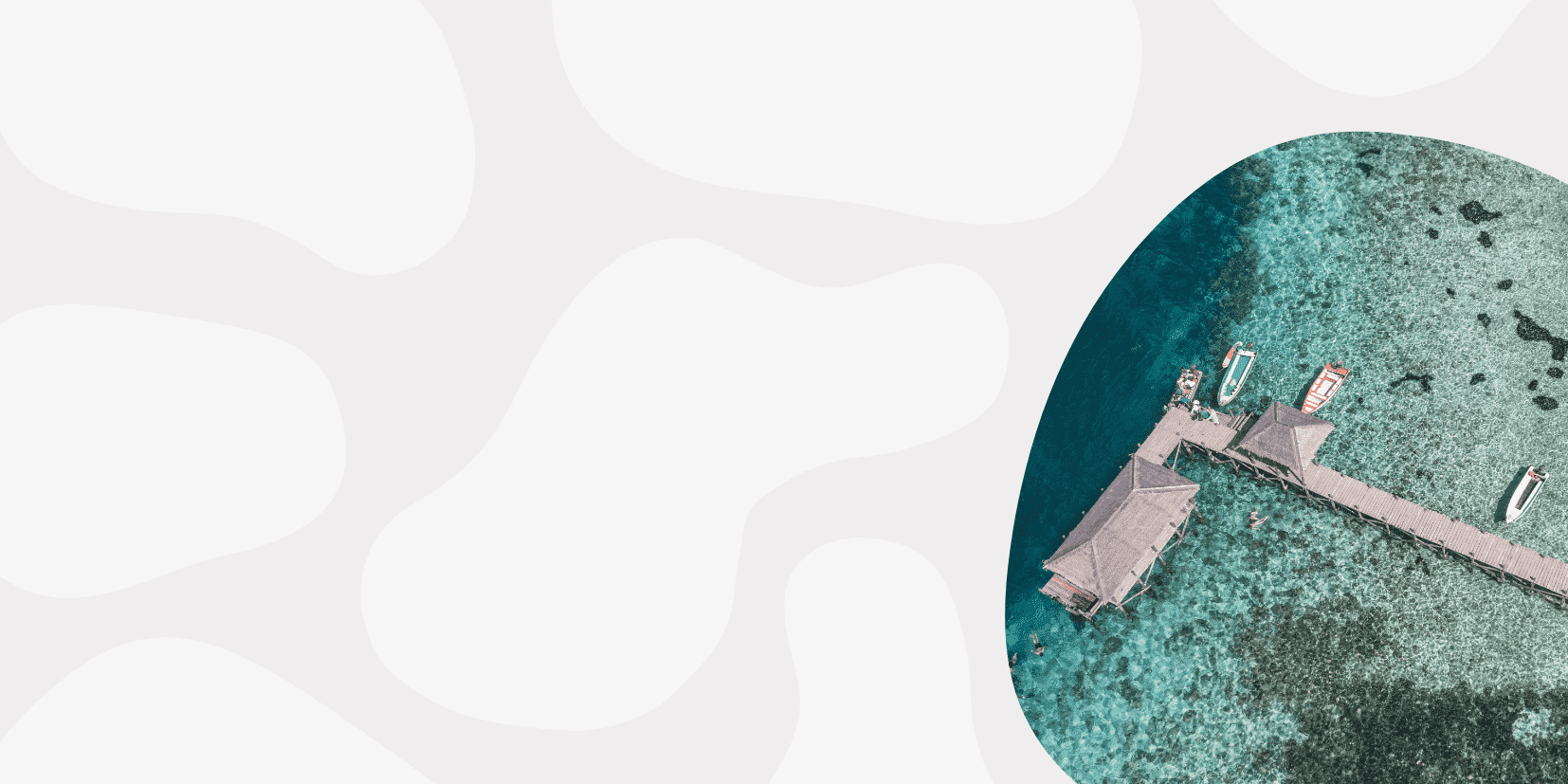 Let me save you time and effort when you're travel planning!

➼ Best travel insurance? SafetyWing
➼ Best place to find cheap flights? Skyscanner
➼ Best bank & credit card for travellers? Wise
➼ Best travel backpack? Osprey Farpoint 70
ARE PERTH'S ATTRACTIONS EASILY REACHABLE?
You'll be happy to hear that most of the important things to see and do in Perth are easily reachable with public transport. This especially goes for activities in Fremantle which includes museums, beaches, the old Prison and shopping opportunities. Then there is the city centre with King's Park, Heirisson Island, Elizabeth Quay and the Swan River and its cycle trails. These are all really easy to reach by bus and train. Even most of the beaches like Cottlesloe, Leighton, South and City Beach have direct bus or train lines close by.
However, it gets a bit tricky when you're trying to see places that are a bit more out of the city like Mullaloo or Scarborough Beach. You can get there by bus but it will take you quite a while. Then there is the famous Swan Valley and its wineries which will most likely require you to have a car.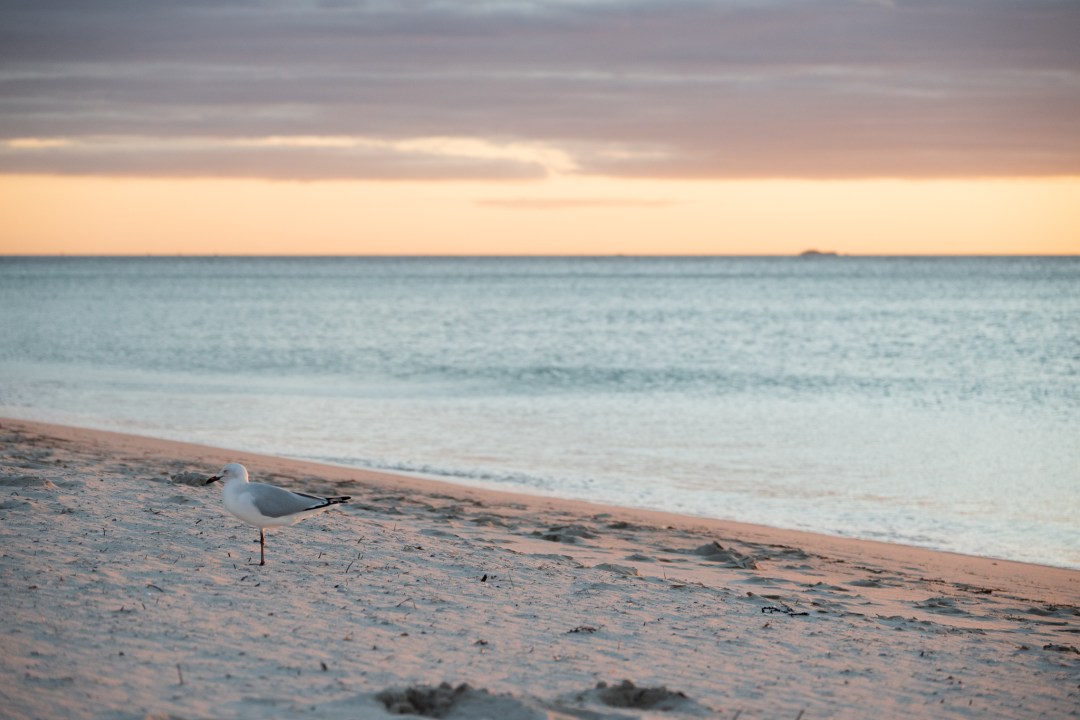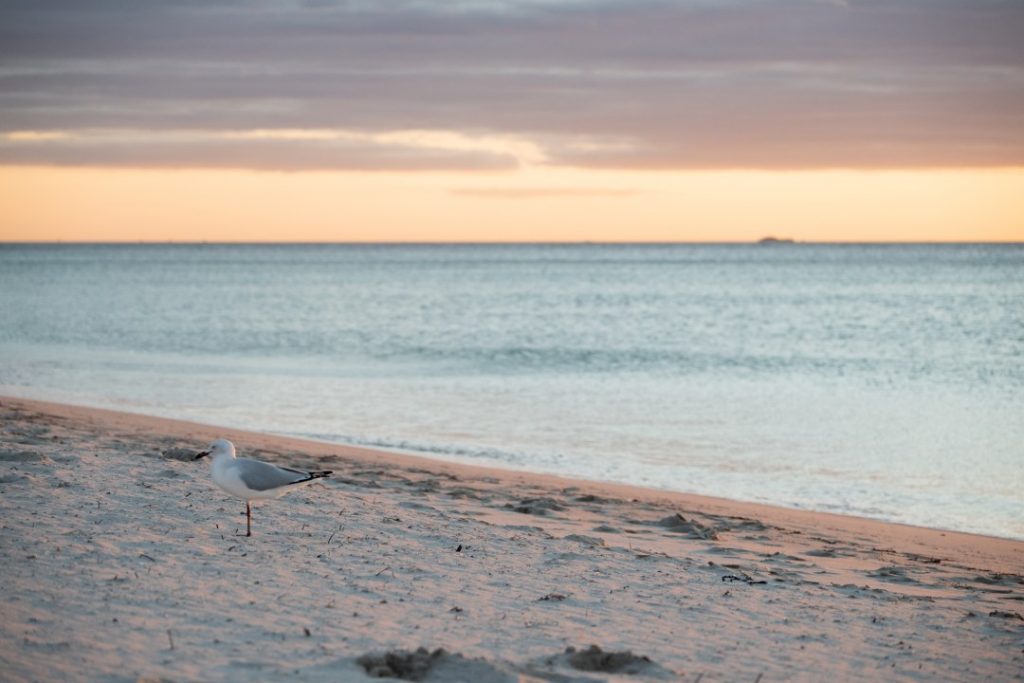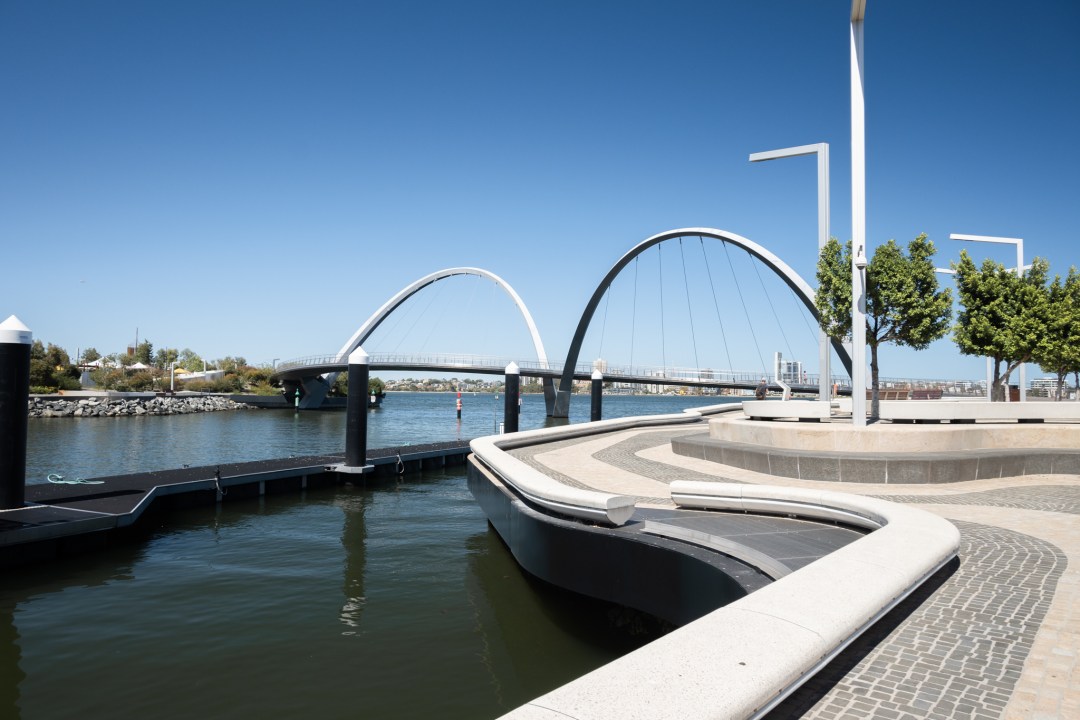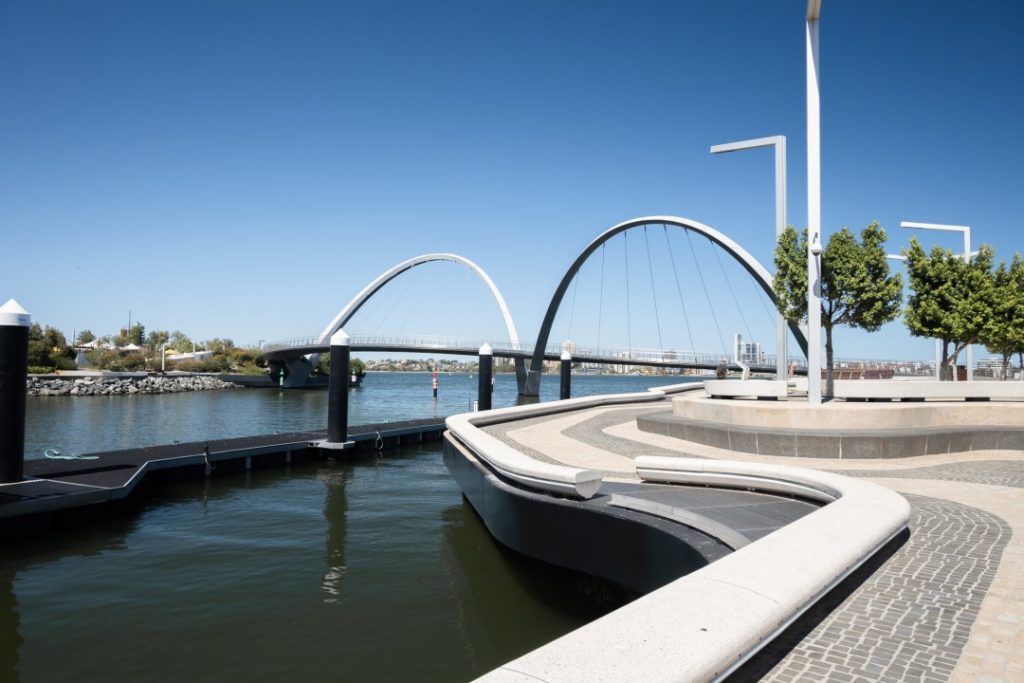 HOW IS THE PUBLIC TRANSPORT IN PERTH?
I am a big fan of the public transport system in Perth. In my experience, it's been very reliable, clean and safe. It is also slightly more affordable than other Australian cities. Especially the trains are very convenient to use and a great way to get around Perth. However, the network could be bigger and the places you can reach via train are a bit limited.
To make up for this Perth has a huge bus system that takes you almost anywhere you need to go. The buses are easy to use and never too crowded but I do think they should run more often. Especially in the evenings, most bus services stop very early which makes it tricky to get home if you're out on the town. If you're wanting to go out at night you'll almost always have to take a taxi or ridesharing service in Perth which is not very budget-friendly.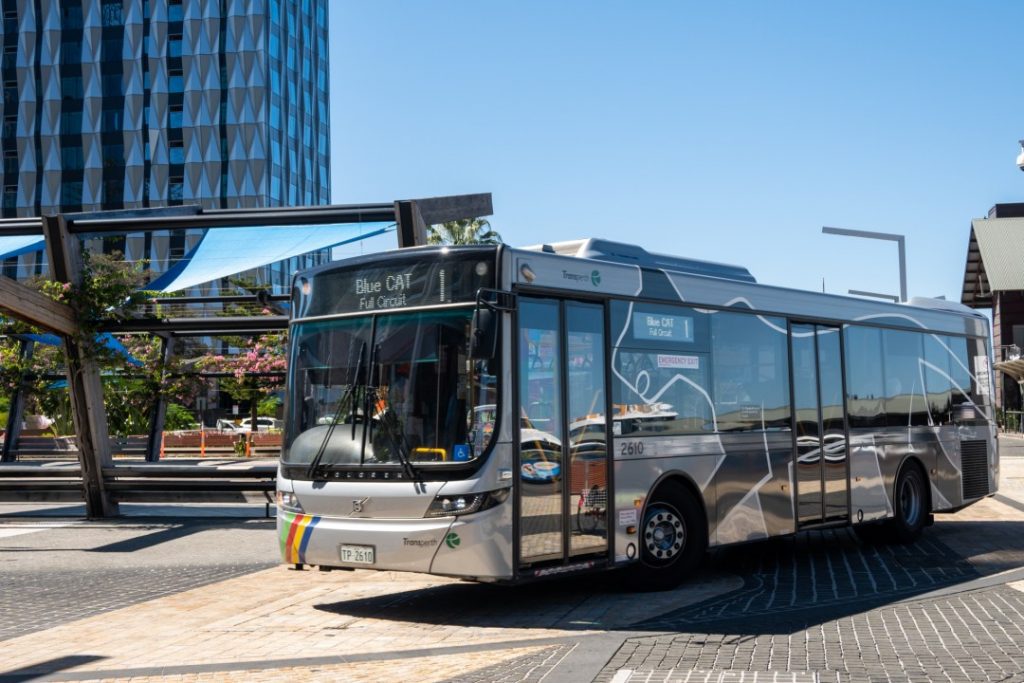 DO YOU NEED TO RENT A CAR TO GET AROUND PERTH?
I don't think you necessarily need to rent a car to see Perth. It is definitely doable to visit all the major tourist attractions with public transport. However, Australia, much like the US, is a country made for cars. Since it's so large you simply need one to drive the huge distances. If you're at all interested in seeing more of the surrounding west and south coast you 100% need a car. There will be no getting around it.
If you're staying in Perth on a budget you can definitely get by and save some money by taking the bus. But you also need to consider how much time you're willing to sacrifice by spending hours on a train if you could drive there in 20 minutes.
If you're looking into rental cars definitely check out Discovercar.com. They offer very cheap rates and great deals for Perth and a huge selection of locations.
TRANSPERTH
Perth's public transport system is called Transperth and includes buses, trains as well as ferries. All three have the same payment system which is very convenient for passengers. Check out the Transperth website for more details. You can plan your journey and look up timetables and routes using the convenient Transperth and Transperth Assist Apps. If you have a SmartRider card you can connect it to your app and view all your journey and transactions in one place.
SMARTRIDER
All of Transperth's services operate with either cash payments (coins preferred in buses!) or the SmartRider card. This is a convenient top-up system that lets you use all of Perth's buses, trains and ferries quickly and easily. In addition to that, you pay 10% less with a SmartRider than you would with cash. The only downside is that this card costs 10 AUD (≈ 6,20€) which means it will only save you money if you're staying in Perth for a while and will be using lots of public transport.
Still, the convenience alone is worth the money for a SmartRider in my opinion. There are different types of cards available for seniors or students that give you an even larger discount. Definitely worth looking into if you qualify.
You can buy a SmartRider at many convenience stores and little shops. Find a complete list of retail outlets that sell SmartRiders here. You can top-off your SmartRider at train stations or with bus drivers.


TRAINS
Taking a train would be my number one choice for getting around. They are very reliable and probably the fastest mode of public transport in Perth. Have a look at the map below to see which train lines might be useful to you. As a tourist, you will most likely be primarily using the blue Fremantle line which takes you from the city centre to Fremantle and some beaches on the way.
Don't forget to tap on and off using your SmartRider when you get on a train. There are little poles located on all the platforms where you need to scan your card when you get on and off so the correct amount can be deducted. There are fines if you forget to do this.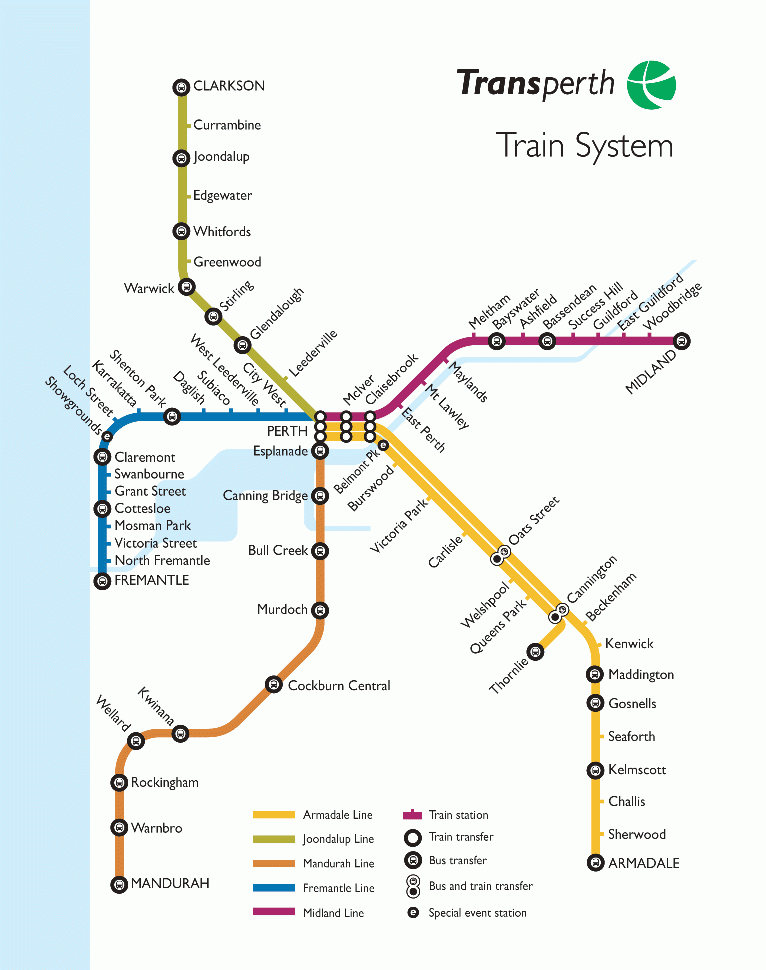 BUSES
Perth has a very large selection of bus routes. You'll be able to reach most places in the city via bus. If you don't have a SmartRider you can pay cash with the bus drivers. Just like the trains you need to tap on and off in the buses in order to pay for your ticket. Keep your SmartRider in your hand so you don't forget to tap off when leaving the bus. Otherwise, a flat fee will be deducted from your card.
Buses in Australia only stop if you wave to them at the bus stop. If you don't do this they will assume you're waiting for a different bus and just drive past. Make sure to keep a lookout for your bus and signal to them that you would like to get on.
USING FERRIES TO GET AROUND PERTH
Transperth also operates a ferry route between Mends Street Jetty Stop and Elizabeth Quay. This very quick journey across the Swan River takes just under 10 minutes but is very useful if you're trying to get to the other side or even just to enjoy the view.
If you're trying to find out more about the Rottnest Island ferry click here.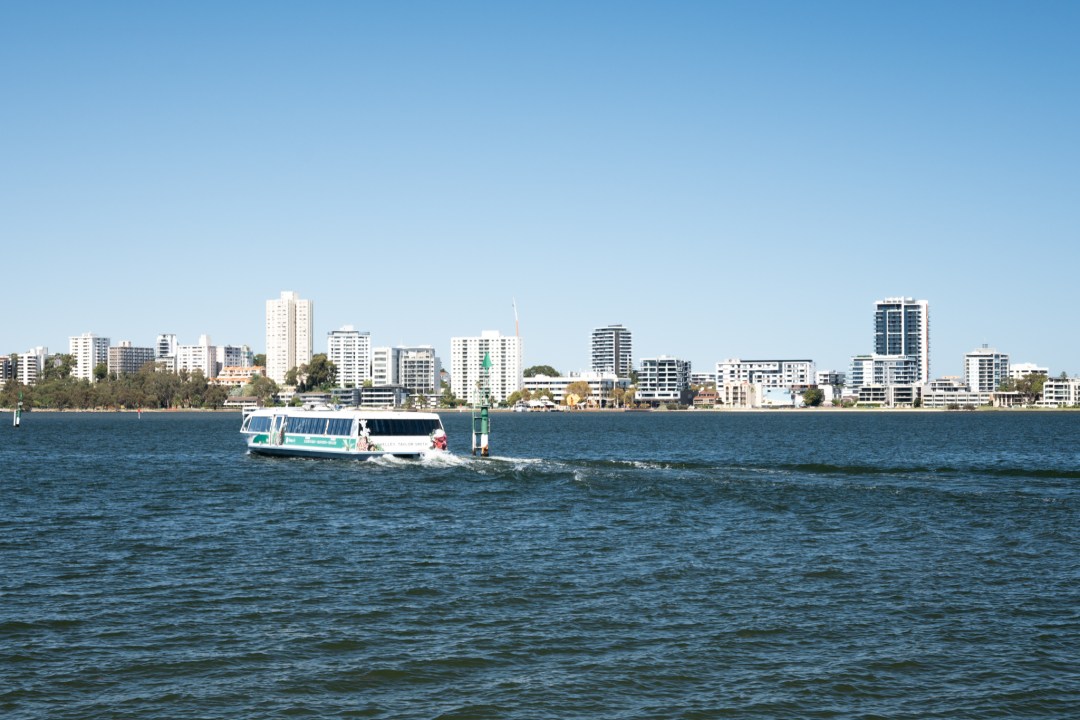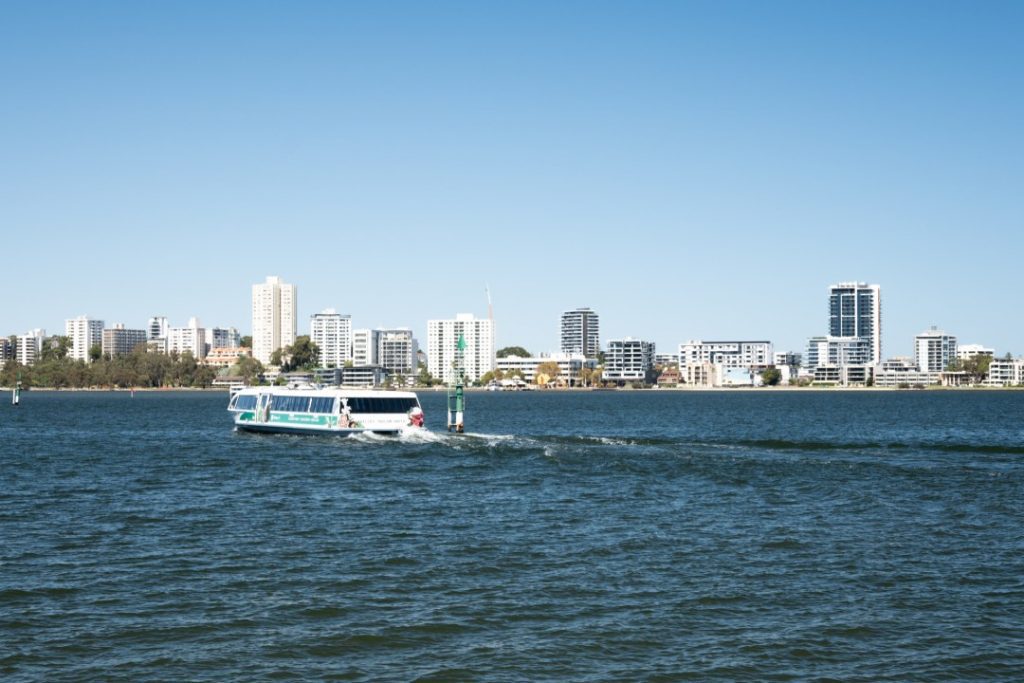 TRANSPERTH PRICES
Transperth's pricing can be a bit confusing. They use a combination of zones and time limits which means you can use as many trains, buses and ferries as you like within a certain time for the same price. If you have a cash ticket it will say an expiry time on it. If you're using a SmartRider it will automatically deduct the fare when you tap-off.
How long you have until your time expires depends on how many zones you are travelling through. You have two hours for a journey of 4 zones or less and three hours for 5 or more zones.
A bus or train journey will usually cost you anywhere between 2 and 5 AUD (~ €1.25 and €3). The ferry is free if you have another Transperth transport ticket from the same day or used your SmartRider. Otherwise, it costs 3 AUD (~ €1.85) for a return ticket.
Still confused? Check out Transperth's website.
THE FREE TRANSIT ZONE
Perth also has a so-called free transit zone. You can use buses and trains for free in this area as long as you start and end your journey within it. Just tell the bus driver where you are getting off and you will not have to buy a ticket. If you have a SmartRider you need to tap it normally. Find out more details here and have a look at the free transit zone on the map below.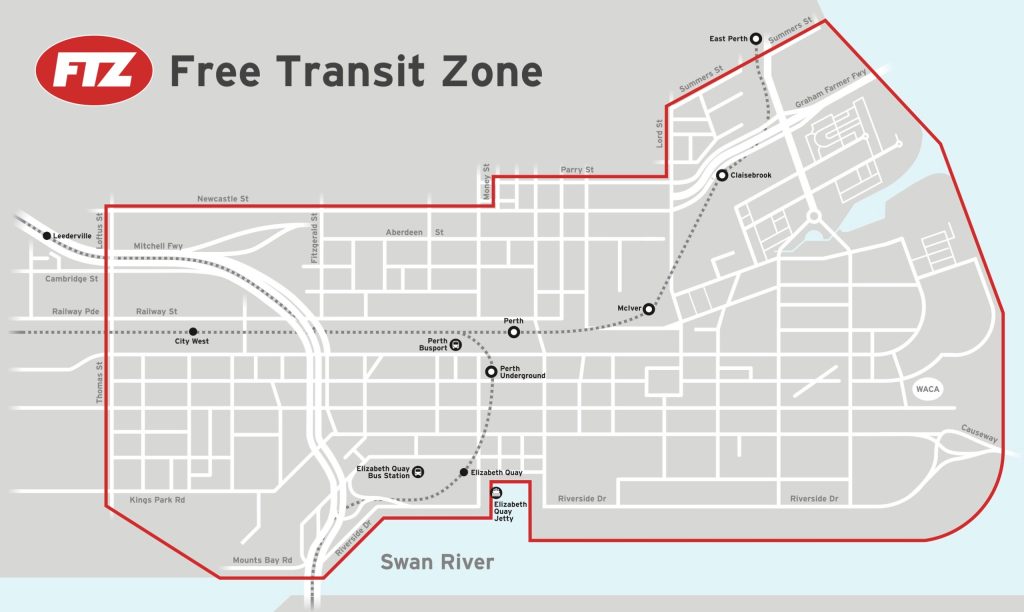 TAKING THE FREE CAT BUSES TO GET AROUND PERTH
Unrelated to the Transperth buses Perth also has the CAT bus system. These buses are completely free and you do not need a ticket to ride them. They operate in loops so you cannot go in both directions but have to go around if you miss your stop. The CAT buses operate in almost exactly the same area as the free transit zone so you can use the two systems pretty interchangeably.
However, there are also CAT bus lines in Fremantle which is very convenient if you want to explore that part of town.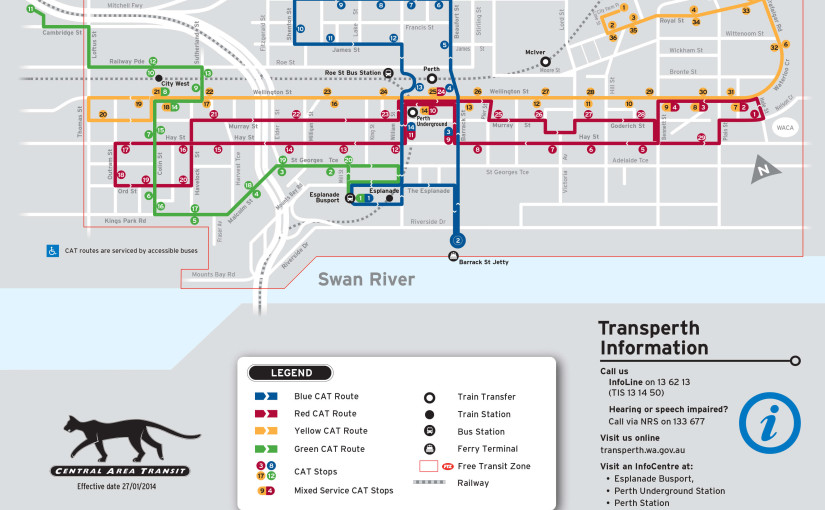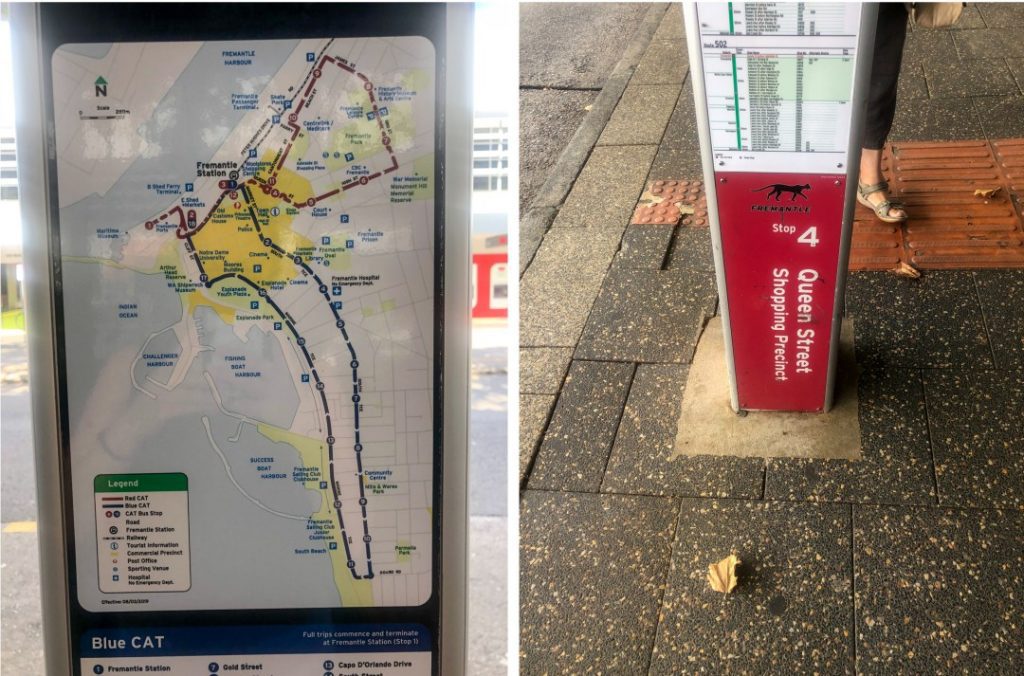 UBER, OLA, LYFT AND DIDI
Australia has a very large selection of ride-sharing apps. Some of the most popular ones include Uber, Ola, Lyft and Didi all of which are available in Perth. These apps are a lot cheaper than traditional taxis and very convenient to use. I definitely recommend using them if you are out late at night or going to a place that is difficult to reach by public transport.
I do not have a clear favourite and haven't noticed large differences between the four providers. You should google if there are any discount codes available for first-time users. They often have special offers such as a free ride if you're signing up.
SHOULD YOU RENT A BIKE TO GET AROUND PERTH?
Perth is quite flat and is decently popular for riding a bike compared to other places in Australia. There are beautiful trails along the Swan River as well as the coast that are perfect for biking. However, I would see it more as an activity rather than a way to get around. Do it if you enjoy riding a bike and want to see some nature but for longer distances or sightseeing you're better off taking a bus.
There are plenty of places to rent a bike close to the city centre. Rates start at around 25 AUD (~ €15.50) for a full day.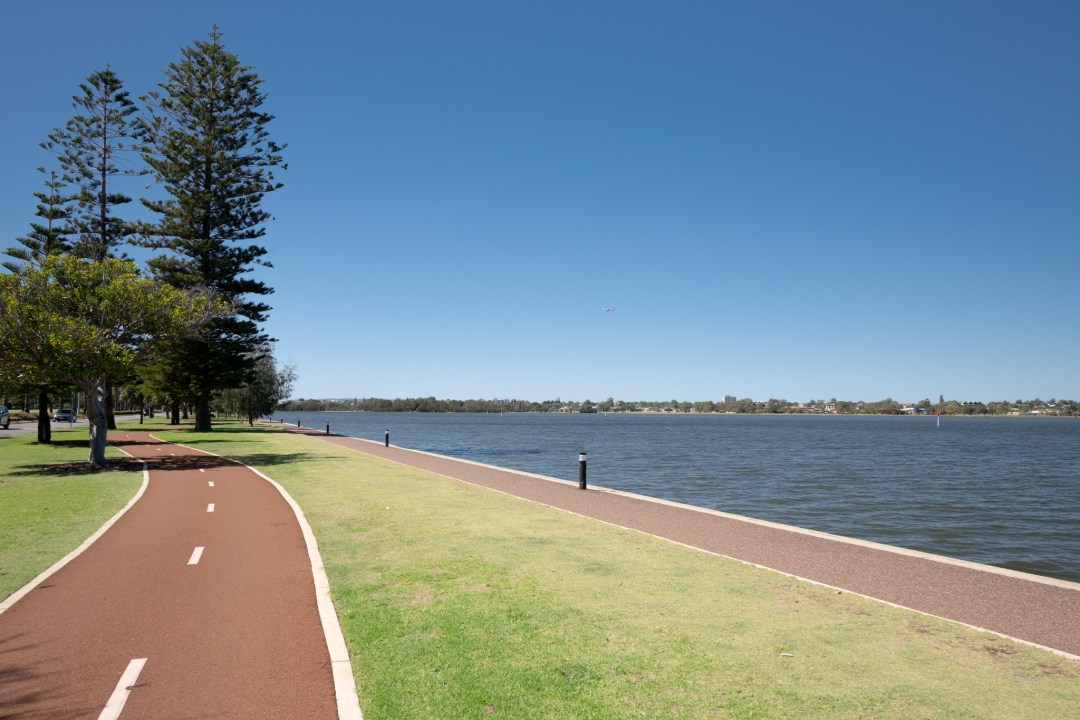 GETTING TO AND FROM THE AIRPORT
If you're arriving at the Perth Airport your best option is to take an Uber or other type of ride-sharing service to your accommodation. While they are cheaper than taxis they still charge you an airport fee which will make it slightly more expensive than a normal ride. I would expect to pay around AUD 40 to AUD 50 (~ €25 to €30) for a ride from the airport into the city.
A great alternative is taking a bus if you're travelling on a budget. There are different routes available that will take you to and from the airport. You can buy a SmartRider in Terminal.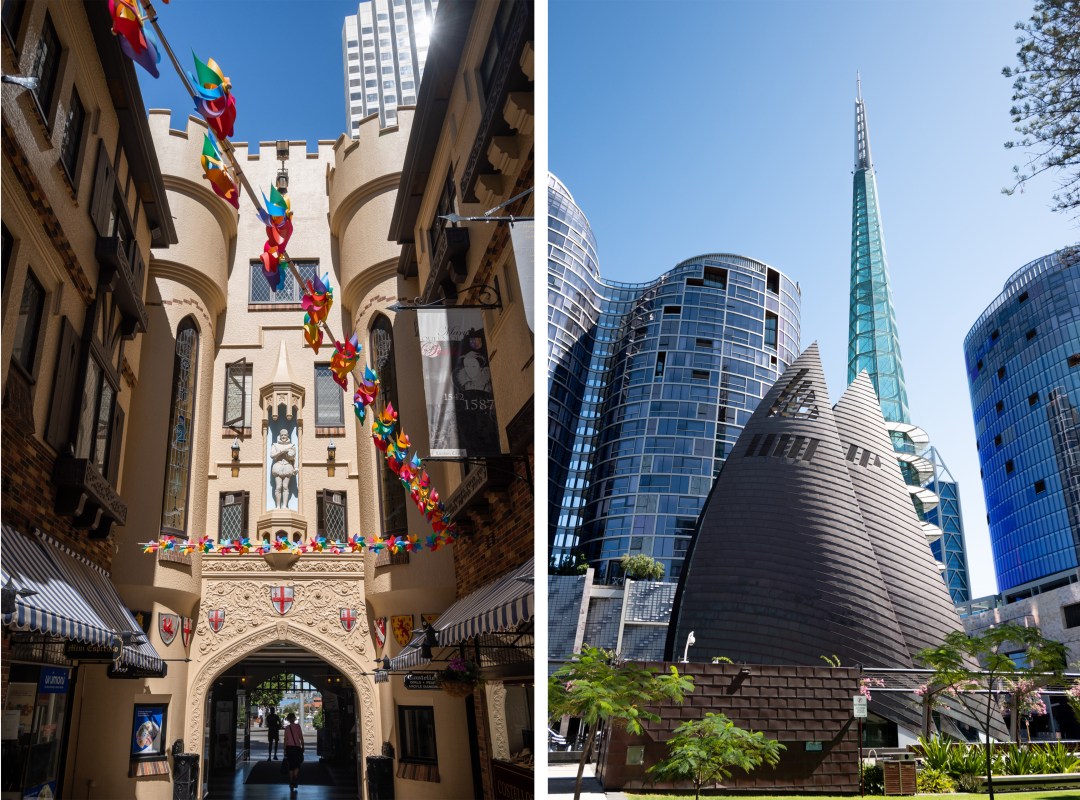 My most important travel tips and resources
Book your flights
Skyscanner is the best website for finding cheap flights since it works like a search engine so you can find the best deals across all airlines.

Book hotels and hostels
• Booking.com: Best world-wide
• Agoda: Best in South East Asia
• Hostelworld: Best for hostels

Book tours, transport and rental cars
•Viator: The best place to book tours, day trips and excursions for al budgets
•12Go: Great for ferries, trains, transfers and buses in South East Asia
•Discover Cars: Best deals for rental cars around the word

Get travel insurance
Every traveller needs travel insurance and I mean every single one. SafetyWing covers you in case of injury, illness or worse and they've got your back if your bag is stolen, flights are cancelled or in case of a natural disaster.

Pay abroad
Ask any traveller, Wise is the best choice when it comes to sending money abroad. They've always got the best exchange rates, lowest fees and their visa card is great for getting cash out or paying abroad.

Things every traveller needs:
➼ Osprey Farpoint 70 Backpack
Detachable daypack, ultra-light, durable and free repairs for life. There's a reason why so many backpackers have this bag.
➼ Packing Cubes
Packing cubes are a gamer changer, keeping your luggage organised and providing tons of extra space.
➼ Power bank
There is nothing worse than running out of battery on an overnight bus journey or a long flight. With a powerbank you can charge your eletronics on the go and make sure you're always connected.
➼ Micro-fibre towel
These lightweight towels are foldable, fast-drying and so useful when you're travelling.

➼ You can find 15 more things every traveller needs here. Some might be a bit controversial but I warned you!
Did I miss anything?
If you have any questions or feel like something is missing from this post please leave a comment below or contact me.