WHY IS INSTAGRAM IMPORTANT FOR BLOGGERS?
Social media is one of the best and most effective ways to promote your blog. By building a following on Instagram, Facebook, Twitter or other platforms bloggers can speak directly to their audience and encourage them to interact with their content. Instagram has over 1 Billion monthly active users which makes it a great place to promote your blog.
The platform appeals to a wide variety of target audiences and is especially important for the travel niche. Travel photos are a huge part of what people post and look for on Instagram. But even if you're blog is part of a different niche there is great potential for success on Instagram. Brand presence and awareness are a large part of why promoting your blog on Instagram is so important. Any online business without active social media channels comes across as unprofessional and outdated.
Think of Instagram as a way to communicate directly with your followers. In 2018 the average user spent 58 minutes per day on Instagram. If you manage to grab someone's attention during those 58 minutes this means free exposure for your brand and products. Your Instagram profile is almost like an ad that you don't have to pay for. You'll get to connect to your followers in a personal way and speak to them directly. Blogging can be a very one-sided conversation while social media allows you to engage with your followers and understand their needs and interests. It's a marketing goldmine and the best place to build relationships and find people who actually care about your content.
If you want to read more about why a cohesive social media marketing strategy is so important and how you can get started today click here to read or complete social media guide for bloggers
Our blog posts contain affiliate links. These don't cost you anything extra, but let us keep Guide your Travel free and provide high-quality content for you. Thank you for your support!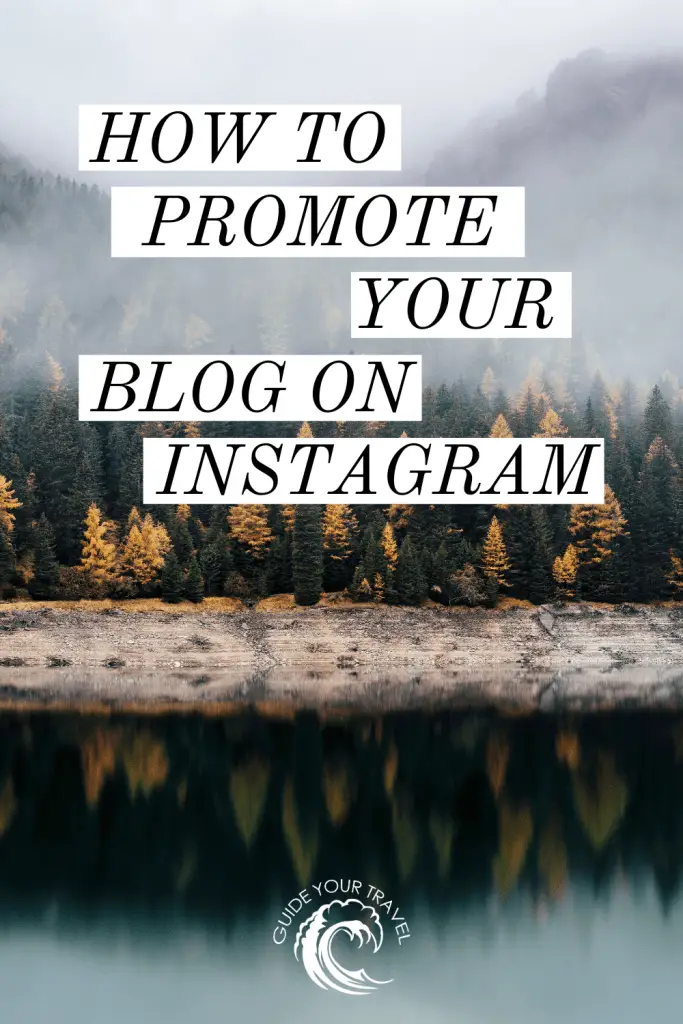 DO YOU NEED TO HAVE AN INSTAGRAM ACCOUNT FOR YOUR BLOG?
Yes, you absolutely need an Instagram account for your blog. As mentioned before brand presence is important so even if you don't plan on making Instagram your main focus you should at least post occasionally. The first step to getting started with Instagram should be setting up your account the right way. If you already have one for your blog now is the time to give it a makeover and make sure you have the right foundations. Always make a new account for your blog and don't just use your personal account. Keep the two separate to keep everything professional.
Always make sure you're account is a business and not a regular Instagram account. That way you have access to insight and special features. Make your profile picture easily recognisable and clear. Your blog logo is a good choice but a picture of yourself might make your account seem more engaging. Either way, make sure it's high quality and eye-catching.
Your bio should only contain really important information, most importantly your blog link. You can either link your homepage or use a social media landing page like Linktree or Tailwind's smart bio which will let you link multiple things at once. Sometimes this can deter people from actually visiting your site since it adds too many steps. While it might be effective for some bloggers it is definitely not necessary for everyone.
Lastly, make sure that you connect Instagram to your Facebook page to truly make use of all of the platform's features.
→ Step 1: Set up your account the right way
WHAT SHOULD YOU POST ON INSTAGRAM TO PROMOTE YOUR BLOG?
Instagram is a visual platform so your success depends highly on the images or videos you post. The more aesthetically pleasing and eye-catching a photo is the more likes and comments it will get. Don't forget to consider what your photos will look like all together on your profile. Look into using Instagram themes to make sure your photos all look good together once you've posted them. This will considerably increase the chances of people following you.
It may be tempting to only post a photo when you post a blog. This may work for some bloggers but often feels forced and too structured. While promoting your blog using your Instagram posts is a great strategy, you shouldn't overdo it and still post some other content. Always related to your niche of course.
This may be personal taste but we do not recommend posting Pinterest pins to Instagram to promote your blog posts. Photos without writing or graphics on them tend to do best on Instagram (with some exceptions of course).
→ Step 2: Come up with a content plan and decide what you'll be posting
HOW OFTEN SHOULD YOU POST ON INSTAGRAM TO PROMOTE YOUR BLOG?
Now that you have your profile ready and know what you're going to post you should take some time to come up with a posting schedule. You should post on Instagram at least once per week, more if possible. If you have enough content you could even post every day. Once every two or three days seems to be a good middle ground.
The more active you are on the platform the less likely it is for you to lose followers. But keep in mind that quality should always precede quantity. Don't post random photos just to stay active. Only post truly captivating and curated images always keeping your brand image in mind. One high-quality post per week is a lot more effective than four irrelevant photos.
Once you've come up with a posting schedule that is feasible to you try to stick with it. Consistency is key. Instagram is a long game and you won't be successful overnight.
→ Step 3: Make a realistic posting schedule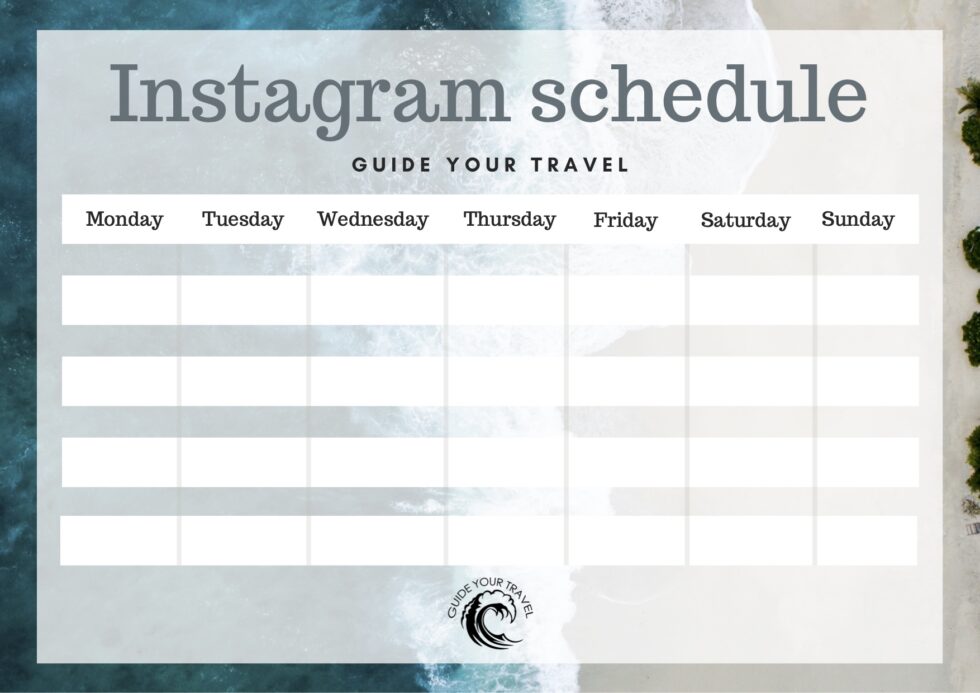 SHOULD YOU USE A SCHEDULING TOOL FOR YOUR INSTAGRAM POSTS?
When life gets busy your blog's social media will often be the first thing you forget about. Promoting your blog posts on Instagram can be a lot of work so time management is key.
There are plenty of platforms that offer post scheduling for Instagram which can be incredibly helpful to keep up your posting schedule. If you're using Instagram for business we highly recommend giving Tailwind a try. They're the best tool out there to schedule your posts on both Instagram and Pinterest in just a few easy steps. Their interface is intuitive and you can schedule unlimited Instagram posts as well as stories. They even give you personalised hashtag suggestions and let you schedule them in the first comment. Check out the Tailwind free trial here.
If you're not posting very frequently on Instagram you can also utilise a free scheduling tool with limited posts every month. Some of our favourites include Buffer and Later, both of which are great for bloggers looking to promote their blog on Instagram.
So are there any downsides to scheduling Instagram posts? One thing to consider is that the image might post by itself but it's still recommended that you're on the app during the time of posting so that you can reply to comments and send your new post to your engagement groups (we'll discuss those soon). So when you schedule your Instagram posts for the next month don't think of it as a way to ignore the app from then on. Another downside is that most tools don't let you post carousels automatically. Carousels are becoming increasingly more popular on Instagram so keep that in mind.
With that being said you should definitely utilise an Instagram scheduling tool to get an overview of your posts and plan.
→ Step 4: Set up an Instagram scheduling tool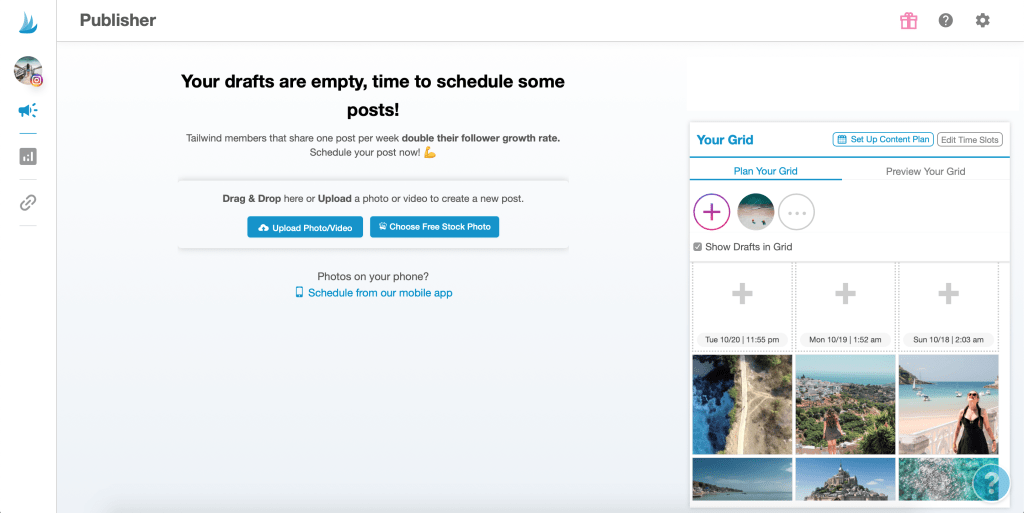 HOW TO COME UP WITH GOOD INSTAGRAM CAPTIONS
For many bloggers coming up with a caption is the hardest part of posting an Instagram photo. It may be tempting to onl write a sentence or an emoji and call it a day, however, it has been shown that long Instagram captions tend to encourage higher engagement. Try to write at least 3-4 sentences about the photo and the story behind it. Make readers aware of your latest blog post if you can but don't force it.
Always include a call to action in your Instagram captions. That means asking questions such as: Have you been to X? What was your favourite place you've ever been to? or Do you prefer the mountains or the beach? Try to ask open-ended questions to encourage people to comment and engage. Integrate these questions with the rest of your caption so that it's easy to read and engaging.
→ Step 5: Learn how to write great Instagram captions
SHOULD YOU USE HASHTAGS?
Always use hashtags for your Instagram posts. They'll make sure people who do not follow you will see your post and get you, new followers, at the same time. Instagram lets you use up to 30 hashtags on one post, including both the caption and comments. Some content creators claim that using all 30 can come across as spammy or that Instagram will only rank your photo for up to 15 hashtags. This hasn't been proven and in our experience using all 30 has worked well. Try out using a different number of hashtags and see if it affects your posts. If you check the Insights of a specific post you'll be able to see how many impressions came from hashtags.
Finding the right Instagram hashtags to use for your blog can be tricky. You'll want to go for a mixture of large, popular hashtags (more than 1 million posts), medium hashtags (between 500k and 1 million posts) and smaller hashtags (less than 500k posts). If you only use large hashtags such as #beach, #paris or #travel your post will most likely not be seen by anyone.
To find hashtags we like to use Best Hashtags which lets you enter a keyword and gives you related hashtags. Don't copy and paste blindly though. Always double-check the hashtags and adjust them to fit your needs. While you can reuse a lot of hashtags on several of your posts you should always change them to fit the specific photo.
→ Step 6: Figure out the world of hashtags
ARE INSTAGRAM STORIES IMPORTANT FOR BLOG POST PROMOTION?
Instagram stories are a great way to connect to your followers and bring some insight into your personal life. You can use the stories feature as a sort of vlog where you can show some parts of your daily life that relate to your blog. If you're a food blogger for example you could share photos or short videos of your breakfast, a few videos of you trying a new food product or going grocery shopping. That way you're giving your followers quick and easy content to consume even on days where you don't post.
Your Instagram stories are also a great place to trial new content and see how your followers react. Maybe you're a lifestyle blogger and want to try out some DIY projects but aren't sure if your audience would be interested. Give it a try on Instagram stories and see how they react.
Again, stories with a call to action tend to be the most effective. Ask questions and use features like polls or emoji sliders to build a more personal relationship with your followers. Once you have 10k follower on Instagram you can even use the "Swipe-up" feature which lets you link webpages directly to your story. This is especially useful for bloggers trying to promote their blog posts on Instagram.
Use Pinterest pins, screenshots or snippets to put a little teaser of your newest blog post on your Instagram story every time you post. Always make sure to make it aesthetically pleasing to capture the attention of the viewers. You can use graphic design programs like Canva to help you create eye-catching stories. If someone replies to your story take it as an opportunity to start a conversation and connect.
→ Step 7: Start using Instagram stories effectively
HOW TO USE INSTAGRAM STORY HIGHLIGHTS
Now that you're posting Instagram stories you might want to save some of them so they don't disappear after 24 hours. Instagram lets you create story highlights which appear as little bubbles on your profile. How you organise them is up to you. As a travel blogger, it's common to create a highlight for different countries or places you've visited. Just make sure you're not making too many highlights so it doesn't get overwhelming.
You don't need to add every story you make to your highlights. Try to only save the important ones for people who are visiting your profile to see.
Many content creators use covers for their story highlights to make them look uniform and fit your theme. You can easily create these covers for free using the graphic design platform Canva. They have thousands of templates for you to use so you can make your account beautiful. Click here to find out more about Canva.
→ Step 8: Make story highlights for your profile
HOW TO NETWORK AND CONNECT TO OTHER BLOGGERS ON INSTAGRAM
Making friends in your niche is an absolute necessity when you are first starting out as a blogger. By connecting to fellow bloggers on Instagram you can network and exchange ideas. Seeing other people succeed at what you are doing can help motivate you to work hard and grow your business. Collaborations are very important in the blogging world so always keep an eye out for business opportunities and chances to work with others. You can also compare what other bloggers post on Instagram and what works for them as inspiration for your own account.
So how do you find other bloggers in your niche? At first, this might seem difficult but you'll soon find that bloggers tend to "stick together". Try looking for accounts that comment under popular photos in your niche frequently or simply go through hashtags such as #travelblogger or #blogger. Alternatively, you can look up bloggers you met on other platforms and connect with them on Instagram. Once you've found a blogger in your niche send them a short message to introduce yourself and say hi. You'll almost always receive a positive response.
→ Step 9: Network and make friends in your niche
WHAT ARE ENGAGEMENT GROUPS AND HOW DO YOU USE THEM?
Many content creators who use Instagram to promote their blog participate in so-called "Engagement groups". These are a group of accounts who agree to like and comment on each other's posts on Instagram. When you post a photo you can send your post into your engagement groups to let people know you posted something new. They will then like and comment on your photo and you'll return the favour when they post. This lets you gain a lot more likes and comments on your posts and will boost them in the Instagram algorithm.
Engagement groups can also have downsides though if you're not careful. Instagram isn't too fond of the practice and can drop your reach if it notices that you're sending your posts into too many groups. To get around that people will send emojis or short sentences into groups to indicate a new photo has been posted. Others have moved engagement groups off Instagram entirely and onto chat applications like Whatsapp or Telegram.
To find engagement groups you should contact accounts in your niche and ask whether they can add you to some of theirs. Once you're in a few engagement groups you'll automatically be added to more. These groups tend to have short lifespans as accounts become inactive or stop engaging. Always keep an eye out for fresh groups.
→ Step 10: Join engagement groups
HOW DO YOU GAIN FOLLOWERS ON INSTAGRAM?
Now that you have your Instagram account set up and know when and what to post you'll want to gain followers quickly so you can promote your blog to more people. Unfortunately, sustainable Instagram growth takes time and shouldn't be rushed. Of course, you can follow and unfollow a lot of people but that won't bring you long term success. There is no real secret on how to gain followers but there are some strategies you should be using.
We highly recommend investing in an Instagram course to help you learn these strategies and how to apply them. @hotspotbucketlist 's Instagram education course will teach you all you need to know. You can get 20% off right now by using code "guideyourtravel" if you contact them directly on Instagram. Click here to learn more.
→ Step 11: Learn how to gain organic followers
MONITOR YOUR FOLLOWERS AND THE PEOPLE YOU ARE FOLLOWING
Instagram is a great app but it doesn't always show you all the information you need to know. To see who unfollows you or who doesn't follow you back you need a third-party app. Our favourite is Followmeter but there are plenty of others such as Follower Reports for Instagram or Insights for Instagram iMetric. Using these apps you can closely monitor who you follow and more importantly who unfollows you. This can be really useful when you're trying to build your following and gain an audience.
You can also see new followers more easily and have an overall better overview of your numbers.
→ Step 12: Download third-party apps to help you monitor your followers
SHOULD YOU USE PAID ADS TO PROMOTE YOUR BLOG ON INSTAGRAM?
The good news is that you do not need paid promotion to be successful on Instagram. However, there are some instances when paying for an ad campaign might be useful for your business and to promote your blog. In our experience paying for Instagram ads only really makes sense when you have a specific product or service that you sell or a free giveaway. If you simply promote one of your regular Instagram photos there is no real goal behind the ad. You might get a few more likes and clicks but it won't do much for your blog.
However, if an eye-catching graphic pops up on your newsfeed for a free preset pack or a recipe book then people will be far more tempted to click the link to your website and purchase or download your product. Definitely give paid promotion on Instagram a try to get more eyes on your products but consider whether it's worth the money to promote your blog by itself.
→ Step 13: Consider paid promotion
THINGS BLOGGERS SHOULD AVOID ON INSTAGRAM
The last step of this list is not really something you should do but more something you shouldn't. People tend to not take social media very seriously even when it comes to their business. Think of your Instagram profile as your digital display window or your front-of-house. You'd want everything to be organised and professional right? Still, there are so many business accounts that make simple mistakes on their Instagram pages. We came up with a list of the 33 most common Instagram mistakes and how to fix them. If you avoid these 33 examples of bad Instagram practise then you'll already be one step ahead of many others.
→ Step 14: Know what NOT to do