Growing a travel blog from nothing to a popular website is incredibly difficult and time-consuming especially in 2021. If you're still discovering the world of blogging and trying to navigate it everything just seems overwhelming. Today, I want to introduce you to a tiny part of the travel blogging world which is a lot more important than many new bloggers realise. If you're struggling to get your link out there and build connections with fellow bloggers then travel blog collab posts might just be the answer to all of your problems.

When I initially Googled how to start a travel blog and make it successful many articles suggested writing guest posts for popular sites to get recognition and drive traffic to your blog. Turns out that if you send emails to large websites asking to guest post 90% of them won't reply and the 10% that do will most likely say no. At least that's the case if you're a small blogger who's just starting out.

And honestly, who can blame them?

As someone who runs their business online, you'll get dozens of spam emails per day, many of which offer absurd sponsorships or are asking for backlinks. Filtering out the legit ones is more than a challenge.

Luckily there is a far easier way even the tiniest of blogs can get their link on a giant travel website.

Travel collab posts are the answer to all your problems (or at least those associated with link building).
What is a collab post?
A collab or collaboration post is a blog post written by several travel bloggers. They're usually list-style posts where each section is contributed by a different blogger. Bloggers tend to use collab posts for topics where they don't have enough information or images to come up with an entire post by themselves. They'll advertise collab post opportunities in specific Facebook groups or on dedicated websites and other bloggers can respond with suggestions which will then be approved or denied. Once all submissions are collected the post can then go live. To a regular reader or non-blogger, most of these posts look just like a regular blog post.

Collab posts are a win-win situation. The original blogger gets to publish a post that contains expertise from many different writers which creates a high-quality article that helps answer readers' questions. The participating bloggers receive a link back to their own website and credit for their submission.
Why writing collab posts can be useful for your travel blog
Bloggers don't participate in collab posts for fun. They actually have a number of benefits that can really help boost your travel blog considerably and give it more credibility.
1. It's a super easy way to get a do-follow backlink
If you've tried getting your link published on larger websites in the travel niche you know how difficult it can be to gain a do-follow link. Sending out countless emails or messages to bloggers or organising link exchanges is really time-consuming and difficult. In the end, it's mostly smaller bloggers who are really keen on exchanging links so reaching those giant sites with DAs (Domain Authority) over 50 is next to impossible.

Collab posts provide the perfect opportunity to gain a sustainable and relevant do-follow backlink without much effort. Writing up a short text about a location you love takes as little as 10 minutes and just like that you've gained a do-follow link to your blog. A great variety of sites participate in collab posts and not all of them are small. Gaining a high-quality backlink in with next to no effort has never been easier.
2. You'll get to network with other bloggers and make friends
Meeting other bloggers in your niche is difficult especially if you're just starting out. You might have trouble finding blogs that are similar in size to your own since these rarely show up on the first page of Google.

The main benefit of participating in travel blog collab posts is definitely gaining backlinks but the networking aspect shouldn't be underestimated. You'll be in direct contact with lots of bloggers in your niche and if you regularly participate in collabs you'll get to know the bloggers you work with regularly. Take it a step further and connect on social media if you're looking for like-minded people to speak to.

Never underestimate the power and importance of networking. So many opportunities arise from knowing someone who knows someone so making connections is incredibly important especially in a job where you usually work alone.
3. You can practice your writing skills
Whether writing is your passion or more of a means to an end, it's an essential part of blogging. The more you write the easier the process will become and you'll find yourself more confident in your own style. Writing one post per week for your own blog most likely won't be enough in the long run. Collab posts provide the perfect opportunity to practice your skills and write about places that you might not have featured on your own blog.
4. You can reach a new audience and build brand awareness
Getting your name out there is one of the most important parts of building a blog and essentially a brand. You'll want to reach new audiences and groups that your own blog can't get to. Larger websites have established audiences who will click on your link and if your content is useful to them might turn into new readers. A collab post is a great opportunity to build brand awareness and make sure people have heard of you.

Larger sites (or more specifically those with a higher DA) tend to rank much higher on Google than a new blog. That means that if you participate in a collab post for a popular blog, chances of the post ranking and lots of traffic coming to you are a lot higher than if you never write for other blogs. That doesn't mean that only high DA collabs are useful though. Even smaller audiences can be highly engaged so in the end, it doesn't matter how large the website is. As a new blogger, even five new loyal readers are absolutely priceless.
5. Collab posts are a safe form of link building (if used correctly)
Building links is difficult so there are lots of unsustainable forms of link building out there. Buying links might be a quick fix but they'll most likely increase your spam score and won't do much for you in terms of traffic. However, sustainable link building takes incredible amounts of time and effort.
Participating in collab posts is one of those miracle ways of link building that are safe, sustainable and doesn't take forever. However, it's always important to not overdo it. The collabs you participate in should be relevant to your niche and you of course need to create new and unique content every time (never, ever use the same text twice online). Don't just mindlessly sign up for as many collabs as possible but try to keep an eye out for good ones that really fit your site.
What collab posts for travel blogs usually look like
If you're not quite sure yet whether collab posts are for you here is an example of how one typically looks. This is a post I wrote about the best snacks to try in Mexico. Since I didn't have enough photos of all the best Mexican foods I wanted to involve some more bloggers to help me out. I wrote some of the sections myself (the ones where I could use my own photos) but the majority were contributed by other bloggers.

Below is a screenshot of the requirements I posted for this collab. Usually, bloggers will ask for anywhere between 100 and 400 words although 200 seems to be the most common option. A good photo is also almost always required although some sites will allow you to use stock photos. Some collab posts also require you to have a relevant blog post you can link to although most allow a link to your homepage as well.

You'll usually have between 2 and 10 days to send in your submission and the instructions will let you known when approximately the post will go live. In most cases, you'll send in your submission via email although some bloggers like to use Google Forms.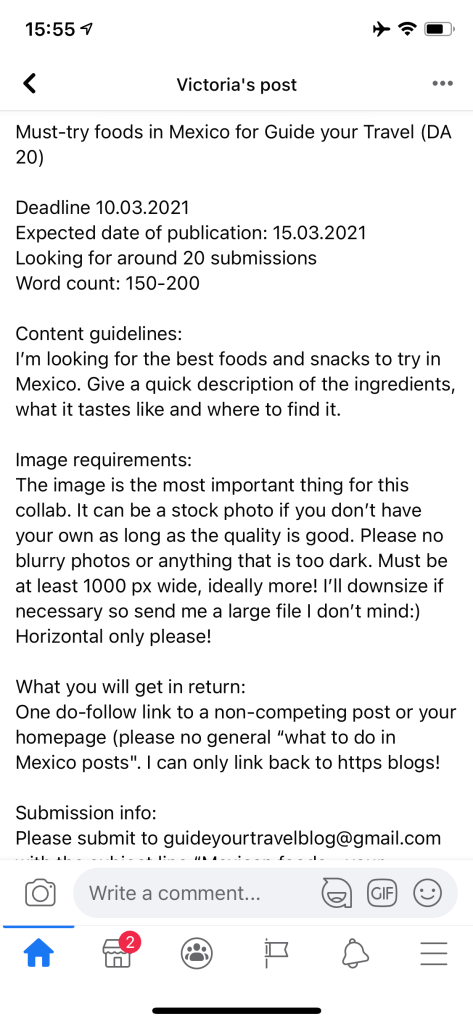 Social media promotion for travel blog collab posts
Once a collab has gone live it's a nice gesture to promote the finished post on your own social media. That way you're giving the post exposure and showing it to your own audience. Some bloggers even make this a requirement although this tends to be the exception.

Promoting a collab post you've participated in on social media is a great opportunity to link with the author and network. While it's difficult to promote every single collab you should at least try to pin it on Pinterest and re-share any social media posts for the article if possible. This gives you more content for your own social media and leaves a good impression with the host of the collab.
Are travel blog collab posts worth the effort?
So we've talked about the benefits of using collab posts to build links. But are they really worth the effort?

For me they 100% are. Of course, every blogger is different but collab posts are by far my favourite way of link building. However, as quick and easy as they are to write they do take time and effort to organise and keep track of. Nothing is worse than realising at 11 pm as you're about to go to bed that you still have four collabs due that night. Or forgetting to do one because you didn't write it down. It also takes a lot of effort to find good collabs in the first place and a lot of time goes into searching for them. In some cases, bloggers will want you to adjust or revise your text or find different images which turns into endless email chains and conversations. Then once a post is live you need to check your link and text to see if everything is correct. And then there are the odd cases where your submission is rejected or left out so you did all these things for nothing.

All that adds up and on some days I find myself spending hours on finding, writing, editing, reviewing and sending collabs.

That being said the benefits far outweigh the downsides in my opinion and other forms of link building require even more effort. For me, collab posts tend to come and go. Some weeks I write as many as twenty (although this tends to be rare) and others it's only one or two. Usually, I'll have frustrating times where it seems like all I do with my day is write emails about collab posts but then the next week I'll barely have any. Usually, this is right around the time when I spend more time looking for new collabs to participate in again. It's almost addictive.
Where to find travel blog collab posts
So we've talked about why collabs can help boost your blog and how to write them but where can you actually find them?

Facebook is definitely the most important answer here, namely different Facebook groups. It's difficult to give you groups to join and be done with it because they tend to only be active for a short while and then go dead as a new group arrises. Some of my favourites in 2021 are definitely:

Travel Collab Post Opportunities

Travel Collabs and Link Swaps – Wandering Women Travel Bloggers

Link Building + Guest Posts + Collabs (Travel Bloggers)

Digital Nomad Wannabe also hosts regular link building challenges which usually includes a wave of collab post opportunities.

Travel Image Collab for Bloggers is a bit quieter but has some good opportunities as well.

If you're looking for even more groups to join just search terms like "travel blog collab posts" or "travel blog link building" on Facebook and you'll most likely come across some more up and coming groups.

Some bloggers also use their own social networks to organise collabs through mailing lists or social media. Once you've networked with a few you might even be asked to join future collabs which can be a great way to get to write about popular destinations. Follow your fellow blogging friends on social media to stay in the loop.

Facebook groups are definitely the way to go though.
How to spot a good collab post
Not all travel blog collab posts are created equal. Here are a few things to look out for when picking out collabs to contribute to. That way you can save time and get the best possible reward.
1. High Domain Authority (DA)
A link from a site with a high domain authority (DA) is worth a lot more than a low one. DA is often criticised for being an irrelevant form of measurement for websites but in my opinion, it's better than nothing. The scale of DA goes from 1 to 100, 100 being the highest. Most bloggers looking for participants for their collab posts will include their own DA so you can get an idea of where your submission will end up.

In general, the higher the DA the better the link will be. Try to aim for sites with a DA of 50 and above which will be the most beneficial. However, don't make the mistake of only doing collabs with high DA sites. These are a lot more difficult to find and you need to be quick to get a spot. Plus, backlinks are only one of the many benefits of participating in collab posts. Even sites with a DA of 1 can drive traffic to your blog and who knows; they might grow quickly and have a much higher DA in only a few months.
2. A topic for which you have a relevant post
The best way of using collab posts is if you have a relevant post you can link to in your submission. Most bloggers will offer to link to a relevant post on your site or your homepage in case you don't have one. When looking for collab posts always keep an eye out for those with great topics for which you have a related post.

So if the topic of a potential collab is Things to do in Mexico and you've got a post about swimming with whale sharks this is a great topic to choose since you can direct readers to your relevant post. Imagine you are a reader and are browsing through things to do in Mexico. You would most likely click on a link about swimming with whale sharks rather than a link to the homepage of the author. This means your whale shark post could get a lot of attention and new readers.

This doesn't mean that linking to your homepage is a bad idea though. You'll still get a great backlink for your site but the traffic benefits might be lower. Some of my best sources of traffic for my blog actually come from well-placed collab post links.
3. A new URL you haven't linked to
A backlink from a new website that hasn't linked to you before is worth a lot more than one that has. If you spot a collab from a new blog you haven't heard of before you should make it a priority to join. Over time this will become more and more difficult of course but with new bloggers joining collab groups every day you'll always find a few.

Links also age over time so if you haven't been linked to in a while from a site it's a good idea to get a fresh link. Six months tends to be the most commonly named time-frame for when it makes sense to get a new link from a site. This is why it's really important to keep track of the collab posts you participate in. You should always have an overview of blogs that haven't linked to you in a while so you can put in extra effort to get a fresh link.
4. An active and good looking website
Blogging has a very low barrier of entry meaning almost everyone can (and will) start a blog. However, only a small percentage of bloggers actually make it so there are tons of dead sites around especially in the travel niche. You'll want to write collab posts for active sites that are user-friendly and modern. Especially sites with a low DA should be checked first before you sign up for a collab with them. If they have a DA of below 10 and their last post was a few months ago chances are that the link won't be worth the effort and it's better to pass. There is no harm in participating in collab posts for inactive sites though. You might just waste half an hour of your time which is absolutely fine so no need to worry about this one too much.
5. The collab was posted recently
Finding collab posts isn't difficult, it's a lot more challenging to find ones that are still accepting submissions. Unfortunately, travel bloggers tend to all visit the same places so if you're trying to snag Yosemite for the best National Parks in the US you'll have to be fast. Facebook groups are full of eager bloggers who want links so all the best topics are usually taken within the first hour of the collab being posted. For popular topics, it might even be the first 10 minutes.

Usually, bloggers will post in multiple groups at once so you might not even see if your chosen topic is already taken. Once a collab is older than a day there is usually no point in commenting unless the topic is very niche.

Most bloggers also only accept a certain number of submissions so even if your favourite topic isn't taken yet the collab might already be closed once you get a chance to comment.

The best way to see all new collab post opportunities that are posted is by turning on notifications for the relevant Facebook groups. Make sure to check the app frequently so you'll always be the first to see. It really makes a world of a difference.
6. You've got a great photo
Often times photos are a priority for bloggers when it comes to collab posts. I will usually reject and accept submissions based on their photos since visuals are incredibly important to readers.

Most of the time collabs will specifically state whether stock photos are accepted and even then you always need to check whether you can even find a good stock image.

If your photos for a certain place aren't the best make sure to let the collab host know beforehand so they can accept or reject your submission.
7. The collab post fits your blogging niche
Occasionally writing a collab post for a blog outside of your niche isn't necessarily bad. It can even have benefits of exposing your content to a new audience. However, if your blog is about solo travel and you write a lot of content for family bloggers you might be missing the mark.

Try to keep an eye out for collabs that are somewhat similar to your niche and make sure the majority of them match up. The occasional wild card is fine but don't over do it.
Photo collab posts
Some bloggers also specifically look for images for their posts. These types of collabs are even easier than writing but the link is also somewhat less useful. Again, readers tend to click on contextual links that are interesting to them. The link you'll receive from an image will be to your homepage (usually) so it's not as useful as a contextual link.

Photo collab posts are also a lot more difficult to find since most bloggers will just use a stock photo. They will mostly be looking for very niche places so it's rare that you'll encounter one for which you can actually provide a photo.
Should you participate in every single collab post you see?
It's definitely tempting to sign up for as many travel blog collab posts as possible. Once you get started it's easy to get carried away. You definitely don't have to participate in every single one you see. Don't pressure yourself.

Again, relevant collab posts are a lot better than random ones you encounter. If you have the time by all means sign up for as many collabs as possible. A backlink is a backlink after all. But if you're trying to work smarter, not harder you should be a bit more selective about which ones you do.
How many collab posts should you be participating in?
There is no specific number of collabs you should be doing. Again, some weeks I do twenty while others I'll only find two or three. Try to do as many relevant ones as possible. Perhaps you can aim for around fifteen to twenty per month.

Only sign up for as many collabs as you can comfortably do without stressing yourself out. Collabs shouldn't overtake your entire life as a blogger.
How to stay organised
In the beginning you might be able to keep track of your collab posts by just remembering which ones you've done. However, over time you'll lose track so it's really important to stay organised from the beginning.

I highly recommend keeping an Excel spreadsheet of your collabs with information like the blog name, URL, email address, topic, backlink, DA and due date. That way you can always seen which collabs have been published and when you last got a backlink from a site. You can also check which posts have received the most links and whether a collab has been lost along the way and never published.

I like to colour code my spreadsheet so I can easily see which collabs are still open and check up on whether they've gone live.
Yoast SEO