WHY BLOG PROMOTION IS SO IMPORTANT
The most time-consuming part of blogging is usually not actually the writing process. Even the best article is useless if no one ever reads it. As a blogger, you should be putting a large chunk of your time towards promoting your blog on social media and creating an effective strategy across different channels.
No idea where to begin? This post will help you get started and teach you the basics about how you can use social media to promote your blog and increase traffic. Even if you're already using social media to promote your blog, chances are that you're not maximizing your potential and truly making use of the tools at hand.
The goal is not necessarily to show your content to as many people as possible but to put it in front of people that are in your target audience and therefore most likely to interact with it and actually find it helpful. If you're just blindly posting to promote your blog on Facebook, Twitter, or Instagram without having an actual strategy you're probably not seeing the numbers you'd like to see. Keep reading to find out how you can change that.
Are you a new blogger and have no idea where to start? Check out these 22 things I wish I would have known before starting my blog.
Our blog posts contain affiliate links. These don't cost you anything extra, but let us keep Guide your Travel free and provide high-quality content for you. Thank you for your support!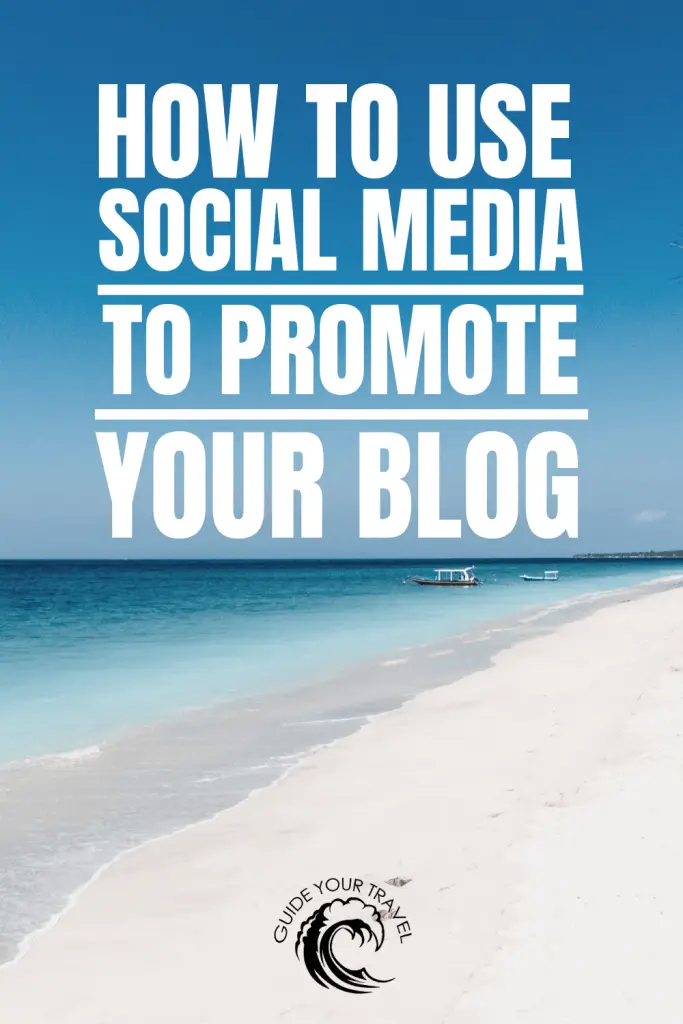 DO YOU NEED SOCIAL MEDIA TO PROMOTE YOUR BLOG?
Using social media to promote your blog should be a priority for any blogger. It's a simple and efficient way to build an audience for your business while also exposing new people in your niche to your content. Billions of people worldwide use social media and you can easily promote your blog on platforms such as Instagram, Twitter or Facebook even without having to rely on paid ads. If you're a blogger and do not use social media to promote your blog you're definitely not maximising your potential.
That being said there are still bloggers out there who use little to no social media and are still successful. Advanced knowledge of SEO (Search Engine Optimisation) can have huge effects and give you organic blog traffic through Google searches alone. As a new blogger, this can be tricky though and it takes months or even years to build SEO effectively.
You also need to consider brand presence and image. A blog, business, or brand without active social media channels immediately looks unprofessional and outdated. Blogging can be a very one-sided conversation. Use social media to communicate with your followers and build relationships. Social media platforms are incredible mediums for market research and will help you find out what your readers actually want and what they're looking for in your niche.
DO YOU NEED TO USE ALL SOCIAL MEDIA PLATFORMS AS A BLOGGER?
Being active on social media can be time-consuming and feel overwhelming. Many new bloggers wonder whether they necessarily have to use every single social media platform to promote their blog. The answer is yes and no.
Definitely make sure to claim your blog name on all social media platforms even if you're not using them at the moment. You'll want your brand to be consistent across all channels so try to give your accounts the same (or similar) profile picture and header. Take some time to write a bio for all accounts and link them to your blog so anyone who stumbles across them will know where to find more content.
If you're not very fond of social media and feel as though you're not getting anywhere with it try to take it step by step. You don't need to be an expert at every single platform immediately. Try not to leave any accounts completely bare and be at least somewhat active on them even if you just post once per week. Pick your favourite platform and put most of your energy there. Once you've gotten the hang of it move on to the next one until you can tell which one brings you the most traffic.
WHY YOU SHOULDN'T RELY ON ONLY ONE SOCIAL MEDIA PLAFORM TO PROMOTE YOUR BLOG
You might be tempted to stick with a social media platform that works for you and do all your promoting there while neglecting the others. This might seem efficient and convenient but you'll be walking on thin ice.
Social media changes all the time and if you're relying too heavily on one you might be left without traffic if that platform ever changes its algorithm. That's why you always need to diversify your social media strategy.
Both Instagram and Pinterest are known for continuously changing their platforms and frustrating bloggers and business owners. If you spread your post promotion to several platforms you'll be less likely to be caught off guard when the next inevitable algorithm change happens.
HOW TO START SETTING UP YOUR SOCIAL MEDIA STRATEGY
The first step of your blog's social media strategy should be defining your target audience. What sort of person would find your blog helpful? Who would be most likely to engage with your content and promote it further? Who are you actually writing for? Next, think about which social media platform this person is most likely to use. Not sure how to find that out? Try out different social media platforms and see what responses you get.
Next, you should research your competition. Find the top blogs in your niche and have a look at their activity on social media. What sort of content do they post? What does well and what doesn't? Is there anything that you feel is missing? Use this information as inspiration to come up with your own social media strategy and fill any gaps in your niche.
If you already have social media accounts for your blog now is the time to give them an overhaul. Come up with new bios and make sure your blog is linked so readers can easily find it. Try to have the same profile picture or a similar one on each platform so your brand is recognisable.
Finally, come up with a weekly or monthly posting schedule for each platform. Use analytics of previous posts to help you find out when your followers are most active and then post at that time. If you're starting your social media from scratch and have no data then trial a few posts at different times of the day to see what works. Each social media platform should have a different posting frequency and schedule. While this will be different for every blog we outlined what works for most bloggers on Facebook, Instagram, Twitter, Pinterest and TikTok in the sections below.
WHAT'S THE MOST IMPORTANT SOCIAL MEDIA PLATFORM TO PROMOTE YOUR BLOG?
There is no clear answer to this question. As mentioned before every blog is different and what works for one might not work for another. A target audience of 40-60 year-olds in the cooking niche will most likely be active on different social media platforms than 18-25 year-olds in the backpacker niche.
In general, most bloggers claim that Pinterest is the most effective social media platform for promoting your blog. While this is true, Pinterest is also notoriously unreliable and tends to change its policies and algorithms frequently. Facebook and Twitter also have a good reputation for promoting your blog, depending on the niche.
TYPES OF SOCIAL MEDIA YOU SHOULD BE USING TO PROMOTE YOUR BLOG
HOW TO USE FACEBOOK TO PROMOTE YOUR BLOG
Facebook is the mother of all social media platforms. It's definitely past its peak and doesn't appeal to the younger generation as much as Instagram or TikTok do. That being said Facebook can still be very useful to promote your blog. You should have a business page where you post direct links to your blog posts to promote them to your audience. This is great to create a presence but the real secret lies in Facebook Groups. Join any Facebook Groups you can find for your niche and use them to get your content out there. Always make sure to read group rules as some might not let you to post links or promote your own material.
Joining groups meant for bloggers is also a good idea. You can use them for link swaps, exchanging ideas and guest post opportunities. Many blogger Facebook groups have cross-promotion days for exchanging comments and clicks.
One of the best ways to reach your target audience is finding posts that are relevant to your content and adding your links to them. That way people will find the information they're looking for and might come back to your blog for more.
HOW OFTEN SHOULD YOU POST ON FACEBOOK TO PROMOTE YOUR BLOG?
Facebook is sensitive to spam content so you need to be careful about posting your link too often. This might get you blocked permanently from the website. Try to post on your Facebook page once a day and as often as you can in relevant groups. Don't overdo it though and avoid copy-pasting content which will trigger the spam filters. Only post your link if the group rules allow it and if it's truly relevant to the topic.
HOW TO USE INSTAGRAM TO PROMOTE YOUR BLOG
Instagram is often known as the "black sheep" of social media platforms for blog promotion. Many bloggers claim that its traffic conversions are not worth the effort and that it shouldn't be prioritised. For our blog, this is not the case and Instagram continues to be an effective way to promote our posts. However, Guide your Travel focuses on photography which is a niche that highly depends on Instagram.
Instagram is a social media network that appeals to a wide variety of target audiences, which is why we believe that an active presence on it is very important. Especially the travel and food niche, as well as any blogs related to photography or videography, have great potential on the platform. If you do not see high traffic conversion numbers from Instagram try to still post and at least keep your profile active
Instagram also has great potential for brand deals and collaborations. Brands will usually look at your followers, likes and comments before they agree to collab with you. If you manage to keep these numbers up companies will be far more likely to want to work together.
HOW OFTEN SHOULD YOU POST ON INSTAGRAM TO PROMOTE YOUR BLOG?
Try to post on Instagram at least once per week, ideally more. With photos, quality is more important than quantity so try not to post random photos just for the sake of posting something. If you have enough quality content you could even post every day or once every two days. This will bring you more followers and make your account seem more active.
Don't forget to post Instagram stories as well. These are a great opportunity to interact with your followers directly and trial new content. At least one Instagram story per day is recommended if you can post more that's even better.
Are you feeling lost and not sure how to work Instagram? We came up with 33 common mistakes Instagram beginners tend to make. If you avoid them you'll have taken the first step to become an Instagram pro.
TWITTER
Twitter is one of our favourite platforms to promote our blog. We've found that it's a lot easier to build an active community on Twitter than on any other social media. It's really easy to gain followers on Twitter as most people tend to follow back and won't unfollow. Conversion rates are decent and it's easy to connect to new people. So what's the catch?
For starters, Twitter has a 280 character word limit for a tweet which can make it tricky to come up with good ways to promote your blog. The real problem is, however, how quick the turnover of content on the platform is. Sprocketwebsites claims that:
"A blog post lasts for two years, a Pinterest post is valid for 4 months, YouTube videos last 20+ days, a LinkedIn post is good for 24 hours, an Instagram post will show up well for 21 hours, you can expect Facebook visibility to be about 5 hours and a tweet on Twitter has a lifespan of roughly 18 minutes."
As you can tell, 18 minutes is really not a long time and you'll have to tweet a lot to really reach people with your content. That doesn't mean Twitter is not effective though. You'll just have to consider how time-consuming it is if you really want to be successful on the platform.
If you're just starting out as a blogger a good strategy can be to join the Twitter writing community and look for fellow bloggers and writers. Many will host daily or weekly "Writer's Lifts" where content creators support each other and comment on blog posts. While this is not organic traffic it can really help at the beginning of your bloggoing journey and give you at least some traffic.
HOW OFTEN SHOULD YOU TWEET TO PROMOTE YOUR BLOG?
As mentioned before Tweets have a very short lifespan. Try to Tweet at least two or three times per day while also commenting on and retweeting other people's content. Keep an eye out for when your target audience is most active on Twitter and engage with any replies you get.
PINTEREST
Pinterest is often hailed as the end-all, be-all of social media platforms for blog promotion. This is still the case to some extent but frequent algorithm changes have made the platform unpredictable and somewhat unreliable for bloggers. Huge drops in traffic for no apparent reason are not uncommon so while Pinterest is an amazing tool when it works, it can be a huge disappointment when it doesn't.
Pinterest is not technically a social media platform but is often treated as such. It is a visual search engine that has an incredible reach and amazing potential for bloggers. Pins have a lifespan of up to 4 months so investing in Pinterest can help you reap long-term benefits. Don't be discouraged if you do not see numbers in the beginning. Pinterest is a marathon not a sprint so don't expect success overnight. It takes time to understand the platform and how to work it.
HOW OFTEN SHOULD YOU PIN TO PROMOTE YOUR BLOG?
Pinterest wants users to pin quality content. They recommend pinning anywhere from 15 to 25 times per day which includes both your own and other people's content. Again, keep in mind that fewer high-quality pins are better than a high volume of low-quality pins. You can come up with as many pins as you like for one blog post as long as you change the image, description and titles.
BONUS: TIKTOK
TikTok is still a bit of a mystery for most bloggers. The platform is very new and changes frequently. TikTok's algorithm can be very beneficial though and has great potential for bloggers.
Some niches work better on TikTok than others. Creating content for TikTok can be time consuming and success depends highly on your blogging niche. If you're a food, travel or arts and crafts blogger with an audience of under 25-year-olds TikTok might be a great opportunity for blog promotion for you. Focus on creative content and try a few video styles out.
The internet changes fast and as a blogger you need to make the most of new platforms while they are still rapidly gaining users. Always try something new so you can diversify your social media blog promotion further.
USING SOCIAL MEDIA SCHEDULING TOOLS
So with all this work on social media every day, where will you still find the time to blog? The good news is that there are tools available to help you schedule posts in advance. You'll still have to spend some time replying to comments and messages and engaging with your audience but you can post automatically.
Pinterest is probably the most time-consuming social media platform since it includes pinning content up to 25 times per day. The best program out there for Pinterest scheduling is Tailwind. You can schedule as many pins as you want and have complete control of every step of the process. Check out their free trial here. Tailwind also offers post scheduling for Instagram.
A great one-stop solution for all social media platforms is Later. They offer scheduling for Instagram, Facebook, Twitter and Pinterest for free with limited posts every month. Buffer is also a great tool if you're running multiple Instagram accounts at the same time or reposting content.