WHY YOU SHOULD VISIT KUALA LUMPUR
Kuala Lumpur is Malaysia's most versatile city and perfect for a weekend trip. There are endless things to see and do and millions of tourists visit KL every year. Knowing where to stay in Kuala Lumpur can be challenging especially if you've never been there before. The selection of hotels and hostels is large and KL is quite spread out so picking a neighbourhood can be tough.
As someone who's lived in KL for an extended time period and got to know the city quite well, I have a few clear favourite areas where I think it's best to stay as a tourist. By picking hotels in these neighbourhoods you'll have a great home base from where you can explore the city and see all the attractions on your itinerary.
Check out these 19 things to do in Kuala Lumpur to help you get started.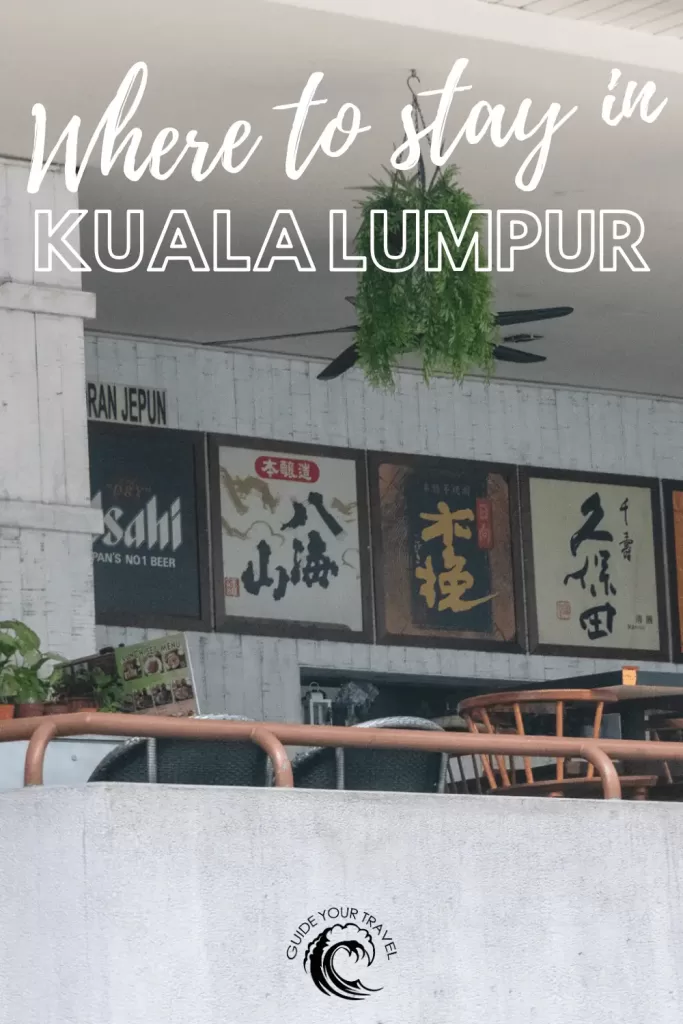 WHERE ARE THE ATTRACTIONS IN KUALA LUMPUR?
Most of the things you'll want to see in Kuala Lumpur will be concentrated around China Town, Bukit Bintang and KLCC. Here you'll find the most basic activities such as the Petronas Towers, KLCC Park, Petaling Street or Jalan Alor. However, for some attractions such as the Thean Hou Temple, the Batu Caves, Perdana Botanical Gardens, Taman Connaught night market or Brickfields you'll have to venture outside these areas. That's okay though, you can't have it all!
It's best to set up your home base in the main neighbourhoods close to the city centre so you have the most important attractions within walking distance. That way you can easily reach anything else you want to see with public transport or Grab.
HOW TO GET AROUND KUALA LUMPUR
The public transport system in Kuala Lumpur is very reliable and cheap. Especially the LRT, MRT or Monorail trains are a great way to get around the city. While there are many public busses the most popular option amongst tourists is the GoKL bus system. These buses are completely free and take you to the most important parts of the city with many attractions on the way. Have a look at the map below for details.
If you're not a fan of public transport or you're travelling in a larger group you should consider Grab. This is a service similar to Uber and is often far cheaper than a regular taxi. It's quick and convenient and a great way to see the city.
By making sure you're staying somewhere close to public transport you'll be able to explore Kuala Lumpur conveniently and on a budget. Even if you don't plan on taking a bus or train you should not rely on Grab or taxis exclusively. During rush hours you could be stuck in traffic for hours unable to go anywhere. Plan ahead and make sure you can take a train in such a situation without having to walk too far to the next station.
Travelling on a budget? Here are 24 cheap or free things to do in Kuala Lumpur.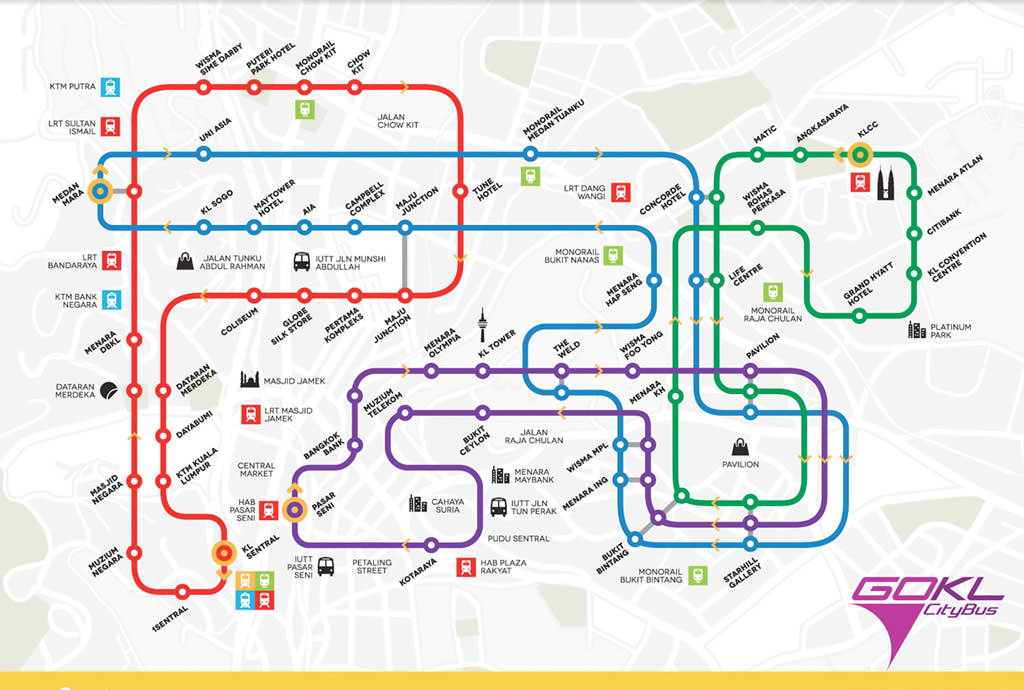 HOW DO YOU DECIDE WHERE TO STAY IN KUALA LUMPUR?
Picking which neighbourhood you should stay in depends very much on what type of city trip you are looking for. Are you a backpacker wanting to stay at a cheap party hostel? Or do you need a nice hotel with a great view?
The area you stay in will affect how you experience the city and what might work for one traveller might be another's worst nightmare. You also need to consider your budget. KL is not the cheapest city to stay in so pick your hotel wisely. Some areas are cheaper than others and you might have to sacrifice a convenient location for a better price.
In the end, I'd say the most important thing to consider when picking a place to stay in KL is a good public transport connection. If your hotel or Airbnb has an LRT, MRT or Monorail stop close by you'll be good to go. Keep in mind that you'll be more likely to actually go out and see the city if it's quick and easy for you to get to places. If you're staying somewhere far away from the city centre and it takes 45 minutes to get anywhere in rush hour you'll probably not be very motivated to go out.
Another important thing to consider is safety. I wouldn't say KL is an unsafe city, however, there are definitely areas you should avoid staying in, especially if you're travelling alone. In any case, you should avoid walking home alone late at night and use your common sense. You'll feel a lot safer if you're staying in a more populated area with lots of other tourists around.
MY FAVOURITE AREAS IN THE CITY
The four neighbourhoods below are my absolute favourite places to stay in Kuala Lumpur. They all have their pros and cons but if you pick one of them you can't really go wrong. Prioritise hotels in these four areas, preferably close to a train stop. That way you'll make the most of your trip to Kuala Lumpur.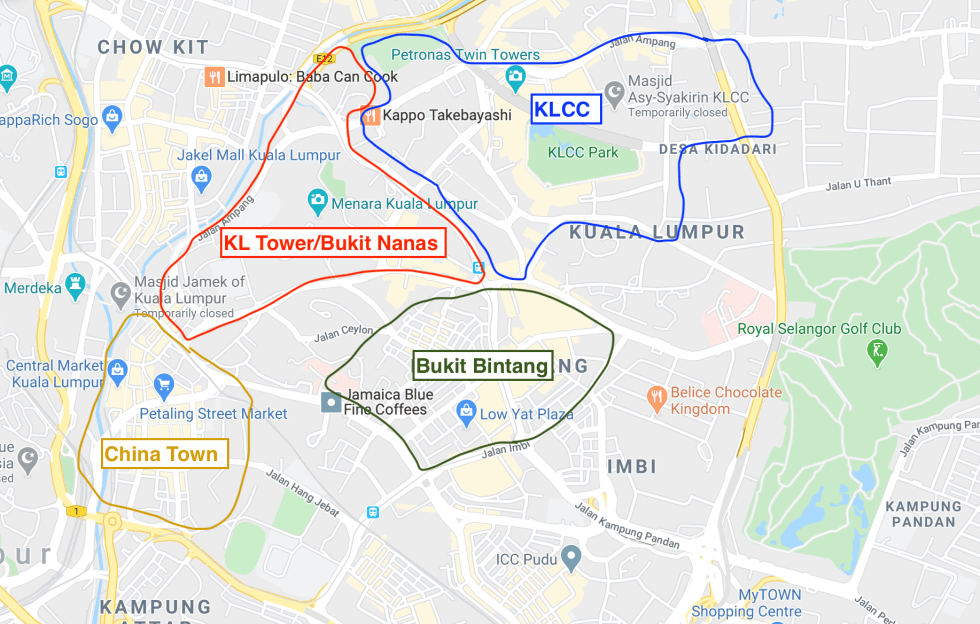 KLCC
KLCC stands for Kuala Lumpur city centre and is often considered the heart of the city. This is the location of the famous Petronas Towers with the KLCC Park at their feet. KLCC can be considered the financial area of Kuala Lumpur with lots of shiny skyscrapers and fancy hotels. That doesn't mean that it's all really expensive though. There are plenty of Airbnbs around with amazing views and reasonable prices.
If you're not constrained to a tight budget you should definitely check out the Somerset Ampang Hotel and the Element Hotel which are both located on the edge of KLCC right next to the Ampang Park LRT stop. You can walk to the Petronas Towers in under 12 minutes and have a great public transport link. I love this corner of the neighbourhood because of its amazing selection of cheap places to eat. Click the link for a complete list of incredibly cheap restaurants and food courts in the area.
KLCC is great because you'll always be able to find amazing food for low prices but you have to consider that it is not very close to any nightlife. You'll have to take a Grab to China Town or Bukit Bintang for that which can be a downside if you're planning to go out frequently. However, for sightseeing, it's an amazing home base to explore the city.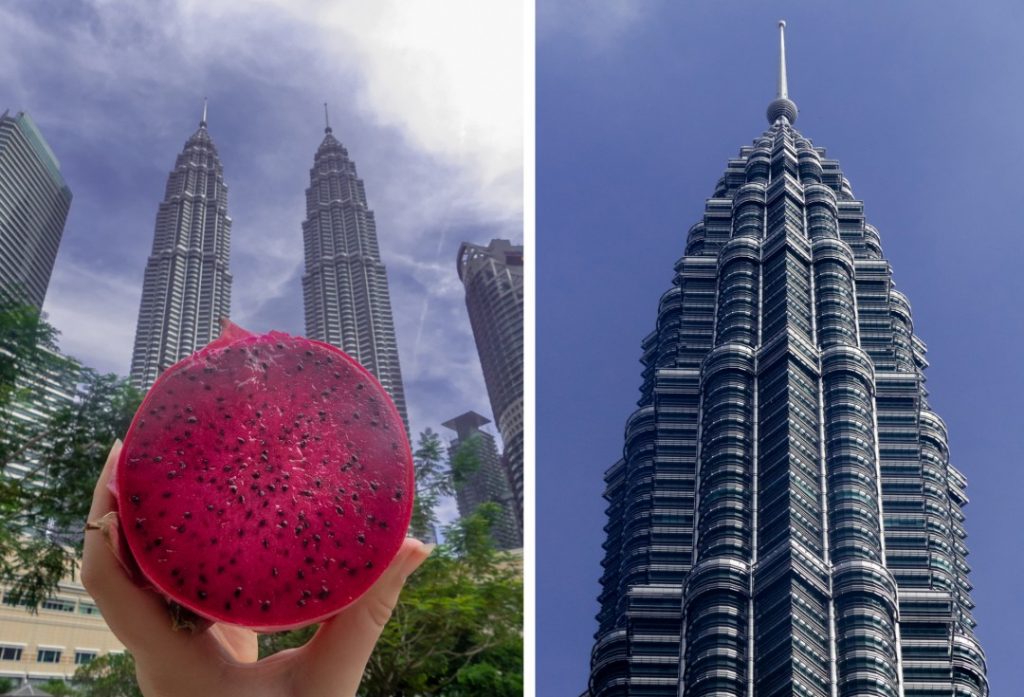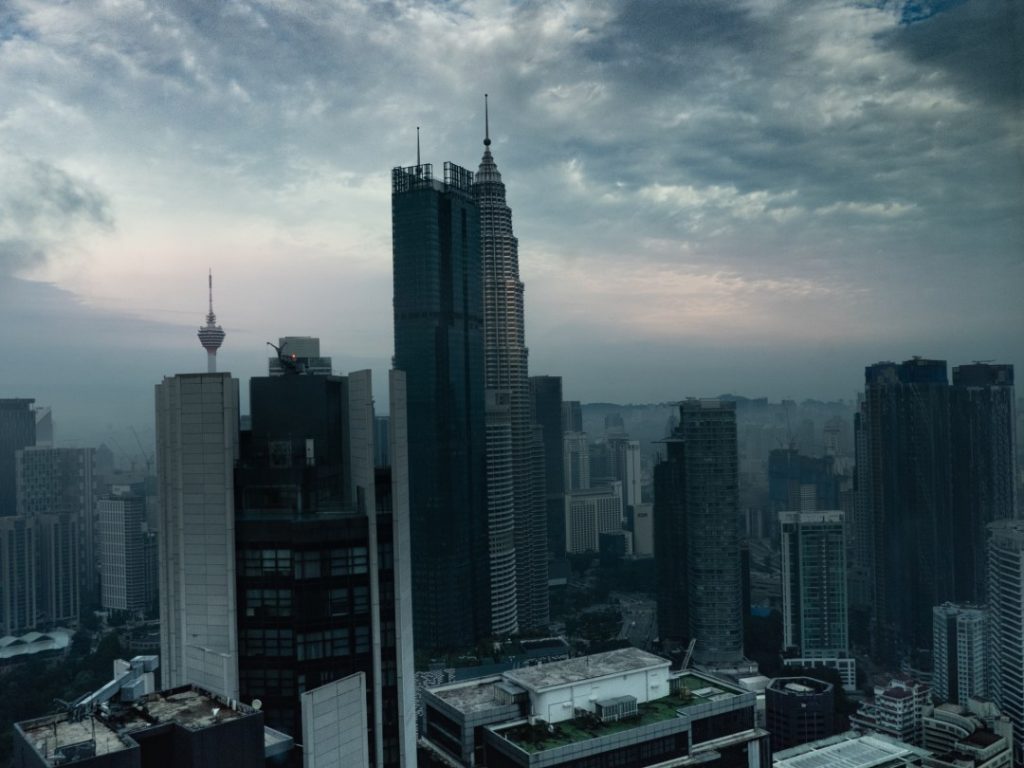 This area is not an official neighbourhood and kind of blends into KLCC and Bukit Bintang. But I want to mention it because the area around the KL Tower and Bukit Nanas has some amazing Airbnb and hotel options. Prices are slightly lower than KLCC, however, the location is just as good if you stick close to the Bukit Nanas Monorail or Dang Wangi LRT stop. There are tons of high-rise buildings that seems to almost exclusively consist of Airbnb apartments which is perfect for budget travellers.
You can reach both Bukit Bintang and KLCC on foot in around 15 minutes which gives you a lot of freedom when exploring the city. The KL Tower area doesn't have the high price tags that KLCC and Bukit Bintang have but will still give you a great experience.
Make sure to pick a place close to a train stop. If you're having to walk 15 minutes just to get to the LRT you'll be less likely to make the effort. While it's possible to walk to some bars in Bukit Bintang from here it will take a while and might not be ideal, especially late at night. You'll most likely have to take a Grab.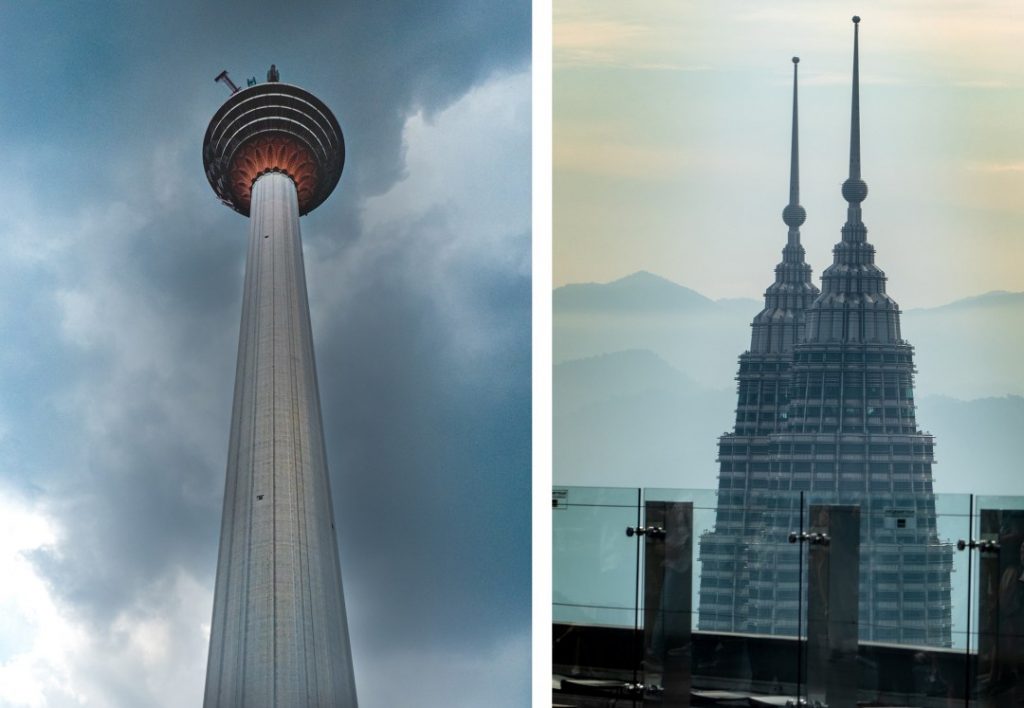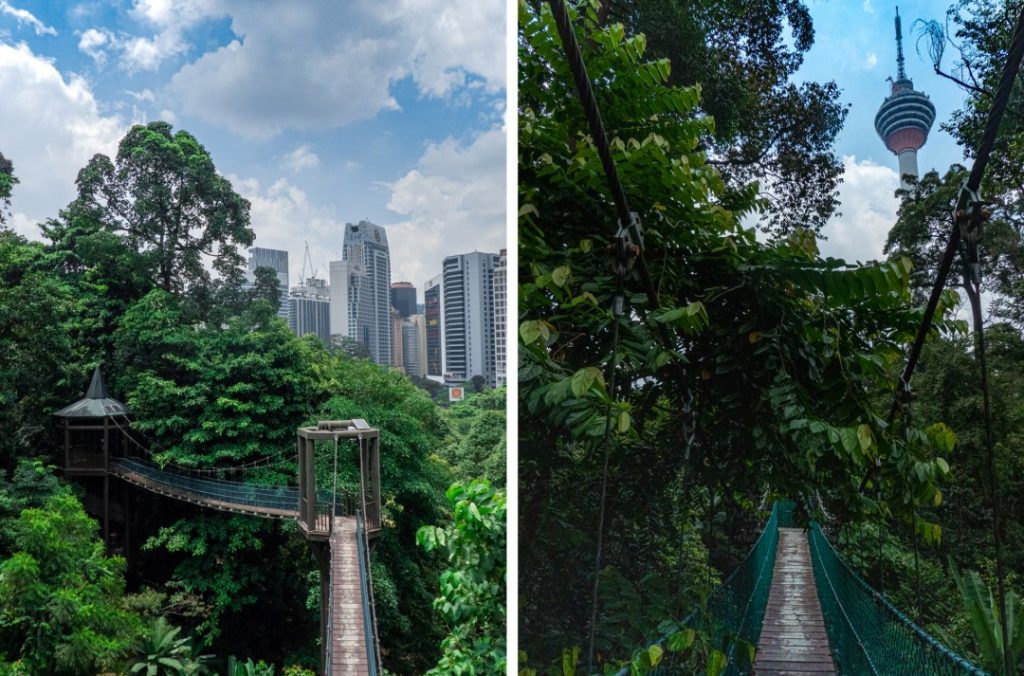 BUKIT BINTANG
Bukit Bintang is a great area for nightlife and shopping. You'll find a good selection of Kuala Lumpur's secret bars here as well as a crazy amount of shopping malls. Click here to find out which ones are worth visiting. There is also Jalan Alor, the popular food street which comes alive every evening. Close by you'll find Changkat with its loud bars and cheap happy hour drinks. Perfect for anyone looking for a good night out.
Bukit Bintang has lots of public transport and is a great place to stay if you want a central location and plenty of sightseeing options around. However, its accommodation prices are quite expensive and lower cost hotels in the area usually have a pretty bad reputation.
Stay in Bukit Bintang if you like to be in the centre of all the action and aren't too concerned about your budget.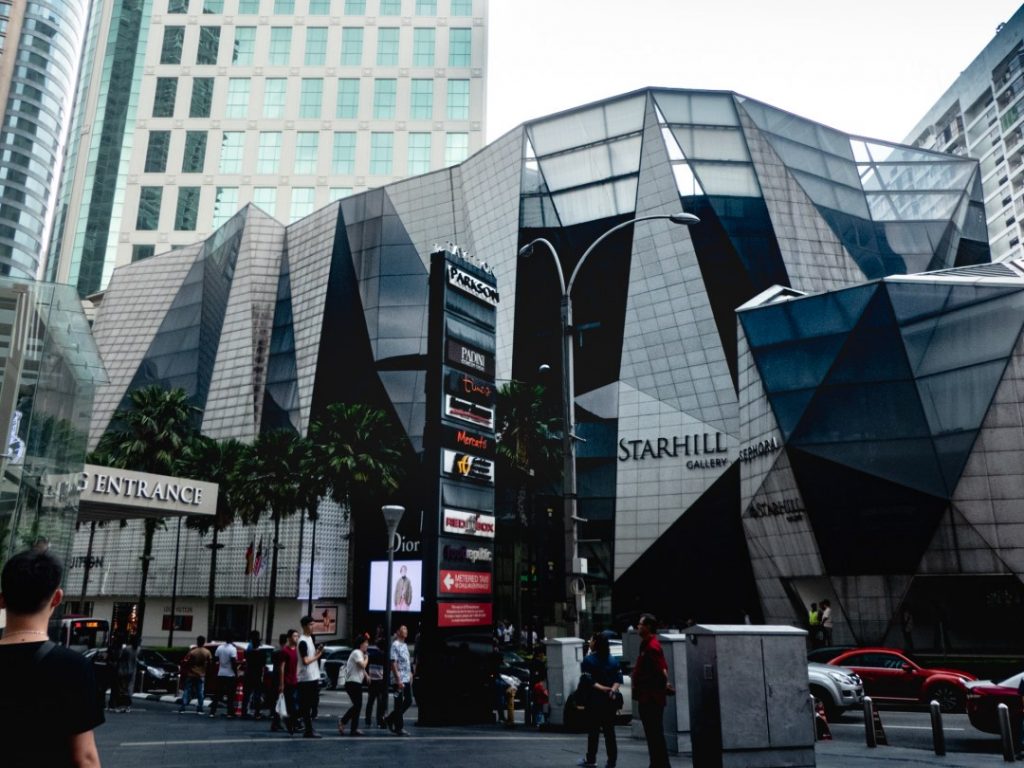 CHINA TOWN
This is the best place to stay as a backpacker. In China Town, you'll find most of Kuala Lumpur's hostels and great options for nightlife and restaurants. Just like Bukit Bintang China Town has a great selection of speakeasies and secret bars. Click here to learn more about the city's hidden nightlife and how to find it.
With Petaling Street close by you'll be at the centre of all the busy markets and surrounded by lots of other tourists. Accommodation prices are decently low in this area but you won't find much luxury. China Town is loud and cramped but you'll have a lot to see within walking distance. Besides the many markets, you can go see Merdeka Square, multiple museums, the river of life walk or a good selection of temples.
Pasar Seni station is right next to Petaling Street. This is a great transport hub to have at your doorstep with connections to almost everywhere in the city including a direct train to the Batu Caves.
You should stay in China Town if you're travelling on a budget and would like to connect to other travellers.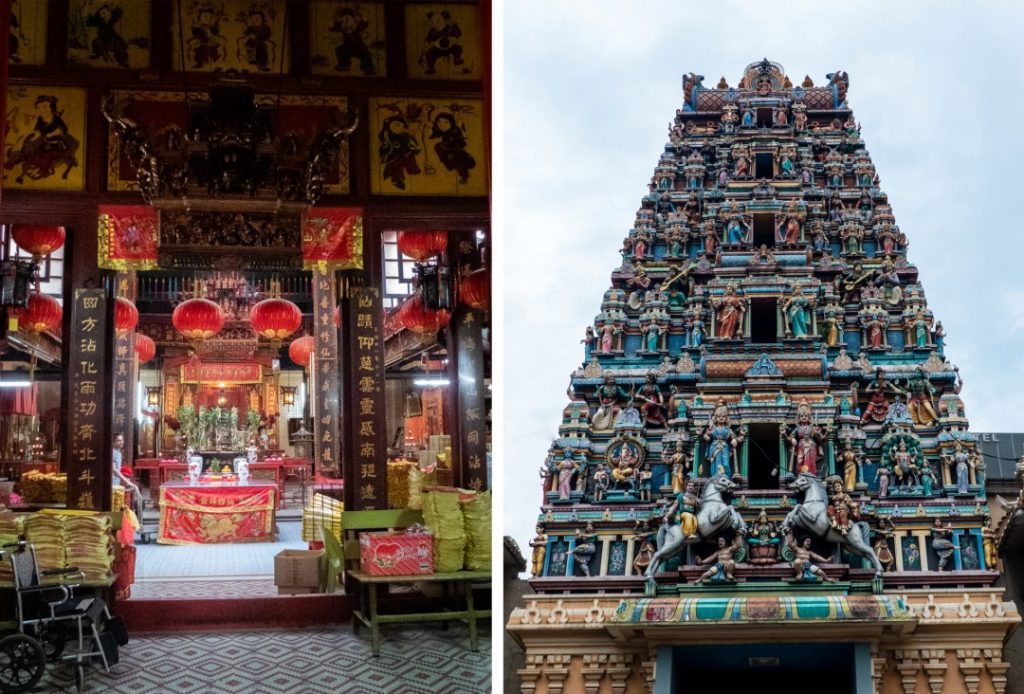 TRY TO AVOID THESE AREAS
The city has many other neighbourhoods that other where-to-stay-in-Kuala Lumpur lists might recommend to you. These are not necessarily bad, however, I think they're a bit too far away from the main attractions and you'll be better off staying somewhere in the areas above. I would, therefore, avoid areas like Bangsar, Brickfields, Chow Kit, Maluri or Titiwangsa. In my opinion, they're too far off from everything else and not ideal for tourists.
Definitely avoid areas that are very far out of the city such as Petaling Jaya, Ampang Jaya, Taman Desa or Sentul. You will spend hours on transport if you stay there. Even if you find a very cheap hotel or Airbnb it's not worth it.
I also do not recommend Pudu or Imbi (except where it borders on Bukit Bintang) since both have some slightly dodgy areas where I don't think you'll feel very safe as a tourist.
There are plenty of hotel options in KL close to Bukit Bintang, KLCC and China Town perfect for your stay in the city. Always double-check where exactly your hotel or Airbnb is and use Google Maps to calculate the approximate walking distance to the nearest public transport or amenities such as supermarkets or restaurants.