Perth is considered the most remote city in the world. Located in Western Australia, Perth is surrounded by some of the most stunning nature in the country with dream-like beaches and incredible scenery. But the city itself also has a lot to offer and there is always something to do or explore. With so many options it can feel overwhelming to start building an itinerary especially if you've never been to Perth before. That's why we at Guide your Travel came up with the ultimate 4-day itinerary for Perth. It includes a great mix of sightseeing, beach time as well as a wildcard day where you get to choose which day-trip destination you'd like to see.
So what are you waiting for? Get ready to plan your trip to Australia's most unique city and let this itinerary show you what Perth has to offer.
This post may contain affiliate links, which means we'll receive a commission if you purchase through our links, at no extra cost to you. This helps us keep Guide your Travel free and provide high-quality content for you. Please read the full disclaimer for more information.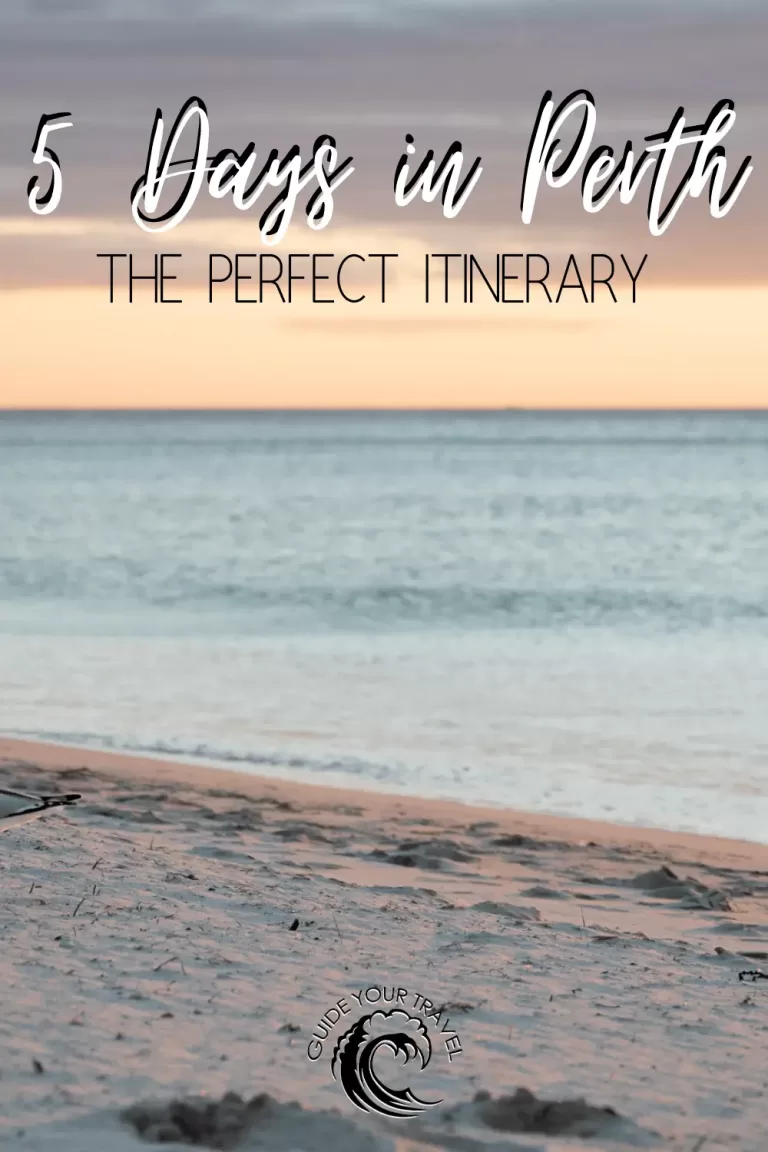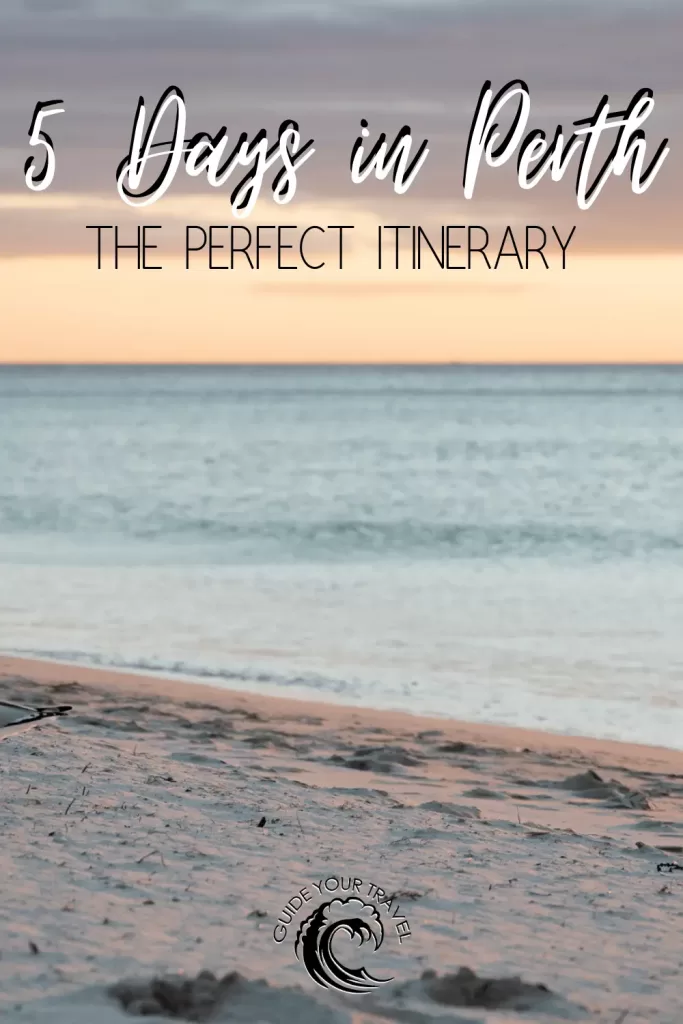 HOW LONG SHOULD YOU STAY IN PERTH?
If you're not a fan of tightly-packed itineraries then I'd recommend staying in Perth for at least five days, maybe longer. I'd say four full days is the minimum. It's pretty easy to see all the attractions in the city of Perth within that time frame, however, since Perth is so remote it's a popular starting point for many day-trips in the area as well. So if you want to see attractions like the Swan Valley or the Pinnacles then I highly recommend adding another day to your trip.
Also, consider how you're getting around. If you have a rental car you'll have no trouble driving from place to place. However, if you're depending on public transport you'll easily spend double the amount of time on buses or trains. That quickly impacts how much you can see in a day and how flexible you are.
If you're not on a tight schedule you can easily spend a week in Perth without getting bored. We decided to make this itinerary only 5 days to see the important parts but there's always more!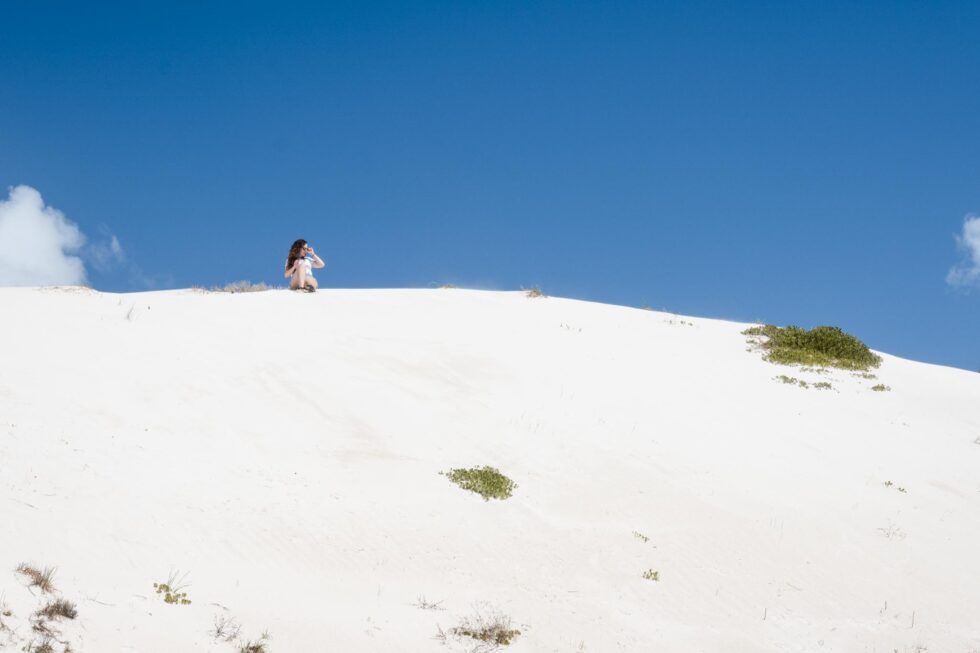 HOW TO GET AROUND PERTH
Perth has a great public transport system within the city which even includes free buses. However, once you venture to places outside of the city the bus system quickly becomes less convenient and having a car will definitely get in handy. You can still reach places like the Swan Valley via a public bus but it will take quite a while and make you far less flexible when you are there. If you can I'd recommend renting a car for the last day of this Perth itinerary. You should be fine without one for the first 4 days.
Trying to navigate the Perth public transport system and no idea where to start? We wrote an entire blog post on just this topic! Check out our complete Perth public transport guide here with all you need to know before you go.
WHERE TO RENT A CAMPERVAN IN AUSTRALIA?
WHERE TO STAY IN PERTH
Perth is a large city and you'll want to be staying in a central location to really make the most of your trip. My tip would be to find a hotel or hostel in Fremantle which is a little town by the ocean only 30 minutes by car from the city centre. You'll still be in Perth close to all the attractions but have the benefit of staying in one of the prettiest and popular parts of the city. You'll absolutely love Fremantle, it's often considered the best part of Perth.
Another option is to stay in the actual city centre in Perth somewhere close to Northbridge. You'll be in a great location for nightlife and have the best public transport links, however, prices here can be very steep so it's not ideal if you're on a budget.
The cheapest places to stay in Perth are usually somewhere on the opposite side of the Swan River around South Perth, Bentley or Carlisle. You'll find a great selection of accomodations here for reasonable prices but you also have to consider that you'll be further away from the attractions and might have to spend a considerable amount of time on public transport to get anywhere.
Top tip: Always compare prices for hotels. We at Guide your Travel prefer Booking.com, Agoda or Hostelworld for finding the best deals.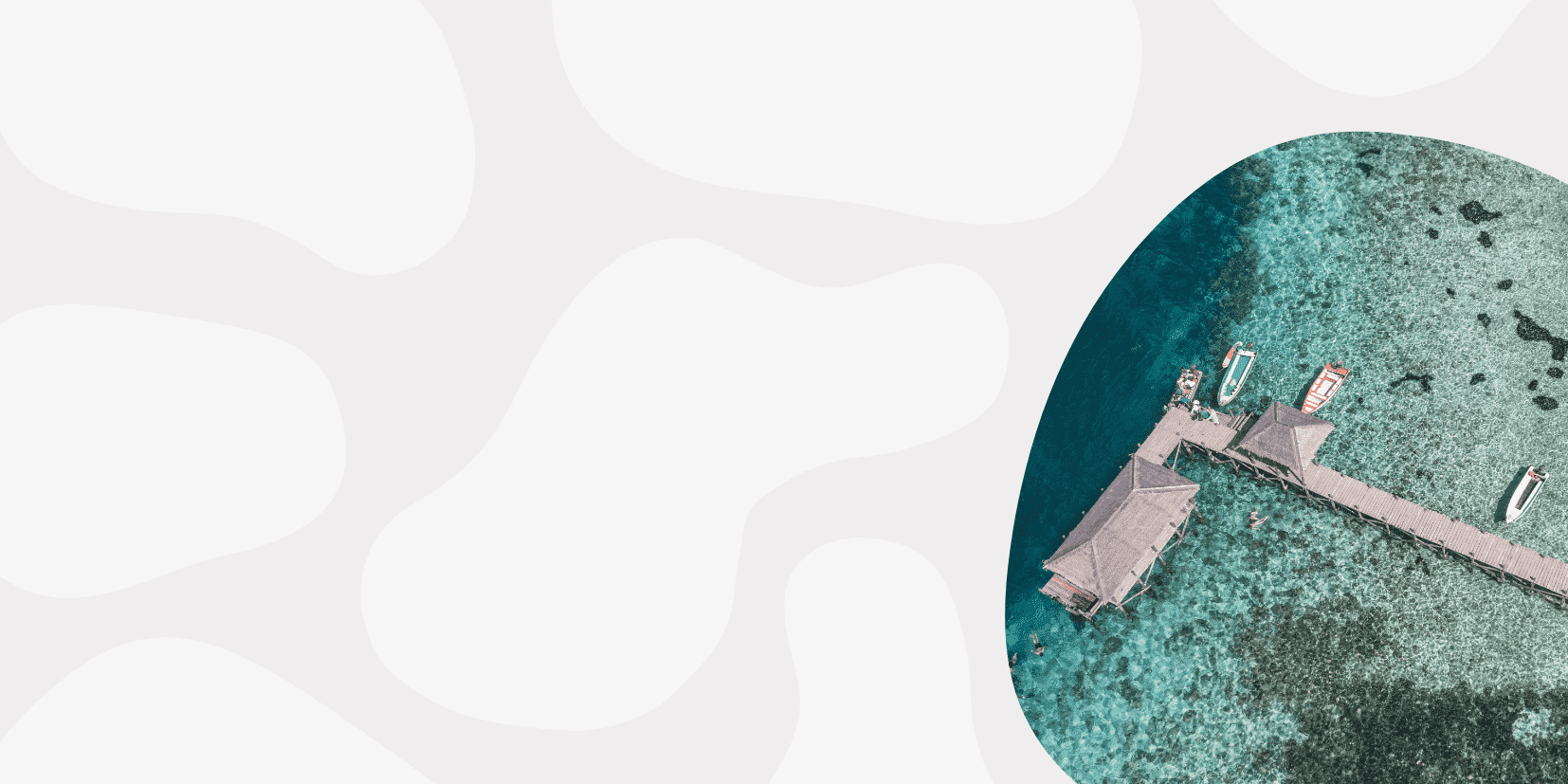 Let me save you time and effort when you're travel planning!

➼ Best travel insurance? SafetyWing
➼ Best place to find cheap flights? Skyscanner
➼ Best bank & credit card for travellers? Wise
➼ Best travel backpack? Osprey Farpoint 70
PERTH ITINERARY DAY 1: EXPLORE THE CITY
Day one of this Perth itinerary lets you slowly get to know the city. Start the day off in the city centre and explore King's Park in the early morning. You'll love the views of the city and the Swan River. The park is quite large with different monuments and botanical gardens. Plenty to explore.
Once you've had enough of King's Park head into the city centre and stroll around and explore little side-streets like the famous London Court. Keep an eye out for Perth's ugliest piece of art, the Cactus. Everyone has to see it at least once when they visit Perth.
Afterwards, head down to Elizabeth Quay for lunch and craft beers at The Island Brew House. They make amazing snack platters which are best enjoyed with their house IPA. Plus you'll get the best view of the Elizabeth Quay Bridge. This is one of my favourite photo spots in all of Perth. If you're feeling up for it you can even take a public ferry across the river. The ride is short but it's free if you already have a public transport ticket. Read more about the ferry and public transport prices here.
Make even better use of the Perth public transport system and take a free bus to your next stop. Not sure how that works? Find out all you need to know about Perth's free transit zone here. Take the free bus to East Perth and the Swan River. From here you can walk across the Causeway Bridge onto Heirisson Island. This tiny island is the perfect place to escape the city. It's inhabited by kangaroos and the perfect spot for an afternoon walk.
After such a long day of exploring you deserve a rest. Head over to Northbridge for dinner and drinks. If you're feeling up to it you can make use of the many bars and nightclubs that make this area famous.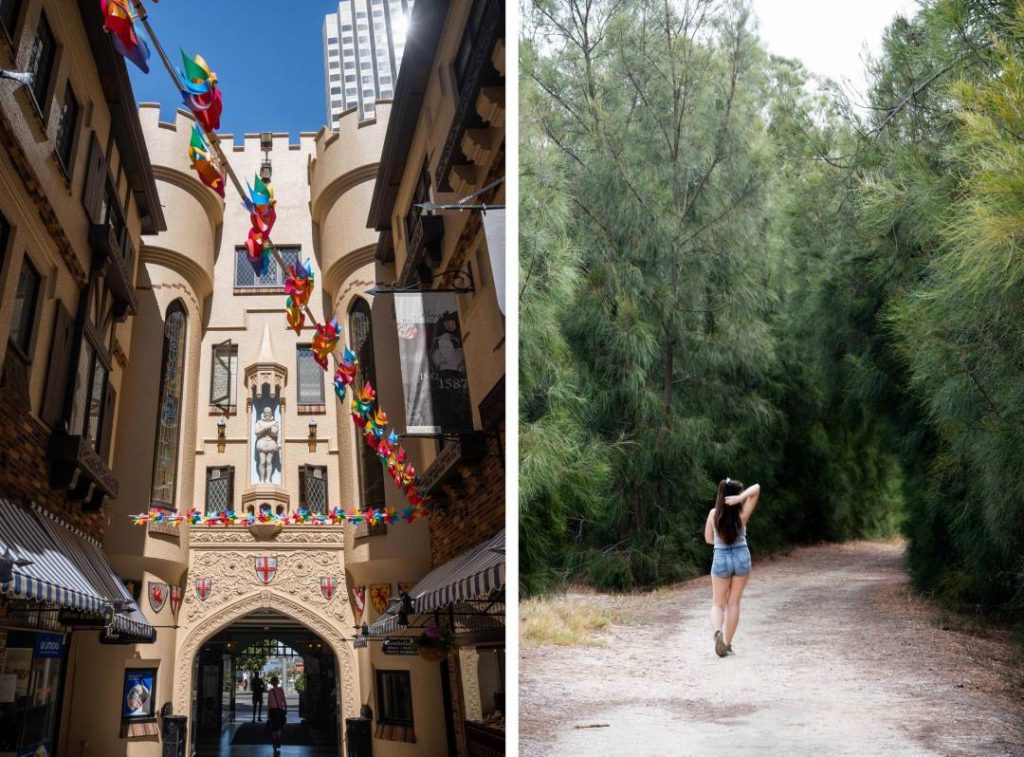 PERTH ITINERARY DAY 2: BEACH DAY
After such a busy day yesterday, you'll spend today exploring some of Perth's best beaches. Start your day at the famous Cottesloe Beach which is perfect for a swim and a relaxing drink at Cottesloe Beach Club. If you want to escape the worst of the tourist crowds you should explore some of the more northern beaches like Mullaloo Beach, Marmion Marine Park or Scarborough Beach. City Beach is also a great option. All of these are reachable via public transport, however, it will take you quite some time. An Uber or a rental car is highly recommended.
If you head south don't miss out on South Beach which sits just below Fremantle. Cottesloe is Perth's most famous beach but you'll love them all.
In the evening I highly recommend the far quieter Leighton Beach which is perfect for a picnic and some drinks while you watch the sunset.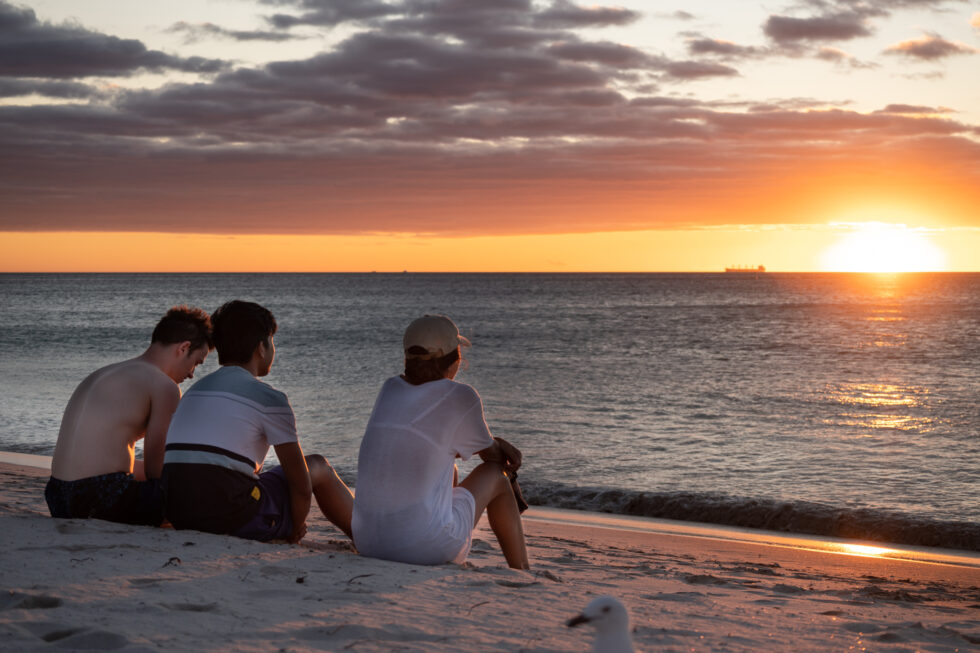 PERTH ITINERARY DAY 3: FREMANTLE
On day three you'll be heading to Fremantle which might just bey favourite part of Perth. There is plenty to do in this area. So much so that we wrote an entire post about What to do in Fremantle. Check it out for more details on the places mentioned below as well as some more options.
Start your day by exploring the little streets around Fremantle's famous Cappucino Strip. This street is filled with little shops, breweries, restaurants and cafes. The perfect place to start your day. Next head to the Fremantle Markets which are a very popular place to go for tourists and locals alike. Shop for some souvenirs or fresh produce as you wander through the isles of this historic building.
Next, pay a visit to the old Fremantle Prison which offers guided tours. Definitely a place worth seeing and one of the most popular things to do in Perth. Read more about the prison and how to visit it here.


Make your way down to the docks and visit the Little Creatures Brewery. I highly recommend booking a tour and beer tasting for the full experience. Walking along the coast you'll reach Bathers Beach which is the perfect place for a quick lunch with one of Perth's best views. The beach is simply gorgeous and if you're lucky you can even spot dolphins here.
In the afternoon you should make use of Fremantle's famous museums like the Shipwreck Museum, the Maritime Museum, the Army Museum or the Arts Centre (it's free!). While you're exploring keep an eye out for the famous Rainbow Sea Containers for a great photo opportunity.
Not a fan of so much walking? Fremantle has a free bus system that takes you to all the important tourist attractions. Keep an eye out for the CAT buses to get around on a budget.
After such a long day you deserve a rest. Head to the Sail and Anchor pub for the cheapest pint in town and enjoy the sunset from their first-floor terrace.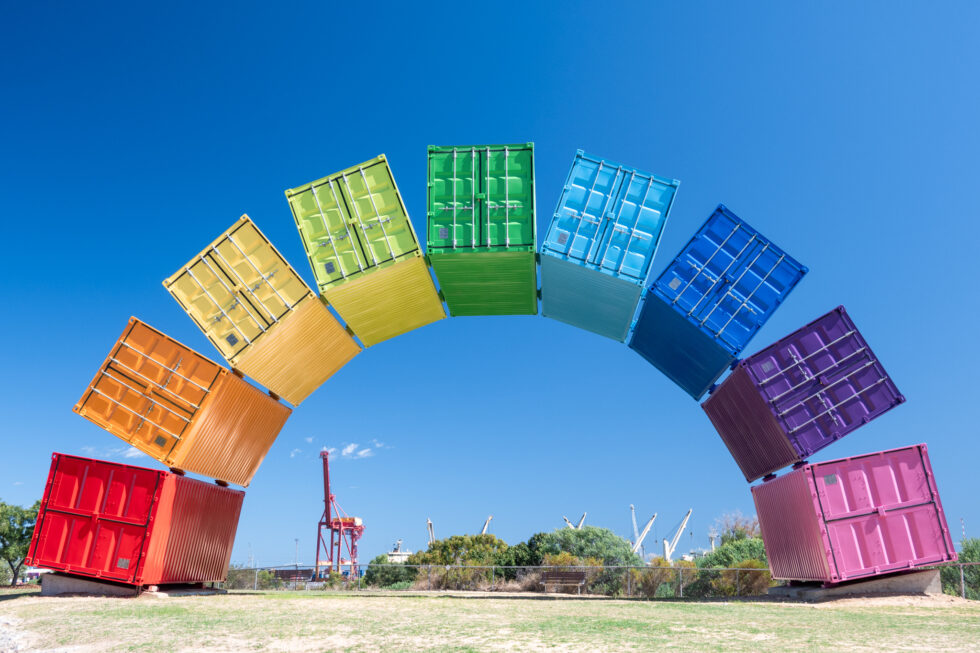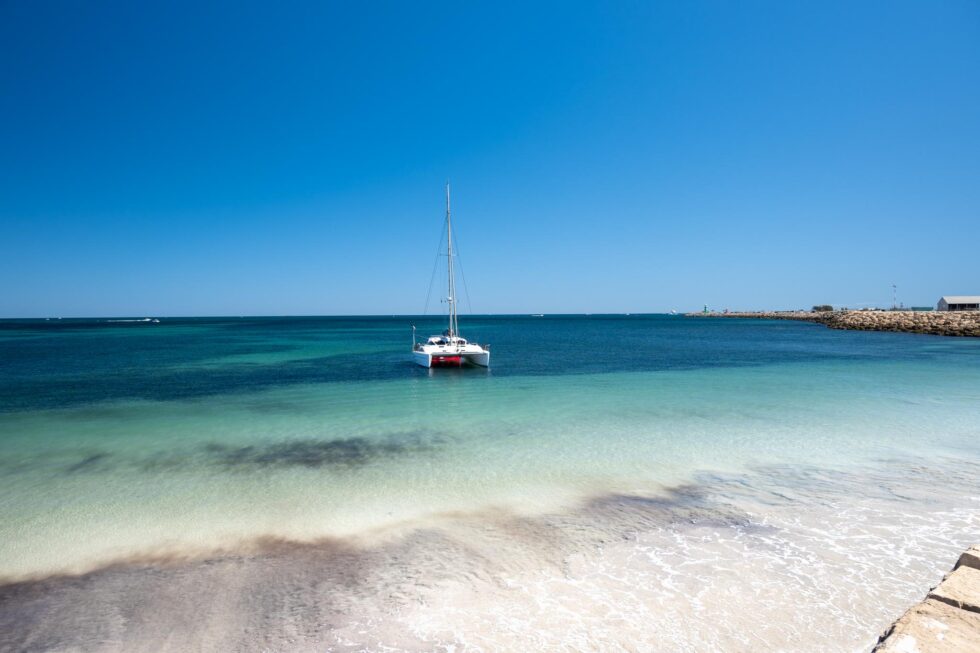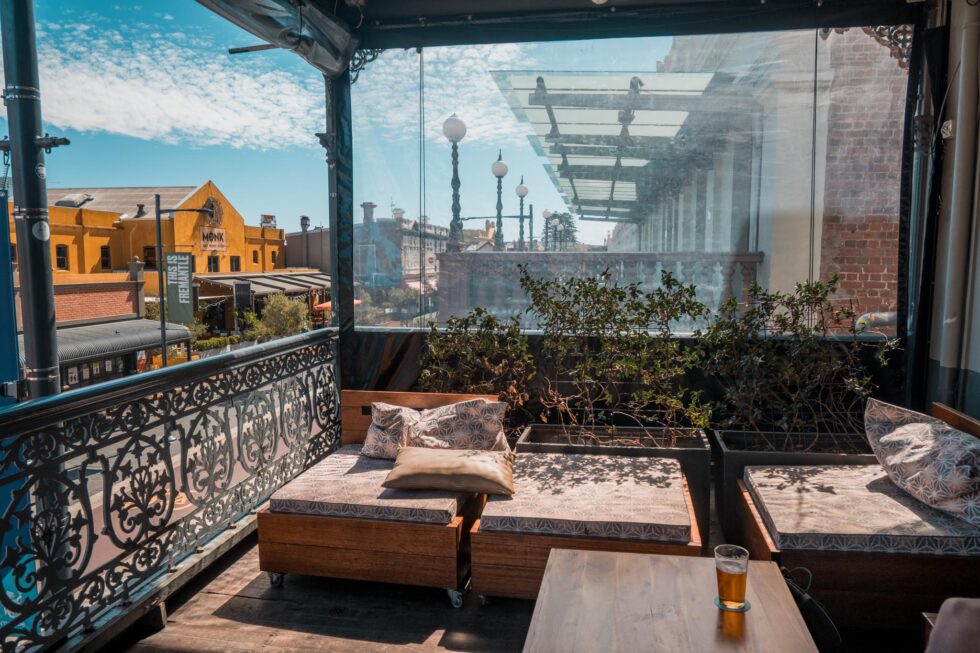 PERTH ITINERARY DAY 4: ROTTNEST ISLAND
On your fourth day in Perth, it's finally time for the main event. Rottnest Island is the highlight of any Western Australia trip and you'll absolutely love it. Take a ferry from Fremantle to the little island and hire a bike when you get there. It's the best way to get around and lets you see all the important spots.
Some of my favourite places on the island are Parker Point, Salmon Bay, the Basin, Longreach Bay and Wadjemup Lighthouse. If you're looking for more detailed information on how to structure your day in Rottnest Island and whether it's worth it to stay here for a few days then check out our Complete Guide to Rottnest Island here.
No Rottnest Island trip is complete without a Quokka selfie. These small marsupials are very friendly and are (almost) exclusively found on Rottnest! Make sure to be respectful and careful when you take your selfie though. Read all you need to know about Quokkas and how to get the best shot here.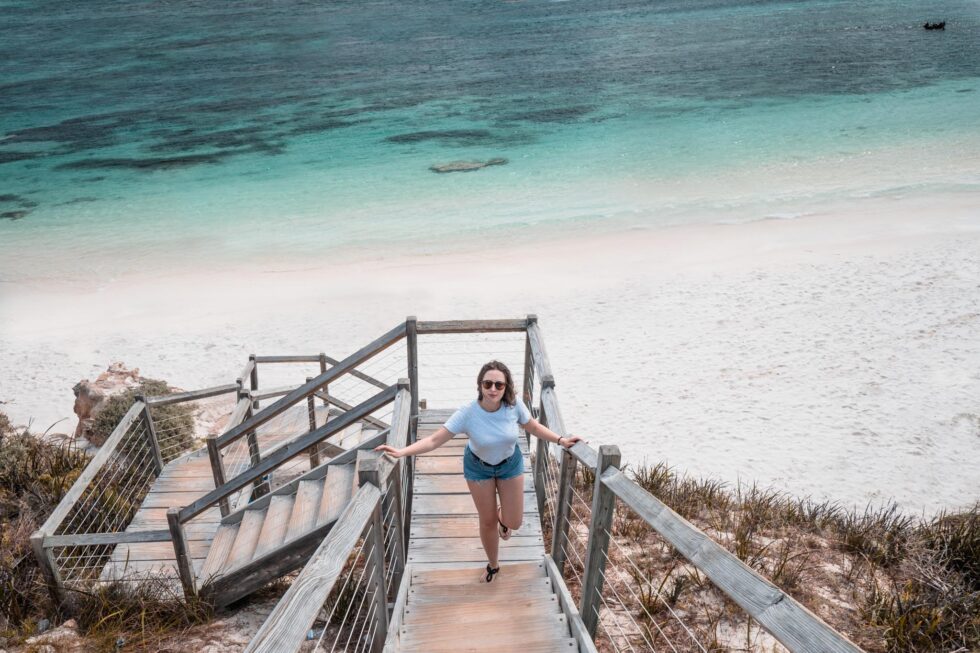 PERTH ITINERARY DAY 5: WILDCARD DAY-TRIP
Perth is a great starting point for day-trips along the coast. There is so much to do it can be hard to choose. In almost all cases it's advisable to rent a car and drive there. It will save you a lot of time and make you more flexible.
Penguin Island is a great choice for a day-trip if you're looking for an island experience that is less crowded and touristy than Rottnest. The Swan Valley is perfect for all those interested in wine and exploring a completely different landscape than the rest of Perth. Or why not head north to the famous Pinnacles, Western Australia's unique rock formations. Another great option is Yanchep National Park if you enjoy hiking and nature.
If you don't mind driving you can head a little further south all the way to Margaret River for amazing beaches and surfing opportunities. Definitely add another day for this trip though.
Are you trying to apply for an Indonesian visa while you're in Perth (long-shot but you never know!). We wrote a guide on how exactly you can do that! Check it out here.
Are you considering camping to save money? Read our Complete wild Camping Guide for Australia here.
My most important travel tips and resources
Book your flights
Skyscanner is the best website for finding cheap flights since it works like a search engine so you can find the best deals across all airlines.

Book hotels and hostels
• Booking.com: Best world-wide
• Agoda: Best in South East Asia
• Hostelworld: Best for hostels

Book tours, transport and rental cars
•Viator: The best place to book tours, day trips and excursions for al budgets
•12Go: Great for ferries, trains, transfers and buses in South East Asia
•Discover Cars: Best deals for rental cars around the word

Get travel insurance
Every traveller needs travel insurance and I mean every single one. SafetyWing covers you in case of injury, illness or worse and they've got your back if your bag is stolen, flights are cancelled or in case of a natural disaster.

Pay abroad
Ask any traveller, Wise is the best choice when it comes to sending money abroad. They've always got the best exchange rates, lowest fees and their visa card is great for getting cash out or paying abroad.

Things every traveller needs:
➼ Osprey Farpoint 70 Backpack
Detachable daypack, ultra-light, durable and free repairs for life. There's a reason why so many backpackers have this bag.
➼ Packing Cubes
Packing cubes are a gamer changer, keeping your luggage organised and providing tons of extra space.
➼ Power bank
There is nothing worse than running out of battery on an overnight bus journey or a long flight. With a powerbank you can charge your eletronics on the go and make sure you're always connected.
➼ Micro-fibre towel
These lightweight towels are foldable, fast-drying and so useful when you're travelling.

➼ You can find 15 more things every traveller needs here. Some might be a bit controversial but I warned you!
Did I miss anything?
If you have any questions or feel like something is missing from this post please leave a comment below or contact me.