Rama Homestay is a little hotel or more so a Bed and Breakfast in the north-west of Nusa Penida. As the island adjusts to the rapidly increasing tourist numbers more and more hotel options are becoming available. It can be hard to choose one especially if you're travelling on a budget.
Rama Homestay is a great choice for your stay in Nusa Penida because of its favourable location and relaxed atmosphere. However, it might not be for you if you're after a more luxurious experience. While the rooms are clean and have basic necessities there are also some things that could be improved.
Are you currently looking for a place to stay in Nusa Penida? Why not consider Rama Homestay and find out if it's the right place for you.
If you're trying to plan your trip to Nusa Penida check out this 3-day itinerary.
This post may contain affiliate links, which means we'll receive a commission if you purchase through our links, at no extra cost to you. This helps us keep Guide your Travel free and provide high-quality content for you. Please read the full disclaimer for more information.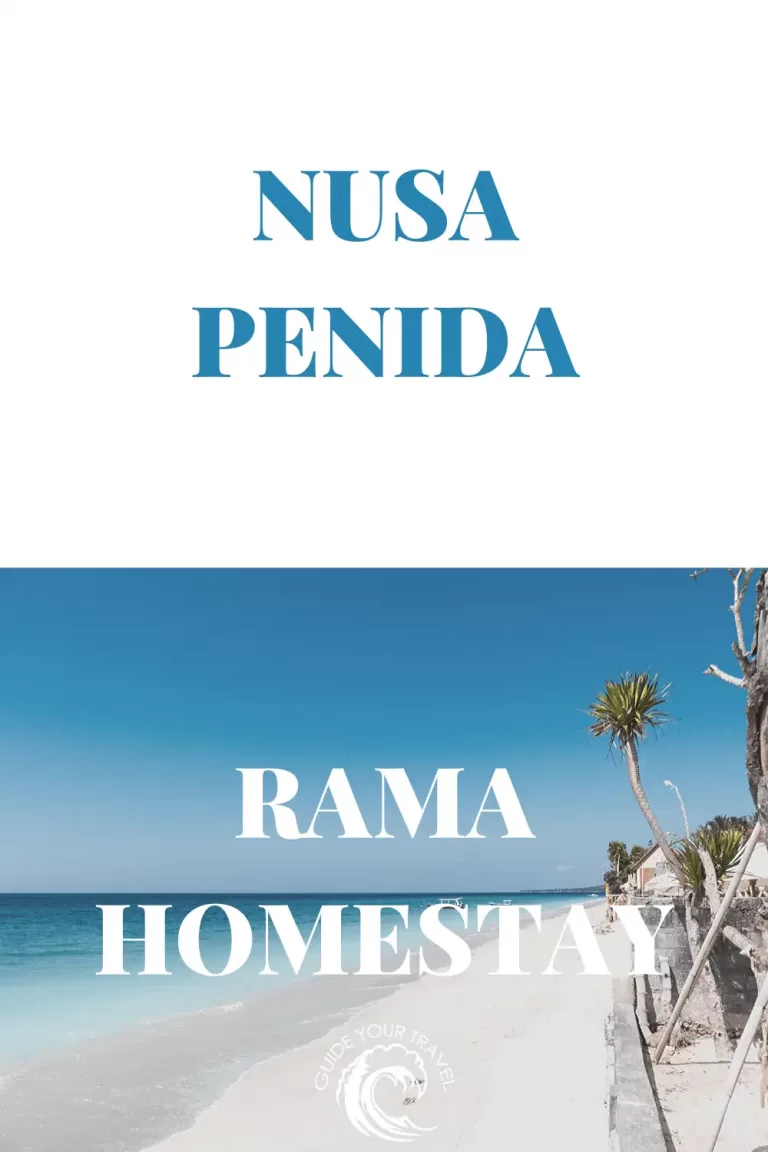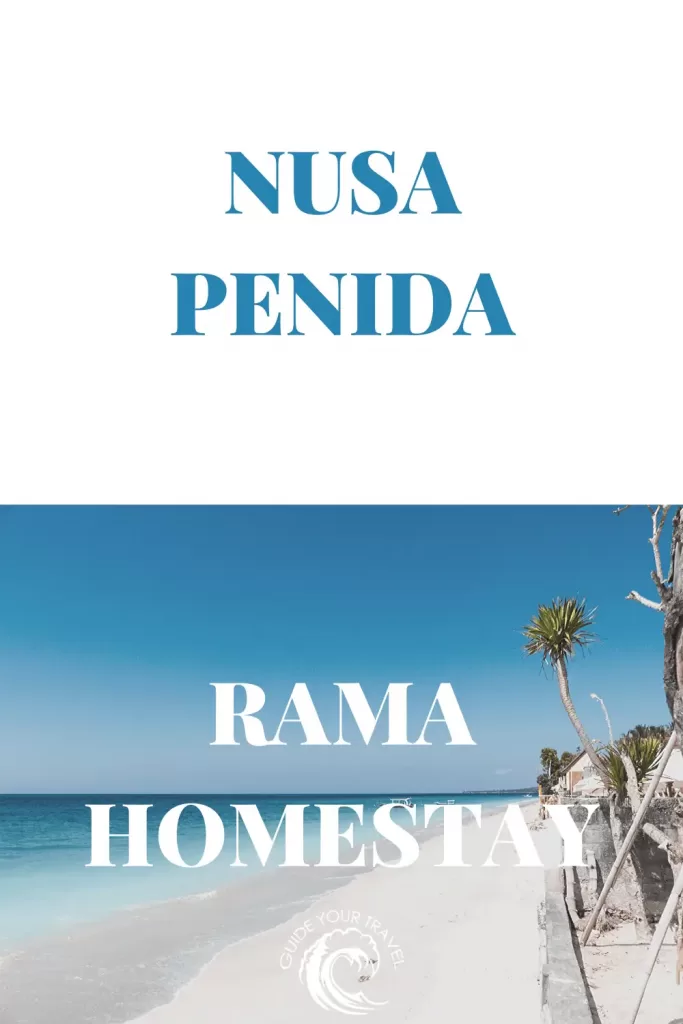 WHERE IS RAMA HOMESTAY IN NUSA PENIDA?
The little homestay is located on the north-western tip of the island close to Toya Pakeh Harbour (Banjar Nyuh). This is, in my opinion, the best area to stay on the island since you'll find a good selection of restaurants, some small shops and bars. The beach here is also quite beautiful and you can swim with a great view of Bali's volcanos.
Rama Homestay has its own private beach access and is far enough away from the harbour that you won't be disturbed by incoming boats. You can walk along the beach which is a great benefit since it means you can avoid the noisy main road.
Address: 8GG2+VH Tojapakeh, Sakti, Klungkung Regency, Bali, Indonesia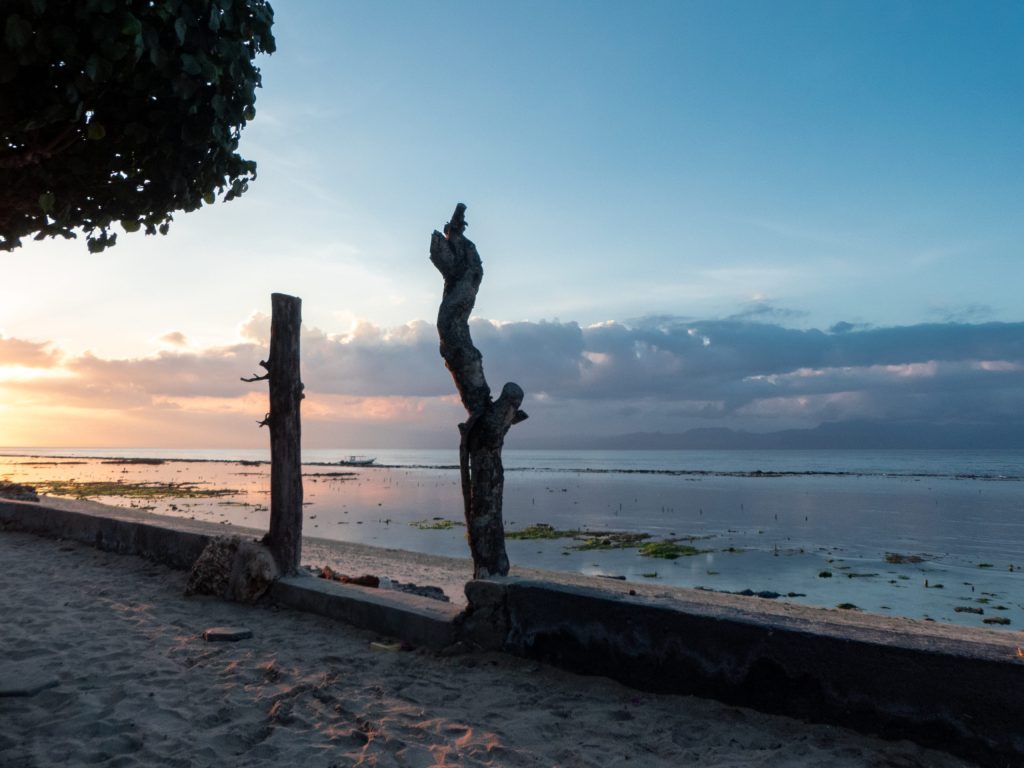 WHAT'S CLOSE BY?
Right next to the homestay there are two little convenience stores, a spa as well as laundry facilities.
You can reach the harbour in just under 25 minutes on foot. Here you can book your onward ferry tickets or find taxis.
If you walk along the beach in the other direction you'll pass different hotels and homestays and plenty of restaurants to choose from. After around 10 minutes of walking, you'll find a good selection of small bars, some with live music in the evenings.
Right next door to Rama Homestay is the Lemon Grass Bar and Restaurant. This is a very affordable place to eat that serves both Indonesian and Western food. All dishes are delicious and the staff is very friendly. You'll get a large beer for only IDR40,000 (≈ 2,60€) which is a great price.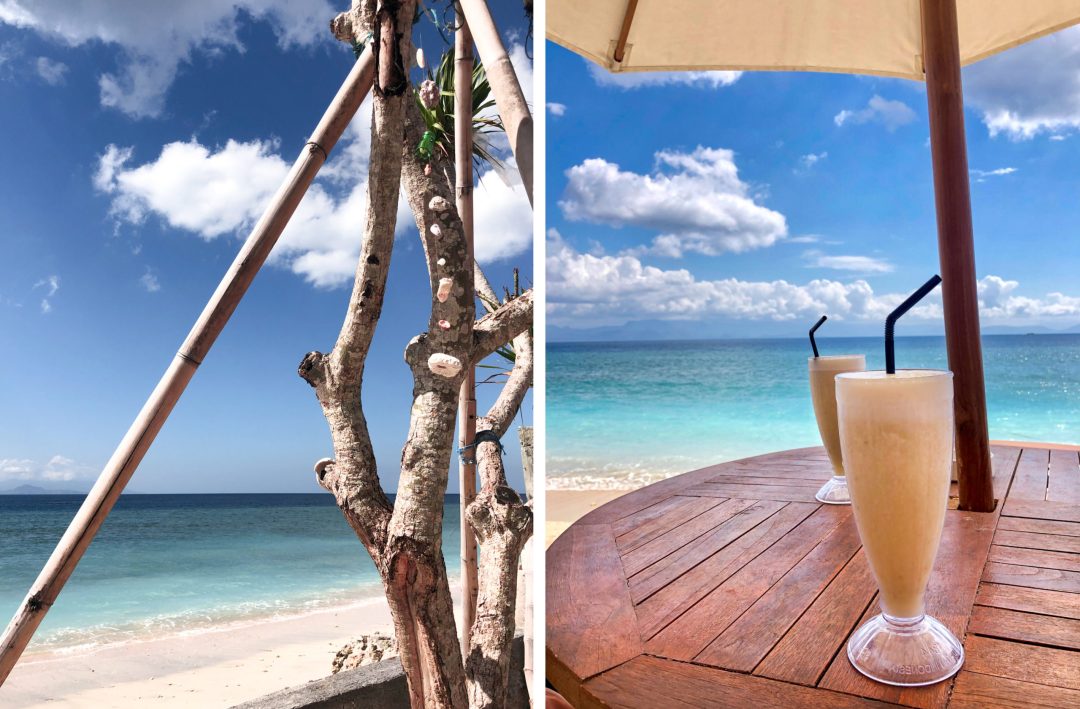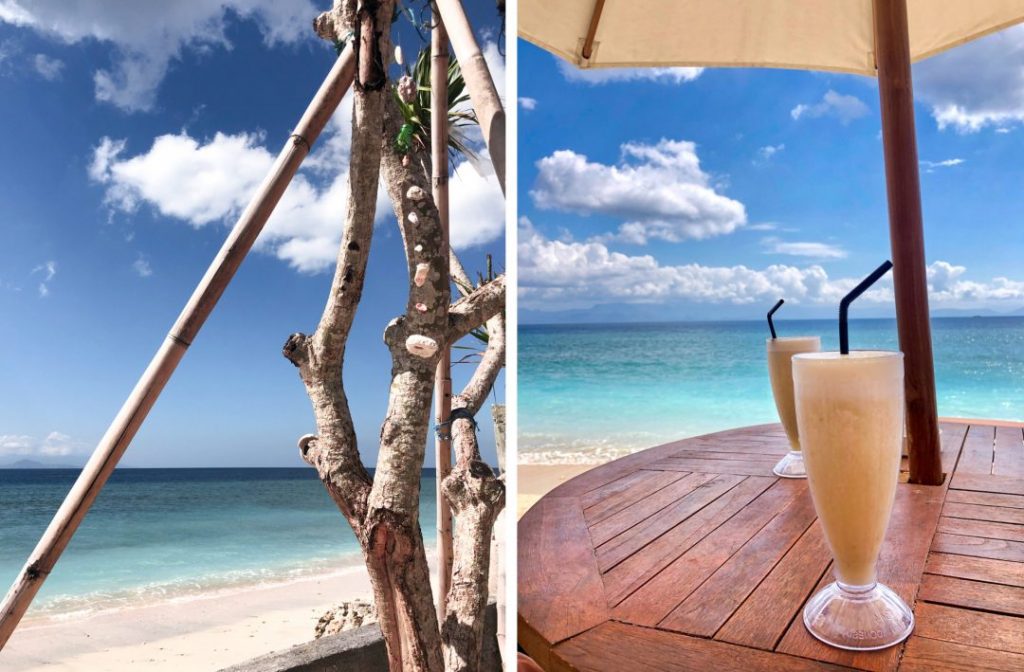 LOCATION RATING
For us, Rama Homestay has the perfect location on Nusa Penida. You'll get plenty of peace and quiet by the beach while also being close to restaurants and other amenities.
Beach access or even a beachfront bungalow is a huge benefit of this homestay and there are few others that offer a similar location in this price category.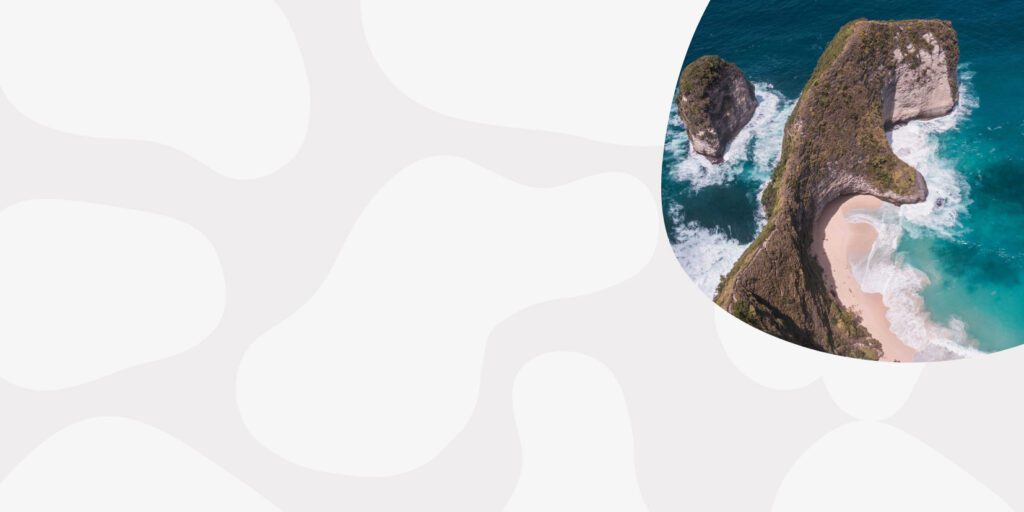 Save time when planning a trip to Bali

➼ 8€ airport pickup? Klook
➼ Best travel insurance? SafetyWing
➼ Accommodation? Agoda or Hostelworld
➼ Where to get cash out for free? Maybank ATM
➼ Best SIM card? Telkomsel
➼ Best place to book flights? Skyscanner
PICKUP SERVICE
Another advantage that Rama Homestay has is its complimentary pickup service. Taxis can be expensive on Nusa Penida and you might not want to rent a scooter directly at the harbour.
Rama Homestay offers a pickup service from either of the harbours free of charge. At the end of your stay, they'll drop you back off again.
Simply contact them a few days before you arrive and tell them which boat you are taking. You can do this either through Airbnb or their phone number (+62 813-3704-2339) depending on where you booked.
They'll pick you up with scooters or a car depending on how many people you are and how much luggage you have.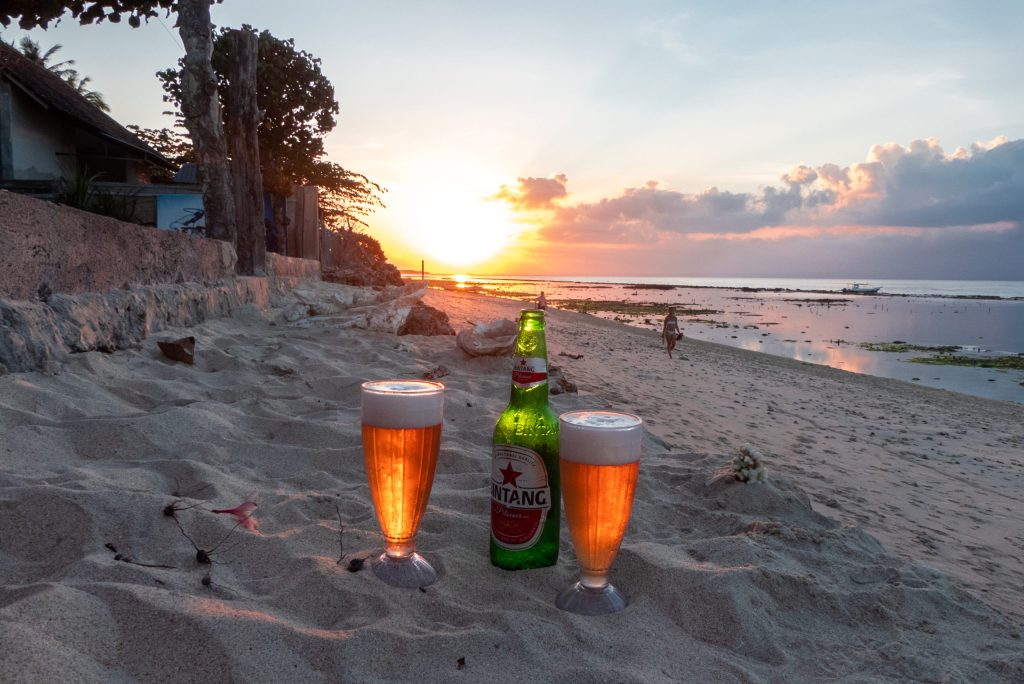 WHERE TO BOOK
You can book a room at Rama Homestay through most of the large hotel websites like Booking.com or Agoda which always has the best prices.
Top tip: Always compare prices for hotels. We at Guide your Travel prefer Booking.com, Agoda or Hostelworld for finding the best deals.
ROOM TYPES AT RAMA HOMESTAY IN NUSA PENIDA
Rama Homestay has six bungalows, three of which are beachfront and three are located behind them in a small garden. The interior setup of the two types of bungalows is very similar, the main difference between them is their proximity to the beach.
The beachfront bungalows have interiors made out of dark wood while the garden bungalows have white walls and ceilings.
All have their own private indoor bathroom and little patio in front of the bungalow with a seating area. The garden bungalows are only about 30 metres away from the beach.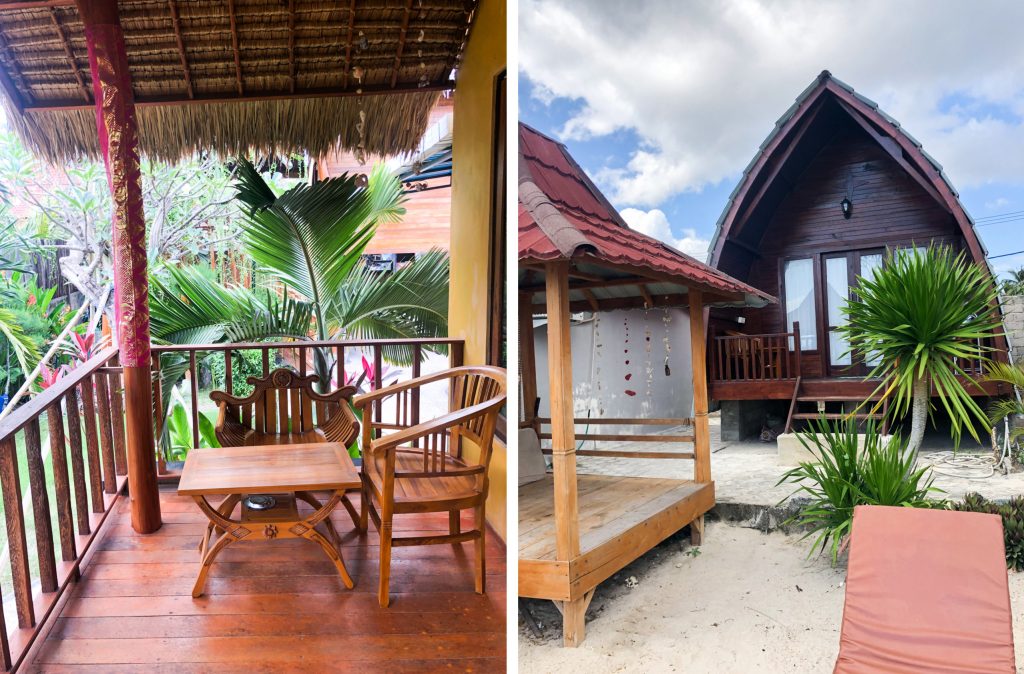 PRICES
Prices tend to vary according to demand and season. In general, the garden bungalows cost around 25€ per night and the beachfront cost 33€. While these are certainly not backpacker prices they are still very reasonable for the quality of service you are receiving.
Other hotels with beachfront locations on Nusa Penida are charging far more for their bungalows.
BREAKFAST
Rama Homestay provides a complimentary breakfast for all its guests. This is served on their little rooftop terrace which overlooks the main street.
You can choose a breakfast dish from a small menu. The options include pancakes, scrambled eggs or toast served with tea, coffee or fruit juice.
While this is far from a luxurious hotel breakfast buffet, it is a simple yet delicious way to start your day. It saves a lot of time of having to find a new breakfast place every morning which can be troublesome on smaller islands.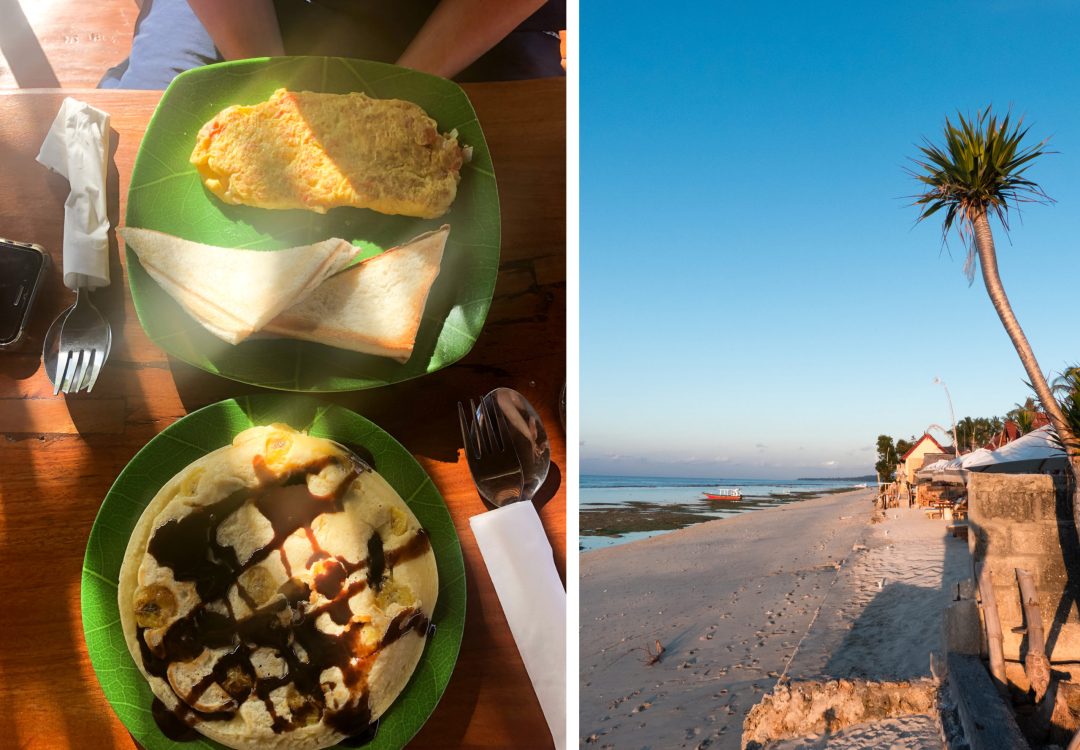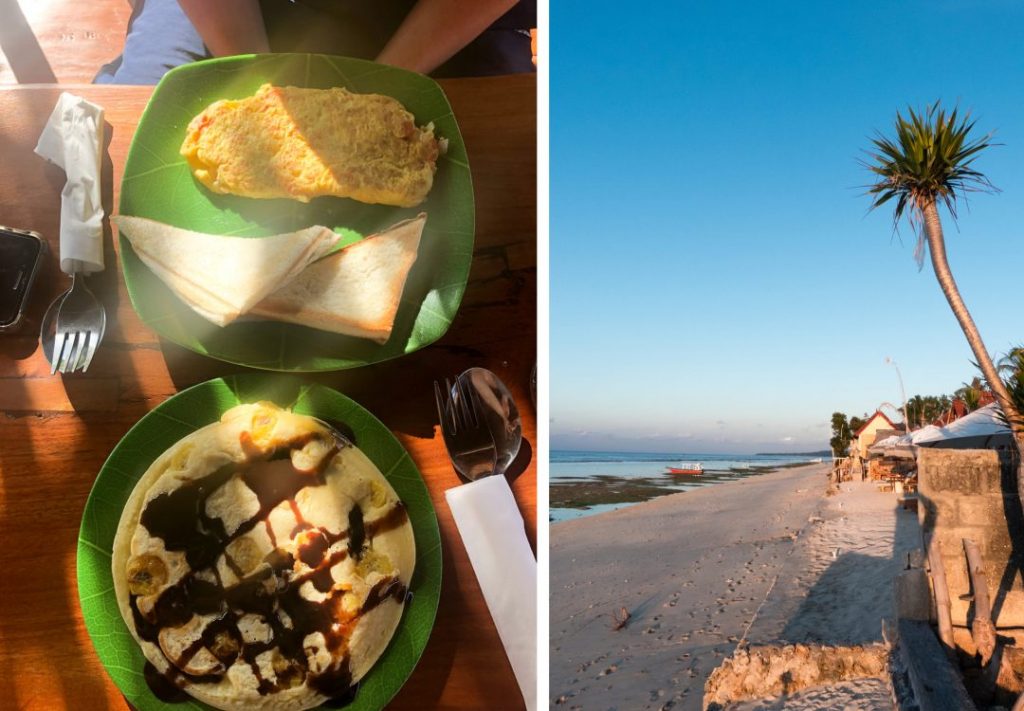 THE STAFF AT RAMA HOMESTAY NUSA PENIDA
Rama Homestay is family-run and all the staff are extremely friendly. They are more than happy to give your tips and recommendations on where to go. They will also book a driver for you if you need one.
Since it's such a small homestay you'll feel very welcome and well-cared for.


WHAT RAMA HOMESTAY IN NUSA PENIDA OFFERS
BAR AND RECEPTION
The homestay has a small bar that is also the reception. You can buy large Bintangs for IDR35,000 (≈ 2,30€) as well as bottled water and soft drinks. They also serve spirits although these are not officially on the menu.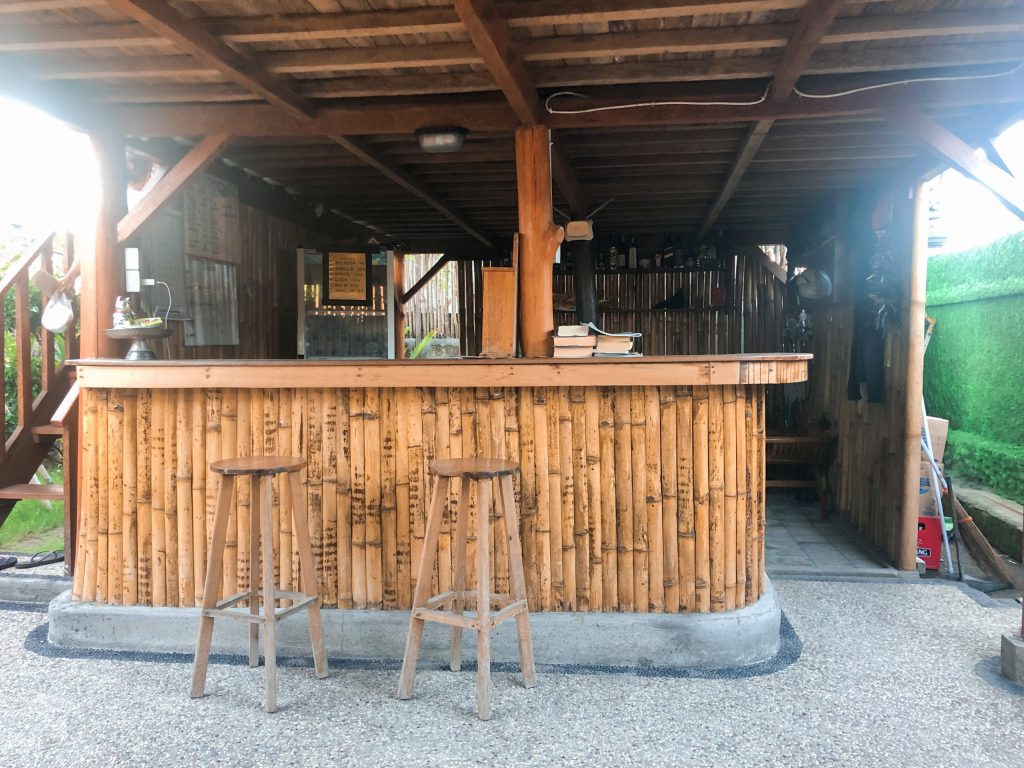 THE ROOF TERRACE
There is a small rooftop terrace above the reception. This is where breakfast is served and you can also sit here during the day. There is a sunroof so you can enjoy the shade.
The terrace is right next to the main road which does mean some noise from traffic.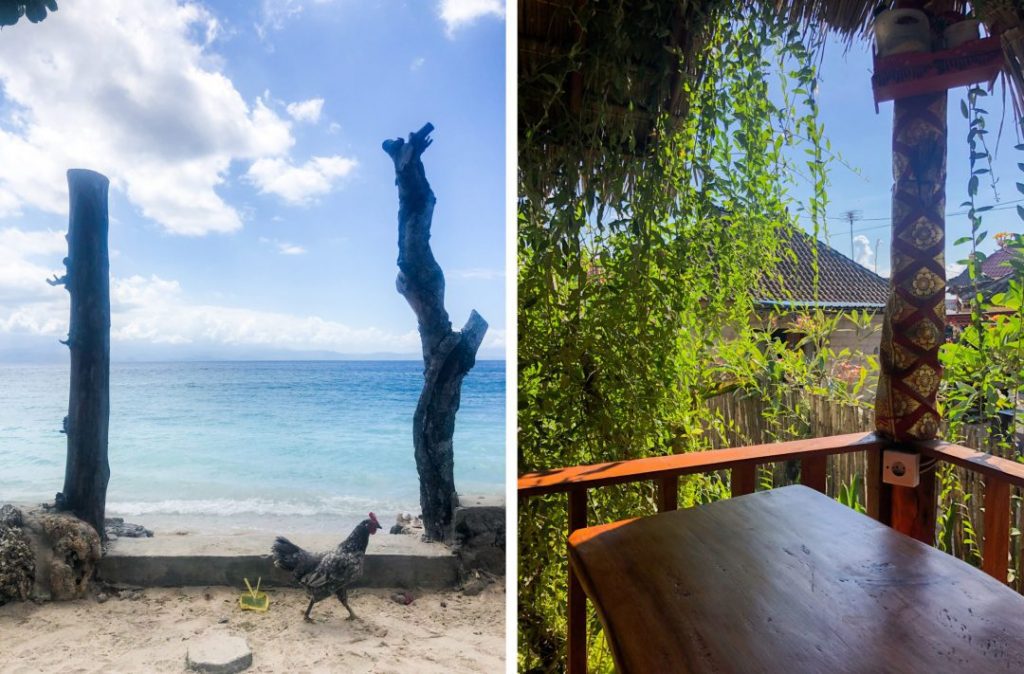 BEACH ACCESS
In front of the beach bungalows, the homestay has a little area with sun loungers and umbrellas. Here you can relax whenever you want even if you're staying in one of the garden bungalows.
It can be tricky to find a spot in the shade as there are no beach umbrellas. You'll find this is a popular spot among the guests.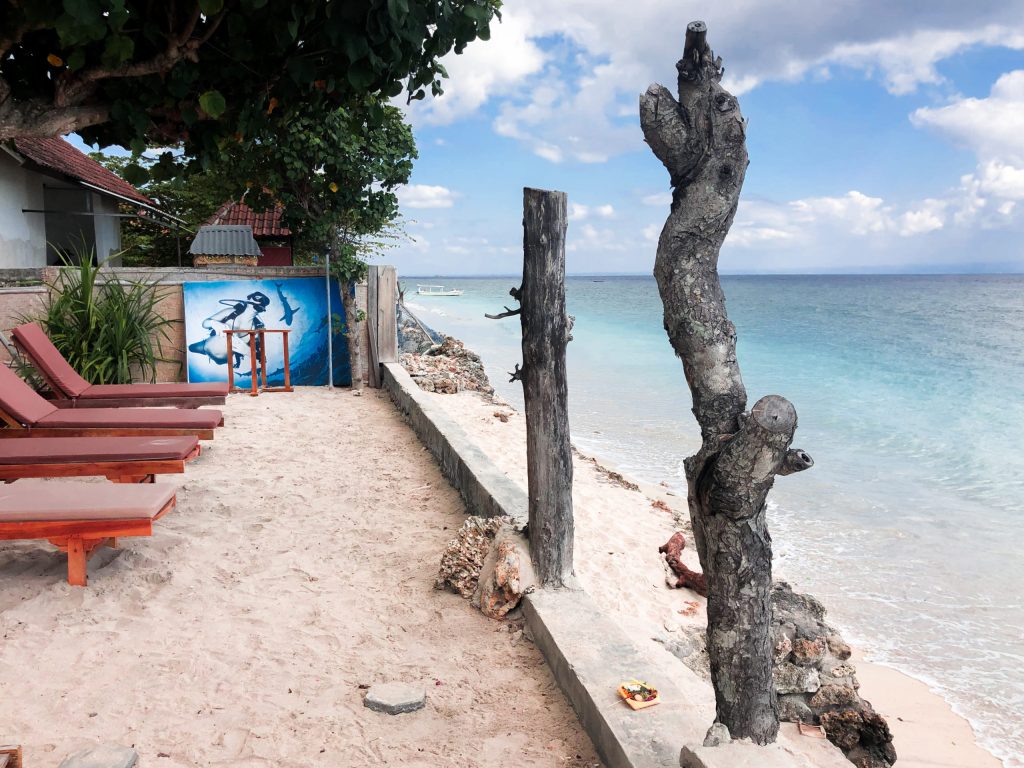 WIFI
Rama Homestay has wifi in all of their rooms as well as the beach area. We found the wifi to be decent quality. It's not amazing but definitely faster than many of the other places we have stayed in in the area.
THE ROOMS
Each room has a small closet (or cupboard in some cases), a drying rack and bedside tables. They all have a private bathroom and airconditioning and a television. Towels are provided on arrival and changed upon request. The rooms are cleaned daily.
In our case, the rooms were always clean and the airconditioning worked well. If you choose this homestay you need to be aware that these rooms are very basic. There is not much furniture and some of the windows are not very well insulated.
This is not a problem, however, if you know what to expect before you go.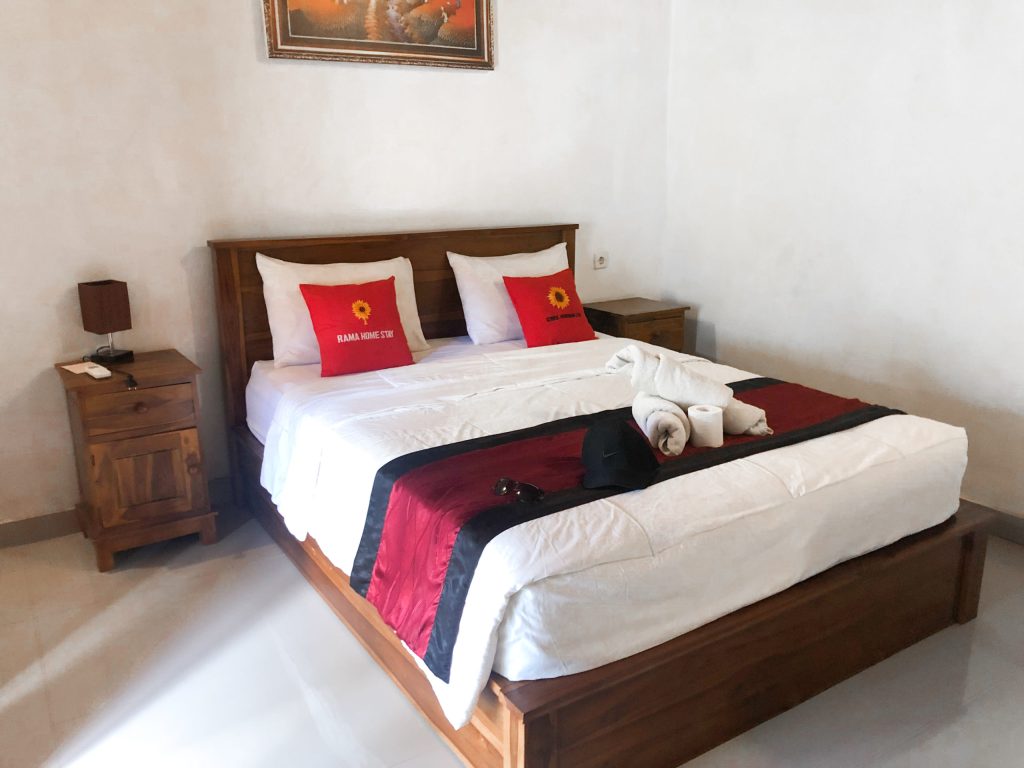 THE BATHROOMS
The bathrooms were clean but certainly not the most visually pleasing. We were pleasantly surprised by the water pressure of the shower which was decent for an island like Nusa Penida.
Unfortunately, as it is often the case with rooms in this price range the shower is not separate in the bathroom which means the entire floor tends to flood. This is something you have to expect when booking one of these rooms.
For me, the bathroom is the only thing that I was not 100% happy with at this homestay. Since it was very clean my complaints are based mostly aesthetically based, however, it needs updating in my opinion.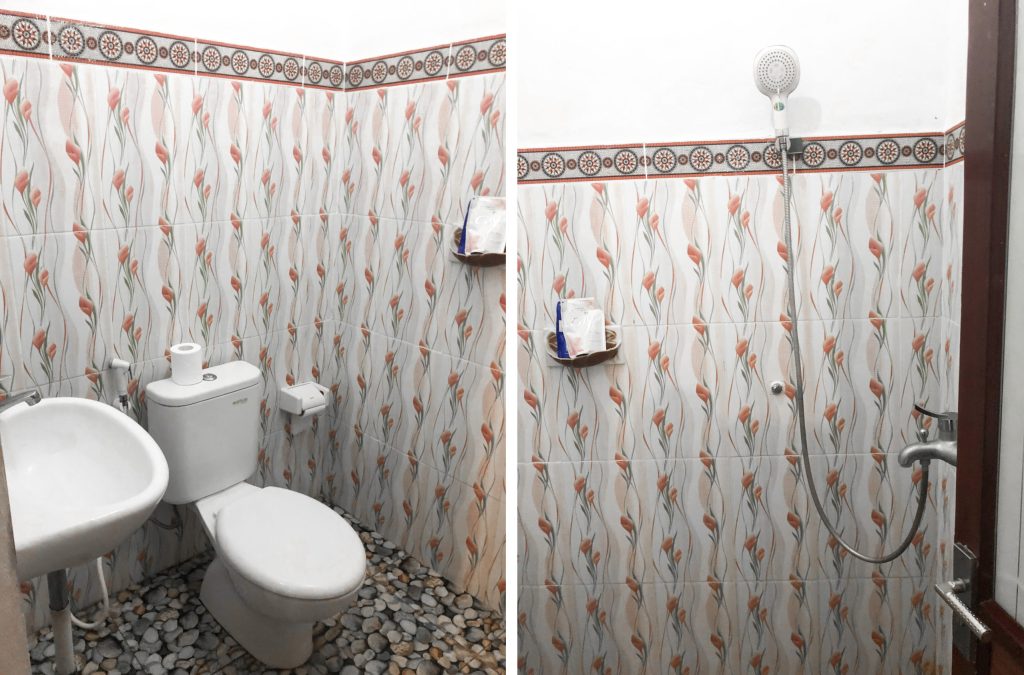 SHOULD YOU STAY AT RAMA HOMESTAY IN NUSA PENIDA?
This depends on what you are looking for and what your budget is. 25€ per night is quite reasonable, however, not the cheapest on Nusa Penida. If you're a backpacker this is a great place to spend a bit more money and get to stay beachfront in a decent little hotel.
If you're looking for more comfort and luxury there are certainly nicer hotels available in Nusa Penida, however, you'll be paying two or three times as much.
This is the perfect stay for travellers looking to find a balance between sticking to a budget and a bit of vacation feeling.
MUST-SEE PLACES IN NUSA PENIDA
Trying to piece together an itinerary for Nusa Penida? Click the links below to find out more about the most spectacular spots on the island.
My most important travel tips and resources
Book your flights
Skyscanner is the best website for finding cheap flights since it works like a search engine so you can find the best deals across all airlines.

Book hotels and hostels
• Booking.com: Best world-wide
• Agoda: Best in South East Asia
• Hostelworld: Best for hostels

Book tours, transport and rental cars
•Viator: The best place to book tours, day trips and excursions for al budgets
•12Go: Great for ferries, trains, transfers and buses in South East Asia
•Discover Cars: Best deals for rental cars around the word

Get travel insurance
Every traveller needs travel insurance and I mean every single one. SafetyWing covers you in case of injury, illness or worse and they've got your back if your bag is stolen, flights are cancelled or in case of a natural disaster.

Pay abroad
Ask any traveller, Wise is the best choice when it comes to sending money abroad. They've always got the best exchange rates, lowest fees and their visa card is great for getting cash out or paying abroad.

Things every traveller needs:
➼ Osprey Farpoint 70 Backpack
Detachable daypack, ultra-light, durable and free repairs for life. There's a reason why so many backpackers have this bag.
➼ Packing Cubes
Packing cubes are a gamer changer, keeping your luggage organised and providing tons of extra space.
➼ Power bank
There is nothing worse than running out of battery on an overnight bus journey or a long flight. With a powerbank you can charge your eletronics on the go and make sure you're always connected.
➼ Micro-fibre towel
These lightweight towels are foldable, fast-drying and so useful when you're travelling.

➼ You can find 15 more things every traveller needs here. Some might be a bit controversial but I warned you!
Did I miss anything?
If you have any questions or feel like something is missing from this post please leave a comment below or contact me.