The Monkey Forest or also called the Sacred Monkey Forest Sanctuary is one of Bali's most popular tourist attractions and an absolute must-visit when you're going to Ubud. While this is definitely a touristy location and usually very crowded it's still worth it to spend an afternoon here and get to know the area. Over 700 Balinese long-tailed monkeys live in the forest which also includes three temples. The forest spans more than 12 hectares so there is a lot to see and explore.
However, there are a few things you should know before going to make sure your expectations are adjusted. And no; you probably won't be attacked or robbed by monkeys at the Monkey Forest if you come prepared.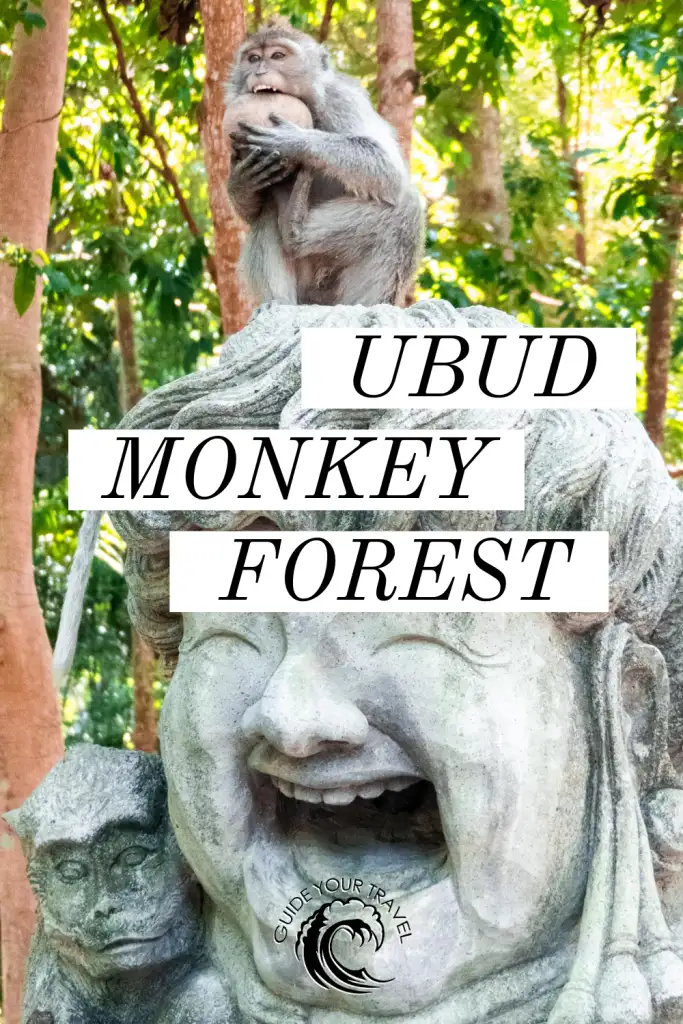 IS THE MONKEY FOREST IN UBUD A ZOO?
The monkeys are to come and go as they please from the Monkey Forest so it cannot be considered a zoo. While the forest is fenced in the monkeys can easily cross the fence and it exists mainly to keep visitors from sneaking in without paying. The monkeys are fed three times per day by staff which is the main incentive for them to stay close by. The monkeys live in different tribes which are closely monitored by students and staff of the local Udayana university.
THE MONKEY FOREST AND ANIMAL CRUELTY
The Monkey Forest in Ubud is considered one of the "better" animal attractions in Bali. It can generally be said that you can visit this place without having to worry about animal rights or cruelty issues. The monkeys are living a fantastic life especially compared to those living in zoos all around the world.

That being said, no tourist attraction that involves animals can be considered 100% ethical. Although it is prohibited to feed the monkeys many visitors still do which can be harmful. However, this occurs all around South East Asia with monkeys living in the wild so it is difficult to say whether the Monkey Forest can specifically be singled out as bad.

Some people claim that the Monkey Forest employs people to monitor the fences and target any monkeys that aim to cross them with slingshots. I have not seen this or have found any evidence that this is true but it doesn't seem completely impossible. The Monkey Forest is located in the heart of Ubud so it is in the park's best interest to keep the monkeys contained. Again, it is difficult to say whether this is true but you should consider this perspective before you decide to visit.

In the end, you're most likely not causing any direct harm to the wellbeing of monkeys by visiting the Monkey Forest in Bali. Do your part by not feeding or touching them and educate others around you to do the same. You'll find monkeys all over South East Asia and the majority of people don't know how to treat them when they encounter one. At least the Monkey Forest is educating tourists on how to behave around monkeys while also supporting scientific research on the species.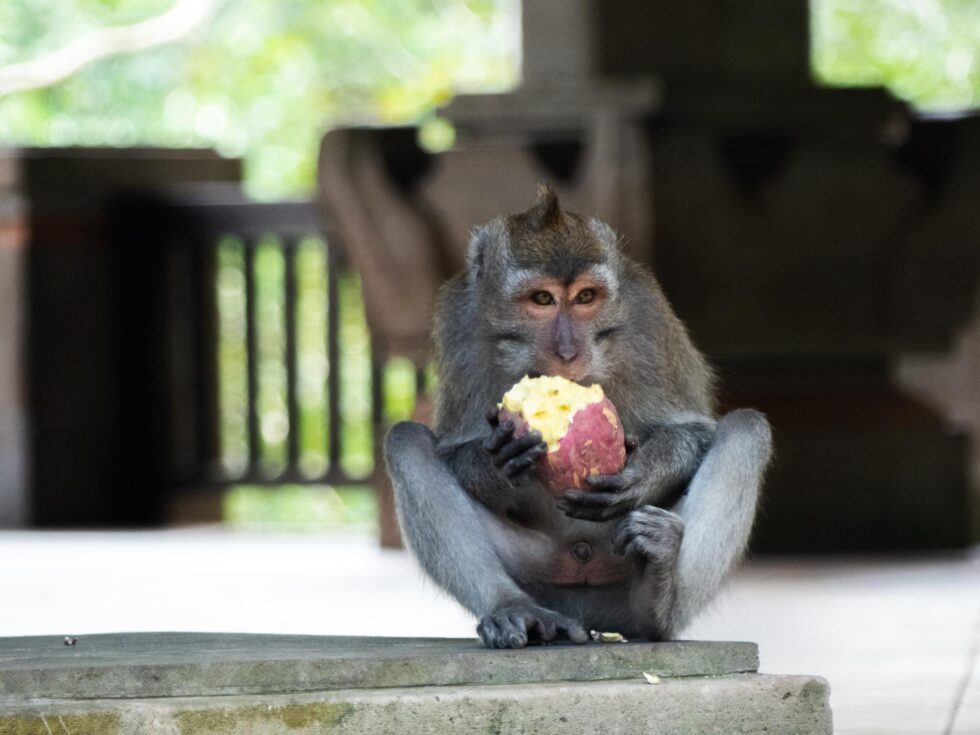 IS THE MONKEY FOREST IN UBUD A RELIGIOUS LOCATION?
There are three temples located within the monkey forest including the Holy Spring Temple, Dalem Agung Padangtegal Temple and the Prajapati Temple. The Monkey Forest is considered sacred and frequently the location of religious ceremonies or celebrations. Some of the temples are more than 600 years old.

Tourist are not permitted to enter the temple and should be respectful when visiting the Monkey Forest. While it is not necessary to cover your legs when visiting the Monkey Forest you should under no circumstances enter the religious areas. These will be clearly separated so there can be no confusion. Only those belonging to the Balinese Hindu faith and wearing prayer garments are allowed to enter the temples.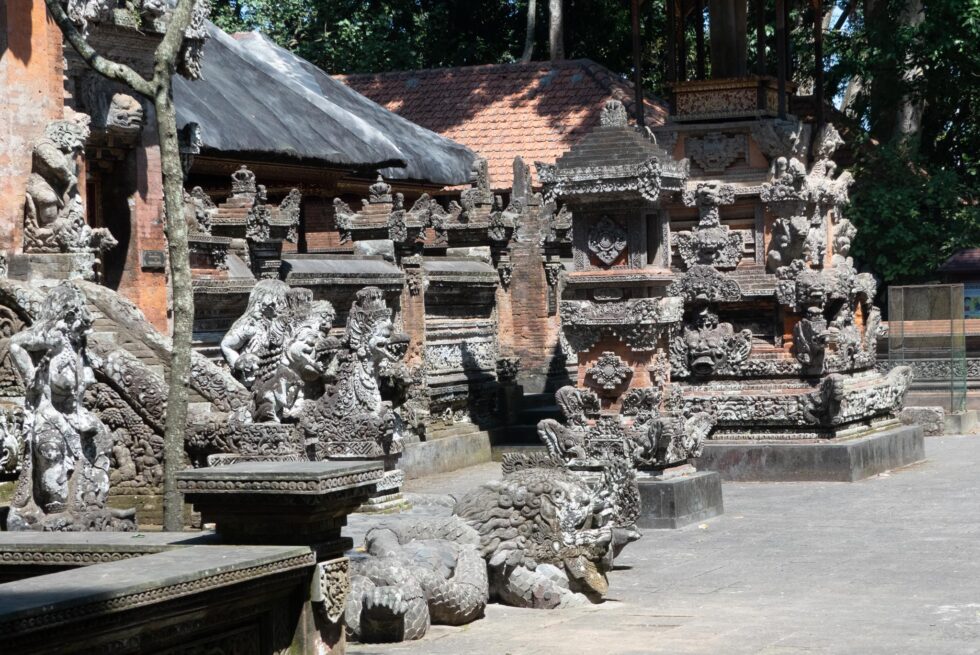 IS THE MONKEY FOREST AN OVERCROWDED TOURIST ATTRACTION?
A lot of Bali guides will actually tell you to avoid the Monkey Forest entirely as it can be quite crowded and is mainly geared towards tourists. If you're trying to have a meaningful cultural experience or get to know "the real Bali" we agree the Monkey Forest might not be the place for you. So consider what you are looking for. If you're after a fun afternoon and some great photos then we'd highly recommend it.

Why do tourists always try to avoid other tourists and tourist attractions? Find out more about the paradoxes of tourism here.
HOW TO GET TO THE MONKEY FOREST IN BALI
The Monkey Forest is located just a 5 minute-drive or a 15-minute walk from the centre of Ubud. You can get there easily by scooter, Gojek or Grab or even on foot if you're staying close by. Ubud sits in the heart of Bali around one hour north of the airport in Denpasar. You can visit the Monkey Forest on a day-trip or choose to stay in Ubud for a few days as there is plenty to see and explore nearby.
MONKEY FOREST PRICES AND ENTRANCE FEES
Tickets for the Monkey Forest cost IDR80,000 for adults and IDR60,000 for children. This is very affordable for Western standards although when it comes to tourist attractions in Bali these prices are actually comparably high.
MONKEY FOREST OPENING HOURS
The Monkey Forest in Ubud, Bali is open to visitors daily from 8:30 am to 18:00 pm. Tickets are sold from 9:00 am to 16:00 pm. Remember to check Balinese public holidays and religious festivals as thee forest might be closed.
MONKEY ATTACKS
If you look up the Monkey Forest in Ubud online you'll find several horror stories of monkey attacks happening to tourists. If you've spent some time in South East Asia you'll have encountered monkeys before and will know that they can definitely be aggressive. Almost all of these attacks stem from provocation or more commonly the search for food. Monkeys will very rarely attack visitors without a reason so if you aren't carrying any food or plastic bags or waving around small items like sunglasses, water bottles or phones you should be fine. Don't get too close to the monkeys and do not look them in the eyes directly. Try to keep an eye out for monkeys that are on the lookout for food and keep your distance.

All this being said, there are definitely occurrences of tourists being scratched or bitten by monkeys in Bali. Luckily the staff at the forest are very experienced in this happening and there are multiple little clinics around the property which will treat you. While it's hard to eliminate any chances of infection or diseases like rabies completely remember that the forest has treated hundreds of bites and scratches (most likely thousands) and there hasn't been one case of rabies or other diseases. The monkeys are monitored carefully by the Udayana University and are said the be in excellent health. The Notre Dame University from the United States has monitored Balinese monkeys for 14 years and has also never encountered a case of rabies. Still, getting bitten is never fun so keep your belongings close and be sensible about how you behave around the monkeys.
WHAT TO BRING TO THE MONKEY FOREST IN BALI
Only bring a small bag with you when visiting the monkey forest, ideally one that can be zipped and closed tightly. Bring water and a camera if you want. Keep everything in your bag or your camera secured with a strap across your chest. Don't dangle it from your hand or set it down somewhere. Keep your bag in front of you or secured with both straps on your bag if it's a backpack.
WHAT NOT TO BRING TO THE MONKEY FOREST IN BALI
Under no circumstances should you bring any food to the Monkey Forest. Even if it's hidden away at the bottom of your backpack. The monkeys always know and won't leave you alone until you give it to them. Monkeys are very smart when it comes to finding food but they're also very optimistic about what counts as food. They'll try to steal pretty much anything that's in your hands or not secured to your person. This includes sunglasses, hats, phones, cameras and water bottles. They're also obsessed with paper or plastic bags so don't carry anything in your hands if possible.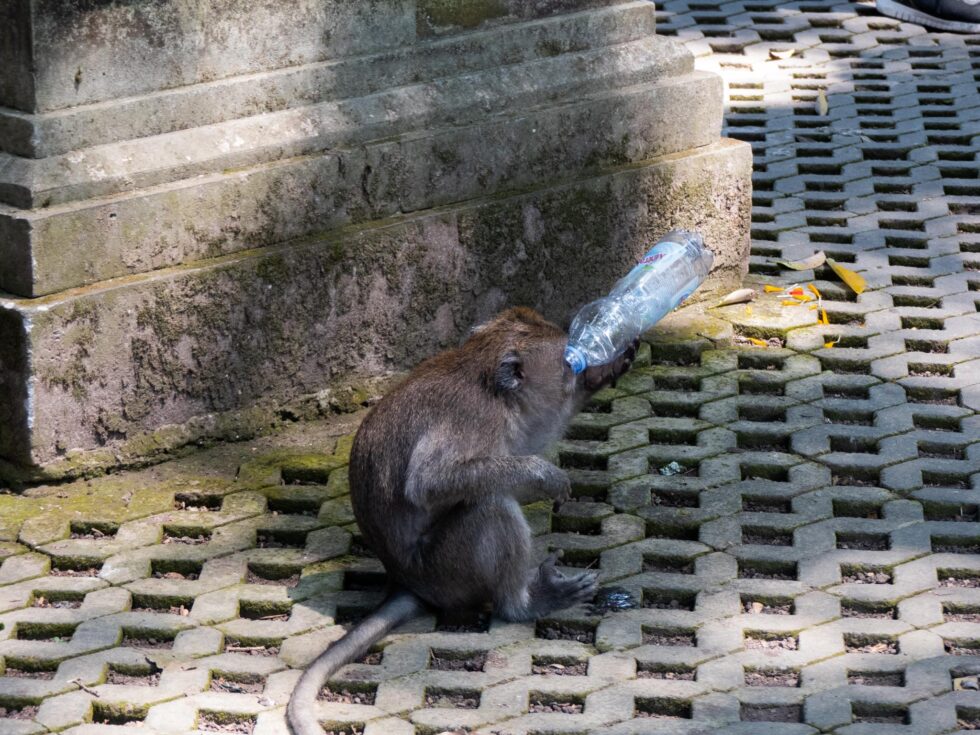 MONKEY FOREST RULES AND THINGS YOU SHOULD KNOW
The Monkey Forest provides visitors with strict rules when it comes to interacting with the monkeys. Monkeys should not be fed or touched which are probably the most important rules to know. Running or shouting is also not allowed as it could frighten the monkeys. Plastic or paper bags are not allowed in the forest and can be stored safely at the ticket sales office.

If you're scared of being attacked by a monkey and are considering not visiting the forest for this reason then let me put your mind at ease. In most places of the forest, you'll be surrounded by other tourists who are much stupider so the chances of a monkey picking you to attack are very slim. Don't look them in the eye and keep your distance and you'll be absolutely fine. Leave your sunglasses at home or store them in your bag and keep your phone away as much as possible as well. Carrying a camera is absolutely fine if it has a strap. If you want to get something out of your bag make sure to go to a quiet spot without many monkeys around.

Find out more information on rules for the monkey forest here.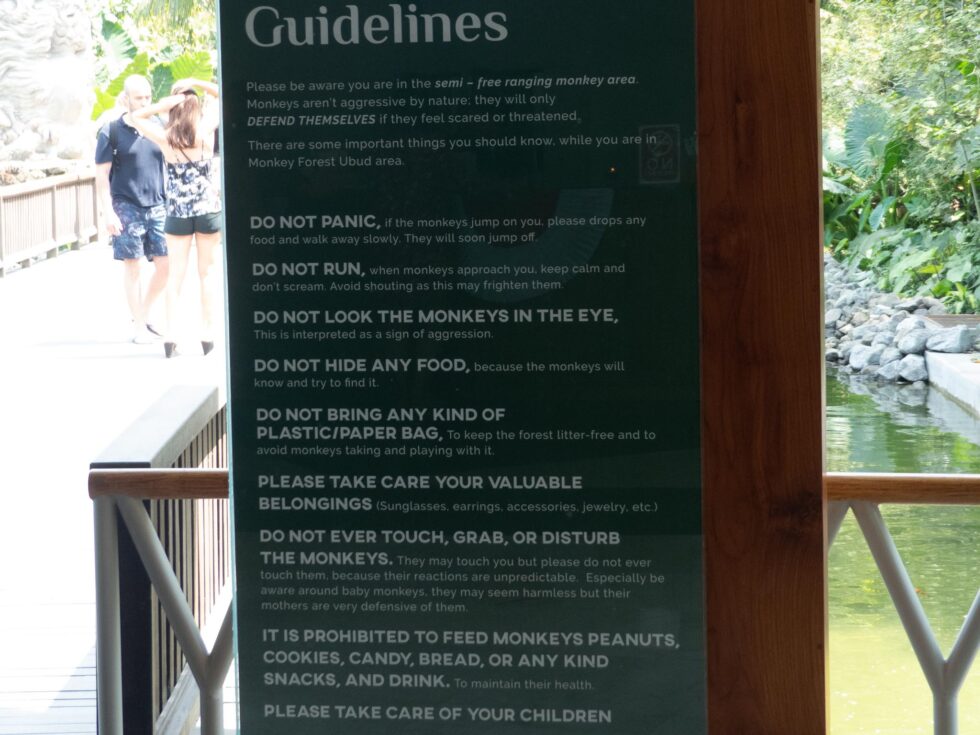 TAKING THE FAMOUS MONKEY SELFIE
You've probably seen the popular monkey selfies that people take at the Monkey Forests. It looks as though the monkey is taking the photo or even stealing the camera. This is achieved by a member of staff holding the phone and feeding the monkey at the same time to make it reach out its hand while the people pose in the background. Monkey Forest employees do this free of charge if you ask them nicely although usually a crowd forms with lots of tourists wanting their photo taken so you need to be persistent.
HOW LONG SHOULD YOU SPEND AT THE MONKEY FOREST IN UBUD
Expect to spend at least 1,5 hours at the Monkey Forest and a maximum of around 3 hours. During busy times you might have to wait in line for a while to buy tickets although this rarely takes more than 20 minutes.
WHEN IS THE BEST TIME TO VISIT THE MONKEY FOREST?
You can visit the Monkey Forest year-round although you'll have the best experience when the weather is nice. A great time to visit is on a sunny day during rainy season which will mean fewer other tourists. The forest is most crowded during the high season from June to September. Come early in the morning to avoid the heat and crowds.
WHAT ELSE TO SEE CLOSE TO THE MONKEY FOREST IN UBUD
Check out our complete Ubud itinerary for inspiration on other activities near the Monkey Forest. We highly recommend the Campuhan Ridge Walk, the Ubud Palace, the Ubud Market and Goa Gajah, a nearby cave.