You've probably seen the selfies people take with quokkas when they visit Rottnest Island. Quokkas always look like they're smiling which is why they're so popular as a photo subject. However, since they're so small it's not always easy to capture the perfect quokka picture.
Since you're probably coming to Rottnest Island only once you'll most likely not get too many chances to shoot the perfect quokka picture. Reading these few simple tips will help your photos get to the next level.
This post may contain affiliate links, which means we'll receive a commission if you purchase through our links, at no extra cost to you. This helps us keep Guide your Travel free and provide high-quality content for you. Please read the full disclaimer for more information.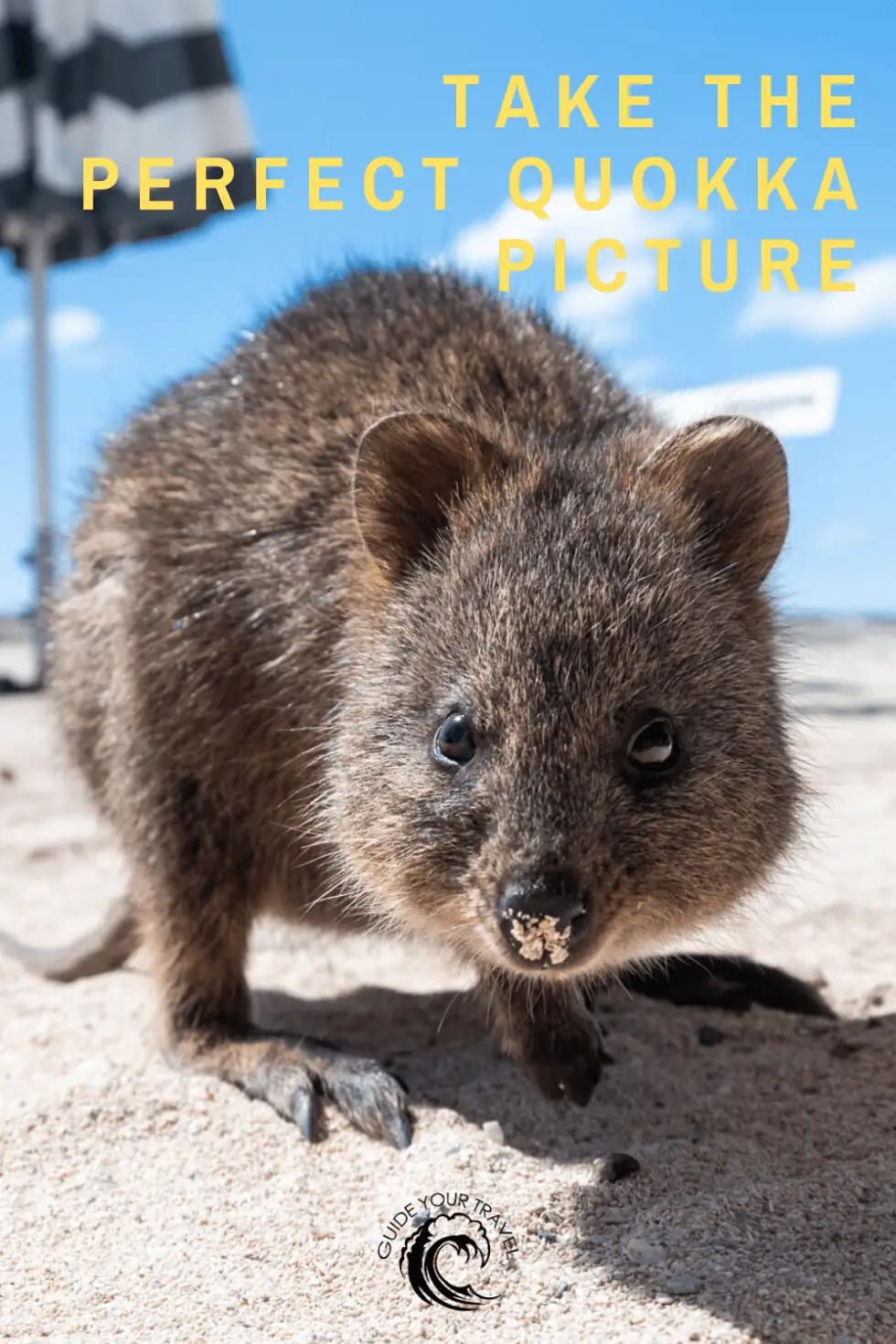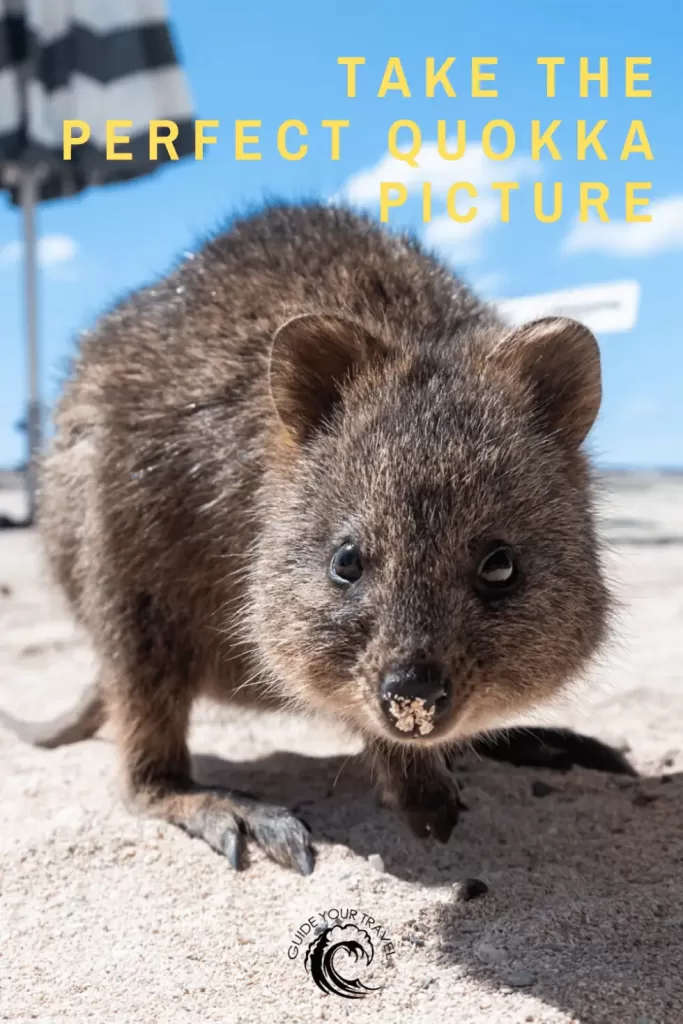 WHY YOU SHOULD GO TO ROTTNEST ISLAND
Rottnest Island is one of my favourite places in Australia and an absolute must-visit. The little island lies just a 30-minute boat ride from Perth so it's easy to access and perfect for a day-trip.
You'll find some of the West Coast's best beaches here as well as picturesque landscapes and next to no motorised traffic. The best way to explore the island is by bike which means you have plenty of time to look around and spot quokkas.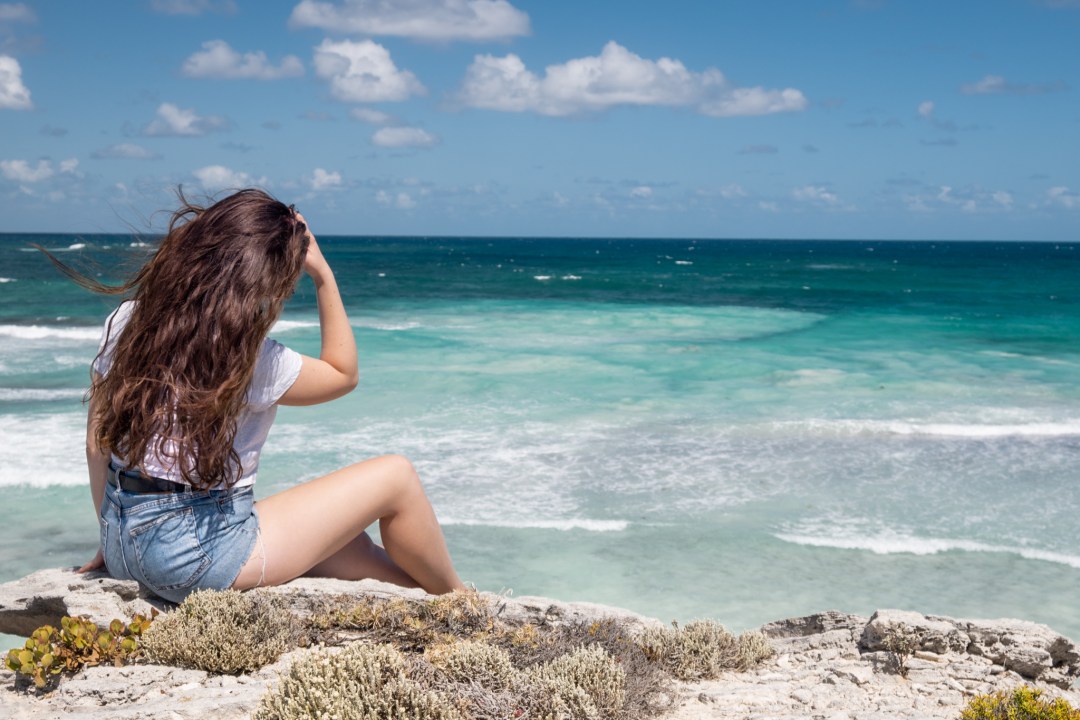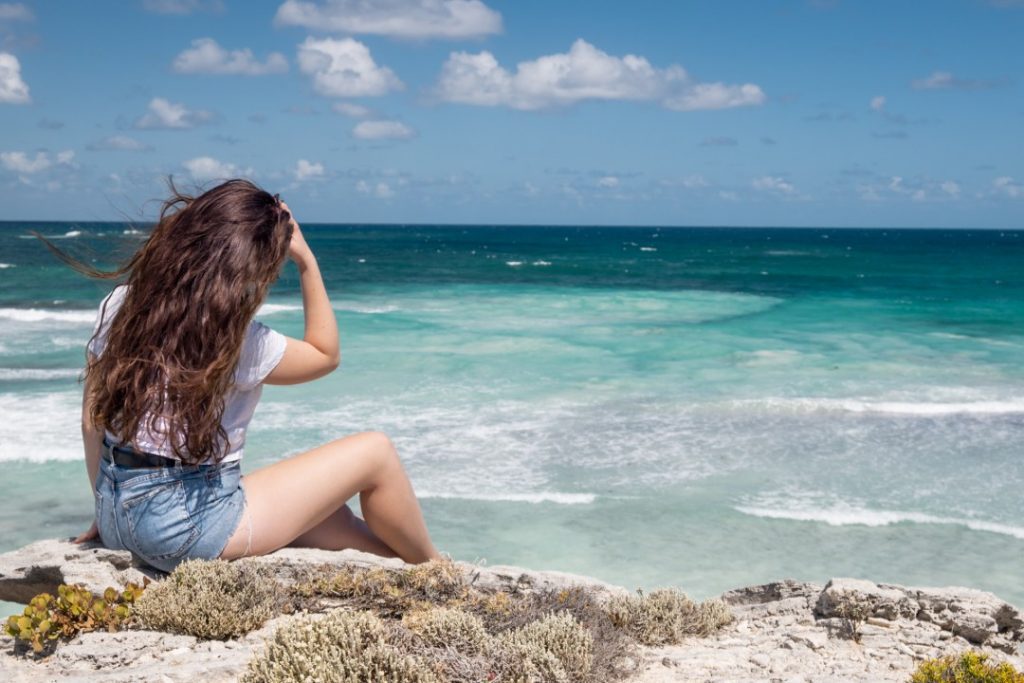 The very photogenic quokkas made Rottnest Island world-famous and many tourists visit the island just to take a picture with one.
If you're wondering how to approach taking the perfect quokka selfie or where to even find the small marsupials on the island then this is the right post for you. Keep reading to find out absolutely everything you need to know about the quokka before you head to Rottnest Island.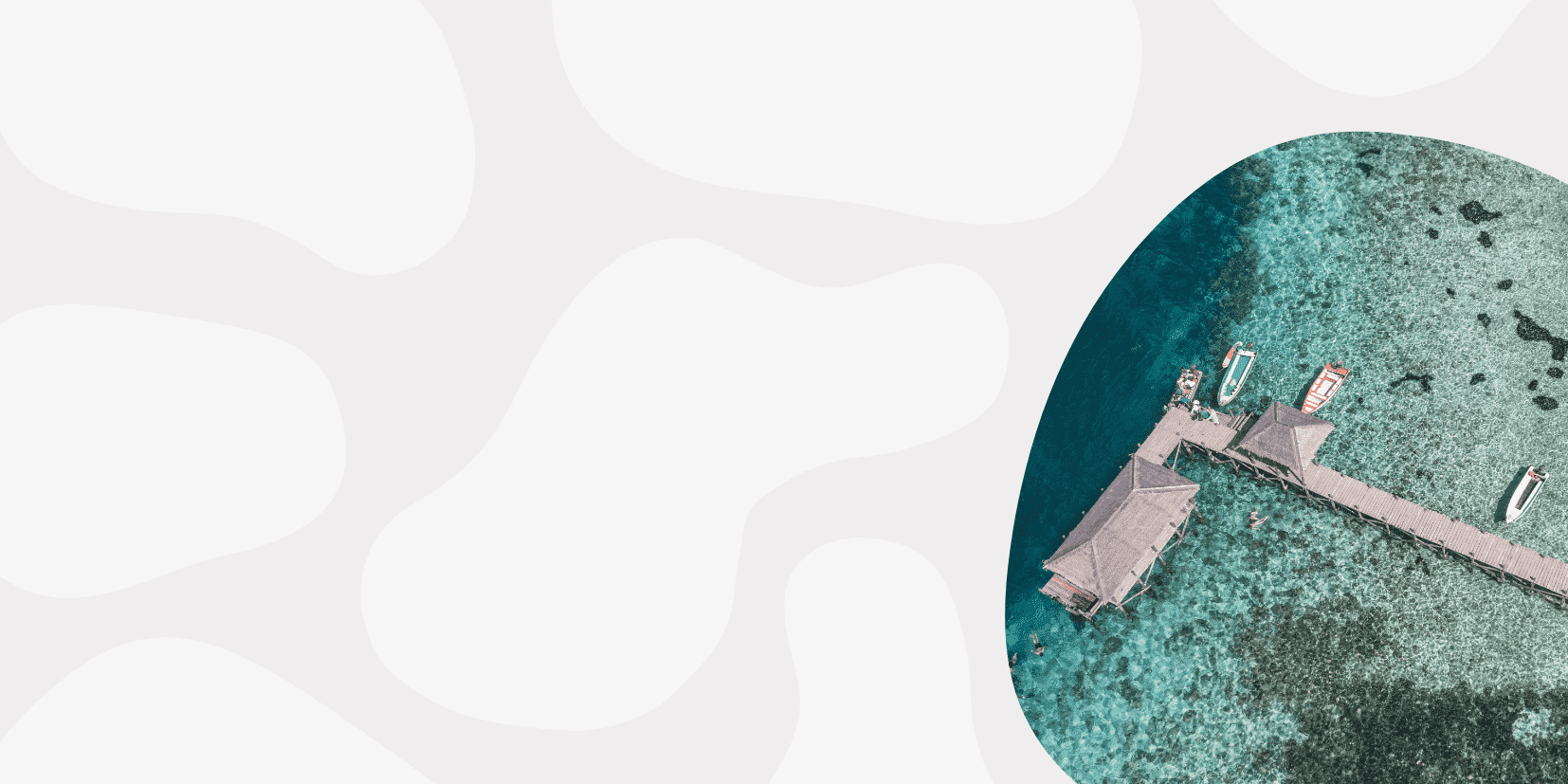 Let me save you time and effort when you're travel planning!

➼ Best travel insurance? SafetyWing
➼ Best place to find cheap flights? Skyscanner
➼ Best bank & credit card for travellers? Wise
➼ Best travel backpack? Osprey Farpoint 70
HOW TO GET TO ROTTNEST ISLAND AND WHEN TO GO
Planning your trip to Rottnest Island might seem overwhelming. Which ferry company do you choose and where should you depart from? And what time is the best time to go back? Can you camp on the island? Is it worth going to Rottnest in winter?
All these questions are answered in our Complete Rottnest Island Guide. It will tell you all you need to know to plan the perfect day-trip.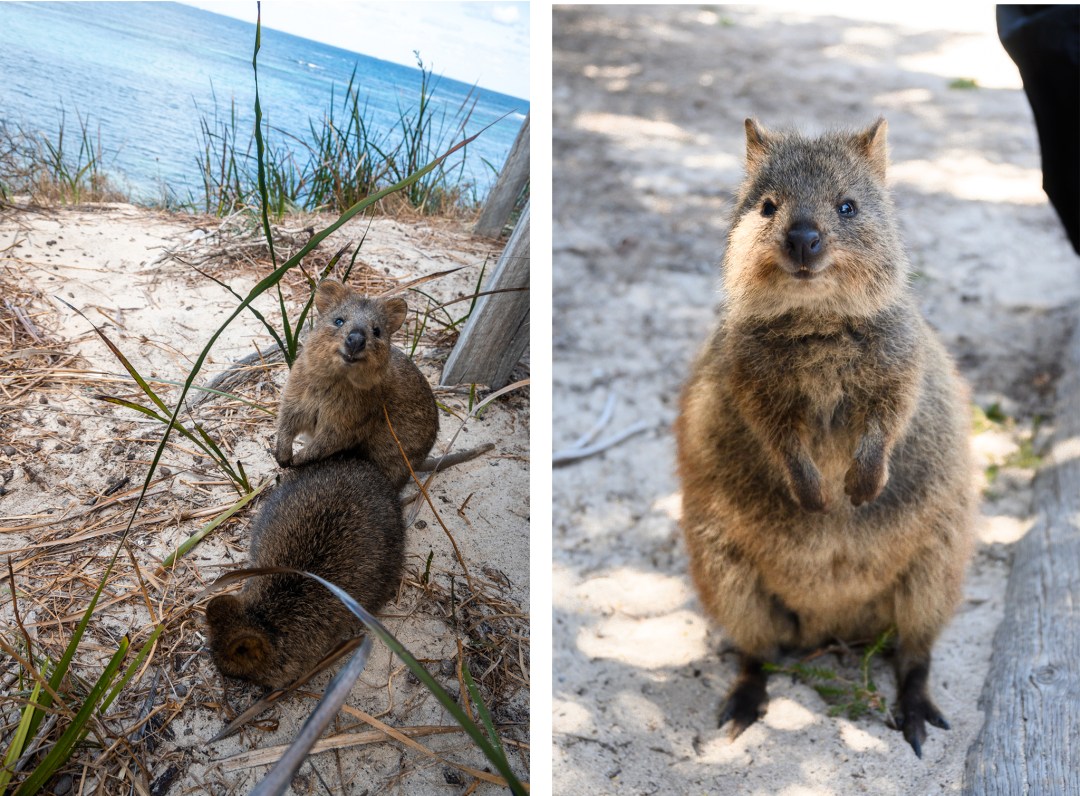 QUOKKAS: ALL YOU NEED TO KNOW
Around 10,000-12,000 Quokkas live on Rottnest Island. That's the largest population of them in the world. There are some smaller populations on mainland Australia, however, there are only estimated to be around 4,000 in total.
Quokkas are marsupials or more specifically macropods which is a sub-family that includes the wallaby and the kangaroo. While they do resemble their more famous relatives quokkas look more like a large rat mixed with a kangaroo, largely because of their naked tails.
They grow to be the size of a house cat weighing around 2.5 – 5 kg. Like kangaroos, quokkas raise their young in a pouch, however, they reproduce almost twice as fast, raising up to two joeys per year.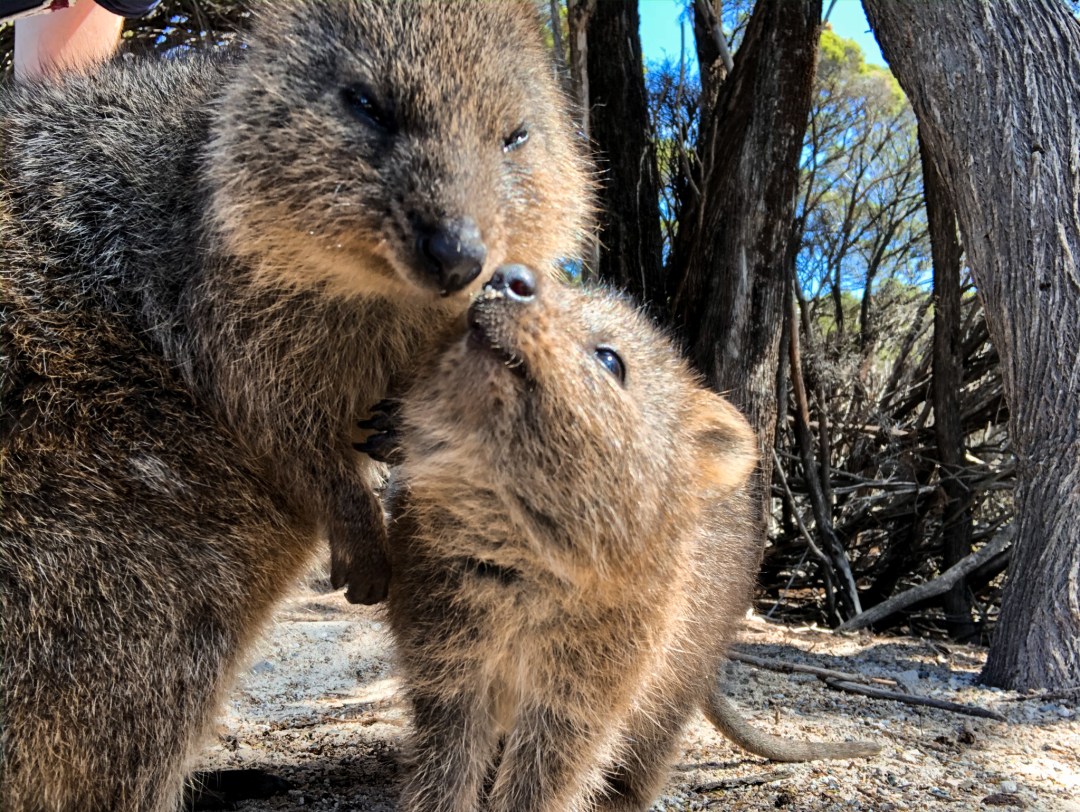 Although quokkas spend most of their time living on the ground in thick underbrush they are known to climb trees up to a height of around 1,5 metres. Their diet consists of mostly grasses and seeds which makes them strict vegetarians. Since Rottnest Island has no natural sources of freshwater they are able to hydrate themselves almost exclusively through the plants they eat.
Much larger populations of the quokka existed before colonisation when numbers started to decline rapidly. The quokkas on Rottnest Island's only predators are snakes, which lets them live a relatively safe and peaceful life there. However, the mainland populations have to face foxes, cats, dogs and habitat destruction through bushfires or human activity. This means that their population numbers are far less stable and is one of the reasons why the quokka is classified as a vulnerable animal species.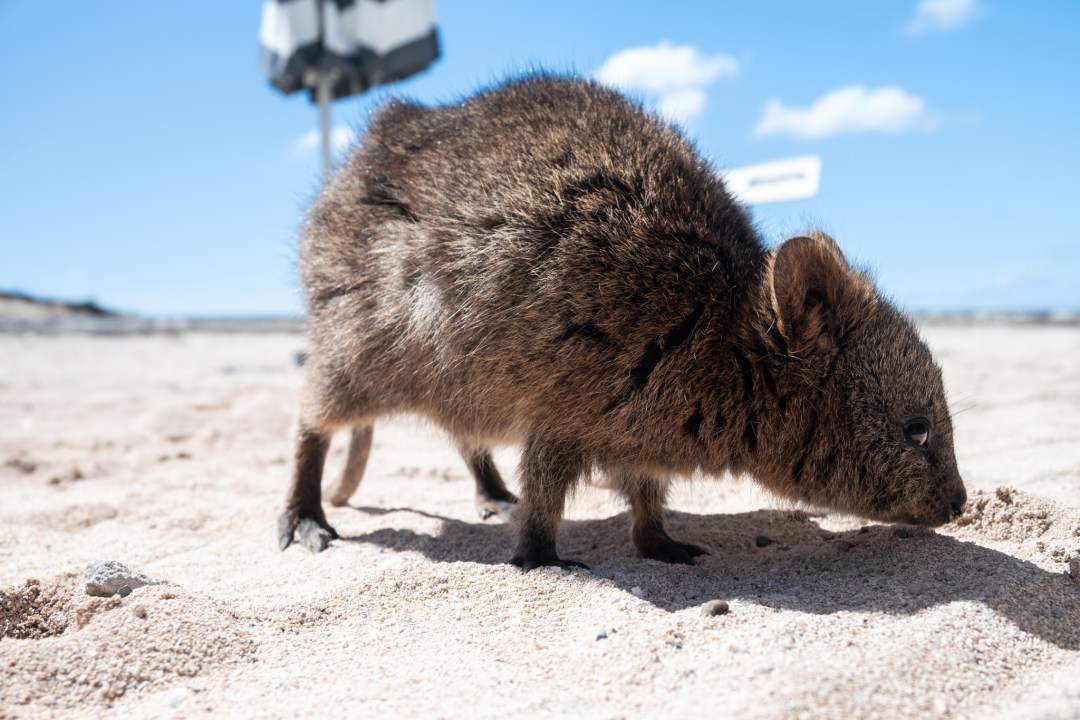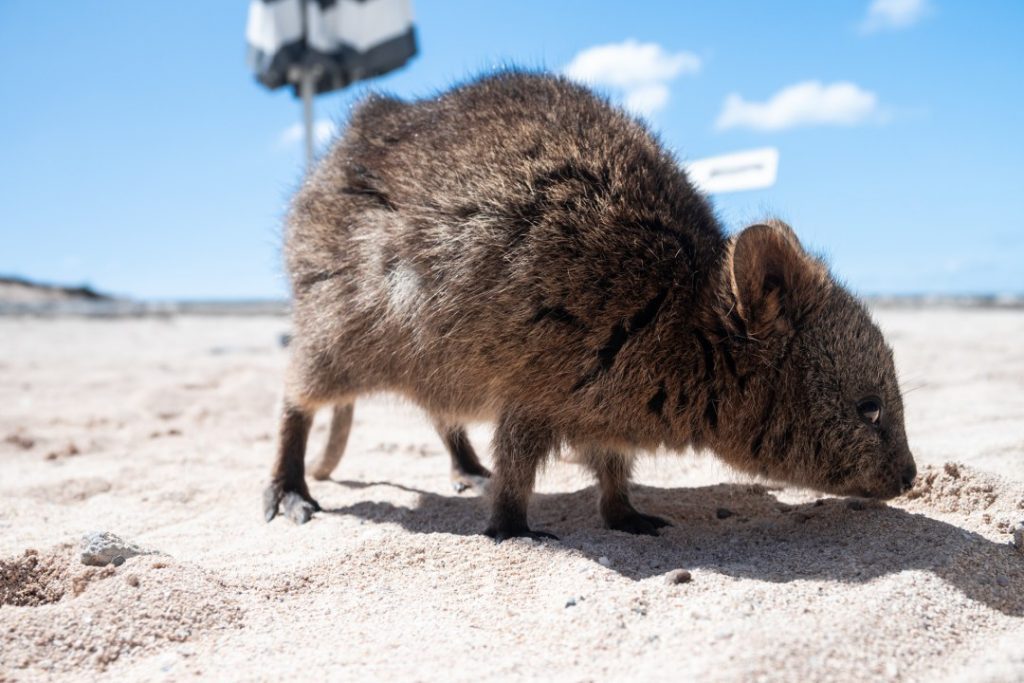 Rottnest Island was "discovered" by Dutch ships in the 17th century. The sailors named the island "Rat's Next" because they mistook the quokkas living on the island for rodents. Over time the name Rottnest Island developed from this misunderstanding.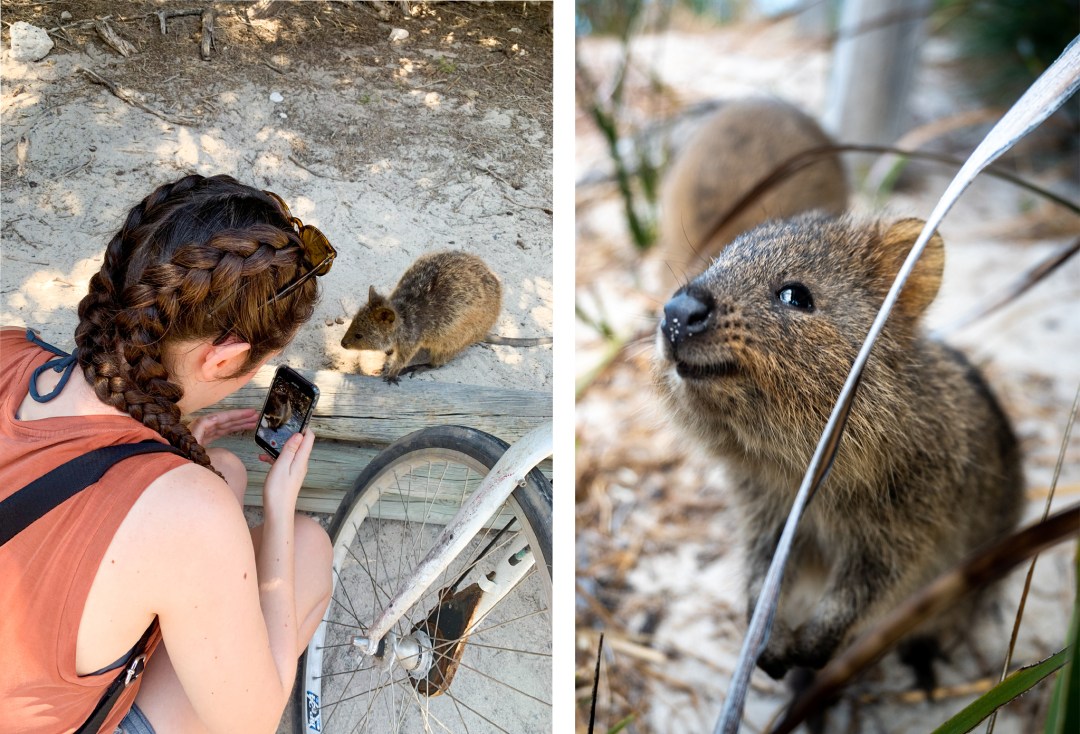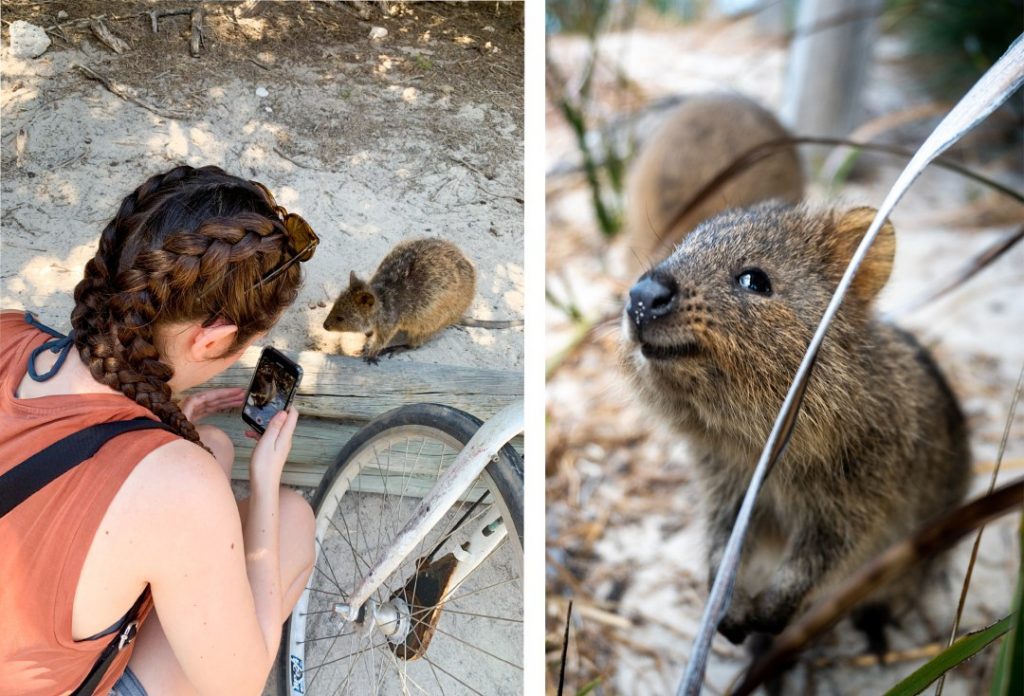 WHERE TO FIND QUOKKAS ON ROTTNEST ISLAND
Quokkas always tend to show up around the same places on Rottnest. They are usually in shady areas under trees or bushes. Because they blend into the landscape perfectly it can be hard to spot a quokka. But once you've found one you'll begin seeing them absolutely everywhere.
In general, any time you see people gathering in a group or sitting by the side of the road you can be sure that they just spotted some quokkas.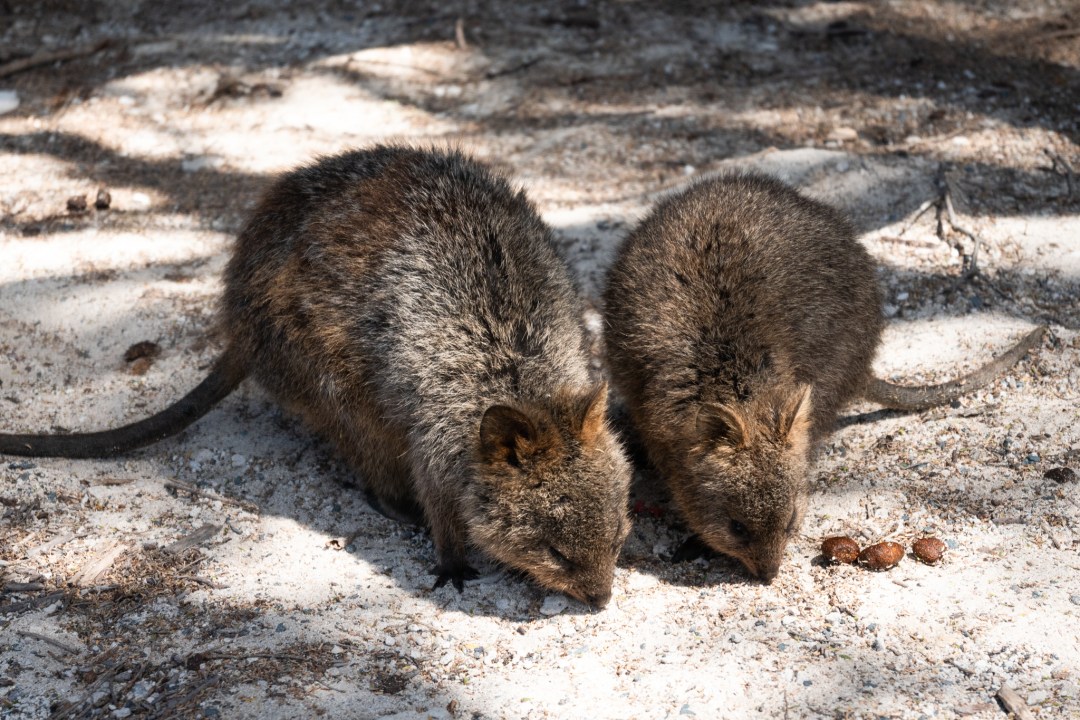 A FEW PLACES WHERE I ALWAYS MANAGE TO FIND QUOKKAS ON ROTTNEST ISLAND:
A good place to start is the Settlement. They like to hang out by the port, close to the little street with all the shops and restaurants.
In the afternoon you're almost guaranteed to find quokkas on the northern end of Thompson Bay along Vincent Way close to the dock.
Parker Point is also a good spot to look for Quokkas. There are plenty of bushes in that area where you'll most likely spot a few.
Wadjemup Lighthouse and the road that leads up to it are a good place to keep an eye out for quokkas.
The little rest area close to the train track crossing at Bickley Swamp on the eastern end of the island is a favourite quokka spot.
Digby Drive is one of my favourite spots to find quokkas (look at the map to see exactly where). Make sure you look closely at the bushes next to the road.
You can find the spots on this list on the two maps below.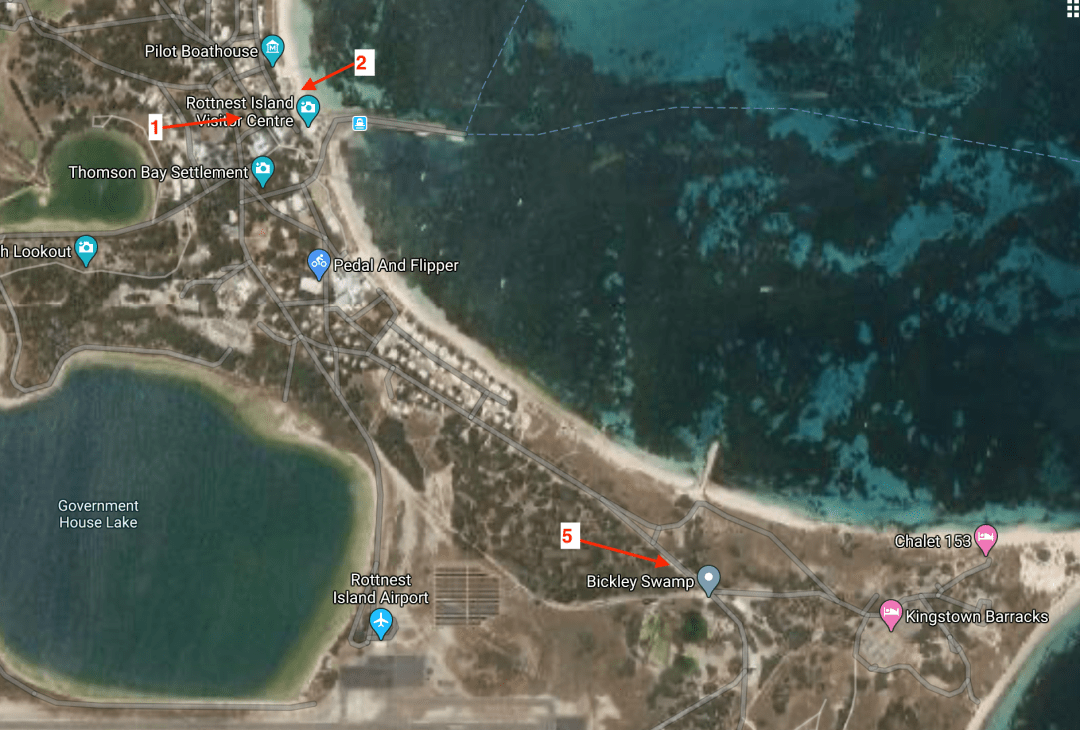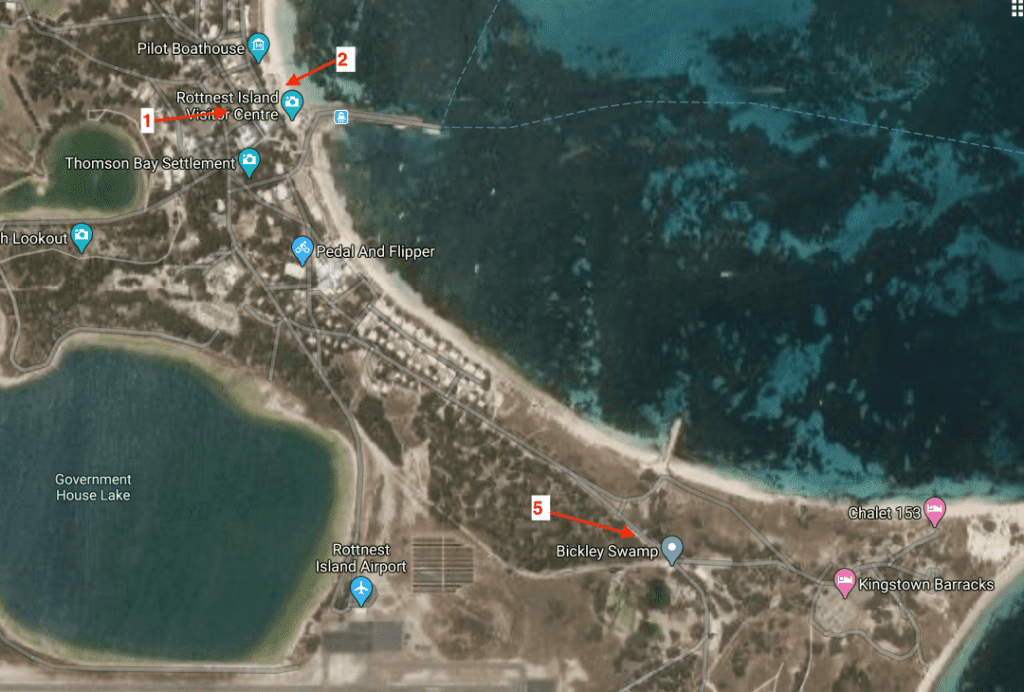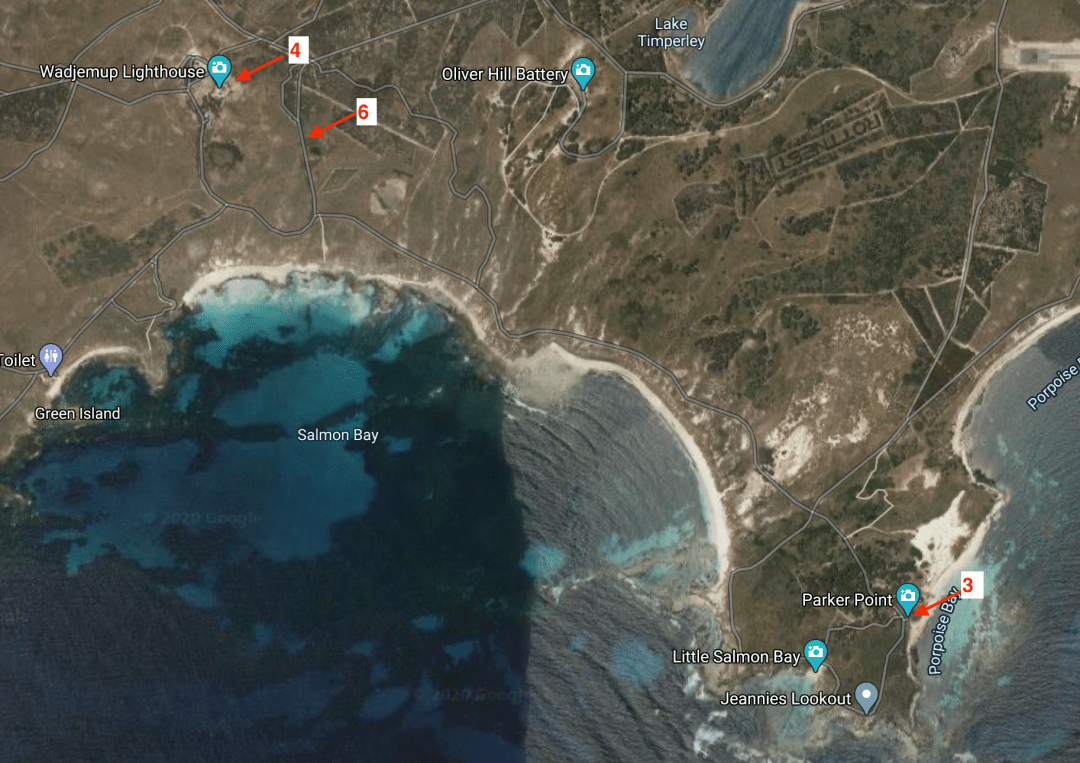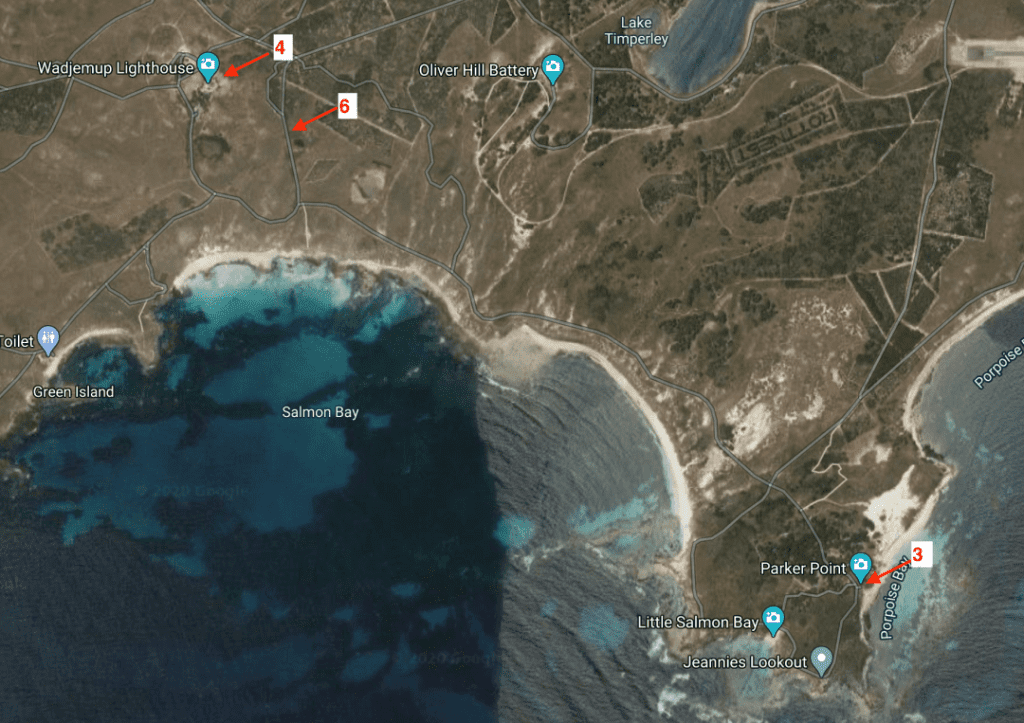 HOW TO TAKE THE PERFECT PICTURE WITH A QUOKKA
SELFIES
Since quokkas always look like they're smiling most people like to take selfies with them. This isn't always easy since they're quite small and move around a lot. You're going to need several attempts to get the perfect shot.
The best way to get a selfie with a quokka is to either kneel or lie on the ground. Make sure to put down a towel or blanket if you don't want to get your clothes dirty. Don't get to close to the quokka though or disturb it too much.
My favourite tip that really improved my quokka selfies was to turn the phone upside down when the front camera is enabled. That way the lens will be as close as possible to the ground and therefore close to the quokka. Expect your phone to get a bit dirty though if you're using this method. You can also ask a friend to hold to phone for you.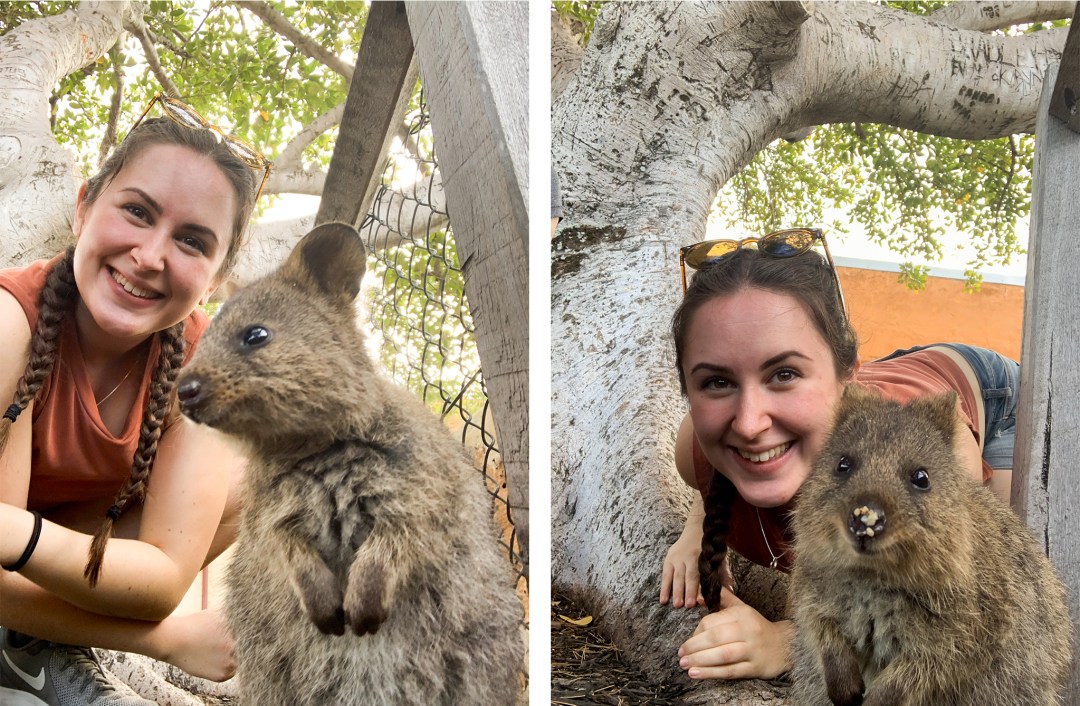 SELFIE STICK
If you have one it might be a good idea to bring a selfie stick on your trip to Rottnest Island. It will make taking a picture with a quokka much easier since you'll have more reach with your arm. It's important though that it's the sort of selfie stick that you can trigger remotely so you have a way of taking the picture without having to set a self-timer on your phone.


HOW TO GET A QUOKKA TO LOOK AT THE CAMERA
Quokkas spend most of their time looking around for food on the ground which means it'll be hard to get a good picture. You'll need them to look up at the camera which mostly happens when they find a bit of food. The famous quokka smile is usually produced when quokkas chew so you'll want to find one that is eating for your photoshoot.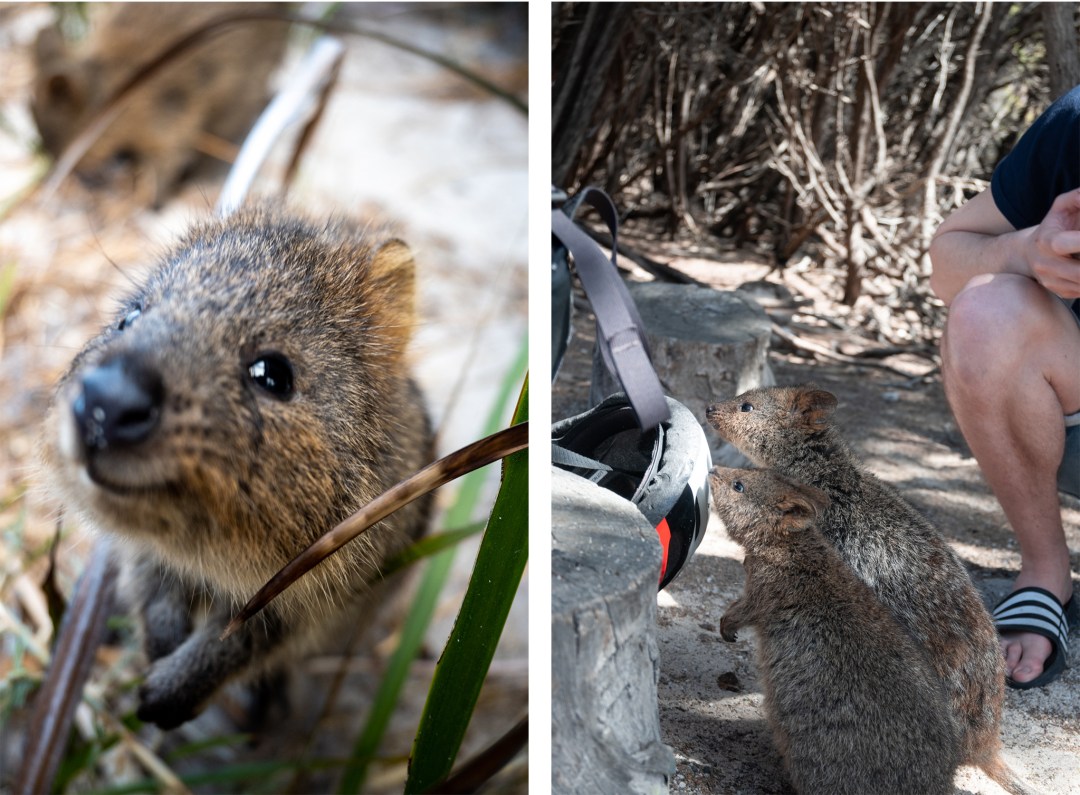 You should never feed a quokka or tempt it with food to get its attention. It harms the little animals and you risk being bitten. However, quokkas tend to be aware of the fact that humans carry food with them (an unfortunate side effect of when people break the rules and feed them). They are usually interested in any bags you have with you and will want to sniff them. If you place your backpack in a place where you want the quokka to look for a picture you might have better luck with getting it to look in a certain direction.
Again, be careful though not to give a quokka access to food even if it wasn't on purpose.
HOW TO APPROACH A QUOKKA IF YOU'RE TAKING A PICTURE
Although quokkas are used to human contact they are still wild animals that you should never touch. Any contact between a human and a quokka can make both parties very sick. In addition to that, you risk being bitten. Quokkas may seem friendly but if you invade their personal space too much they can get aggressive.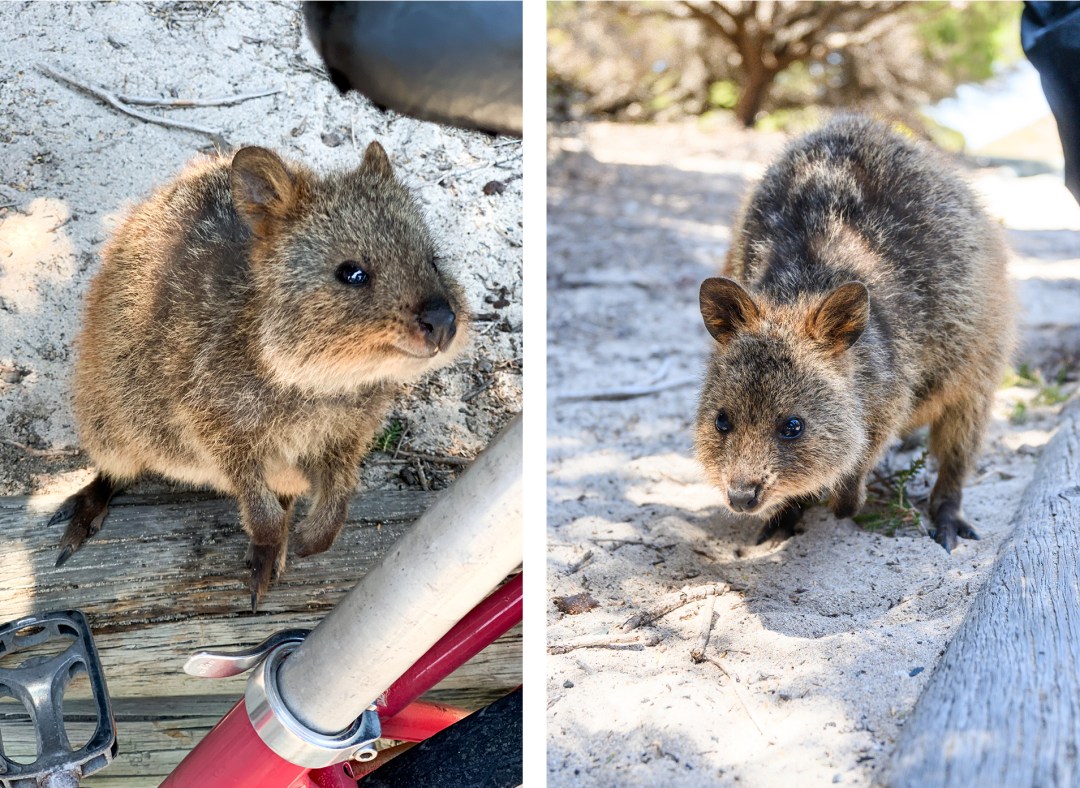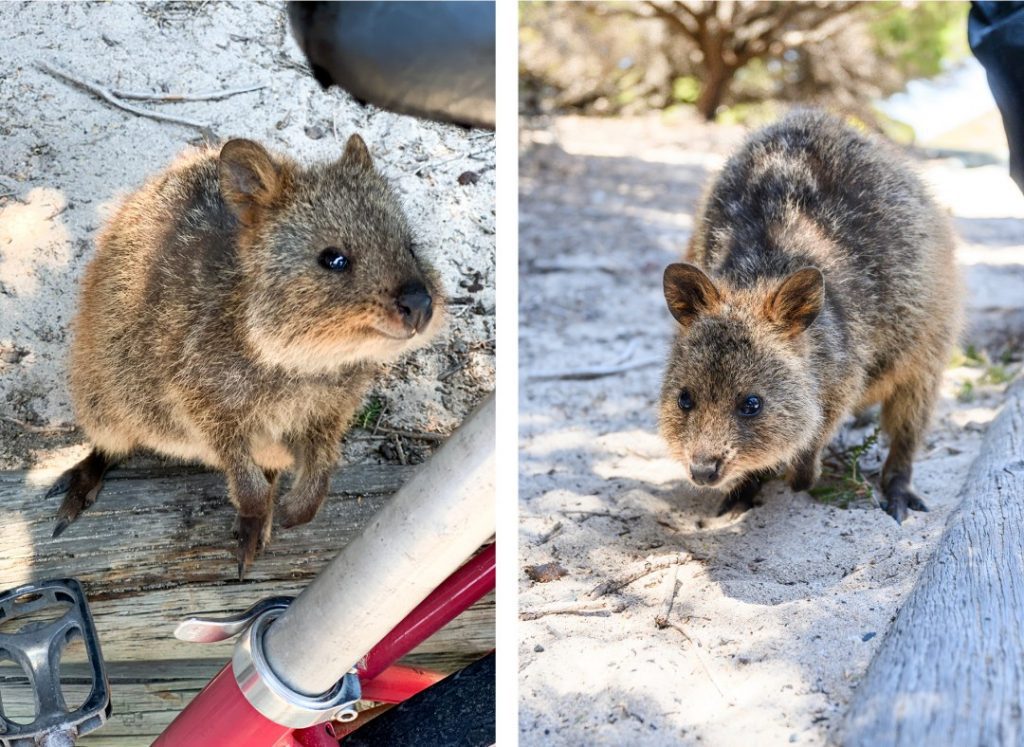 Always be respectful when taking pictures of a quokka. You can get close but make sure to give the animal a break after a little while and not bother it for too long. Never touch or pet a quokka or most importantly give it food or water. Any outside food will unbalance a quokka's delicate system and make it very ill.
Quokkas are very good at finding food and do not need outside help to survive. Rottnest is a paradise for them and they have plenty to eat. They get all their water from their food intake so there is no need to give them any. It will only harm them.
Don't chase quokkas or follow them if they're trying to get away to a more quiet place. If you see an injured quokka or other visitors mistreating one contact the Rottnest Island rangers. More information here.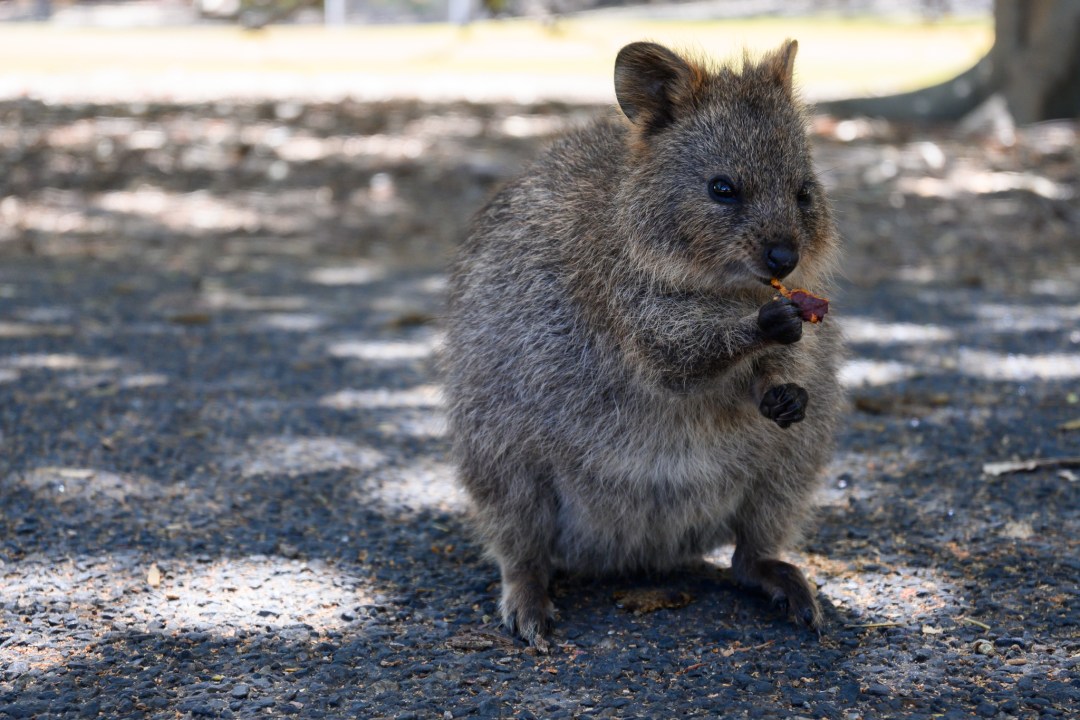 TOP 10 TIPS FOR TAKING A PICTURE WITH A QUOKKA
To summarise here are my top tips to take the perfect quokka picture.
Rent a bike to ride around the island. You'll be far more likely to spot a quokka that way.
Take your time and go slow. Look closely at shady areas under bushes and trees to find a quokka.
Ask a local or look out for groups of people crouching on the ground.
Quokkas are nocturnal so you'll usually have better luck spotting one in the afternoon.
Use a selfie stick to get a better angle.
Turn your phone upside down in selfie mode to get a great picture.
Be patient and take lots of photos to be more likely to get the perfect one.
Respect the quokkas and never touch or feed them.
Try to find a quokka that is sitting in an elevated place so that you're at eye level when crouching down and taking a photo.
Enjoy your day in Rottnest. Perfect photos aren't everything, don't forget to make the most of the day.
Read everything you need to know about Rottnest Island in our complete guide.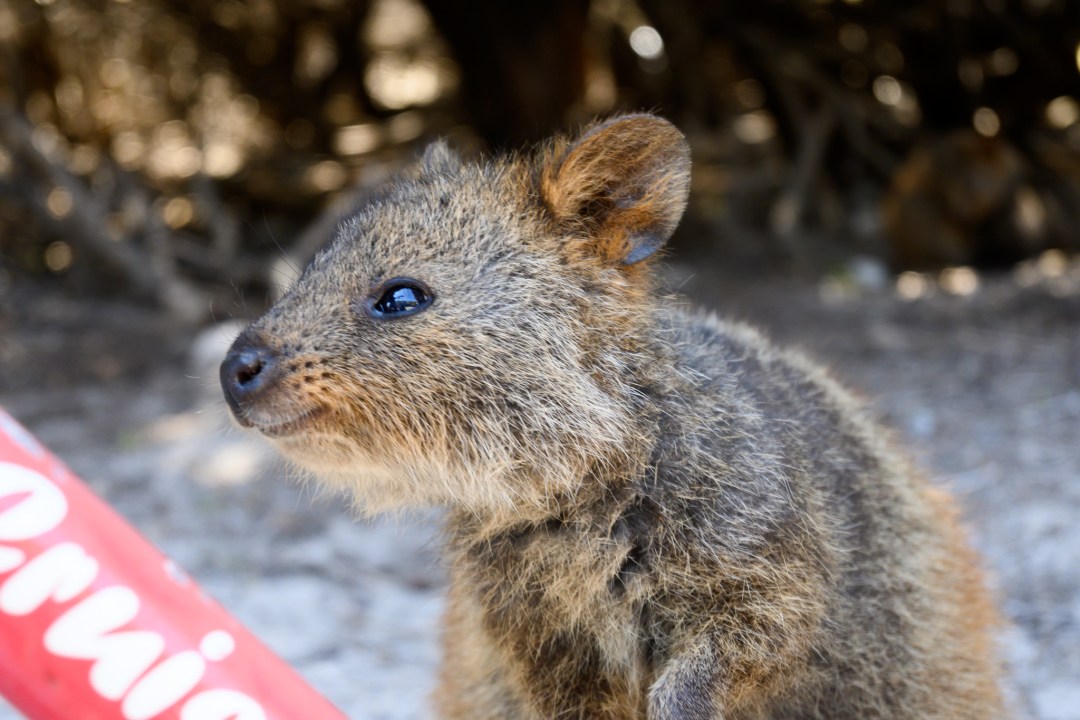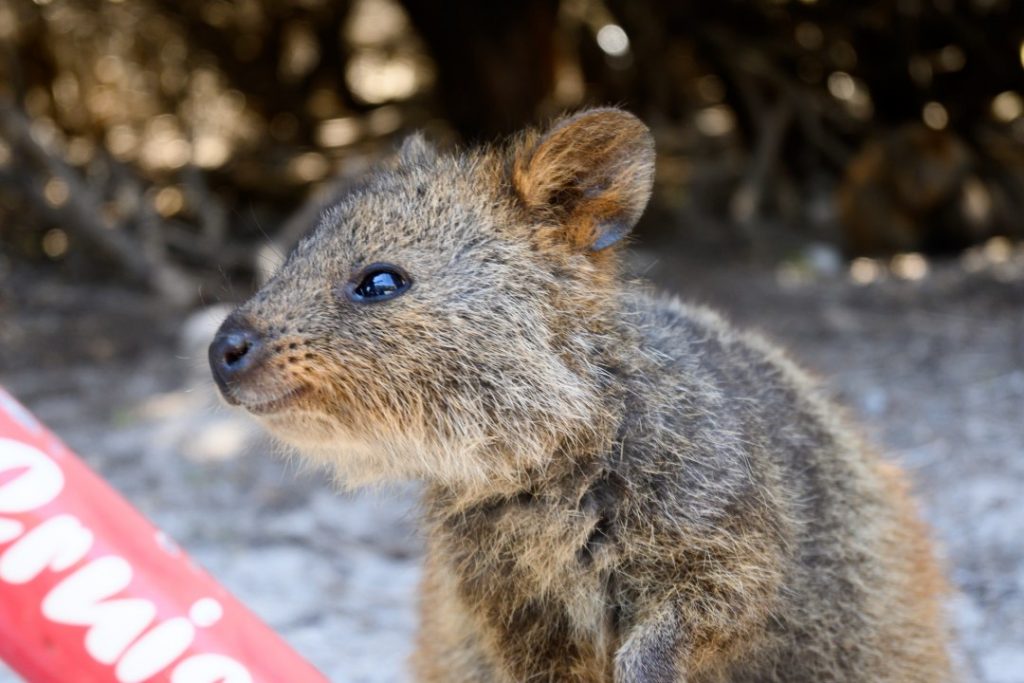 My most important travel tips and resources
Book your flights
Skyscanner is the best website for finding cheap flights since it works like a search engine so you can find the best deals across all airlines.

Book hotels and hostels
• Booking.com: Best world-wide
• Agoda: Best in South East Asia
• Hostelworld: Best for hostels

Book tours, transport and rental cars
•Viator: The best place to book tours, day trips and excursions for al budgets
•12Go: Great for ferries, trains, transfers and buses in South East Asia
•Discover Cars: Best deals for rental cars around the word

Get travel insurance
Every traveller needs travel insurance and I mean every single one. SafetyWing covers you in case of injury, illness or worse and they've got your back if your bag is stolen, flights are cancelled or in case of a natural disaster.

Pay abroad
Ask any traveller, Wise is the best choice when it comes to sending money abroad. They've always got the best exchange rates, lowest fees and their visa card is great for getting cash out or paying abroad.

Things every traveller needs:
➼ Osprey Farpoint 70 Backpack
Detachable daypack, ultra-light, durable and free repairs for life. There's a reason why so many backpackers have this bag.
➼ Packing Cubes
Packing cubes are a gamer changer, keeping your luggage organised and providing tons of extra space.
➼ Power bank
There is nothing worse than running out of battery on an overnight bus journey or a long flight. With a powerbank you can charge your eletronics on the go and make sure you're always connected.
➼ Micro-fibre towel
These lightweight towels are foldable, fast-drying and so useful when you're travelling.

➼ You can find 15 more things every traveller needs here. Some might be a bit controversial but I warned you!
Did I miss anything?
If you have any questions or feel like something is missing from this post please leave a comment below or contact me.