If you're looking for a day trip from Madrid, the Monasterio de San Lorenzo de el Escorial is the perfect choice for those eager to see the best Spanish palaces. This complete guide to one of Spain's most famous royal sites will tell you all you need to know before you go including how to get to San Lorenzo de El Escorial from Madrid, where to buy tickets and how the history of Spain is connected to this monastery.
This post may contain affiliate links, which means we'll receive a commission if you purchase through our links, at no extra cost to you. This helps us keep Guide your Travel free and provide high-quality content for you. Please read the full disclaimer for more information.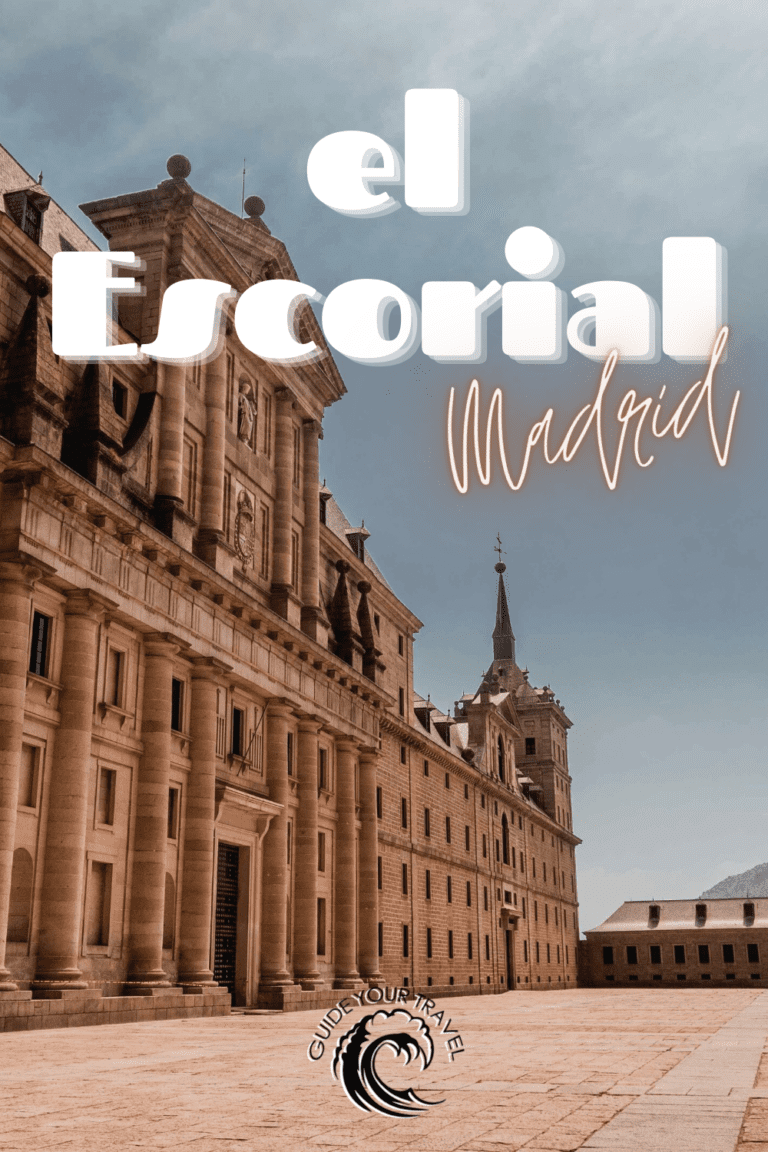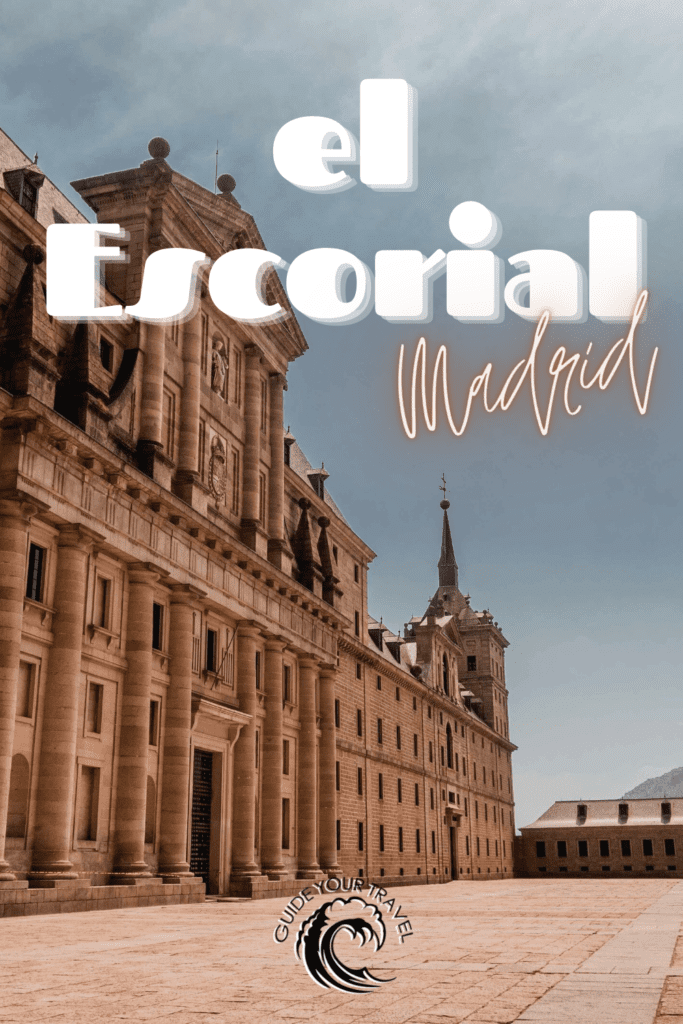 What is San Lorenzo de El Escorial and why it's the best day trip from Madrid
The Royal Seat of San Lorenzo de El Escorial is a 16th century monastery in renaissance style located around an hour outside of the city of Madrid. The complex has more than 33,000 square metres and is one of the most impressive Spanish palaces. San Lorenzo de el Escorial also one of 49 UNESCO World Heritage Sites in Spain and a popular day trip destination from Madrid. The monastery sits at an altitude of 1028 metres in the Guadarrama mountain range which provides the perfect scenic backdrop to the historic site.

Add a day trip to this mystical place to your list of things to do in Madrid and if you enjoy visiting royal sites and immersing yourself in local history El Escorial is a fantastic choice. Parts of the Monasterio de San Lorenzo de el Escorial have been transformed into a museum where visitors can marvel at ancient artefacts, historic architecture and lots of art. The Jardín de Los Frailes which are the formal gardens of El Escorial, are equally as beautiful and well worth a visit.
Where is the Monasterio de San Lorenzo de el Escorial in Spain?
San Lorenzo de El Escorial is located around 55 kilometres north-west of Madrid in a rural area with beautiful hills and small mountains. It takes an hour to drive there from the city centre.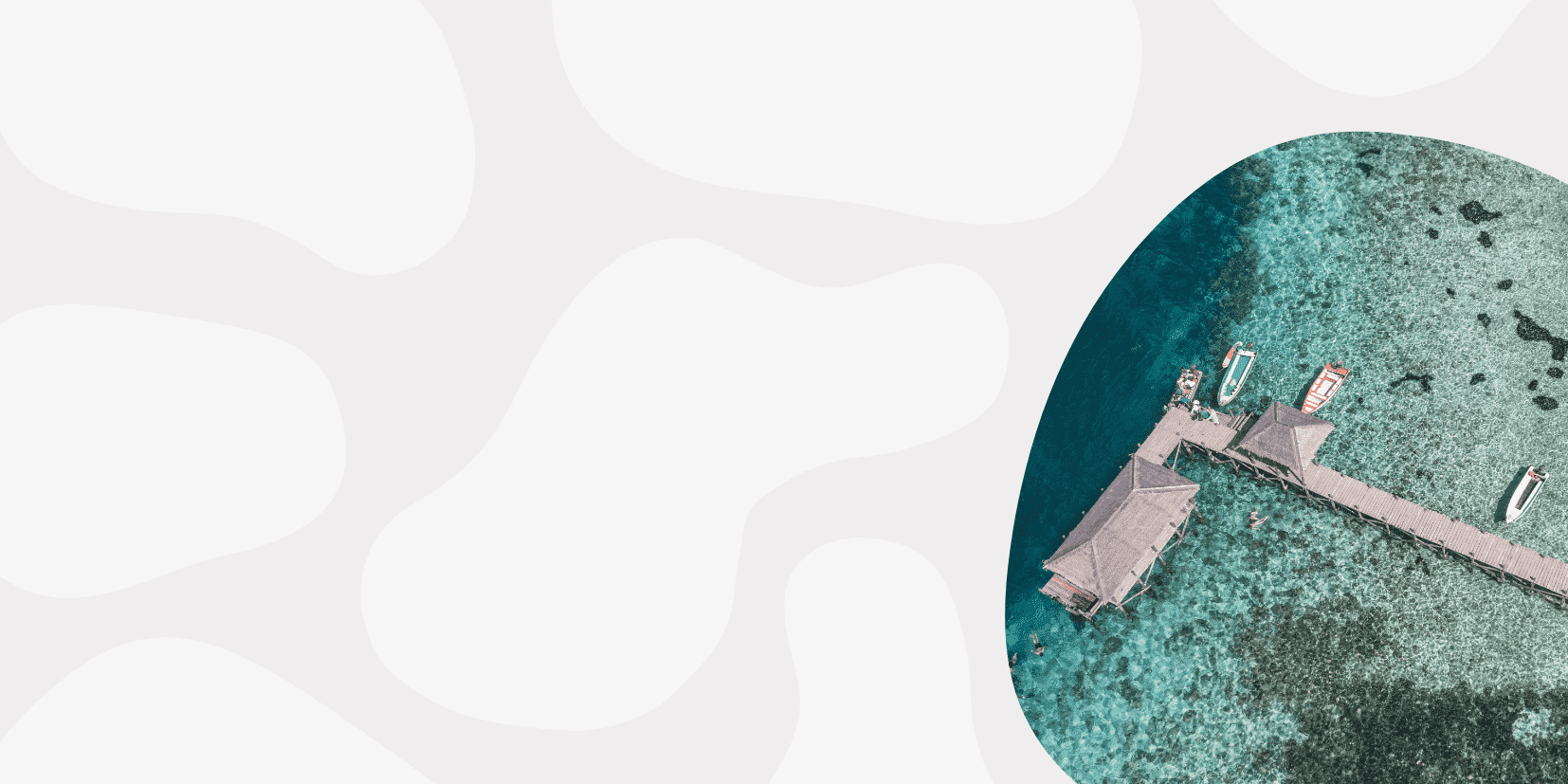 Let me save you time and effort when you're travel planning!

➼ Best travel insurance? SafetyWing
➼ Best place to find cheap flights? Skyscanner
➼ Best bank & credit card for travellers? Wise
➼ Best travel backpack? Osprey Farpoint 70
El Escorial History
El Escorial has a rich and interesting history. I highly recommend learning more about it's past if you're interested in these sorts of things.

The Monasterio de San Lorenzo de el Escorial was built between 1563 and 1584 by request of King Philip II and is considered the largest renaissance building in the world. The King commissioned the architect Juan Bautista de Toledo who had previously worked as Michelangelo's assistant in the Basilica of Saint Peter in the Vatican to plan this impressive royal site. Unfortunately, he passed away in 1967 before El Escorial could be completed and the job was given to Juan de Herrera who gave the complex his signature style which involves a lot of symmetrical features. King Philip II loved nature and the calm it brought him so he put a special focus on the gardens of the monastery which he used for meditation. However, in a far less peaceful note, Philip technically had the palace built as a way to celebrate his win against the French in the battle of San Quintín. In addition to that, King Philip's father had passed away leaving confusing instructions on where he wanted to be buried. To solve the problem, Philip decided to construct a resting place where members of the Spanish royal family could be buried from then on. To this day, this is a tradition in Spain and the crypt of San Lorenzo de el Escorial is open to the public. El Escorial was a personal project for King Philip and he frequently visited the construction site and oversaw the plans himself which was highly unusual during this part of history.

Over time, El Escorial has had many purposes. It was a royal residence (although King Philip was the only royal to ever live there permanently), a boarding school, a hospital, a religious centre and a monastery. The Augustinian monks still live in El Escorial today and are a living piece of history.
In November of 1984 San Lorenzo de el Escorial was declared a UNESCO World Heritage Site of Spain and today it attracts more than 500,000 annual visitors.
El Escorial Opening Hours
The opening hours for El Escorial change according to the season in Spain. There are separate winter and summer hours and the monastery is closed on specific days which you can find here. Normally, it's open every day except for Mondays. Here are the specific opening hours.
Winter (October to March): 10:00 AM; to 6:00 PM every day, closed Mondays
Summer (April to September): 10:00 AM to 7:00 PM every day, closed Mondays

Special closing days change from year to year but usually include:
1st January
6th January
May 1st
December 24
December 25
December 31
The ticket office closes one hour before closing time so make sure you arrive early or they will not let you enter.
Top Tip: Always check the current opening hours before going on your day trip from Madrid to El Escorial in case there is an unexpected public holiday.
How to get to El Escorial from Madrid
The palace is located less than 50 kilometres from the Spanish capital. That mean El Escorial is relatively easy to reach from Madrid and you can even get there with public transport either by train or bus. Driving will be quicker and slightly more convenient though.
Car
If you have access to a car in Madrid during your time in Spain it's highly recommended to drive to El Escorial. The trip will be faster and more comfortable than the bus and you'll be flexible in choosing how long you want to stay. The drive takes around one hour and you can stop at other notable attractions on your way such as the ones listed at the end of this article.

Driving in Spain is relatively easy in general, however, the highway system in large cities like Madrid can be confusing. Take your time and go slowly to avoid unnecessary accidents.
Where to park close to the Monasterio de San Lorenzo de el Escorial
There are lots of parking lots to choose from close to the palace. Have a look at the map to see the options. Most charge somewhere between €2 and €4 per hour which is relatively reasonable. The daily maximum lies close to €30.

I recommend the Public parking BENCAR EGS, S.A parking garage which costs €2.70 per hour and lies literally right next to El Escorial and next to a nice plaza with restaurants.

Finding free parking close to El Escorial is very difficult. Don't try to park somewhere on the street without paying as you'll almost be guaranteed to be fined. The local police is very strict since so many tourists visit this area and they're used to finding illegally parked cars.
Bus
There is a great bus connection from Madrid, the capital of Spain to San Lorenzo de el Escorial. Get the ALSA 664 (or 661/687) bus which departs from Moncloa Bus Station and takes you to a bus stop around 500 metres from the monastery. Tickets for the bus to El Escorial are very affordable and only cost €4 per person. The ride takes just under 1.5 hours. The bus departs as frequently as every 10 minutes and the last one from El Escorial back to Madrid leaves at 8:30 pm on most days although you should double check the schedule.
Train
You can also take the train from Madrid to El Escorial which is more comfortable than the bus but involves a bit more walking. The C3 train departs from Puerta de Atocha (also Sol and Nuevos Ministerios) and takes you to El Escorial. Tickets cost €8 one-way and the ride takes just over an hour. The walk from the train station to the monastery takes around 20 minutes (1.8 kilometres).
Top Tip: Double check if this train is operating before you go on your day trip from Madrid to El Escorial. The schedules can be a bit unreliable sometimes.
Best time to go to El Escorial
You can visit El Escorial year-round and there is no best time to go. Since the monastery is located in a mountainous area that lies higher than Madrid it's not uncommon to encounter snow here during the winter. Keep in mind that public transport might be impacted by this if the weather conditions are extreme. During winter, autumn and spring El Escorial is usually less crowded than in summer when most tourists visit Spain.

The gardens of El Escorial are definitely most beautiful during late spring and summer. The royal site tends to be most crowded on weekends during the summer especially in June and September. If you're able to you should visit during the week for a quieter experience. The tour buses tend to arrive around noon or the early afternoon so arrive before that to avoid the crowds.


How long to spend at El Escorial
The Monasterio de San Lorenzo de el Escorial is very large with lots of areas to explore. Plan to spend at least two to three hours here if you want to take your time and see everything plus time to spend at the gardens. You'll need an entire day trip if you're visiting El Escorial from Madrid especially if you want to take time to learn about the history of this fascinating place.
What to bring to El Escorial
During winter, parts of El Escorial might be a bit chilly so make sure to bring a jacket even though you'll be inside. Even though taking photos is prohibited in many parts of the monastery you are allowed to bring your camera. While you won't be able to use it inside the monastery you might still want to bring items like a tripod or drone which you could use later on after your visit. The gardens are a beautiful space for taking photos and you should be able to fly your drone nearby although I would avoid doing it too close to the monastery.

Since you'll be walking through the many rooms for quite a few hours make sure to bring water and don't arrive hungry. It'll be some time before you get a chance for a snack.

Only bring a small bag to avoid having to leave it at the cloakroom.
What to leave at home
You're technically not allowed to bring food or drinks into the monastery. However, there are no bag searches and no one will really check. Just make sure you're unpacking any food during your visit and avoid having a picnic somewhere. If you have an occasional drink from a water bottle it should be absolutely fine.

There are metal detectors at the entrance of the monastery for safety reasons. It goes without saying that you need to leave any dangerous items or weapons at home.
Backpacks and large bags
Technically you are not allowed to bring bags larger than 30 cm x 20 cm x 20 cm into the monastery. However, this is enforced seemingly randomly and you might get away with taking a slightly larger bag inside. Just try to pack light. There is a cloakroom available where you can leave larger items.

You'll be asked to carry your bags (including backpacks) in front of you to avoid accidentally damaging artworks.
Can you take photos inside El Escorial
You're not allowed to take photos inside most parts of El Escorial. There is a lot of staff who strictly enforces these rules and you'll get into trouble if you get caught. Don't take any flash photos as this might harm the delicate art work and be discreet if you want to sneak the occasional picture.
El Escorial ticket prices
There is an entrance fee to visit El Escorial although you can visit the Jardín de Los Frailes, the gardens of the monastery for free. Here is a list of prices:
€12 regular ticket
€6 children aged 5-16
€6 people over 65
€6 students (ID needed)
Free for people with disabilities and the unemployed (Spanish proof of unemployment needed)
€5 audio guide
El Escorial where to buy Tickets
You can buy tickets for San Lorenzo de El Escorial either online or in person at the monastery. There is an accelerated line for those who bought their tickets in advance which doesn't mean you don't have to wait in line at all but it will most likely be a bit faster. On quiet days you won't have to wait for too long so you can just buy your tickets on arrival. However, if you already known when you'll be visiting El Escorial it might be smart to purchase your tickets online in advance to make sure you'll get in. Just be aware the you need to specify a time when buying tickets online. Slots are available in 15-minute intervals and don't have a limit on how long you can stay. In general, the staff is very lenient in case you arrive early or late but on very busy days they might enforce these rules so make sure you can actually arrive on time.

Tickets for El Escorial rarely sell out but if they do it's usually on weekends during the summer. If you'll be visiting during this time it might be better to prebook. During the week you should be fine.

If you're interested in joining a guided tour I'd recommend booking your tickets online as these do sell out even during the week and in winter.
Who can book tickets for El Escorial online
You can book all types of tickets for El Escorial online including student fares, children's tickets, tickets for the elderly and unemployment tickets. Just make sure you've got proof of your status with you if you're buying a reduced ticket like a student ticket. This could include your passport to prove your age or your student card. They will ask you to show your documentation at the entrance and might refuse you entrance if you do not have the right documents.
Top Tip: Each online order needs to include at least one paying ticket, not all of them can be free. If you're only buying free tickets you need to do so on arrival or pay for at least one of them.
You can also book audio guides and group tickets for El Escorial online. Group tickets will require some sort of proof from an educational institution or cultural group which can be tricky as a tourist so don't pay too much attention to this option. You can only buy up to eight tickets at once online and will need to make a separate order if you want to get more.

You can only buy tickets up to 30 days in advance. They are released every day at 9:00 AM on the website of the monastery. You'll need an email address where your tickets will be sent and a credit card to pay (Visa or Mastercard, no PayPal).
There are also many Madrid sightseeing tours available which include El Escorial.
How much is day trip from Madrid to El Escorial
A day trip to El Escorial from Madrid is a great budget-friendly thing to do in the area. Here is a breakdown of what the day might cost you:
€8 return bus ticket
€12 entrance fee (€6 if you have a student ID)
€8 tapas and a drink for lunch
€28 total for a day trip from Madrid to El Escorial
Things to see
Jardín de Los Frailes (gardens)
The gardens of El Escorial are separate from the main complex and can be visited or free. A lot of visitors miss out on this part of the monastery because the entrance is located on the other side of the building. When standing in front of the entrance of the main building head to the right around the corner and all the way to the back where the entrance to the gardens is located.
The view point
There is a beautiful viewpoint located behind the gardens of El Escorial. Instead of turning left to enter the gardens go through the gates and walk straight until you can see water on your left. The view of the palace is absolutely beautiful and the walk is only about 2 minutes.
What's more better: The Royal Palace in Madrid or San Lorenzo de El Escorial?
Madrid is home to some of the best Spanish palaces. If you're trying to decide which royal sites to visit during your limited time in the city you should consider a few things. They both cost the exact same but I would say that El Escorial has slightly more to see than the Royal Palace. The monastery is absolutely huge and together with the adjacent gardens you'll be busy for hours. While the Royal Palace is also quite large it won't take as much time to see. In my opinion though (this is very subjective) I think the Royal Palace might be slightly more impressive than El Escorial. It has beautiful and intricately decorated rooms while El Escorial is not nearly as lavish.

Seeing El Escorial will probably take an entire day if you factor in the time it takes to get there and back from the city. The Royal Palace is located in the heart of Madrid and won't take as much time out of your day. If you're short on time it might be the better option. However, since it's so easily accessible it's also a lot more crowded while El Escorial is more peaceful and less touristy.
So which one should you see?
Are you short on time and don't want to go on a day trip from Madrid to El Escorial? Go see the Royal Palace
Are you interested in Spanish palaces and want an excuse to leave the city? Explore El Escorial and the beautiful surrounding area
What else to see close to El Escorial
If you went all the way from Madrid to El Escorial on a day trip you might want to stop by these attractions and things to do:
Mirador Abantos – Beautiful viewpoint around 2.5 kilometres from San Lorenzo de El Escorial with fantastic views of the monastery from above
La Herrería Forest – Beautiful natural area close to El Escorial that is great for hiking
Benedictine Abbey of the Holy Cross of the Valley of the Fallen – Impressive monastery with a large cross
Casita del Príncipe – Beautiful royal residence that is part of El Escorial (€5 entrance fee, tickets available here)
Village of San Lorenzo de El Escorial – beautiful historic villlage with cafes and restaurants
Places to eat close to El Escorial
If you're visiting El Escorial as part of a day trip from Madrid you'll be hungry at some point. The little town of San Lorenzo de El Escorial has a great selection of restaurants and cafes where you can eat close by. Here are a few recommendations:
Cafetería Paco Pastel – Cute little cafe with views of the plaza and the spires of El Escorial
El Sol Sale Para Todos – Great outdoor seating in a shaded area and just 4 minutes walking distance from the monastery
5 Bellotas – Small traditional bar with great tapas
Restaurante la Chistera – authentic restaurant with affordable deals
Click the images below to pin this post to Pinterest and save for later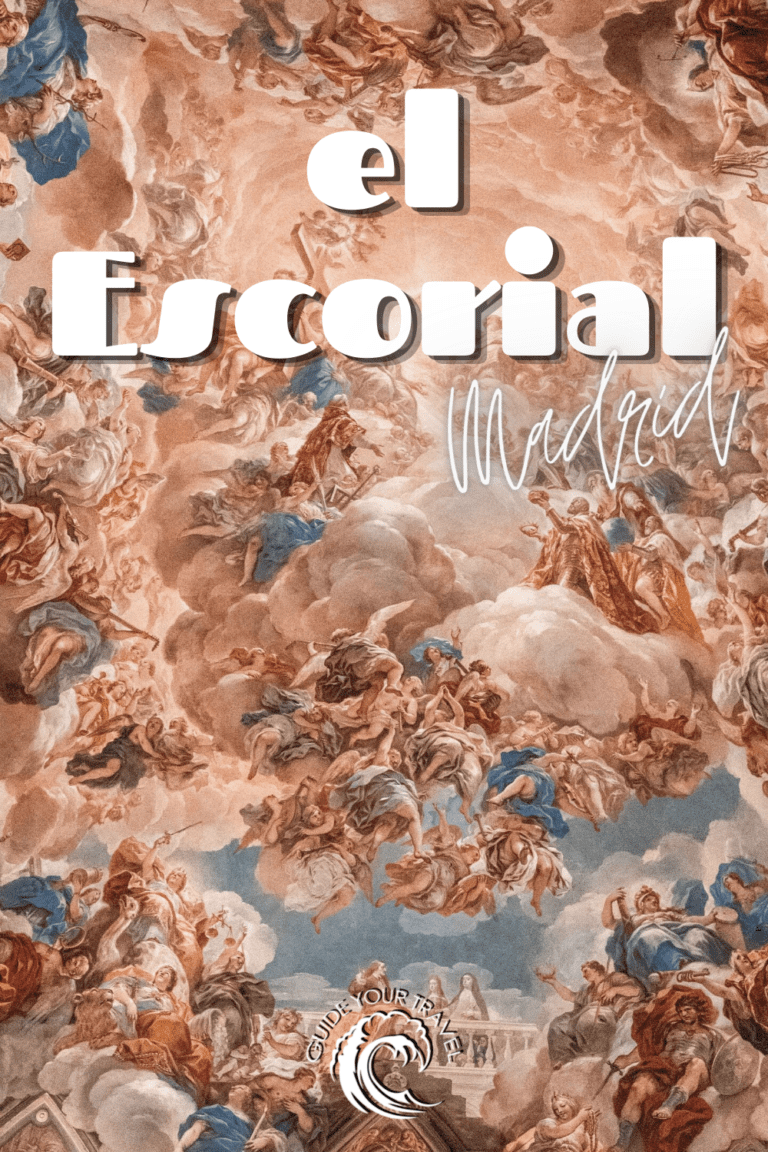 My most important travel tips and resources
Book your flights
Skyscanner is the best website for finding cheap flights since it works like a search engine so you can find the best deals across all airlines.

Book hotels and hostels
• Booking.com: Best world-wide
• Agoda: Best in South East Asia
• Hostelworld: Best for hostels

Book tours, transport and rental cars
•Viator: The best place to book tours, day trips and excursions for al budgets
•12Go: Great for ferries, trains, transfers and buses in South East Asia
•Discover Cars: Best deals for rental cars around the word

Get travel insurance
Every traveller needs travel insurance and I mean every single one. SafetyWing covers you in case of injury, illness or worse and they've got your back if your bag is stolen, flights are cancelled or in case of a natural disaster.

Pay abroad
Ask any traveller, Wise is the best choice when it comes to sending money abroad. They've always got the best exchange rates, lowest fees and their visa card is great for getting cash out or paying abroad.

Things every traveller needs:
➼ Osprey Farpoint 70 Backpack
Detachable daypack, ultra-light, durable and free repairs for life. There's a reason why so many backpackers have this bag.
➼ Packing Cubes
Packing cubes are a gamer changer, keeping your luggage organised and providing tons of extra space.
➼ Power bank
There is nothing worse than running out of battery on an overnight bus journey or a long flight. With a powerbank you can charge your eletronics on the go and make sure you're always connected.
➼ Micro-fibre towel
These lightweight towels are foldable, fast-drying and so useful when you're travelling.

➼ You can find 15 more things every traveller needs here. Some might be a bit controversial but I warned you!
Did I miss anything?
If you have any questions or feel like something is missing from this post please leave a comment below or contact me.