If you've outgrown your old website but have no idea how to improve it then you should consider hiring someone to redesign your website for you. If you're one of those lucky people that was smart enough to educate themselves in web design then good for you. However, most new bloggers struggle with navigating the world of WordPress themes and web design. Save yourself the time you'll spend on Google trying to figure out what Modular CSS or PHP function are. If you've had your blog for a while and are reaching the ends of your DIY capabilities it may be time to hire a professional to help you out.

To make sure you're prepared for the project and know what to expect here are 17 steps you should be taking before hiring someone to redesign your website.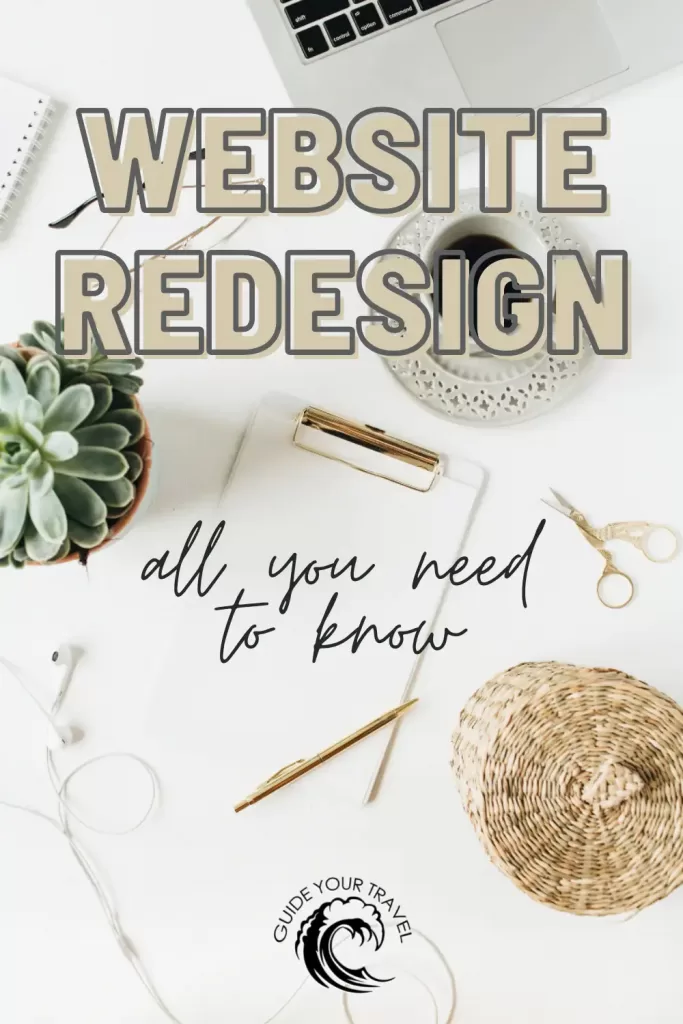 What does it mean to redesign a website
Redesigning a website can mean several things. You could for example either be talking about changing your WordPress theme (assuming you use WordPress which I'm going to do for the sake of this post) or you could simply mean customising your existing theme and giving it an overhaul.
Changing your WordPress theme
This means changing the "skin" of your website and how it functions and looks. WordPress themes come in all shapes and sizes and with different functionalities. A theme change is not necessarily difficult and you could probably do it yourself even with very little prior knowledge of web design. However, WordPress themes are best when they're customised and simply using a theme as it comes is usually rare. This is where it gets a little more tricky and you might benefit from hiring someone to help you redesign your website for you.
Customising your existing WordPress theme
If you're happy with the theme you have but want to give your website a different look you might be able to redesign elements of it without having to start from scratch. Some themes offer great levels of customisation especially when paired with a website builder. This is a great option if you want to change smaller things like design and looks without having to start over completely.
What you need to know before you consider hiring someone to redesign your website for you
Redesigning an entire website is a time-consuming project that can seem overwhelming. It's also not without risk if your blog is your main form of income. Even a small mistake can lead to weeks of delay or downtime in the worst case scenario. Make sure you're prepared and know what you want before you begin this project.
17 Steps to take before hiring someone to redesign your website
1. Decide on your priorities (speed, SEO, design)
Every website is different and will have very different needs. In an ideal world you'll be able to have the perfectly designed and crafted website that's fast, aesthetically pleasing and SEO-friendly.

Unfortunately, in the real world this will require you to have a budget that's much larger than any small blogger can realistically invest.

Before you tackle the project of hiring someone to redesign your website for you you should have your priorities in mind. This will make choosing the right web designer for your project a lot easier.

Is your main goal to speed your site up?

Or are you going for a complete rebrand of your site and want lots of cool design elements?

While you can definitely improve your site in several categories at once it's really helpful to have the most important one in mind at all times during this process.
2. Set a budget (and be prepared to go over)
All web design projects start out with a budget that ends up being doubled by the end. You'll soon realise that quality has its price and that the cheapest option will definitely not be the best.

You won't have trouble finding someone who will redesign your website for around 200$.

The question is just how good the end result will look and whether you'll end up having to hire someone else to redo all the work in only a few months. Consider how long this project will take and then roughly calculate the hourly rate you'll be paying.

If it's ridiculously low you should definitely think about increasing your budget. Spending between 500$ and 1000$ will yield much better results if you pick the right web designer.

If you're not ready to invest this amount of money into your blog just yet then why not wait a bit until you can. In the long run this will be far more sustainable and a better investment.

Common mistake: Don't forget to factor in a tip for your web designer. While it's not required it's a nice gesture to give them a tip at the end of the project especially if you were satisfied with their work.
3. Do some research on themes
We all want a light-weight theme that's easy to navigate and as fast as possible. There seems to be a new theme every few months that claims to be the fastest and best.

Every web designer tends to have a favourite theme they'll talk you into getting. Following the advice of a professional is definitely great idea but you should also be doing your own research.

Find out more about popular themes in your niche and which ones are used by blogs you like. The more you know about WordPress themes before you hire someone to redesign your website the easier it will be to make an educated decision.
4. Use the website WordPress theme detector
One of the most useful tools for finding the right WordPress theme is the WordPress theme detector. This website will show you which WordPress theme websites are using. Simply put in the URL of your favourite blog and find out what their theme is. This is incredibly helpful to for finding inspiration and new ideas for WordPress themes.
5. Go on Pinterest
Pinterest is the place to go for all types of inspiration. If you're trying to make your website more modern and aesthetically pleasing you'll find lots of cool examples on Pinterest.

The more design inspiration you have the easier it is to come up with a mockup for your own website. You can either do this yourself or let your web designer be creative using the inspiration materials you provide.
6. Look at what others in your niche are doing
Take some time to check out other blogs in your niche and find ones that you like. You can pick and choose design elements or features that you think work well and you might want to implement on your own site.

Most of the time large blogs are popular for a reason so pay close attention to how they set up their sites and preset their content. Don't forget to bookmark your favourite websites so you can refer to them throughout the design process.
7. Make a sketch
Depending on who you hire to redesign your website for you you might have more or less responsibility when it comes to the actual design process. Some web designers will have complete creative freedom and you can make minor edits while others will take your ideas and implement them exactly how you want them.

Both are great options and can work well depending on your own personal preference. If you're not a fan of graphic design and website layouts this step might not be very important but I personally loved coming up with sketches for my website and drafting it exactly how I want it.

Just make sure you're discussing this with your web designer and let them know whether you'd like their input or not.

In my case, sketches really helped me figure out where what is supposed to go and how to make everything look good together.

Bonus points if you have experience with using Photoshop which can help create more realistic mockups. Canva is also a good option, however, pen and paper will be easiest and very quick.
8. Pick fonts
Fonts are a lot more important for web design than you might think. If you have your heart set on a specific font for parts of your site make sure to check whether you have the correct licence to use it.

Using Google Fonts is a good option for smaller bloggers as they're free, universal and super easy to implement. Having your favourite fonts ready to go will save you time in the web design process.

If you can't decide or don't care very much your web designer will be happy to help of course.
9. Set a launch date and then forget about it immediately
Hiring someone to redesign your website is a time-consuming process.

Set aside at least two weeks to plan the process, then another two to find the right person to hire. Then at least 6 weeks for the design process which doesn't include revisions. Another week or more will be needed for the go-live process and then at lest two to fix errors or bugs.

All of these are just rough time estimates of course and will depend on the size and scope of your project. Roughly three months is a realistic minimum time-frame for the entire project from start to finish.

The worst you can do is set a launch date in your head and then fixate on it. Chances are the process will take a lot longer than expected so the more flexible you are the better. The revision process is especially time consuming and can take weeks or months.
10. Check out some premium plugins
Too many plugins can weigh your site down and make it slow. However, a few can be useful and really set your blog apart from others in your niche. A website redesign or theme change is the perfect excuse to step up your game and give your site some premium features that others might not have.

This could include an interactive world-map, a sticky table of contents or a preview of your Instagram feed (these are all quite basic but just examples). There are of course far more exciting ones out there so do your research.
11. Backup your site
Before you take any steps to change your WordPress theme or make major changes you should always backup your site. There are plugins that will handle regular backups for you such as Updraft.

You should be backing up your website regularly anyway but during a theme change this is even more important in case anything goes wrong. It's also important to have a backup of your old site in case you need to go back to it for some reason.
12. Make a list of how many pages and posts your website has
This information is really important when asking for price quotes from web designers. The size of a website will have a considerable impact on how much you'll be charged to redesign it.

Make sure to differentiate between static pages and blog posts which are very different from one another. The more pages a website has the more it will generally cost to redo it while blog posts are less important.
13. Consider a rebrand
A WordPress theme change or redesign is the perfect excuse for a rebrand. If you've been tired of your old logo or brand kit you should consider changing it all at once or at lest having your new branding in mind when you redesign your website.

You don't want to spend hundreds of dollars on a new website only to realise that it doesn't fit your brands visuals anymore a few months later. Carefully consider where you want your blog to go and how its looks will work together.
14. Pay attention to the small details (menus, setup etc)
Redesigning a website is so much more than just picking layouts and colours. You need to consider every little detail of your site and how you want it to look. It's easy to forget about things like menus, footers or search bars. Also, take some time to think about how your website is set up.

Do you have static category pages?

Are your categories still making sense or is it maybe time to reorganise?

Are there any new pages you might want to include?

All this information is really important for your web designer to know before they tackle the project. The clearer your idea of what you want is from the beginning the easier it will be to complete the project successfully and quickly.
14. Have all your logins ready
Your web designer will need to access many different parts of your website and other accounts. Having all your logins ready to go (and figuring out how to grant non-admin access) will save you a lot of time.


This can include your hosting, WordPress, any accounts you used to purchase themes or plugins, mailing list services or things like Ahrefs or even Google Search Console.

Of course, make sure to change your passwords and access details after the project is completed.
15. Consider your needs in the future
Some web designers will offer website maintenance as part of their price or for a small extra fee. Consider what your needs will be in the future and whether you'll need someone to help you with maintenance or any issues that arise.

If you have decent knowledge of web design you might not need someone to help you out but if you're a complete beginner consider finding someone who will assist you in the future.
16. Consider website builders
A great way for beginners to be able to customise and maintain their own website in the future is to use a website builder like Elementor or Divi.

These are very visual editors and can help you change elements on your site around without too much effort. They can weigh your site down however so use with caution.
17. Put together two documents
Now that you've gathered all the information you need you should sit down and put together two documents. The first will be your pitch which should include all the information of your project such as:
Number of pages and posts
Expected time-frame
Theme and website builder preference (if any)
Link to current site
Needs (speed, SEO, design, mobile-usability etc)
Design features (plugins etc)
This document should summarise all the important things you'll need and will tell your web designer everything they need to know for pricing and how long it will take them.

The second document will be more detailed and should include any sketches and more detailed features. Once you've picked someone to redesign your website for you you'll send this to them so they've got all the important information in one place. You should also include any websites you're using as inspiration or even a link to Pinterest board.