If you're only visiting Nusa Penida for a few days, chances are Tembeling Beach is not on the top of your to-do list. The island's most famous attractions are usually checked off by tourists in a routine fashion. Everyone visits Angel's Billabong, Broken Beach, Kelingking Beach and then Crystal Bay. Or if you're visiting the east coast Diamond Beach, Atuh Beach, the Thousand Island Viewpoint and Rumah Pohon Treehouse.
Do any of these sound familiar? Well, I'm here to tell you that while these are all without a doubt stunning spots and not to be missed, Nusa Penida does have more to offer.
While the island is on the brink of mass tourism you might still get a chance to explore some of the more secret spots in relative peace.
Tembeling Beach and its natural pools are special because they don't feel like they're part of Nusa Penida at all. It's like entering a different world and finding yourself in a dense forest that opens up onto a dreamy beach and almost artificial-looking pools.
This post may contain affiliate links, which means we'll receive a commission if you purchase through our links, at no extra cost to you. This helps us keep Guide your Travel free and provide high-quality content for you. Please read the full disclaimer for more information.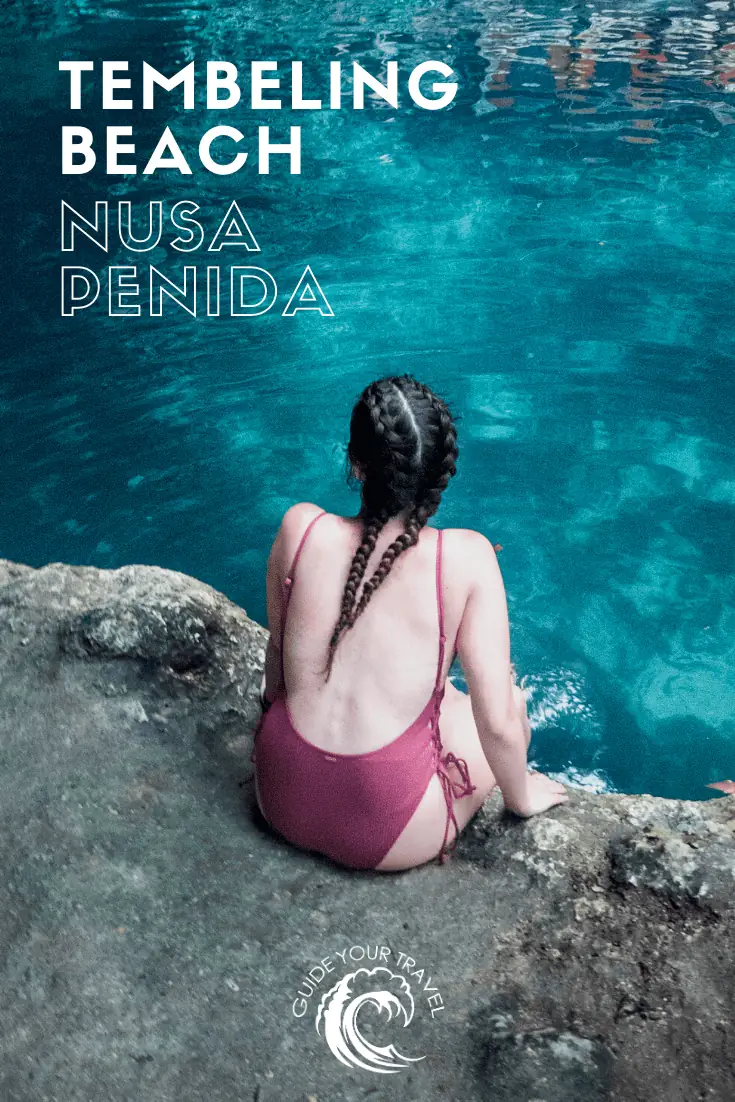 HOW TO GET TO TEMBELING BEACH
Tembeling Beach is located on what you would consider the west coast of Nusa Penida. Most tourists will split their visit into two distinct day-trips; one for the east coast of the island and one for the west. This is useful since the island's infrastructure is so terrible that it takes hours to drive even short distances. Most places that are geographically close will be very hard to visit in one day since there are no connecting roads.
Are you planning a trip to Nusa Penida? Check out our 3-day itinerary here.
CAR OR MOTORBIKE?
Nusa Penida is famous for its notoriously bad roads. Even if you are an experienced motorbike rider I would not recommend renting one here. The roads are steep and mostly gravel and local drivers drive ruthlessly with no regard for the safety of tourists on motorbikes.
It's common for tourists to overestimate their abilities and either end up pushing their bike uphill in the sweltering heat or having to be picked up by their accommodation.
Driving here can be especially tricky if you're carrying a passenger on your bike as you have to go at high speeds to make it up the hills.
If you're not extremely confident on a scooter, do yourself a favour and get a driver. You'll be spending a lot of time getting from place to place on this island and will have a much better experience if you spend it sitting in an airconditioned van rather than getting sunburnt on a bike.
You can get back to the freedom of exploring on a bike on the next island you visit.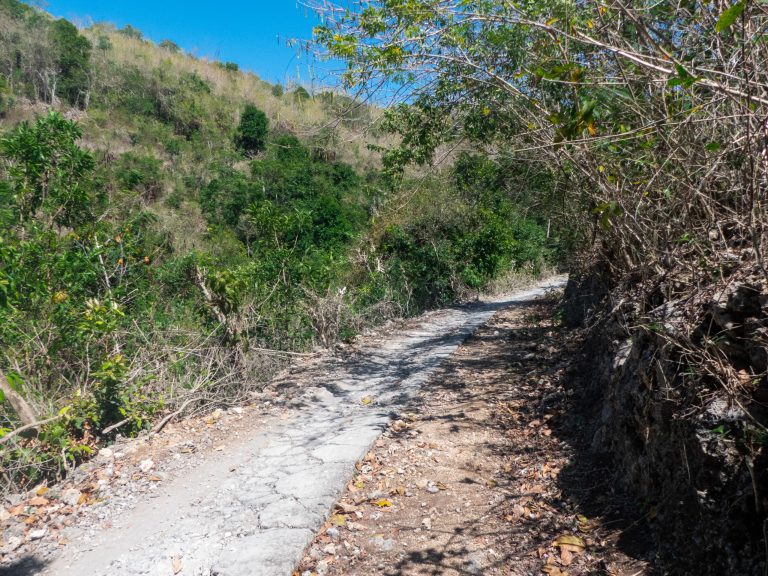 HIRING A DRIVER
Plenty of people chose to explore Nusa Penida via car. Many locals earn their living by providing taxi and day-trip services. You can hire a driver for 10 hours which will cost you roughly IDR 500,000 (~ €32) including parking and petrol. During this time the driver will take you anywhere you like, within reason of course. Make sure to tell them your itinerary beforehand and they will let you know what's realistic.
You can find numbers for drivers online in Facebook groups or on Google. I'd be happy to recommend drivers if you send me a private message.
You can also ask your accommodation in Nusa Penida, however, you'll have a harder time bargaining for a good price.
Make sure you don't overpay and give your driver a tip at the end of the day if they did a good job. It is also customary to pay for their lunch.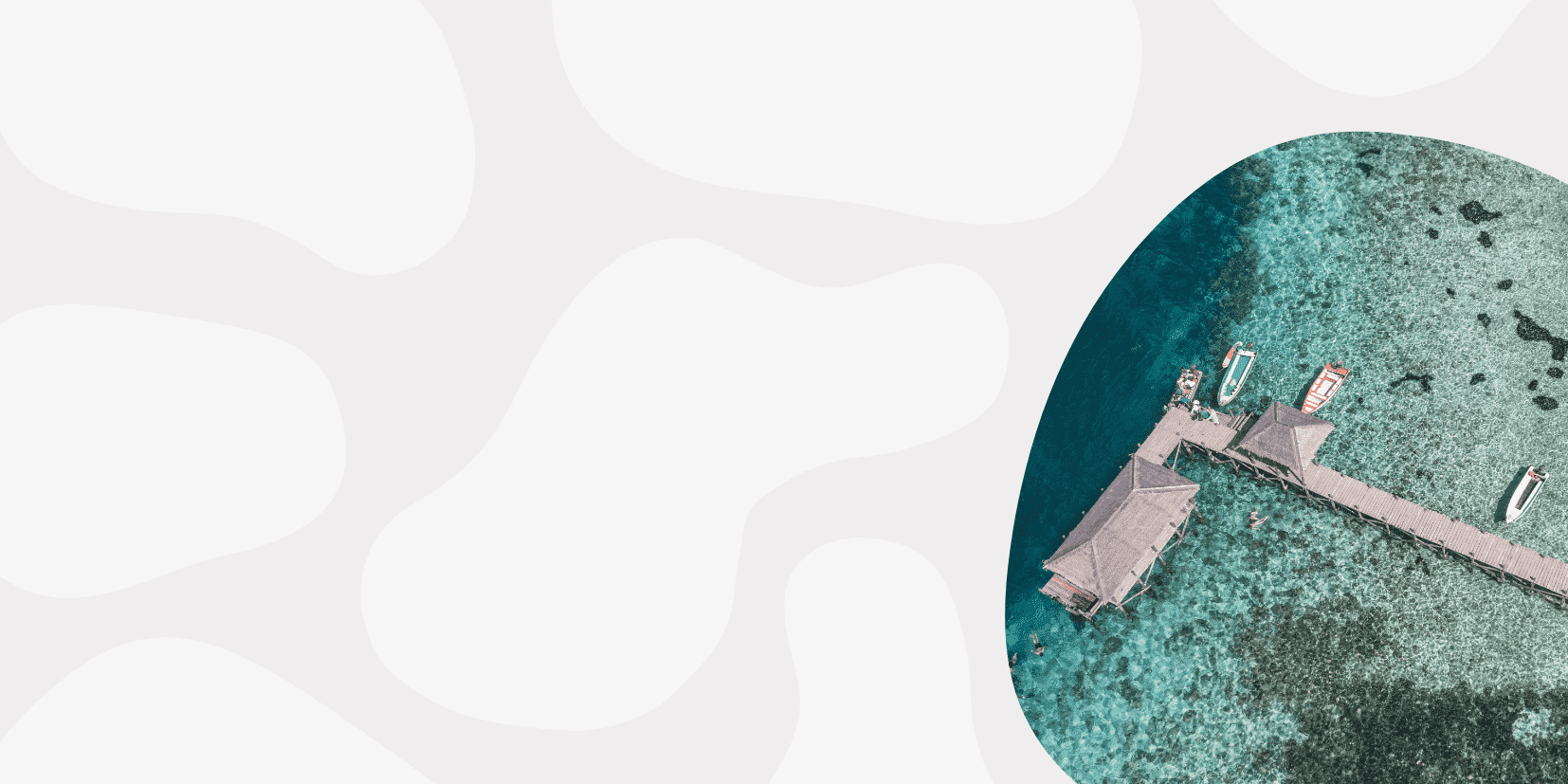 Let me save you time and effort when you're travel planning!

➼ Best travel insurance? SafetyWing
➼ Best place to find cheap flights? Skyscanner
➼ Best bank & credit card for travellers? Wise
➼ Best travel backpack? Osprey Farpoint 70
HOW TO FIND THE BEACH AND NATURAL POOLS
Unfortunately, Tembeling Beach is slightly tricky to reach. It's not accessible by car which means you either have to walk for around 30 minutes or go by motorbike.
To get to the parking area where you will have to leave your car you have to enter this address into Google Maps: Batumadeg, Nusapenida, Klungkung Regency, Bali 80771, Indonesia.
This is the actual location of the beach and will show you the closest point you can reach by car.
At the car park, you'll be greeted by locals telling you that you shouldn't walk down to the beach and that it takes too long. They'll offer to take you down by scooter for around IDR 50,000 (~ €3.20). It's up to you whether you want to pay this. You might be able to lower the price if you negotiate.
The walk down is actually quite nice since most of it is downhill and in the shade. If you don't feel like walking up again you can always opt to take a scooter then. Walking will take around 30 minutes each way, slightly more on the way up.
Entrance to the beach and pools is free, if you're asked to pay an entrance fee it's a scam.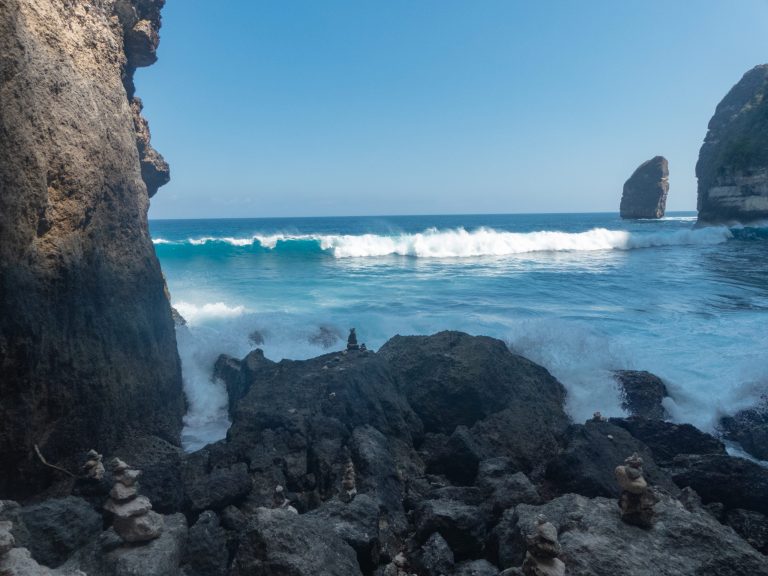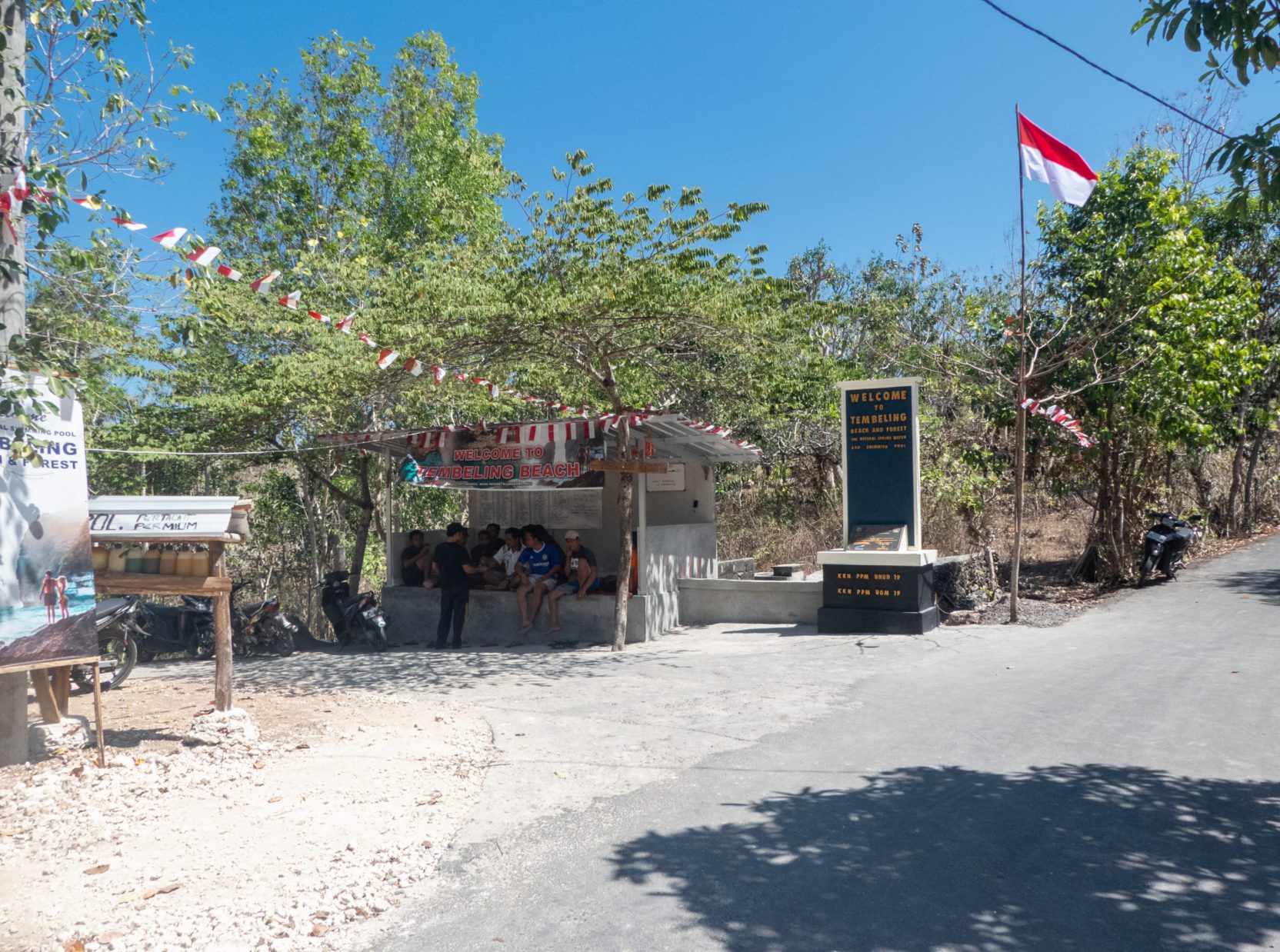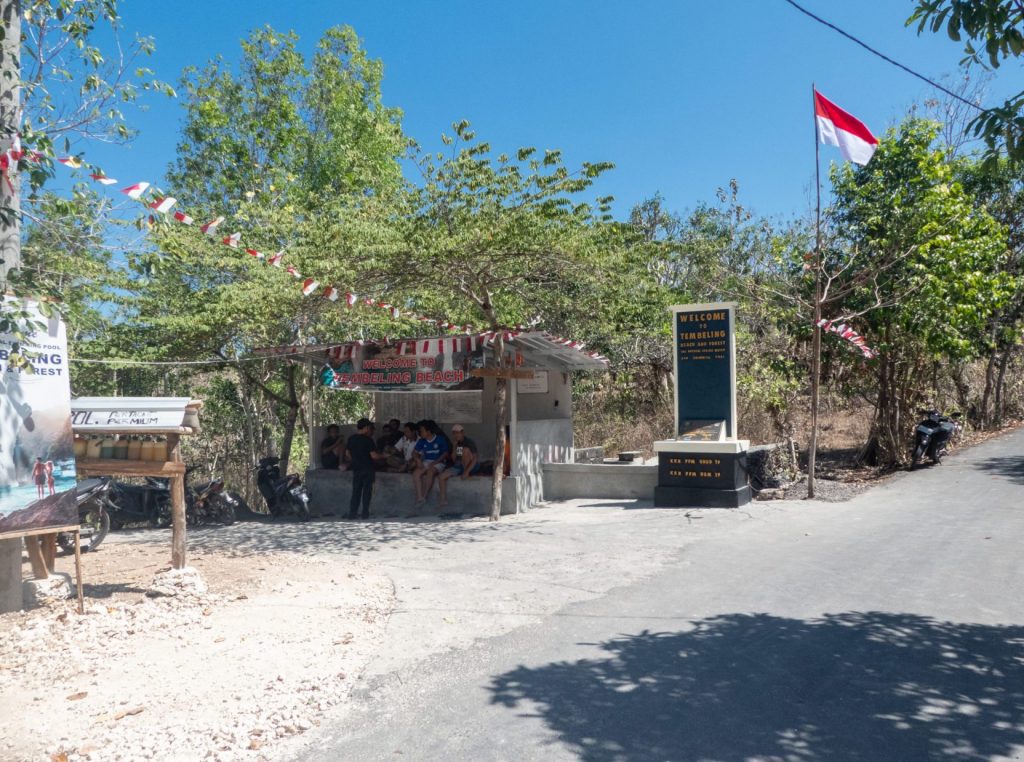 THE ROAD
Many blogs tell horror stories of the road down to Tembeling Beach. It's more of a narrow path than a road but it's definitely passable on a scooter. In my opinion, it's fine to drive yourself if you're confident on a scooter. Nusa Penida has worse roads.
There are some parts that are fairly steep which might give you trouble but otherwise, it should be fine. There isn't a lot of traffic so you can go at your own pace. Just be careful of any loose gravel or slippery spots when it rains.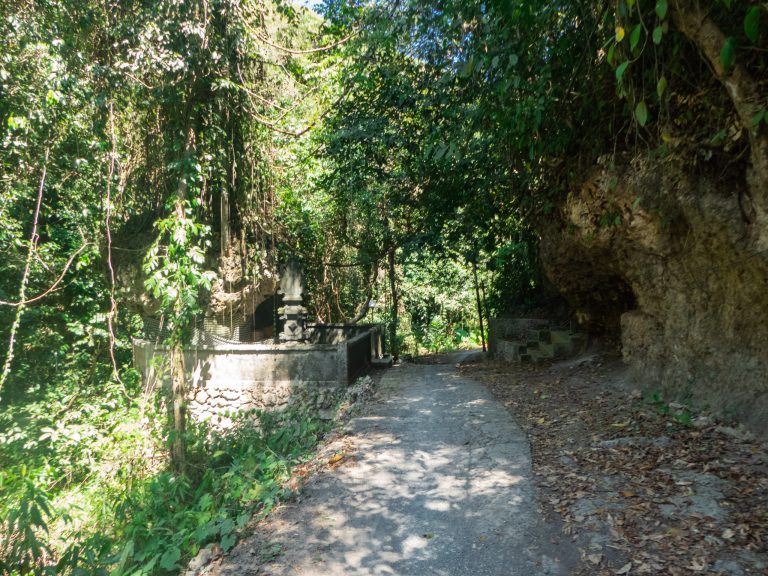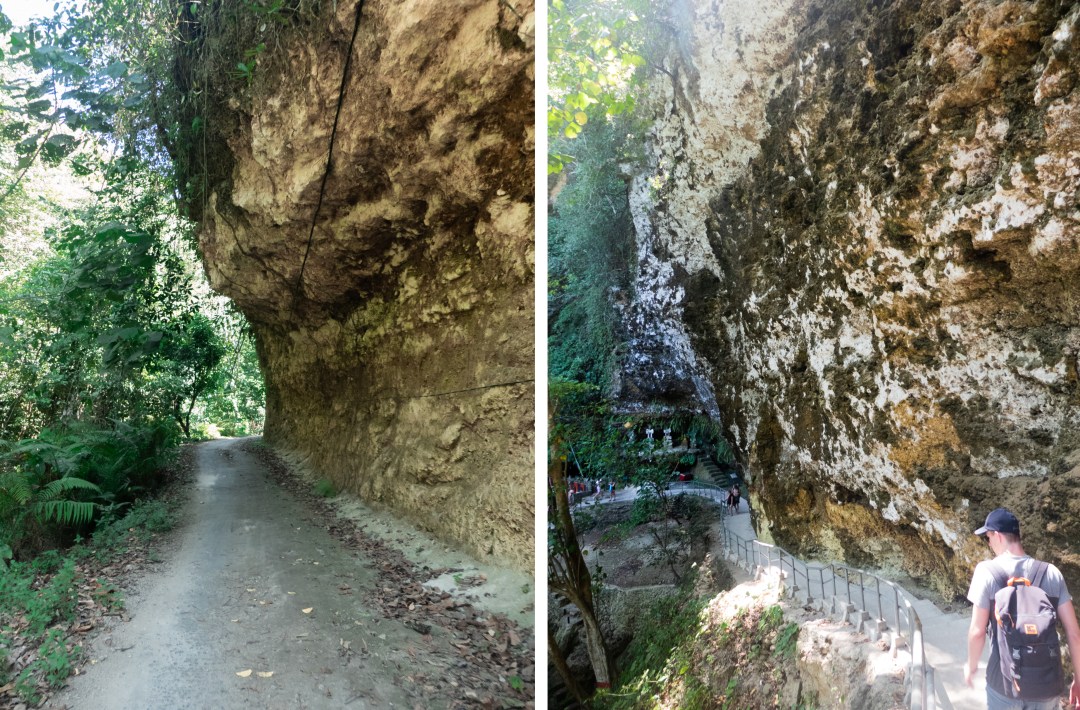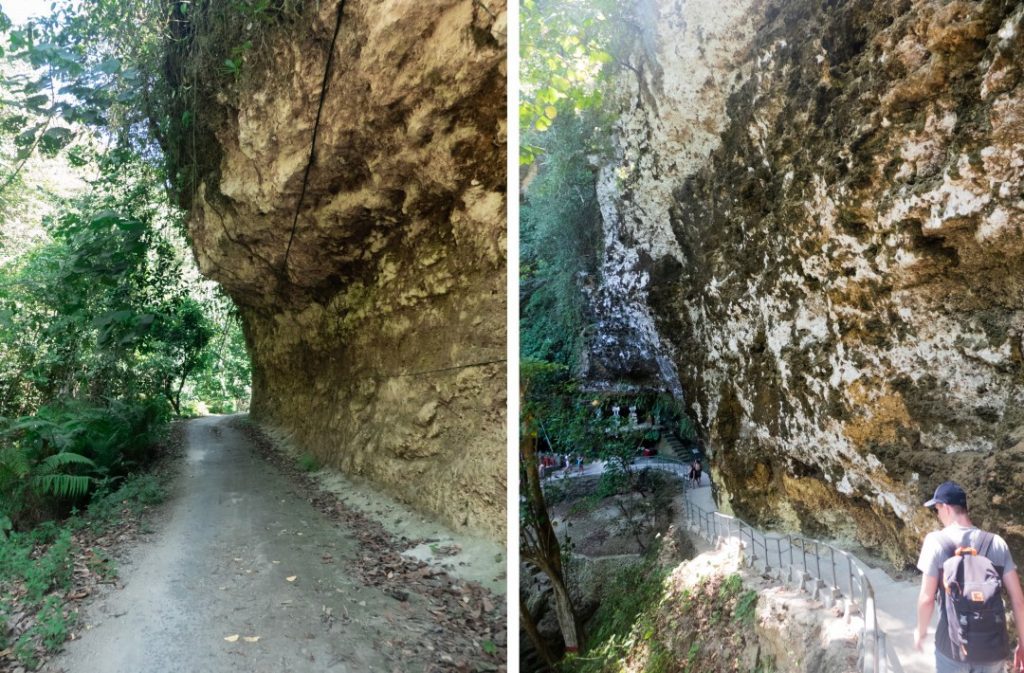 TEMBELING FOREST
As you walk down to the beach you'll find yourself in an environment unlike anywhere else in Nusa Penida. A dense forest grows on the steep walls of the canyon and you can hear a river somewhere below.
Tembeling Beach is special not only because of its natural pools but also the beautiful forest that surrounds them. Especially during the rainy season, this forest is mysterious and beautiful.
There are some smaller footpaths leading into the forest if you're feeling adventurous and want to explore. Just be careful that you don't get lost and watch out for the steep cliffs.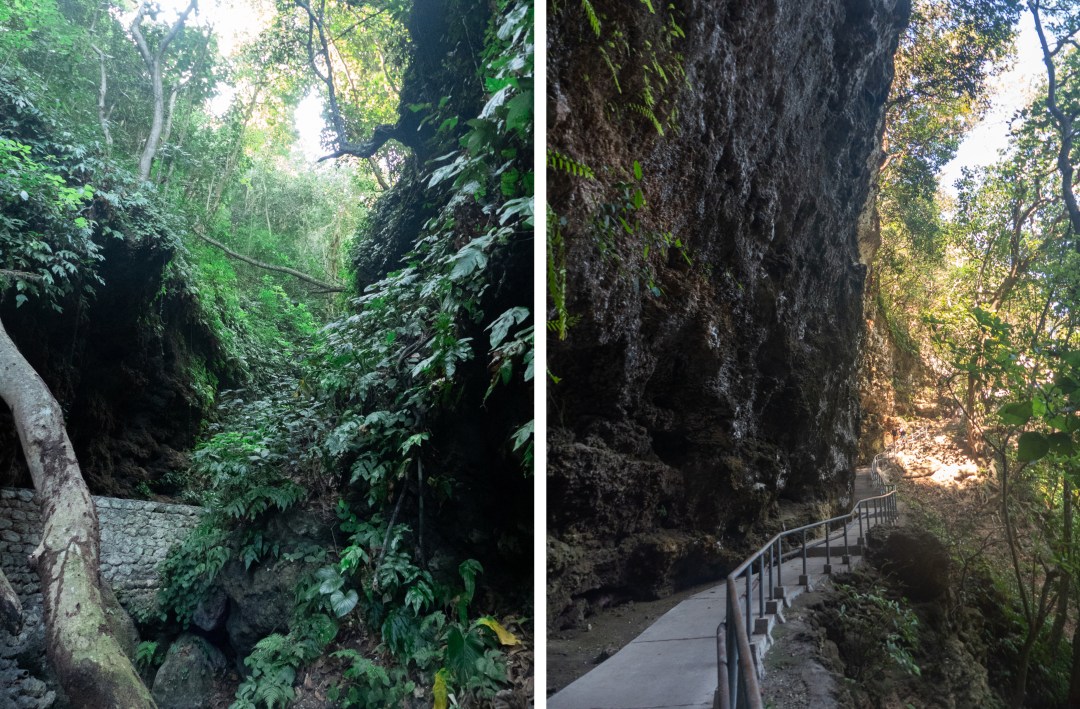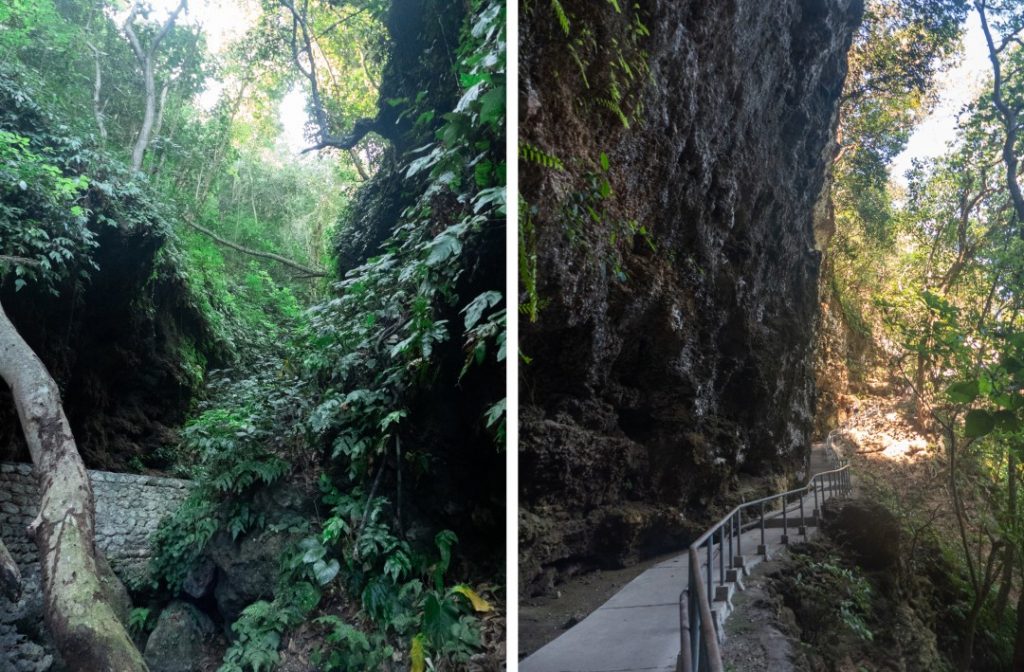 TEMBELING NATURAL POOLS
At the end of the path, you'll find a little temple and a taxi stand where you can hire a motorbike to take you back. There's also a donation box, although donations are voluntary.
To get down to the beach and natural pools you have to go down some concrete steps but the walk is quick and easy.
Now you'll reach the first, larger natural pool. It is quite deep so it's possible to cliff jump (from a reasonable height). Be careful though, this is not a place you would want to injure yourself.
There is also a smaller artificial hot-tub in a little cave above the larger pool. It is usually not accessible to visitors and is considered a spiritual place for locals.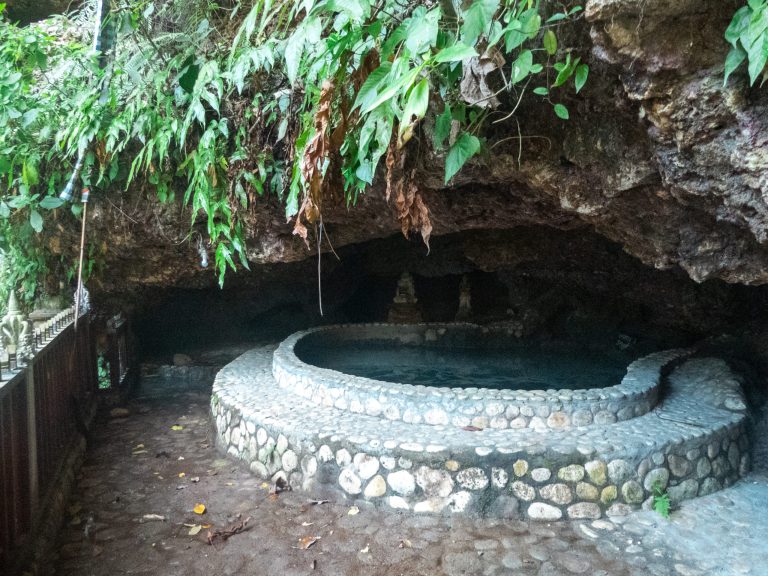 As you follow the path further you'll reach the second pool which sits right next to the beach. This is a stunning photo spot and perfect to relax and escape the heat.
The pools are both very clean and the water is cool and clear. Be respectful when swimming here as the location does have spiritual significance.
You can find bathrooms at the beach although don't expect them to be very clean. They're usable though and you'll have a place to change if you need to.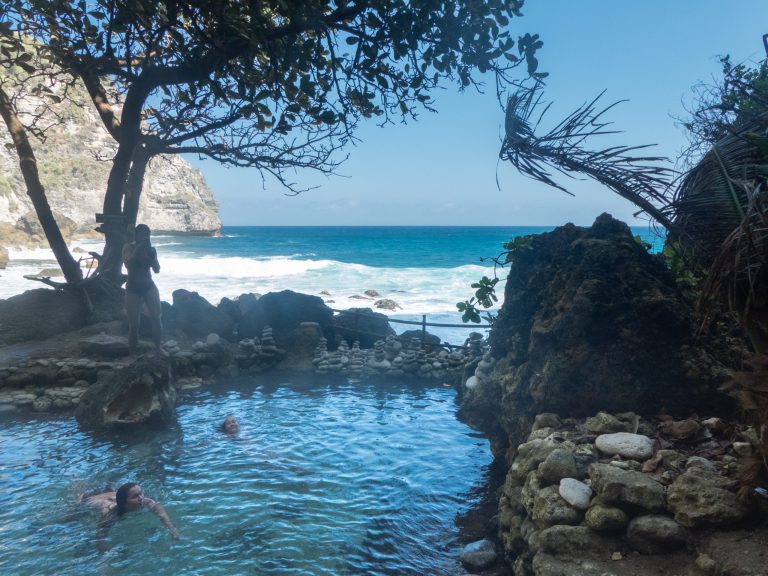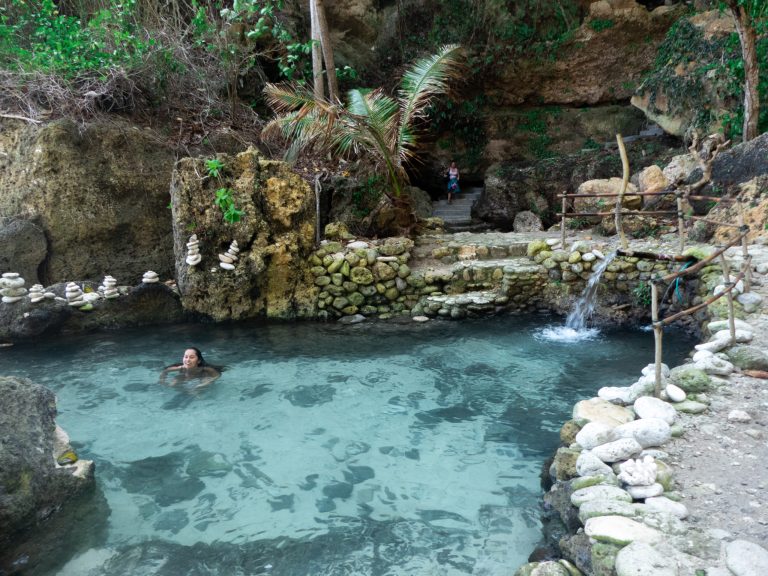 TEMBELING BEACH, NUSA PENIDA
The beach is not very large but quite beautiful. It's possible to swim but be very careful of the strong currents. If you go in the water you should make sure it's low tide and don't go past where you can stand.
Nusa Penida's ocean is wild and dangerous. Don't take a risk and keep in mind that the chances of getting help at this beach are very slim. Stick to swimming in the pools which are perfectly safe and probably a better experience anyway.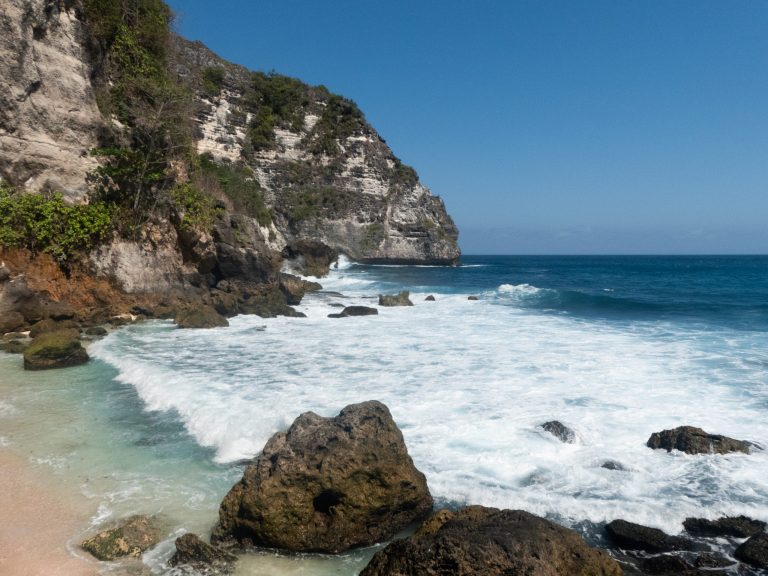 SECRET BEACH
There's a second, smaller "beach" close to Tembeling. As you walk down you'll see a small cave to your right with hundreds of little rock stacks. If you walk through this cave (carefully, without disturbing any of the rocks) you'll find yourself in a little cove.
There is next to no sand here and it's definitely not safe for swimming but you shouldn't miss out on this spot. The limestone cliffs are spectacular and the view is one-of-a-kind.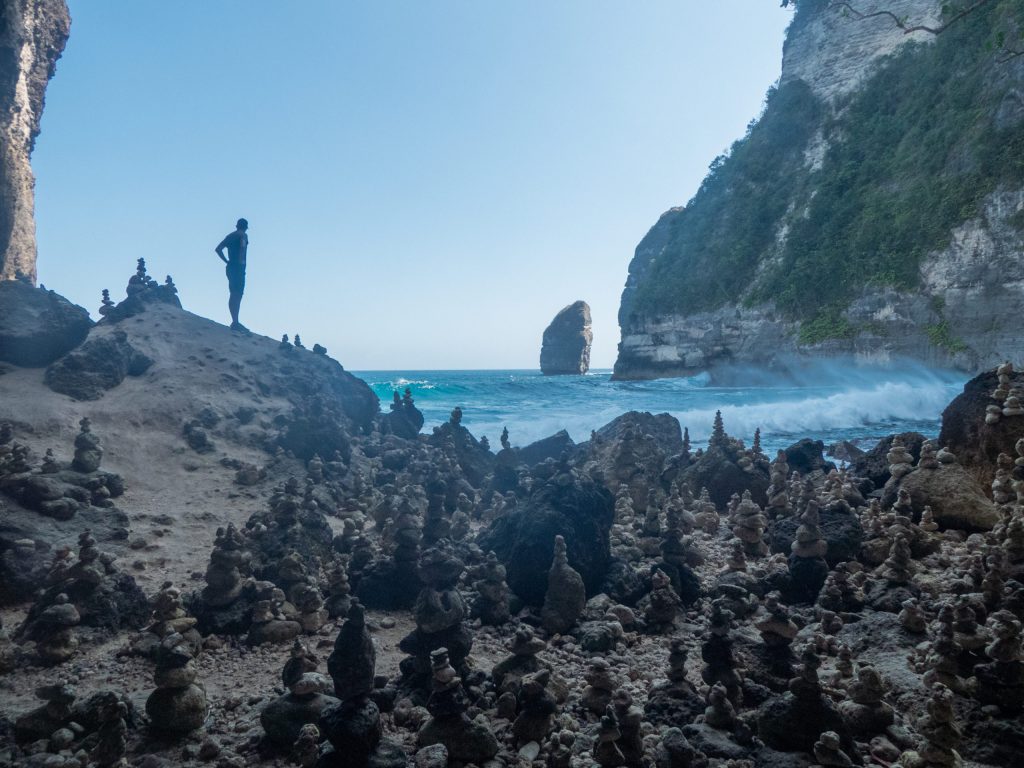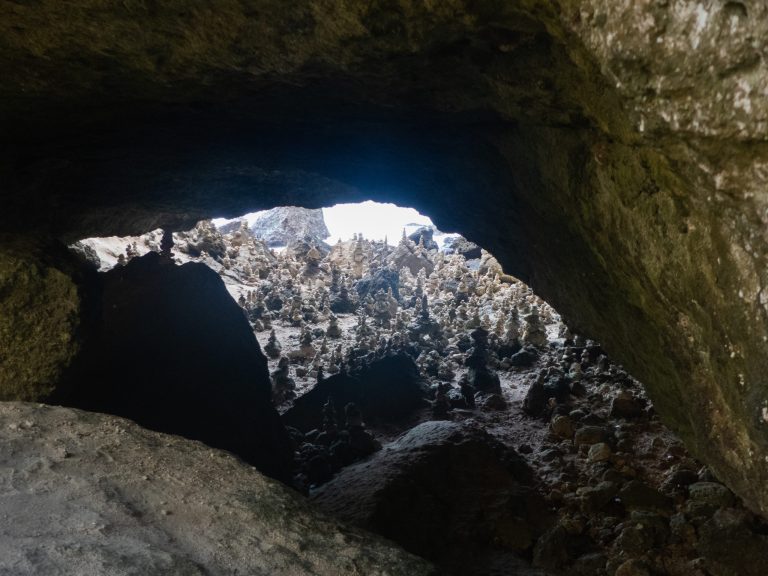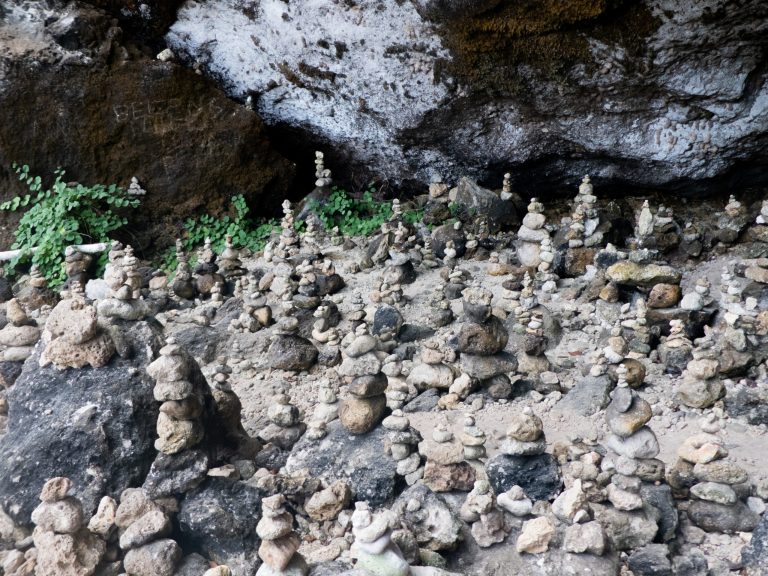 FLYING A DRONE AT TEMBELING BEACH IN NUSA PENIDA
You can fly your drone at Tembeling Beach, however, the area is covered by dense trees so finding a takeoff and landing spot will be challenging. It is possible though if you're a confident drone pilot.
BATHROOMS AND FOOD
There are basic bathrooms available at the beach. There is usually a lady selling small snacks and drinks although cup-noodles are the only hot options.
HOW LONG SHOULD YOU STAY?
This is a great spot to spend a few hours. Depending on how enthusiastic you are about swimming I would say you can spend 1-2 hours at the beach and pools. When adding the walking time you should expect to have at least 3 hours for the entire trip to Tembeling, maybe more.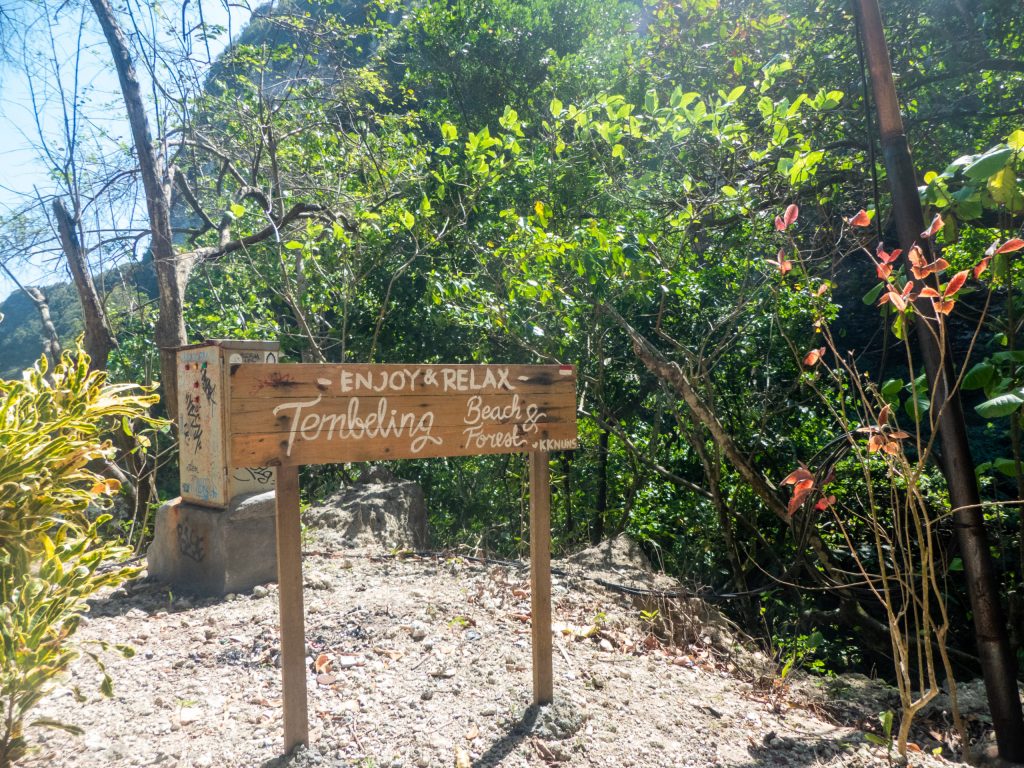 WHAT TO SEE AFTER YOU'VE VISITED TEMBELING BEACH IN NUSA PENIDA
Tembeling Beach is considered to be on the west side of the island so it's best combined with spots like Kelingking Beach, Banah Cliff Point, Angel's Billabong and Broken Beach.
WHY TEMBELING BEACH IN NUSA PENIDA SHOULD BE ON YOUR MUST-SEE LIST
Tembeling Beach might not be a mainstream tourist spot just yet but it's close. While you'll have the pools and beach to yourself in the very early morning, they do get a bit more crowded during mid-day and the afternoon.
Now is the time to see the beautiful pools and beach before they build a real road down to the beach and hoards of day-trip tourists will come.
So give this spot a try and let me know if you enjoyed it as much as we did!
Not sure where to stay in Nusa Penida? Rama Homestay offers affordable beachfront bungalows!
Going to Gili Trawangan next? Check out this post on how to swim with turtles right from the beach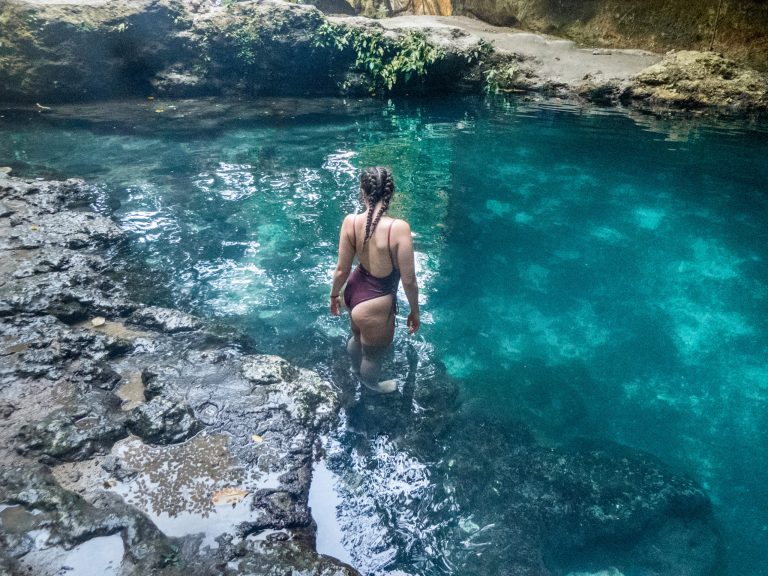 My most important travel tips and resources
Book your flights
Skyscanner is the best website for finding cheap flights since it works like a search engine so you can find the best deals across all airlines.

Book hotels and hostels
• Booking.com: Best world-wide
• Agoda: Best in South East Asia
• Hostelworld: Best for hostels

Book tours, transport and rental cars
•Viator: The best place to book tours, day trips and excursions for al budgets
•12Go: Great for ferries, trains, transfers and buses in South East Asia
•Discover Cars: Best deals for rental cars around the word

Get travel insurance
Every traveller needs travel insurance and I mean every single one. SafetyWing covers you in case of injury, illness or worse and they've got your back if your bag is stolen, flights are cancelled or in case of a natural disaster.

Pay abroad
Ask any traveller, Wise is the best choice when it comes to sending money abroad. They've always got the best exchange rates, lowest fees and their visa card is great for getting cash out or paying abroad.

Things every traveller needs:
➼ Osprey Farpoint 70 Backpack
Detachable daypack, ultra-light, durable and free repairs for life. There's a reason why so many backpackers have this bag.
➼ Packing Cubes
Packing cubes are a gamer changer, keeping your luggage organised and providing tons of extra space.
➼ Power bank
There is nothing worse than running out of battery on an overnight bus journey or a long flight. With a powerbank you can charge your eletronics on the go and make sure you're always connected.
➼ Micro-fibre towel
These lightweight towels are foldable, fast-drying and so useful when you're travelling.

➼ You can find 15 more things every traveller needs here. Some might be a bit controversial but I warned you!
Did I miss anything?
If you have any questions or feel like something is missing from this post please leave a comment below or contact me.