Intro
Where is the Temple of Debod?
Despite originally being constructed in the Egyptian village of Devod the Temple of Debod sits in the heart of Madrid today. It's located in the northwest of the city centre and is easily reachable via public transport or on foot. The Temple sits on top of a hill so there are beautiful views over the city. It's surrounded by a beautiful park with stunning scenery.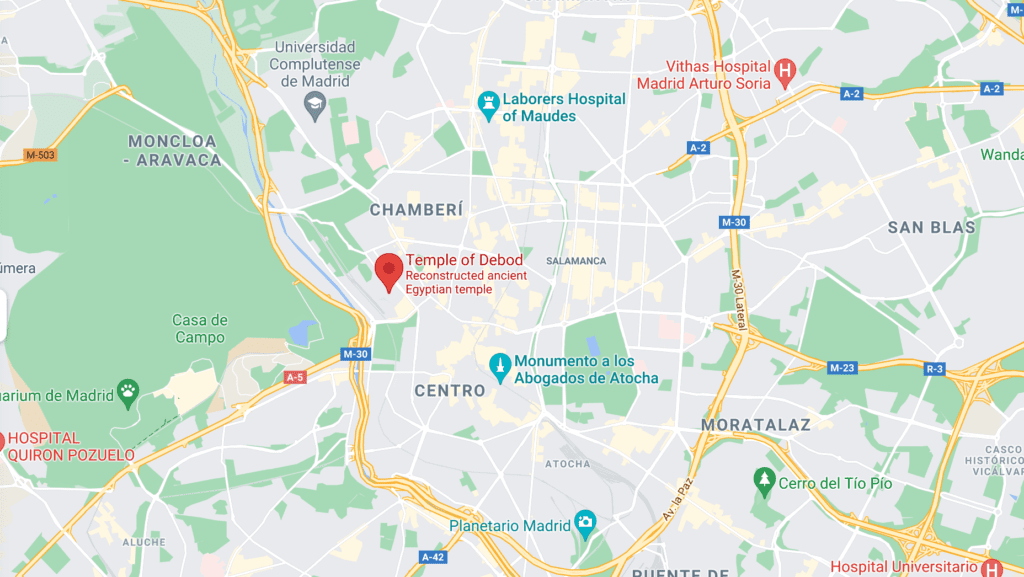 History of the Temple of Debod in Madrid
Temple of Debod Interesting Facts
How to get to the Temple of Debod in Madrid
Temple of Debod Price
Visiting the Temple of Debod in Madrid is completely free. Visitors can see the inside of the temple which includes the small museum and the surrounding grounds without having to buy entrance tickets.
Temple of Debod Opening Hours
The Temple is open every day from 10:00 am to 19:00 pm except for Mondays. You can still see the temple and the surrounding park from the outside when it's closed. You just won't be able to get up close and see the museum. It's highly recommended to come early in the morning to avoid having to wait in line. The temple is especially popular on weekends.
When is the best time to visit the Egyptian Temple in Madrid?
An Egyptian Temple in Madrid: What to expect
What else to see close to the Temple of Debod in Madrid