WHY UBUD IS SO POPULAR
Once the hidden secret of Bali Ubud has long since become a tourist hot-spot on everyone's bucket list. If your time on the island is limited Ubud is a perfect place to see on a day-trip. Of course, you can stay here much longer and take your time exploring central Bali and relaxing. But with so many things to see this one-day itinerary is perfect for covering the essentials.
Ubud is all about yoga, artisanal products, rice fields and nature. Imagine a feeling of being in the countryside and the jungle at the same time. It used to be that people came to Ubud to escape the tourist crowds and enjoy Bali-life in peace and quiet.
While Ubud I still in many ways a way to escape Kuta's loud and dirty atmosphere it is probably no longer what it used to be. The tourist hoards have discovered the beauty of this little town and are crowding the streets buying round rattan bags by the truckload.
This doesn't mean that you shouldn't come to Ubud though. Unfortunately, we are all tourists in the places we visit. We cannot always expect there to be authenticity when we ourselves are affecting it by being there.
So plan your day-trip to Ubud carefully to make sure you make the most of your time there. It is definitely worth the visit.
Already seen Ubud? Check out our itinerary for Bali's south here.
No idea when to go? Find out more about the best time to visit Bali here.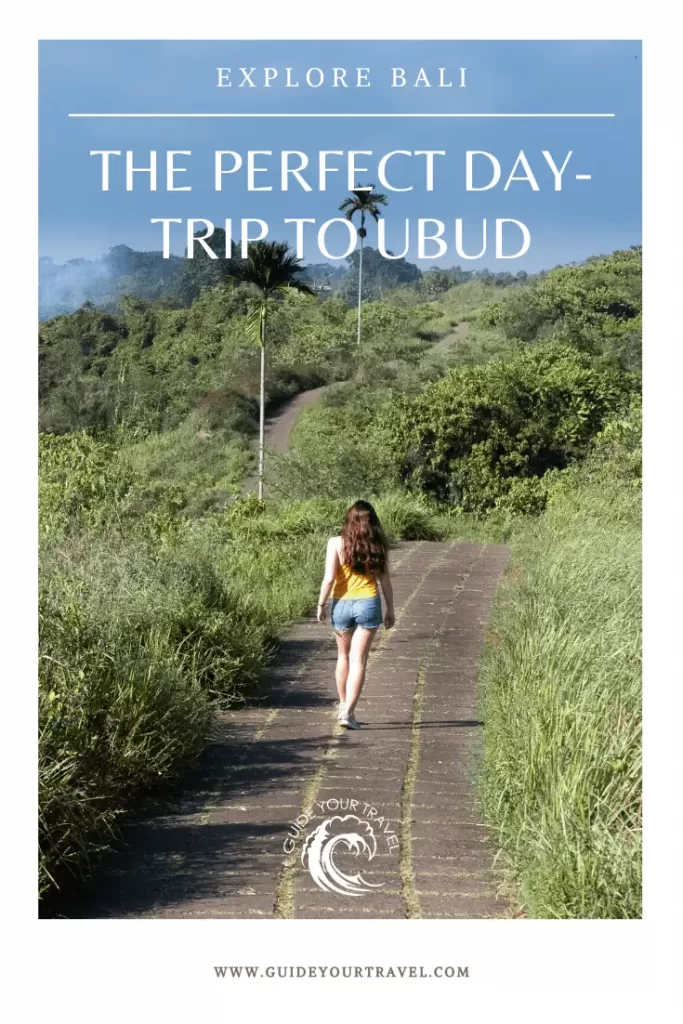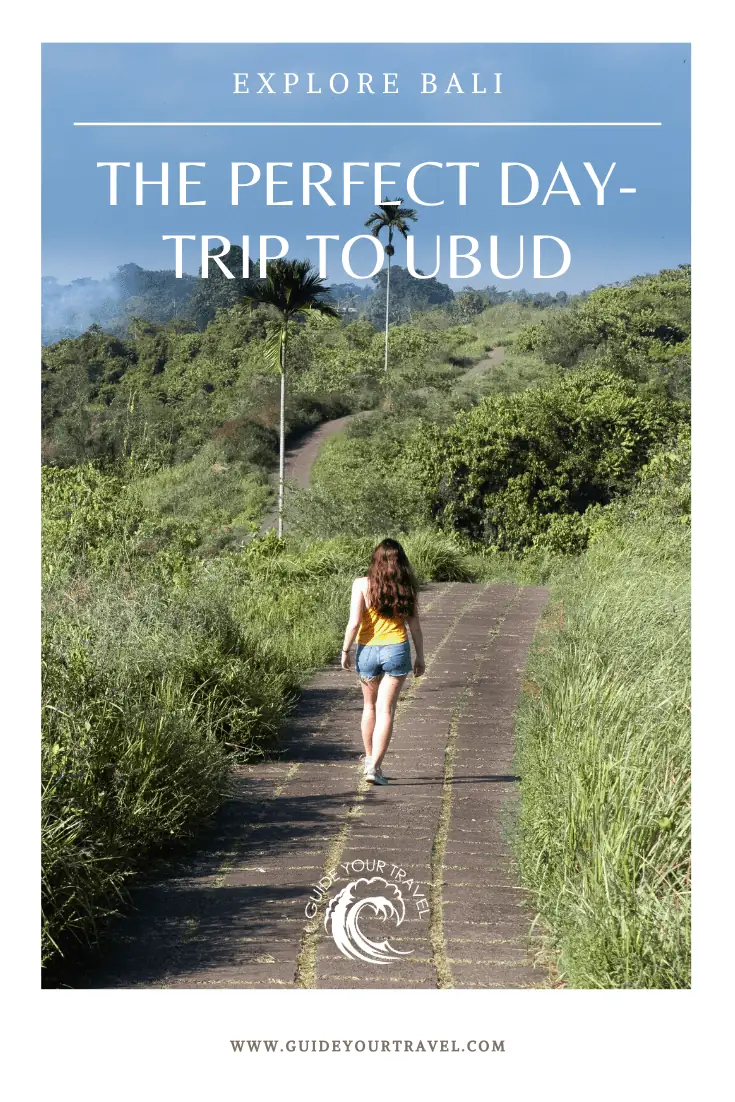 DAY-TRIP TO UBUD: THIS ITINERARY
This itinerary is structured in a way that you leave from Kuta (or wherever you are staying) in the early morning and take a scooter (or driver) to Ubud. After exploring the little town and its surroundings for a while you'll head back in the general direction of Kuta and make some more stops along the way.
While not all the attractions on this day-trip are actually in Ubud they fit into the itinerary well and give you a good variety of things to do so it doesn't get too boring.
You can, of course, adjust this itinerary to your needs or use it as an inspiration for your own trip. You can also follow it if you're staying in Ubud for a few days. It's really up to you. It is definitely a day packed full of activities so there isn't much down-time. Be prepared to get up early to get through the entire itinerary before the sun sets.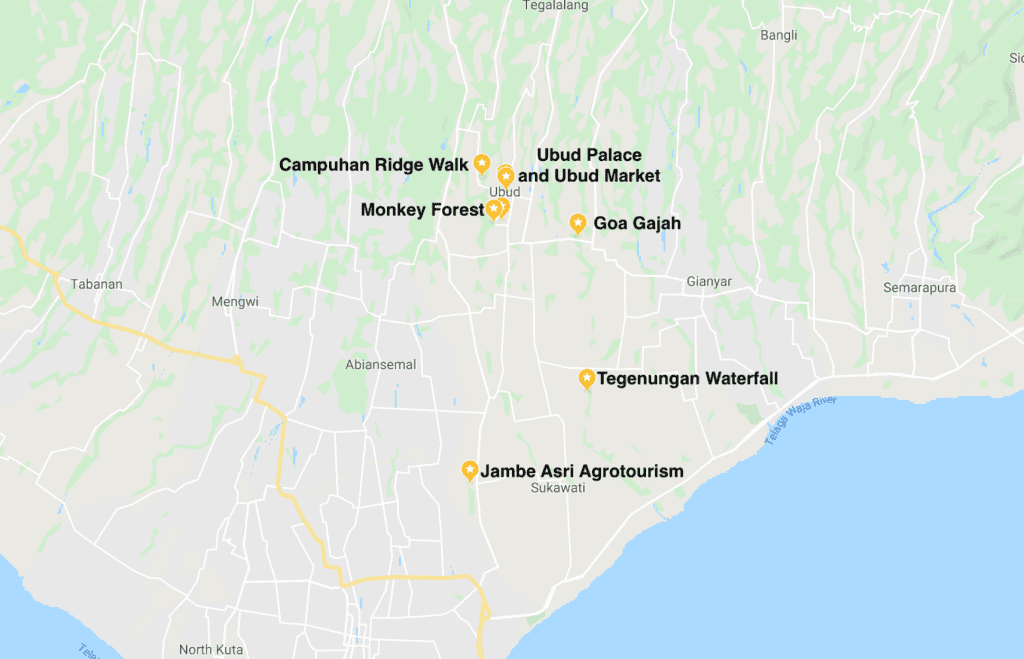 WHAT TO WEAR
Wear something comfortable and light so you won't be sweating too much during the day. You'll be visiting a temple during this day-trip to Ubud so if you have one you can bring a sarong to cover up. If not then it's always possible to rent one on arrival.
Wear comfortable shoes that you can walk in. It's perfectly fine to wear flip-flops.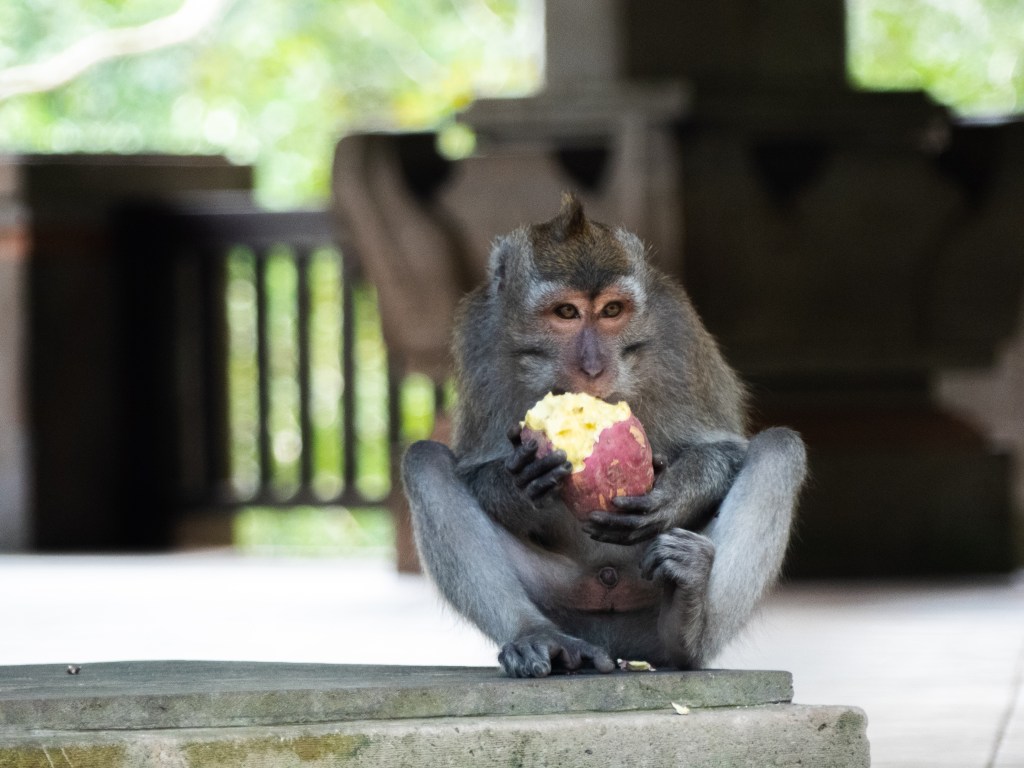 WHAT TO BRING ON THIS DAY-TRIP TO UBUD
Bring your camera and plenty of water. Don't forget essentials such as sunglasses, sunscreen and maybe a second shirt to change if you get too sweaty.
One of the last stops is a waterfall so if you're up for it you can bring a swimsuit and have a refreshing swim there, however, there is no need to.
Maybe bring a small snack for breakfast but make sure to finish it all before entering the Monkey Forest.
6:45 – START YOUR DAY-TRIP AND HEAD TO UBUD
If you are staying in Kuta it will take you around an hour to drive to Ubud. This depends very much on how fast your drive and the traffic. During rush hours it can definitely take twice as much time but you should be fine early in the morning.
The drive is actually quite scenic once you've left the busy street of North Kuta and Denpasar. It's worth taking some of the smaller roads to enjoy the beautiful countryside.
Why not have breakfast along the way in a little warung? Or take some snacks with you and have a picnic once you arrive.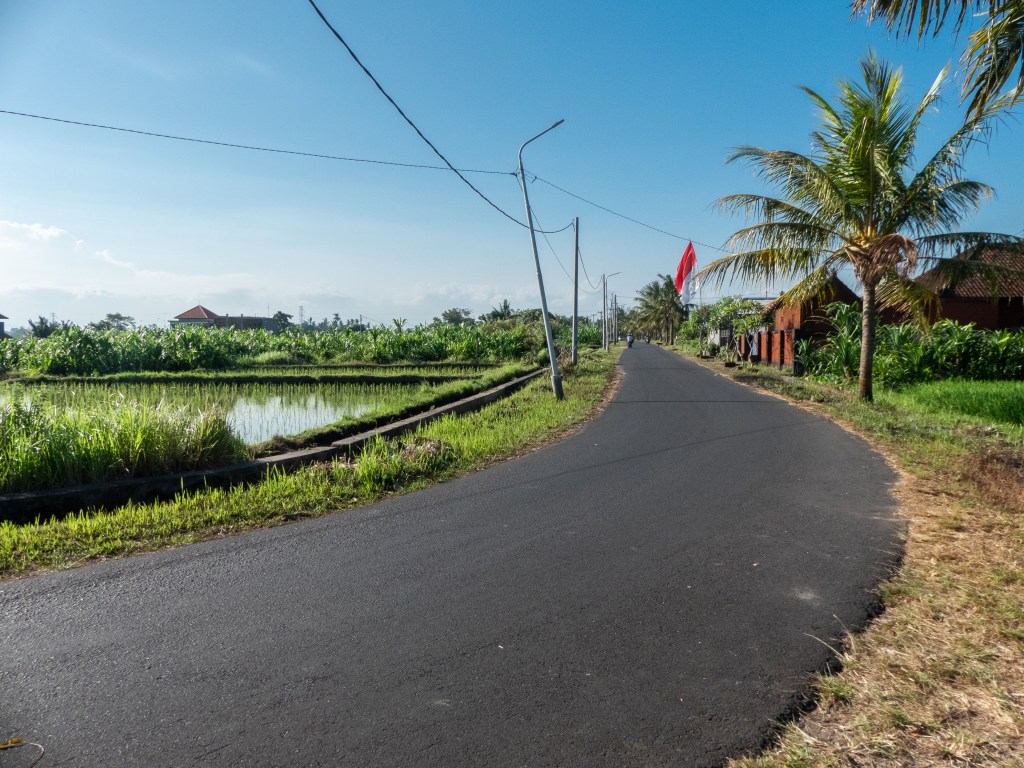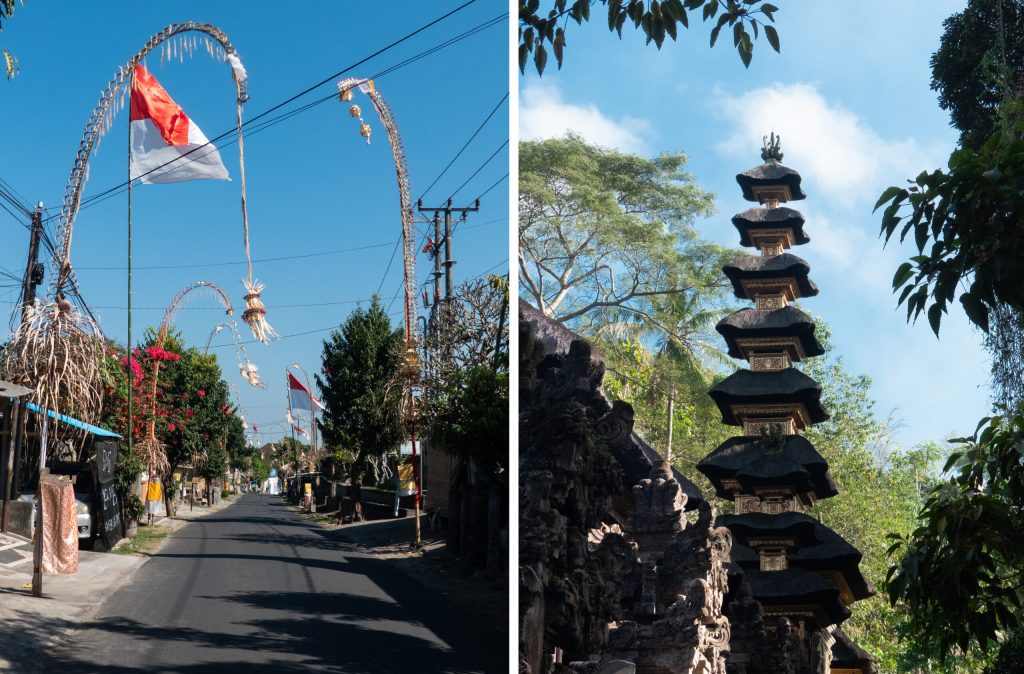 7:45 – CAMPUHAN RIDGE WALK
The Campuhan Ridge Walk is probably Ubud's most popular hike. It is ideal if you're short on time since it is quite short and very manageable.
The ridge walk is not a round-trip, which means you'll be walking the same way back again to where you parked. It takes about one hour all together (4 kilometres in total), which accounts for taking photos and walking slowly. This itinerary gives you plenty of time for a little break in a cafe along the way as well.
You'll want to do this early in the morning to avoid the crowds and most importantly the heat. There is little shade on the walk and the sun can be relentless.
Most of the walk goes along the Campuhan Ridge with some rice fields and jungle on either side. After a while, you'll be walking on a road with some small restaurants and art stores. This is the perfect place for a little break. You can enjoy fresh coconuts or fruit shakes and have a rest before heading back.
The walk officially begins at Ibah Restaurant, Spa and Villas. It's quite easy to find if you enter it into Google Maps and head to the left when you see the Ibah sign. There are signs pointing you towards the walk.
The walk ends at Karsa Cafe, although you can go further if you like. Just keep in mind you have to walk back unless you have a driver picking you up somewhere.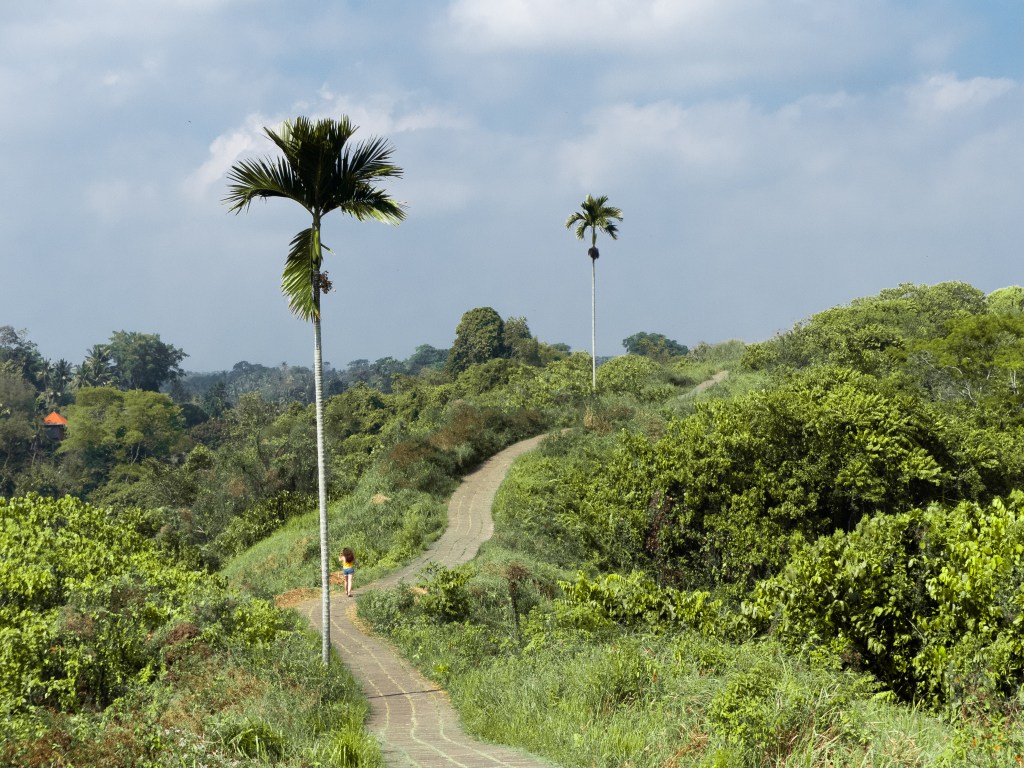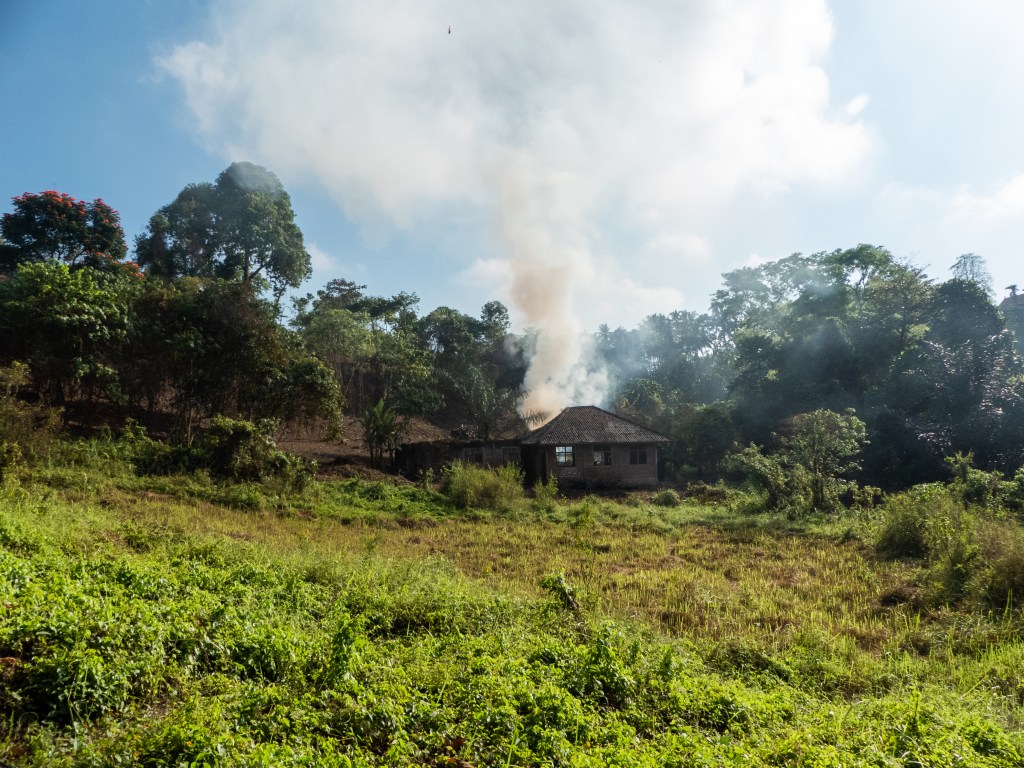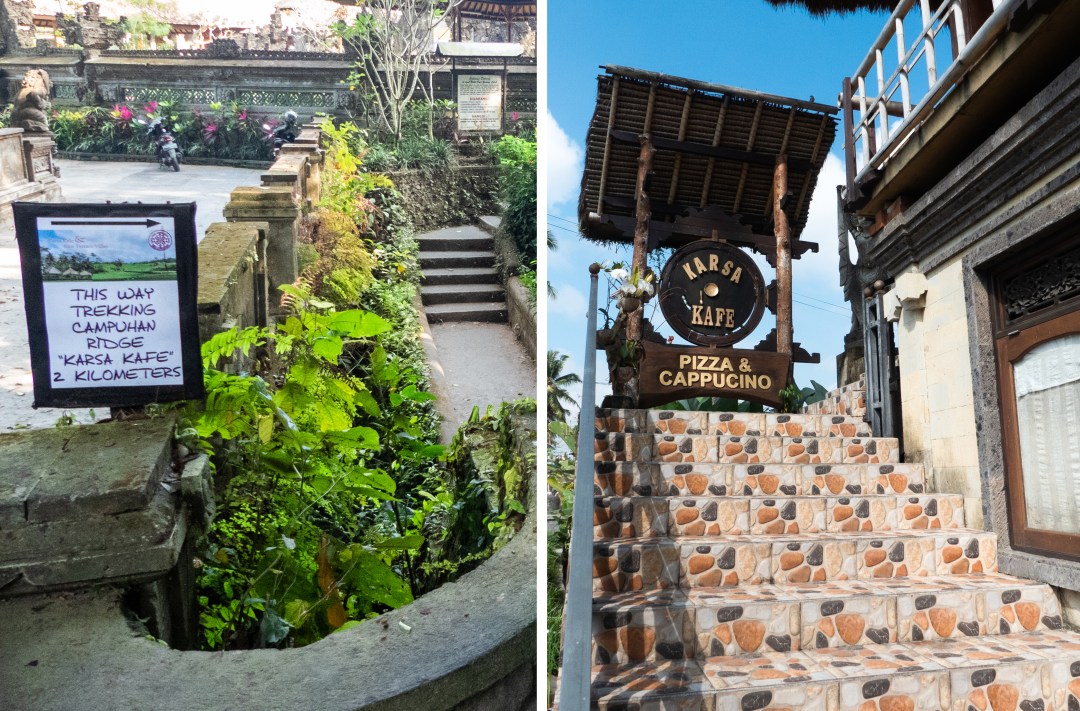 9:30 – UBUD PALACE
The next stop on your trip will be Ubud's Royal Palace. The drive to get here is only about 3 minutes and it's in the heart of Ubud. The Palace was built between 1800 and 1823 and you can visit it free of charge.
The architecture is stunning and it's a great place to take pictures. The area of the palace that is open to the public is not very large so you do not need a lot of time here.
The royal family lives in the palace for some time of the year. There are many cultural events and ceremonies hosted here such as dances and musical performances.
The palace opens at 9:00 am every day. There is no dress code.
If you'd like to read more about Ubud's history then click here.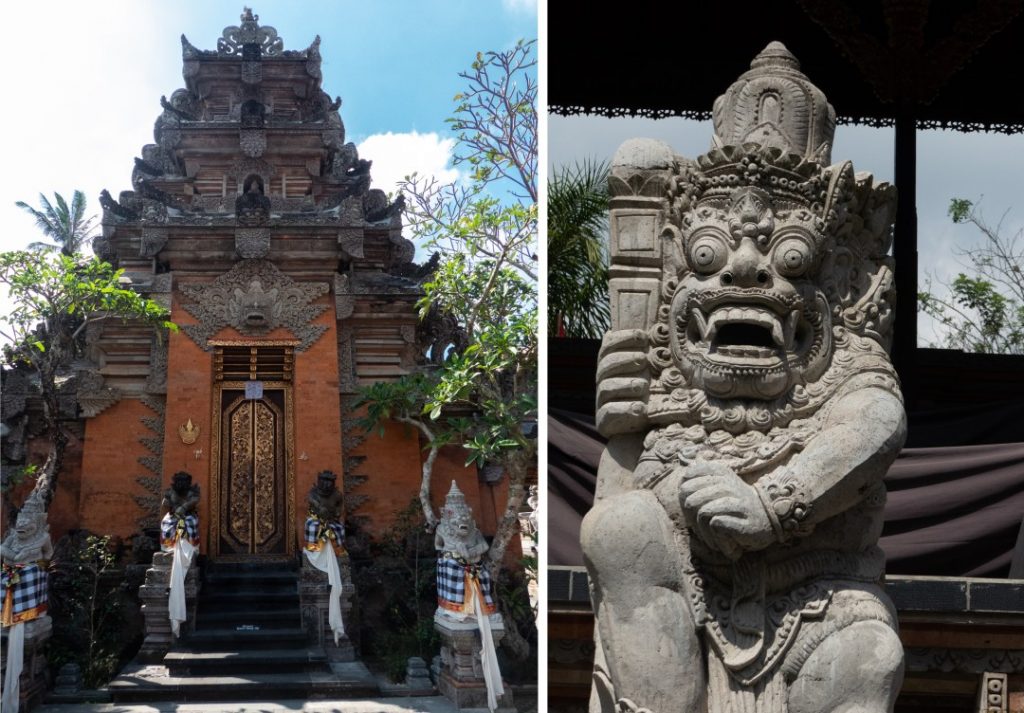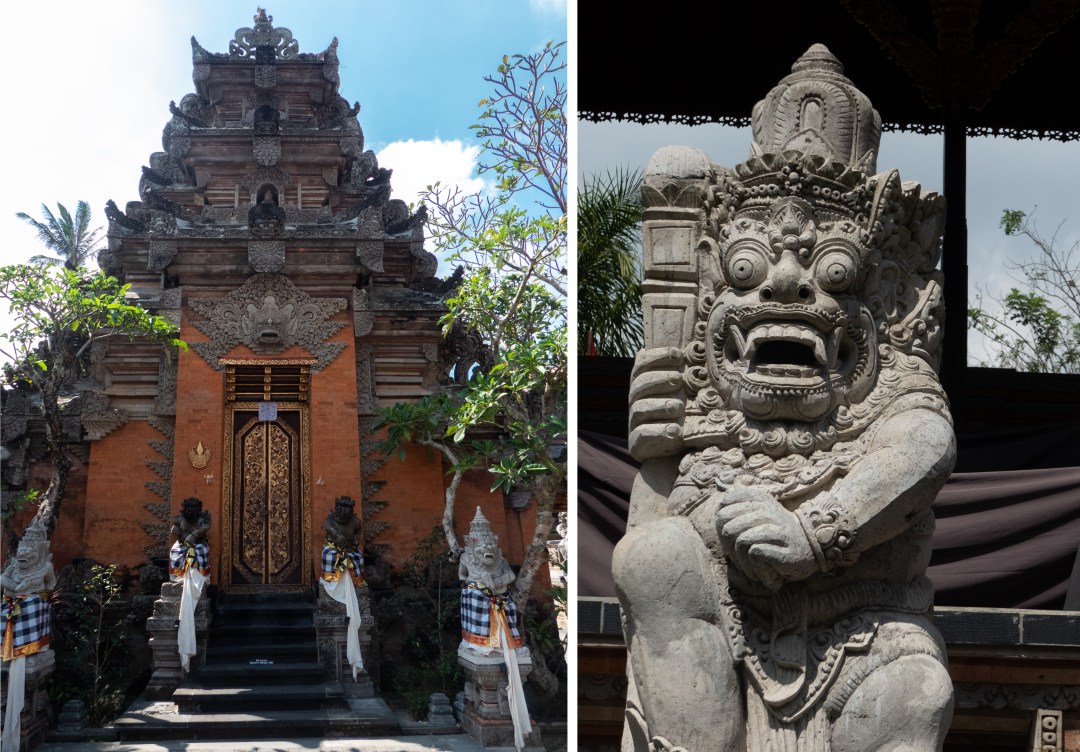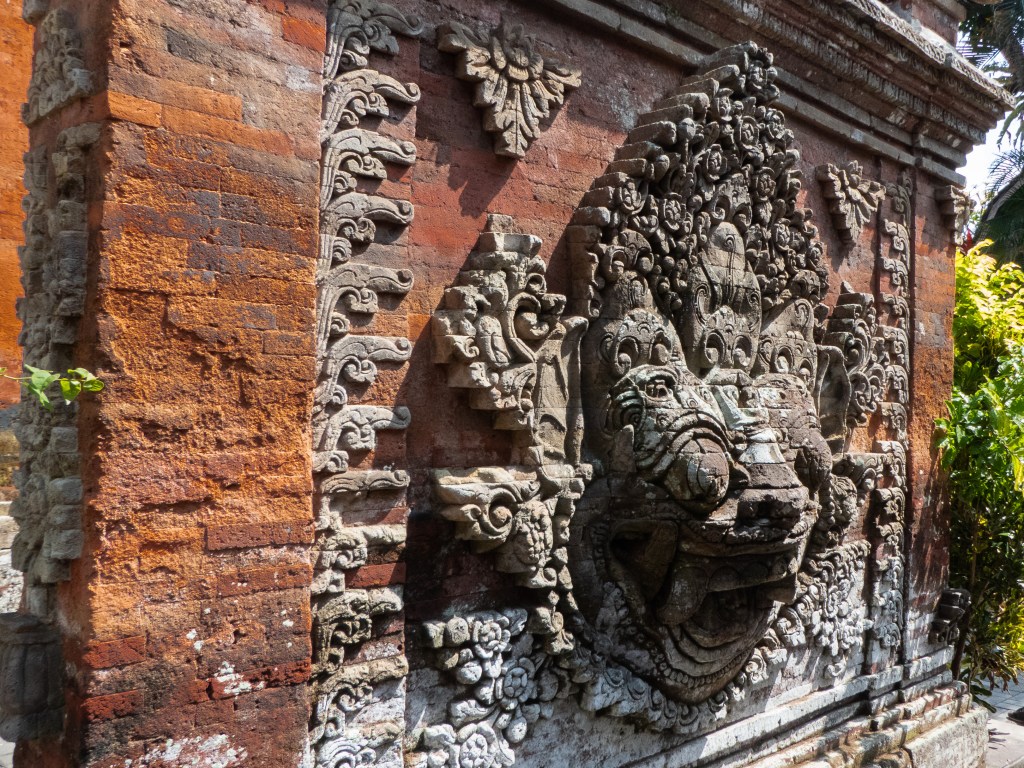 10:15 – UBUD MARKET
You just have to cross the street to get to Ubud Market, which is one of Ubud's most popular attractions. Even early in the morning, you'll find crowds of tourists here in search of the perfect souvenir.
Ubud Market is both open-air and indoor. You'll find artisanal products, arts and crafts and most importantly round rattan bags. But even if you're not interested in buying trinkets and batik it's still fun to walk through the busy streets and browse.
This is also a great place to grab a quick lunch or snack if you're getting hungry. You'll find plenty of little restaurants in the side-streets. Ubud is the best place to go to satisfy all your smoothie bowl or avocado toast needs.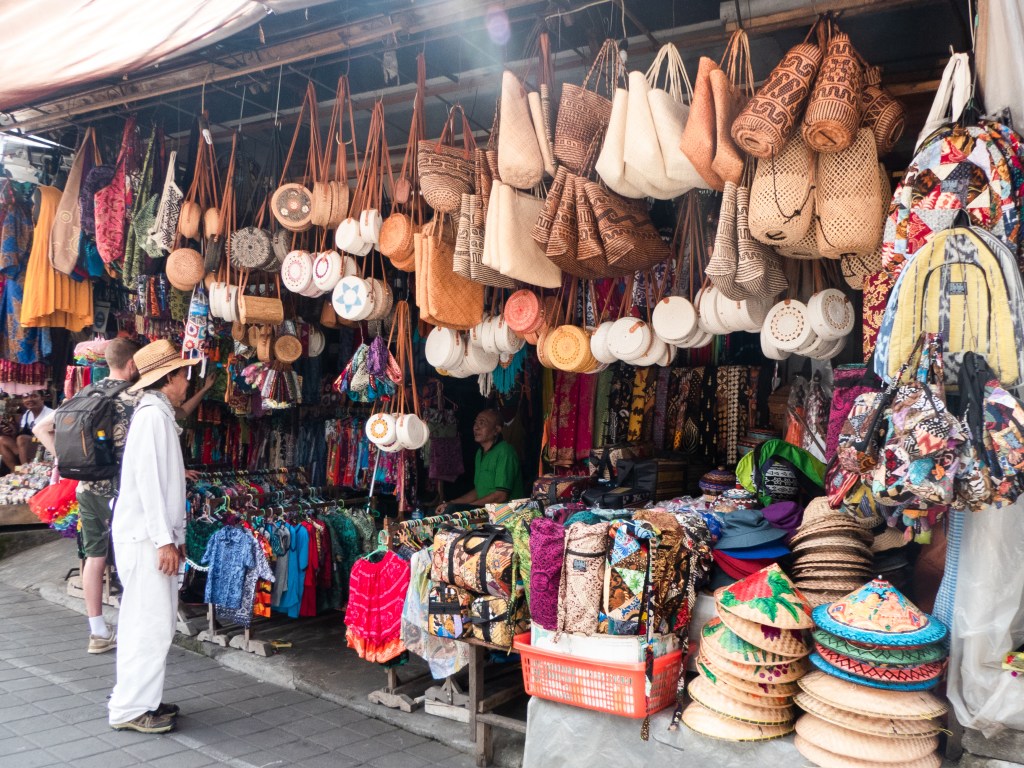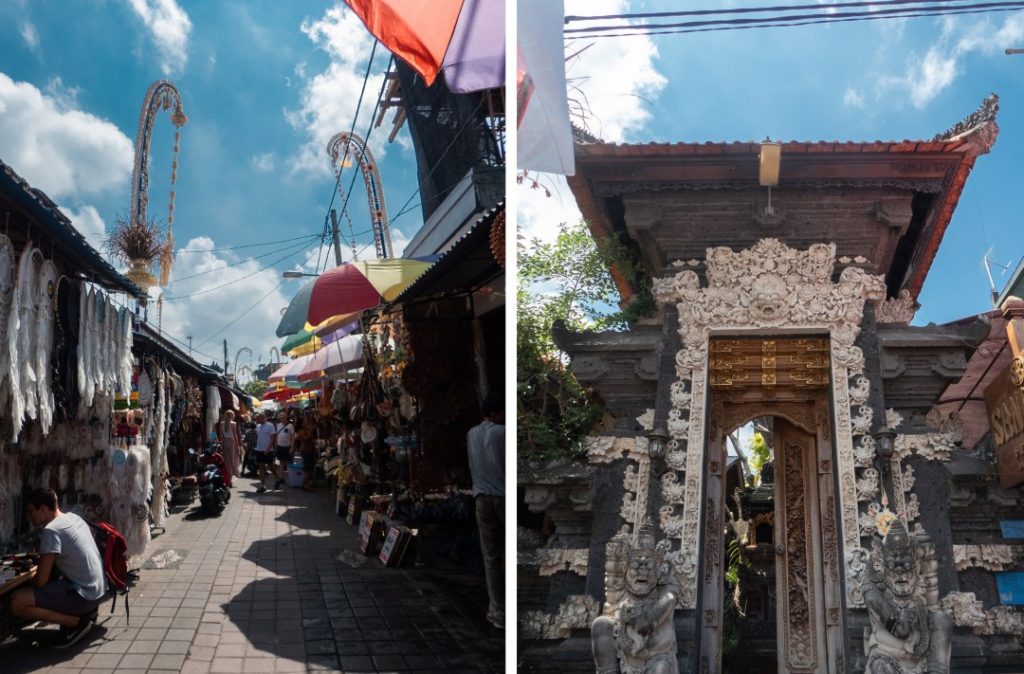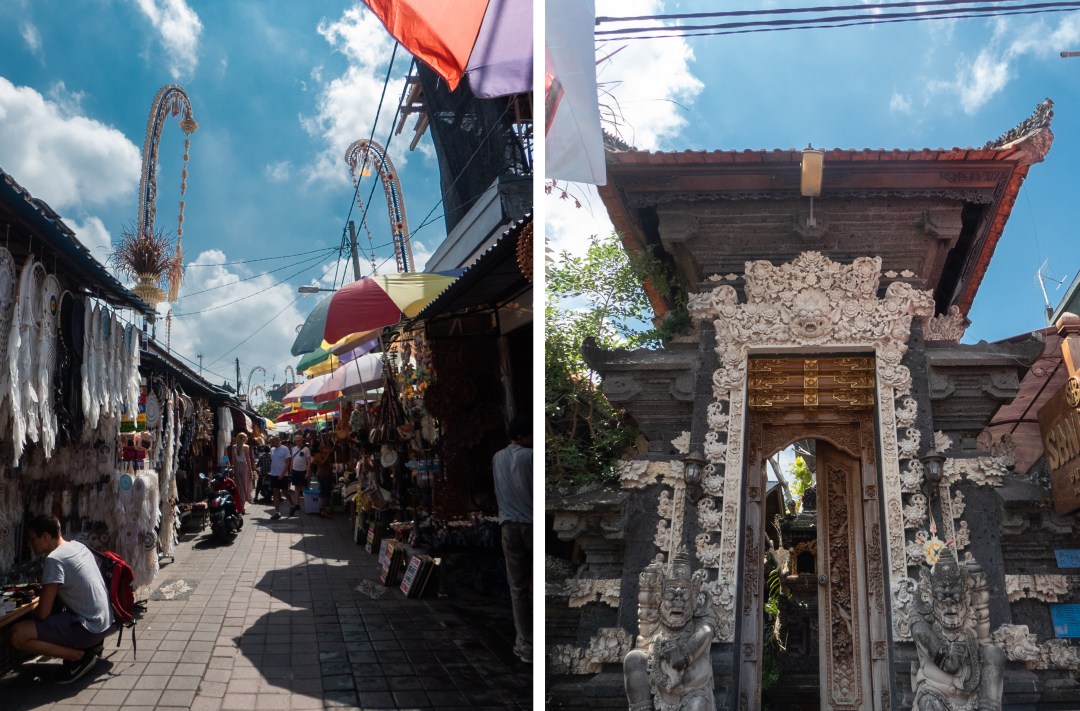 11:30 – MONKEY FOREST
It'll take you just about 5 minutes to drive to the Monkey Forest from Ubud Market. That's the great thing about Ubud: Everything is really close together.
The Monkey Forest is definitely Ubud's most commercialised and touristy attraction. But that doesn't mean you shouldn't come here. It's a great way to spend a few hours.
The entrance fee is relatively expensive for Indonesian standards. You'll pay IDR80,000 (≈ 5,10€) which is a bit over-priced but not too bad if you compare it to European prices. If you're travelling on a budget check out these 21 Tips on How to Save Money in Indonesia to make up for it.
At 12,5 hectares the Monkey Forest is very large. More than 700 Balinese long-tailed monkeys live in this area which includes three different temples. The forest is sacred to the local Hindu religion and should be treated with respect. Do not enter the temples and don't disturb the ceremonies when you visit.
Monkeys in South East Asia are famous for attacking tourists and stealing items such as sunglasses, phones, cameras and hats. Do not take any food with you when you go. Even if it's zipped into your bag there is no hiding it from the monkeys. Keep all your belongings close and avoid putting your glasses on your head. Don't hold anything in your hands and put your phone away when you're not using it.
Try not to make eye contact with the monkeys. They are not afraid of humans and will approach you. Do not feed them under any circumstances.
Many of the staff at the forest will take a photo like the one below for you. They will hold your phone and feed a monkey making it look like it's taking a selfie. Just ask someone nicely, there is no need to pay.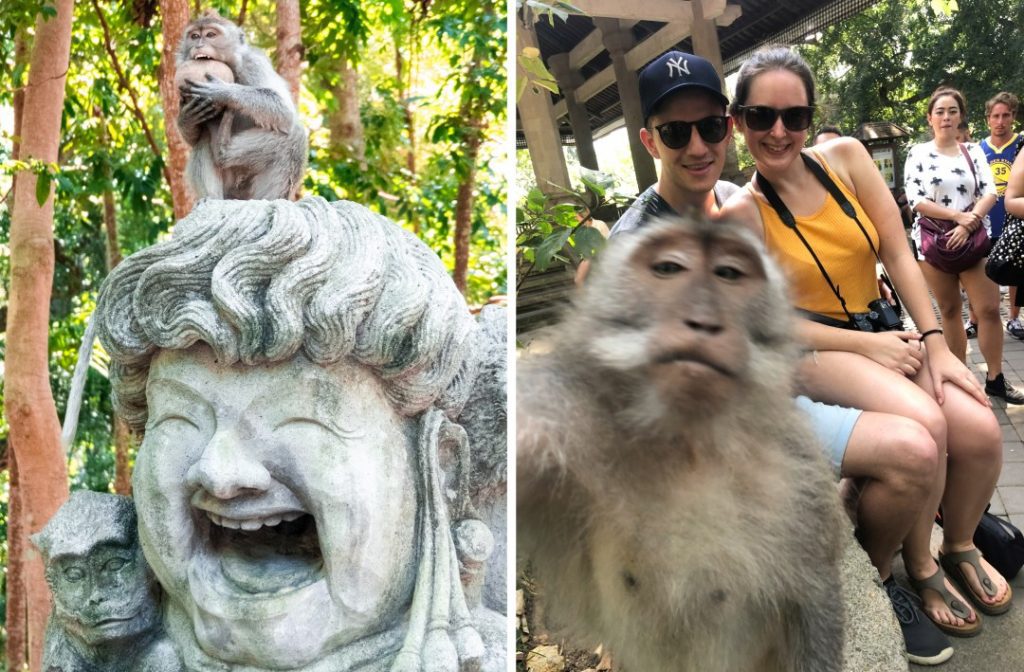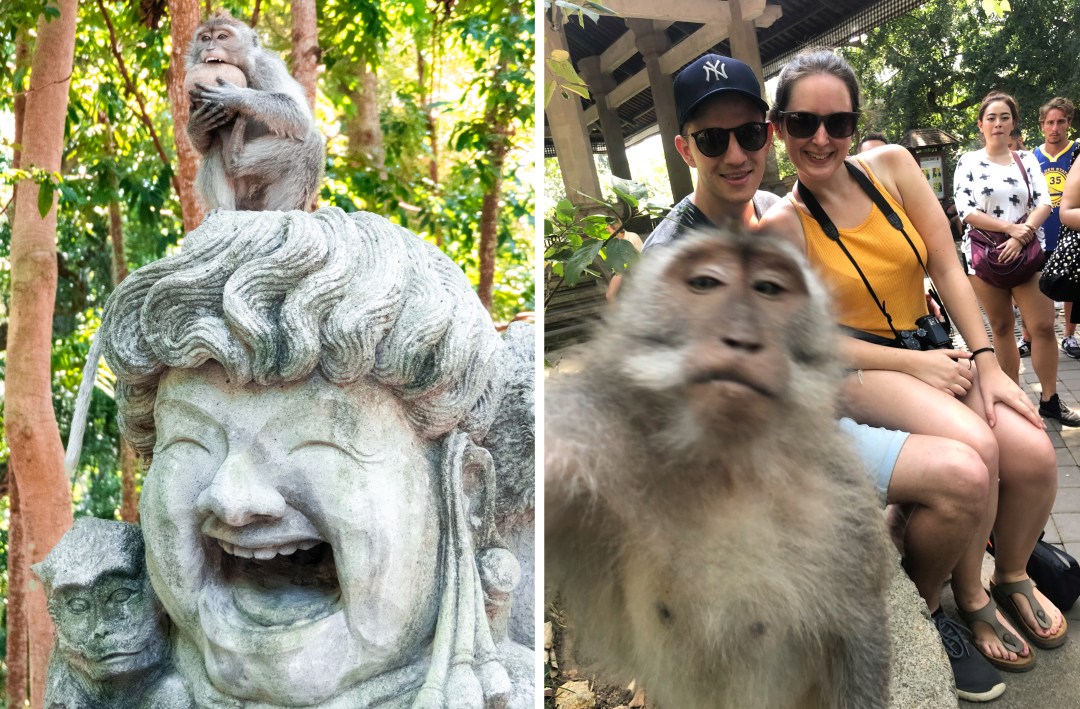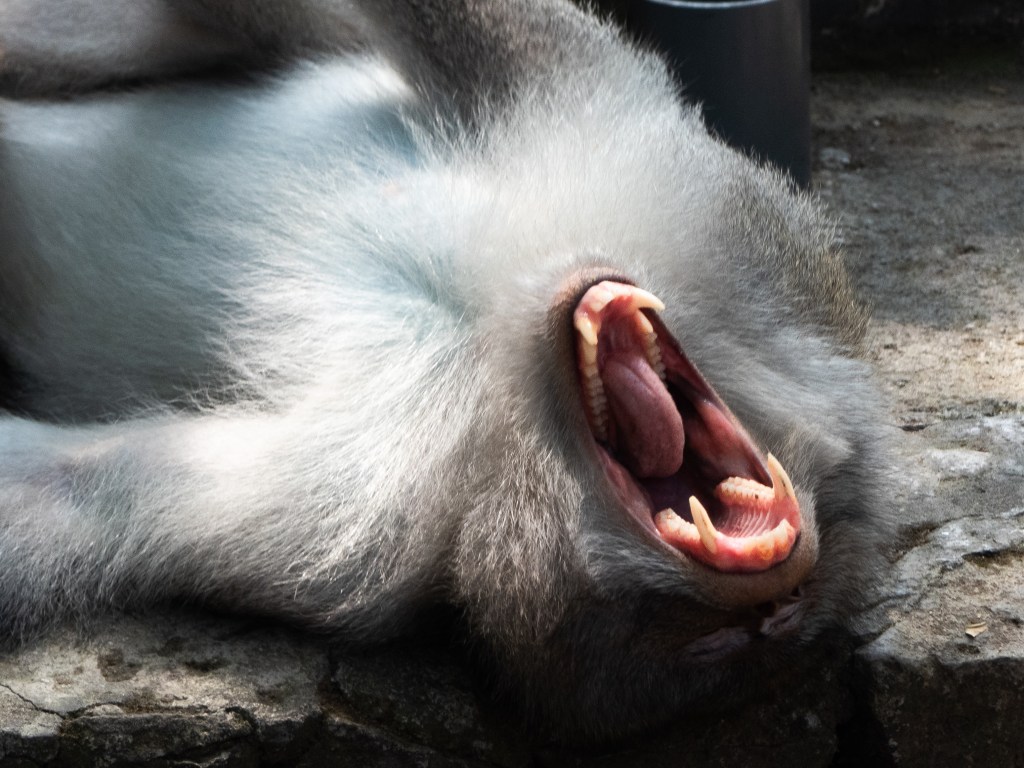 ANIMAL WELFARE
Monkeys at the forest are free to come and go as they please. It is not a zoo. They are fed three times per day and monitored by research and conservation programs conducted by the Udayana University.
If you usually shy away from visiting animal attractions in South East Asia this is definitely one you can support. The monkeys live in freedom here and if you adhere to the park's guidelines you do not have to feel guilty about visiting. Find out more here.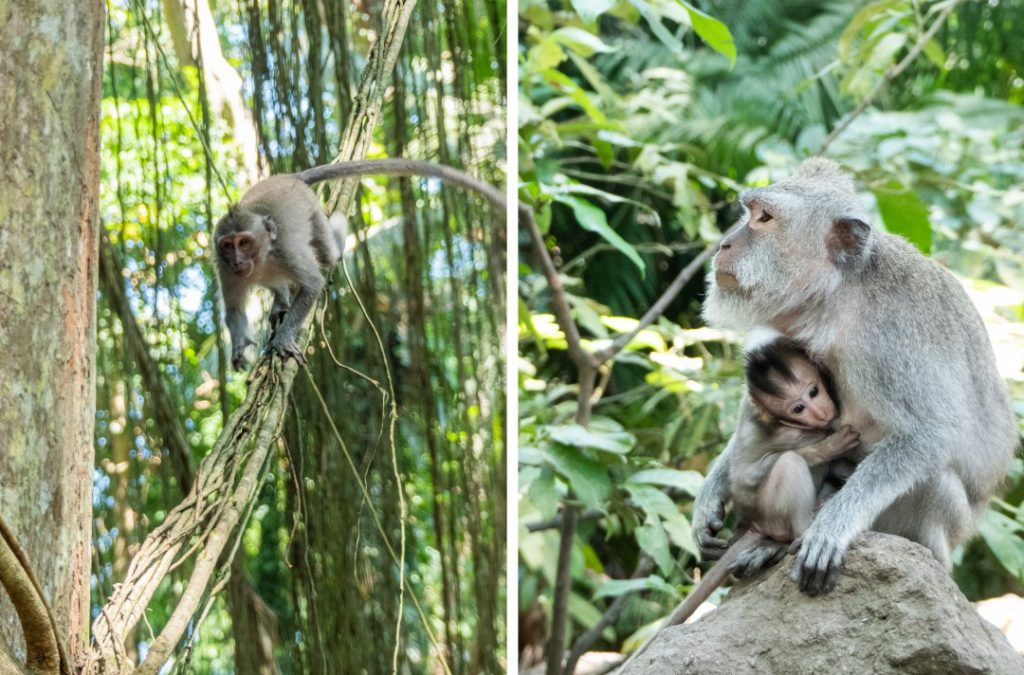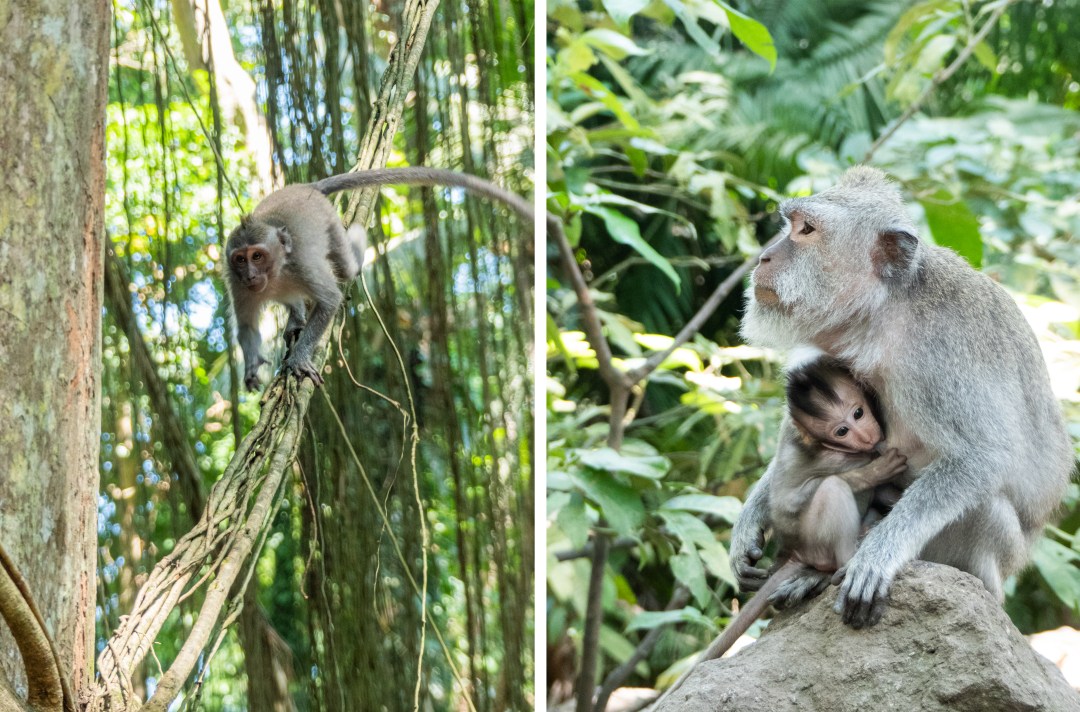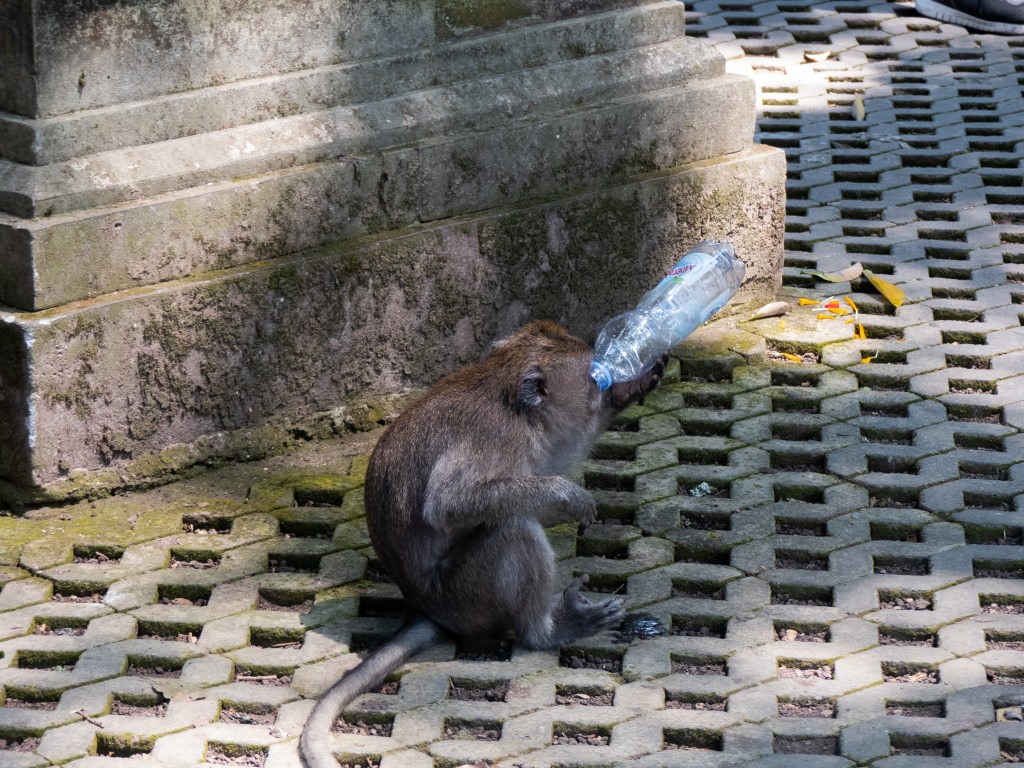 13:00 – GOA GAJAH
No Bali itinerary is complete without visiting at least one temple. Goa Gajah or "The Elephant Cave" is believed to have been built in the 9th century and serves as a holy place for both the Hindu and Buddhist faith.
The cave and its surrounding sites were rediscovered in 1923 during colonial times.
The most famous part of this attraction is the cave entrance. You might have to wait a while to take a photo here without people in it. The inside of the cave is fairly unimpressive and only has a small shrine.
There are also large bathing pools which are similar to those at Tirta Empul Tempel, the famous location from Eat Pray Love.
Opposite the cave, you'll find stairs leading into a small valley. There is another temple here as well as some waterfalls and ponds. Don't miss out on this part of Goa Gajah. It is almost more interesting than the actual cave.
It will be hot during this time of day. Cool down by buying a fresh coconut from one of the vendors and rest in the shade for a bit.
Entrance to this place costs IDR50,000 (≈ 3,20€) per person. You are expected to cover your legs with a sarong when visiting the temple. If you don't have one with you they will provide you with one at the entrance.
Parking costs IDR5,000 (≈ 0,30€).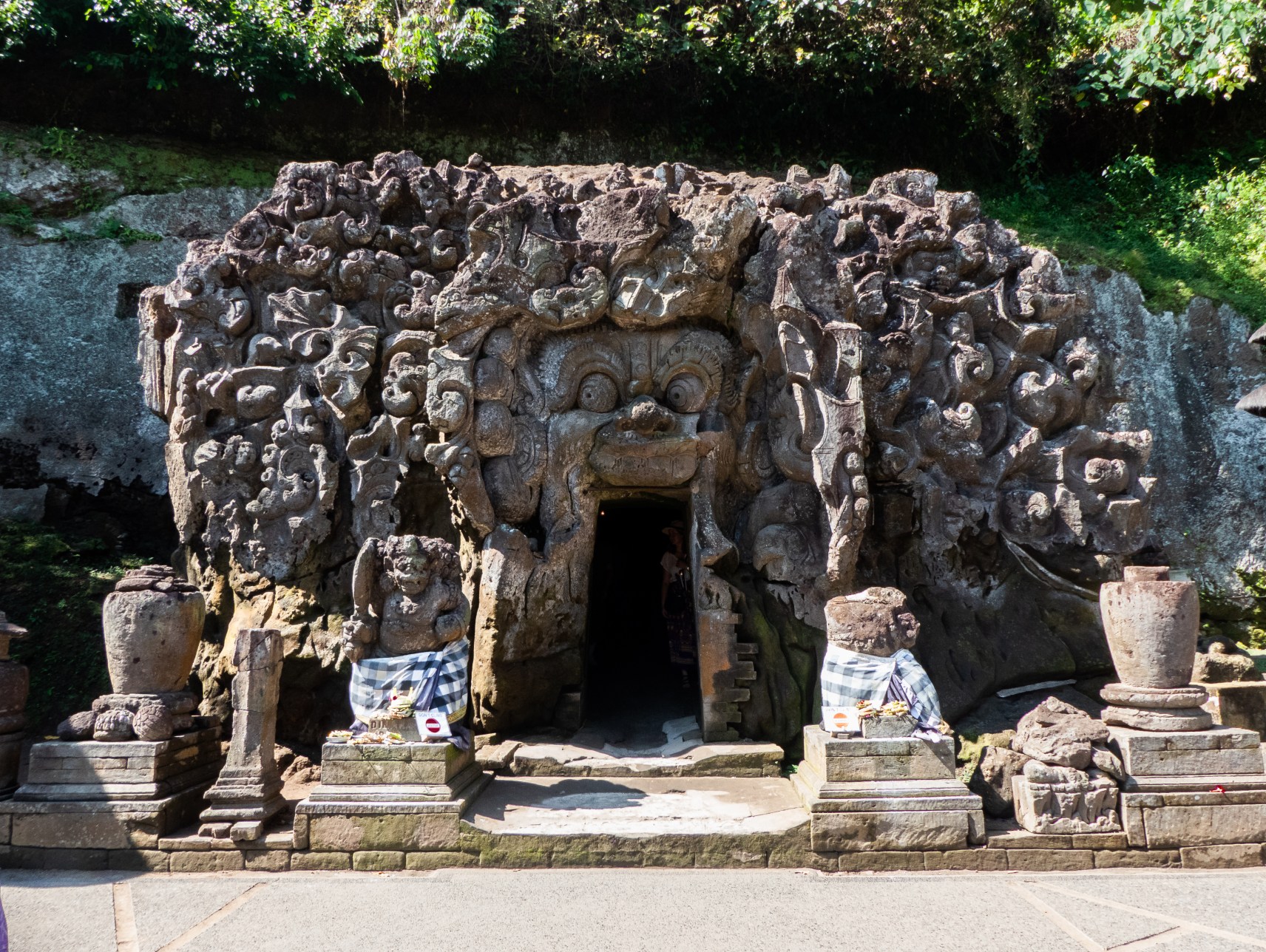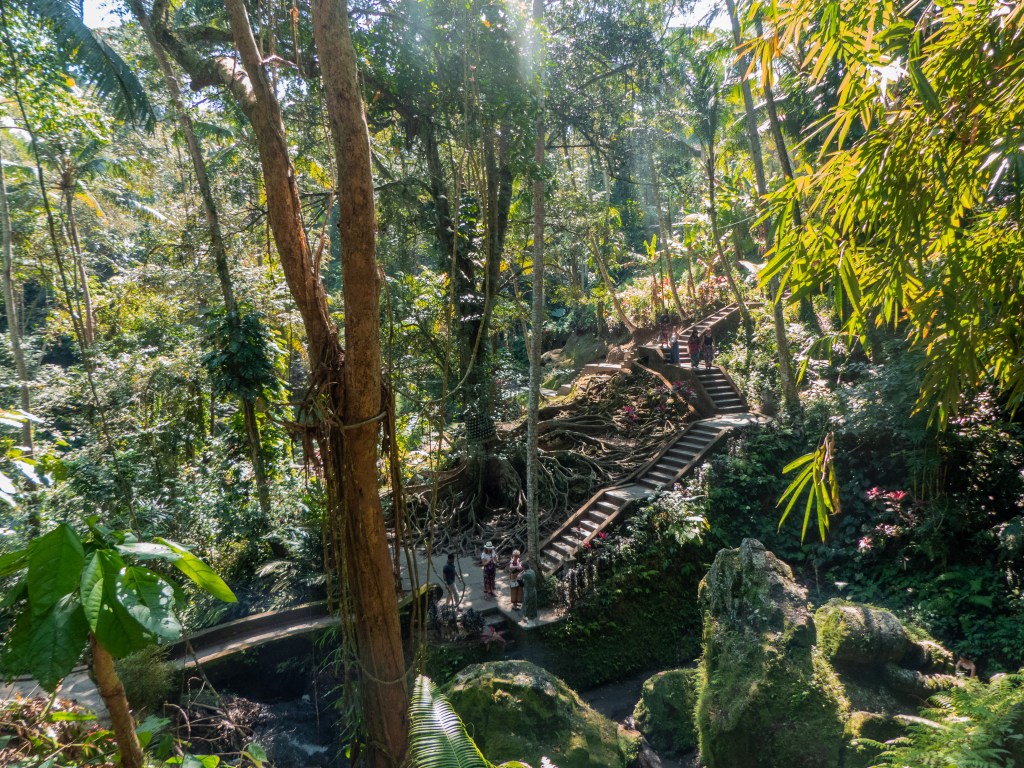 14:30 – TEGENUNGAN WATERFALL
You're reaching the end of your day-trip to Ubud. After a quick 15-minute drive through small towns, you'll find yourselves at the Tegenungan Waterfall.
This is one of Bali's most famous waterfalls and will be packed with tourists during this time of the day, unfortunately. But its beauty is hard to hide. If you like it here you can always come back early in the morning to get a more secluded experience.
Entry is IDR15,000 (≈ 1€) per person and parking is free. The waterfall is very accessible and can be reached easily via a set of concrete stairs.
There are plenty of cheesy photo spots such as the popular nests. There is also a swing at the top of the cliff above the waterfall.
You can swim at Tegenungan Waterfall if you brought your bathing suit. There are changing rooms and toilets available for a small fee at the bottom of the steps.
There is also a semi-artificial pool and smaller waterfall where you'll have a bit more peace and quiet.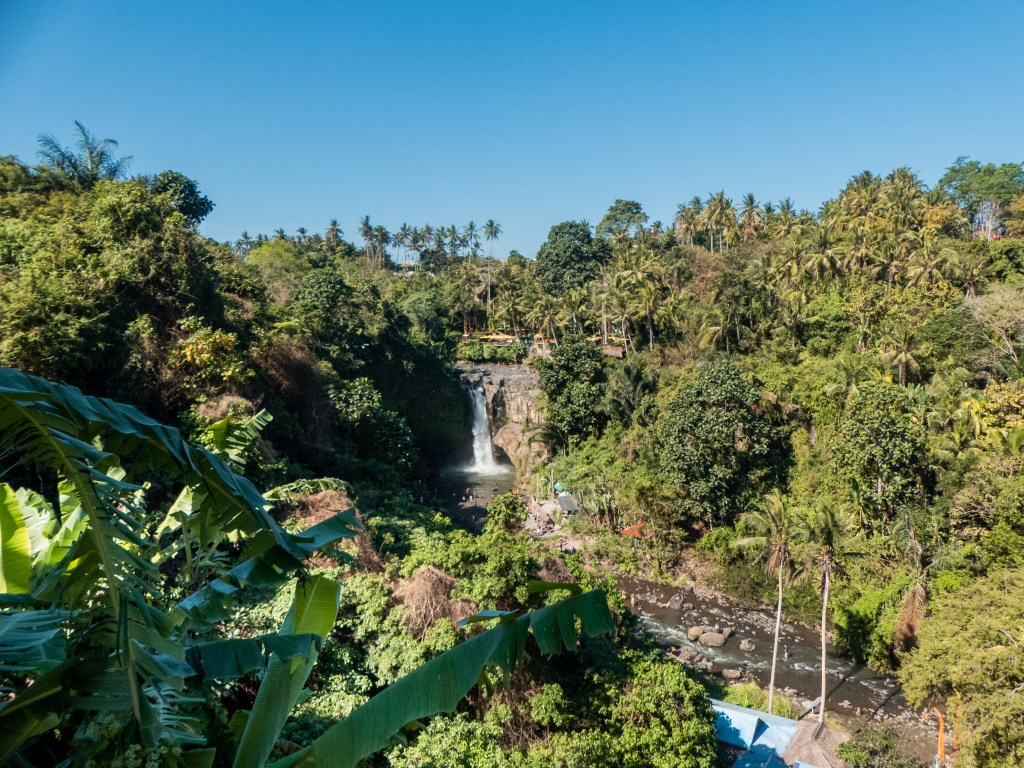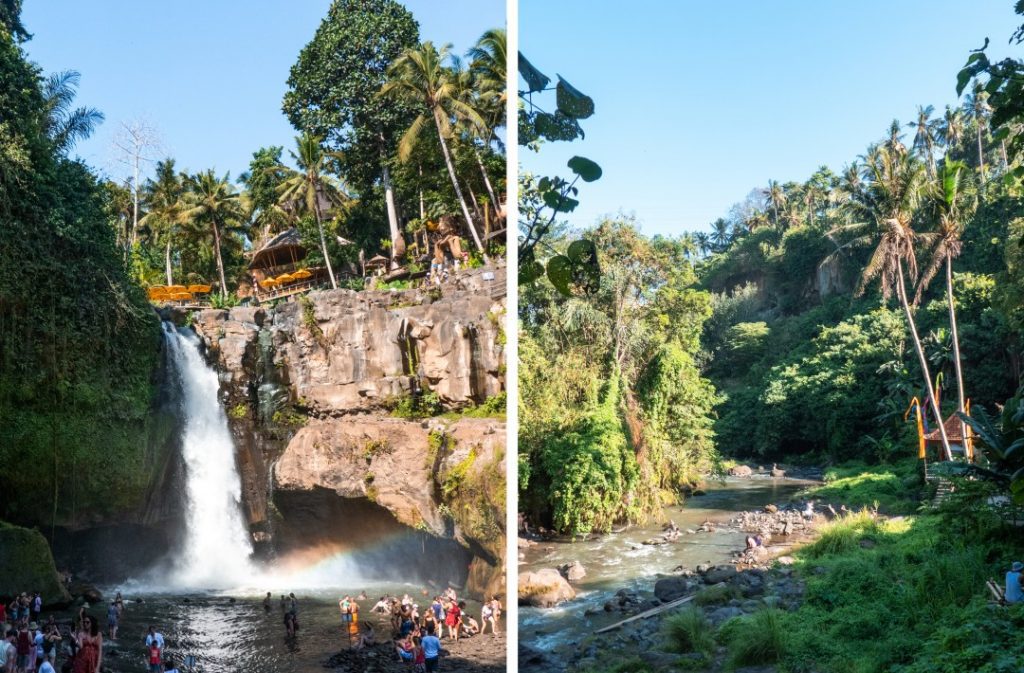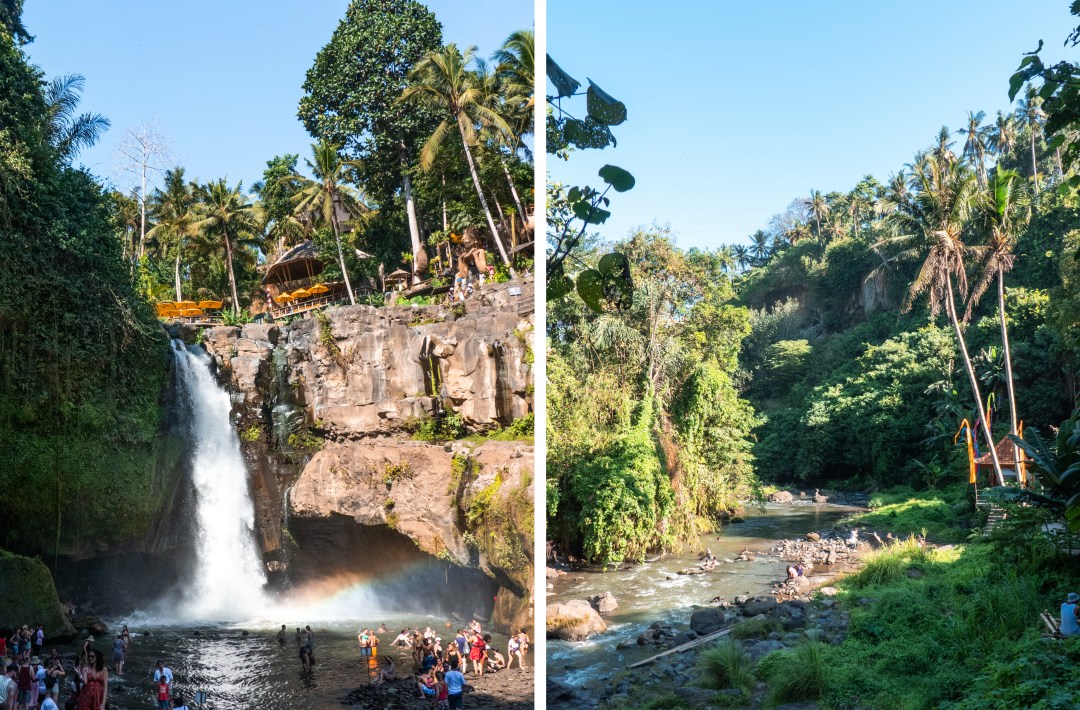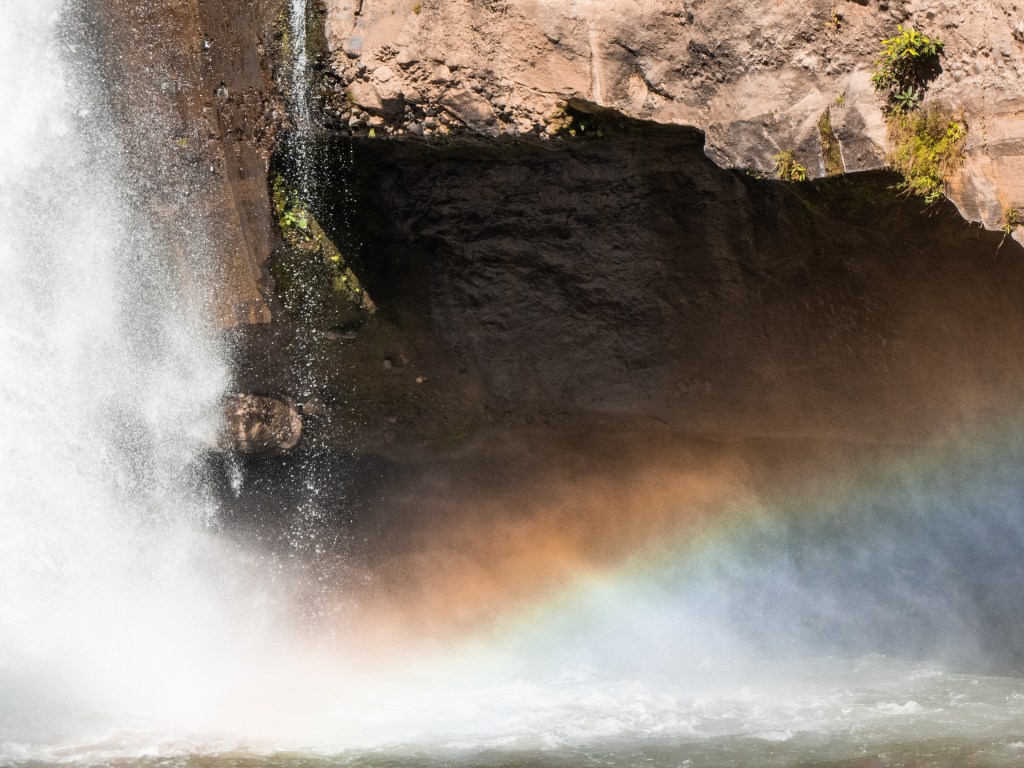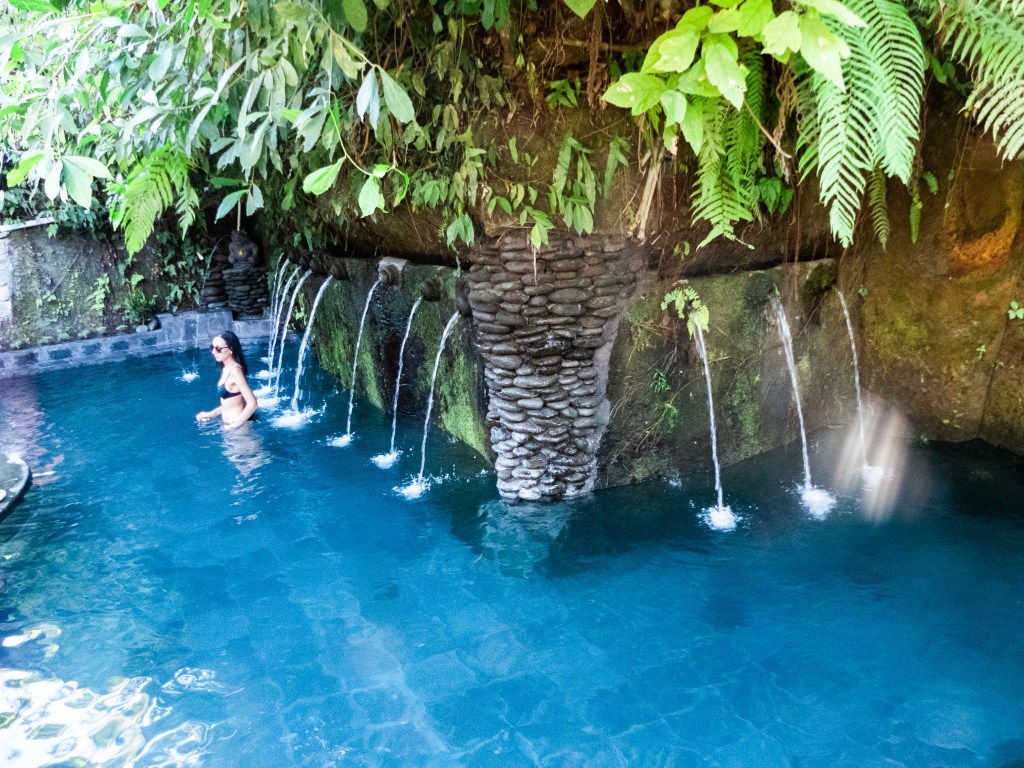 16:00 – COFFEE "PLANTATION" (JAMBE ASRI AGROTOURISM)
The last stop of this itinerary is optional. I'm having trouble recommending visiting one of Bali's "coffee plantations" because they are surrounded with quite a bit of controversy.
The main reason why tourists visit these plantations is to try the famous Luwak Coffee. This is a specific type of coffee bean that is ingested by the luwak or civet, a small cat-like mammal. The resulting coffee is ridiculously expensive and has mixed reviews for taste.
Unfortunately, the luwaks are usually kept in horrific conditions. The coffee that is sold as Luwak Coffee is usually a fake and there is no real way to tell if it is authentic.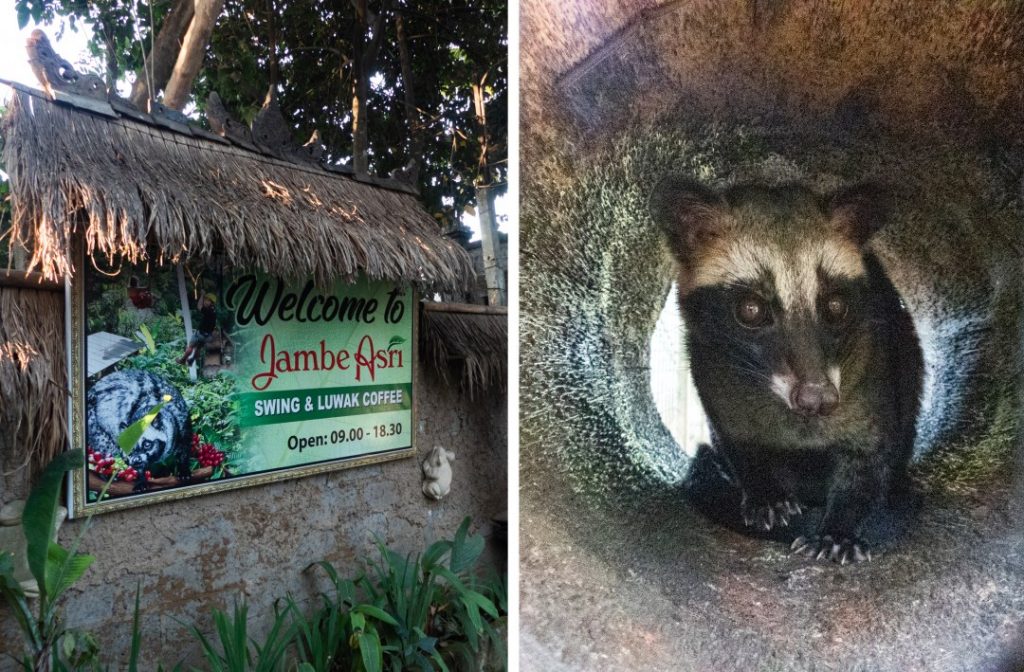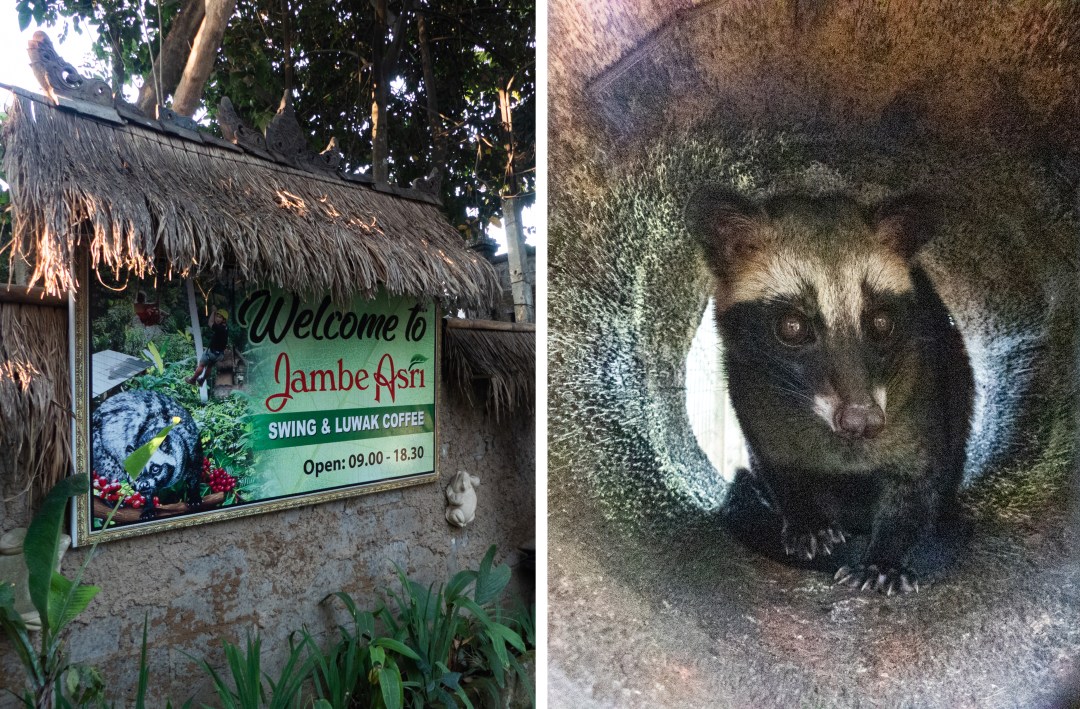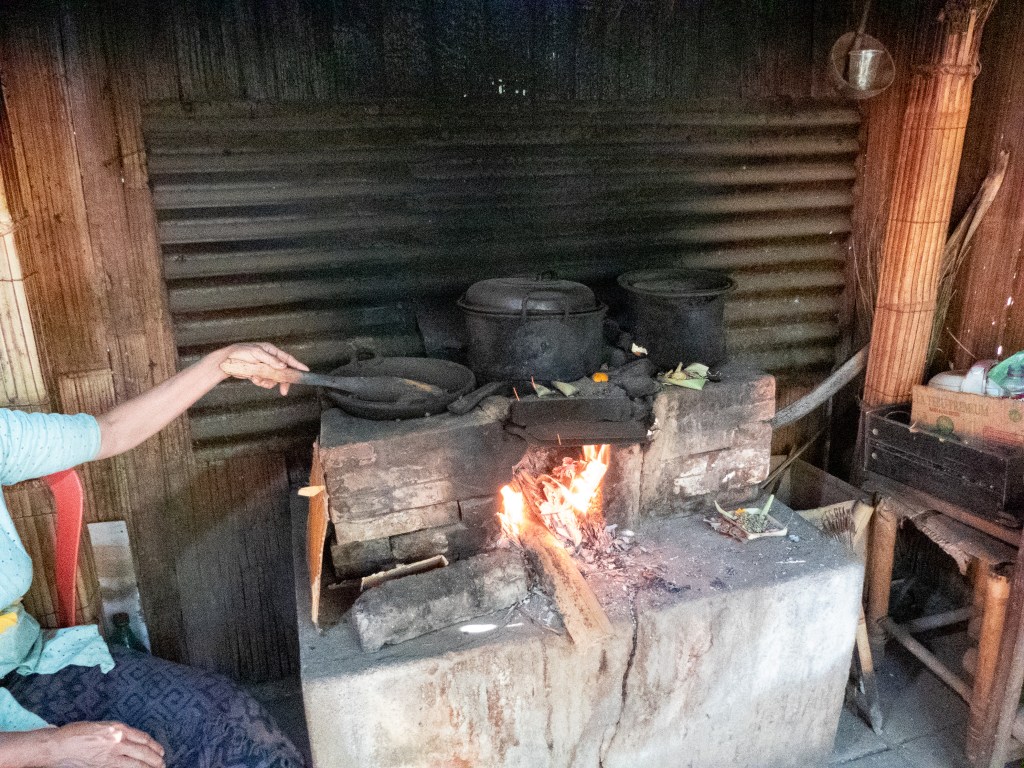 SHOULD YOU STILL VISIT?
Now that this is given as a disclaimer, I still think you can visit a coffee plantation in Bali if you are aware of these things and know what to expect. For this itinerary, I chose Jambe Asri Agrotourism. This is not an actual plantation but more a tourist spot meant to show visitors the process of making the coffee and then get them to buy it at highly inflated prices.
They, however, offer a free tasting of 13 teas and coffees when you visit with no obligation to buy anything. Are you still supporting the mistreatment of luwaks when you visit? Unfortunately, in a way yes. But the tasting does not include any actual Luwak coffee. It is up to you if you buy a cup at the price of IDR50,000 (≈ 3,20€).
Feel free to skip this stop if you don't want to associate with anything that involves animals kept in captivity. There are luwaks kept for tourists on the grounds of this attraction. Ideally, there shouldn't be, of course. But you can still get a free tasting, sit and enjoy the view for a while and then not buy anything. There was surprisingly little pressure to purchase packaged tea and coffee from the shop afterwards.
In my opinion, the tasting is pretty decent considering it is free. Most of the teas and coffees were really tasty and a great way to try a few.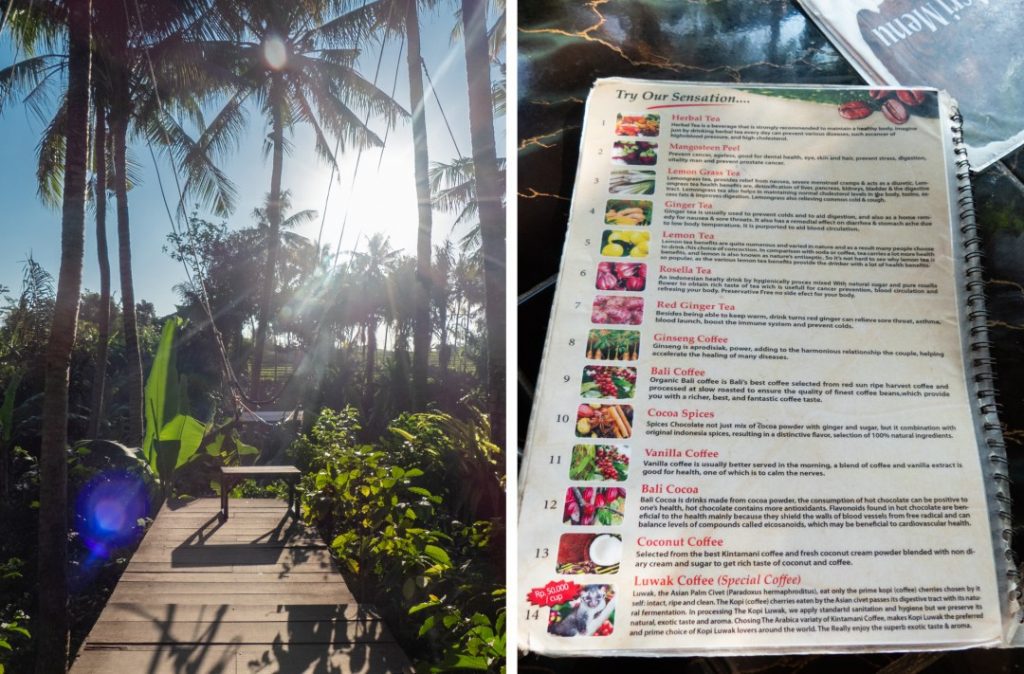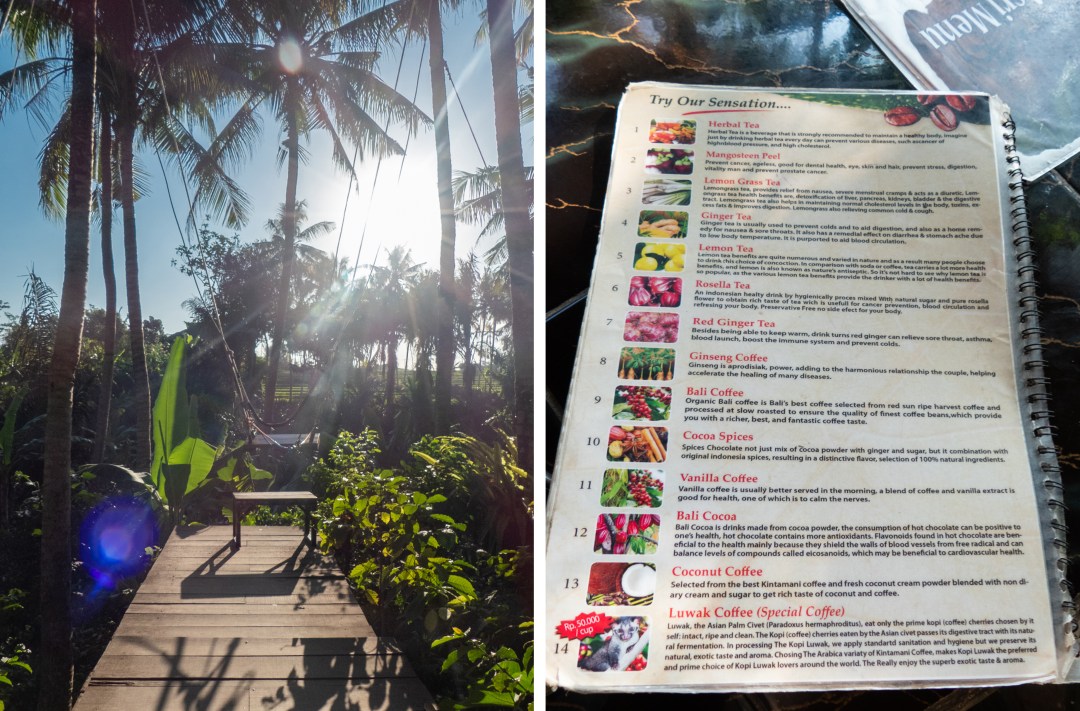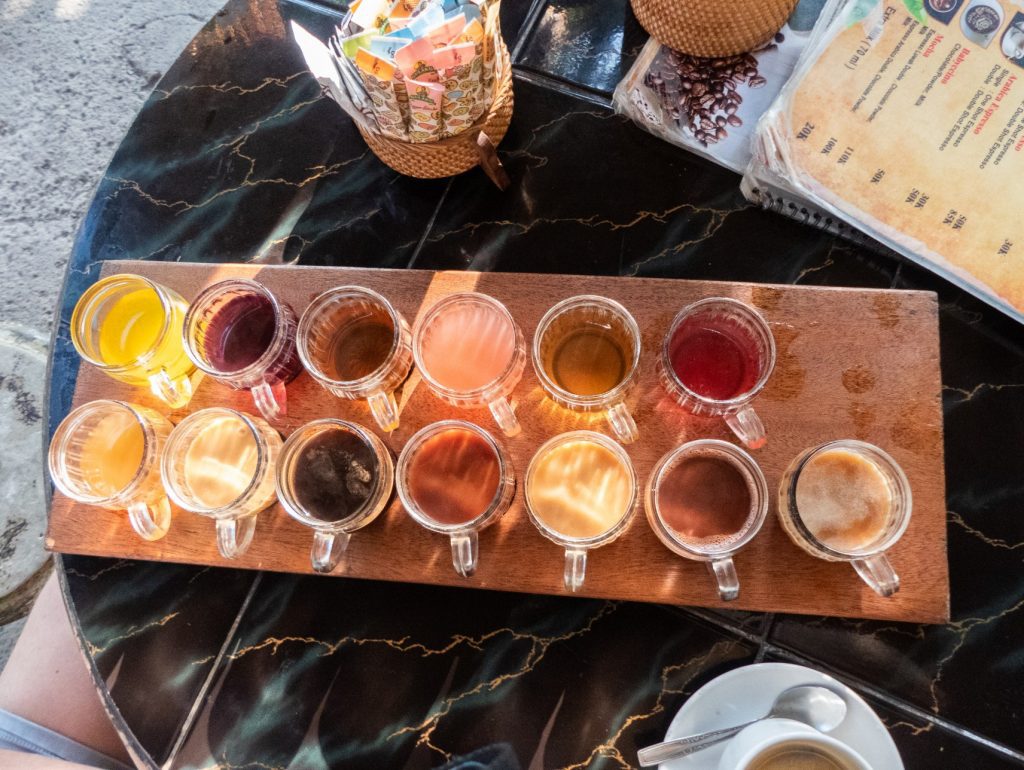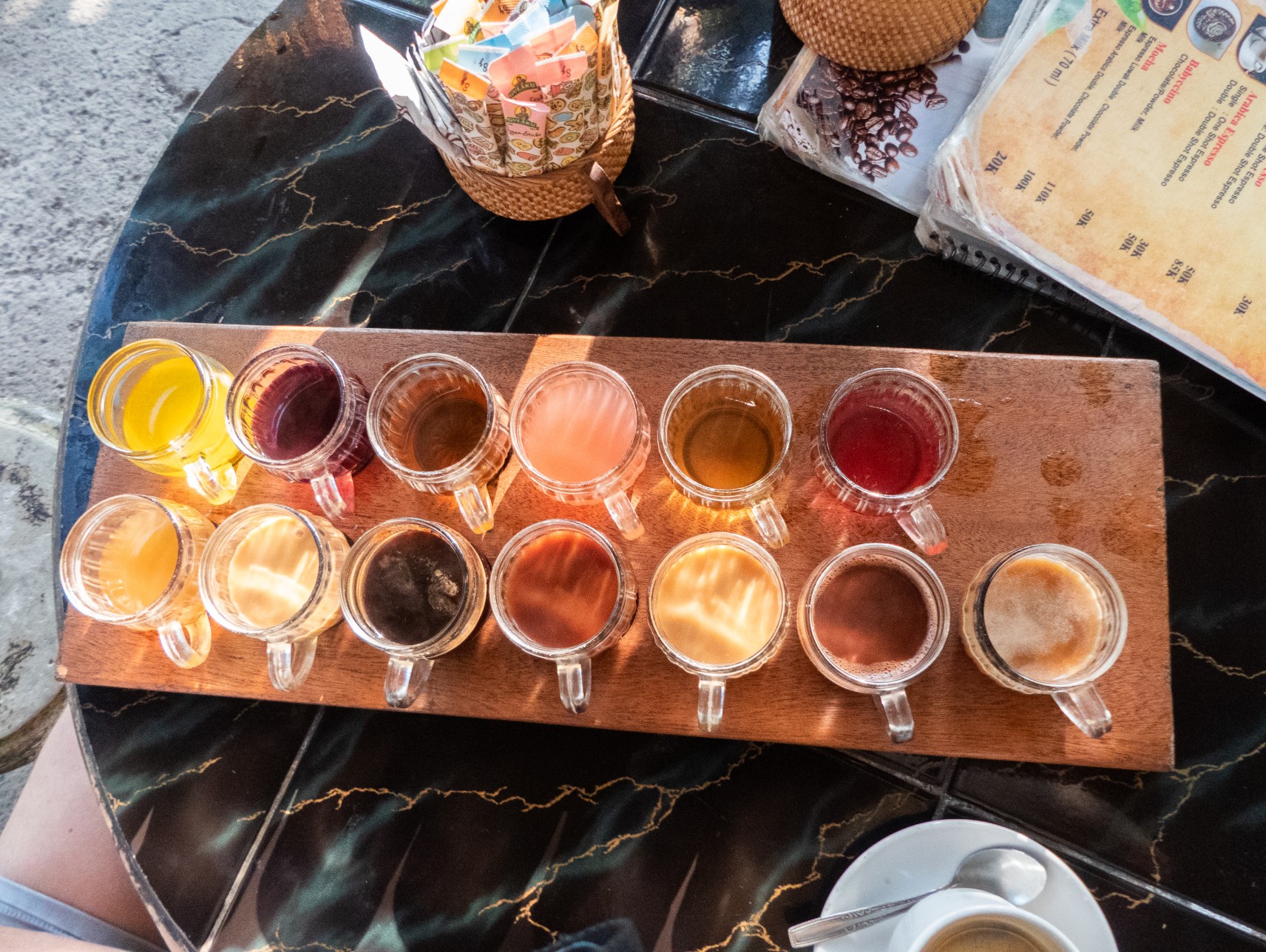 16:45 – THE END OF YOUR DAY-TRIP TO UBUD: HEAD BACK TO KUTA IN TIME FOR SUNSET
By now it will be getting late and you have to head back to Kuta (or wherever you started the day trip to Ubud from). If you time it well you can be back home in time for sunset on the beach. Why not enjoy it with a few Bintangs and some dinner at one of the many little restaurants.
No plans for the night? Definitely check out LXXY in Kuta and its all-you-can-eat-and-drink BBQ for under 7€.
Need more things to do in Ubud? Check out this post by The Travelling Guru.