When I tell people that I'm a travel blogger and writer most find it hard to imagine what exactly I do on a daily basis. While it's sometimes difficult to convince the older generation that this is an actual job more people earn their money online than you might think. Blogging involves a lot of work behind the scenes which goes beyond simply running a website. Surprisingly, my routine as a travel blogger actually involves a lot of things that aren't writing.
When I was researching how to start my own blog I was looking for a sort of example schedule or list of daily, weekly and monthly tasks that travel bloggers complete. Now years later I have my own routine as a travel blogger and am sharing it to maybe help someone who is just starting out and wondering what an average day looks like. Spoiler: It's a lot of work.
Just starting out? Here are 12 things I learned in 2 years of travel blogging.
This post may contain affiliate links, which means we'll receive a commission if you purchase through our links, at no extra cost to you. This helps us keep Guide your Travel free and provide high-quality content for you. Please read the full disclaimer for more information.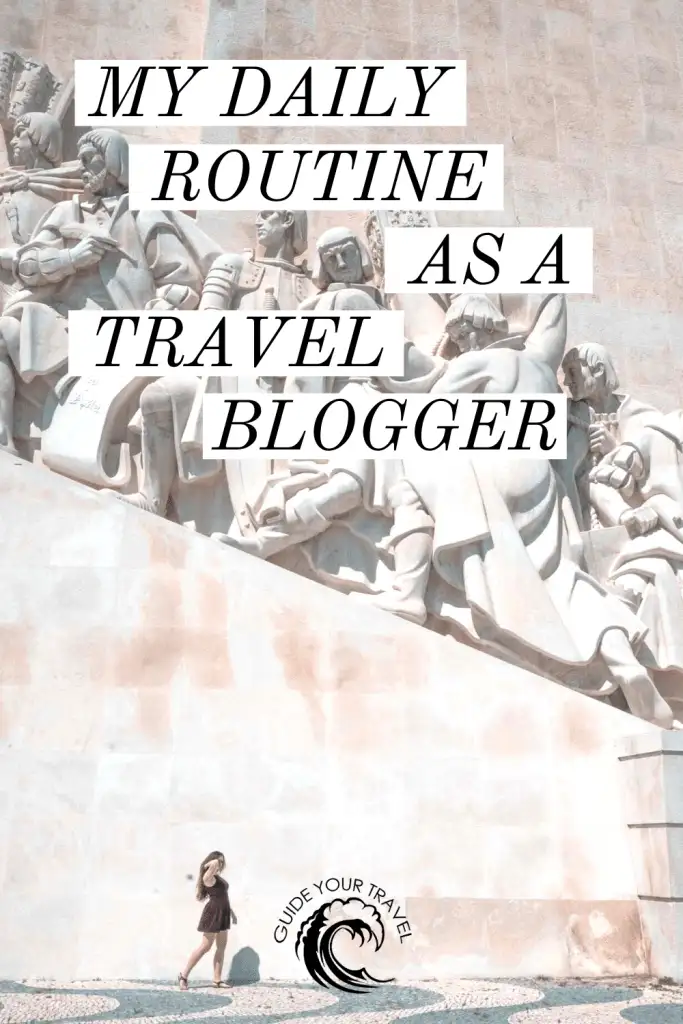 DO TRAVEL BLOGGERS ALWAYS TRAVEL?
When you think of a travel blogger you might imagine someone sitting on a beach somewhere with their laptop. While I've worked in my fair share of unusual places it's rarely a beach but mostly a couch in a random Airbnb or a foldable lawn chair on a campsite somewhere close to the wifi router. Anyone who's tried to get work done on a laptop outside will know how unrealistic this idea is in the long run.
It's actually quite easy to come up with a large amount of content from just one trip so you don't necessarily have to be constantly travelling as a travel blogger. I do enjoy seeing as many different places as possible but there are times when it's just not feasible. During the current COVID pandemic, I found myself stuck at home a lot more than I would have liked but I was also a lot more productive. When you suddenly have nothing to do and nowhere to go it's a lot easier to commit to sitting at your desk all day. So while this is the actual routine I've been following consistently in the past year it is definitely slightly different when I'm travelling. If international travel is possible again soon I will maybe make an updated travel blogger routine.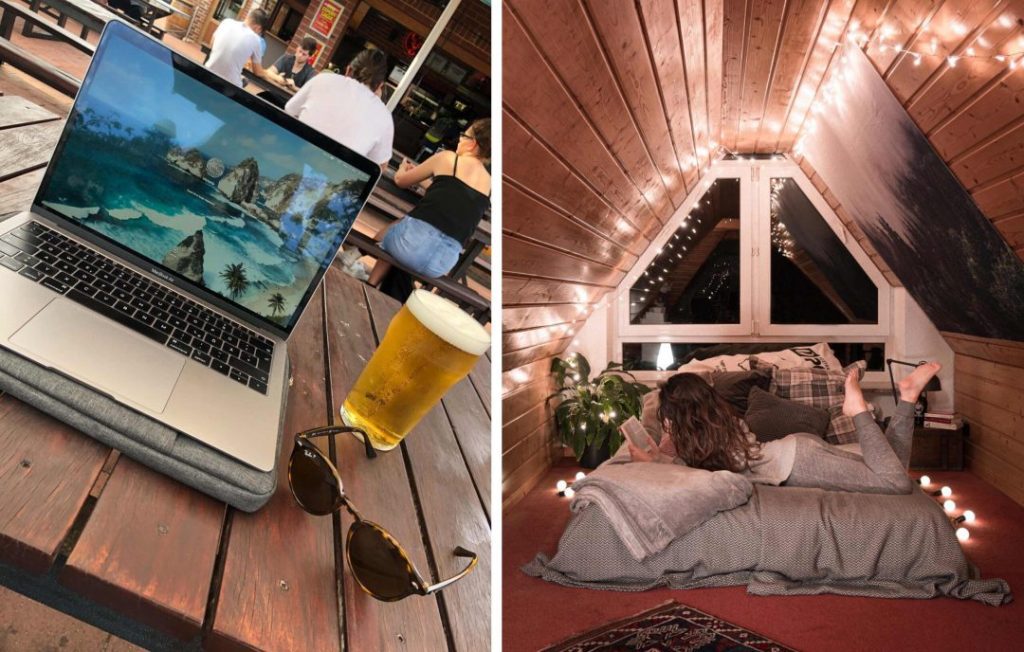 WHAT'S THE DIFFERENCE BETWEEN A TRAVEL BLOGGER AND TRAVEL WRITER?
If you're thinking of starting your own blog my routine might actually be slightly different from what yours will look. I don't only write for and maintain my own blog but a large part of my works involves freelance writing. I write all sorts of travel, lifestyle and business content for a variety of websites and publications. I'd say this takes up around half of my time as a blogger so I would have a lot more free time if it wasn't for my writing jobs. But writing is also what's most fun for me and I'm always excited to start a new project. Especially writing content that I maybe wouldn't publish on my own blog is very exciting and stops me from getting bored with my own blog. Finding clients that have very different content from my own is my definitely my favourite thing about being a blogger.
HOW EASY IS IT TO START YOUR OWN BLOG?
Blogging is a lot of work but it was the best decision I ever made to start my own blog. Luckily you don't need very much to start blogging. The initial investment is very low or you could even start your own blog for free. Check out these 22 things I wish I would have known before I started my blog. The daily routine and life of a travel blogger might actually be very different from what you're expecting.
MY ROUTINE: WHAT I DO EVERY DAY AS A TRAVEL BLOGGER
I'm definitely a morning person so I like to get up early. I usually sit at my desk and start to work by 7:00 or 8:00 am. This might seem early but since I don't have to commute anywhere or do much in the morning I can just get started right away. This lets me end my day earlier which is ideal since I tend to be far less productive in the afternoon and evenings.
1. CHECK EMAIL AND REPLY TO MESSAGES
I start my mornings by checking my emails and messages which usually accumulate overnight. Since the majority of my clients and contacts are in different time zones I tend to have a lot of unread mails in the mornings which I try to reply to first thing. I also briefly check my social media notifications and reply to messages there.
2. COME UP WITH A TO-DO LIST FOR THE DAY
If you know me you know I love lists. 99% of my documents and notes are of course digitalised, the only thing that absolutely needs to be on paper for me is my planner. I usually have a weekly to-do list with big tasks and then I make a daily one each morning. I try to put a lot of things on it even if they're very small like replying to a message or reading an article. Having a lot of small achievements throughout the day motivates me to get the big stuff done. If I have a time-consuming task like writing a new article I will break it down into little parts like doing keyword research, coming up with headings, selecting images etc.
I rarely get everything on my to do list done which is actually what I aim for. I heard somewhere once that if you always finish everything you plan to do in a day you're probably not setting your goals high enough. Anything I don't complete just gets moved to the next day. If I notice a task has been pushed a few days I will make sure to complete it first thing in the morning.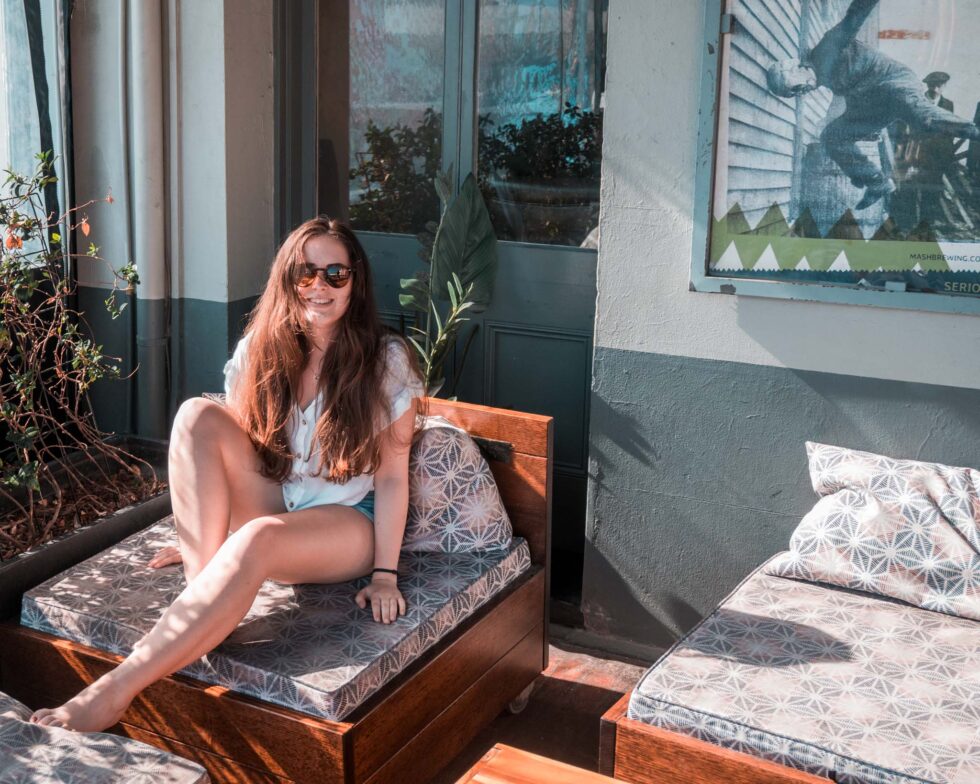 3. CHECK UP ON MY CLIENTS
Depending on the day I'll use this opportunity to check in with my clients and see if there are any open projects that require my attention. If necessary I'll do redrafts or revisions or discuss any future work. This step doesn't happen every day but it's always my first priority.
4. WRITE BLOG POSTS
I can concentrate best in the mornings so that's when I try to get the big projects done. This usually means writing a blog post either for my own blog or a client. Depending on the length I can complete as many as two or three posts per day. For long ones with lots of research involved, I can take one or two days depending on my schedule. While I work on some longer posts in chunks throughout the week I prefer to start something and finish it the same day if possible.
When I start a new article I usually begin by familiarising myself with the topic and reading some competing articles to get an idea of what other sites are doing. Then I do keyword research and come up with the scope of my article. I like to start by writing out rough headings and then splitting the post into little subsections which are much easier to handle.
Once I have my first draft ready I like to leave it for a bit while I do some other tasks. Then I come back one or two hours later with fresh eyes and make edits, implement more keywords and finalise my draft.
5. WRITE COLLABORATION POSTS OR HARO QUERIES
Something I do almost every single day is write collaboration posts or short guest posts. This means I'll write a short segment about a particular topic for another blog in exchange for a link to my blog. These can be anything from 500-word articles to just short 150-word snippets. This is a really fun activity which is always a part of my routine as a travel blogger because it lets me network with other bloggers and get my own blog out there. Usually, posts like this don't take too much time and are fantastic for link building and SEO.
Then there are HARO queries which stands for Help a Reporter out. This website sends out daily emails with queries from journalists in all sorts of niches who are looking for contributions to their projects. You usually have to respond fairly quickly in around a day or two so it's important to get these done as soon as possible. This is a great strategy for link building and definitely worth the effort.
6. RESPOND TO COMMENTS ON WORDPRESS
I used to forget to reply to comments and drag it out for weeks. Now I make a conscious effort to reply as soon as possible, usually within a day. I always get a notification for a new comment so I can easily put it on my to-do list.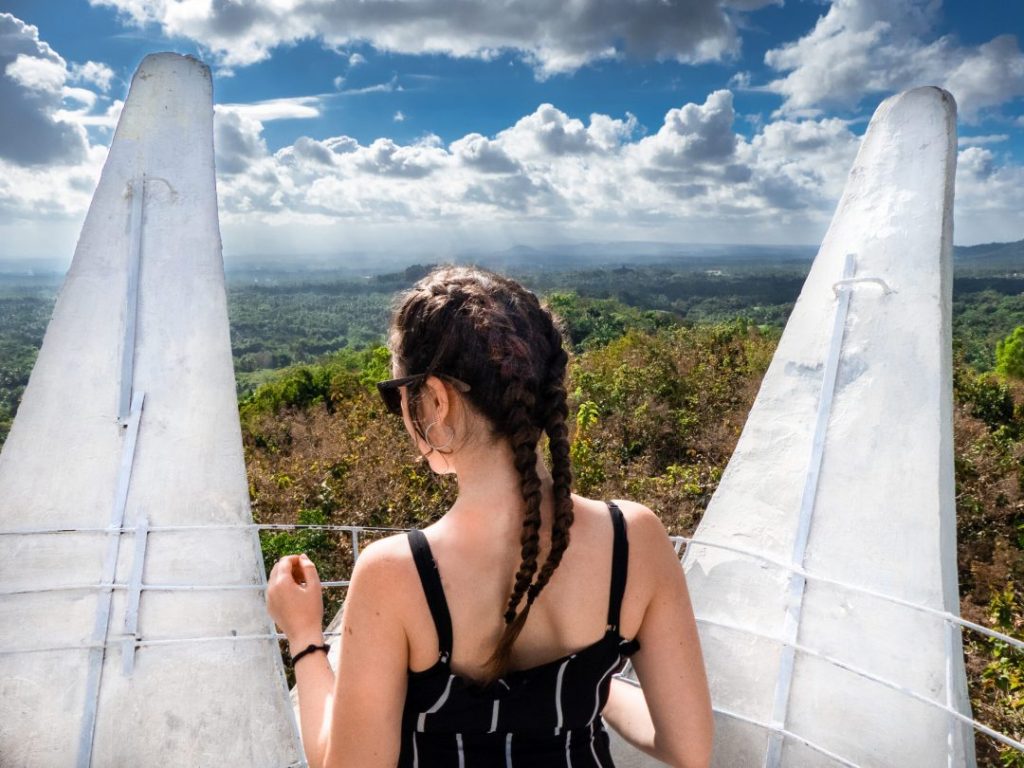 7. CHECK IF ANY OF MY PIECES HAVE GONE LIVE
I write a lot of shorter collaboration posts, guest posts and, of course, articles for clients. Sometimes I'll send off 4 to 5 different articles of varying lengths per day so it's very easy to lose track of everything. I try to be very organised and track down everything I've written for other blogs to make sure I know where my work ends up. I usually get emails if something of mine has gone live and I keep an eye out for backlinks to see if somethings been posted.
I'll then make sure to promote any articles that were published under my name on social media. I also keep an Excel spreadsheet of all my pieces so I have an overview of what still needs to be published. This is a really important part of my routine as a travel blogger that I do every single day.
8. TWITTER
I usually briefly check all my social media in the mornings to respond to messages but I usually don't look at my notifications in detail until a bit later. For Twitter, I always have content scheduled but I usually end up tweeting a few times per day anyway. I try to be active as much as possible although I probably spend most of my time on Facebook and Instagram. Twitter tends to be the first platform that I neglect which I'm trying to stop doing.
I usually save Instagram for the early evenings because that's when my audience is most active. I've usually also lost all concentration by this point so it's the perfect time to be on social media and not have to think too much. I usually post a few stories, like and comment on posts and respond to any messages that come up.
In addition to my blog's Instagram, I also co-manage a page called Tell your Travel which highlights travel creators. I spend some time on that account as well and try to push it a bit since it's still quite new and growing.
10. FACEBOOK
Facebook might be a dead social media channel but it's actually really useful for blogging. I don't necessarily get tons of traffic from it but Facebook groups are my main source of new clients as a freelance writer. I do use Upwork but I've found some of my favourite people I work with on Facebook. After browsing my groups for any new leads and possibly contacting potential clients I make sure to check for any new collaboration posts I could contribute in.
MY ROUTINE: WHAT I DO EVERY WEEK AS A TRAVEL BLOGGER
1. WRITE A WEEKLY TO DO LIST
At the start of every week I like to make a rough plan of what I need to do when. This usually only includes large pieces for clients, guest posts as well as my own blog posts. I assign each project a few days and try to stick to this schedule so I meet all my deadlines.
2. CHECK MY ANALYTICS
I try not to pay attention to numbers too much but about once a week I check the analytics for my blog, Instagram and Pinterest. I use Google Search Console, Google Analytics and Ahrefs to have a look at things like page views, clickthrough rate and which keywords I'm ranking for. This is really important for future keyword research and a great way to see what's working and what isn't.
3. POST AN INSTAGRAM PHOTO
At least once a week I post a photo to my main Instagram account. I don't like to use scheduling tools for Instagram so I just post manually. My other account Tell your Travel has a more rigorous posting schedule and I usually have pictures ready to go which I will post 2-4 times per week.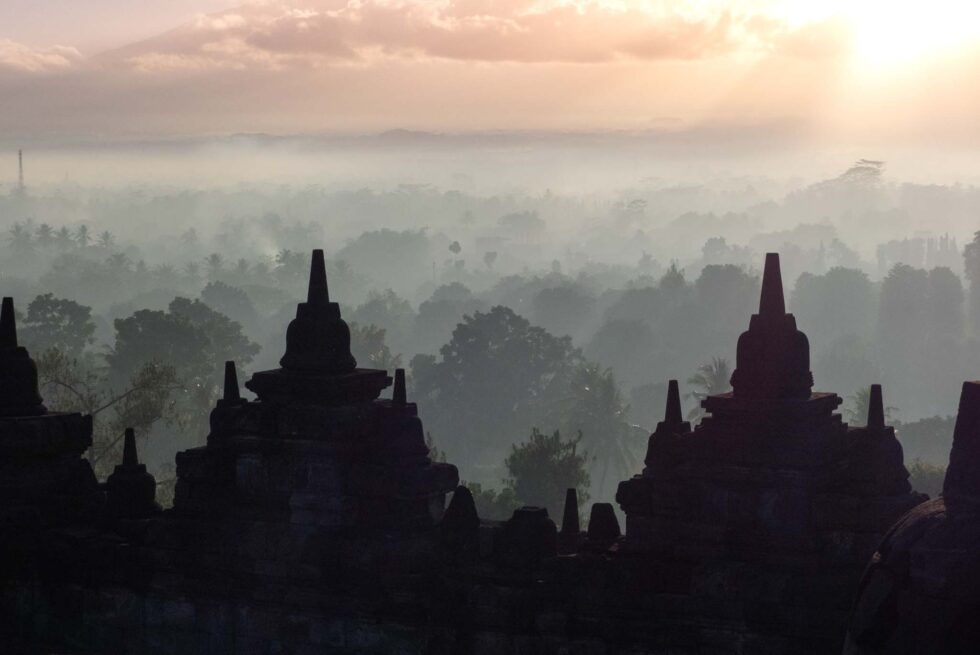 My own Instagram photos are quite spontaneous and not really all that planned out. For Tell your Travel the content is curated and prepared. About once or twice a week I will sit down and write as many captions for these posts as possible. We post short travel stories and guides on this account so it takes a bit more prep work. I like to work in batches so I tend to come up with a week's worth of content in just a few hours.
5. POST ON MY OWN BLOG
For the past two years, I've uploaded a blog post to Guide your Travel every single Monday. When I write this posts depends a lot on my schedule and how much I have going on. Sometimes I write three or four posts in advance if I know I'll be travelling or have other projects. Usually though I write my blog posts on a weekly basis. I try to start on Thursdays and then get the post done over the weekend. Sometimes when I'm really late I won't get started until Monday which always means a lot of stress but so far I've never missed a week.
6. WRITE THE WEEKLY NEWSLETTER
Our newsletter is sent out every Monday or Tuesday to go along with the new post. I don't tend to write it in advance but rather send immediately when I'm done. If you'd like to receive exclusive updates and our free travel guide then sign up to join our mailing list in the sidebar form.
7. WORK ON A NEW PROJECT
My schedule is always very full so at least once a week I take some time to dedicate to any new projects I'm working on. This could be anything from a new product, a business venture or a brand collaboration. Usually, these take months to be fully developed and are of course top secret until then.
8. EDIT PHOTOS
I love photography and I definitely don't have enough time to focus on it. When I'm not travelling taking photos tends to be neglected a bit because I just have so much other work. About once or twice per week I sit down and spend some time editing photos from past trips so I can use them in my blog posts and social media.
I'm in a constant struggle of saving disk space so I try to delete as many as I can. I'm a bit of a photo hoarder so forcing myself to do it every week has saved me from having to deal with hundreds of thousands of unedited pictures. Also having photos ready to go for a specific destination just motivates me to get started on a new blog post. There are posts I have been procrastinating for months just because I know it will take me forever to edit the photos.
MY ROUTINE: WHAT I DO EVERY MONTH AS A TRAVEL BLOGGER
1. GO THROUGH MY TO DO LIST
At the beginning of the month I have a look at my schedule and see if there are any weeks that are really busy. Somehow deadlines always tend to pile up on one day. I keep an eye out for busy periods and try to spread them out a bit by either getting things done earlier or moving less important deadlines back. That way each week has a similar work load and I know when I need to get some things done ahead of time.
2. WRITE A GUEST POST
I always have shorter guest posts planned throughout the week but I only try to do one big one per month. Since I'm so busy with my freelance writing it's hard sometimes to find space for guest posts so I usually make an effort to seek one out at the end of each month. These posts can have anywhere from 1500 to 4000 words so they do take some time to write. There's nothing more exciting though than finally seeing your piece published on a large website.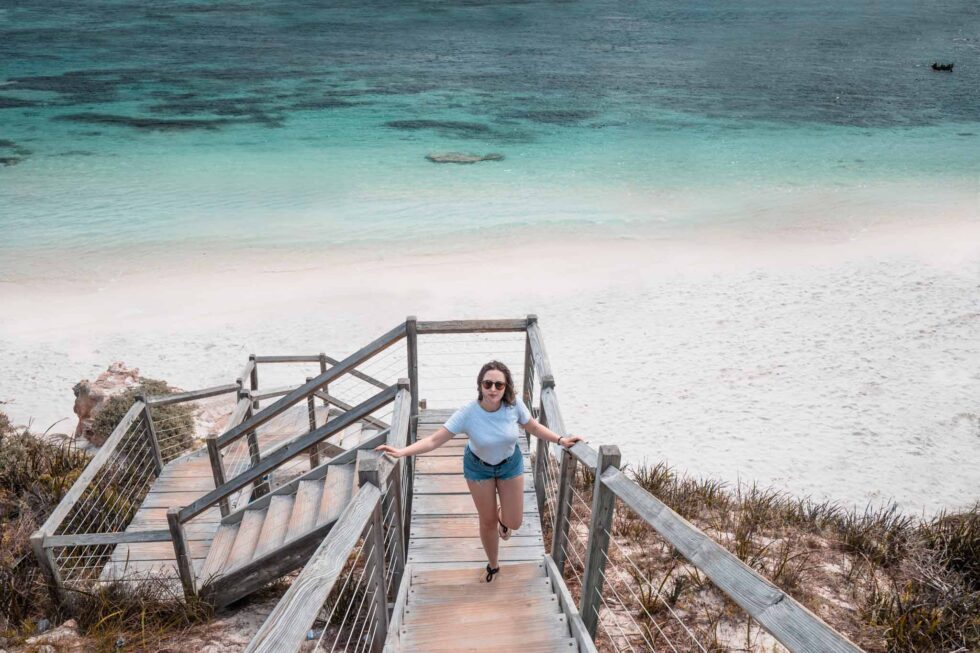 3. CREATE PINTEREST PINS
Pinterest is one of my busiest social media channels and I always need to have a lot of content ready to go. Instead of having to come up with new pin graphics every day I batch create them about once per month or once every two months. I sit down and make about four to five new pins for every one of my blog posts using Canva which I can then just pin as I go. I usually do this before I schedule my new social media posts so I can use some of the pin graphics for them.
4. SCHEDULE MY SOCIAL MEDIA
I use Later to schedule my social media posts for Twitter and Facebook. It's very convenient and saves me a lot of time every day. Since I only need to do it about once per month it's easy to find time and then I don't have to worry about it for another month.
Depending on my current Pinterest strategy I will also schedule pins on Tailwind. I usually only do this once every two months though because I like to schedule as far in advance as possible.
5. FIX ANY TECHNICAL ISSUES
Websites always have problems. About once per month I'll go through my own blog and look out for any issues and bugs that need fixing. I replace broken links and do some basic maintenance. If there are any larger issues I hire someone to fix them for me.
I also usually have an ongoing project like adding a new page to my site, fixing the site speed etc. Currently I am working on redoing the entire website which is taking up a lot of my time. Stay tuned for a complete remodel in a few months time!
6. FOLLOW UP ON PAYMENTS
Of course, I check my finances regularly. Towards the end of the month, I take some time to look at my payments and what's still open. I follow up with clients if they have an open balance and update my accounting data. With multiple accounts across different currencies, it's very easy to lose track of your finances so I make sure it's all in order.
I hope you liked this little insight into my daily routine as a travel blogger. Pin this article by clicking one of the images and tag us on social media!