Fremantle has a lot to offer to tourists and is often the secret favourite amongst backpackers and travellers visiting Perth. With a great selection of unique things to do and as well as budget activities, Fremantle is great for all sorts of visitors. It's perfect for a day-trip or long weekend or as your home base for seeing more of Perth and the surrounding area.
Fremantle is often described as a little artists' town which is especially popular with backpackers and longterm travellers. With lots of museums, art galleries, bars and cafes there is always plenty to do. In addition to having a relaxed and alternative vibe, the town is also located right by the beach which adds to its appeal. You could spend the morning shopping and exploring and then relax by the ocean for the remainder of the day. In the evening there are plenty of bars and restaurants to choose from as well as the famous Sunday Sessions (16 on this list).
If you're only in Perth for a short amount of time I would highly recommend making Fremantle a priority. Don't get me wrong, I love Perth but Fremantle is just a lot more attractive for tourists in my opinion. Plus if you're planning a trip to Rottnest Island this is the best place to depart from. Rottnest is a must-do and one of the best and most unique things to do in all of Fremantle.
Are you thinking of exploring the country in a campervan? Read our complete guide to wild camping in Australia here.
This post may contain affiliate links, which means we'll receive a commission if you purchase through our links, at no extra cost to you. This helps us keep Guide your Travel free and provide high-quality content for you. Please read the full disclaimer for more information.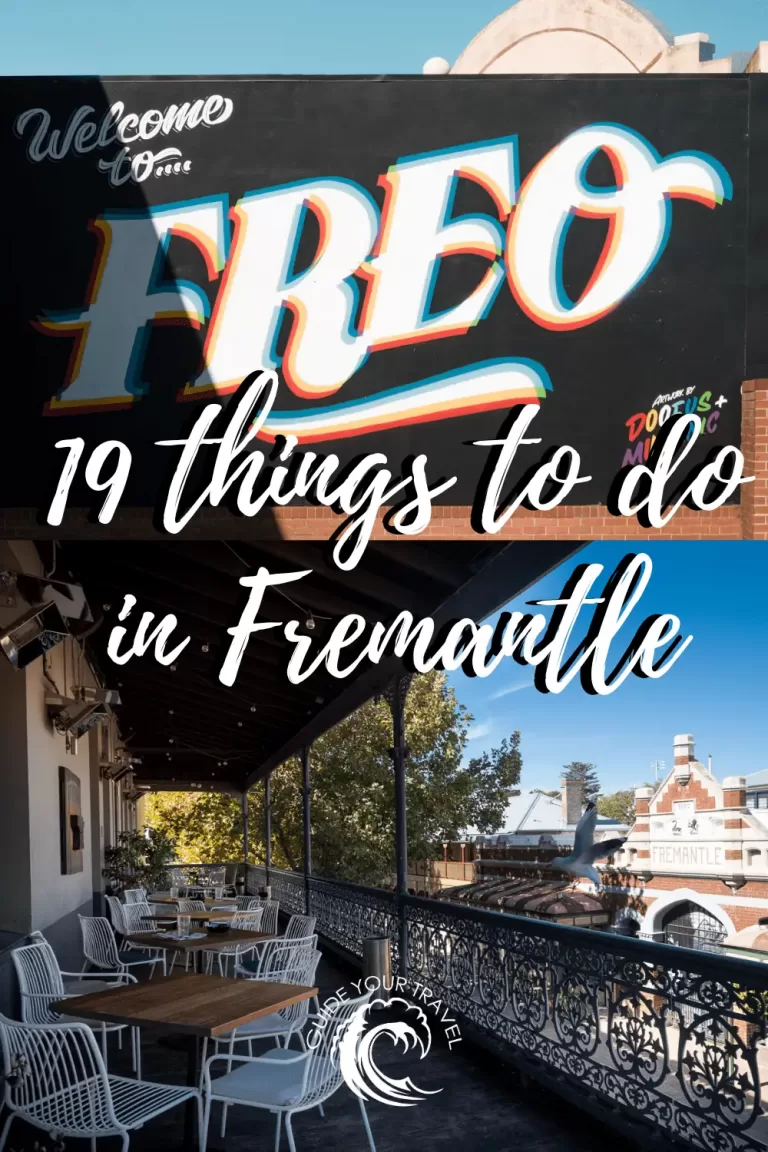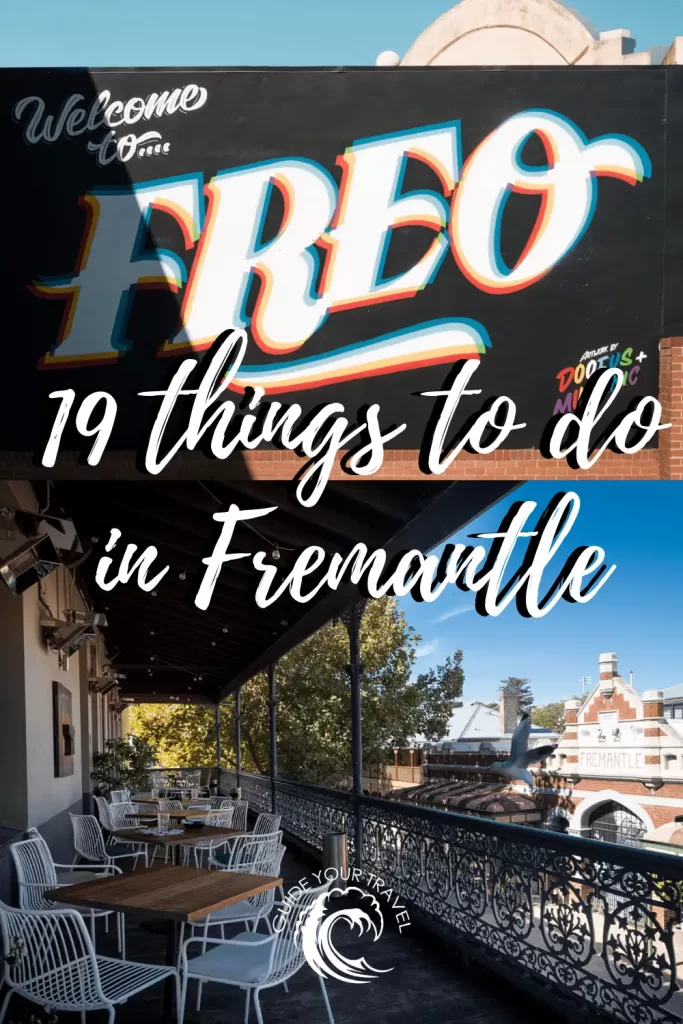 HOW TO GET TO FREMANTLE
Fremantle has great public transport connections. You can reach the little town in about 45 minutes from Perth city centre via the Fremantle train line. The centrally located Fremantle Station is a perfect starting point if you want to explore. From here the CAT buses will take you anywhere you need to go.
If you're not coming from the city centre you should make use of the many public bus lines that take you to Fremantle from all over the city. Use Google Maps to plan your journey.
If you have a car you can easily drive to Fremantle and park close to one of the beaches or the public parking areas in town. This will cost you a few dollars an hour but the rates are reasonable.
WHERE TO RENT A CAMPERVAN IN AUSTRALIA?
HOW TO GET AROUND FREMANTLE
One of Fremantle's biggest appeals, in my opinion, is how close together most of its attractions are. While there are North and South Fremantle the actual little town that is of interest to tourists is actually quite small. Luckily all the unique things to do in Fremantle on this list are within walking distance of each other (with the exception of Rottnest Island of course). You'll have no trouble seeing everything by foot if you're willing to do a bit of walking. This might become tiring, especially if you're visiting during the summer months but it is definitely possible.
If you're not a fan of walking you'll be happy to hear there are other great alternatives though. Perth has a free bus system called CAT that takes you to all the important tourist locations around Fremantle. No need to worry about tickets and departure times. These busses run up to every five minutes and are completely free.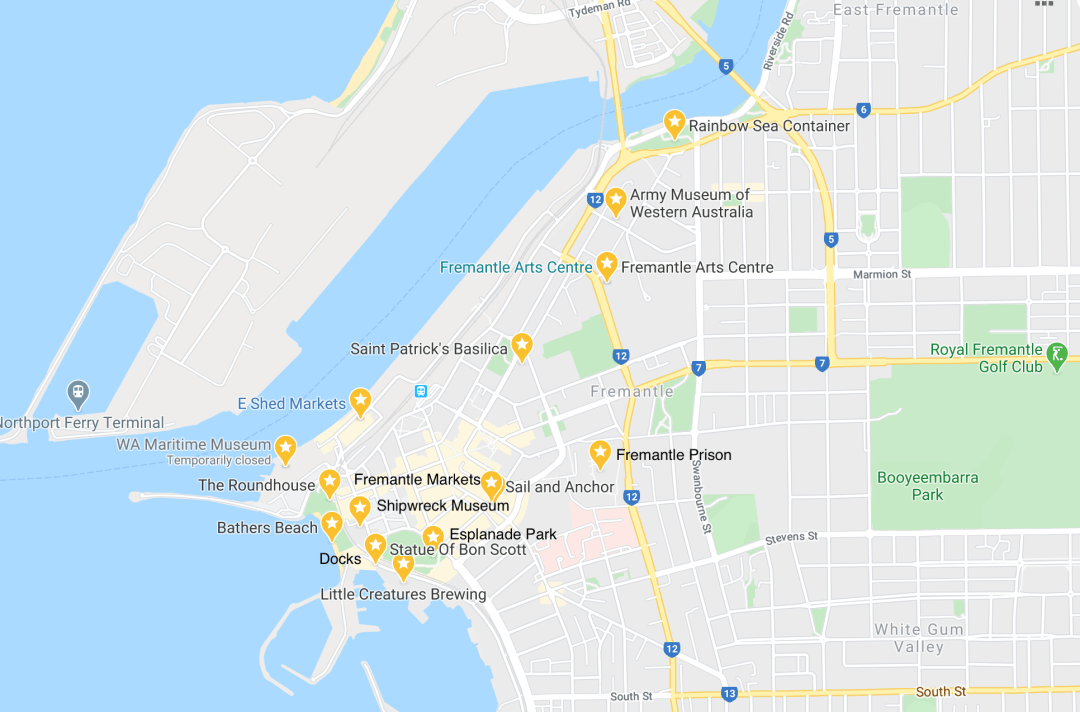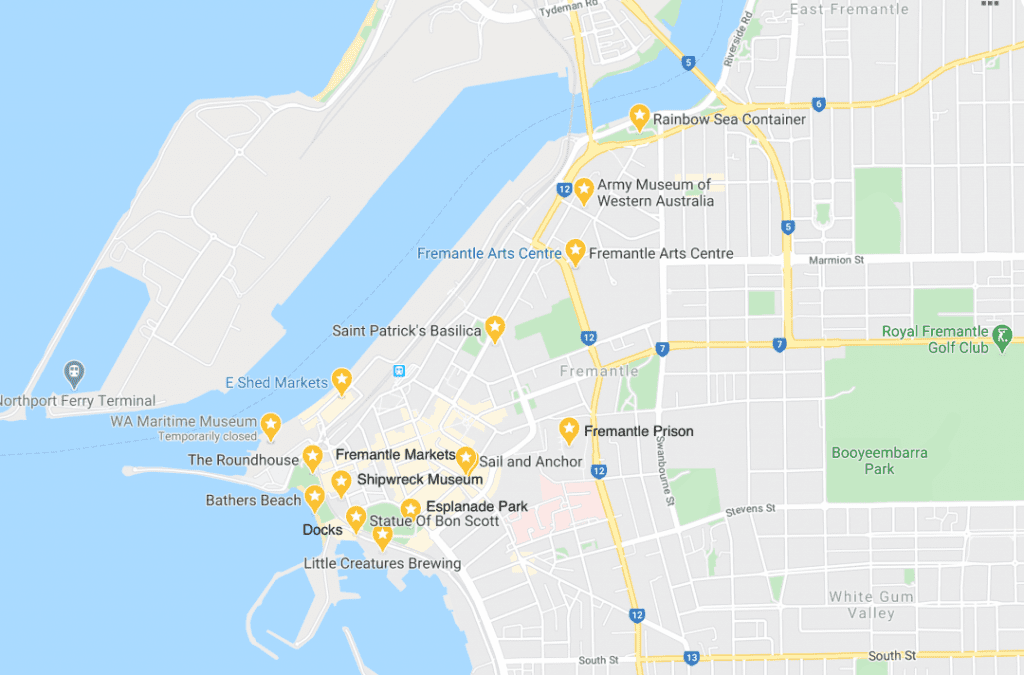 THE BEST TIME TO VISIT FREMANTLE
Fremantle will be a lot quieter during the week and become a tourist hotspot on weekends. This is for good reason since attractions like the Fremantle Markets are only open from Friday to Sunday. Most of the other hotspots such as the museums or the Fremantle Prison will, of course, be more enjoyable if you can see them during quieter times.
It is up to you what you prefer but I would recommend maybe picking two days to see Fremantle. One during the week for museums, art galleries and the beach and one on the weekend for bars, shopping and the markets. That way you get the best of both worlds
Also, consider the weather. You'll want to see these unique things to do in Fremantle on a sunny day. Even some of the museums have outdoor activities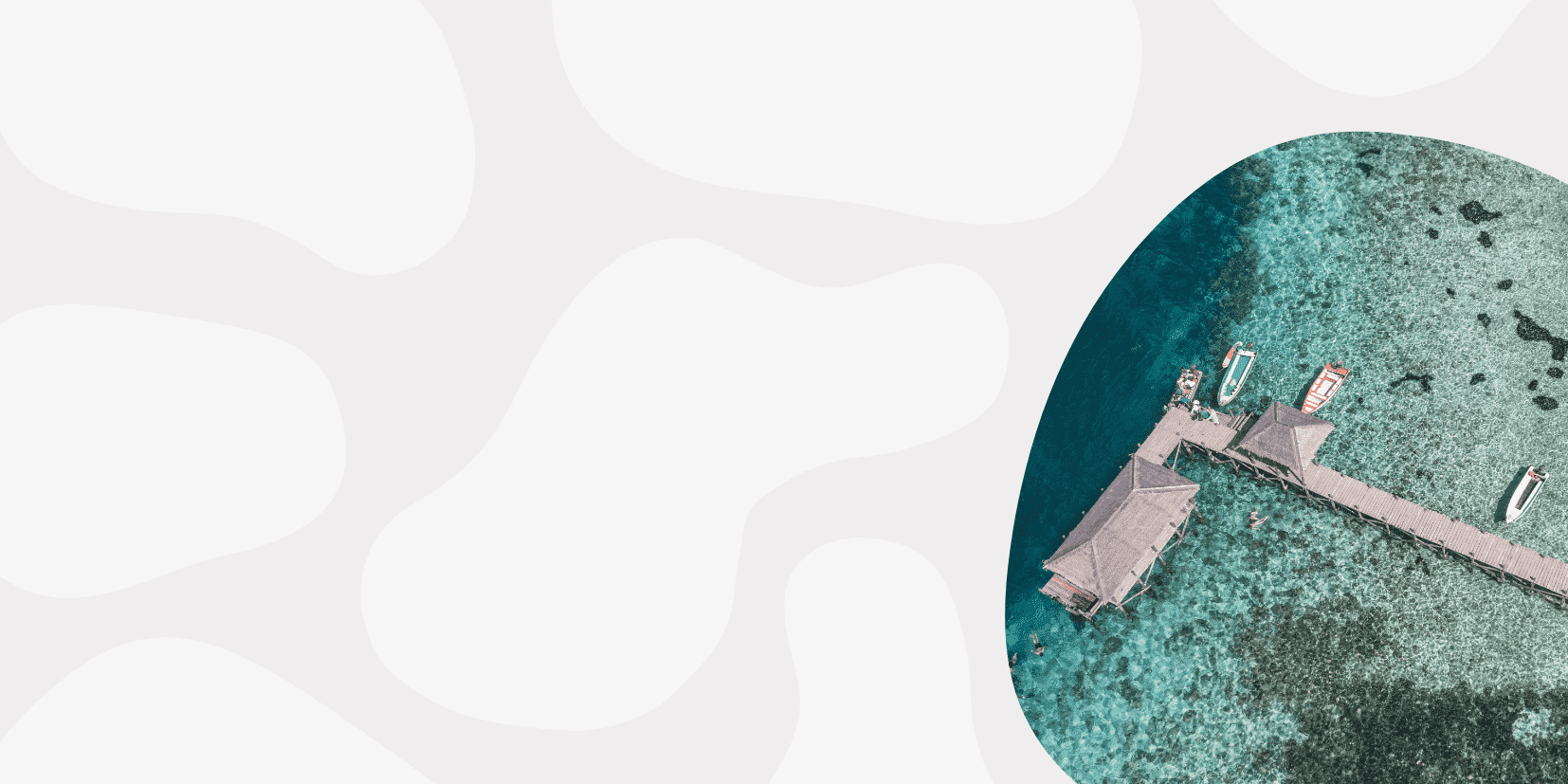 Let me save you time and effort when you're travel planning!

➼ Best travel insurance? SafetyWing
➼ Best place to find cheap flights? Skyscanner
➼ Best bank & credit card for travellers? Wise
➼ Best travel backpack? Osprey Farpoint 70
HOW LONG DO YOU NEED TO SEE FREMANTLE?
I would recommend two days to see Fremantle and an additional one for Rottnest Island. If you want to find out more about this beautiful island have a look at our Ultimate Guide to Rottnest Island. This guide how to take the perfect quokka selfie might also be useful!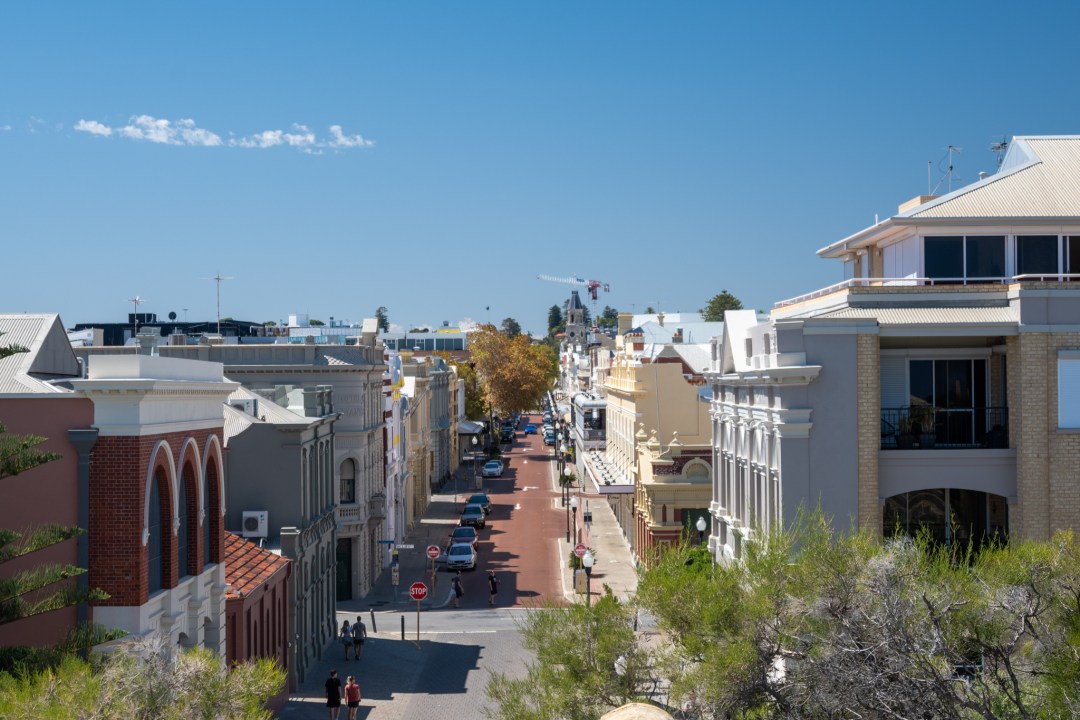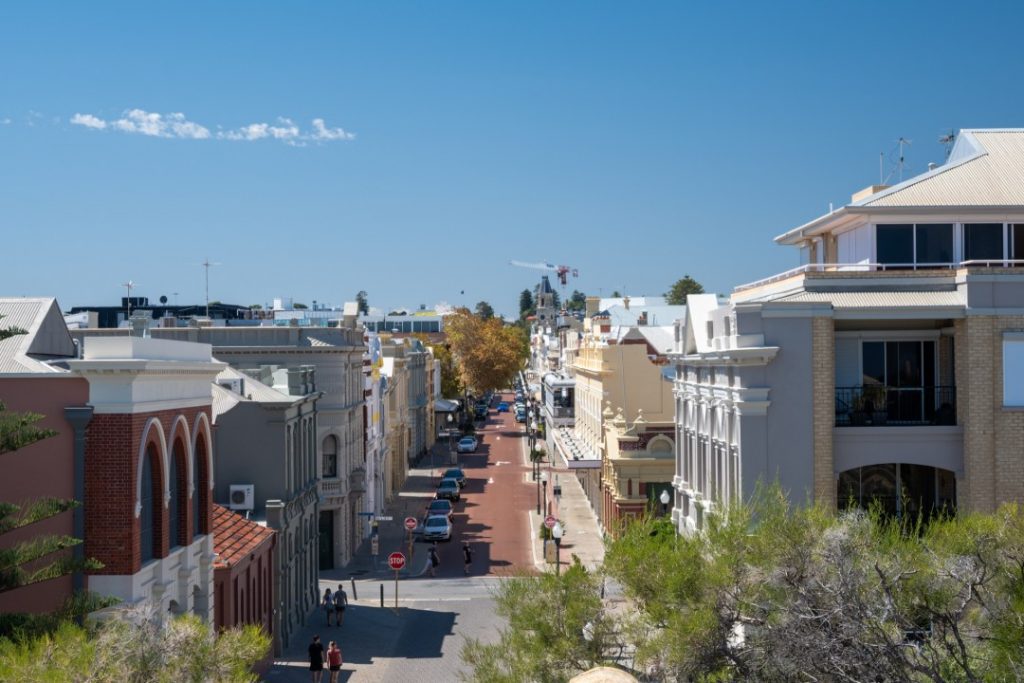 1. TAKE A PHOTO OF THE RAINBOW SEA CONTAINERS
The Rainbow Sea Containers are one of the things unique to Fremantle that you won't find anywhere else. This permanent art installation is perfect for taking photos and definitely worth the visit. It overlooks the Swan River and the view is stunning.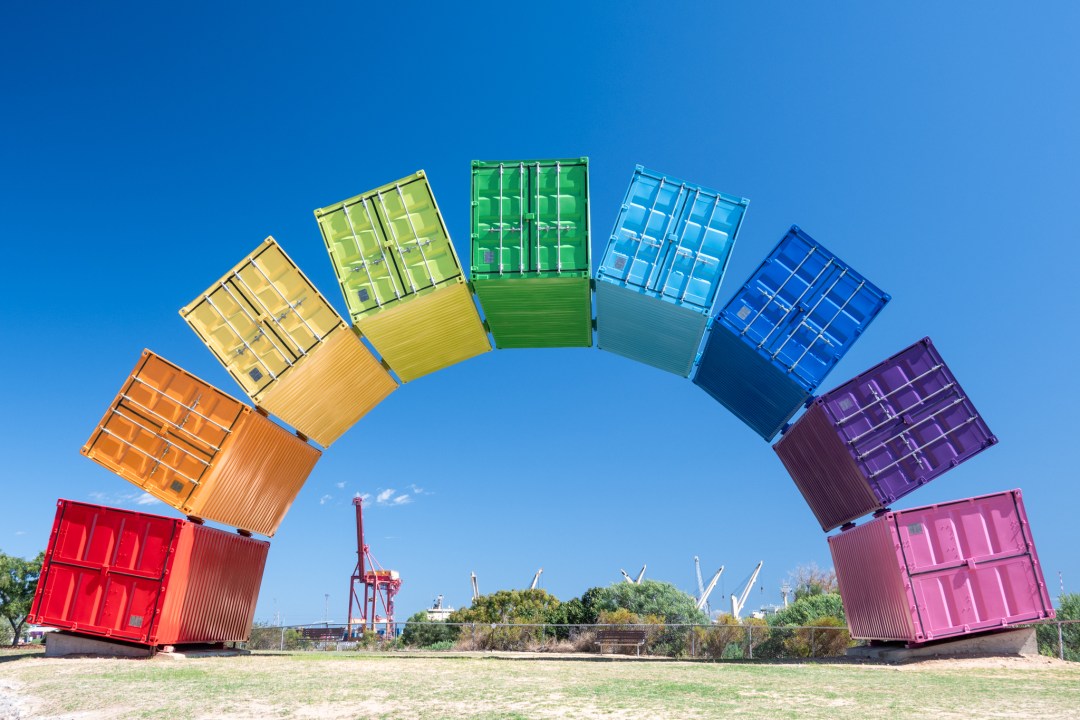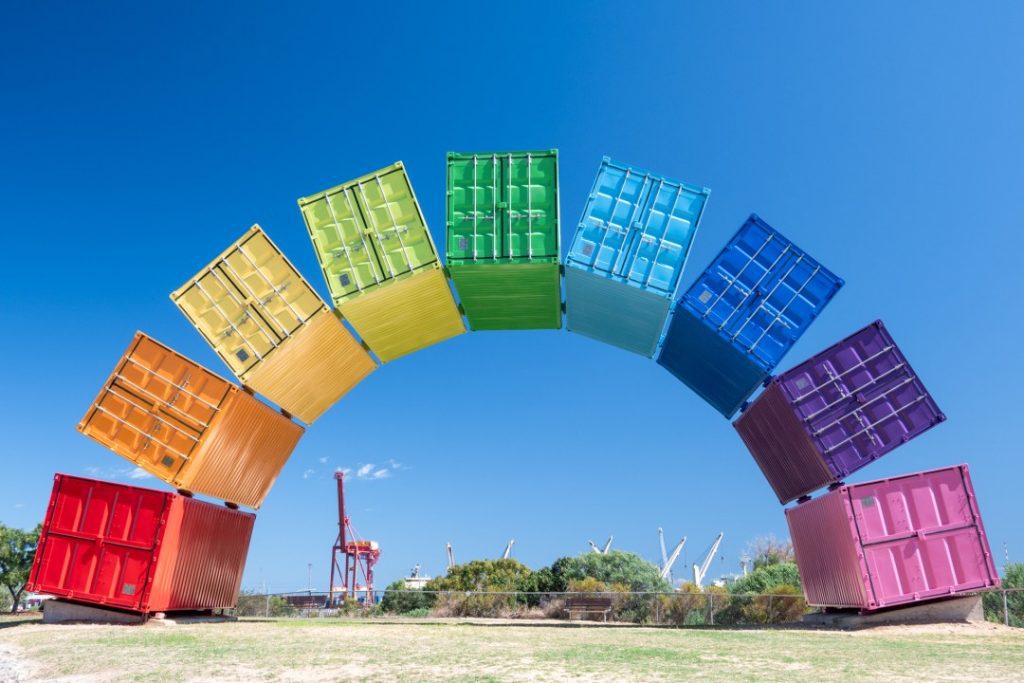 2. EXPLORE THE FREMANTLE MARKETS
The markets are probably Fremantle's most famous tourist attraction. Here you can buy all sorts of products from small business mostly focused on trinkets, artesian products, clothing and a great selection of fresh produce and food. Everything is indoors in the historic market building which was constructed in the late 19th century. Be aware that the markets are only open Friday to Sunday and on public holidays. Find out more on the Fremantle Markets website.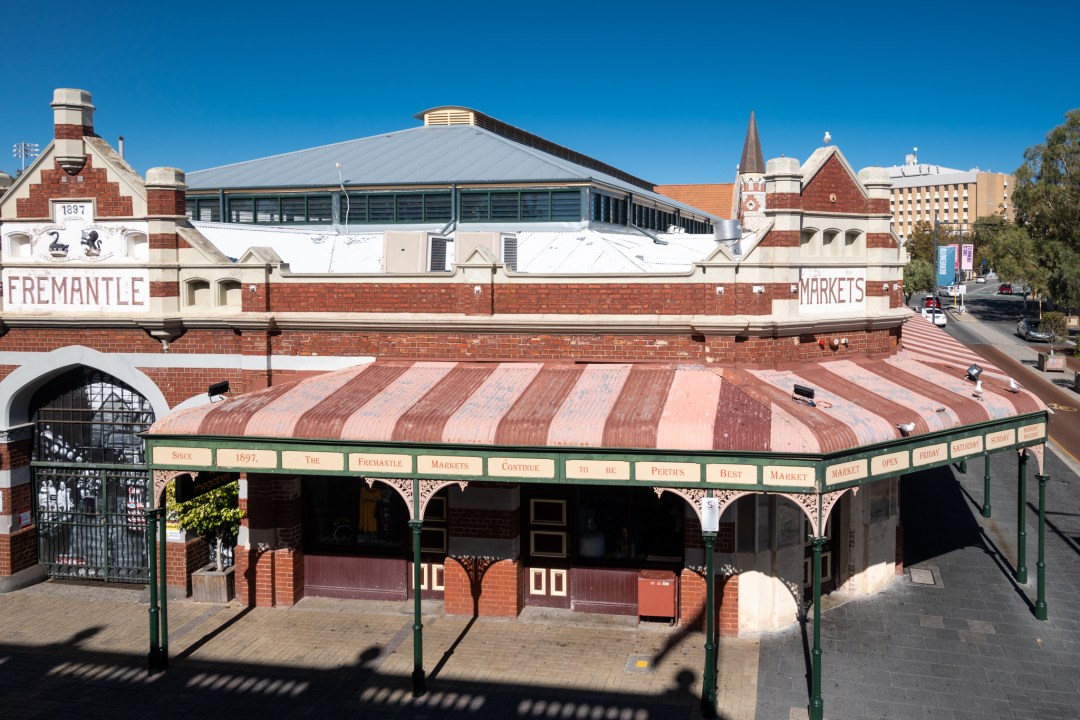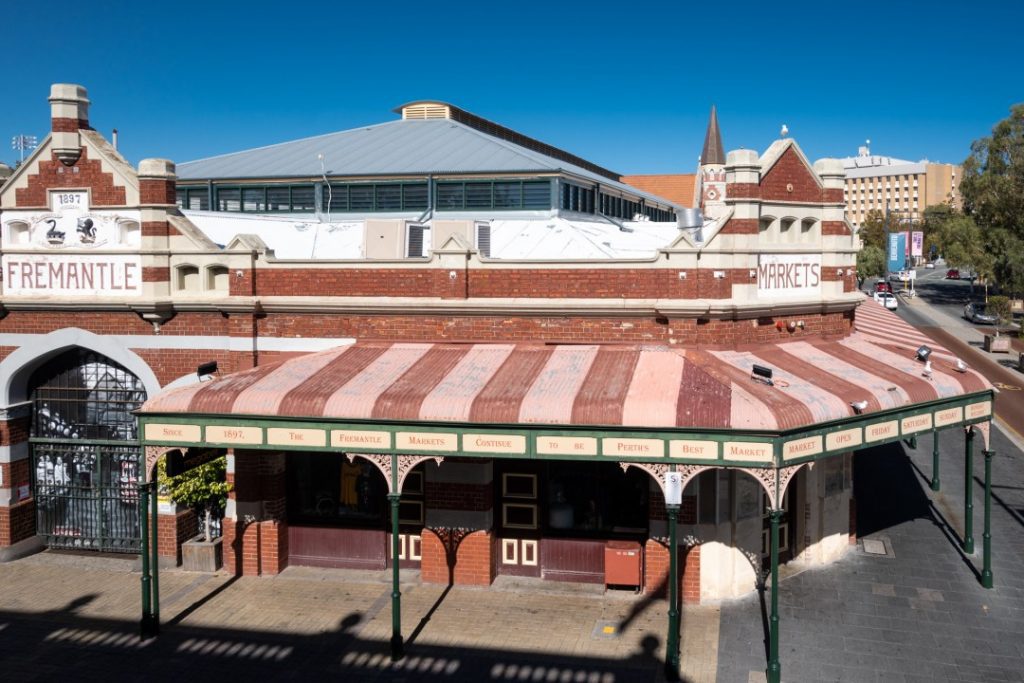 3. HAVE A PINT AT THE LITTLE CREATURES BREWERY
The Little Creatures Brewery sits right by the harbour in Fremantle. This is the perfect place for a relaxing pint or even a beer tasting if you're craving a break from exploring. They also offer guided tours of the brewery as well as delicious food.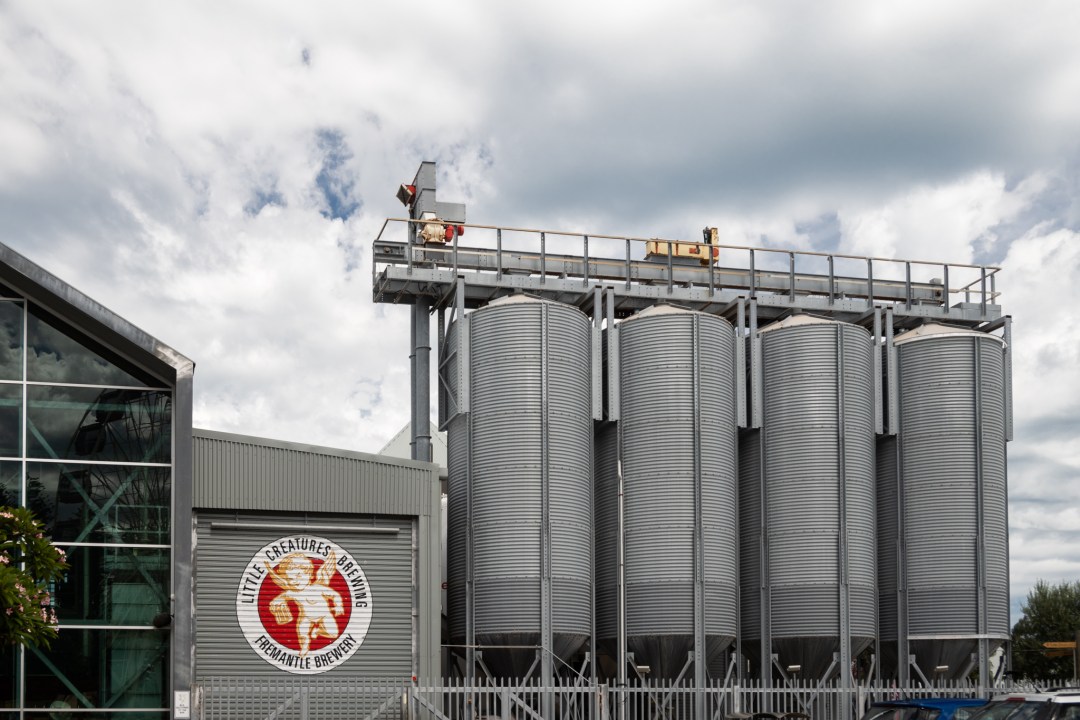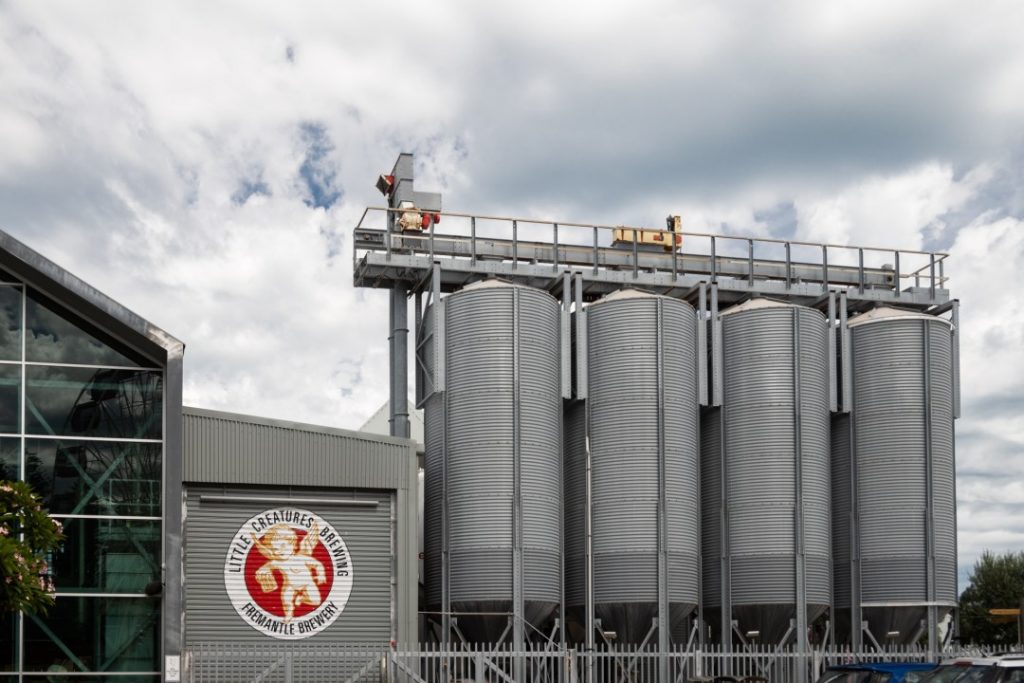 4. RELAX AT BATHERS BEACH
Despite being so close to the harbour, Bathers Beach is stunningly beautiful. The ocean is usually very calm here and the water is amazing. Definitely walk along the little pathways close to the beach even if you're not planning to go for a swim. There is a stunning little viewing platform at the Kidogo Arthouse perfect for a little break from the sun.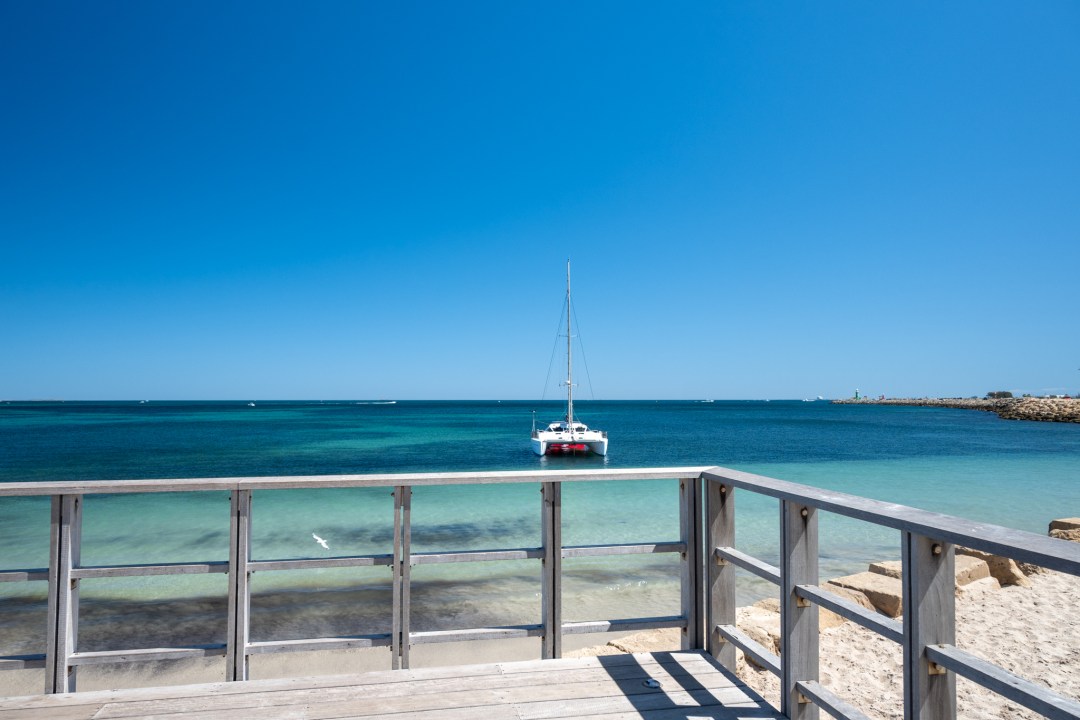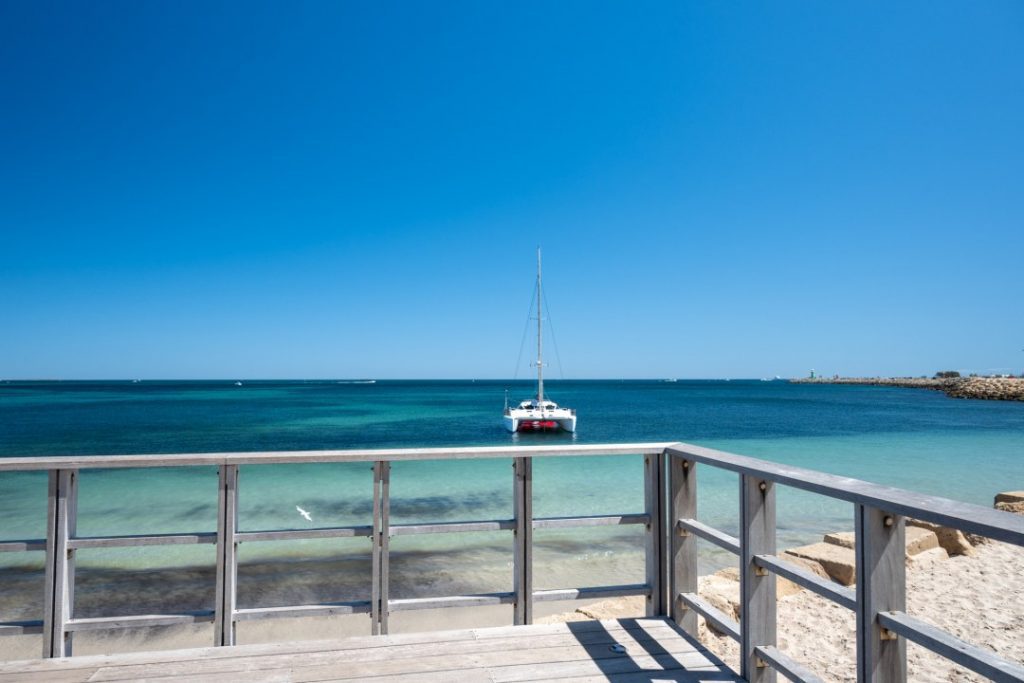 5. SEE ALL THE BOATS YOU EVER WANTED TO SEE AT THE WA MARITIME MUSEUM
The Maritime Museum has an amazing view over the port and is definitely worth a visit. They have changing exhibits as well as a huge collection of different boats and sea equipment. A fascinating place to visit especially if you have children. Tickets cost 15 AUD (≈ 9€) per person and for a further 15 AUD, you can join a tour of the giant submarine that sits next to the museum. A must-do!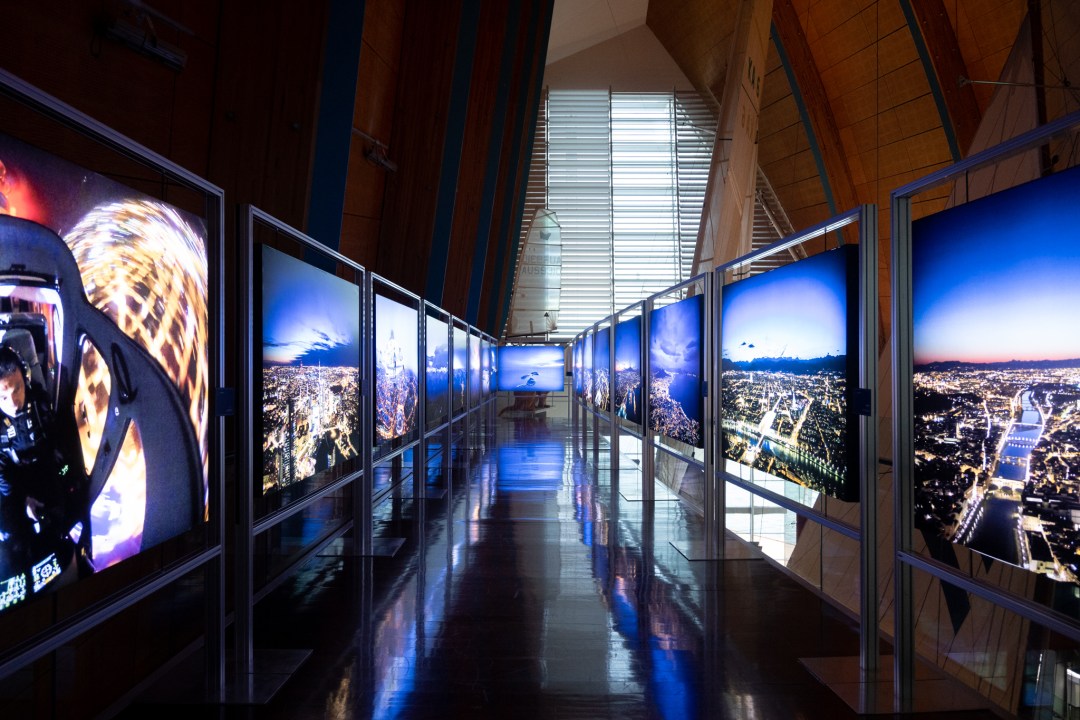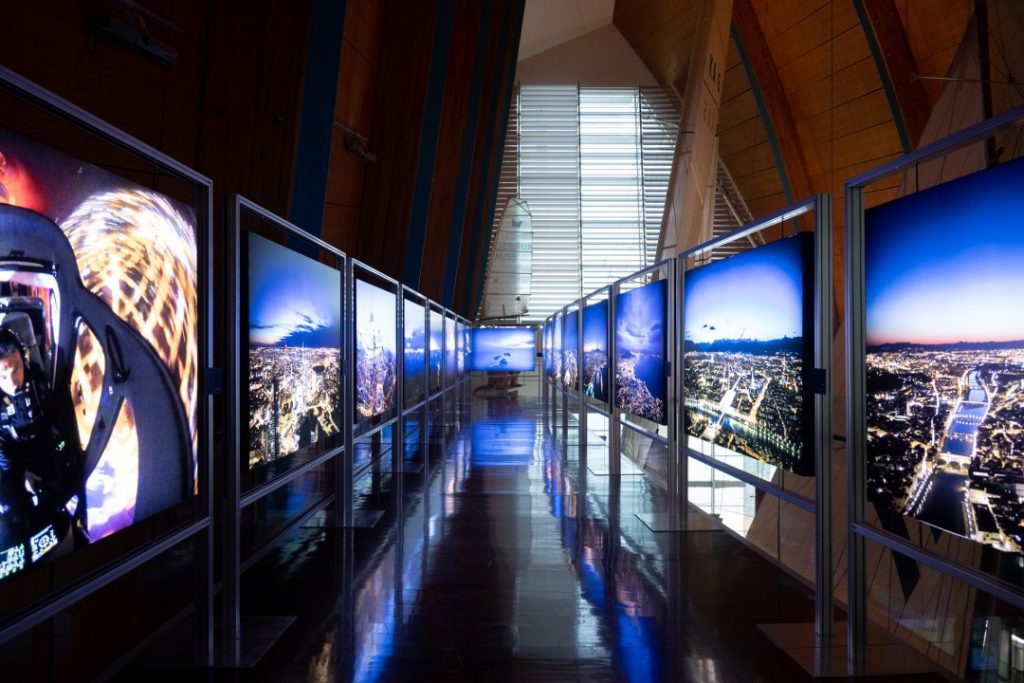 6. ADMIRE THE STUNNING ARCHITECTURE
Fremantle has a number of beautiful churches and buildings that you won't find anywhere else in Perth. Most are constructed from limestone in colonial-style. Some of my favourites include the Saint Patrick's Basilica, the Railway Station, the Scots Presbyterian Church, the old Market Building, Saint John's Anglican Church and the Town Hall.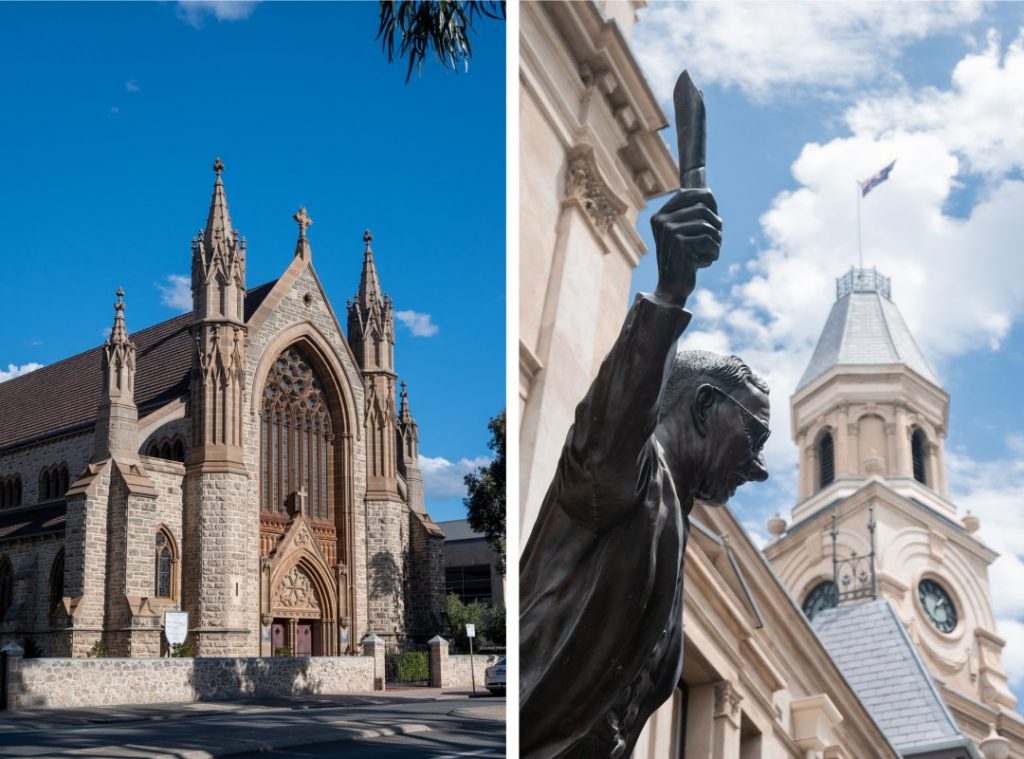 Visiting the old prison is one of my favourite unique things to do in Fremantle. You need to book a tour to see the whole place. Find out more details in our Behind Bars Tour review of the Fremantle Prison. Tickets cost 22 AUD (~ €13) (discounts for students available). The prison is open every day except for good Friday and Christmas day.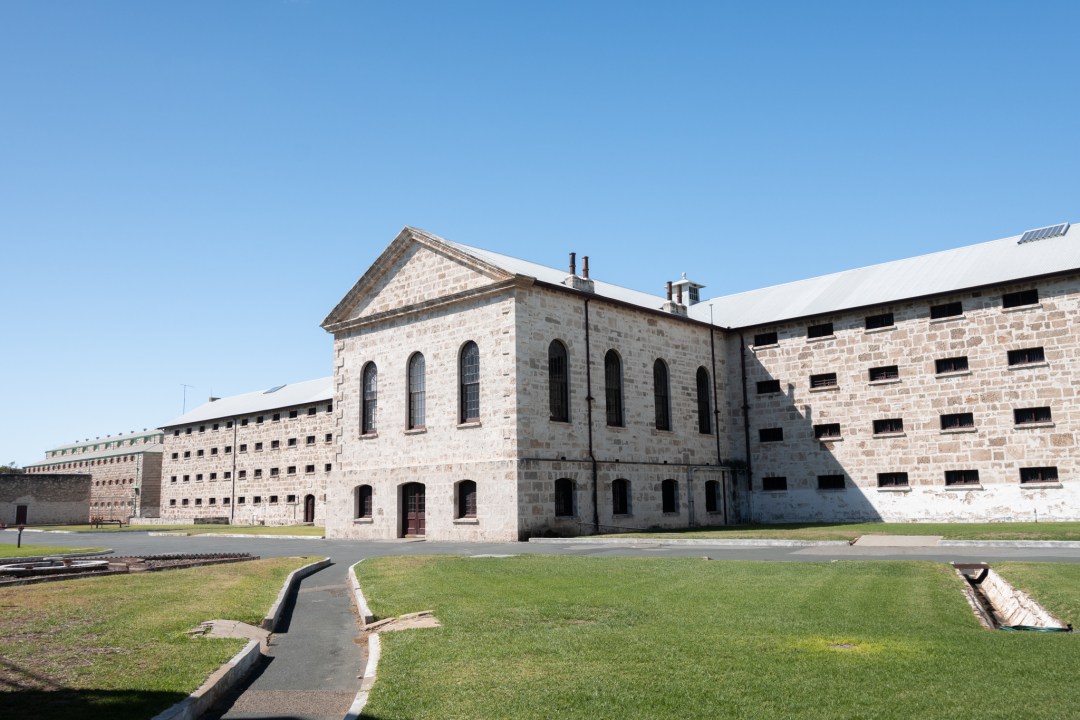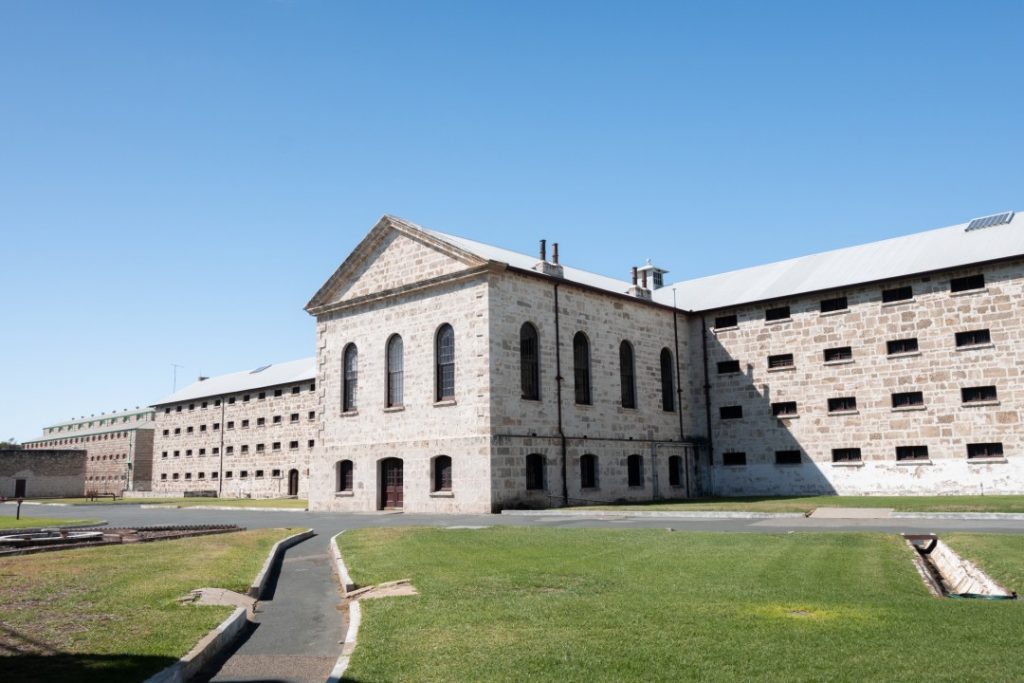 8. DIVE DEEP AT THE WA SHIPWRECK MUSEUM
Having a Maritime Museum and a Shipwreck Museum might seem excessive but Western Australia's history in this area is very rich. The Shipwreck Museum is probably the best museum on this list and if you only have time to visit one it should be this one! They have an amazing collection of artefacts from actual shipwrecks recovered in the area. Entrance is free although a donation is encouraged.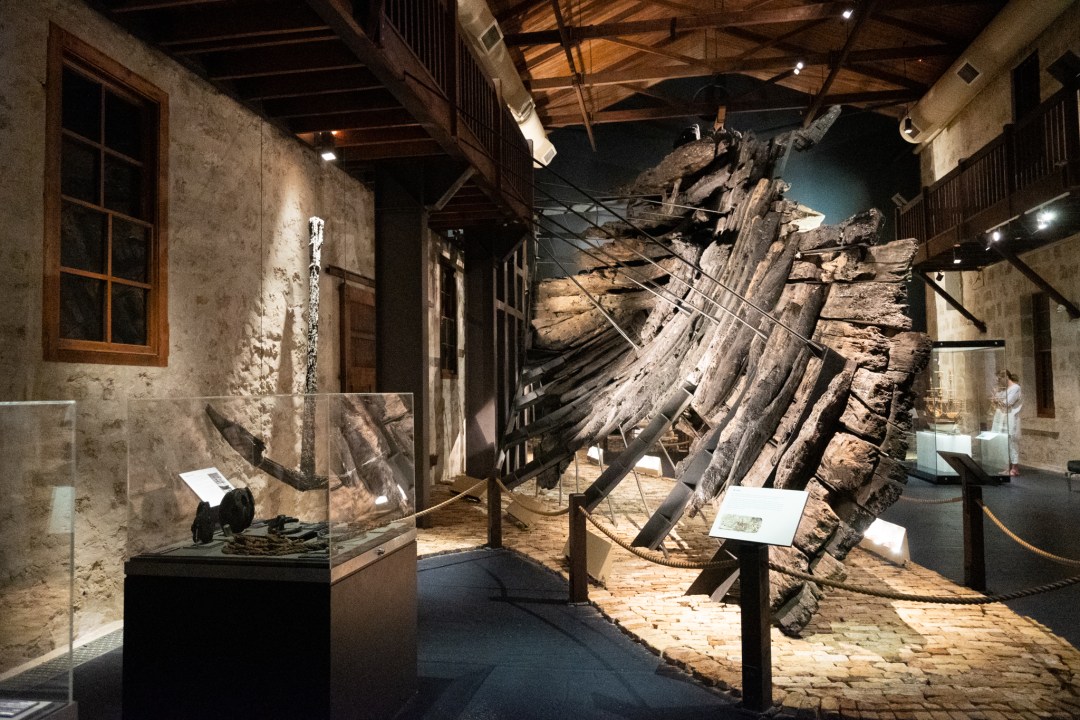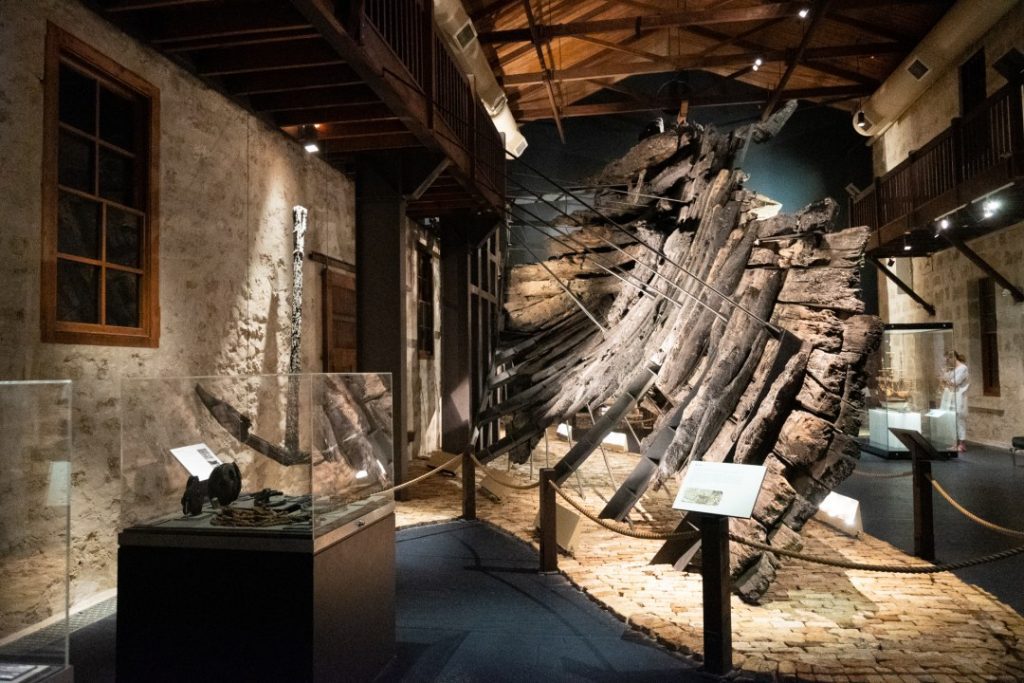 9. BROWSE ANTIQUES AT THE E-SHED MARKETS
The E-Shed Markets are located right at the port close to where the ferry to Rottnest Island departs. You'll find some similarities with the Fremantle Markets, however, here you'll find mostly antiques and second-hand items. A very fun experience even if you don't plan on buying anything! The markets are indoors and can be visiting even if it's raining. They're usually not very busy.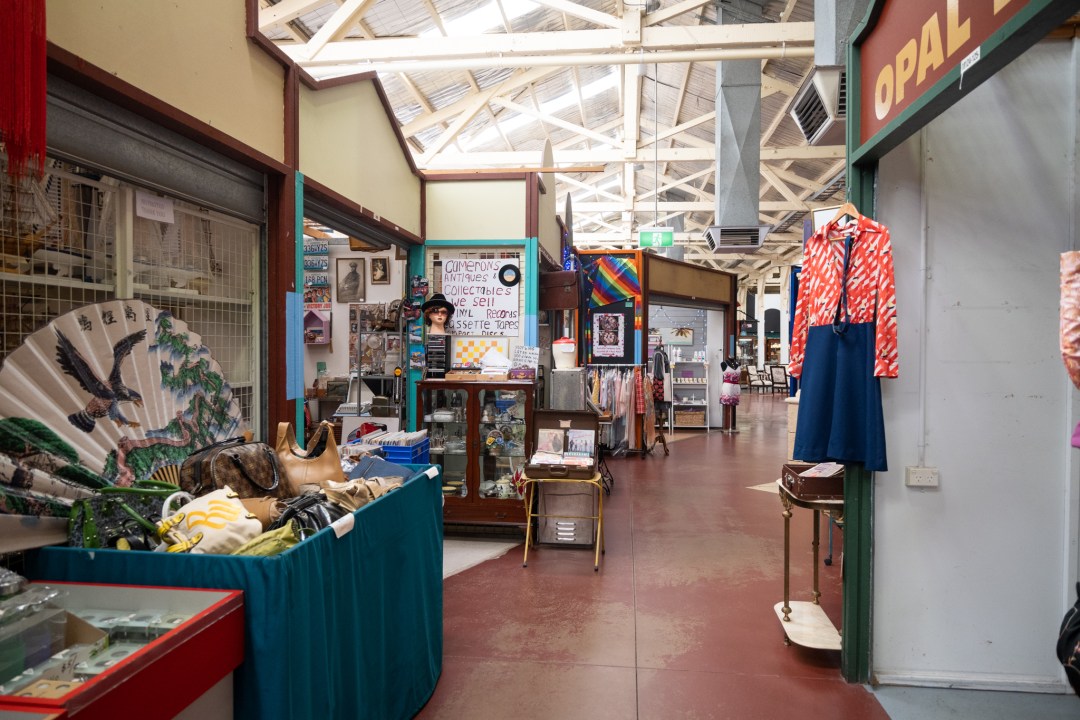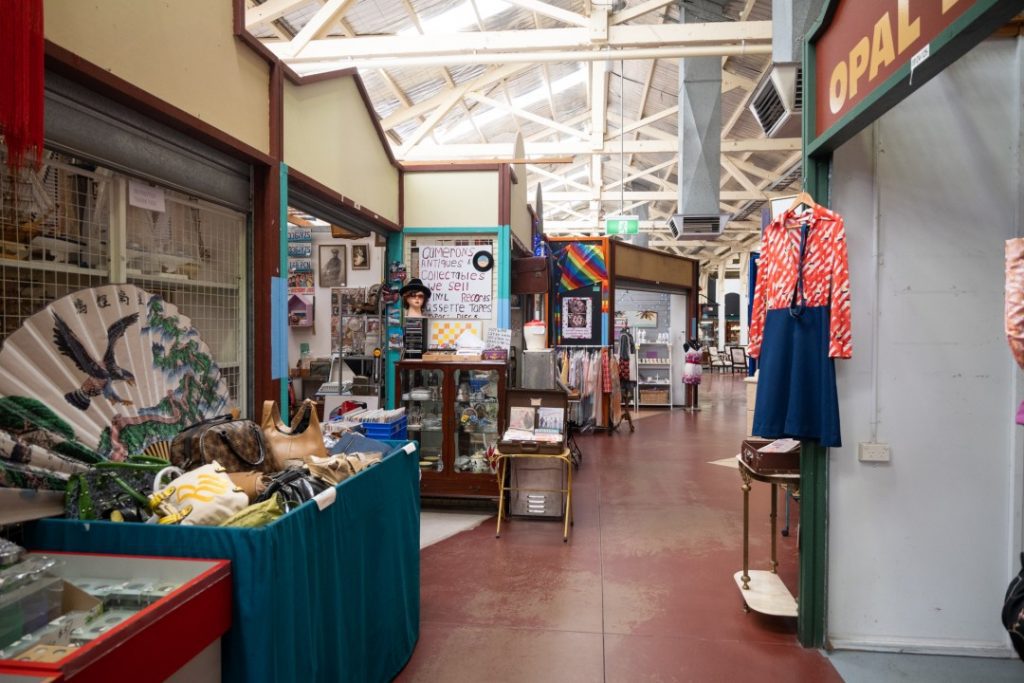 10. DISCOVER NEW ARTISTS AT THE FREMANTLE ARTS CENTRE
This free art gallery is a must-visit on your trip to Fremantle. You'll find unique things to do at the Fremantle Arts Centre such as workshops, art classes and, of course, appreciating the beautiful artwork. Exhibitions change regularly and there is always a lot to see. Have a relaxing drink in their garden after your visit. It's like a little oasis.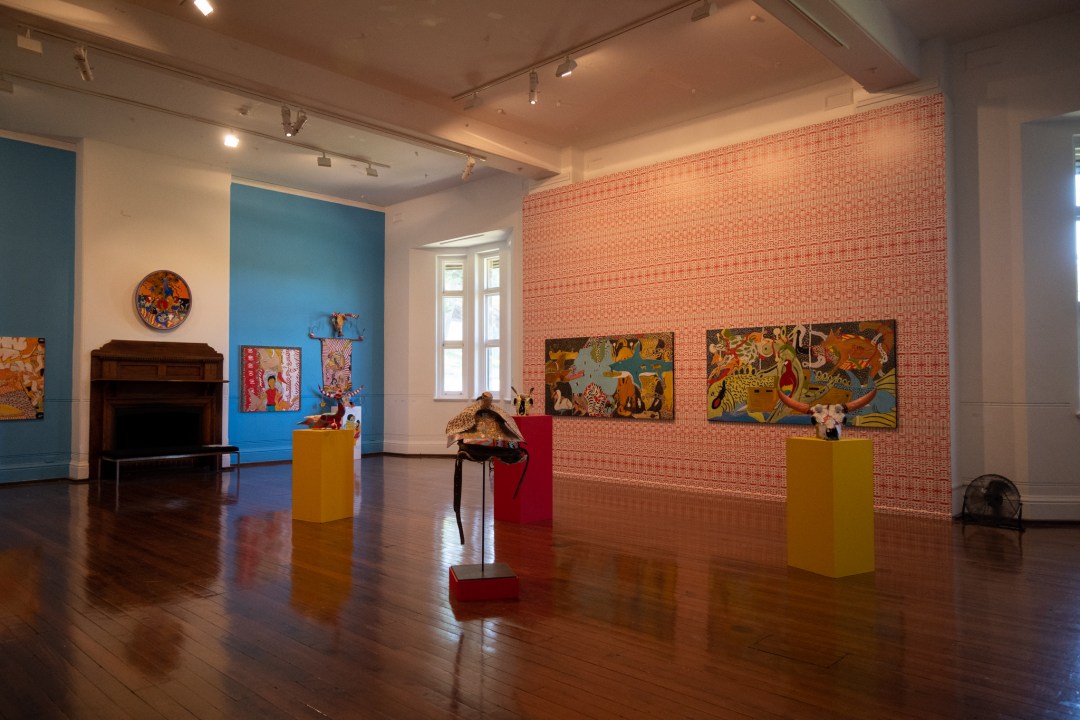 11. TRY THE CHEAPEST PINT IN TOWN AT THE SAIL AND ANCHOR PUB
This pub is my favourite in all of Fremantle. They have a 7 AUD (≈ 4,20€) pint which is an unbeatable price in this area. Their upstairs terrace (right next to the Freemason's Room) is the perfect spot to relax after a long day. Plus the Sail and Anchor always has great lunch deals for affordable pub food.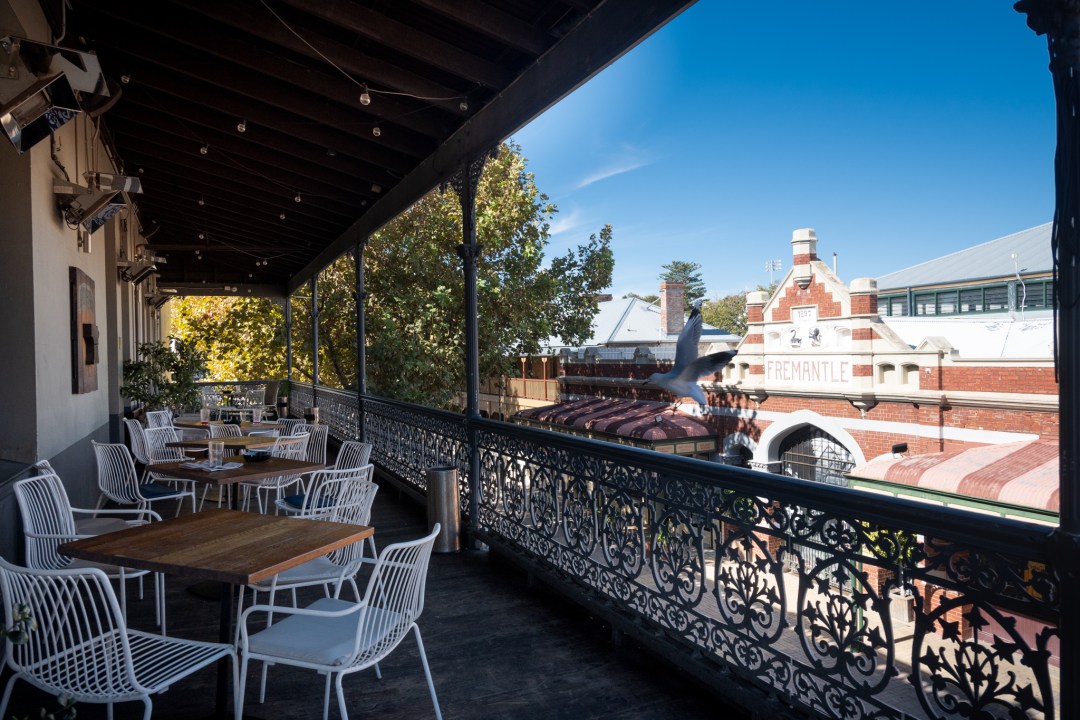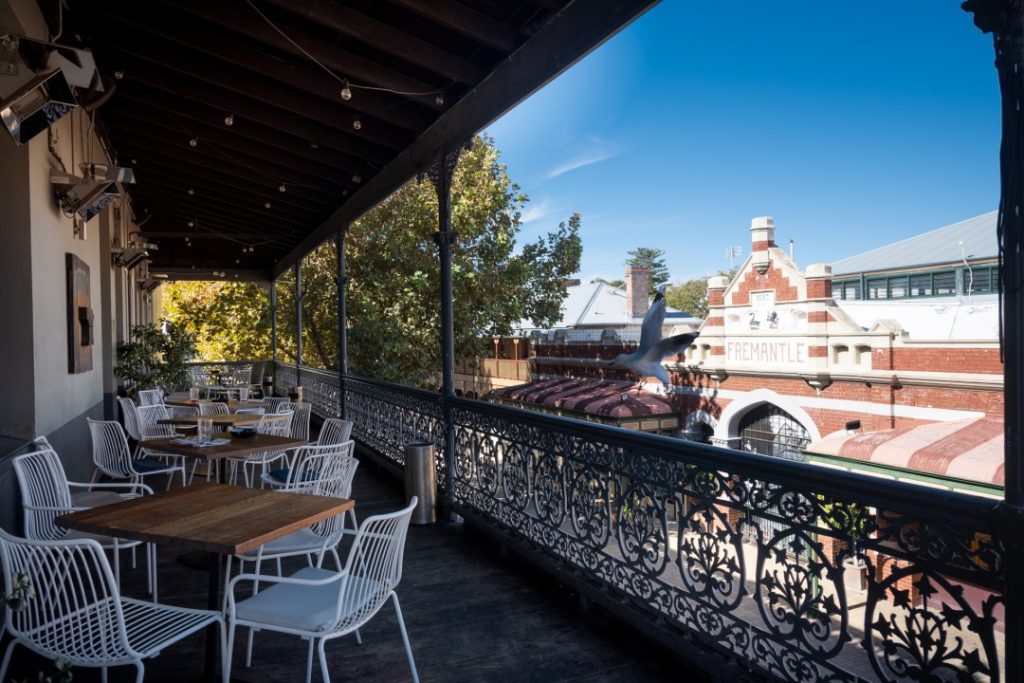 12. ENJOY THE VIEW AT THE ROUNDHOUSE
The famous Roundhouse is the oldest building in all of Western Australia. It was the first thing built in the Swan River colony in 1830. It used to function as a prison but is open to tourists for free today. Make sure to walk through the tunnel that runs beneath it and check out the little art studios close by. The view of Bathers Beach is beautiful.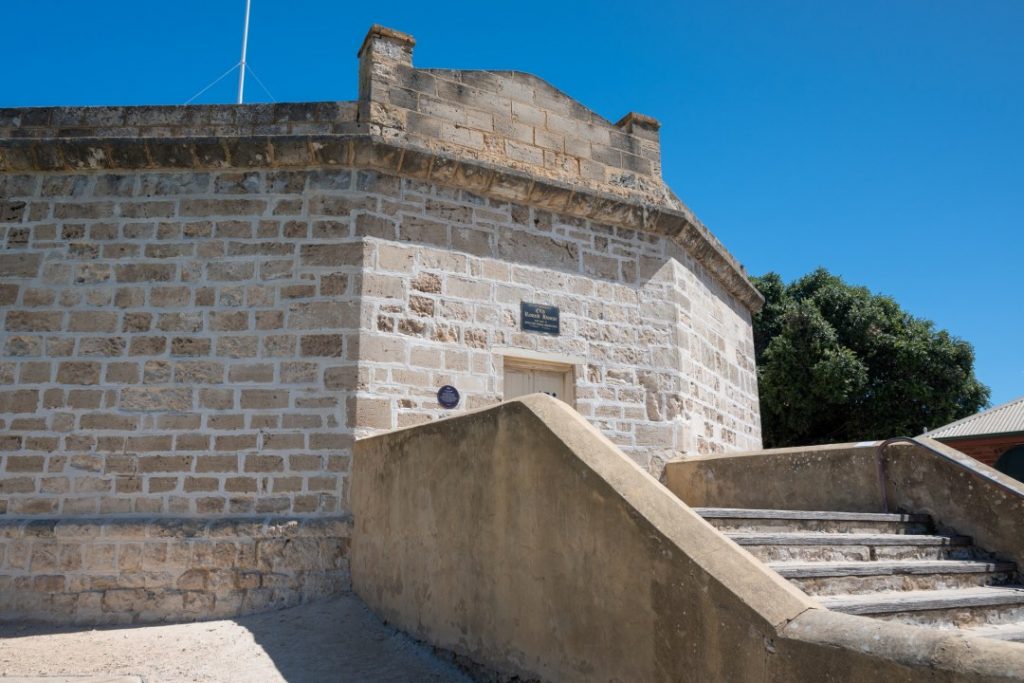 13. TAKE A BREAK AT THE ESPLANADE PARK
The Esplanade Park in Fremantle is great for a stroll and maybe even a picnic after a long day. Enjoy the nature and people-watch before you move on to the next exciting and unique thing to do in Fremantle.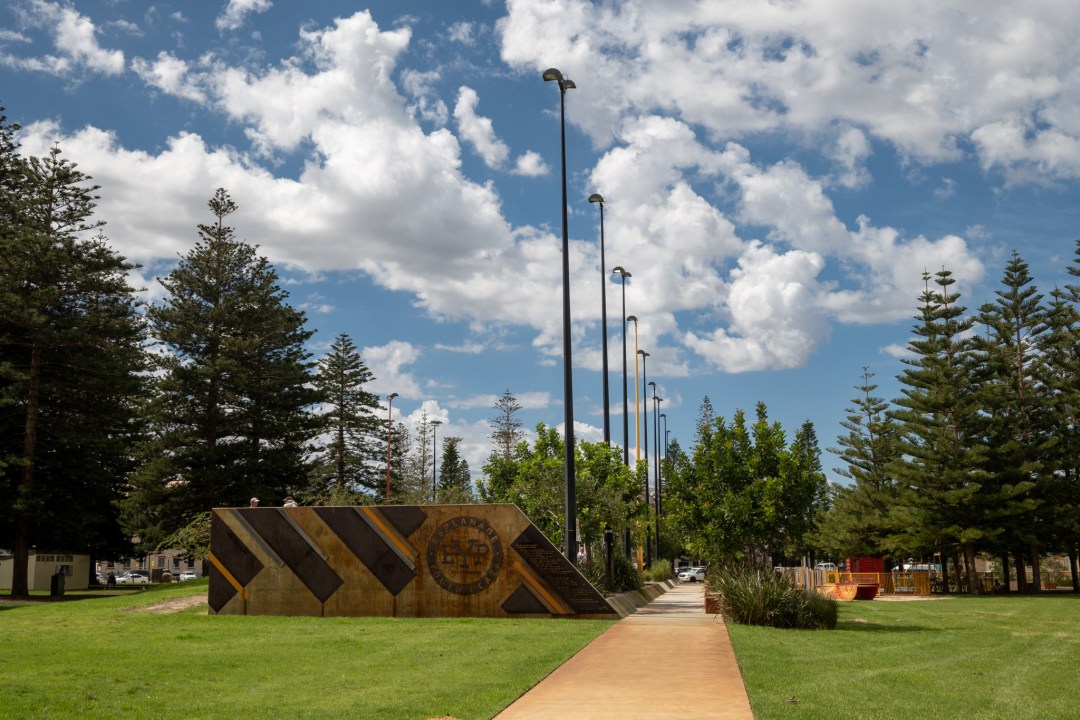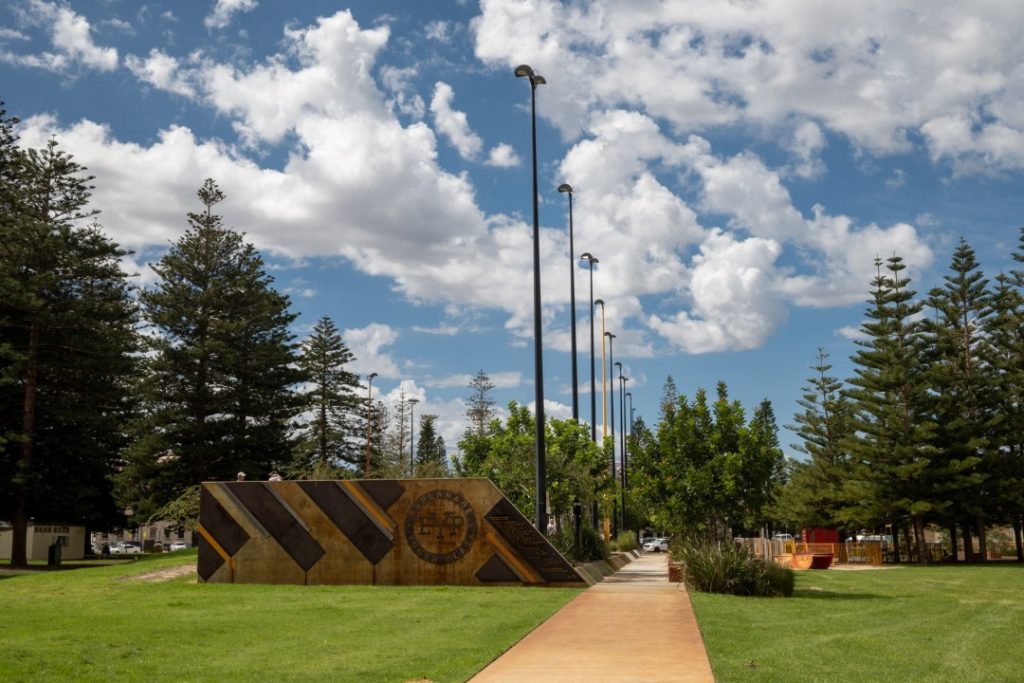 14. LEARN MORE ABOUT HISTORY AT THE ARMY MUSEUM
This is another great museum to visit if you want to learn more about Western Australia's rich history. Entry costs 15 AUD (≈ 9€) and the museum is open Wednesdays to Sundays. This museum is not as famous as the Maritime and Shipwreck but you'll enjoy it just as much!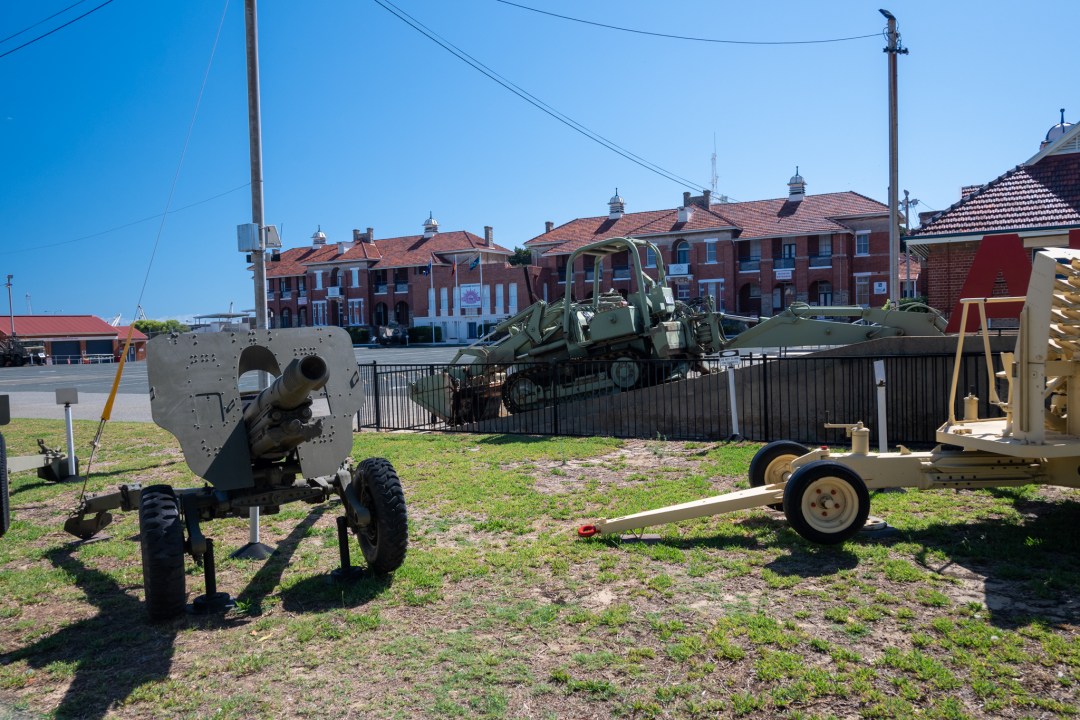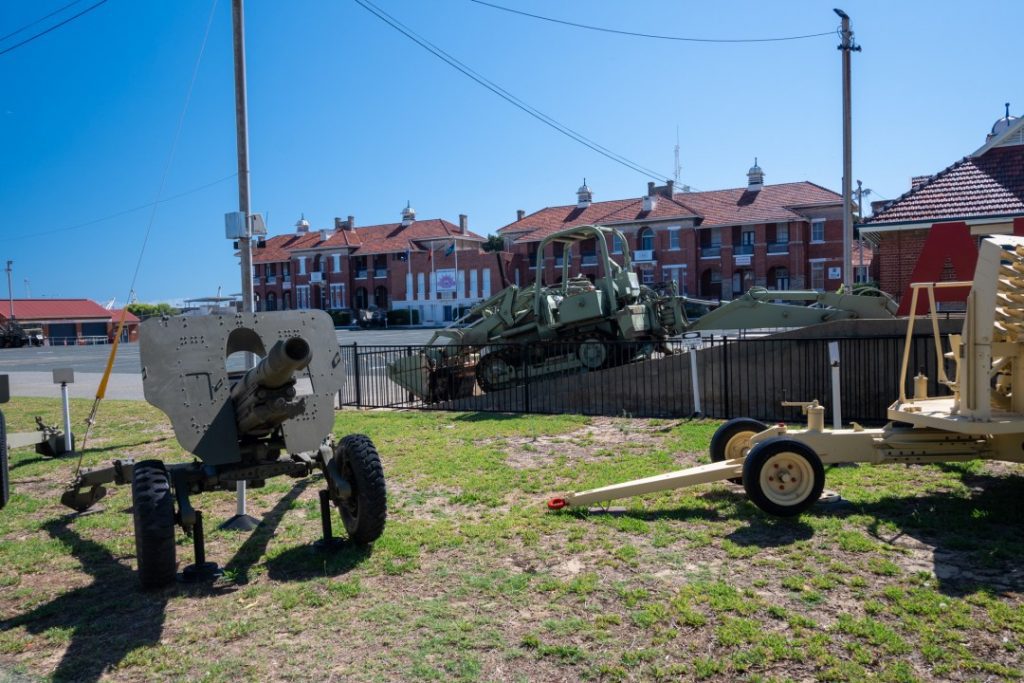 15. GO SHOPPING ON THE CAPPUCINO STRIP
Fremantle is perfect for browsing through all sorts of little stores. You'll find anything here from second-hand clothing, bookshops, art and even record stores. Really take your time to explore and discover unique little shops with amazing products. The main street is called the Cappucino Strip and is perfect for this. Don't forget to venture into some of the little side-streets as well.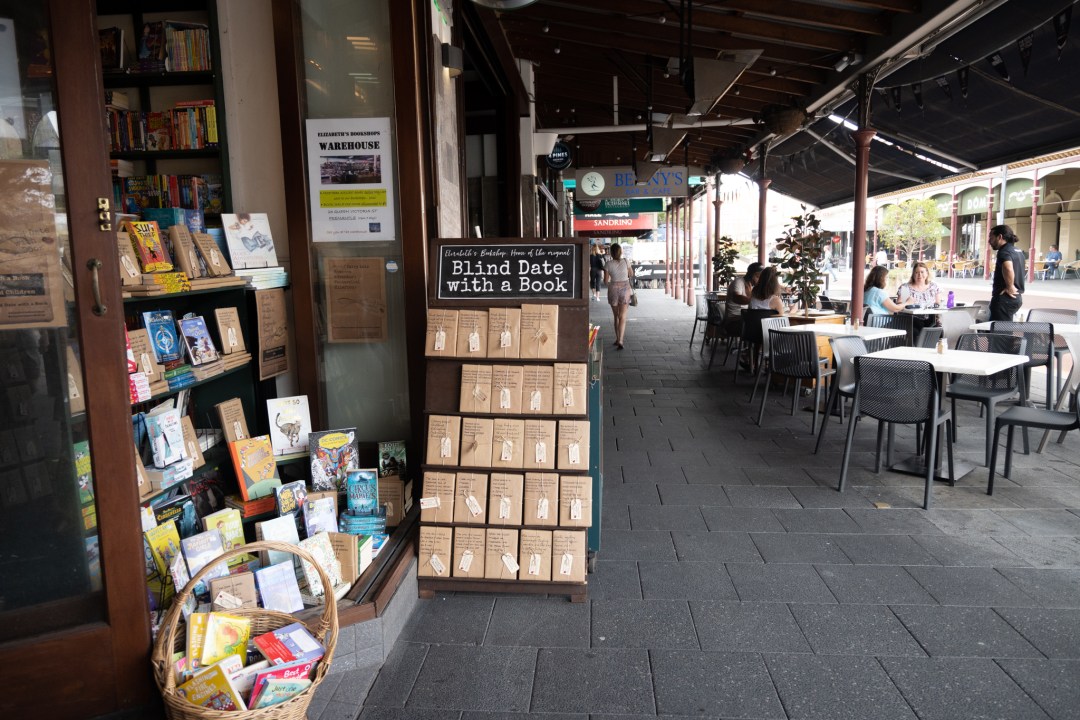 16. UNWIND AT THE SUNDAY SESSIONS
Many bars in Fremantle have Sunday Sessions with live music and great drink prices. The Norfolk Hotel, Bathers Beach House and the Little Creatures Brewery are just a few examples. The Fremantle Arts Centre usually offers Sunday Sessions as well with a great selection of local artists.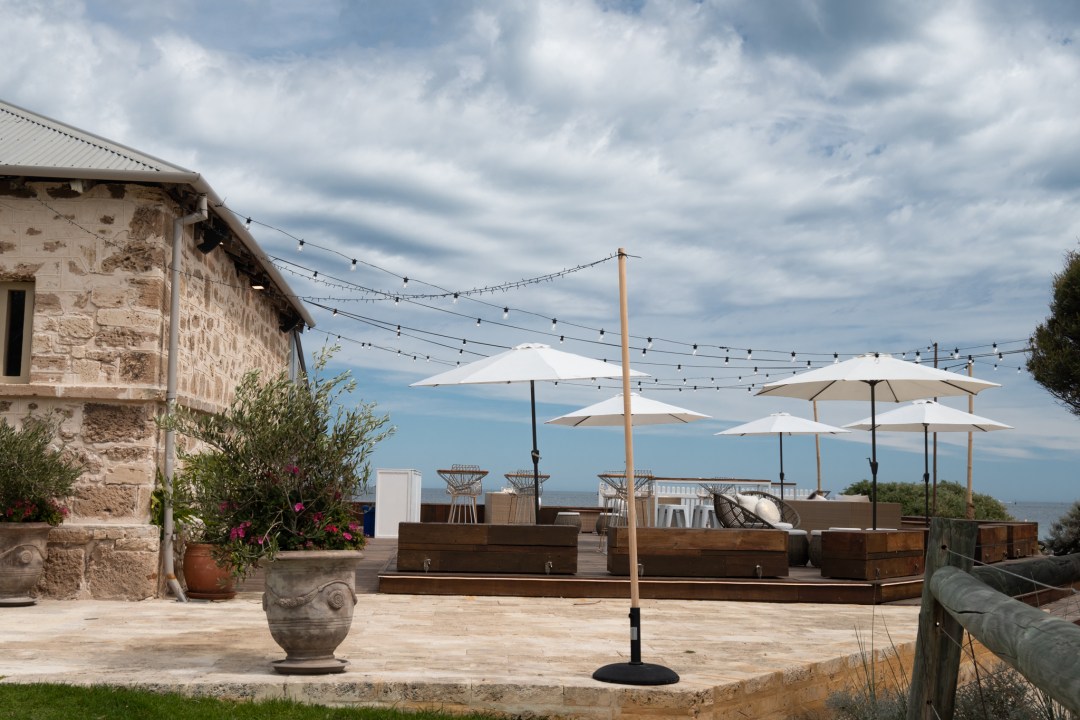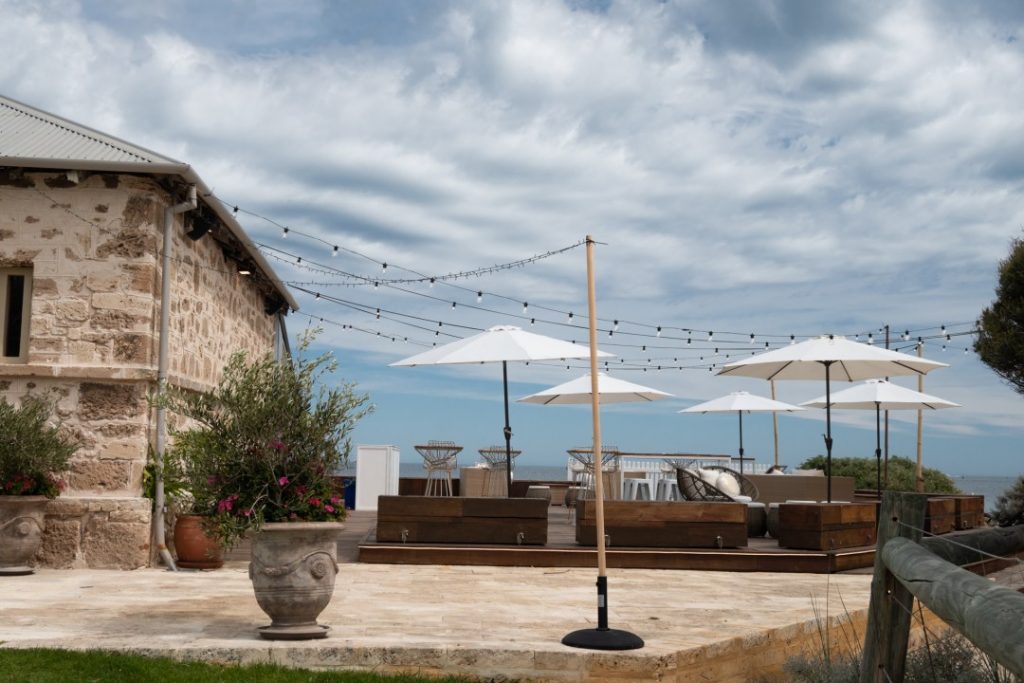 17. HAVE FISH AND CHIPS AT THE HARBOUR
If you explore the area between Bather's Beach and the Little Creatures Brewery you'll find plenty of little fish and chips shops and walkways. Stop by the Sardine Jetty as well as the Love Freo sign and the famous statue of Bon Scott.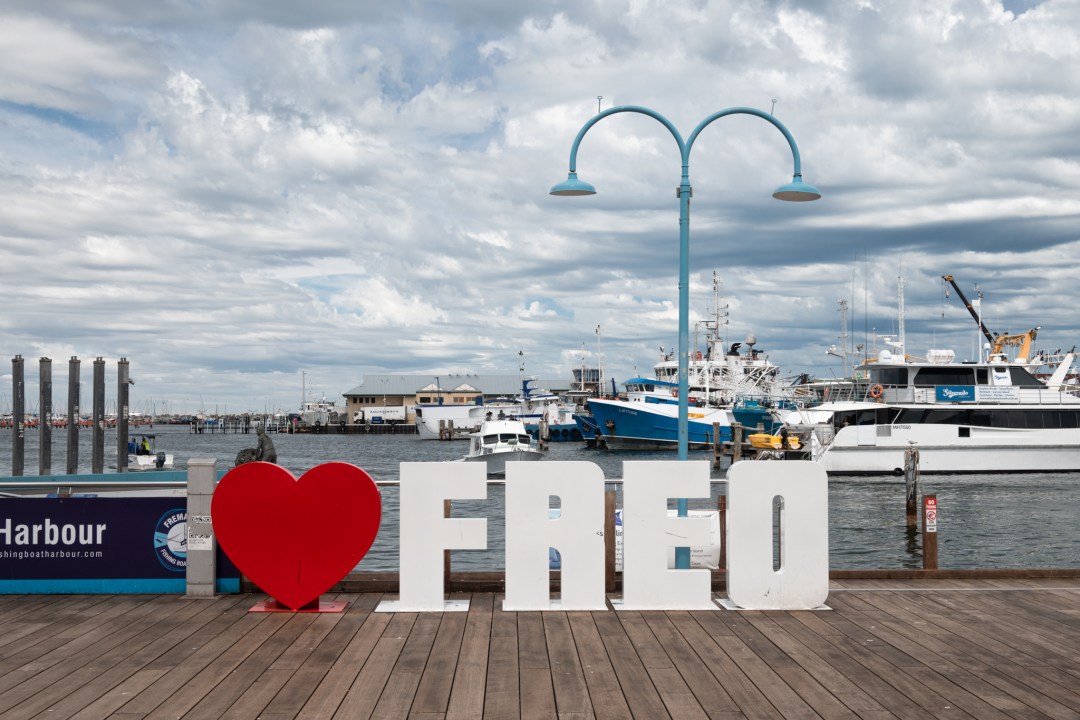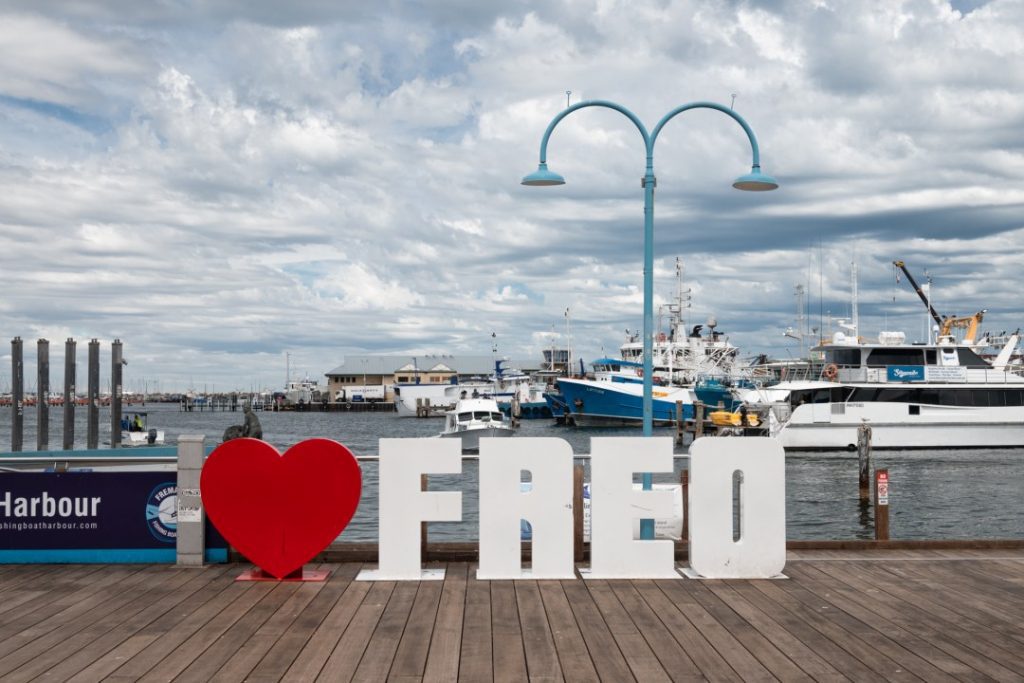 18. DISCOVER THE BEAUTY OF ROTTNEST ISLAND
Rottnest Island is a must-visit when you go to Fremantle. You'll be blown away by the stunning beauty of the beaches and the relaxed atmosphere of this island. Definitely take a picture with one of the many quokkas and take your time to explore. The ferries to Rottnest Island depart every day from B-Shed in Fremantle. Find out all you need to know in our ultimate guide to Rottnest Island.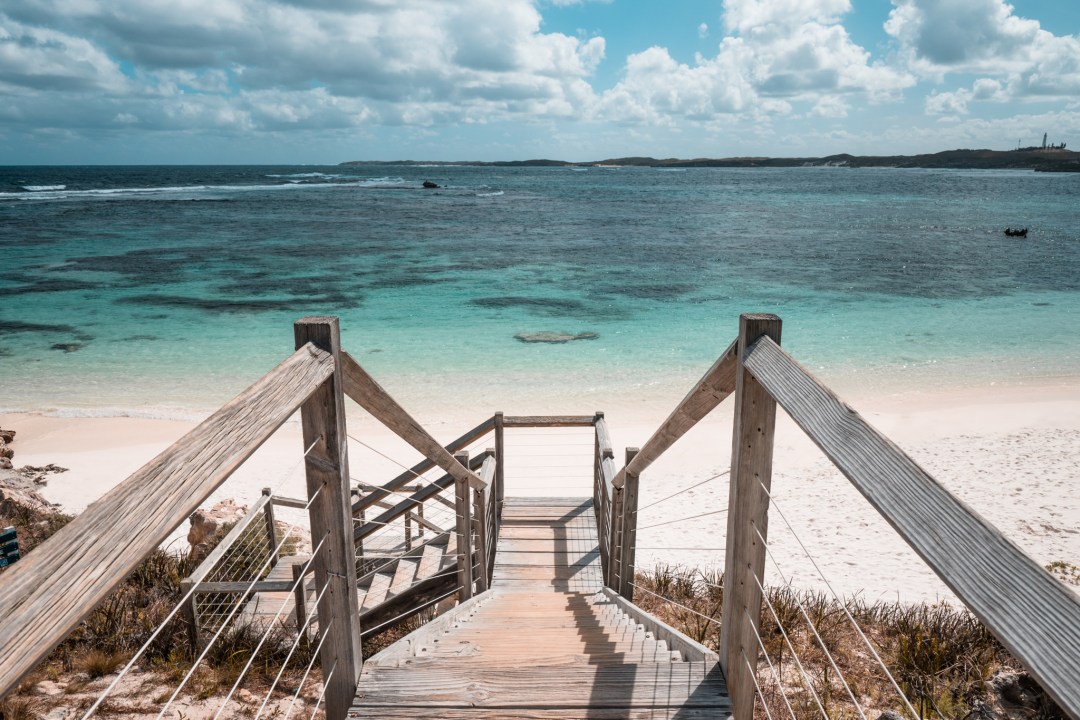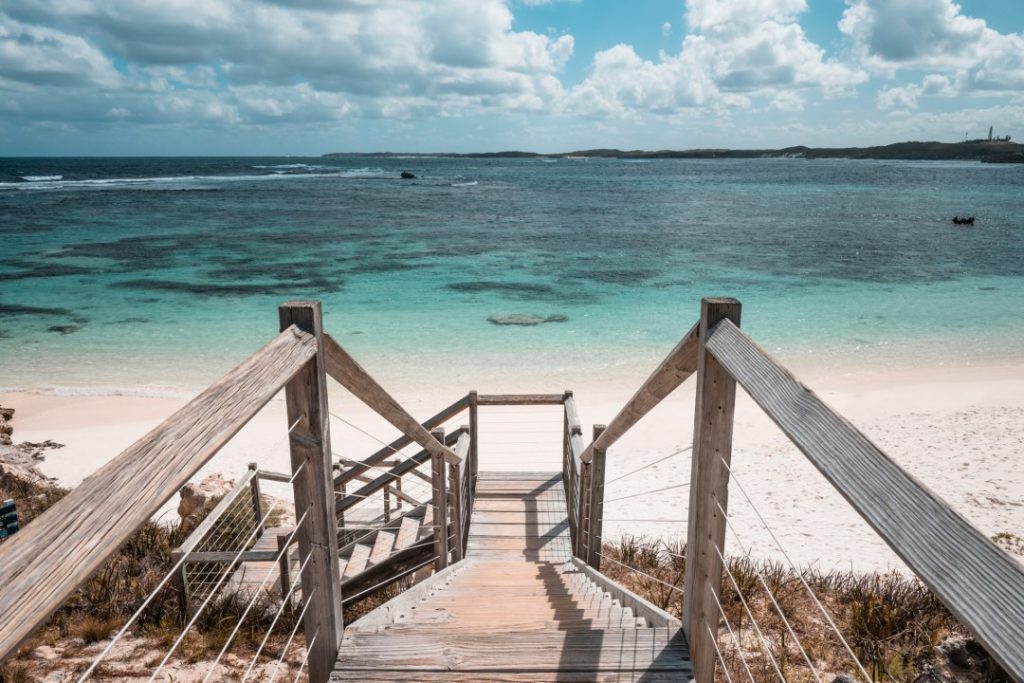 19. TAKE A FREMANTLE TRAM TOUR
A great way to see Fremantle is by booking one of the Tram Tours that take you to the most important places like the E-Shed Markets, the Maritime Museum, the Town Hall and the Roundhouse. A ride costs 30 AUD (≈ 18€) per person and there are many combination tickets available for attractions like the prison, the Little Creatures Brewery, ferry rides and museum. Find out up-to-date details on the Fremantle Tram Tours website.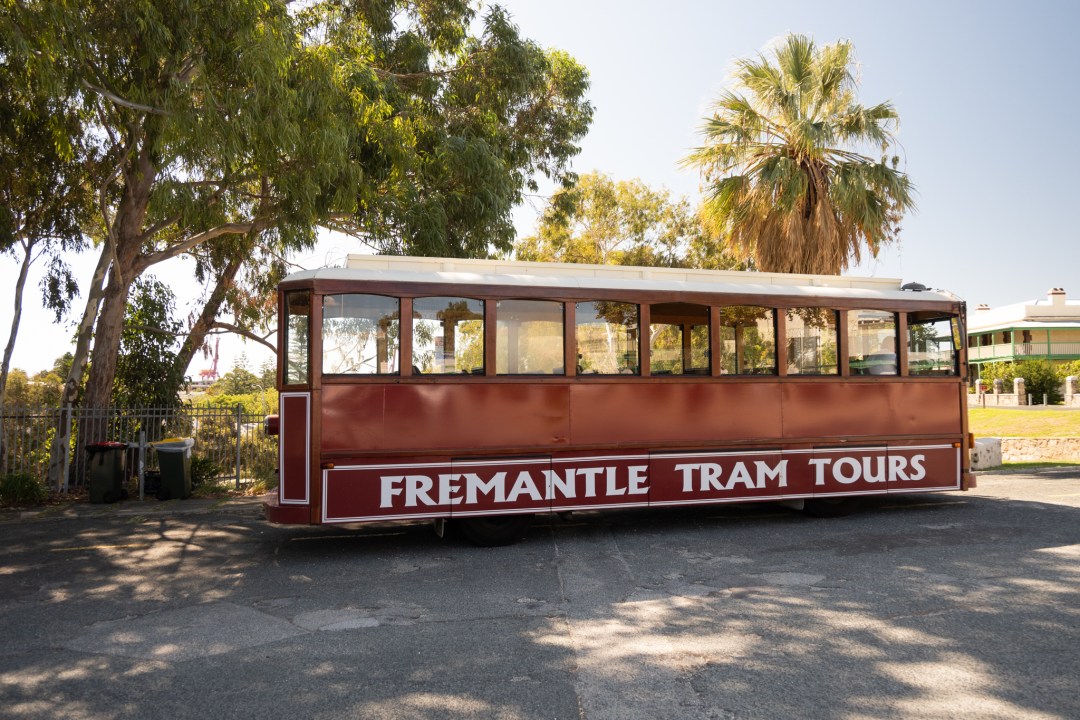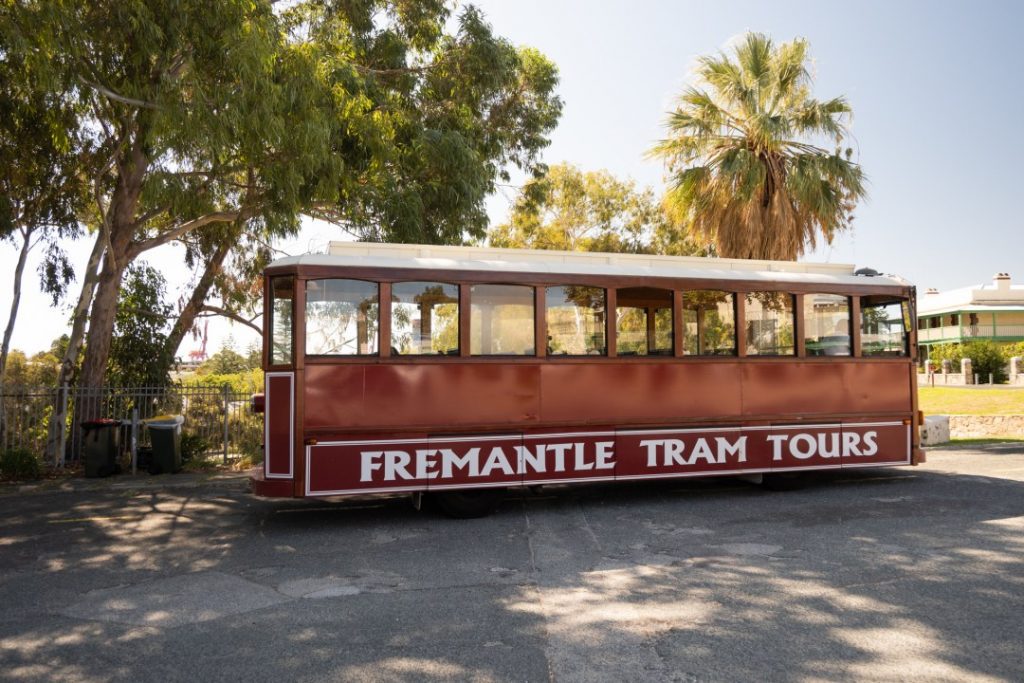 BONUS: HEAD TO LEIGHTON AND SOUTH BEACH
If Bathers Beach wasn't enough for you why not explore North or South Fremantle. In under 10 minutes by either train or bus you can reach Leighton or South Beach. Visiting these beaches can be one of the best things to do in Fremantle and make your day truly unique. Their water is crystal clear and they're much larger than Bathers. Especially Leighton is one of my favourites because it's so large and you won't have the crowds of tourists that you'll find at more popular beaches such as Cottlesloe or Scarborough.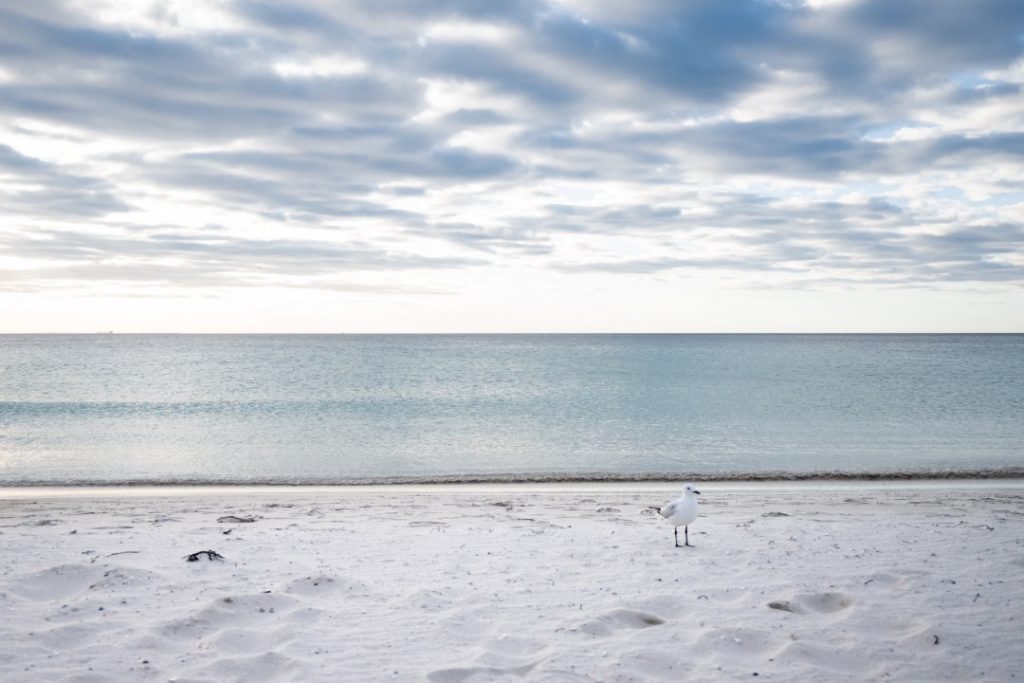 My most important travel tips and resources
Book your flights
Skyscanner is the best website for finding cheap flights since it works like a search engine so you can find the best deals across all airlines.

Book hotels and hostels
• Booking.com: Best world-wide
• Agoda: Best in South East Asia
• Hostelworld: Best for hostels

Book tours, transport and rental cars
•Viator: The best place to book tours, day trips and excursions for al budgets
•12Go: Great for ferries, trains, transfers and buses in South East Asia
•Discover Cars: Best deals for rental cars around the word

Get travel insurance
Every traveller needs travel insurance and I mean every single one. SafetyWing covers you in case of injury, illness or worse and they've got your back if your bag is stolen, flights are cancelled or in case of a natural disaster.

Pay abroad
Ask any traveller, Wise is the best choice when it comes to sending money abroad. They've always got the best exchange rates, lowest fees and their visa card is great for getting cash out or paying abroad.

Things every traveller needs:
➼ Osprey Farpoint 70 Backpack
Detachable daypack, ultra-light, durable and free repairs for life. There's a reason why so many backpackers have this bag.
➼ Packing Cubes
Packing cubes are a gamer changer, keeping your luggage organised and providing tons of extra space.
➼ Power bank
There is nothing worse than running out of battery on an overnight bus journey or a long flight. With a powerbank you can charge your eletronics on the go and make sure you're always connected.
➼ Micro-fibre towel
These lightweight towels are foldable, fast-drying and so useful when you're travelling.

➼ You can find 15 more things every traveller needs here. Some might be a bit controversial but I warned you!
Did I miss anything?
If you have any questions or feel like something is missing from this post please leave a comment below or contact me.