Mexico is world-famous for its incredible cuisine and delicious, unique dishes and foods. While you might immediately think of the Tex-Mex versions of dishes like Quesadillas, Tacos or Burritos there is actually a lot more to Mexican food. Of course, we still had to include some dishes that are most commonly found in Americanised Tex-Mex contexts but you'll love the authentic Mexican versions even more. Enjoy unusual options like nopal cactus soup or even Chapulines which are toasted grasshoppers. Even if that doesn't sound like something you'd like to try there is something for everyone on this complete list of must-try foods from Mexico.
We love to promote vegetarian food and how you can still enjoy local specialities as a vegetarian. While not all dishes can bee found as vegetarian options (mostly because their main ingredient is meat) Mexico is actually a very vegetarian-friendly country. 18 out of the 25 dishes on this list are either vegetarian or exist as vegetarian options so no need to miss out!
We at Guide your Travel love Mexico and its incredible cuisine. However to truly give you a list of the best foods you need to try in Mexico we decided to partner up with some of our favourite travel bloggers and ask for their opinion. We hope you like it!
This post may contain affiliate links, which means we'll receive a commission if you purchase through our links, at no extra cost to you. This helps us keep Guide your Travel free and provide high-quality content for you. Please read the full disclaimer for more information.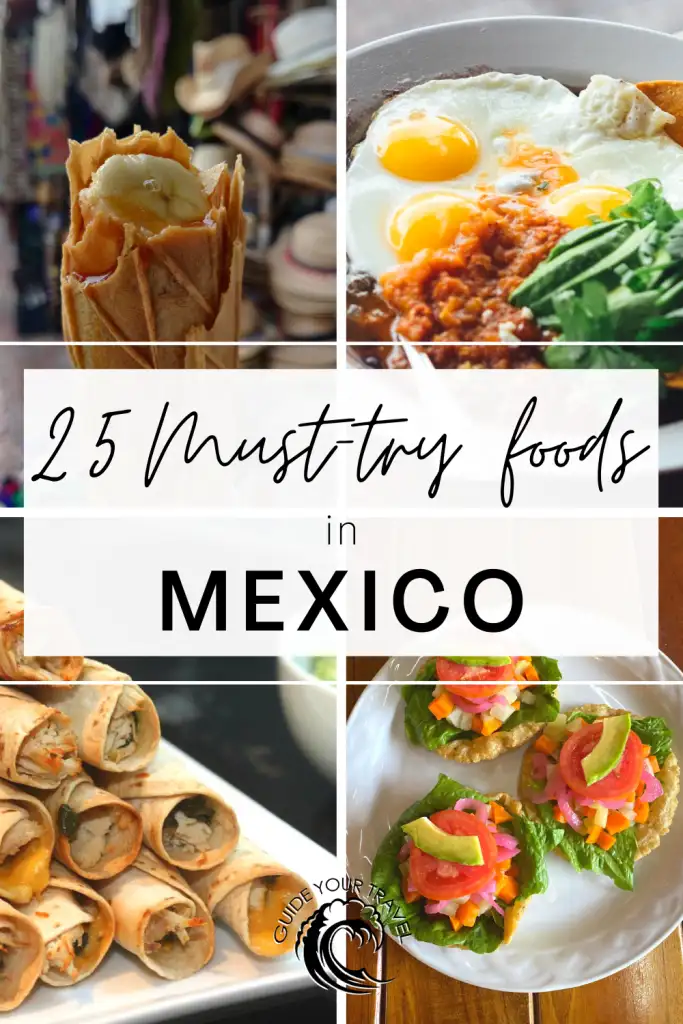 25 FOODS YOU NEED TO TRY WHEN VISITING MEXICO
1. TACOS
Of course, tacos have to be at the top of this list. Feel free to skip reading this text because I'm sure no one really needs to be convinced to try tacos. However, the tacos you'll find in Mexico might just be unlike any tacos you've had before. When you think of tacos you're probably thinking of something with tons of shredded cheese, sour creme and ground beef. While that sounds delicious, authentic Mexican tacos actually come in a soft corn tortilla with very different toppings. A real Mexican taco often includes carefully flavoured, spicy meat instead of ground beef.
Of course, there are many different varieties to choose from so there is something for everyone! Here are some helpful tips for telling the difference between Tex-Mex and authentic tacos. Of course, Tex-Mex isn't necessarily bad! It's just a different type of food and might not be what you'll encounter in Mexico.
Vegetarian options available: YES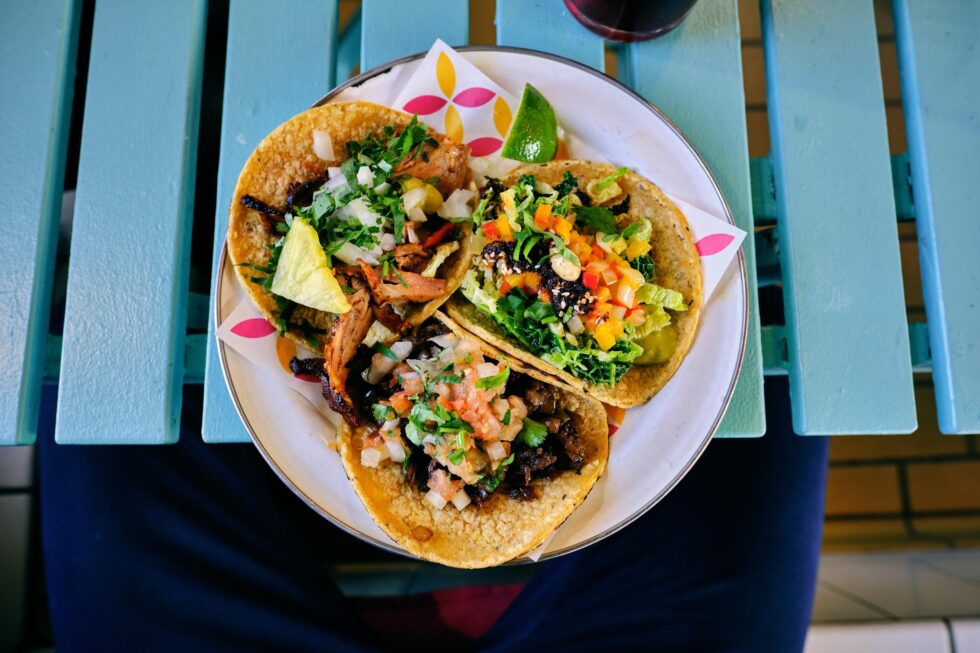 2. EMPANADAS
Empanadas are as old as time and have changed regionally over the years. Some people say every single country has its own version of a filled dough dish but we think Mexico's might just one one of our favourites. Empanadas are prepared differently according to which region of Mexico they come from but they usually have a half-moon shape and consist of a crispy dough with a savoury filling. This filling can contain many things from eggs, vegetables, fish, meats and of course many different types of spices.
This is one of the best Mexican foods on this list to try from an authentic street food seller which will get you the best possible experience. You'll love how versatile empanadas are and since they come in so many different versions you'll never get sick of them. Since they're so compact empanadas are the perfect snack for a long road trip or a picnic.
Vegetarian options available: YES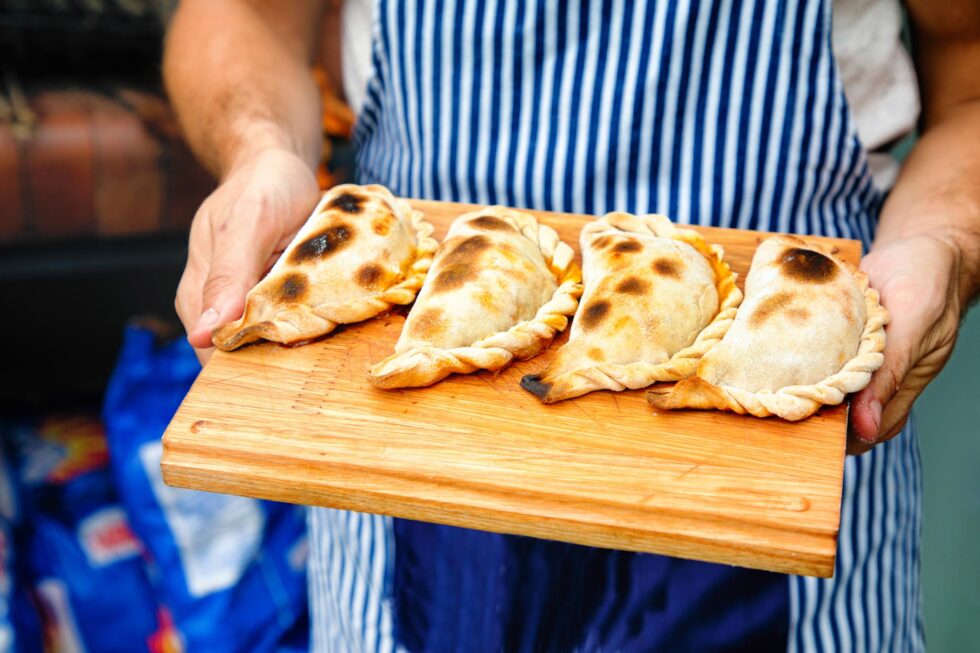 3. LAMB BARBACOA
When you bite into a taco filled with lamb barbacoa, it's almost as if you can taste the earth. The bold flavour of the lamb is infused by the roasted agave leaves wrapped around each piece to keep the meat moist while it cooks in an underground oven for more than 10 hours. 
Barbacoa is an ancient way of steam-roasting meat, traditionally lamb, goat, or beef until it falls off the bone. It's the type of food you should seek out on a day trip to one of the weekly markets surrounding Oaxaca City. Perhaps most popular is the Sunday market in Tlacolula where the technique has been passed down for generations.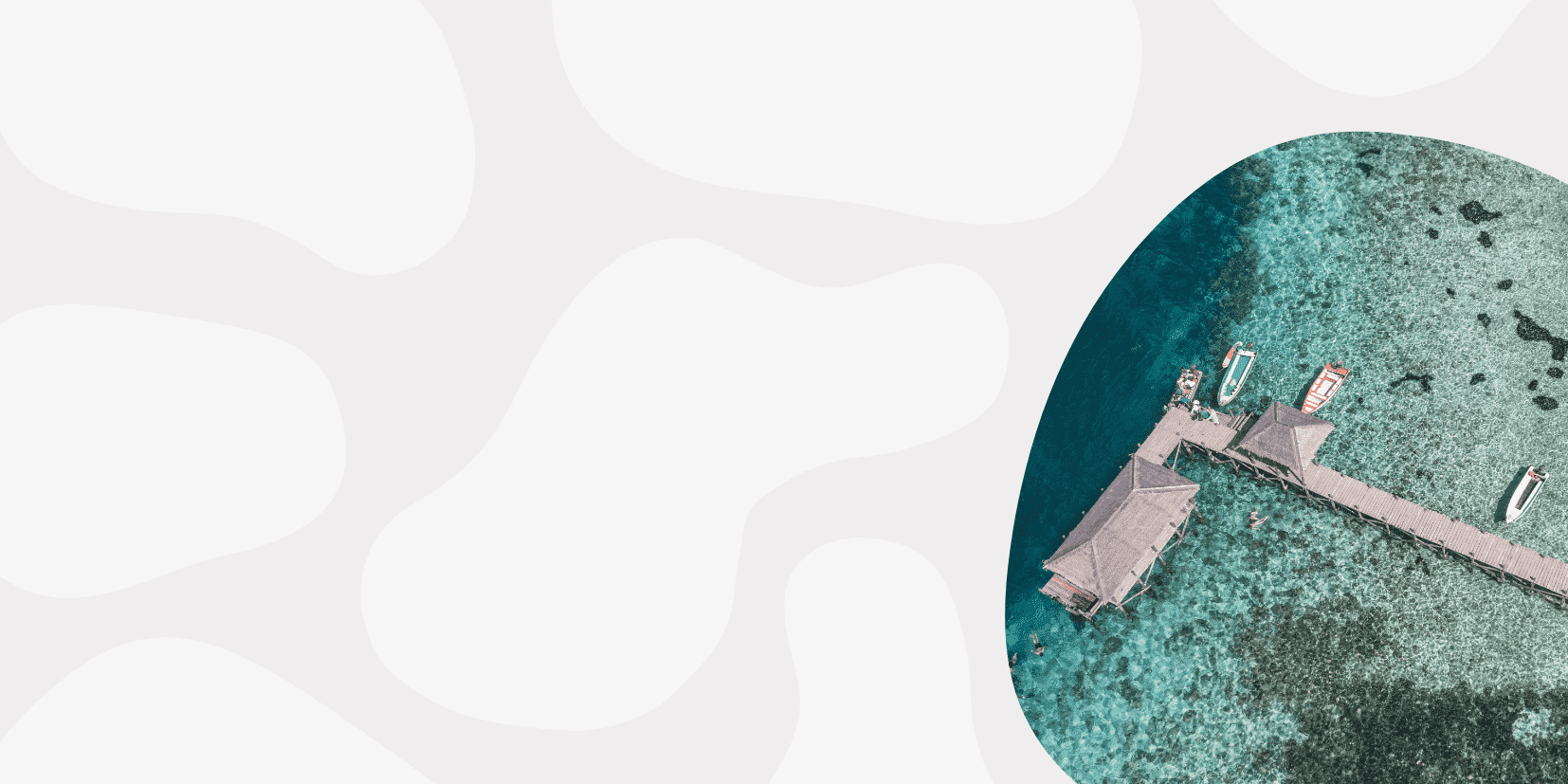 Let me save you time and effort when you're travel planning!

➼ Best travel insurance? SafetyWing
➼ Best place to find cheap flights? Skyscanner
➼ Best bank & credit card for travellers? Wise
➼ Best travel backpack? Osprey Farpoint 70
To prepare the lamb for cooking, an intense wood fire is built in the underground oven, which is then lined with agave leaves to protect the meat from direct heat. A large pot of water, seasoned with garlic, onion, herbs, and chiles, is lowered into the oven with a grate placed over the top. 
Then the meat, which is simply salted and wrapped in agave leaves is layered on top. Everything is topped with more agave leaves and a lid which is sealed by carefully shovelling dirt around the edges. As the drippings from the meat and fat fall into the pot, a rich consomé develops. Be sure to order some of both to experience the full depth of flavours of these incredible Mexican foods.
Vegetarian options available: NO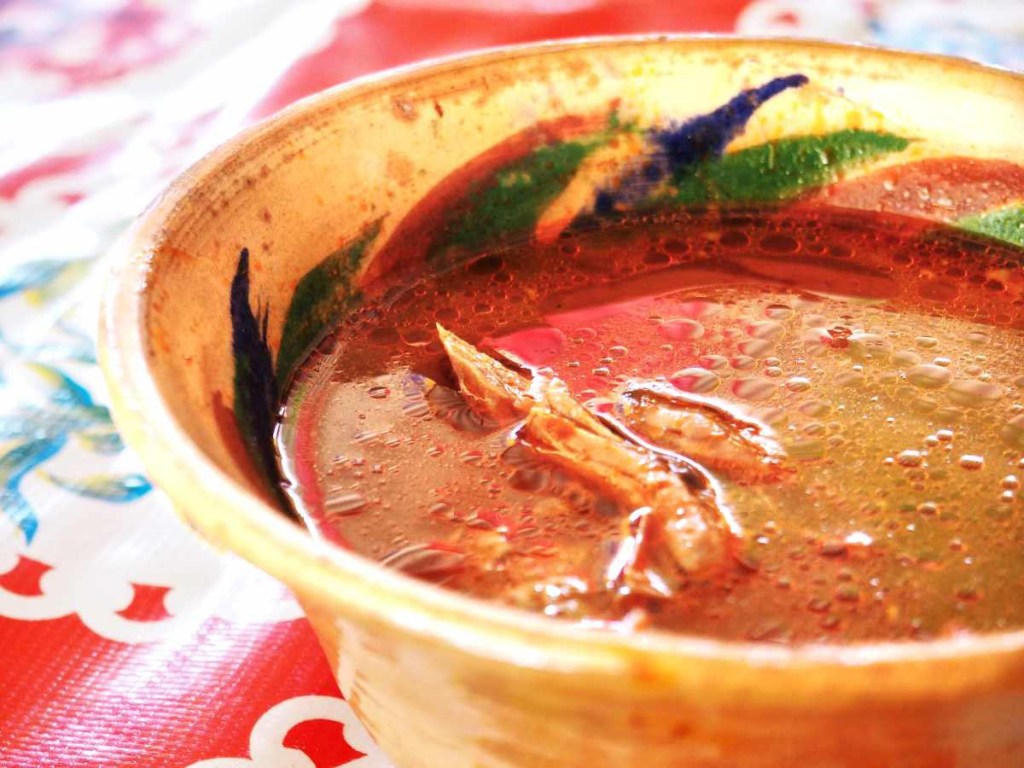 One of the best foods to try when you are in Mexico is a burrito. A burrito is a dish that consists of a flour tortilla that is wrapped with different types of ingredients inside of it and then sealed. The inside of the burrito often is filled with a type of meat or a meat replacement. Besides that, you often find beans, rice, lettuce, tomatoes, guacamole, or salsa inside the burrito.
A burrito is often soft and people eat it by hand, but it can also be served with a sauce covering it and it is then eaten with a fork and a knife. What's great is that because you can get burritos with many different ingredients, it never gets boring as the taste can be very different for each one you get. You can find burritos everywhere in Mexico, but they are most popular in the Northern part of the country. Keep an eye out for authentic Mexican burritos as most are usually Tex-Mex variations.
Vegetarian options available: YES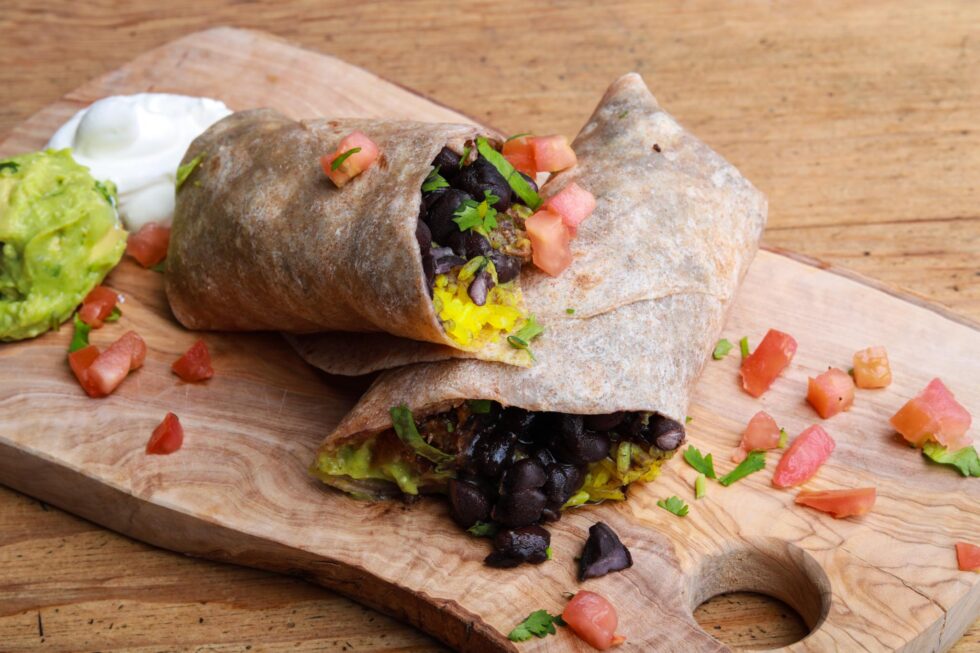 5. ENCHILADAS
In Mexico, tortillas are included in different foods and dishes in every possible way. One of the most popular options are enchiladas; tortillas filled with vegetables and cheese which are then baked. The ingredients can be pretty diverse including cheese, beans, potatoes, vegetables, meat. A typical characteristic of enchiladas is the iconic corn tortilla. Sausages are sometimes served alongside enchiladas and are a common way to make the meal even tastier. For toppings, you usually have a choice of a chilli-based or cheese-based sauce. 
The name enchilada comes from the Spanish word enchillar which means "to add chilli pepper". Enchiladas can be found all around Mexico including nice restaurants, snack bars, street food stalls and supermarkets as already prepared meals. Enchiladas have a rich history as street food dating back all the way to the Mayan world. They first appeared in an actual Mexican cookbook in 1831.
Vegetarian options available: YES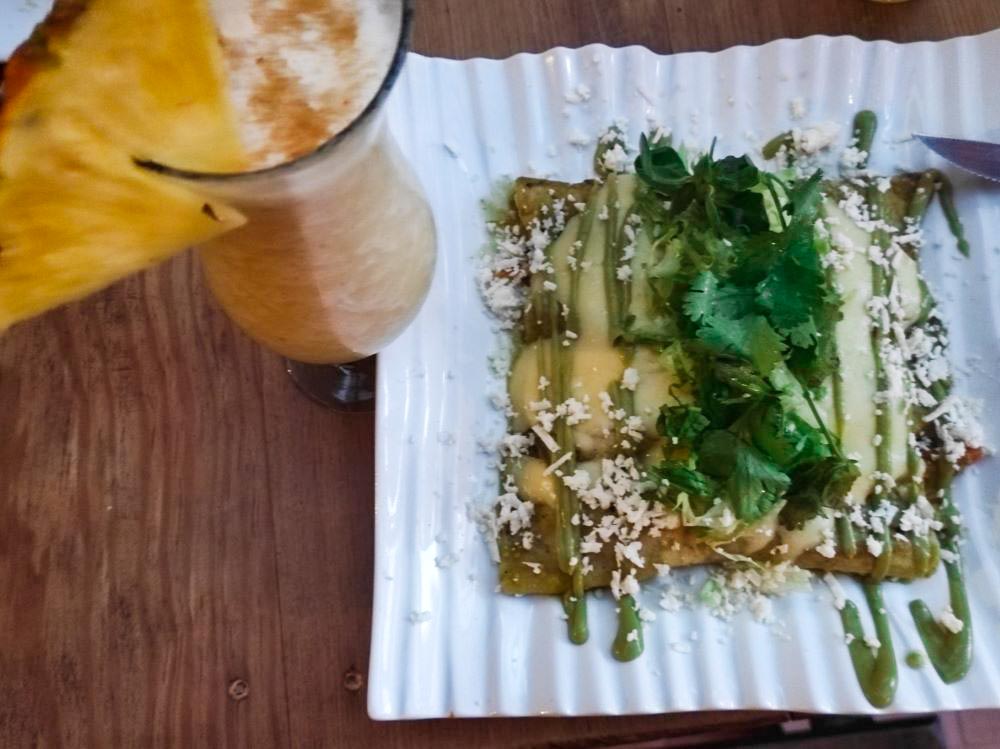 6. CHICHARRONES PREPARADOS
Whenever you find yourself in Mexico and looking for new foods to try, be sure to look out for chicharrones preparados. These square pizza-looking snacks are loaded with veggie goodness and are usually served on the roadside; in parks, or outside shopping malls. In Mexico, you'll find many different types of chicharrones but these are a very unique street food snack that will literally blow your tastebuds away.
The base is made from chicharron de harina which is a dried flour-based snack that has been formed into a flatbed rectangular-shape. The toppings that get loaded onto the flatbed are shredded cabbage, tomatoes, sliced avocado, and a serving of cream cheese. Not to mention the optional trail of Valentina hot sauce to top it off. If you are travelling to Mexico City any time soon add chicharrones preparados to your list of snacks and foods to try and you won't be disappointed.
Vegetarian options available: YES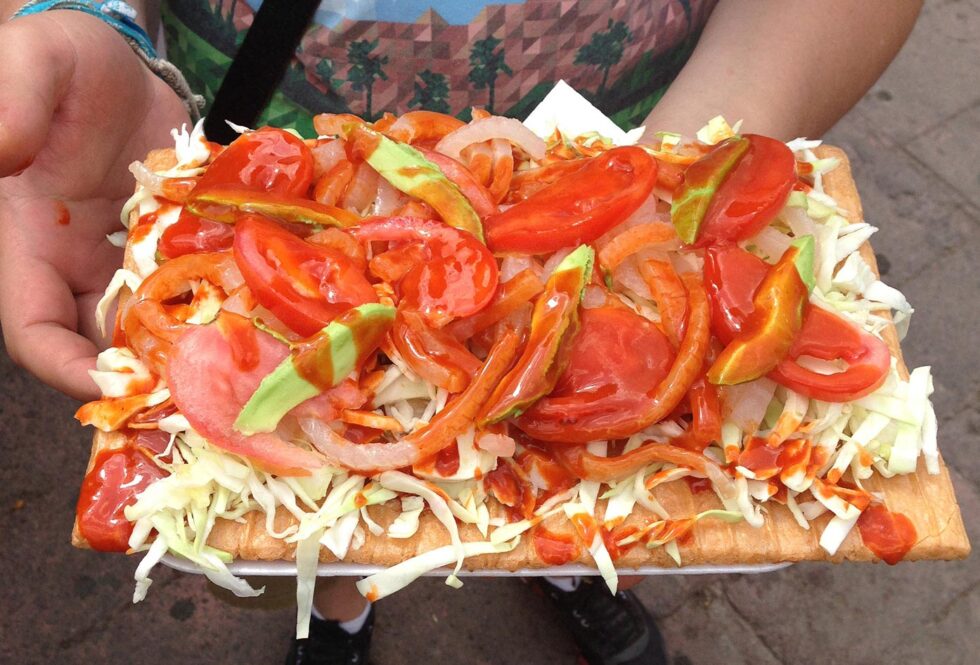 7. NOPAL CACTUS SOUP – BY WHY NOT WALK
No visit to Mexico is complete without sampling a bowl of steamy, delicious nopal soup. Nopal is a type of cactus, sometimes known as prickly pear, indigenous to Mexico and the southwestern United States. It's a very common ingredient for cooking and has been a staple of the Mexican diet since pre-Columbian times. In fact, the word "nopal" comes from the Nahuatl language.
Served on their own, nopales have a slightly tart, tangy flavour, but they are commonly served in salads, stir-fries, and especially soups. You can also eat them on their own, cooked or raw! Other ingredients often included in a nopal soup include onions, plum tomatoes, peppers (both hot peppers and bell peppers) and a simple chicken or vegetable broth as a base. You can sprinkle cheese on top, such as a queso fresco, as well as other fresh veggies like avocado. Both the cheese and avocado selections in Mexico are top-notch, as are its other fresh foods! Nopal soup is widely available in most restaurants in Mexico, often served as an appetizer prior to the main dish.  
Vegetarian options available: YES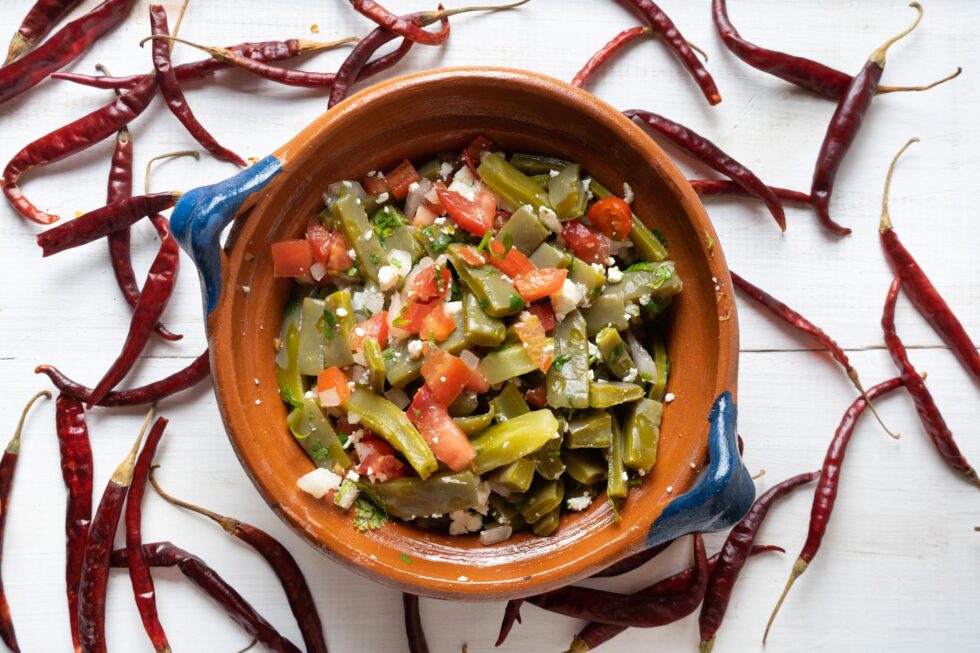 8. PANUCHOS
If you are going to visit Mexico's state of Yucatán, don't forget to try panuchos, small fried tortillas that are stuffed with beans and topped with vegetables and some meat. 
One of the most popular Yucatec dishes, panuchos are also great for vegans and vegetarians, as you can ask to make them without meat, and add more vegetables instead. 
Whether you are visiting Merida, the largest city in Yucatán, or stopping in a small town like Izamal, you can find this traditional regional dish in many restaurants around the state. Panuchos are typically served as an appetizer, however, they are also a great alternative if you are a vegan or vegetarian and don't have a lot of other options.
If you want to make panuchos at home, the process is fairly simple: you need 1 lb of prepared corn masa dough, refried beans and vegetables that you want to put on top. While the base remains the same, you can customize the toppings however you like. Some of the most popular ingredients are salsa, lettuce, red onion and avocado. You can also add salt and pepper to taste. To make the dough crispy, you will also need vegetable oil.
Vegetarian options available: YES
Comfort food in Mexico doesn't get any better than pozole, a sort of soup/stew that is perfect to eat during cold winter days, but to be honest is so delicious that it's a favourite throughout the year. Typical of the Distrito Federal (Mexico City) and the states of Guerrero, Jalisco and Morelos, pozole is easily found throughout the country – there even are places called "pozoleria" which focus on this dish!
Pozole is traditionally prepared with chunks of meat – usually pork – which is slowly cooked to become a soup. Corn is another one of the main ingredients. The dish is served in large terracotta bowls with fresh lettuce, radish, chopped onion, dry oregano and chilli peppers, and lots of toasted tortillas. Vegetarian and even vegan versions are available, typically with mushrooms and zucchini flowers. Definitely add pozole soup to your list of must-try foods from Mexico.
Vegetarian options available: YES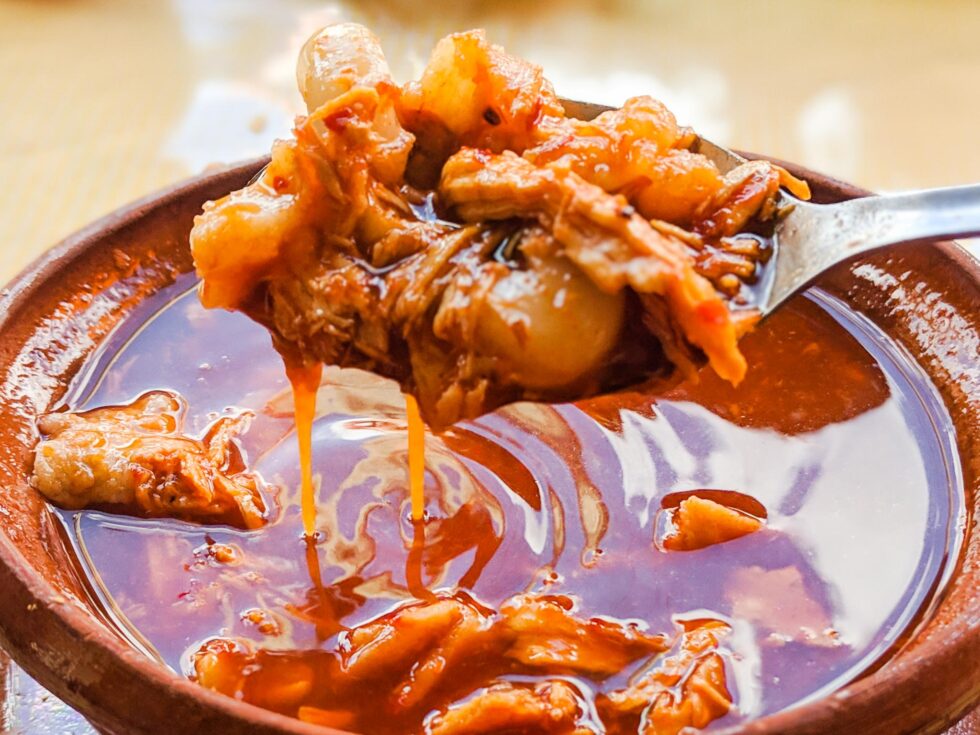 10. ELOTE
There are so many amazing foods to try in Mexico it can be hard to choose where to begin. A popular street food is corn on the cob which is called elote. This one in particular is grilled and usually spread with either butter or mayonnaise then covered with lime juice, chile powder, and cheese. There are countless elote vendors usually set up at the side of the road who offer some of the best elote around. Elote can be quite spicy so keep that in mind if you have sensitive taste buds. Ask the vendor to limit the amount of chilli and you'll be fine!
Since elote is one of the most popular foods in Mexico, many restaurants also offer some type of corn dish. For instance, in Monterrey, Mexico, a restaurant by the name of Botanero Moritas prepares a mixture of corn kernels with lime to add to your tacos. Another restaurant, Pangea, prepares sweet corn kernels fried in a batter, an absolutely exquisite corn dish. Experiencing the different types of corn is a must-do for any visit to Mexico.
Vegetarian options available: YES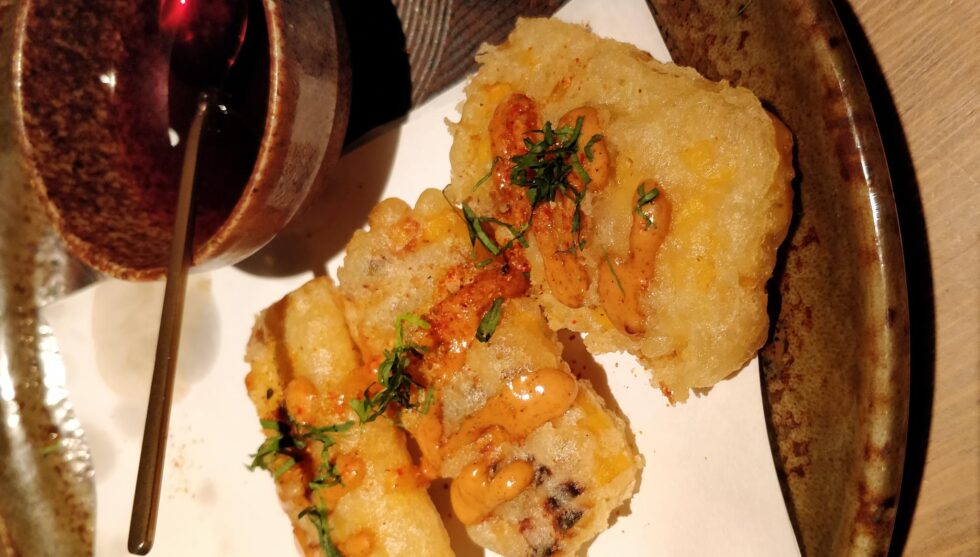 11. COCHINITA PIBIL
Though Mexico is considered the land of tacos, in the Yucatan Peninsula, it's all about cochinita pibil. While it can be eaten like a taco, the traditional ways are in a panucho, a tortilla stuffed with black beans, or salbute, puffy fried tortilla.
For breakfast, one of the best things to do in Merida, Mexico — is to start the day with a torta de cochinita pibil. Tortas are sandwiches served on a bolillo, the beloved soft baguettes of Mexico, which make the perfect grab and go breakfast food. You can find cochinita pibil everywhere from street food stands and local mercados to restaurants. Cochinita pibil is made by marinating suckling pig in a mixture of fruits and spices common to this part of Mexico, namely naranja agria (sour orange) and achiote, a red-coloured seed from the Bixa Orellana tree.
The meat is then slow-cooked underground for about six hours in an oven called a pib – hence the "pib" in cochinita pibil. As with slow-cooked meats, cochinita is tender, juicy, full of flavour, and a must-try staple food of Yucatecan cuisine. The traditional way to eat it is with pickled red onions and habanero salsa.
Vegetarian options available: RARELY
12. PORK CANITAS
Carnitas are one of Mexico's more delicious foods. Carnitas means "little meats" and inexpensive cuts of pork simmer all afternoon until the meat can be shredded with just a fork. It is often described as the Mexican version of pulled pork, however, there is one important and tasty difference. At the end of the cooking process, the meat is roasted to crisp the ends. It makes carnitas crispy on the outside and juicy on the inside. It is perfectly combined with a cold beer or non-alcoholic drink from Mexico.
You can find carnitas all over Mexico, although they are originally from Michoacán and traditionally braised in lard in a copper pot with cumin, thyme, oregano and garlic. Carnitas are versatile and depending on where you travel in Mexico you can find it on tortas (sandwiches), tamales or burritos.
Most often this succulent meat is served in tortillas with a variety of accompaniments including a white onion and cilantro mix, pico de gallo or salsa, avocado and radishes.
Vegetarian options available: NO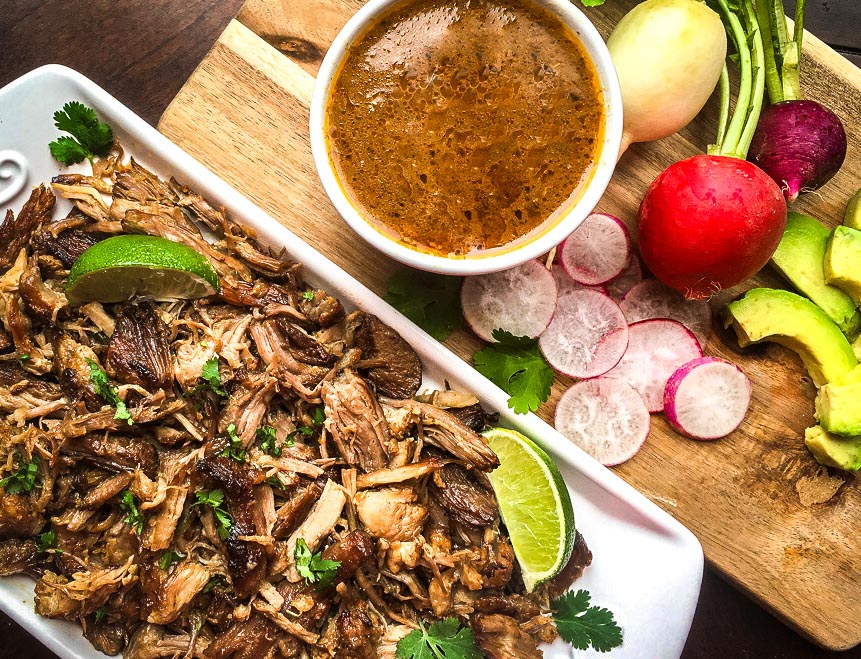 13. CHILAQUILES
One of the best foods commonly served in Mexico has to be chilaquiles. This delicious breakfast dish has not made it global in the same way some other Mexican foods have, so all the more reason to try it while in Mexico!
Chilaquiles are tortilla chips fried with salsa (usually red or green named 'salsa roja' or 'salsa verde') and topped with refried beans, a light, crumbly cheese named cotija, and crema fresca, a type of fresh cream that's neither sour nor sweet. You can choose to have meat on your chilaquiles but more often than not, they will be served simply with an egg, either scrambled or fried.
In Mexico City, one of the best places to eat in Condesa neighbourhood is La Güera Tortas de Chilaquiles, a modest street food stall serving chilaquiles inside a torta sandwich! If you fancy a sit-down brunch and nice coffee, there are plenty of nearby places to try chilaquiles like Chilakiller's Loungería and Ojo de Agua.
Vegetarian options available: YES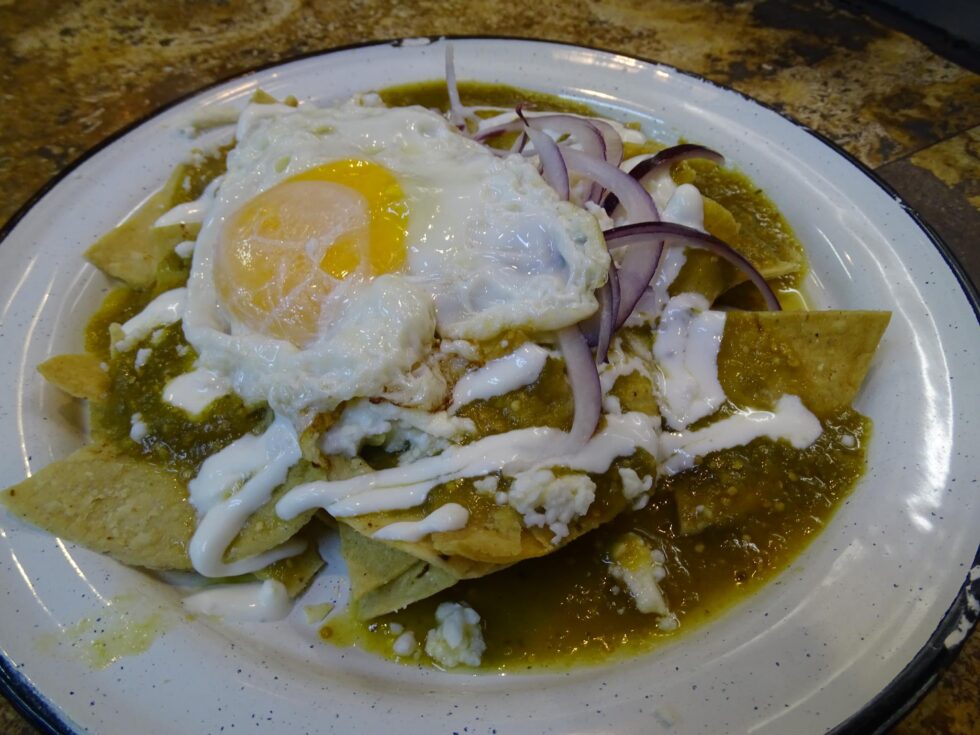 14. MARQUESITAS
Marquesitas are an absolute must-try if you're in the Yucatan Peninsula. They're a popular street snack you'll find if you're travelling through Cancun, Tulum, or on a day trip from Playa del Carmen. 
This regional treat is a crispy rolled crepe that is filled with your choice of sweet or savoury spreads and toppings. Typically, the options for the fillings include Nutella, cajeta (caramel sauce), peanut butter, jam, chocolate sauce, sweetened condensed milk, Edam cheese, and fruits such as strawberries or bananas.
Marquesitas can be found around busy streets or markets, usually from a small street cart or stall. Before you enjoy this mouth-watering snack, you'll also have a feast for your eyes watching the treat being made. You'll get to see and smell the batter turn into a sweet crepe as the cook rotates the large, flattened waffle maker-like pan over a hot fire. Once ready, they'll add your desired fillings and roll it up to perfection for you to enjoy fresh off the grill.
Vegetarian options available: YES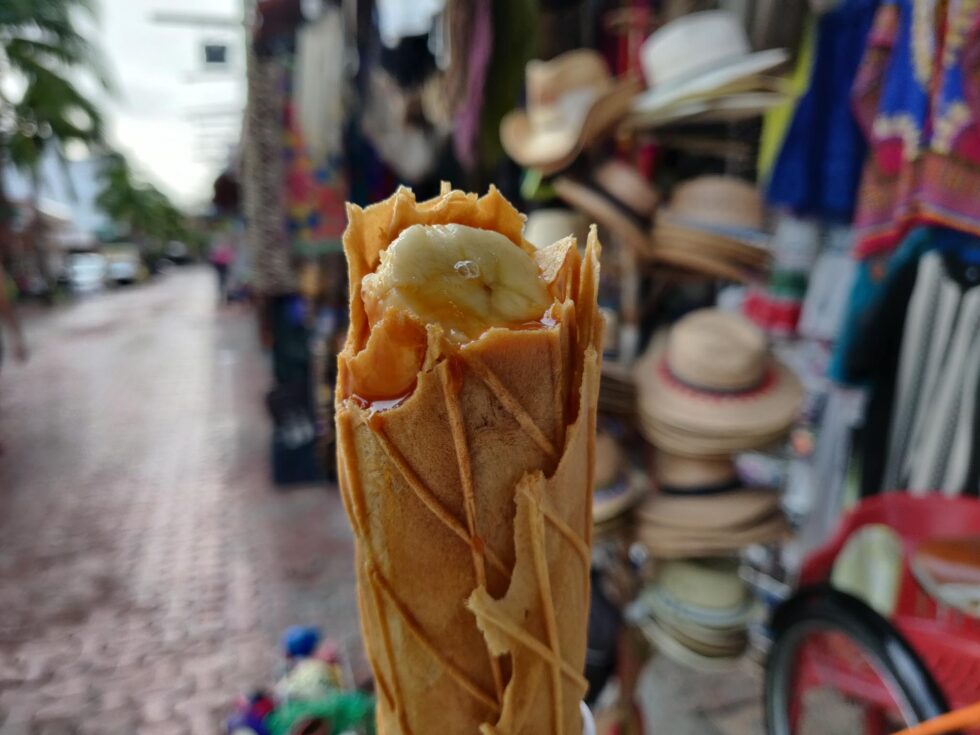 15. TAQUITOS
One of the most delicious foods to try in Mexico are the lesser-known taquitos. Consisting of a small, rolled-up tortilla wrap that contains a filling of either beef, cheese, chicken or many other flavours. They are then traditionally shallow fried, to get a beautifully crisp outer flavour that you often find in quesadillas. However, for a healthier home-made option, you can also bake them in an oven or air fry them to get the same crisped effect.
Taquitos are absolutely delicious and often served as a snack, street food or a starter, so they are a perfect food for those travelling on a budget. In Mexico, they are also commonly called tacos dorados (which means golden tacos) or flautas.
Once the taquitos have been fried, they are then often topped with guacamole, sour cream or a delicious homemade salsa. Then can also be dunked in a sauce like sour cream or a cheese dip like a Mexican queso.
Vegetarian options available: YES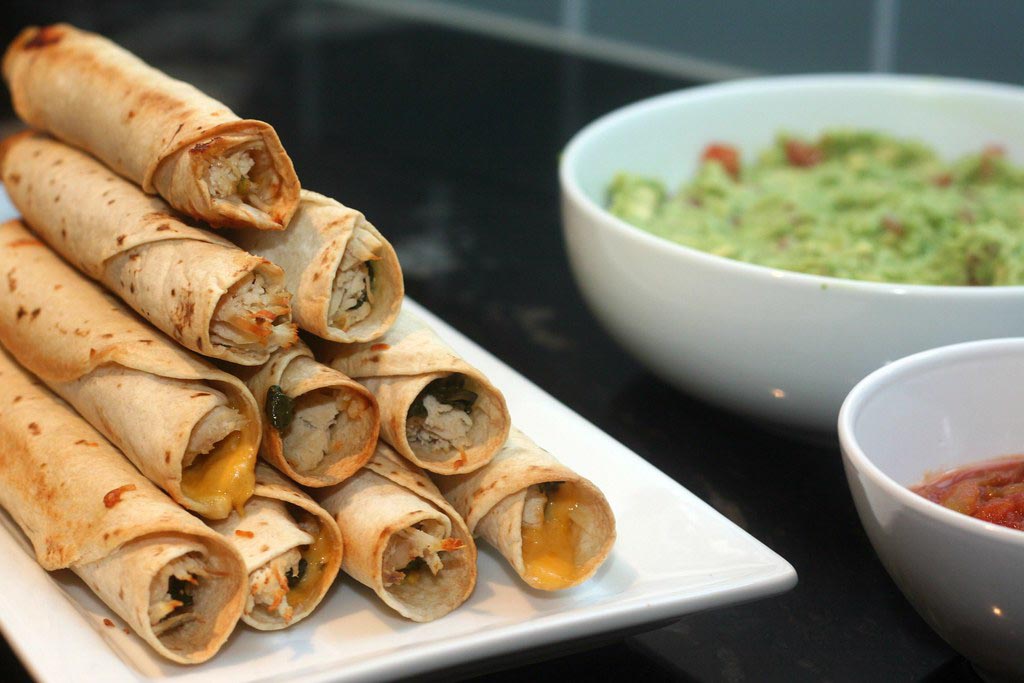 Esquites is one of the best foods that you must try when you are in Mexico. This dish consists of a cup of sweet corn, mixed with mayonnaise, lime juice, chilli powder, and queso fresco. It is a creamy, a bit spicy, and sour delicious street food treat that you can find all throughout Mexico. You often will find esquites as street food so it is very common at parks, festivals, or places where people gather on the streets.
Esquites can often be mistaken for elotes, as they are quite similar but elotes are grilled corn that is on the cob, while esquites are always found in a cup. The ingredients put on top of elotes are the same as esquites, but with esquites you can eat it with a spoon and mix around the ingredients more. On your next trip to Mexico you definitely need to try esquites, it is delicious! 
Vegetarian options available: YES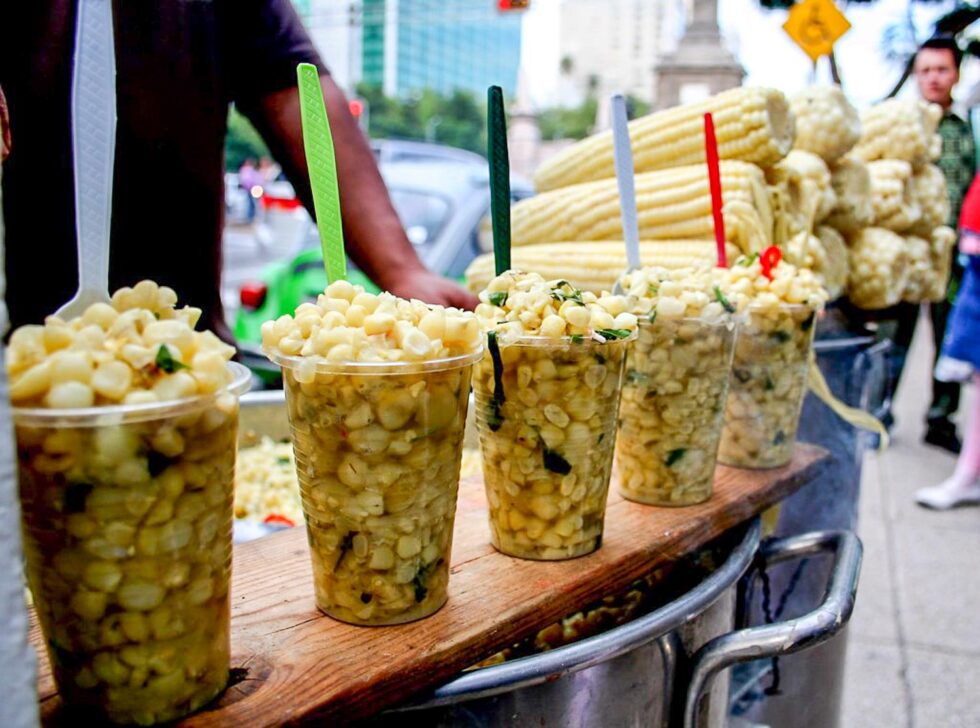 17. SALBUTES
Salbutes are delicious antojitos from Mayan influences, made from a puffed deep-fried tortilla, typically topped with some kind of meat, and then layered with lettuce (or cabbage), pickled red onion, tomato, and avocado.  While the meat of the dish is traditionally shredded chicken or turkey, there are a variety of toppings of salbutes, including beef, fish, shrimp, guisados (stews), such as relleno negro, or plain black beans.
Originating in the Yucatan peninsula and now considered a staple food of Belize, this handheld treat is savoury and tastes very similar to a panucho (another popular Yucatan street food),just without the refried beans stuffed in the tortilla and with less crunch. You can find this street food usually as a snack or as part of a light lunch or dinner at taquerias, loncherias, or street vendors, where they're usually fried and prepared to order.  When you order one, make sure that it includes the staple condiment of the Yucatan, chile habanero, the hottest chile found in Mexico and buckle up for a spicy (but oh so tasty) treat.
Vegetarian options available: YES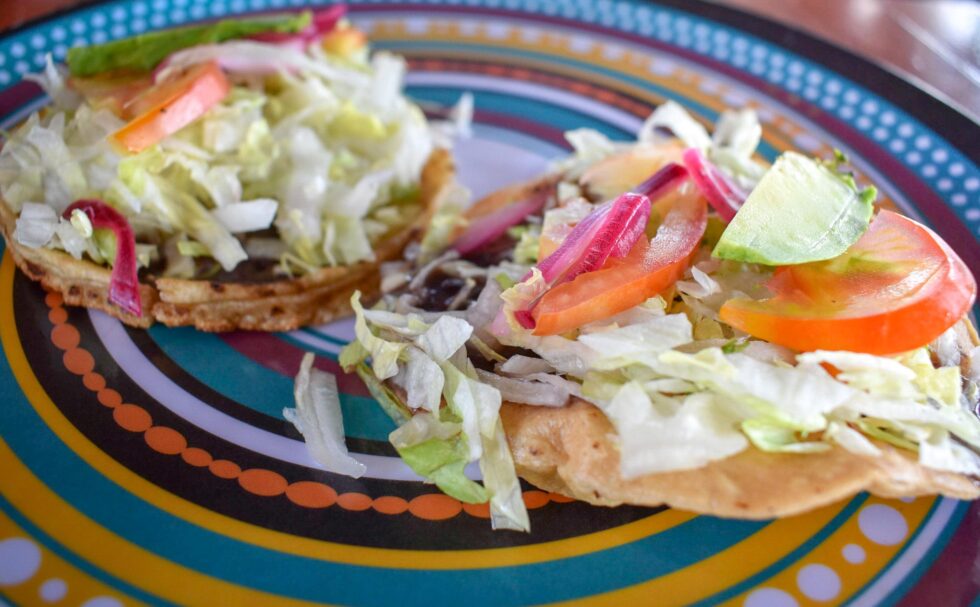 18. CEVICHE
The Yucatan Peninsula is surrounded by oceans teeming with all kinds of seafood. Therefore it makes sense that ceviche is a popular dish in the area. Ceviche is a raw fish dish where fresh seafood is cured in lemon or lime juice. The citrus "cooks" the diced-up fish which is often just pulled from the sea. Other ingredients might include diced white onions, tomatoes, cucumbers, and spices such as chilis and cilantro.  The mix of seafood often includes shrimp, tuna, scallops, squid, and the fresh catch of the day. A garnish of avocado or pickled red onion completes the dish. The slightly spicy citrusy flavour and the taste of the freshest seafood are the draws for ordering this dish.
The best place to order ceviche in the Yucatan is an open-air restaurant located right on the beach. Grab a table where you can watch the waves crashing and start your meal with a bowl of ceviche. It goes perfectly with a chilled, locally-brewed Mexican lager beer.
Vegetarian options available: NO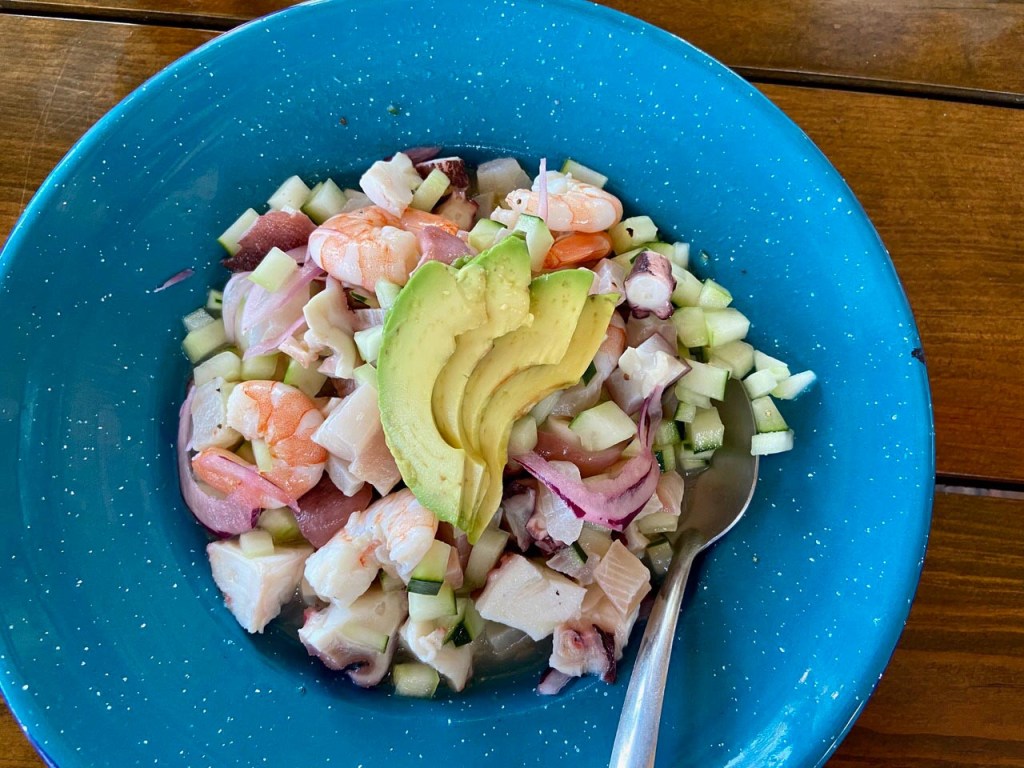 19. MOLE
When we think of Mexican Food we always refer to the classics that you'll find in lots of restaurants both in and outside of Mexico. One of the most famous foods all over Mexico is, of course, Mole.
This dark sauce is made from a range of spices but the one ingredient you have to have is dark chocolate. Don't let that fool you though, Mole isn't traditionally very sweet and instead is a dark savoury sauce that pares well with chicken and even tamales.
Mole is more traditionally eaten on the east coast and the vibrant city of Oaxaca is known as the best place to try the sauce. On a visit to the city, every restaurant and café will serve Mole on a range of dishes in either a black, green, or red colour. You can head out on your own to try Mole, or consider joining a food tour in Oaxaca to try some of the best local Mole restaurants.
The taste of Mole is very hard to explain in words. However, it is very earthy and in some cases spicy. Trust me, it's a flavour you'll likely fall in love with but it can be challenging to find traditional Mole outside of Mexico – so enjoy it while you can!
Vegetarian options available: YES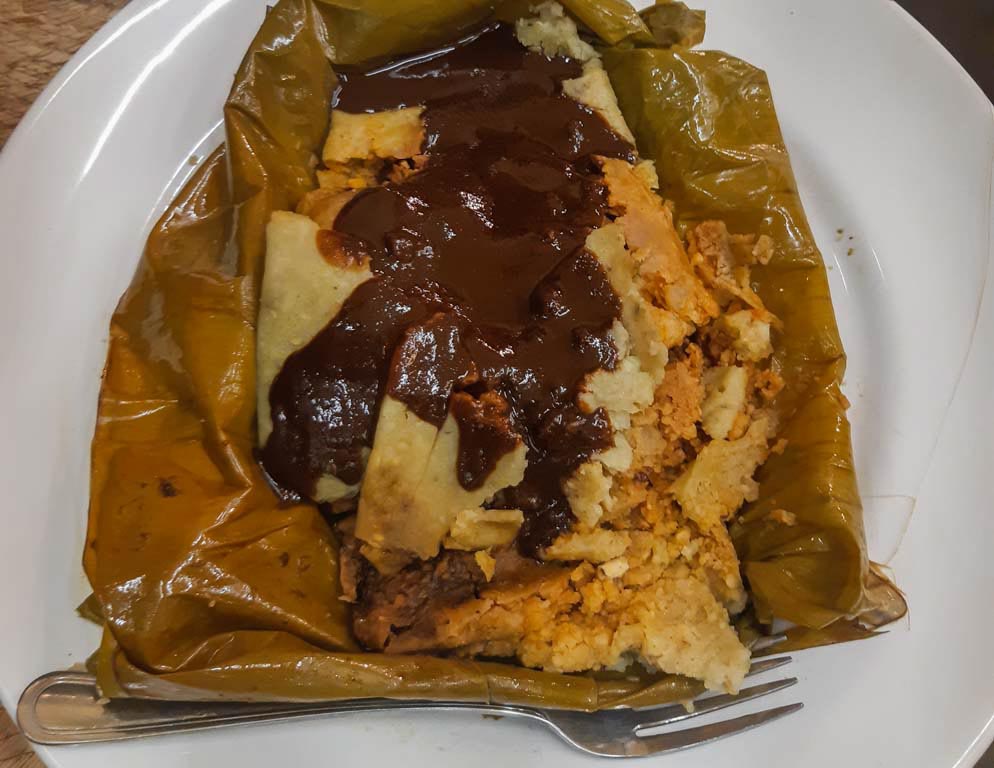 20. CHAPULINES
When you think of popular snacks in Mexico, your mind might immediately jump to churros or elotes (corn on the cob). However, adventurous foodies might think of Chapulines, a snack that translates to grasshoppers in English. Yes, you read that right. Grasshoppers!
Matter of fact, Chapulin (singular for Chapulines) is a Mexican delicacy that is full of protein. Roasted and seasoned with chile powder, Chapulines are actually not as bad as they sound. They are bit-size and the crunch and flavour somewhat resemble your typical chips. The only main difference is that Chapulines are actually quite healthy for you because of their high protein concentration.
First eaten around the 16th century as a sustainable source of protein, Chapulines are now easily found throughout the country. However, the best state in Mexico for Chapulines is Oaxaca. Visitors will have no problem finding them in Oaxaca City, and small towns such as Puerto Escondido and San Jose Del Pacifico should have them too!
Vegetarian options available: NO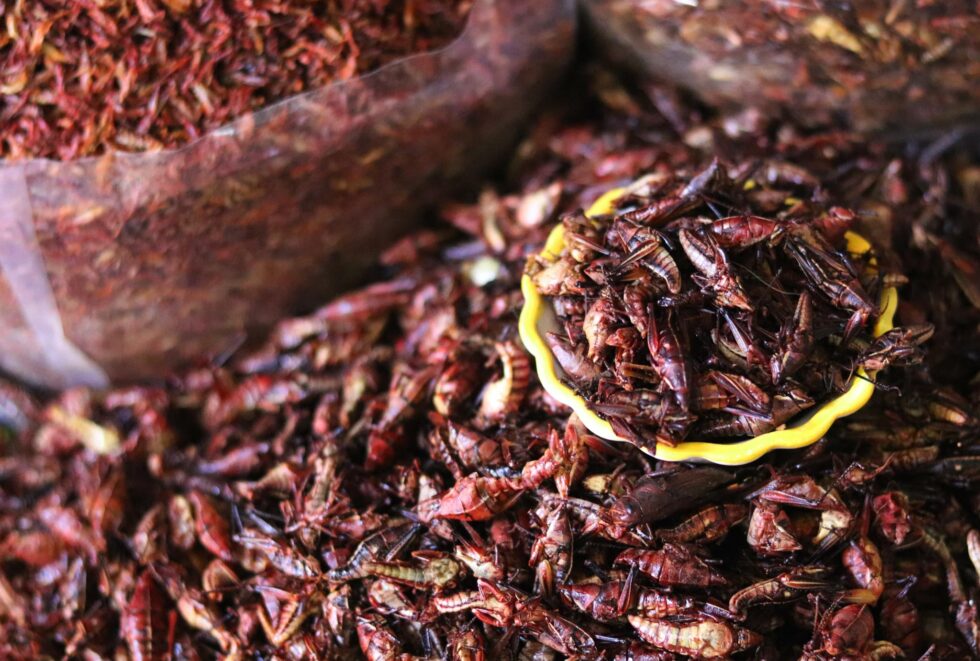 21. SALPICÓN
The term salpicón originated in Europe and basically refers to a savoury mix of meat with vegetables bound in a sauce. While versions of salpicón featuring beef, pork and seafood in vinaigrette are found throughout Latin America, in Mexico it's salpicón de pollo (Mexican chicken salad) that's likely the easiest to find as it's a very popular appetizer, party dish and beach day snack.  
The Mexican (and Guatemalan) versions of salpicón de pollo feature finely diced chicken breast (either just poached or leftover from a roast) tossed with minced fresh radishes, red onion, tomato, cilantro, hot jalapeno peppers and mint in a lime juice, olive oil and oregano dressing. Sometimes the dressing also features naranja agria, the juice of the Seville orange, an addition that adds a subtle bitterness that complements the sweetness of the tender chicken.   
Although salpicón de pollo is most often served on top of a crispy tostada and sprinkled with crema Mexican, slivers of red onion or crumbled cheese, it is equally delicious as a side salad or as an appetizer on chilled serving spoons or shot glasses. Enjoy it with a dash or two of your favourite hot sauce. 
Vegetarian options available: NO
22. TORTAS
Tortas are tasty Mexican sandwiches piled up with different ingredients. They can be stuffed with different things, such as cheese, chicken, guacamole, meat, refried beans, onions, peppers, avocado, or steak – anything you want. So, you will certainly find the ideal one for you.
The most important ingredient in tortas is the crusty bun called bolillo that holds it all together. It usually has mayonnaise on one side of the bun and bean paste on the other, then the requested (usually meat) fillings and slices of avocado, tomato, and pickled jalapeño peppers.
It's entirely up to you when it comes to tortas. You can basically get any kind of Mexican food that you can imagine in tortas. The best part is that you will find tortas of all different types in restaurants and street stands. You can get them cold or hot, toasted, grilled, or even pressed like a panini. You can find these sandwiches at street food vendors/trucks, local markets. They are a popular lunch piece for those on the go.
Vegetarian options available: YES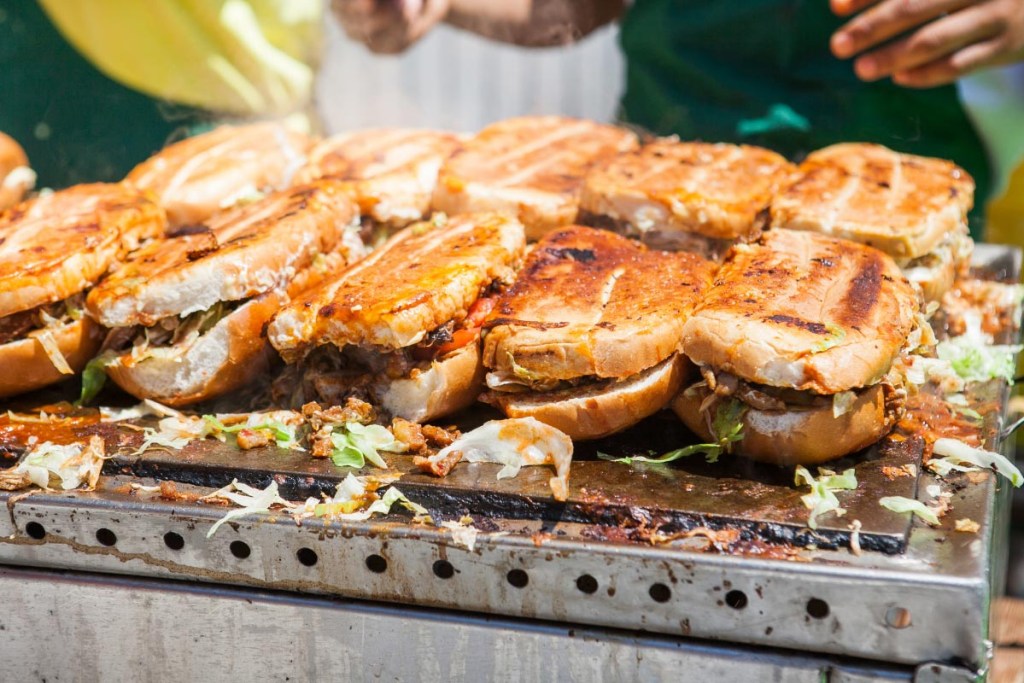 Huevos Rancheros are a delicious breakfast dish that should be at the top of everyone's bucket list for must-try Mexican foods. Crispy tortillas on the bottom topped with refried beans, over-easy eggs and delicious ranchero sauce on top are the perfect blend of flavours ready to awaken your senses for a day full of exploring in Mexico. The ranchero sauce is made with fresh tomatoes and a mix of spices. In some places, a fresh queso fresco is sprinkled on top to give it a salty after taste. The crispiness of the tortilla on the bottom mixed with the beans and the slightly spicy sauce gives this dish a perfect balance of flavour and texture. The dish is a typical Mexican breakfast food and can be found in most restaurants that serve breakfast throughout the country.
Vegetarian options available: YES
Camarones a la Diabla is a very famous shrimp dish that is served with a very spicy and almost sweet-tasting red sauce. In English, the name is translated to devil shrimp, and it gets its name due to its spiciness. This dish is usually served with a side of white rice and the thick red sauce covering all of the shrimp. The shrimp itself is marinated with lime and pepper. Meanwhile, the sauce is created from a mixture of chile de Arbol peppers, chile guajillo peppers, and roasted tomatoes.
After the first or second bite, you immediately get the taste of this sweet and spicy sauce with crunchy tasty shrimp. The dish originally became famous in Veracruz and can be found in just about any seafood restaurant in the state, but it has since spread all across Mexico. You won't have trouble finding it in just about any restaurant that sells seafood. 
Vegetarian options available: NO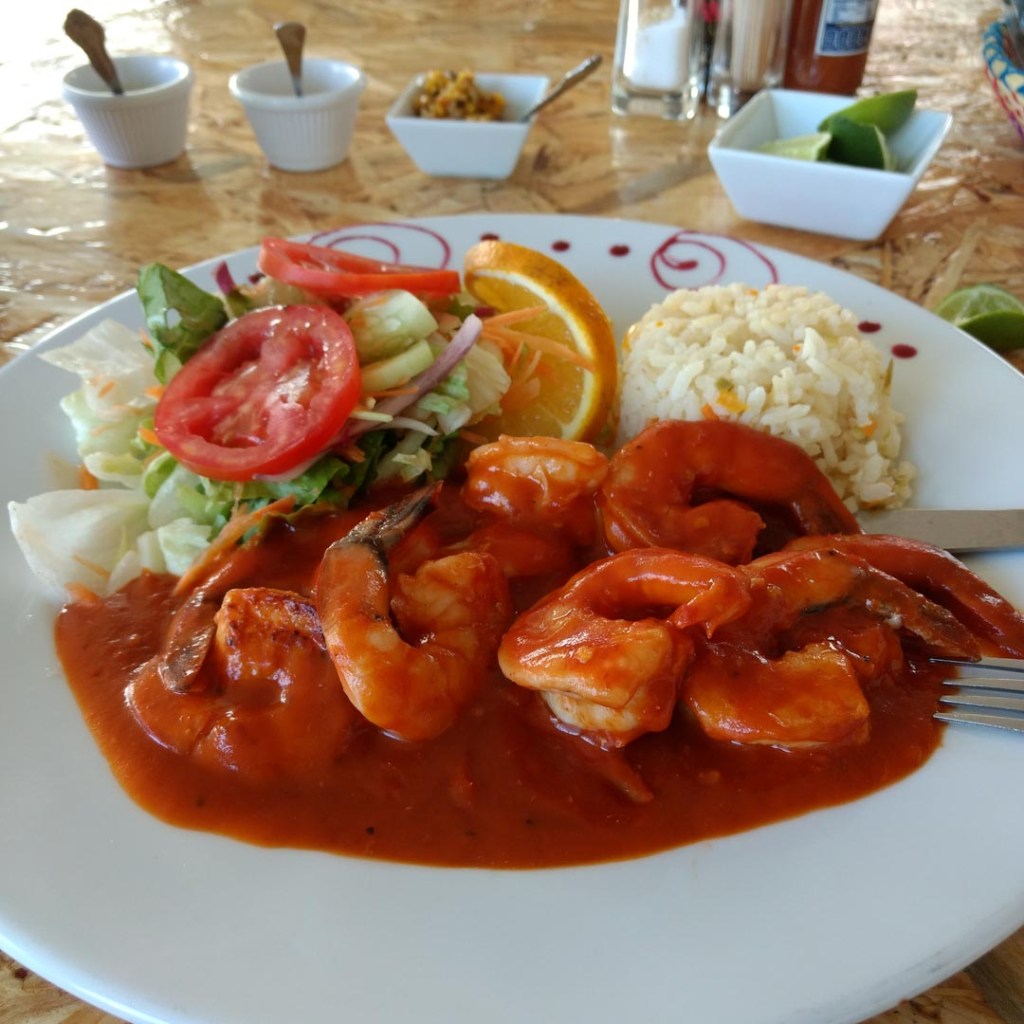 Gorditas are a savoury, Mexican pastry that translates to "little fatty". The shell is made with masa (corn flour), similar to a tortilla shell only thicker. The shells are typically cooked on a flat surface over a fire or stove. They are stuffed with meats, cheeses, or vegetables. Each place will make them just a little differently. Even though the premise is the same, there are so many varieties to try. I've had amazing yet simple gorditas stuffed with just cheese, lettuce, and cream. Other options include nopal (cactus), beans, various meats, chicken, cheese, and potatoes. There are endless variations and regional differences. Some are bathed in sauce, others are covered in cream instead. Gorditas are most commonly found in central Mexico, like Mexico City and Queretaro. In the Northern Mexican states, gorditas often contain wheat flour.
Around Central Mexico, I've had the pleasure to try several different types of gorditas. Served warm, the shell tastes similar to a corn tortilla, except the texture is closer to a thin cornbread. The outside is a humble addition to the goodness added inside. I've had so many amazing, mouth-watering kinds that gorditas have quickly become one of my favourite foods in Mexico.
Vegetarian options available: YES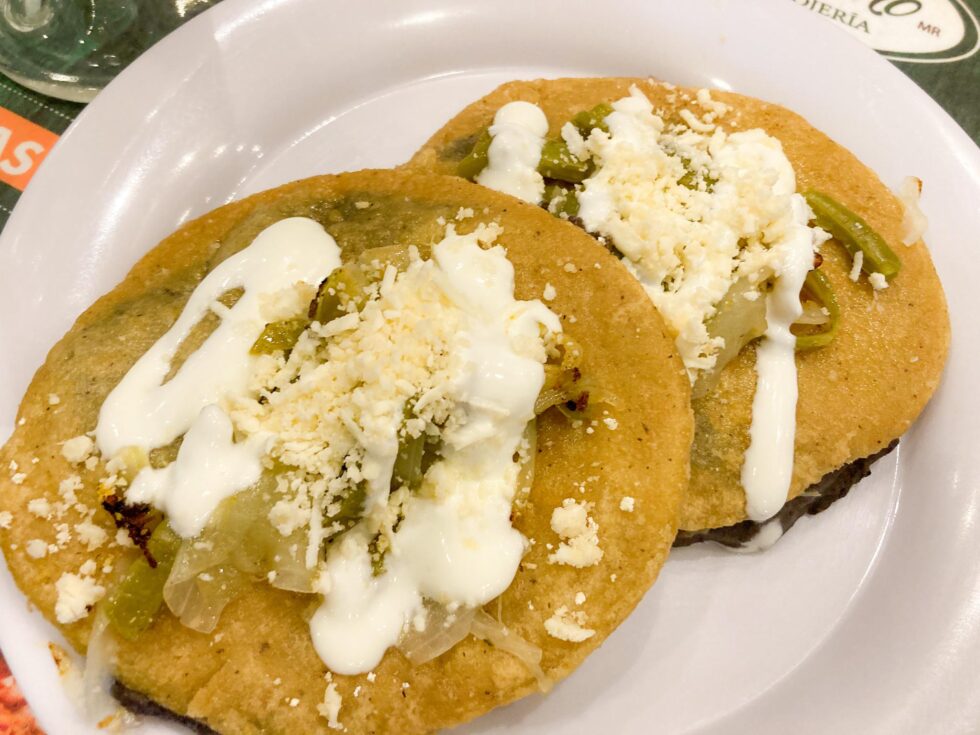 My most important travel tips and resources
Book your flights
Skyscanner is the best website for finding cheap flights since it works like a search engine so you can find the best deals across all airlines.

Book hotels and hostels
• Booking.com: Best world-wide
• Agoda: Best in South East Asia
• Hostelworld: Best for hostels

Book tours, transport and rental cars
•Viator: The best place to book tours, day trips and excursions for al budgets
•12Go: Great for ferries, trains, transfers and buses in South East Asia
•Discover Cars: Best deals for rental cars around the word

Get travel insurance
Every traveller needs travel insurance and I mean every single one. SafetyWing covers you in case of injury, illness or worse and they've got your back if your bag is stolen, flights are cancelled or in case of a natural disaster.

Pay abroad
Ask any traveller, Wise is the best choice when it comes to sending money abroad. They've always got the best exchange rates, lowest fees and their visa card is great for getting cash out or paying abroad.

Things every traveller needs:
➼ Osprey Farpoint 70 Backpack
Detachable daypack, ultra-light, durable and free repairs for life. There's a reason why so many backpackers have this bag.
➼ Packing Cubes
Packing cubes are a gamer changer, keeping your luggage organised and providing tons of extra space.
➼ Power bank
There is nothing worse than running out of battery on an overnight bus journey or a long flight. With a powerbank you can charge your eletronics on the go and make sure you're always connected.
➼ Micro-fibre towel
These lightweight towels are foldable, fast-drying and so useful when you're travelling.

➼ You can find 15 more things every traveller needs here. Some might be a bit controversial but I warned you!
Did I miss anything?
If you have any questions or feel like something is missing from this post please leave a comment below or contact me.