Labuan Bajo, which is the best place to stay if you want to visit Komodo National Park, has a variety of hotels and resorts to choose from, including both luxury and budget-friendly accommodation. You can stay in town or head to an island escape somewhere close by which will be an unforgettable experience. Plan your trip to some of Indonesia's most beautiful beaches and pick the perfect hotel or resort in Labuan Bajo and Komodo. Some of our favourite accommodation picks include AYANA Resort Komodo, La Boheme and Seaesta in Labuan Bajo.
This post may contain affiliate links, which means we'll receive a commission if you purchase through our links, at no extra cost to you. This helps us keep Guide your Travel free and provide high-quality content for you. Please read the full disclaimer for more information.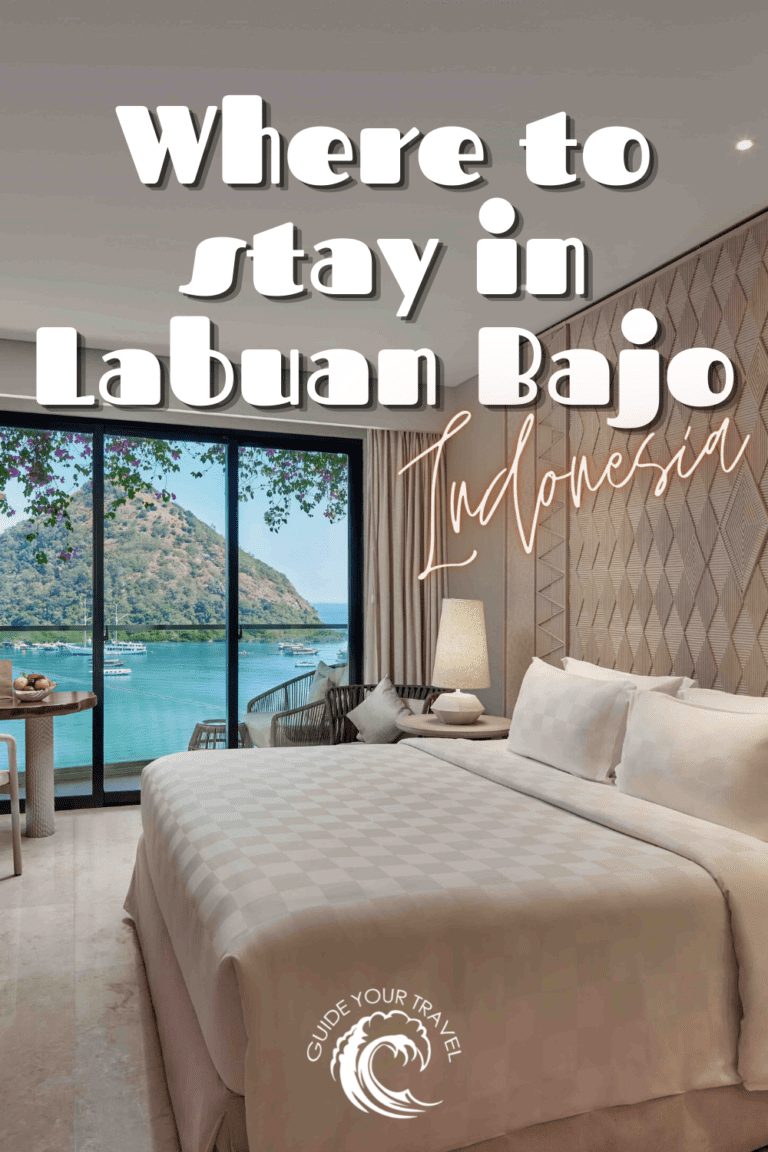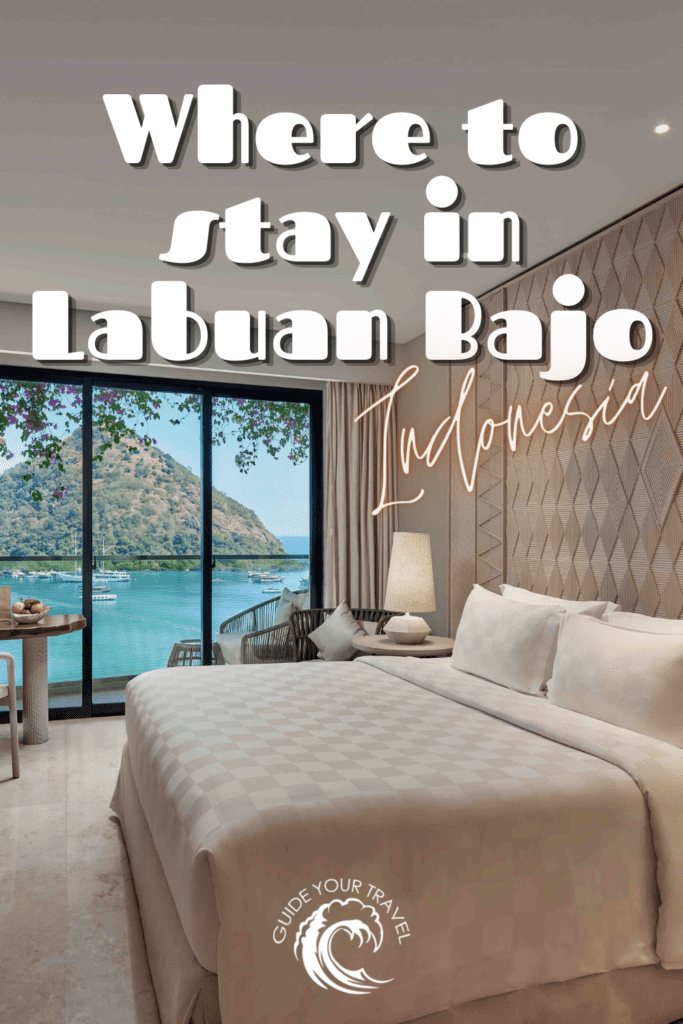 Where is Labuan Bajo?
The small town of Labuan Bajo is located in East Nusa Tenggara on the island of Flores in Indonesia. From here, you can reach Komodo National Park and its beautiful resorts in just a few hours which means thousands of tourists visit Labuan Bajo annually. Flores is located east of Bali and Lombok and Labuan Bajo sits on its western tip.
Labuan Bajo has a small airport and the easiest way to get there is by plane. Another option is to join a boat tour from Lombok to Komodo National Park which will drop you off in Labuan Bajo. These are just two examples of ways you can reach Labuan Bajo, make sure to read our complete guide on how to get to Komodo National Park for more information.
Finding the cheapest flights to Labuan Bajo
Whether you're booking flights spontaneously or planning ahead, Skyscanner is the best place for finding cheap deals and convenient connections. You'll love their user-friendly interface and reliable search function that's much easier to use than individually checking airline websites.

Not sure yet if Labuan Bajo is where you want to go? Skyscanner lets you choose the option "to everywhere" so you can find the cheapest flights to destinations around the world for your travel dates.

What are you waiting for? Book your fights to Labuan Bajo or other destinations here.
Is Labuan Bajo worth it?
If you're going to Labuan Bajo you absolutely have to visit Komodo National Park. While you'll find some fun things to do in town and a decent community of travellers, it's not really worth the effort to just come here to see Labuan Bajo itself. Another great option is to use this small town as a starting point for a road trip around Flores which will provide a glimpse into rural life in Indonesia.

A trip to Labuan Bajo is definitely worth it if you're looking for a place to spend a few days before you head to Komodo National Park. Come here for great seafood, some day trip options and beautiful sunset lookout points.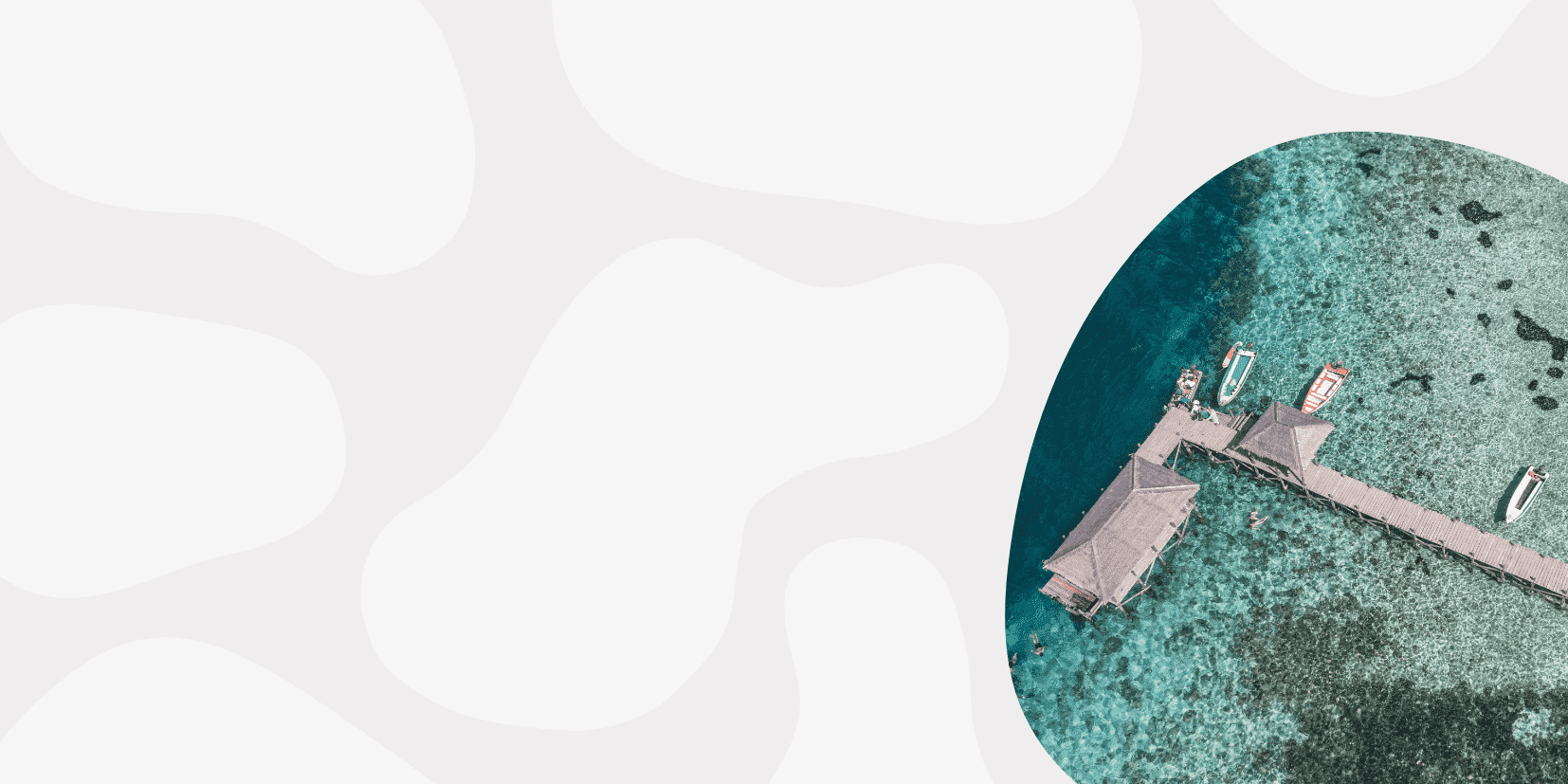 Let me save you time and effort when you're travel planning!

➼ Best travel insurance? SafetyWing
➼ Best place to find cheap flights? Skyscanner
➼ Best bank & credit card for travellers? Wise
➼ Best travel backpack? Osprey Farpoint 70
How long should you stay in Labuan Bajo and Komodo?
If you're planning a tour to Komodo National Park you should plan to spend at least one night in a resort, hostel or hotel Labuan Bajo before you depart and another night or two when you return. This gives you plenty of time to explore things to see and do in the area and rest after spending so much time on the water.

Liveaboard boat tours last between two to five days and although it's possible to see the national park as part of a day trip, the price for an overnight trip tends to be similar. In total, plan to spend somewhere around three to six nights on your tour to Labuan Bajo and Komodo in total which should be plenty of time for the main attractions.
There are not too many places to eat to choose from in Labuan Bajo although the selection is growing. You'll find some chain-restaurants like KFC and Starbucks but the best food is, of course, found at local restaurants and warungs. Some of our favourite places to eat in Labuan Bajo include:
Pondok Mai Ceng'go: Large traditional restaurant with authentic dishes and reasonable prices.
Seafood Market: The freshest fish and seafood in town including lobster, clams and crab.
La Cucina: Italian-owned restaurant with delicious home-made pasta and the best pizza in the area.
The Bay at Meruorah Hotel: Large resort hotel with a rooftop restaurant, offering sweeping views of Labuan Bajo bay.
Top tip: Looking for the best places to eat in town? Read our complete restaurant guide to Labuan Bajo here.
Where to stay in Labuan Bajo and Komodo (best hostel, hotel and resorts)
The best place to stay in Labuan Bajo is in a hotel or hostel somewhere close to the harbour which is where you'll find the majority of restaurants, shops and accommodation options. It's easy to get around on foot from here and you most likely won't even need a scooter unless you want to get out of town. You can also choose one of the hotels located in the hills of Labuan Bajo which will have incredible views and maybe even a rooftop terrace.

You'll also find some resorts located a bit out of town, close to Komodo National Park. AYANA Komodo Resort is one of the most well-known ones and the ideal choice for a luxury stay. Keep in mind that you'll most likely spend all of your time at the hotel and not in Labuan Bajo itself since the journey there may take a while.
Labuan Bajo hotel & hostel map and how to get around
This map shows the best hotels, resorts and hostels in Labuan Bajo and Komodo, including accommodation options suitable for all budgets. The best way to get around Labuan Bajo is definitely to walk, especially if you're staying close to the city center. Taxis are also affordable and charge around IDR 40,000 (~ €2.70) for short distances. For longer distances you might want to consider renting a scooter which will only cost around IDR 60,000 (~ €3.80) per day. Always prioritise your own safety and only drive in Indonesia if you are confident on busy roads. While the traffic in the area is generally not too bad, some roads outside of town might be in bad condition, making them difficult to navigate.
Top tip: Click the icon in the top right corner to add this map to your own Google Maps so it will always be with you on the go.
Finding the best travel insurance for Labuan Bajo
Every traveller should have insurance, including coverage for medical emergencies, hospital visits and unforseen accidents. SafetyWing is not only the best choice for shorter trips but also offers longterm plans for digital nomads or those travelling for extended periods of time. They have a great selection of plans including trip insurance which supports you in case of cancelled flights or lost baggage. No matter where you're travelling, you cannot put a price on peace of mind.

Find out more about SafetyWing here.
If you're planning on riding a scooter during your time in Labuan Bajo and Indonesia, you absolutely need reliable insurance coverage, even if you're not going to be the one driving. Accidents happen quickly and in the blink of an eye. A doctor's visit without insurance coverage can quickly be very expensive which you can easily avoid by coming prepared.
How expensive is a hotel or hostel in Labuan Bajo?
Since Labuan Bajo is so small and there aren't too many hotels and hostels to choose from, this is not the cheapest place to find accommodation compared to destinations like Bali. Most double-rooms in a basic hotel will cost around €30 to €40 with the occasional €25 deal.

Luckily, you'll most likely find a dorm bed for somewhere between €6 and €10 per night which is great for budget travellers.

Upscale resorts like AYANA Komodo outside of Labuan Bajo will cost between €200 and €300 per night and are a great choice for a special occasion or once-in-a-lifetime trip.
Top tip: Always compare prices for hotels. We at Guide your Travel prefer Booking.com, Agoda or Hostelworld for finding the best deals.
When should you book your hotels for Labuan Bajo and Komodo?
It's always recommended to book your accommodation as soon as possible to get the best deals, especially in Labuan Bajo. That being said, a lot of travellers plan their trips spontaneously in Indonesia, and Labuan Bajo is no exception. This is not a place that's going to be sold out even if you book the night before. It's perfectly fine to book your hotels or resorts for Labuan Bajo or Komodo a few weeks or even days in advance but expect prices to be slightly elevated.

During high season (approximately July to September) some popular accommodation options in Labuan Bajo like La Boheme or Le Pirate might sell out so keep that in mind.


Should you stay in a hotel in Labuan Bajo or Komodo National Park?
You cannot find accommodation in the actual national park but there are some hotels and resorts located on islands outside of Labuan Bajo close to Komodo which are just as beautiful. However, staying at these island resorts is more like an experience in itself, not just a place to stopover before heading to Komodo National Park. Make sure to add an extra hotel night in this case so you'll have plenty of time to enjoy your resort in Komodo without feeling rushed.

If you're on a budget, staying at one of the hotels in Labuan Bajo is the better choice to keep costs low. You'll also get the chance to explore the surrounding area which is largely untouched and beautiful.

Should your budget allow it you can stay at a beautiful resort close to Komodo first, then go on a multi-day liveaboard tour and then opt to stay in a hotel in Labuan Bajo when you return which will give you the best variety of experiences.
Considering going to Labuan Bajo or Komodo National Park? Save this image to have all the important info!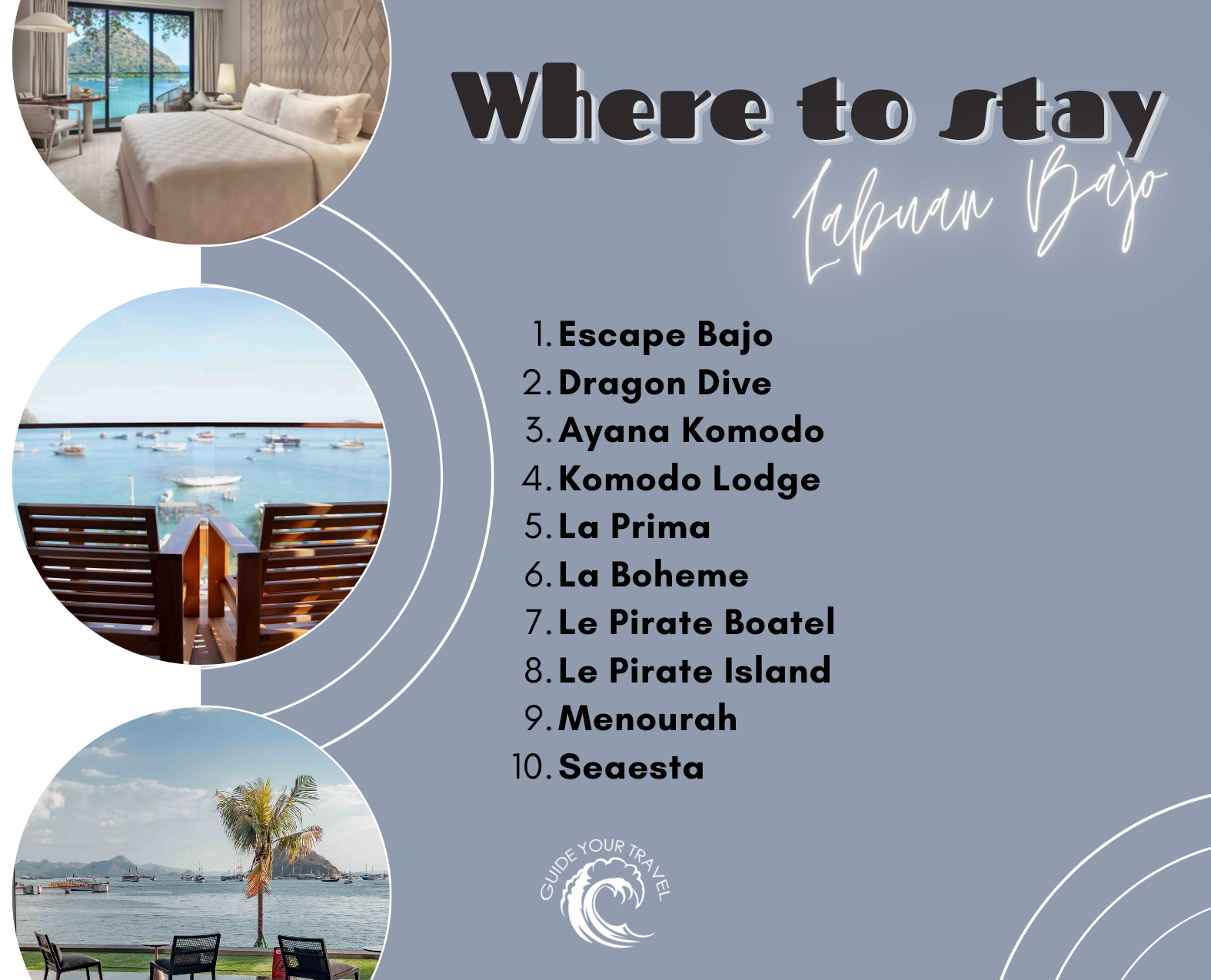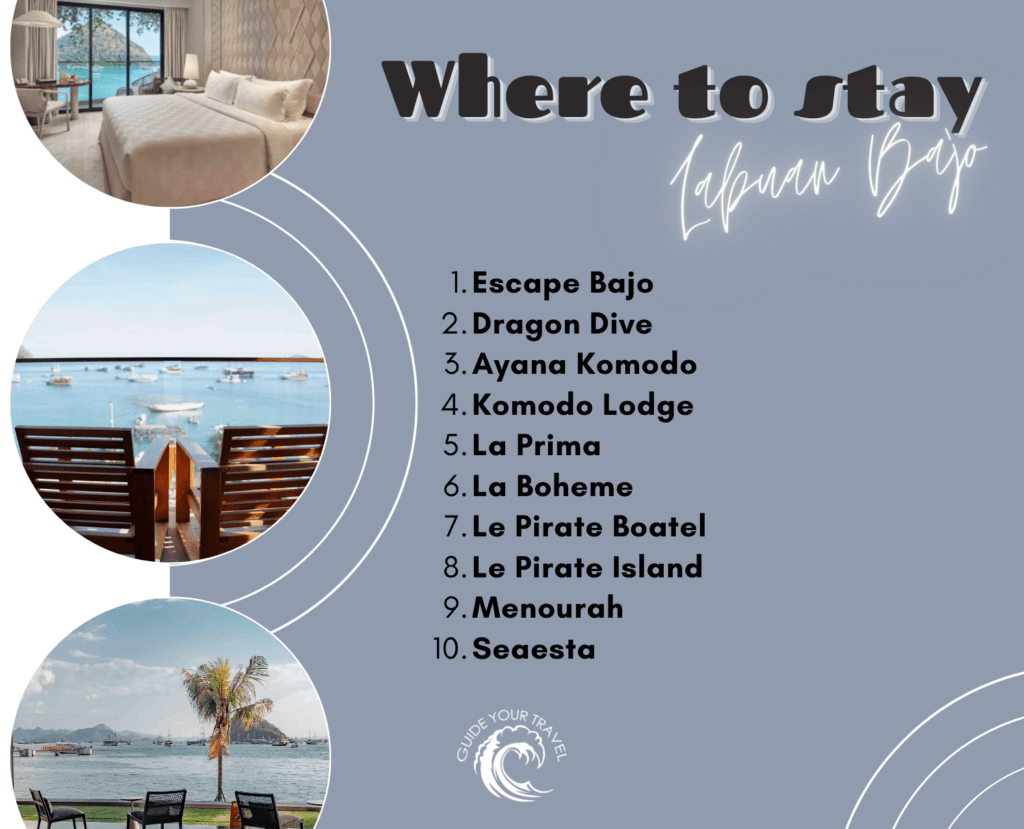 Best hotels, resorts and hostels in Labuan Bajo and Komodo
From the selection of hotels, resorts and hostels, the following are our favourite places to stay in Labuan Bajo and Komodo. The best accommodation choice in Labuan Bajo will depend a lot on your budget and what type of traveller you are so make sure to consider all options.
1. Dragon Dive
This quirky little dive hotel is located in the heart of Labuan Bajo and can be recommended to all types of travellers, not just those getting their scuba license. Dragon Dive Labuan Bajo provides comfortable rooms but has the atmosphere of a social hostel with a rooftop, pool bar and plenty of games. Prices per night can be steep during the high season though so expect to pay increased rates during this time.
Suitable for: Divers, travellers hoping to combine comfort with a social atmosphere
Price category: €60 to €100 per night
Walking distance to the city centre: Yes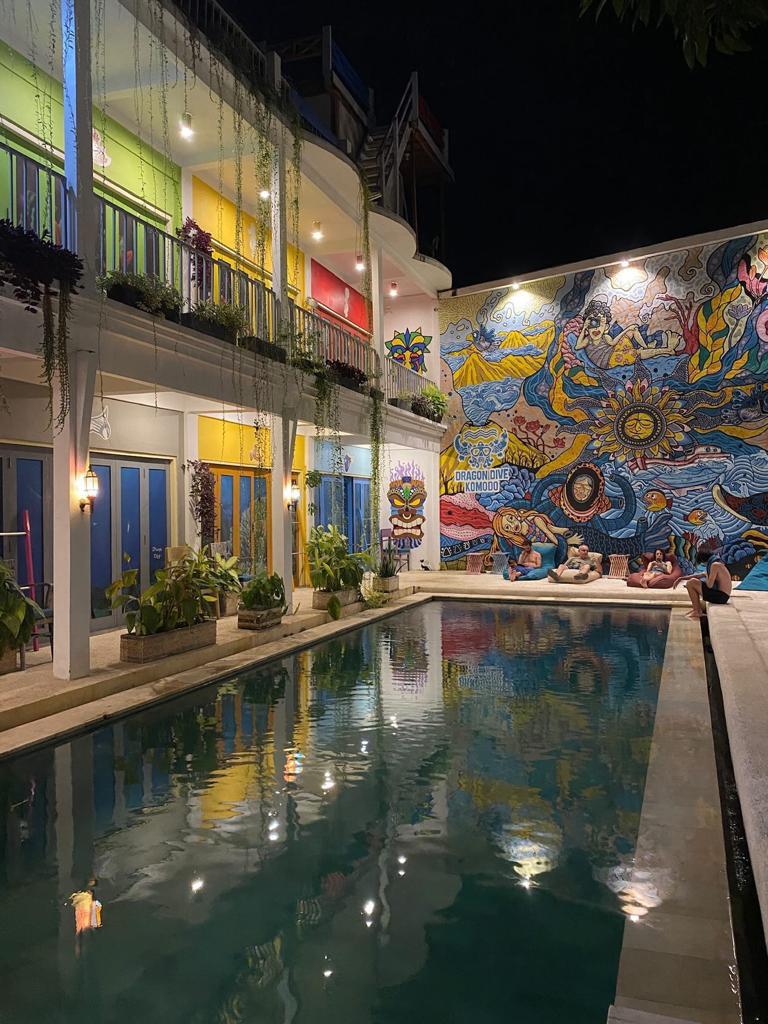 2. AYANA Komodo Resort
If you're looking for a luxury resort close to Komodo, AYANA is the obvious choice. Located north of Labuan Bajo, this beautiful hotel has stunning ocean views, white-sand beaches and luxury suites perfect for a special occasion. No need to travel all the way to the national park to experience the beauty of Komodo. AYANA Resort in Komodo has got you covered.
Suitable for: Special occasions, luxury travellers
Price category: €300 to €400 per night
Walking distance to the city centre: No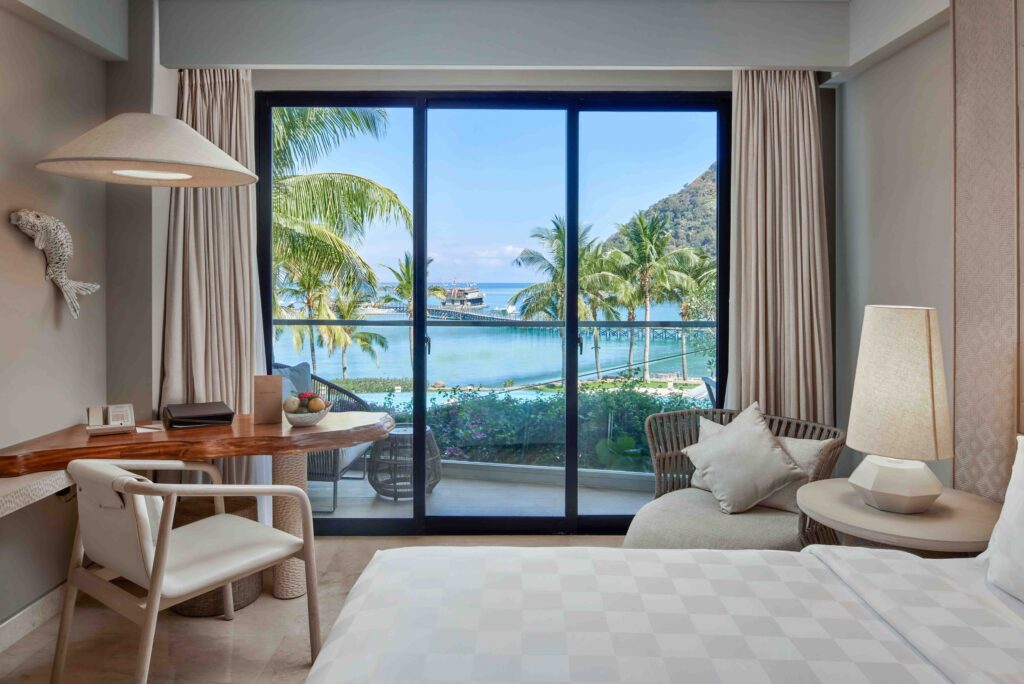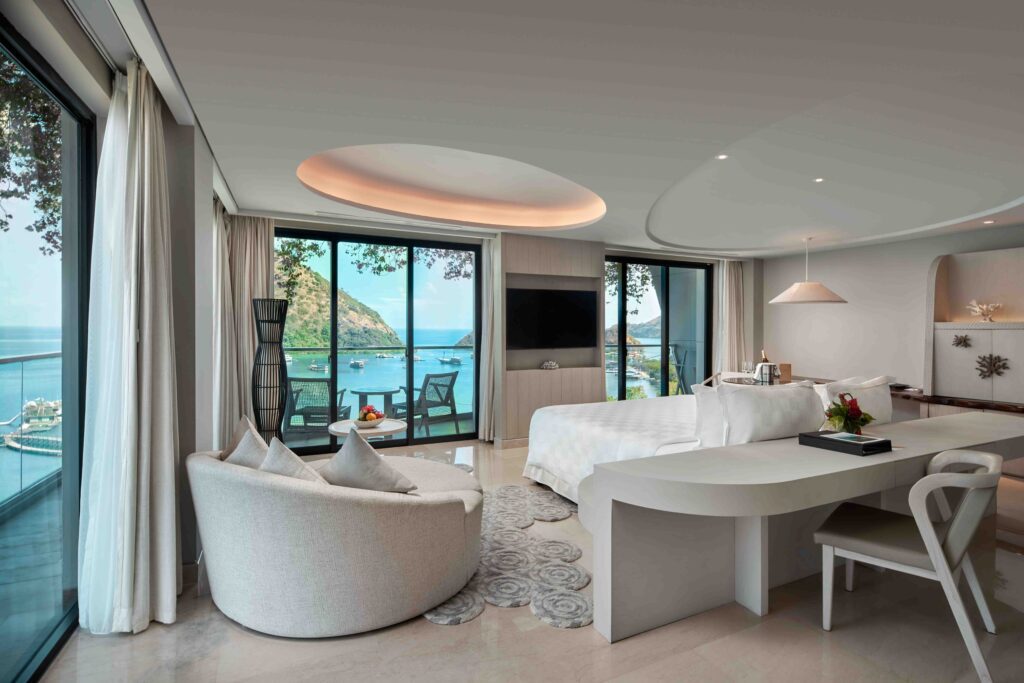 This simple but comfortable hotel has a central location in Labuan Bajo and is perfect for a night or two in town before you depart on your liveaboard boat tour to Komodo National Park. The hotel offers breakfast and even has a rooftop terrace which is ideal for watching the sunset. Ask at reception for help with picking out a tour or transport to nearby attractions.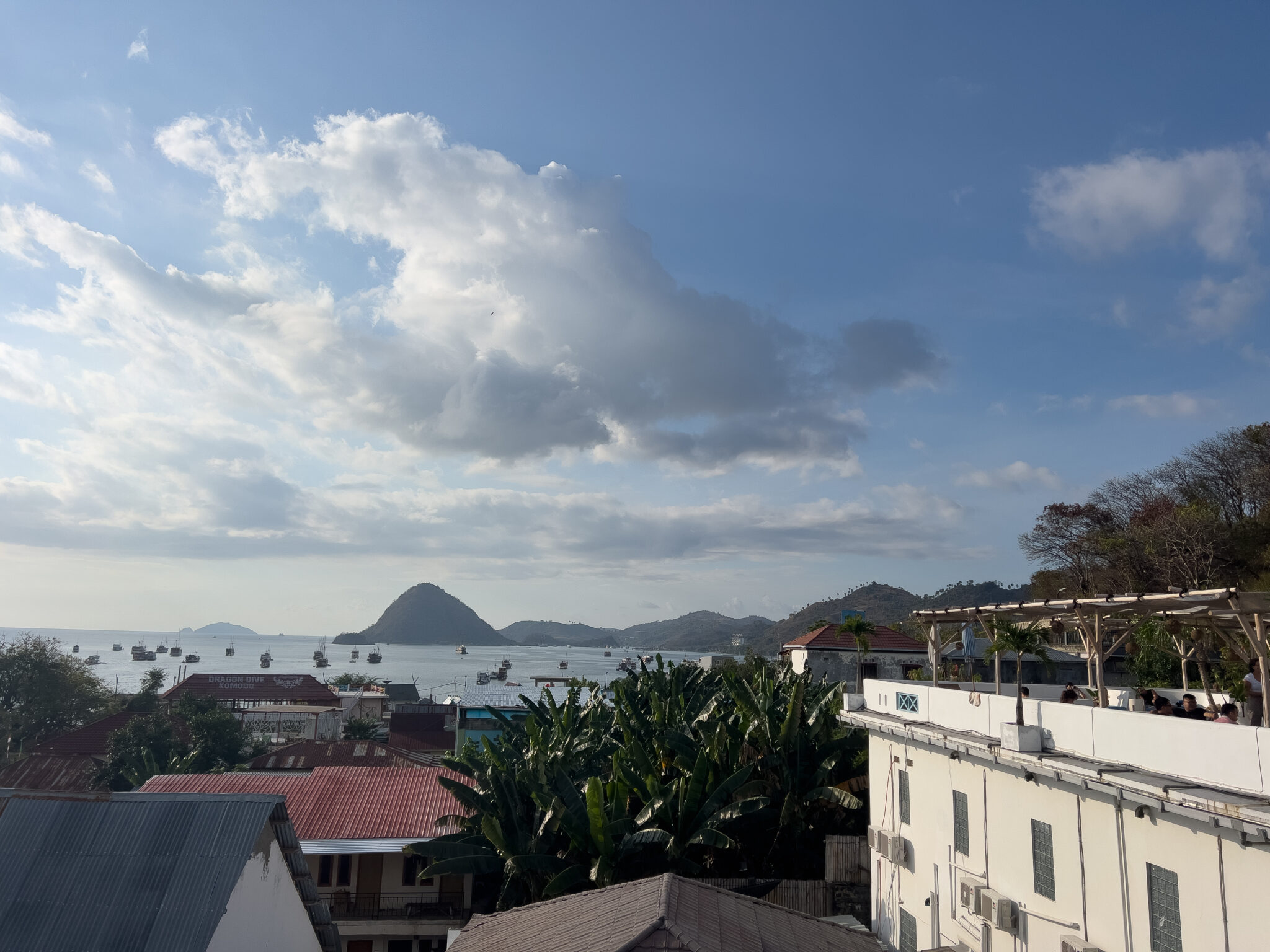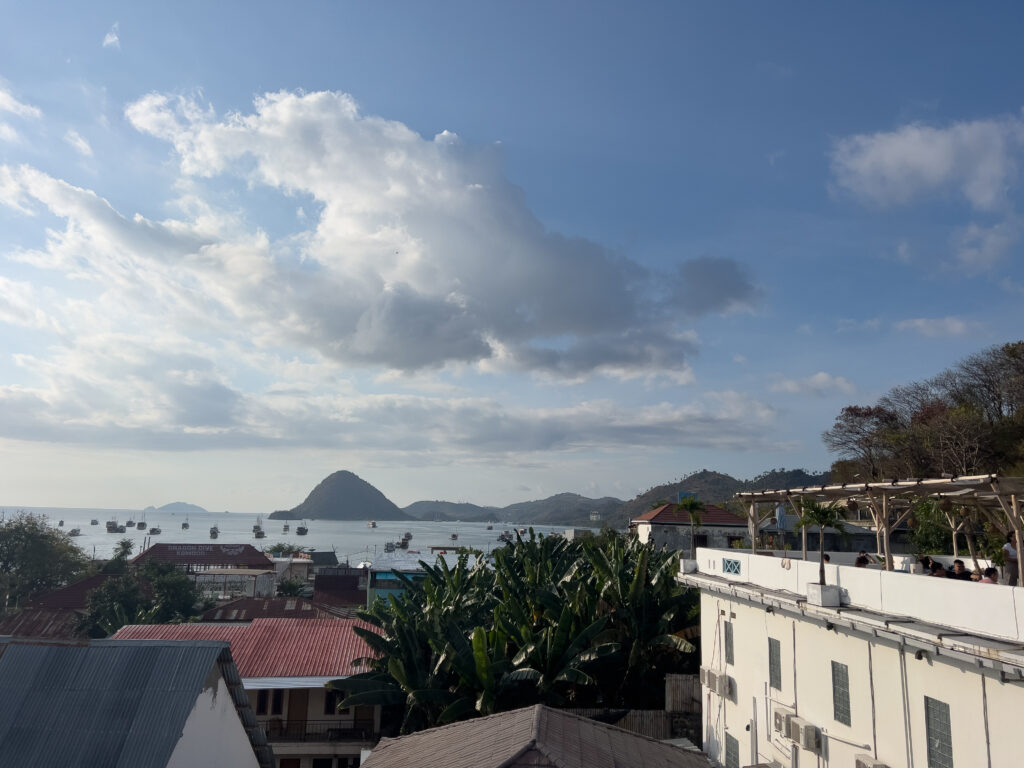 4. La Prima
The views at La Prima accommodation are unparalleled although this hotel is located a little bit outside of Labuan Bajo. The pool at this property may just be the best part of your stay and rooms are spacious and modern. If you're looking for a place away from the hustle and bustle of town, this hill-side property is the perfect choice.
Suitable for: Mid-range travellers looking for a quiet experience with a view
Price category: €40 to €60 per night
Walking distance to the city centre: No
5. La Boheme
La Boheme is the most popular hostel in Labuan Bajo and a go-to for backpackers and budget travellers. You'll meet plenty of likeminded people and maybe even some new friends to join on a boat trip to Komodo National Park. Choose between dorm beds and private rooms and enjoy the social atmosphere at this vibrant and colorful hostel in the heart of Labuan Bajo.
Suitable for: Backpackers, budget travellers
Price category: €7 to €25 per night
Walking distance to the city centre: Yes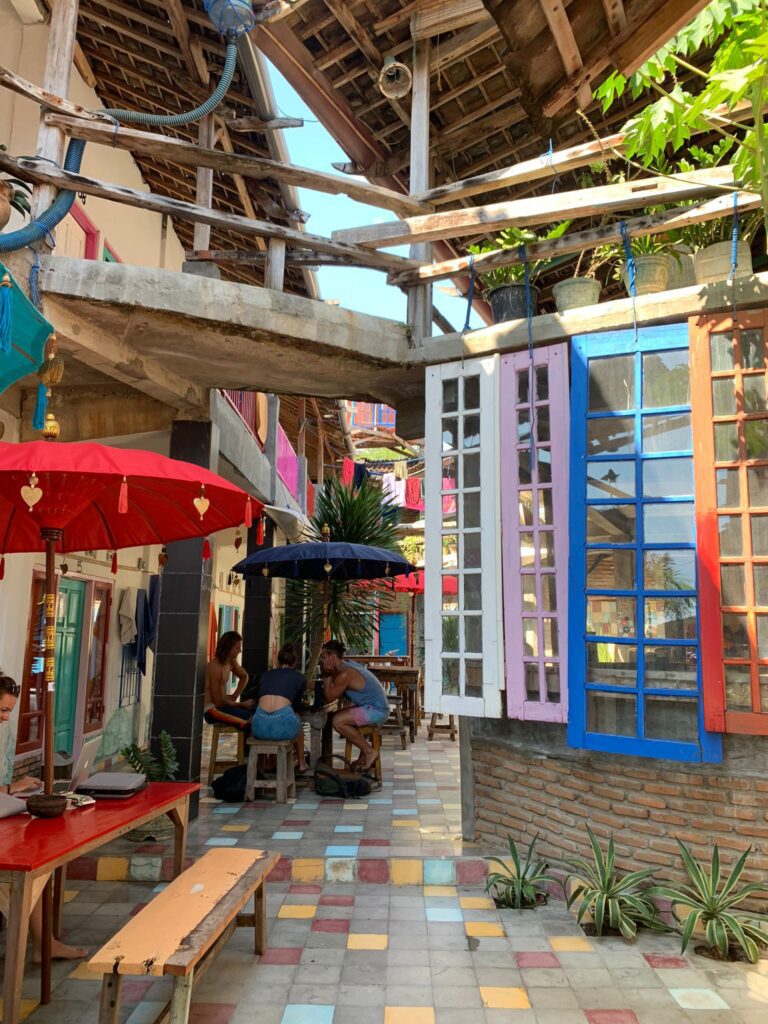 6. Le Pirate Boatel
Spend as much time as you possibly can on the water with the famous Le Pirate Boatel which offers floating accommodation with stunning ocean views. Rooms are open-air and breezy and you can jump into the crystal-clear waters right from your bed. The ideal unique hostel experience in Labuan Bajo.
Note: Le Pirate Boatel is currently taking a break and not operating. We're sure it will be available again in the near future!
Suitable for: Unique experiences, ocean-lovers
Price category: €20 to €50 per night
Walking distance to the city centre: No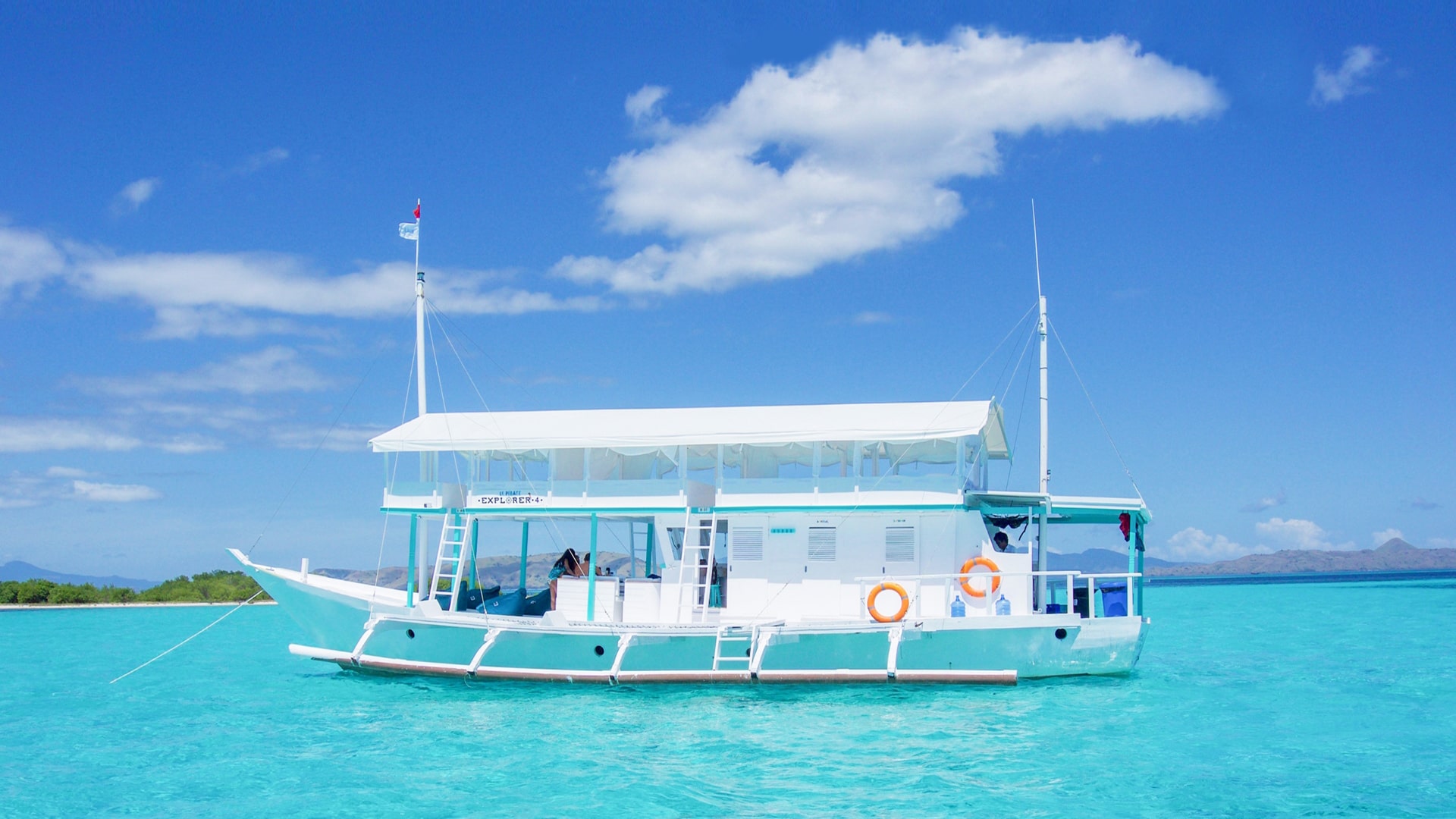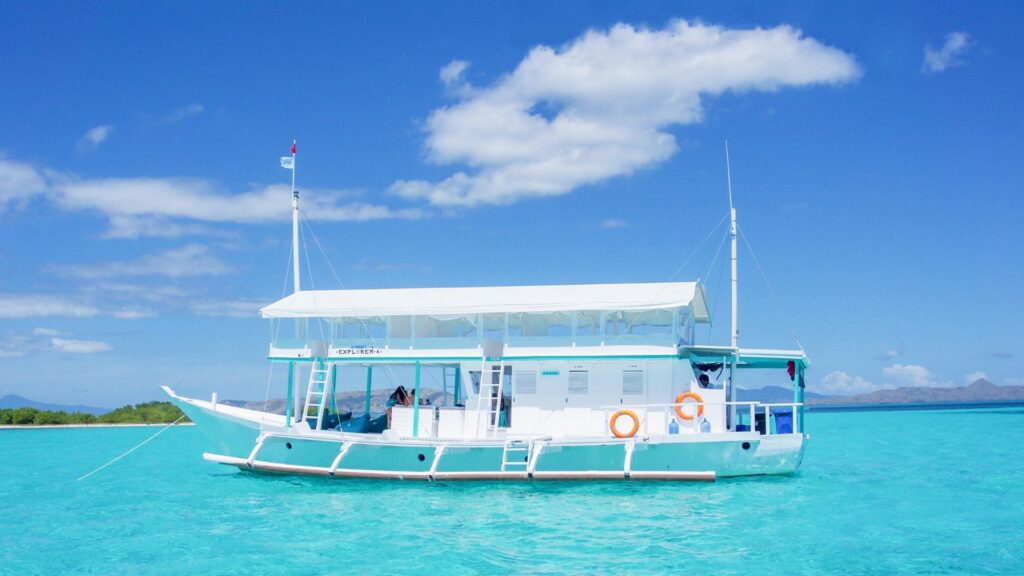 7. Le Pirate Island
Experience the life of a castaway on a remote island at Le Pirate. This beachfront resort replaces expensive luxury amenities with unique experiences and allows you to spend time at a deserted beach with beautiful bugalows close to Komodo National Park. Located on a remote island outside of Labuan Bajo, this resort emphasises that there is no WiFi, AC or even hot water here which will make your time here even more special.
Suitable for: Unique experiences, adventure travellers
Price category: €40 to €80 per night
Walking distance to the city centre: No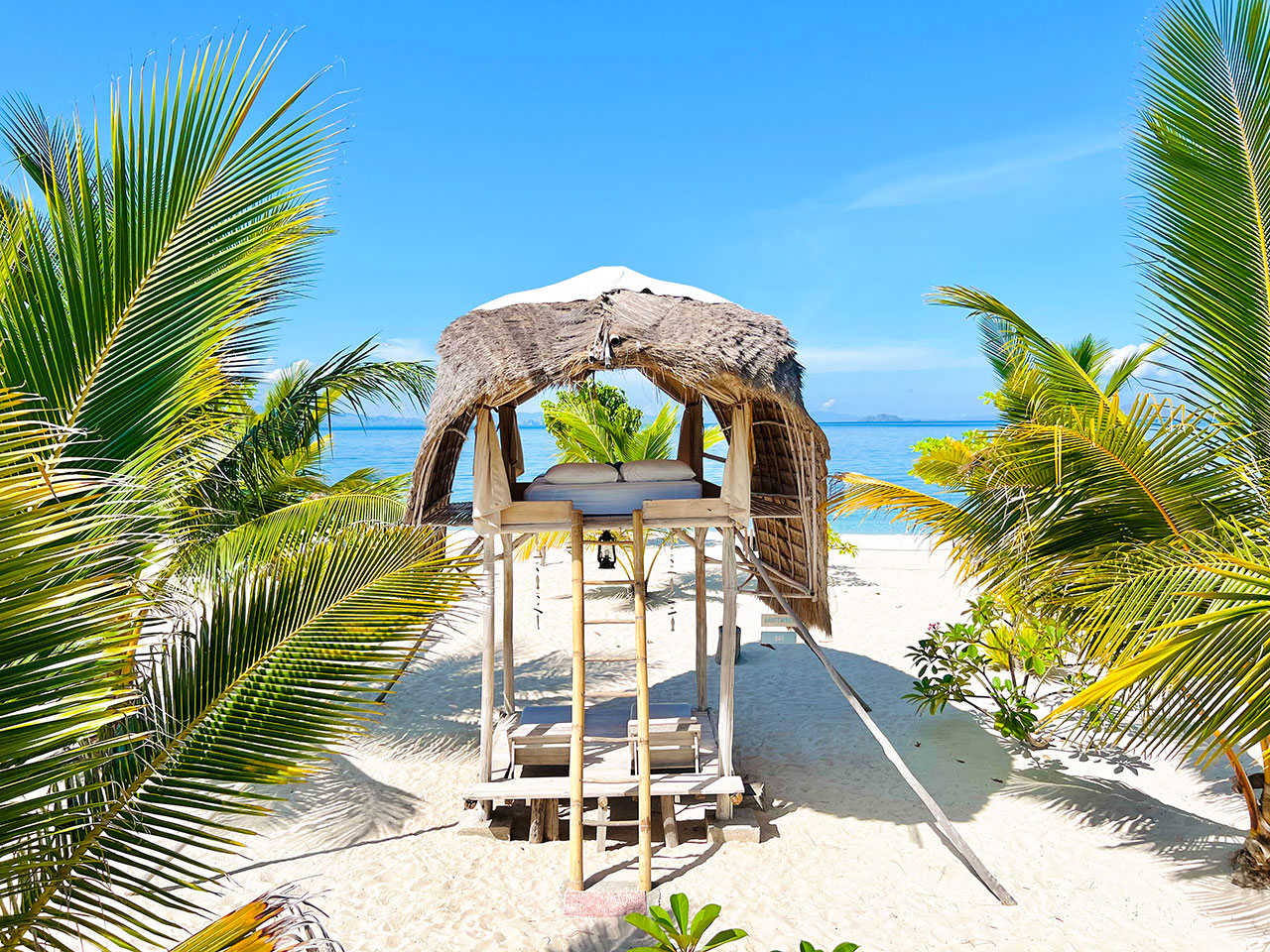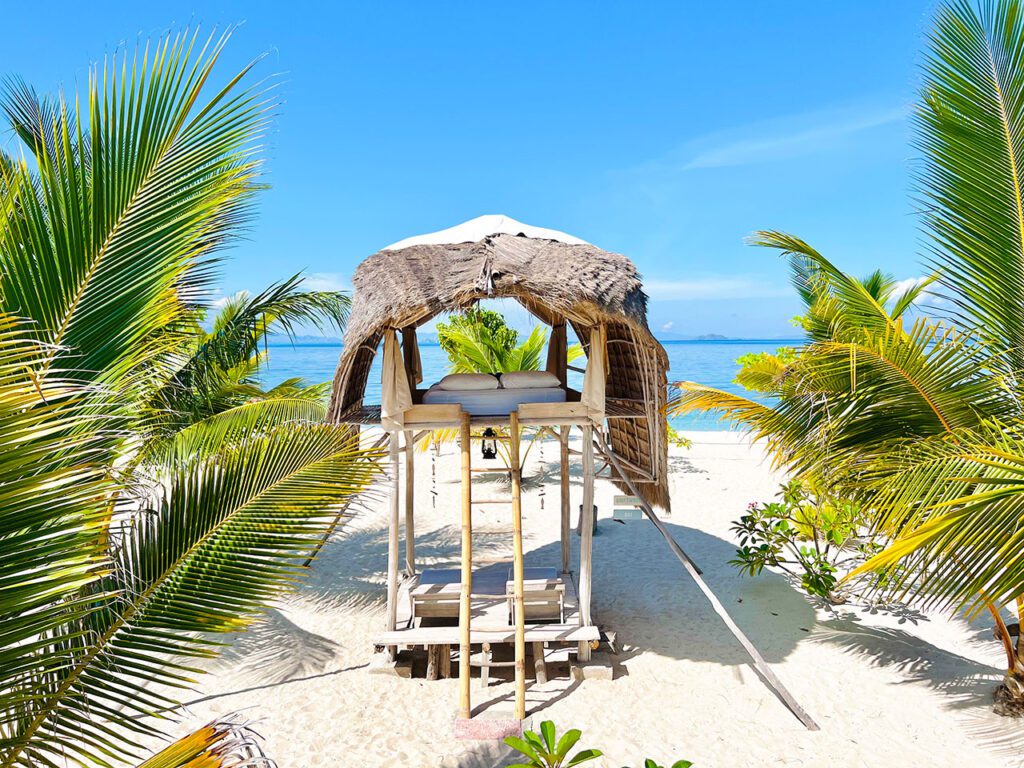 8. Menuorah
Enjoy panoramic views of the bay of Labuan Bajo while being only a few footsteps away from the centre of town. Menuorah is the go-to hotel for anyone looking for luxury without having to leave Labuan Bajo behind. This large hotel offers high quality service, exceptional breakfast (even to outside guests) and, of course, some of the best views around.
Suitable for: Luxury travellers, business trips
Price category: €130 to €200 per night
Walking distance to the city centre: Yes
9. Seaesta
Seaesta might just be the most instagrammable hostel in Labuan Bajo and it can be described as an affordable boutique hotel. Its rooftop pool and terrace are absolutely stunning and the facilities are clean and modern. Stay in this hotel to relax after your boat trip to Komodo National Park and don't forget to have sunset drinks with a view.
Suitable for: Backpackers looking for a high-quality stay, mid-range travellers
Price category: €16 to €80 per night
Walking distance to the city centre: Yes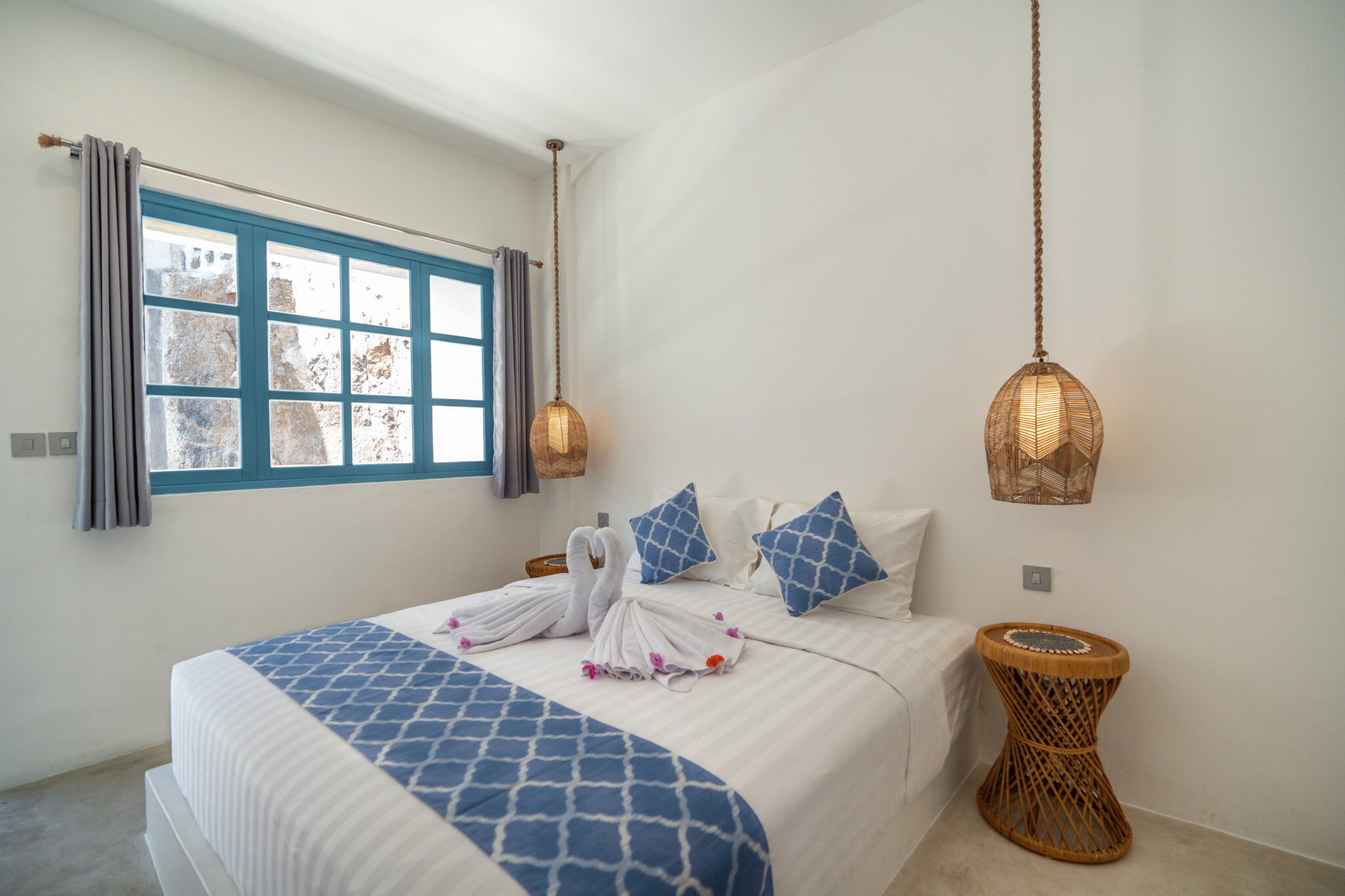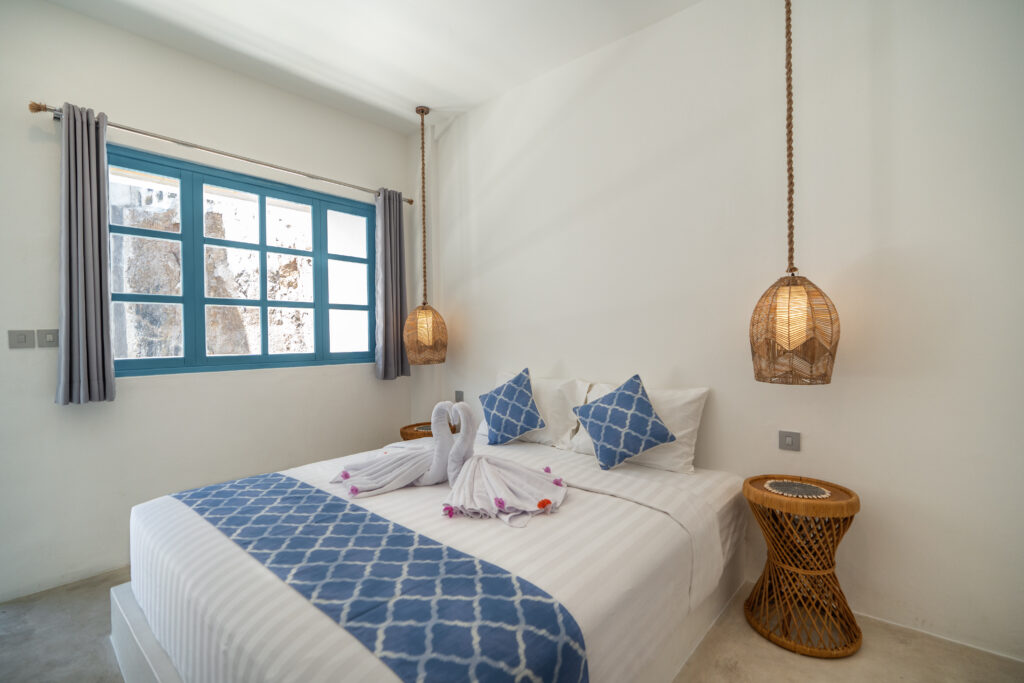 10. Escape Bajo
Escape Bajo is a budget-friendly hotel with a central location and a fantastic coffee shop. Their motto is "Bite, Brew, Bed" so you won't even have to leave during your trip. They offer both private rooms and dorm beds so you'll be able to find an option depending on your budget.
Suitable for: Budget and mid-range travellers
Price category: €12 to €45 per night
Walking distance to the city centre: Yes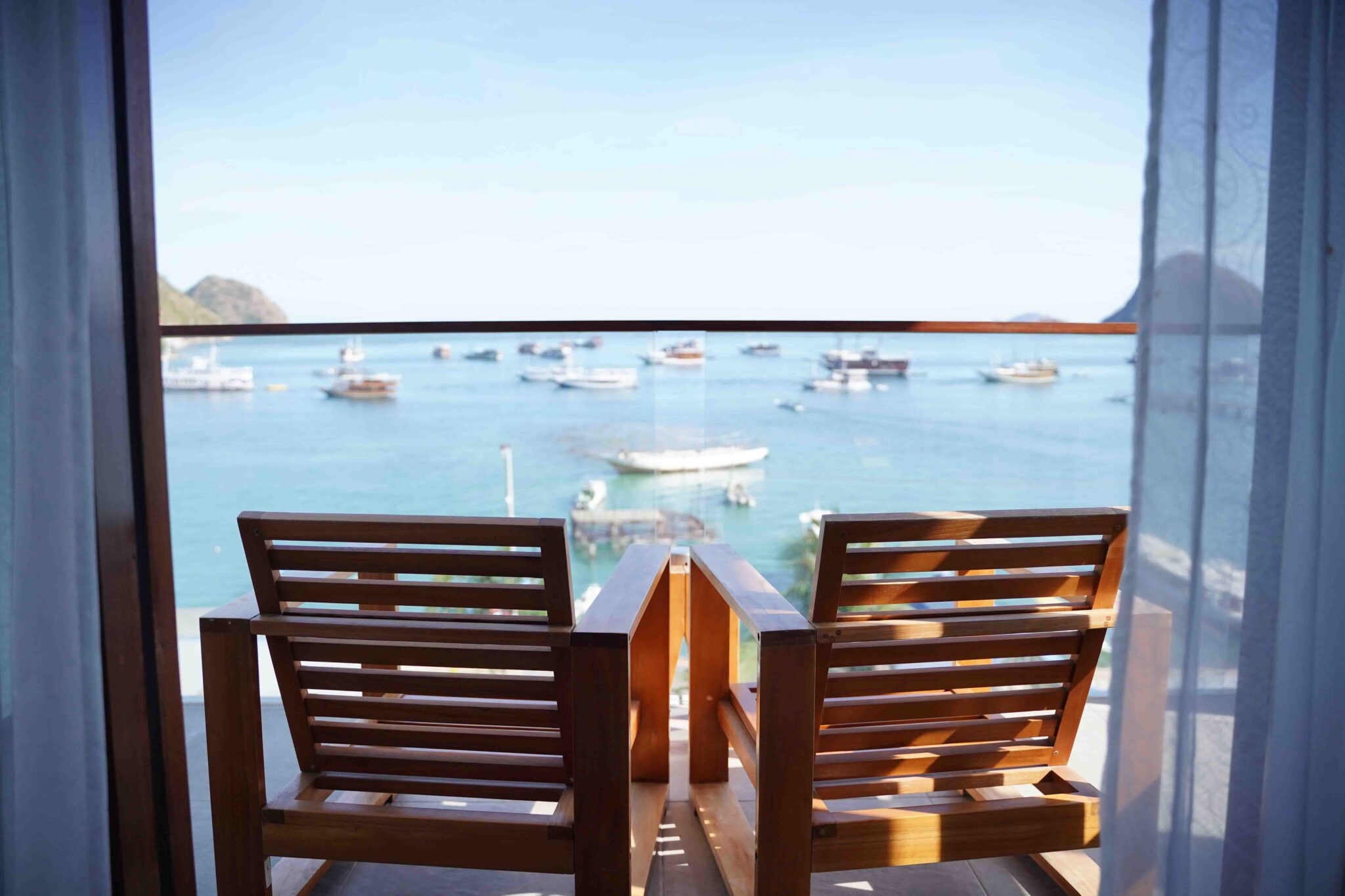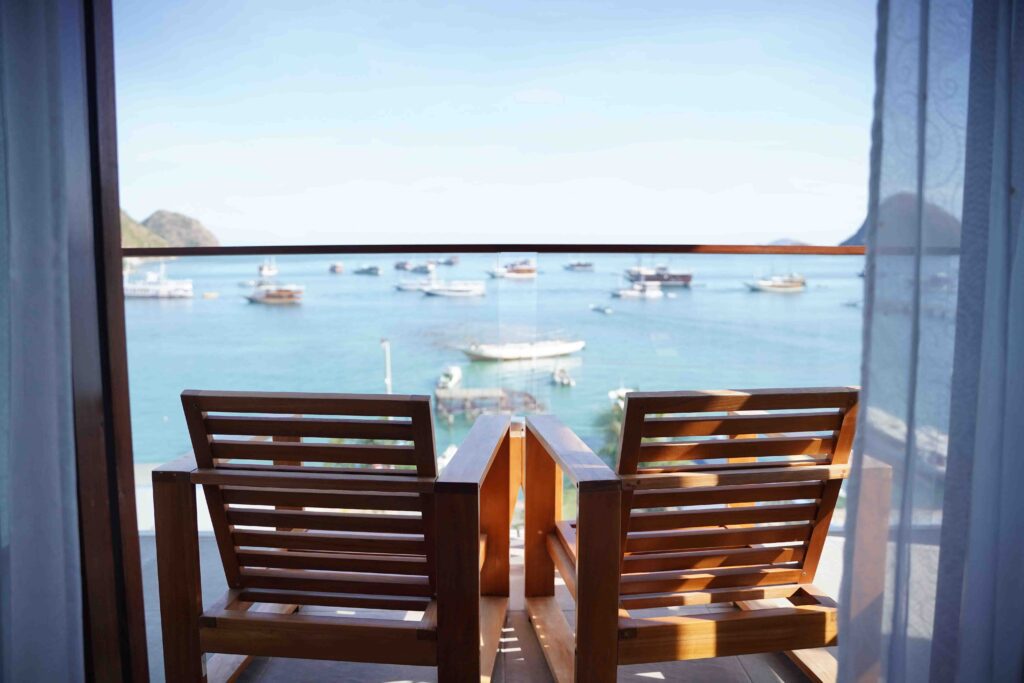 Click the images below to pin this post to Pinterest and save for later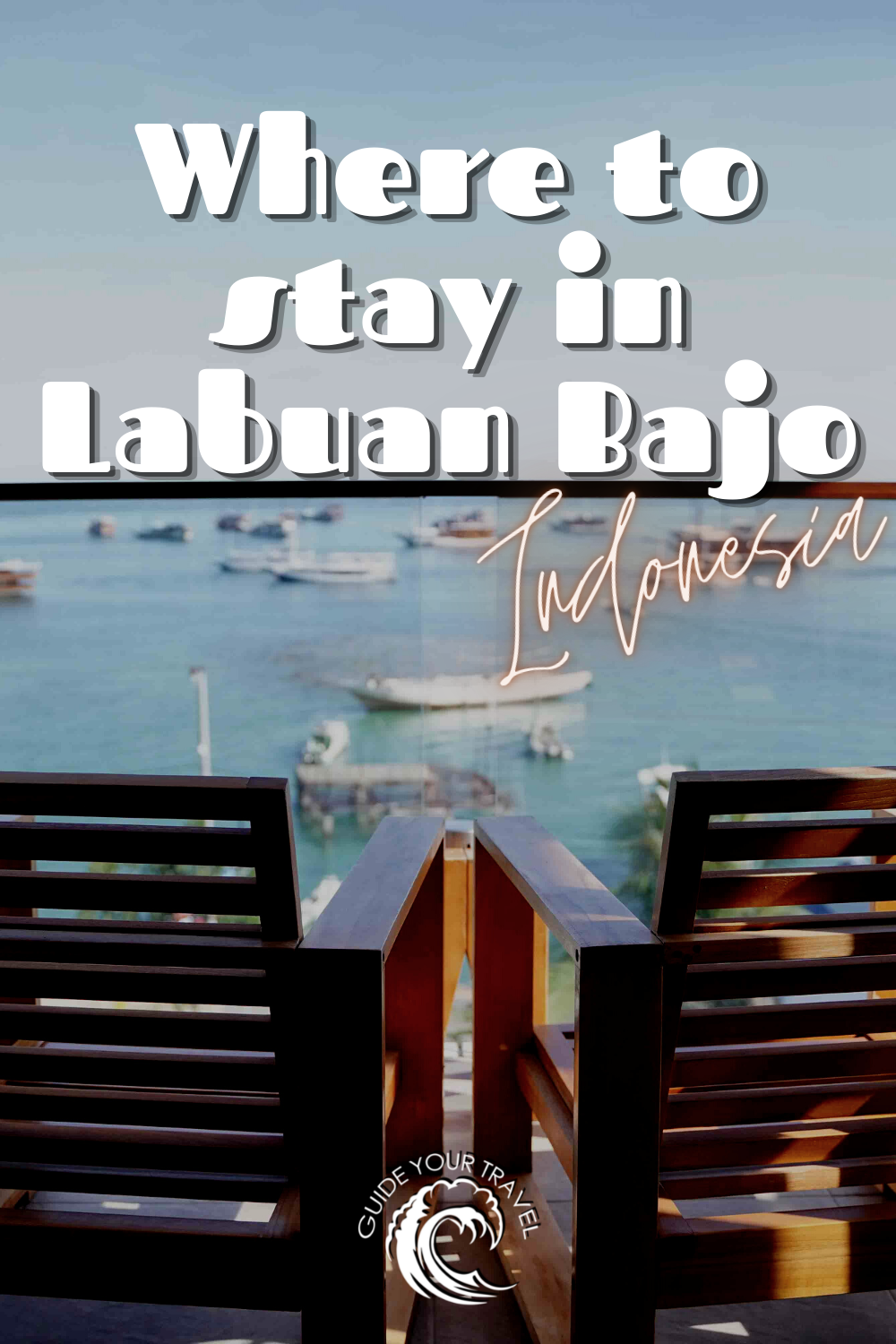 My most important travel tips and resources
Book your flights
Skyscanner is the best website for finding cheap flights since it works like a search engine so you can find the best deals across all airlines.

Book hotels and hostels
• Booking.com: Best world-wide
• Agoda: Best in South East Asia
• Hostelworld: Best for hostels

Book tours, transport and rental cars
•Viator: The best place to book tours, day trips and excursions for al budgets
•12Go: Great for ferries, trains, transfers and buses in South East Asia
•Discover Cars: Best deals for rental cars around the word

Get travel insurance
Every traveller needs travel insurance and I mean every single one. SafetyWing covers you in case of injury, illness or worse and they've got your back if your bag is stolen, flights are cancelled or in case of a natural disaster.

Pay abroad
Ask any traveller, Wise is the best choice when it comes to sending money abroad. They've always got the best exchange rates, lowest fees and their visa card is great for getting cash out or paying abroad.

Things every traveller needs:
➼ Osprey Farpoint 70 Backpack
Detachable daypack, ultra-light, durable and free repairs for life. There's a reason why so many backpackers have this bag.
➼ Packing Cubes
Packing cubes are a gamer changer, keeping your luggage organised and providing tons of extra space.
➼ Power bank
There is nothing worse than running out of battery on an overnight bus journey or a long flight. With a powerbank you can charge your eletronics on the go and make sure you're always connected.
➼ Micro-fibre towel
These lightweight towels are foldable, fast-drying and so useful when you're travelling.

➼ You can find 15 more things every traveller needs here. Some might be a bit controversial but I warned you!
Did I miss anything?
If you have any questions or feel like something is missing from this post please leave a comment below or contact me.