It can be difficult to be environmentally conscious while you travel. By investing in a few sustainable travel products you can decrease your impact on the environment significantly.
A big part of the problem with travel is the increased amount of single-use plastics we tend to consume while on a trip. This partly happens because we eat out at a lot of cheap restaurants in countries that may not be very environmentally conscious. The plastic water bottle you buy at an airport, the plastic fork from the street food stand, the straw in your cheap cocktail and the cup from your fruit smoothie add up. 
In addition to that cosmetics are another huge producer of plastic waste. Nearly everything we use on a daily basis is packaged in plastic and makes our routines extremely wasteful. Naturally, this isn't exclusive to travel. However, most of these eco-friendly products also have the added benefit of being easier to transport than conventional products. The "plastic-free" initiative tends to produce a lot of products that would usually be liquid in a solid form instead. This has the huge advantage of not having to worry about spills in your suitcase and having the option of only taking a carry-on bag.
While you can definitely use any of the sustainable travel products on this list in your daily life as well they will certainly make your upcoming trips a lot easier and more environmentally friendly. It's so convenient to own a few staple items that you know you can rely on and can use over and over again.
No idea where to go next? Check out this post for some much-needed travel inspiration for every budget.
This post may contain affiliate links, which means we'll receive a commission if you purchase through our links, at no extra cost to you. This helps us keep Guide your Travel free and provide high-quality content for you. Please read the full disclaimer for more information.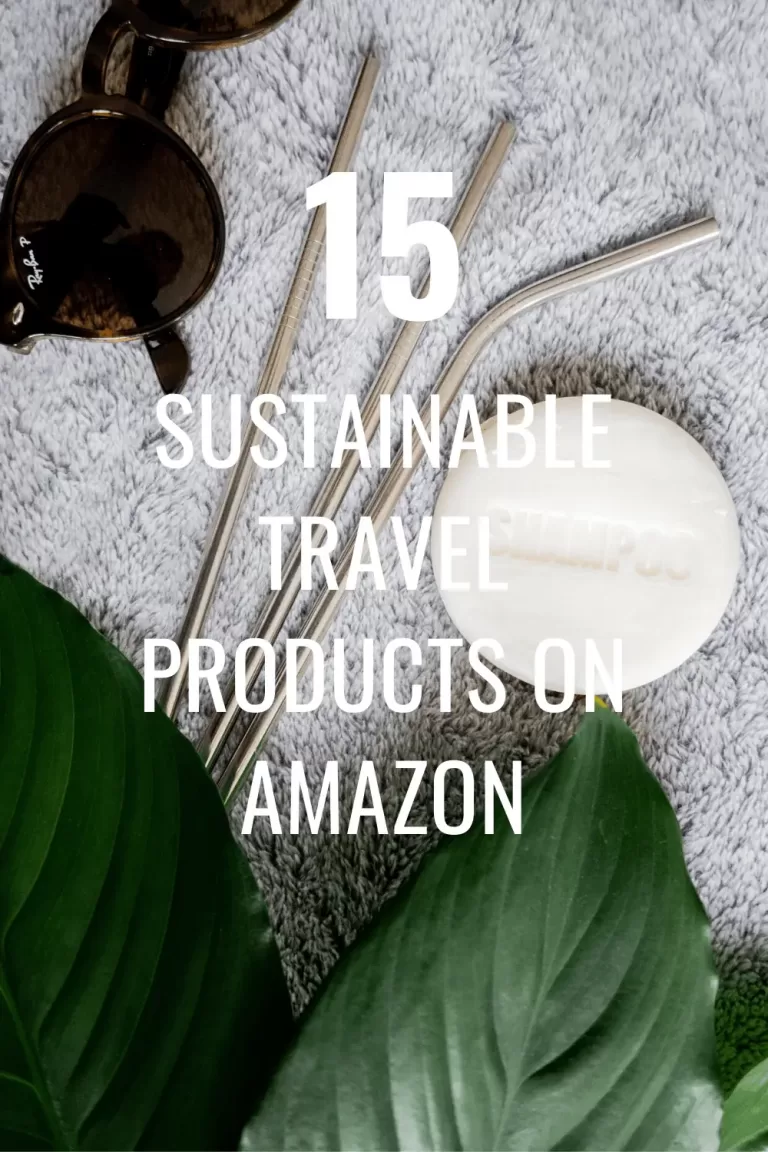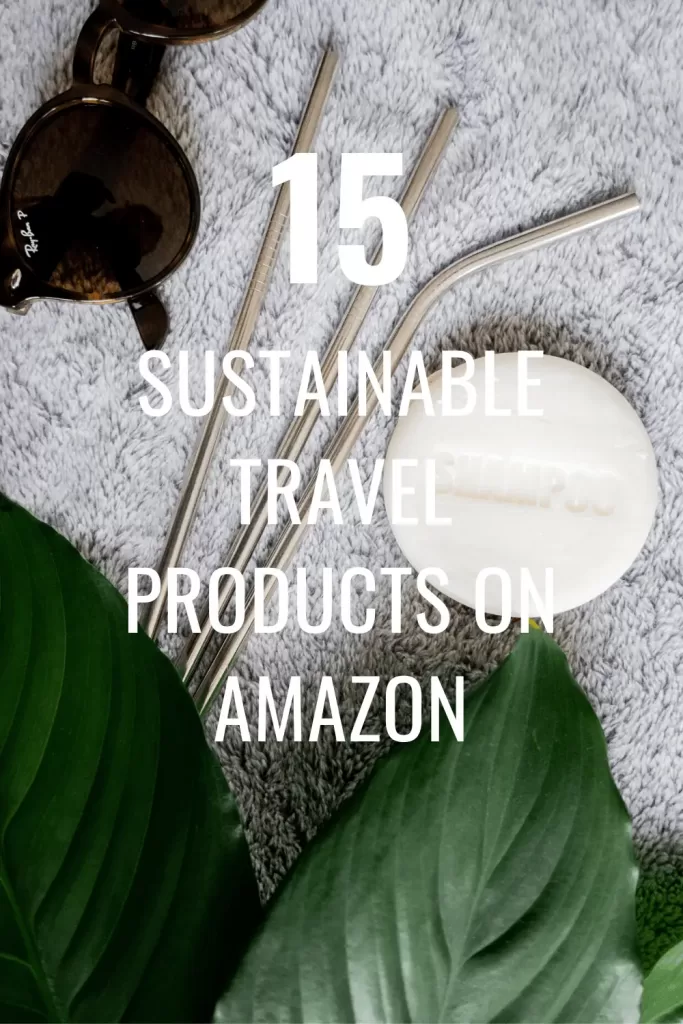 WHAT SUSTAINABLE TRAVEL PRODUCTS TO TAKE ON YOUR NEXT TRIP
The products below are absolute must-haves for your next trip. They'll be most useful for longer backpacking trips, however, you should definitely consider taking them on shorter vacations as well. They will not only make your life easier but also help you reduce your impact on the environment. Adjusting my daily routine to a more sustainable and convenient one was a gamer changer for me and I've never thought about going back.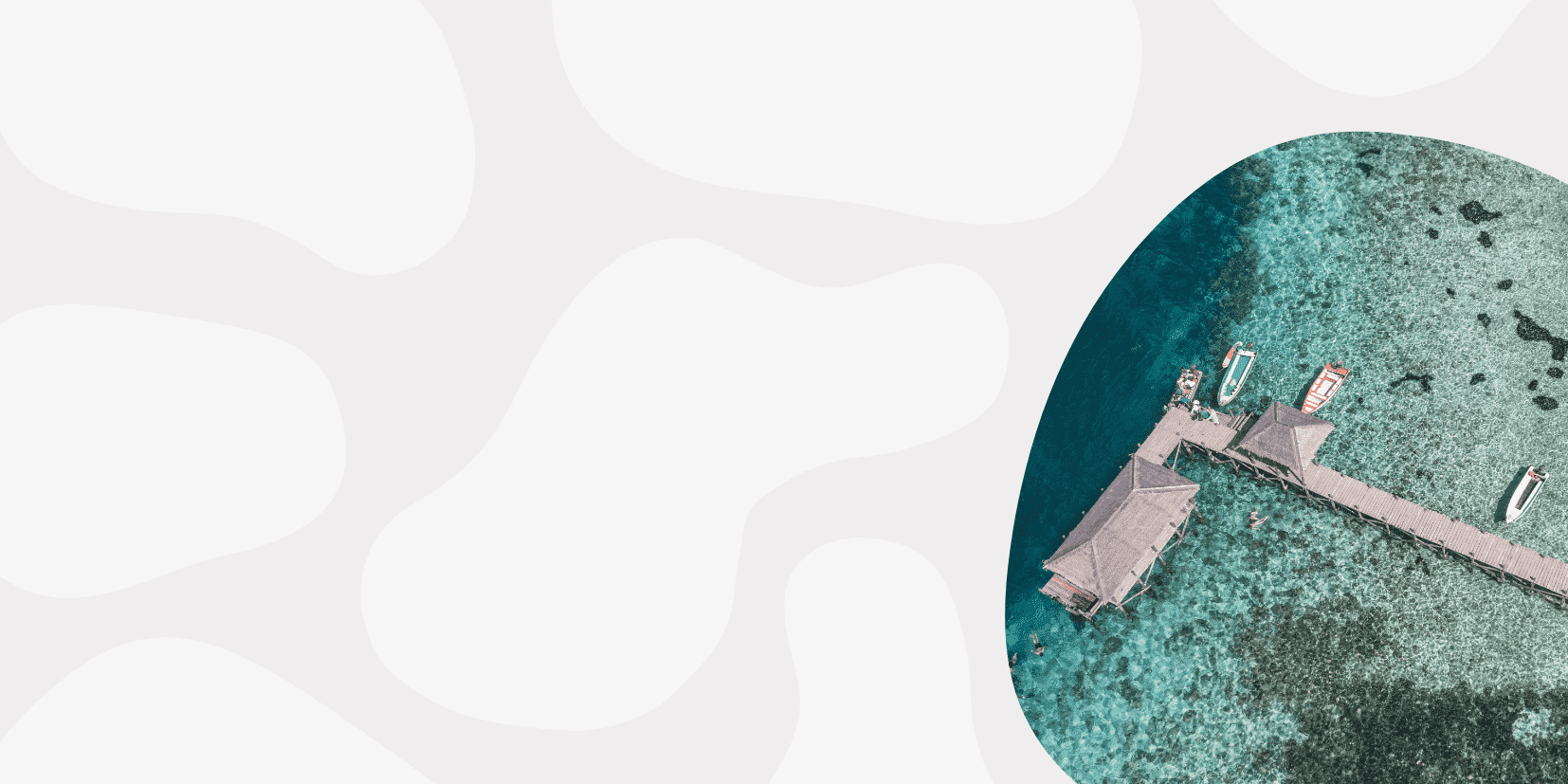 Let me save you time and effort when you're travel planning!

➼ Best travel insurance? SafetyWing
➼ Best place to find cheap flights? Skyscanner
➼ Best bank & credit card for travellers? Wise
➼ Best travel backpack? Osprey Farpoint 70
WHAT DO WE CONSIDER TO BE A SUSTAINABLE TRAVEL PRODUCT?  
This list has a large variety of products that all have some sort of environmental benefit. However, this does not mean that all of them are strictly plastic-free or organic. Some products, for example, are made out of plastic but can be reused many times. Ideally, of course, they would be manufactured from a more sustainable material, however, the industry is still evolving and demand for sustainable products is only just increasing.  
We tried to pick products that we use on our trips and can recommend confidently. That being said it's important to clarify that the products below are in no way "perfect". Sustainability is multifaceted and many different factors influence how sustainable a travel product is. Do not buy anything blindly without researching the product first if you truly want to be sure that it's environmentally friendly.  
You should also remember that cosmetic products are a very personal thing just because they work for one person doesn't mean that applies to everyone. Always consider your own personal needs before you purchase a product. 
We've provided the links for the US, UK, German and Canadian Amazon stores for each product. Note that they are not identical in most cases due to many products not being available everywhere. They are, however, very close matches. Are you from a different country? Click the US store link and you could be redirected to your regional Amazon store if the product is available there. 
If you're still using conventional makeup remover then what are you even doing? Microfibre cloths remove all your makeup without having to use any liquid remover or wipes. Just add water. They're soft and gentle for the skin and machine washable so you can reuse them as many times as you like. Don't have a washing machine on your trip? Wash them in the sink with a gentle soap or shampoo. They're much lighter, easier to pack and better for the environment than a conventional makeup remover. There are tons of options but the ones below are my favourites.
You need to swap out your toothbrush frequently in order to keep your teeth healthy and clean. That adds up to a lot of waste produced by the plastic packaging and the toothbrush itself. Make an easy swap for a bamboo toothbrush which is produced sustainably and nearly plastic-free. 
Having your own lightweight shopping bag is a must for any trip. It saves you from having to rely on single-use plastic bags when you buy groceries or souvenirs. Unfortunately, the foldable, lightweight shopping bags that will be most convenient to take with you usually contain plastic. You can opt for a canvas tote bag instead for a more environmentally friendly option. 
You'd be surprised how much waste is created by the little plastic lip balm tubes that so many people use. Some lip care companies sell some of their products in little metal tins which are a much more environmentally friendly option
If you only buy one thing from this list then go for a reusable water bottle. No matter where you go you'll be carrying lots of water with you and being able to fill up your own bottle will save you money and make such a big impact on the environment. You can go for a plastic-free bottle but the selection of those is still very limited in my opinion. My personal favourite is the Primus 1 litre trail bottle which has a plastic lid but is very durable and the only bottle that has never leaked in my bag. 


6. SOAP BAR
Almost every hotel you stay in has the little individually packaged soaps which create a lot of waste. Even if you don't use those you tend to carry around a bottle of shower gel or liquid soap with you on your trips. Make your life a lot easier by using solid soap bars which last longer, are plastic-free, don't leak and can be cheaper (depending on what soap you use). 
Menstruation products are incredibly wasteful. Tampons and pads both combine plastics with other materials which makes them impossible to recycle. Using a period cup has infinite benefits in my opinion. They are more comfortable, last longer, are more reliable, save waste and are just more convenient. Plus you don't ever have to worry about packing or buying tampons again. I highly recommend for anyone with a period to try it. 
Conventional sunscreen can be very harmful to corals and underwater life. While it's important to protect yourself from the sun many tourists actually harm the environment significantly when using sunscreen. By using reef-safe options you're making a positive impact on sustainability while still protecting your skin. Plus the option below comes in convenient plastic-free packaging that is less likely to leak. 
Instead of carrying a bottle of facewash with you, I recommend buying it in solid form instead. That way you can save space and avoid having it leak in your luggage. Plus bars tend to last longer than a liquid. Ethique's facewash linked below is really good and so is Gallinée's cleansing bar. 
Switching from liquid to solid shampoo was a no-brainer for me. It took some trial and error and it's important to note that hair-soap and solid shampoo are not the same thing but today I don't think I'd ever switch back. Solid shampoo bars are so much easier to pack as they don't leak and can go in your hand luggage. They take up very little space and last a long time. One of my favourites is the Nature Box solid coconut oil shampoo which is vegan and free from sulphates, parabens and silicons. 
Solid conditioner has many of the same benefits that solid shampoo has. It doesn't leak, lasts for a longer time than the liquid option and can go in your hand luggage. 
Now that you've got all your cosmetics in bar-form you might be wondering how you're going to store them. If you're after a quick solution a zip-lock bag is a good way to go, however, they're not very sustainable products for travel. A great way to go are these soap boxes that will let you pack your soaps even if you've just used them and they're still wet. 
Plastic straws have a very bad reputation but are still widely used all over the world. It might feel weird at first but once you start carrying a metal straw you'll realise how convenient it is, especially if you have a little case or bag for it as well. 
Plastic cutlery is often a staple at cheap restaurants or street food stalls. Having your own can make you more flexible with what you can eat on the go and is a great way to reduce your waste. These cutlery sets usually come in handy little pouches and are lightweight and convenient. They usually also include a straw and even chopsticks. 
One of the newer sustainable products useful for travel is plastic-free toothpaste. It comes in little glass jars and is organic and made from natural ingredients. 
My most important travel tips and resources
Book your flights
Skyscanner is the best website for finding cheap flights since it works like a search engine so you can find the best deals across all airlines.

Book hotels and hostels
• Booking.com: Best world-wide
• Agoda: Best in South East Asia
• Hostelworld: Best for hostels

Book tours, transport and rental cars
•Viator: The best place to book tours, day trips and excursions for al budgets
•12Go: Great for ferries, trains, transfers and buses in South East Asia
•Discover Cars: Best deals for rental cars around the word

Get travel insurance
Every traveller needs travel insurance and I mean every single one. SafetyWing covers you in case of injury, illness or worse and they've got your back if your bag is stolen, flights are cancelled or in case of a natural disaster.

Pay abroad
Ask any traveller, Wise is the best choice when it comes to sending money abroad. They've always got the best exchange rates, lowest fees and their visa card is great for getting cash out or paying abroad.

Things every traveller needs:
➼ Osprey Farpoint 70 Backpack
Detachable daypack, ultra-light, durable and free repairs for life. There's a reason why so many backpackers have this bag.
➼ Packing Cubes
Packing cubes are a gamer changer, keeping your luggage organised and providing tons of extra space.
➼ Power bank
There is nothing worse than running out of battery on an overnight bus journey or a long flight. With a powerbank you can charge your eletronics on the go and make sure you're always connected.
➼ Micro-fibre towel
These lightweight towels are foldable, fast-drying and so useful when you're travelling.

➼ You can find 15 more things every traveller needs here. Some might be a bit controversial but I warned you!
Did I miss anything?
If you have any questions or feel like something is missing from this post please leave a comment below or contact me.