Bermuda is the perfect island. It's incredibly safe with some of the best beaches in the world and lots of things to see and do. The main problem? Bermuda is unfortunately also unusually expensive and not budget-friendly at all. However, there is still a way you can make your trip to Bermuda at least somewhat affordable and save money on important things. This budget guide to one of the most beautiful islands in the world makes this little piece of paradise accessible to all types of travellers.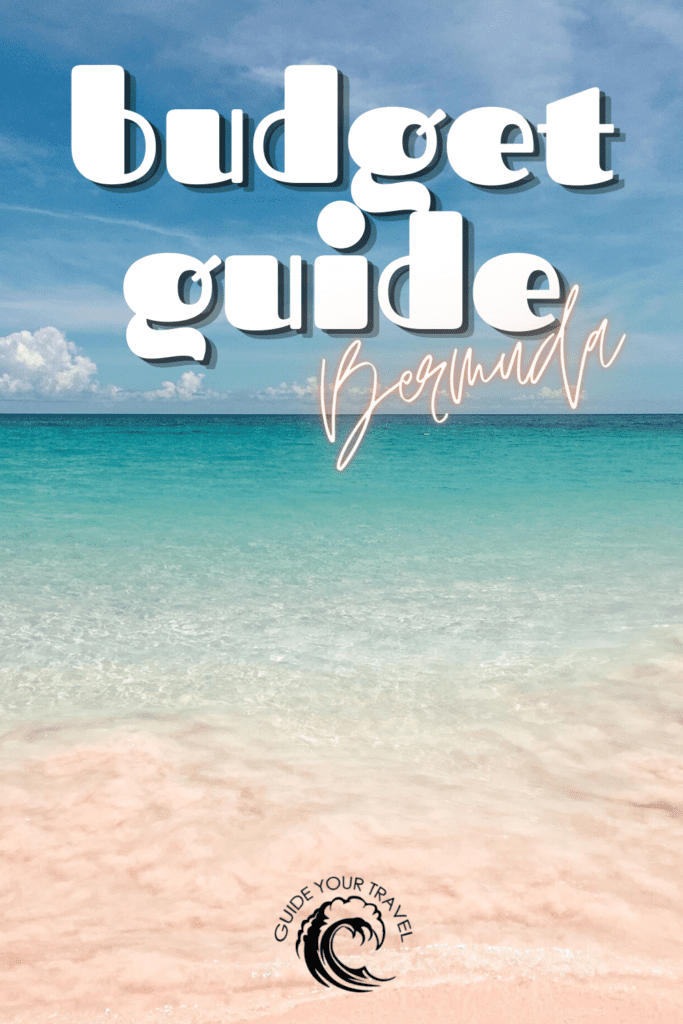 Why you should visit Bermuda
Bermuda is a tiny island located in the middle of the Atlantic. It's known for its one-of-a-kind pink beaches, stunning underwater world and laidback lifestyle.

However, Bermuda is a luxury travel destination and not necessarily budget-friendly. Most people visit the island for only one or two days on a cruise but Bermuda actually has a lot more to offer than you could see in such a short period of time.

If you're looking for some of the most beautiful beaches in the world and picturesque scenery this is the place to go. I've truly never seen a better beach than in Bermuda.

The water is shallow and the many spectacular reefs that surround the island protect it from strong waves. It's truly a snorkelling and swimming paradise.

But Bermuda also has a unique culture and lifestyle you won't find anywhere else in the world. The island is full of life and its inhabitants are incredibly friendly and welcoming. From ancient caves to secluded beaches and historic forts, you can easily spend two weeks here without getting bored.

However, Bermuda is definitely not the place to go if you're trying to save money while you travel. Factor in that you are most likely going to be spending more than you might expect.

The money is worth it though. A trip to Bermuda might not be cheap but the experience is unlike any other.
Why is Bermuda so expensive?
Bermuda has consistently been named one of the most expensive countries in the world. This is mostly due to the remote location of the island and the fact that absolutely everything needs to be imported either by boat or plane.

Bermuda also has one of the highest per capita incomes in the world though so local residents have had to adapt to the high cost of living. 

There are very few things that are actually produced on the island of Bermuda. Because it is so small there is barely any space for agriculture and the majority of Bermuda's economy is fuelled by insurance companies, offshore financial services and of course tourism.

More than 80% of food needs to be imported to the island making everything very expensive in Bermuda.

You also cannot forget that the island is a luxury travel destination. Life here is all about golf, yachts, sailing and cruises. Naturally, tourist activities in Bermuda will be a bit more expensive because the target audience is quite wealthy and it might not be a priority to save money for them.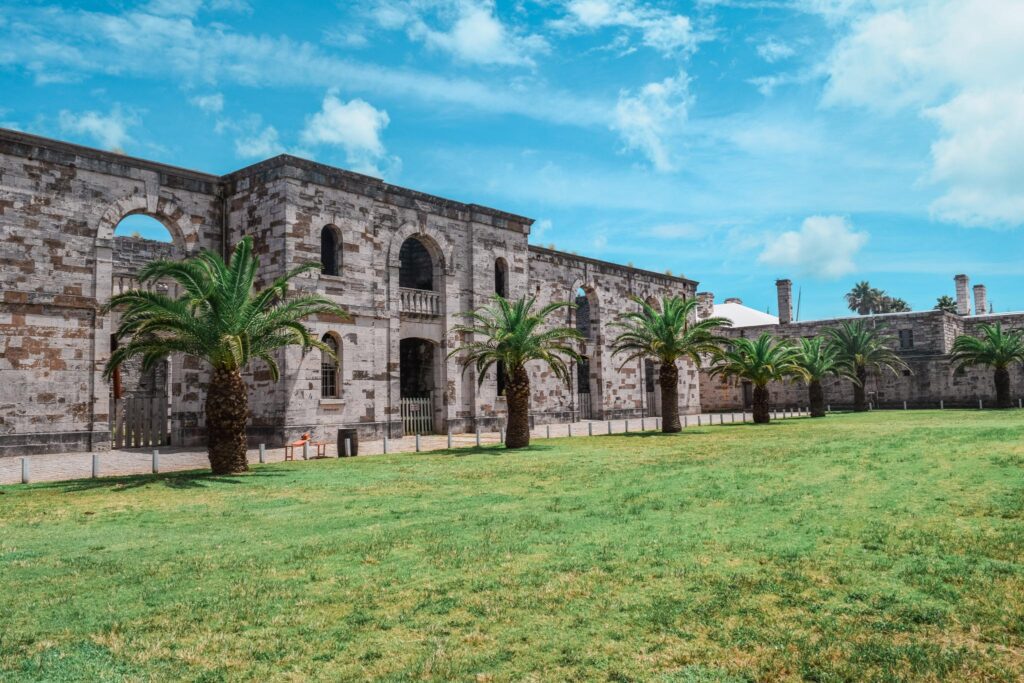 Is it possible to make a trip to Bermuda budget-friendly?
When I first visited Bermuda my answer to this question would have been: definitely no.

However, having been to the island five (or was it six?) times over the years I think I can now say: maybe.

If you're looking for a budget-friendly island with stunning beaches to spend a few weeks Bermuda might not be the place to go (try Thailand, Mexico or Indonesia instead). Even if you follow all the advice in this budget guide to Bermuda your trip will still not be affordable or incredibly cheap.

However, you'll at least have a somewhat reasonably priced experience that might come close to what you would pay for an upscale vacation in other places around the world. 
Top tips for keeping your cost low when visiting Bermuda
Here are a few things to keep in mind if you want to visit the island without spending a fortune. Bermuda can definitely be somewhat cheap if you follow these tips.
Take the bus or ferry
Bermuda might be small but it's actually very long and thin so getting from one end to another will take a while on the narrow roads.

The most affordable way to get around is to walk the railway trail. This is great for a while but especially if you're visiting during summer walking is just not sustainable for all of the trip.

The bus system in Bermuda is actually quite comprehensive and relatively affordable so it's one of the best ways to get around if you want to save money. A ticket costs 2.50€ to 4.50€ per ride (30€ if you buy a pack of 15 tickets) and will get you to most places around the island. The ferry has similar prices and is even more fun to use.
Book as early as possible
The biggest cost for your trip to Bermuda will be accommodation. Hotels can cost well over 200€ per night and there are very few budget-friendly options available in Bermuda.

Couch surfing will be the cheapest option of course but finding a host can be a challenge. You'll most likely be able to find a very basic hotel in Bermuda for around 100€ but the best option is Airbnb which can go as low as 70€ per night for a private room in a shared place.

The main thing to remember is that you need to book close to a year in advance to find these prices. The earlier you book the more likely you'll be able to come across flash deals or places to stay that are usually booked.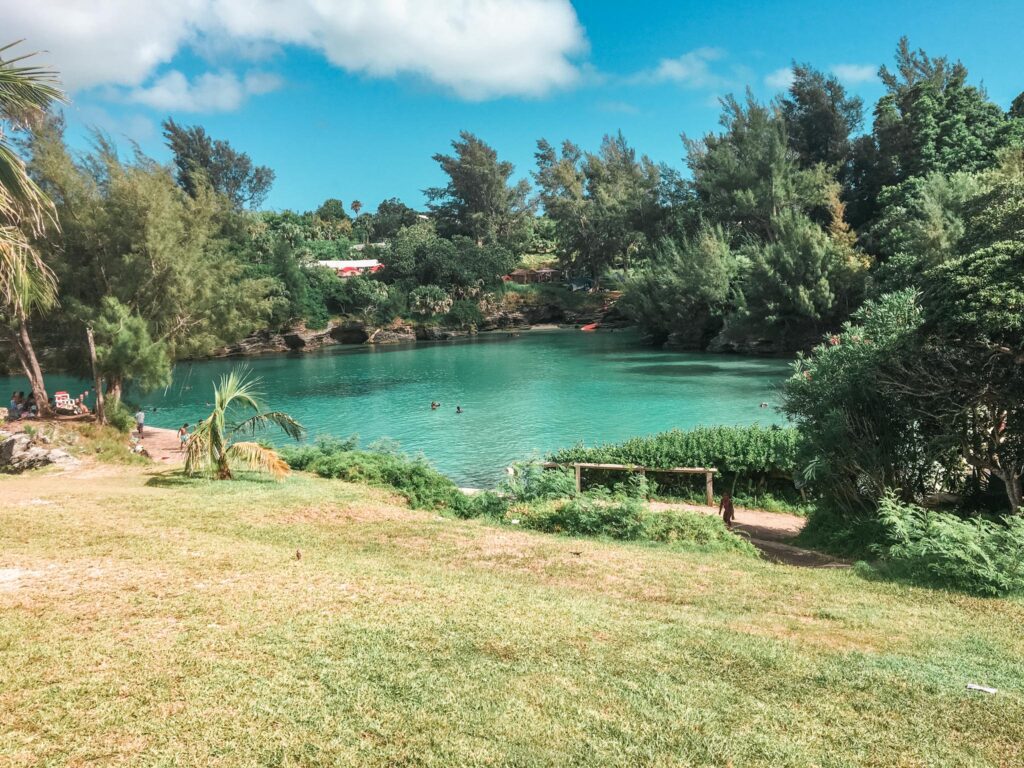 Cook at home
Groceries in Bermuda unfortunately don't come cheap either but they're still a lot more affordable than eating out. The island is full of luxury restaurants but more budget-friendly food options are hard to come by. Even in a very basic restaurant, you'll easily pay 20€ for a meal.

Cooking at home will save you a lot of money so consider this when picking a place to stay. Having at least a small fridge will be a lifesaver. Picnics by the beach are definitely the best way to keep expenses low and enjoy a cheap trip to Bermuda.
Skip the nightlife 
If you're looking for Caribbean nights with a cocktail in a small beach bar, Bermuda might not be the best place to pick. You'll end up choosing between a handful of ridiculously expensive clubs, or bars in Hamilton with even higher prices.

If you're willing to spend money you can definitely enjoy a lively night out in Bermuda but if you're looking for budget-friendly alternatives try to avoid the nightlife and have a quiet drink on the beach instead (discreetly of course).

The nightlife on the island isn't so amazing that it's worth the high prices.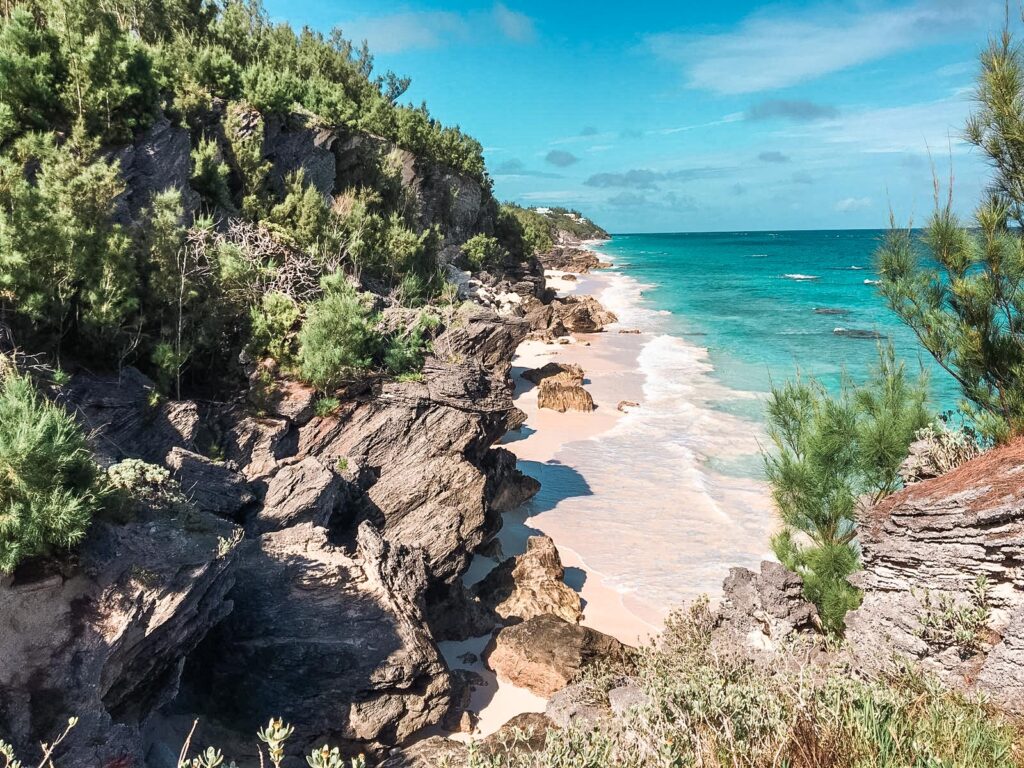 Bring everything you need for a day at the beach
Bermuda's beaches don't really have a lot of shade and you'll want to escape the sun at some point if you'll be there all day. When looking for accommodation options try to pick one that has beach equipment like a sun umbrella, towels, snorkels and goggles already included.

You'll spend a small fortune if you have to buy everything while in Bermuda.

If possible, bringing things from home is even better. If you can't get your hands on an umbrella try to buy one at a local supermarket. Even if you use it just two or three times it'll be far cheaper than renting one at the beach.
Spend your time in nature
Bermuda is an expensive island but a lot of the best things to do are actually free.

As a rule of thumb, anything that has to do with nature will be free or very cheap in Bermuda. This includes hiking, several nature reserves, almost all of the beaches as well as most of the caves (excluding the Crystal and Fantasy Caves).

The more time you spend in nature in Bermuda the more money you'll be able to save. The great outdoors is the best part of the island anyway.

Best free or cheap things to do in Bermuda
Luckily, you can find a lot of free or budget-friendly things to do in Bermuda. Since the island is all about nature and life close to the ocean you'll be spending a lot of your time at the beach or in the water.

All for free.

There are also several historic landmarks across the island of Bermuda that won't cost anything. Here are the best budget-friendly activities for your next affordable trip to Bermuda.
Take a ferry
Bermuda is a tropical island so you'll want to be on the water. Day charters or tours cost several hundred dollars so the best way to save money and still get on a boat in Bermuda is to take the ferry.

The island has several ferry routes that connect the important parts of the island like Hamilton, Dockyard, and St George's and tickets only cost between 2.50€ and 4.50€ per person. That's a very good price for a boat ride in Bermuda.
Explore the underwater world
A snorkelling tour in Bermuda will be very expensive. Luckily, you can snorkel right from the beach in most places so all you really need are goggles and a snorkel.

Either bring your own when you go to Bermuda or ask in your accommodation if they have one. This is one of the best affordable activities in Bermuda and should be at the top of your list.
Spend the day by the beach
Going to the beach is the best free activity in Bermuda. You can choose between dozens of different ones all with incredible pink sand and crystal clear waters. Almost all of Bermuda's beaches are free to visit although there are a handful of private exceptions such as the Snorkel Park.

Pick one close to where you're staying so you can walk there.
Hike the Railway Trail
The Railway Trail is a former train route that once connected important parts of the island. Today it's an 18-mile hiking trail that is perfect for exploring Bermuda on foot if you're trying to save money. It's not only incredibly beautiful but also very practical to help you get around. Find the exact route and more information here.
See St George's and the unfinished church
St George's is the oldest part of Bermuda and has beautiful historic architecture and lots of small shops. The unfinished church is one of the most famous spots in town so make sure to stop by. Visiting is free.
Explore the nature reserves
Bermuda has several small nature reserves which you can visit for free. Cooper's Island, Spittal Pond and Blue Hole Park are some of the most popular and are great for hiking and picnics. Keep your trip to Bermuda affordable by prioritising cheap but fun activities in nature.
Enjoy the views from Gibbs Hill Lighthouse
Gibbs Hill Lighthouse is the best place to get 360° views of Bermuda. The entrance fee is just 2.00€ per person and you can go all the way to the top up the 185 steps. The lighthouse dates back to 1846 and is 35 metres high.
Explore Fort Scaur
Fort Scaur is a historic building located in the western part of Bermuda. Even though it's smaller than the far more popular Fort St. Catherine it's free to visit and a great place to go if you want to save money during your time in Bermuda.
See Hamilton
Hamilton is Bermuda's capital and is known for its picturesque, pastel-coloured houses. This is a great place for exploring and taking photos. Victoria Park and Queen Elizabeth Sculpture Park are fantastic spots for a cheap picnic lunch.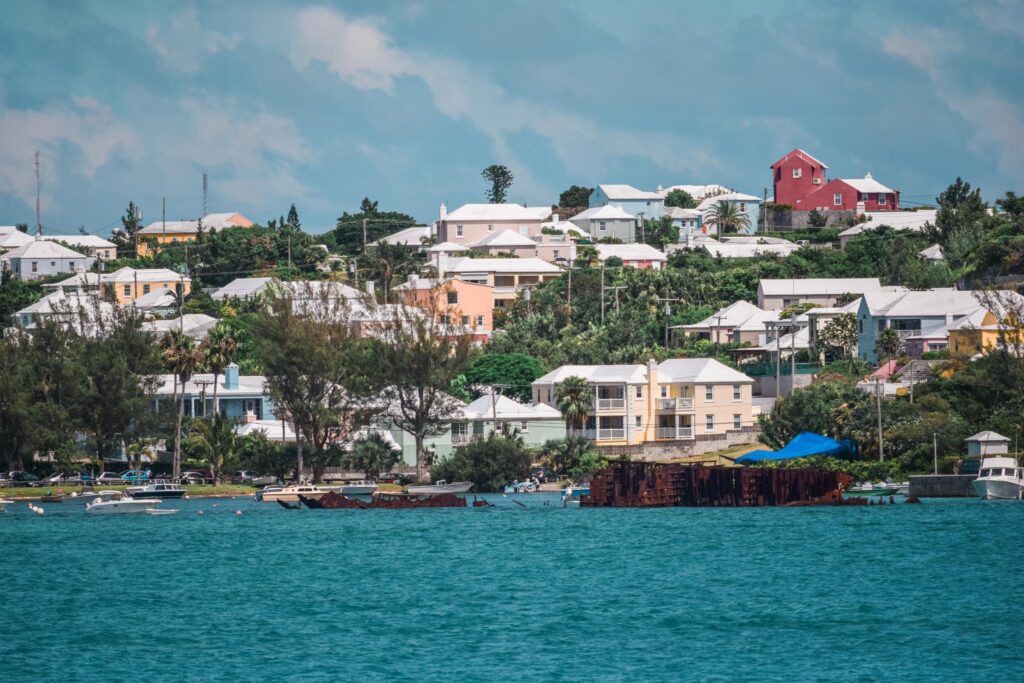 See all the moon gates
Bermuda is home to at least 40 moon gates which are a unique piece of architecture that originates from China. They symbolise good luck and can be found all around the island.
Explore the Dockyard and the craft markets
The Royal Naval Dockyard is located at the very tip of the island and is where large cruise ships dock. You can find the craft markets here as well as a good selection of little shops and a shopping mall. With lots of historic buildings, this area is a great place to explore on foot.
See a gombey dance performance
Gombey dance is a traditional form of performance that is native to Bermuda. In addition to the gombey festival which is held in September, there are regular performances in Hamilton or at the Dockyard for free.
Explore the caves
Bermuda has several beautiful caves which have become popular tourist attractions. The most famous ones are the Crystal and Fantasy Caves which charge entrance fees of 20€ per person.

A far more affordable option is Tom Moore's Jungle which is a protected area in Bermuda with several smaller caves that you can explore for free at no extra cost.
Visiting Bermuda on a budget? Save this image to have all the important info!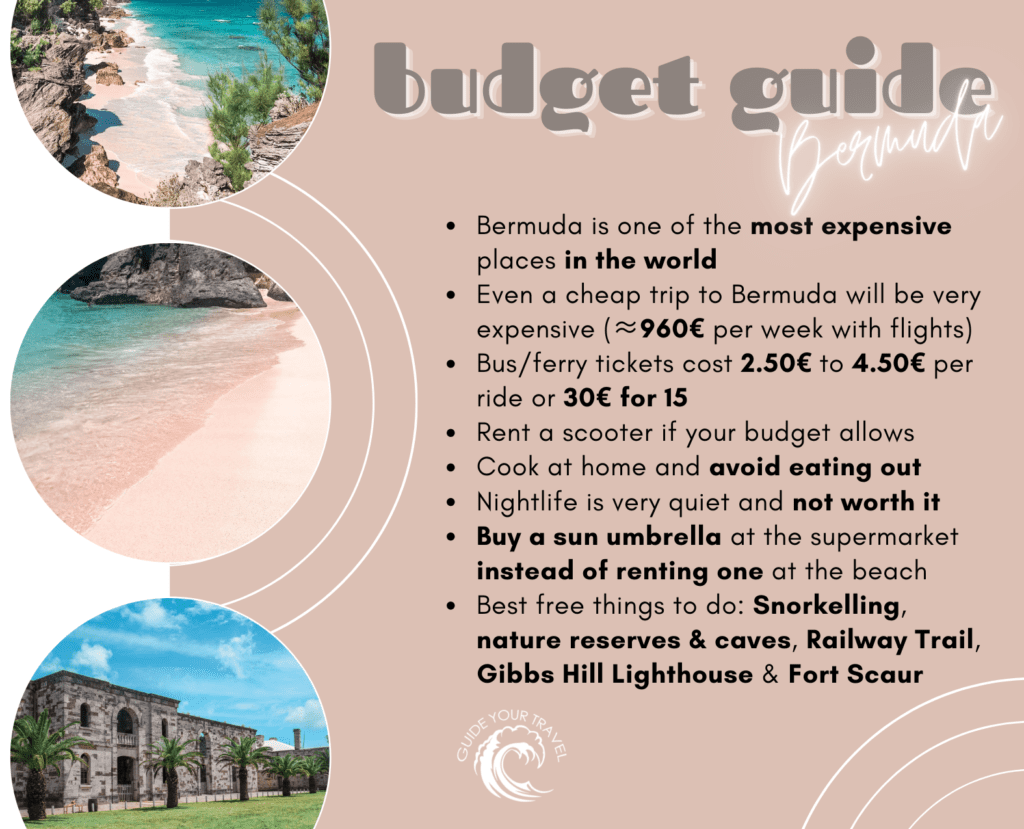 Best expensive things to splurge on when visiting Bermuda
If you've got a little extra money you might be looking for something to splurge on during your time on the island. Depending on how much you've got saved up you can pick between the suggestions below to make your affordable trip to Bermuda not only cheap but also fun.
Small budget
At least once during your trip, you should get a few drinks at a bar close to the water. Skip dinner and cook at home but treat yourself to an iconic Dark and Stormy cocktail while you watch the sunset. You'll end up spending around 30€ but it'll be worth it.
Medium budget
The best way to upgrade your budget-friendly trip to Bermuda in my opinion is to invest in renting a scooter. Most people on the island get around this way and it will make you a lot more flexible when exploring the island.

A scooter in Bermuda will cost around 40€ per day or 200€ per week which is expensive but definitely worth the cost.
Big budget
For as little as 250€ you can rent a small boat or pontoon for four hours in Bermuda. In most cases, they require no boating licence and you can explore the island completely by yourself.

Six to ten people fit on these boats and the experience is absolutely magical. If you've got the budget for it this is the best way you can invest money on your trip to Bermuda.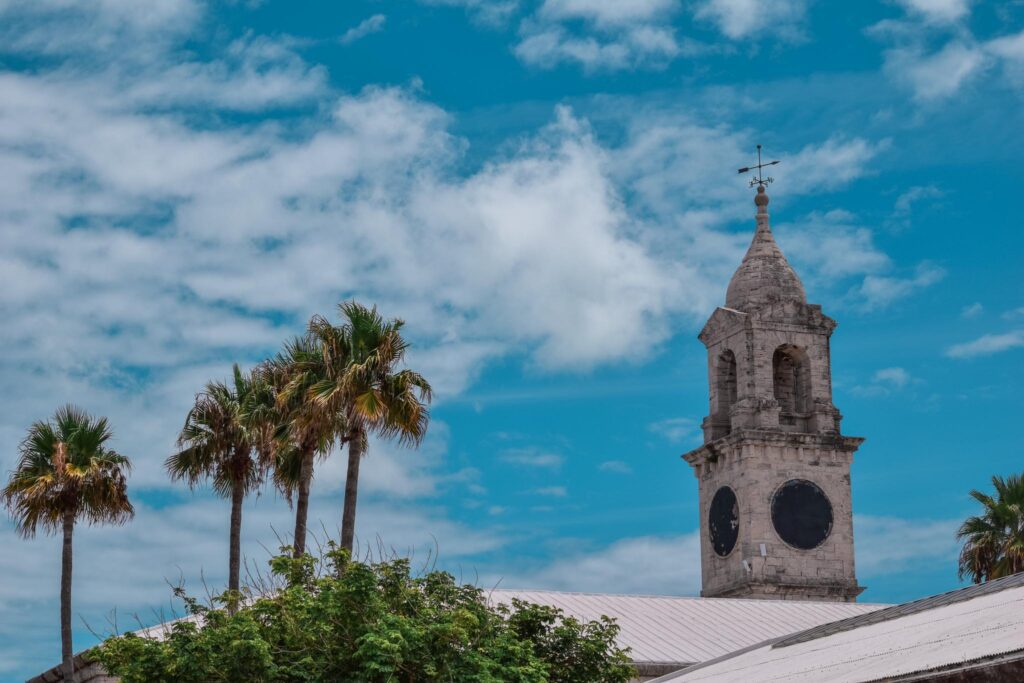 Things to skip in Bermuda
Bermuda has a small zoo with an aquarium. We at Guide your Travel don't recommend supporting attractions that keep animals in captivity for entertainment purposes. The Bermuda Zoo is no exception and a tiny island that needs to import absolutely everything is definitely not the place to go to see exotic animals.

There are no native mammals on land in Bermuda (with the exception of bats) so you won't have an incredibly educational experience here.

Save the money for the entrance fee and spend it at the BUEI (Bermuda Underwater Exploration Institute) instead which has zero live animals and incredible exhibits about Bermuda's unique geographical location.

It goes without saying that any activity that involves swimming with dolphins is highly unethical and shouldn't be on your list of things to do. The Dolphin Quest in Bermuda is not only very expensive (45€ per person for 5 minutes) but also just not worth it.

Skip the captive dolphins and go snorkelling at a nearby beach where you'll spot plenty of fish living their best life in the actual ocean.
How much is an affordable trip to Bermuda going to cost?
Here is a breakdown of a budget-friendly and affordable week for one person in Bermuda.
Flights to the island from NYC – 270€:
Private room in an Airbnb – 70€ per night x 7 = 490€
Food – 20€ per day x 7 = 140€
Sightseeing – 30€
Bus and ferry tickets for 15 journeys – 30€
Total: 960€
Is this affordable for a week-long trip? Absolutely not. But is it affordable for Bermuda? Definitely.

Budget-friendly or cheap unfortunately don't mean the same thing in Bermuda as they do in other places around the world.

The only way to reduce this cost is to find a place in Bermuda where you can stay for free. Definitely check out couch surfing or getting in contact with someone who lives on the island and would be willing to host you.
Bermuda budget-friendly guide – COVID update
Since Bermuda is a very small and isolated island it was never really hit severely by COVID. Since the start of the pandemic, there have been around 5,600 COVID cases and just under 100 deaths. The entire population is around 65,000 people to give some perspective.

During the most severe wave of COVID in Bermuda which took place in September of 2021 there were several hundred new cases per day. However, since then daily cases have dropped to below 30 per day and Bermuda has been open to tourists since July 2020.

Tourist attractions on the island are open and restrictions will not impact your trip significantly assuming you're vaccinated. Unvaccinated travellers need to quarantine in a designated quarantine hotel in Bermuda for 14 days which will be very expensive.

All travellers going to Bermuda also need to have proof of a negative COVID test before they travel and have to complete a second one on arrival at a cost of 65€. If they test negative, vaccinated travellers can then enjoy their time in Bermuda but have to test again on days 4 and 10 of the trip. 

If you're planning a cheap trip to Bermuda you need to factor in this extra cost.

There are still COVID regulations in place in Bermuda so check up to date information sources before you go. Make sure to wear a face mask when entering any businesses, restaurants, shops or when using public transport.

Some attractions might limit the number of people that can enter at one time. Expect slightly longer wait times during popular visiting hours.
Click the images below to pin this post to Pinterest and save for later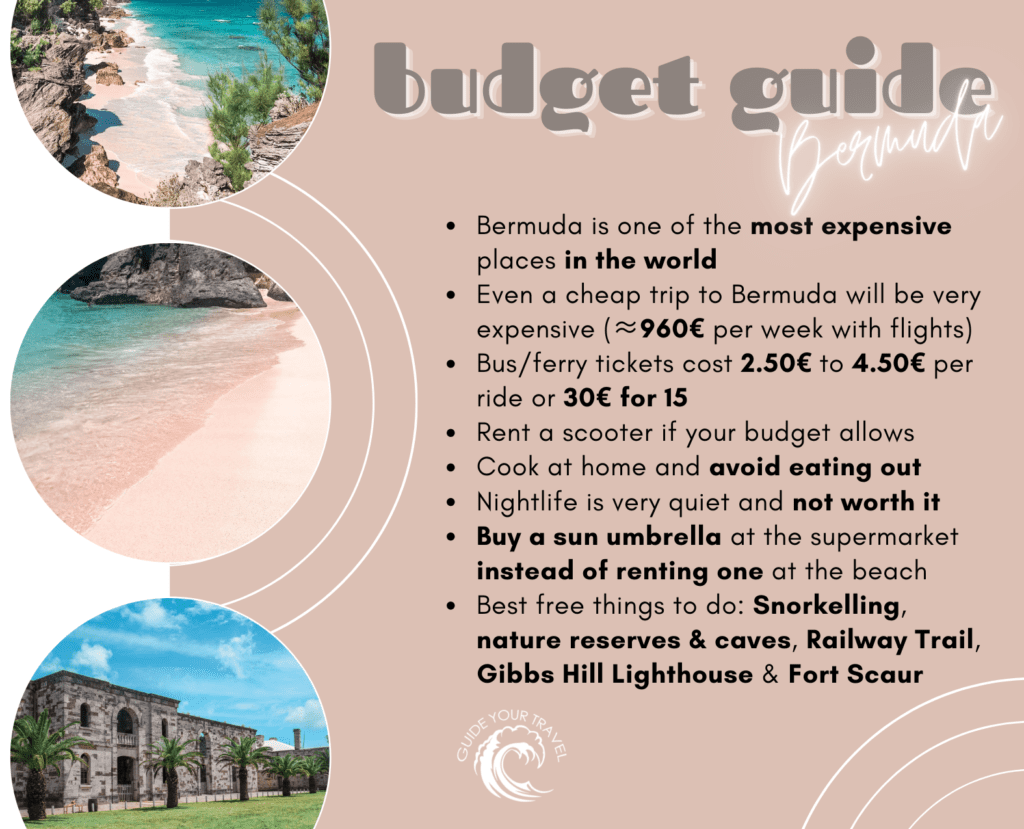 Did I miss anything?
If you have any questions or feel like something is missing from this post please leave a comment below or contact me