Going on a liveaboard boat tour from Labuan Bajo to Komodo National Park is a once-in-a-lifetime experience that is worth every single penny. Spend your days lounging on the deck of a stunning traditional sailboat, swim in some of the clearest water Indonesia has to offer and hike through deserted islands that are home to the famous Komodo dragons. Komodo National Park is more than just one island and actually encompasses a huge area full of secluded beaches, hidden coves and impressive mountains which are best seen as part of a liveaboard boat tour.

This complete guide contains all the information you need to plan your multi-day boat trip to Komodo National Park in Indonesia. Know what to expect, how much to budget and how to make your trip unforgettable.
This post may contain affiliate links, which means we'll receive a commission if you purchase through our links, at no extra cost to you. This helps us keep Guide your Travel free and provide high-quality content for you. Please read the full disclaimer for more information.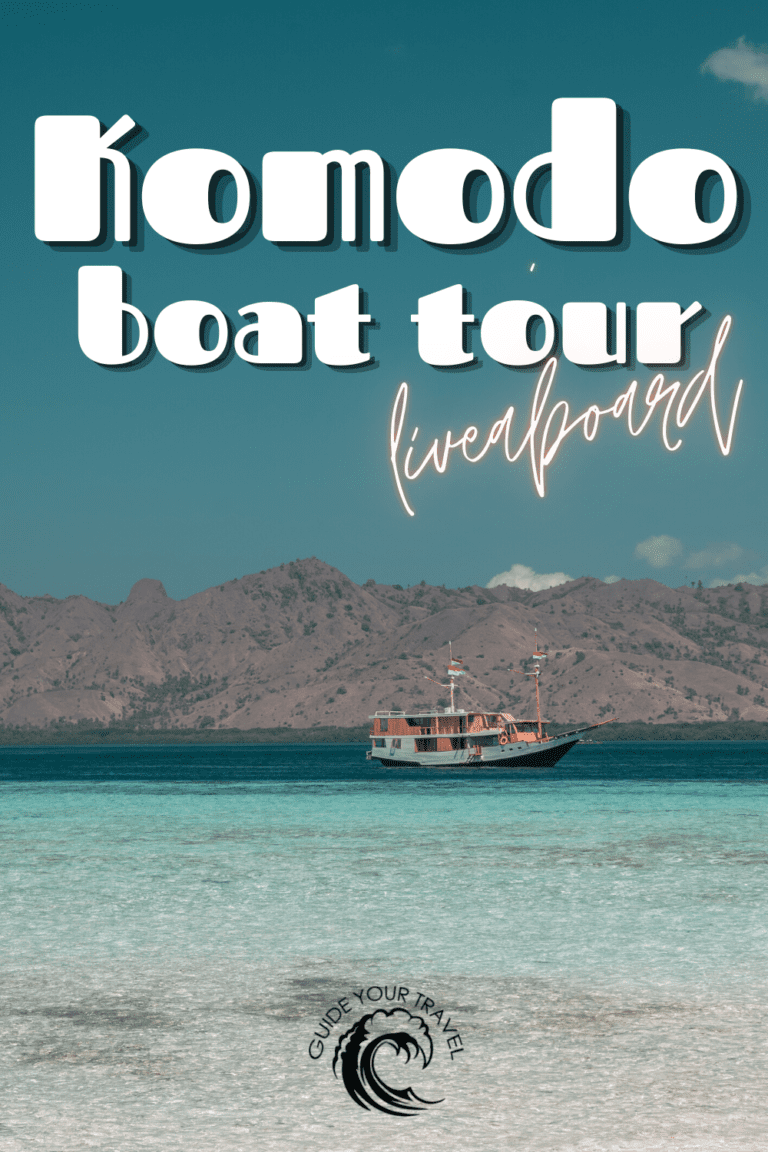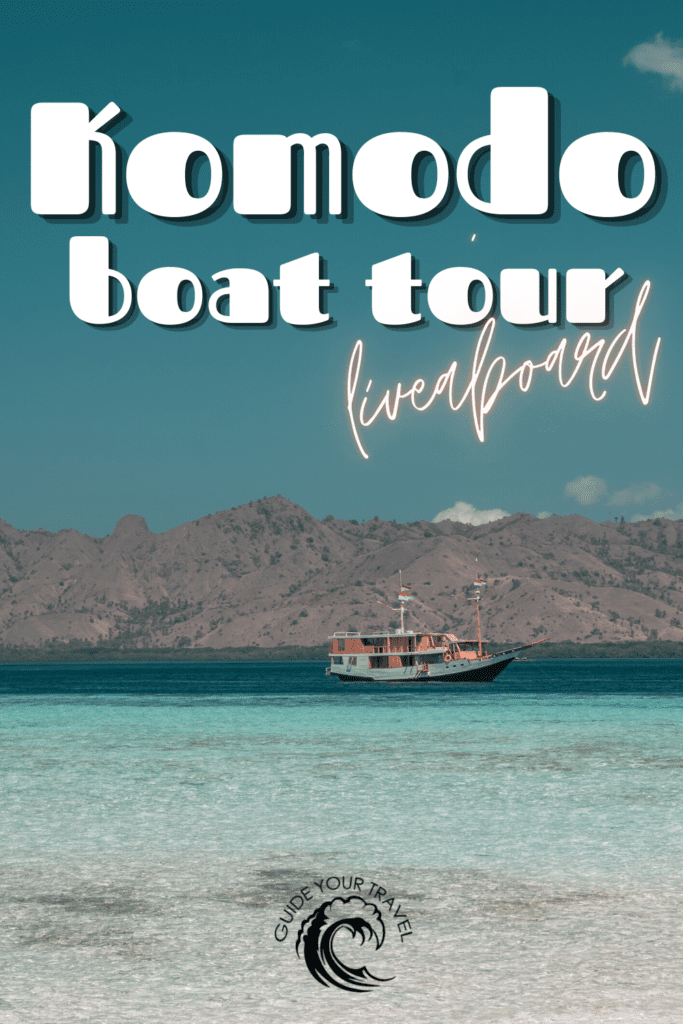 How to choose your liveaboard boat tour for Komodo
The selection of boat tours, companies and types of trips that take visitors to Komodo National Park is huge. Making the right choice can be a challenge and will change your trip considerably. Since the park is so large, it can take a while to get around and it's a lot more convenient to choose a multi-day trip on a liveaboard boat.

These trips can range anywhere from one to five or even more nights and differ greatly in quality and price. You could find an affordable boat trip for as little as IDR 1.5 million (~ €100) per person or spend upwards of IDR 10 million (~ €670). The main differences will include the length of the trip, size of the boat, whether it's a private or open trip, sleeping arrangements and general quality of the experience.

Consider your budget and how much time you have available to see the islands. There are fantastic mid-price options available as well as luxury boats which are still reasonably priced.
My tip: I personally, can recommend Travelist.Id who have a fantastic selection of boats and types of trips. We saw the Komodo National Park aboard the Lipra, a refurbished five-cabin boat with space for up to ten people. While this private trip lay towards the upper end of the pricing scale, they have more budget-friendly options and open group trips available as well.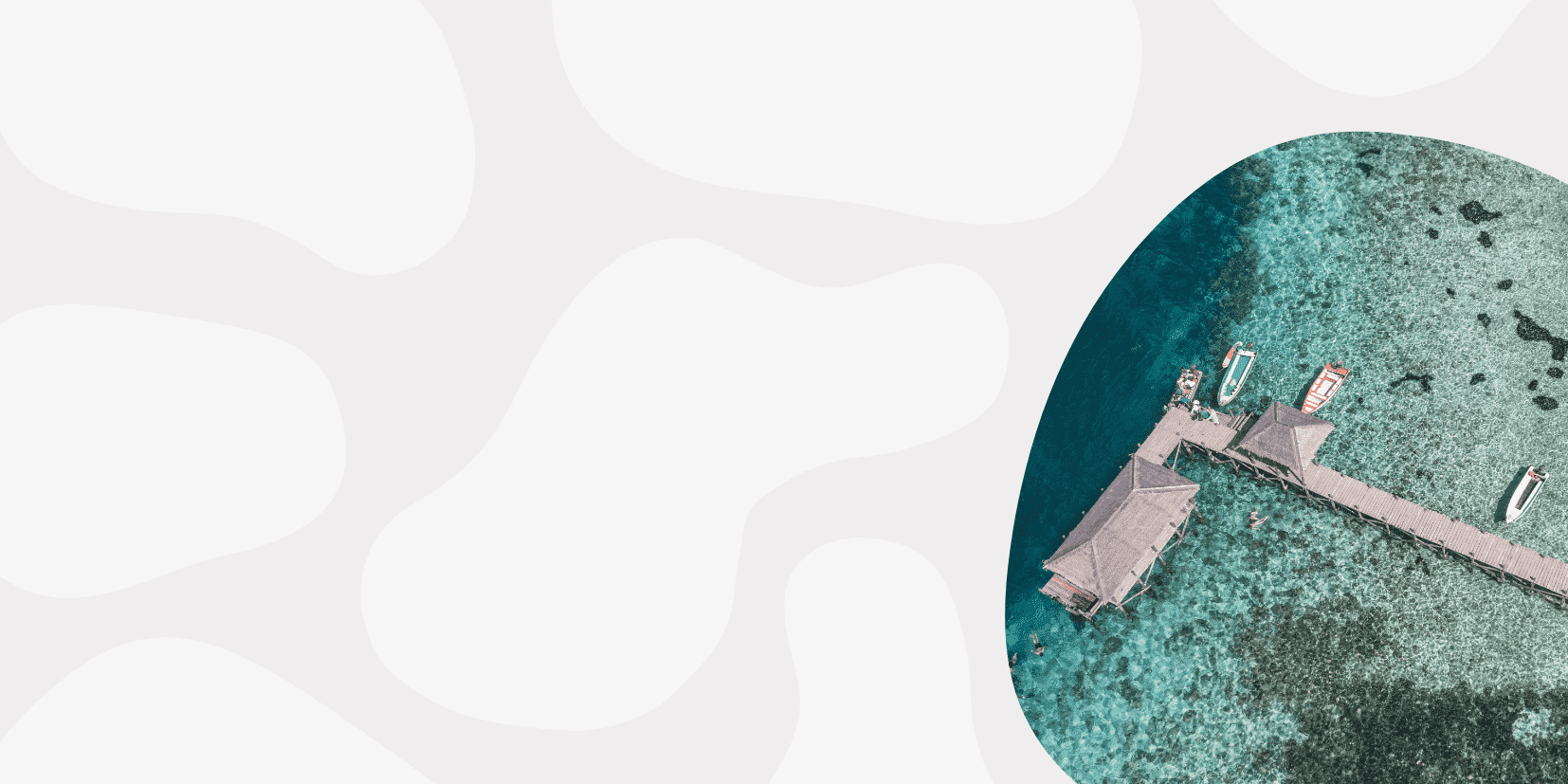 Let me save you time and effort when you're travel planning!

➼ Best travel insurance? SafetyWing
➼ Best place to find cheap flights? Skyscanner
➼ Best bank & credit card for travellers? Wise
➼ Best travel backpack? Osprey Farpoint 70
How long do you need for your tour through Komodo National Park?
The Komodo National Park is large and it's impossible to see every single island on your boat tour. Most travellers choose to spend a day or two in Labuan Bajo, which is the main gateway to the park, before going on a liveaboard boat tour to see Komodo, which is not the only popular island in the park. These tours can last anywhere between one and five days depending on the available budget and type of boat.

If your budget is tight, you could see the main attractions of Komodo National Park in one day, as part of a day trip boat tour. This would mean spending a total of two nights in Labuan Bajo, so you can dedicate an entire day to the park. This is definitely a tight schedule though and might not save you that much money when compared to a budget-friendly liveaboard.

The ideal time to spend in Komodo National Park is between two and four nights with a liveaboard boat tour. Add another night in Labuan Bajo when you arrive and one when you depart and you'll spend around four to six nights in total seeing Komodo. This is the perfect time to discover the main attractions while going off the beaten track and enjoying more secluded locations you might not get to see otherwise.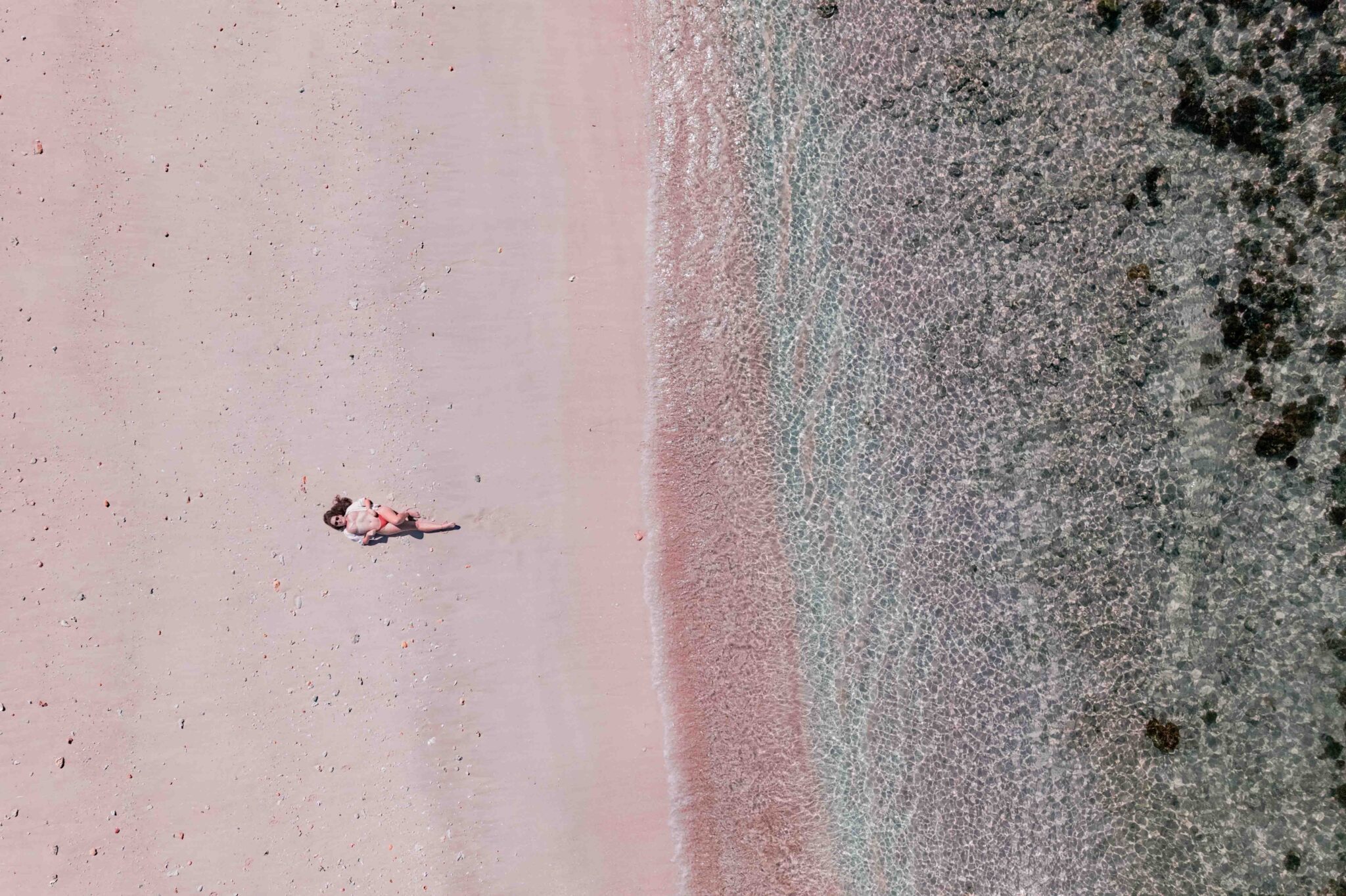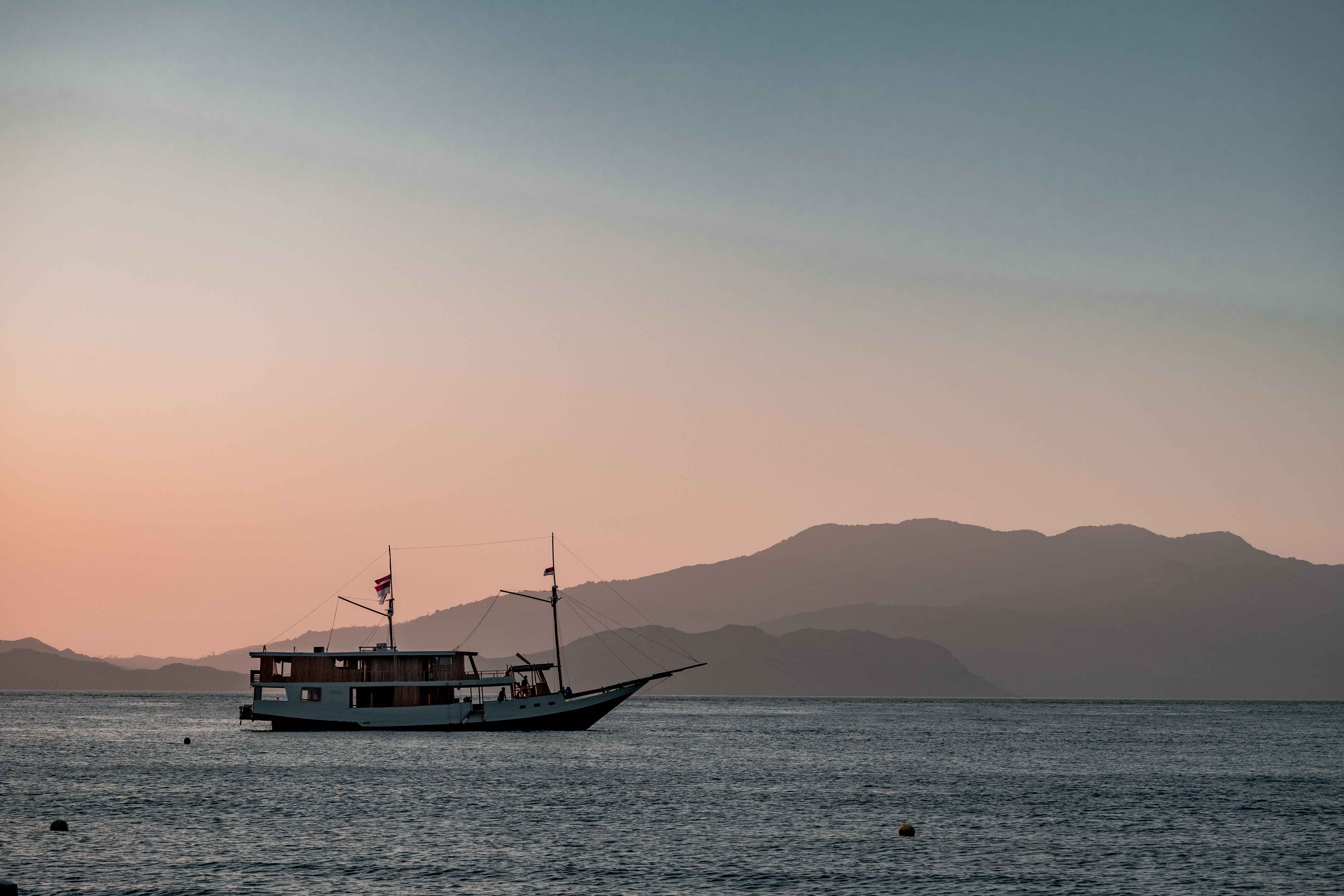 When is the best time to go to Komodo Island on a boat tour?
Komodo National Park is one of Indonesia's driest regions and the local climate is slightly different to the rest of the country. There is no specific best time to go, but definitely, one that needs to be avoided. December to March tends to be very stormy with heavy rains and rough seas. A lot of boat companies cease operations during this time due to safety concerns. The most popular time to visit Komodo is in July and August with hot weather and very little rain. This will also be the busiest time and some major attractions like Padar Island or Komodo Island will be very crowded with other boat tour companies.

Choose April to June or September to November for a slightly more quiet experience and still a good chance of sunny weather. Temperatures may be slightly cooler at night and you might have the occasional storm.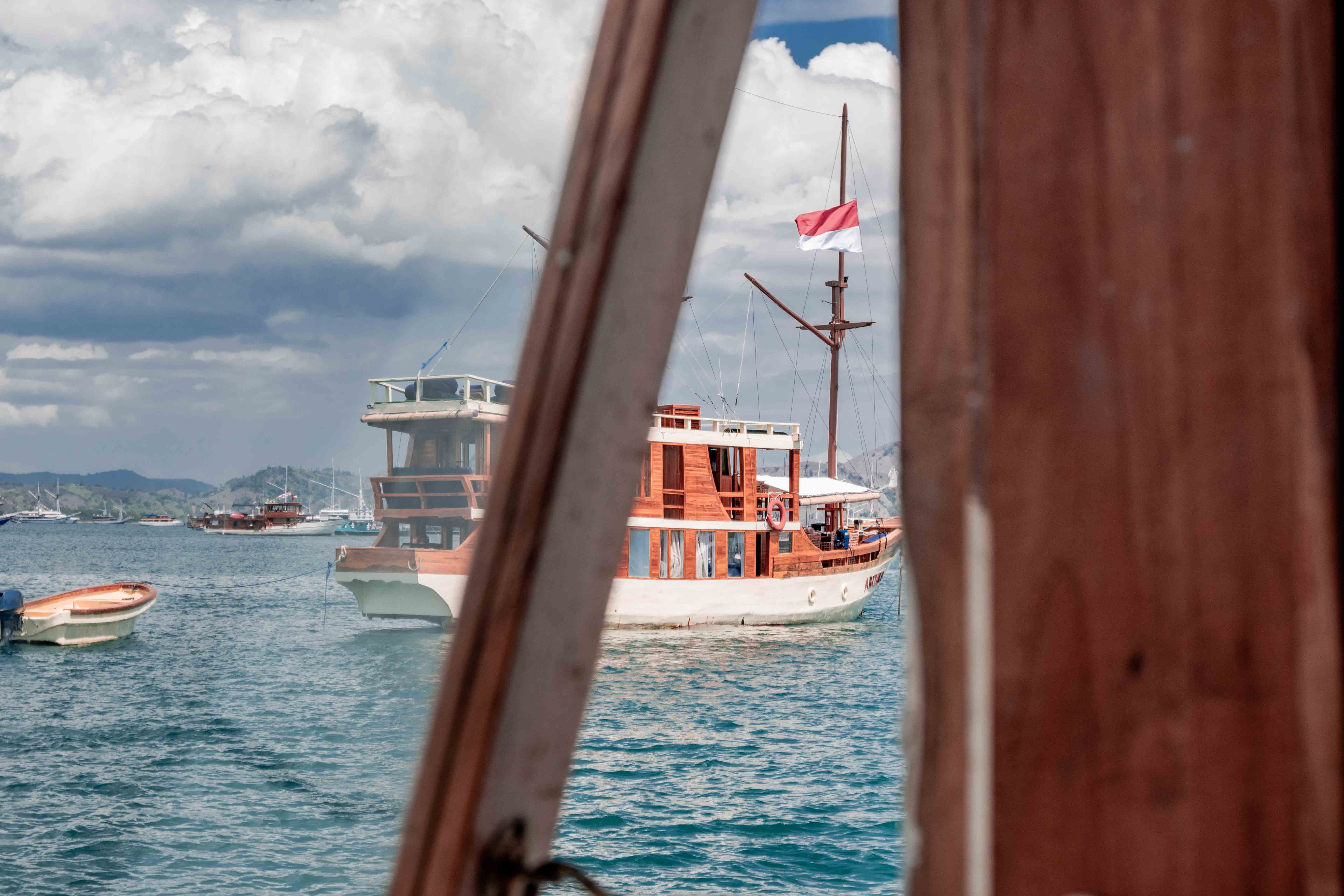 Most multi-day boat trips head to the same locations around Komodo National Park although individual itineraries may differ of course and do not visit every single island. Longer excursions usually include time at more secluded locations such as hidden bays and deserted islands that aren't frequented by other boats. A sample itinerary for a four-day-three-night liveaboard boat trip from Labuan Bajo to Komodo National Park might include:
Day 1
Pickup in Labuan Bajo at 9:30 AM
Trekking to the top of Kelor Island
Seeing Komodo dragons on Rinca Island
Sunset tour to Kalong or Komodo Island to see flying foxes from the boat
Day 2
Sunrise trek at Padar Island
Snorkelling and relaxing at Pink Beach
Swimming with Manta Rays at Manta Point
Spending time at Takamakassar sandbank
Sunset on the boat
Day 3
Snorkelling close to Siaba Island
Snorkelling and relaxing at Kanawa Island
Snorkelling at Manjarite Island
Sunset at Lawa Darat Gili
Day 4
Snorkelling at Bidadari Island
Swim in Goa Rangko Cave
Return to Labuan Bajo at 12:00 PM
This is a sample itinerary for a boat four-day-three-night tour to Komodo National Park planned by Travelist.Id. Note that these schedules tend to change depending on weather conditions and the season which may be out of control of the boat company.

The main attractions on any boat tour to the national park will always be Komodo Island and its dragons, Padar Island and its viewpoint, and of course the many pink beaches.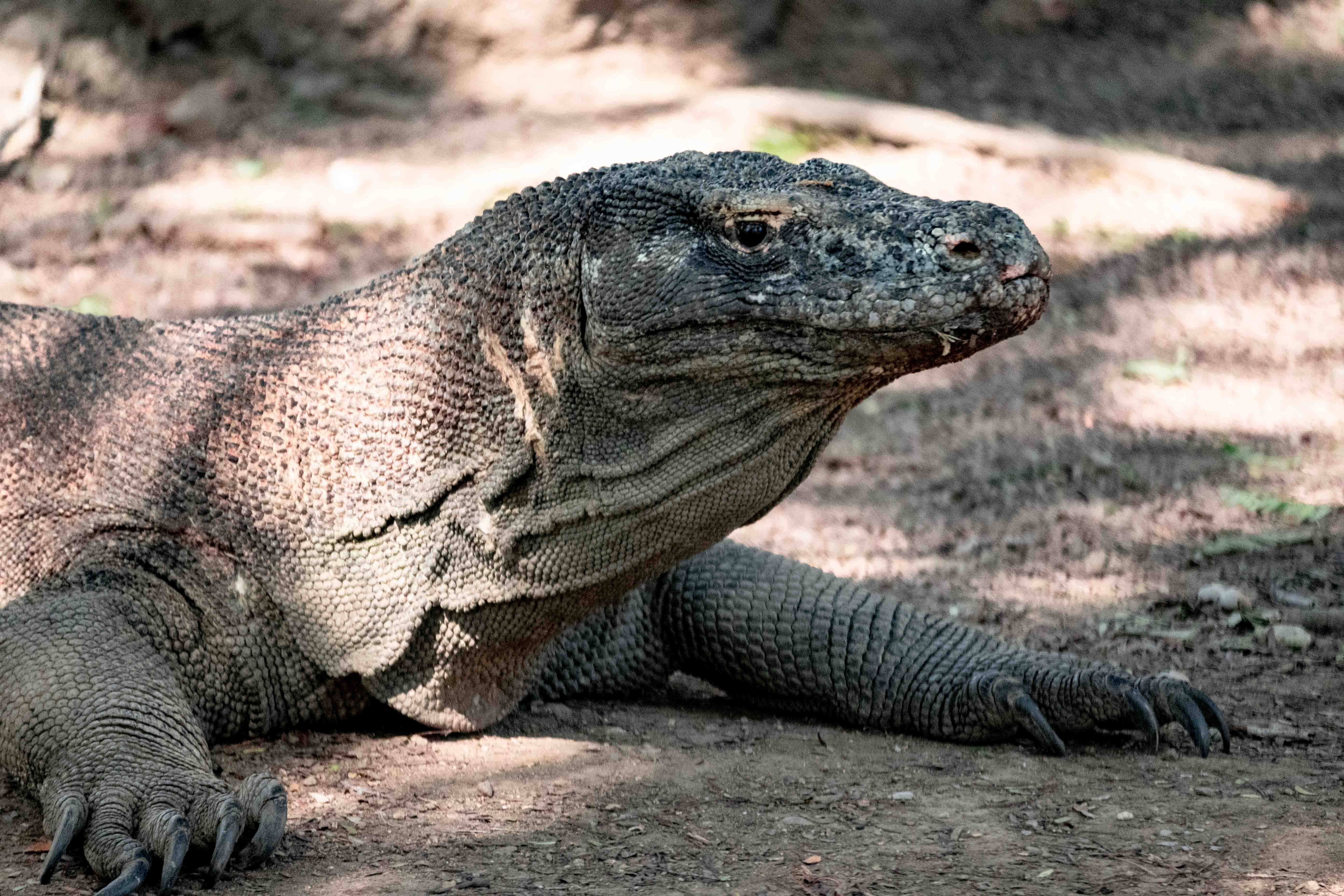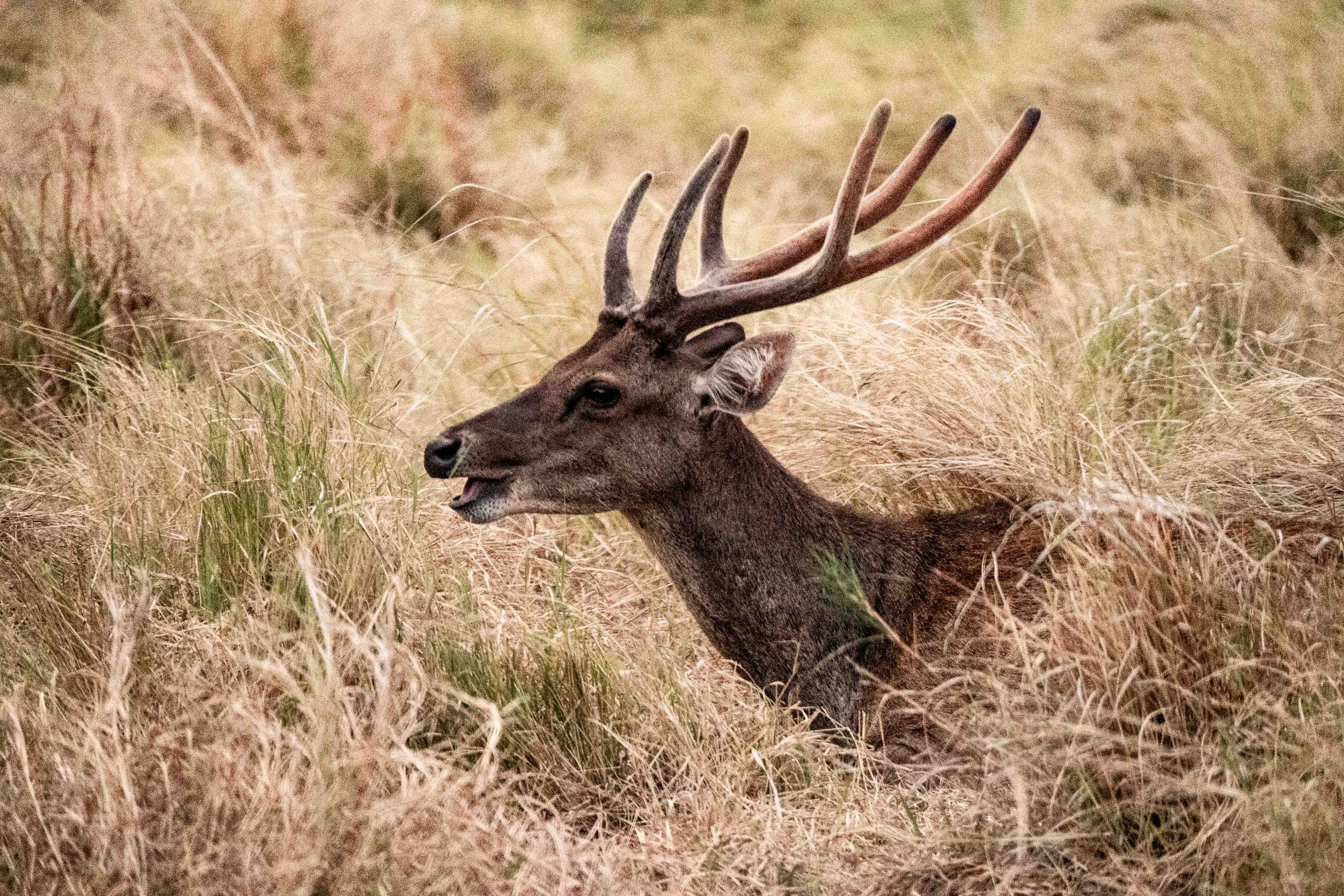 Can you decide on the itinerary for a liveaboard boat tour in Komodo?
Most boat tours in Komodo National Park tend to have roughly the same itinerary with some differences depending on the duration of the trip. Guests can have some influence on the itinerary with requests having to, of course, be within reason. Keep in mind that this mostly applies to private trips where the entire group requests to go to a specific location or prioritise an attraction. Group trips may be less flexible.

Things you might be able to ask for during your boat tour include, for example, hiking to Padar Island at sunset instead of sunrise, spending more time at Manta Point to ensure you see manta rays or skipping Komodo Island because you're not interested in seeing the dragons. Always ask the crew nicely if a change can be made and be understanding if it's not possible.

The pre-planned itineraries are usually very well thought out and include all the important hotspots around Komodo National Park with little need for changes.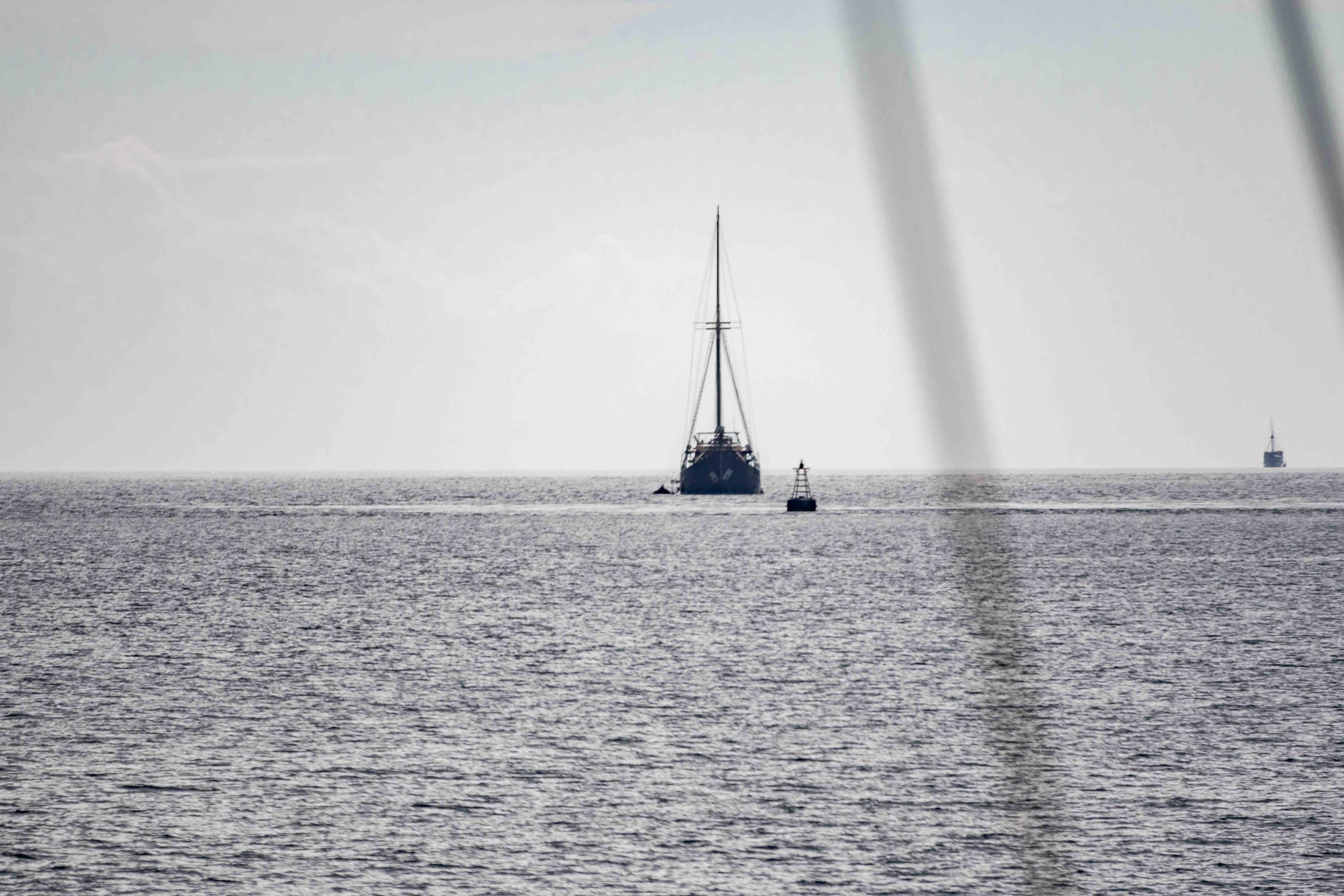 How much is a boat trip in Komodo?
Liveaboard boat tours from Labuan Bajo to Komodo National Park will differ greatly in price and quality. You can find a very affordable three-day-two-night trip for less than IDR 2 million (~ €135) per person, including shared accommodation. This is a great choice for budget travellers who still want to experience this incredible part of Indonesia.

Slightly nicer boats with private cabins will be priced anywhere between IDR 2.5 million (~ €170) and IDR 5 million (~ €340) per person depending on the boat and level of luxury. Higher-end experiences can cost upwards of IDR 10 million (~ €680) per person for the same length of trip.
The same applies to private boats where you'll only have people from your group on board. These are, of course, more expensive than open trips and will cost at least IDR 10 million (~ €680) or more per person for three-days-two-nights. Prices will vary greatly depending on the size of the group and the duration of the trip.
My tip: Again, Travelist.Id has a wide selection of trips in Komodo including private tours, open group excursions and different types of boats to choose from that will suit any budget.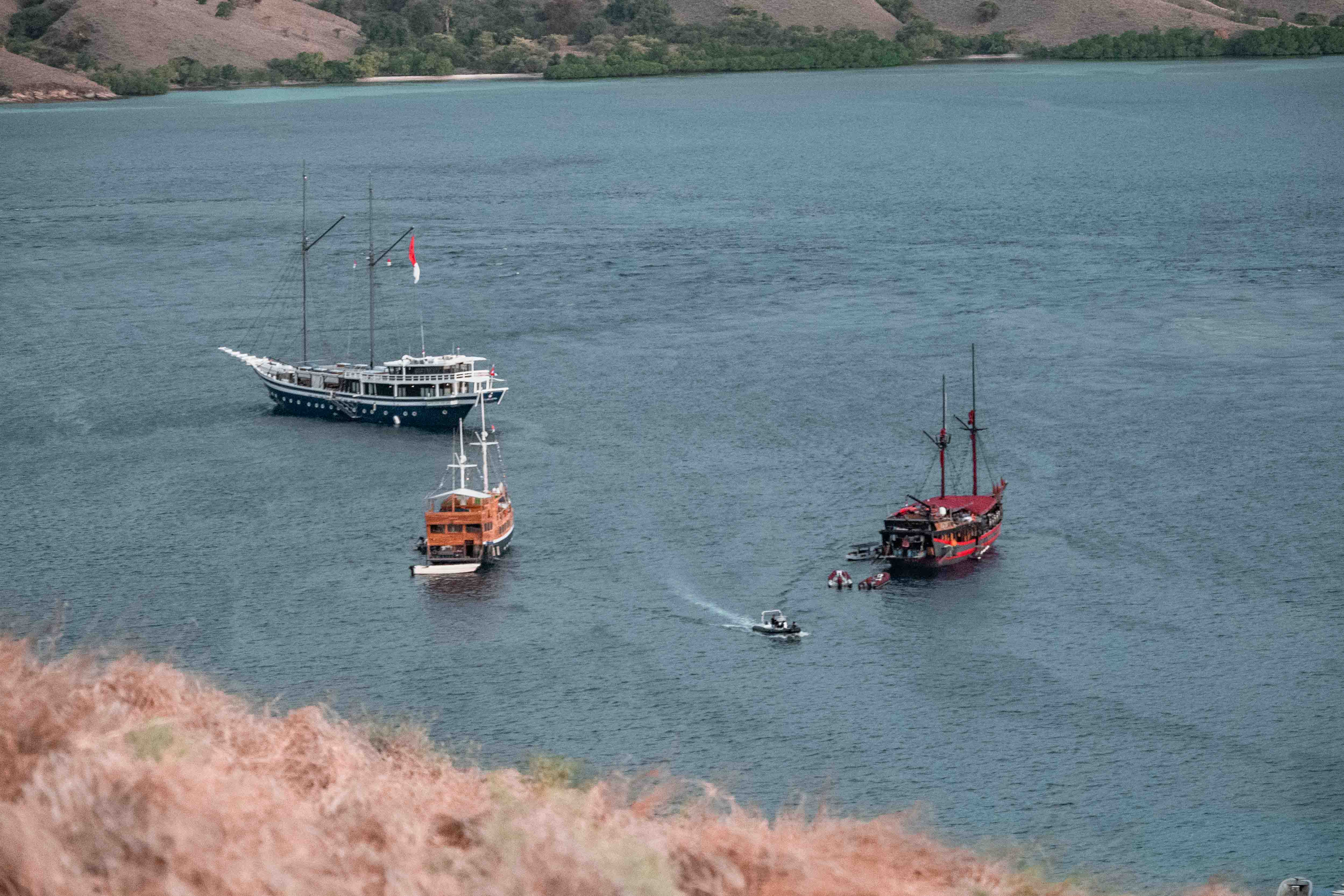 What is included in the price of boat tours in Komodo?
It's important to know what's included in your boat trip before you commit to booking. In general, the price for most liveaboard boat trips in Komodo National Park includes:
Accommodation on the boat (either in shared or private cabins)
All meals, including lunch on the first day and breakfast on the last
Drinking water, coffee and tea on board
Snorkelling equipment (possibly dive equipment if you booked a scuba excursion)
A professional tour guide on the boat who will accompany you on excursions to the Komodo National Park.
Lifejackets
Towels
Some tours may also include:
En-suite bathrooms
Softdrinks and fresh juice
Airport or hotel pickup
An on-board photographer with professional equipment such as a drone, GoPro, camera etc. (this is actually very common even on budget trips)


What is excluded?
Almost all liveaboard boat trips in Komodo National Park exclude the following:
Entrance fee to the national park (add approximately IDR 300,000 (~ €20) per person)
Alcohol (buy your own in Labuan Bajo before you depart)
Accommodation and meals in Labuan Bajo before and after the boat trip
Plane tickets to Labuan Bajo
Snacks, drinks and souvenirs you might want to buy on the islands
Make sure to double-check all of this with your tour company to avoid confusion on your boat trip to Komodo.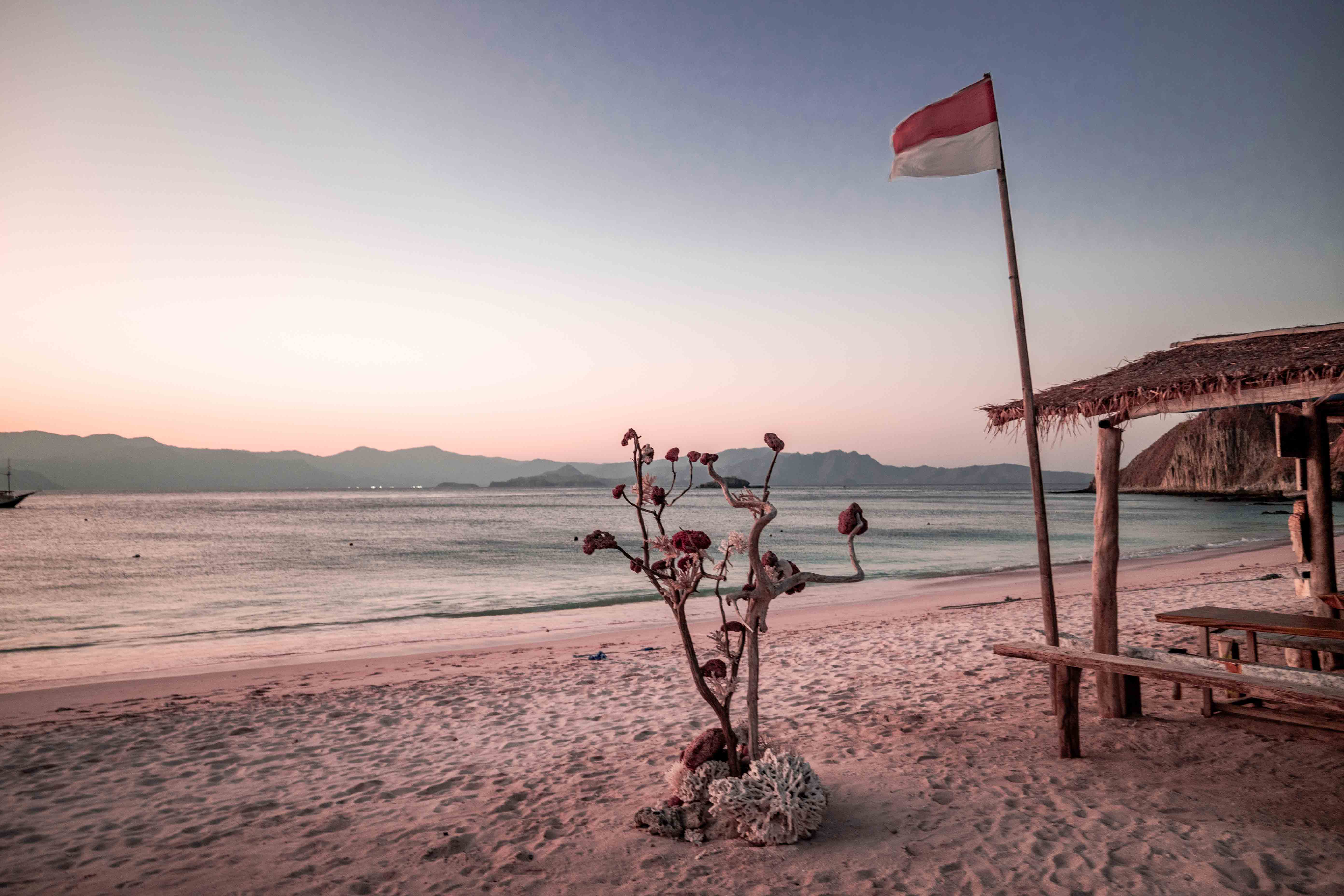 How many people can go on a boat?
Liveaboard boats departing from Labuan Bajo come in all different shapes and sizes. The smaller ones have space for approximately six people while the largest options can hold 30 or more. In general, the average for private boat trips lies somewhere around ten while budget-friendly open tours are closer to 20.
The boat and amenities
Many boats touring Komodo National Park are traditional Phinisi boats which sometimes have sails and sometimes are just powered by an engine. They are anywhere between 15 and 40 metres in length and will have private or shared rooms available – sometimes both. Boats usually have a kitchen which is operated by members of the crew. There will be plenty of space on the decks to relax and sunbathe, as well as covered areas to sit in case it rains.

There is electricity and running fresh water on board although the supply is, of course, limited. Each boat will have a smaller tender to accompany it which takes guests for snorkelling excursions and to smaller islands.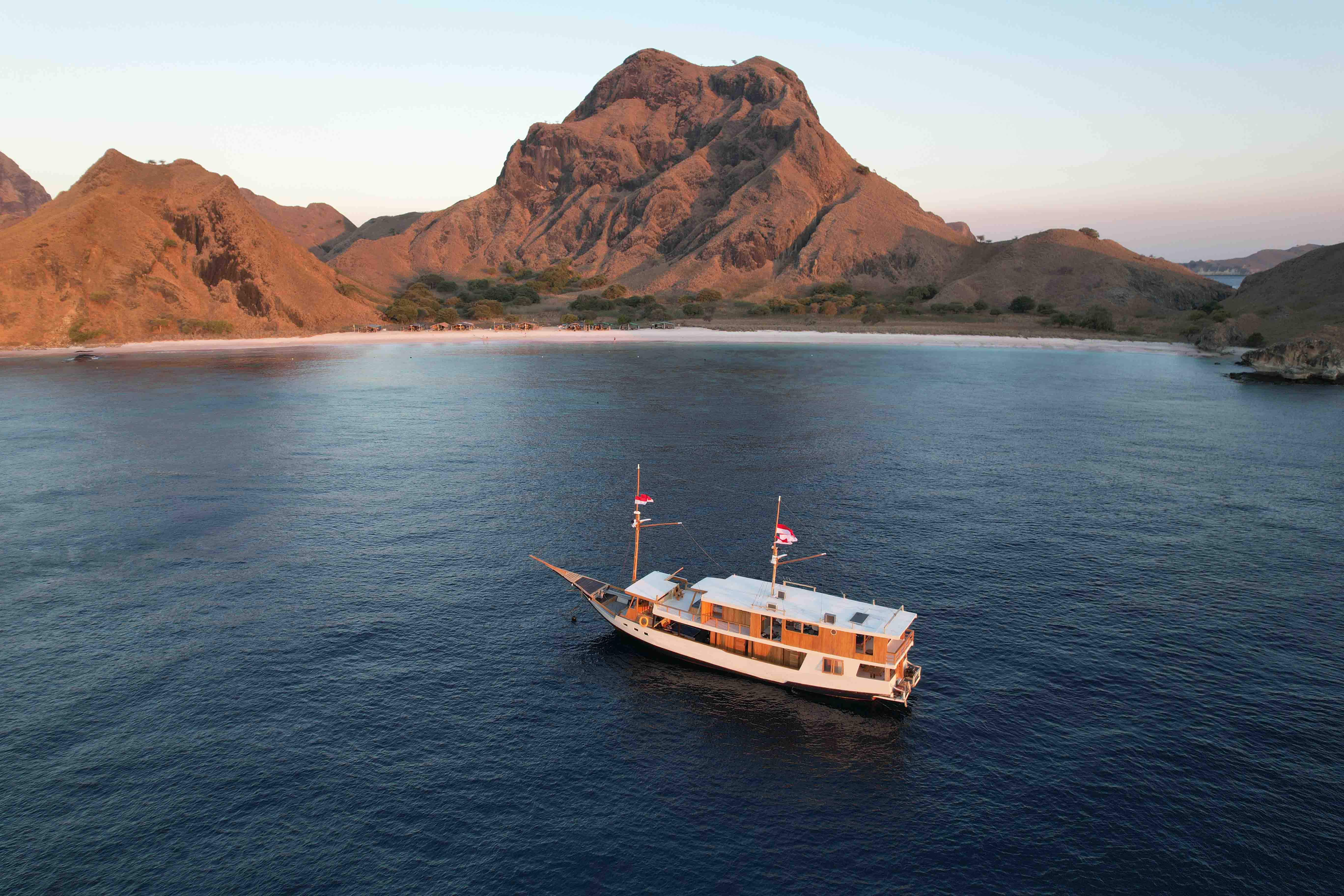 Rooms and bathrooms
More luxurious boats will have private double cabins which can be compared to hotel rooms. Some may even have a balcony or floor-to-ceiling windows with ocean views. More basic cabins may be located below deck without windows although this is not very common since the Phinisi boats tend to have multiple stories above the water line.

Double-check with your Komodo tour company whether the cabins have en-suite bathrooms or if they are shared. Some boats may also offer dorm-style cabins for a reduced price or even sleeping on the deck which will be the most affordable option.

Always keep in mind that you're staying on a boat, which usually means tight spaces and basic bathroom facilities.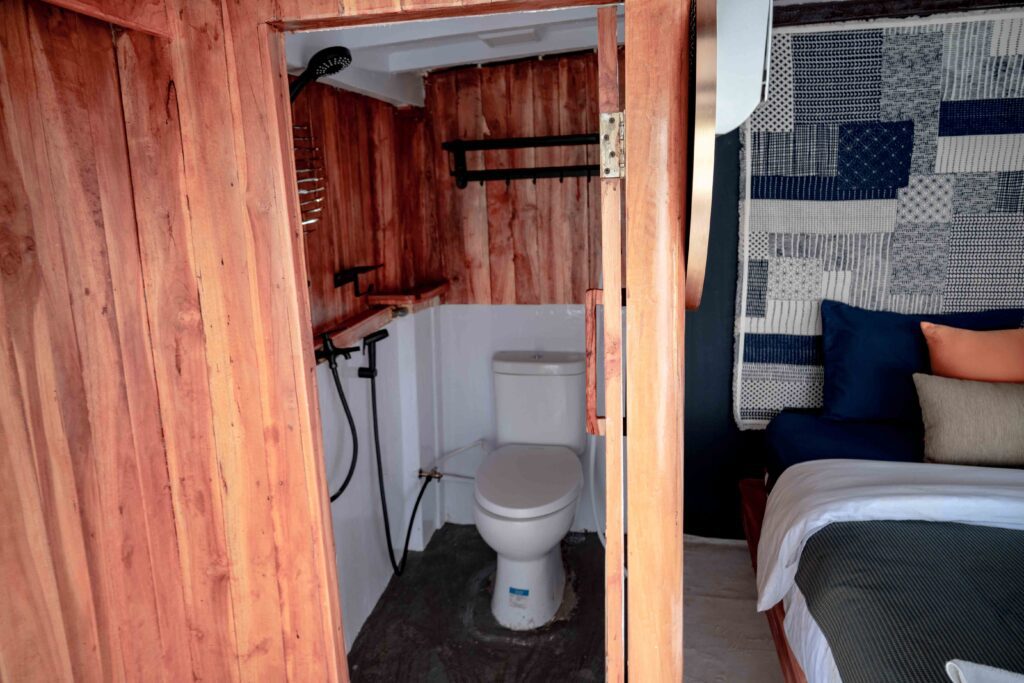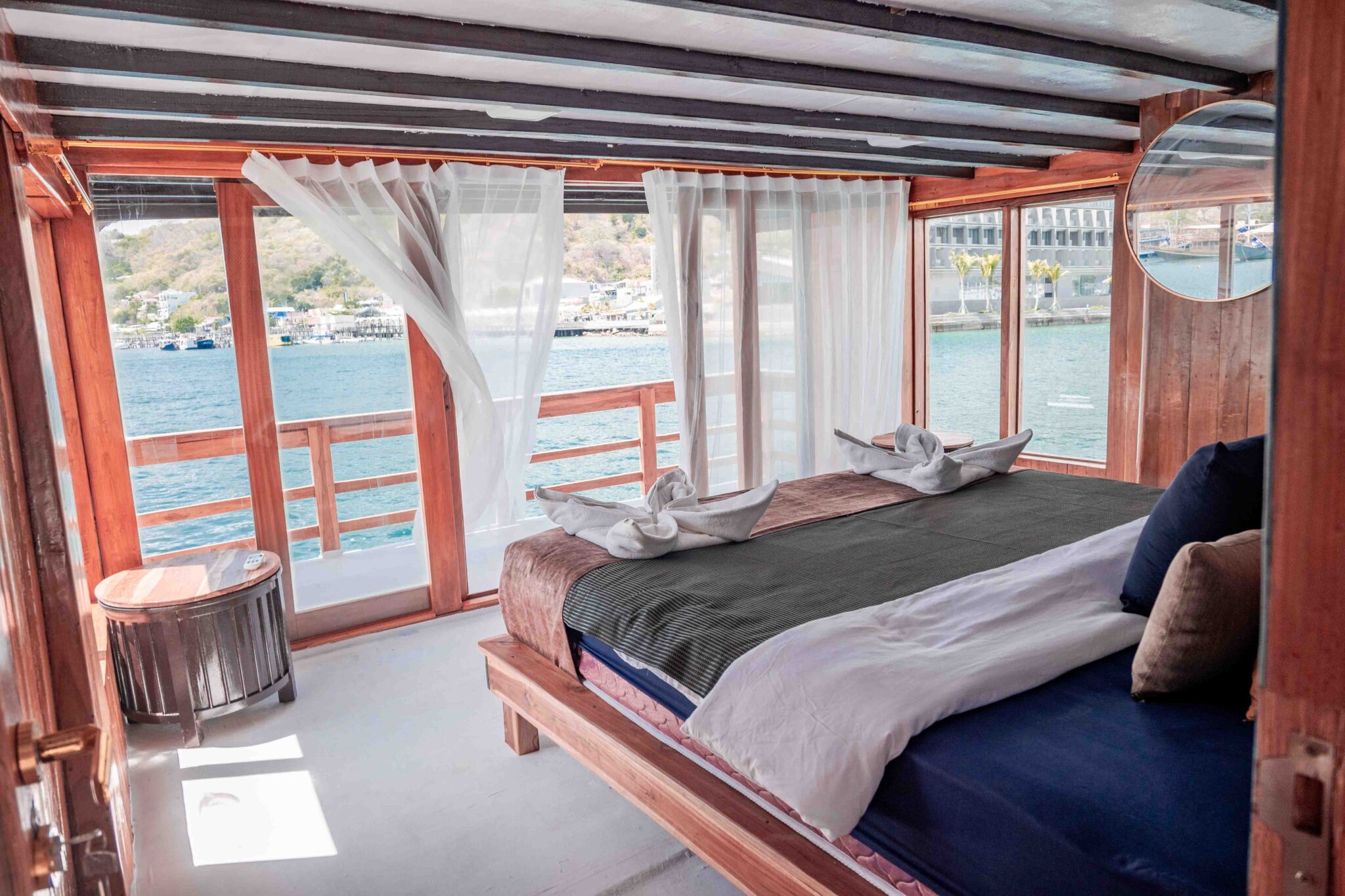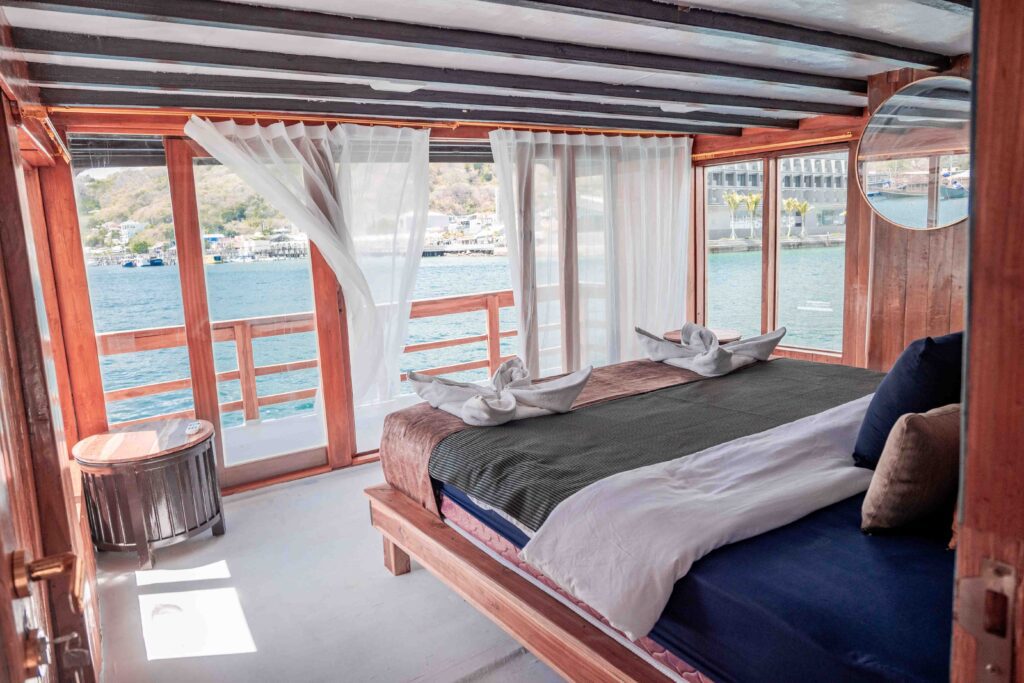 Is there air conditioning on the boat?
Most boats, even budget-friendly options, will have some form of air conditioning. Usually in the bedrooms. However, with limited power and high temperatures, it may not always be extremely effective. More luxurious boats have modern AC units which will make sure your cabin is always at a comfortable temperature.
The crew and guide
There will be anywhere between five and 20 crew members on board your trip to Komodo. This will include kitchen staff, boat crew and guides to take care of your every need. Most tours have at least one designated guide who will accompany you on trips to the islands and join you in the water when snorkelling. Some tours also have a content creator on the boat who will provide guests with high-quality drone shots, photographs and GoPro footage after the trip. The guide will also act as a point of contact between the crew and the guests and help with any language barriers.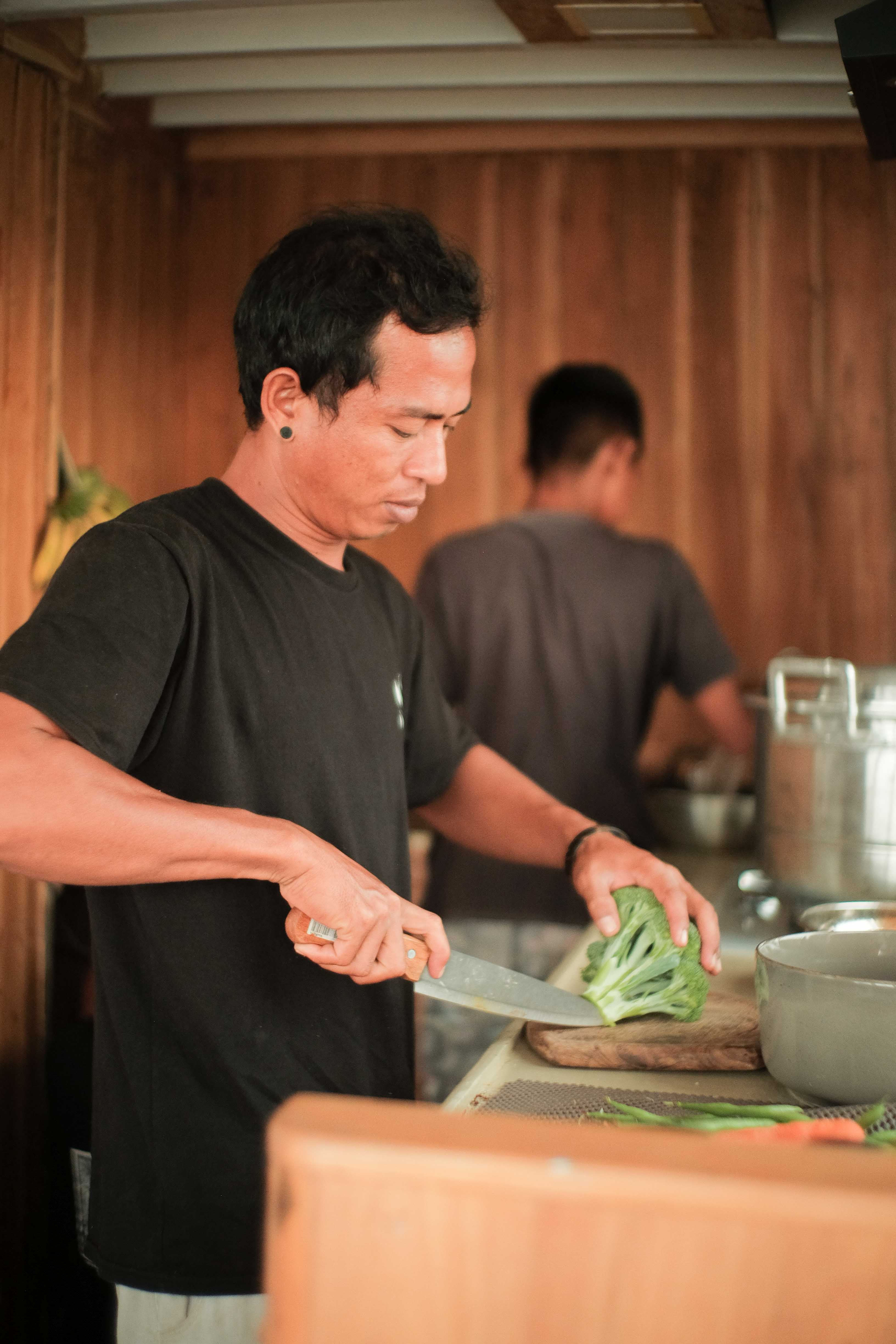 The food on your boat tour to Komodo
Liveaboard boat tours from Labuan Bajo to Komodo National Park provide three meals per day for guests as well as occasional snacks in between. The quality of the food will depend a lot on the type of boat tour. Generally, they serve a lot of fish and fresh seafood as well as local dishes and Indonesian specialties. Western food is of course also available although mostly on luxury excursions.

Make sure to notify the tour operator of any dietary requirements before you go on your trip to Komodo National Park. Note that more complex issues such as gluten-free diets may be difficult to accommodate so discuss the options prior to booking.

A boat trip around Komodo National Park includes a lot of physical activity such as hiking, swimming or diving. If you tend to get hungry between meals it might be smart to pack some small snacks to keep you going.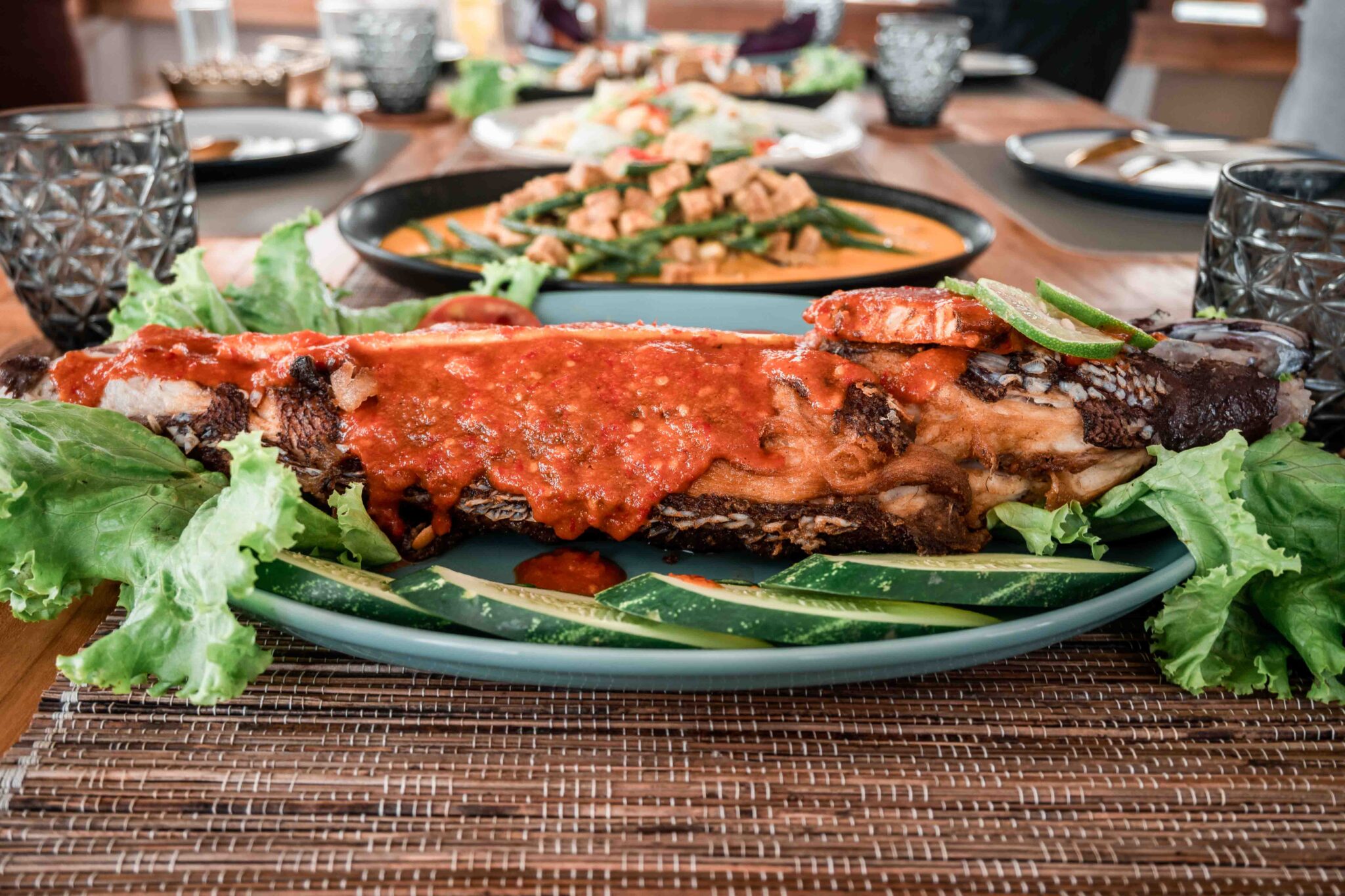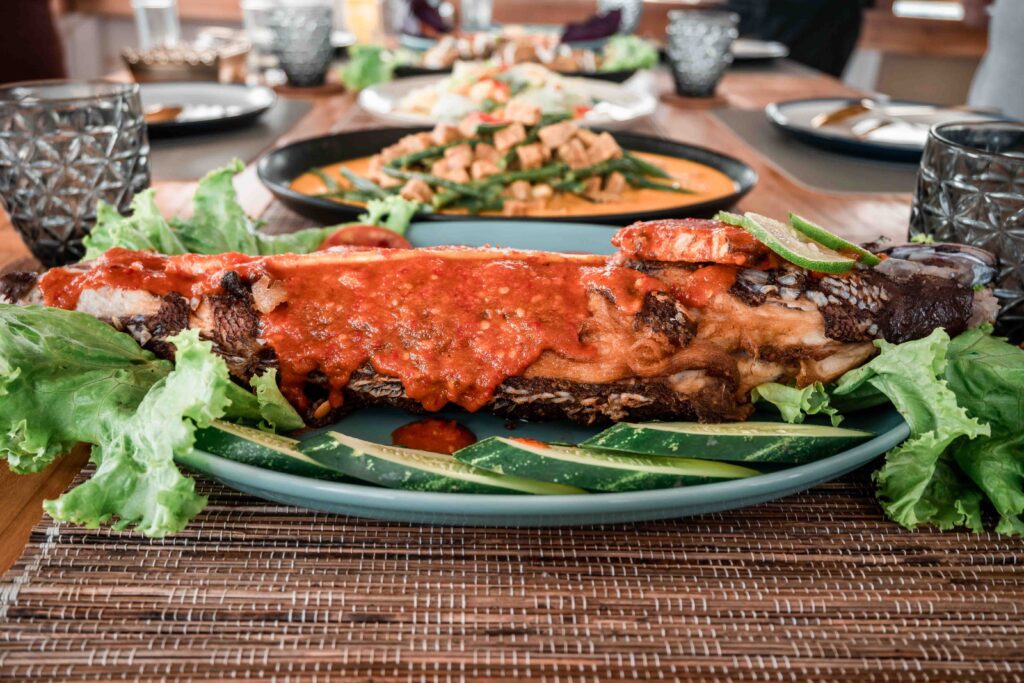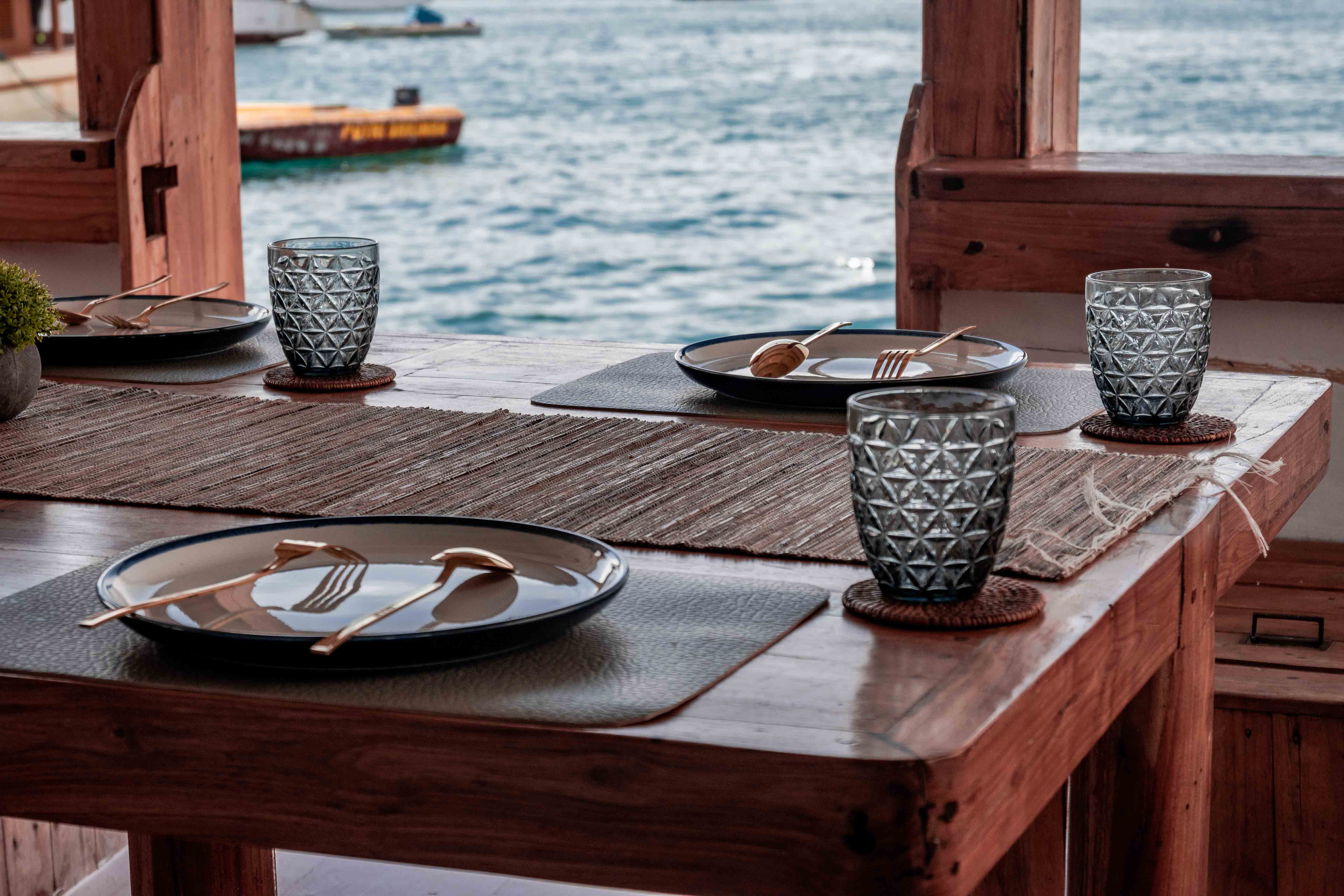 Seasickness in Komodo National Park
Seasickness is a major concern for many people planning a boat trip around Komodo National Park and its islands. Luckily, the sea is usually smooth in this area, especially during the high season between June and September. However, there may still be rough patches where you'll experience some higher waves. It's best to bring motion sickness medication with you which can be taken preemptively. Labuan Bajo has a pharmacy although you might find a better selection of medications in places such as Bali or Jakarta.

Most people feel slightly queasy on the first day of the trip and then quickly get used to the motion of the boat. The trip won't be crossing stretches of open ocean and few guests experience extreme seasickness. You'll be spending time on land every day of the trip which will be a nice change from the rocking of the boat.
My tip: Personally, I found that ginger candy was a great natural remedy against seasickness. Ginger is proven to help with nausea although it's mostly suitable for mild cases or prevention. Ting Ting Jahe Confectionary, which comes in a white, red and blue bag is available in most supermarkets in Indonesia, including Roxy Mart in Labuan Bajo. In addition to that, drinking reasonable amounts of alcohol also helps me personally when dealing with seasickness.
Finding the best travel insurance for Labuan Bajo
Travel is full of unforseen circumstances and it's important to have a fallblack plan in case things go wrong. SafetyWing has the best travel insurance plans for both longterm nomads and travellers on shorter trips. Monthly payments are reasonable and more affordable than you might think. Whether you're seasick on a boat in the middle of the Indonesian ocean, or dealing with injuries from a scooter accident, SafetyWing has got your back.

They also offer plans which include coverage in case of lost baggage, cancelled flights or changes in your travel schedule. Every traveller needs insurance, even if you'll only be away for a few weeks. You'll want peace of mind in case things go wrong.

Find out all you need to know about SafetyWing here.
Considering a liveaboard boat trip to Komodo? Save this image to have all the important info!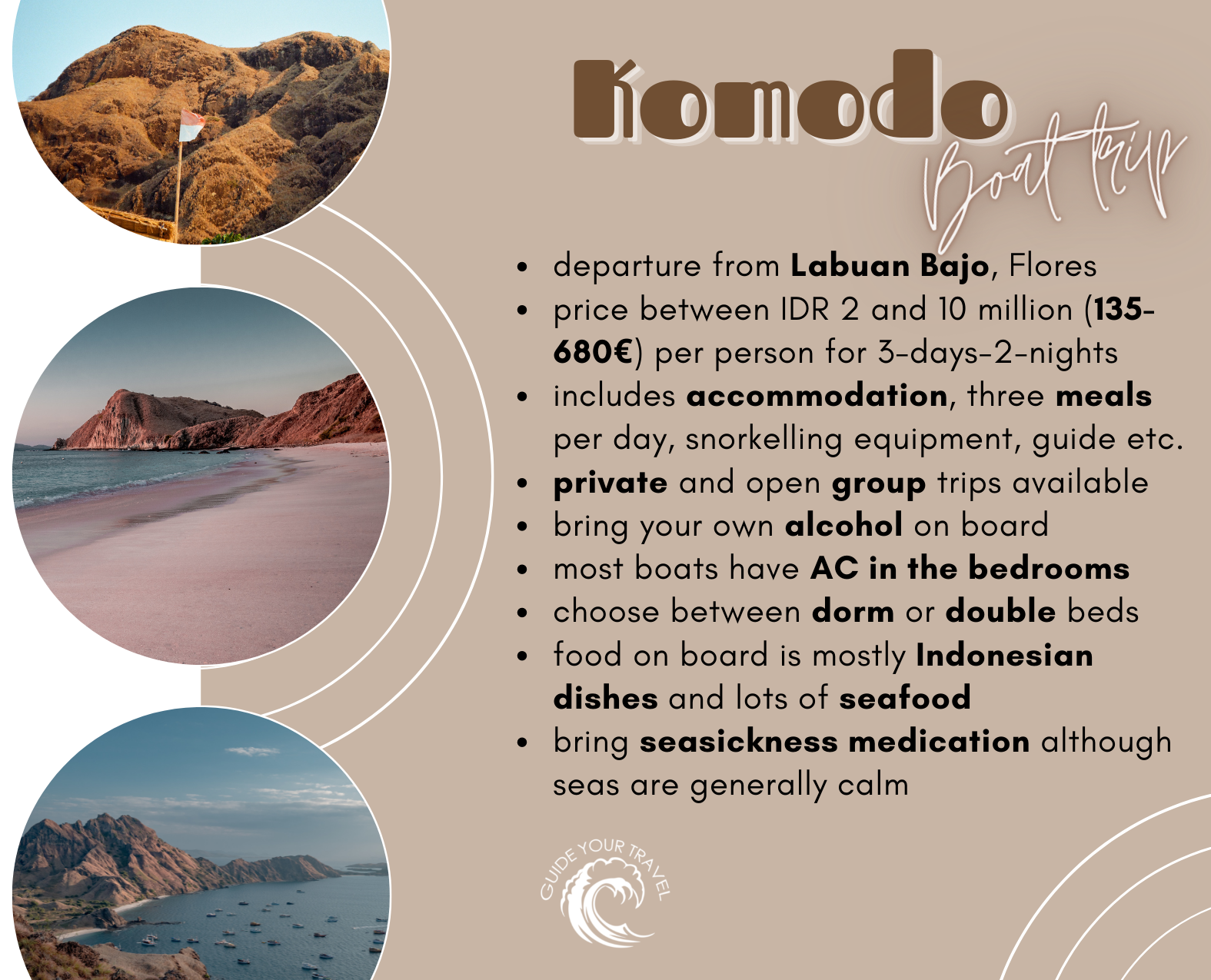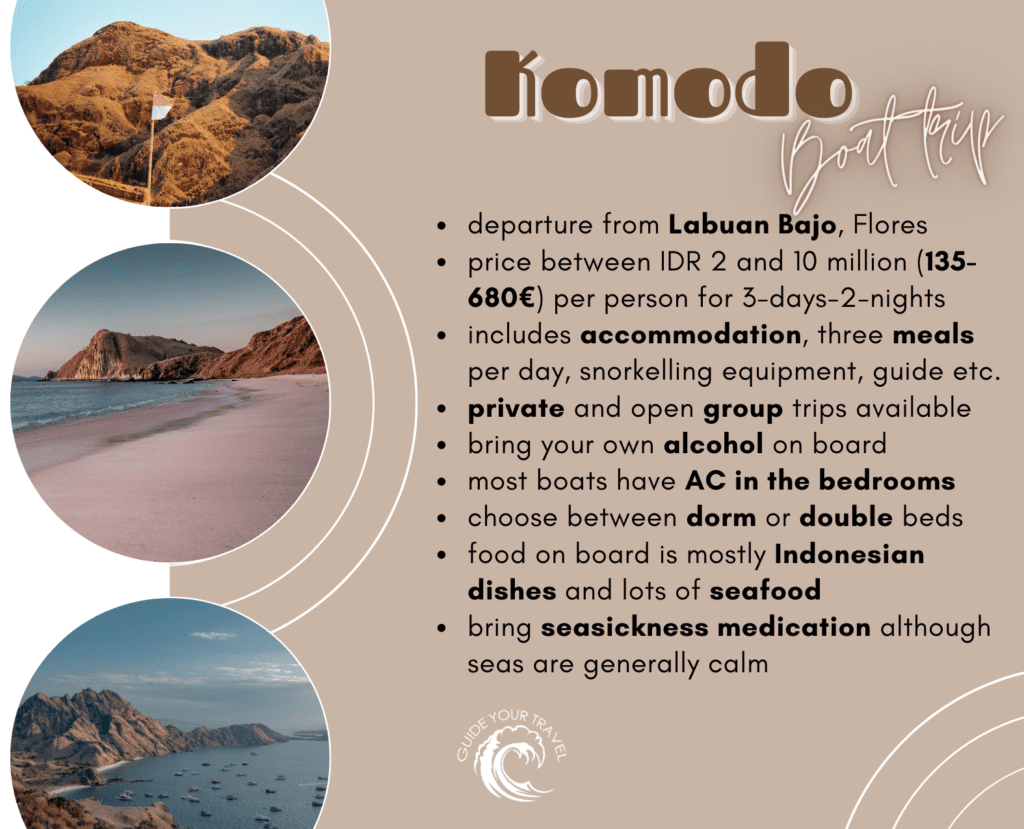 Is there alcohol on board?
The majority of boat tours ask you to bring your own alcohol and do not sell any on board. Some of the islands such as Kanawa and Rinca may have some for sale but the selection is small and prices are high. For example, IDR 80,000 (~ €5.40) for a large Bintang.

If you want to have a few drinks during your time on the boat, make sure to go shopping in Labuan Bajo where you'll find several Roxy supermarket stores as well as a small liquor shop. Labuan Bajo produces a high-quality Arak, a local spirit made from coconut and sugarcane which is a popular drink on board local boats.

Keep in mind that you need to bring all alcohol you plan on drinking during the trip with you and make sure to ask if you are able to store your drinks in a fridge on the boat.
Is a boat tour to Komodo suitable for children or those with limited mobility?
There is generally no age limit for boat tours to Komodo National Park. However, since boats often have low railings and various hazards they are not suitable for young children under the age of 6. Ask your operator before you go and consider other options such as day trips if you're travelling with young children.

Unfortunately, those with limited mobility may not be able to enjoy a boat trip to Komodo National Park. The main concern would be getting in and out of the boat and the tender which is a challenge in itself. More luxurious boats may be able to cater to these needs though so consult with the operator ahead of time. However, the islands in the National Park are not very accessible and staying on the boat for the majority of the trip may be the only option.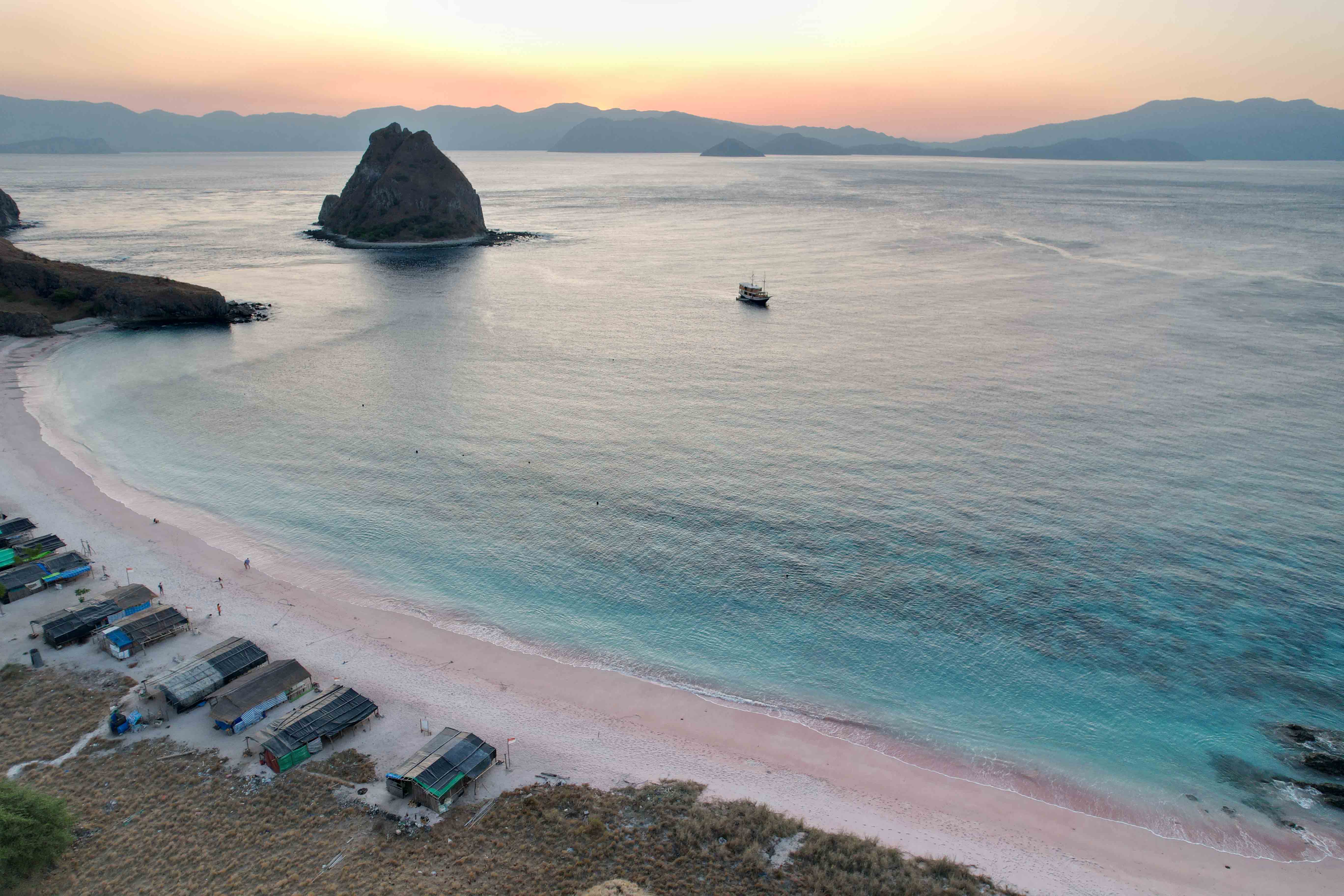 What to pack and bring on a boat tour to Komodo
Some things you should bring on a liveaboard boat tour through Komodo National Park include:
Clothing, swimsuits and cosmetics
Beach towel, sarong or microfibre towel
Sunglasses
Flipflops/slides
Trainers/sneakers for hiking
Snacks
Seasickness medication
Alcoholic drinks
Enough cash to cover national park fees
What you do not need and should leave at home:
Laptop (unless you need it for work)
Makeup (you'll be swimming every day)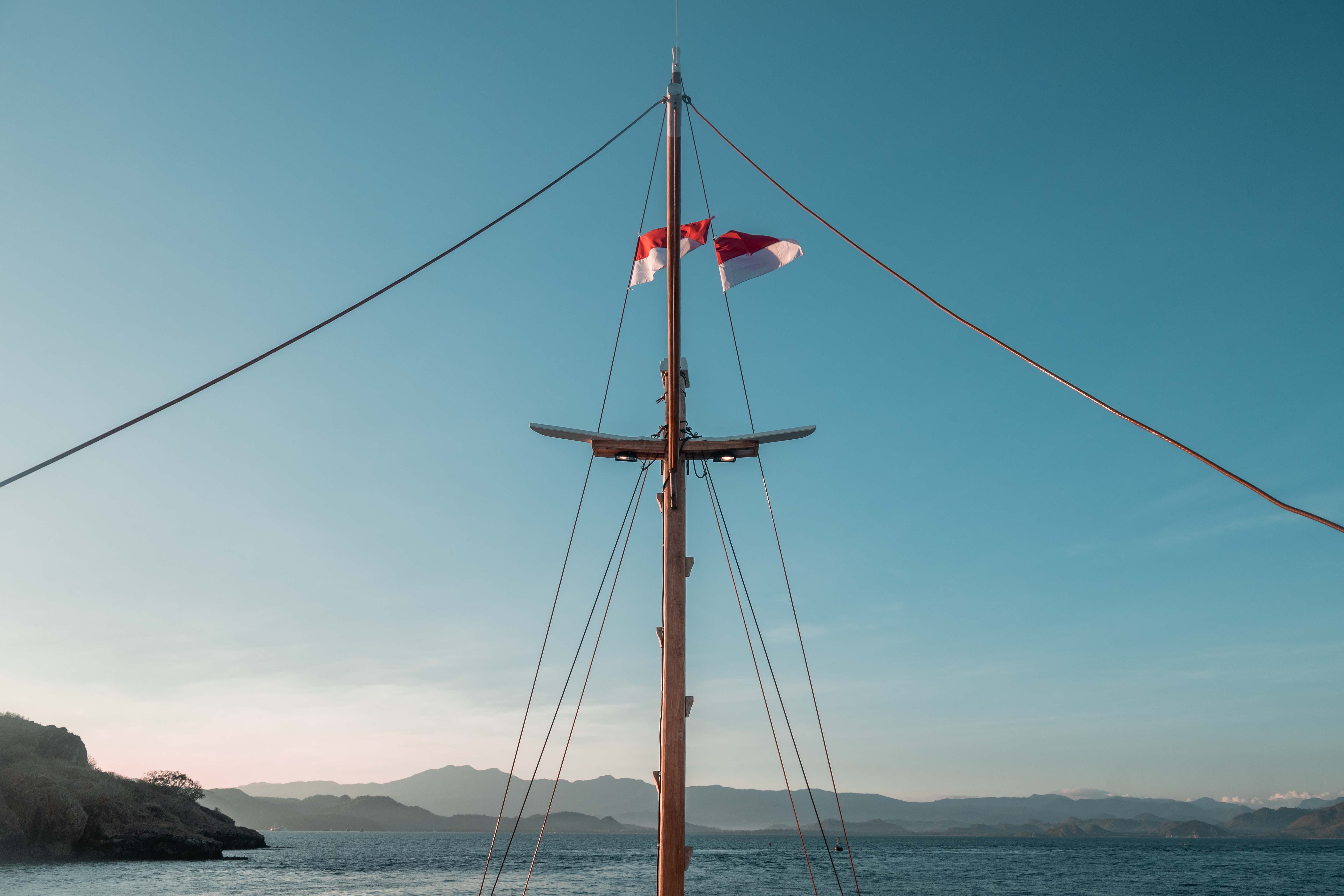 Things I wish I knew before going
Here are some things I wish I knew before going on a liveaboard boat tour to Komodo National Park:
You'll need more cash than you might expect. Between entrance fees, the occasional drink and maybe a souvenir you could run out so make sure to bring some spare cash from Labuan Bajo. There are no ATMs in the park.
The islands charge different national park fees and you might have to pay several times. Usually, the entrance fee is valid per day (meaning you'll have to pay again if you visit the park on several days) but there are also islands that charge separate fees. Entrance prices vary on weekends and public holidays.
It takes some time to get your sea legs but once you're back on land you'll miss the motion of the boat. You'll feel like you're on the boat for a few days after the trip has ended.
The park is very large so it may take some time to get from one location to another. Keep this in mind when planning your trip and note that you may not be able to see everything.
The currents are very strong close to the islands so snorkelling often requires a lot of effort and is far more exhausting than you might be used to.
Everything on the boat is always salty and slightly damp. Bring a few extra outfits so you can change multiple times per day after swimming or hiking.
The food on board will mostly be Indonesian with a lot of fish and seafood. Expect to eat basic meals if that's not something you enjoy.
If you're on a group trip your experience will be influenced heavily by the other people on the trip. Keep an open mind and try to make friends even if the other people aren't necessarily in your age group.
While there is cellphone reception in large parts of the Komodo National Park, it can be spotty sometimes. The majority of liveaboard boars do not have WiFi.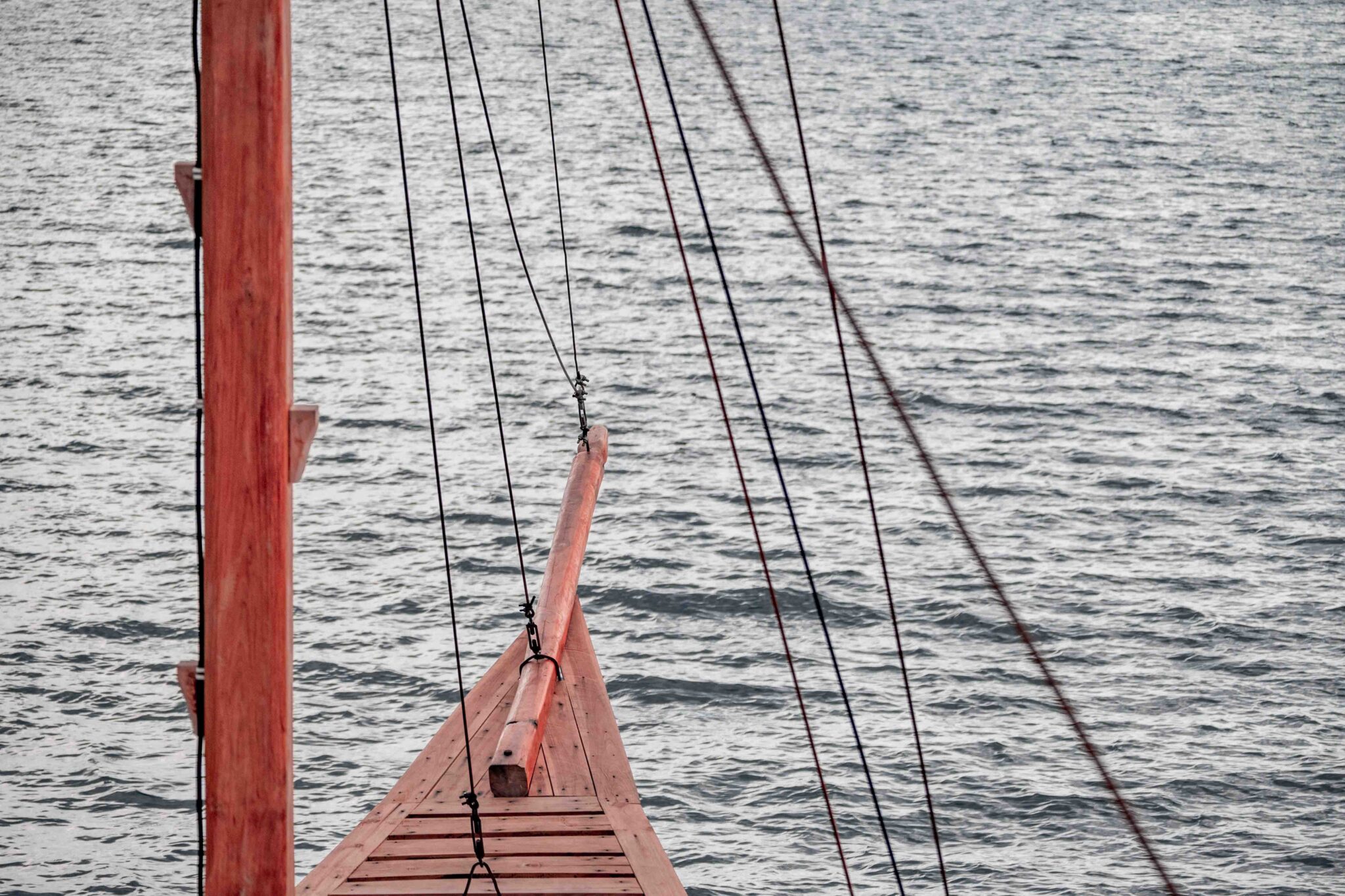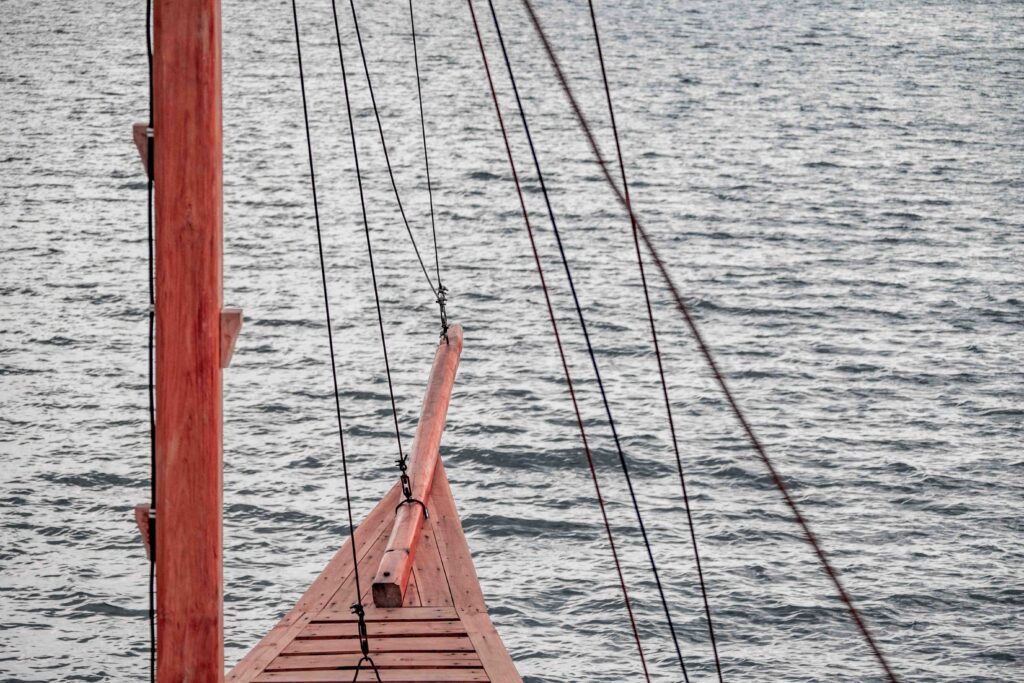 The gateway to Komodo National Park is Labuan Bajo. This small port town, located on the western part of Flores island is where your boat tour to Komodo will most likely begin. While there are some options that depart from Lombok, they tend to be far more expensive and involve a lot more time at sea. The best way to reach Komodo National Park is to fly to Labuan Bajo from either Bali, Jakarta or Surabaya and then go on a boat trip from there.

It's not possible to see Komodo National Park without going on a boat.
Read our complete guide on how to get to Komodo National Park here.
Most visitors stay in Labuan Bajo and then go on an overnight liveaboard boat trip to see Komodo National Park. Large parts of the park are uninhabited and protected so there are few hotels to choose from outside of Labuan Bajo. Here is a selection of the best ones suitable for all budgets: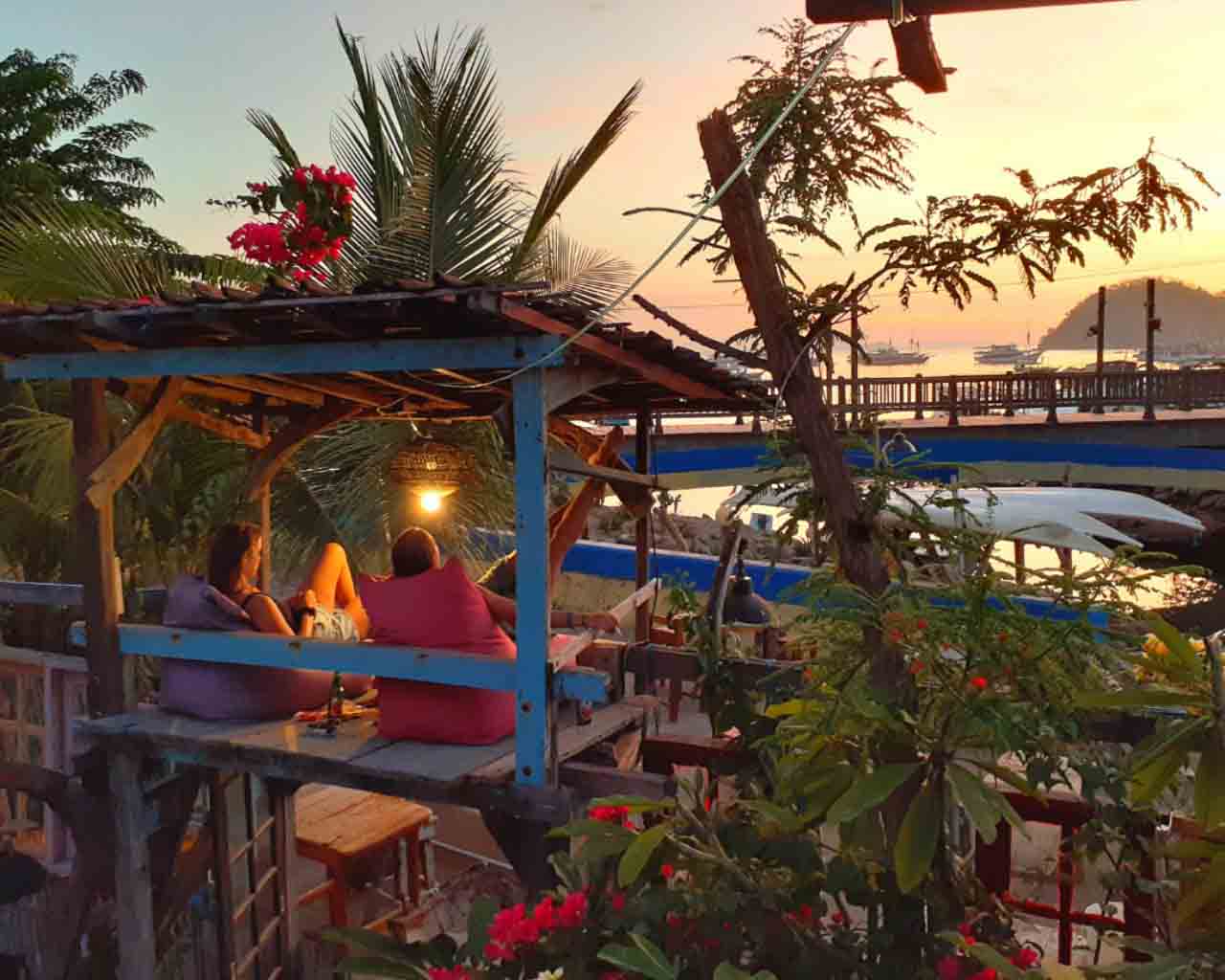 Budget – La Boheme Bajo
Popular social hostel with budget-friendly dorm and private rooms. Its central location and lively atmosphere makes it the best choice for budget travellers.

Price range: 7€ – 30€ per night
➼ Agoda
➼ Hostelworld

Mid-price – Le Pirate Island
Beach glamping resort on a remote island outside of the Komodo National Park that won't break the bank even if you go on a boat tour after. Live like a castaway and enjoy quiet days on breathtaking beaches.

Price range: 40€ – 80€ per night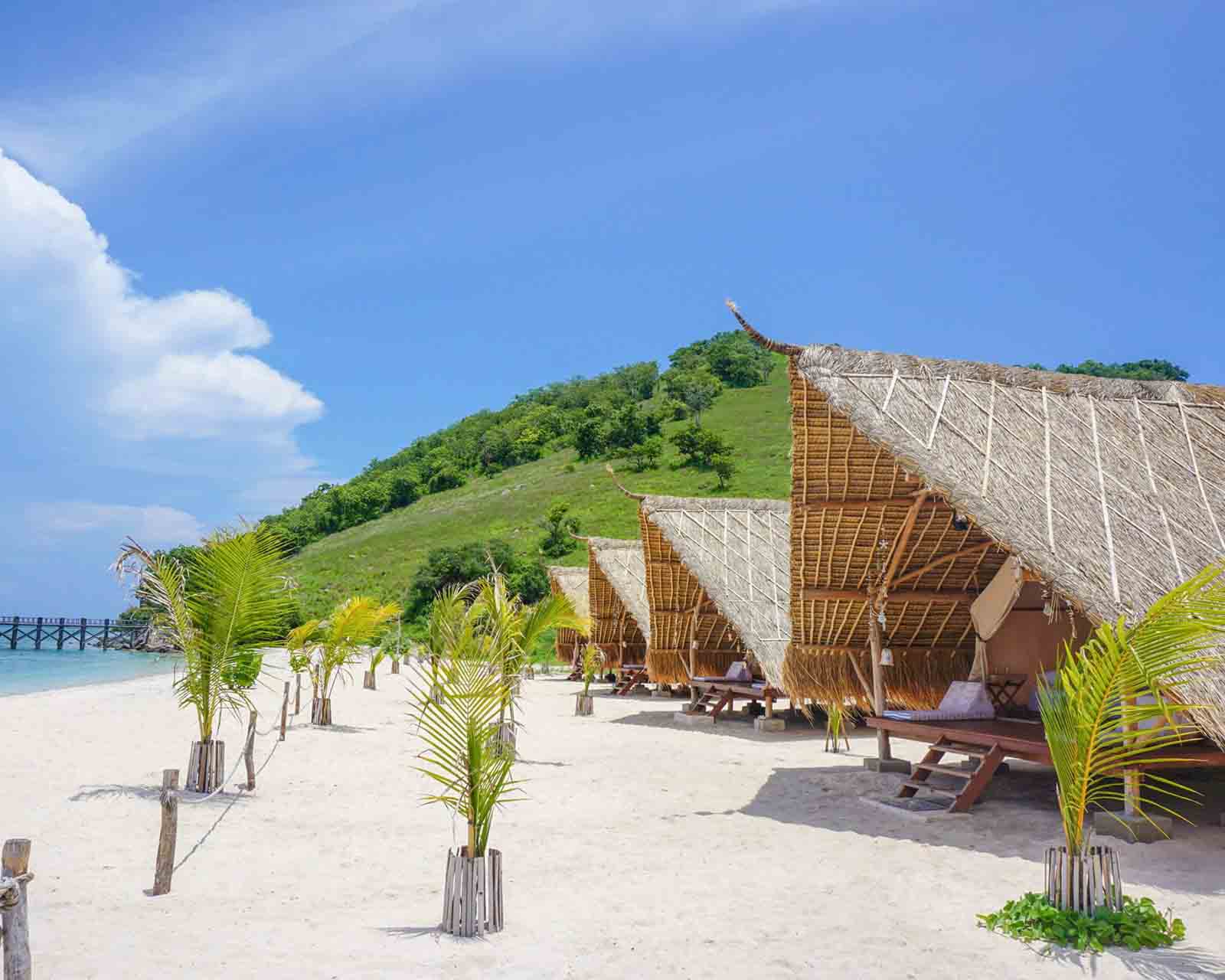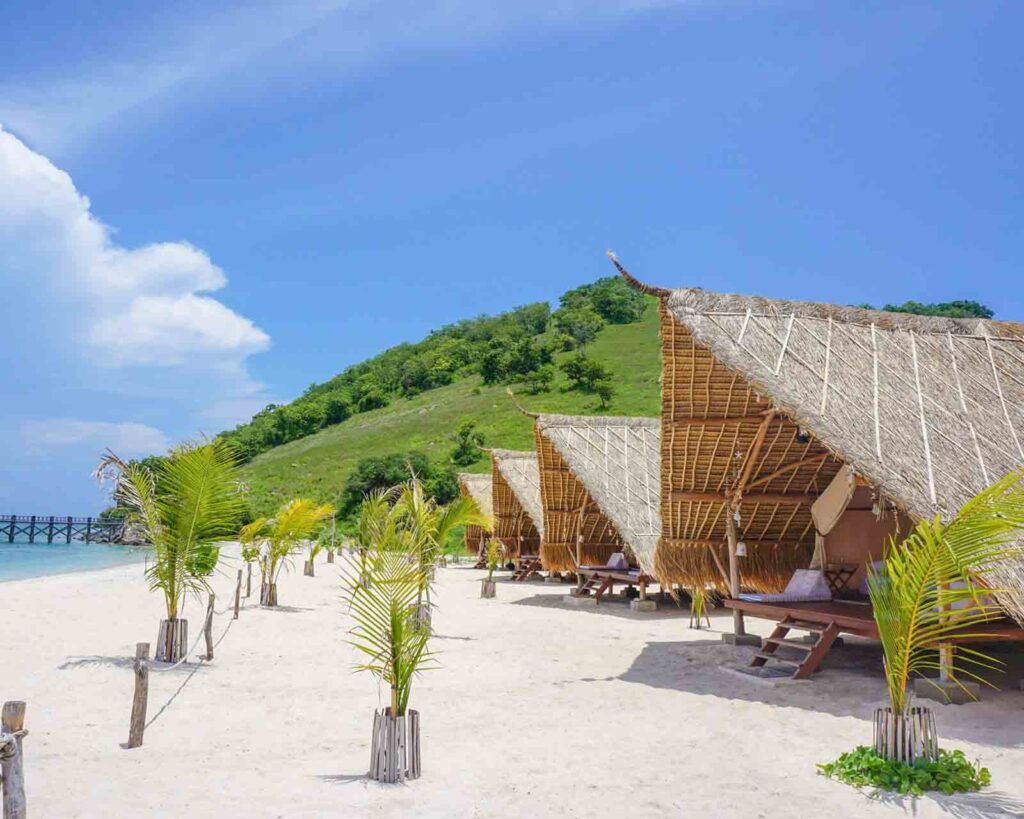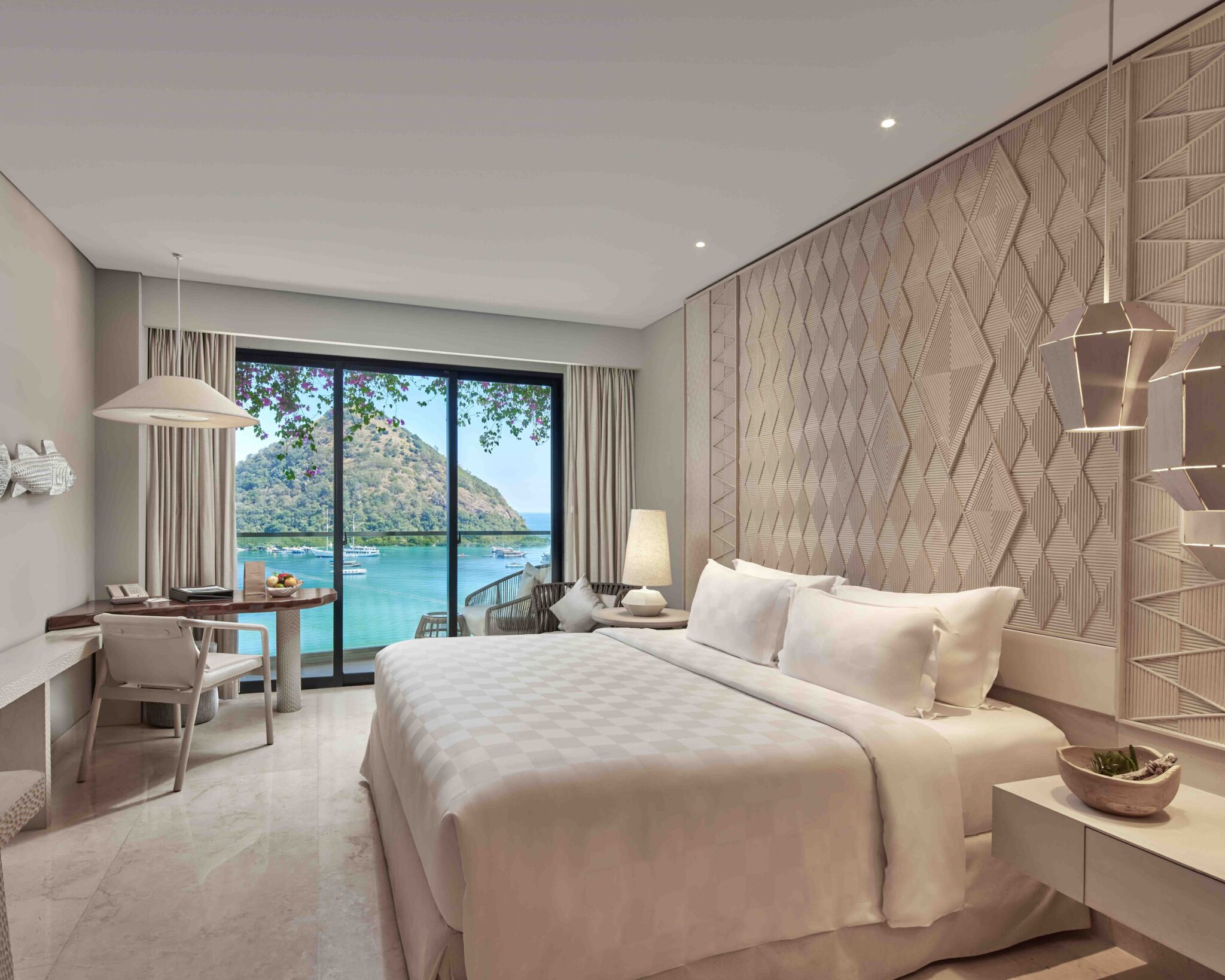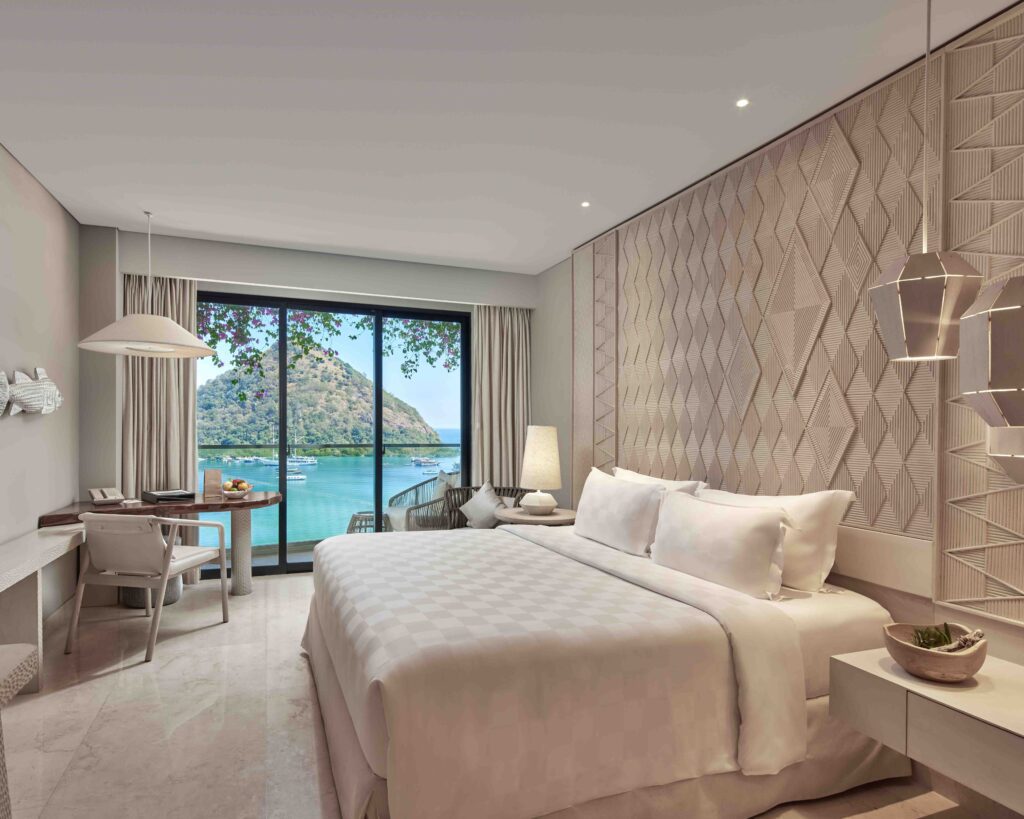 Luxury – AYANA Komodo
Beautiful resort located north of Labuan Bajo with luxury amenities, ideal for a special occasion or upscale vacation. Splurge on a romantic dinner or book a high-end boat tour through them.

Price range: 230€ – 300€ per night
Top tip: Find the best places to eat in Labuan Bajo in our complete restaurant guide.
Click the images below to pin this post to Pinterest and save for later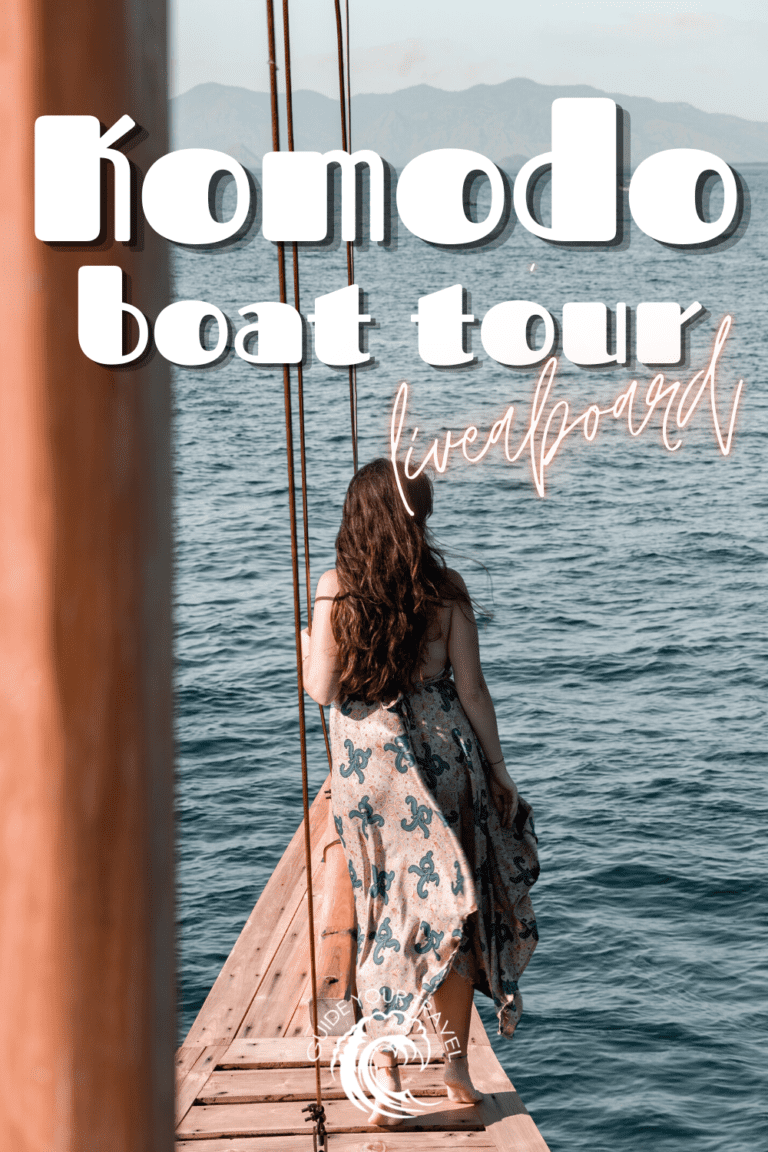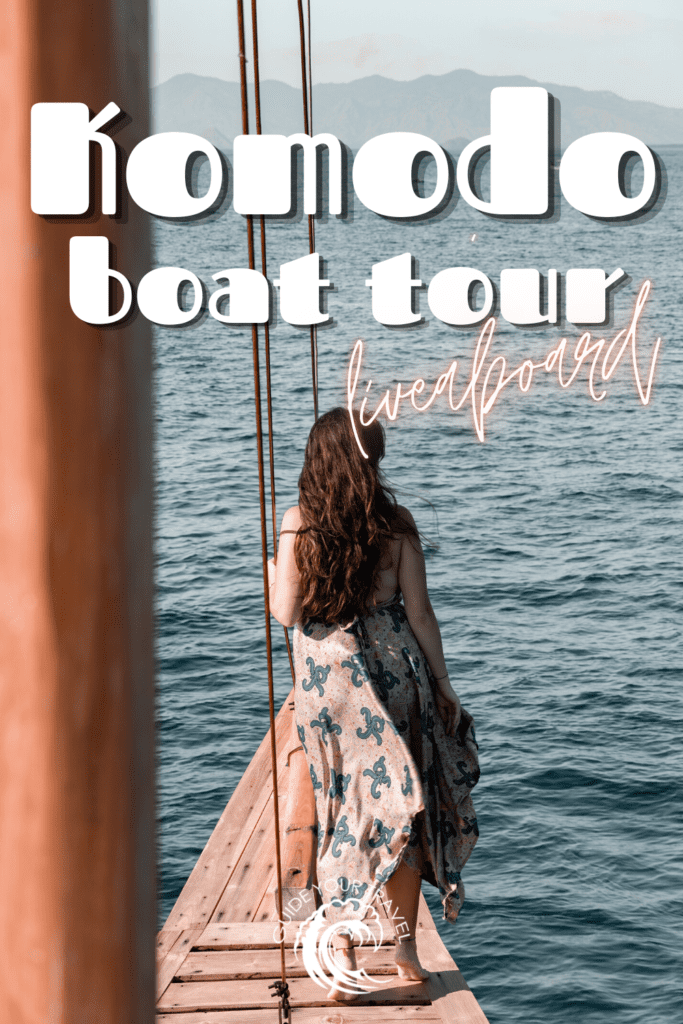 My most important travel tips and resources
Book your flights
Skyscanner is the best website for finding cheap flights since it works like a search engine so you can find the best deals across all airlines.

Book hotels and hostels
• Booking.com: Best world-wide
• Agoda: Best in South East Asia
• Hostelworld: Best for hostels

Book tours, transport and rental cars
•Viator: The best place to book tours, day trips and excursions for al budgets
•12Go: Great for ferries, trains, transfers and buses in South East Asia
•Discover Cars: Best deals for rental cars around the word

Get travel insurance
Every traveller needs travel insurance and I mean every single one. SafetyWing covers you in case of injury, illness or worse and they've got your back if your bag is stolen, flights are cancelled or in case of a natural disaster.

Pay abroad
Ask any traveller, Wise is the best choice when it comes to sending money abroad. They've always got the best exchange rates, lowest fees and their visa card is great for getting cash out or paying abroad.

Things every traveller needs:
➼ Osprey Farpoint 70 Backpack
Detachable daypack, ultra-light, durable and free repairs for life. There's a reason why so many backpackers have this bag.
➼ Packing Cubes
Packing cubes are a gamer changer, keeping your luggage organised and providing tons of extra space.
➼ Power bank
There is nothing worse than running out of battery on an overnight bus journey or a long flight. With a powerbank you can charge your eletronics on the go and make sure you're always connected.
➼ Micro-fibre towel
These lightweight towels are foldable, fast-drying and so useful when you're travelling.

➼ You can find 15 more things every traveller needs here. Some might be a bit controversial but I warned you!
Did I miss anything?
If you have any questions or feel like something is missing from this post please leave a comment below or contact me.