WHAT TO TAKE ON A TRIP – DECIDING WHAT TO PACK
We all tend to pack way too many things when deciding what to take on a trip. Less always tends to be more which is why we came up with 19 things that every traveler needs to pack for the perfect trip. When choosing what to take on a trip you'll want to make sure that you're only taking products and items you're actually going to need. These need to be durable and high-quality. It's definitely worth investing in products that might be a bit more expensive but won't break when you're in the middle of nowhere. There's nothing worse than packing for a 6-month-long trip and having to buy a new backpack halfway through because you went for the cheapest one.
That being said our website focuses on budget travel and backpacking which we like to reflect in our travel packing hacks as well. Don't get us wrong, you don't need the most expensive travel gadgets for backpackers either! We've come up with this affordable travel essentials list with 19 things that every traveler needs. Some items might be a bit more pricey but we tried to find a balance between quality and budget-friendliness. These are all packing must-haves that we can personally recommend and think every traveler should have, no matter the budget.
No idea where to go next? Here are 15 travel destinations for every budget.
Our blog posts contain affiliate links. These don't cost you anything extra, but let us keep Guide your Travel free and provide high-quality content for you. Thank you for your support!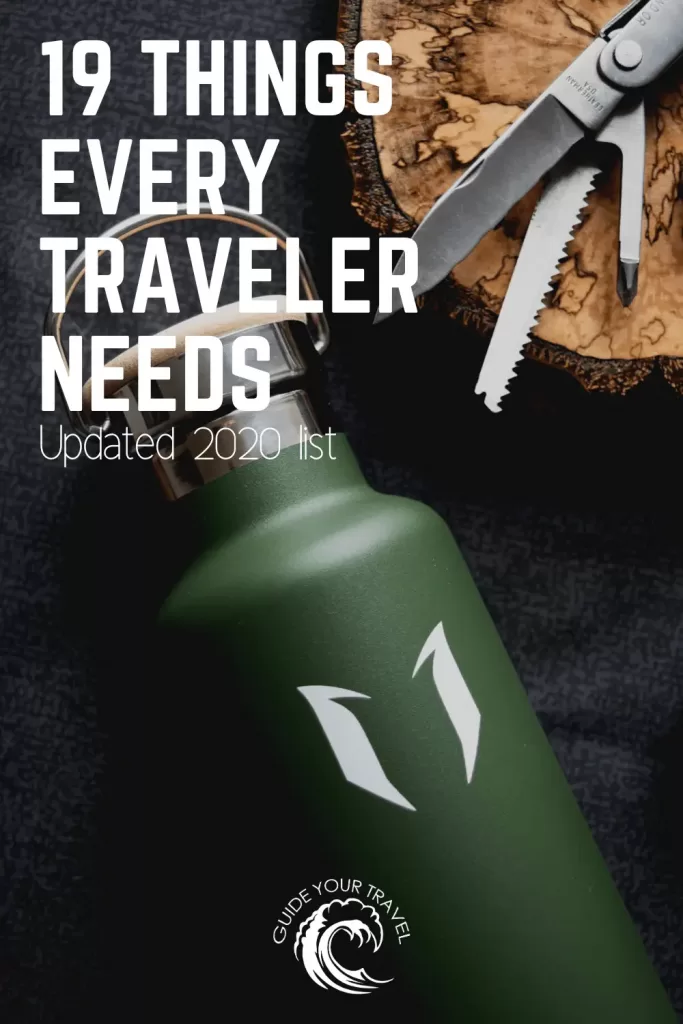 THINGS EVERY TRAVELER NEEDS – WHAT THIS TRAVELING ESSENTIALS LIST FOCUSES ON
When coming up with this list of travel gadgets for backpackers we decided to focus on key items that we think you might be missing when you plan your packing list. This includes two types of cameras which might not be necessary for everyone. We at Guide your Travel are passionate photographers and usually carry at least two cameras (sometimes three) plus a drone.
Of course, most people tend to take only one or maybe not even that. Still, we think that if you haven't had the chance to work with a GoPro you're missing out! The same goes for a professional camera. You'll notice an incredible difference to just taking pictures with your phone. So why not consider looking into stepping up your photography game and taking your pictures to the next level.
Now let's start and have a look what travel packing hacks you might be missing out on.
WHAT TO PACK: THINGS EVERY TRAVELER NEEDS AND TRAVEL GADGETS FOR BACKPACKERS
1. LIGHT-WEIGHT AND QUICK-DRYING MICROFIBRE TOWELS
It's always a good idea to carry your own towels with you when you travel. If you're staying in budget accommodation towels might not be provided or even if they are you might not be allowed to take them to the beach. Since saving space is key I highly recommend investing in a microfiber towel which is a lot smaller than a regular one. In addition to that, these dry a lot more quickly and are just more convenient to take with you when you travel. They're easy to clean and can double as a beach towel. Definitely a backpacker must-have and should be on the top of your list when deciding what to pack.
2. A HIGH-QUALITY WATER BOTTLE
This is one of the most important items every traveler needs. As eco-friendly travel is becoming more and more important being environmentally conscious is an absolute must for every tourist. Reduce your plastic waste considerably and save money while you're at it by investing in one of Super Sparrow's reusable water bottles. They're affordable and very durable. I've tried quite a few travel water bottles and the Super Sparrow bottles are definitely my favourite. They have many different types in different sizes and some even double as a thermos. Definitely a worthwhile investment.
In many countries, you can now find water refill stations, often even for free. Taking a water bottle with you is a gamechanger. It's usually best to use a metal bottle since they're easy to clean and lightweight. Click the link above to check out Super Sparrow's large selection of bottles.
3. A MULTIFUNCTIONAL TOOL
Having a knife with you while you travel can have a lot of benefits. It can be very useful if you want to buy fruit as a snack or are cooking for yourself. This backpacking must-have gear is especially useful when there are multiple other tools such as pliers, a saw, a bottle opener or scissors included. That way you always have the right tool with you. Multiple companies such as Leatherman or Victorinox offer high-end multi-functional tools, however, they are far from budget-friendly. I'd recommend you add a cheaper tool to your traveling essentials list. They still do the job! Make sure to always put these tools in your checked luggage when you fly.
If you're still wondering what to pack and take on your trip while still protecting the environment we have the post for you! We collected 15 sustainable travel products to take on your next trip so you can take the first step towards being a more sustainable traveler. This includes quite a few cosmetic items, however, also some others that might surprise you. Click the link to find out more about these travel packing hacks and how most of these products will actually save you time and space while packing.
5. A LIGHT-WEIGHT DRY BAG
A dry bag is a waterproof bag that comes in many different sizes. But dry bags aren't all made equal. You'll find some very heavy-duty ones that are best for long outdoor adventures and others that are a lot thinner and lighter. I recommend investing in a mid-size dry bag that is not too heavy. When deciding what to pack you should focus on space and weight which means a heavy drybag might not be the best way to go. I highly recommend getting one that is lockable which is perfect to protect your valuables on days at the beach or boat trips.
6. A LOCK
A lock is definitely one of the top things that every traveler needs. Especially if you're staying in hostels or shared Airbnbs being able to lock your luggage will be a life-saver. But also in some hotels, you'll just feel better knowing all your valuables are safe. I'd say a combination lock is a lot more convenient since you don't need to worry about losing the key. However, these are easier to crack so be aware of that. One of those great travel packing hacks you shouldn't miss out on.
7. A POWER BANK
It's no surprise that a power bank is an absolute backpacker must-have. Especially if you're camping or travelling long distances you're going to need a lot of power for your electronics. Having a high-power external battery with you will eliminate all your worries about running out of juice in the middle of nowhere. This is one of those travel gadgets for backpackers where I'd recommend investing some money to get a durable and high-quality product. It'll be worth it in the longterm so keep that in mind when deciding what to pack.
8. A FOLDABLE RAINCOAT
Whether you'll need a raincoat will, of course, highly depend on where you're traveling to. However, even if you're not expecting rain the weather might still surprise you. Foldable plastic raincoats are very compact and barely take up any space. Definitely worth adding to your traveling essentials list. You'll never have to worry about your stuff getting wet or running into unexpected rain. One of the best travel packing hacks out there.
9. A HIGH-QUALITY BACKPACK
Before you ask yourself what to pack you should first consider what bag you are using. If you only have money to splurge on one thing on this traveling essentials list, make sure to invest it all in a high-quality backpack. That doesn't mean you have to spend hundreds of euros. You can find affordable backpacks from big brands even with a smaller budget. Look out for special sales and offers. Always try on your backpack fully packed before you make the final decision to buy it. You need to be able to carry it for extended periods of time without being too uncomfortable. I personally am a fan of Osprey's backpacks which I'd recommend as an absolute backpacker must-have.
10. PACKING CUBES
Without a doubt, packing cubes are backpacking must-have gear for anyone going on a longer trip. These small packing compartments will help you save space and make it easier to organise your bag at the same time. Packing cubes come in all shapes and sizes and you'll find a huge selection on Amazon. Once you start using packing cubes you'll never want to go back. They're one of the most important things that every traveler needs and one of the best travel packing hacks.
11. A SLEEPING MASK
Another top backpacker must-have is a sleeping mask. Many airlines provide these onboard their flights which is where I tend to get mine. To get an even better sleep experience you should look into the masks below on Amazon. That way you'll always be able to sleep even in the most uncomfortable trains or brightly lit hostels. You need to add a sleeping mask to your traveling essentials list.
12. A RELIABLE HEALTH INSURANCE
Having peace of mind about health insurance will change the way you travel. You need to have reliable insurance that will pay for any medical needs you might have during your travels. None of the travel packing hacks on this list will be of any use if you're not insured properly and get to enjoy your trip. Insured Nomads has a great selection of insurance packages designed especially for longterm travelers. Check out their different levels of coverage and student deals here.
13. A USB CHARGER WITH INTERCHANGEABLE PLUGS
The majority of electronic devices are chargeable with a USB cable. This applies to phones, iPads, cameras, GoPros, power banks and headphones. To avoid having to carry a different charger for every device you can buy a single USB charger with multiple ports. The one linked below even comes with interchangeable plugs so you can use it in every country without having to buy an adapter. I've been using mine for almost 5 years and it's survived every single trip so far. Definitely one of my favourite travel gadgets for backpackers and one of those things that every traveler needs.
14. A LOCAL SIM CARD
This might not be an item you can add to your packing list before you go. However, it should be one of the first things you purchase on arrival. Having a local SIM card will ensure you're always connected to the internet when you travel. That way you can use Google Maps to get around and change your itinerary spontaneously. A SIM card is just one of those things that every traveler needs and an absolute backpacker must-have. While you can purchase universal SIM cards online that work in many countries I highly recommend buying one for each specific location. You'll get a lot more value for your money that way and better data packages.
15. A COMPACT CAMERA
I am a huge advocate of taking a camera with you when you travel. Phones take great pictures but you'll see a huge difference in your content when you start using a camera. What type you chose to take with you largely depends on how serious you want to take your photography. When considering what to pack and take with you on a trip you need to think about the extra weight and hassle of carrying a large camera.

As a beginner, I highly recommend starting out with a bridge camera such as the ones linked below. That way you avoid having to carry multiple lenses with you but still get very high-quality photos. If you're ready to step up your photography game you should look into mirrorless cameras which are lighter and more travel-friendly than DSLRs. Nikon's Z50 is a great place to start if you have a larger budget.
16. A NOMATIC CAMERA BAG
Nomatic is one of the leading innovators in camera bags as well as luggage solutions in general. A high-quality day-pack is one of those things that every traveler needs and should be added to your own personal traveling essentials list. You're going to need a smaller bag to take with you on everyday adventures. Investing in one that holds your electronics perfectly will make your trip a lot more comfortable. Nomatic's 35L McKinnon Camera Pack is an all-in-one solution even if you don't consider yourself a pro photographer. The bag is easily adjustable to hold anything you need it to. No other travel packing hacks needed. Check out Nomatic's large selection of backpacks and equipment here.
17. AN INTERNATIONAL DRIVER'S LICENCE
When deciding what to take on a trip you need to add getting an international driver's licence to your to-do list. Most of the time this is a quick and easy process but that varies from country to country. An International driver's licence is an additional document that you carry alongside your regular licence. This allows you to drive (almost) anywhere in the world and is often needed to rent cars or scooters. Make sure to apply for your licence some weeks before you go on your trip to ensure you've got it ready on time. Every traveler needs to be prepared.
18. BLUETOOTH HEADPHONES
There's nothing better than listening to music or podcasts during long bus or plane rides. Investing in Bluetooth headphones will make your listening experience a lot more flexible and comfortable. No need to worry about cords or having to decide between charging your phone or listening to music. Bluetooth headphones are an absolute backpacker must-have. If you're not restricted to a budget Apple's Earpods are a great choice. However, they are quite pricey, especially for backpackers. I've had great experiences with Aikela's Bluetooth headphones which are linked below. They are available for a fraction of the price and have decent sound quality. Their battery is very durable and the charging case doubles as a power bank for your phone. For the price, they are a great choice and something every traveler needs.
19. A GOPRO
As mentioned before this might not be on everyone's traveling essentials list. However, once I started carrying a GoPro on my travels my photography level increased considerably. Especially if you're going to swim or snorkel on your trip a GoPro needs to be on your traveling essentials list. While there are cheaper options for action cameras from other companies we highly recommend investing in a GoPro if you really want high-quality images and the best user experience. A GoPro is one of those travel gadgets that backpackers might shy away from since it is a little pricier but it is very much worth the investment.