El Rastro is the largest flea market in Madrid and is held every Sunday. Come here to buy random items, art, vintage clothing, jewellery or really anything you might need. Going to El Rastro on Sundays is an integral part of life in Madrid and might just be your favourite activity during your time in the city.
This post may contain affiliate links, which means we'll receive a commission if you purchase through our links, at no extra cost to you. This helps us keep Guide your Travel free and provide high-quality content for you. Please read the full disclaimer for more information.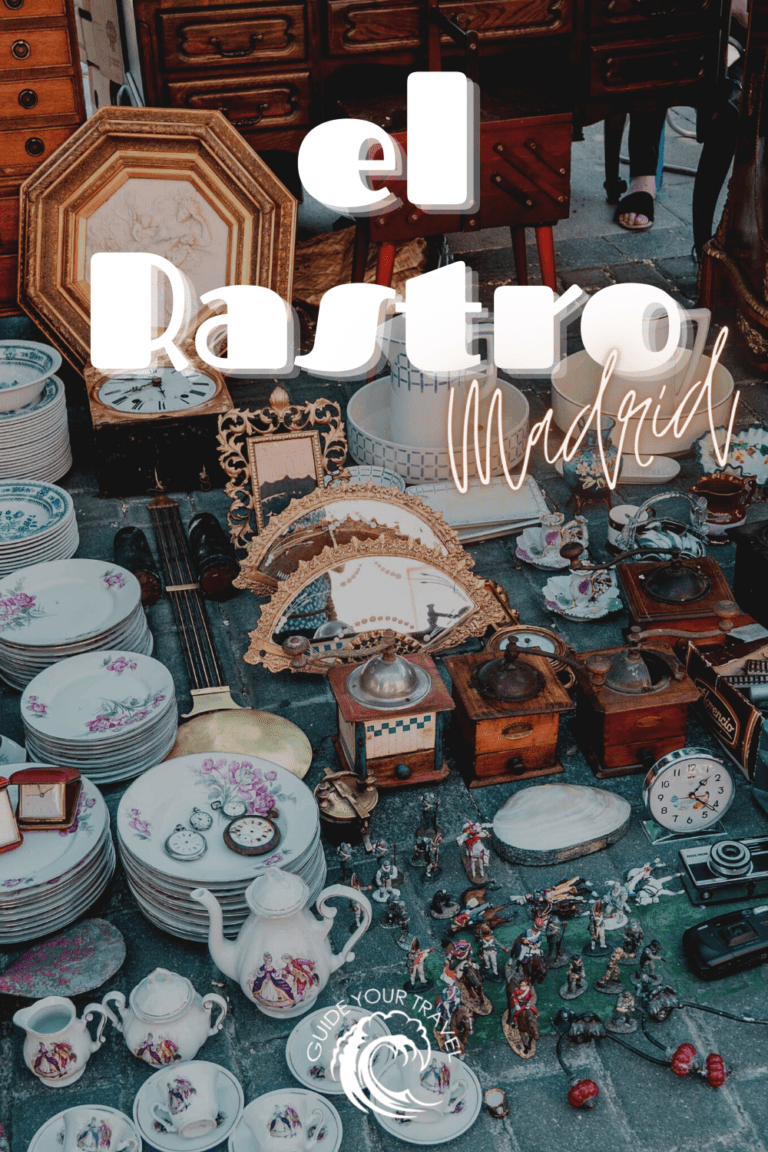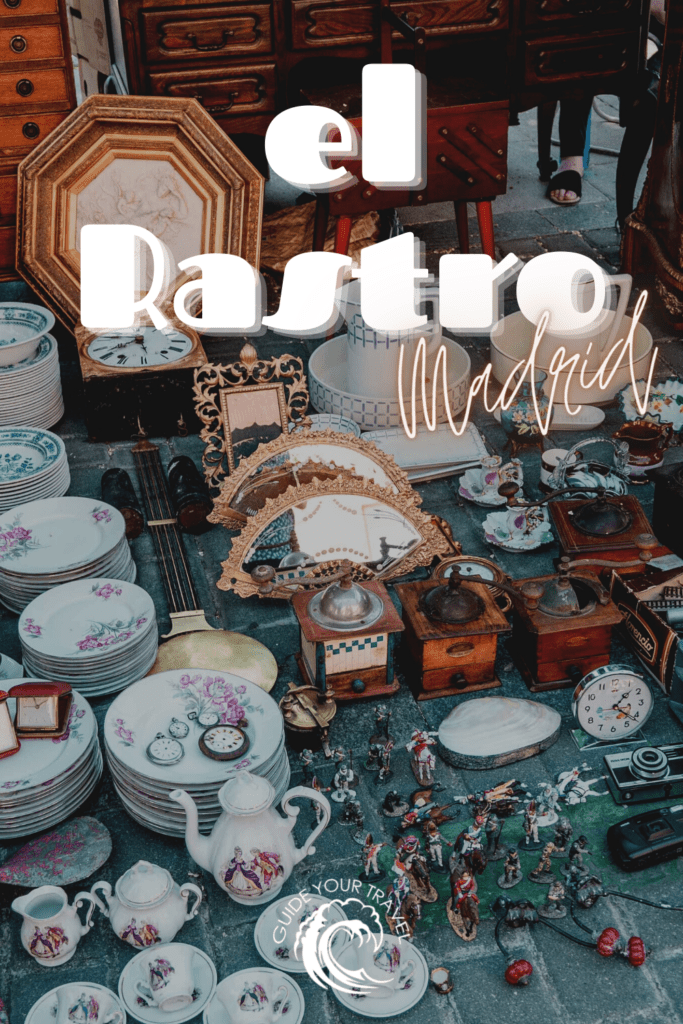 What is El Rastro in Madrid?
El Rastro is considered the largest flea market in Madrid with as many as 3500 stalls. It's held every Sunday in the La Latina neighbourhood and is equally popular among tourists and locals. Going to El Rastro is an experience and a fantastic budget-friendly activity for your Madrid itinerary.

Even if you don't want to spend money on buying anything just exploring and admiring all the antiques and random trinkets on display is incredibly fun.

El Rastro is an open-air market blending into the regular shops and cafes that make up La Latina. If you spent Saturday dancing the night away and wake up tired and maybe a little bit hungover El Rastro is the perfect remedy.

Afterwards, sit in a tapas bar and enjoy a refreshing beer while you immerse yourself in the unique atmosphere that makes Madrid so magical.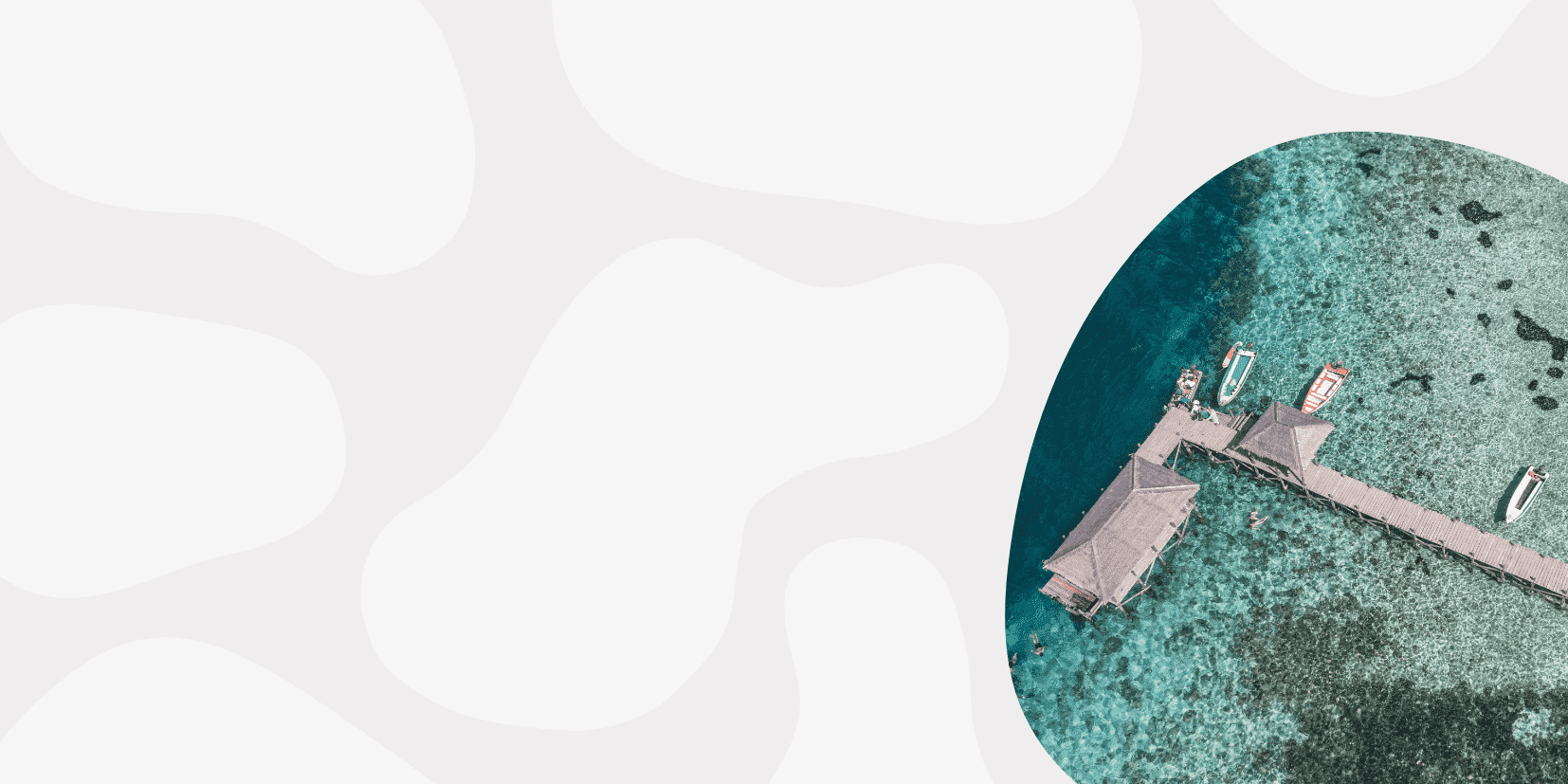 Let me save you time and effort when you're travel planning!

➼ Best travel insurance? SafetyWing
➼ Best place to find cheap flights? Skyscanner
➼ Best bank & credit card for travellers? Wise
➼ Best travel backpack? Osprey Farpoint 70
What can I buy at el Rastro?
El Rastro is a place where you can buy just about anything. The market is primarily known for antiques, art, clothing but also jewellery, souvenirs and household goods.

There is the long Calle de la Ribera de Curtidores which has vendors selling new and more commercialised products. The side streets, however, are reserved for actual flea market goods like antique furniture, art and second-hand clothing.

El Rastro doesn't really have a food section though so if you want to grab a snack head to one of the many little cafes and restaurants in La Latina.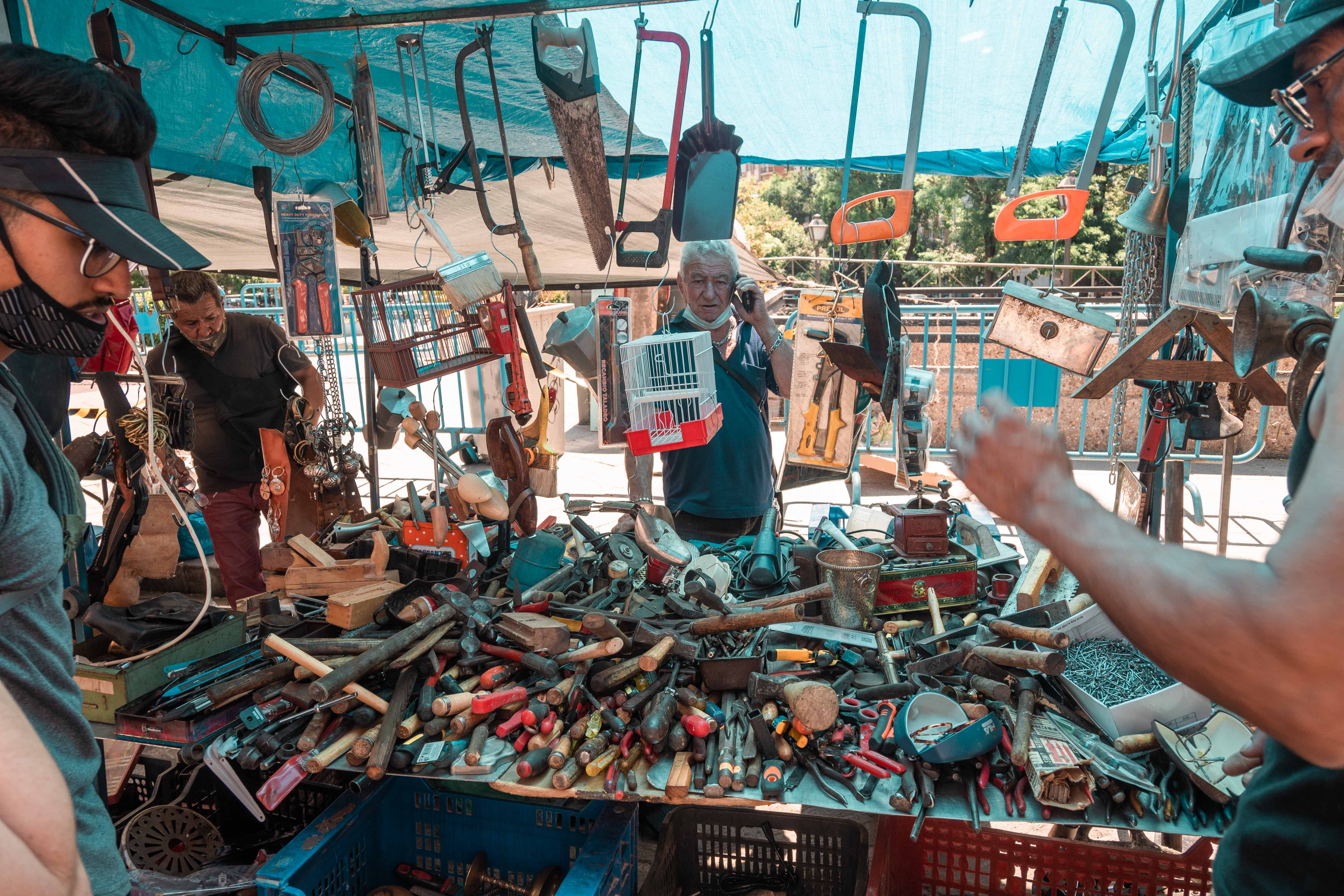 El Rastro history
The flea market El Rastro in Madrid has existed for more than 400 years and some claim it dates back to the Middle Ages. The Calle de la Ribera de Curtidores which marks the heart of the market used to be the location of various leather tanneries.

People began to come here in the 17th century to purchase leather goods and fresh meat. Over the years the market rapidly expanded and people began selling used clothes and items they didn't need anymore. Today El Rastro flea market attracts tourists and locals alike and represents a sort of togetherness and unity of life in Madrid and how it always takes place on the streets.
When does El Rastro take place?
The flea market El Rastro in Madrid takes place every Sunday and on public holidays in Madrid. It is not open on other weekdays.

During some periods of the year, a smaller version of El Rastro is also held on Saturdays, specifically the first and third Saturday of the month. Find up to date information here.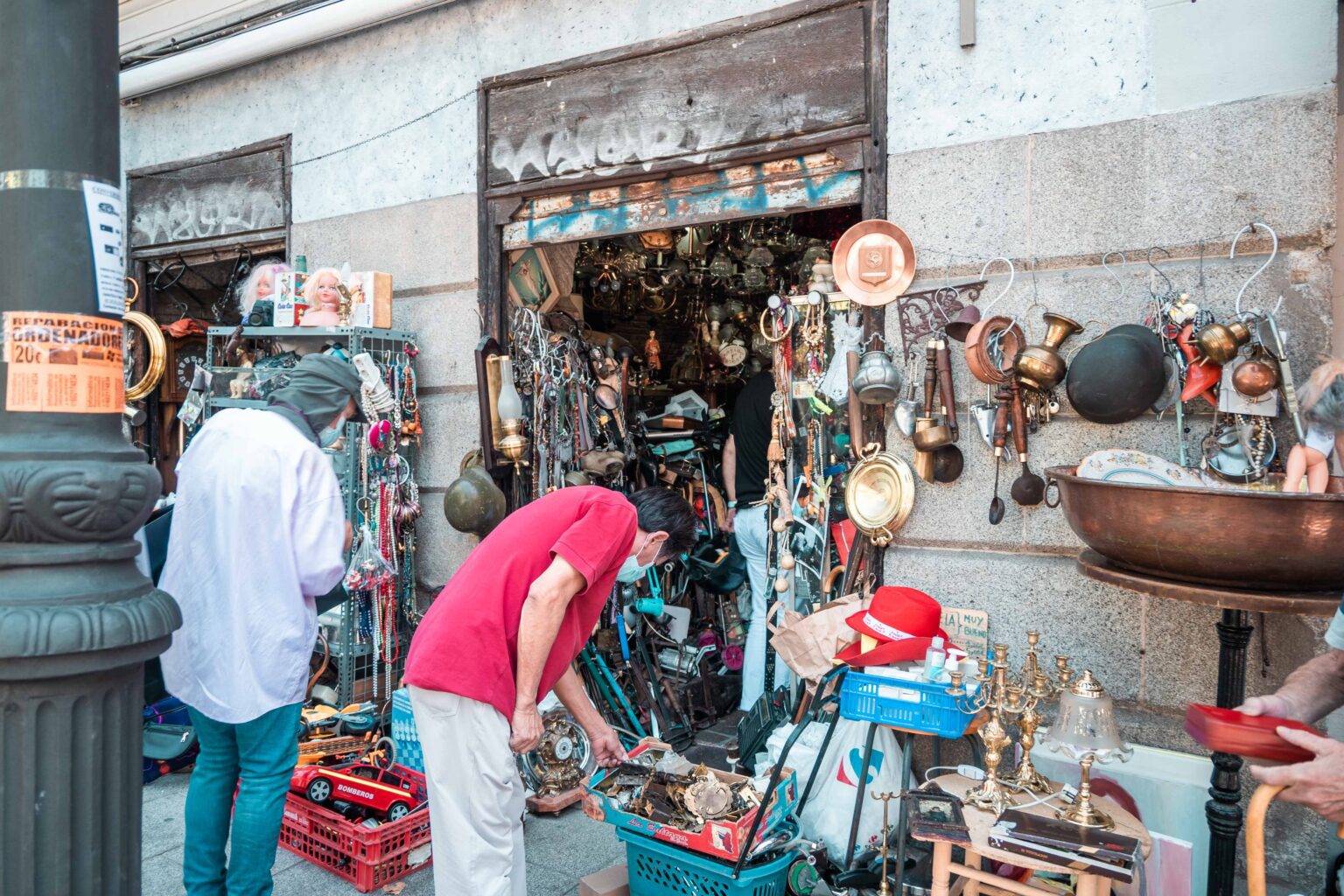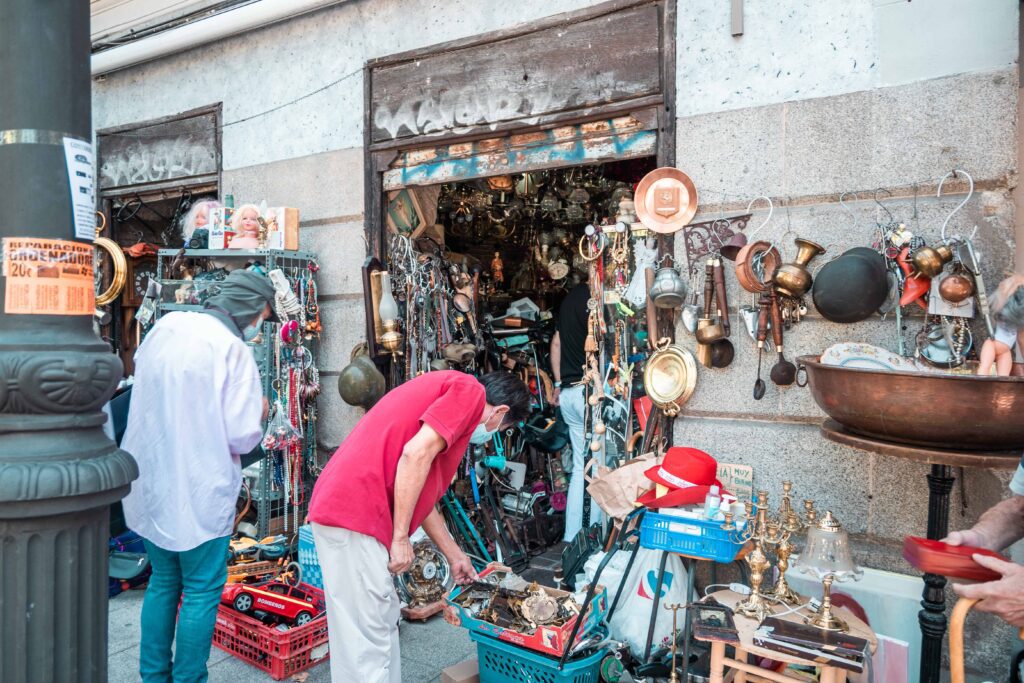 When is El Rastro in Madrid open?
The market is open from 9:00 AM to 3:00 PM on Sundays although some shops may be open until 4:00 PM.
Where is el Rastro located in Madrid? (Map)
The flea market is located in the La Latina neighbourhood of Madrid which lies on the southern end of the city centre. You can easily walk there from most places. If you're trying to get directions type in either of these addresses (located in the north and south of the market):

North: Pl. de Cascorro, 1, 28012 Madrid

South: C. del Casino, 7, 28005 Madrid
How to get to el Rastro in Madrid
This flea market is located near the centre of Madrid so you won't have any trouble reaching it. If you live somewhat close by I would highly recommend walking there since you'll be passing through beautiful little streets with lots of things to see on the way.

You could also grab an e-scooter if you're confident enough to ride in the busy traffic. From Puerta del Sol which is often considered the heart of Madrid it takes only 12 minutes to walk to El Rastro.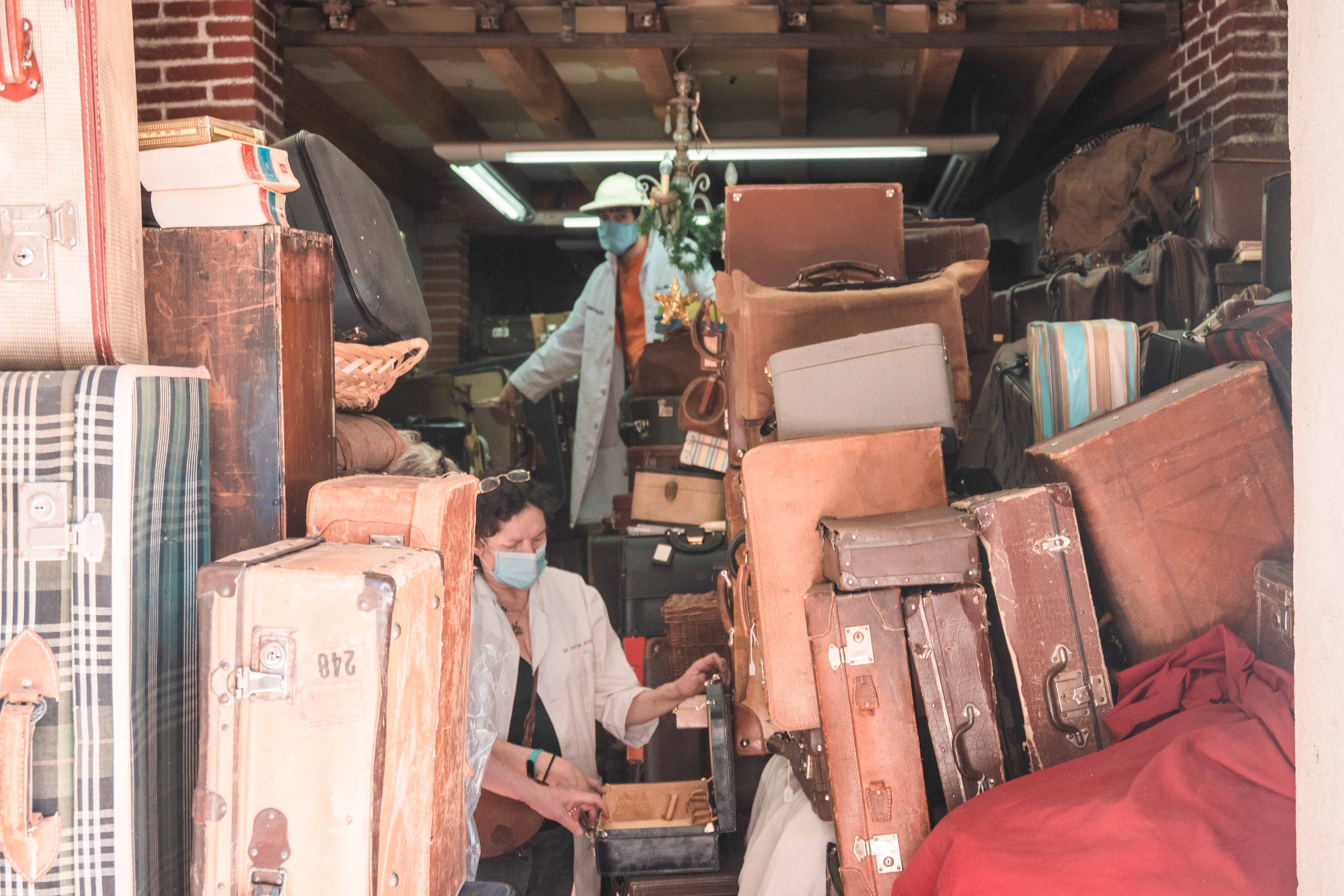 Metro
The best metro station for getting to El Rastro will be La Latina which is located less than 150 metres from the flea market. Tirso de Molina, Puerta de Toledo and Embajadores are also good choices and allow you to reach the market in only a few minutes on foot. Embajadores has a connection to the Cercanías train network which might be useful.

The stations are serviced by the following metro lines:
La Latina, 1 min walk – Line 4
Tirso de Molina, 4 min walk – Line 1
Puerta de Toledo, 4 min walk – Line 5
Embajadores, 6 min walk – Lines 3 and C5
Bus
El Rastro is surrounded by a lot of bus stops so it's easy to reach. The bus stop El Rastro is located towards the southern end of the market while Plaza de la Cebada sits closer to the top. You can choose where you want to start but since walking directions are enforced it makes more sense to start from the bottom.

The following bus stops are located close to El Rastro:
El Rastro, 1 min walk – Lines 41, 60, 148, C1, C03
Plaza de la Cebada, 2 min walk – Line 60
Mercado de San Fernando, 4 min walk – Line M1
Puerto de Toledo, 5 min walk – Line C03
Toledo la Paloma, 5 min walk – Lines 002, 17, 18, 23, 35, 60
Taxi/Uber
You can also take a taxi or Uber to El Rastro in Madrid. Just keep in mind that a lot of the surrounding streets will be blocked off on Sundays so the traffic can get a bit crazy. Book your Uber in advance and plan to wait for a bit.

I would recommend getting dropped off close to the Plaza del Campillo del Mundo Nuevo towards the southern end of the market. Alternatively, the La Latina metro station is a good drop-off point towards the north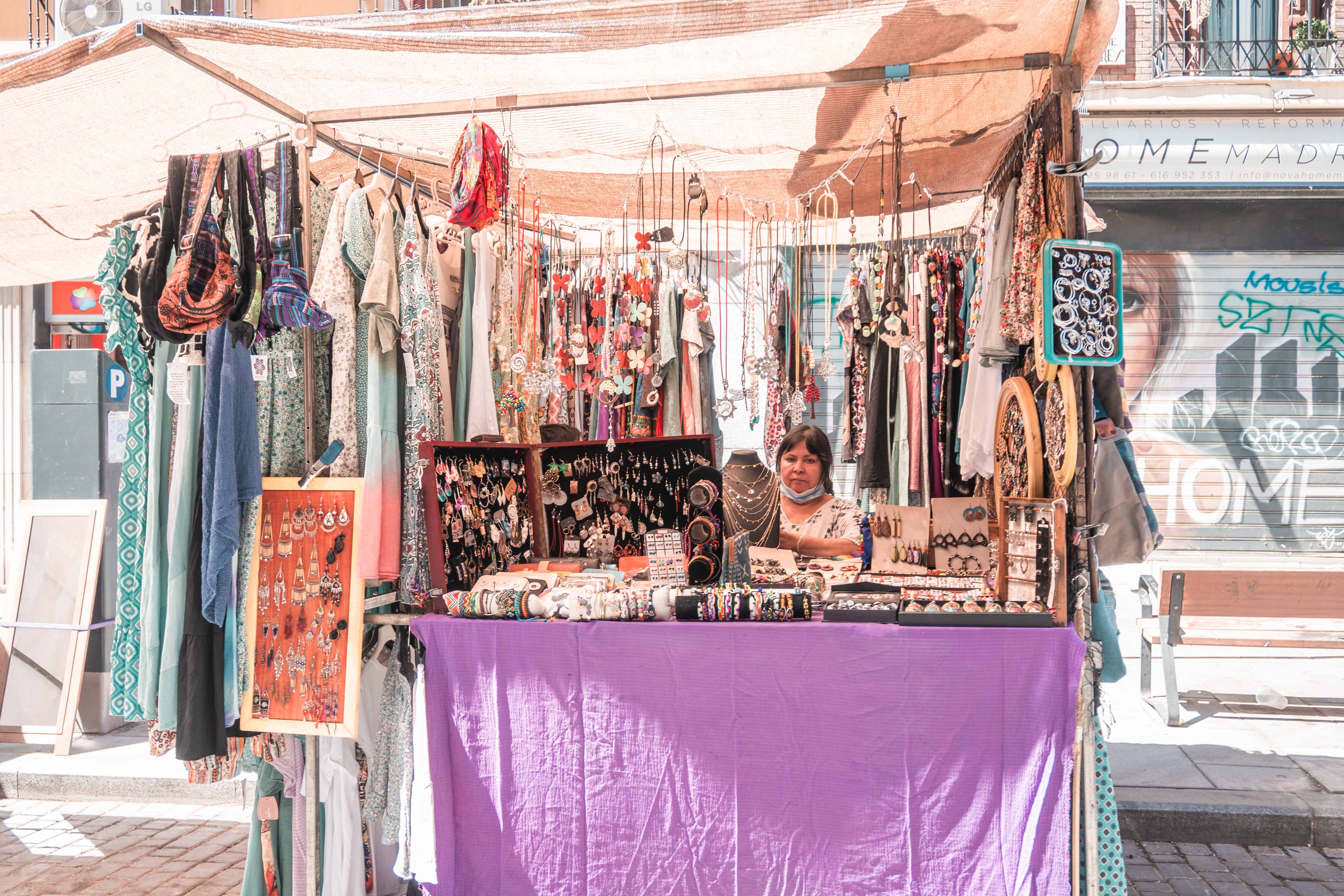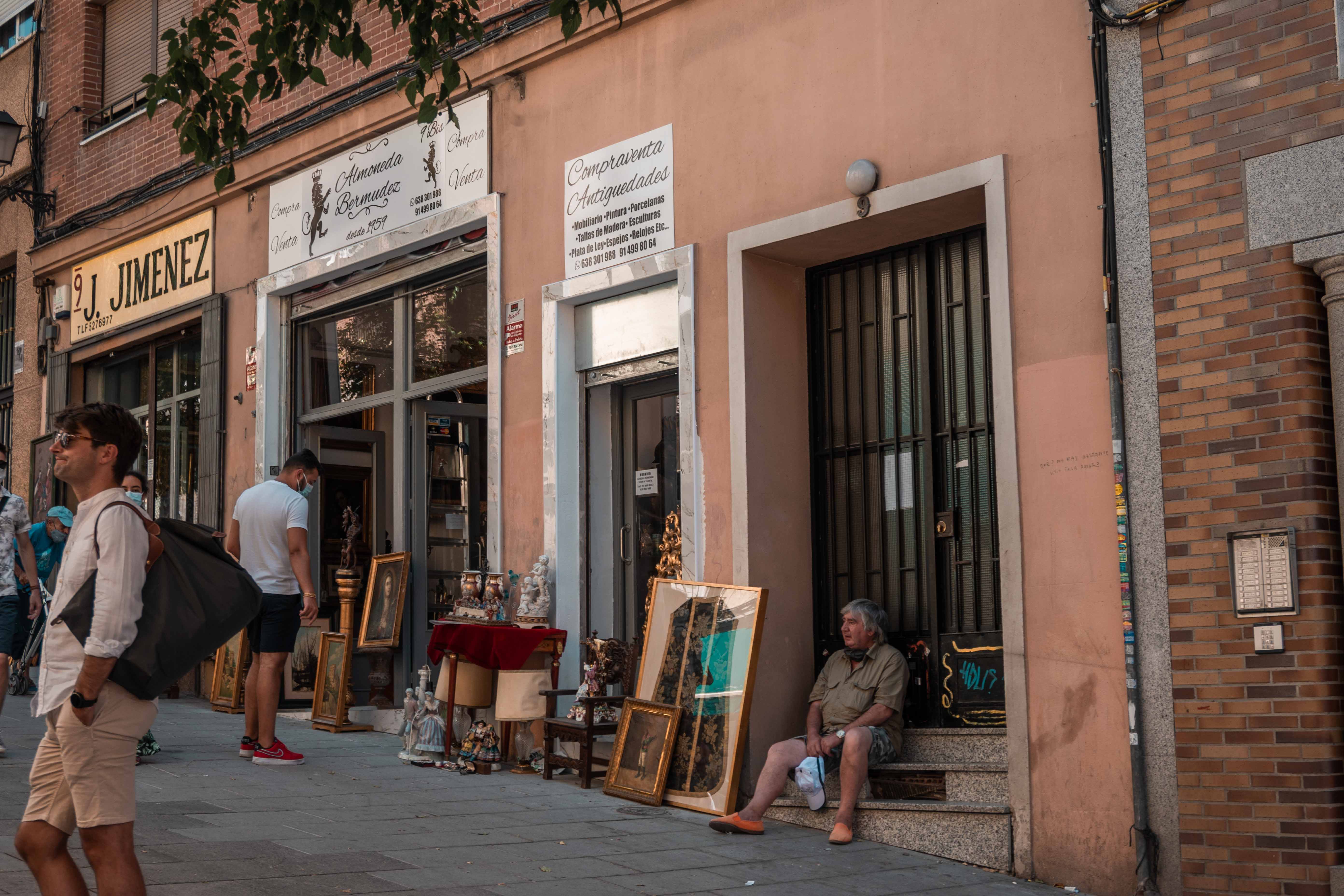 When should you go to the Sunday Market in Madrid?
When you go to El Rastro will have a large impact on your experience there. If you go very early at 9:00 AM when the market just opens up you'll most likely have a quieter experience. The crowds tend to arrive sometime after 10:30 AM and it will also be far less hot before that. However, a lot of vendors will still be setting up so you might miss out on some stalls.

Between 11:00 AM and 2:00 PM is the most popular visiting time for the flea market. This is when you'll be waiting in crowds of people in front of stalls and will have to watch out for pickpockets. You'll get the best selection of things to buy but also the worst of the mid-day heat (at least during summer). If you come during this time you absolutely need to go to a local restaurant or cafe for a refreshing drink or quick lunch.

El Rastro officially closes at 3:00 PM and some vendors will start to pack up at around 2:30 PM. This is the best time to haggle and get good prices so come right before closing if you want to find bargains.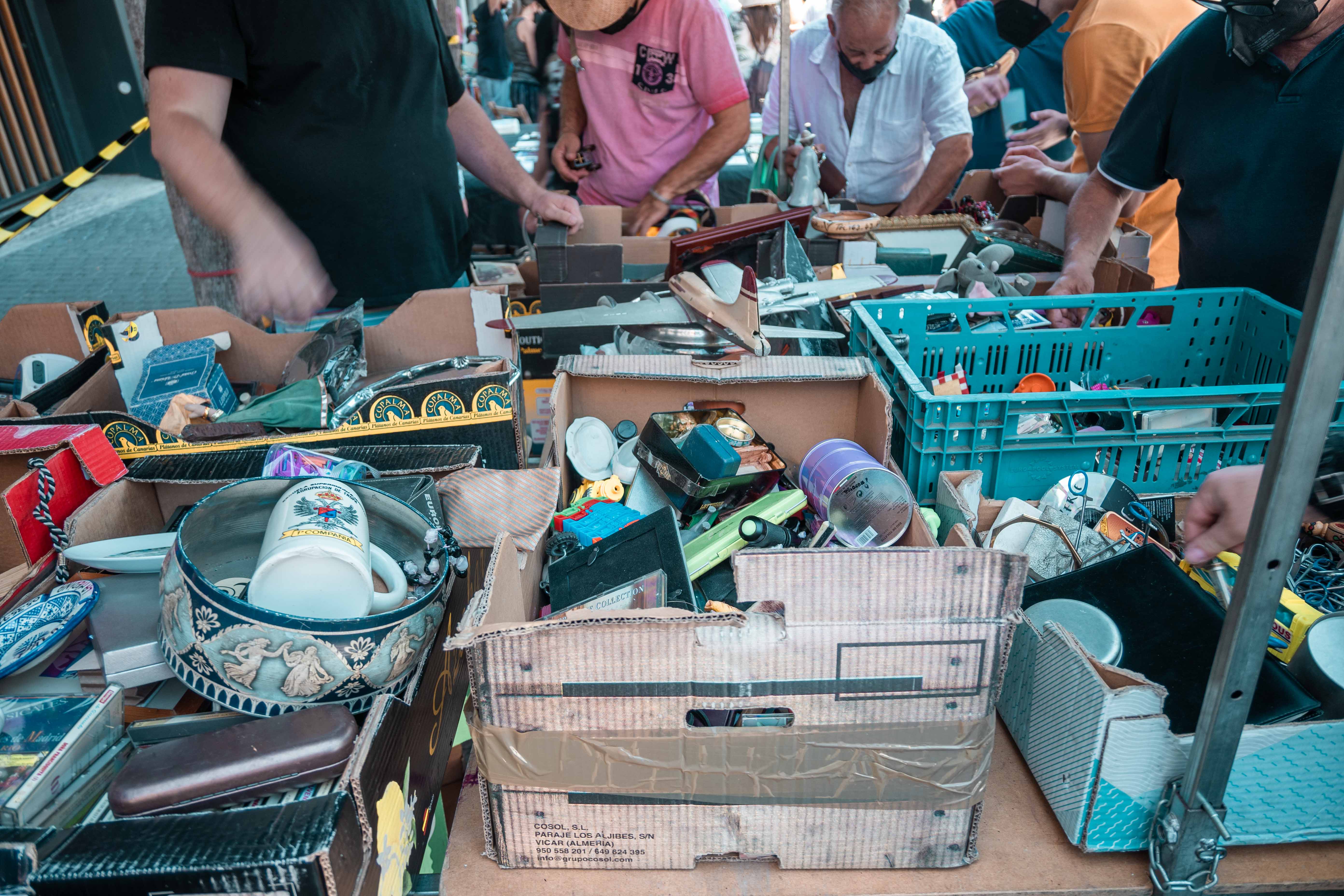 How long should you stay at El Rastro?
El Rastro in Madrid is an incredibly large flea market with thousands of stalls. You'll discover new parts of the market as you explore so don't make the mistake of thinking you can be done in an hour or so. Every time you'll think you've reached the end of El Rastro there will be a new street with even more stalls that are completely different from the ones you've seen before.

I would plan to spend at least two hours at El Rastro, perhaps even three or more if you're going to be doing some shopping and having lunch or a drink afterwards.


Layout of El Rastro Flea Market Madrid
If you type in El Rastro into Google Maps you'll end up with a location right in the middle of the Calle de la Ribera de Curtidores which is the main street of the market. However, there is so much more to El Rastro than this long street. Here are some of the best parts to visit:
Calle de la Ribera de Curtidores
This long street is the main part of El Rastro in Madrid. Curtidores are leather tanners which refers to the fact that this area of Madrid used to be a popular place for tanneries.

The Calle de la Ribera de Curtidores is sometimes considered the tourist part of El Rastro flea market and will be the busiest part. You won't find as many actual second-hand goods here but more commercialised vendors selling jewellery, clothing, posters and leather goods.

For vintage items and antiques, you need to explore the side streets below.
Gallerias Piquer
Along the Calle de la Ribera de Curtidores you'll encounter a small courtyard that sits just off the main street. The Gallerias Piquer is located at Ribera de Curtidores Number 29.

It's the set for the popular Spanish TV series Arde Madrid and a fantastic place to shop for art, furniture and decorations. Escape the crowds and dive into these beautiful art galleries and furniture shops.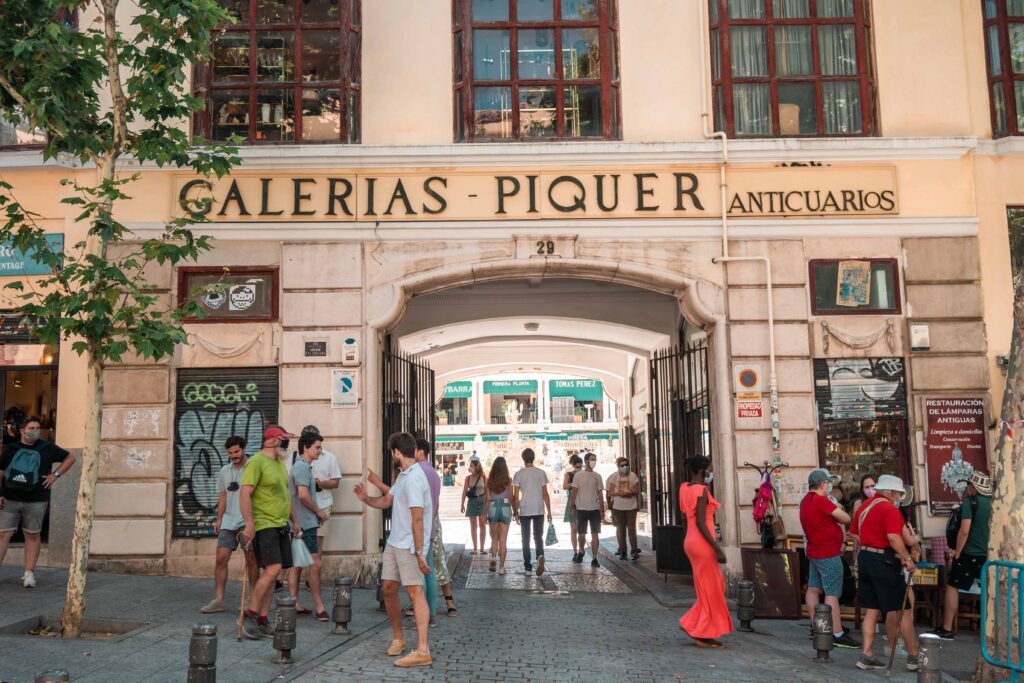 Calle de Fray Ceferino González
The Calle de Fray Ceferino González used to be known as the bird street. You could buy all sorts of exotic animals but luckily this tradition has somewhat disappeared in recent years.

Some stores still have birds for sale though so if animal rights are important to you (like they are to us) we suggest skipping this part of El Rastro. Always remember that supporting the sale of animals for profit should be avoided wherever possible.
Calle de San Cayetano
This is the painter's street and perfect for those interested in art. Come here not only to buy paintings but also paintbrushes and other art supplies. Even if you can't transport a massive canvas home this street is well worth a visit to simply look at the art.
Plaza del Campillo (Calle de Rodas, Plaza del General Vara del Rey)
Towards the southern end of El Rastro, you'll find the Plaza del Campillo, a hotspot for vintage stickers, magazines, books and stationery. This is one of the most authentic parts of El Rastro in Madrid and is fantastic for finding hidden gems.

While comic books and letters are the stars of the show you'll also find old coins, vinyls and toys as well as old letters. You absolutely need to visit this part of El Rastro, it might just be the best one.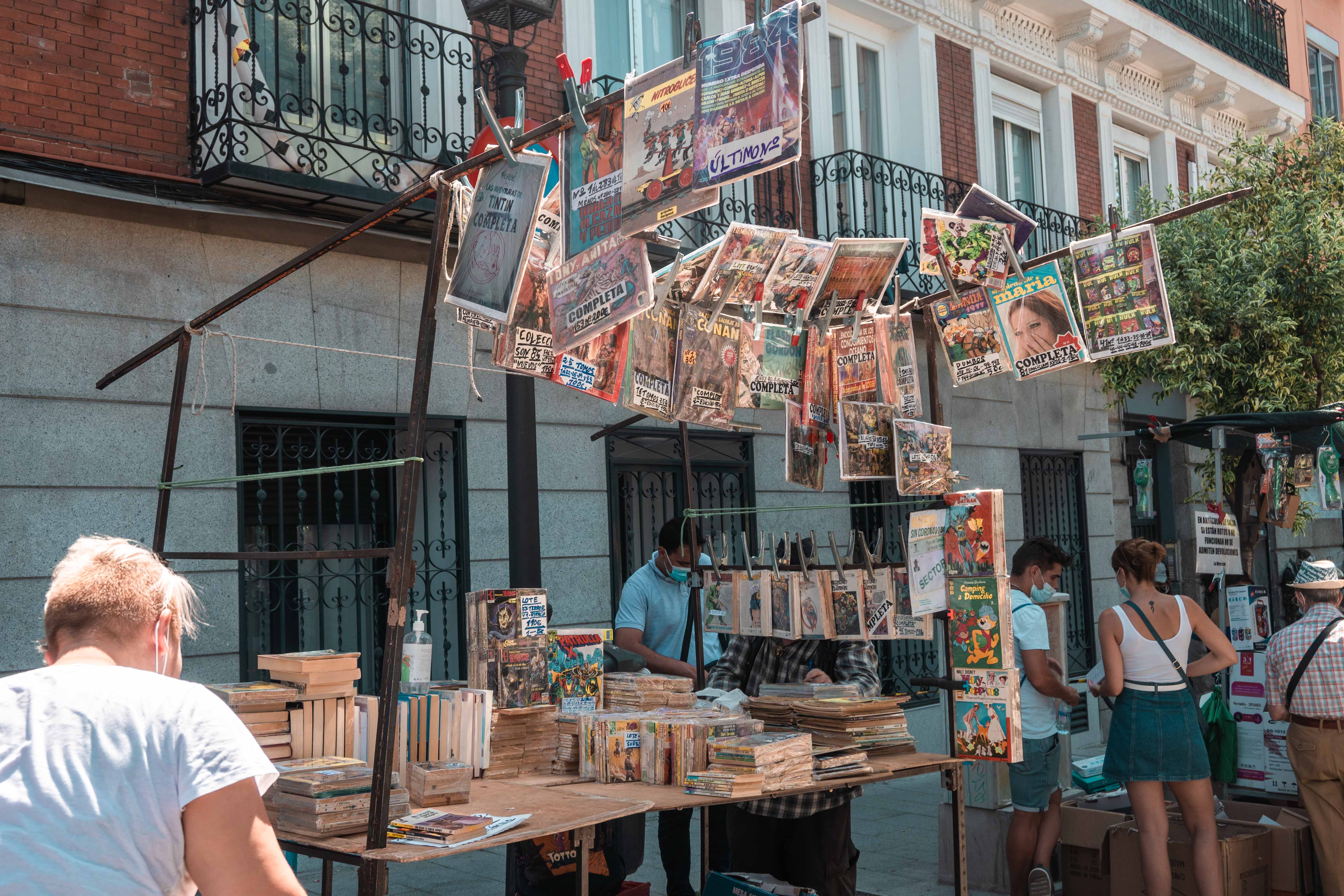 Calle de Carlos Arniches and Calle Carnero
The Calle de Carlos and Arniches and Calle Carnero are specialised in the sale of antique books. The La Corrola Cultural Centre is also a great place to explore if you want to dive deeper into this part of the market.
Calle de Mira el Río Baja and Calle Mira el Río Alta
More fantastic streets for antiques and second-hand items. Think typewriters, old cameras and collector's items. The vendors are usually very easy to chat about their treasures and you're almost guaranteed to find something unique and interesting.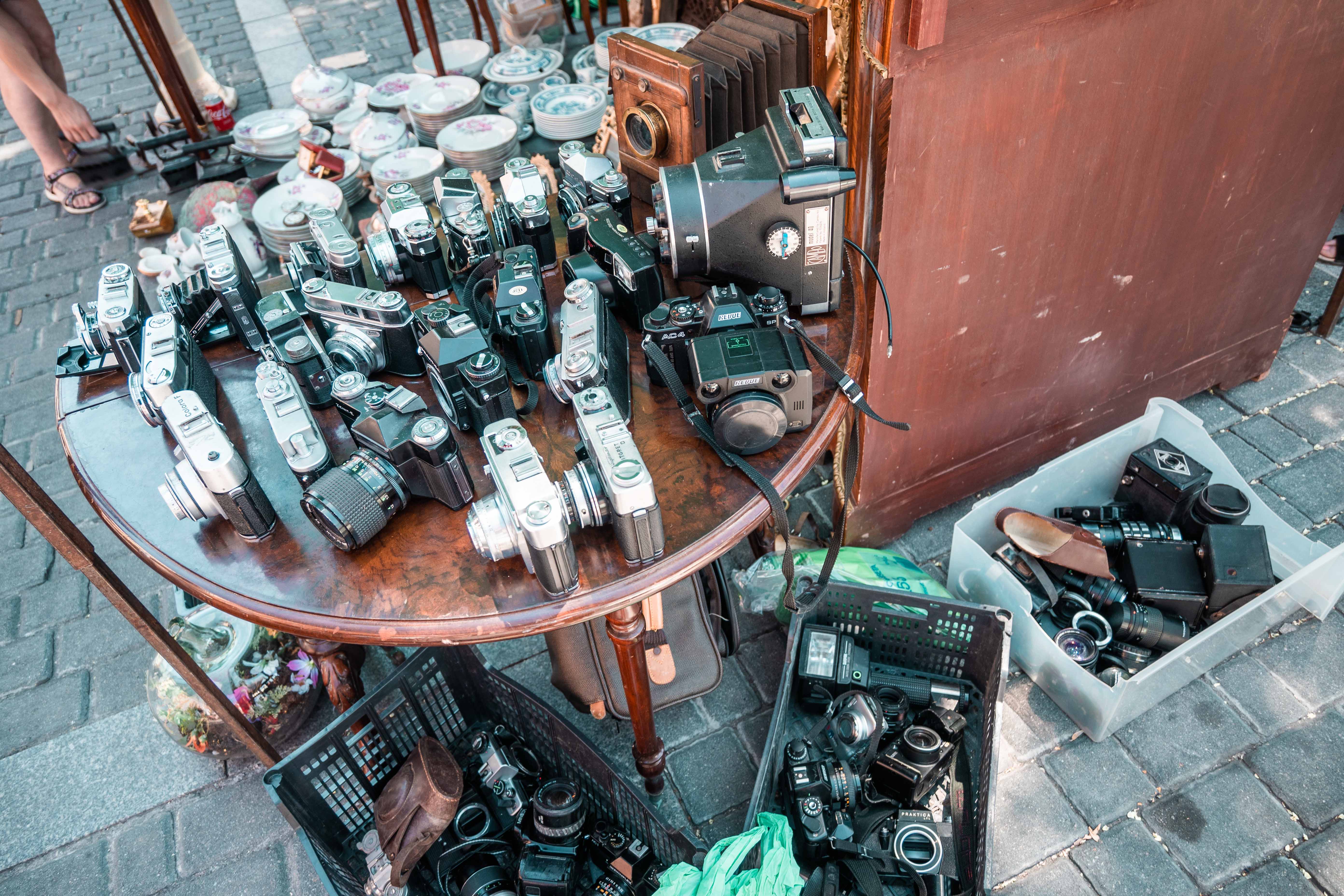 El Rastro Madrid Tips to know before you go
A day at El Rastro is a must-do when you're visiting Madrid. Here are some important tips to keep you safe and make your experience as enjoyable as possible.
1. The flea market can get incredibly hot and crowded
El Rastro is probably the most popular flea market in Madrid. An estimated 100,000 people come here every Sunday and the streets are always crowded. Expect to be pushed around in a sea of people especially if you're visiting during mid-day.

Madrid has sunshine year-round and is known for its sweltering hot summers. Large parts of El Rastro don't have very much shade so the sun can be relentless even on spring or autumn days. Wear sunscreen and drink plenty of water.
2. Go towards the end of the day for the best prices
El Rastro in Madrid is a flea market which means you can haggle. However, since the market is so popular most vendors aren't incredibly flexible with their prices especially those along the Ribera de Curtidores which is the main street of El Rastro.

Your best chance of getting bargain prices is to head to the flea market towards the end of the day when stalls start to shut down. At this point, the vendors will be far more motivated to sell products for reduced prices and you might be able to snag a good bargain or two.
3. Plan enough time
Many people underestimate how large El Rastro actually is. Once you've walked down La Ribera de Curtidores you might think you've reached the end of the market. However, the best parts actually lie in the side streets where you can find vintage clothing, antiques and curious random objects for sale.

You'll want to spend some time exploring so make sure you're not on a tight schedule and factor in several hours for the entire experience.
4. El Rastro is great for affordable jewellery
El Rastro has a lot of vendors selling plata (silver) and oro (gold). They all have very similar products and prices tend to be reasonable. In most cases, the quality is decent and the selection very large.

You'll be able to find earrings for around €2 to €6, bracelets for €5 and necklaces for around €5 to €20. Jewellery is one of my favourite souvenirs to take home since you'll get to wear it a lot and always remember your time in Madrid.
Visiting the El Rastro in Madrid soon? Save this image to have all the important info!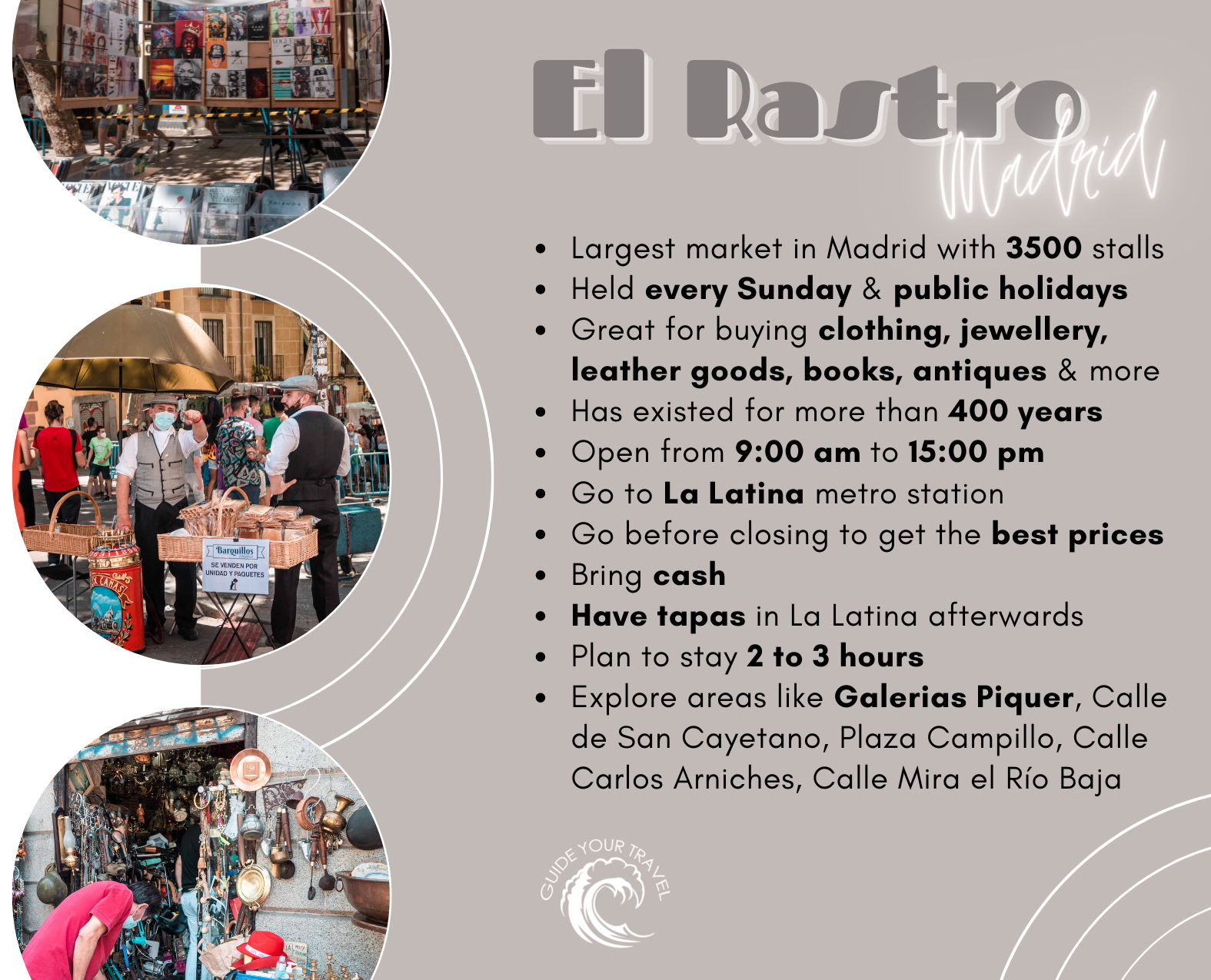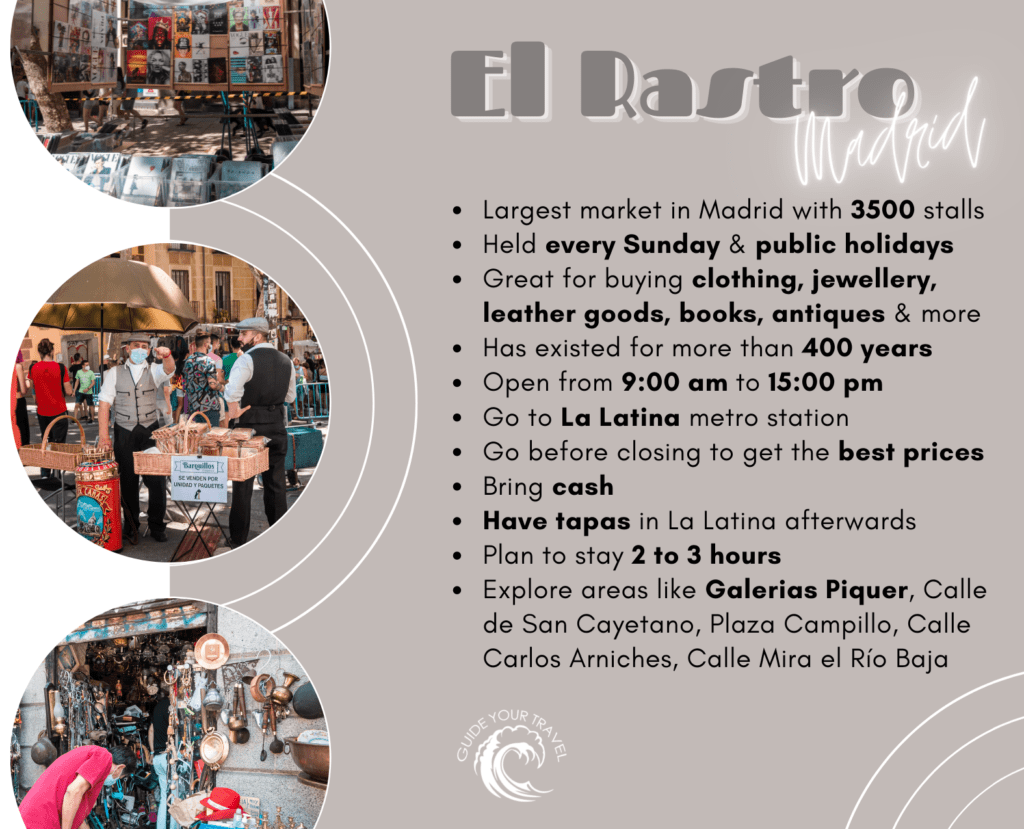 5. Leave the tourist part of the market
El Rastro in Madrid is divided into different parts and most tourists only see La Ribera de Curtidores. This long street is filled with stalls selling pretty much the same thing. They tend to fall into the categories of graphic t-shirts, silver jewellery, posters, clothing and leather goods.

This is not where you'll be able to find the antiques or second-hand clothing that El Rastro is so famous for. For this, you'll need to head into the smaller side streets and explore the area around La Ribera de Curtidores. The crowds will be far easier to manage and I tend to enjoy this part more.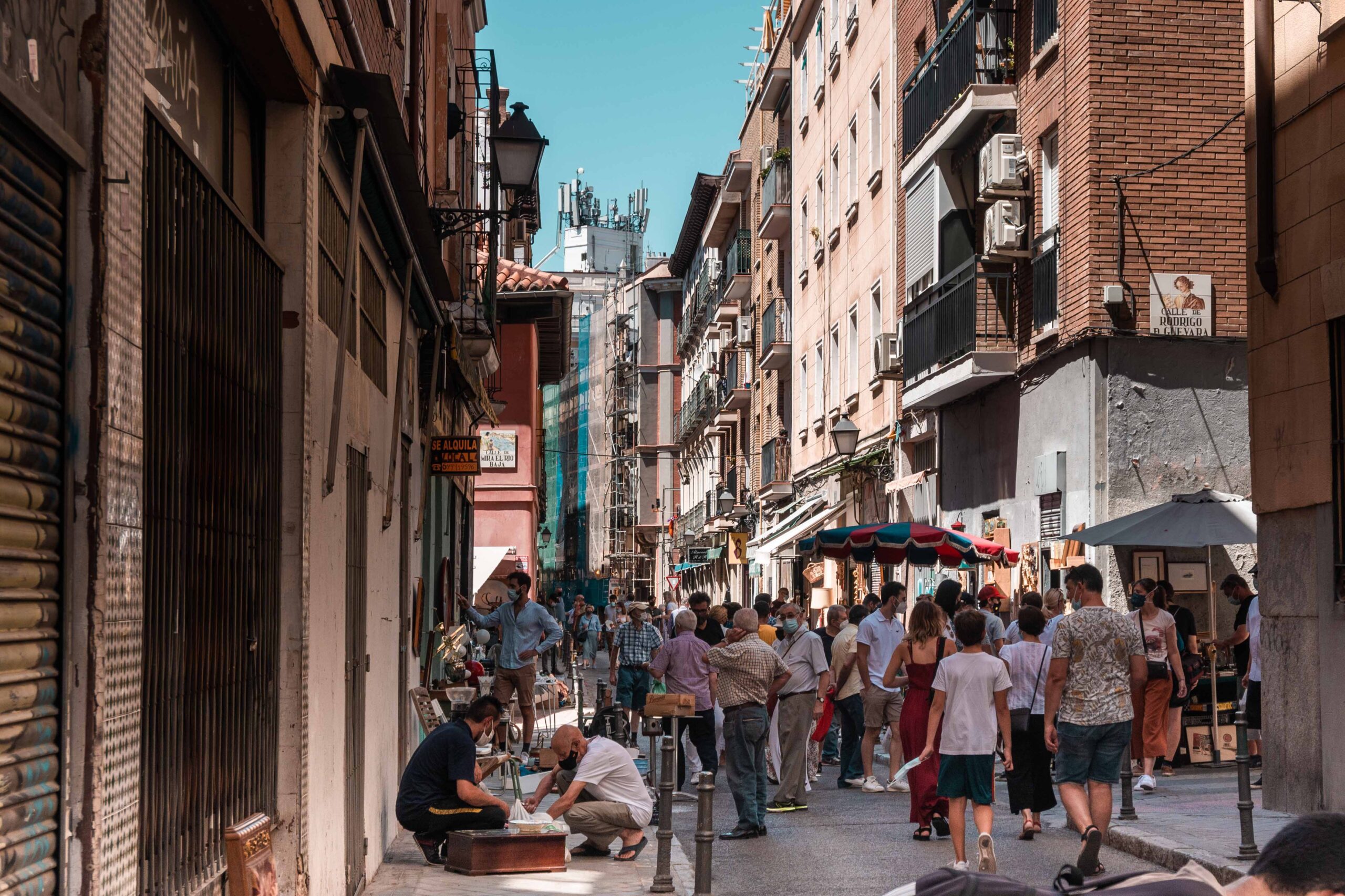 6. Beware of pickpockets
Like any crowded place in Madrid and other large cities, this flea market has a bit of a problem with pickpockets. Always keep your belongings close to you and don't put anything into your back pocket. Use your common sense and you'll be absolutely fine.
7. Bring cash
A lot of stalls at El Rastro in Madrid are beginning to accept credit cards or Bizum, Spain's most popular money transfer system. However, a lot still operate on a cash basis so don't rely on your card.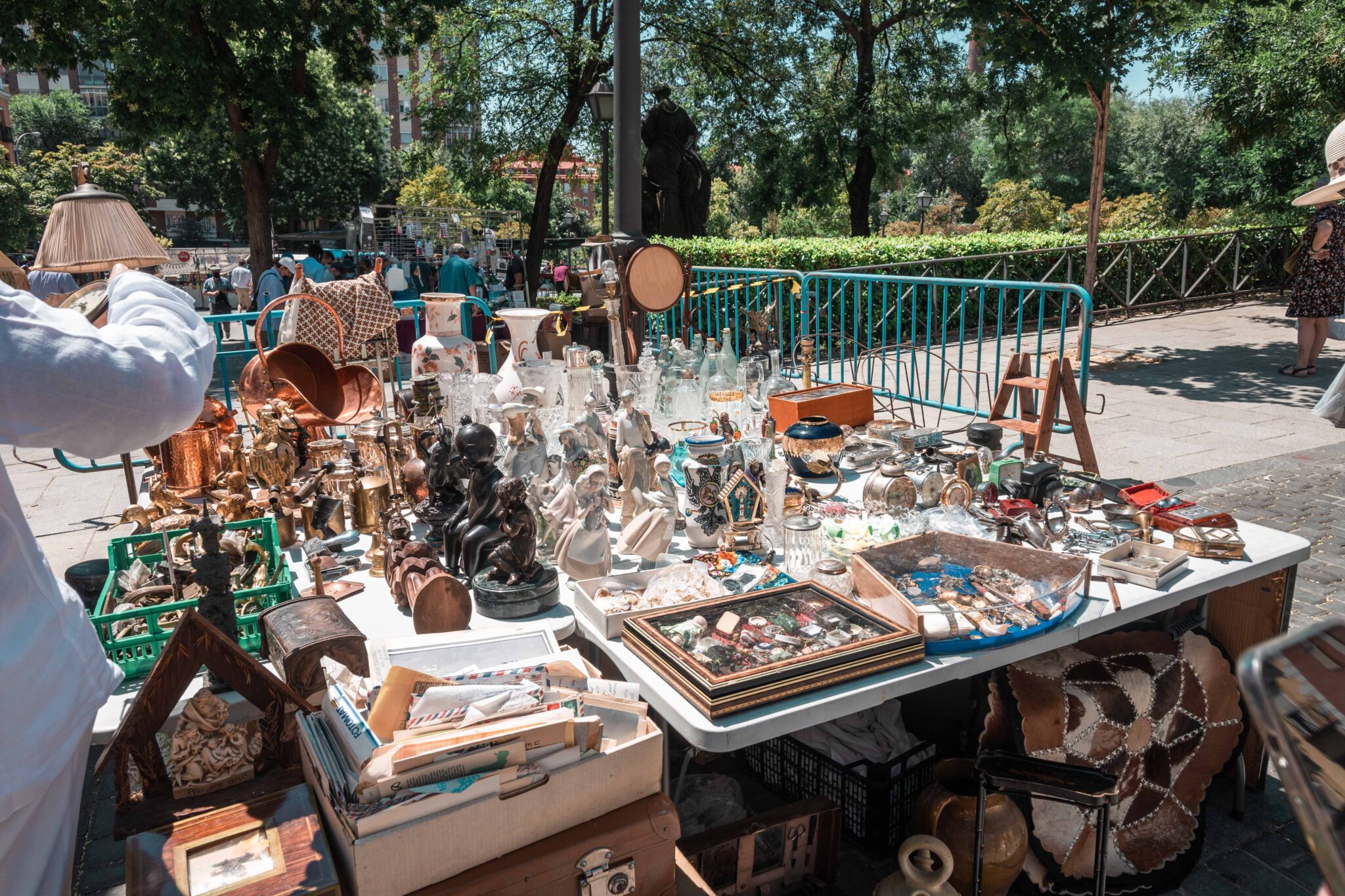 What else to do close to El Rastro
The flea market is located in the La Latina neighbourhood of Madrid. This area is known for its many restaurants, tapas culture and lively streets. On Sundays, the entire city of Madrid comes alive with street musicians, people having drinks in the street and of course the flea market. Here is what else you should be doing in La Latina on a Sunday:
Have a glass of Vermut in a traditional bar – In Madrid it's tradition to drink a glass of Vermut which is fortified wine, just before lunch on Sundays.
Mercado de San Fernando – An indoor market with bars, food stalls and fresh produce
Calle de la Cava Baja – Popular street with restaurants and bars in La Latina
Iglesia de San Andrés – beautiful 17th-century church on a nice plaza with restaurants and cafes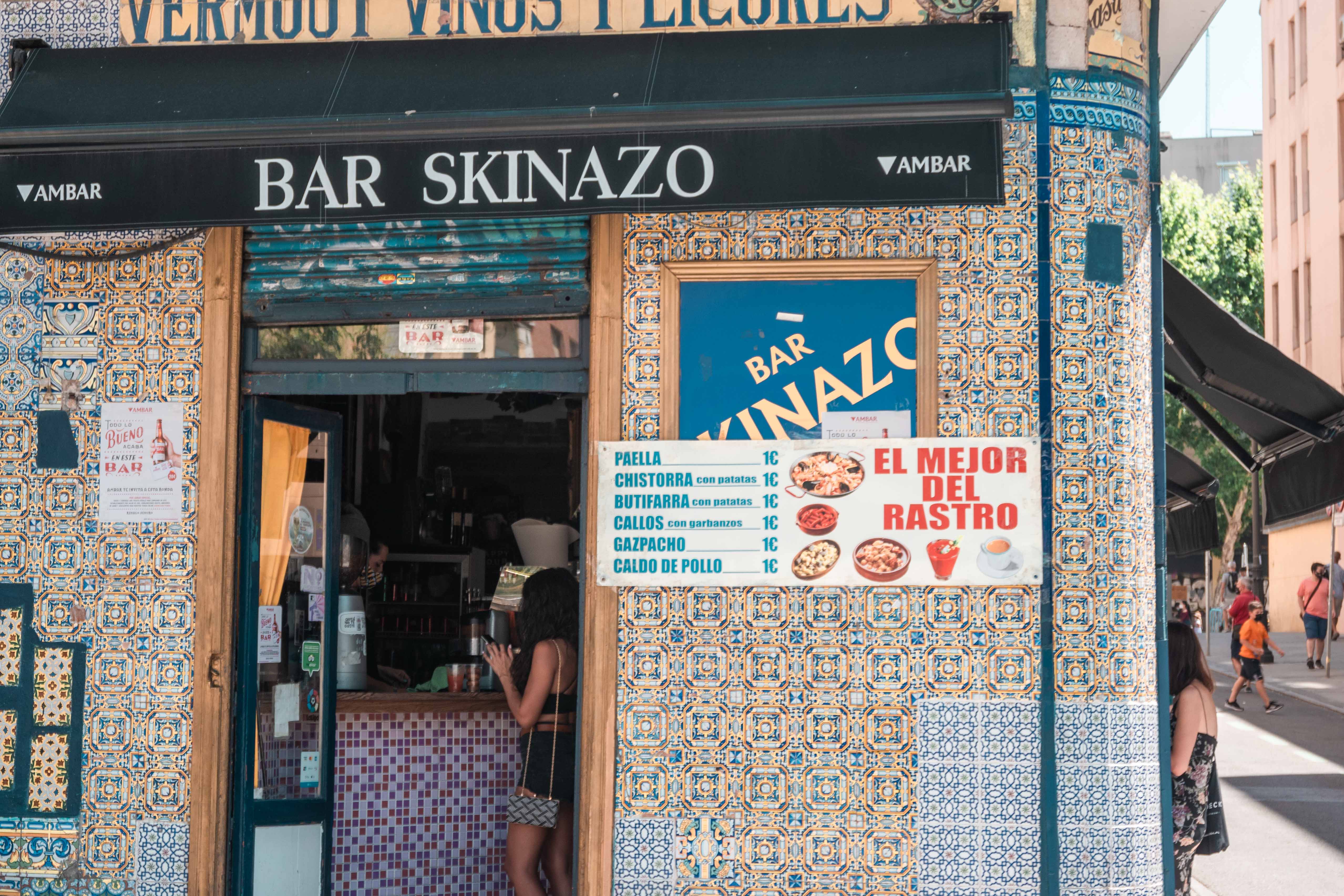 Click the images below to pin this post to Pinterest and save for later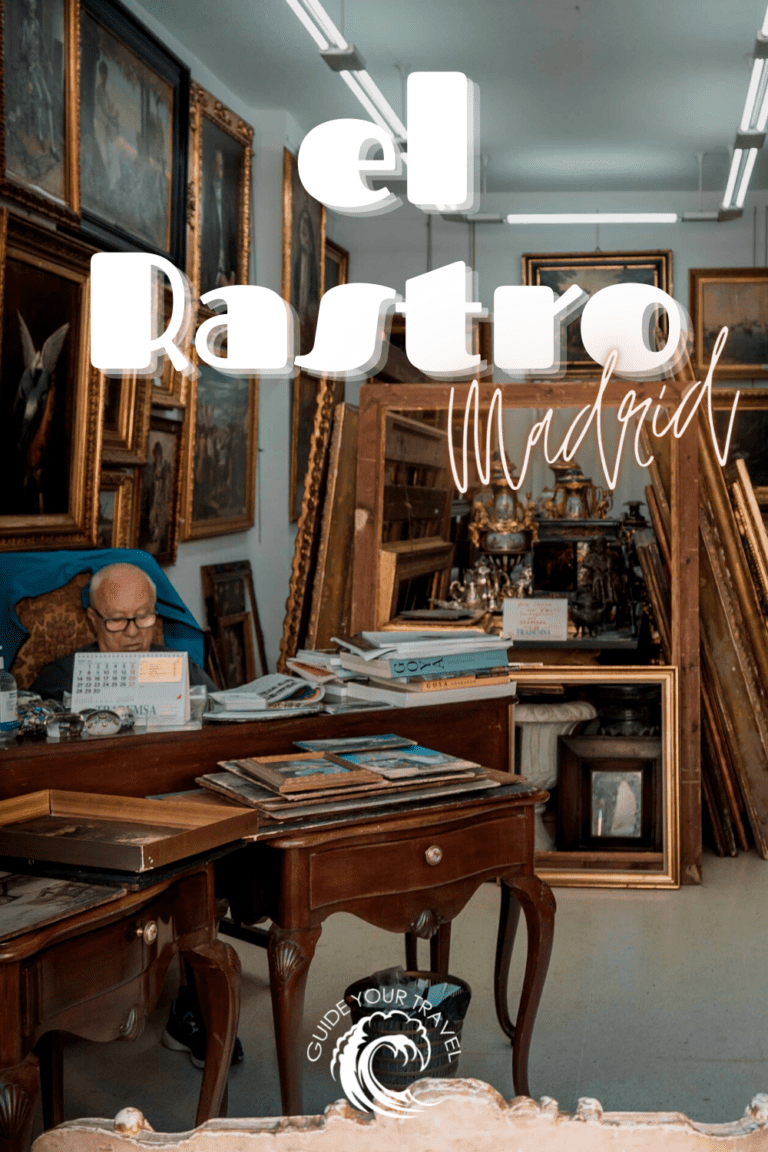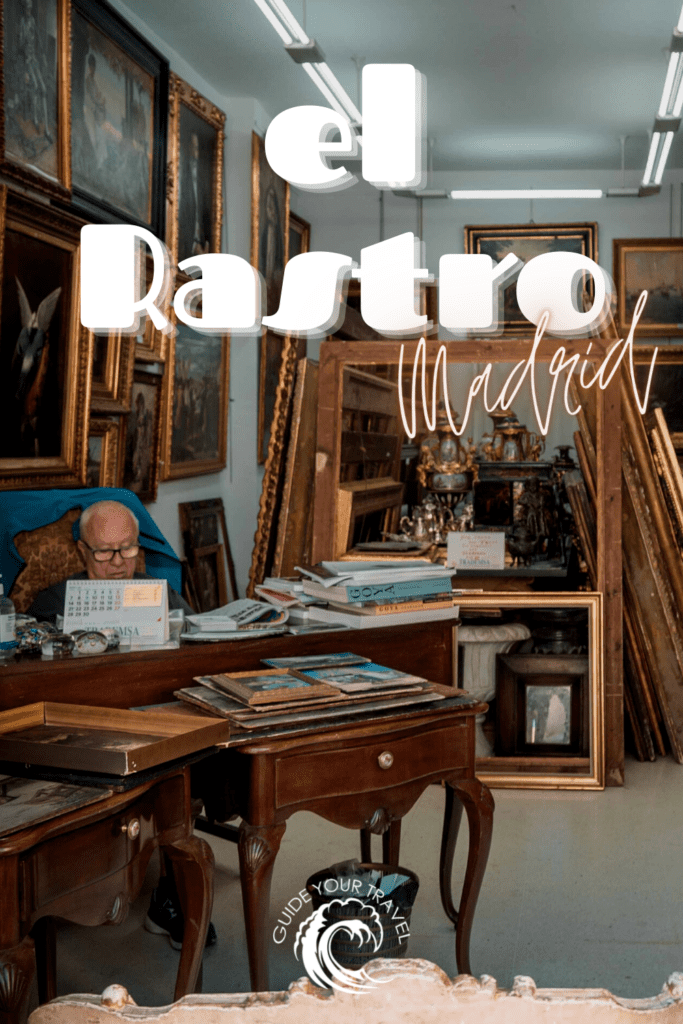 My most important travel tips and resources
Book your flights
Skyscanner is the best website for finding cheap flights since it works like a search engine so you can find the best deals across all airlines.

Book hotels and hostels
• Booking.com: Best world-wide
• Agoda: Best in South East Asia
• Hostelworld: Best for hostels

Book tours, transport and rental cars
•Viator: The best place to book tours, day trips and excursions for al budgets
•12Go: Great for ferries, trains, transfers and buses in South East Asia
•Discover Cars: Best deals for rental cars around the word

Get travel insurance
Every traveller needs travel insurance and I mean every single one. SafetyWing covers you in case of injury, illness or worse and they've got your back if your bag is stolen, flights are cancelled or in case of a natural disaster.

Pay abroad
Ask any traveller, Wise is the best choice when it comes to sending money abroad. They've always got the best exchange rates, lowest fees and their visa card is great for getting cash out or paying abroad.

Things every traveller needs:
➼ Osprey Farpoint 70 Backpack
Detachable daypack, ultra-light, durable and free repairs for life. There's a reason why so many backpackers have this bag.
➼ Packing Cubes
Packing cubes are a gamer changer, keeping your luggage organised and providing tons of extra space.
➼ Power bank
There is nothing worse than running out of battery on an overnight bus journey or a long flight. With a powerbank you can charge your eletronics on the go and make sure you're always connected.
➼ Micro-fibre towel
These lightweight towels are foldable, fast-drying and so useful when you're travelling.

➼ You can find 15 more things every traveller needs here. Some might be a bit controversial but I warned you!
Did I miss anything?
If you have any questions or feel like something is missing from this post please leave a comment below or contact me.