Madrid is actually a lot more affordable than most people think and the perfect city for a budget-friendly backpacking trip. You can save money while still enjoying delicious local food, seeing all the sights and getting to know other travellers. The cost of living in Madrid is relatively low and the tips in this budget guide will help you save a lot of money.

With beautiful culture, lively nightlife and lots of things to see and do Madrid is a hotspot for tourists, backpackers and other types of travellers. Visit iconic places like the Prado, Palacio de Crystal and the Royal Palace before enjoying a plate of tapas in a local bar.

This budget guide to Madrid contains all you need to know for an affordable and fun trip.
This post may contain affiliate links, which means we'll receive a commission if you purchase through our links, at no extra cost to you. This helps us keep Guide your Travel free and provide high-quality content for you. Please read the full disclaimer for more information.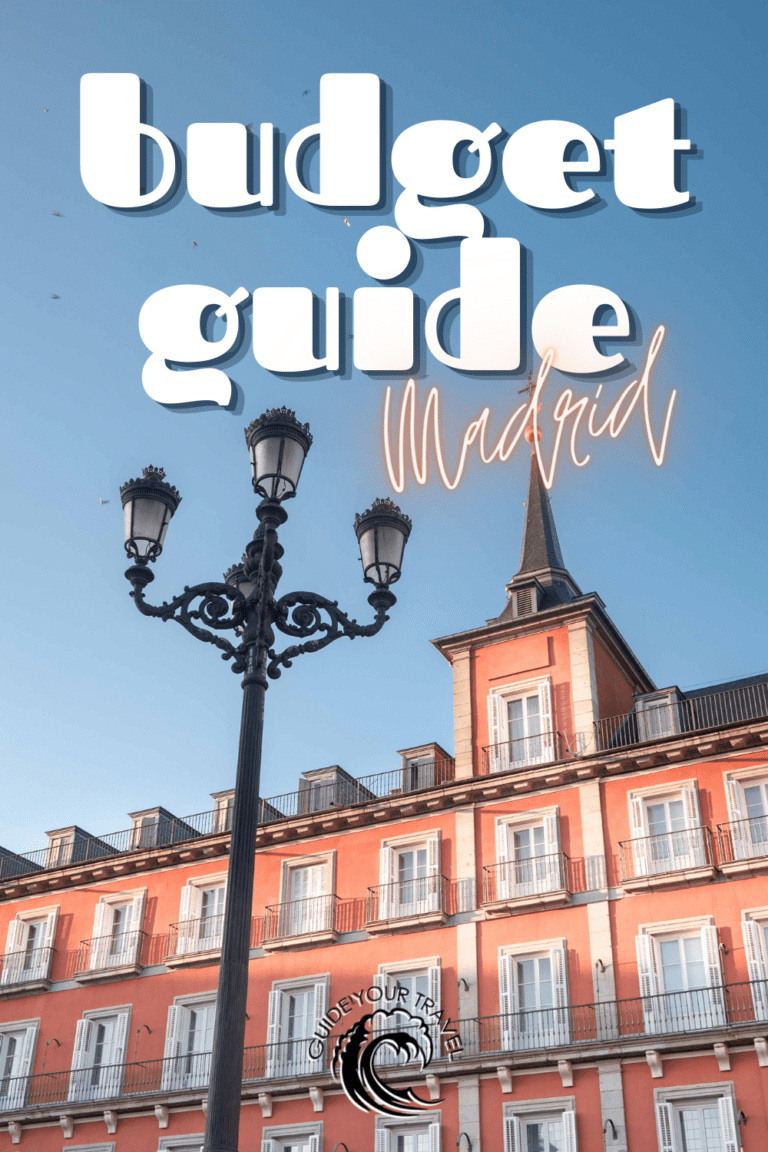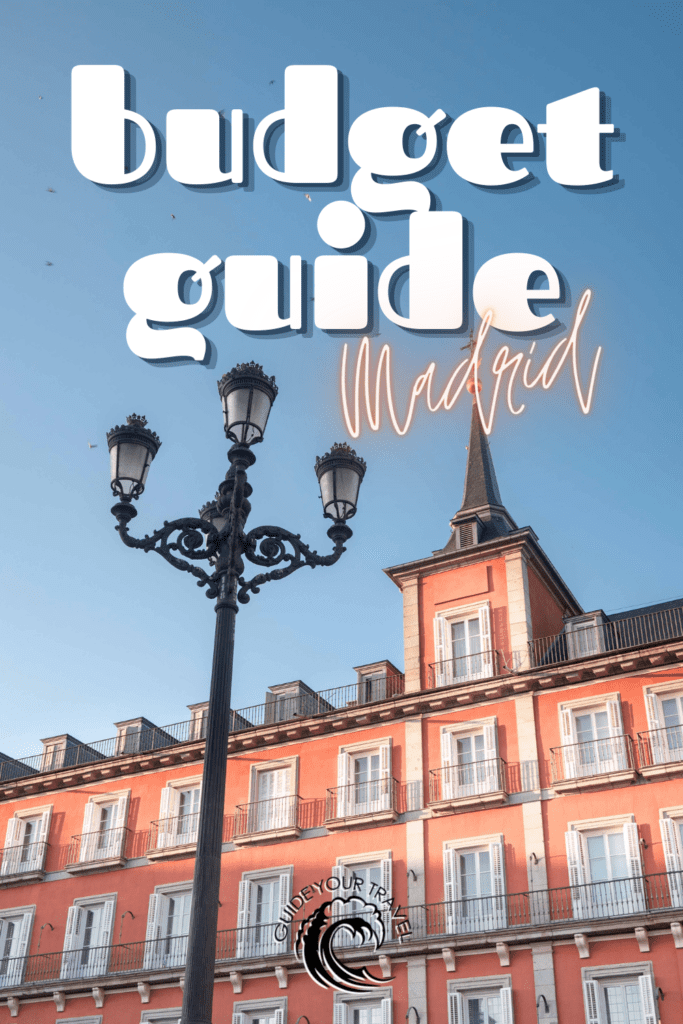 Is Madrid an expensive or affordable city?
Madrid is the capital of Spain so it won't be as affordable as other parts of the country. Of course, you'll spend more here than you might in more rural parts of Spain but that will be the case with any large city.

However, Madrid is known to be one of the most affordable capitals in Europe with significantly more budget-friendly prices than places like London, Rome or Paris. If you're looking for a large city that isn't too expensive and can be done on a budget Madrid is a fantastic choice. It has a unique combination of nightlife and culture which means there is something for everyone.

Madrid is the perfect city for backpackers looking for affordable prices, a low cost of living and budget-friendly attractions.

Planning on moving to Madrid? Find all you need to know in this Ultimate Guide to living in Spain.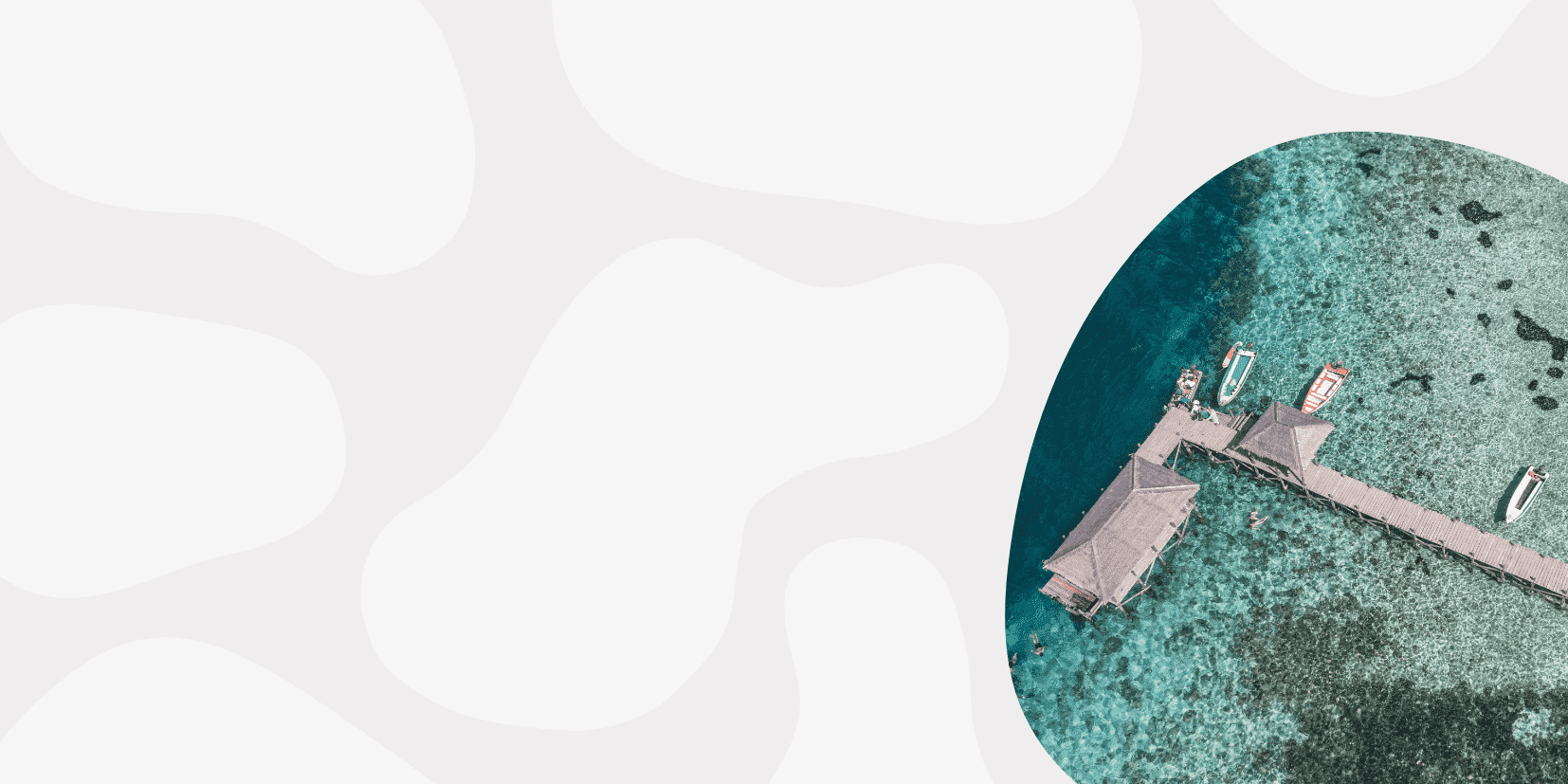 Let me save you time and effort when you're travel planning!

➼ Best travel insurance? SafetyWing
➼ Best place to find cheap flights? Skyscanner
➼ Best bank & credit card for travellers? Wise
➼ Best travel backpack? Osprey Farpoint 70
Is Madrid good for backpackers?
A lot of backpackers who are on a tight time schedule will choose to skip Madrid and head for Barcelona instead. With its location right by the ocean, Barcelona can be a tempting choice but this doesn't mean you should be missing out on Madrid which isn't as expensive and just as fun for backpackers.

With a very wide selection of hostels, free attractions and some of the most affordable bars in southern Europe Madrid is a true backpacking paradise.

The community of budget travellers is strong in this city and meeting new people won't be an issue. Especially during the summer, Madrid will be full of university students travelling between semesters, or international Eurorail backpackers. The cost of living in Madrid is very reasonable so definitely stay for a while if you have time and want to save money.

Since most important attractions in Madrid are located very close together you can explore the city in only a few days. Paired with the cheap prices Madrid is the perfect place to go if you want to save money and experience a lot.
Affordable places to stay in Madrid and save money
The largest expense on most trips will be accommodation (excluding flights). If you want to keep your costs low in Madrid choosing a more budget-friendly accommodation option is incredibly important.

In general, the earlier you are able to book the better the deals will be. Booking at least six months before you plan to travel is recommended to keep the cost low especially if you're visiting Madrid during the popular months of May to September.

But just because you're planning a spontaneous trip to Madrid doesn't have to mean it can't be budget-friendly. Since backpackers tend to avoid planning too far ahead hostels in Madrid can actually still have some great deals even a few months or weeks before you're looking to travel.
Couchsurfing
Couchsurfing is always going to be the cheapest choice for accommodation in a large city. However, the platform is not what it used to be and needless to say, spots fill up very fast especially during the summer. Finding a host can be nearly impossible especially in Madrid which is a hotspot for backpackers trying to avoid expensive accommodation.
Always make your own safety a priority even when travelling on a budget. As a solo (female) traveller only use couchsurfing cautiously and avoid staying with hosts without reviews.
Are hostels in Madrid expensive?
Hostels are probably the best choice for solo backpackers visiting Madrid on a budget. You can choose between lively party hostels or quieter options where you can get a good night's sleep after a long day of sightseeing. The most affordable hostel rooms will be dorms of eight to twelve people.

While the cheapest hostels most likely won't have the most luxurious amenities they'll be a fantastic option to save money in Madrid. You can even find hostels with very central locations for very low prices so you won't have to compromise in that regard.

Hostel prices in Madrid start at around €14 per night although more upscale hostels tend to charge around 20€ to 40€ per night for a dorm room.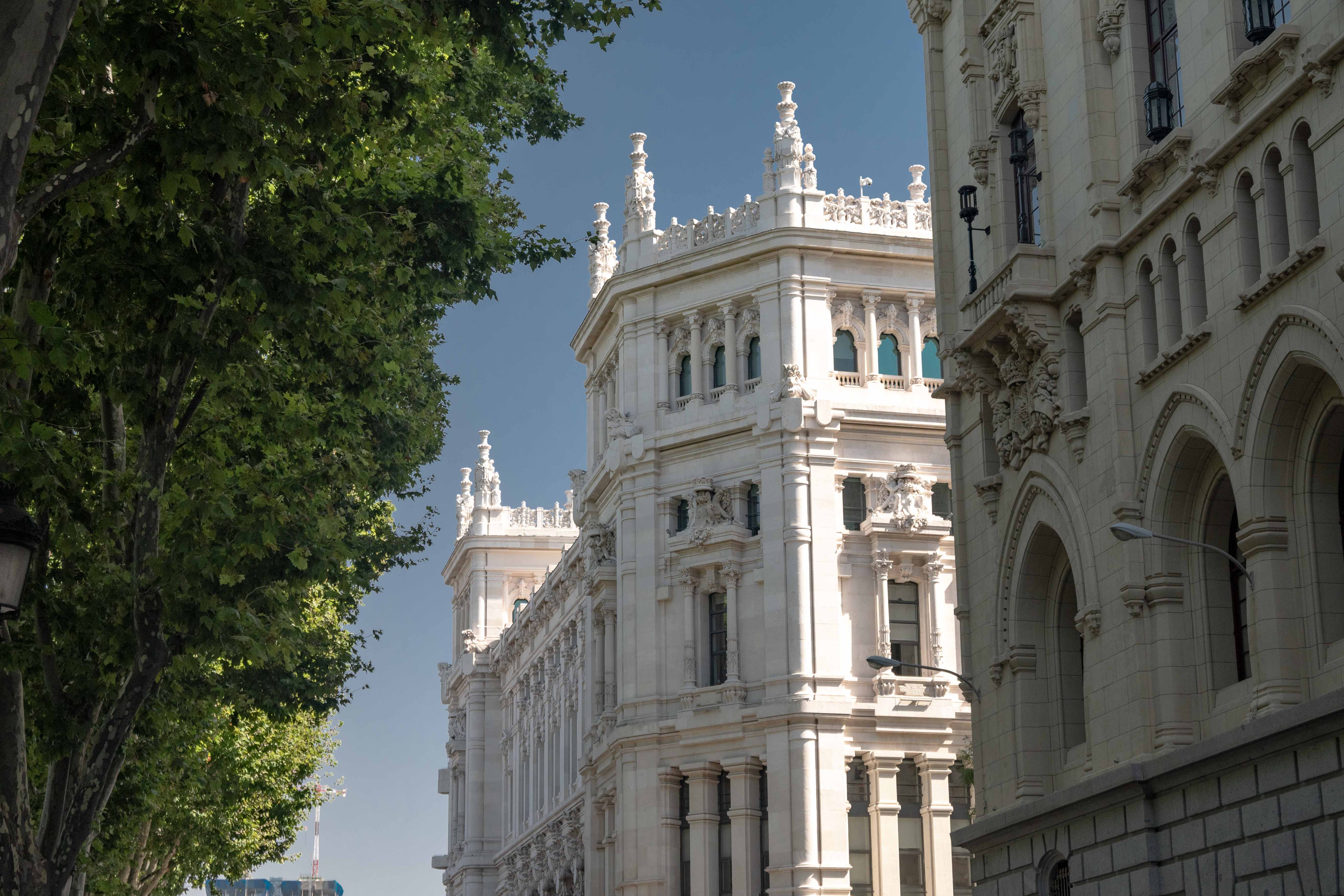 Is Airbnb in Madrid expensive?
Renting an entire Airbnb apartment in Madrid won't come cheap. But a great option for budget travellers is choosing a room in a shared rental. Some hostels will also advertise their dorm rooms on Airbnb in which case you should check whether you can book directly with the company to avoid any Airbnb booking fees.

A shared Airbnb is somewhat like a small hostel and you can often easily meet other travellers during your stay. This is definitely a great way to keep the cost of living low if you're spending several weeks or more in Madrid.

You can most likely find a room in a shared Airbnb rental in Madrid for around €15 to €25 if you book at least six months in advance. For a central location expect to pay close to €30 to €40 per night.
Are hotels in Madrid expensive?
Nicer hotels in Madrid cost somewhere between €70 and €120 which is definitely not very budget-friendly especially for backpackers.

In general, you won't find hotels that are nearly as cheap as hostels in the city although you might find some deals that come close if you're travelling as a couple or a group. However, these will be very cheap hotels so expect the rooms and amenities to be very basic.

The most affordable hotels in Madrid cost around €35 to €45 per night for two people. Booking at least six months in advance is crucial for finding these low rates.
What's the most affordable accommodation for backpackers in Madrid?
The cheapest accommodation option for Madrid will be couchsurfing. However, if you're looking for a more reliable option the next best thing are hostels.

With prices as low as €14 per night and lots of opportunities to find potential travel buddies this is an unbeatable option for your backpacking trip to Madrid. Shared Airbnbs come close though although their location is usually not as central.
Top tip: Always compare prices for hotels. We at Guide your Travel prefer Booking.com, Agoda or Hostelworld for finding the best deals.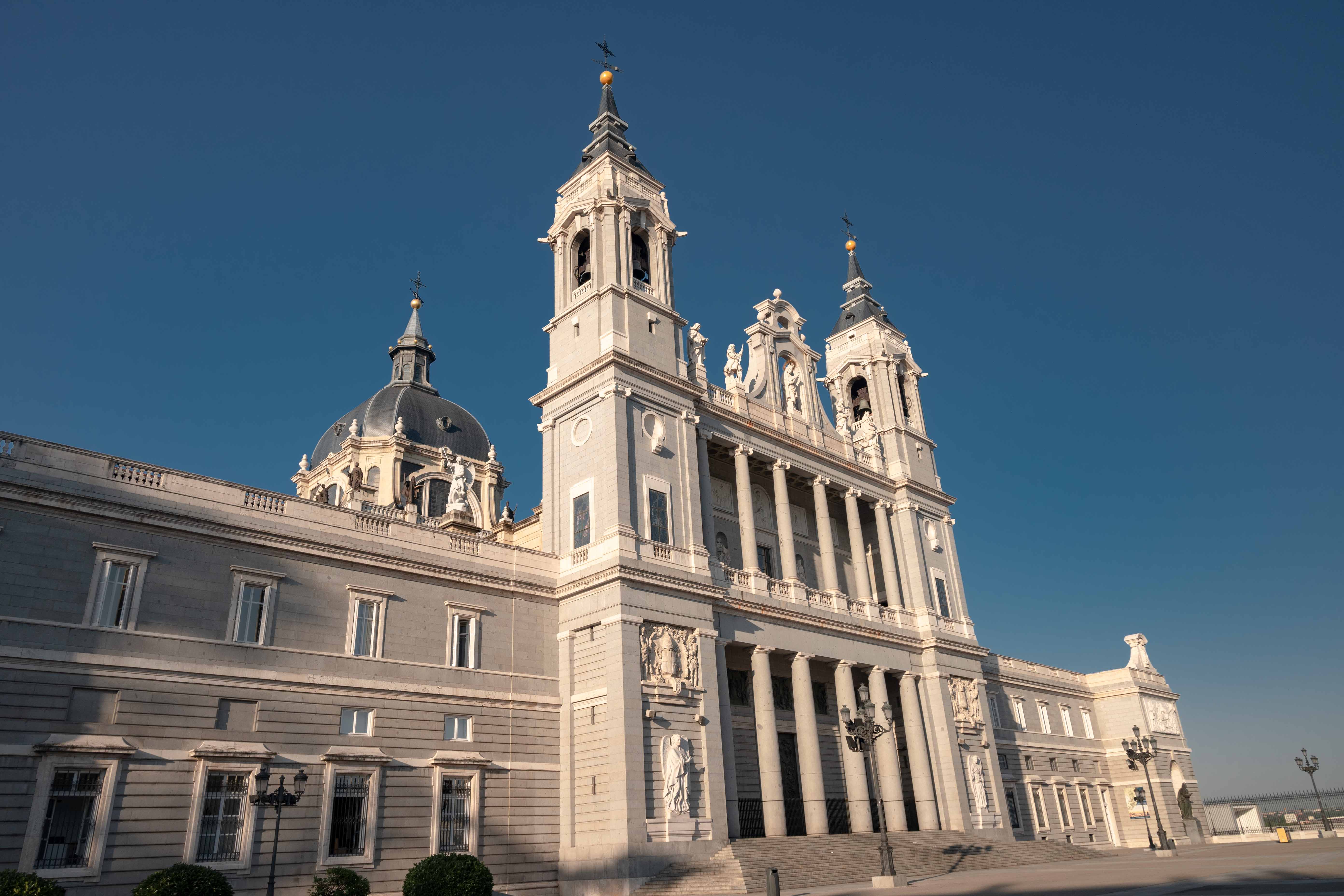 How to eat out on a budget in Madrid and save money
Madrid is the sort of city where you can't just cook at home every day to save money. The city has a lot of fantastic budget restaurants which still serve delicious food so eating out at least a few times is a must even if your budget is very tight.
Free tapas
The best way to save money while still enjoying local food in Madrid will be free tapas.

In Madrid, almost every drink you order in a traditional bar (especially beer) comes with a little snack which can range from a small bowl of chips to full plates of food. This means that you might not even have to order anything except for drinks.

Not every restaurant or bar does this to the same extent but if you're lucky you'll be full without even having to worry about the price of an entire meal.

Two of the best bars in Madrid that serve ridiculously large free tapas are the Taberna Malaspina close to Huertas and Sol and the Sidreria El Tigre near Chueca. This is one of the most popular places in the city for an affordable meal and drink.

Keep the cost of a night out in Madrid low and save money with free tapas.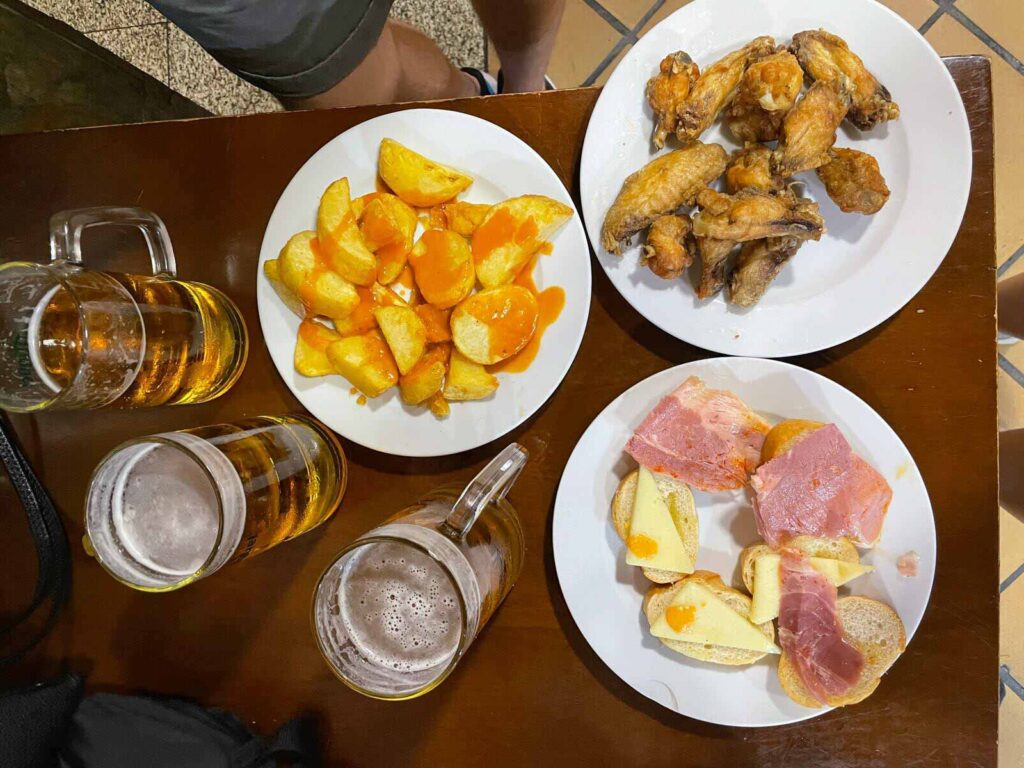 100 Montaditos
Fast food might not be something you're looking for when visiting Madrid. Of course, you want to get to know the local cuisine and not eat things you could literally have anywhere in the world.

100 Montaditos is a little bit different though. Even though it's technically fast food, it's at least somewhat Spanish fast food.

A montadito is a little sandwich served with different types of toppings. As the name suggests there are 100 different types you can order at this restaurant (it exists all over Spain, not just in Madrid) and some only cost €1.

Even better on Wednesdays and Sundays the entire menu only costs €1 which is an incredible way to save money eating out in Madrid. Of course, portions are small but for such low prices, it's fair.

Plus 100 Montaditos has dozens of locations across Madrid so there is always one nearby. An added bonus is that their beer prices are some of the lowest in all of Madrid at only €1.50 for a 0,4-litre frozen jug.
Takos al Pastor or Takomama
Tacos might not be strictly from Madrid but a lot of people confuse Spanish and Mexican cultures anyway so why not embrace it?

Madrid is actually known for its authentic tacos and they're very affordable. The two restaurants Takos al Pastor and Takomama have almost identical menus and serve some of the best food in town.

Their tacos only cost €1 and empanadas or quesadillas are €2.50. Of course, the tacos are quite small so definitely order at least three to get a reasonable portion.

These restaurants are so popular that there is a line out the door most nights so come early or order takeaway to avoid waiting. Takomama is less crowded than Takos al Pastor usually although their food is pretty much exactly the same.
Budget-friendly markets in Madrid
Madrid has a lot of indoor food halls or wet markets that also offer food.

These can be grouped into two categories: the fancy markets made for tourists or the old markets where locals come to buy fresh produce.

The latter usually have small restaurants inside the market selling delicious and affordable dishes including fresh empanadas or sandwiches. These will cost anywhere from €1 to €4.

Some of the best markets with affordable food options include the Mercado Maravillas, Mercado Antón Martin or the Mercado de la Cebada.

Avoid going to places such as Yatai Market, Mercado San Miguel or Mercado de Ildefonso to eat if you're on a budget (the food is delicious though so if you want to splurge definitely give it a try).

These will be designed for tourists and therefore a lot more expensive, charging anywhere from €7 to €12 for a meal.
Picnics
One of my favourite ways to save money while travelling is to buy food at a supermarket and have a picnic at least once per day. This doesn't have to mean you'll be missing out on the best Spanish delicacies.

Even budget-friendly shops in Madrid such as LIDL or Dia have a good selection of fresh baguette, local cheese and ham. You can buy fresh fruit, a glass of olives or even a ready-made Spanish tortilla all for only a few euros.

Madrid has a lot of parks where you can enjoy your food all without having to spend a fortune on tapas at a restaurant which will serve exactly the same thing for high prices. Keep the cost of travel low by making picnics a tradition during your time in Madrid


Where to find affordable drinks in Madrid
Madrid has incredible nightlife but a night out can cost a lot especially if you enjoy having a drink or ten. A beer in Madrid can cost anywhere from €1 to €6 and finding the bars on the cheaper end of the spectrum can be a challenge.

In an upcoming post I'll have a complete list of the cheapest bars in Madrid but for now, here are a few tips for having affordable drinks in Madrid.
What do drinks cost in Madrid?
Prices in Madrid will vary across the city and different neighbourhoods. If you know where to go you can definitely find prices as low as €1 for a beer or €4 for a cocktail. However, more often than not you'll find average prices which are still relatively reasonable.

Assuming you'll be having drinks somewhere close to the city centre of Madrid these are some reasonable drink prices:
| | | | |
| --- | --- | --- | --- |
| | Very affordable | Average price | Very expensive |
| Doble of local beer (0.3 litres) | €1.50 | €2.50 | €5 |
| Glass of local wine | €1.50 | €4 | €7 |
| Cocktail | €4 | €6 | €10 |
| Shot (chupito) | €1 | €2.50 | €4 |
Avoid expensive tourist bars in Madrid
Areas like Plaza Major and the surrounding streets attract thousands of tourists every day. This is the wrong place to go if you're looking for low drink prices in Madrid (except for that one bar which serves beer for €1 right next to Plaza Major, that one is absolute gold).

Instead, venture a bit further into the side streets and take your time to compare prices at a few places. You'll be amazed at how different the menus will be. A night out in Madrid can cost almost nothing or a fortune depending on where you go.
Follow the students to save money in Madrid
Most travellers feel a bit lost when coming to a city for the first time and struggle to find cheap bars. However, students often have been in a place for a while and know exactly where to go.

Leave the city centre behind and go to the university neighbourhood of Chamberí (more specifically Gaztambide). You won't encounter many other tourists or backpackers here but the drink prices are absolutely fantastic in this part of Madrid. Bars such as Kubo King and Lambar will become your new favourites.

Take the metro and get off at Moncloa to get to this area.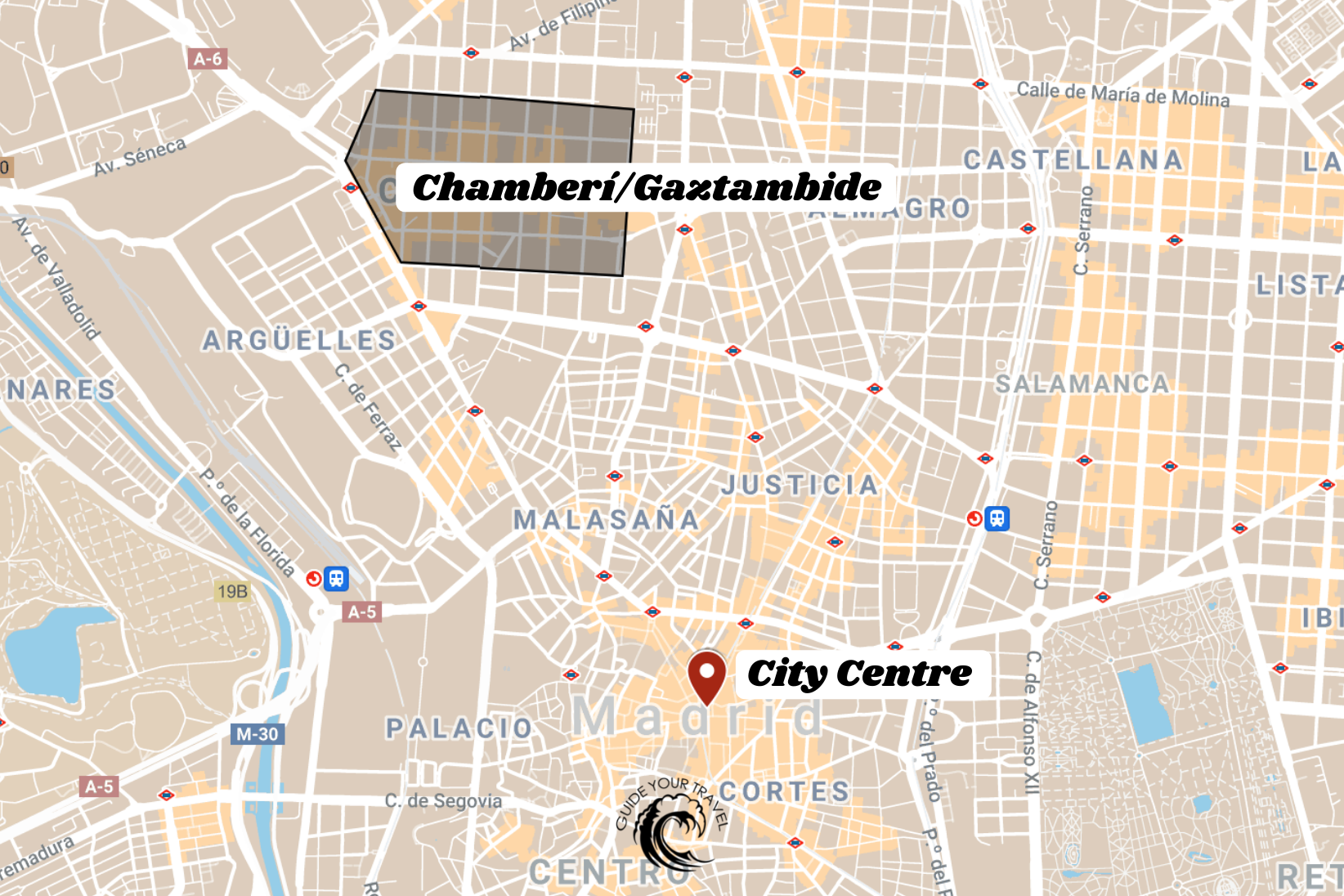 Know the drink sizes
Beer sizes and prices in Madrid can be a bit confusing and knowing how large each one is is crucial for finding the cheapest bar. A €1.50 beer sounds fantastic until you find out the glass is about the size of a shot glass. Remember these definitions and you'll be good to go:
Caña: 0.2 litres
Doble: 0.3 litres
Jarra: 0.5 litres (sometimes also smaller, this can be a bit unpredictable)

Botellin: bottle with 0.2 litres
Tercio: bottle with 0.3 litres
Cubo: Bucket with four or five bottles
Appreciate 100 Montaditos
Again, the 100 Montaditos should be high on your list of places to try if you're looking for an affordable and budget-friendly place to have drinks in Madrid. They serve frozen jugs (0,4 litres) of beer for only €1.50 which is a nearly unbeatable price.

100 Mondaditos restaurants usually get very crowded during the evening so be prepared to wait a bit to get a table. The low cost of drinks is worth it though making this one of the best budget-friendly places in Madrid.
Accept that nice looking bars in Madrid are usually expensive
When travelling you'll want to enjoy drinks in a traditional Spanish bar in the heart of the city. However, these tend to be expensive so you'll have to consider the trade-off between staying on budget and experiencing local culture in Madrid. The most affordable bars with the lowest prices in Madrid will most likely not be the prettiest so just adjust your expectations.

For a compromise between saving money and enjoying a traditional setting try one of these options:

Alhambra 9 – €2.50 for a doble (0,3 litres) of beer
Taberna Malaspina – €2.50 for a doble (0,3 litres) of beer
Cuevas El Secreto – €2.50 for a doble (0,3 litres) of beer
Bodegas Melibea – €2.20 for a doble (0,3 litres) of beer
Madrid budget-friendly nightlife
Madrid has a fantastic selection of clubs, most of which are unfortunately very expensive. Expect to pay anywhere from €10 to €30 entrance fee per person. While this can partly count as a drink voucher in some cases, you'll still end up paying a lot for a night out.

The best strategy is to come very early which will get you into some clubs for free. You can also try this for things such as flamenco shows which sometimes charge less if you come when the venue opens.

Also, check the social media accounts of the places you're planning on going to, to see whether they have a guest list you can get on. This might also save you some money on a night out in Madrid.

Finally, avoid clubs or lounges in the Huertas/Barrio de las Letras area. These are usually very expensive and are known for up charging tourists visiting Madrid.

For a budget-friendly club night in Madrid try the Fucking Mondays event which is a weekly student party that you can get into for free if you go before midnight and register on the guest list beforehand.

Otherwise, try little bars with dance floors in Chueca, Chamberí or the Plaza del dos de Mayo area which usually don't charge an entrance fee.
Visiting Madrid on a budget? Save this image to have all the important info!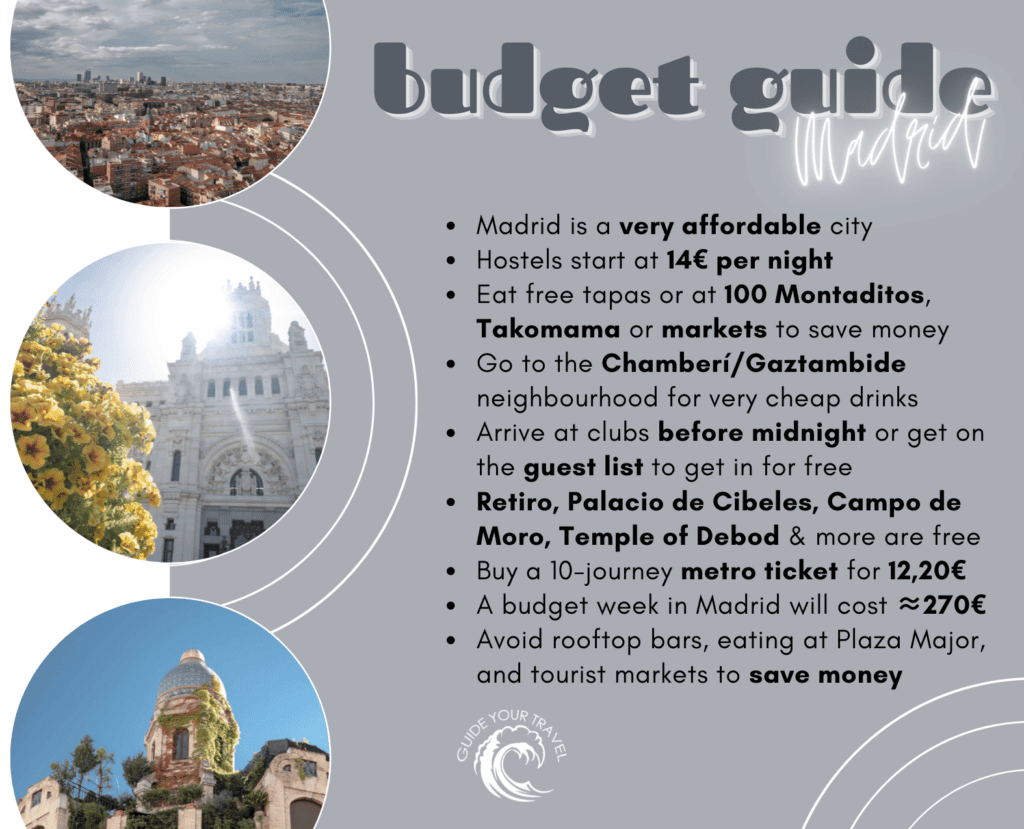 Affordable or free things to do in Madrid
Here are some of my favourite budget-friendly things to do in Madrid as a backpacker.
Campo del Moro – beautiful, quiet park behind the royal palace. Entrance is free and you won't encounter as many other people as in Retiro
Gourmet Experience at Corte Ingles – Rooftop with lots of little restaurants. Outdoor space is limited but going up is free so you can enjoy the views
Retiro Park – Madrid's most famous park. It's absolutely huge so you can easily spend an entire afternoon here
Palacio de Crystal – Glass palace located inside the Retiro. This is a very famous Instagram spot that you can visit free of charge
Palacio de Cibeles – Beautiful building housing a cultural centre that hosts free art exhibitions
Casa de Campo – Giant park with a small lake and lots of hiking trails. Can be reached from the city via the metro
Free museums – A lot of Madrid's famous museums don't charge an entry fee during certain times such as the Prado which is free every evening from 6:00 PM to 8:00 PM
Local Markets – Madrid has a lot of markets such as El Rastro, a giant flea market that take place every Saturday
Temple of Debod – An ancient Egyptian temple that was transported to Madrid. Visiting is free of charge
Cine Dore – Eccentric cinema showing historic films for only €2.50 per person (€2 for students)
Gran Via – Most famous street in Madrid with impressive buildings, a must-see for all tourists and backpackers
Almudena Cathedral – Beautiful church opposite the royal palace. They ask for a €1 donation to visit the interior. Access to the crypt underneath the church is free
Pantheon of Illustrious Men – Historic cloister and burial location for famous Spanish politicians and public figures
Free walking tours – Available every day and great if you're interested in history and culture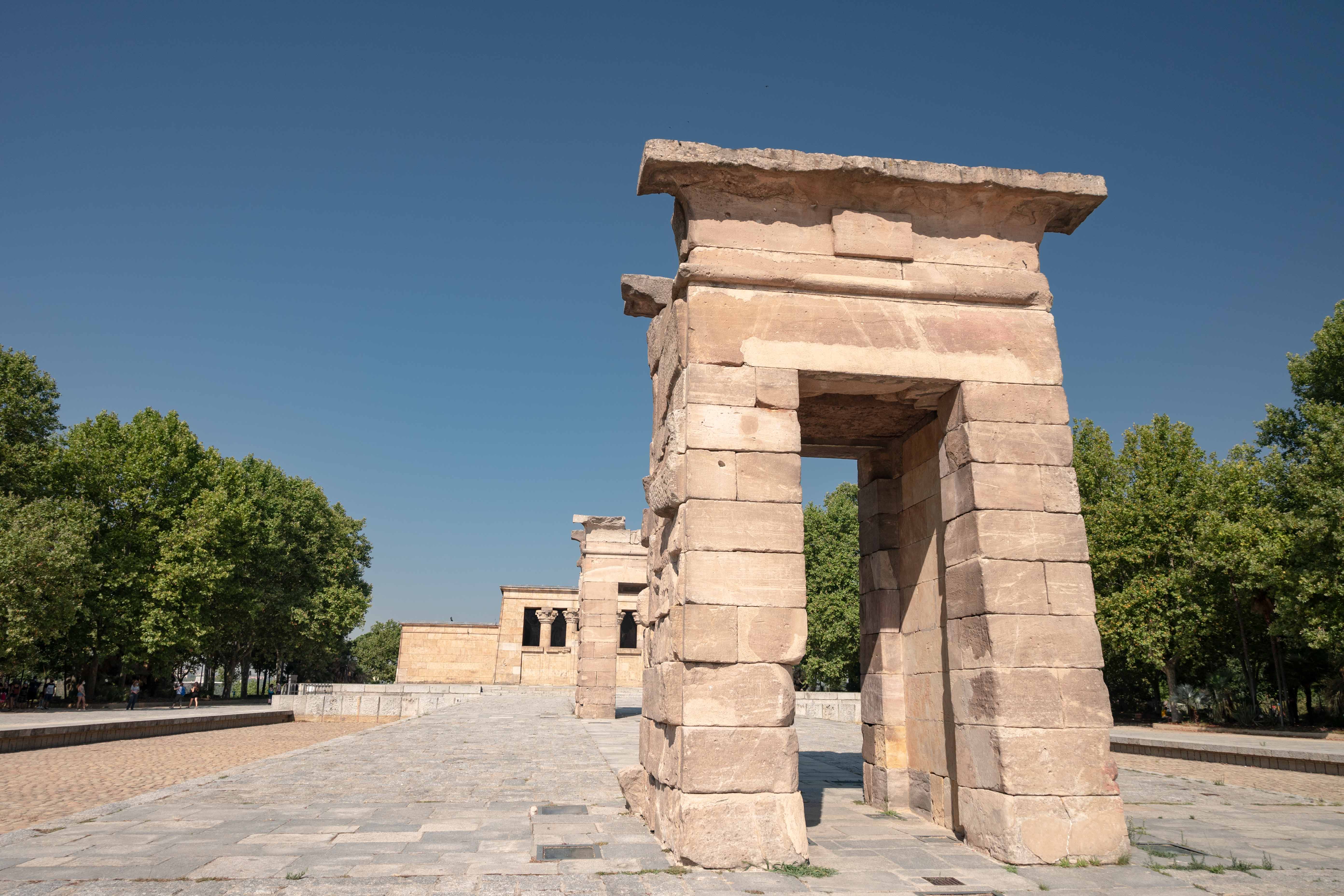 How to get around on a budget in Madrid
The vast majority of Madrid's attractions are located very close together in the city centre so you can actually walk almost everywhere.

Technically, you don't need to spend anything on transport except for the train from the airport into the city. However, if you do want to venture a bit further out or are tired of walking the metro will be the best choice.
Is the metro in Madrid affordable?
Madrid's metro and bus system is clean, safe and reliable. It's also one of the cheapest in southern Europe and can take you almost anywhere you need to go.

The majority of buses can be used interchangeably with the same tickets as the metro. Within the central city zone of Madrid, a ride with the metro will always cost the same, regardless of how far you go if you use a rechargeable metro card.

For single tickets, the price depends on how many stops you go ranging from €1.50 to €2.00.

The cheapest option is definitely to buy ten rides which you load onto a metro card. This costs €12.20 so a single ride to anywhere in the city will be €1.22. As long as you don't leave the metro station you don't have to buy a new ticket even when changing trains.

The same applies to buses. You can use your metro card or pay for a ticket when you get on which costs €1.50 per ride.

If you're planning on using the metro or bus system at least a handful of times the ticket of 10 journeys is definitely worth it. Plus you'll have a lot more freedom when sightseeing or exploring the nightlife.

Keep in mind that you need to pay a surcharge of €3 to get to or from the airport in Madrid.
Are the taxis in Madrid affordable?
Taxis will never be the cheapest way of getting around. But if you do need to get somewhere that isn't accessible by public transport it's good to know that taxis in Madrid are definitely not incredibly expensive.

For around €10 to €20 you can get to most places in the city, depending on the traffic of course. In the evenings in popular nightlife areas it can definitely be a struggle to find a taxi though and many up charge late at night.

A trip to the airport of Madrid is also usually more expensive and can cost anywhere from €40 to €80 depending on the time of day.

Ridesharing services like Uber or Free Now are also available in Madrid and tend to be a few euros cheaper than a traditional taxi. However, their prices change according to demand so always compare to taxis which tend to be more stable.
E-Scooters in Madrid and how to use them to save money
Recently a lot of tourists have started using e-scooters to get around large cities like Madrid. If you're confident to drive in busy traffic this is definitely a fun way to explore a new place.

Most scooters cost €1 to unlock and then a certain price per minute (usually between €0.10 and €0.20). Plus, those who sign up for the first time tend to receive some sort of discount like the first 10 minutes free for the first month.

If you use a scooter for an hour you'll pay somewhere between €7 and €13 which is reasonable. Definitely keep this mode of transport in mind if you haven't signed up for providers like Bird, Lime or Bolt yet to get your discount.

Traffic in Madrid can be crazy and accidents involving e-scooters and tourists are frequent. Keep in mind that you won't be allowed to ride on sidewalks and won't have a helmet so always put your own safety first.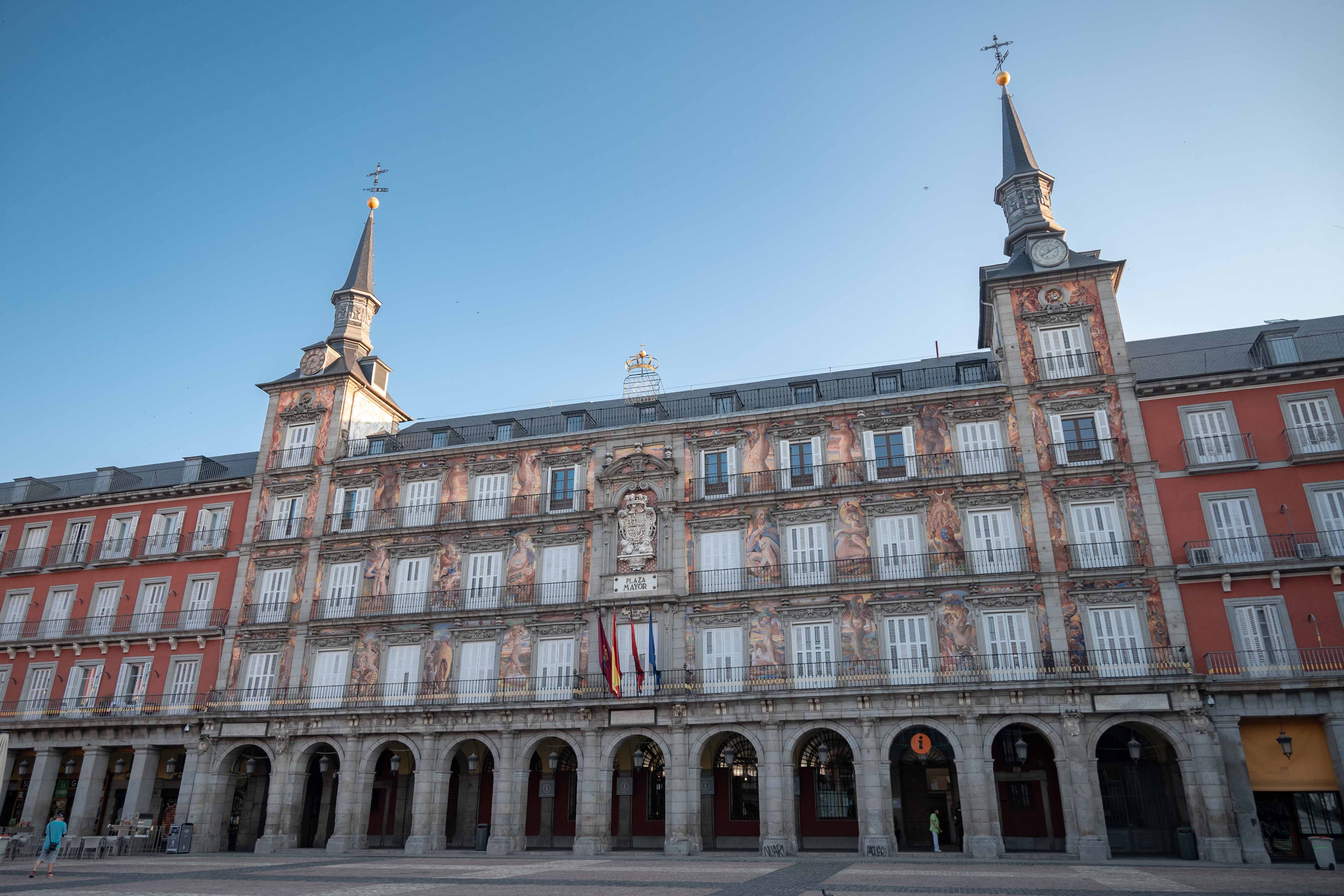 Budget-friendly ways to get to Madrid
Madrid is Spain's capital so it's well-connected. You can find a variety of international or regional flights with a budget airline such as Ryan Air, Air Europa or Vueling. Just keep in mind that prices in Madrid will be more expensive during the summer when a lot of tourists visit Spain.

Definitely book in advance especially on weekends as flights frequently sell out.

Spain also has a great bus and train network. While long-distance buses will be the cheapest option for travelling within Spain there are also some good deals on train tickets with Renfe if you book far in advance.

The trains are far more comfortable than buses and a lot more reliable. However, backpackers might be better off choosing the bus to get to Madrid.
How much is a trip to Madrid going to cost?
Here is a breakdown for a week in Madrid on a very tight budget for backpackers:
Hostel – €15 per night x 7 = €105
Food – €12 per day x 7 = €84
Sightseeing – €30
Drinks and nightlife – €40
Metro ticket for 10 journeys – €12.20
Total: €271.20
Cheapest time to visit Madrid for backpackers
All of Spain will be flooded with tourists during the summer especially from June to August.

This will definitely be the most expensive time to visit Madrid in terms of flights/trains and accommodation. If you book these in advance it shouldn't matter too much when you visit the city.

For a more spontaneous trip to Madrid definitely try to go somewhere between November and April (except for New Year's and any Christmas holidays of course) when fewer tourists come to Spain and you'll have better chances of getting last-minute deals.

During this time attractions like museums or other tourist hotspots will also be far less crowded so it's a fantastic choice if you're planning a budget-friendly trip to Madrid.
Madrid tourist card – is it worth it for backpackers?
Like many large cities, Madrid also has a "tourist card" which you can buy in a ticket office when you arrive. It costs €47 for one day, €60 for two, €67 for three and €77 for five days.

This includes all public transport (including metro, buses, cercanía trains and airport surplus charges) as well as entry to several attractions in Madrid.

Examples of this include the Prado Museum, the Royal Palace, the Almudena Cathedral Museum, the Reina Sofía National Art Museum and more. You'll also get discounts in selected bars and restaurants.

Is it worth it?

Yes and no. If you're planning on seeing all these attractions anyway (and are 100% sure you'll be going to every single one) the card is definitely worth it. But most tourists tend to skip some of them and if you're a student you'll get into a lot for free or for a discounted price anyway.

If you're seeing Madrid on a very tight budget the card is not worth it in my opinion.

Instead of using the metro, you can walk almost everywhere and you can get into museums or attractions either for free during certain times or at discounted rates if you have a student card (or something similar).
Things to avoid if you're seeing Madrid on a budget
Madrid might be an affordable city in general but it's still very easy to overspend. Here are some things you should avoid if you're trying to save money on your trip to Madrid.
Rooftop bars – Madrid has incredible rooftop bars but prices are high. The HAT or Gourmet Experience are the cheapest options.
Plaza Major – Beautiful historic square but avoid eating here. It's made for tourists and food is notoriously expensive and bad quality.
The Hammam Al Andalus – Picturesque spa which is very popular among tourists visiting Madrid but treatments are very expensive.
Eating at tourist markets – Mercado de San Miguel or Mercado de San Idefonso are great to visit but very expensive for food.
Museums during regular hours – Instead of paying €10 to €18 per museum go during the free visiting hours instead.
Click the images below to pin this post to Pinterest and save for later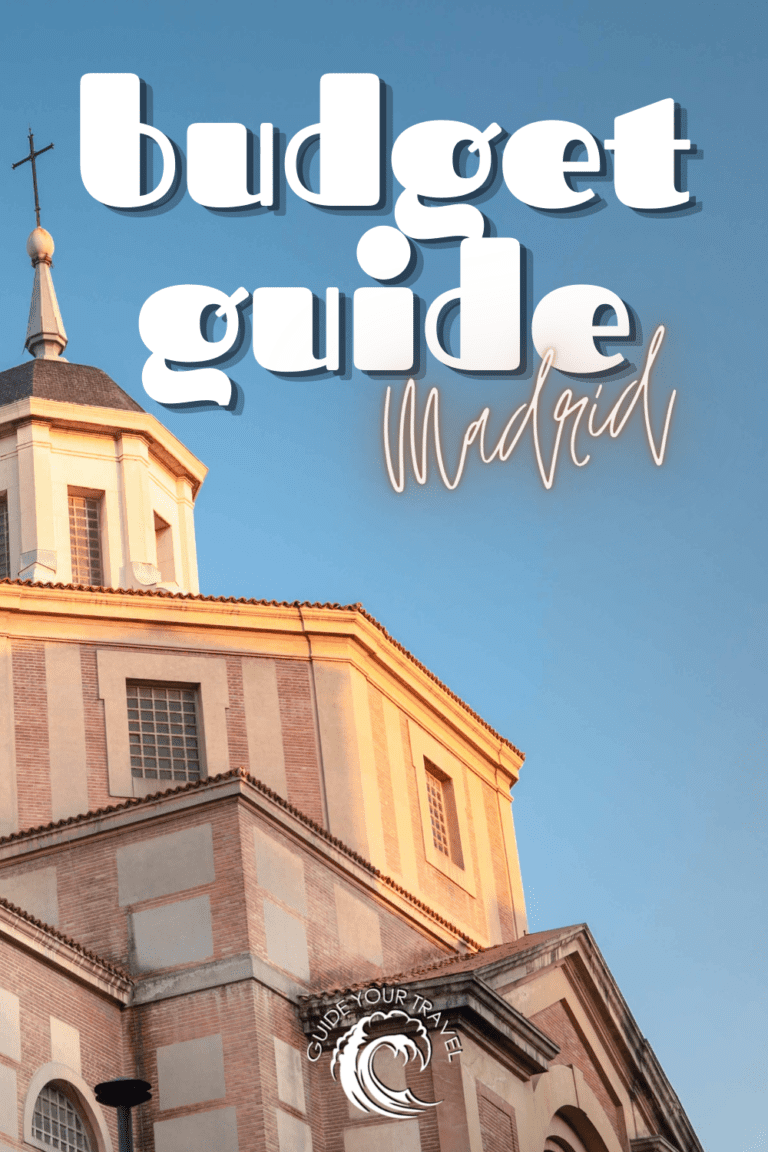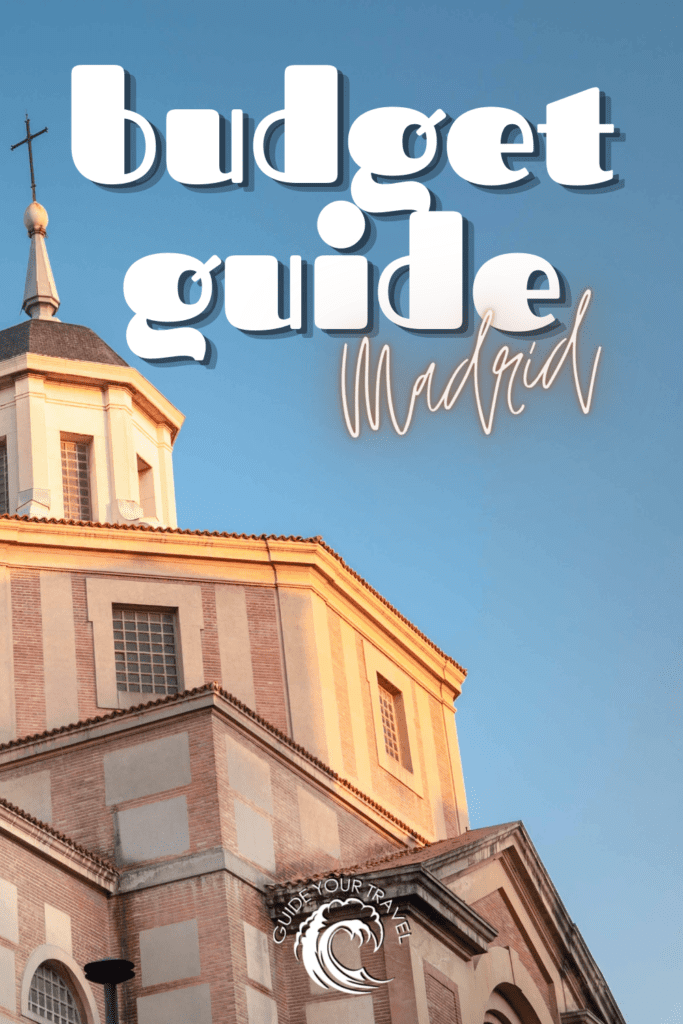 My most important travel tips and resources
Book your flights
Skyscanner is the best website for finding cheap flights since it works like a search engine so you can find the best deals across all airlines.

Book hotels and hostels
• Booking.com: Best world-wide
• Agoda: Best in South East Asia
• Hostelworld: Best for hostels

Book tours, transport and rental cars
•Viator: The best place to book tours, day trips and excursions for al budgets
•12Go: Great for ferries, trains, transfers and buses in South East Asia
•Discover Cars: Best deals for rental cars around the word

Get travel insurance
Every traveller needs travel insurance and I mean every single one. SafetyWing covers you in case of injury, illness or worse and they've got your back if your bag is stolen, flights are cancelled or in case of a natural disaster.

Pay abroad
Ask any traveller, Wise is the best choice when it comes to sending money abroad. They've always got the best exchange rates, lowest fees and their visa card is great for getting cash out or paying abroad.

Things every traveller needs:
➼ Osprey Farpoint 70 Backpack
Detachable daypack, ultra-light, durable and free repairs for life. There's a reason why so many backpackers have this bag.
➼ Packing Cubes
Packing cubes are a gamer changer, keeping your luggage organised and providing tons of extra space.
➼ Power bank
There is nothing worse than running out of battery on an overnight bus journey or a long flight. With a powerbank you can charge your eletronics on the go and make sure you're always connected.
➼ Micro-fibre towel
These lightweight towels are foldable, fast-drying and so useful when you're travelling.

➼ You can find 15 more things every traveller needs here. Some might be a bit controversial but I warned you!
Did I miss anything?
If you have any questions or feel like something is missing from this post please leave a comment below or contact me.