If you're exploring Spain and need a cheap and fast way to get around, the high-speed AVE trains will be your answer. This mode of transport is perfect for getting from one city to another in Spain when you don't have a car. Taking the train in a foreign country can be quite an adventure and it's always good to come prepared. This is a complete guide to taking the high-speed AVE train from Malaga to Madrid including the process of buying tickets, what to expect on the train and all you need to know before you go.
This post may contain affiliate links, which means we'll receive a commission if you purchase through our links, at no extra cost to you. This helps us keep Guide your Travel free and provide high-quality content for you. Please read the full disclaimer for more information.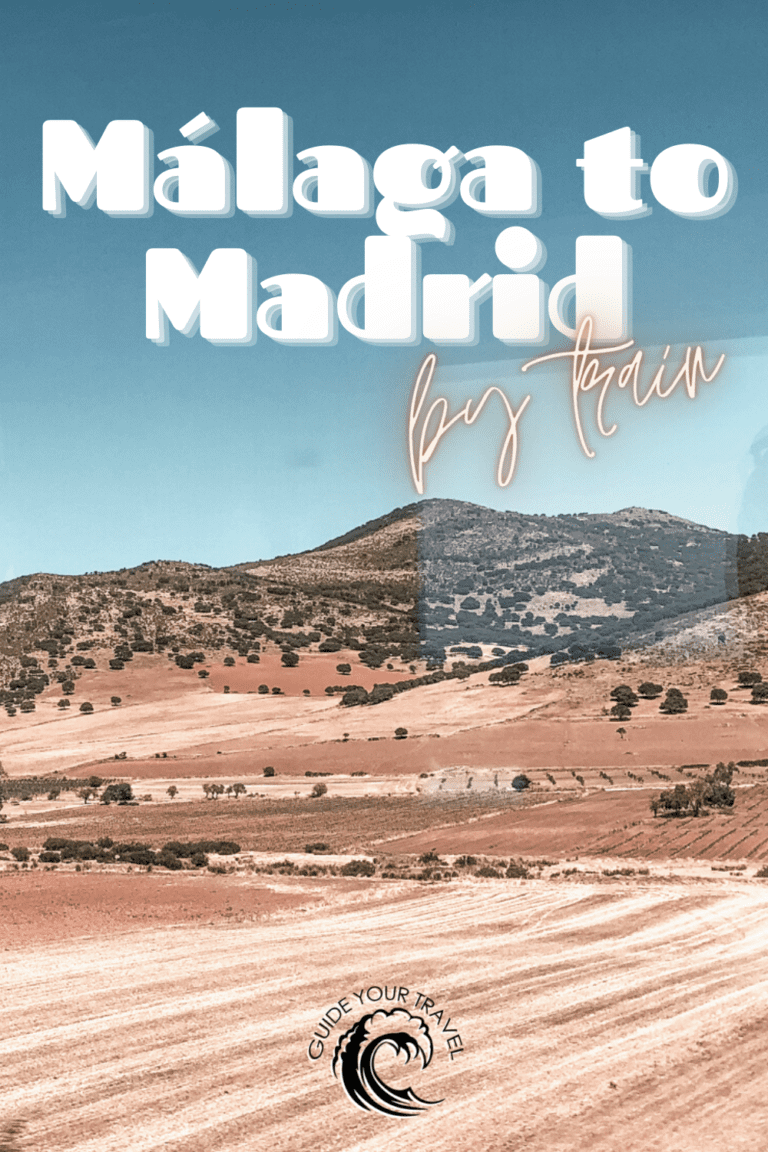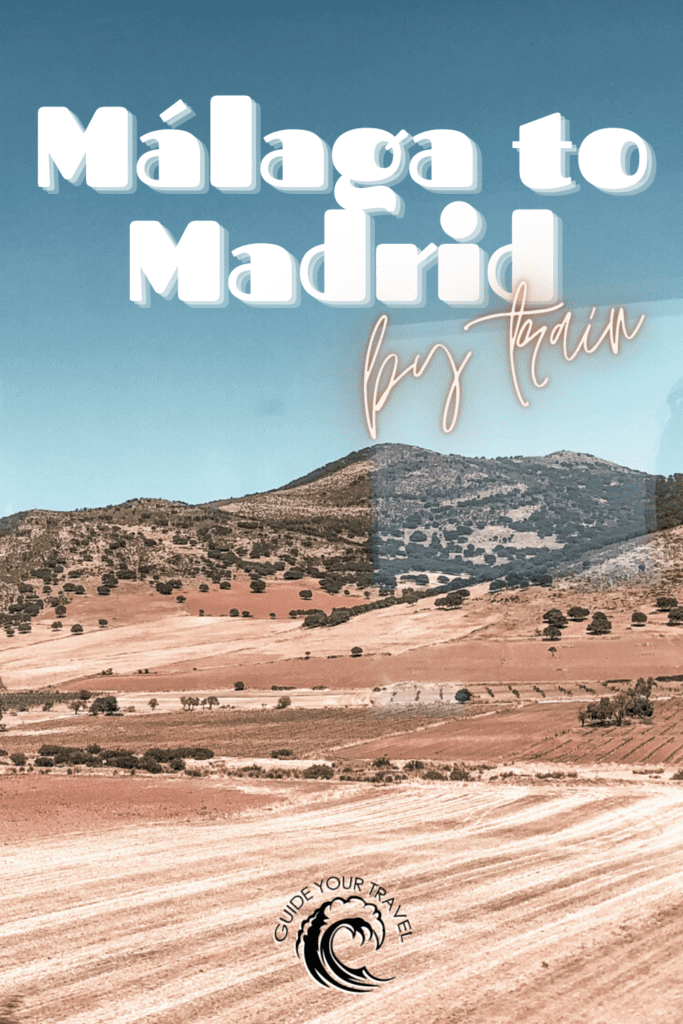 All about Malaga
Malaga is a beautiful seaside city located in the south of Spain. This area is called Costa del Sol and attracts more than 5 million tourists every year.

Malaga is known for its historic architecture, city beaches and authentic Spanish cuisine. It's a lively city with lots of nightlife and fantastic opportunities for day trips. Visit the iconic Caminito del Rey or spend the day at one of Andalusia's famous white villages.

Malaga is also a hotspot for art and culture. With lots of museums and cultural festivals to choose from, there is always something to do here. Come to Malaga for a beach vacation while still being able to enjoy all the benefits of visiting a large city.
All about Madrid
Madrid is Spain's capital and is notorious for its nightlife, diversity and for having more bars and pubs than all of Finland. Everyone visiting Spain should come to Madrid at least once even if it's just for a few days. Stop by authentic food markets and enjoy free tapas if you're seeing the city on a budget.

The city is very walkable and there always seems to be something going on. With world-class museums, breathtaking rooftops and incredible architecture, this is a city for culture-lovers. Explore a new neighbourhood every single day and be amazed at this versatile and colourful place.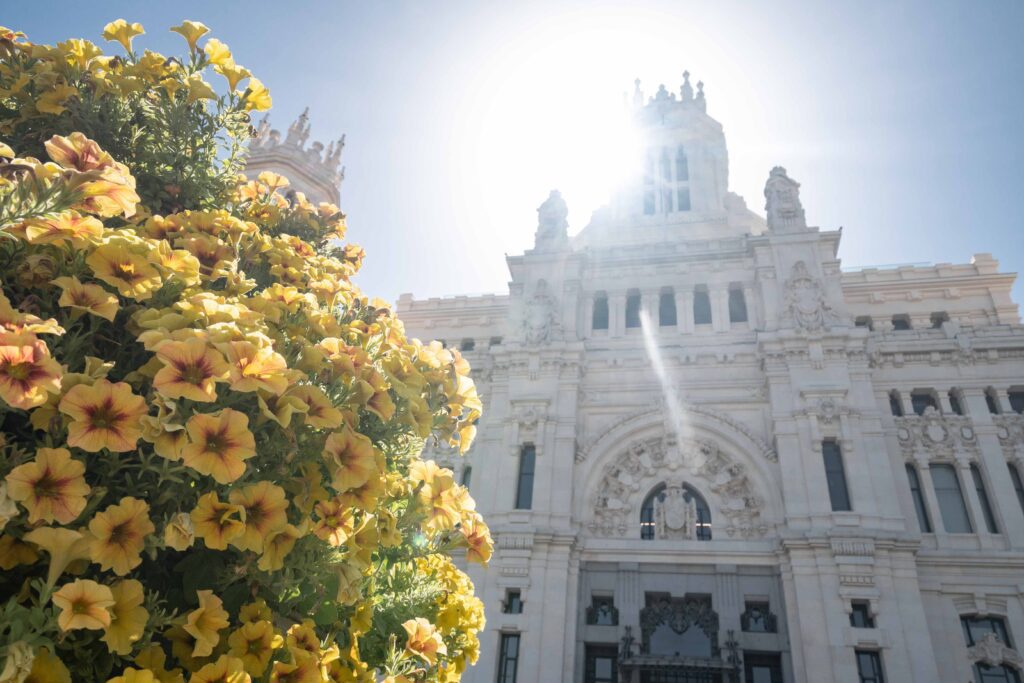 Why Malaga to Madrid is a popular train route
Madrid is a beautiful city but unfortunately, it's not anywhere close to the ocean or another large body of water. A lot of locals like to go to the south of Spain for their holidays especially during the summer months when the heat in the city becomes almost unbearable.

There are also a lot of inter-rail travellers who take this route or tourists going to all the best places in Spain. The train route from Malaga to Spain is very beautiful and scenic in places so looking out the window is highly recommended.

It's also incredibly fast.

The high-speed AVE trains take just 2 hours and 45 minutes to get from one city to the other. By car, the journey is more than 5 hours long.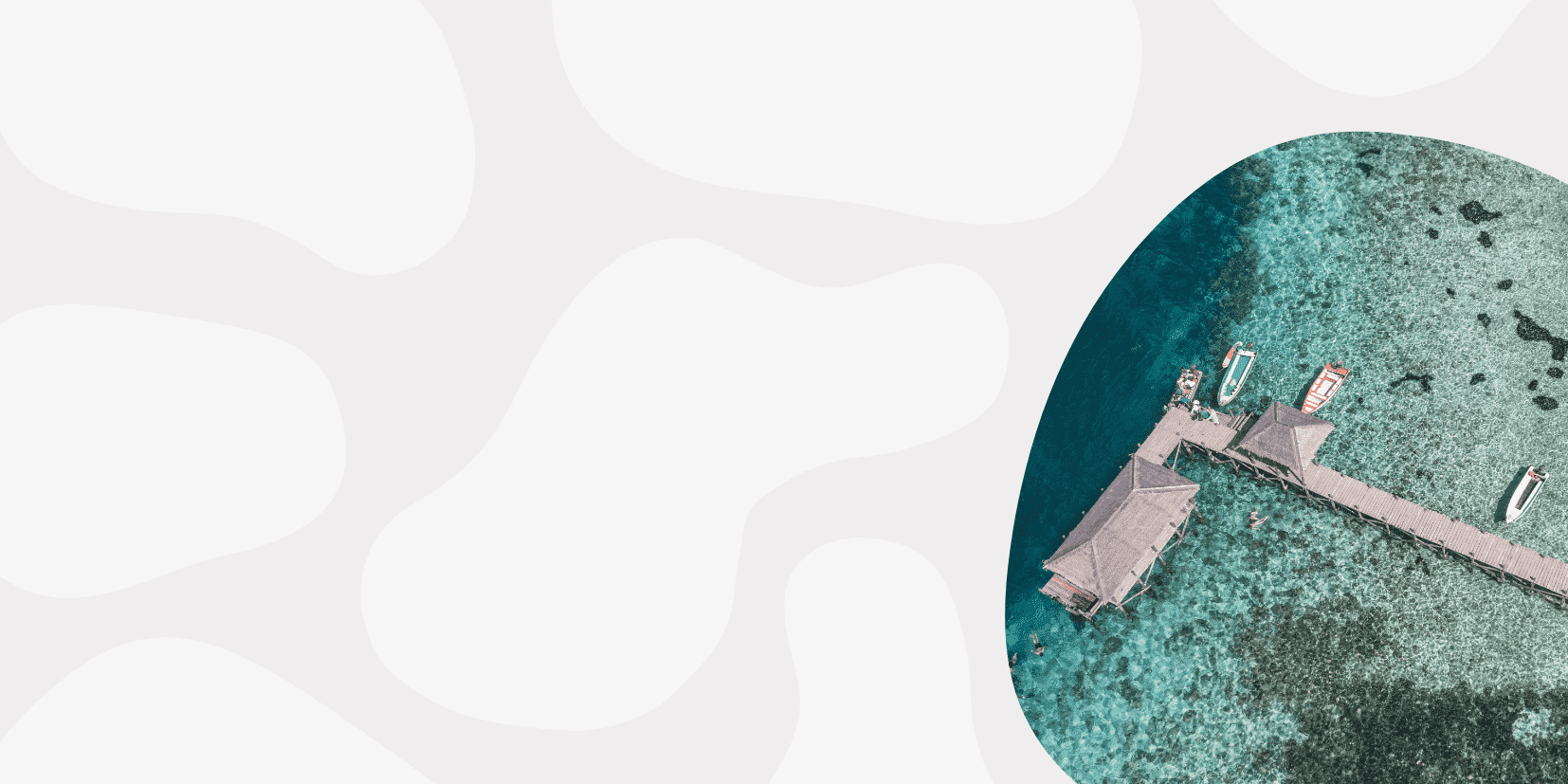 Let me save you time and effort when you're travel planning!

➼ Best travel insurance? SafetyWing
➼ Best place to find cheap flights? Skyscanner
➼ Best bank & credit card for travellers? Wise
➼ Best travel backpack? Osprey Farpoint 70
How to buy tickets for the AVE train from Malaga to Madrid
You can buy tickets for the AVE train from Malaga to Madrid either online or from a ticket vending machine at the train station. It's advisable to book online in advance though as tickets can get very expensive and can even sell out during popular travel times.

If you can, book at least a few weeks in advance to get lower prices.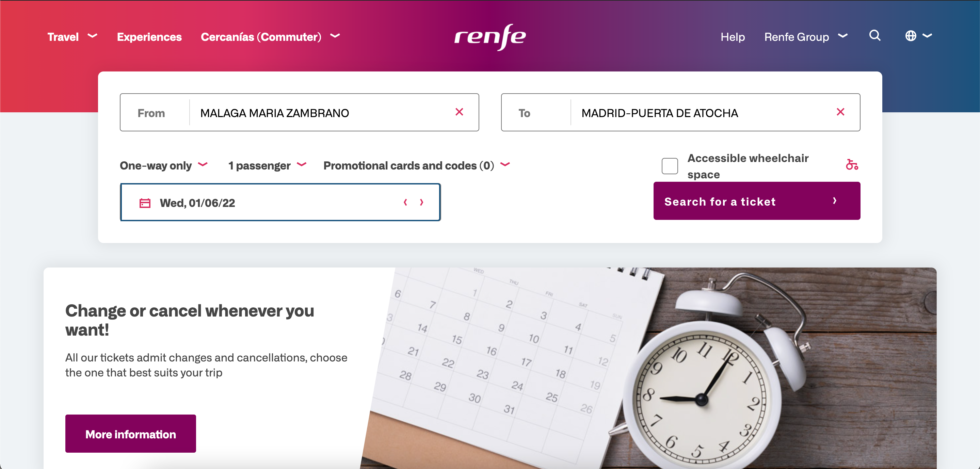 You can also go to the Renfe website and enter your travel dates. The website is available in several languages including English.

You can select between Basico and Elige rates. Elige (which means choose in Spanish) gives you a bit more flexibility while Basico is the cheapest rate. Here are the main differences between the different ticket options:
| | | |
| --- | --- | --- |
| Basico | Elige | Elige Comfort |
| Standard Seat | Standard Seat | Comfort Seat |
| No refund in case of cancellation | In case of cancellation, you will receive a 70% refund | In case of cancellation, you will receive a 70% refund |
| No refund if you need to change the travel date or time | In case you need to change your travel date or time you will receive an 80% refund | In case you need to change your travel date or time you will receive an 80% refund |
| For a €40 fee, you can change the name on the ticket | For a €30 fee, you can change the name on the ticket | For a €30 fee, you can change the name on the ticket |
| You can take 3 pieces of luggage with 25kg | You can take 3 pieces of luggage with 25kg | You can take 3 pieces of luggage with 25kg |
| Prices start at €25 | Prices start at €32 | Prices start at €43 |
Some trains also offer a Premium option but on the route from Malaga to Madrid this is not common. You can choose the following add-ons for your ticket:
Select a seat – €8
Travel with a pet – €20
Seat in a silent car – free
Bike – free
Seat preference (not guaranteed) – free
How strict is the luggage policy on the AVE trains?
In general no one really checks the weight of luggage on trains in Spain. Your bags won't be weighed or counted in 95% of cases.

As long as you can carry your luggage it should be fine. However, the trains can get quite crowded so space on board is limited. If you do have a lot of luggage make sure to get on the train as early as possible so you can store everything away.

Each train car has a luggage area where you can place your bags or overhead storage options for lighter things.
Do you need to print your AVE train tickets?
After you've purchased your tickets you will receive an email with your travel details and virtual ticket. You do not have to print this. Simply show the QR code on your phone and you'll be good to go.

If you purchased your AVE tickets at a train station you'll receive a paper copy of your ticket.


How much is the train from Malaga to Madrid?
The AVE trains can, unfortunately, be very expensive especially during the summer, on weekends or if you book last minute. The Basico rate can get as expensive as €80 one-way and there is usually no significant discount if you buy a return ticket.

If you book a few weeks or months in advance ticket prices go down to around €50 one-way which seems to be the average price. The absolute cheapest prices available will be around €32 but such a deal is very rare.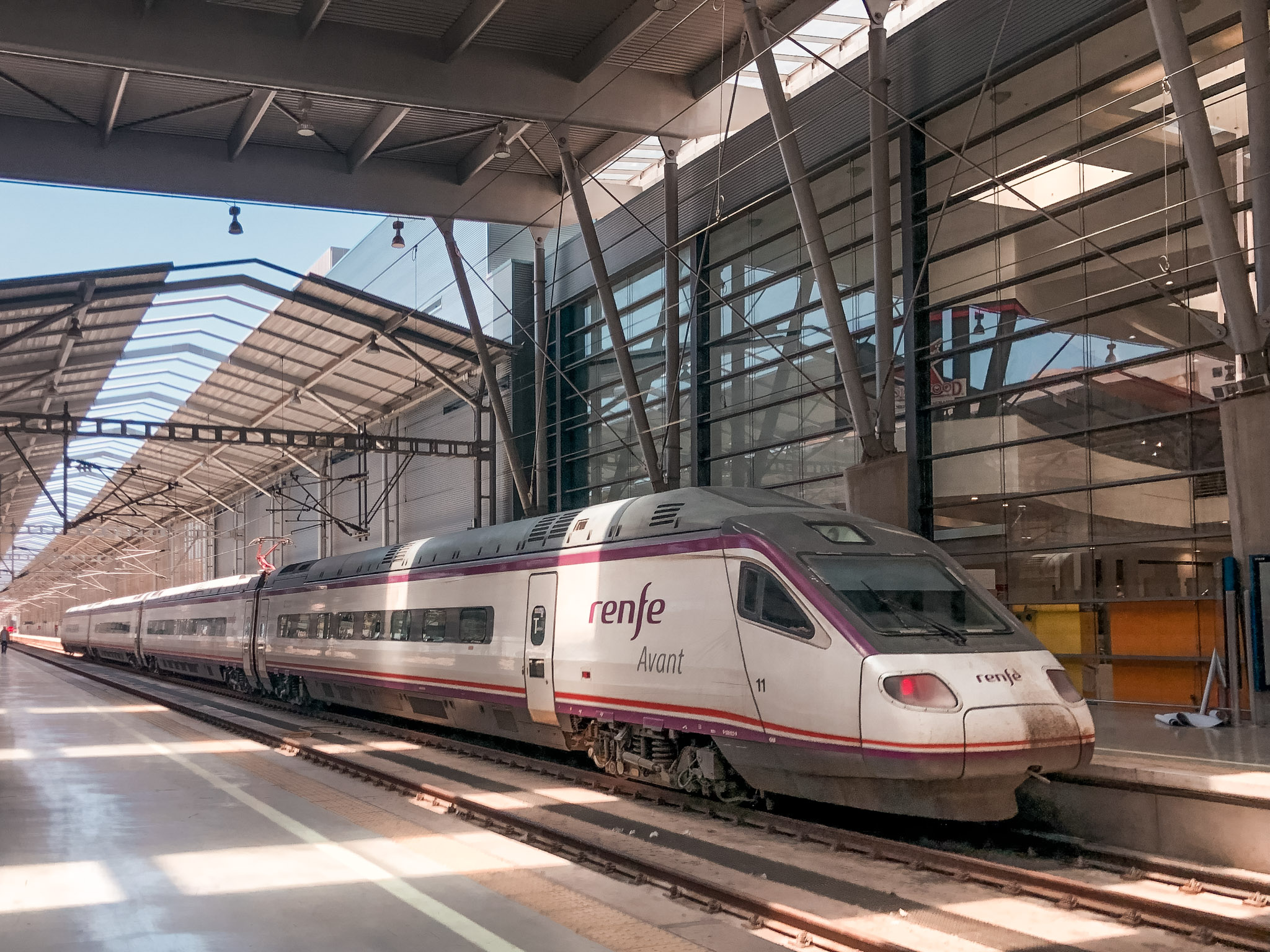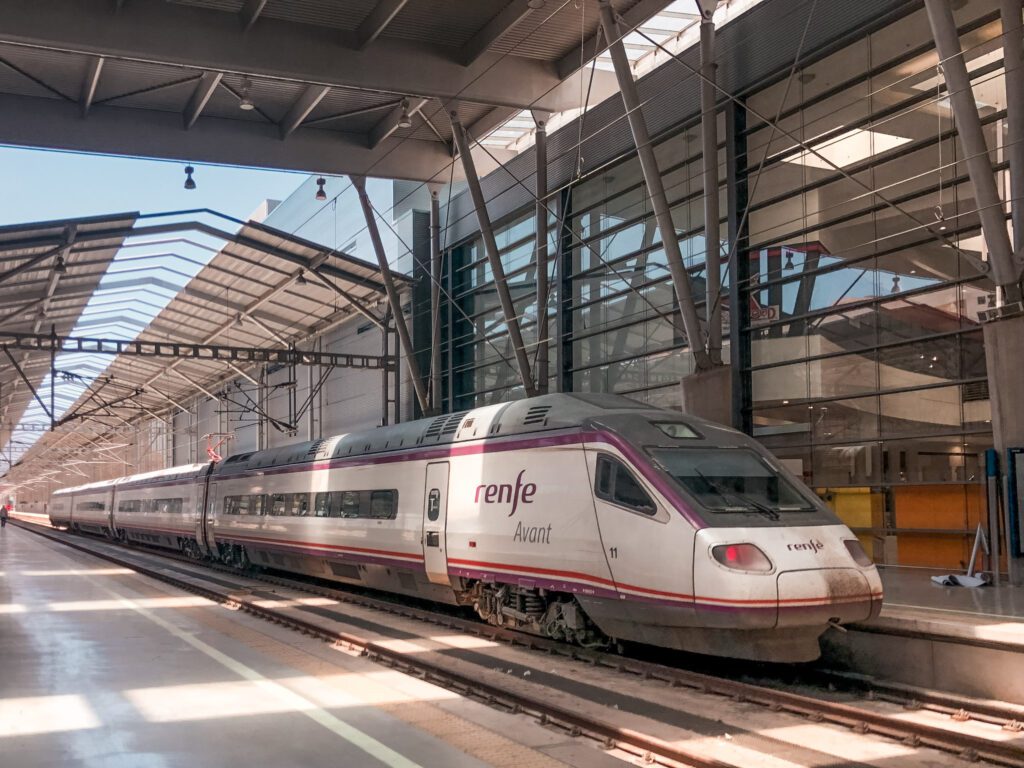 Useful words to know for your train journey in Spain
Here is some useful train vocab to help you navigate your train journey through Spain:
Renfe – Spanish railway company
AVE – high-speed train network in Spain
Cercanías – commuter rail system
Maria Zambrano – Malaga's main train station
Atocha – Madrid's main train station
Bilette – ticket
Cambio – change
Anulación – cancellation
Ida y vuelta – there and back (return ticket)
Tren – train
Estación – station
Coche – train car
Plaza/Asiento – Seat
Where the train departs in Malaga
The AVE from Malaga to Madrid is a direct train so you don't need to change anywhere. The train begins in Malaga and ends in Madrid so it's really easy and convenient.

The journey begins at Malaga's main train station which is called María Zambrano. It was named after a Spanish philosopher and her name has become synonymous with the train station.

It's a large and modern station located in the heart of the city. You can easily reach it by bus or short-distance train. There are lots of shops as well as cafes and a food court.

María Zambrano Railway Station Address: C. Explanada de la Estación, 29002 Málaga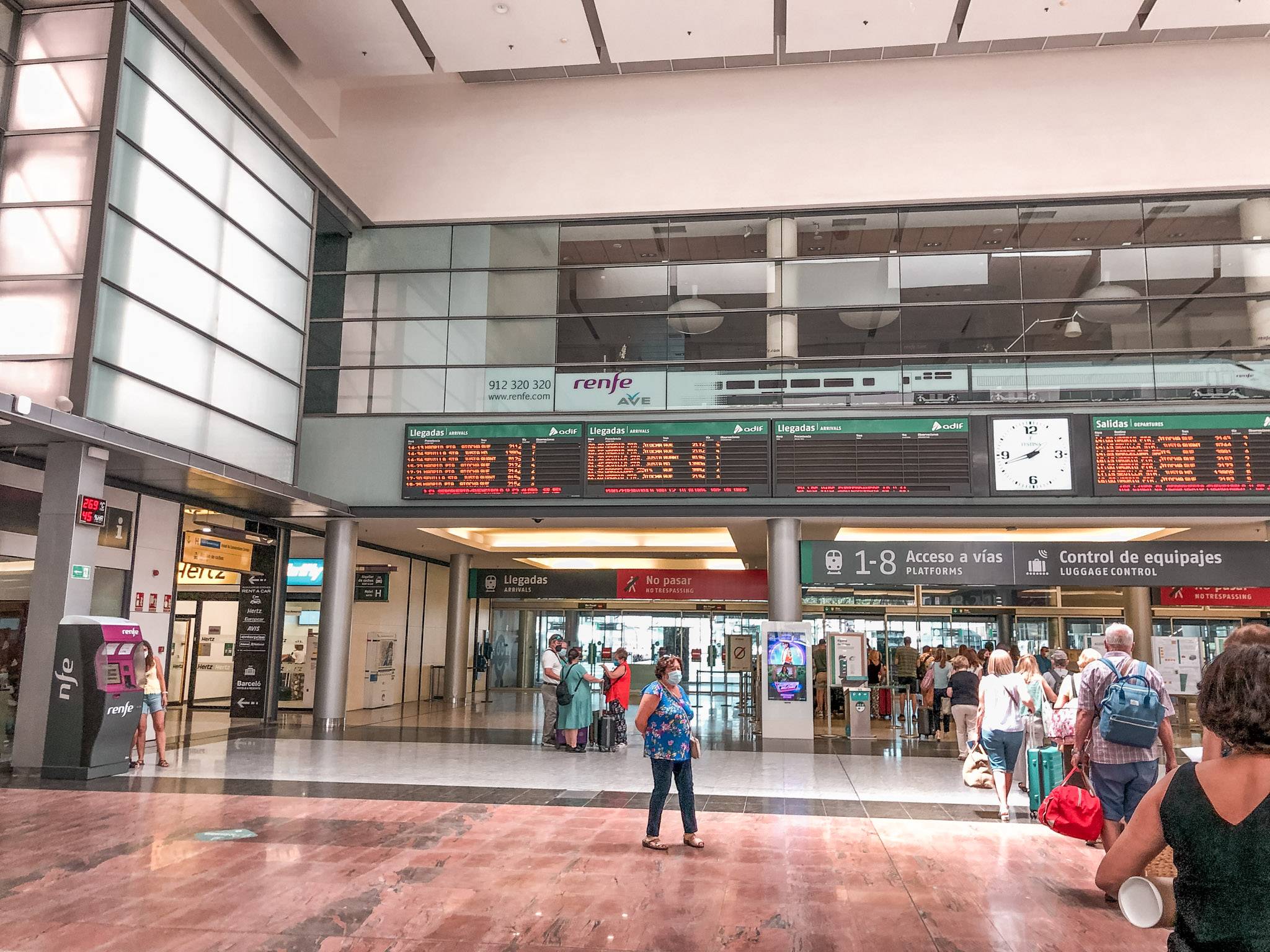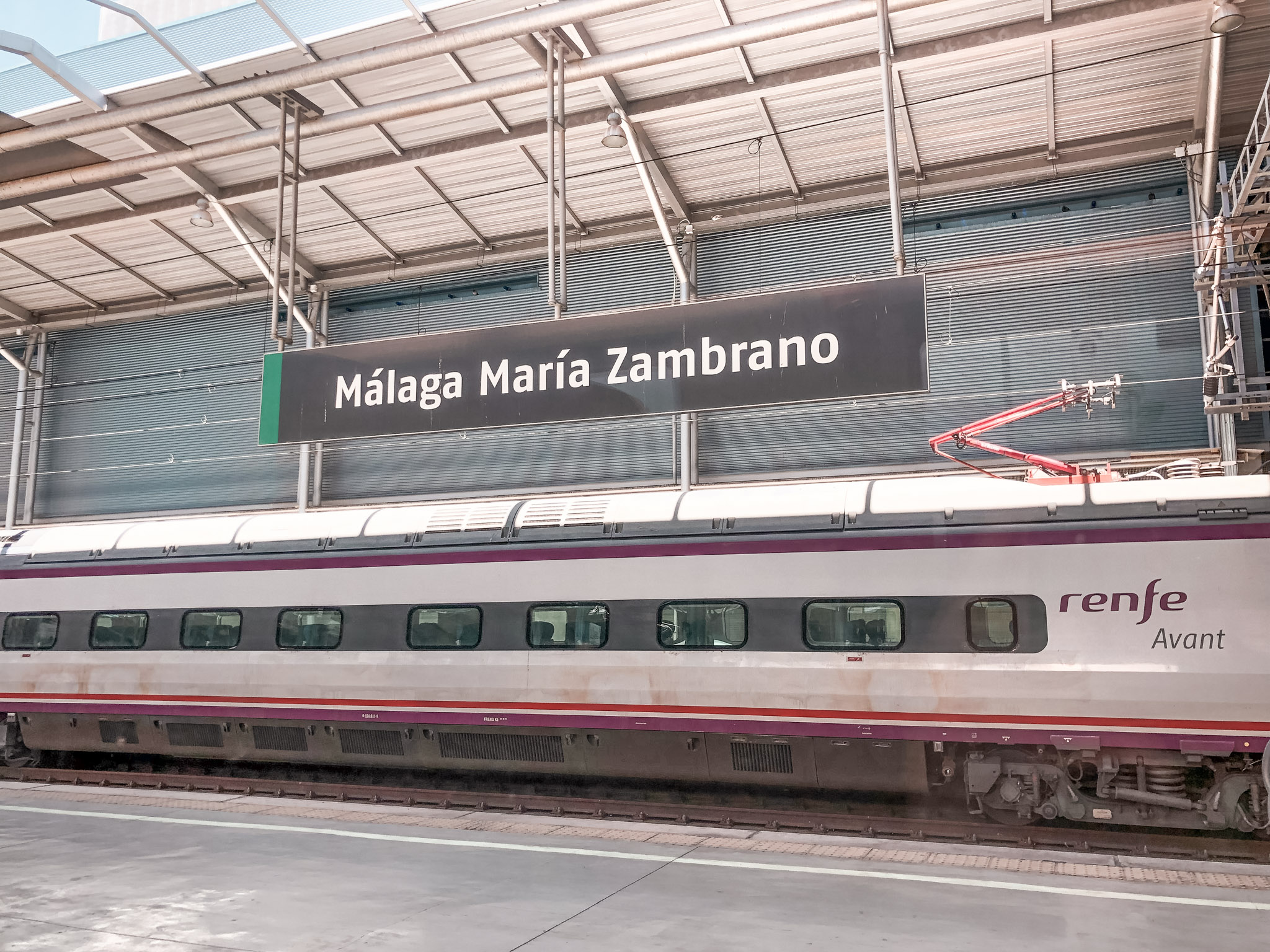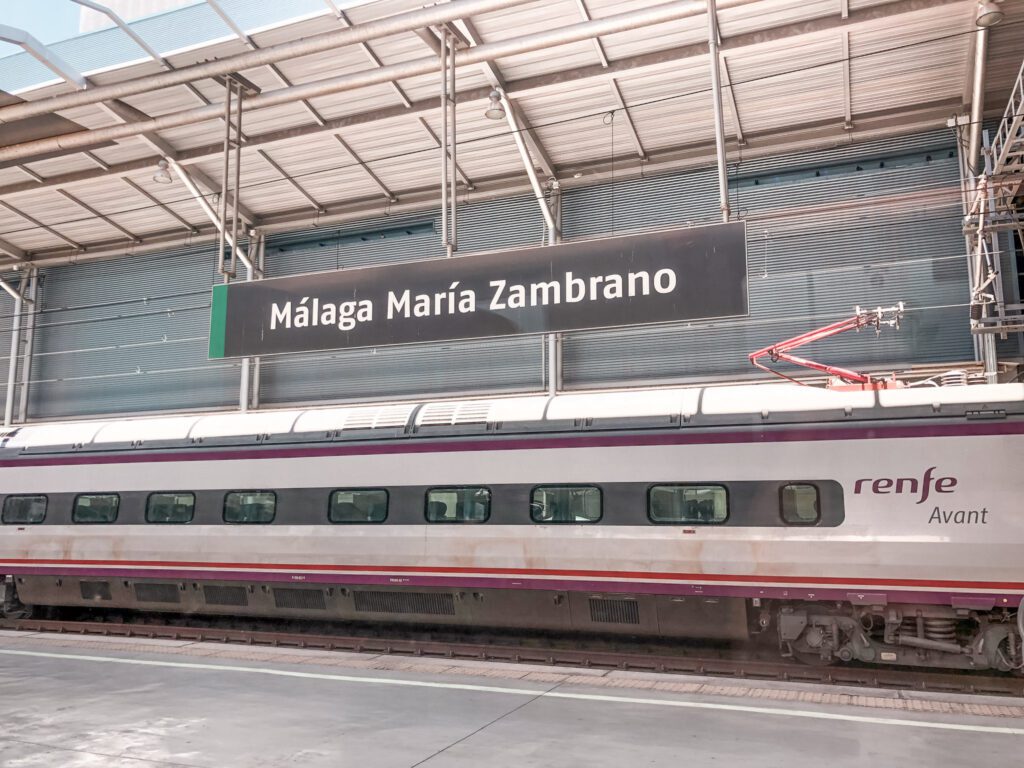 How to get to the Maria Zambrano train station from the Malaga airport
If you're coming from the airport you can easily get to the Maria Zambrano train station via the Cercanía. This is the name for commuter/short-distance trains in Spain. Cercanía trains are convenient and easy to use. They're comparable to a subway or metro and exist in several large Spanish cities.

At the Malaga airport head to arrivals and go outside. From there it's just a quick walk straight across to the Cercanía train station. It's super easy to find and there will be several signs pointing you in the right direction.

You need to buy a ticket at one of the ticket machines next to the entrance. A one-way into the city costs €2.40 and the train takes only 10 minutes. Trains run every 10-20 minutes and will take you into the city and directly to Maria Zambrano.

Just make sure you're getting on the train to Malaga which will be on your left as you enter the station. Fuengirola is not the right direction.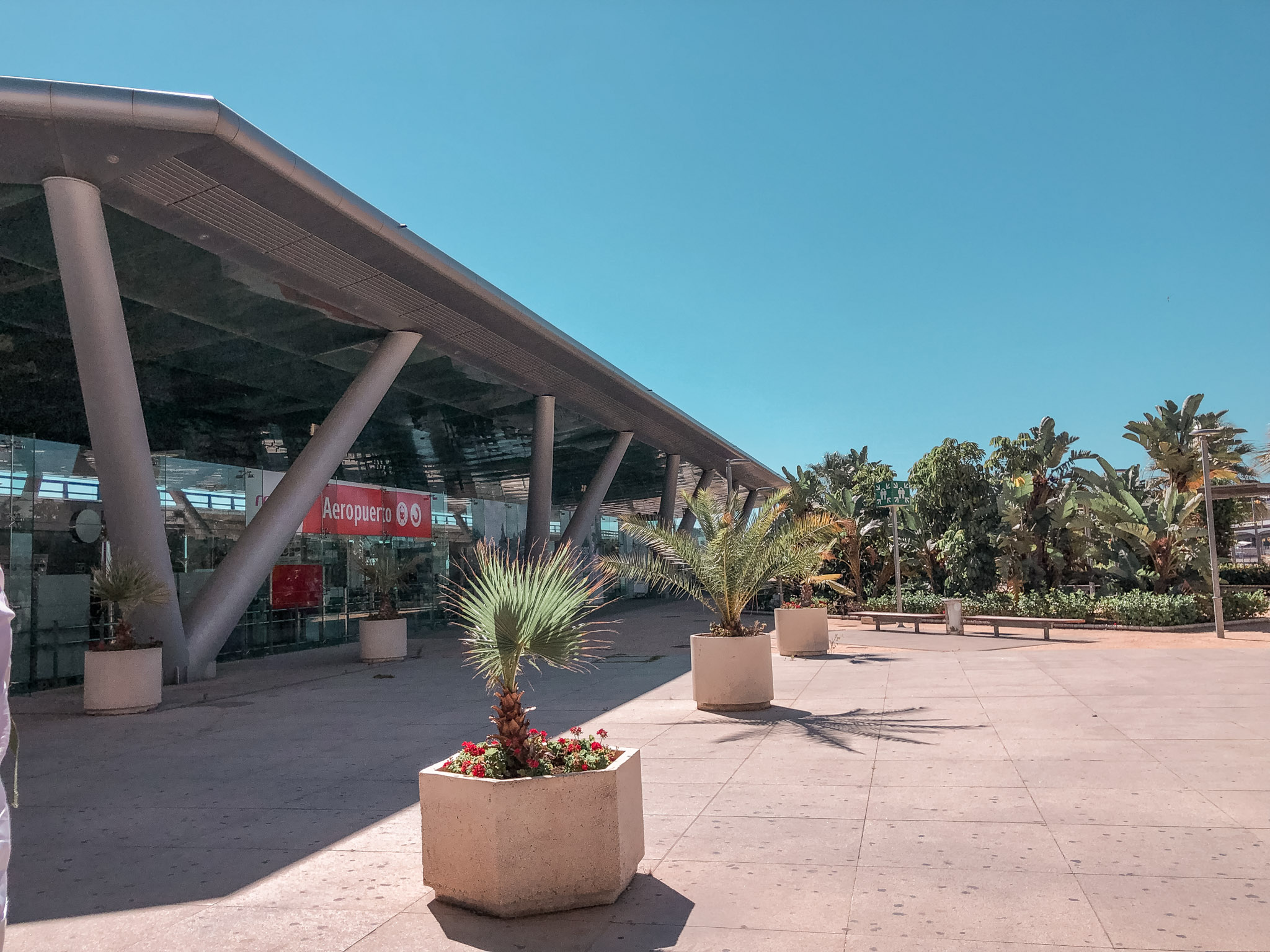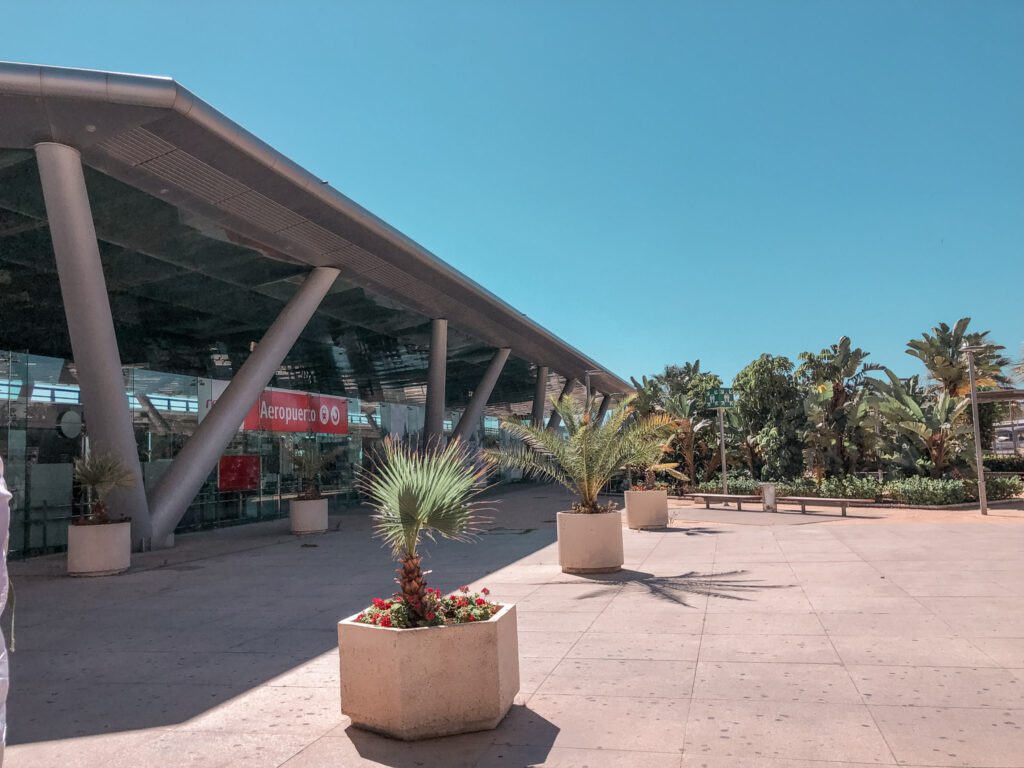 What to do at the Maria Zambrano train station while you wait
If you're a bit early for your train you'll find plenty to do in the area. The Maria Zambrano train station has a small shopping mall attached with quite a few stores including a large supermarket, a food court and some cafes. Head to the first floor to find a quiet spot to sit with your laptop or grab some pre-train snacks.

Another great option is to head to the large Larios Shopping Centre which is located across the road. You can walk there in less than 5 minutes and the selection of shops and food options is even bigger here.

If you have an hour or more to spare before your train departs definitely go to Larios instead of staying in the train station.
Taking a train from Malaga to Madrid? Save this image to have all the important info!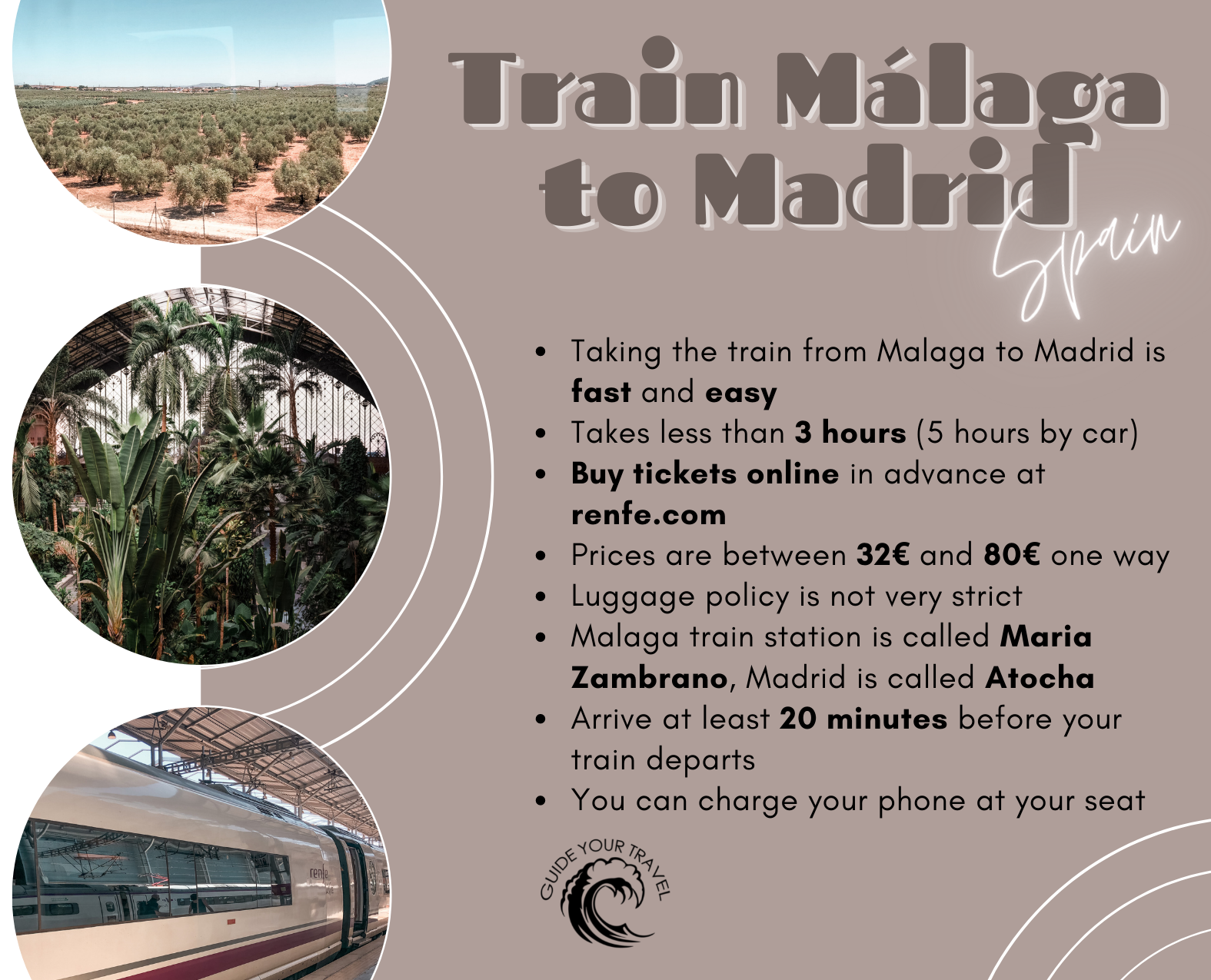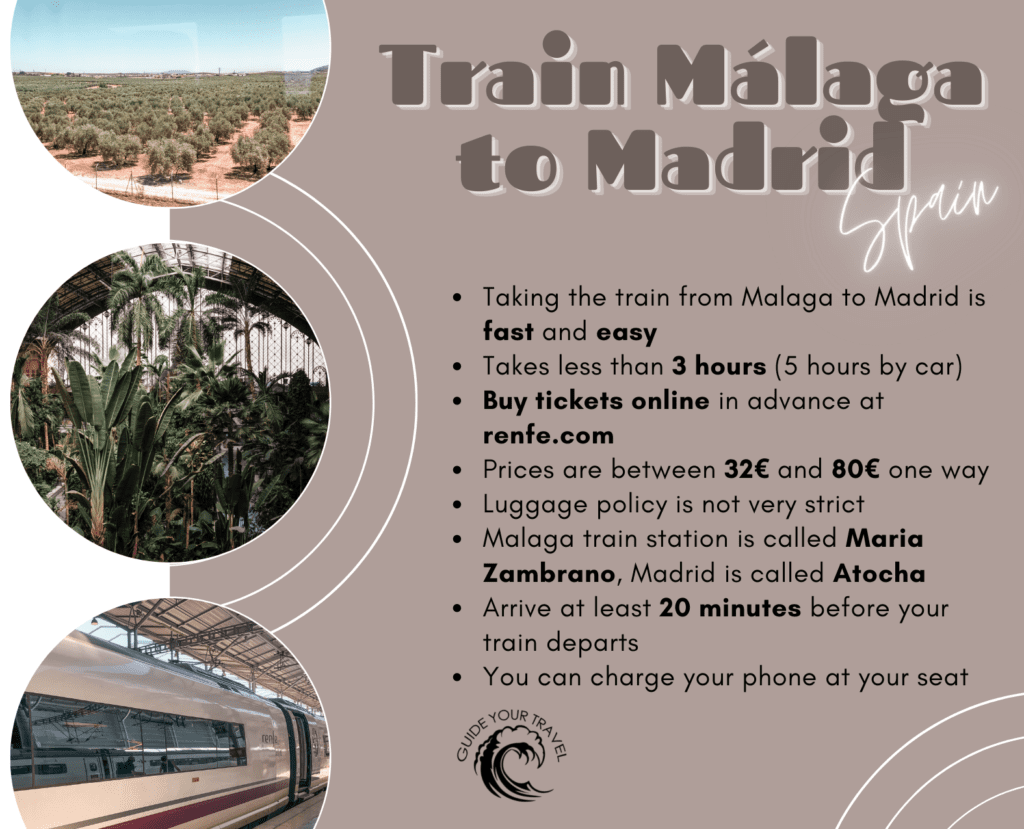 When should you arrive at the train station?
It's good to arrive at the train station at least 20 minutes before your train departs. That gives you enough time to get your bearings, find your train and get on board with a few minutes to spare.

If you want to buy a few snacks and go to the bathroom before you get on the train arriving at least 30 minutes before departure is recommended. Usually, they will let passengers board the train 10-15 minutes before departure so keep that in mind if you have a lot of luggage and want to be the first onboard.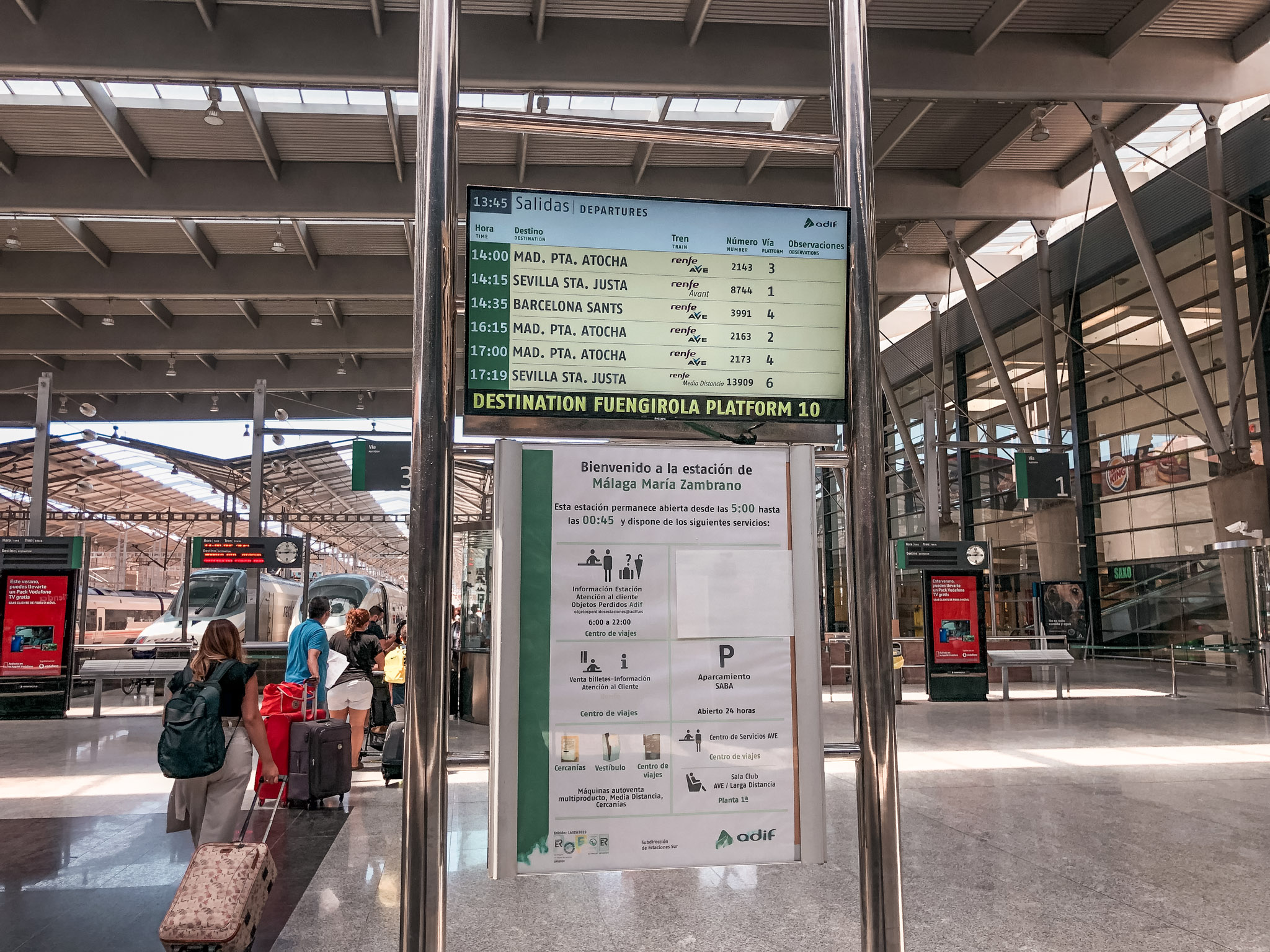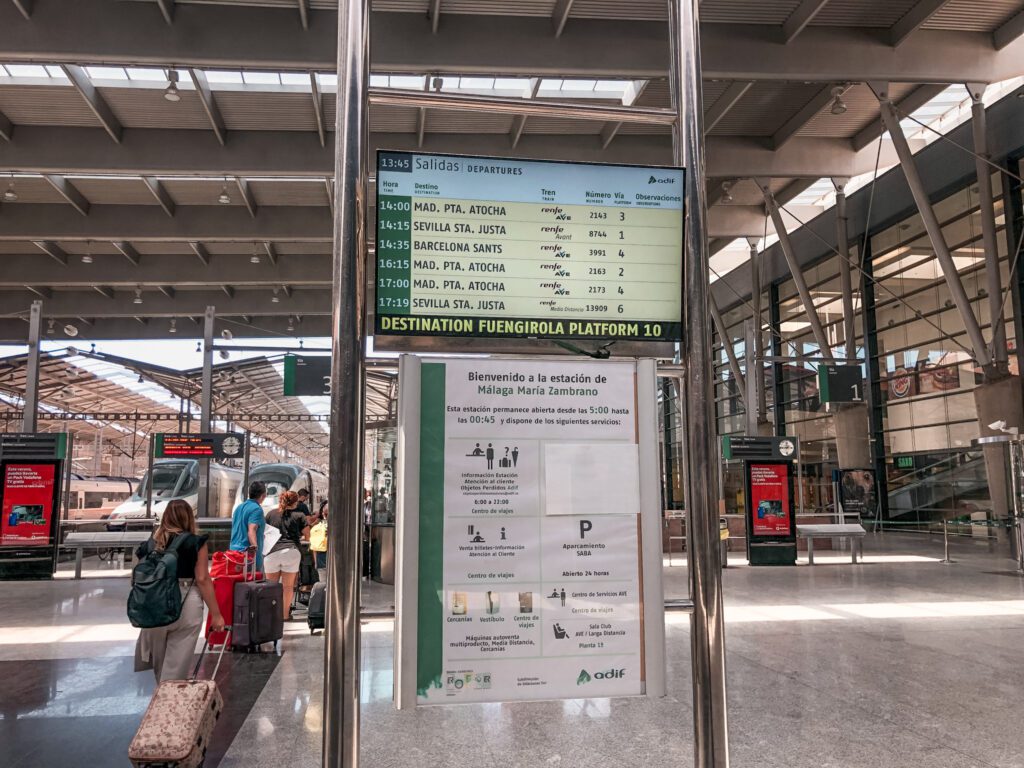 Getting on the train at Maria Zambrano in Malaga
Passengers are not permitted to wait for their train on the platform. This area is separate from the rest of the train station and is only open 10-15 minutes before departure.

You'll have to show your train ticket and go through a security check to get to the trains. The screening is not as thorough as you might be used to from airports though. Only your luggage will be x-rayed.

If there aren't a lot of trains departing at the same time you can usually get to the platform earlier so give it a try if you want to board first.
Finding your seat on the AVE train from Malaga to Madrid
Your ticket will have a car and a seat number. The trains are usually very organised so finding your seat shouldn't be a problem. Each train car will have a number on the outside so you can easily find yours.

If there is someone sitting in your seat kindly ask them to double-check their seat number. Don't sit in another seat since it might also be reserved. Unless the train is very empty don't sit in a seat that isn't yours since people might be getting on at different stops.

If you have any problems or questions ask a member of staff and they'll be happy to help. Most of them speak basic English so you won't have to worry about language barriers.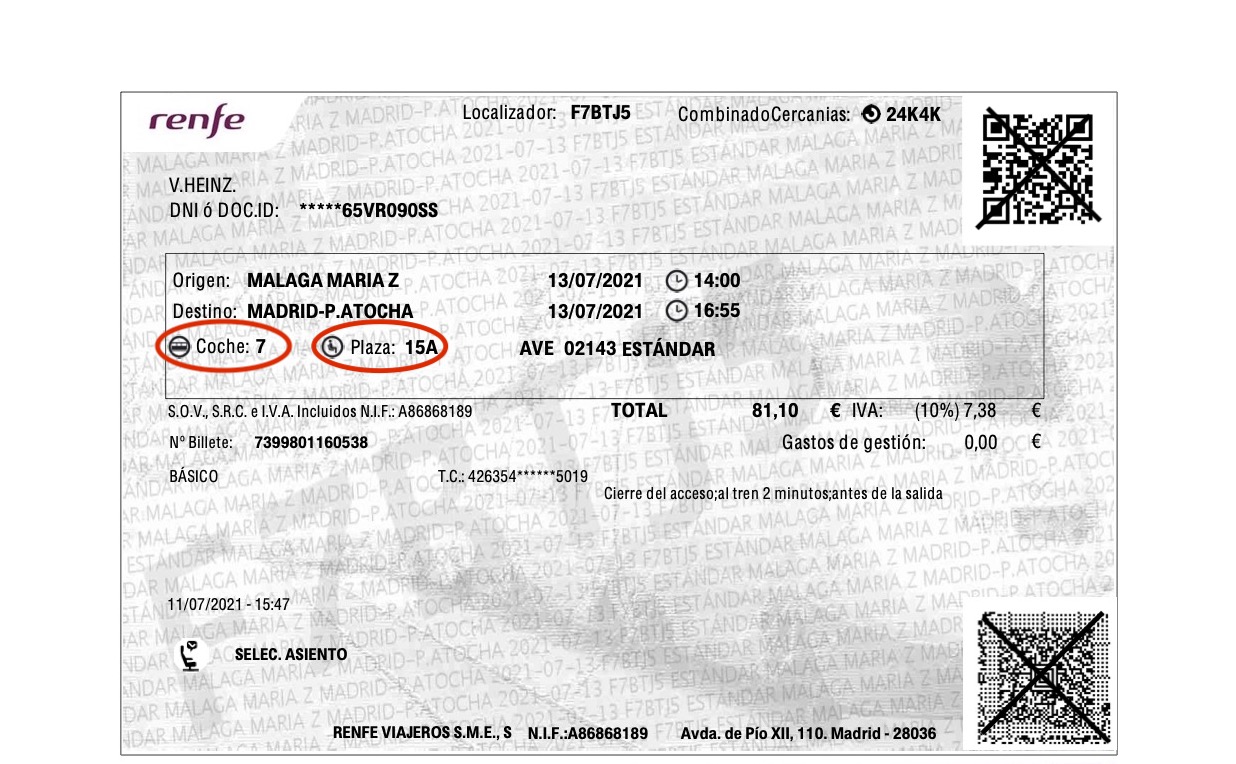 Luggage space on the AVE train from Malaga to Madrid
Each train car on the AVE from Malaga to Madrid will have a dedicated luggage area close to the bathrooms and entrance to the train. Since Malaga is a popular vacation area a lot of passengers will be carrying suitcases which means these luggage racks tend to fill up quickly. If you have a lot of luggage try to get on the train as early as possible.

There are also overhead storage options available but they only hold smaller suitcases and bags.

The AVE trains are considered to be very safe so you don't need to worry about your luggage too much. You can check on it occasionally if your seat is very far away from the luggage racks but in general, this isn't necessary.
How long does the train journey from Malaga to Madrid take?
The AVE is a high-speed train so it takes just 2 hours and 45 minutes to get from Malaga to Madrid. Considering the route is around 500 kilometres long this is incredibly fast and very convenient.
Can you charge your phone on the AVE train?
Even the basic seats on AVE trains are large and comfortable. They have a collapsable footrest, a tray table and two electrical sockets located under the seat. You can charge your phone, laptop or other electric devices here so make sure to bring your charger.

All plugs are European (Type C).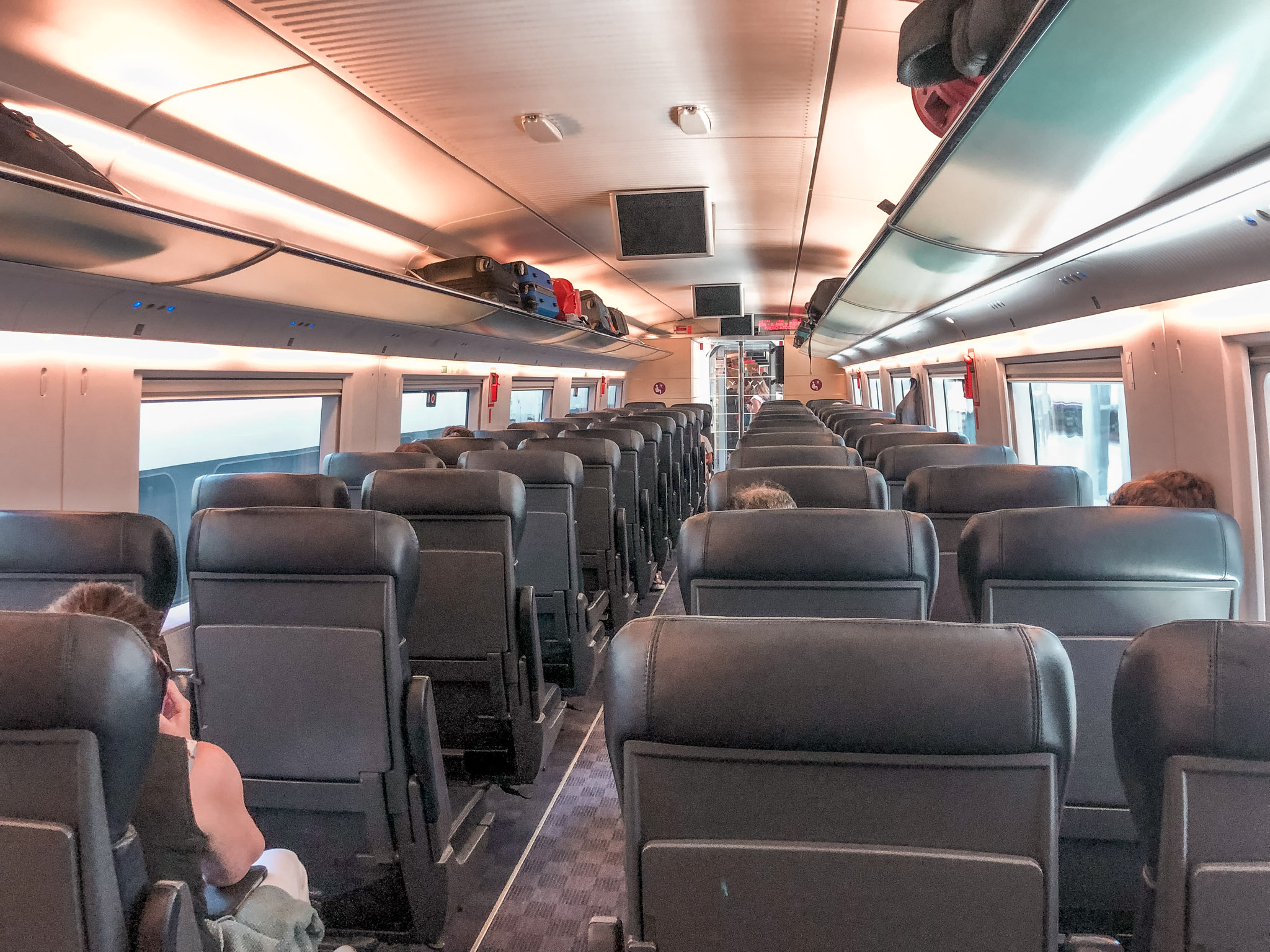 The train journey from Malaga to Madrid
The train journey from Malaga to Madrid is quite scenic and very beautiful in places. You'll be passing by vast olive tree plantations with little white houses. The landscape is mostly flat with occasional rocky bluffs. Especially during the summer, this area of Spain is very hot and dry.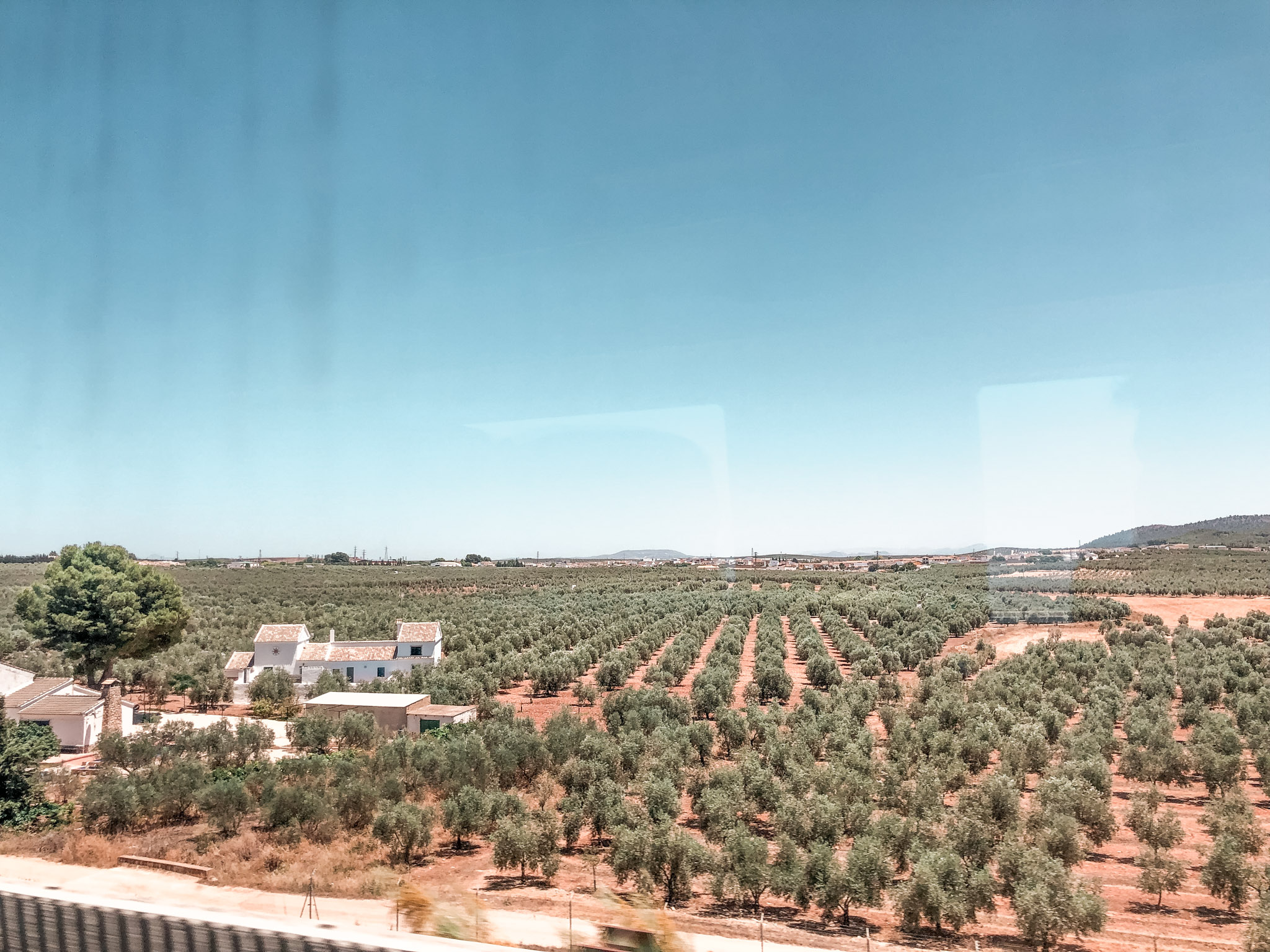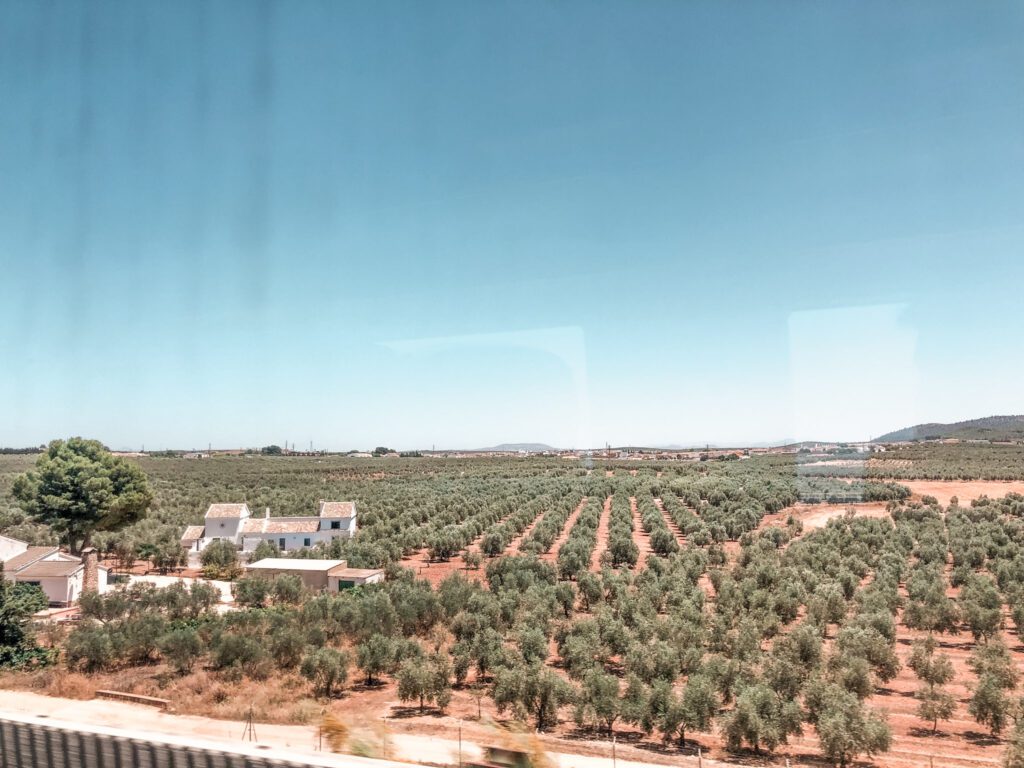 Train stops between Malaga and Madrid
The AVE train makes several stops along the way from Malaga to Madrid. These include Puertollano, Ciudad Real, Córdoba, Puente Genil Herrera and Antequera Santa Ana. The train originates in Malaga and ends at Madrid Atocha and vice versa on the way back.
Arriving in Madrid by train
The AVE will arrive in Madrid at Atocha train station. This is the city's main train station and has great public transport connections. The train station is also known to be quite beautiful and is somewhat of a tourist attraction. Unfortunately, the AVE usually arrives in a very unimpressive part of the station so you'll have to walk for a few minutes to reach the famous indoor jungle.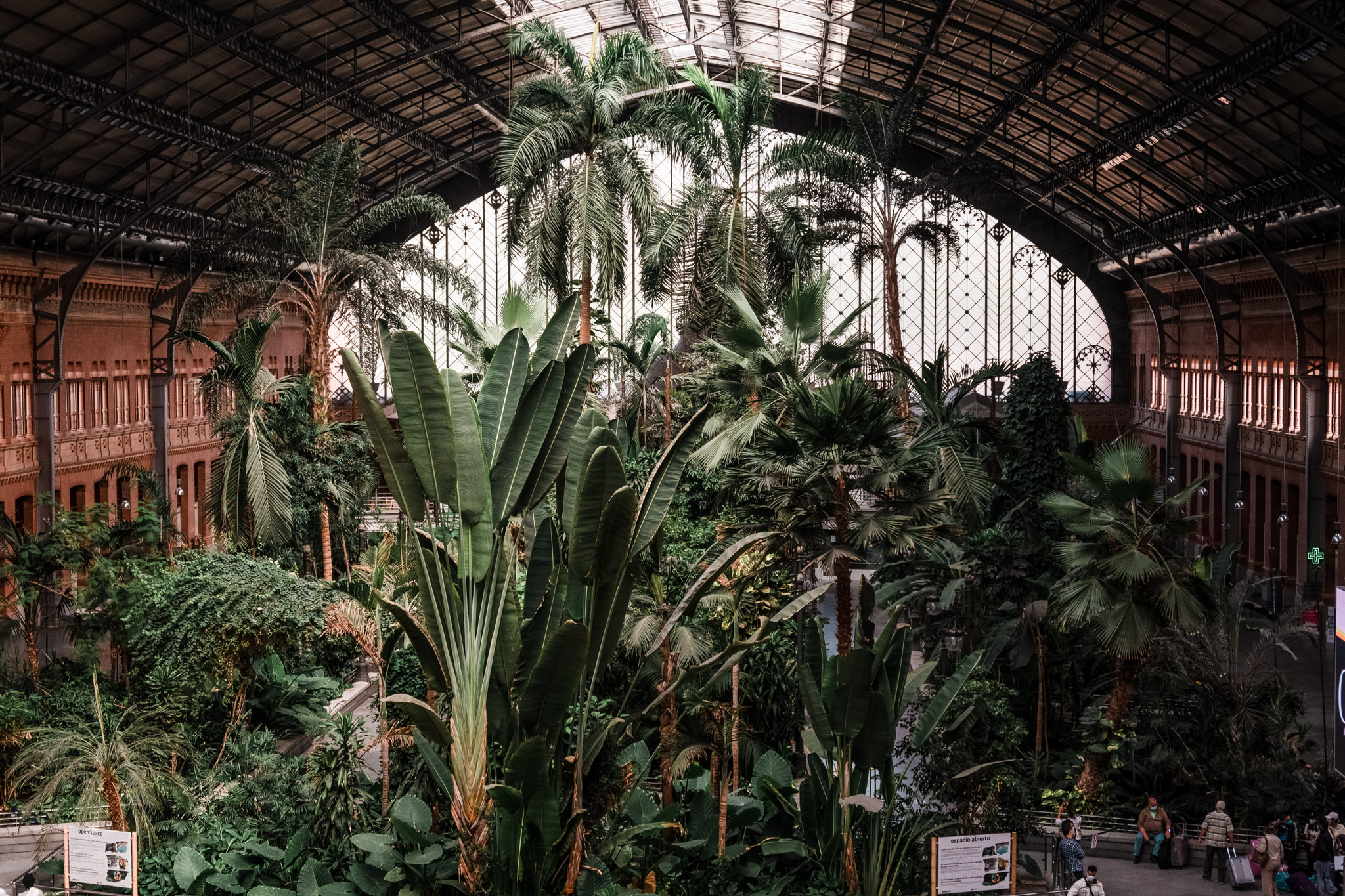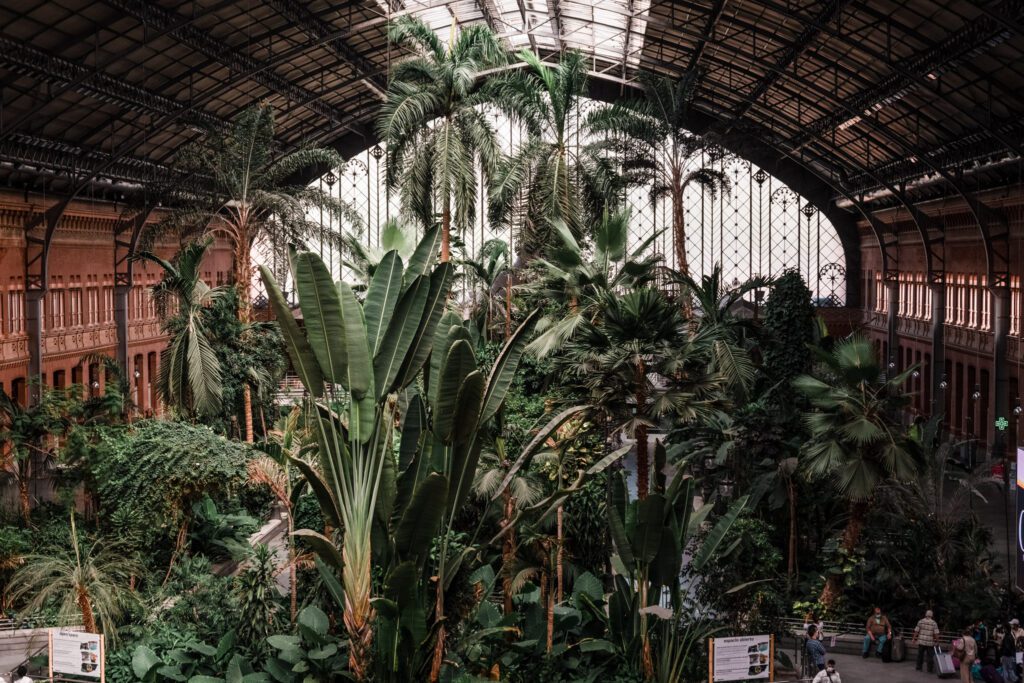 How to get from Madrid Atocha to the city
Once you've arrived at Atocha you can take the Cercanías train, a bus or the metro into the city. Most tourists will take the metro since it's most convenient for short-distance transport. You can buy a rechargeable metro card at one of the ticket machines or buy a single ticket. 10 metro rides cost just €12.20 which is very affordable. Everything at Atocha is really well organised and trains are easy to find.
Málaga to Madrid train journey – COVID update
Although Spain was hit very hard by the first wave in the COVID-19 pandemic things have since returned to normal (or at least close to normal). Both Madrid and Malaga are open to tourists and welcome international travellers. The majority of attractions such as museums, landmarks or restaurants are open and available.

The AVE train system is operating as normal although passengers are allowed to wear a mask on board. Renfe is also passing out little hand sanitisers for free to everyone entering the trains.
Click the images below to pin this post to Pinterest and save for later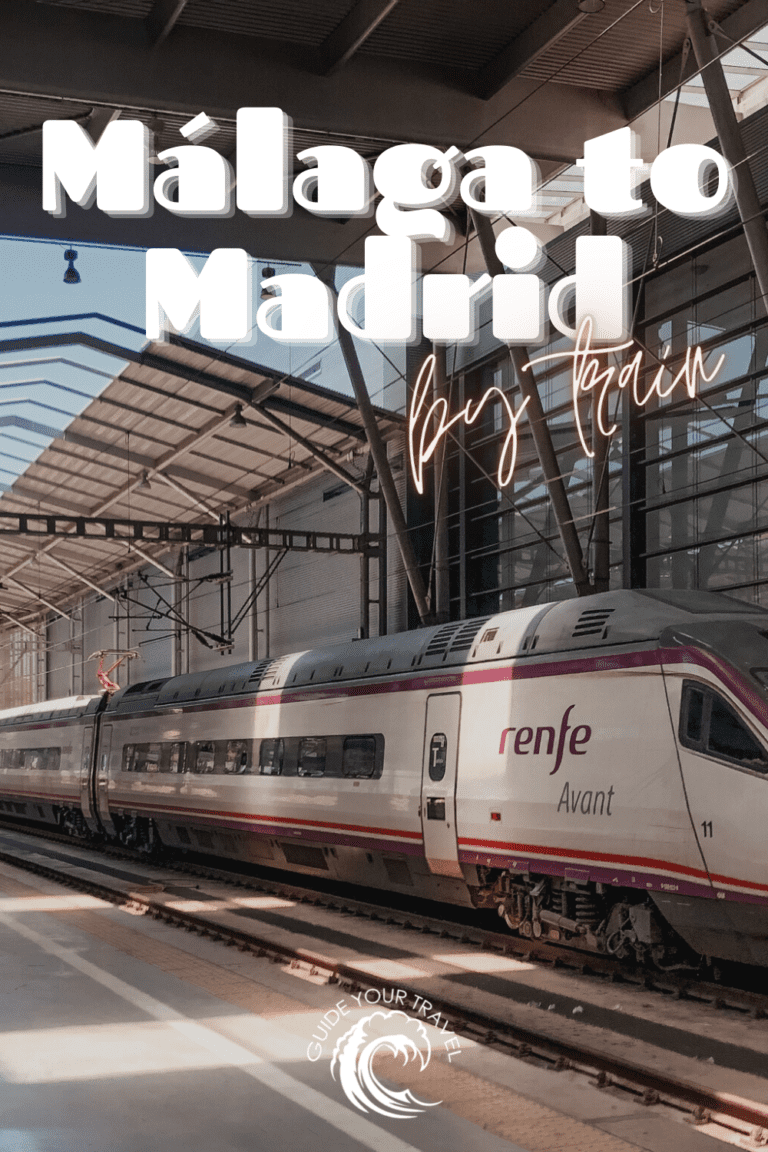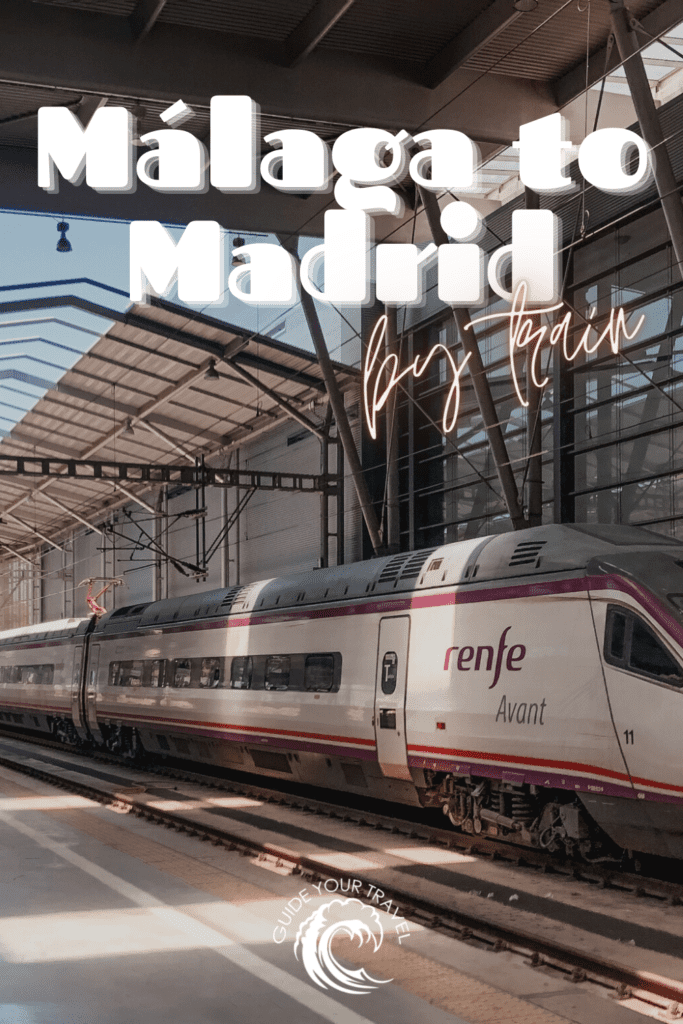 My most important travel tips and resources
Book your flights
Skyscanner is the best website for finding cheap flights since it works like a search engine so you can find the best deals across all airlines.

Book hotels and hostels
• Booking.com: Best world-wide
• Agoda: Best in South East Asia
• Hostelworld: Best for hostels

Book tours, transport and rental cars
•Viator: The best place to book tours, day trips and excursions for al budgets
•12Go: Great for ferries, trains, transfers and buses in South East Asia
•Discover Cars: Best deals for rental cars around the word

Get travel insurance
Every traveller needs travel insurance and I mean every single one. SafetyWing covers you in case of injury, illness or worse and they've got your back if your bag is stolen, flights are cancelled or in case of a natural disaster.

Pay abroad
Ask any traveller, Wise is the best choice when it comes to sending money abroad. They've always got the best exchange rates, lowest fees and their visa card is great for getting cash out or paying abroad.

Things every traveller needs:
➼ Osprey Farpoint 70 Backpack
Detachable daypack, ultra-light, durable and free repairs for life. There's a reason why so many backpackers have this bag.
➼ Packing Cubes
Packing cubes are a gamer changer, keeping your luggage organised and providing tons of extra space.
➼ Power bank
There is nothing worse than running out of battery on an overnight bus journey or a long flight. With a powerbank you can charge your eletronics on the go and make sure you're always connected.
➼ Micro-fibre towel
These lightweight towels are foldable, fast-drying and so useful when you're travelling.

➼ You can find 15 more things every traveller needs here. Some might be a bit controversial but I warned you!
Did I miss anything?
If you have any questions or feel like something is missing from this post please leave a comment below or contact me.