Yatai Market is a relatively new Asian street food spot located in the city centre of Madrid. It has quickly become one of the city's worst-kept secrets and a favourite among both locals and tourists. Located close to the Madrid metro on the Calle de Dr Cortezo, Yatai Market is easy to reach by public transport and within walking distance from a lot of popular attractions in Madrid like the Puerta del Sol and Plaza Major.

But Yatai is so much more than just an Asian street food market. It's become somewhat of a hotspot for getting drinks on the weekend and a sociable place to meet friends.

However, there are a few things you should know before you go.
This post may contain affiliate links, which means we'll receive a commission if you purchase through our links, at no extra cost to you. This helps us keep Guide your Travel free and provide high-quality content for you. Please read the full disclaimer for more information.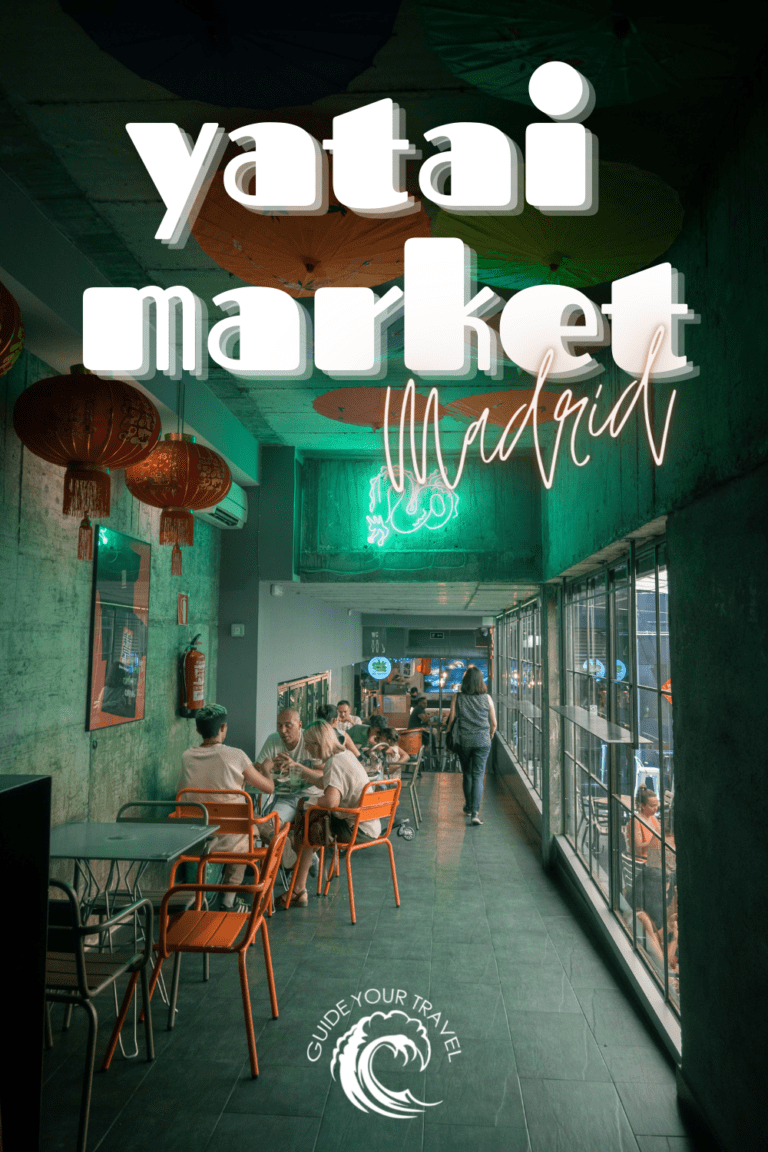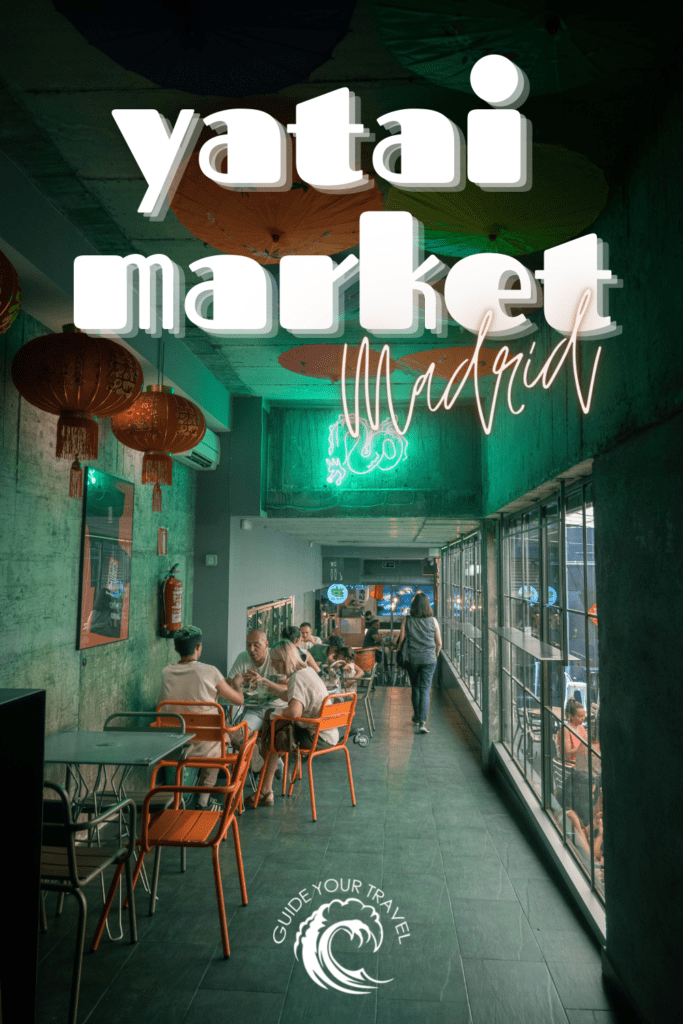 Where can you find the best Asian street food in Madrid, Spain?
Madrid is the city of markets, food halls and casual dining. Once you've had enough of traditional Spanish tapas you might want to try a different type of cuisine. Yatai Market is the best place to go for authentic Asian street food in Madrid and an absolute must-do for anyone looking to try something new.

With eleven different food stalls to choose from Yatai Market has something for everyone. Whether you're looking for sushi, ramen, teppanyaki, bao, curries or vegetarian options Yatai Market has got you covered.

The best part?

Affordable beer, a lively atmosphere and fantastic photo opportunities.
Where is Yatai Market in Madrid?
The best part about Yatai Market in Madrid is that you'll find it right in the city centre close to the Barrio de las Letras and all the best nightlife. The market is on Calle del Dr Cortezo and just around the corner from the Plaza de Tirso de Molina.

The market is somewhat inconspicuous from the outside and it's easy to miss it. Keep an eye out for the Museo de las Ilusiones Madrid (Museum of Illusions) which sits right next to it. During popular times there will also be a line out the door so you'll be able to spot the market from further away.

The full address is: Calle del Dr Cortezo, 10, 28012 Madrid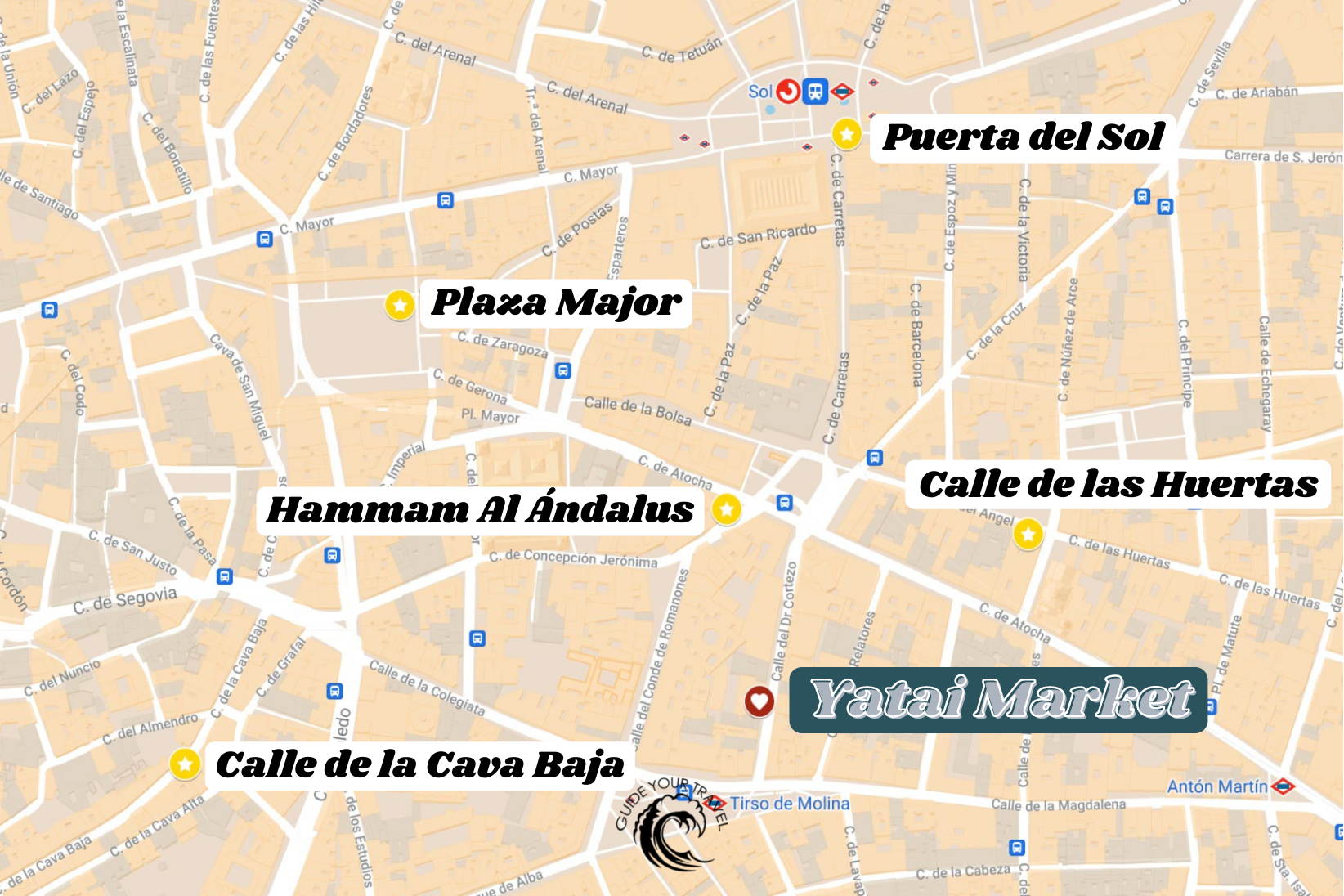 How to get to Yatai Market in Madrid?
Since Yatai Market in Madrid is located right in the city centre you can easily reach it via metro, bus or other forms of transport. It's highly recommended to walk there if you're staying somewhere close by.

There are lots of other attractions close by (see end of this post) and little shops, restaurants and cafes to explore so walking around will be a great way to get to know Madrid. You can also take an e-scooter or bike which are available to hire via an app all around the city.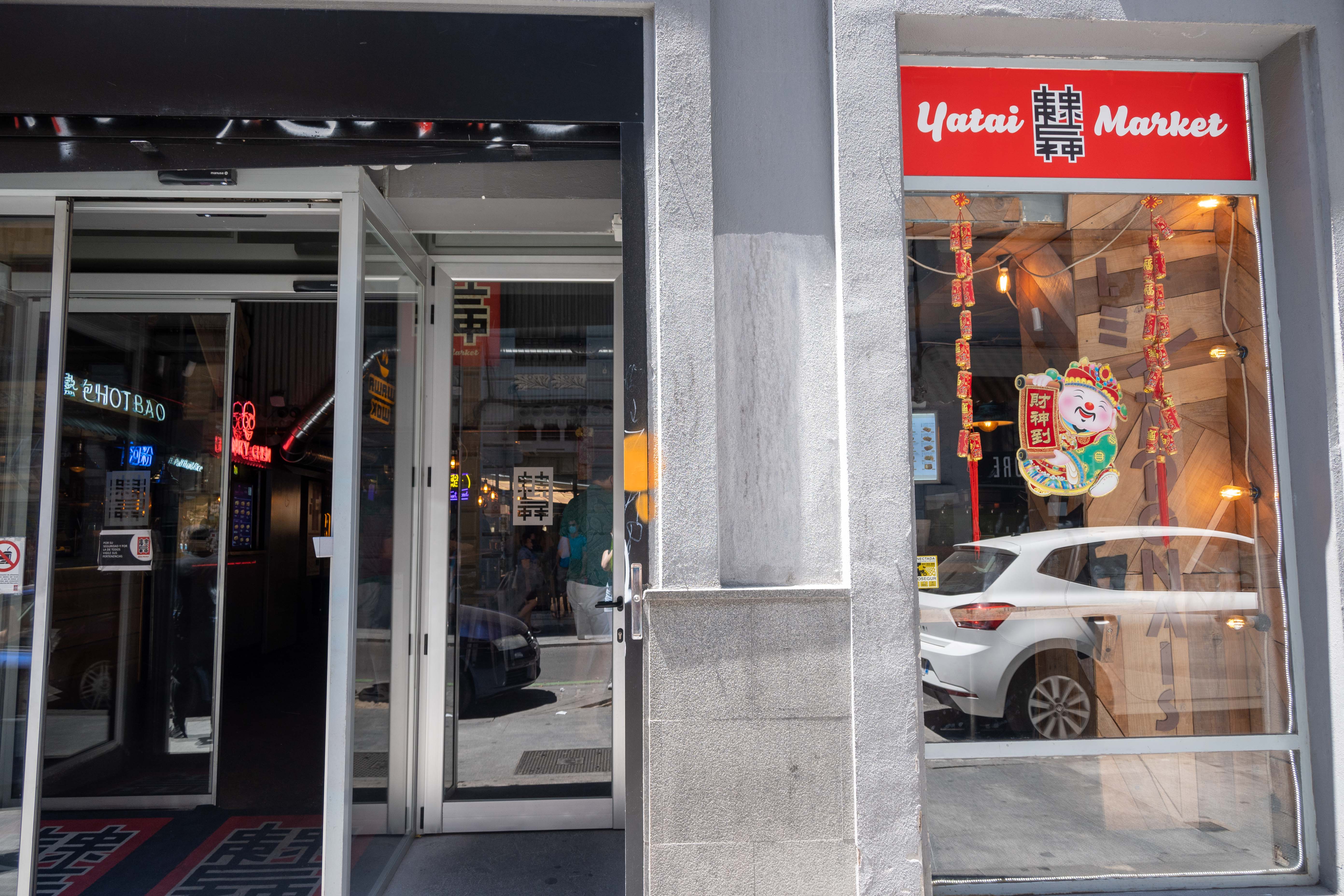 Metro
If you're coming by metro get off at Tirso de Molina which is located less than 100 metres away from the street food market. The stations Antón Martín, La Latina and Sol are both located only a 6-minute walk from the market so they're also good options.

These stations are serviced by the following metro lines:
Tirso de Molina, 1 min walk – Line 1
Antón Martín, 6 min walk – Line 1
La Latina, 6 min walk – Line 5
Sol, 6 min walk – Lines 1, 2 and 3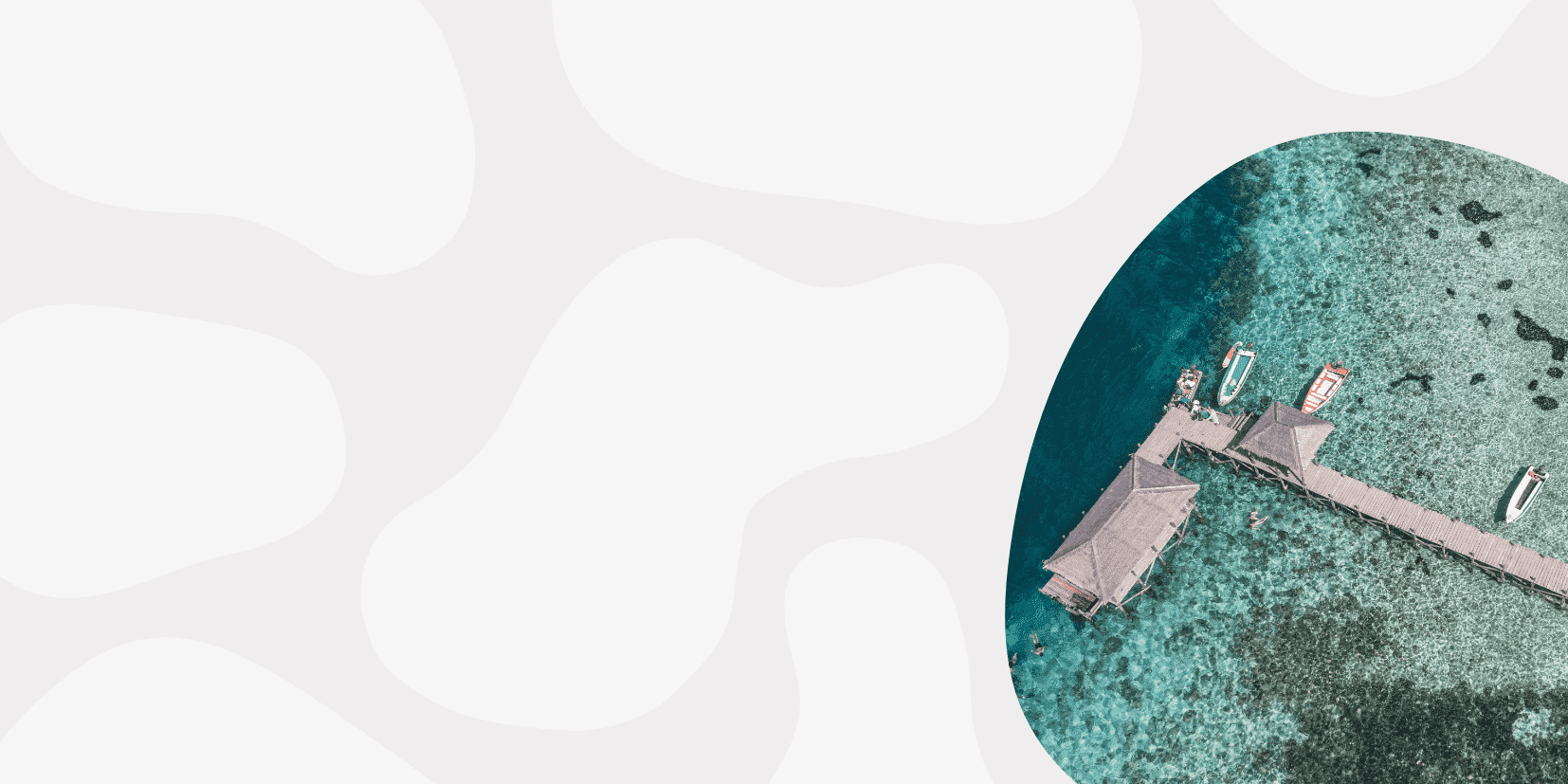 Let me save you time and effort when you're travel planning!

➼ Best travel insurance? SafetyWing
➼ Best place to find cheap flights? Skyscanner
➼ Best bank & credit card for travellers? Wise
➼ Best travel backpack? Osprey Farpoint 70
Bus
If you're coming by bus Tirso de Molina is the closest stop to the market. It's located only 100 metres away and services a number of lines. Benavente is also a great bus stop to go to if you're trying to try the best Asian street food market in Madrid. It's only a 2-minute walk away.
Tirso de Molina, 1 min walk – Lines 002, 50, 65, M1 and SE712
Benavente, 2 min walk – Lines 6, 26, 32, 65 and N26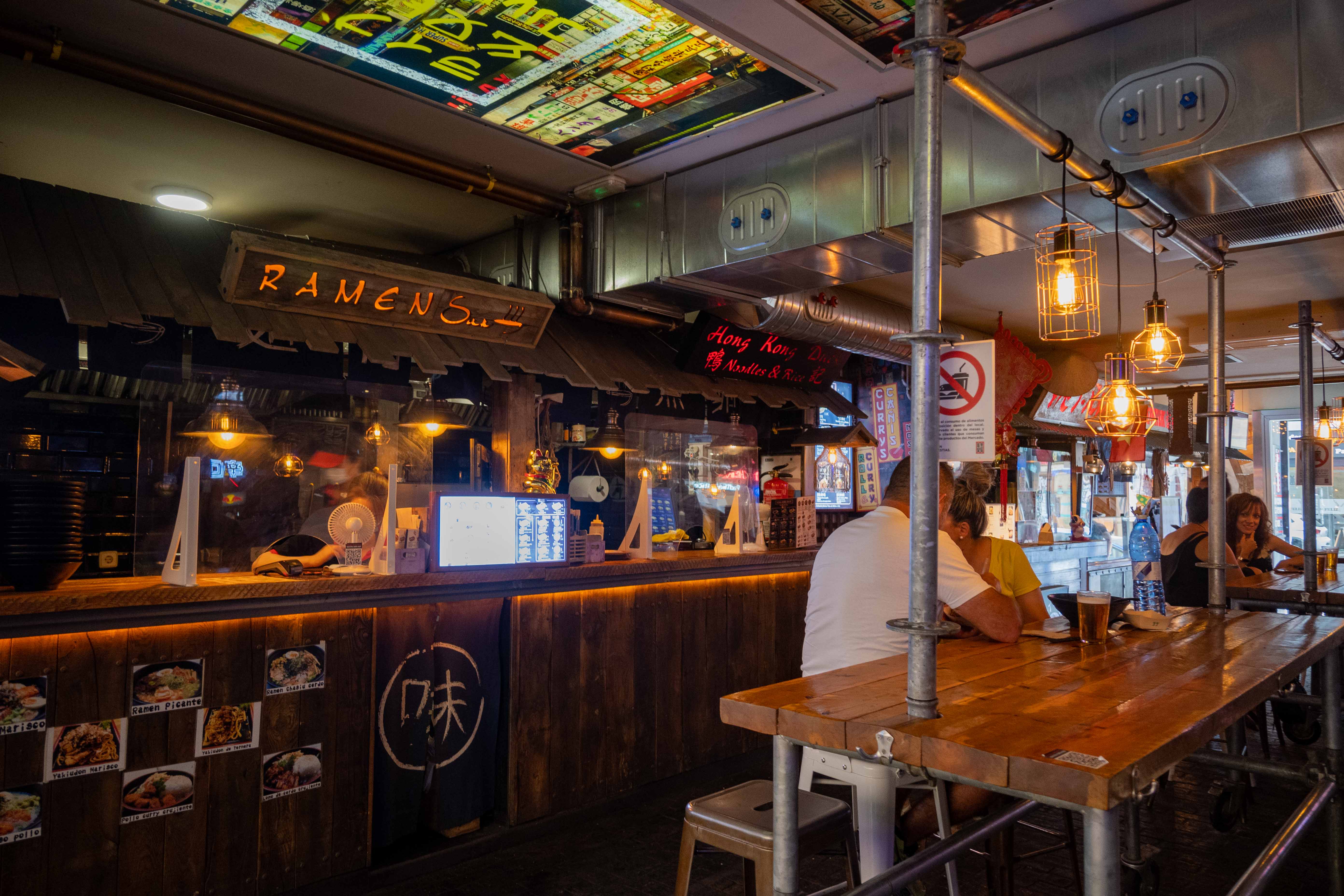 What are the opening hours of Yatai Market in Madrid?
Yatai Market in Madrid is open every day from 13:00 pm to midnight. It does tend to stay open a little bit later on the weekends although only a little bit past midnight.

Check the Yatai Market website in case the opening hours were changed recently. Their social media accounts (Facebook and Instagram) tend to be updated more frequently than the website though.
What are the waiting times like to get into Yatai Market in Madrid?
The market is not very large inside with only around thirty tables available. This means that during popular times you'll end up waiting for quite some time. Especially during COVID, they are very strict about only letting in a certain number of people so a queue is very common at the market.

Waiting times can range anywhere from 15 minutes to over an hour if you come during peak lunch and dinner times on the weekends.
Visiting Yatai Market? Save this image to have all the important info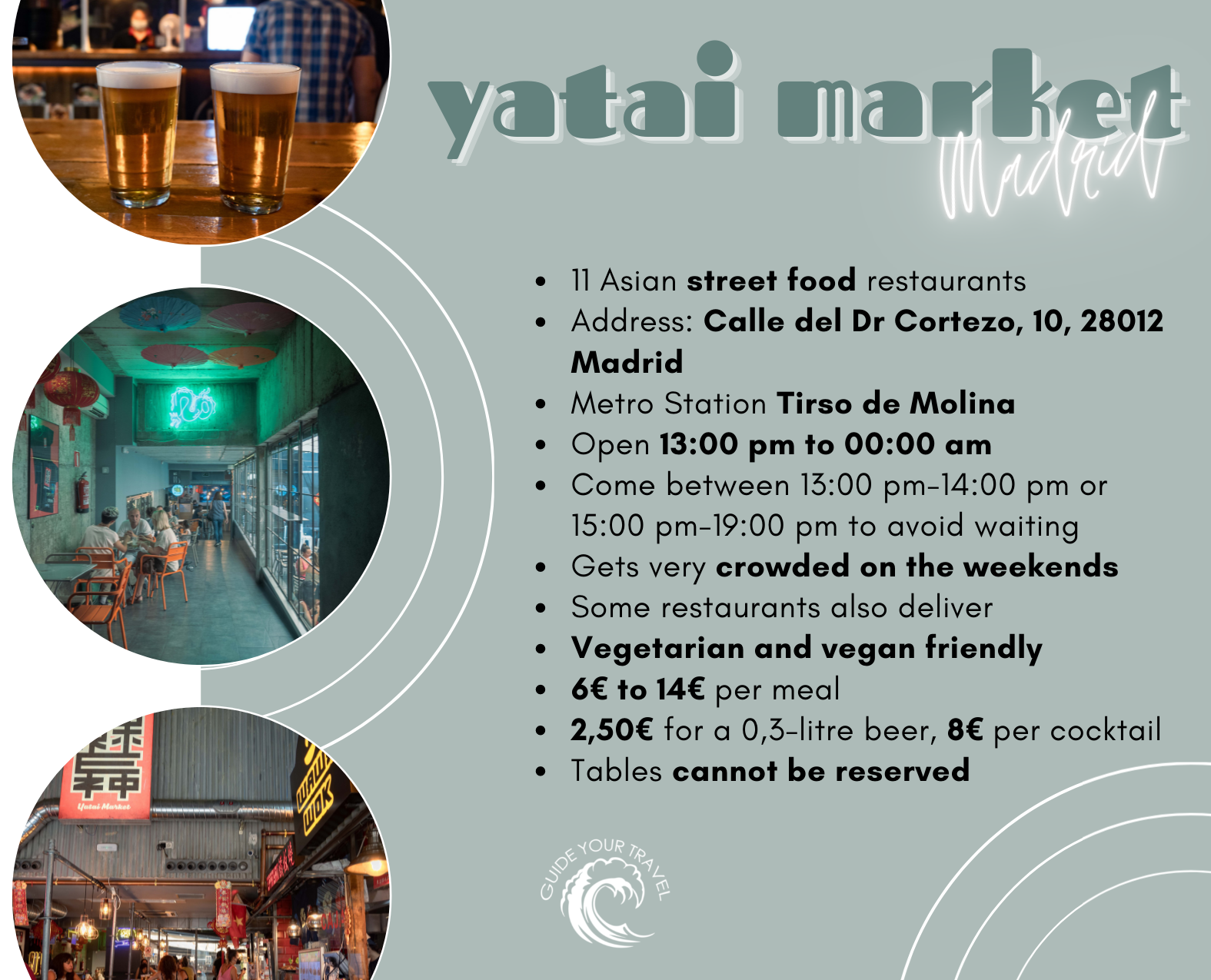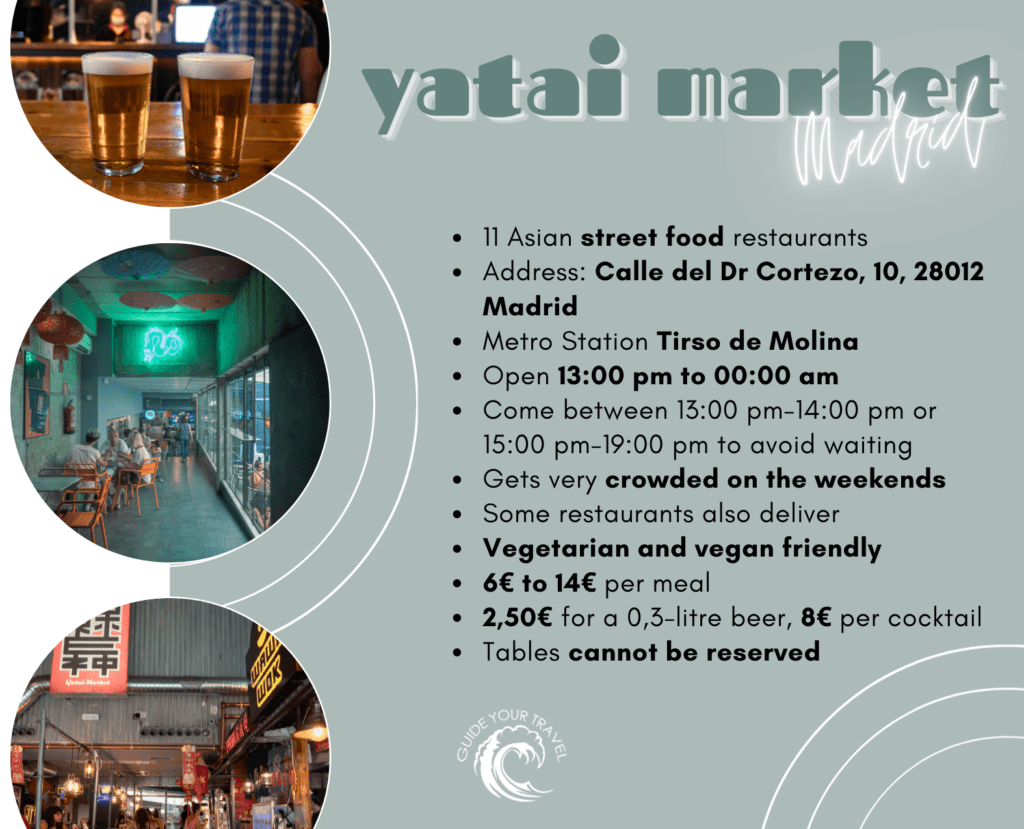 When is the best time to visit the best Asian street food market in Madrid
If you don't want to wait in line for hours to try the best Asian street food market in Madrid you definitely need to come early and avoid weekends.

During the week you should visit between 13:00 pm and 14:00 pm before the lunch rush starts or somewhere between 15:00 pm and 19:00 pm before people head to dinner.

On the weekends the market tends to be crowded all day but from 21:00 pm onwards the wait is usually close to an hour. Try to come around 17:00 pm for the best chances of getting in without having to stand in line.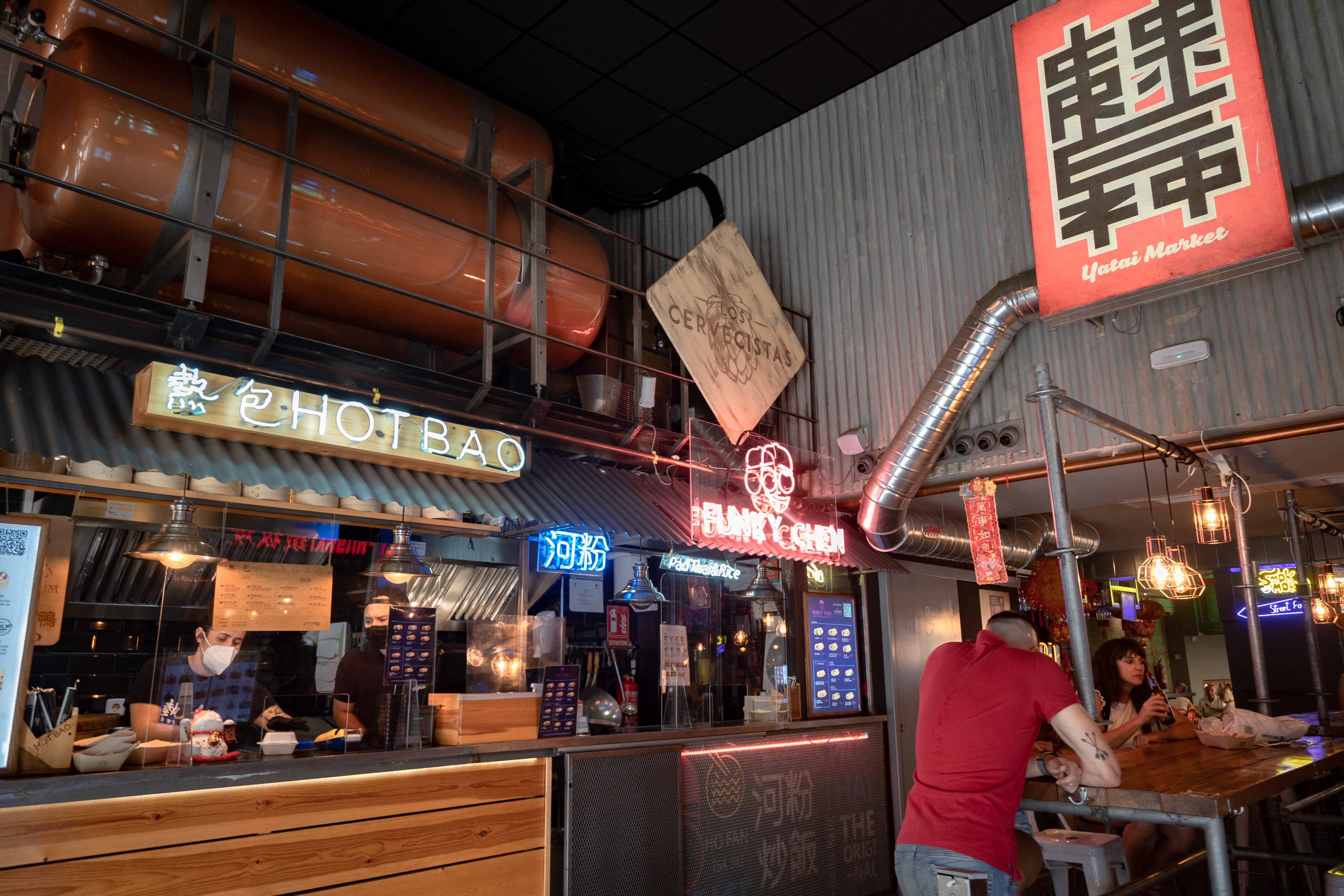 Yatai Market – how does it work?
Once you're inside the market you can choose between eleven different restaurants selling some of the best Asian street food in Madrid. When you order you'll get a buzzer to let you know when your food is ready to be picked up. There is no table service so you have to get everything yourself.

Ordering several dishes from different restaurants to share is highly recommended.

Drinks are ordered separately at the bar and you'll be able to take them to your table directly. The individual restaurants do not sell any drinks, not even water. You need to buy both alcoholic and non-alcoholic beverages at the bar.

The market has a mid-sized terrace with seating options and a second bar which is sometimes in use on weekends or for events. There are also some tables close to the food stalls.

All food and most drinks are served in single-use containers which need to be thrown away when you are finished eating. While some items like the paper napkins are made of recycled materials there is definitely room for improvement when it comes to sustainability at Yatai Market in Madrid.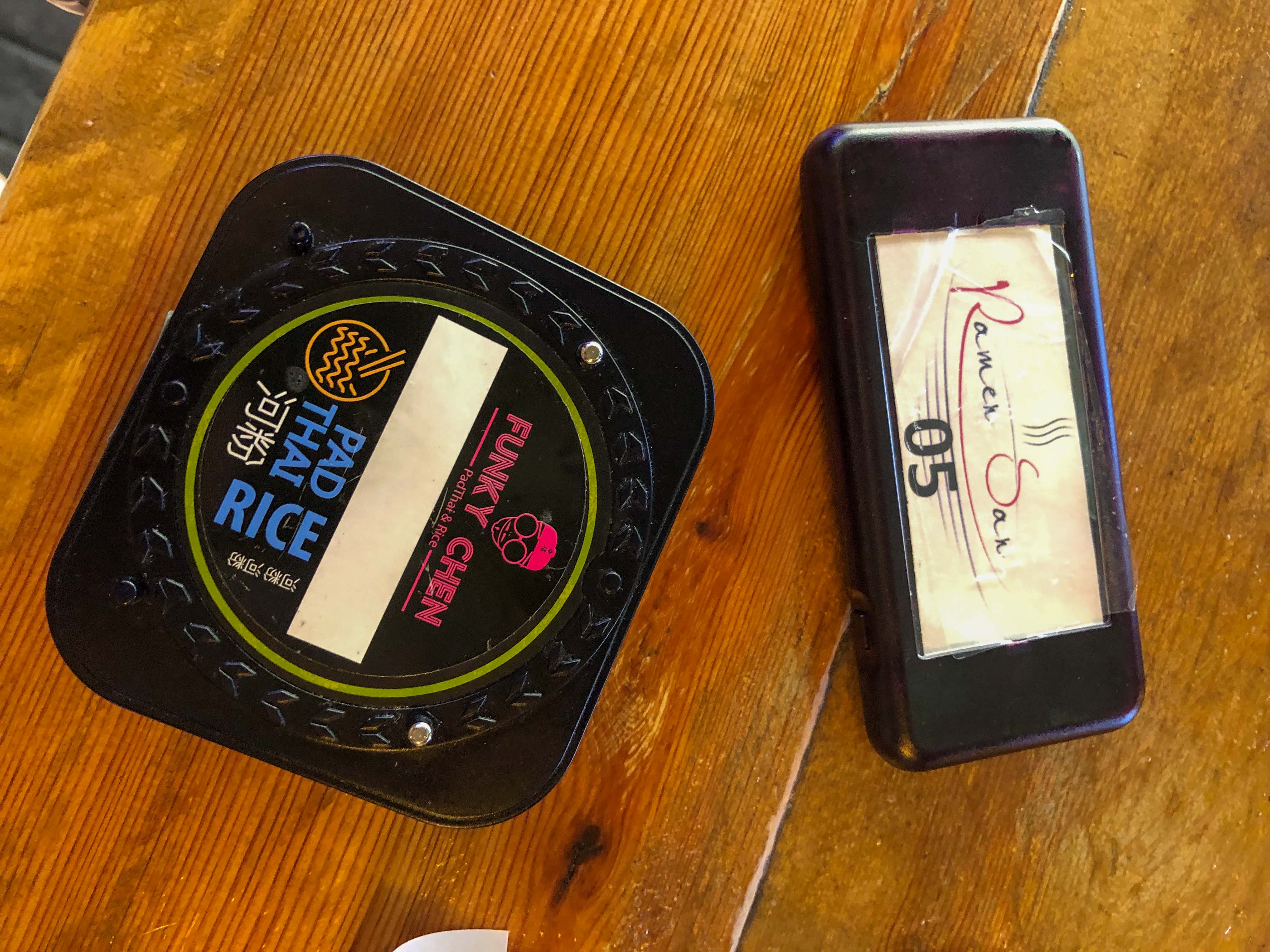 How long does it take to get food and drinks at the market?
During quiet times it only takes around 5 to 15 minutes to get your food although this of course depends on the individual restaurant. When the market is busy you might have to wait 30 minutes or more although longer waits tend to be rare.

Drinks can be picked up directly at the bar.


Does Yatai Market in Madrid deliver?
Recently Yatai Market in Madrid even started delivering its delicious Asian street food options. Some of the restaurants inside the market (not all) are available on apps like Uber Eats, Just Eat, Glovo or Deliveroo.

In most cases, delivery is only available in the evenings, not for lunch.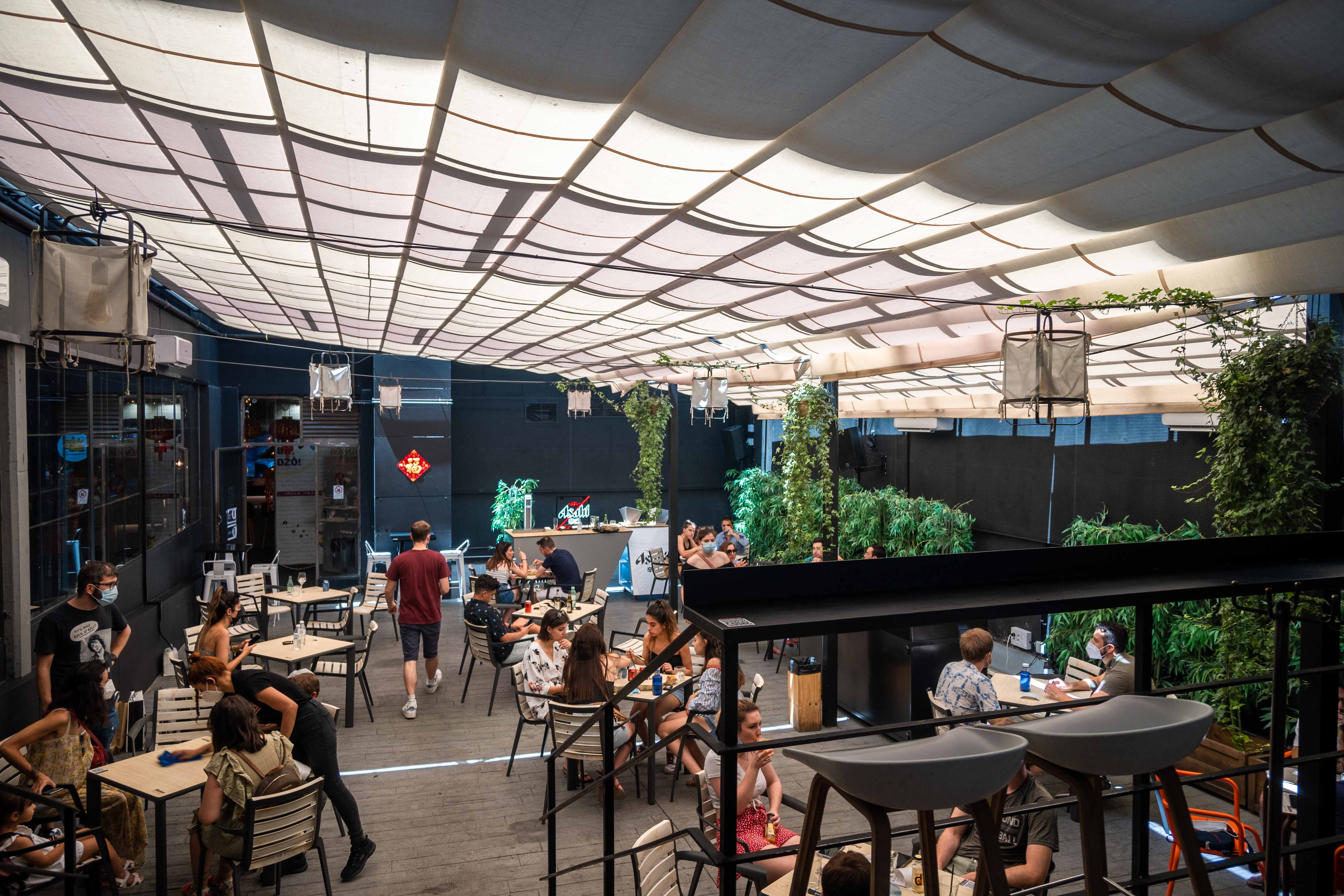 Is Yatai Market in Madrid expensive?
Yatai Market is definitely not the cheapest place to get Asian food or food in general in Madrid. It's a very modern and hip place focused on authentic (or at least as authentic as possible) experiences. This means prices for meals will range between €6 and €14 per meal with the average dish costing around €8 or €9.

For a food hall or hawker, this is definitely pricey.

You can also find some smaller dishes for only around 2€ to 4€ but they tend to be things like individual spring rolls or bao. Still a good option for a snack on a backpacker budget.

Luckily, the portions are quite big so you'll definitely be full after eating at the market.

Here is a complete list of prices on the menu (carta) of Yatai Market in Madrid.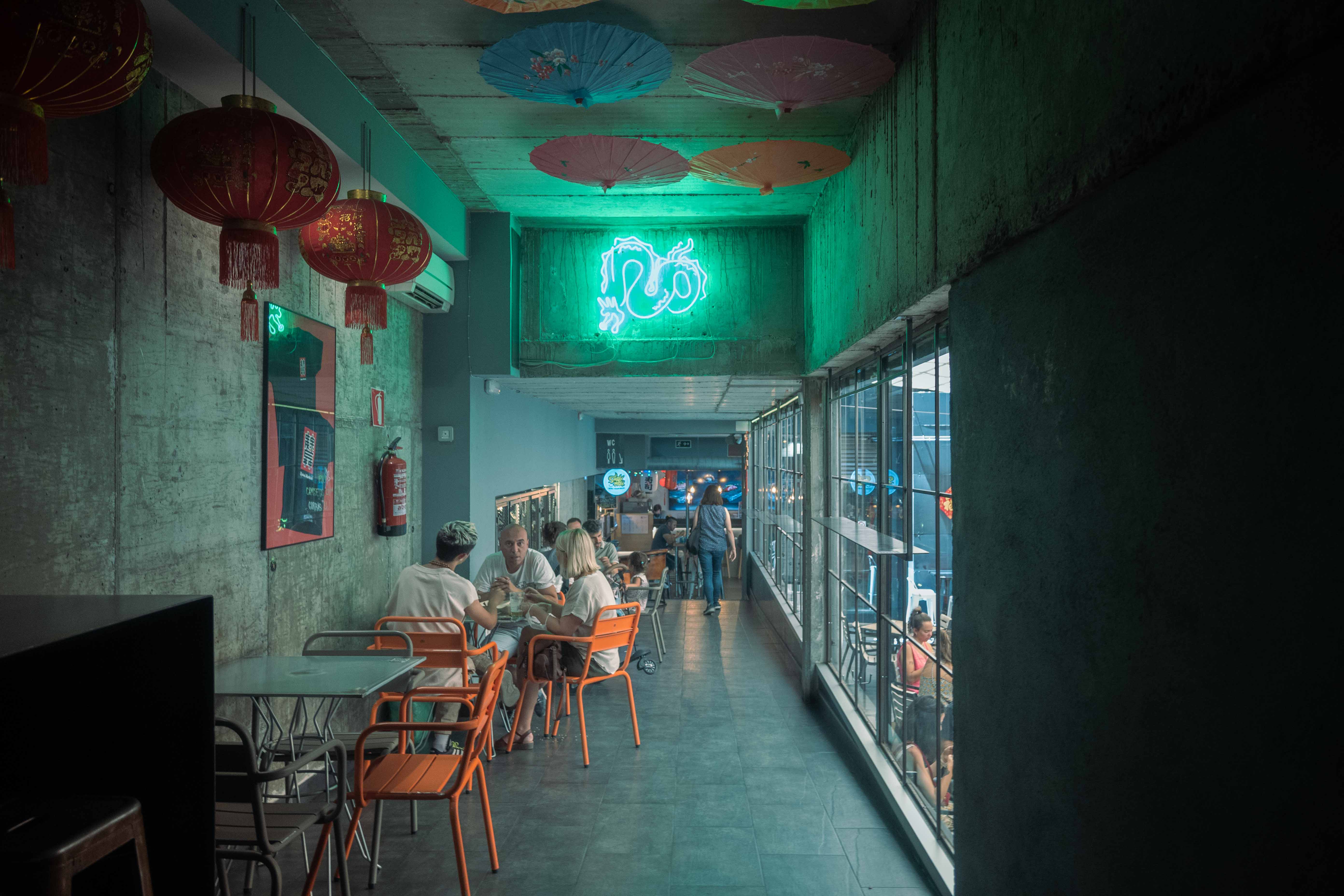 Is alcohol served at the market?
Yes, Yatai Market in Madrid serves all types of alcohol including cocktails, beers, wine, sangria and even sake. They also have soft drinks of course.

You can also try some Asian beers like Asahi, Singha and Tsingtao. Some of their cocktails are also Asian themed (Taiwan Mule, Jade Spritz, Yatai Sour, etc).

If you're after a non-alcoholic drink definitely try some of the Asian soft drinks they offer. At €3.50 these are not the cheapest but they're worth it!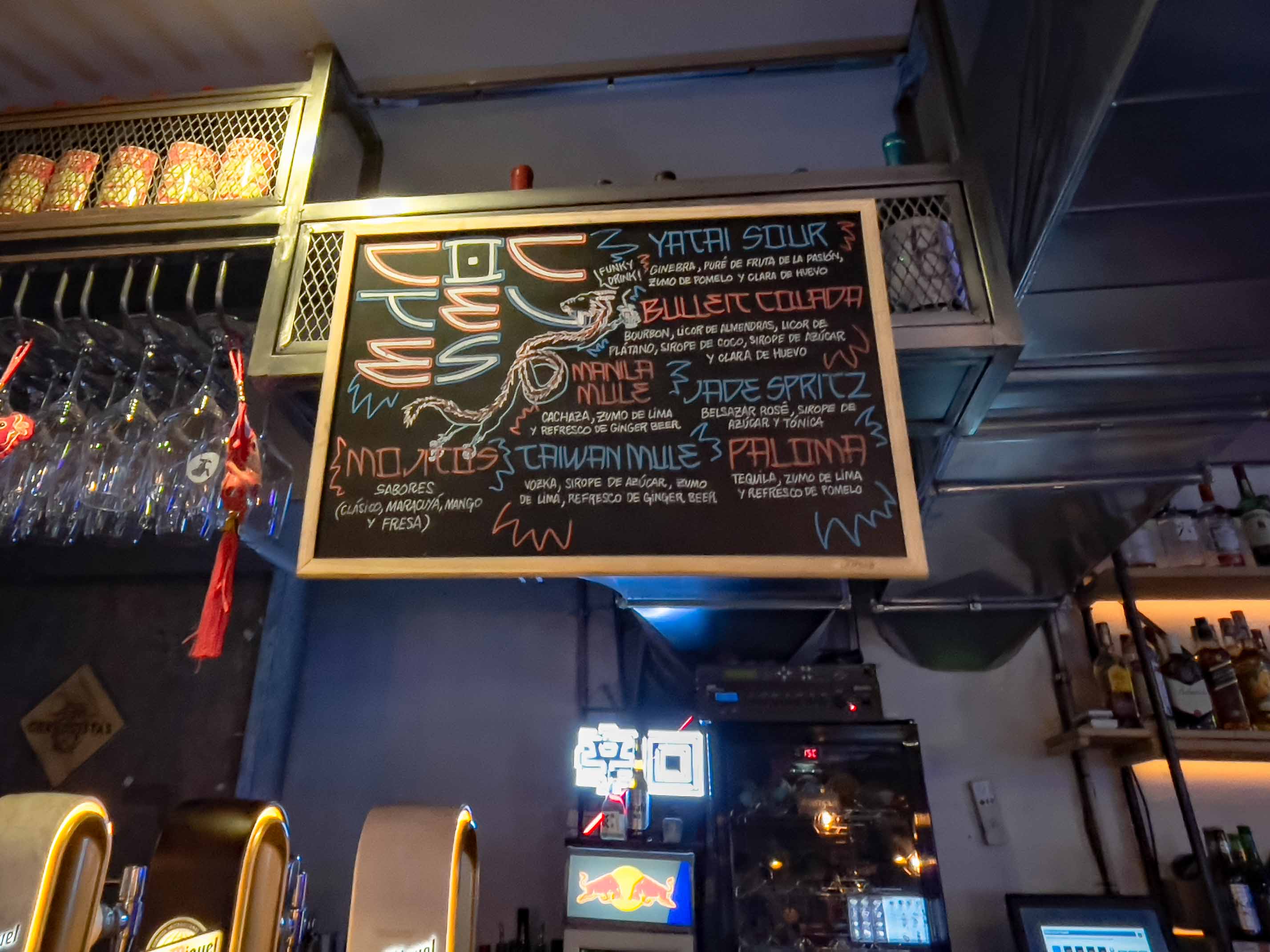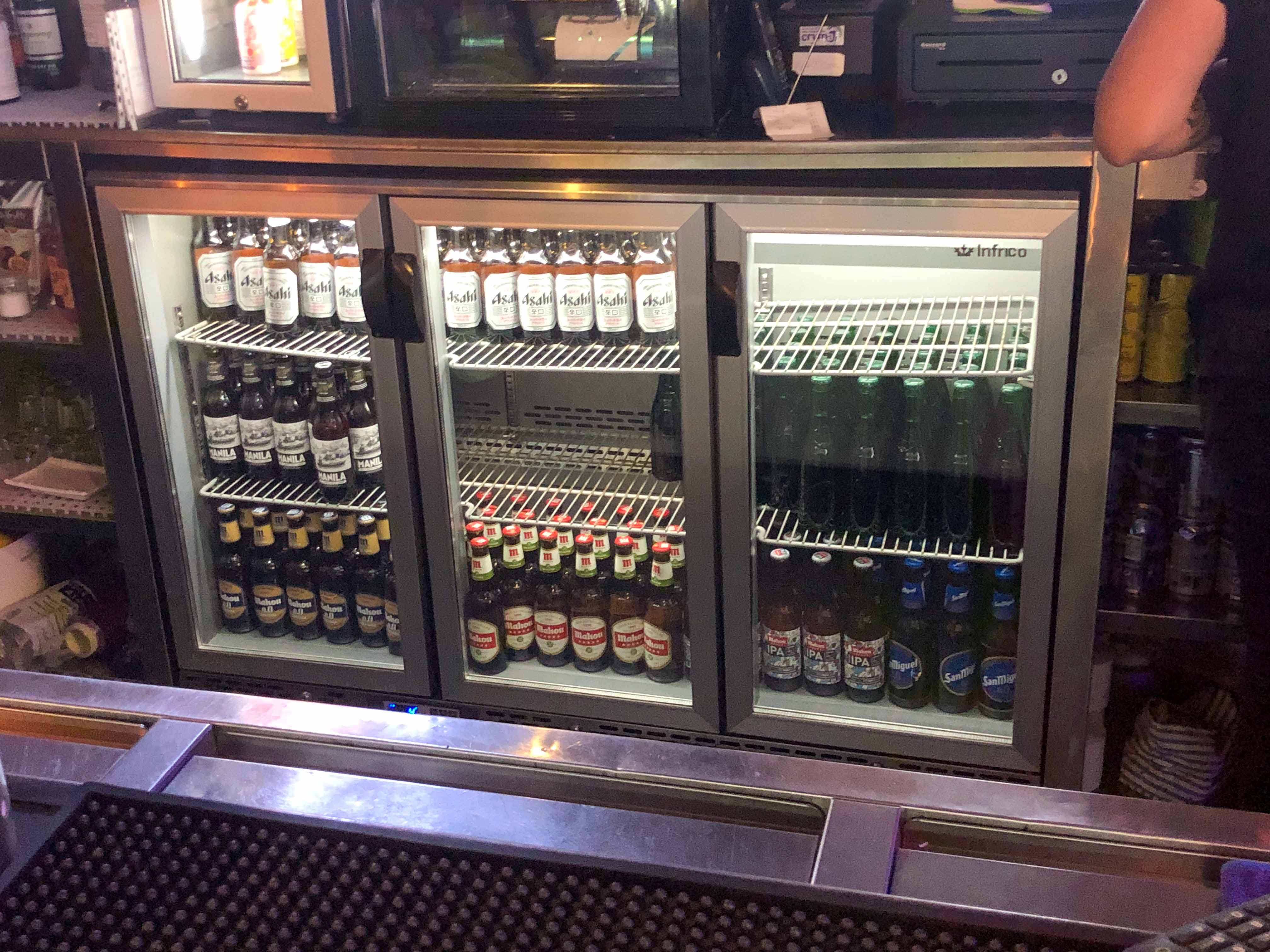 How expensive are drinks at Yatai Market in Madrid?
Yatai Market is sometimes marketed as a nightlife spot where you can come to have drinks, not just authentic Asian street food. This means their bar is quite popular and prices are (as to be expected) not the cheapest.

Cocktails cost €8 which is definitely expensive for Madrid. Even in the popular nightlife area Barrio de las Letras, you can find mojitos for only €5. €8 is more comparable to nightclub prices.

Luckily, beer is surprisingly affordable at Yatai Market at €2.50 for a doble (0,3l), or Duotank as they like to call it, of San Miguel. This is a decent price for beer in Madrid. Not incredibly cheap but also by no means expensive.

Other beers cost between €3.60 and €3.90 for a 0,3-litre bottle.

Long drinks including gin, rum, vodka and whiskey cost between €7 and €12 depending on the liquor brand.

A glass of wine costs between €2.80 and €3.20 and a bottle between €15 and €19 which is also very reasonable. They also offer sangría and tinto de verano for €3.60 and €3.90 per glass.

Soft drinks cost between €2 and €3.50.

Check out the Yatai Market menu (carta) for a complete list of drink prices at this Madrid hotspot.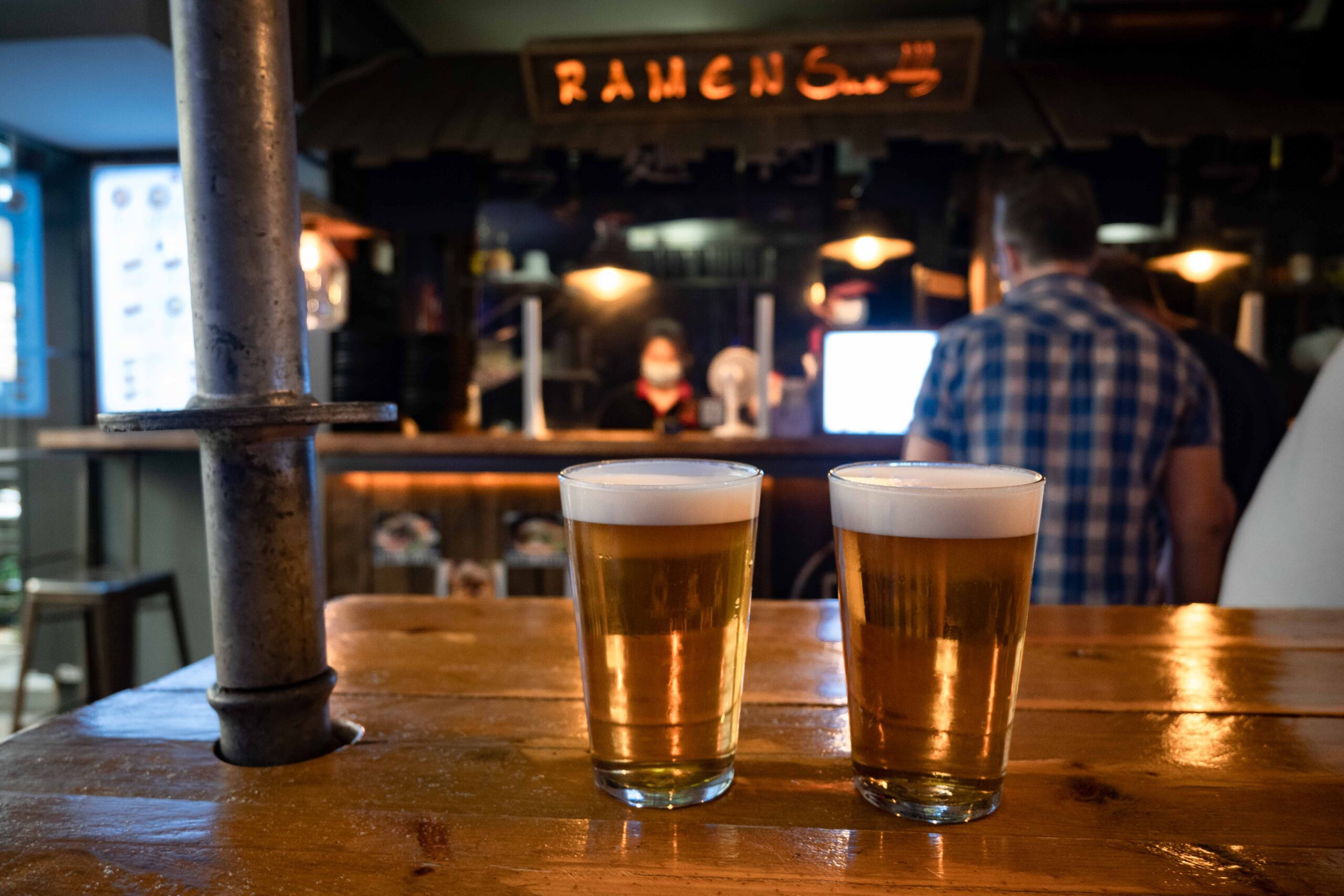 Is the street food market open air?
No, Yatai Market is entirely covered so you can visit even when it rains. The terrace has a transparent roof though so it almost feels as though you are outside. This is the perfect place to eat when the weather isn't great.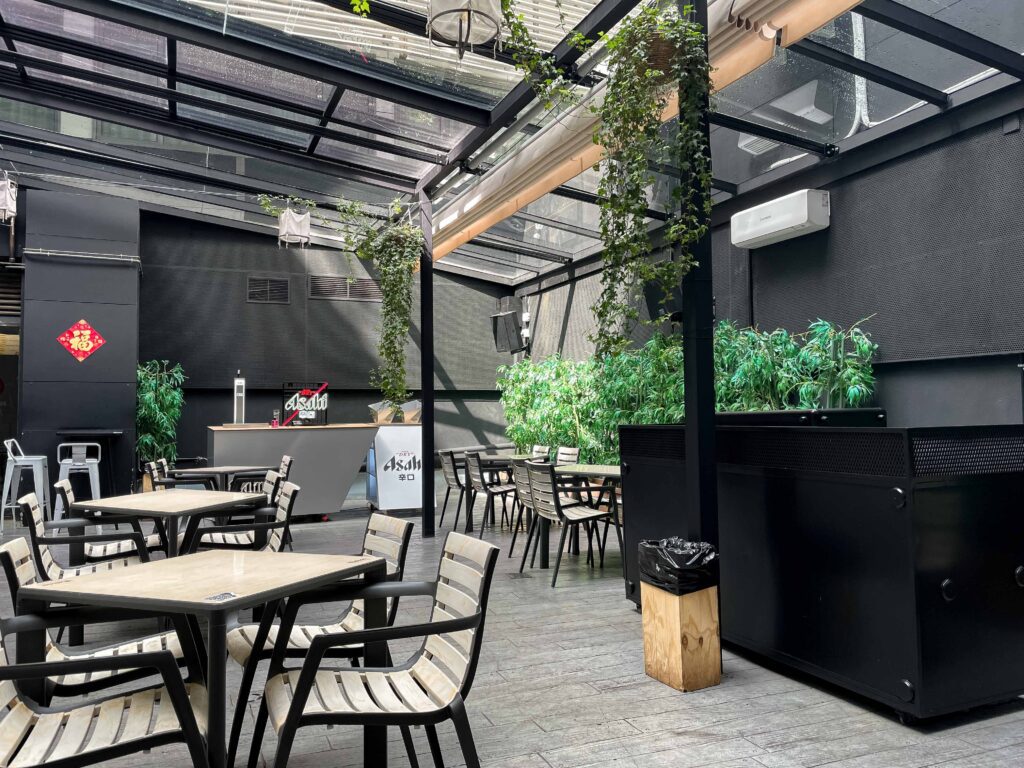 Can you reserve a table at Yatai Market in Madrid?
No, at the moment you cannot reserve tables at Yatai Market in Madrid. Since the space inside is limited this means you might have to wait in line. However, this also means that you can also come here spontaneously without having to prebook.
Yatai Market Madrid Asian street food menu (carta)
Yatai Market Madrid actually publishes the entire street food menu (carta) on its website. There you can find drink prices, a list of all restaurants and their best selling dishes.

They also include all of the individual restaurant menus in both English and Spanish as well as their location in the market.

Truly all you need to know before you go.

Keep in mind that this menu might not be updated regularly since it is a static PDF so some dishes and prices might be different when you visit. The last time I visited it was fairly but not 100% accurate.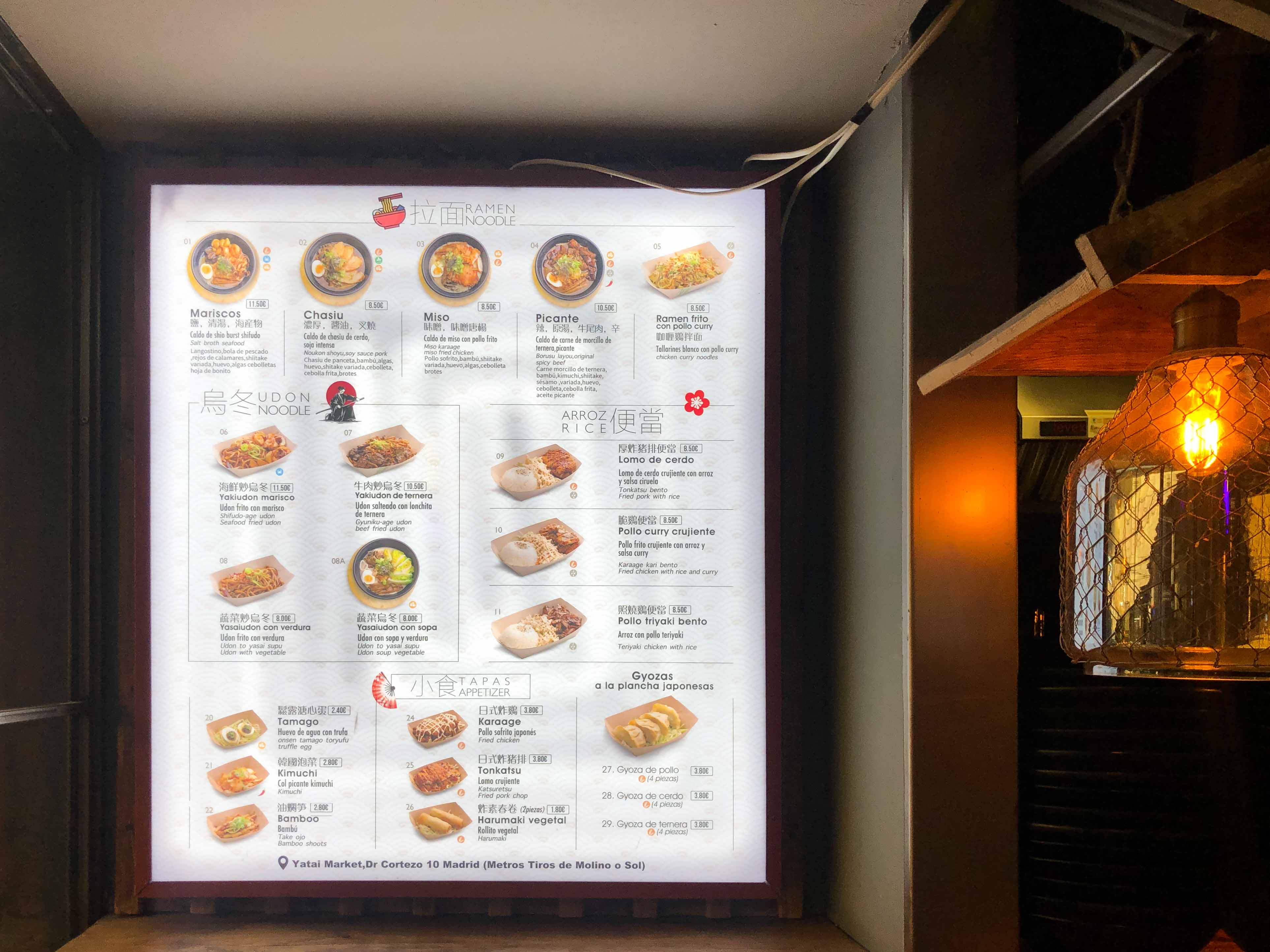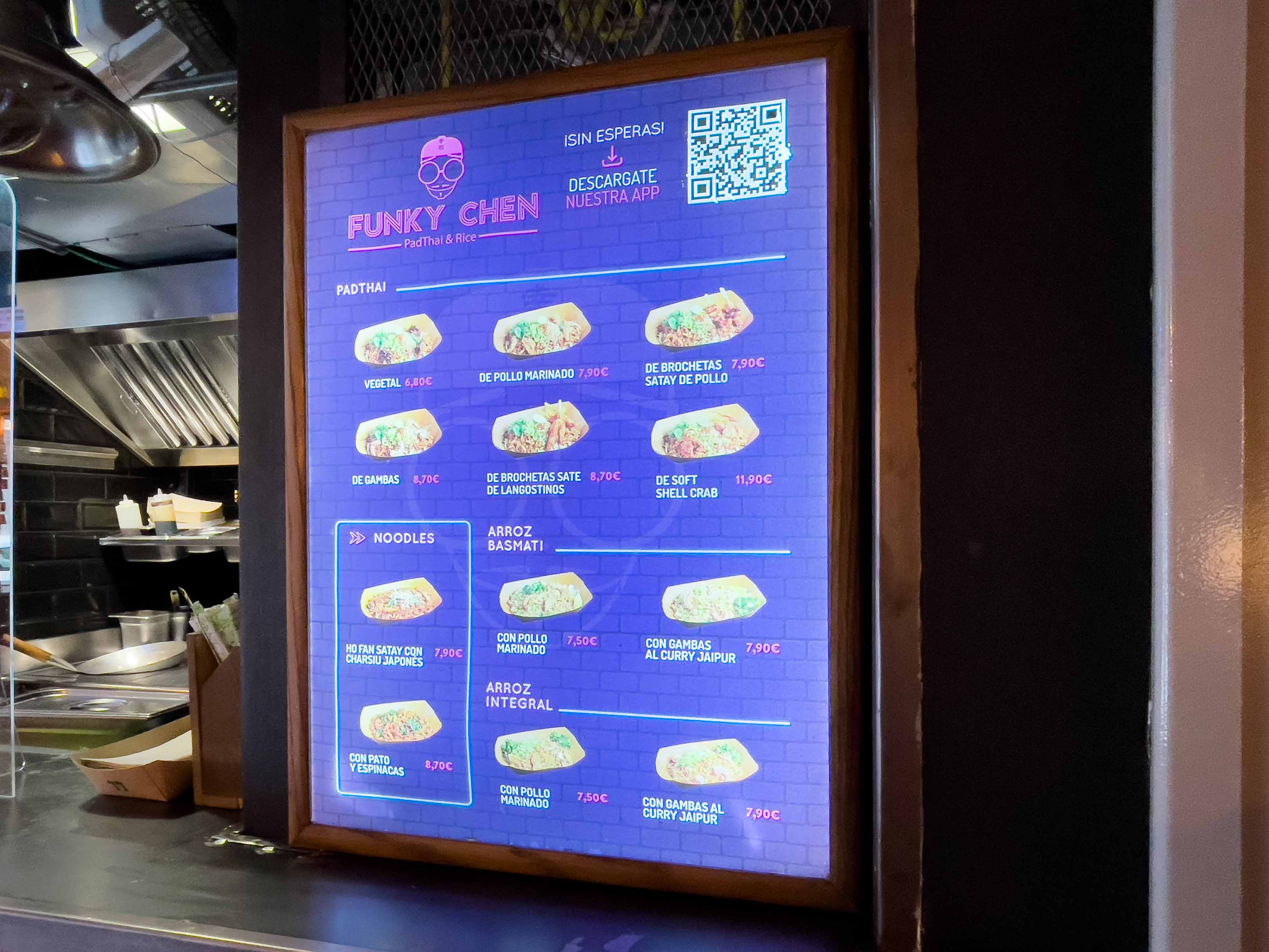 What Asian countries are represented at the street food market?
Even though there are only eleven restaurants at the street food market there are a decent amount of Asian countries represented (with room for more diversity!). Some of these include Thailand, China, Vietnam, Japan, Hong Kong, India, the Philippines and Singapore.
Yatai Market Madrid Asian street food restaurants
Here is a list of the eleven restaurants available at the market. Check out the Yatai Market Madrid carta for a detailed menu of each restaurant.
Hot Bao – Authentic Chinese Bao (no vegetarian options on the menu)
Wawa Wok – Asian fusion cusine with influence from China, Japan and Singapore.
Funky Chen – Thai-oriented cuisine with padthai and fried rice options
Japonais Teppanyaki – Japanese teppanyaki (also hibachi) style food
Vietnam Express – Pho and other Vietnamese specialties
Hong Kong Duck – Hong Kong style noodle and rice dishes
San Ramen – The best udon and ramen in town
Smok Mok – Fusion dishes from all over Asia
Turo Turo – Delicious Philippino cuisine
Unagi – Incredible authentic sushi
Shankana – Delicious Indian naan, curries and rice dishes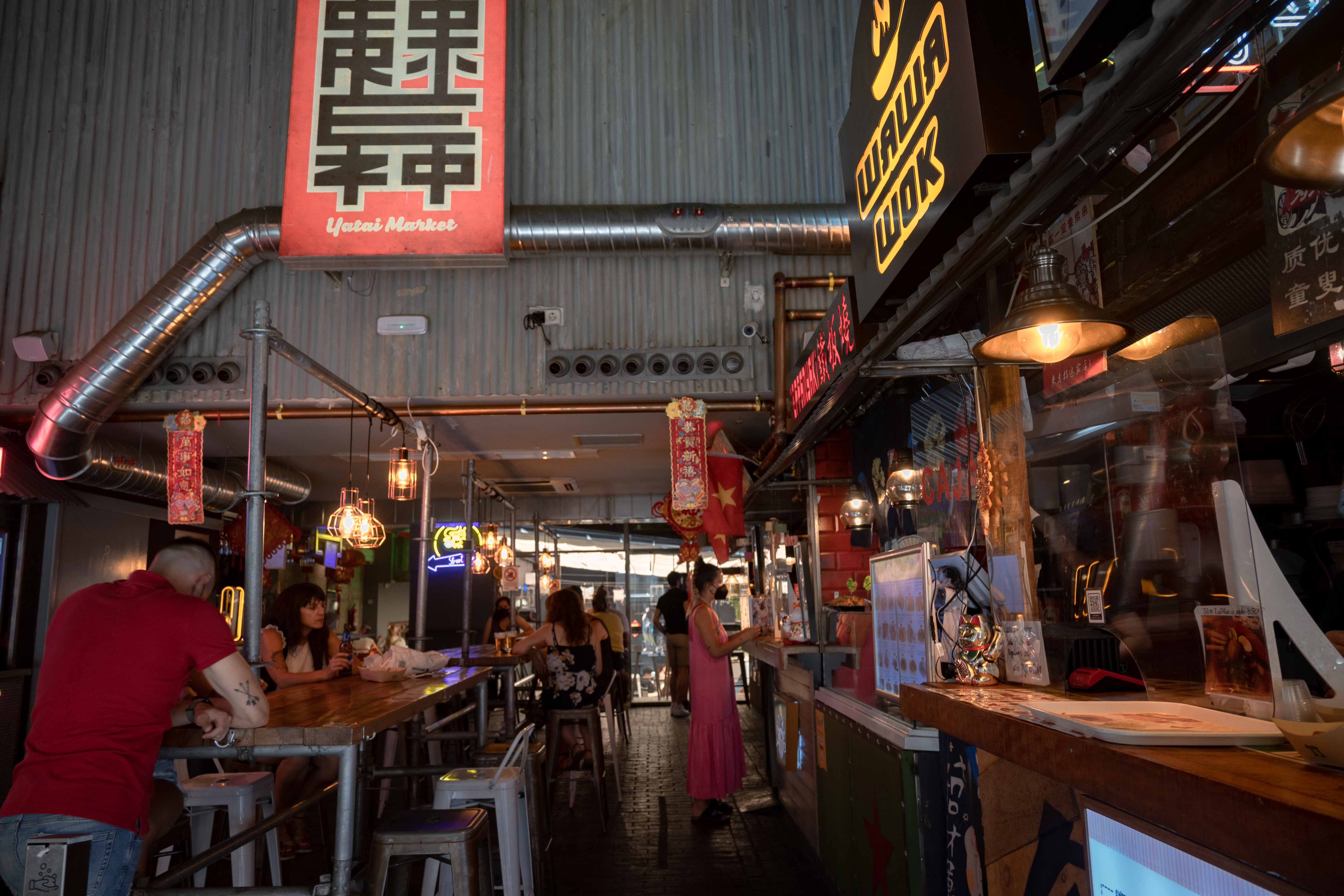 Does Yatai Market in Madrid serve vegetarian friendly street food?
As a vegetarian or vegan, it's not always easy to eat out abroad. Luckily Yatai Market is vegetarian-friendly and almost all food stalls offer at least one vegetarian option (all except Hot Bao). In my experience, vendors are also very friendly and will customise dishes for you if possible.

Smok Mok is known to have the most vegetarian and even vegan options so head there for the best selection. Check the Yatai Market menu (carta) for the best vegetarian street food in Madrid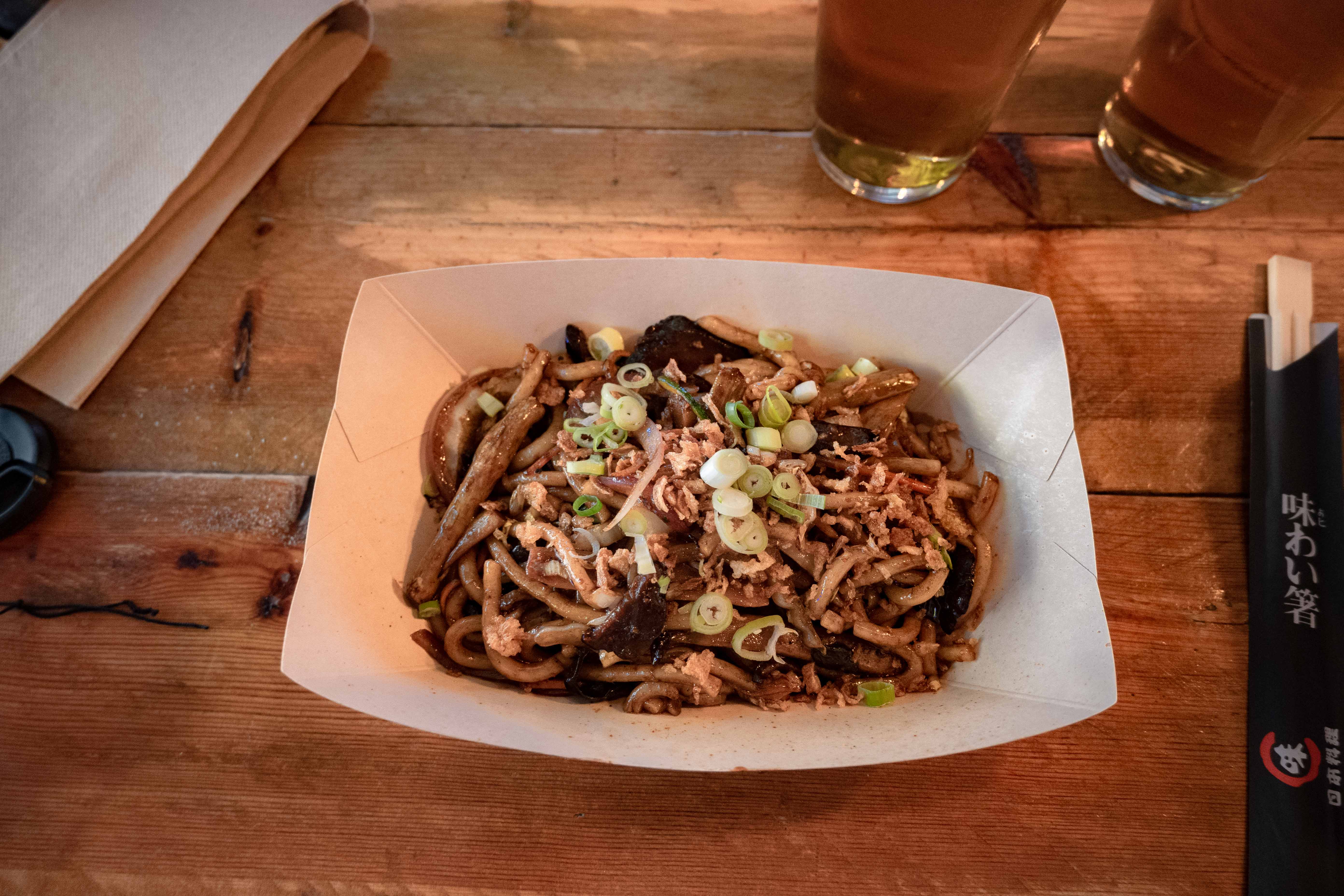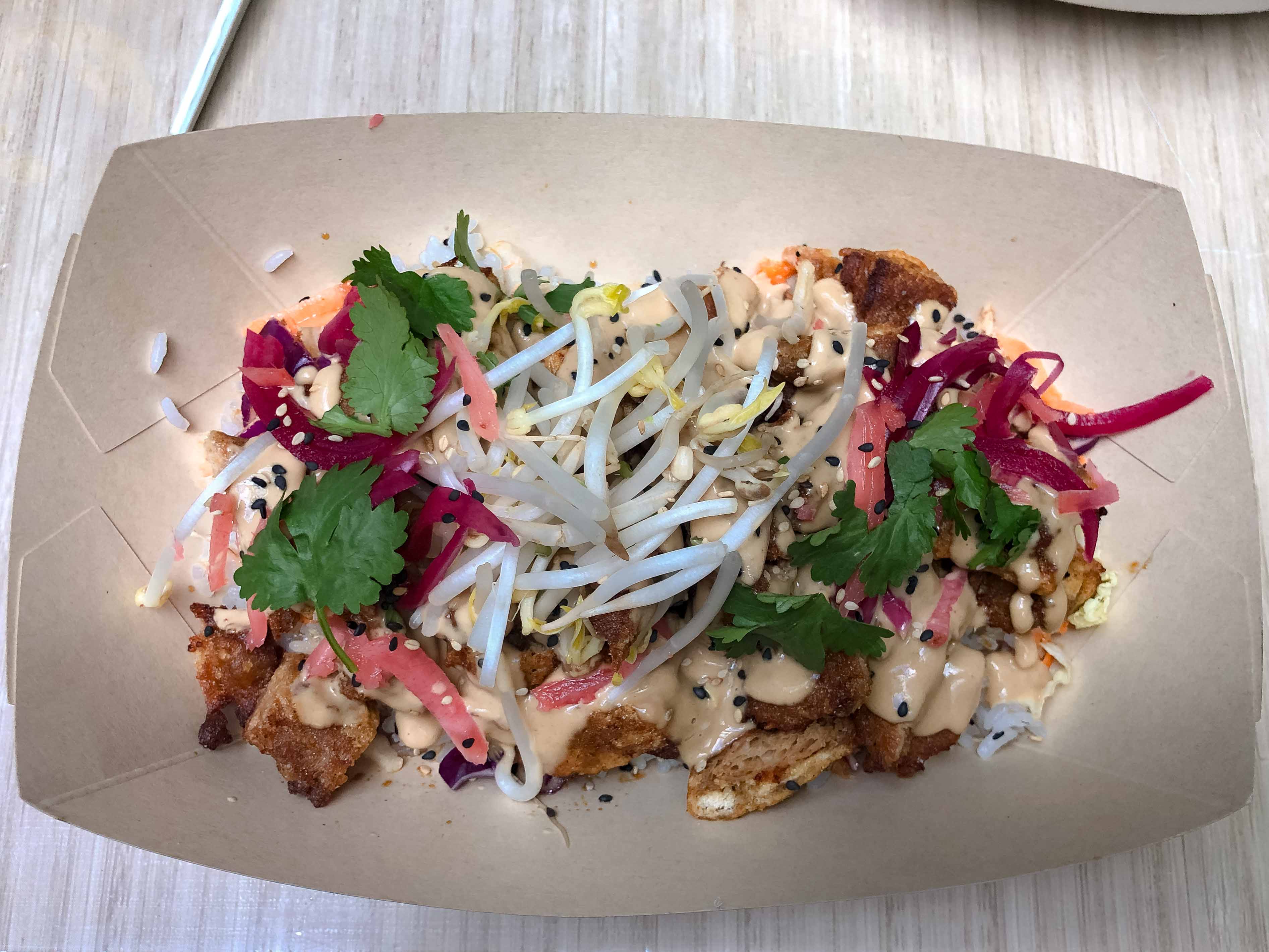 Yatai Market at night
On weekends Yatai Market becomes somewhat of a nightlife hotspot in Madrid that goes beyond just serving delicious Asian street food. There is loud dance music (this is also on during the day) and sometimes even a DJ. Occasionally for events, they will even open a second bar on the terrace.

A lot of people come to Yatai Market for food and drinks before going out to other bars and clubs in Madrid. This market is not to be underestimated and is the perfect place for pre-drinks for the perfect night out. Unfortunately, it's not open later or it would be a fantastic place to get food after the club.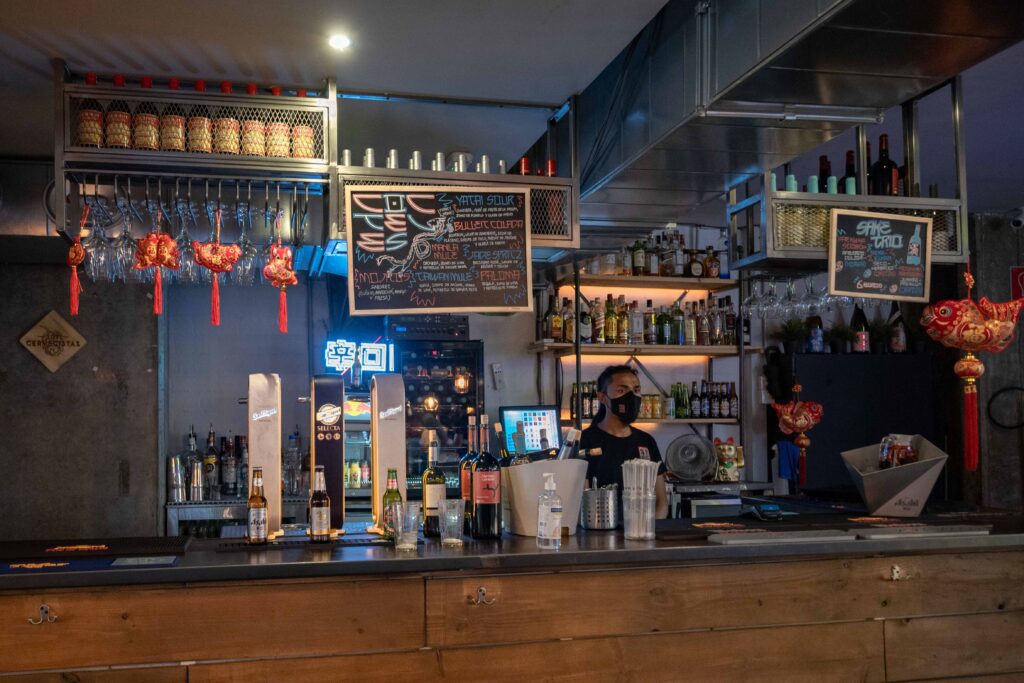 Other things to do in Madrid close to the street food market
Yatai Market is located in the city centre of Madrid so there are a lot of other things to do and see within walking distance. Here are some of the best attractions located close by:
Barrio de las Letras and Calle de Las Huertas – Nightlife area with lots of bars, restaurants and small clubs
Plaza Major – Large square with nice restaurants. One of Madrid's most famous landmarks
Puerta del Sol – Large square with shops and the centre of Madrid
Hammam al Ándalus – Traditional spa with beautiful bathing areas
Calle de la Cava Baja – Busy street with restaurants and cafes
Click the images below to pin this post to Pinterest and save for later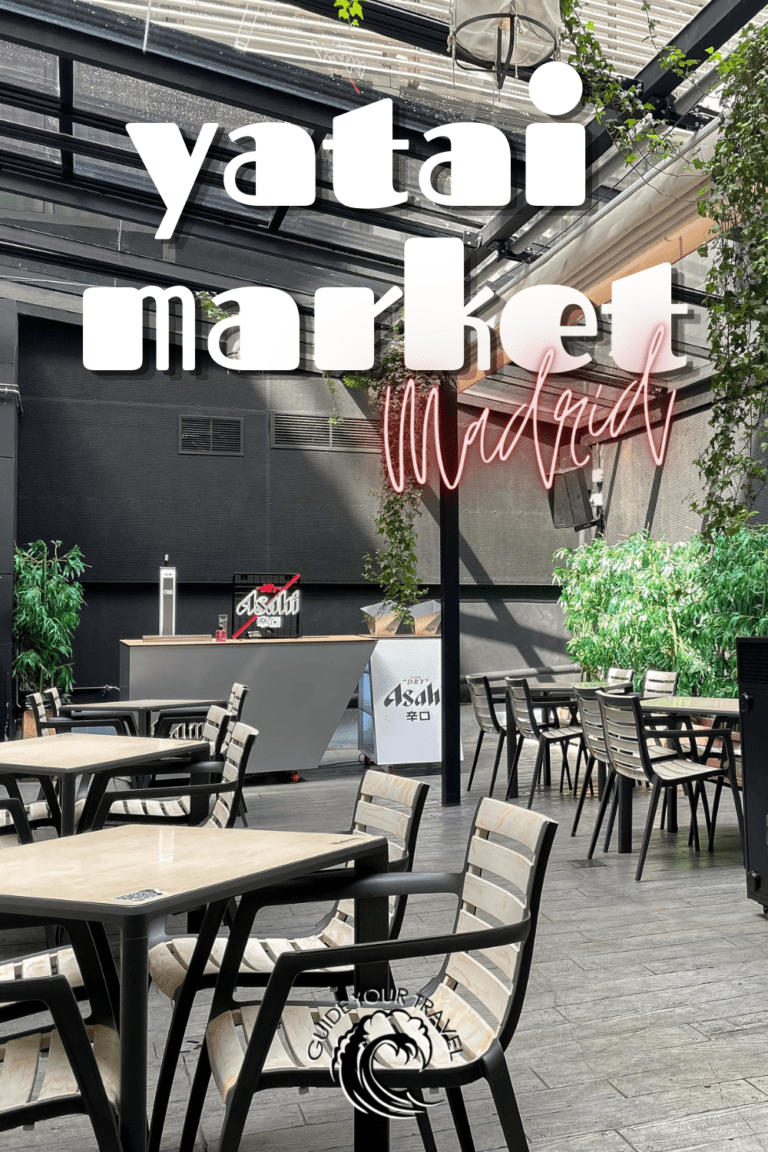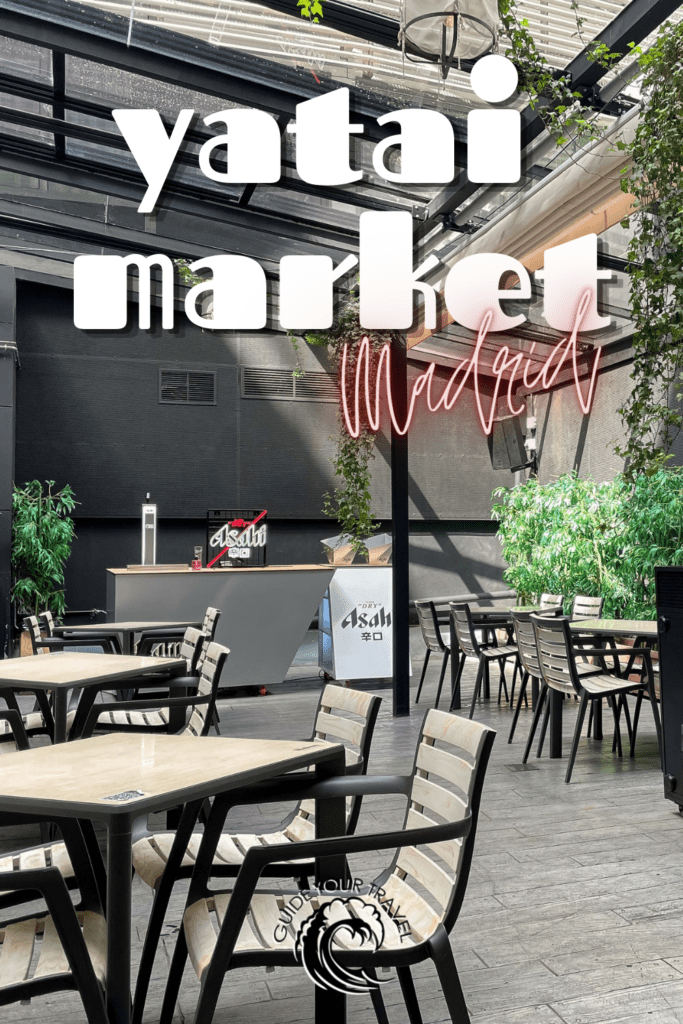 My most important travel tips and resources
Book your flights
Skyscanner is the best website for finding cheap flights since it works like a search engine so you can find the best deals across all airlines.

Book hotels and hostels
• Booking.com: Best world-wide
• Agoda: Best in South East Asia
• Hostelworld: Best for hostels

Book tours, transport and rental cars
•Viator: The best place to book tours, day trips and excursions for al budgets
•12Go: Great for ferries, trains, transfers and buses in South East Asia
•Discover Cars: Best deals for rental cars around the word

Get travel insurance
Every traveller needs travel insurance and I mean every single one. SafetyWing covers you in case of injury, illness or worse and they've got your back if your bag is stolen, flights are cancelled or in case of a natural disaster.

Pay abroad
Ask any traveller, Wise is the best choice when it comes to sending money abroad. They've always got the best exchange rates, lowest fees and their visa card is great for getting cash out or paying abroad.

Things every traveller needs:
➼ Osprey Farpoint 70 Backpack
Detachable daypack, ultra-light, durable and free repairs for life. There's a reason why so many backpackers have this bag.
➼ Packing Cubes
Packing cubes are a gamer changer, keeping your luggage organised and providing tons of extra space.
➼ Power bank
There is nothing worse than running out of battery on an overnight bus journey or a long flight. With a powerbank you can charge your eletronics on the go and make sure you're always connected.
➼ Micro-fibre towel
These lightweight towels are foldable, fast-drying and so useful when you're travelling.

➼ You can find 15 more things every traveller needs here. Some might be a bit controversial but I warned you!
Did I miss anything?
If you have any questions or feel like something is missing from this post please leave a comment below or contact me.