GILI TRAWANGAN'S PARTY BOAT
Gili Trawangan is known for being a party island. Besides having a great selection of bars and small clubs the Indonesian island is also the home of what is advertised as "Indonesia's best party". The Jiggy Boat Party in Gili Trawangan is infamous and people seem to either really love or really hate it.
With mixed reviews on Tripadvisor the only way to find out whether this boat party is worth the money was to book some tickets and hope for the best. Here's my experience and my verdict on whether this could be the best day of your entire trip.
Is a party boat not your thing? Check out these other boat tours on Gili Trawangan.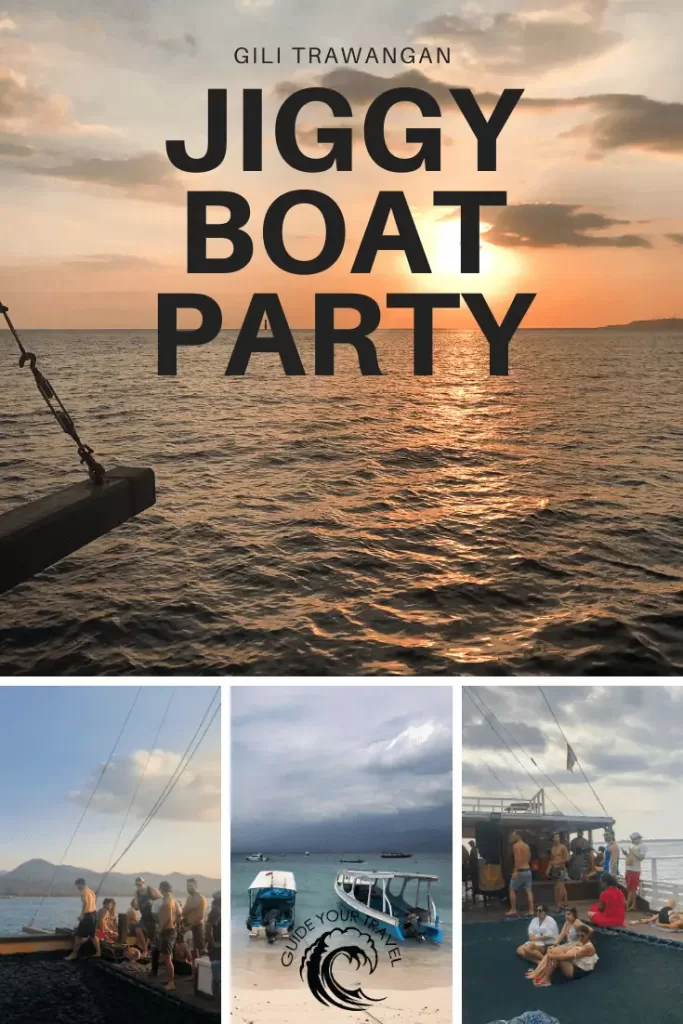 WHEN DOES THE JIGGY BOAT PARTY IN GILI TRAWANGAN RUN?
The boat party happens every Monday, Wednesday and Saturday. Sometimes they reduce this schedule during low season.
OVERVIEW
The boat party runs from 14:00 pm to 19:00 pm just after sunset. The meeting point is at 13:00 pm at the Jiggy Bar. You'll spend your time aboard a large catamaran with a capacity of around 120 people. The boat is large enough that it did not feel too cramped.
The tour takes you around the three Gili islands very slowly. Just before sunset, it stops a few hundred metres in front of Lombok's coast and you can swim for around 30 minutes. Then it slowly takes you back to Gili Trawangan while you watch the sunset.
You can buy alcohol on board but food only consists of some small snacks.
The Jiggy Boat Party in Gili Trawangan is definitely not for those who don't drink. The whole tour is centred around alcohol and partying so don't go if you aren't interested in these things.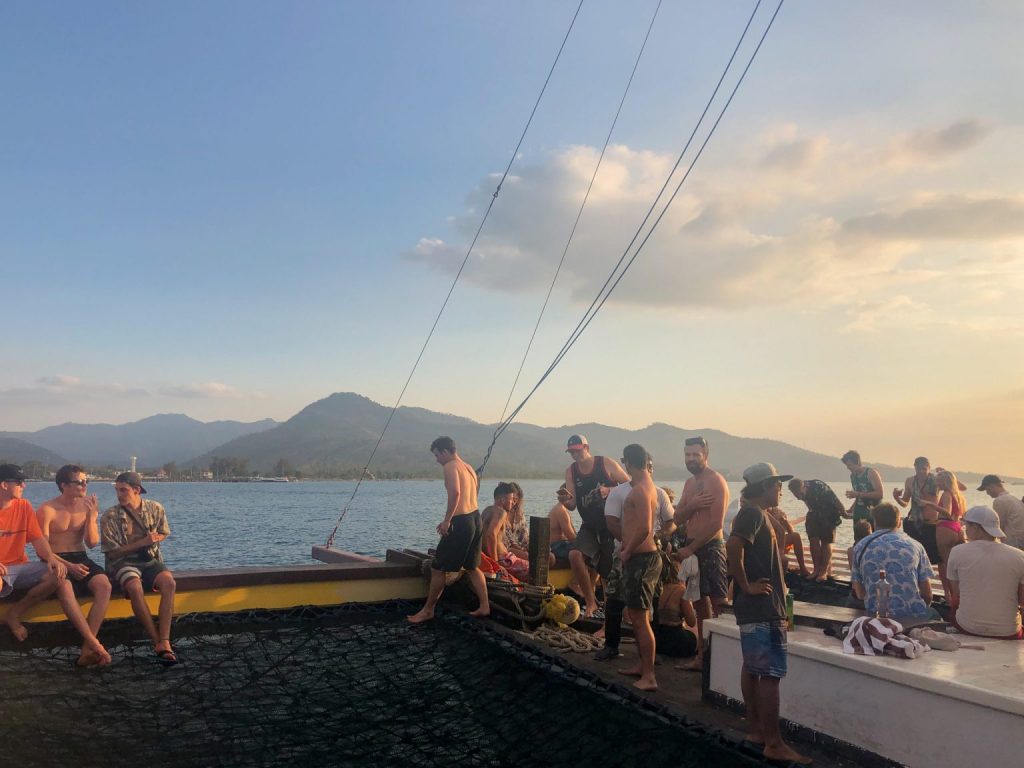 HOW TO BOOK TICKETS
To get your tickets for the Jiggy Boat Party in Gili Trawangan you can either head to their website or book on arrival at the Jiggy Bar. This small club/bar is the organiser of the boat party and you'll find the same staff on the boat as well as in the bar later on in the evening.
They sell tickets at the bar itself but also at other changing locations on the island. Usually, there are Jiggy employees walking around the main street close to the harbour trying to sell you tickets as you walk by.
Some of the ticket agents and tourist stalls also sell Jiggy Boat Tour tickets.
WHERE SHOULD YOU BUY YOUR TICKET?
If you're only on the island for a few days and you're travelling during high season you could consider booking your tickets online before you go. This guarantees you a spot but the tickets are more expensive.
The boat party does sell out, but if you book a few days in advance at the Jiggy Bar (not the night before) you should be fine.
I would recommend booking tickets directly with them. This is the best way to guarantee that you're not falling victim to a scam and getting a good price.
There are stories from people who have gotten their tickets at considerably cheaper prices by either booking really last minute or haggling aggressively. We tried but were unable to get a better price when booking at the Jiggy Bar. My guess would be that you'll have better luck with that during low season when the boat is less likely to sell out.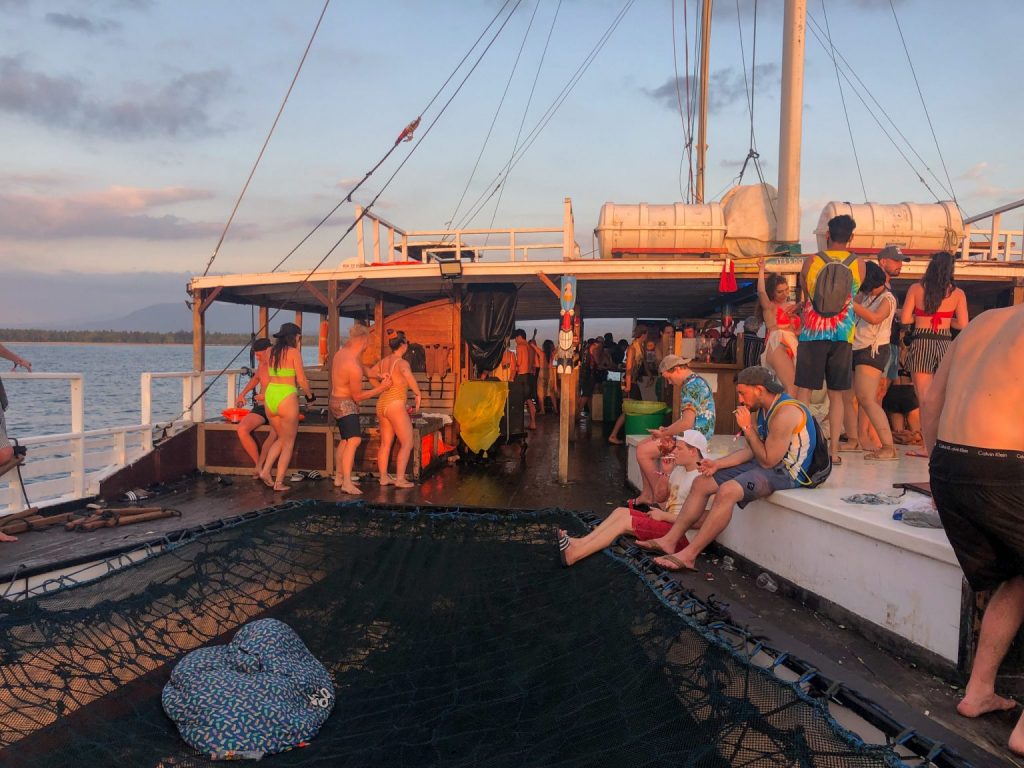 PRICES FOR THE JIGGY BOAT PARTY IN GILI TRAWANGAN
ONLINE
Online the price for a regular ticket is 32 USD (≈ 28,70€) for both men and women. If you buy 6 tickets at the same time you get a discount (110 USD (≈ 99€) for 6 tickets).
A single VIP ticket costs 50 USD (≈ 45€) (includes reserved seating and 2-3 people sharing a bottle of spirit).
A regular VIP ticket costs 225 USD (≈ 202€) (includes two bottles of standard spirit&mixer and reserved seating). This ticket includes up to 5 people.
A VIP Deluxe ticket costs 299 USD (≈ 269€) (includes two bottles of deluxe spirit&mixer and reserved seating). This ticket can also include up to 5 people.
AT THE JIGGY BAR
The cheapest option is to buy tickets directly at the Jiggy Bar. A regular ticket for men costs IDR350,000 or 24 USD (≈ 23€) and IDR250,000 or 18 USD (≈ 16,50€) for women.
A standard VIP ticket costs IDR3,000,000 (≈ 197€) and a deluxe costs IDR4,000,000 (≈ 263€) (same inclusions as online).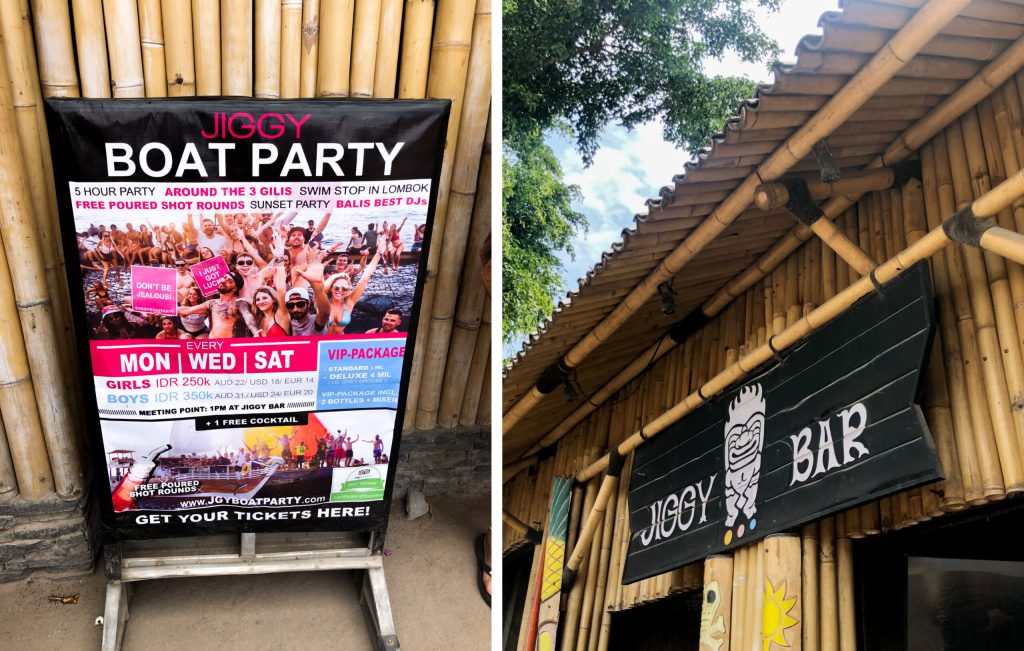 WHAT IS INCLUDED
A regular ticket to the boat party includes:
a free welcome drink (choose between beer and basic spirit mixers)
free "shots" (girls go around pouring a premade shot mixture directly into everyone's mouth)
the boat ride
IS VIP WORTH IT?
I would say that VIP tickets are worth it if you're going as a larger group and are planning to get very drunk. The main benefit of these tickets is that you get reserved seating which means you can sit at a little table with benches in the shade.
At the beginning of the boat ride, the staff is very strict about who sits there and who doesn't. There is next to no other seating on the boat except for the railings or the floor which means you'll be glad if you have a place to sit and put your stuff. However, after a few hours, no one really pays attention to who sits where anymore.
Most of the VIPs will have left their table and you can sit down even if you only have a regular ticket.
If you're planning to buy bottles on board you will save money by getting a VIP ticket. That is another notable benefit.
If you're a bit tight on money I would recommend getting a regular ticket. The perks of the VIP tickets are nice but definitely not a must-have.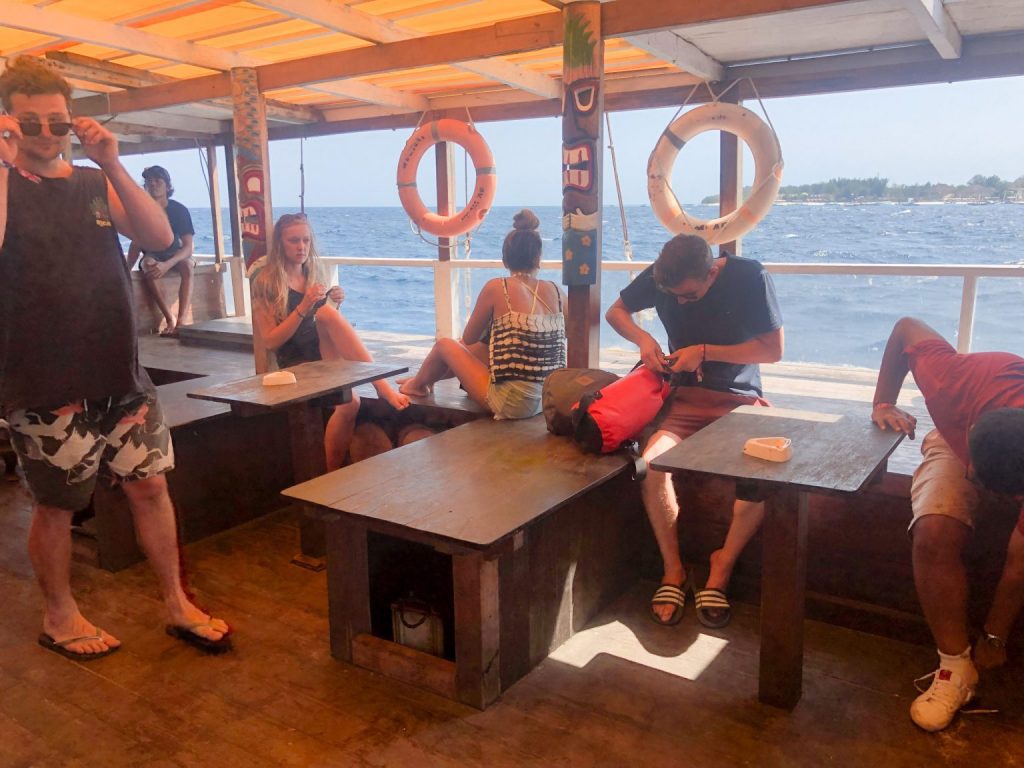 ALCOHOL PRICES AT THE JIGGY BOAT PARTY IN GILI TRAWANGAN
You can see the alcohol prices on the photo below. The beer onboard is Bintang which is poured into a solo cup. At IDR40,000 (≈ 2,60€) for a small (0,330 ml) bottle, this is quite expensive. On Gili Trawangan, you can find a large bottle (0,680ml) for IDR35,000 (≈ 2,30€). But of course, boats are expensive so you need to expect these elevated prices.
Long drinks might seem like the better choice at only around IDR80,000 (≈ 5,30€). You have to consider though that these are quite small (my guess would be around 200ml) and not very strong. In my opinion, you are best off drinking beer.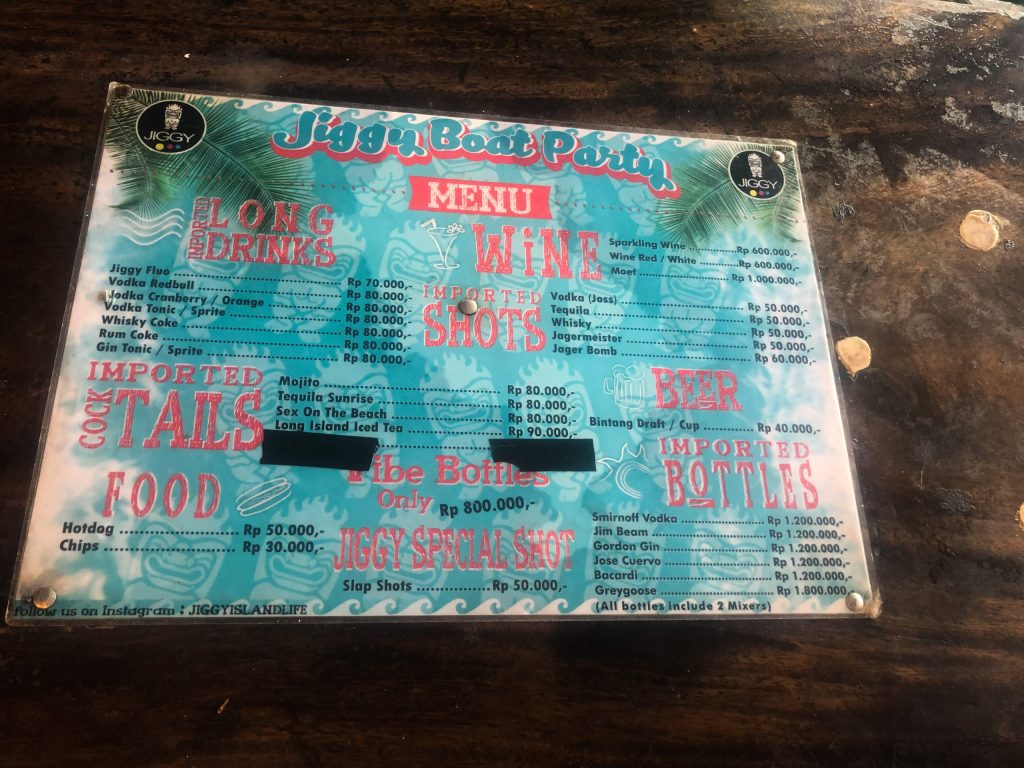 FOOD
The only food onboard are hotdogs and pringles. This is unfortunately not a joke. At IDR50,000 (≈ 3,30€) the hotdogs are pricey and not very good. Try to eat before and after the party or bring some snacks.
Although you aren't officially allowed to bring food or drink I doubt anyone would say anything if you bring some small snacks and have it later on during the afternoon.
CAN YOU BRING YOUR OWN DRINKS?
Yes and no. Many people had open bottles with them when we first arrived on the boat. For the most part, the staff did not complain about this unless you had a large number of unopened drinks with you.
People were allowed to finish their drinks and only got in trouble if they opened new ones. If you're careful about who is watching and are pouring drinks into the cups they give you onboard I have little doubt that you'll be able to get away with sneaking a few things in.
THE MUSIC AT THE PARTY BOAT IN GILI TRAWANGAN
There is a DJ on the boat who is advertised as one of Indonesia's best DJs. The one that was there during my visit was decent; not extraordinarily good but also not half-bad. He played mostly deep house and chill electronic music during the beginning of the tour and switched to popular music and greatest hits sing-along songs later on during the night ending with pretty good techno.
All in all, we were happy with the music on the boat and many people were dancing.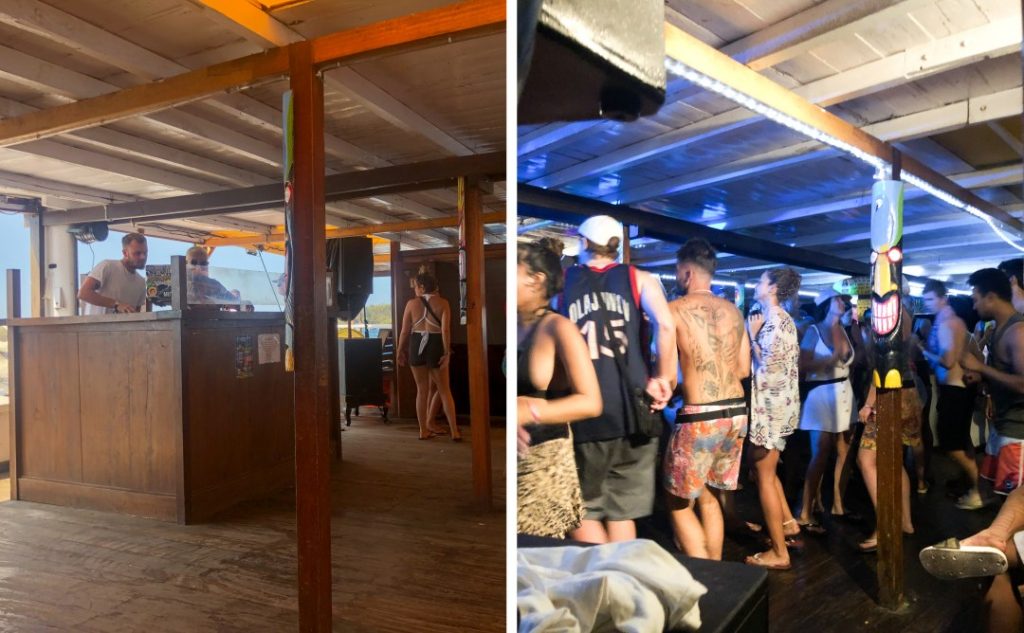 THE BOAT
The boat is a large catamaran with two "hanging nets" at the front of the boat. They were pretty comfortable to lay in and relax although they did get wet sometimes when the boat was moving. On the promotional video, there are lots of beanbags on these nets, however, on our tour, it was only a single sad beanbag.
The back of the boat has a roof which is great if you want to escape the relentless sun. This is also where the DJ booth is and a small dancefloor. The VIP seating areas are to the left and right of the dancefloor with the bar at the very back of the boat.
The roof of the boat was off-limits, unfortunately, although they let you go up briefly during the swim stop to jump off.
There were two bathroom stalls each for men and women at either side of the boat.
The entire catamaran is wooden and made a sturdy impression, despite being quite old. It was pretty much what I had expected, definitely not the most luxurious but okay.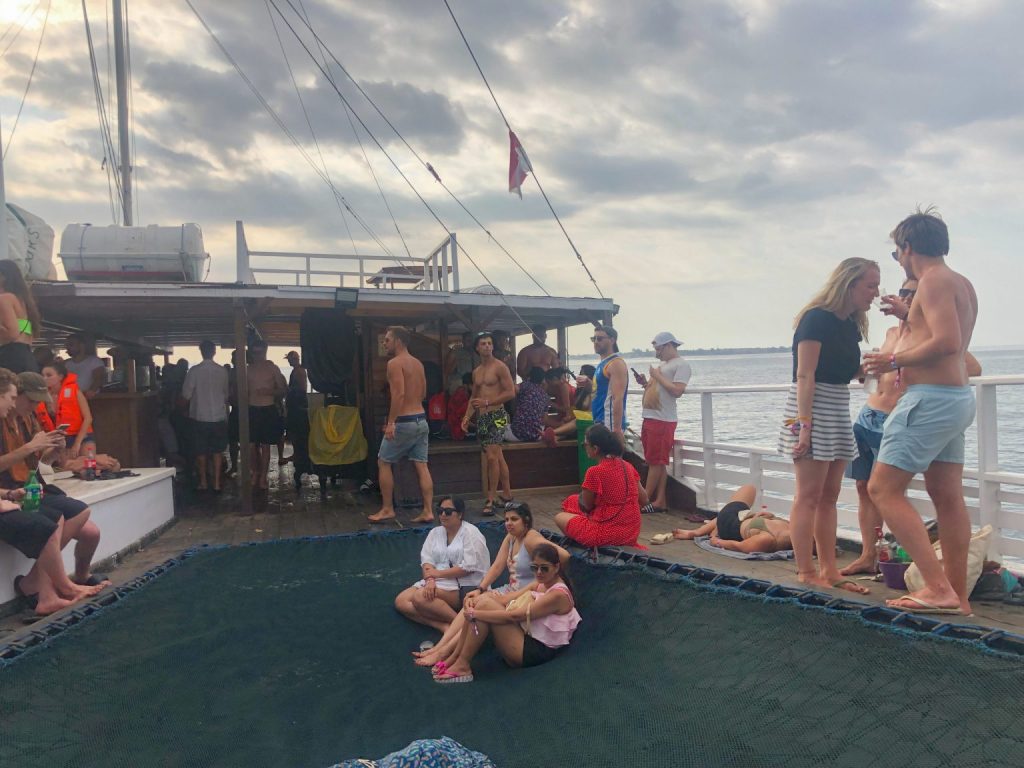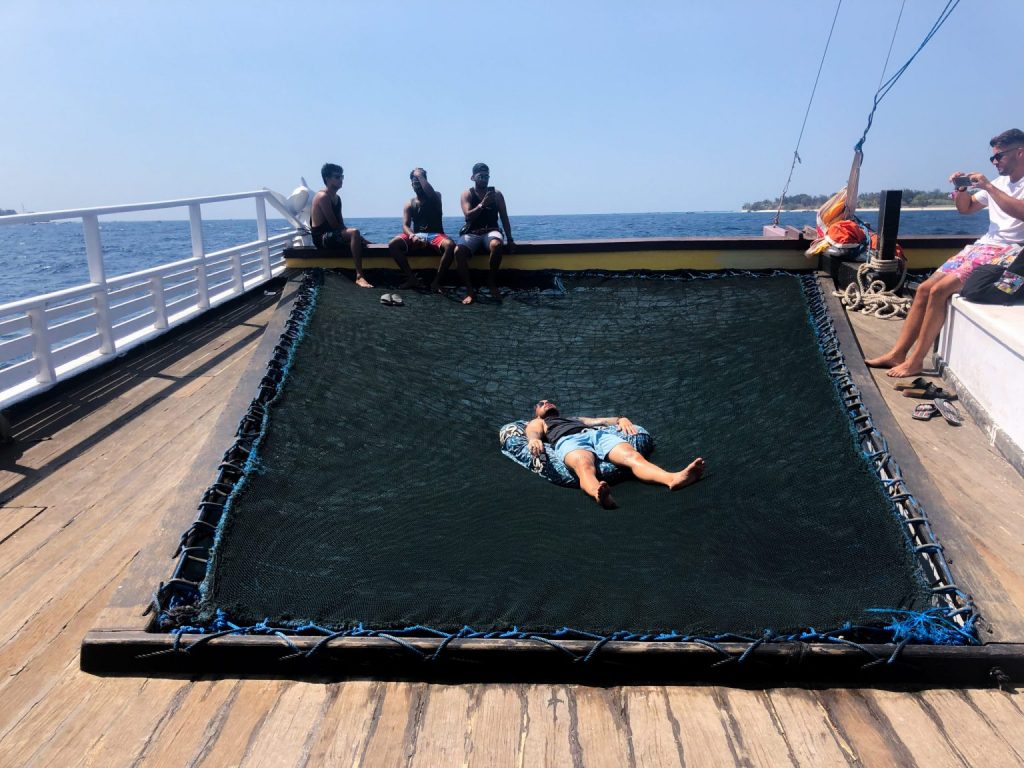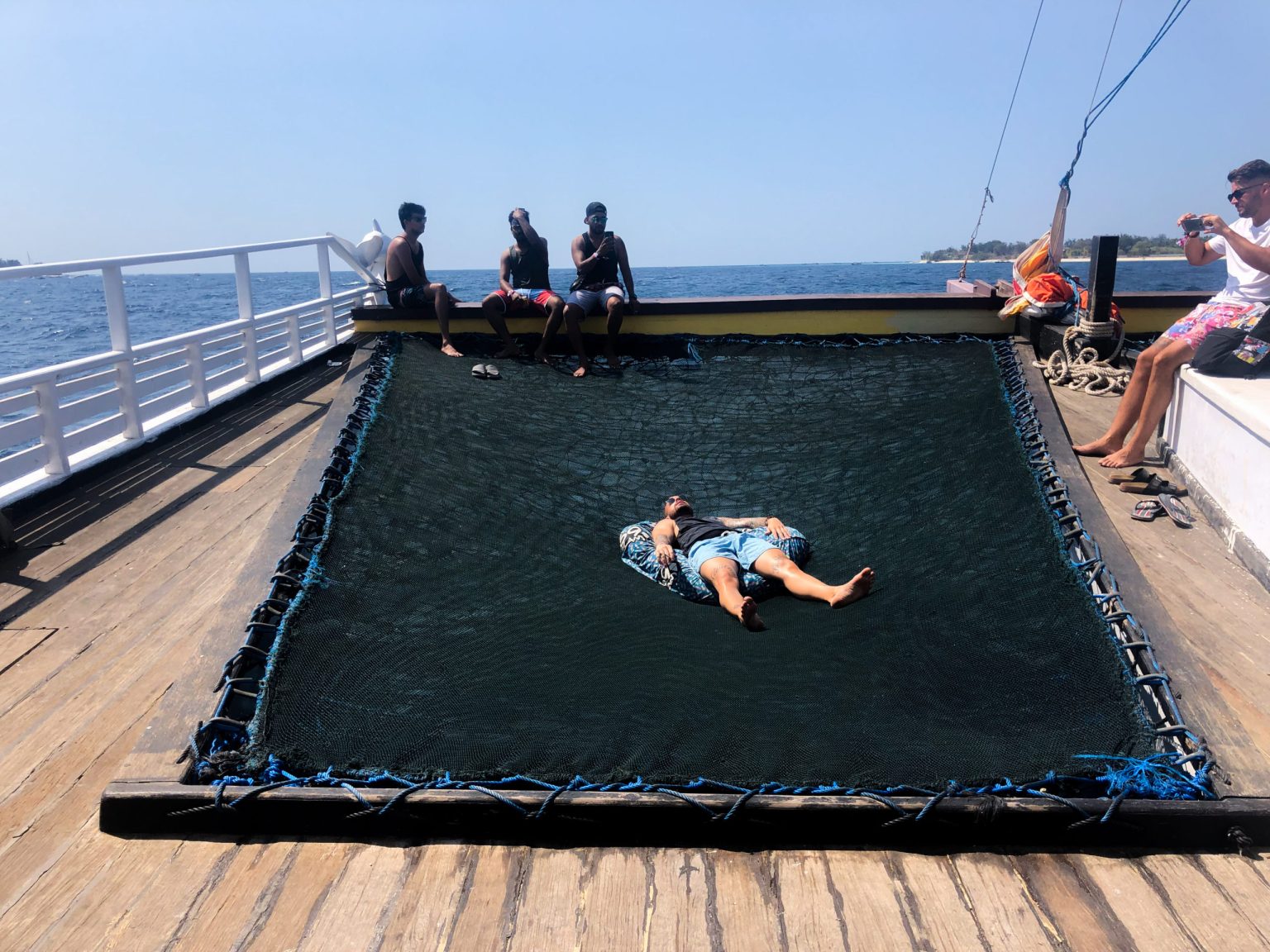 THE BATHROOMS
The bathrooms on board are bad there's no sugarcoating it. They were okay at the beginning of the boat ride but became disastrous after just a few hours.
As you would expect there were people throwing up and naturally such an old boat does not have the best drainage system.
While this is, of course, not very pleasant it's just something you have to expect when going on this boat party in Gili Trawangan. Bring some tissues and hope for the best.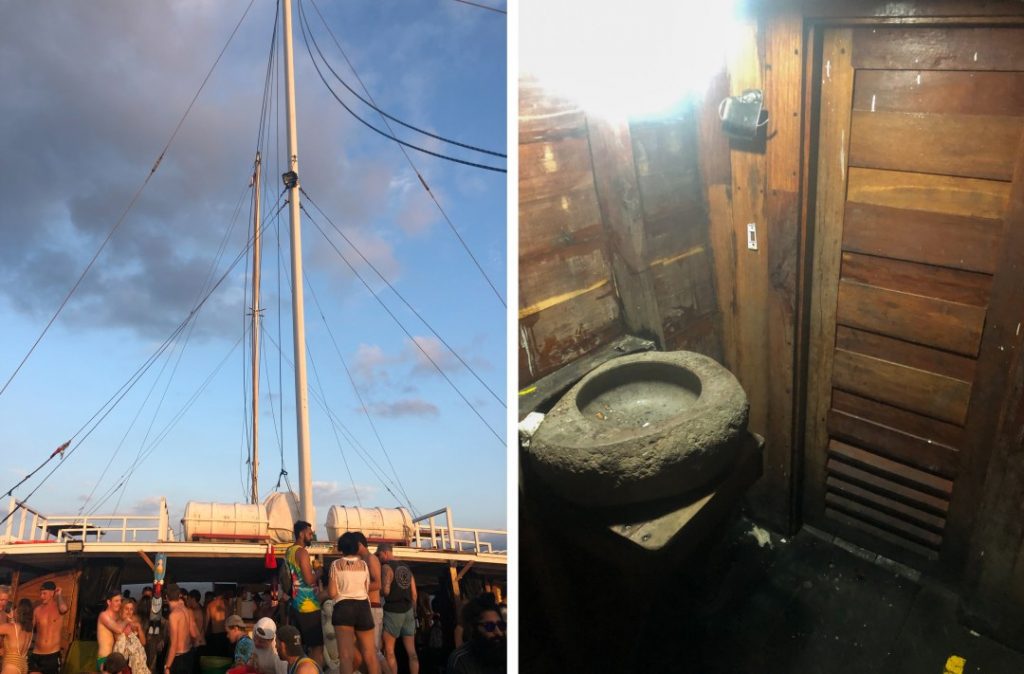 SEASICKNESS
I personally get seasick very easily and any sort of boat ride is a nightmare for me to begin with. I managed to get through this boat party on Gili Trawangan and have a lot of fun but it was hard to overcome the nausea at times.
The catamaran moves very slowly. So slowly that often times you don't even notice it moves at all. Even in calm seas, there is plenty of swaying. My advice is to try to combat the seasickness with alcohol which works for me (but might not for everyone). If you're really prone to seasickness maybe skip this one.
There are small boats available to take you back to Trawangan should you not feel well at any point of the trip.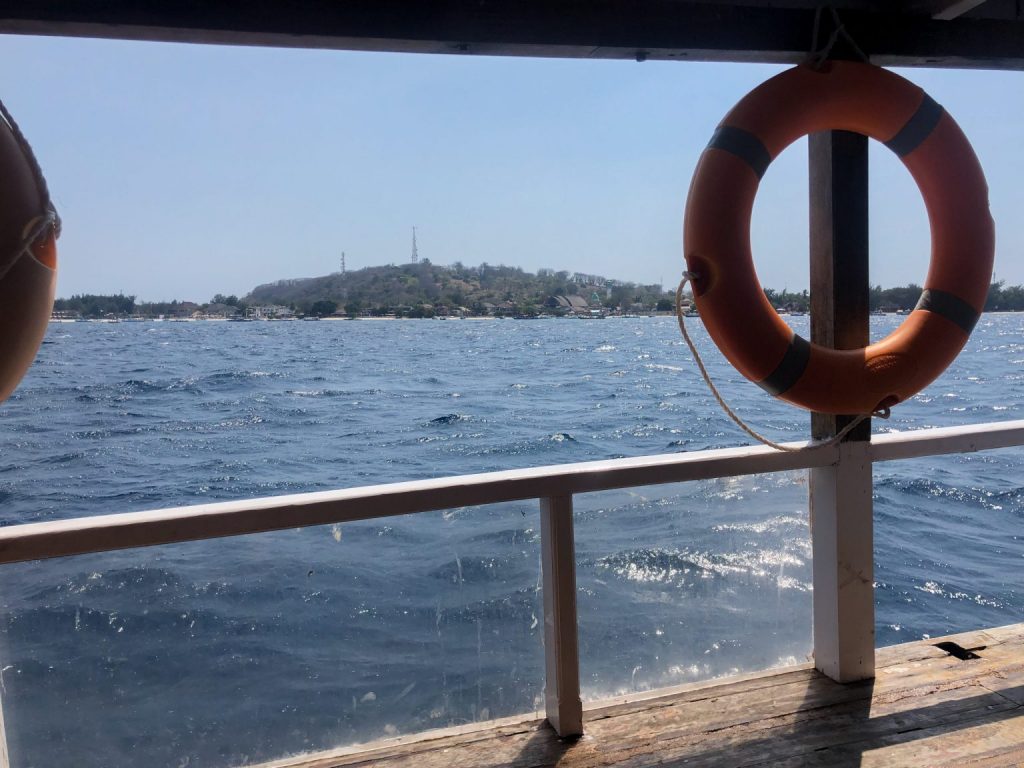 VALUABLES ON BOARD: WHAT TO BRING
There is no real place to put bags on board. We carried a small lockable drybag which sat behind a seating area during the entire boat ride. I wasn't worried about anything being stolen since the bag was locked. Still, it's good to keep an eye out and check periodically if it's still there.
Don't take anything too valuable with you. Carry some cash on you to pay for drinks. I wouldn't advise taking a camera or GoPro; you're probably not going to use it.
Do take plenty of sunscreen and water and maybe a small snack. Make sure to put on your bathing suit under your clothes before you go so you can swim later on. Take tissues for when you want to use the bathroom.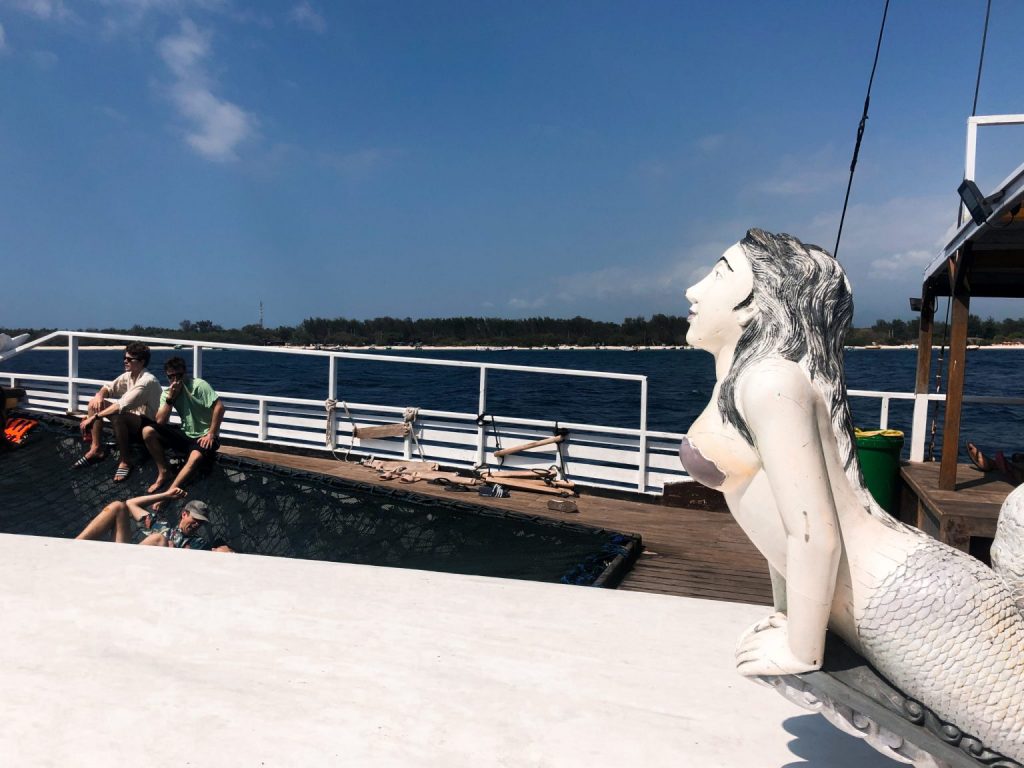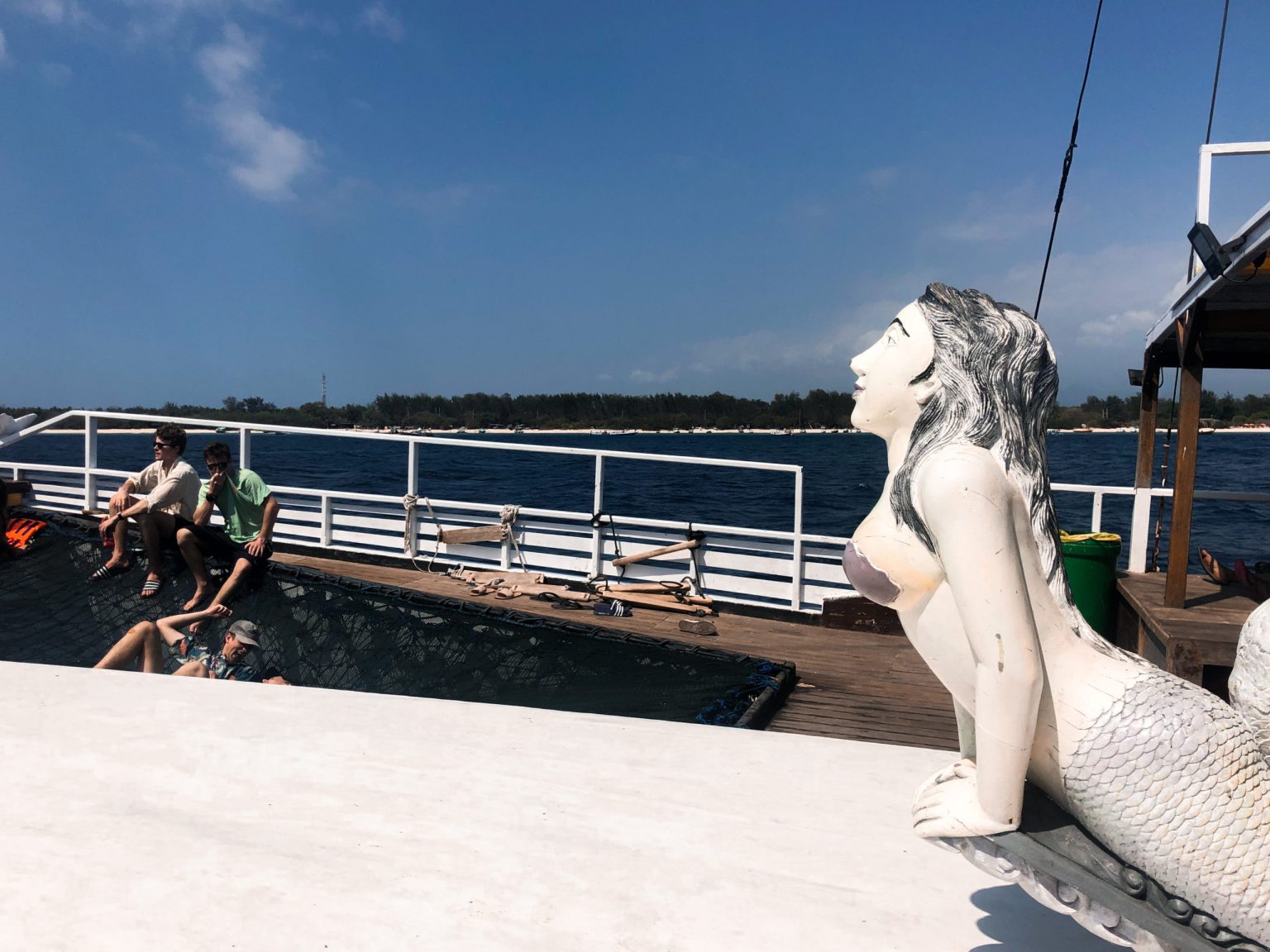 WHAT TO EXPECT: MY EXPERIENCE ONBOARD THE BOAT PARTY IN GILI TRAWANGAN
BEFORE THE PARTY
So let's get into what the party was actually like.
It all starts the Jiggy Bat where everyone meets up at around 13:00 pm to receive their wristbands. This wristband is the only thing identifying you as a part of the group which leads me to believe that you probably would not have much trouble doing the tour again a few days later if you keep the band on.
At this point, the majority of the party-goers will already be drinking heavily and be in various stages of consciousness. One might expect other substances to be involved as well, although this is mere speculation. I would strongly recommend having a few Bintangs before you board, otherwise, I'm not sure how you would be able to endure 120 drunk people waiting to go party on a boat.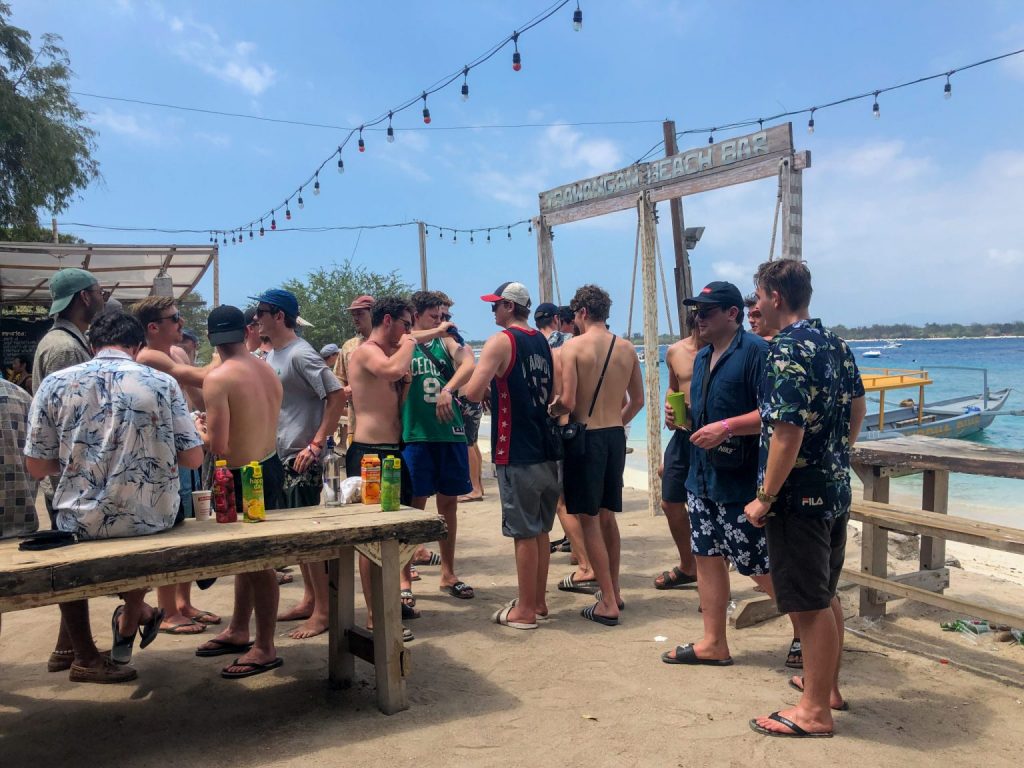 After everyone has gathered you'll walk to the marina where a traditional boat will take you to the catamaran which waits out at sea. The little boat goes back twice to get everyone on board. Try to get on the first one so you can get the best spots on the catamaran and be first in line to get drinks at the bar.
The bar is very crowded at the beginning of the tour (naturally) and then gradually empties out so you won't be waiting for more than a few minutes for your drinks. You each receive a voucher for the welcome drink on arrival. Get this as soon as possible to avoid having to wait in line at the bar forever.
FREE SHOTS
During the entire boat ride, the DJ and staff will try to get everyone to come dance on the small dance floor. They'll do this by promising free shots to anyone who is there. These shots are distributed out of pre-mixed bottles and poured directly into everyone's mouths. The bottles are handed to random girls on the boat whose task it is to pour them for everyone. Since these girls are usually not particularly sober this ends up in a huge mess and mostly them drinking the shots themselves. Who can blame them.
If you don't want sticky bright red liquid being poured all over your face and clothing then give this one a miss. The mixture is peach (or something similar?) flavoured and not very alcoholic. It's better than nothing but don't expect too much.
They will give out shots 3-4 times during the ride. Towards the end, everyone will have stopped caring so it's quite easy to get your hands on a bottle or go back for seconds and thirds.
Around 30 minutes before the party was over they announced that all beer and long drinks were now only IDR20,000 (≈ 1,30€). This caused one last rush to the bar and a good opportunity to get more for your money.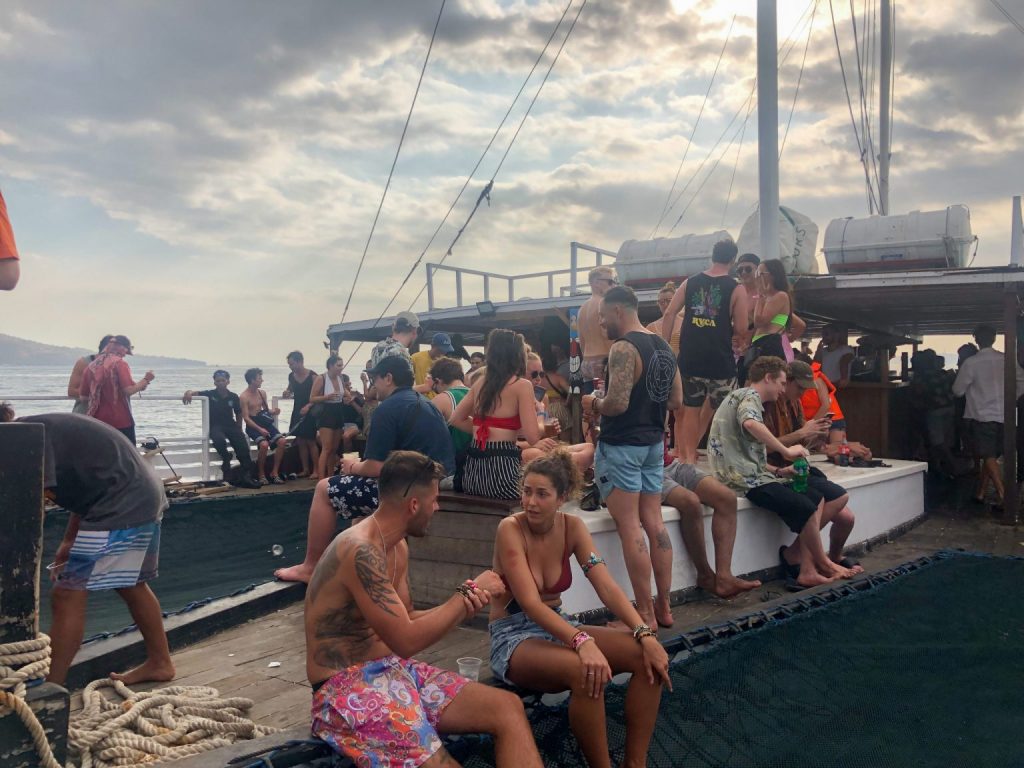 MISBEHAVING ON BOARD
Although some of the staff are there to party with you and hype up the crowd don't make the mistake of assuming they'll look the other way if you don't obey the rules.
Putting 120 drunk people on a boat can only end in disaster if you think logically. During our tour, a guy jumped off the catamaran while it was moving because he had lost his flip flop. This promptly got him and his friends expelled from the boat and they were sent back to Trawangan.
Standing on the bowsprit at the very front of the ship was also frowned upon as was leaning too far over the railings and attempting to take over the DJ booth.
Party related shenanigans, however, such as getting naked or throwing drinks were ignored if not encouraged.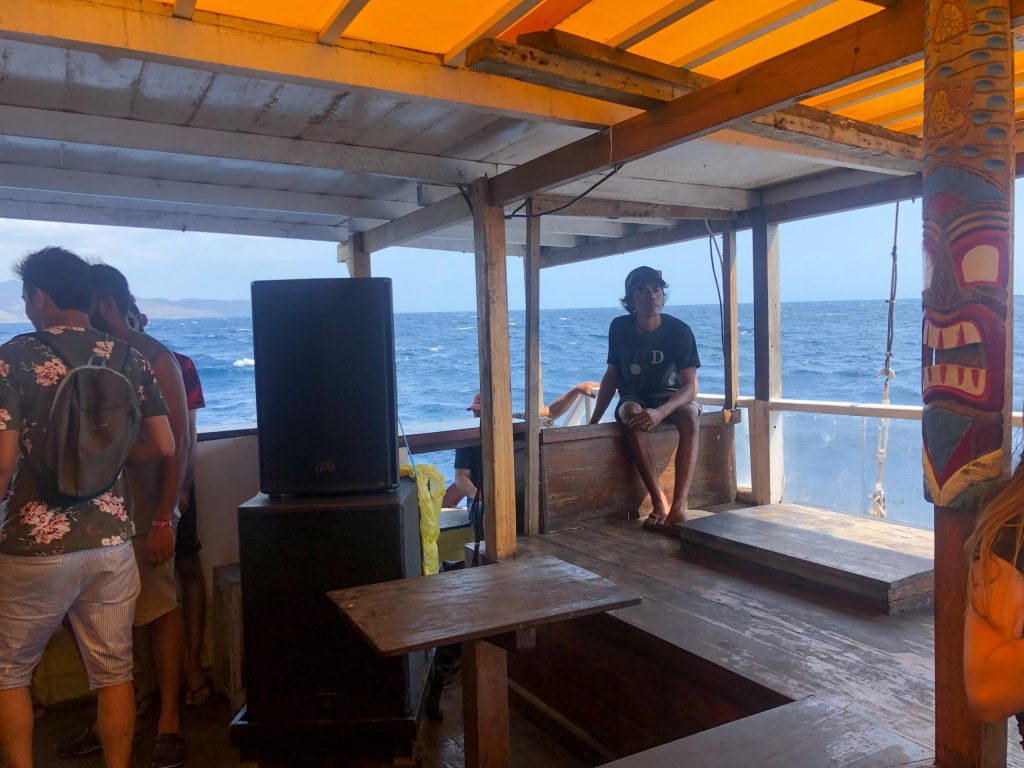 THE THING ABOUT THE SPIRIT BOTTLES
While onboard the party boat in Gili Trawangan we witnessed an interesting pattern. If I wouldn't have known better I could have sworn I saw members of staff selling name-brand spirits out of a backpack in a quiet corner of the boat for what appeared to be much lower prices than at the bar.
Of course, I must have been mistaken and it could have been the seasickness causing my eyes to betray me.
THE SWIM STOP
Towards the end of the boat tour, you'll stop in front of a beach in Lombok. The coast is very close although it's not realistic to swim there.
You can get a lifejacket if you want which I can only recommend. Alcohol and swimming don't mix well and it's a lot more relaxing if you can just float.
If you feel like it, you can jump from the top of the deck.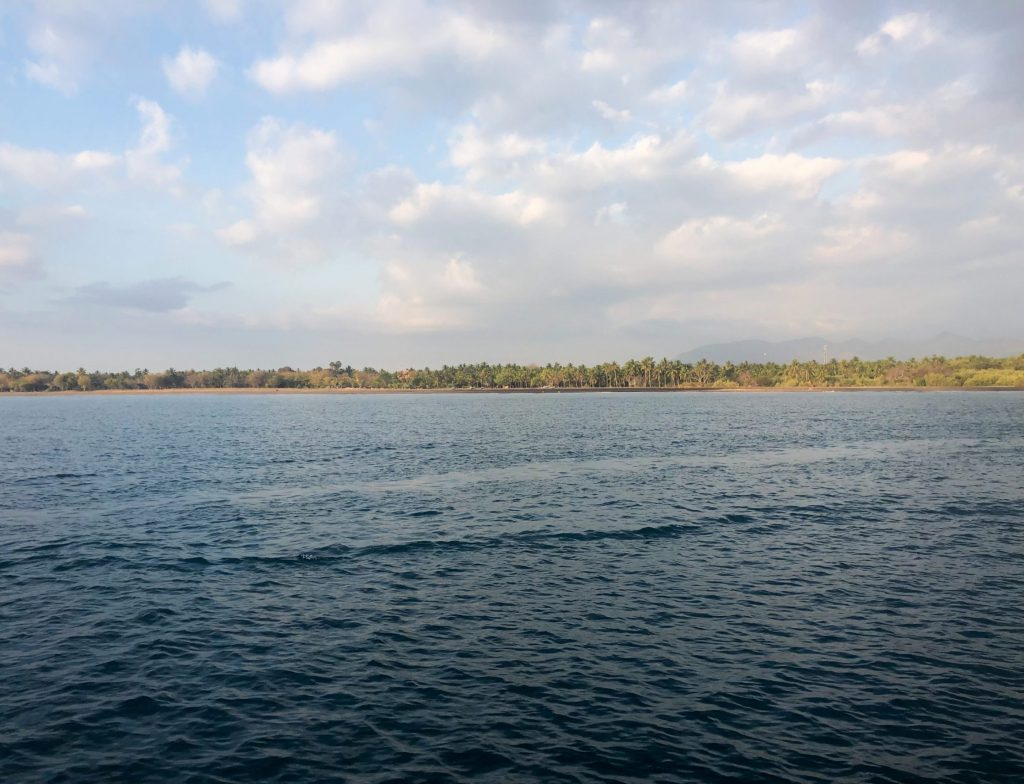 COMING BACK TO GILI TRAWANGAN AFTER THE BOAT PARTY
After the swim stop, you'll be able to watch the sunset while the catamaran takes you back to Gili Trawangan. You'll most likely be exhausted and hungry by this point.
The boat staff will want you to come back to the Jiggy Bar and continue partying there. Sometimes they give incentives such as a free drink if you give them a good review on Tripadvisor.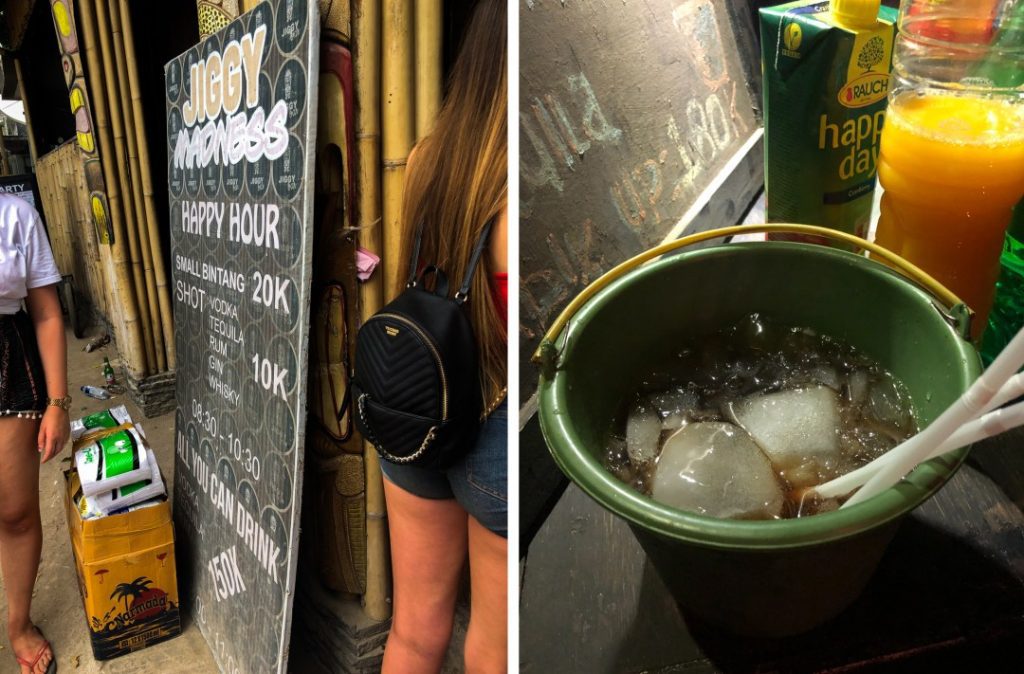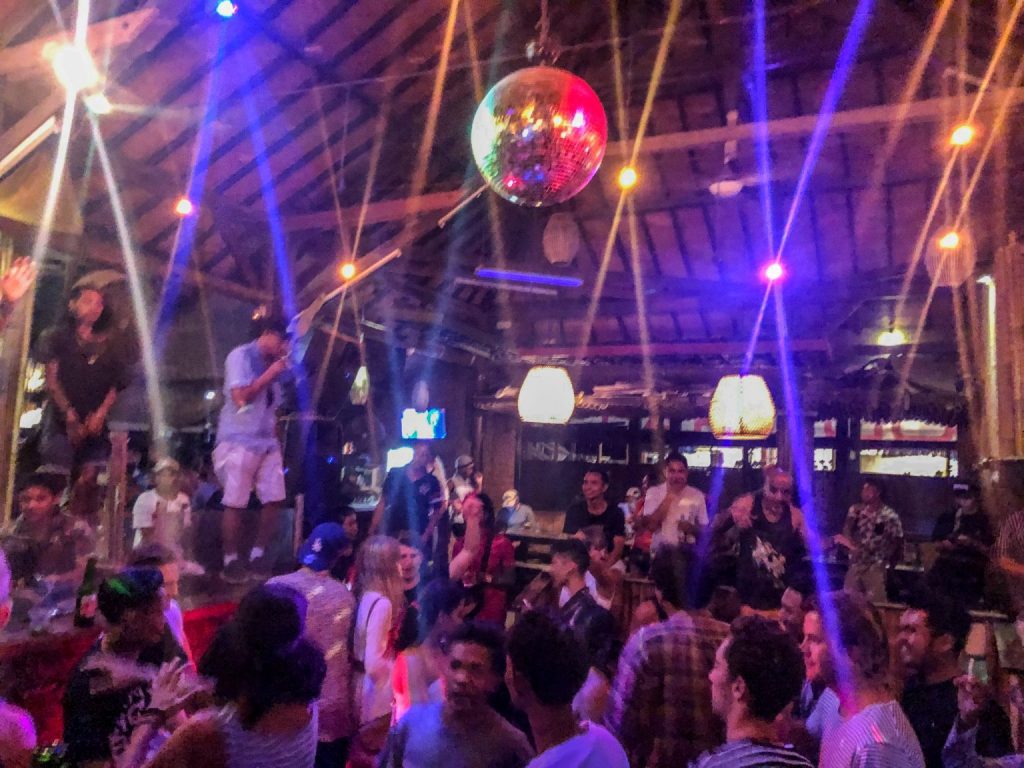 WHY DOES THE JIGGY BOAT PARTY IN GILI TRAWANGAN HAVE SO MANY BAD REVIEWS?
When I was researching the Jiggy Boat Party I was initially put off by how many horrible reviews it has. The experiences people had seemed to be either amazing or really really bad. Check out Trip Advisor to see for yourself.
There seem to be many people who bought tickets and were refused a place on board when they arrived at the Jiggy Bar due to overbooking. Others tell stories of the music and generators not working or the boat breaking down mid-tour.
Many probably also booked this tour with very high expectations and were disappointed by the run-down boat and alcohol oriented atmosphere.
It's hard to guarantee that this won't be the case for you as well. Especially the problems with overbooking and technical issues do seem to be a repeat occurrence and could ruin your tour. In the end, it's up to you whether you want to take this risk. If you adjust your expectations you will probably have a good time.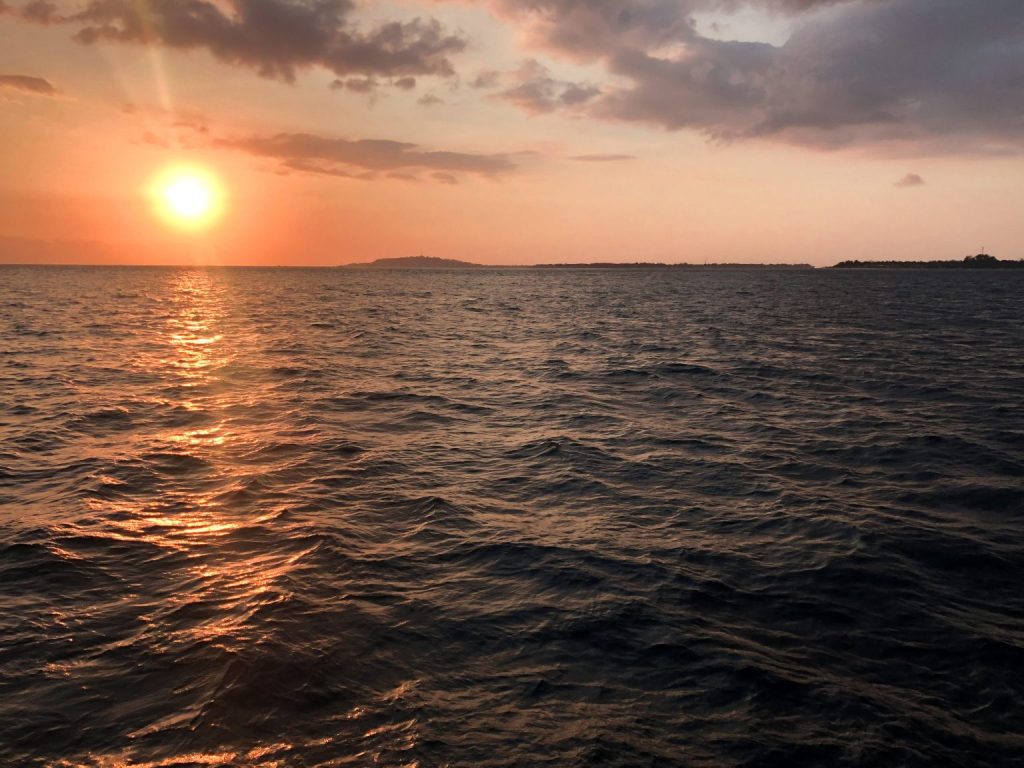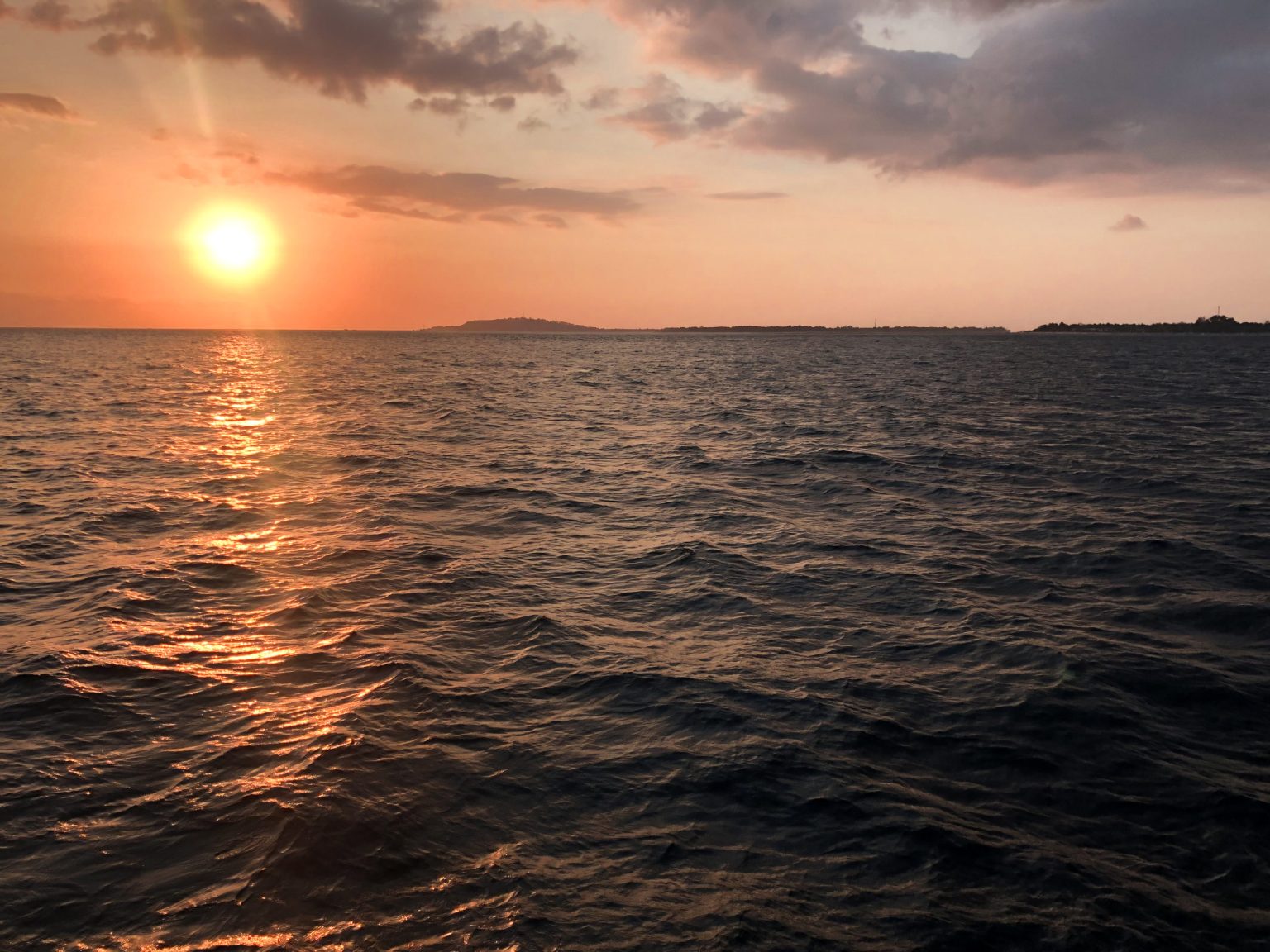 IS THE JIGGY BOAT PARTY FOR YOU?
It's difficult to reach a verdict on this boat party. I really enjoyed myself and so did everyone else on my tour. However, I can see this potentially being a disaster for anyone who expects a chill boat ride around the Gilis with a few beers. It's very important to know that this is NOT the case.
This is a party. There are dirty toilets, the floor is sticky and the people on board are very very drunk. There is loud electronic music and sometimes people spill their drink on you when the boat hits a wave unexpectedly. If this does not bother you then you might have an amazing time on the Jiggy Boat Party. If you're having doubts then maybe choose one of the small BBQ boat tours that are offered on Trawangan instead. They also sell beer and you'll have a much more relaxing time.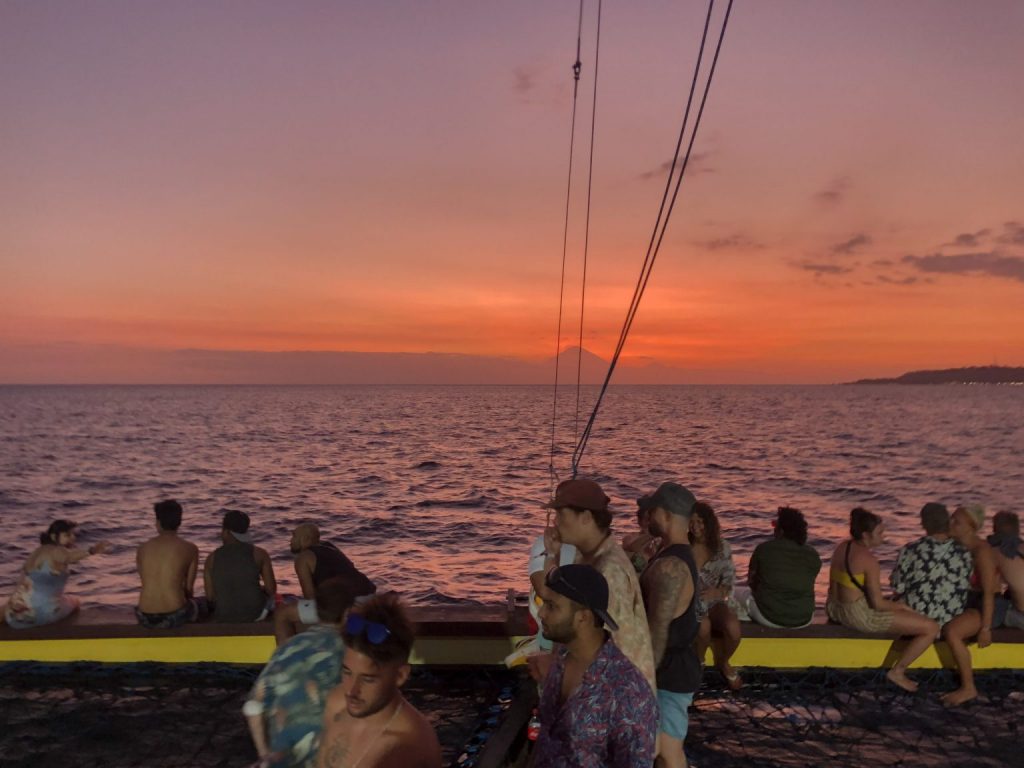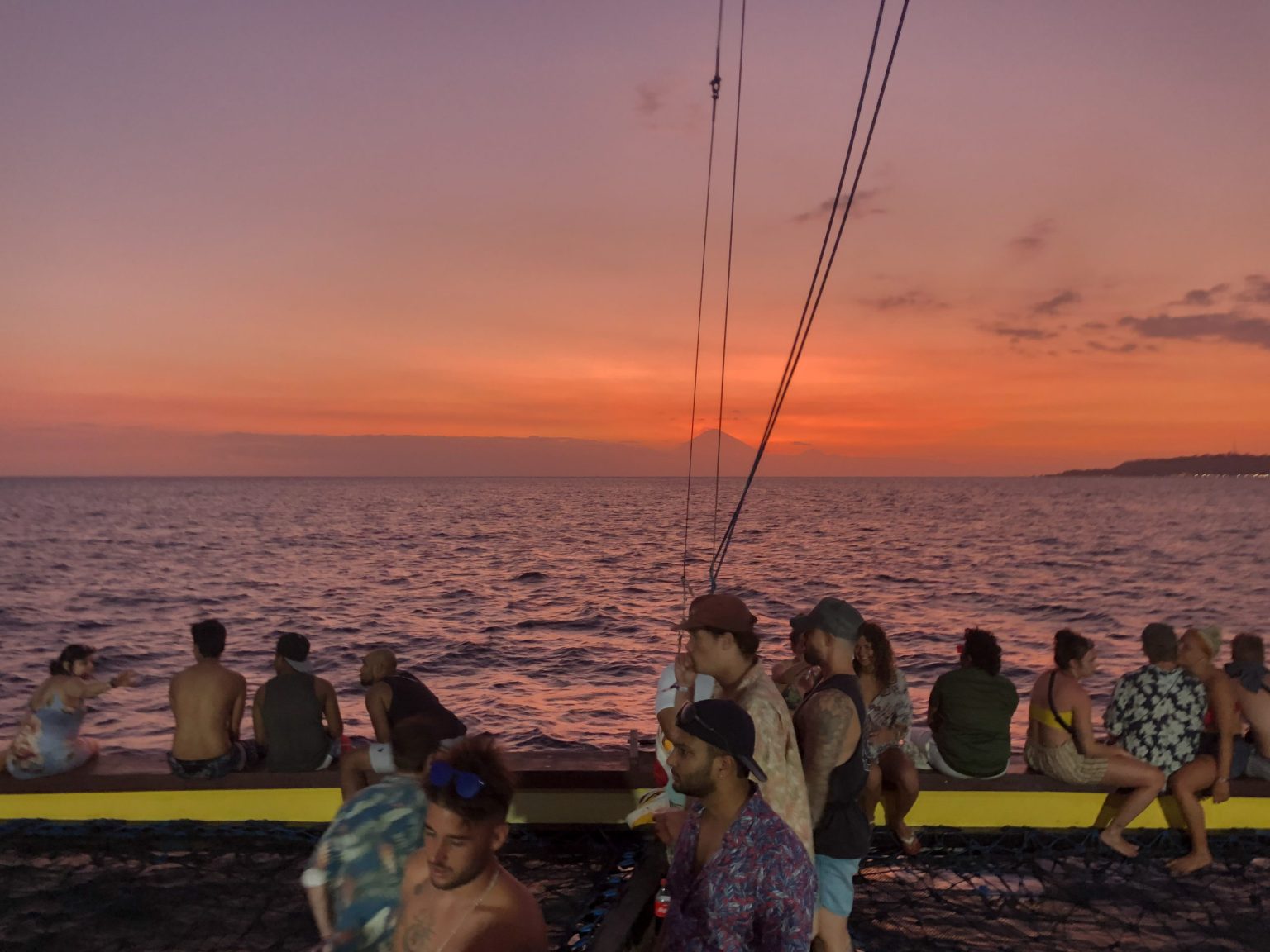 IS IT WORTH THE MONEY?
The prices for this boat party are high considering Indonesian standards. Of course, there are much cheaper tours but I still think the Jiggy Boat Party is worth its money if you really enjoy partying. I would book this tour again based on the experience I had.
Want a different perspective? Check out Ummi Goes Where's Experience at the Jiggy Boat Party in Gili Trawangan.
Don't feel like partying? Find out how to swim with turtles in Gili Trawangan here or check out two other boat tours on the island here.