Just off the coast of Lombok, you'll find the Gili Islands, Indonesia's worst kept secret. Once the secret escape from Bali's tourist crowds, today Gili Trawangan, Gili Air and Gili Meno are far from the secluded beach paradise they once were.
However, just because the Gilis are a popular tourist destination now does not mean you shouldn't put them on your bucket list. These islands are a literal paradise with crystal clear waters, cheap prices and green sea turtles right at the white-sand beach. They're completely different from Bali and the perfect holiday escape.
But which island is right for you? Should you spend some time on each one or is a day trip enough? This post breaks down exactly what the difference is between the Gili's most popular islands.
Do you want to book a boat tour to see the Gili Islands but not sure which one to choose? Find out more here.
This post may contain affiliate links, which means we'll receive a commission if you purchase through our links, at no extra cost to you. This helps us keep Guide your Travel free and provide high-quality content for you. Please read the full disclaimer for more information.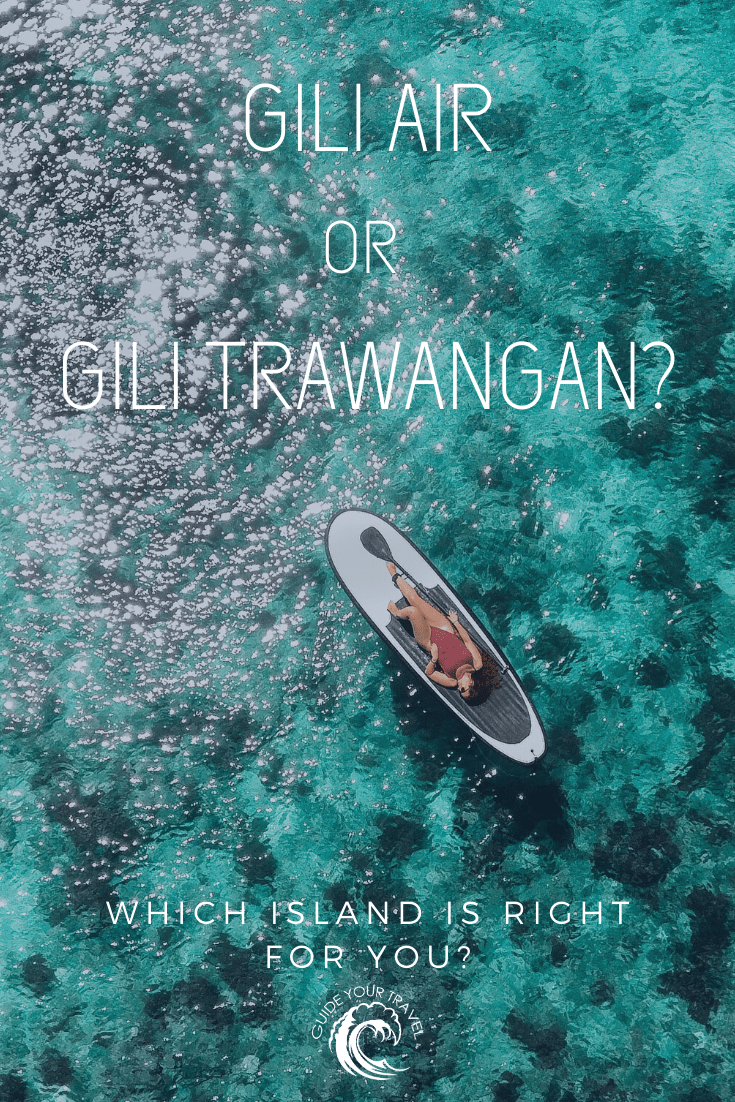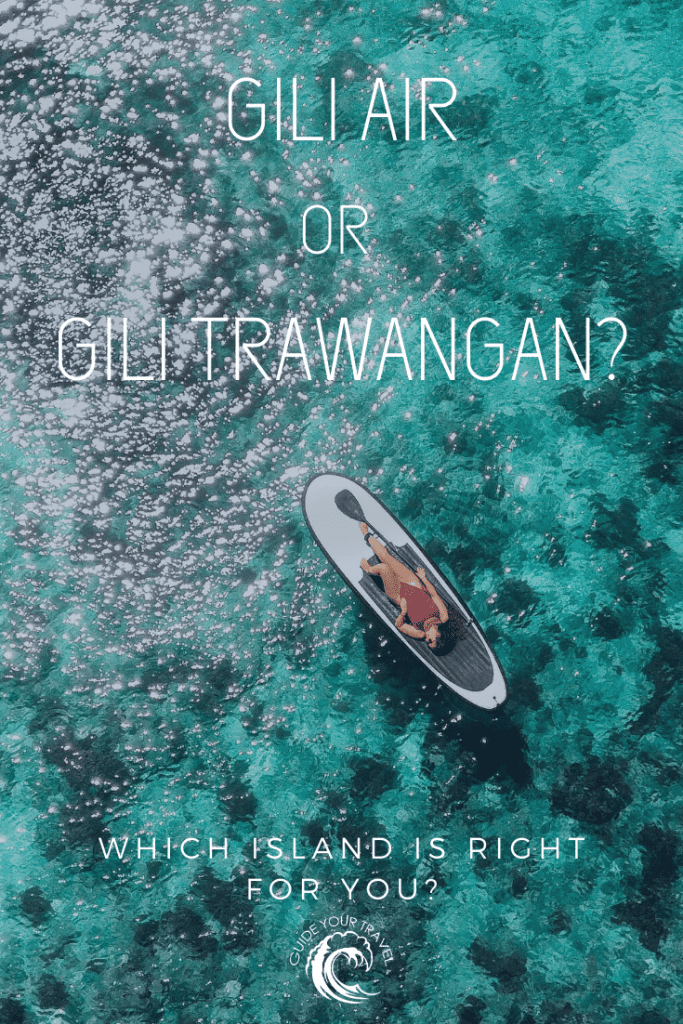 What about Gili Meno?
Gili Meno isn't really considered in this post because most travellers tend to only choose between Gili Trawangan and Gili Air. Gili Meno is often deemed the "Honeymoon Island" and the atmosphere is very quiet.
It's also considerably smaller than the other Gilis and does not have a lot of hotels.
By all means, stay on Gili Meno if you're looking for a secluded getaway and aren't interested in nightlife or a lot of variation. The beaches are just as beautiful as they are on the other two islands and there is even a small saltwater lake.
In my opinion, Gili Meno is great for a day trip and chances are you'll be bored very soon if you stay here for an extended time. I think it's better to choose either Gili Trawangan or Gili Air as your base and then take day trips to the other islands. Or if you have time you can split your time and spend a few days on Gili Trawangan and then switch to Gili Air.
Thankfully, the next Gili is never more than a short boat ride and a few thousand rupiahs away.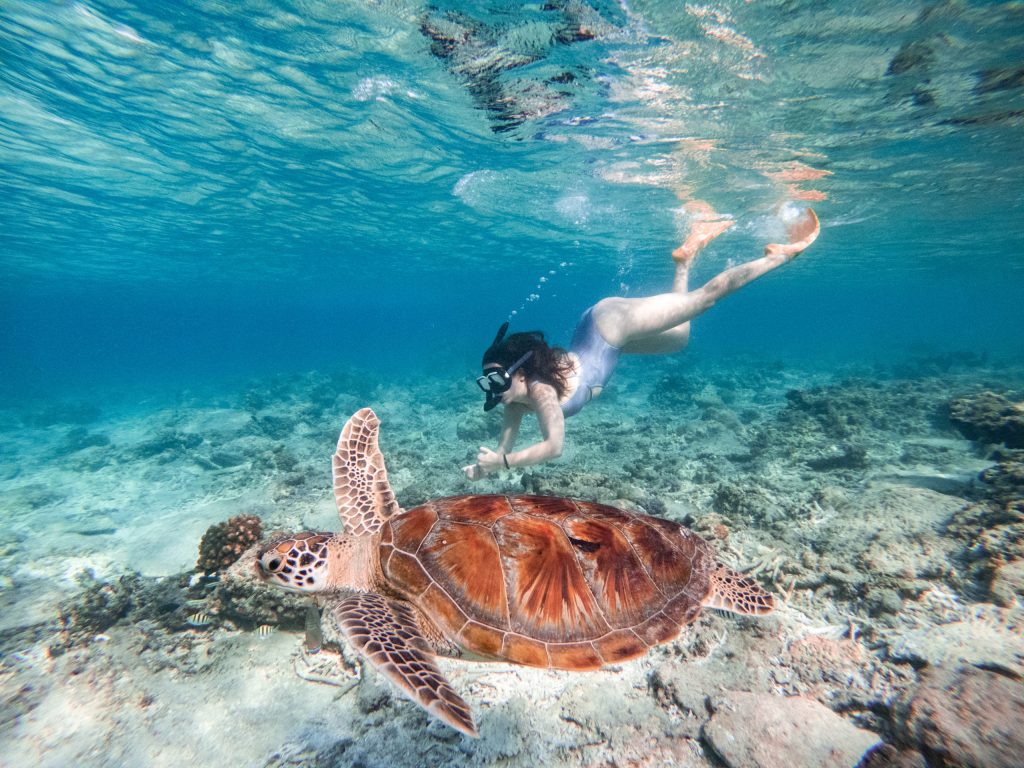 Gili Air or Gili Trawangan?
So let's have a closer look: which island should you choose? Well, that depends what you're looking for but ideally both. Gili Trawangan and Gili Air are quite different from each other. If you have the time you should definitely visit both.
You can either take a day trip or why not stay a few nights on each island if you're up for the move. However, it's more comfortable to stay in one spot, especially if you're short on time.
So before you choose an island, ask yourself what you're looking for. Gili Air and Gili Trawangan have very different target audiences so you'll have to consider what you want.
Scroll down all the way to the end for a quick summary of the pros and cons of each island in a handy table.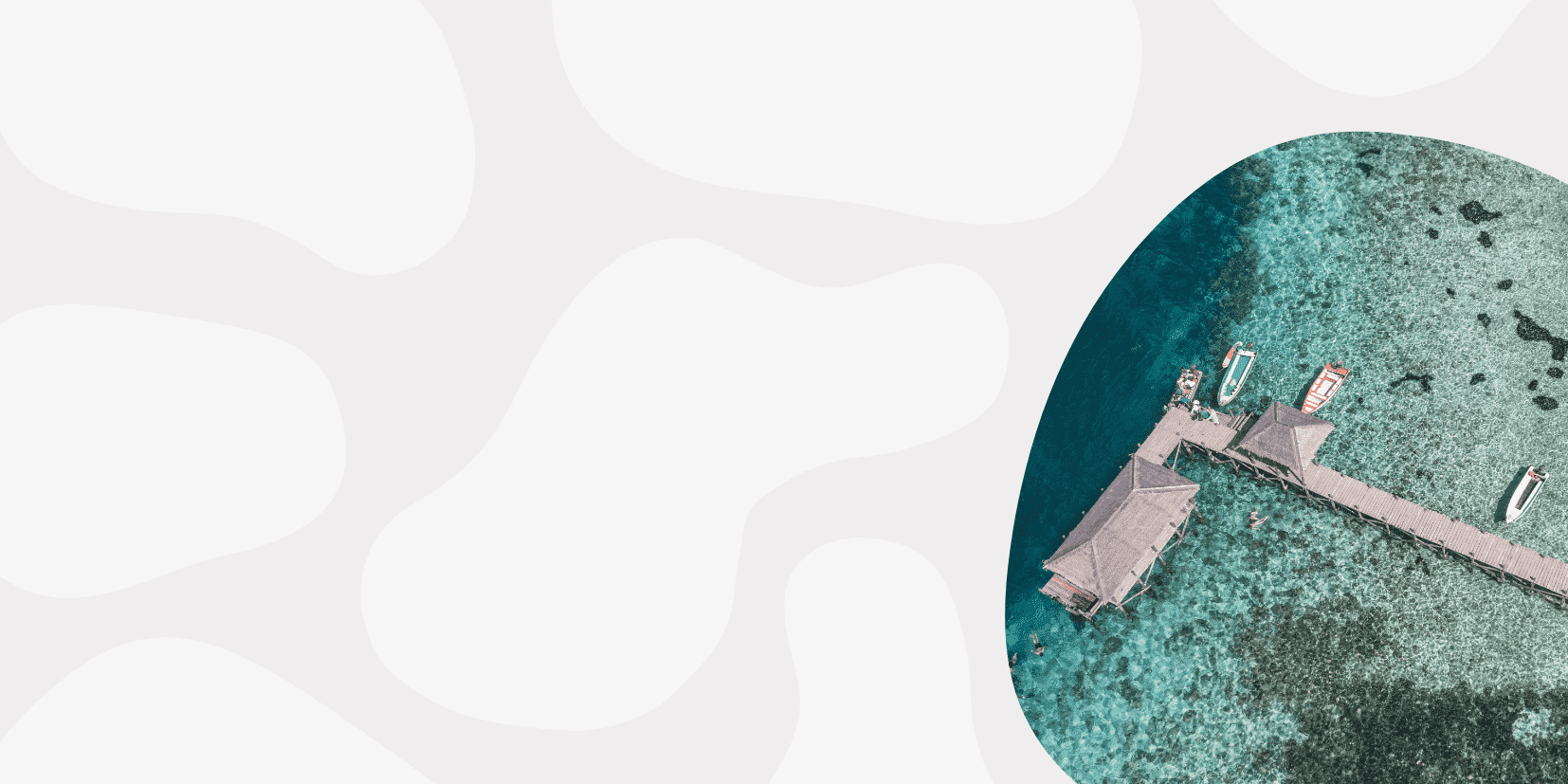 Let me save you time and effort when you're travel planning!

➼ Best travel insurance? SafetyWing
➼ Best place to find cheap flights? Skyscanner
➼ Best bank & credit card for travellers? Wise
➼ Best travel backpack? Osprey Farpoint 70
Nightlife
Gili Trawangan
If you're researching the Gilis you'll probably be aware of the fact that Gili Trawangan is considered the "Party Island", while Gili Air is more laid back.
But don't let this preconception put you off. It's true, Gili T definitely has the better selection of clubs and bars. You'll have no trouble partying the night away on any day of the week here. However, even if you're not looking for Bintangs and techno beats, you can still have a great time in Trawangan.
The party area of the island is almost exclusively confined to the east coast. There are only a handful of clubs that stay open late into the night and blast loud music. If you're staying even a few hundred metres inland or on a different side of the island you will not even notice the drunk Australians partying all night long.
Looking for peace and quiet? Try the north and west sides of Gili Trawangan. You'll be undisturbed.
However, if you are looking to party Gili Trawangan will be a paradise for you. Clubs have different weekly nights so there's always somewhere open late.
Drinks are cheap (if you know where to go) and the backpacker community is very present.
If you're looking for something even more alcohol-centric, why not try the Jiggy Boat Party? This party boat takes you on a sunset cruise around the Gilis on a catamaran. Imagine over 100 drunk people on a boat. It's fun but you have to know what you're getting yourself into. So if you're not planning to get absolutely wasted just don't even bother going.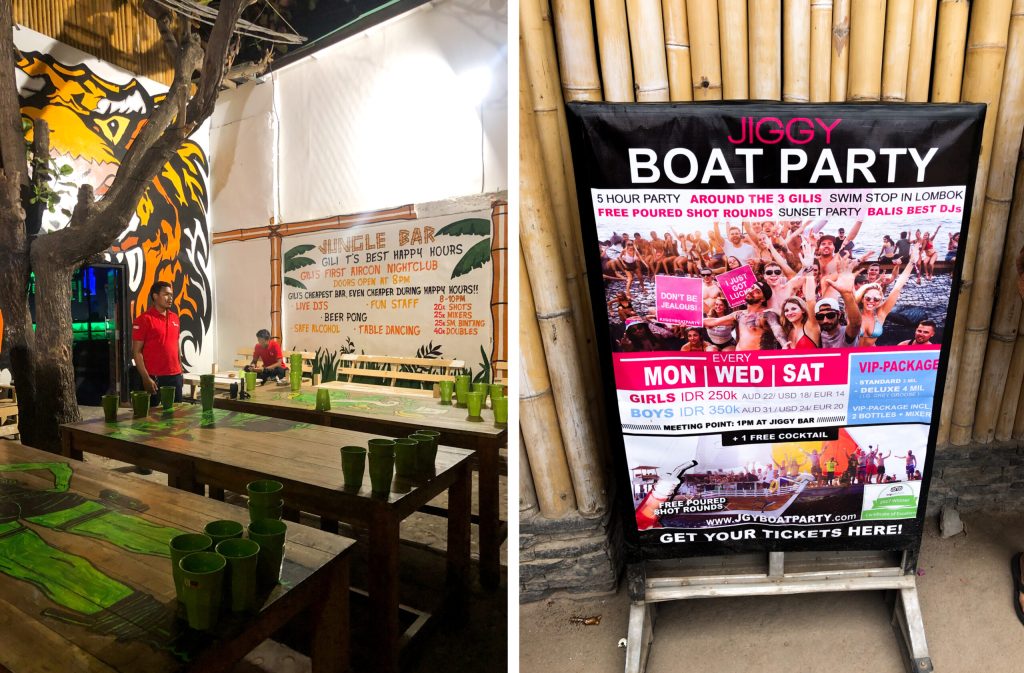 Gili Air
Gili Meno is Gili Trawangan's quiet little sister. You won't find clubs or boat parties here. As a matter of fact, you'll be struggling to find anywhere that's open past midnight on most nights.
Of course, there are bars and even a couple of beach clubs that claim to host raging party nights. Is this actually the case? Most of the time no.
Maybe for the odd well-advertised event, you'll get a decent beach party but most of the time people are just too chill to party in Gili Air.
You can still find very cheap drinks on this island, maybe even cheaper than Trawangan in some cases. But only slightly.
Almost every second bar here has live acoustic music in the evenings which seems to be the main attraction and a good summary of the sort of audience Gili Air attracts.
Come here if you're looking to have a few drinks while listening covers of Ed Sheeran songs or if you're recovering from Gili T's wild nights and simply need to take a breather.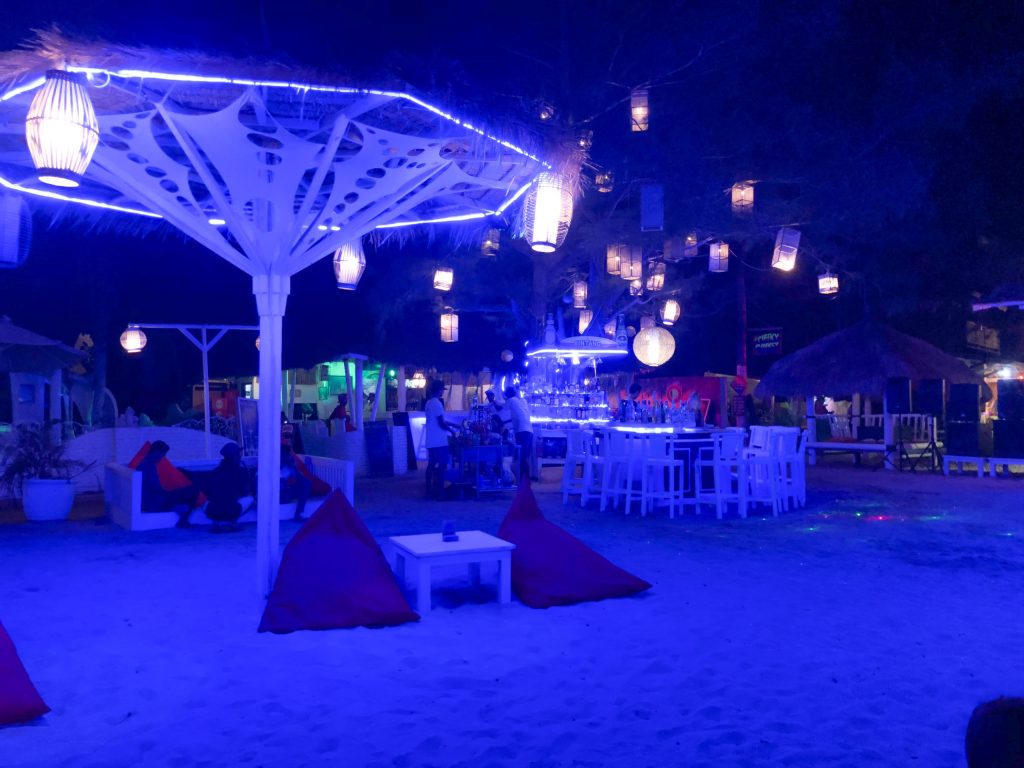 Beaches
Gili Trawangan
Gili Air and Gili Trawangan have similar beaches. They both have white, slightly pinkish sand with large chunks of coral that will not feel great on your feet.
Gili Trawangan has a shallow west coast with an exposed sea bed during low tide. The waves break on a coral reef further out which means you get shallow, calm water and the typical Instagram swings. This side of the island is very quiet and the beach will be almost empty in most place.
The east coast is where the main street is, which means the beach is dotted with restaurants and bars. This is the best spot to see turtles and snorkel which is why it is so popular.
Waves break directly on the beach here, although they are not very large. During low tide, some of the sea bed is exposed, however, the water quickly gets deeper as you come closer to the drop-off or "Wall".
Trawangan's beaches are perfect for relaxing and swimming. You can find quiet spots as well as enjoy some more lively beaches.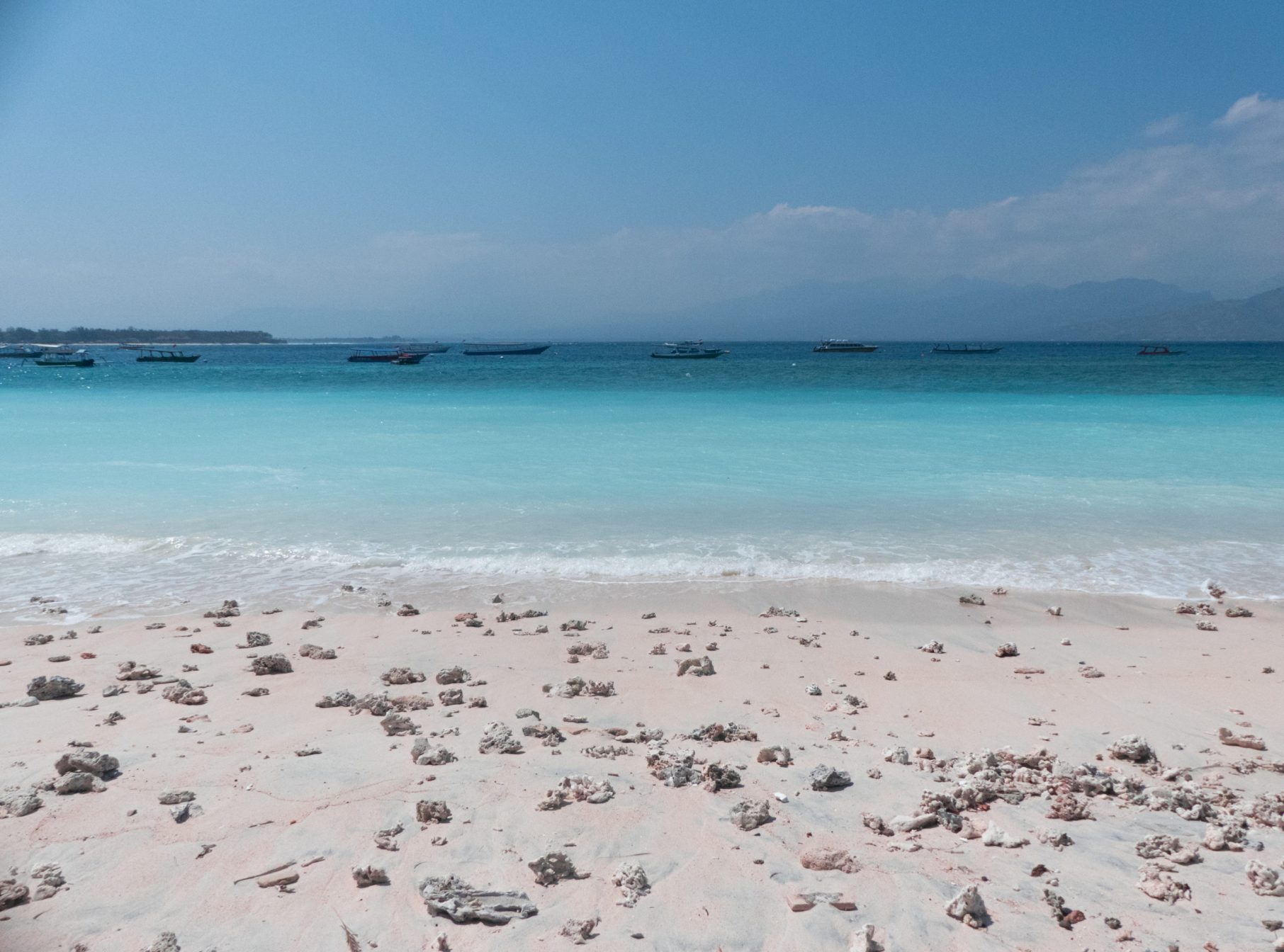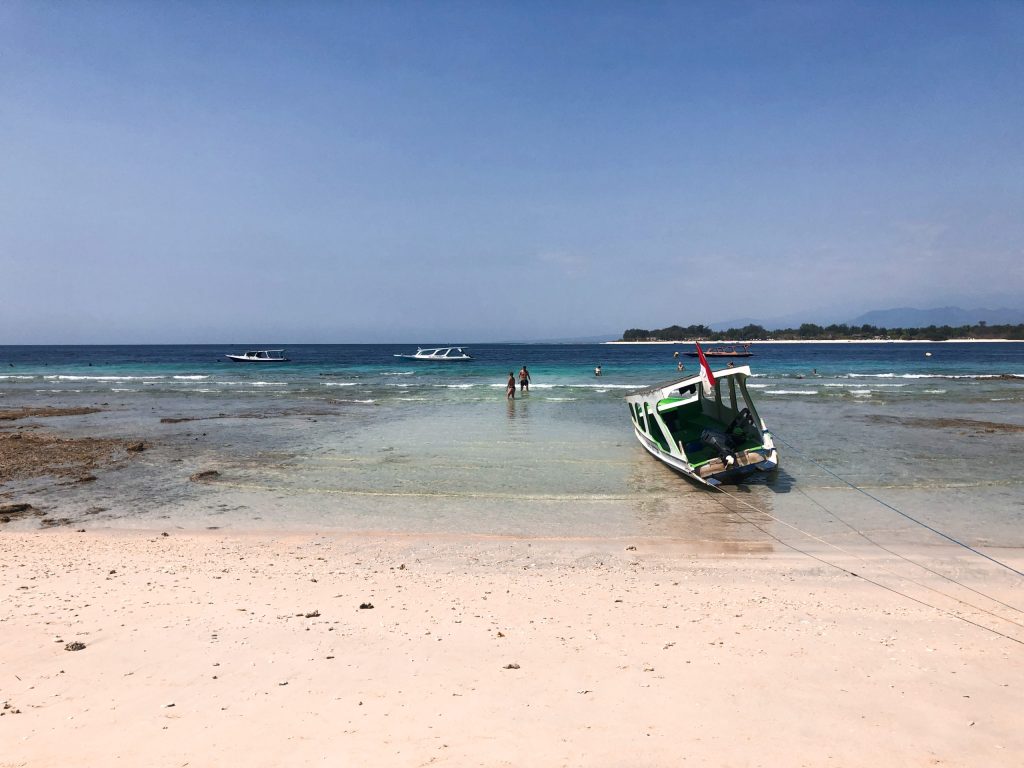 Gili Air
Gili Air has the same typical white sand crystal clear water as Gili Trawangan.
Similarly to Trawangan, its west-side is shallow while the east is deeper and suitable for snorkelling. You'll have trouble finding the typical beach swings here but the beach tends to be wider than it is in Trawangan.
Because there is less tourism on Gili Air the beaches are usually quieter, even on the more popular east side. Snorkelling is similar to Trawangan although the area that you can snorkel in is smaller since the drop off is closer to the beach.
Beaches in Gili Air tend to be more deserted with fewer restaurants and bars (don't worry there are still plenty). Since Air doesn't really have places where the waves break on the beach swimming is a bit trickier since the water is very shallow close to the shore. Especially during low tide, you'll have to walk out a bit until you can swim.
Gili Air's beaches are quiet and the ultimate way to relax and enjoy water activities.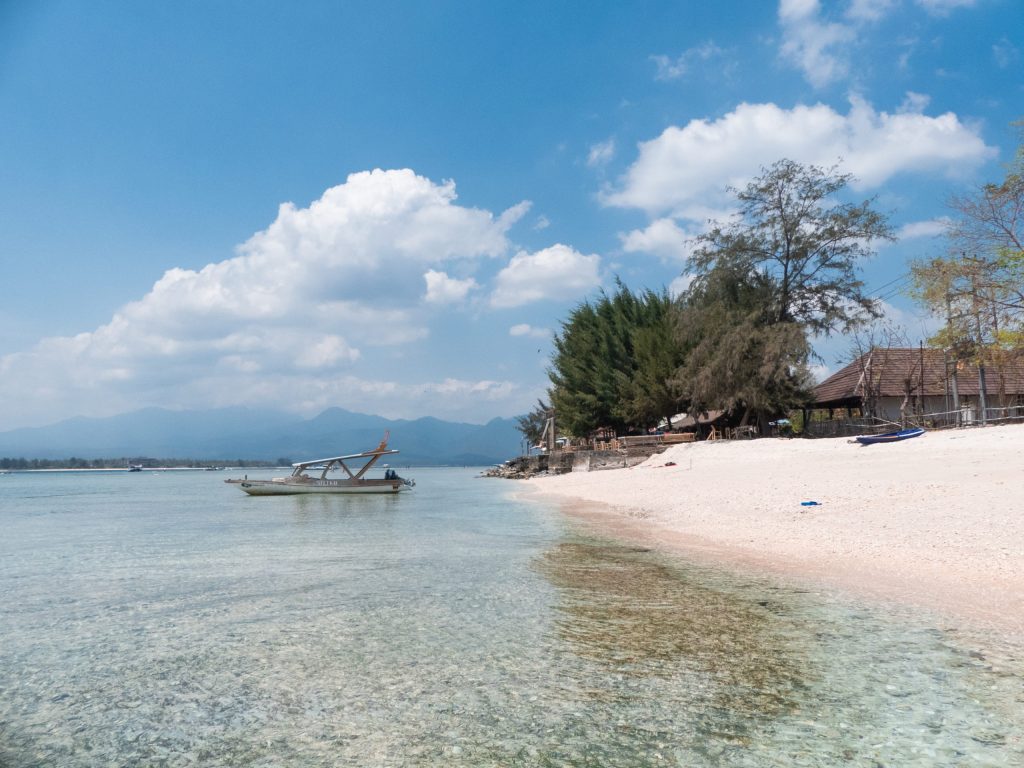 Turtles
Gili Trawangan
Gili T is turtle paradise. If you're at all interested in seeing giant sea turtles in their natural habitat then this is the island for you.
While there are many snorkelling and boat tours promising turtle sightings, the best way to see them for yourself is simply by snorkelling right at the beach.
Gili Trawangan is unique in that green sea turtles graze only a few metres away from the shore and are really easy to find when you're snorkelling. No need to hire a guide.
If you want to know more about where and when you can see turtles then click here for our detailed guide on how to swim with turtles right at the beach in Gili Trawangan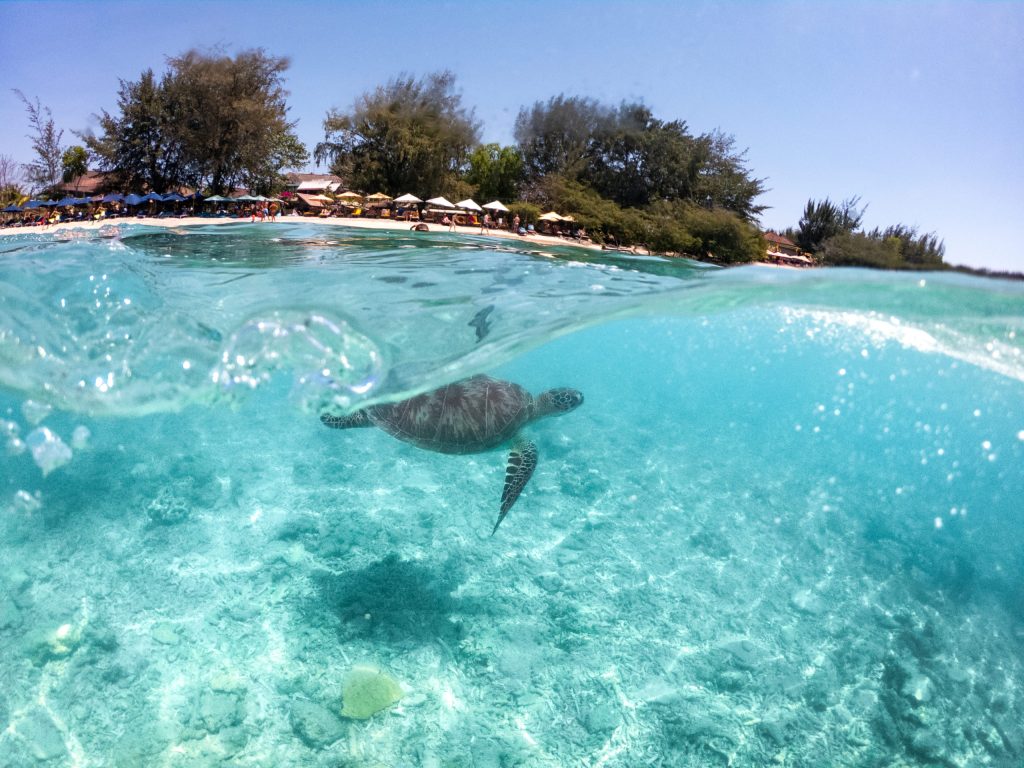 Gili Air
You can definitely still see turtles close to Gili Air, however, they are slightly more difficult to find. They're usually in deeper water and therefore tricky to spot.
If you do want to try your luck go for the north-eastern beach where there is some seagrass. You will have to go during high-tide and be very lucky.
If you're staying on Gili Air and want to see turtles it might be advisable to book a snorkelling tour or take a day-trip to Gili Trawangan.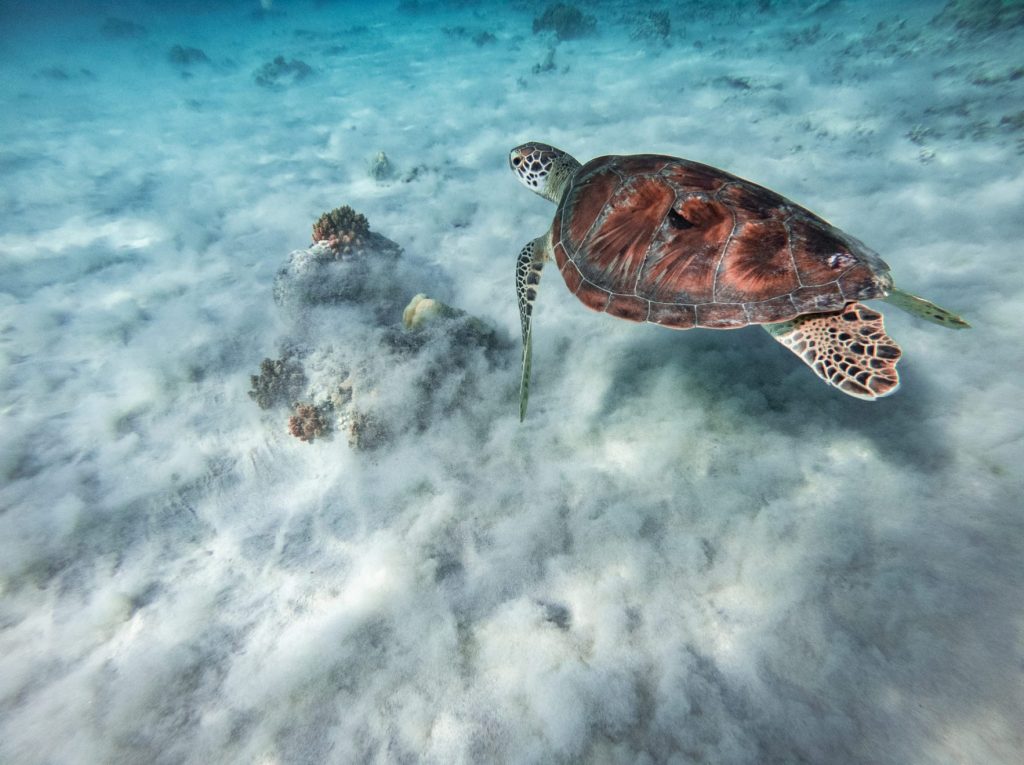 Size and structure
Gili Trawangan
Gili Trawangan is the largest of the three islands. You can cycle around the island in under an hour.
It's the only Gili with any sort of elevation (60 metres above sea level). There's a lookout point on top of the little hill in the south of the island.
The east coast of Gili Trawangan is very developed while the west and centre are more rural or even uninhabited. Still, the island is so small you'll struggle to find a lot of untouched nature here.
The popular main-street runs along the eastern beach where most of the bars and restaurants are located. The north and west side of the island house the more expensive resorts and quieter beaches.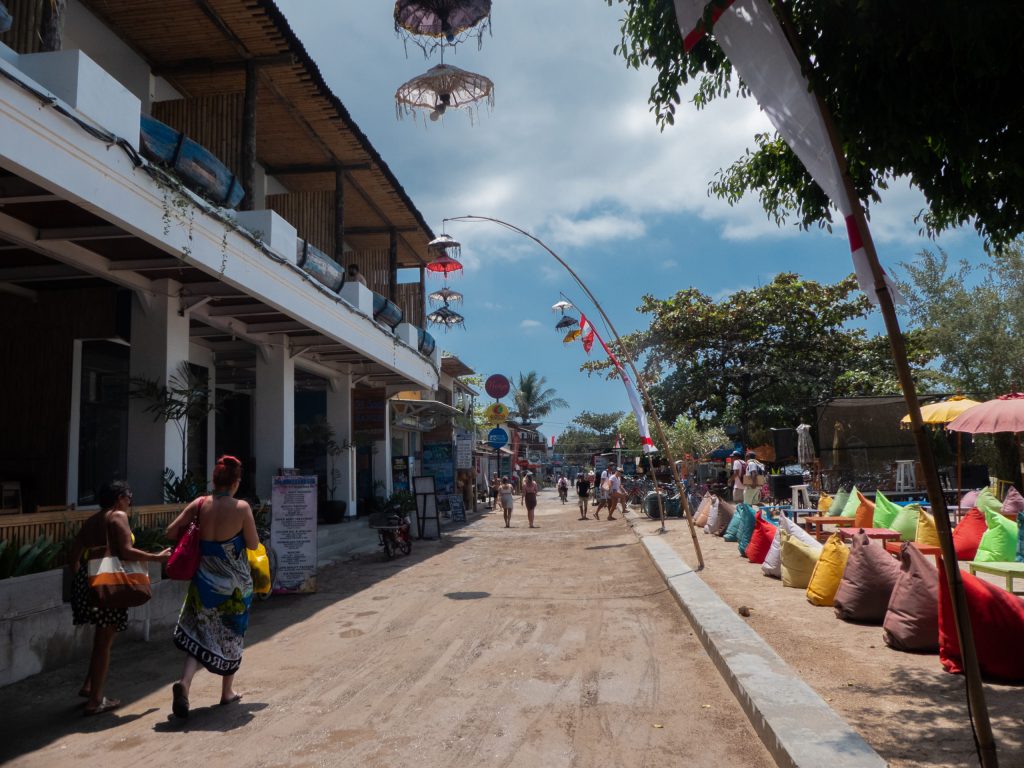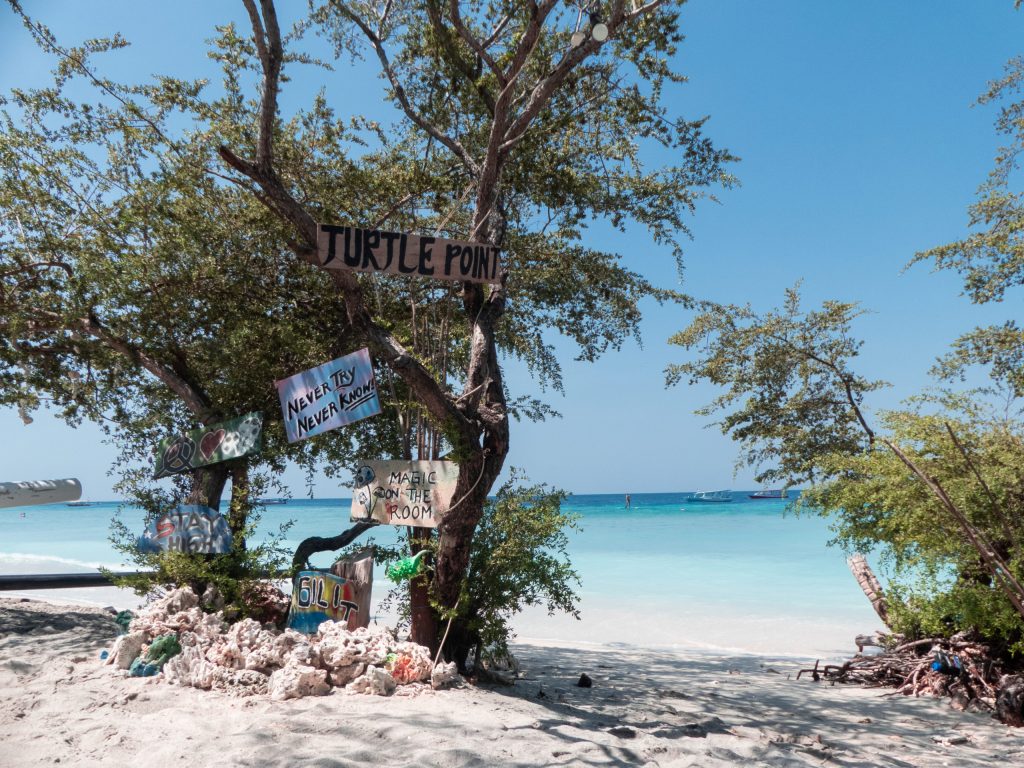 Gili Air
Gili Air is slightly smaller than Trawangan and less developed. The southern part of the island is the most densely populated, although the main street that runs through the centre cannot be compared to Trawangan's.
There are also some bars and restaurants on the lower east beaches but it's very quiet. Much like in Trawangan the west and north are reserved for more expensive hotels and resorts.
The island has next to no elevation. In general, it is a lot cleaner and more organised than Gili Trawangan.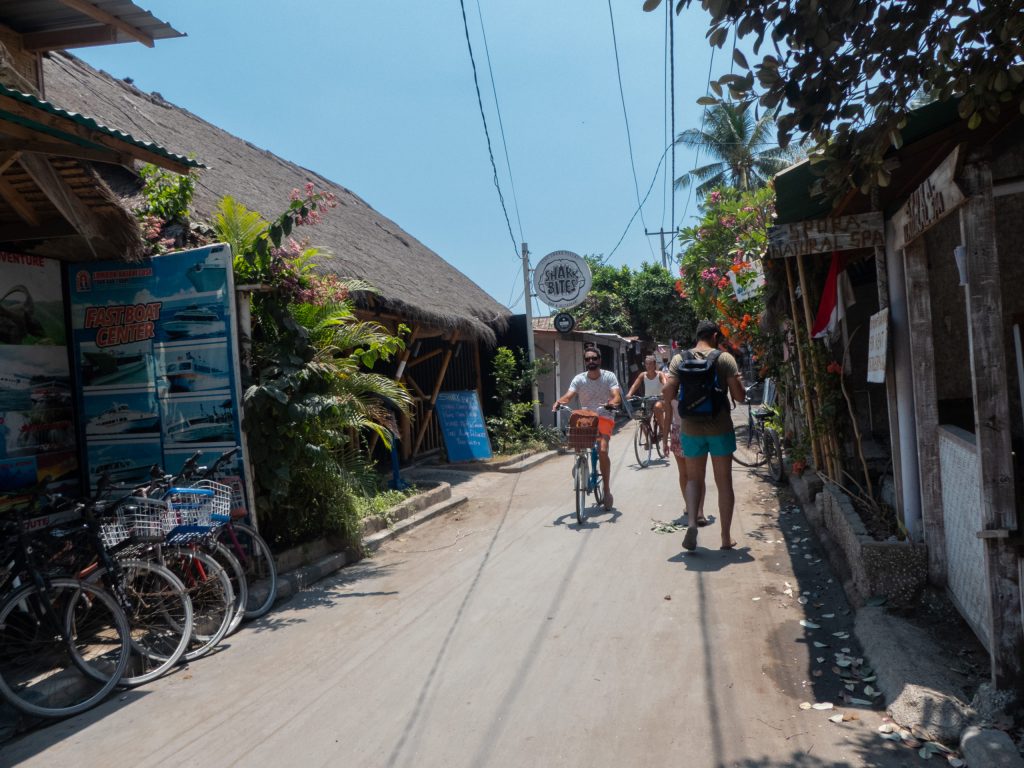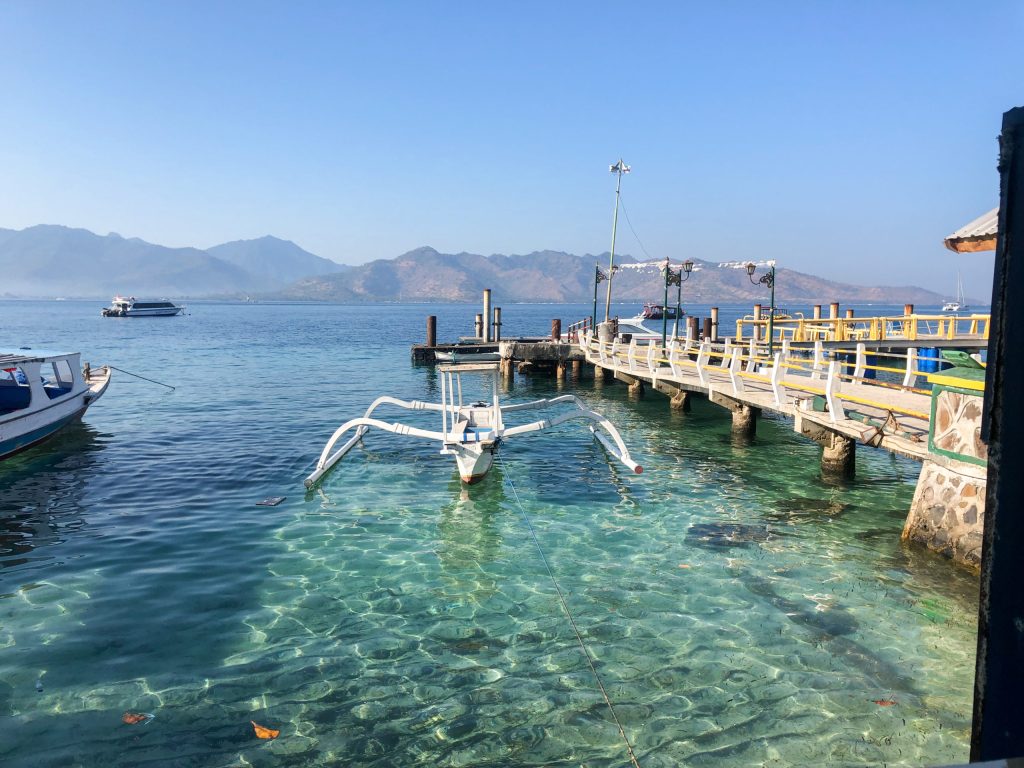 Getting around
Gili Trawangan
There is no motorised traffic on any of the Gili islands which means that the transport method of choice is a bicycle. There are also horse carts for tourists but their animal treatment practises are questionable which is why I don't recommend supporting them.
If you're staying on Gili Trawangan you should definitely rent a bike. It will make getting around so much easier and more comfortable. Walking around the island in the heat can be exhausting and will stop you from exploring as much as you should.
A bike is a perfect way to get around the island since it is so small. Some accommodations even include free rental in their nightly rates.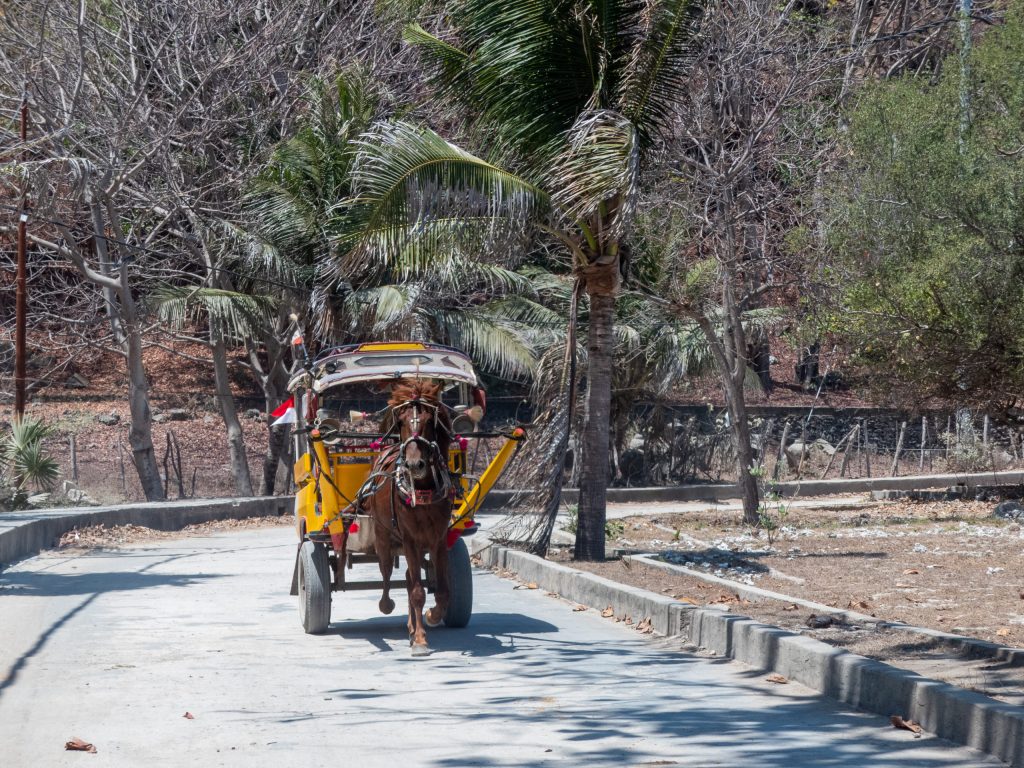 Gili Air
On Gili Air, you also have the choice between a horse cart and a bike, however, the bike is slightly less attractive here. Gili Air has great roads in the centre of the island but as soon as you get close to the beach you'll be pushing your bike through thick sand.
In most places, it's impossible to ride, which is very frustrating. While a bike is still very convenient for getting around quickly it is not as necessary as it is on Trawangan.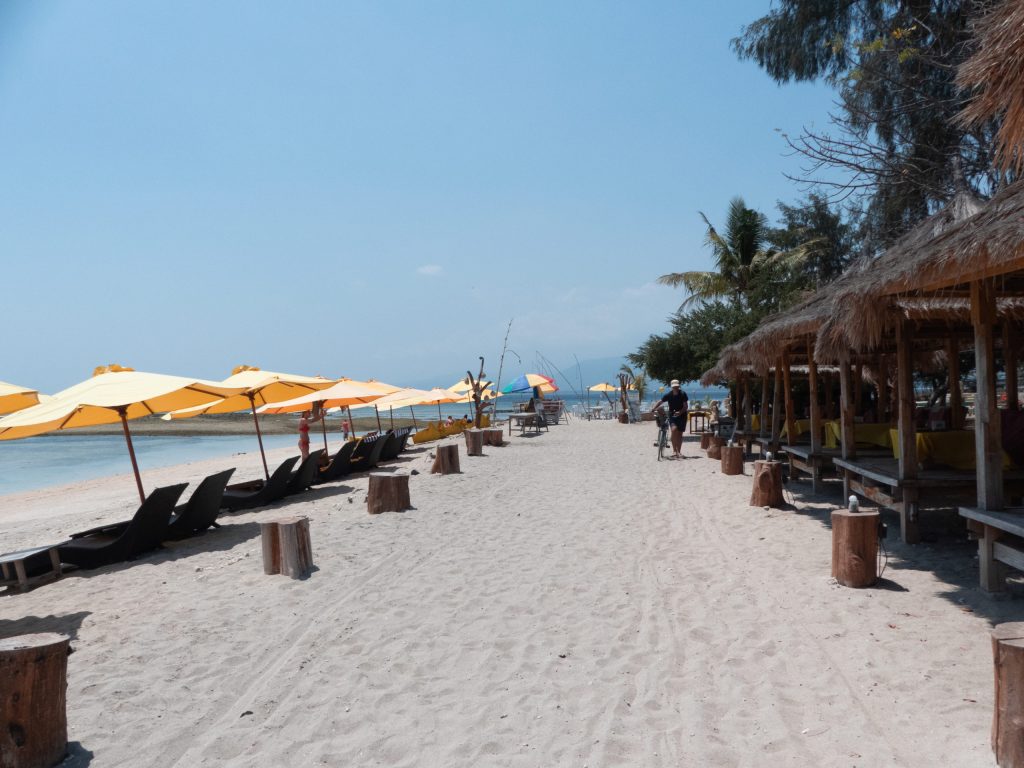 Prices
Prices for accommodation, food and drinks are quite similar on all three Gilis, however, I would say that Gili Air tends to be slightly cheaper.
But only slightly.
You probably won't notice an extreme difference but it's a bit easier to find cheap restaurants and cocktails here than it is on Trawangan.
This doesn't mean that you should shy away from Trawangan if you're trying to save money. You'll be able to spend the exact same amount, you'll just have to be a bit smarter about where you go.
For accommodation, they tend to be very similarly priced.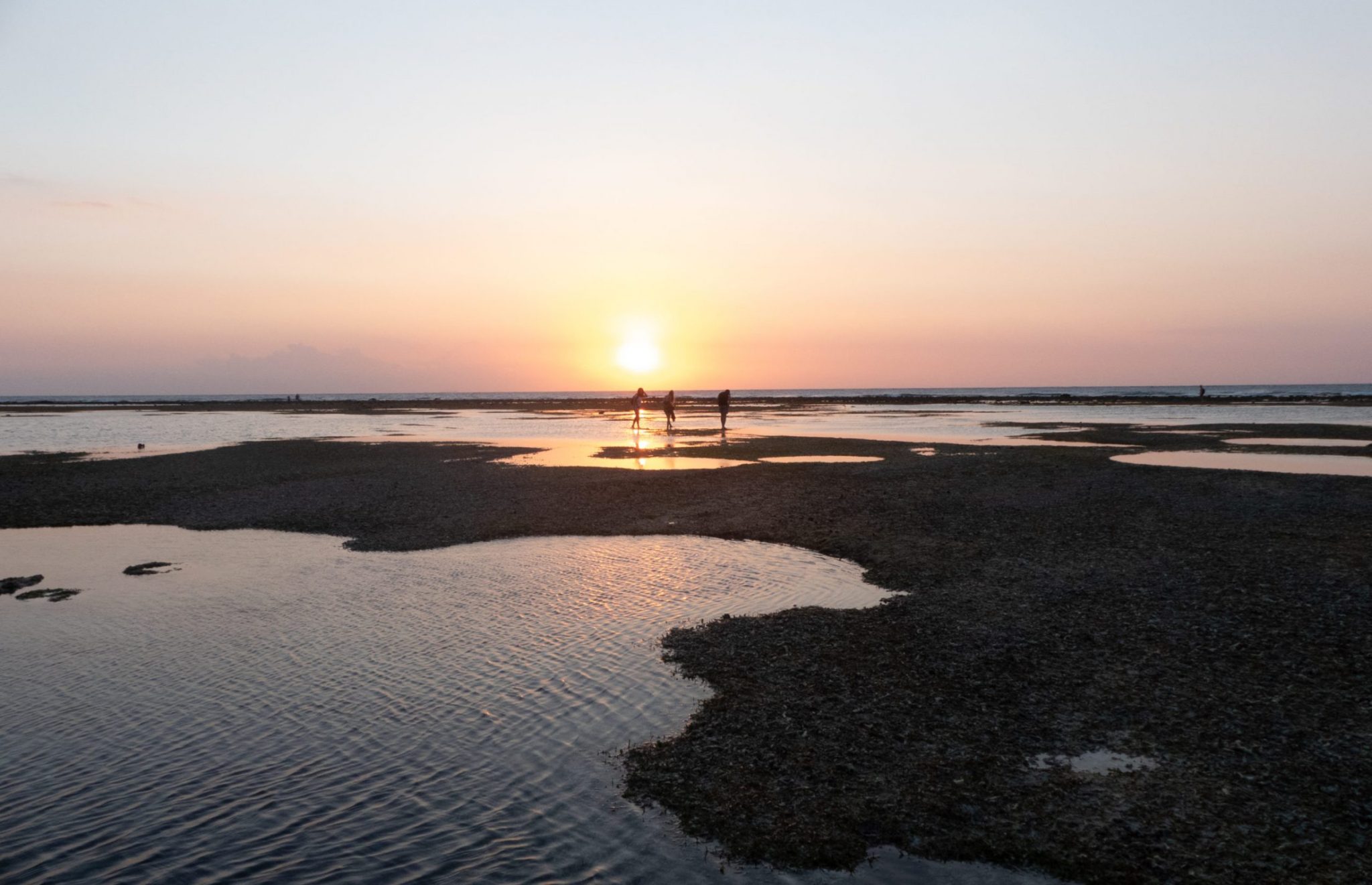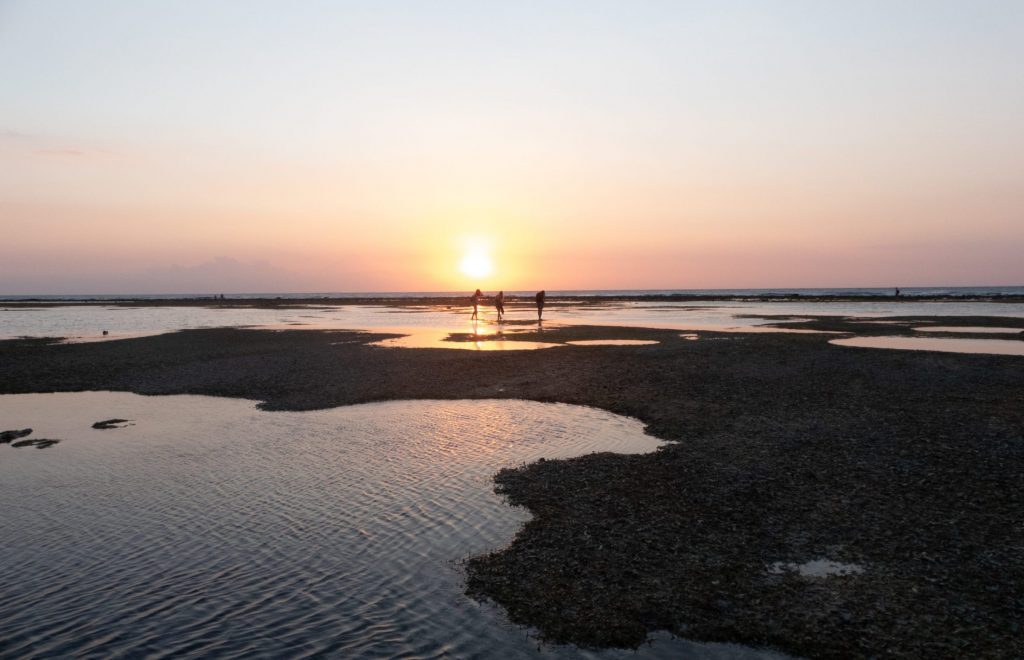 Relaxing
Gili Trawangan
Can you relax on Gili Trawangan? Definitely. But is it an island made for relaxing? Maybe not. Of course, Trawangan has secluded beaches, quiet spots and beautiful resorts with spas, but it's probably not the best Gili if you're wanting to really get off the grid.
As its reputation suggests Trawangan is still a party island whether you chose to take part in the mayhem or not. If you're looking for the best of both worlds, however, then Trawagan is perfect.
You can go out and dance on the beach one night and then relax and get massages for the remainder of your stay. This island has it all.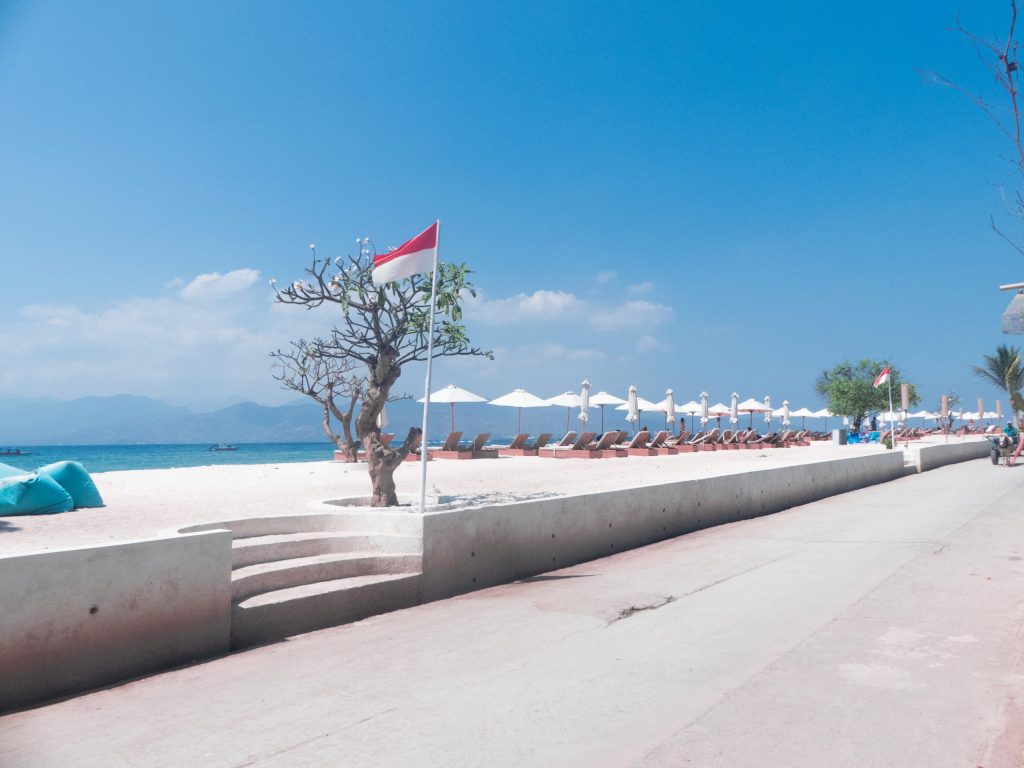 Gili Air
Gili Air is made for relaxing. If you want to avoid the crowds and day-trip tourists and simply enjoy a tropical island vacation then Gili Air is your best bet.
There's a great selection of resorts and laid-back activities you can partake in. And if you're craving a bucket of vodka Redbull (or probably something that looks like Redbull) you can always make a quick trip to Gili Air's party neighbour.
Activities
Gili Trawangan
The Gilis are small so there aren't endless things to do here. Most activities centre around water. Gili Trawangan has an endless supply of diving schools where you can get your PADI for a fraction of the price you would be paying in Europe.
Snorkelling is, of course, very popular. There are plenty of different boat tours available. A popular option is to take a BBQ cruise where you'll snorkel at different spots and then have dinner on the boat as the sun sets. Of course, there's also the popular Jiggy Party Boat or very cheap snorkelling tours for just IDR 100,000 (~ €6.50). These take you around the three Gilis for a few hours although you have to be aware the boats are very cramped and the quality is not the best.
You can also surf on Gili Trawangan, although it's not ideal for beginners.
If you've had enough of turtle watching you can visit the island's lookout point or take part in a weekly beach clean event (and earn a free beer). There's also a weekly pub crawl and, of course, nightly parties at one of Trawangan's clubs.
Lastly, Gili T is perfect for relaxing on the beach or trying one of the popular seafood BBQs. There's also a night market every evening with an amazing food selection as well as plenty of little street food stalls selling snacks.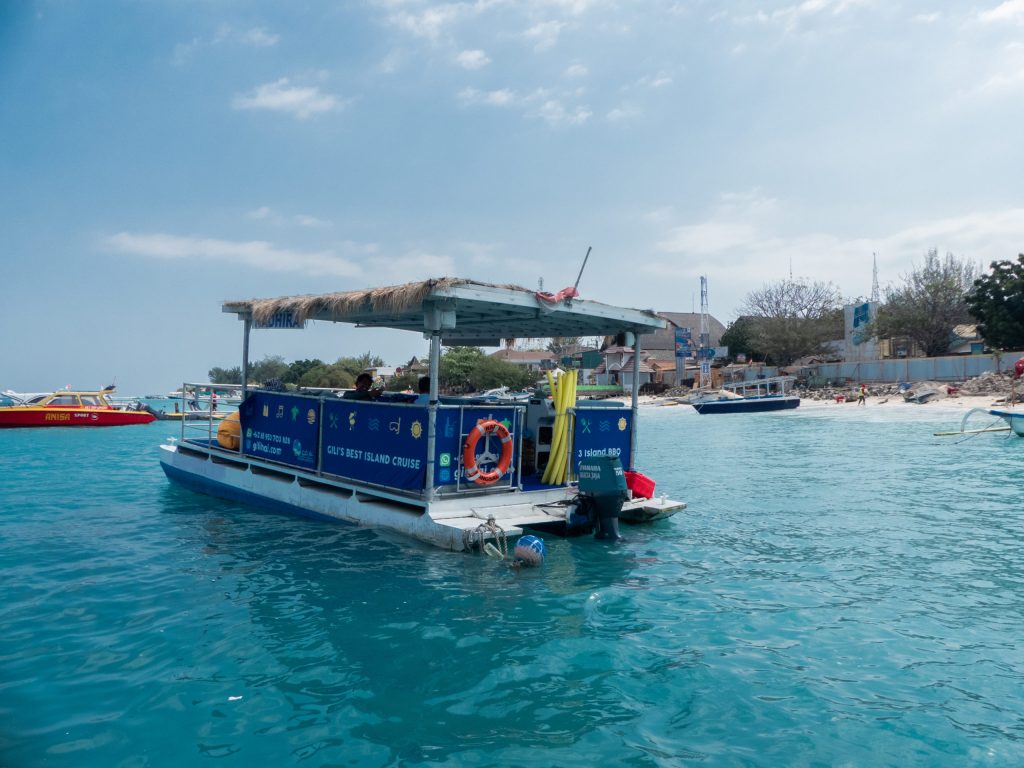 GILI AIR
The activities on Gili Air are fairly similar to those available on Trawangan. You'll find the same dive schools, snorkelling tours and seafood BBQs.
However, you'll find fewer bars, and fewer party events here. There's also no night market or street food stalls.
You can still relax on the beach and enjoy activities such as standup paddle and kayak rentals.
In general, the island is smaller and there is a smaller variety of activities. You won't be bored here though, don't worry.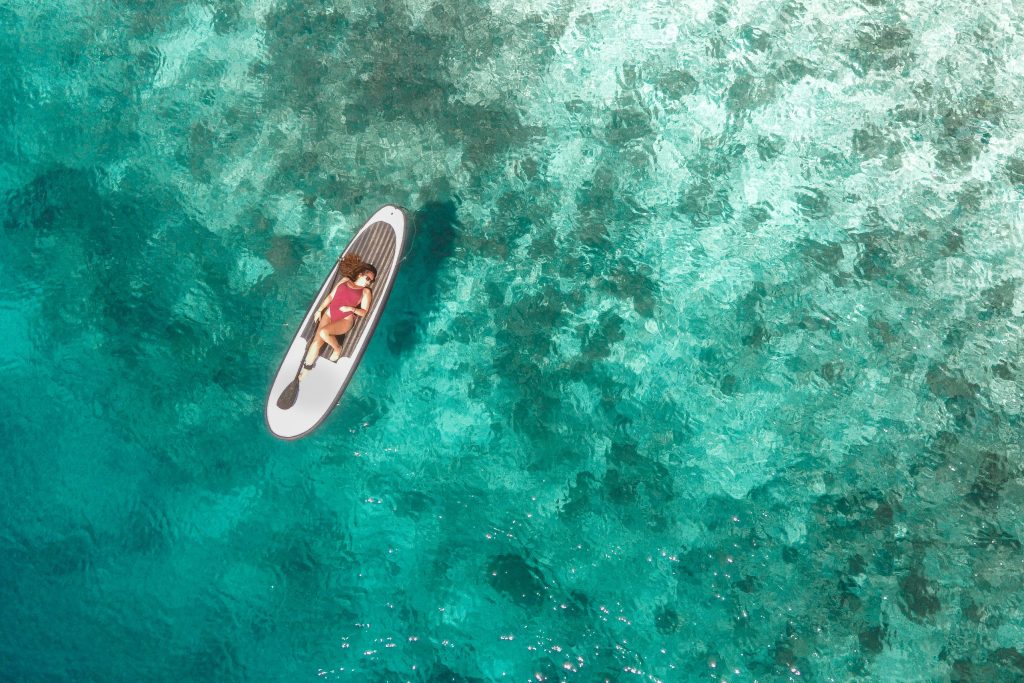 Conclusion: Gili Air or Gili Trawangan?
In the end, it's up to you and what you're looking for on your trip to the Gili Islands. Each Gili has its pros (and very few cons) so you can't really go wrong.
Try them both out and don't forget about Gili Meno! All three of them are worth a visit.
Gili Trawangan
Gili Air
Nightlife
Many bars and clubs, pub crawl
and party boat
Few places open late, mostly quiet bars with acoustic music
Beaches
Both shallow beaches as well as beaches suitable for swimming
Mostly very shallow beaches, some deeper but very few
Turtles
Can swim with turtles right on the beach
Harder to find turtles but still possible
Size
Small but the largest Gili
Even smaller
Getting around
Renting a bike is the best choice
Renting a bike is convenient but only if you don't cycle along the beach
Prices
Pricier than Bali but still cheap
for European standards
Slightly cheaper than Gili Trawangan (but not much)
Activities
Diving, snorkelling, boat tours, drinking, pub crawl,
night market, surfing, SUP, kayak rental, viewpoint, seafood BBQs
Diving, snorkelling, boat tours, SUP, kayak, seafood BBQs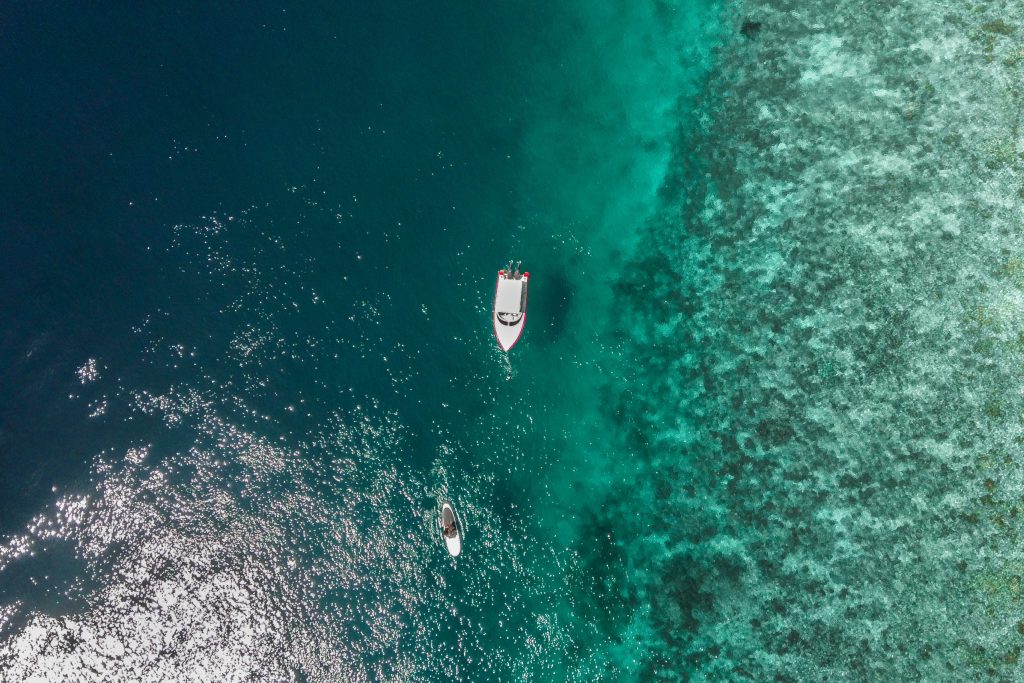 My most important travel tips and resources
Book your flights
Skyscanner is the best website for finding cheap flights since it works like a search engine so you can find the best deals across all airlines.

Book hotels and hostels
• Booking.com: Best world-wide
• Agoda: Best in South East Asia
• Hostelworld: Best for hostels

Book tours, transport and rental cars
•Viator: The best place to book tours, day trips and excursions for al budgets
•12Go: Great for ferries, trains, transfers and buses in South East Asia
•Discover Cars: Best deals for rental cars around the word

Get travel insurance
Every traveller needs travel insurance and I mean every single one. SafetyWing covers you in case of injury, illness or worse and they've got your back if your bag is stolen, flights are cancelled or in case of a natural disaster.

Pay abroad
Ask any traveller, Wise is the best choice when it comes to sending money abroad. They've always got the best exchange rates, lowest fees and their visa card is great for getting cash out or paying abroad.

Things every traveller needs:
➼ Osprey Farpoint 70 Backpack
Detachable daypack, ultra-light, durable and free repairs for life. There's a reason why so many backpackers have this bag.
➼ Packing Cubes
Packing cubes are a gamer changer, keeping your luggage organised and providing tons of extra space.
➼ Power bank
There is nothing worse than running out of battery on an overnight bus journey or a long flight. With a powerbank you can charge your eletronics on the go and make sure you're always connected.
➼ Micro-fibre towel
These lightweight towels are foldable, fast-drying and so useful when you're travelling.

➼ You can find 15 more things every traveller needs here. Some might be a bit controversial but I warned you!
Did I miss anything?
If you have any questions or feel like something is missing from this post please leave a comment below or contact me