Swimming with green sea turtles in chest-high waters right from the beach sounds like a dream. It is, however, very much a reality on the tiny Indonesian island Gili Trawangan where spotting turtles is possible without booking an expensive tour.
And that's a guarantee. Turtles come to the shores of Gili T every single day. If you're patient and know where to look you will see at least one, probably multiple turtles in the shallow waters.
Are you planning a trip to the Gili Islands? Find out which boat tours are actually worth it here.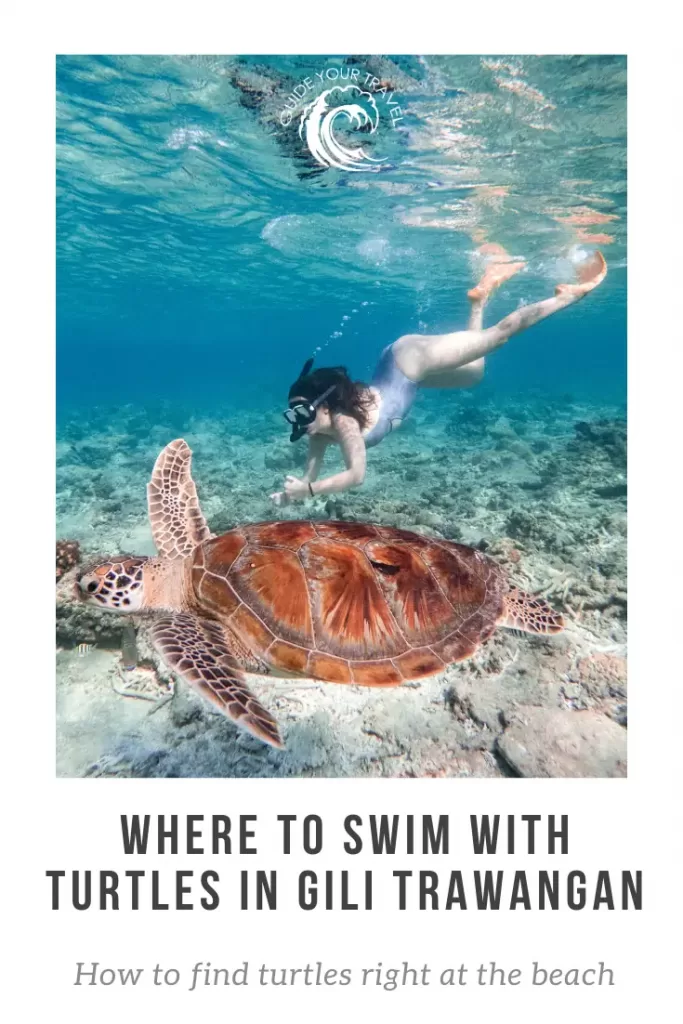 Where is Gili Trawangan?
Gili Trawangan is the largest of the three Gili Islands. Gili Trawangan (also known as Gili T), Gili Air and Gili Meno are located off the west coast of Lombok.
These islands are incredibly small. There is no motorised traffic and they are dive hotspots with unique underwater life.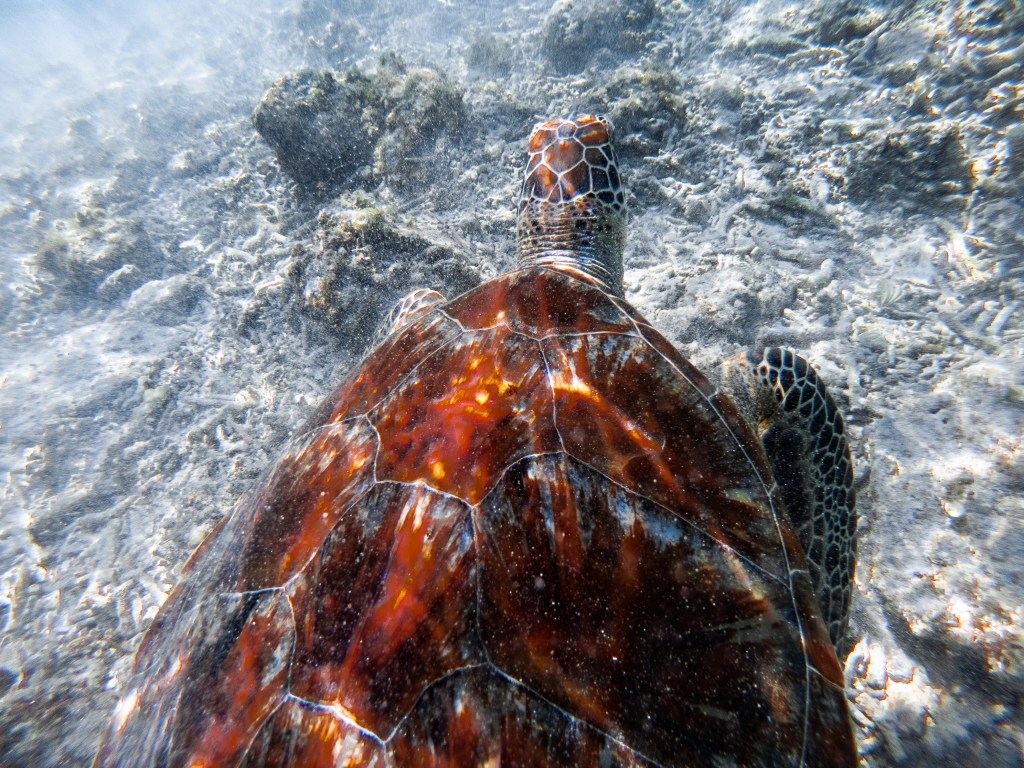 Which Gili island is best to see turtles?
While all three Gilis are famous for their sea turtles, Gili Trawangan is the best for swimming with turtles right from the beach. This is my experience at least.
You will be able to find turtles at all three islands, although they tend to be in deeper water at Meno and Air. You will have to swim further out and might have to look longer to find a turtle, although deeper water does tend to mean the visibility is better.
If your main goal is to swim with turtles, stay in Gili Trawangan first and then make your way to the other islands if you feel like it.
Read this blog post if you can decide between Gili Air and Gili Trawangan.
Snorkelling tours and why they're usually not worth it
There are some fantastic snorkelling tours offered on Gili Trawangan. Especially the slightly more expensive tours with a BBQ lunch on board can be really high quality.
Just be aware that 90% of the snorkelling spots you will see are easily accessible from the beach. But if you're short on time and just want a quick and rewarding snorkelling experience booking a tour is probably your best option.
Do not book a snorkelling tour to see turtles. The majority of tours will have a turtle spot in very deep water (8+ metres) not close to the beach. They will wait for a turtle to rise from the sea bed and you will have crowds of people in your photos and not a lot of time to enjoy your experience.
You can spend hours with the turtles if you swim with them right from the beach in Trawangan. There is no need to book a tour.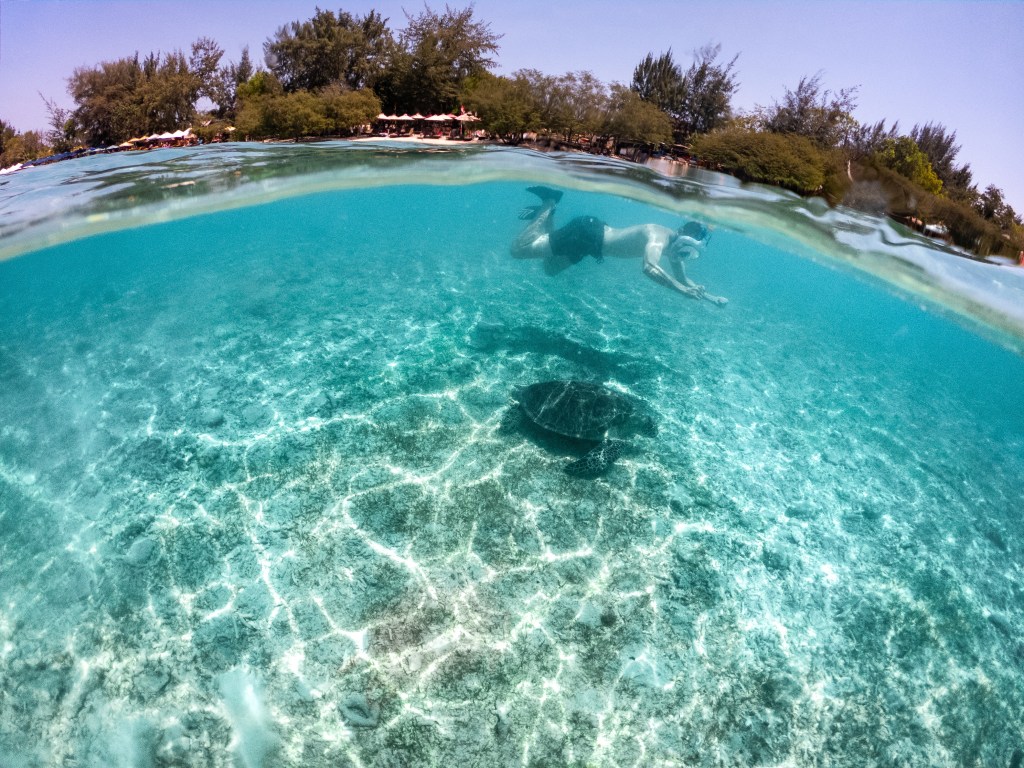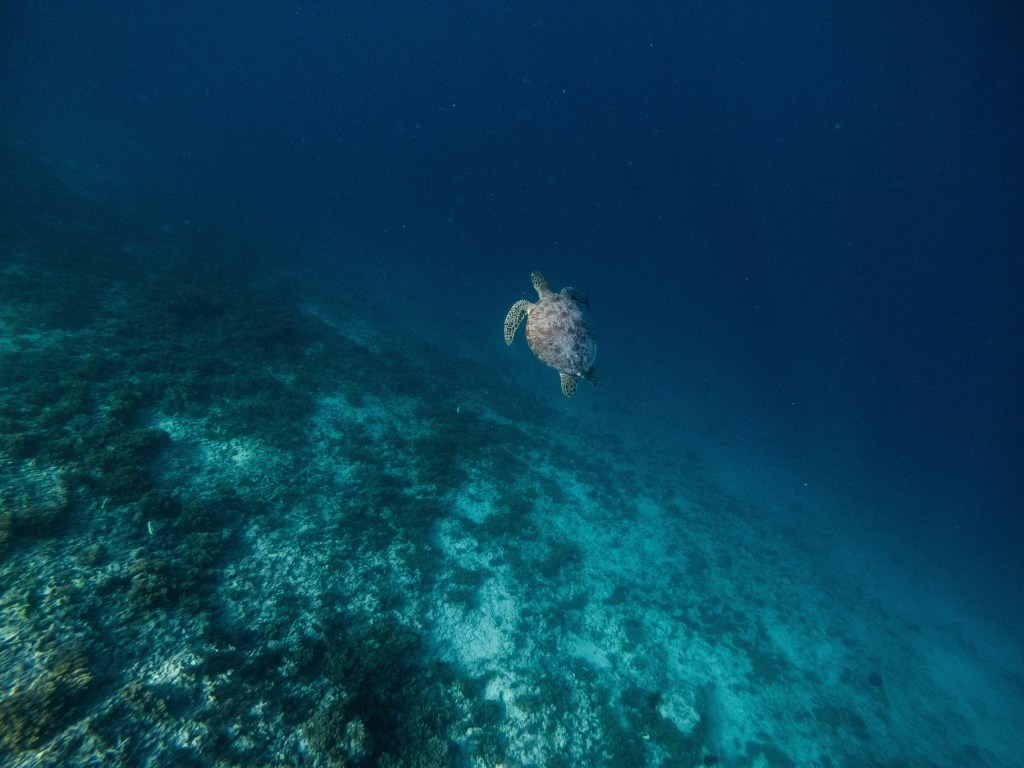 Where to swim with turtles in Gili Trawangan from the beach
To see turtles in Gili Trawangan you need to go to the north-eastern side of the island. The map below shows the coast where you should snorkel to maximise your chances of seeing a turtle.
Cycle north along the beach until you start seeing wooden signs saying "Turtle Point". The beach is full of tiny bars and restaurants here with beanbags and umbrellas.
You can leave your stuff at one of these small bars and use their beanbags all day as long as you order a drink or two. If you have a lot of valuables with you it might be safer to bring a bag you can lock. The area is quite safe though.
It does not really matter where exactly you go as long as you snorkel roughly within this area. There is a strong current going south which means that generally, you will find yourself ending up further down on the beach as the day goes by.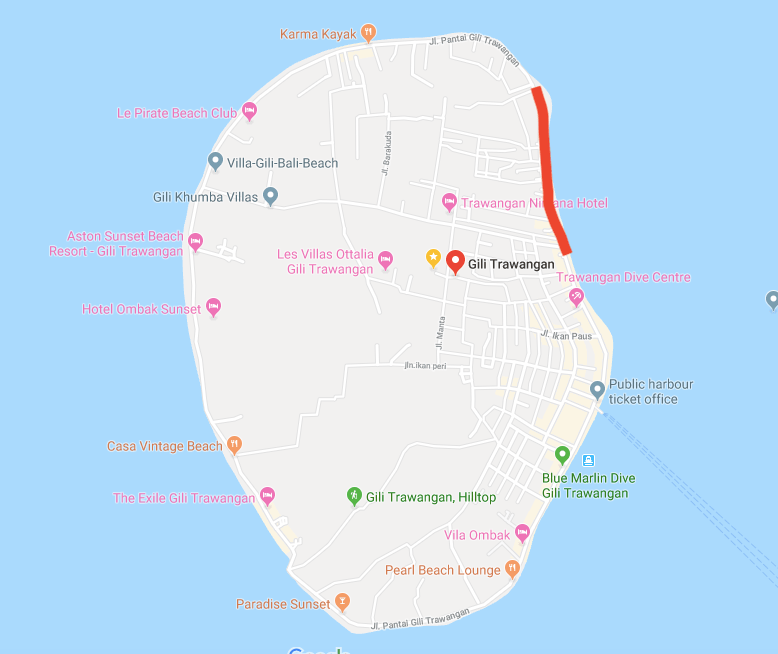 Snorkelling equipment
If you do not have your own equipment with you, you need to rent a mask and snorkel from one of the many street stalls. Most of them will guarantee that you see a turtle or they will give you your money back.
They usually offer sets of fins (or water shoes), mask and snorkel for a price of around IDR 50,000 (~ €3.40) for an entire day. Do not pay more and haggle until you get a good price.
You can even rent a GoPro from here if you don't have your own.
Most importantly try out your mask before you go into the water. Vendors are usually very nice about swapping out masks and fins later if you're not 100% happy.
Don't skip the fins! Turtles are fast swimmers and you will get tired very quickly if you don't have fins. Plus you need to protect your feet from the sharp coral.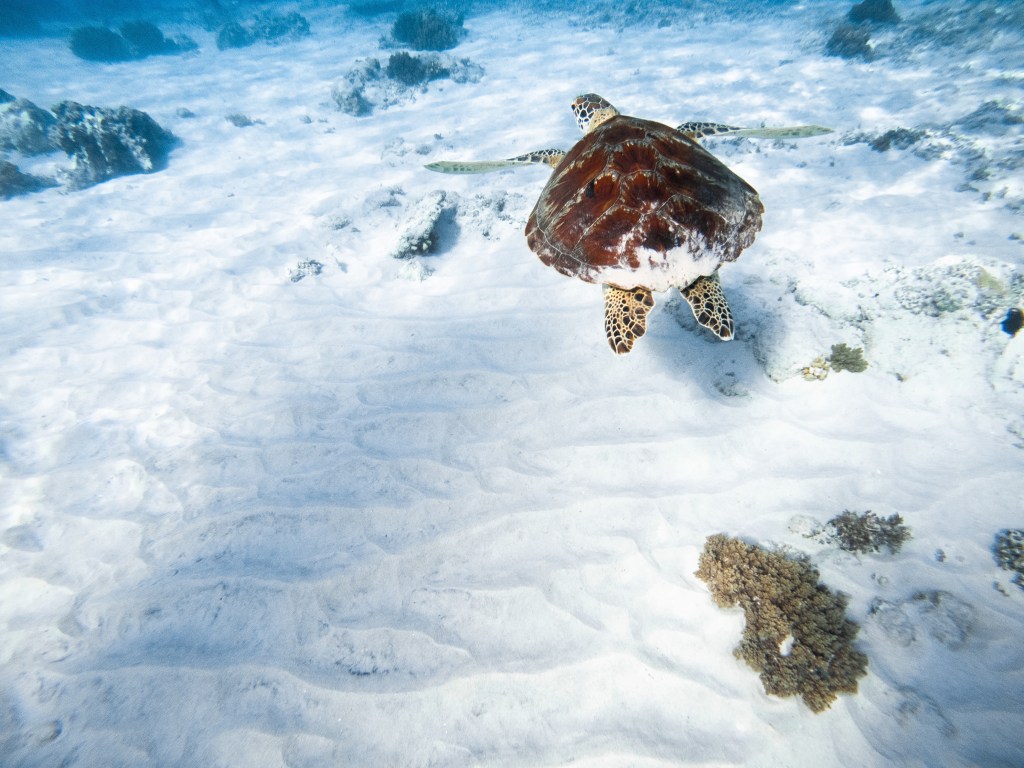 Is high or low tide better for swimming with turtles in Gili Trawangan?
You can swim with turtles during both low and high tide in Gili T. I have found it's best just before, during and after high tide because the water is deeper and you will have less trouble with waves crashing over you as you snorkel.
Turtles can be harder to spot during low tide because the water level is so much lower. Low tide will mean much of the area where they tend to graze will be exposed or too shallow to swim so you will have to go further out to find a turtle. It's still possible though.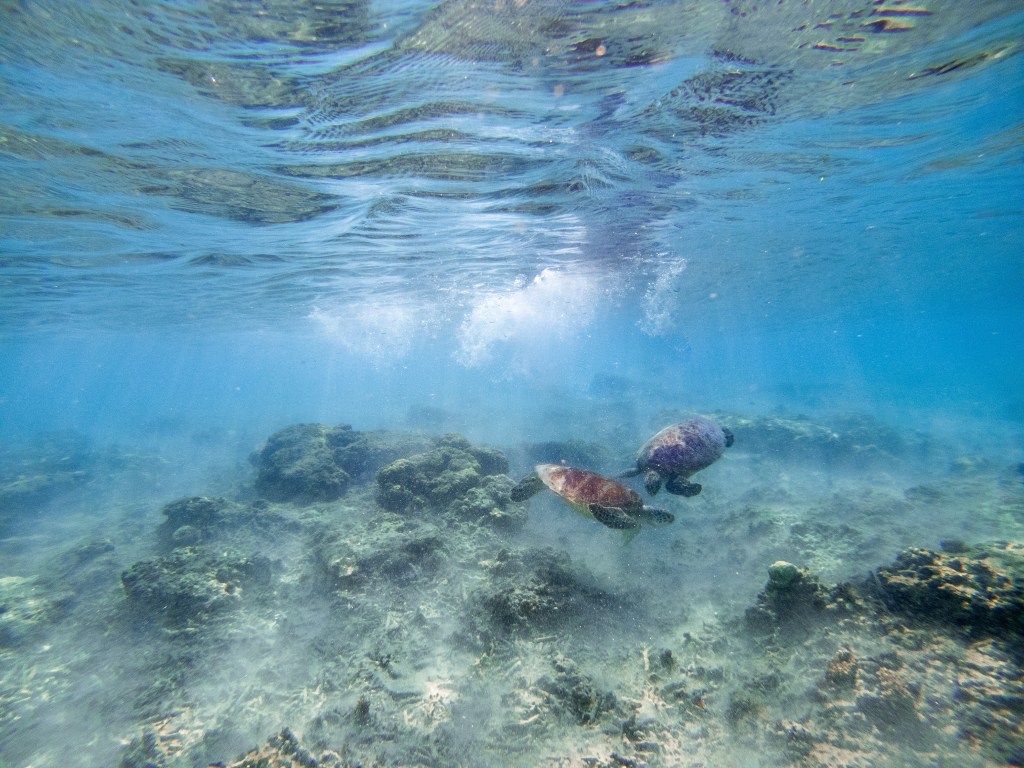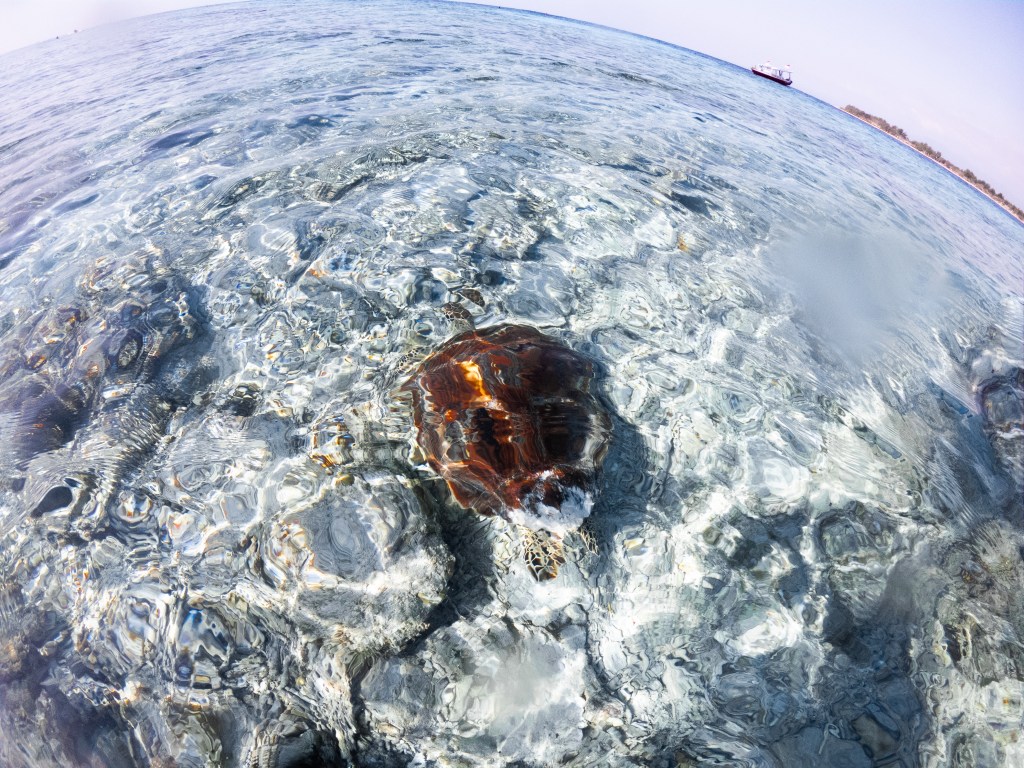 Weather
Turtles come to graze near the beach during every weather. It's far easier to spot them if the sea is calm though.
You will want a sunny day that isn't too windy. Most importantly you need to watch out for high waves.
High season in Trawangan (May to September) will mean hot and dry weather almost every day. If there isn't a large storm the sea tends to be quite calm on the east side of the island.
There are, however, random days where the waves are crashing and people even start to surf where it's usually calm enough to stand-up Paddle. Locals say this usually happens during a new moon although I can't confirm whether this is always accurate.
You can still snorkel if the waves are high. It's usually only a problem directly at the shore and calmer as you head further out. However, the visibility underwater will be very bad. Turtles will be right next to you in the water with no way of you knowing.
You might have better chances spotting them from the beach when they come up for air.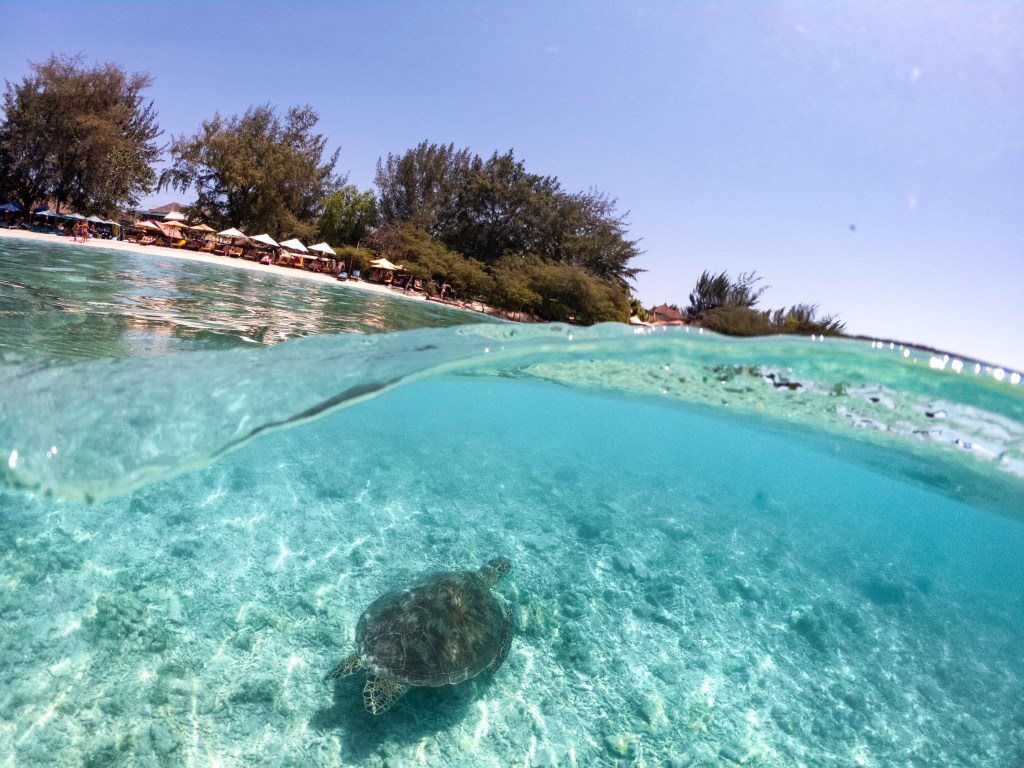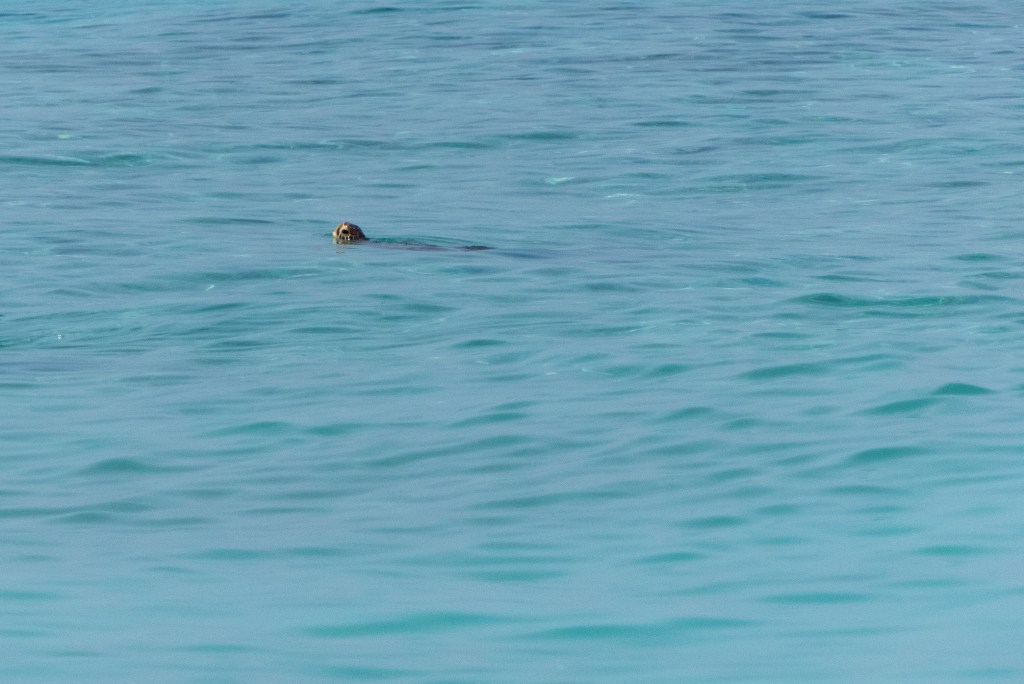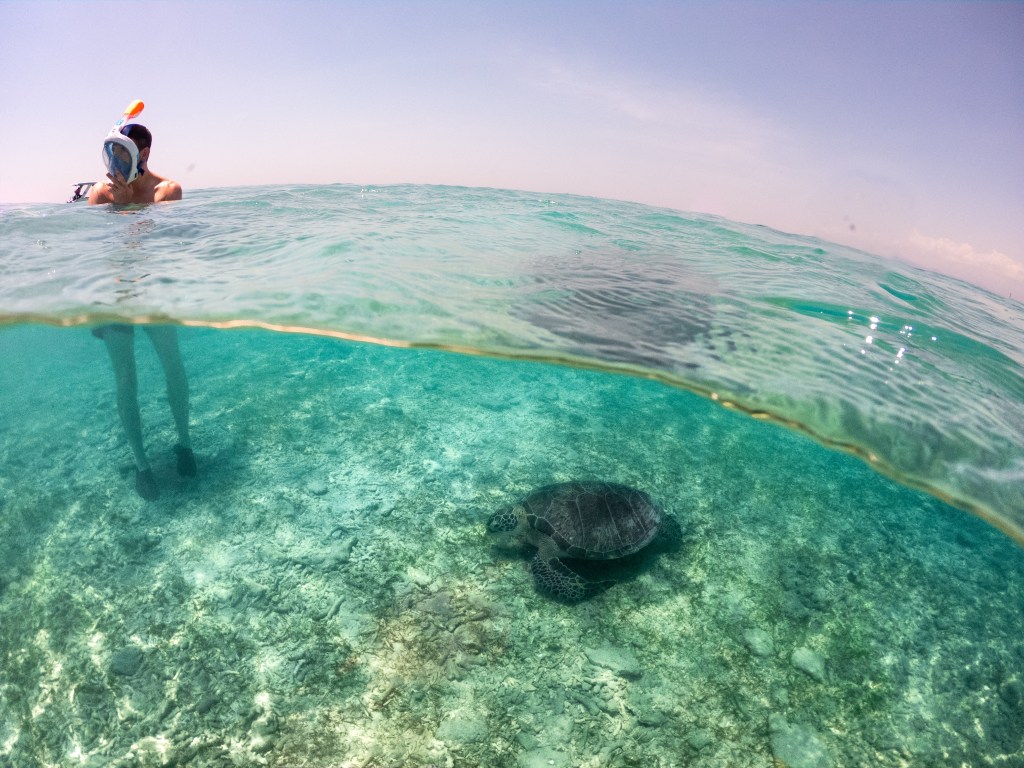 How to find turtles underwater
Turtles in Gili Trawangan literally swim right at the beach. Green Sea Turtles, which are the most common species here, graze on seagrass which is found in shallow, sandy areas close to the shore.
Seagrass may look boring and unattractive to you as you snorkel but it will be your best bet when trying to spot a turtle.
Swim around green grassy areas keeping an eye out for turtle-shaped shadows in the distance. They can be in water as shallow as 0.80 metres.
Don't be discouraged if you cannot find a turtle immediately. Sometimes you spot one within minutes of being in the water and sometimes it takes an hour.
If you get bored of the seagrass you can swim further out where the water gets deeper and you'll find beautiful reefs and other exciting marine life such as parrotfish, sea snakes, moray eels and many more.
You can find turtles in the deeper areas as well but they will be far harder to spot. Try to swim along the steep drop-off or "wall" where the ground seems to disappear into nothing. Sometimes you can be lucky and spot turtles floating into the darkness or coming up for air here.
I've found the best strategy is to find a turtle in the shallow, grassy area and follow it until it goes to deeper waters. With better visibility, your pictures will turn out more impressive.
Top tip: Look at the two photos below. One was taken in 1.5-metre deep water near the shore and the other in about 4-metre deep water closer to the "wall". Seagrass may be your friend for finding turtles but it is definitely not the most visually pleasing.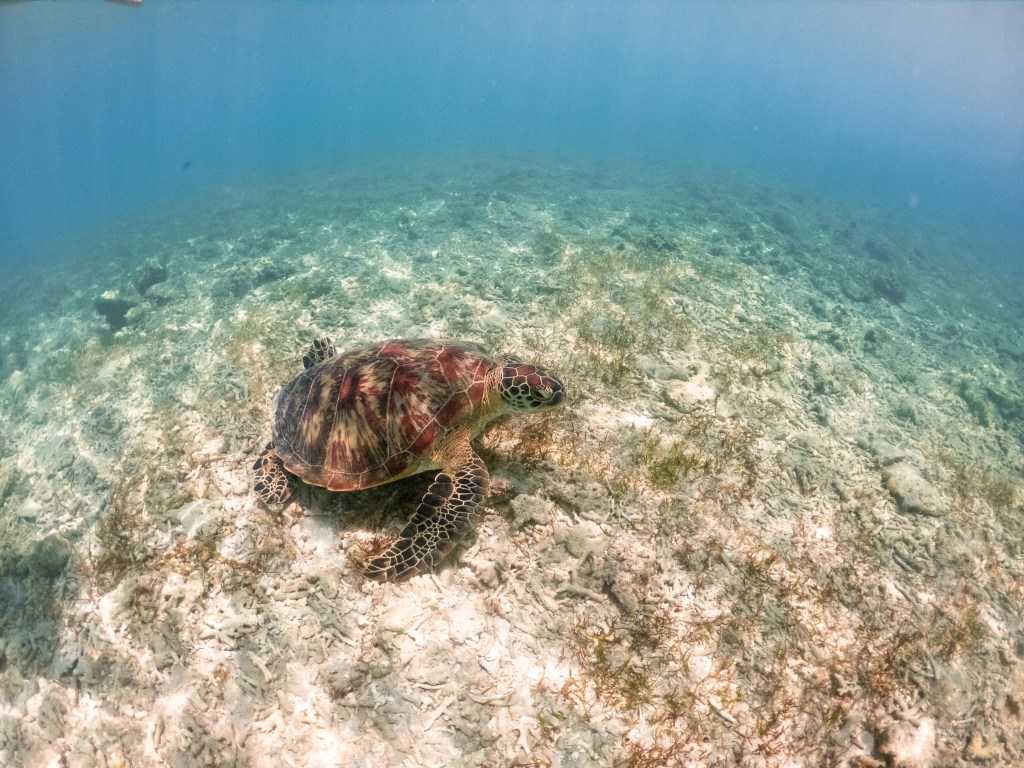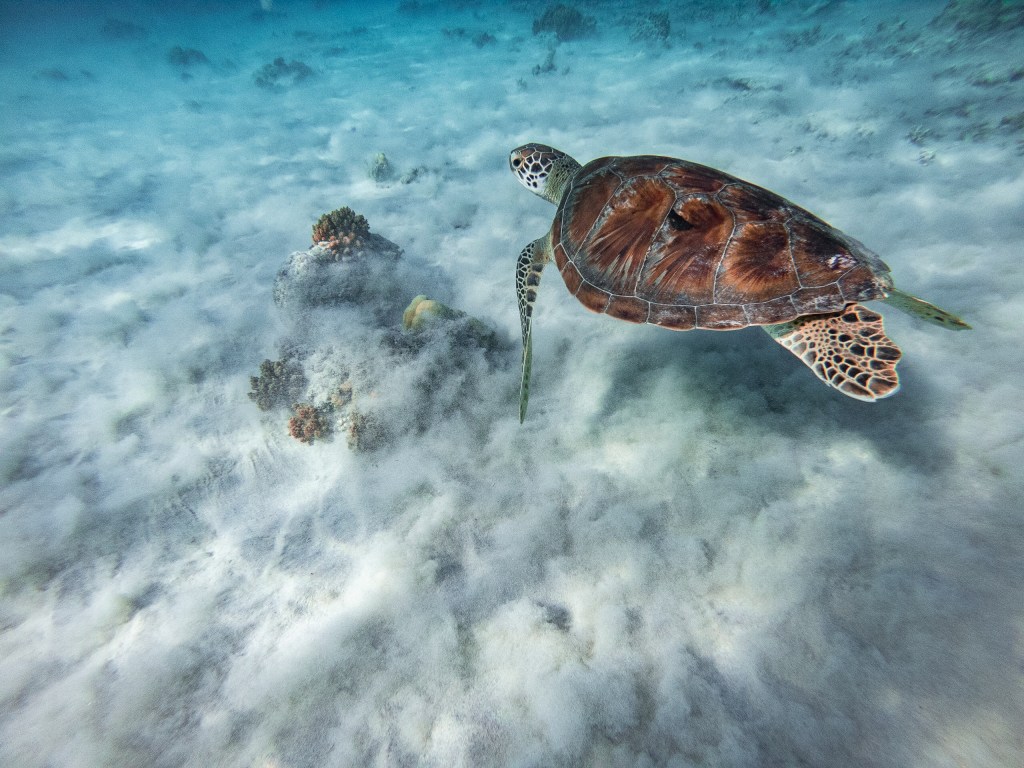 What if you can't find any turtles?
Sometimes it just takes a bit of luck and patience and suddenly after what seems like hours of searching a massive turtle will just swim right in front of your nose.
If you still can't spot one after swimming around the shallow waters of Turtle Point you can try some of these tips.
Look at other snorkelers. Is a group of them swimming very quickly in a random direction? They're probably following a turtle.
Look at the water from above or even the beach. Turtles come up for air frequently and are quite easy to spot when they do.
Ask a local. The vendors who rent out snorkelling equipment want you to have a good experience. They know exactly where to find turtles and might even come into the water with you to help.
Take a break and then go back in. Don't get frustrated and don't forget to have fun while you're on the turtle "hunt". It's like your own little safari.
Go up or down the coast. Turtle Point is not confined to a single spot. If you're not having any luck you can walk up or down the beach for a few hundred metres and try again.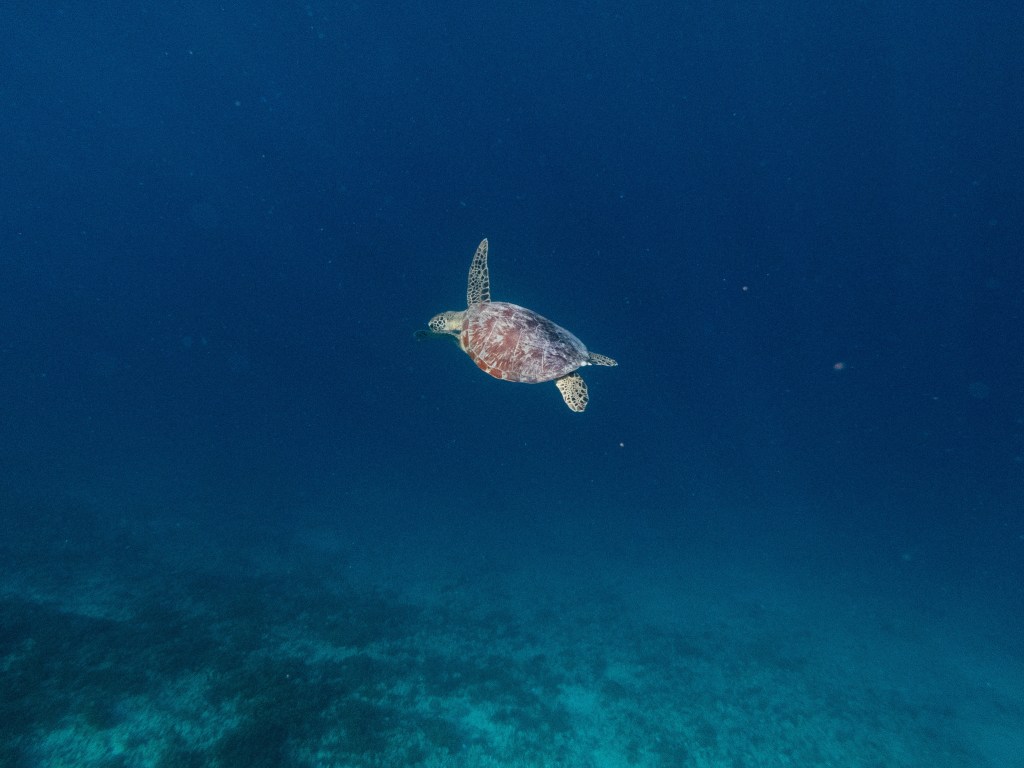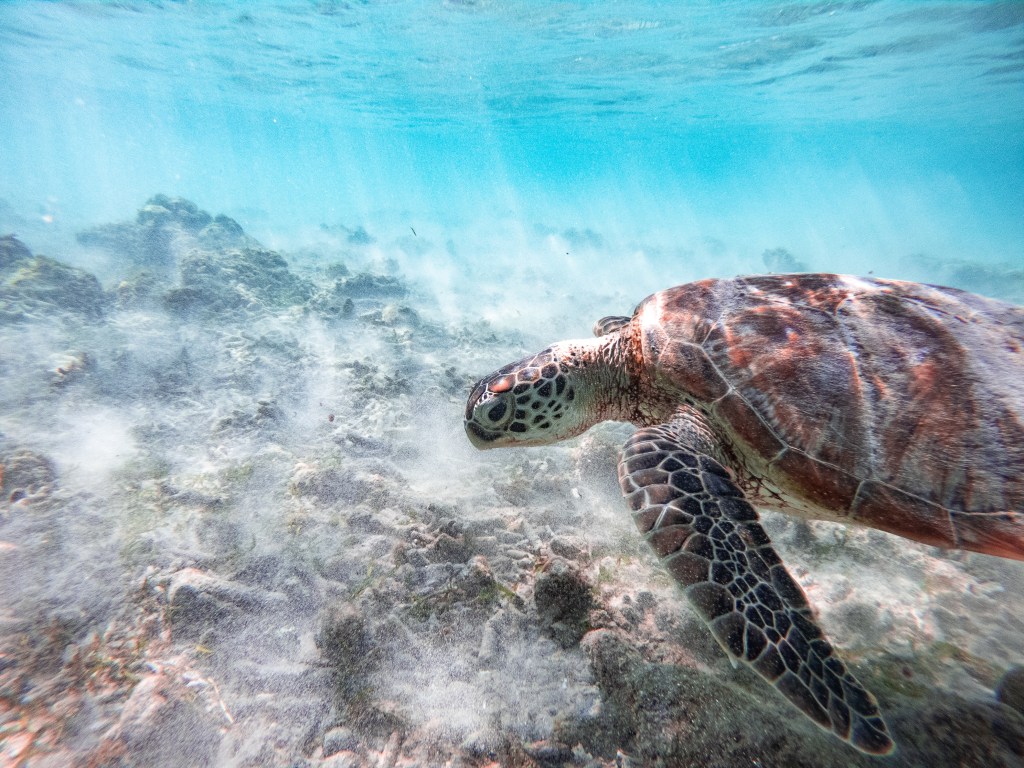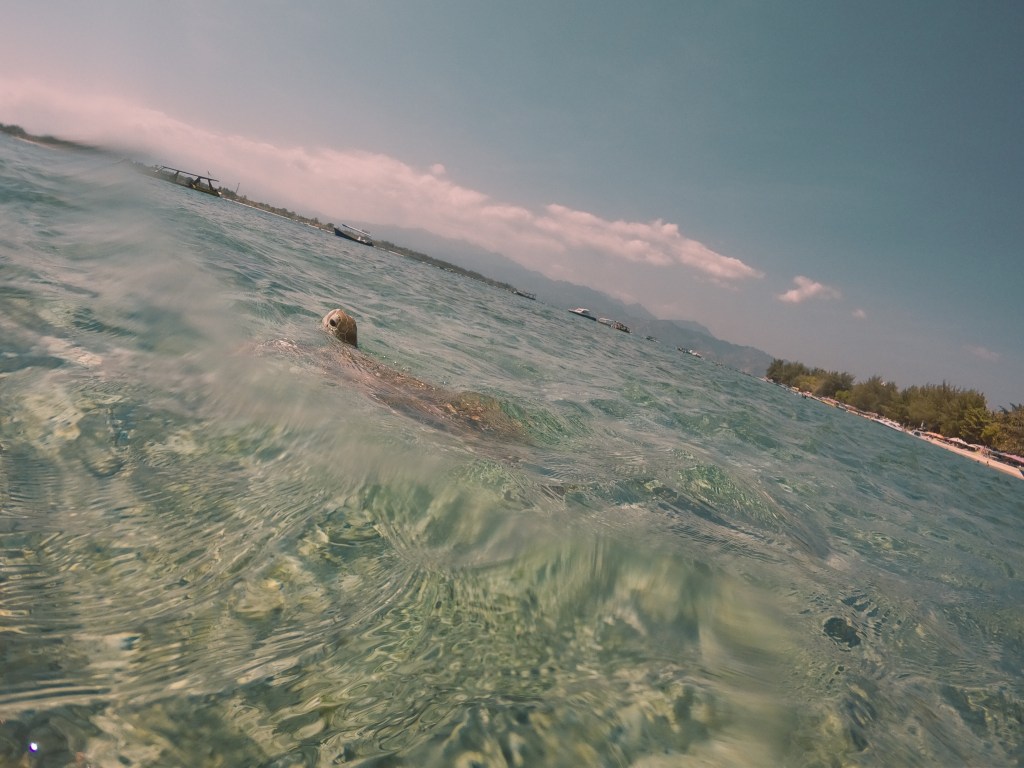 The most important thing to know when swimming with turtles
If you're swimming with marine life the most important thing is always to never touch any of the animals you encounter. Touching a turtle's shell breaches their natural protective layer and can let harmful bacteria in.
Turtles can become distressed when humans come to close and may even bite. Always keep your distance and back off if the turtle seems nervous or swims away quickly.
Turtles have to come up to the surface periodically for air. If they are scared they will stay in deeper waters and wait for humans to go away before breathing. If they do not get a chance to come up where they feel it is safe they can drown. Never harass a turtle or swim too close. Let them come up for air and do not follow a turtle for too long especially if you're in a larger group.
Check out this website for more general information on sea turtles and how to help conserve them. Click here for more information on turtle conservation in the Gili Islands.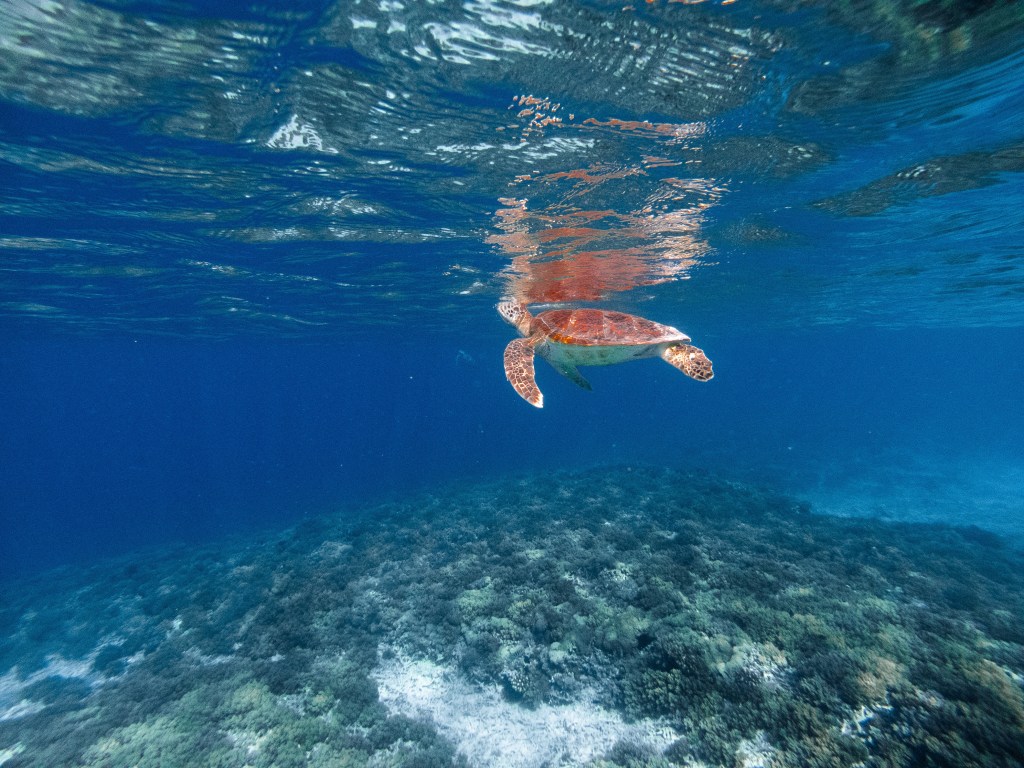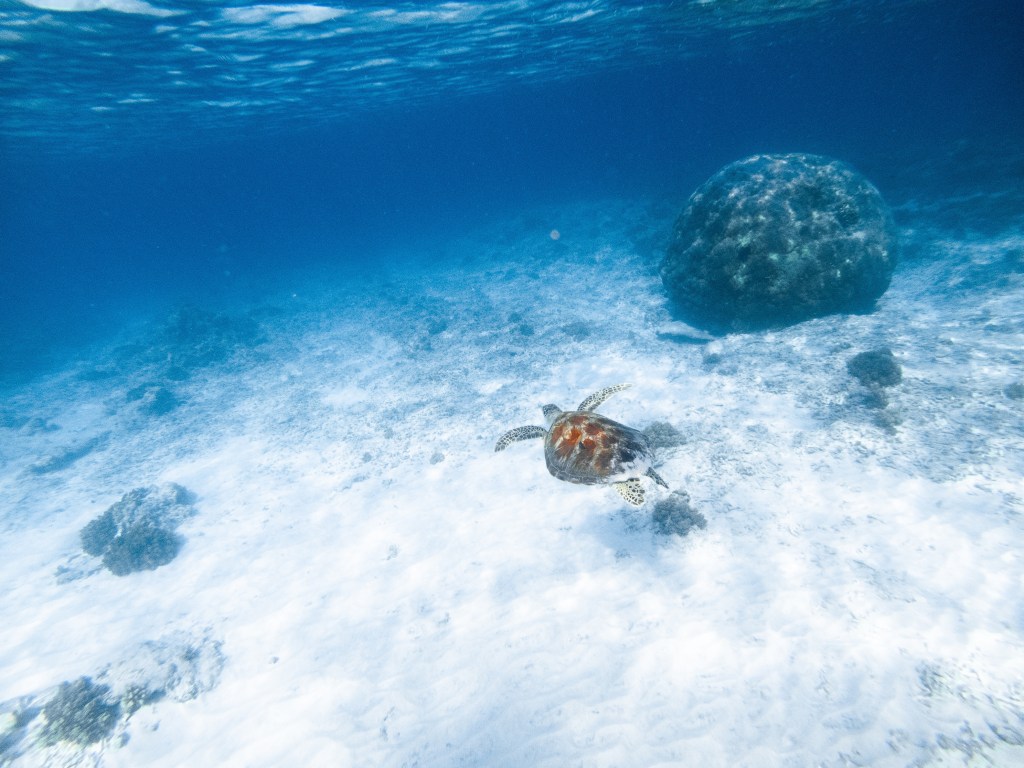 Types of turtles in Gili Trawangan
Green sea turtles
The majority of the turtles you see around Gili Trawangan will be green sea turtles. You will find them in the shallow waters close to the beach.
They primarily eat seagrass and can grow up to 1.5 metres in size making them the larger of the two turtle species found around the Gili Islands.
Green sea turtles are classified as endangered as their populations are rapidly depleting worldwide. This is mostly due to overfishing, loss of nesting areas and other human-caused factors.
No one knows how much longer you can experience the beauty of sea turtles so effortlessly in Gili Trawangan. It is important to be respectful and try your best to not disturb the turtles you see.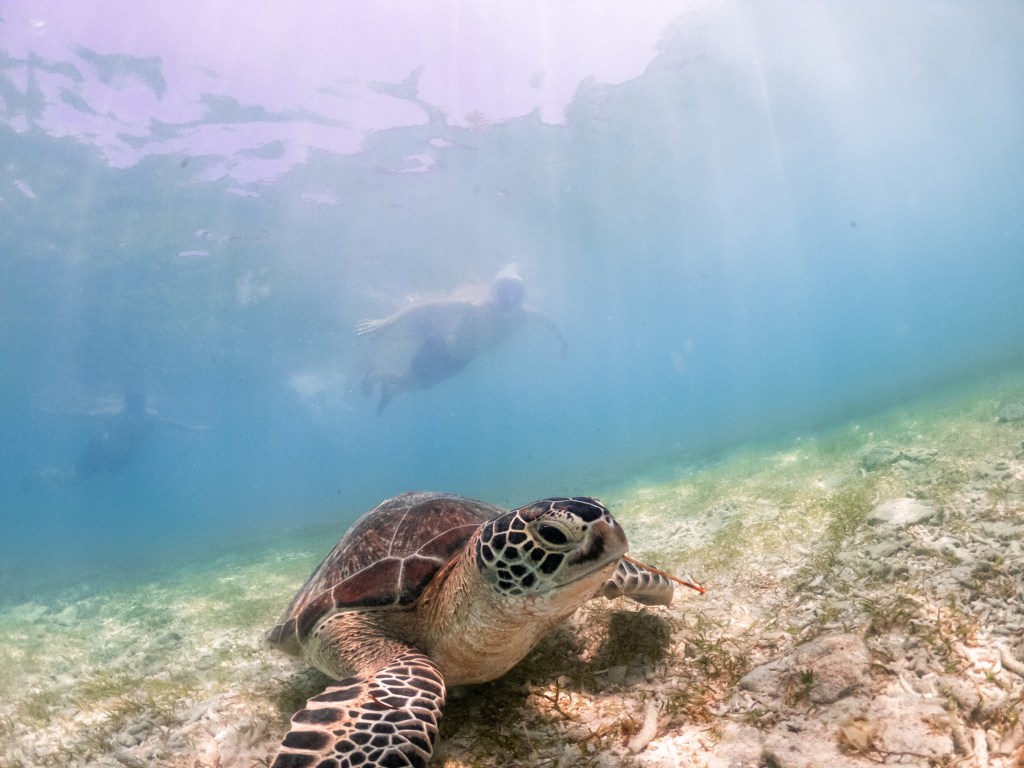 Hawksbill turtles
Hawksbill turtles are less common than green sea turtles and are classified as critically endangered. Some numbers claim there are less than 25,000 female nesting Hawksbill Turtles left worldwide.
Unlike green sea turtles, hawksbill turtles are omnivores and eat mostly sea sponges as well as jellyfish, sea urchins and other marine life.
You will find them in deeper waters further away from the shore. They are smaller than green sea turtles only growing to about 1 metre in length.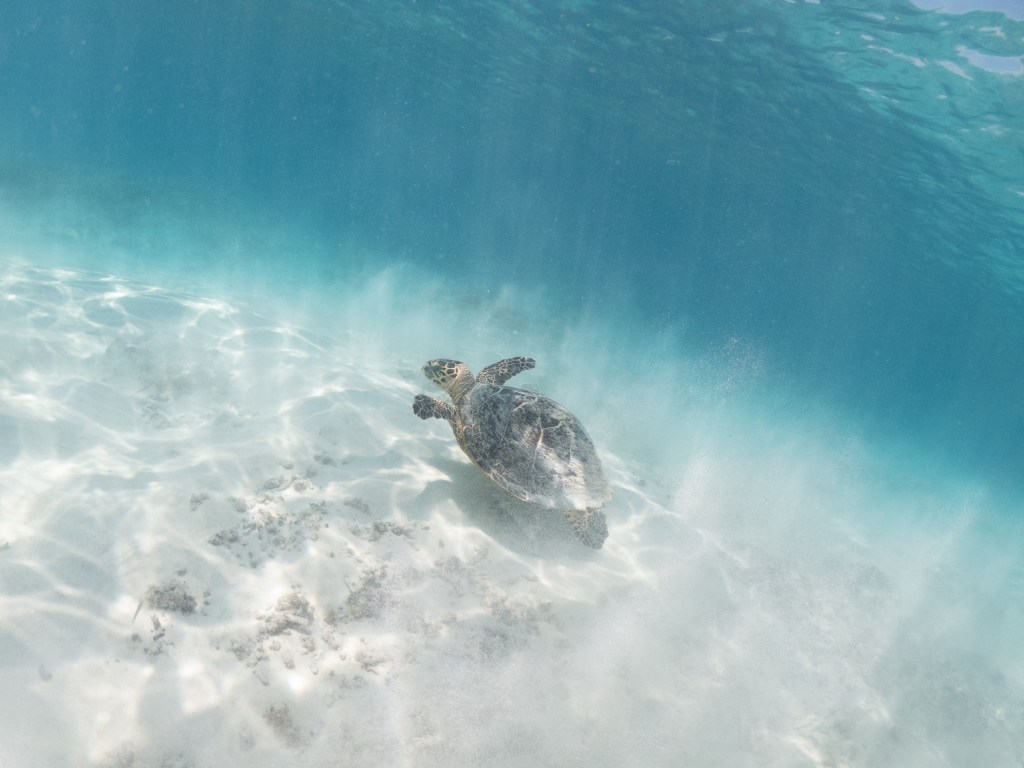 How can you tell the turtles apart?
Green sea turtles and Hawksbill turtles may look similar but there are a few easy ways to tell them apart.
Hawksbill Turtles have a serrated shell that is often slightly darker and overgrown with barnacles. They also have more distinct claws on their flippers, used for holding onto the seabed while they eat.
As a rule of thumb if you encounter a turtle eating seagrass in shallow waters it will most likely be a green sea turtle. If you find a smaller one in deeper waters it will probably be a hawksbill.
Make Nusa Penida your next stop
Are you visiting Nusa Penida next? Check out our 3-day itinerary for the island here. Travelling on a budget? Read all about how to save money in Indonesia here.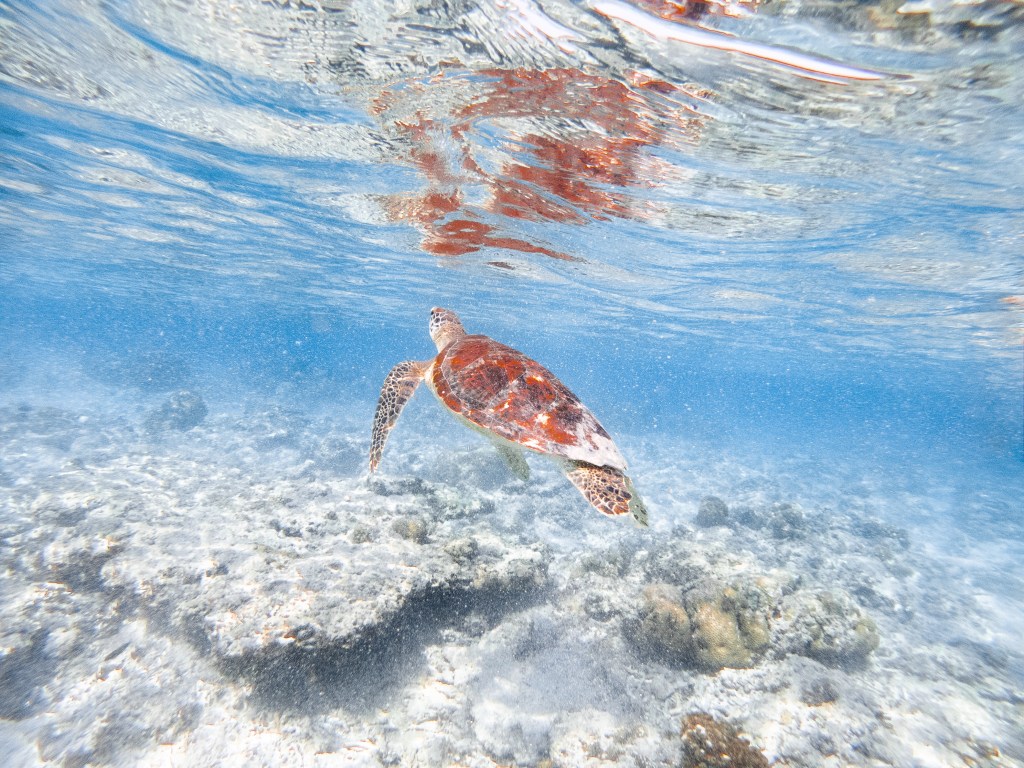 Did I miss anything?
If you have any questions or feel like something is missing from this post please leave a comment below or contact me