Nusa Penida has lots to offer and Rumah Pohon Treehouse and the Thousand Island Viewpoint are only two of its most popular hotspots. The two are located right next to each other and are some of Nusa Penida's best picture spots.
The view is unforgettable and not to be missed on your next trip to Nusa Penida.
You can even sleep at Rumah Pohon Treehouse, although the interior is very basic. Keep reading to find out how and when the best time is to visit.
Planning a trip to Nusa Penida? Check out our 3-day itinerary here.
This post may contain affiliate links, which means we'll receive a commission if you purchase through our links, at no extra cost to you. This helps us keep Guide your Travel free and provide high-quality content for you. Please read the full disclaimer for more information.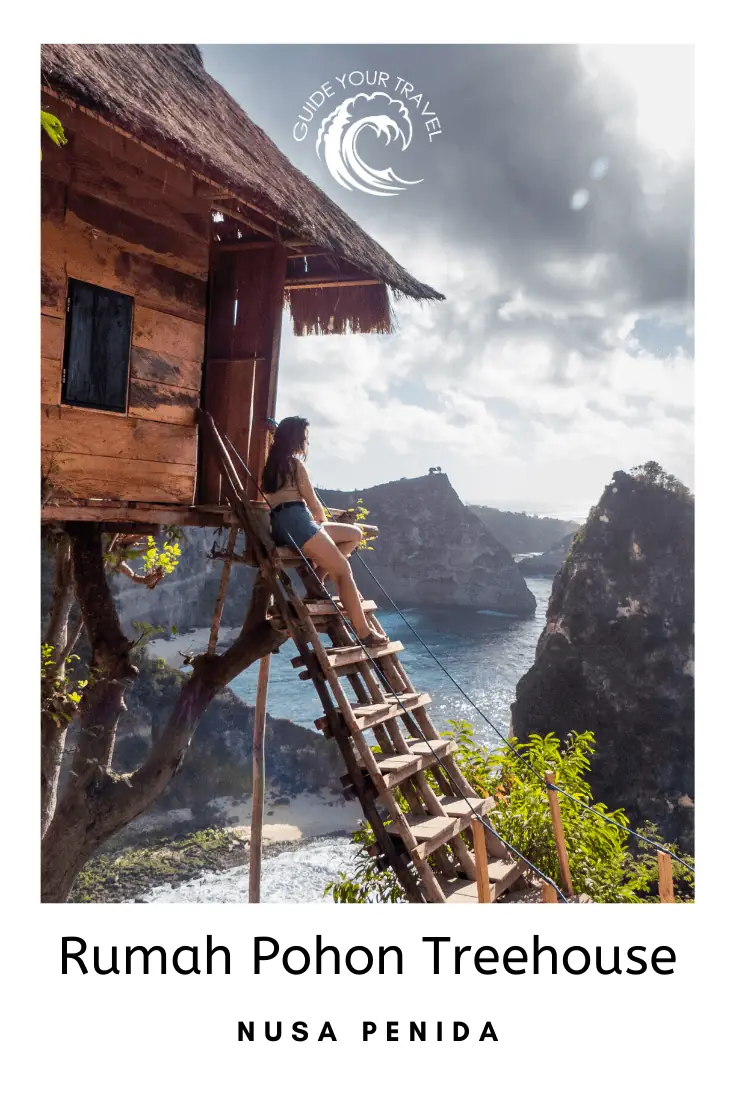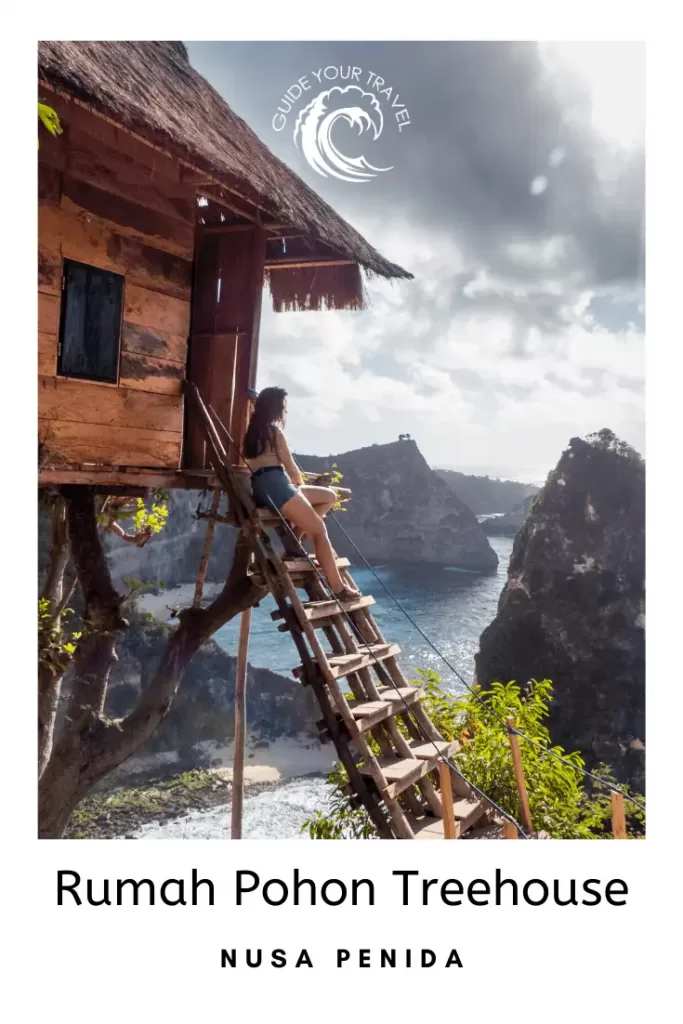 WHERE ARE THE TREEHOUSE AND THE VIEWPOINT?
Rumah Pohon and the Thousand Island Viewpoint are located in what would be considered Nusa Penida's east coast. You'll find them right next to Diamond and Atuh Beach. Visiting all four makes the perfect day trip.
It takes around one hour to drive to the treehouse and viewpoint from Toya Pakeh (Banjar Nyuh) harbour and 45 minutes from Buyuk harbour.
WHERE TO STAY IF YOU WANT TO VISIT RUMAH POHON TREEHOUSE
In Nusa Penida, the attractions that are worth visiting are quite far away from where most tourists stay. You will have to take a scooter or hire a driver anyway if you want to visit the treehouse or really any of the other places of interest on the island. Therefore, you can be flexible when booking your accommodation.
I recommend staying somewhere close to either of the two harbours because this is where you will find the best selection of restaurants and bars as well as some small shops. Pick a hotel or hostel that is close to the beach, you'll thank yourself later.
Still trying to find somewhere to stay? Check out Rama Homestay for beach bungalows with a prime location at an affordable price.
Top tip: Always compare prices for hotels. We at Guide your Travel prefer Booking.com, Agoda or Hostelworld for finding the best deals.
HOW TO GET TO THE TREEHOUSE AND VIEWPOINT
SCOOTER OR CAR?
Nusa Penida is famous for its notoriously bad roads. Even if you are an experienced motorbike rider I would not recommend renting one here. The roads are steep and mostly gravel and local drivers drive ruthlessly with no regard for the safety of tourists on motorbikes.
It's common for tourists to overestimate their abilities and either end up pushing their bike uphill in the sweltering heat or having to be picked up by their accommodation.
Driving here can be especially tricky if you're carrying a passenger on your bike as you have to go at high speeds to make it up the hills.
If you're not extremely confident on a scooter, do yourself a favour and get a driver. You'll be spending a lot of time getting from place to place on this island and will have a much better experience if you spend it sitting in an airconditioned van rather than getting sunburnt on a bike.
You can get back to the freedom of exploring on a bike on the next island you visit.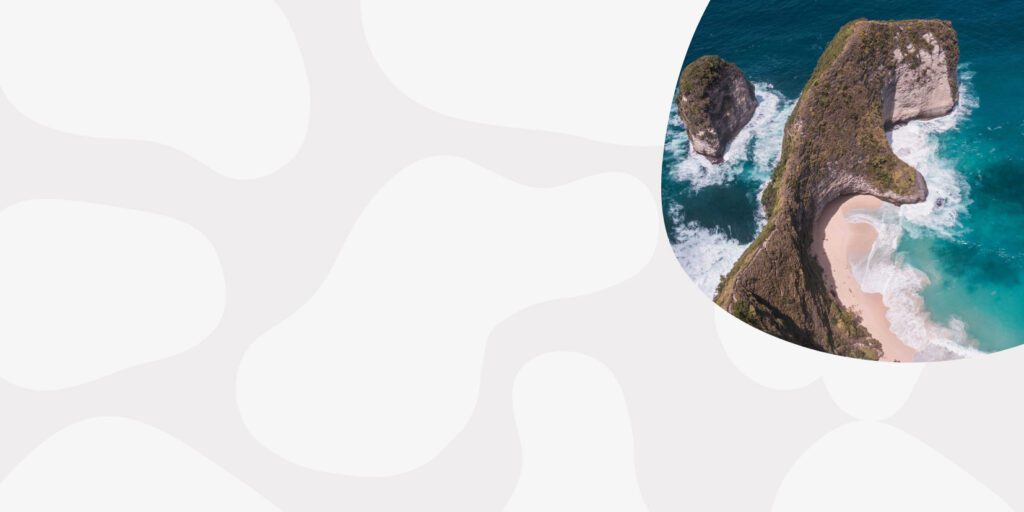 Save time when planning a trip to Bali

➼ 8€ airport pickup? Klook
➼ Best travel insurance? SafetyWing
➼ Accommodation? Agoda or Hostelworld
➼ Where to get cash out for free? Maybank ATM
➼ Best SIM card? Telkomsel
➼ Best place to book flights? Skyscanner
HIRING A DRIVER
Plenty of people chose to explore Nusa Penida via car. Many locals earn their living by providing taxi and day-trip services. You can hire a driver for 10 hours which will cost you roughly IDR 500,000 (~ €32) including parking and petrol. During this time the driver will take you anywhere you like, within reason of course. Make sure to tell them your itinerary beforehand and they will let you know what's realistic. 
You can find numbers for drivers online in Facebook groups or on Google. I'd be happy to recommend drivers if you send me a private message.
You can also ask your accommodation in Nusa Penida, however, you'll have a harder time bargaining for a good price.
Make sure you don't overpay and give your driver a tip at the end of the day if they did a good job. It's also customary to pay for their lunch.


THE WALK TO THE TREEHOUSE AND VIEWPOINT
The parking area is at the top of the cliff where you'll also find some small warungs. It takes around 10 minutes of walking to reach the Thousand Island Viewpoint and a further 5 to get to the treehouse. The steps are recently constructed and easy to climb. They are steep in some places but very manageable.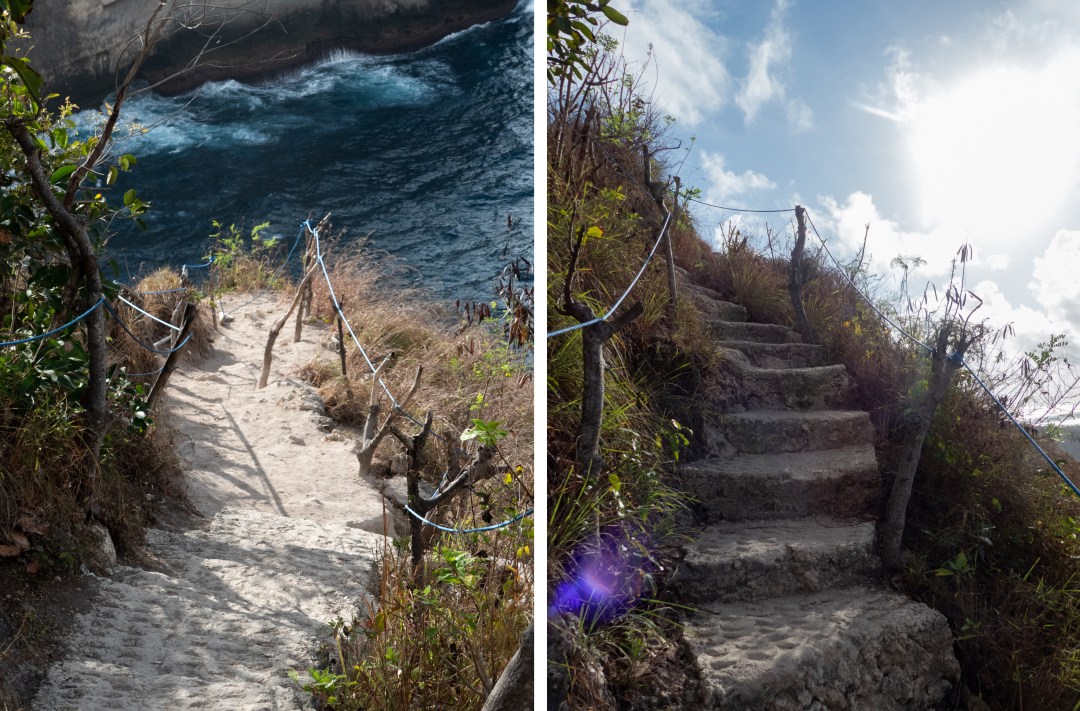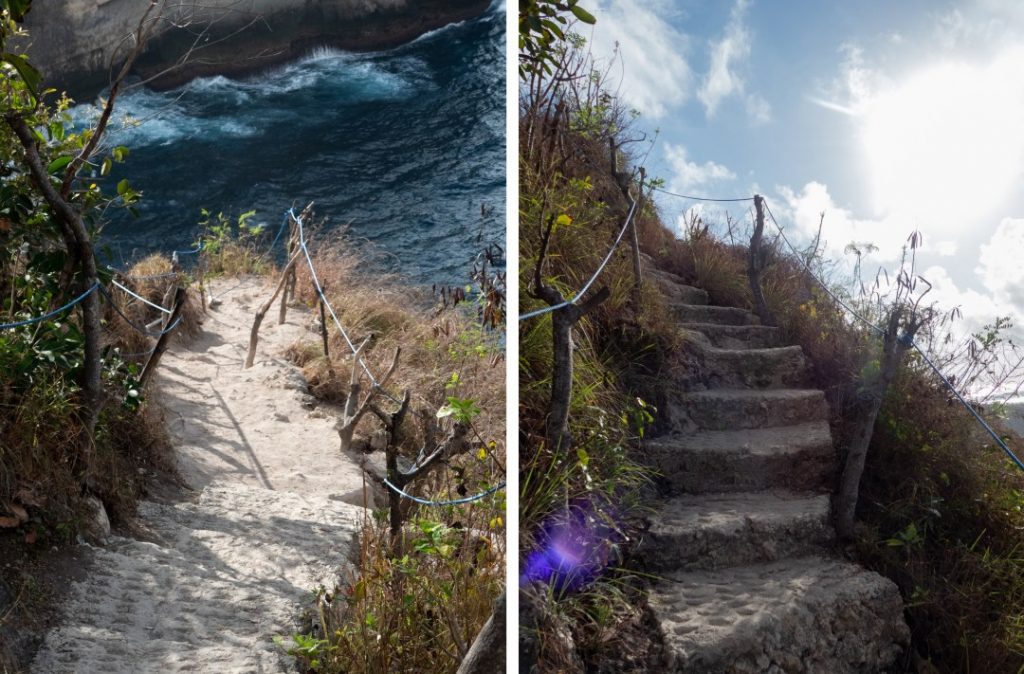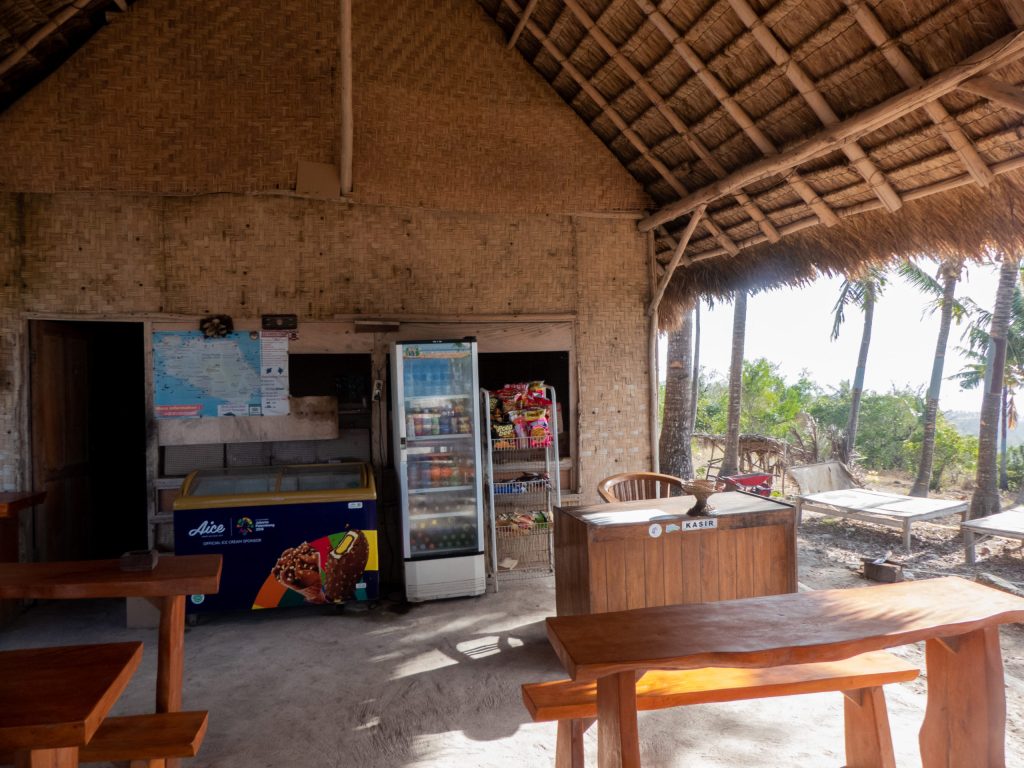 RUMAH POHON TREEHOUSE
Rumah Pohon Treehouse actually describes three little treehouses that can be rented on agoda or some other hotel booking sites.
The most famous treehouse sits right at the edge of the cliff and has the best view by far. Make sure to pick this one if you plan to stay in one of the treehouses, it'll be spectacular.
SHOULD YOU STAY AT RUMAH POHON TREEHOUSE?
If you're considering renting one of the three treehouses you should know how remote they are. There is not much to do but visit the viewpoint or eat at the warungs at the top of the cliff.
If you're looking for peace and quiet and really want to experience this unique location this is a great place to stay. However, note that you'll have the first tourists arriving at around 7:00 AM which might disturb this experience since they tend to climb onto the ladder and balcony of the treehouse.
You'll be able to see the most spectacular sunrise though.
The interior of the treehouse is very basic with no AC and essentially just a bed and a bathroom if you can call it that. You'll not be staying here for comfort but the experience will be worth it.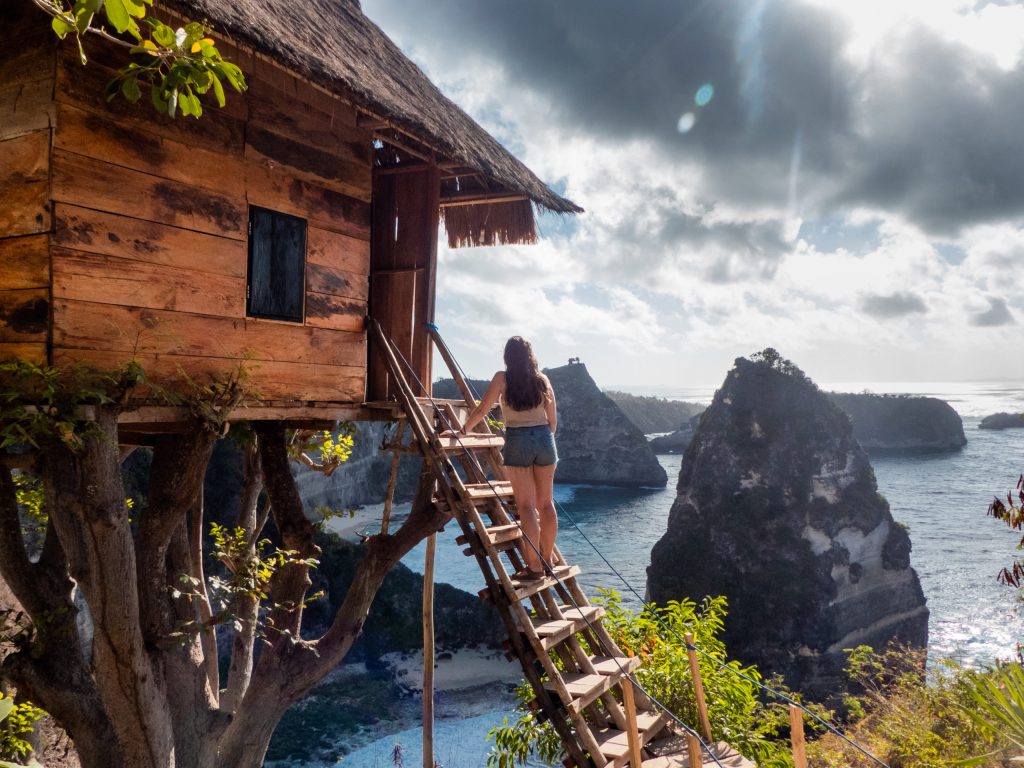 THE THOUSAND ISLAND VIEWPOINT
This viewpoint is just off the main path down to the treehouse. The blue ropes will show you where to go.
You'll get the best view of Diamond Beach and its impressive stairs.
The cliff is really steep here so be careful when taking photos especially if you're visiting when many other people are there as well. The space there is really small and it can be easy to trip.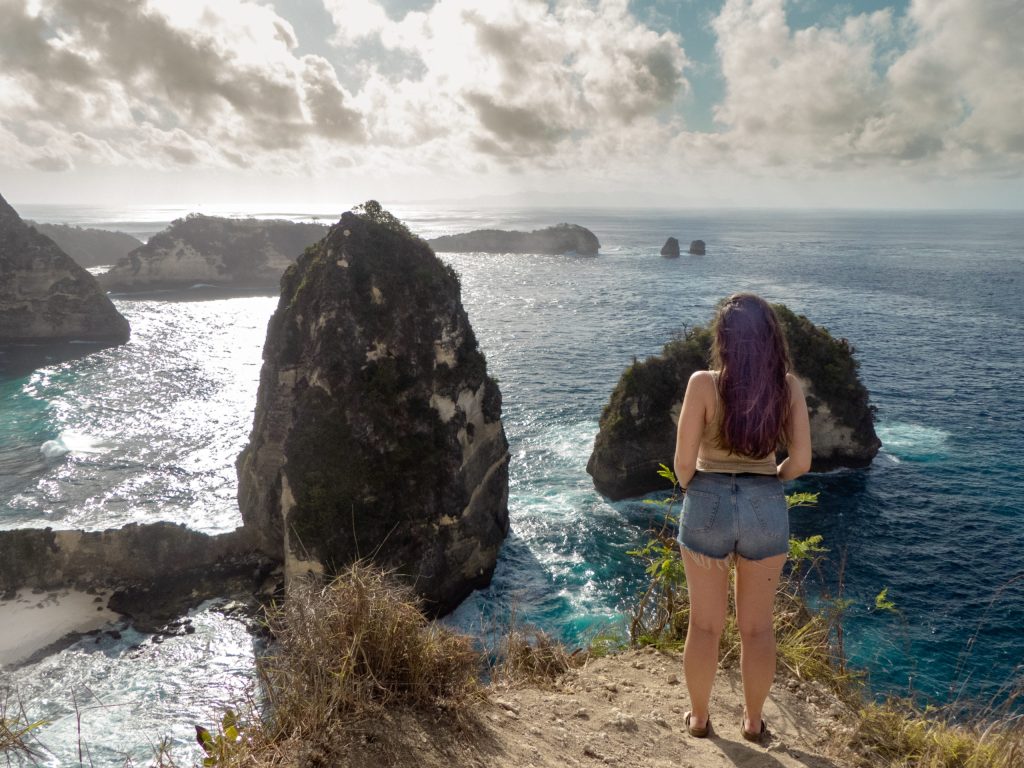 WHEN TO GO TO THE TREEHOUSE AND VIEWPOINT
The best time to visit both the Thousand Island Viewpoint and Rumah Pohon Treehouse is very early in the morning. You should be there before 8:00 am to avoid the big tourist crowds.
This is one of Nusa Penida's most popular attractions and therefore it's always busy. It's worth coming early to get the best experience.
The heat is also a major factor. Walking up and down the steps can get very tiring and sweaty if you're there during midday.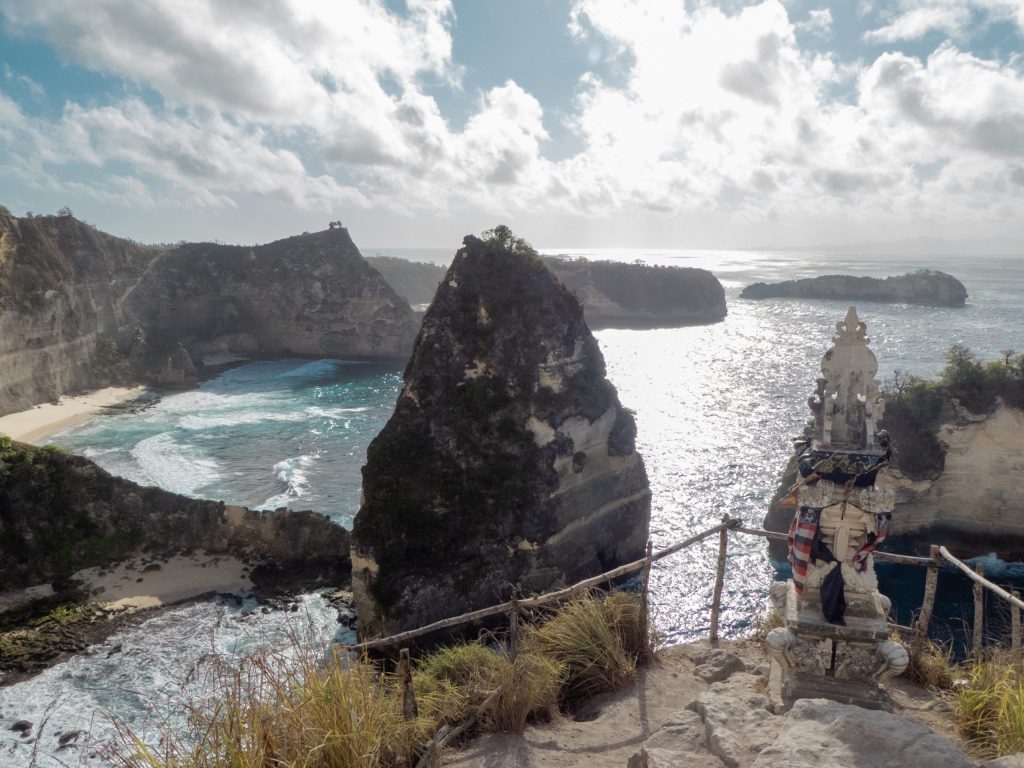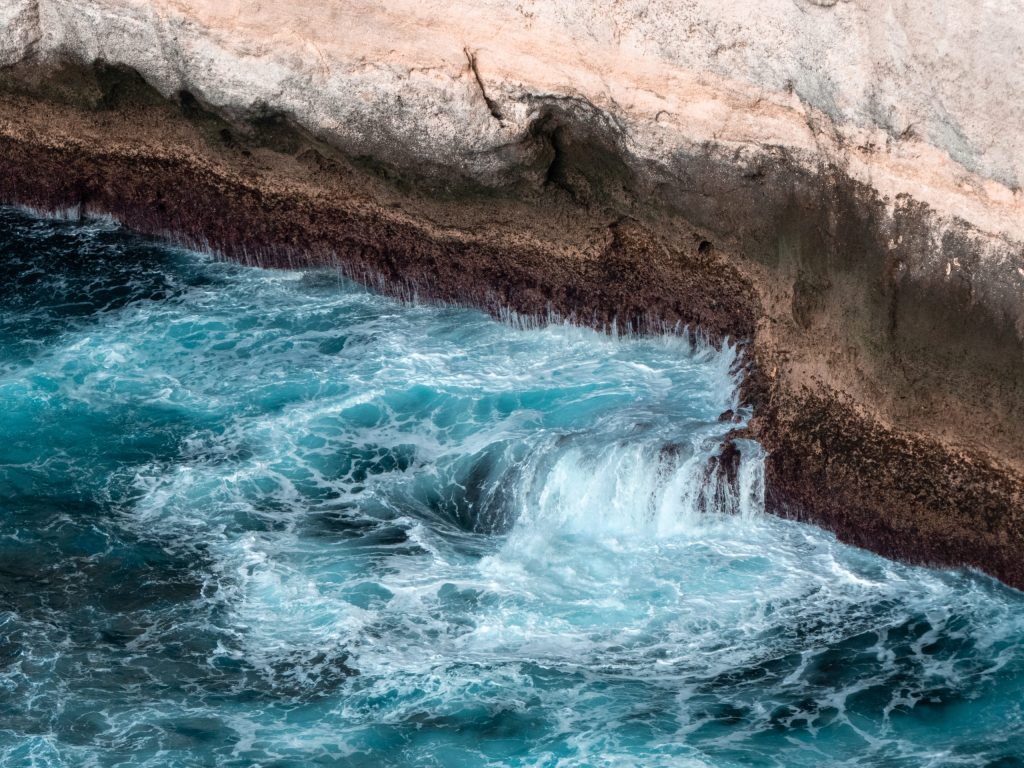 ENTRANCE FEES
There is no entrance fee to visit the treehouse and the viewpoint. Parking costs IDR 2,000 (~ €0.13).
DRONES
The treehouse is a great spot to fly your drone. The Thousand Island Viewpoint could be less ideal because it is so small and there is no railing protecting you from the steep drop.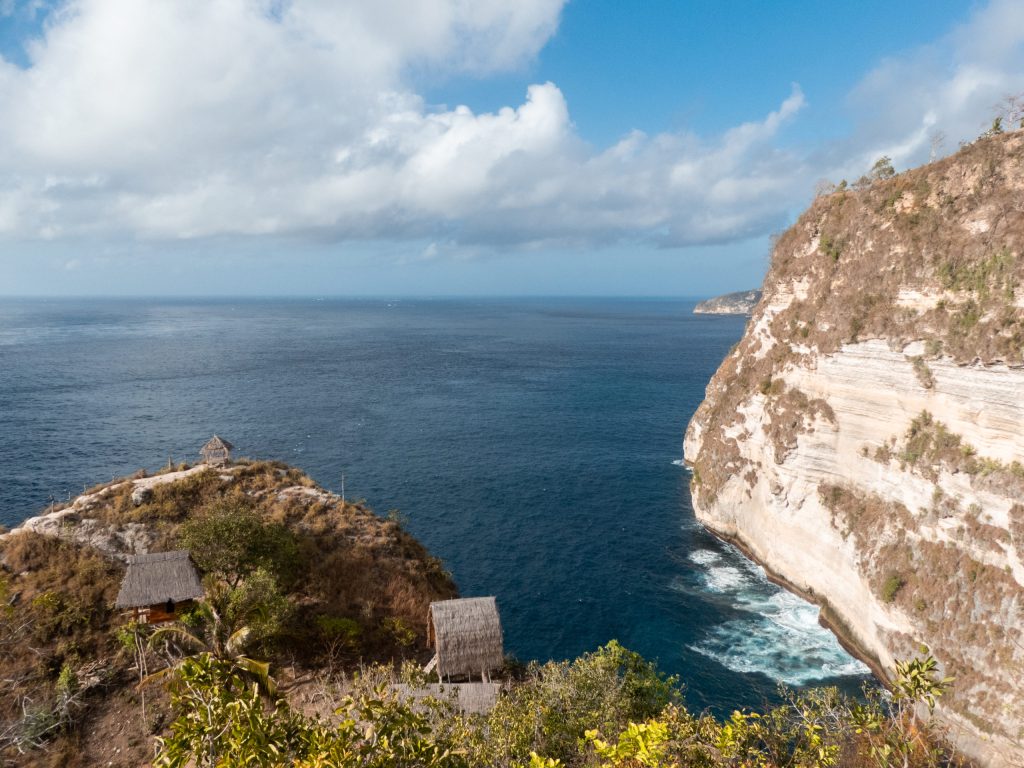 SHOULD YOU VISIT ATUH AND DIAMOND BEACH OR THE TREEHOUSE AND VIEWPOINT FIRST?
This is entirely up to you and what is most important to you. In the end, the place you visit first will be where you get the best photos and experience.
The crowds come in early and by the time you'll have visited one location, the other will most likely not be quiet anymore. I would recommend seeing the treehouse and viewpoint first mostly due to the fact that you will probably spend more time at Diamond and Atuh Beach.
However, if Diamond Beach and Atuh Beach are what you really care about there's no harm in heading there first to experience these unique beaches in peace and quiet.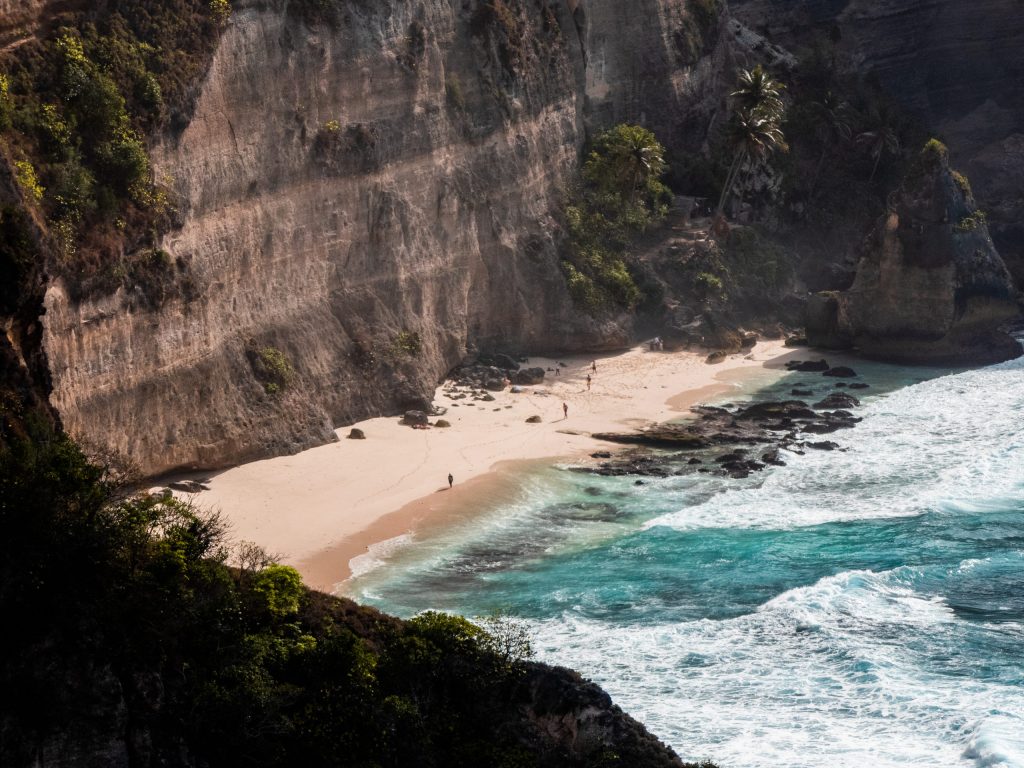 WHAT ELSE TO SEE IN NUSA PENIDA
There are still plenty of things to see and do on this beautiful island. Check out our 3-day itinerary for a complete guide on where to go. Some great places to explore are the Tembeling natural pools, Kelingking Beach and Angel's Billabong and Broken Beach.
Travelling on a budget? Check out these 21 Tips to save Money in Indonesia
My most important travel tips and resources
Book your flights
Skyscanner is the best website for finding cheap flights since it works like a search engine so you can find the best deals across all airlines.

Book hotels and hostels
• Booking.com: Best world-wide
• Agoda: Best in South East Asia
• Hostelworld: Best for hostels

Book tours, transport and rental cars
•Viator: The best place to book tours, day trips and excursions for al budgets
•12Go: Great for ferries, trains, transfers and buses in South East Asia
•Discover Cars: Best deals for rental cars around the word

Get travel insurance
Every traveller needs travel insurance and I mean every single one. SafetyWing covers you in case of injury, illness or worse and they've got your back if your bag is stolen, flights are cancelled or in case of a natural disaster.

Pay abroad
Ask any traveller, Wise is the best choice when it comes to sending money abroad. They've always got the best exchange rates, lowest fees and their visa card is great for getting cash out or paying abroad.

Things every traveller needs:
➼ Osprey Farpoint 70 Backpack
Detachable daypack, ultra-light, durable and free repairs for life. There's a reason why so many backpackers have this bag.
➼ Packing Cubes
Packing cubes are a gamer changer, keeping your luggage organised and providing tons of extra space.
➼ Power bank
There is nothing worse than running out of battery on an overnight bus journey or a long flight. With a powerbank you can charge your eletronics on the go and make sure you're always connected.
➼ Micro-fibre towel
These lightweight towels are foldable, fast-drying and so useful when you're travelling.

➼ You can find 15 more things every traveller needs here. Some might be a bit controversial but I warned you!
Did I miss anything?
If you have any questions or feel like something is missing from this post please leave a comment below or contact me.