Broken Beach and Angel's Billabong are on the top of most people's must-see list when visiting Nusa Penida. The two are located conveniently close to each other, within walking distance.
While most people take a day-trip to Nusa Penida, we think it's definitely worth staying for a few days. This will give you more time to explore the island's many attractions and see them free from tourist crowds.
Aside from Kelingking Beach, Angel's Billabong is probably Nusa Penida's most famous attraction. And not without reason. It's one of the most fascinating natural places I have ever seen and it can be hard to believe that it's not man-made. However, it is also a dangerous spot. Trying to swim here seems tempting but the calm water is an illusion. Keep reading to find out whether you should risk it.
Broken Beach is right next to Angel's Billabong but they couldn't be more different. This beach looks similar to some found in Mexico or Greece with a cove that is only accessible via a bridge-like tunnel. The view is spectacular.
Are you planning a trip to Nusa Penida? This 3-day itinerary will help!
This post may contain affiliate links, which means we'll receive a commission if you purchase through our links, at no extra cost to you. This helps us keep Guide your Travel free and provide high-quality content for you. Please read the full disclaimer for more information.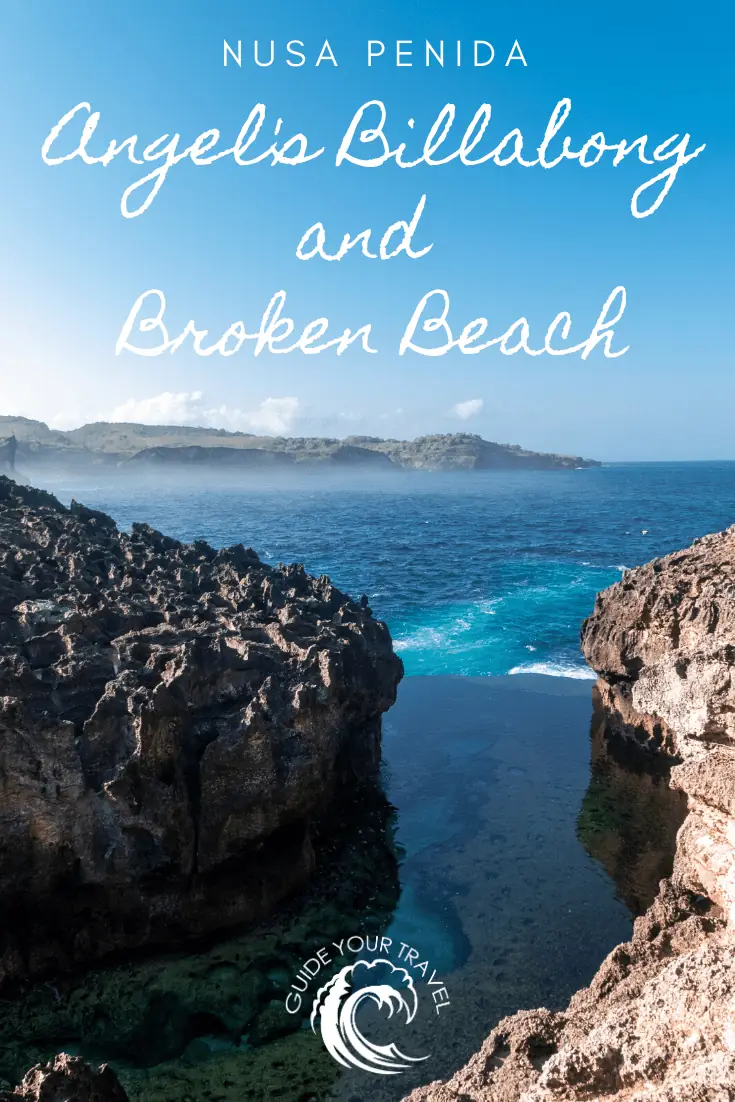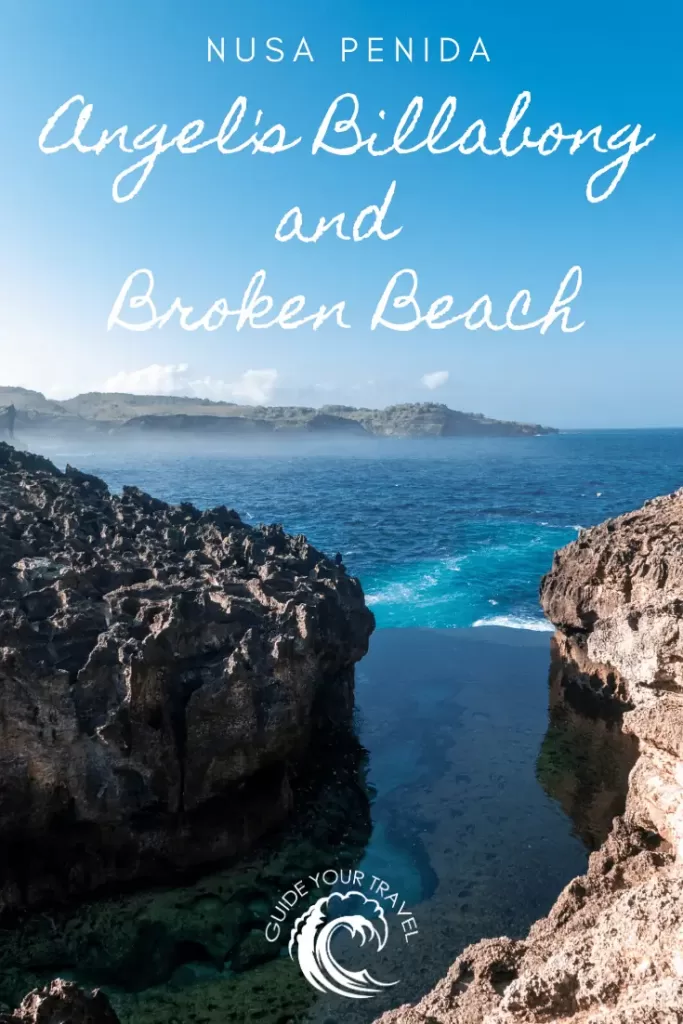 HOW TO GET TO ANGEL'S BILLABONG AND BROKEN BEACH IN NUSA PENIDA
Angel's Billabong and Broken Beach are located on the west coast of Nusa Penida; almost facing Nusa Cenningan. Despite technically being less than 10kms away from Banjar Nyuh (Toya Pakeh) Harbour it takes almost one hour to drive to there. Buyuk Harbour is much further away but the driving time is the same.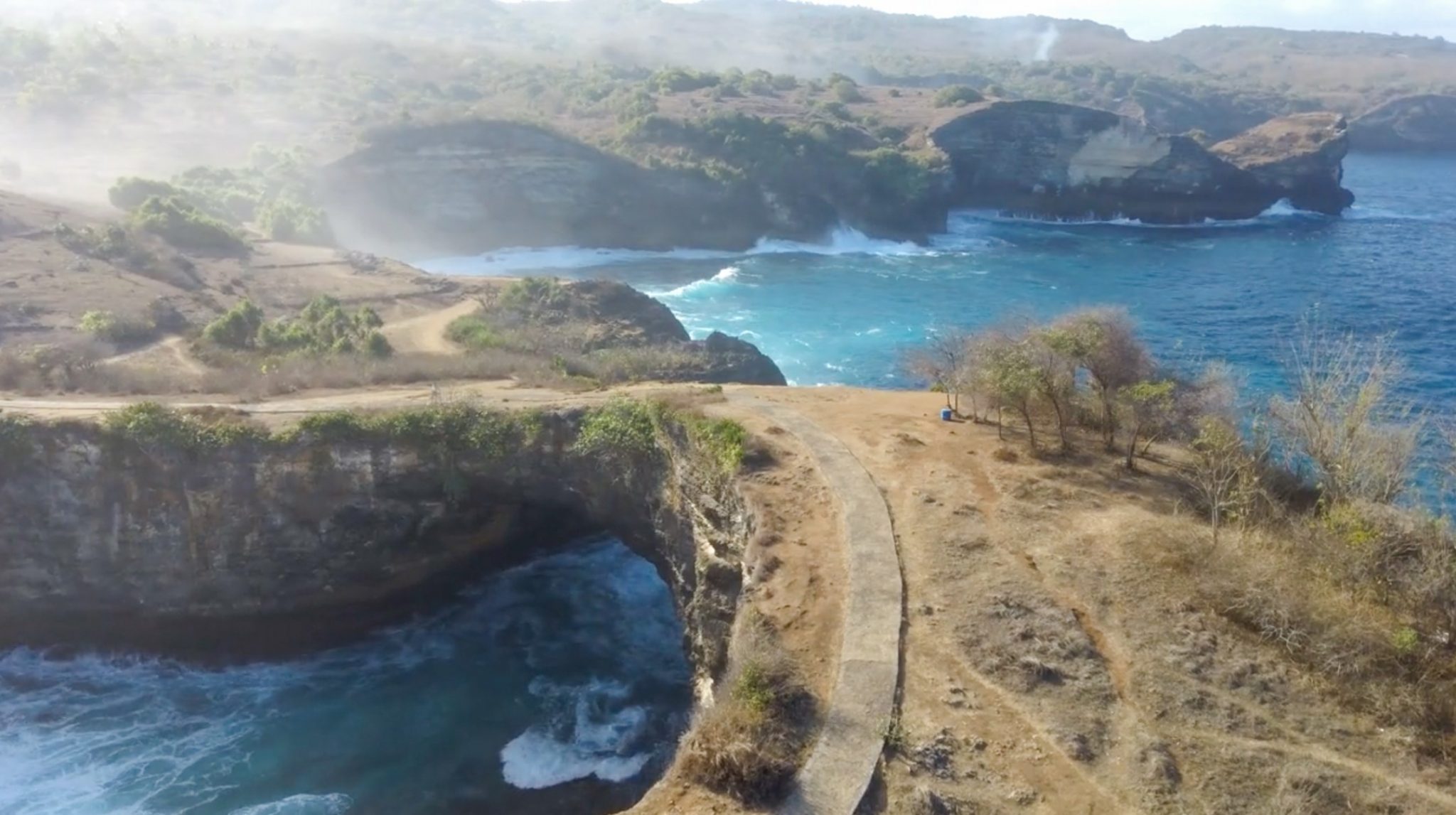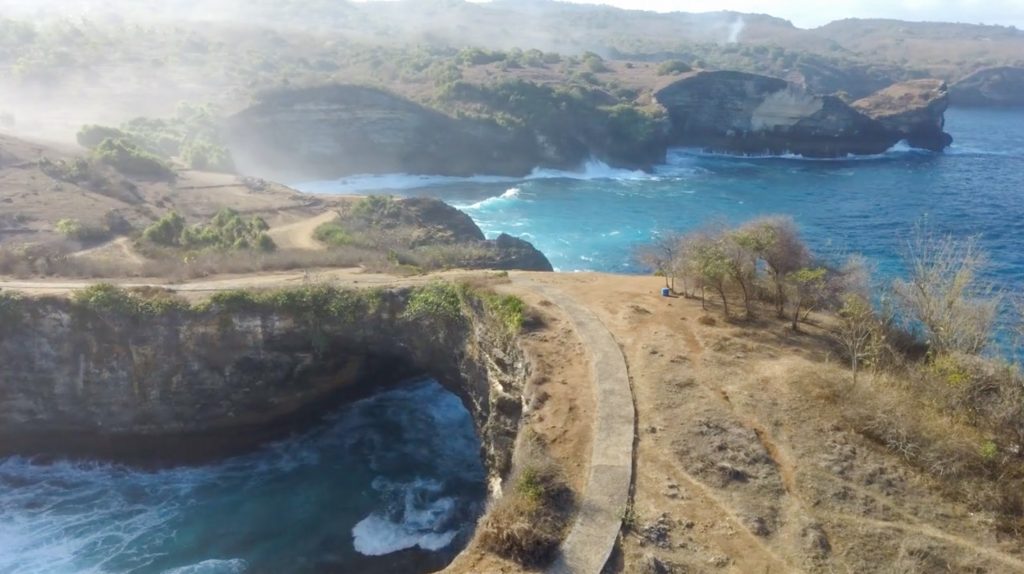 CAR OR MOTORBIKE?
Nusa Penida is famous for its notoriously bad roads. Even if you are an experienced motorbike rider I would not recommend renting one here. The roads are steep and mostly gravel and local drivers drive ruthlessly with no regard for the safety of tourists on motorbikes.
It's common for tourists to overestimate their abilities and either end up pushing their bike uphill in the sweltering heat or having to be picked up by their accommodation.
Driving here can be especially tricky if you're carrying a passenger on your bike as you have to go at high speeds to make it up the hills.
If you're not extremely confident on a scooter, do yourself a favour and get a driver. You'll be spending a lot of time getting from place to place on this island and will have a much better experience if you spend it sitting in an airconditioned van rather than getting sunburnt on a bike.
You can get back to the freedom of exploring on a bike on the next island you visit.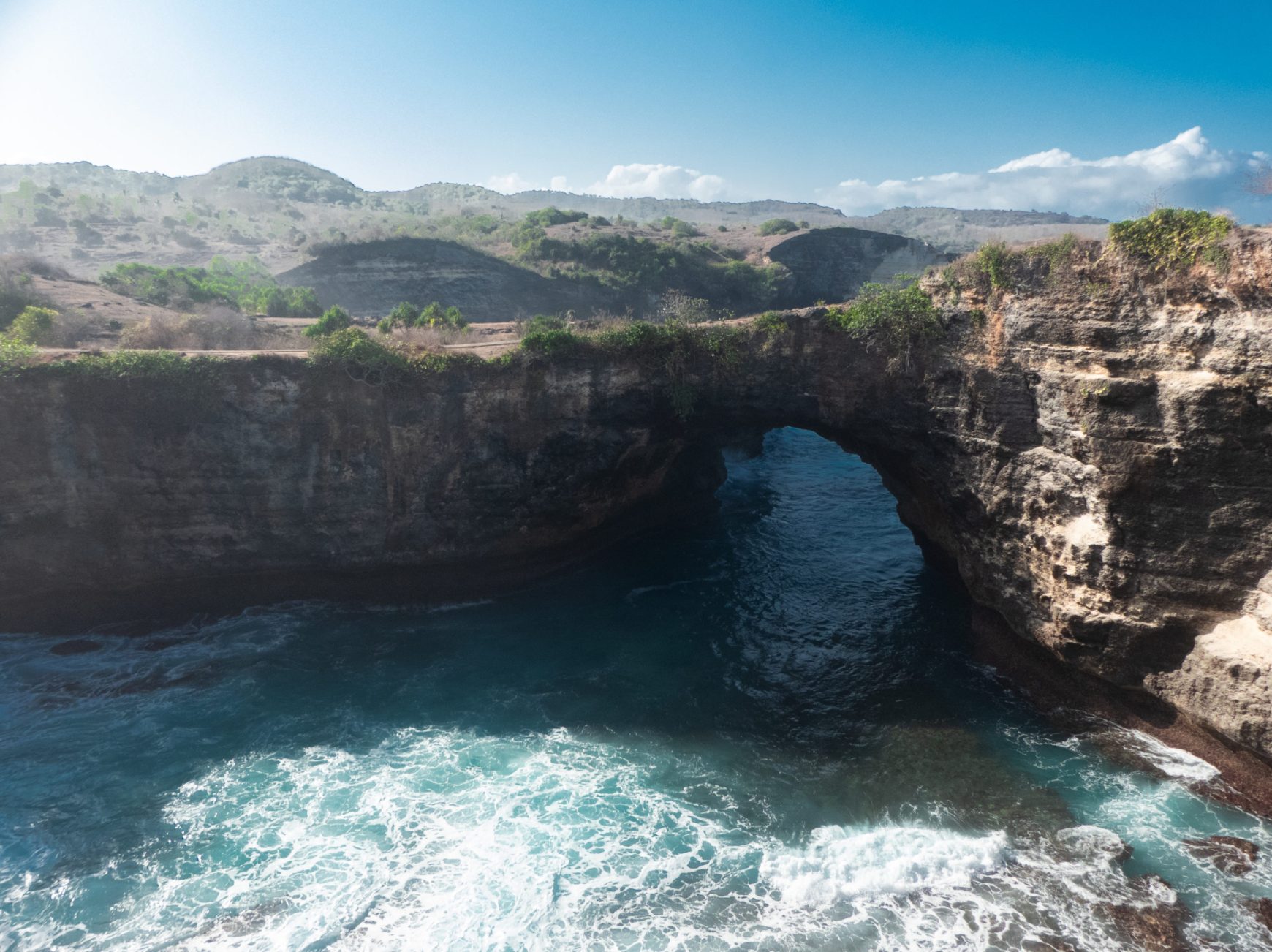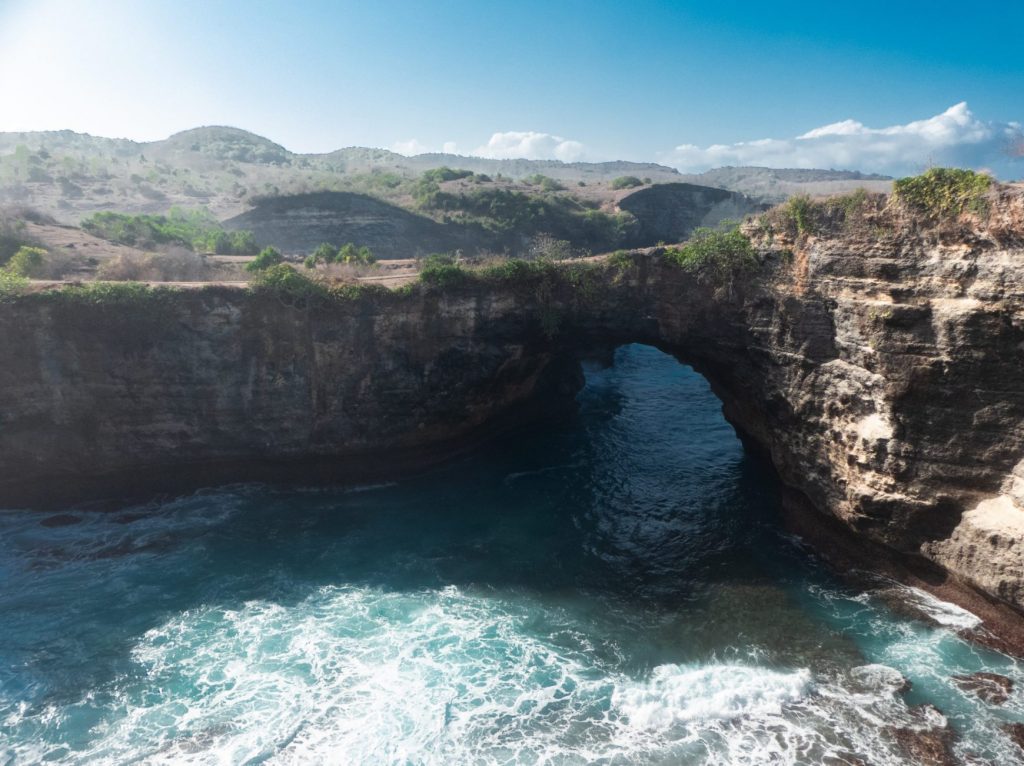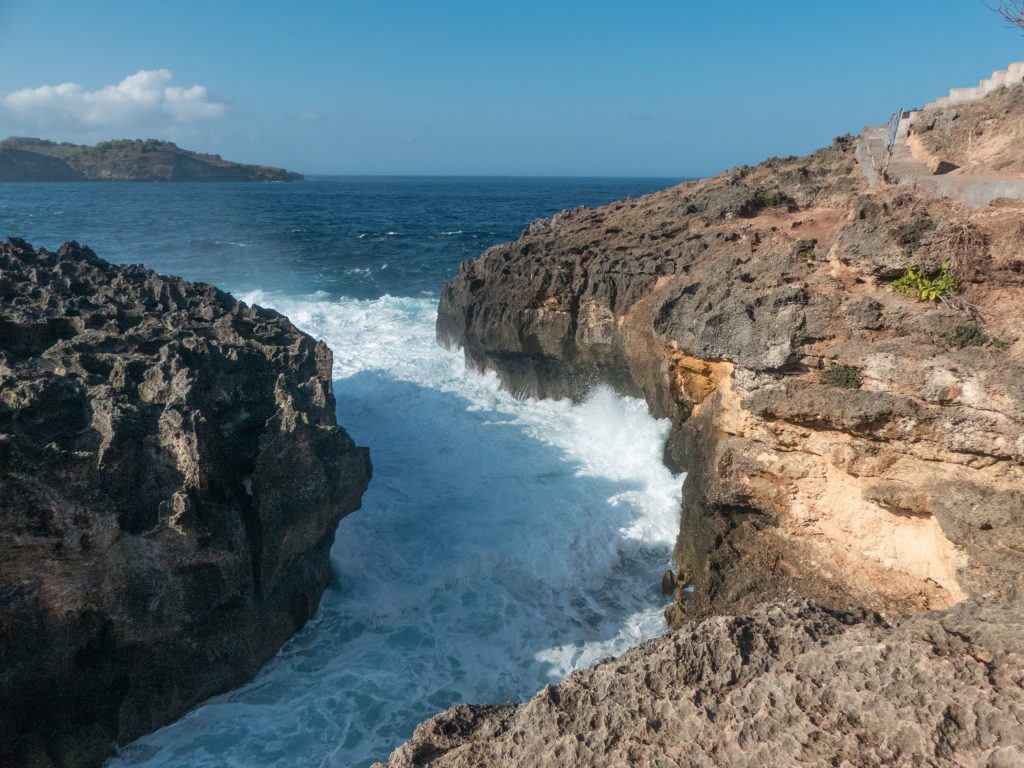 HIRING A DRIVER
Plenty of people chose to explore Nusa Penida via car. Many locals earn their living by providing taxi and day-trip services. You can hire a driver for 10 hours which will cost you roughly IDR 500,000 (~ €32) including parking and petrol. During this time the driver will take you anywhere you like, within reason of course. Make sure to tell them your itinerary beforehand and they will let you know what's realistic.
You can find numbers for drivers online in Facebook groups or on Google. I'd be happy to recommend drivers if you send me a private message.
You can also ask your accommodation in Nusa Penida, however, you'll have a harder time bargaining for a good price.
Make sure you don't overpay and give your driver a tip at the end of the day if they did a good job. It's also customary to pay for their lunch.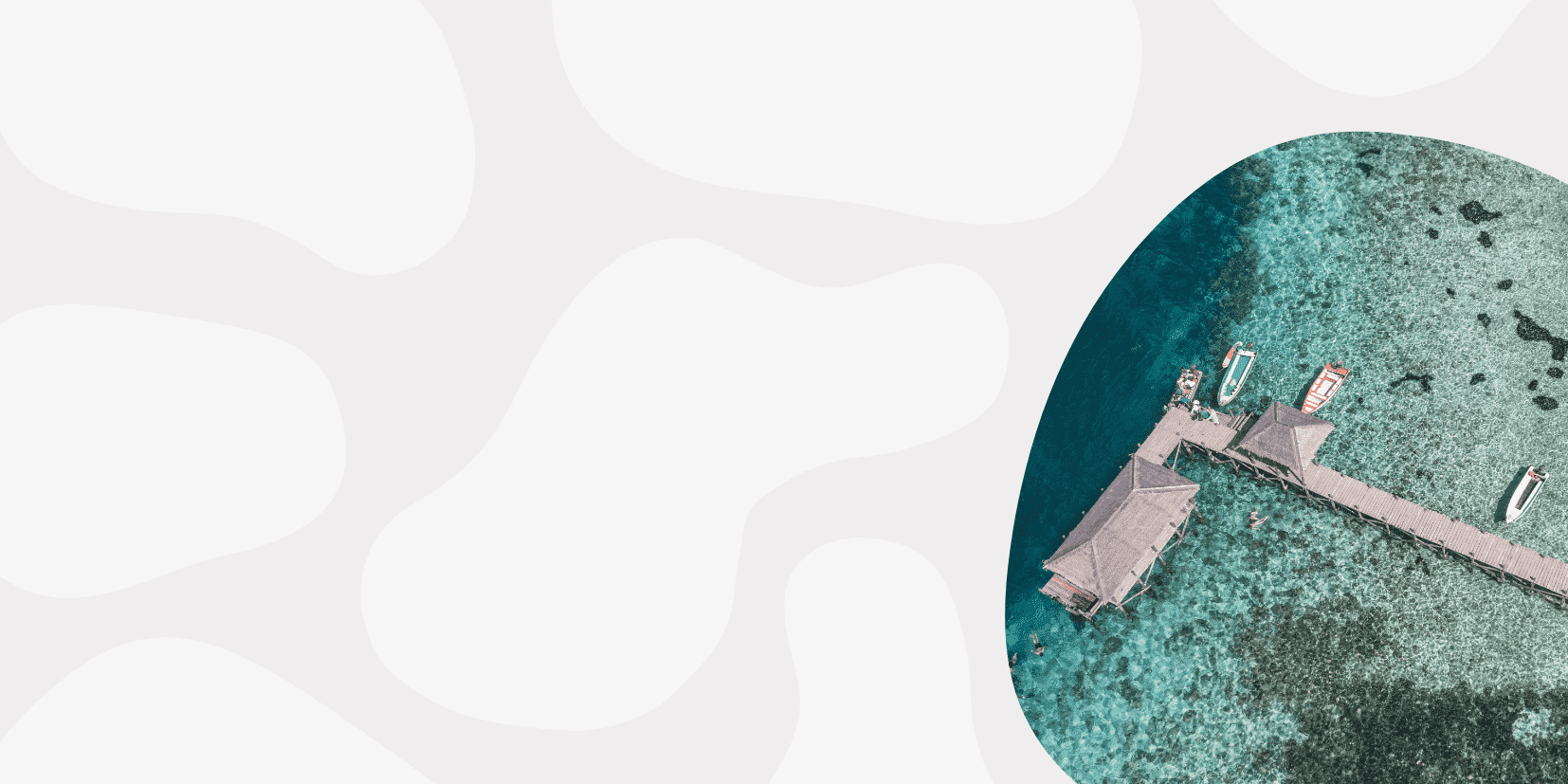 Let me save you time and effort when you're travel planning!

➼ Best travel insurance? SafetyWing
➼ Best place to find cheap flights? Skyscanner
➼ Best bank & credit card for travellers? Wise
➼ Best travel backpack? Osprey Farpoint 70
WHERE TO STAY ON NUSA PENIDA IF YOU WANT TO VISIT ANGEL'S BILLABONG AND BROKEN BEACH
In general, you should try to find accommodation close to the northern beaches of the island. You'll find the best selection of restaurants and shops close to the two harbours, especially Buyuk Harbour. The stretch of road between the two is paved and easily manageable by scooter, unlike the rest of Nusa Penida.
The centre of the island is not very interesting and you'll have trouble getting around the further you move away from the coast. Unless it is very cheap it's not worth staying here.
If you're visiting Nusa Penida you'll have to spend some time driving around anyway, whether that is in a car or on a scooter. There is no real point in trying to find a place to stay close to Angel's Billabong and Broken Beach. You'll be much better off in the north of the island enjoying the beautiful beach during your downtime.
Not sure which hotel to pick? Check out Rama Homestay for affordable beach bungalows with a great location!
Top tip: Always compare prices for hotels. We at Guide your Travel prefer Booking.com, Agoda or Hostelworld for finding the best deals.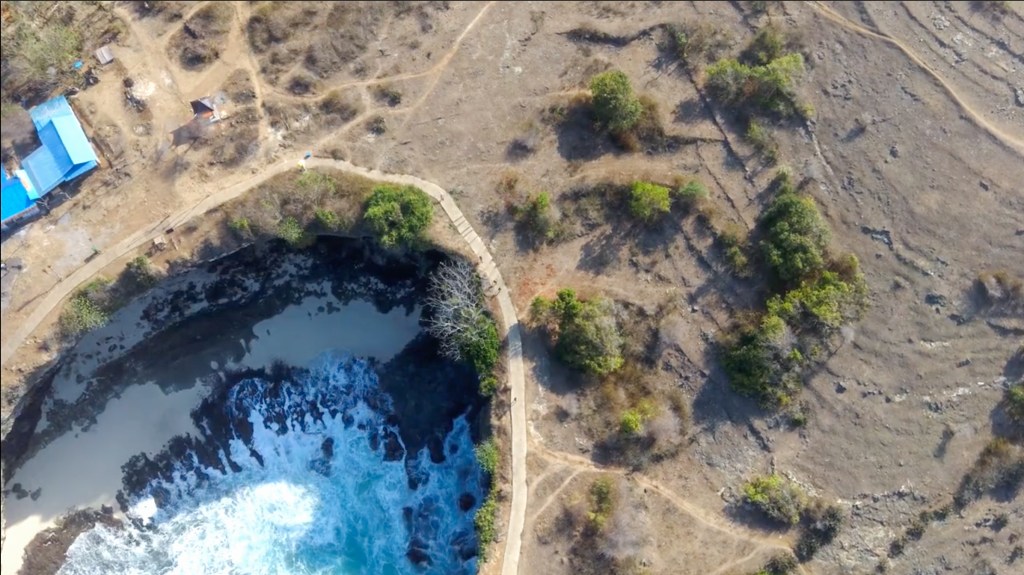 ENTRANCE FEE AND PARKING AT ANGEL'S BILLABONG IN NUSA PENIDA
There is no entrance fee to Angel's Billabong or Broken Beach (as of 2022), however, there is an IDR 5,000 (~ €0.30) parking fee enforced. Parking doesn't have a time limit and your driver will most likely pay this.
RESTAURANTS AND BATHROOMS
You'll find a good handful of restaurants (warungs) close to the parking area at Angel's Billabong. You'll get a decently cheap Nasi or Mie Goreng here but not western food.
Many of the little warungs have their own bathrooms which you can use if you eat there or pay them a small fee (usually IDR 5,000 (≈ 0,30€)). The bathrooms are very basic but usable.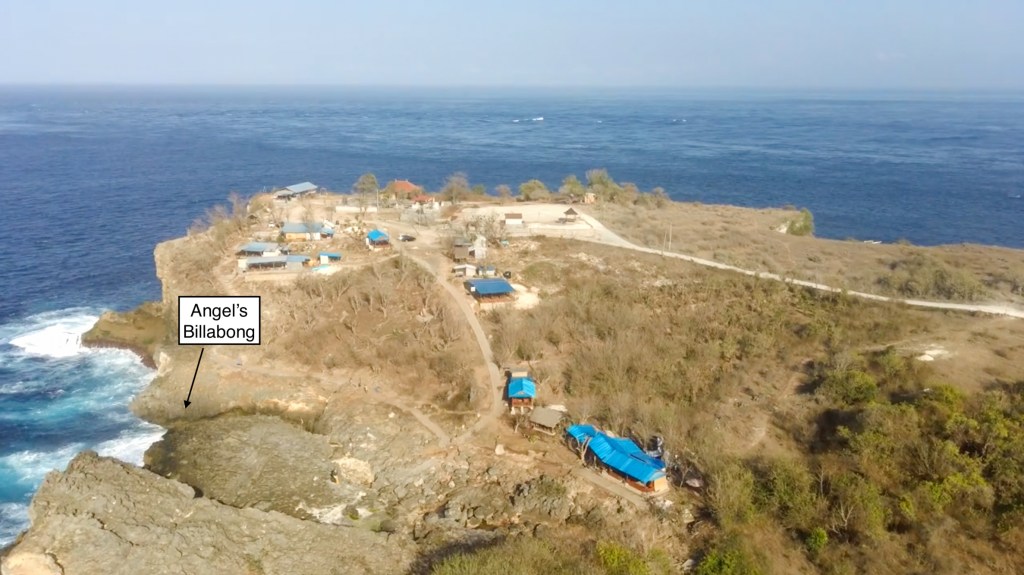 WHEN TO VISIT ANGEL'S BILLABONG AND BROKEN BEACH
This will probably not come as a surprise but the earlier you come the better. As a tourist in popular south-east Asian travel destinations, you'll have two enemies: the heat and the other tourists. Usually arriving somewhere any later than 9:30 AM will mean you'll have trouble with both.
Keep in mind that Angel's Billabong is the number one spot to visit for day-trip tourists. They'll arrive at the harbour early in the morning and flood the little cove in a wave of clicking cameras and selfie sticks.
If you're planning to take any sort of photos while you are there I can only advise you to come early.
Plus the heat will make your time at Angel's Billabong not very enjoyable. There is next to no shade and you'll want to leave as soon as possible without getting to enjoy this beautiful place.
So how early is enough? Aim to be at Broken Beach at 8:00 AM at the latest. If you come at 7:00 am you will be guaranteed to only be sharing the place with a handful of other visitors.


ANGEL'S BILLABONG; IS IT DANGEROUS?
Angel's Billabong has a reputation of being a very dangerous spot if you're planning to swim. It's important to mention that locals prohibit anyone from entering the water if it is not low tide and that is for a good reason.
The billabong might look calm but waves from the ocean flood it in irregular intervals that are impossible to predict. Once a wave hits it sucks the water out with such extreme force that swimmers are washed out to the open ocean even if they're close to the steps.
Yes, the waves can be so powerful that they wash away anything even at the back of the natural pool.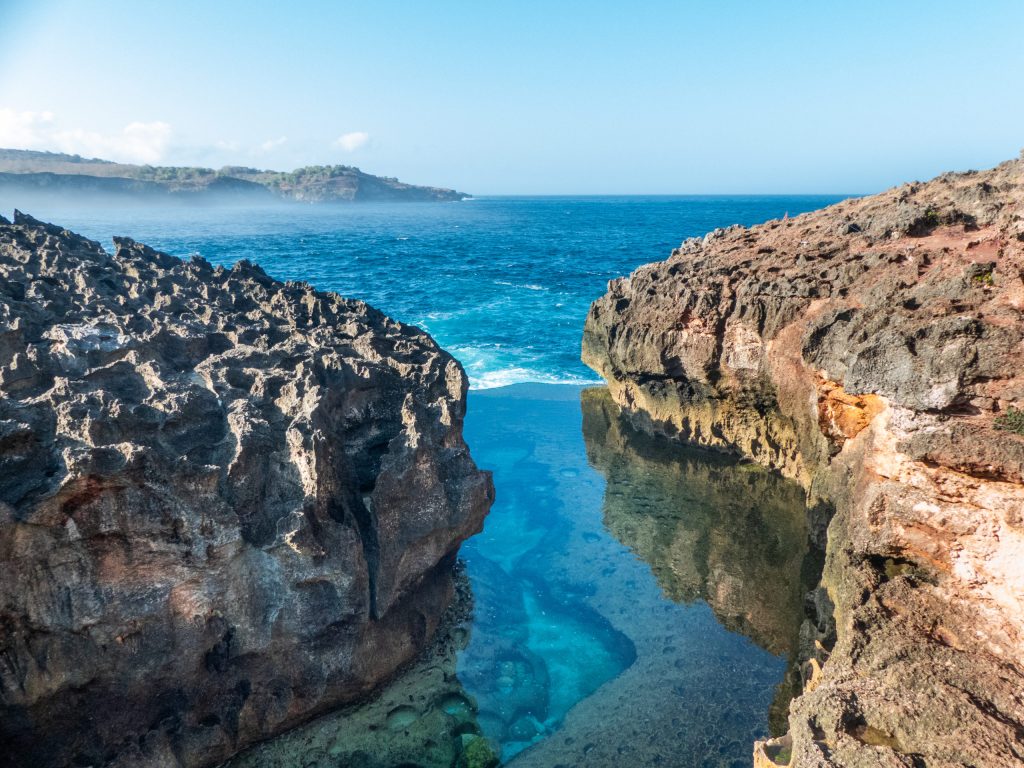 The problem is that this is not apparent when you first arrive. Sometimes the water is completely calm for more than 30 minutes until another wave hits. Even during low-tide, this is extremely unpredictable.
You're technically allowed to swim during low tide but that doesn't mean that it's completely safe. You are not allowed to go towards the front of the billabong although daring tourists routinely disregard the locals trying to enforce this rule.
As tempting as it may seem to take the perfect picture close to the edge, it's extremely dangerous. In mid-2018 a Chinese tourist lost his life this way. The ocean in Nusa Penida is so violent it's often impossible to start a rescue mission if someone is in the water.
There are many more horror stories of people dying at Angel's Billabong. It's a real danger if you don't use your common sense.
Enjoy this beautiful spot from afar and don't swim here, even during low-tide.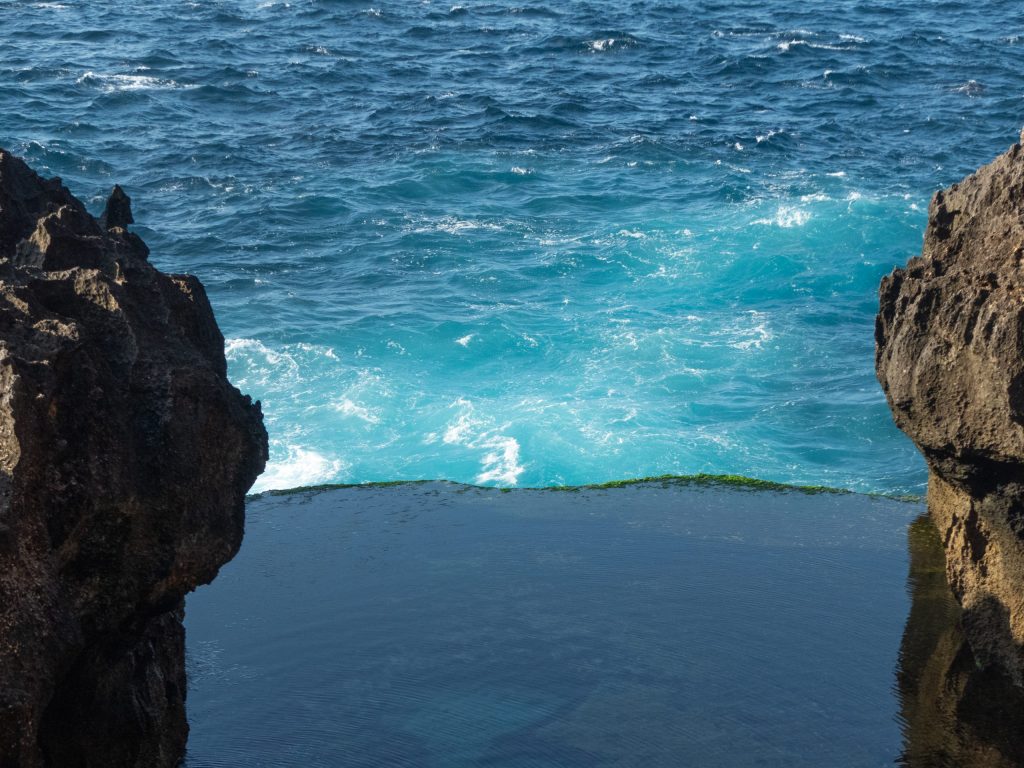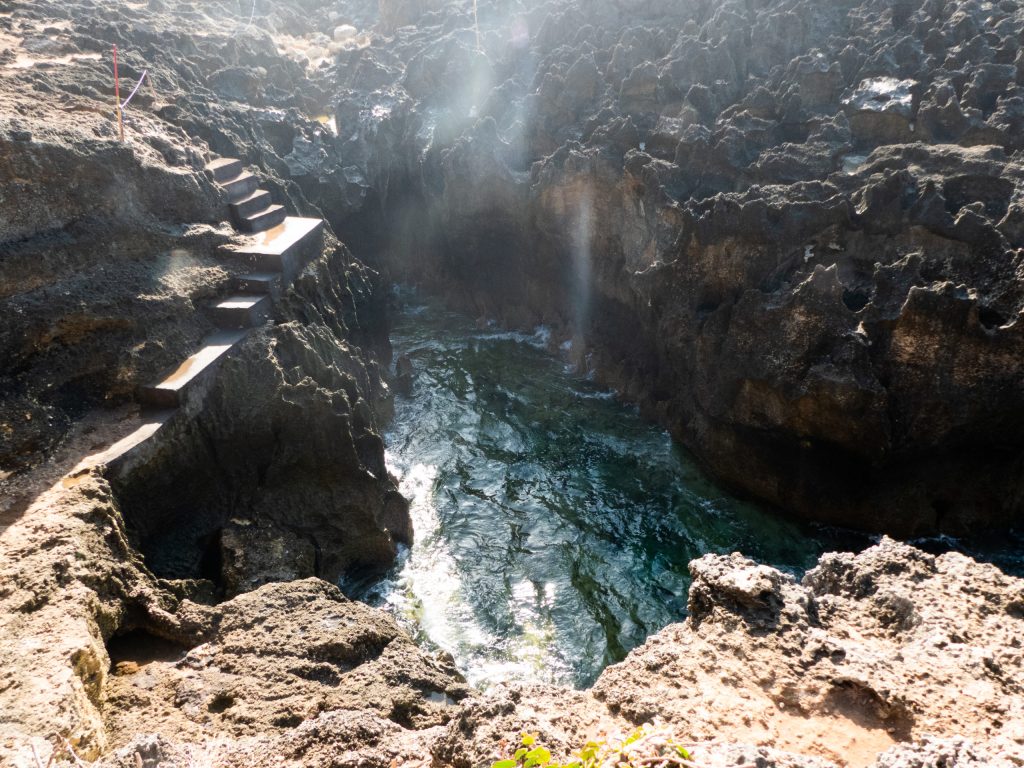 BROKEN BEACH
Broken Beach is only a 2-minute walk away from Angel's Billabong. It's short and easily manageable.
You can walk around the entire circumference of Broken Beach including on top of the giant archway that acts as the entrance to the cove. During the day this will be covered with tourists but in the early morning, you'll most likely be there by yourself.
As it is the case at most tourist locations in Nusa Penida there are no railings to protect you from the steep drop to the beach below. Don't come to close to the edge and always be careful where you step.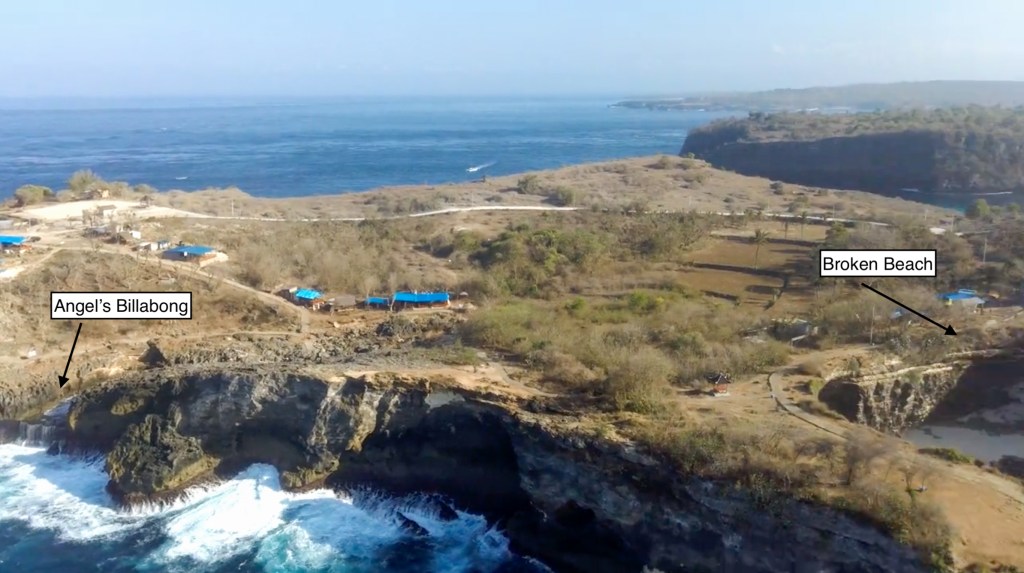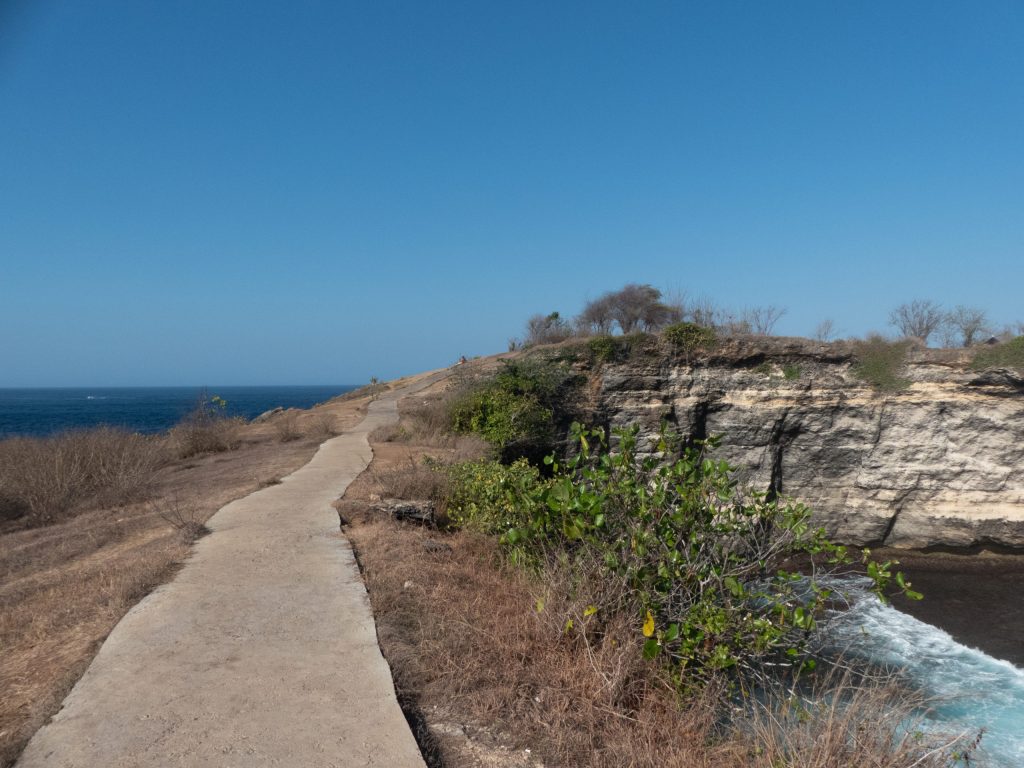 MANTA VIEWPOINT
As you walk from Angel's Billabong to Broken Beach you'll pass by a little cliff that faces the open ocean. It's a bit tricky to find so make sure to ask some of the locals if you're not sure.
Here you can watch manta rays hunt for fish in the ocean below. This is mostly possible during low tide although it's worth checking out in case you get lucky during high tide as well.
You might need a bit of patience depending on what time you visit.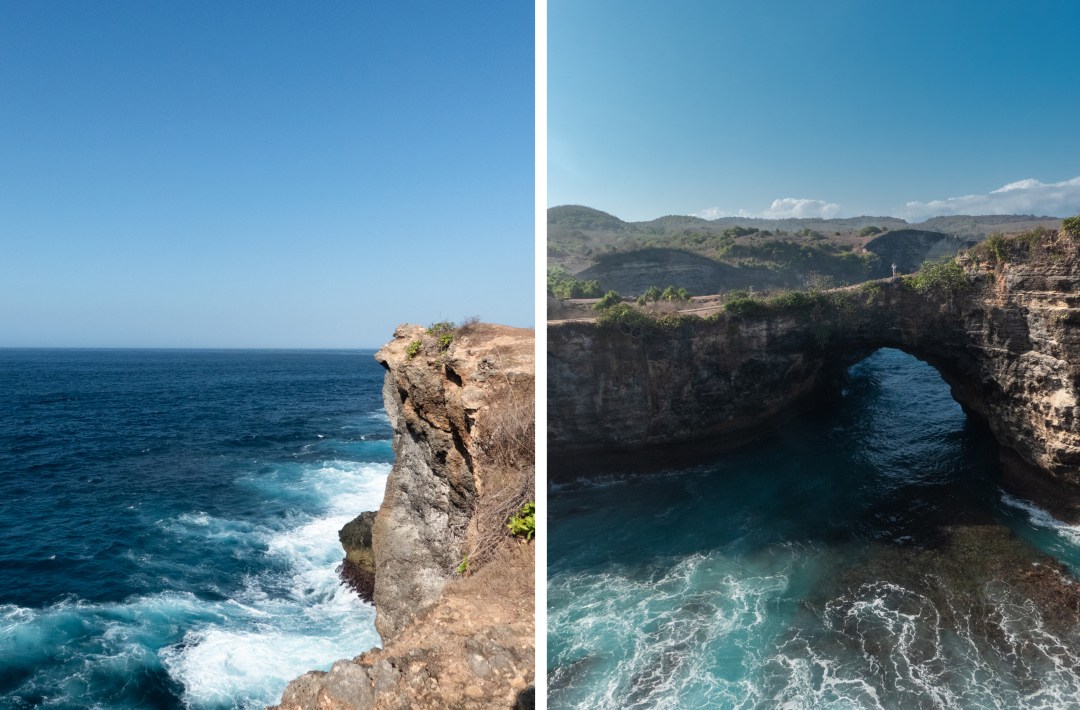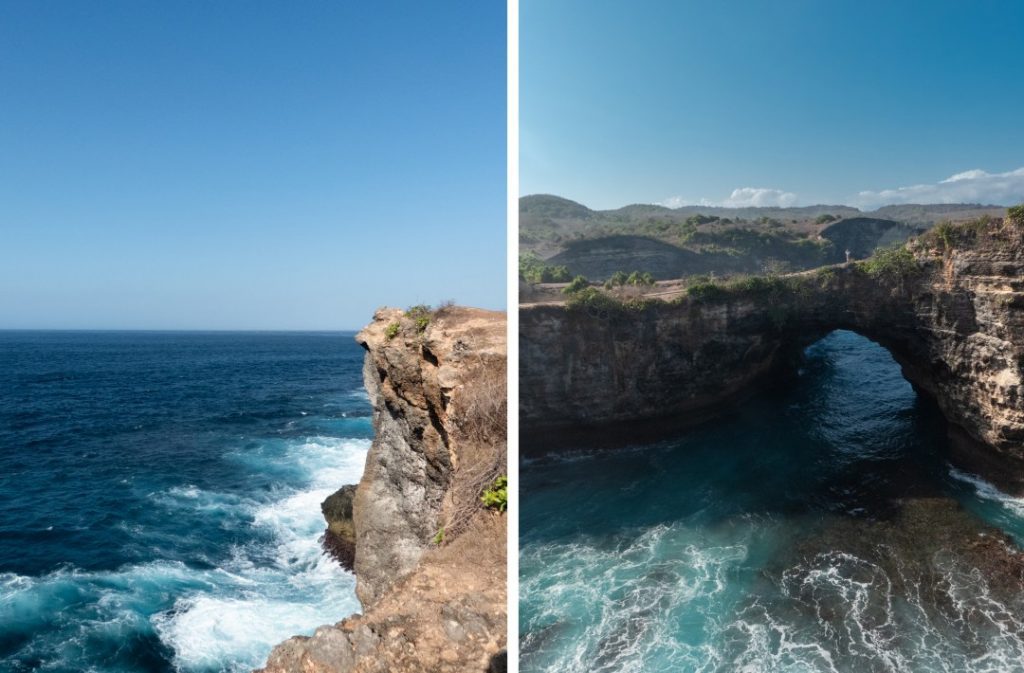 TIDES
It's best to visit Angel's Billabong and Broken Beach during low tide, where the water is calm and you could technically swim at Angel's Billabong (if you stay far away from the edge).
However, don't be discouraged by high tide. This will simply mean that the ocean won't be as calm and you can watch the spectacular waves.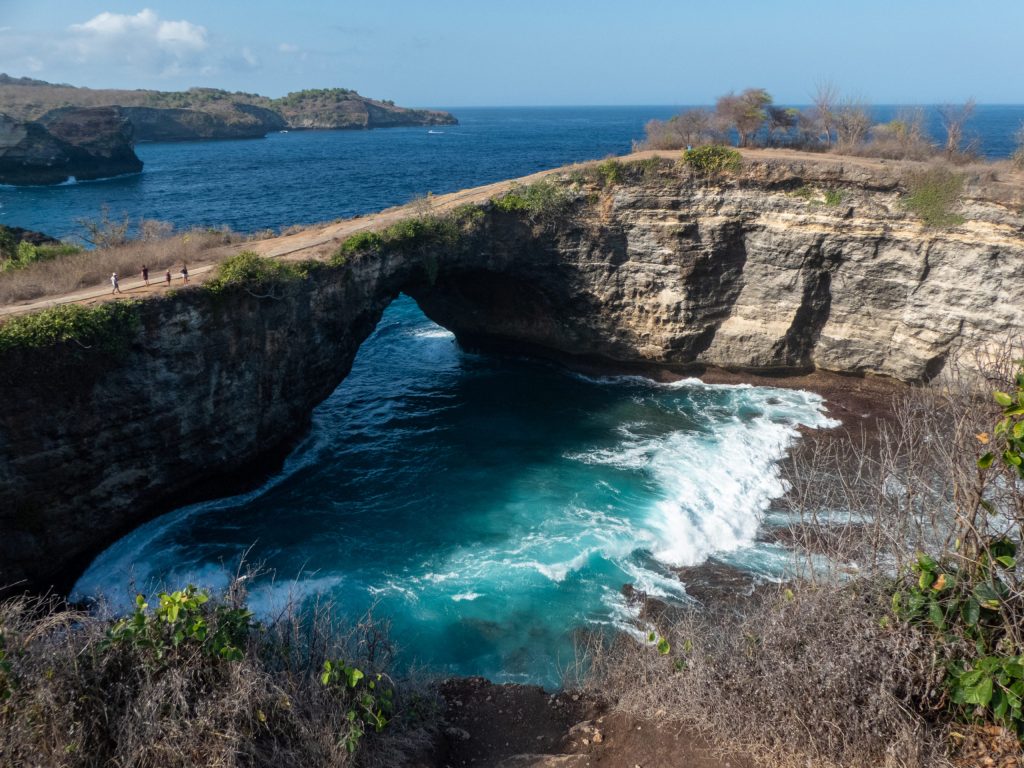 DRONES
Both Angel's Billabong and Broken Beach are perfect spots for flying a drone. There are no drone regulations or fees.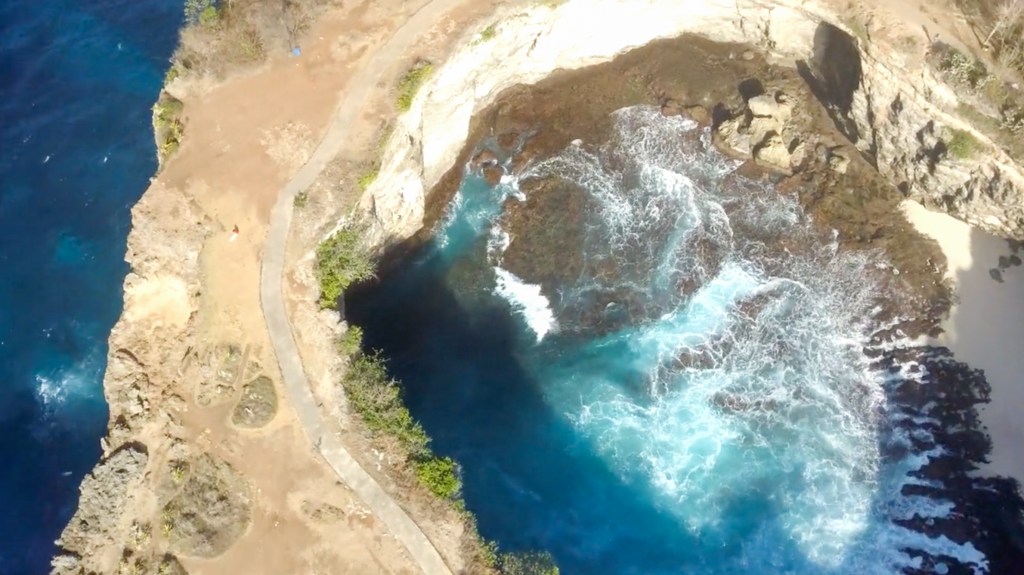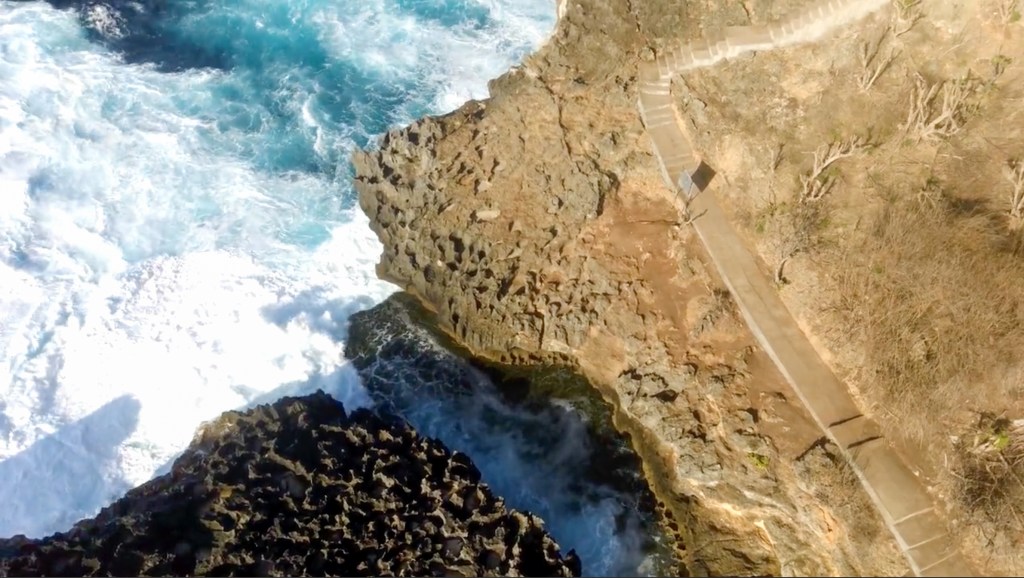 WHERE TO GO AFTER ANGEL'S BILLABONG AND BROKEN BEACH
It's best to split Nusa Penida into two day-trips, one to the east coast and one to the west. Since Angel's Billabong and Broken Beach are in the west you should go to Kelingking Beach, Crystal Bay and Tembeling Beach and Forrest on the same day
Diamond Beach, Atuh Beach, Rumah Pohon Treehouse and the Thousand Island Viewpoint are located on the east coast and should be visited on another day.
Are you planning a trip to Nusa Penida? Check out this handy 3-day itinerary for the island.
DON'T MISS OUT ON ANGEL'S BILLABONG AND BROKEN BEACH IN NUSA PENIDA
Put Angel's Billabong and Broken Beach on your itinerary if you haven't been to Nusa Penida yet. They might be cliche tourist destinations but if you go early in the morning you can enjoy a magical experience at one of the island's most beautiful spots.
Travelling on a budget? Check out these 21 tips on how to save money in Indonesia.
My most important travel tips and resources
Book your flights
Skyscanner is the best website for finding cheap flights since it works like a search engine so you can find the best deals across all airlines.

Book hotels and hostels
• Booking.com: Best world-wide
• Agoda: Best in South East Asia
• Hostelworld: Best for hostels

Book tours, transport and rental cars
•Viator: The best place to book tours, day trips and excursions for al budgets
•12Go: Great for ferries, trains, transfers and buses in South East Asia
•Discover Cars: Best deals for rental cars around the word

Get travel insurance
Every traveller needs travel insurance and I mean every single one. SafetyWing covers you in case of injury, illness or worse and they've got your back if your bag is stolen, flights are cancelled or in case of a natural disaster.

Pay abroad
Ask any traveller, Wise is the best choice when it comes to sending money abroad. They've always got the best exchange rates, lowest fees and their visa card is great for getting cash out or paying abroad.

Things every traveller needs:
➼ Osprey Farpoint 70 Backpack
Detachable daypack, ultra-light, durable and free repairs for life. There's a reason why so many backpackers have this bag.
➼ Packing Cubes
Packing cubes are a gamer changer, keeping your luggage organised and providing tons of extra space.
➼ Power bank
There is nothing worse than running out of battery on an overnight bus journey or a long flight. With a powerbank you can charge your eletronics on the go and make sure you're always connected.
➼ Micro-fibre towel
These lightweight towels are foldable, fast-drying and so useful when you're travelling.

➼ You can find 15 more things every traveller needs here. Some might be a bit controversial but I warned you!
Did I miss anything?
If you have any questions or feel like something is missing from this post please leave a comment below or contact me.