LXXY is one of Kuta's newest nightclubs and is on the fast track to being one of the most popular ones in Bali.
It has three areas; INKK a venue space open for specific events, then there's the LYYX nightclub and finally the rooftop pool club. The latter is where the nightly all-inclusive BBQ is held, which is the main focus of this post.
This post may contain affiliate links, which means we'll receive a commission if you purchase through our links, at no extra cost to you. This helps us keep Guide your Travel free and provide high-quality content for you. Please read the full disclaimer for more information.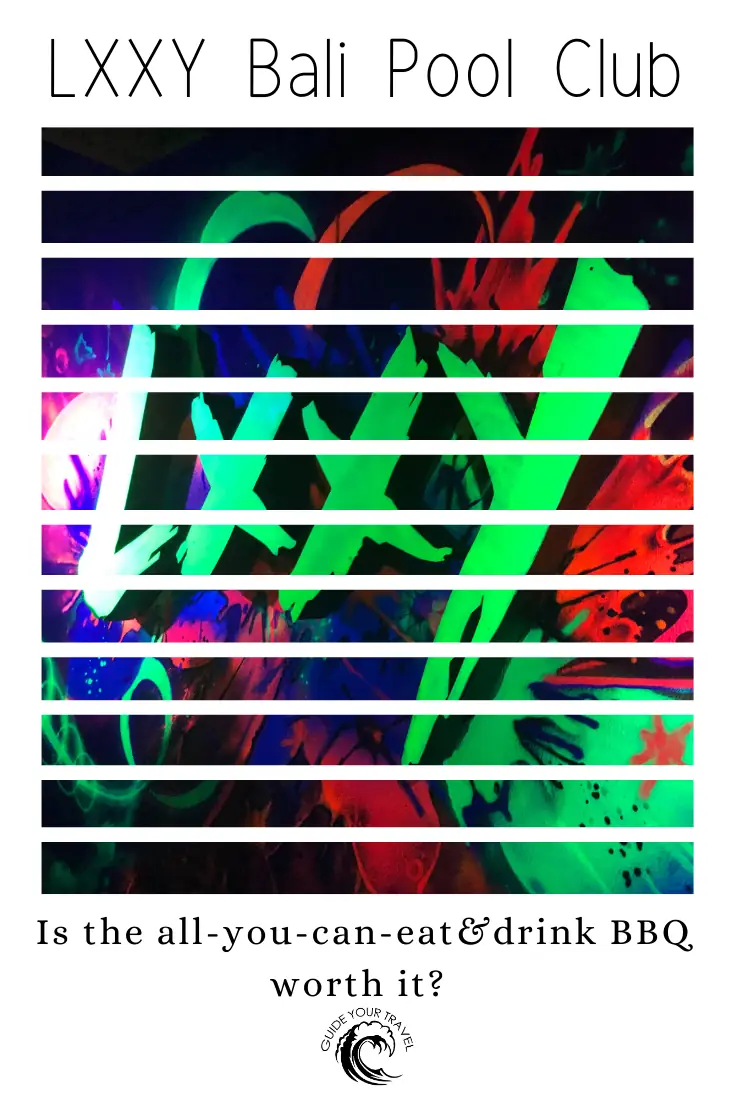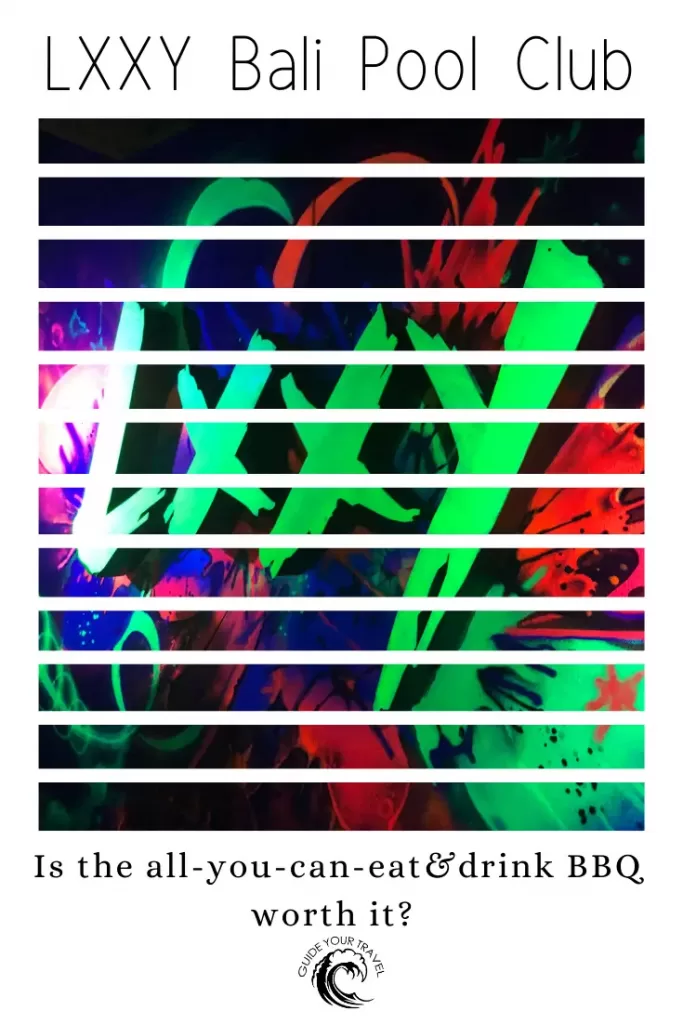 WHERE IS LXXY IN BALI?
LXXY is located on Kuta's popular party street Jalan Legian. This is the place where thousands of tourists get drunk every night and can be compared to Spain's Lloret de Mar or Magaluf.
This street is probably the main reason for Kuta's bad reputation but if you're looking for Bali's wildest nights out then this is the place to go.
Address: Jln Legian No.71, Kuta, Badung Regency, Bali 80361, Indonesia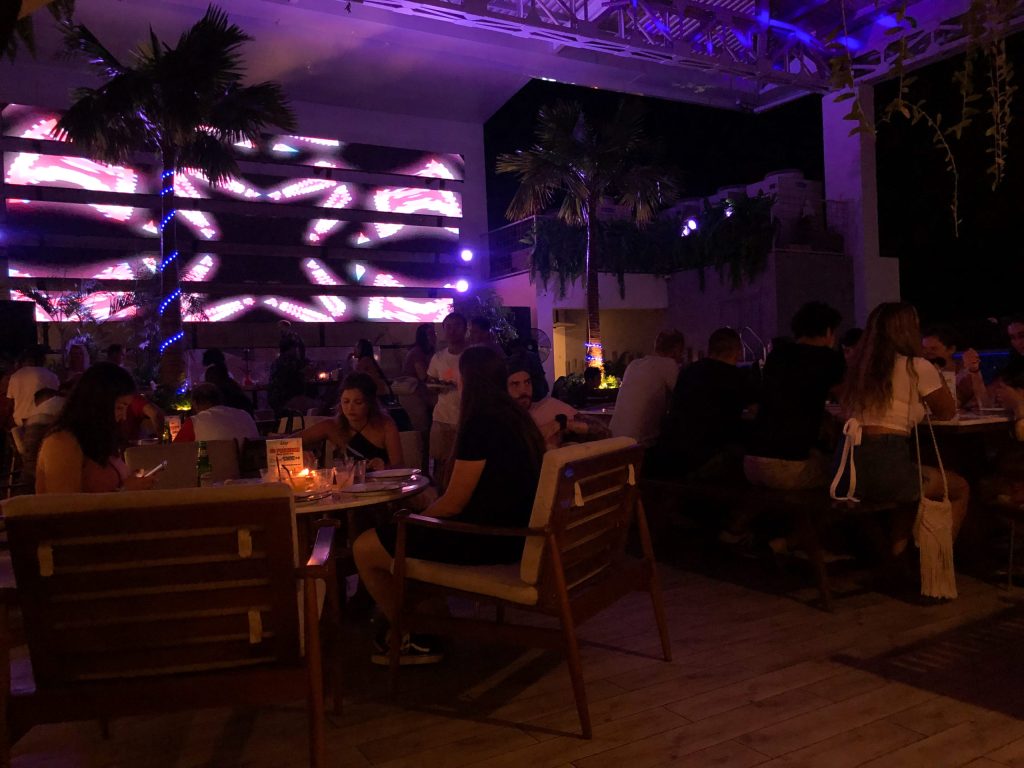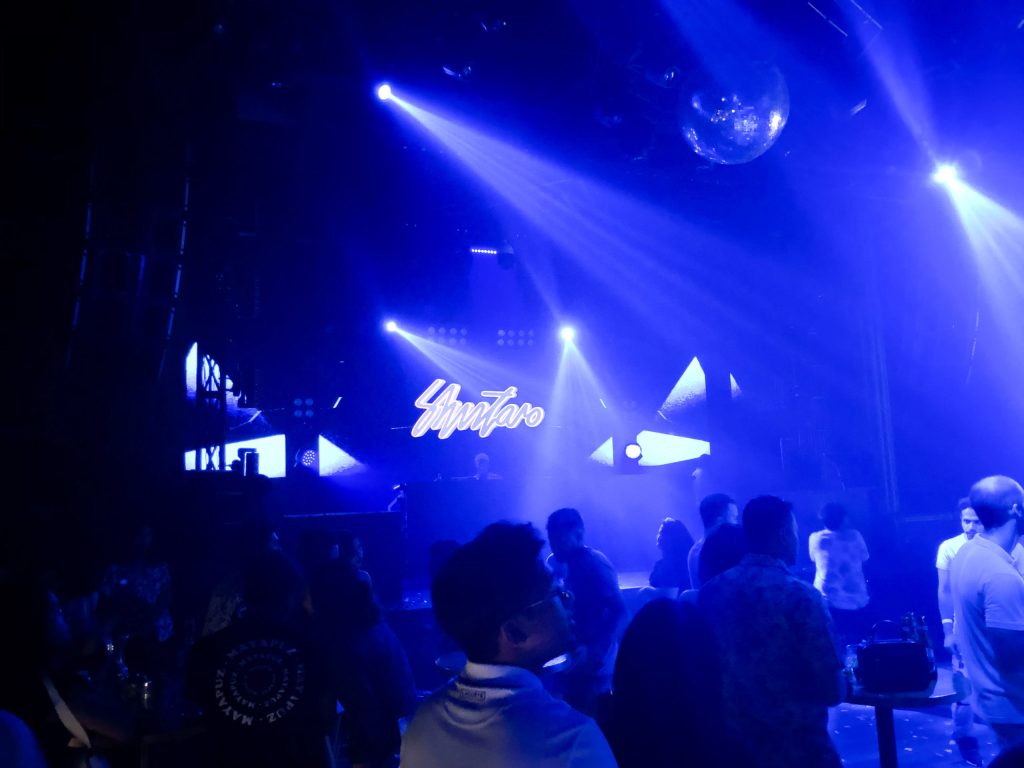 ALL-YOU-CAN EAT&DRINK NIGHTS IN BALI
The all-you-can-eat&drink-BBQ isn't a new phenomenon in Bali. There are several other establishments that offer very similar events, most notably the notorious Skygarden.
Skygarden has a similar setup with a popular club downstairs and a rooftop lounge where visitors can enjoy an all-you-can-eat BBQ and free-flow drinks from 6:00 PM to 10:00 PM.
What sets LXXY apart is the fact that their free-flow and BBQ extends for much longer (six hours rather than 2) and is available until 11:00 PM, which gives you a smooth transition into clubbing. Their price is the same although Skygarden offers an extended package (5:00 PM to 9:00 PM) for IDR 30,000 (~ €1.90) more. This is quite reasonable, however, it would require you to arrive very early to get your money's worth of drinks.
Skygarden is definitely more famous than LXXY but it's also been around longer. In the end, it's up to you which one you choose. Skygarden doesn't always have the best reputation but reviews are mixed.
LXXY might just be the new and upcoming favourite when it comes to free-flow drinks and all-you-can-eat buffets.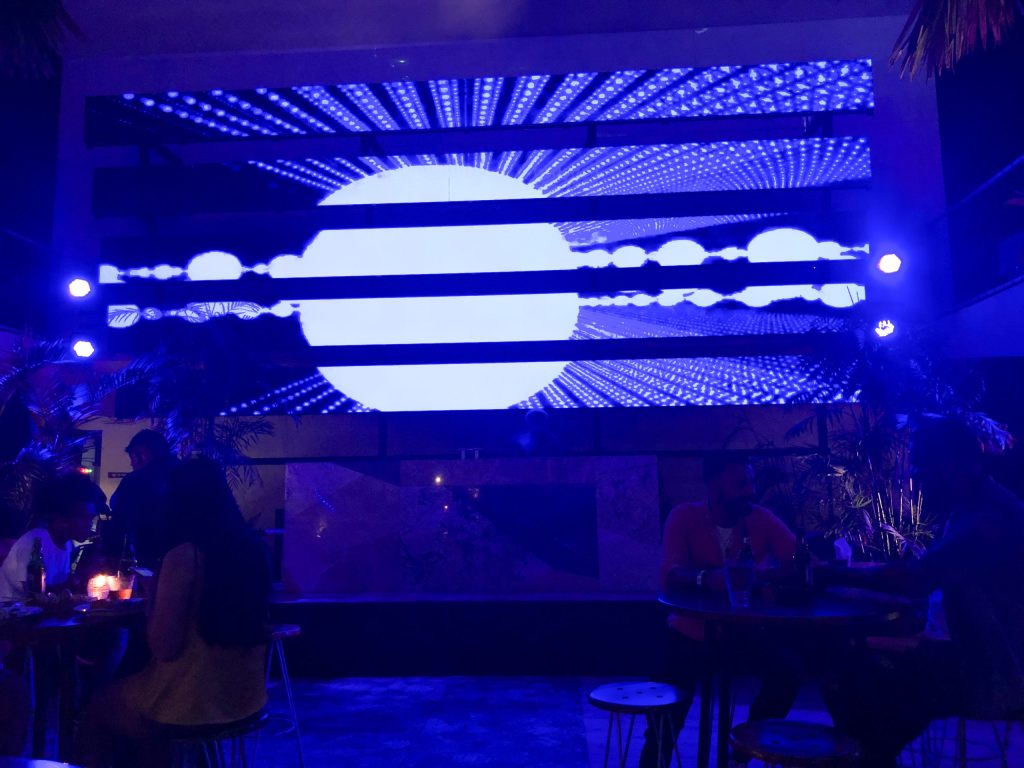 LXXY PRICES AND OPENING TIMES
The free-flow drinks and all-you-can-eat BBQ buffet are available at LXXY Pool Club from 6:00 PM to 10:00 PM daily. You can arrive at any point during this time frame and will have to pay IDR 150,000 (~ €10) for the whole package.
The LXXY nightclub opens later during the night, usually around 9:00 PM until 12:00 AM.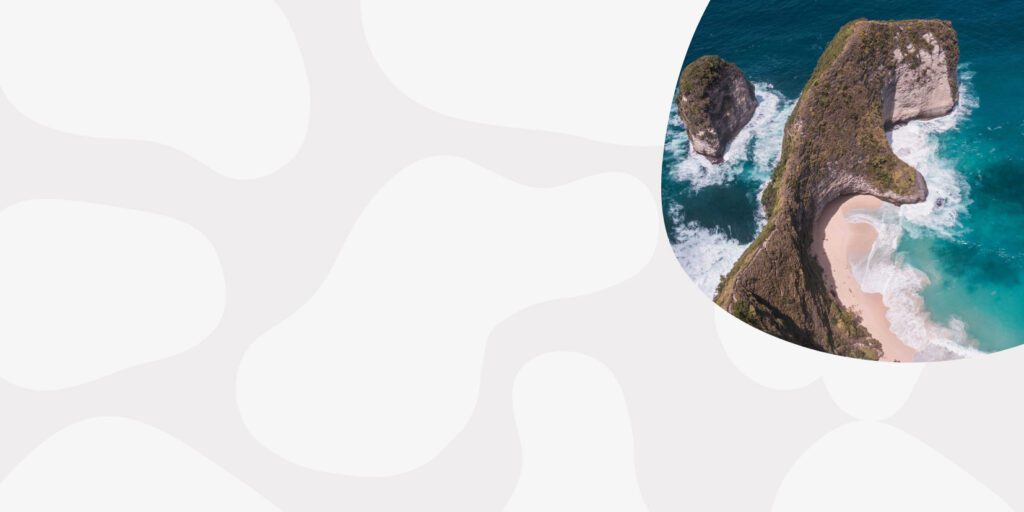 Save time when planning a trip to Bali

➼ 8€ airport pickup? Klook
➼ Best travel insurance? SafetyWing
➼ Accommodation? Agoda or Hostelworld
➼ Where to get cash out for free? Maybank ATM
➼ Best SIM card? Telkomsel
➼ Best place to book flights? Skyscanner
WHAT'S INCLUDED IN LXXY BALI'S ALL-YOU-CAN-EAT&DRINK?
THE BUFFET AT LXXY BALI
As you walk in you'll immediately be presented with a buffet of various food. It may not look like a lot of variety initially but the key to this buffet is that it changes regularly throughout the night.
This means that the dishes offered at around 6:00 PM will be completely different from those at 8:00 PM and so on.
Of course, some of the basic options such as bread, the BBQ choices and the salad bar will be available at all times.
Some examples of food we encountered throughout the night at this buffet were: pizza, bruschetta, an entire brisket cut right in front of you, fried noodles and rice, fried eggplant, fried potato, curry dishes, sushi, garlic bread, fish dishes and many more.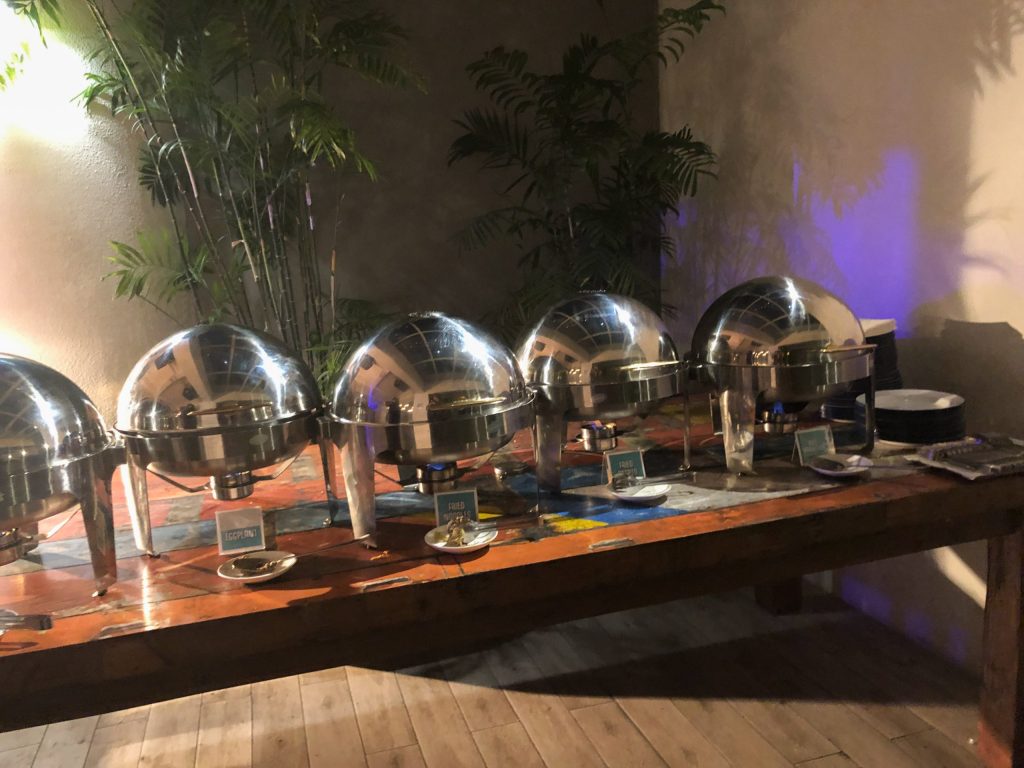 THE BBQ
Then there's the BBQ, of course. You chose your items from a selection of skewers which are then barbecued and brought to your table.
Unfortunately, the BBQ exclusively has skewers, no other options. However, I will note that these were very high quality and tasted delicious.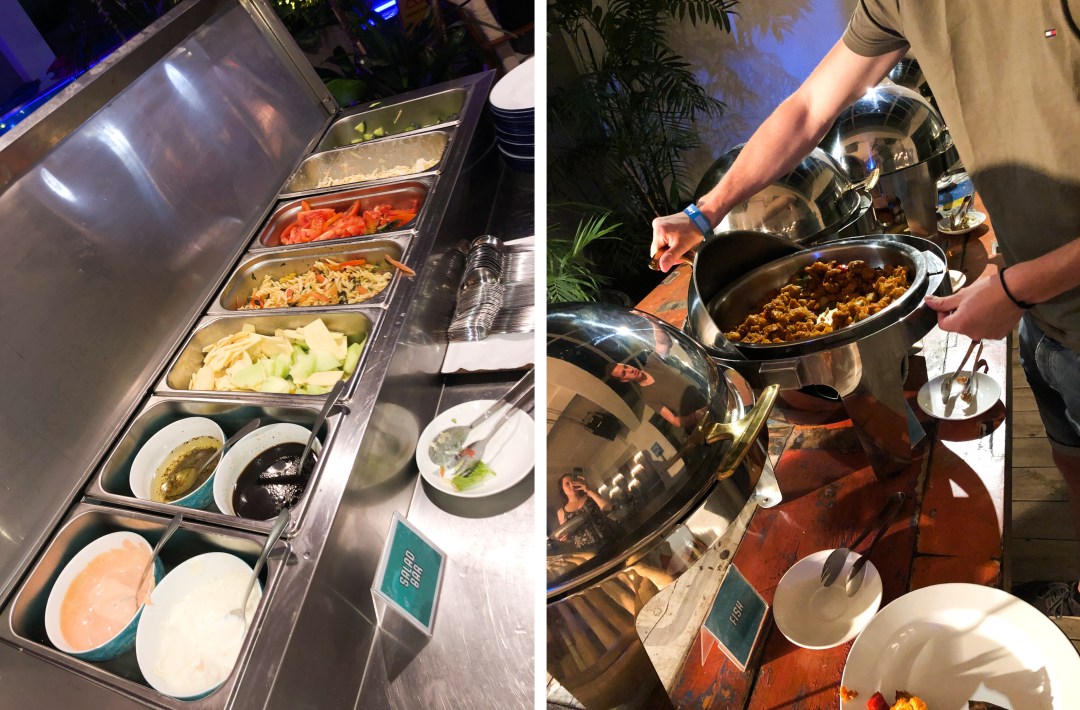 THE NOODLE STATION
Next to the BBQ, there is a custom noodle bar where you can choose from a variety of sauces and have them make a pasta dish to your taste. They offer both western as well as Asian options.
They will also make popular soups here such as Tom Kha Gai.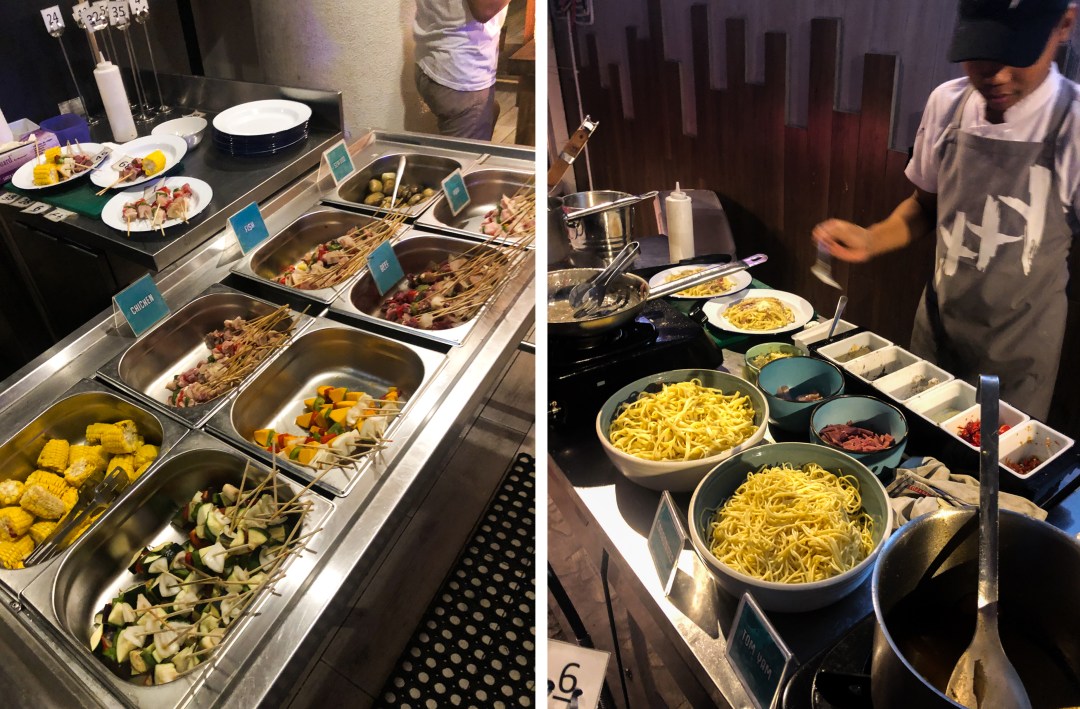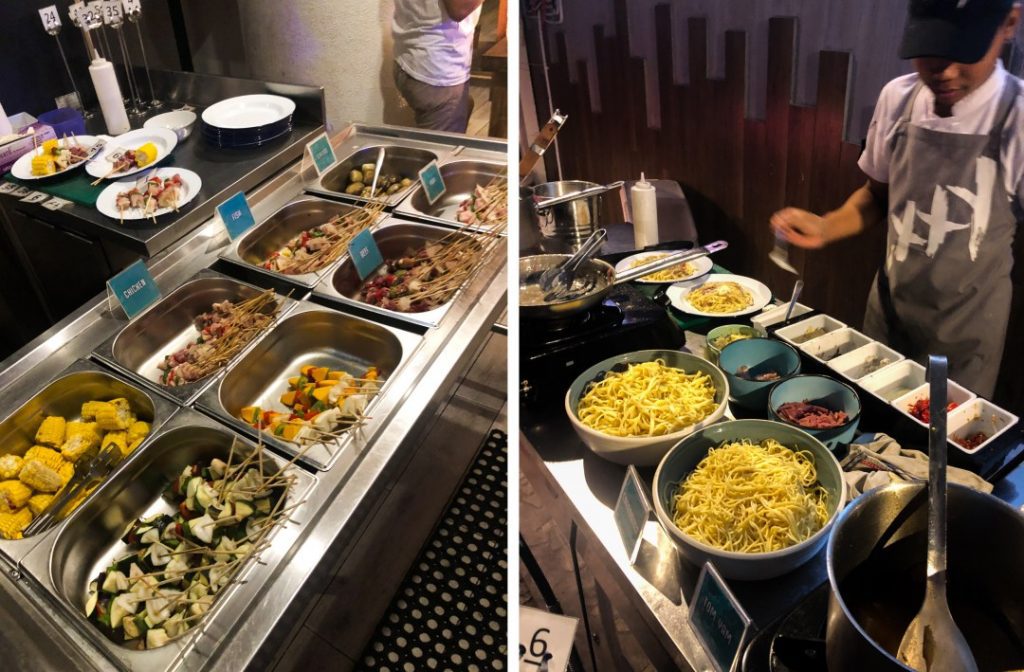 THE SALAD BAR
You'll find a small salad bar opposite the BBQ station. The selection is not very large but there are staples such as coleslaw, pasta salad and greens as well as a good variety of dressings at your disposal.
DESSERTS
After you've come back for seconds or thirds you can finish your night with something sweet. As with the salads, the selection is not incredibly varied but sufficient. You'll find ice cream, banana fritters, fruit and some baked goods.


IS LXXY SUITABLE FOR VEGETARIANS?
As a vegetarian, I have to say I was very satisfied with the options I had. There were different types of vegetable BBQ skewers and I did not feel as though I was eating sides all night.
They definitely tried to provide vegetarian as well as vegan options and I would pay for this buffet again in a heartbeat.
ALCOHOL
As it is common with free-flow bars, you can only order one drink at a time at LXXY Bali. Some of the drinks included are Prost beer (bottled), as well as vodka, gin, whiskey mixers. You can purchase other drinks at the bar (not included in the free-flow).
Of course, the mixers are not the strongest. You will just have to expect that from the beginning. LXXY Bali is probably more suitable for those drinking beer or willing to drink A LOT of spirit-mixers to feel the alcohol.
Sometimes they have a promotion for free-flow cocktails for ladies between 9:00 PM and 11:00 PM although this seems to be sporadic.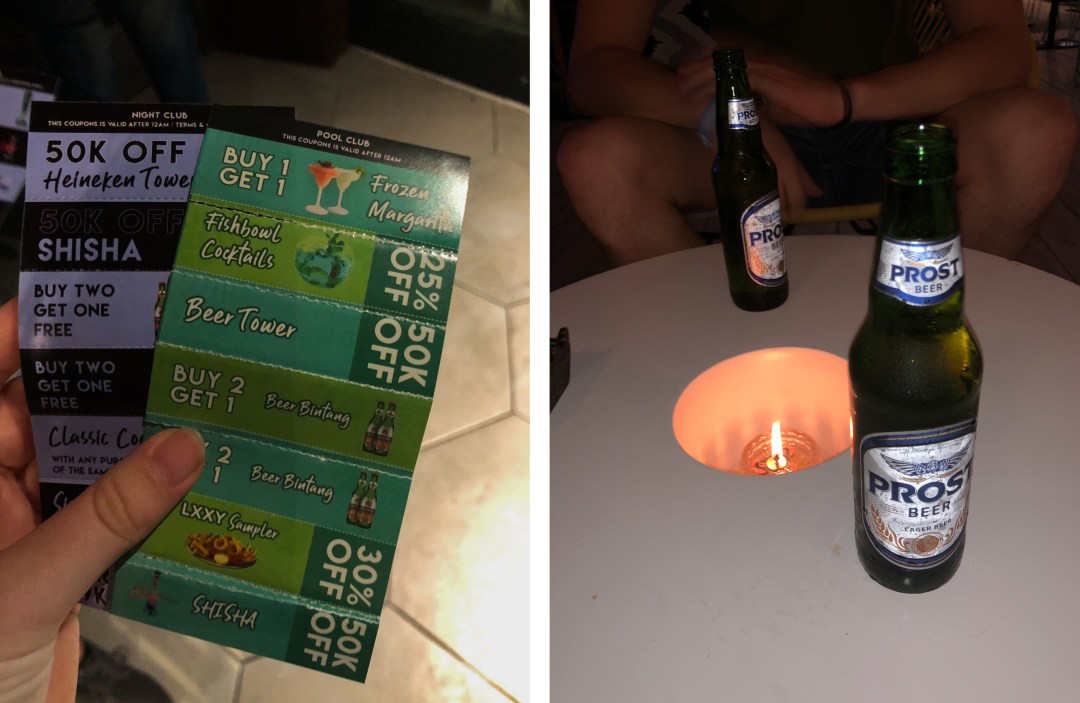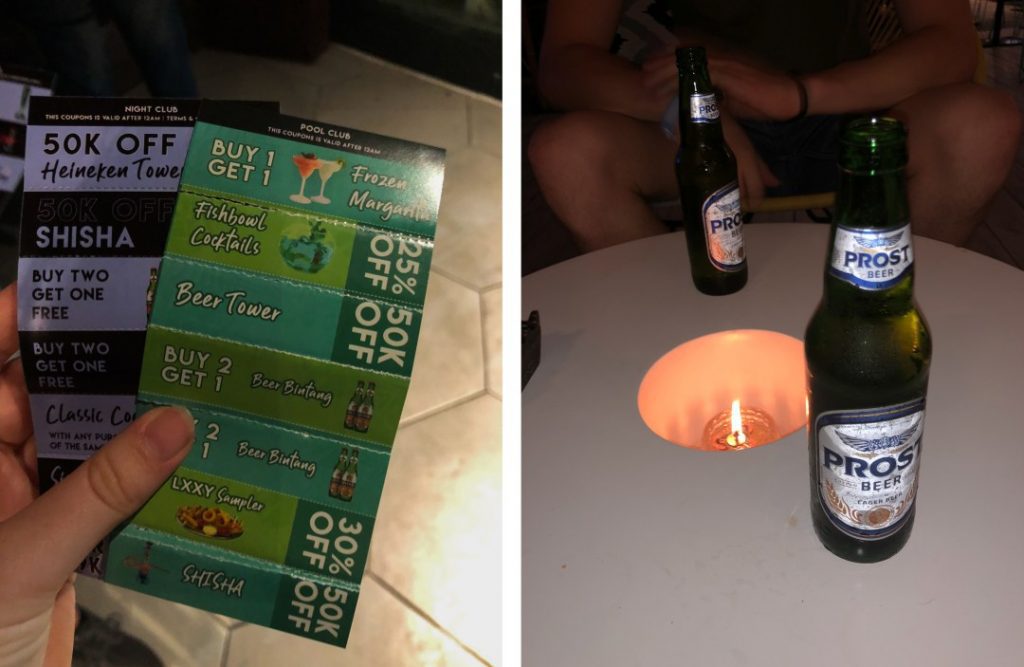 If you're not satisfied with the selection of drinks you can always purchase the premium package (only after 9:00 PM). For an additional IDR 125,000 (≈ 8€) (excluding tax and service) you will get free-flow Long Island Iced Tea, Illusion, red and white wine, red and white sangria, cosmopolitans, Irish creams and lychee martinis.
It's up to you to decide whether this is worth your money. If you compare it to European prices you'll still be getting a bargain but for Indonesian prices, this is a bit more expensive.
Plus you have to consider that the lines at the bar get pretty long after 9:00 PM. You'll probably spend a decent amount of your time waiting for drinks to get your money's worth.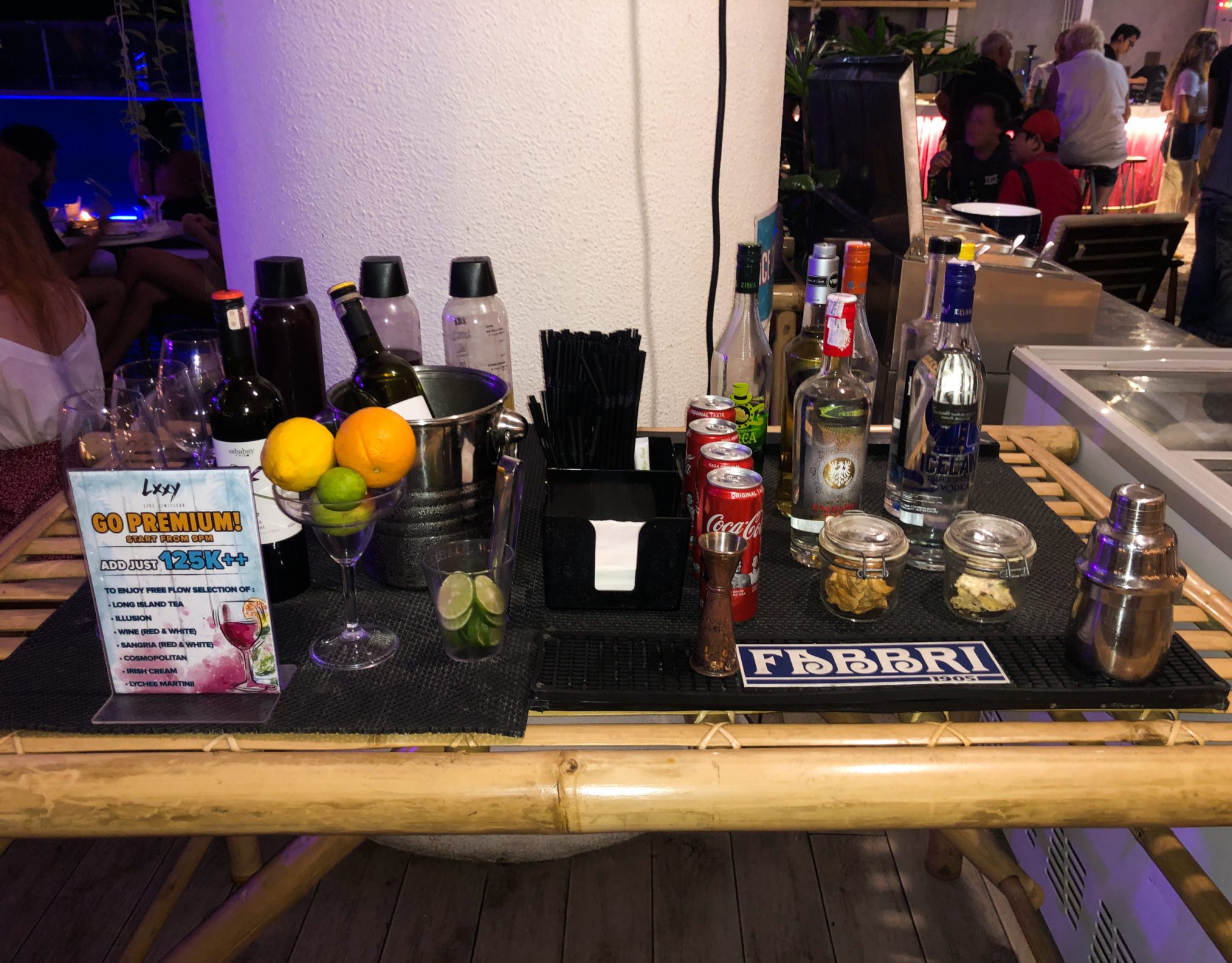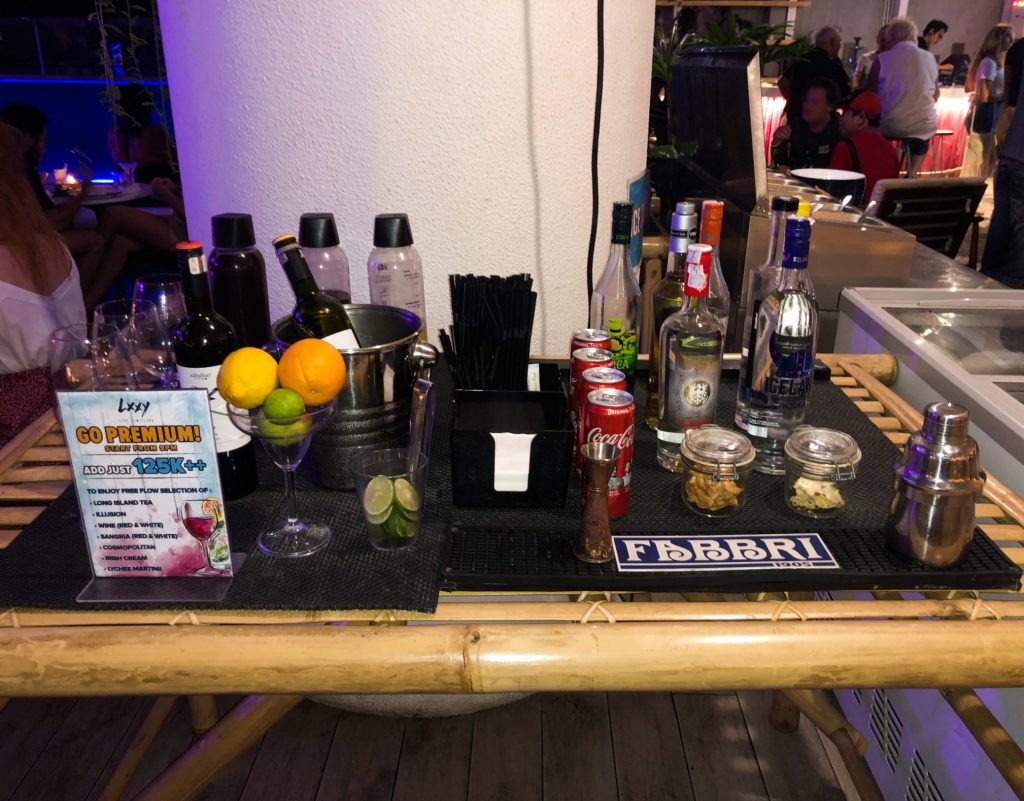 NON-ALCOHOLIC
LXXY also offers a good selection of non-alcoholic drinks. You can get soft drinks at the bar (one at a time) or use the large dispensers with juice, iced tea and lemon water.
This means you do not have to wait in line to get water which is a life-saver.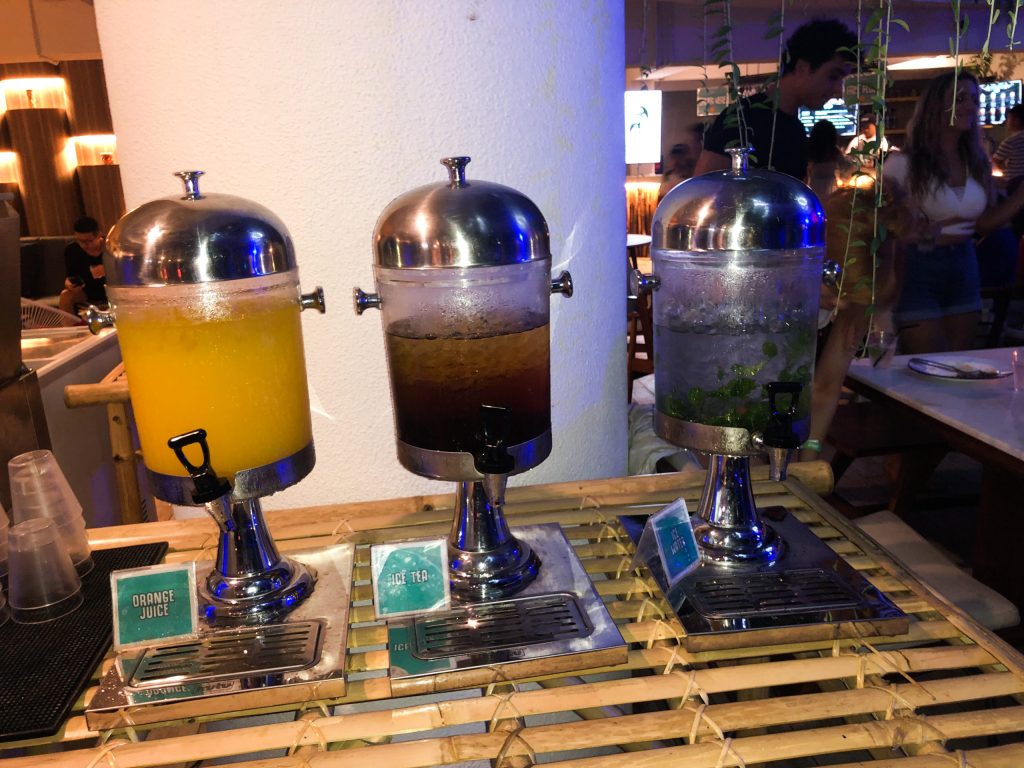 SHISHA
They have a good selection of shisha flavours available at the Pool Club. This is not included in the base price, however, and costs extra.
Check out more information about the Pool Club events here.
THE POOL CLUB
The pool club is not very large so it's good to come early to get a seat. Tables and seating areas are scattered around the pool and bar.
There is a small DJ stage with an impressive light show. This area later turns into a dance floor, although most people will eventually head downstairs to the nightclub to dance.
The whole pool club is very nicely decorated and feels clean and modern.
The star of the show is without a doubt the aquarium-style pool that looks out over the rooftops of Kuta. You can see the 5GX Bali Slingshot which is very entertaining to watch.
Swimming in the pool is permitted although few people actually do. You can find changing rooms and showers next to the bathrooms. They also provide towels.
The bathroom facilities are very clean and modern.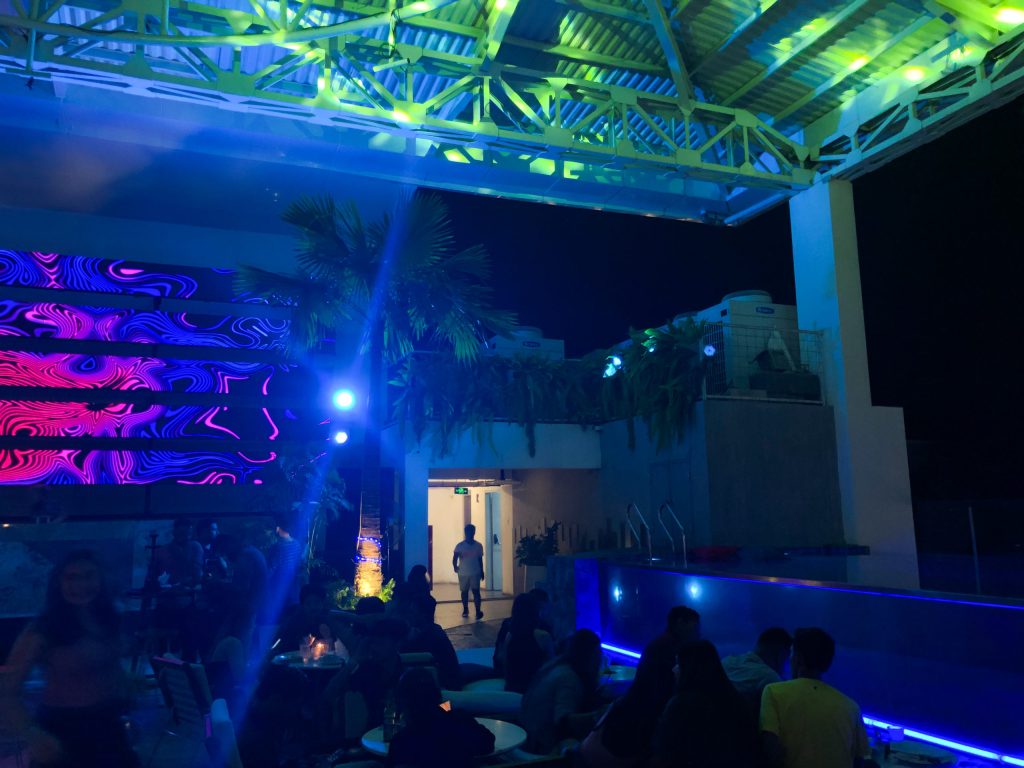 THE VIP LOUNGE
They reserve the top floor of the Pool Club for the VIP lounge. This includes comfortable day-beds and a jacuzzi with an amazing view over the Pool Club below and Kuta.
You can book this lounge privately for up to 50 people. However, they usually open it up to the public if there are no bookings for the night.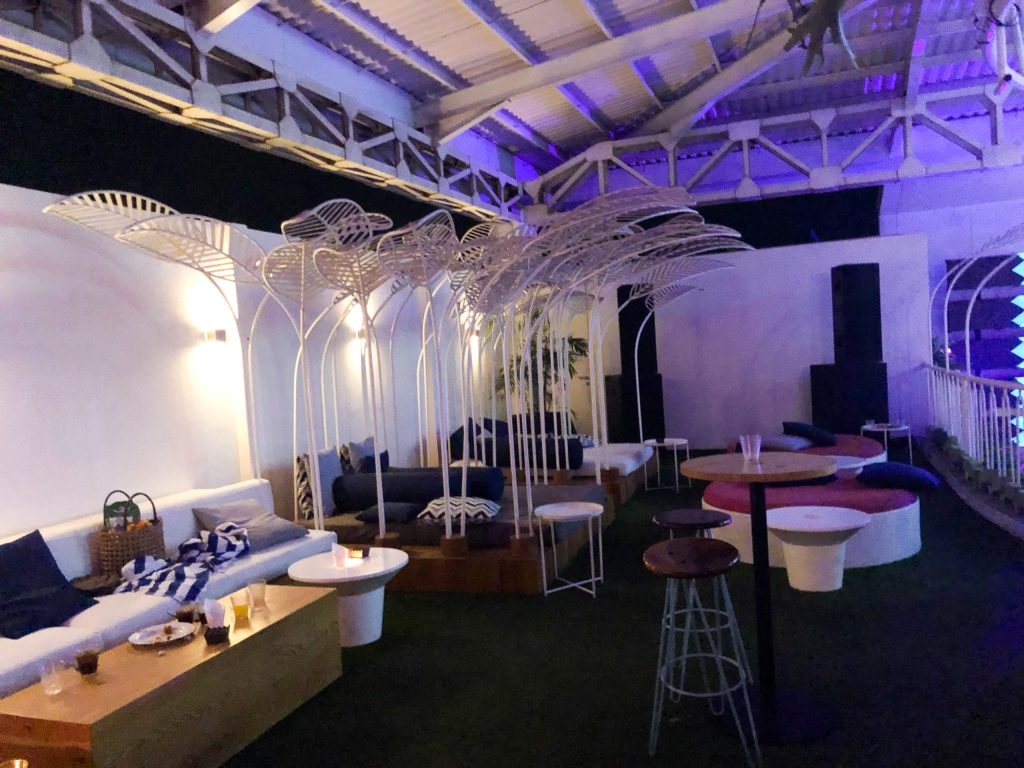 THE MUSIC
The music at the Pool Club is mostly chill electronic early in the night and turns into house, pop and remixes of old school later in the night. In typical Bali-fashion it is all over the place.
TIPS AND THINGS TO KNOW BEFORE YOU GO TO LXXY BALI
Go early to get a seat. LXXY Bali is very popular amongst larger groups which means seats go fast. Take a jacket or something you can leave to mark your table so it does not get taken while you're getting drinks.
Don't overload on the buffet. New dishes come out throughout the night. You'll regret being full if you eat too much in the beginning.
Drink beer. You'll get the best value for your money if you drink beer instead of spirit-mixers.
The buffet stays open. Even after 11:00 PM, they'll continue to give out food, although they don't renew the buffet anymore. If you're looking for a midnight snack you'll be in good hands.
Go up to the VIP Lounge. They rarely sell out the VIP lounge and even if they do it's not difficult to get in when it gets late. This exclusive area has a jacuzzi, day beds and an even better view. Just go upstairs and enjoy yourself once it's a bit later in the night. Usually, the security guards even encourage this in order to spread people out.
Nightclub entry is included. When you enter LXXY they might try to sell you a package that includes entry into the nightclub for an extra fee. Don't fall for this. You can enter LXXY nightclub for free if you purchase the free-flow drinks and BBQ at the Pool Club.
Don't go too crazy on the buffet. As soon as food is "free" people will lose all sense of how to be reasonable and overload their plates with way too much food. So much food goes to waste because of this. Only take what you're going to eat and go for seconds or thirds if you feel like it.
Lines get long. As it gets later the line at the bar will get long. Just expect to wait for a few minutes to get your drinks and get a table close by if you're planning on drinking a lot.
CONCLUSION: WHY I THINK LXXY BALI IS WORTH IT
The price is unbeatable, it's as simple as that. Even if you just have a few drinks and something to eat you'll have gotten your money's worth.
If you're looking for somewhere to spend an entire night on a budget this is the place to go. The venue and crowd do not feel like this is a cheap option to spend a night out. Quite the opposite actually. The pool club is gorgeous and I was very happy with the quality of food (always consider how much you're paying).
After 11:00 PM you can choose if you want to move on or stay in the nightclub downstairs. Unfortunately, it tends to be still quite empty during this time of night but you can stay in the Pool Club until it fills up a bit.
If cheap drinks, decent food and a relaxed, fun vibe are what you're looking for then give LXXY a try.
Travelling on a budget? Check out 21 Ways you can save money in Indonesia
Not sure how to plan your trip to Bali? Check out these handy posts about Ubud, Uluwatu and the Taman Festival abandoned theme park in Sanur.
My most important travel tips and resources
Book your flights
Skyscanner is the best website for finding cheap flights since it works like a search engine so you can find the best deals across all airlines.

Book hotels and hostels
• Booking.com: Best world-wide
• Agoda: Best in South East Asia
• Hostelworld: Best for hostels

Book tours, transport and rental cars
•Viator: The best place to book tours, day trips and excursions for al budgets
•12Go: Great for ferries, trains, transfers and buses in South East Asia
•Discover Cars: Best deals for rental cars around the word

Get travel insurance
Every traveller needs travel insurance and I mean every single one. SafetyWing covers you in case of injury, illness or worse and they've got your back if your bag is stolen, flights are cancelled or in case of a natural disaster.

Pay abroad
Ask any traveller, Wise is the best choice when it comes to sending money abroad. They've always got the best exchange rates, lowest fees and their visa card is great for getting cash out or paying abroad.

Things every traveller needs:
➼ Osprey Farpoint 70 Backpack
Detachable daypack, ultra-light, durable and free repairs for life. There's a reason why so many backpackers have this bag.
➼ Packing Cubes
Packing cubes are a gamer changer, keeping your luggage organised and providing tons of extra space.
➼ Power bank
There is nothing worse than running out of battery on an overnight bus journey or a long flight. With a powerbank you can charge your eletronics on the go and make sure you're always connected.
➼ Micro-fibre towel
These lightweight towels are foldable, fast-drying and so useful when you're travelling.

➼ You can find 15 more things every traveller needs here. Some might be a bit controversial but I warned you!
Did I miss anything?
If you have any questions or feel like something is missing from this post please leave a comment below or contact me.