A day trip to Uluwatu should be on your must-do list when visiting Bali. The southern part of the island is often overlooked or just visited briefly. A day trip is certainly nowhere enough time to see everything, however, it is a great way for you to gain an impression of how beautiful and different from the rest of Bali it is here.
So why is Uluwatu so special?
You can find some of the island's best surf beaches here and the steep cliffs are a stark contrast to Badung's rolling hills.
While hotspots like the famous Uluwatu Temple will, of course, be crowded with tourists, you can still find plenty of quiet areas and beaches. Especially on a scooter, you will have a great time driving around and enjoying the little villages around Bali.
This post may contain affiliate links, which means we'll receive a commission if you purchase through our links, at no extra cost to you. This helps us keep Guide your Travel free and provide high-quality content for you. Please read the full disclaimer for more information.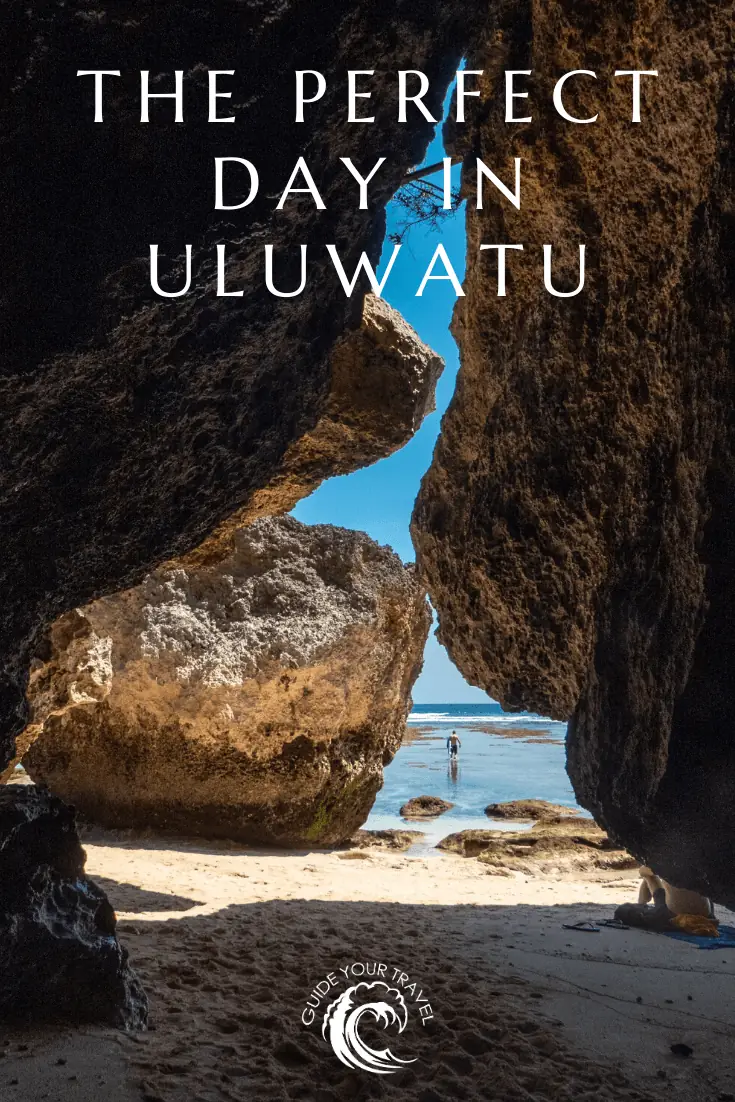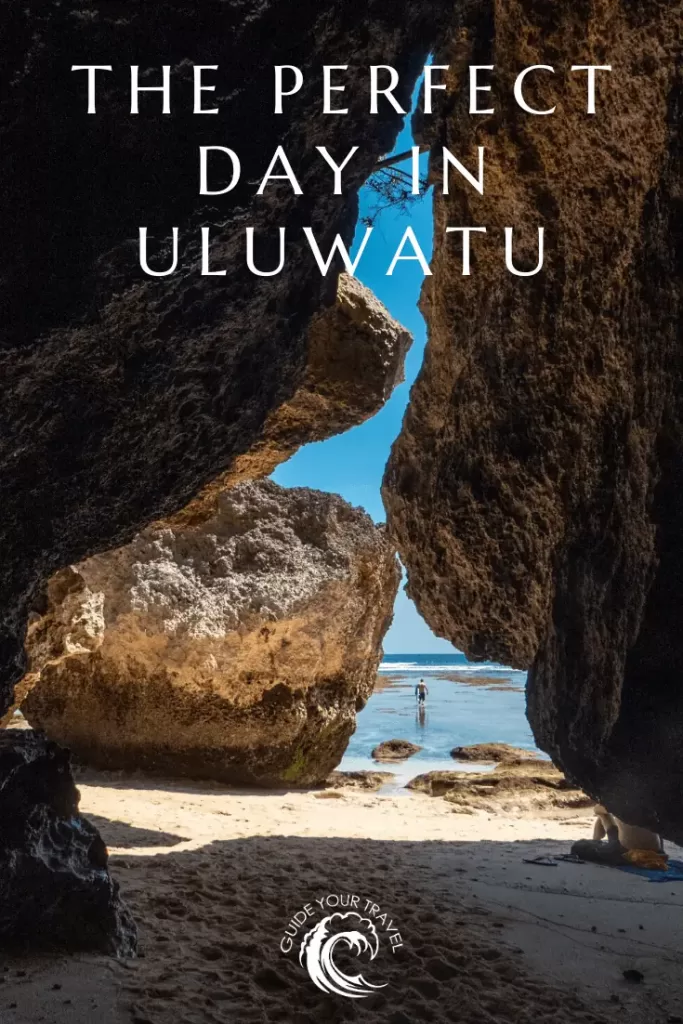 About this day trip initerary to Uluwatu
This post generalises Bali's southern peninsula as "Uluwatu" although (like the map below shows) this is actually just the name of a small part of the area. The itinerary also includes some of Jimbaran and its surroundings.
It is certainly possible to extend your day trip from Uluwatu to Nusa Dua and add more sights if you like. I have included a few alternative suggestions at the last stop of this itinerary in case you want to alter it slightly. Just be aware of time constraints and leave some time for exploring.
If you feel like you need more time you can always consider staying somewhere around Jimbaran, Nusa Dua or Uluwatu for a few days. There is plenty to see and do.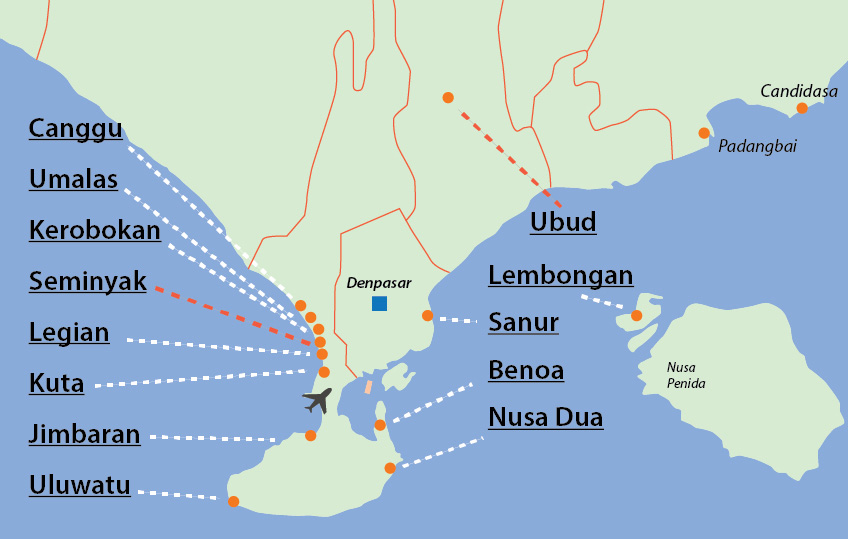 How to get around on your day trip to Uluwatu
In most cases, public transport is, unfortunately, simply not an option in Bali. Buses like the popular Perama Bus usually only exist for longer distances and do not go to specific places such as beaches or most of the tourist attractions. If you want to follow this itinerary you basically have two options; hiring a driver or renting a scooter. Which one you choose depends entirely on you.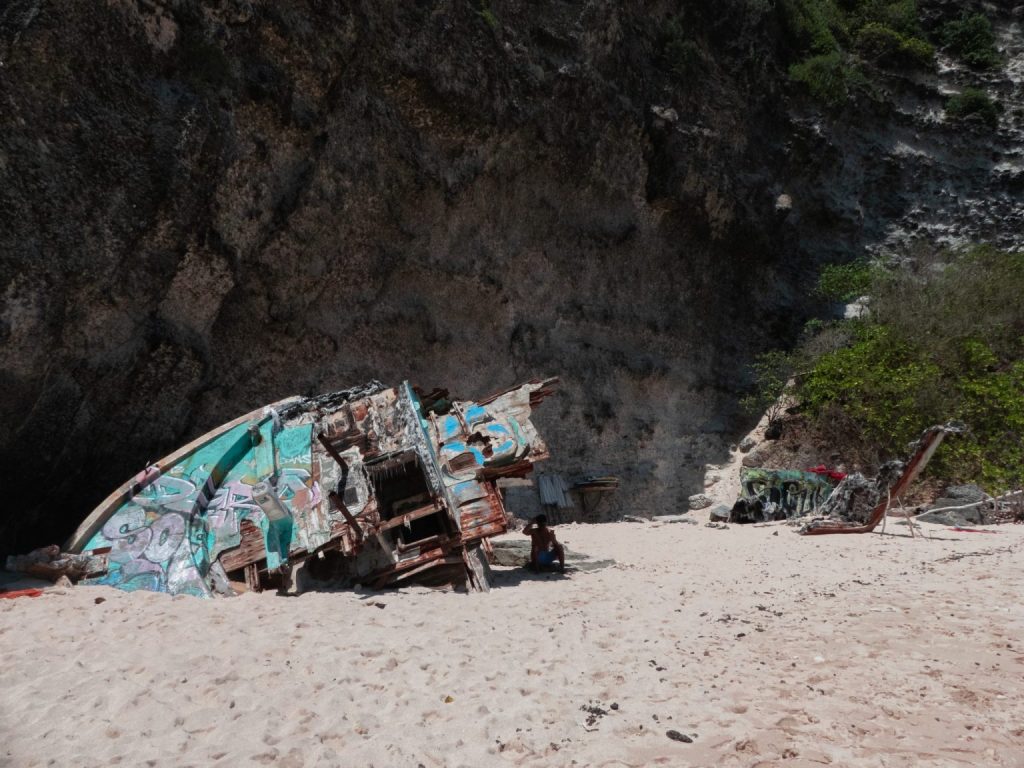 Renting a scooter
Scooters are Bali's most popular and probably the cheapest form of transport. A scooter comes with a lot of freedom and independence. It's the only way you'll be completely in control of where you are going and when.
However, if you do not have experience in riding a scooter or motorcycle you should be very careful, especially if you're planning to drive long distances.
Many tourists suffer serious injuries from scooter accidents in Bali every year. You should never ride without a helmet and not go too fast, as tempting as it might seem.
Bali's roads are decent for the most part but you can still encounter parts with loose gravel or dirt roads. This can be especially dangerous.
You can rent a scooter nearly everywhere on the island. Many hotels offer rentals as well, although these might be slightly more expensive. You should pay between IDR 50,000 and IDR 100,000 (~ €3.35 and €6.70) for one day. Many places will offer a discount if you rent for longer.
Although it is not required for rental, make sure you have a valid international drivers license if you plan to rent a scooter. In case of an accident or an encounter with the police, this will make things a lot easier.
You have to request an international license in your home country before your departure. It is usually issued on the same day.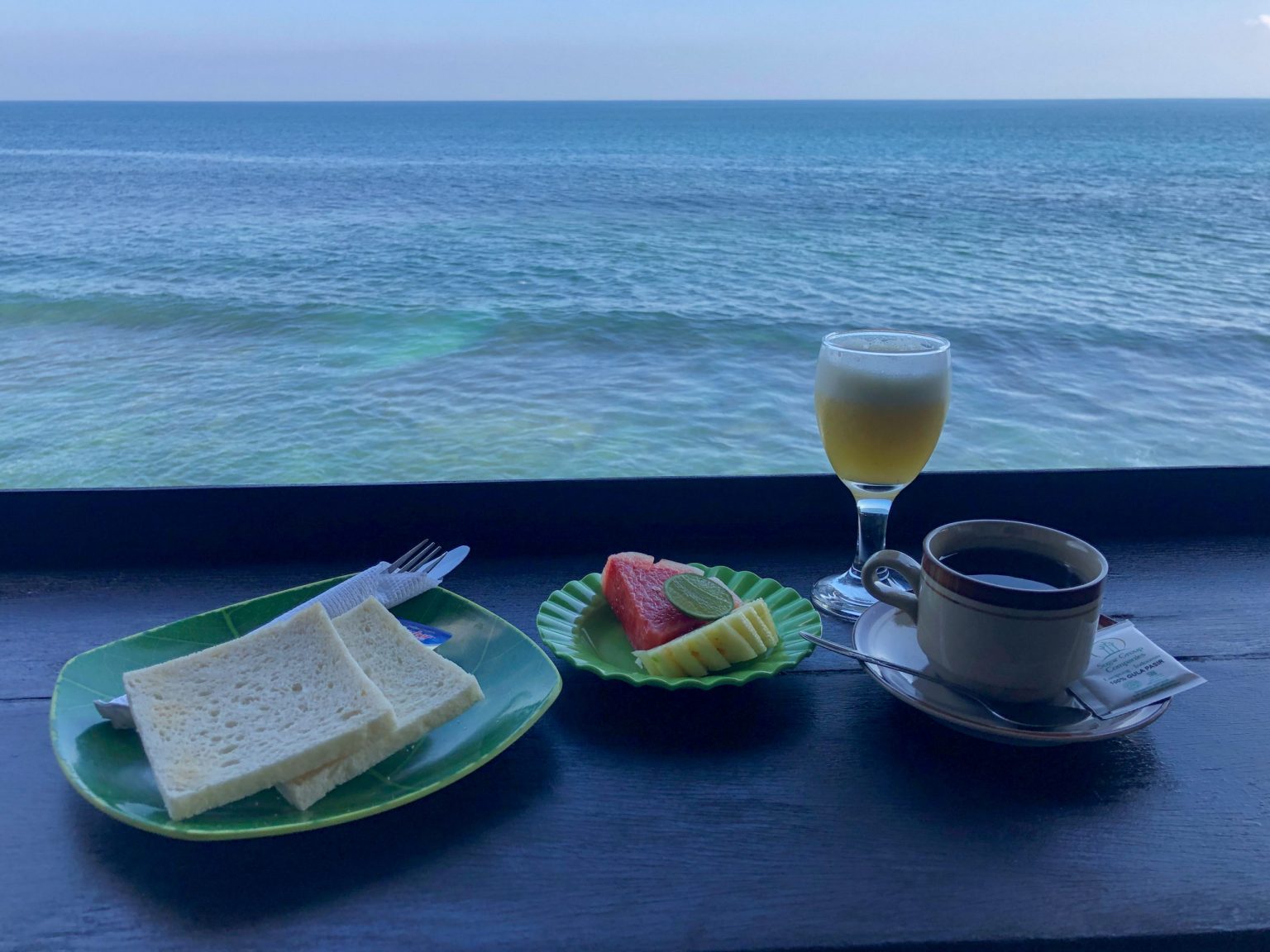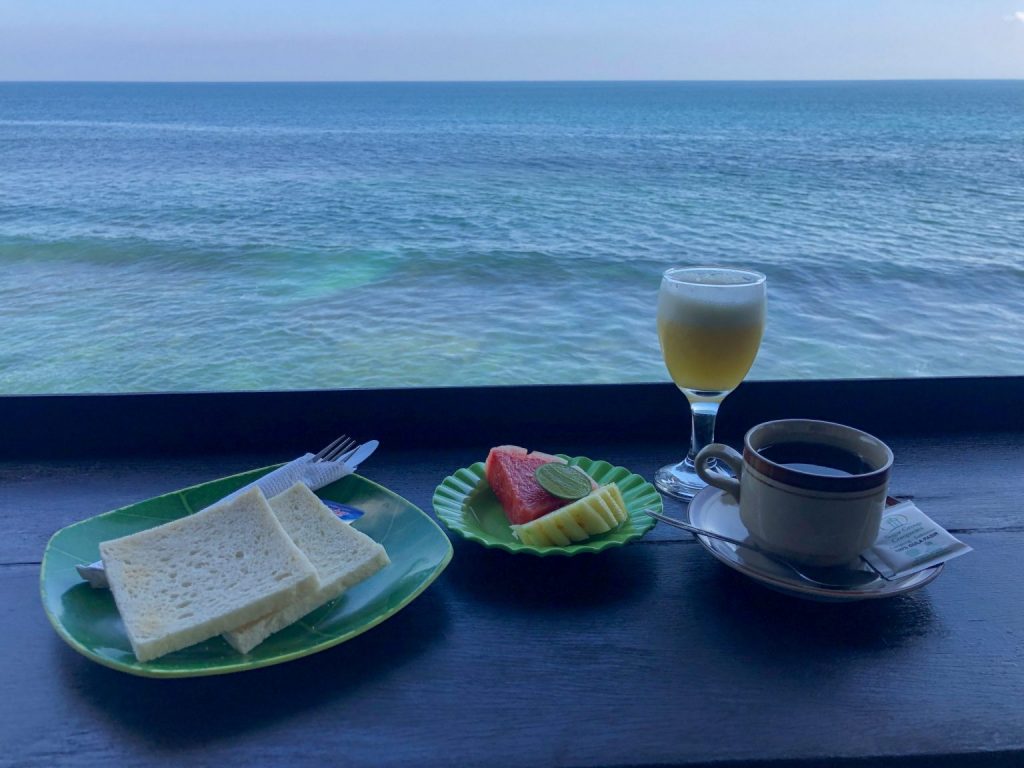 Hiring a driver
If you do not feel comfortable on a scooter or are travelling in a larger group, hiring a driver might be a better option for you. It is very common for tourists to hire a driver for a day and you'll have no trouble finding one even last minute.
Prices vary greatly, depending on how good you are at bargaining. You should not pay more than IDR 700,000 (~ €47) for one day, although you can certainly find something cheaper if you invest some time. This price should include petrol as well as any parking costs.
It is customary to pay for the driver's lunch and give them a tip at the end of the day.
You can find contact numbers for drivers online, especially in large Facebook groups. Most hotels or homestays will also be happy to help, although their prices are usually more expensive.
You can also ask regular Bluebird Taxi, Grab or Gojek drivers if they offer all-day services.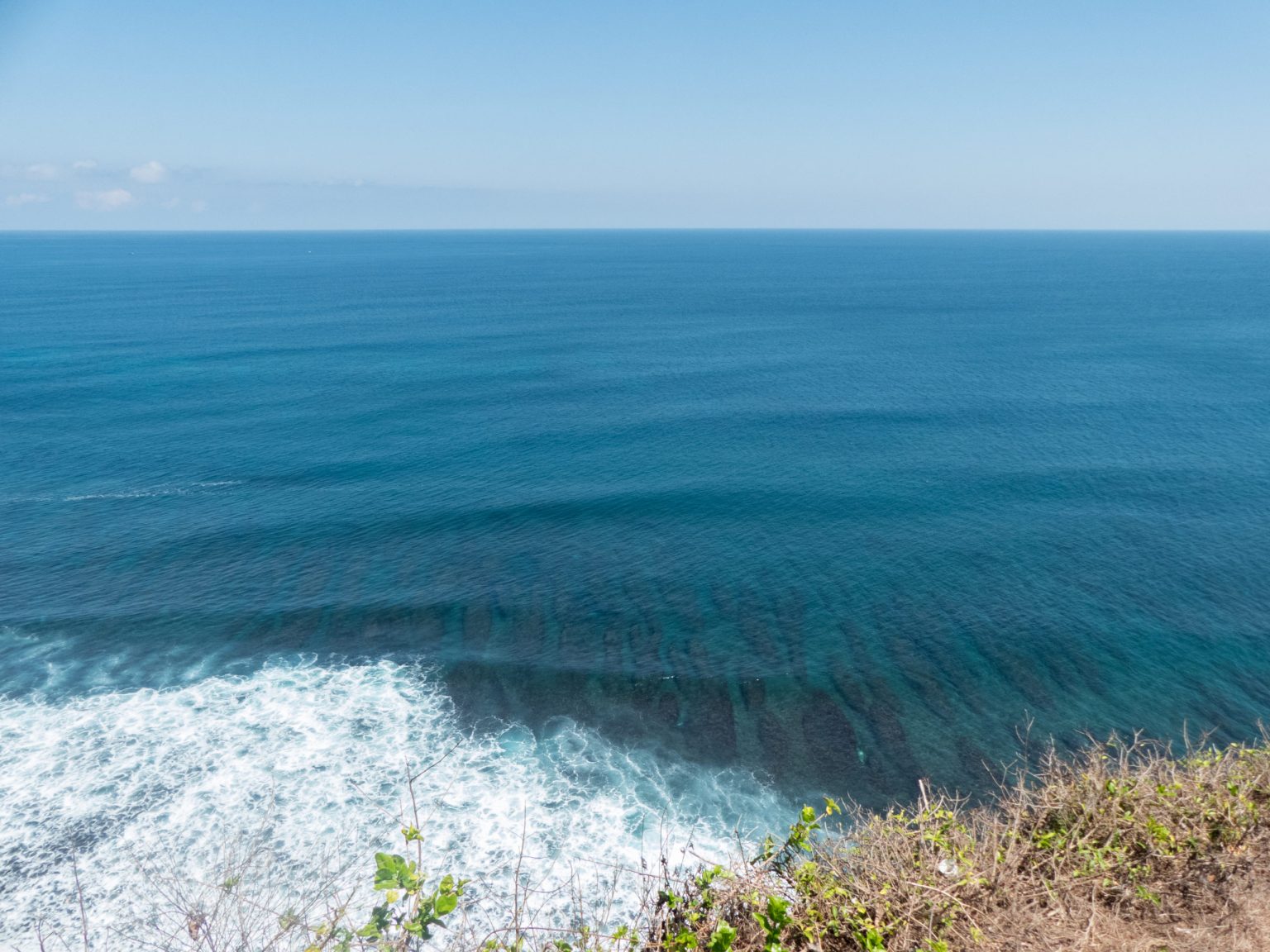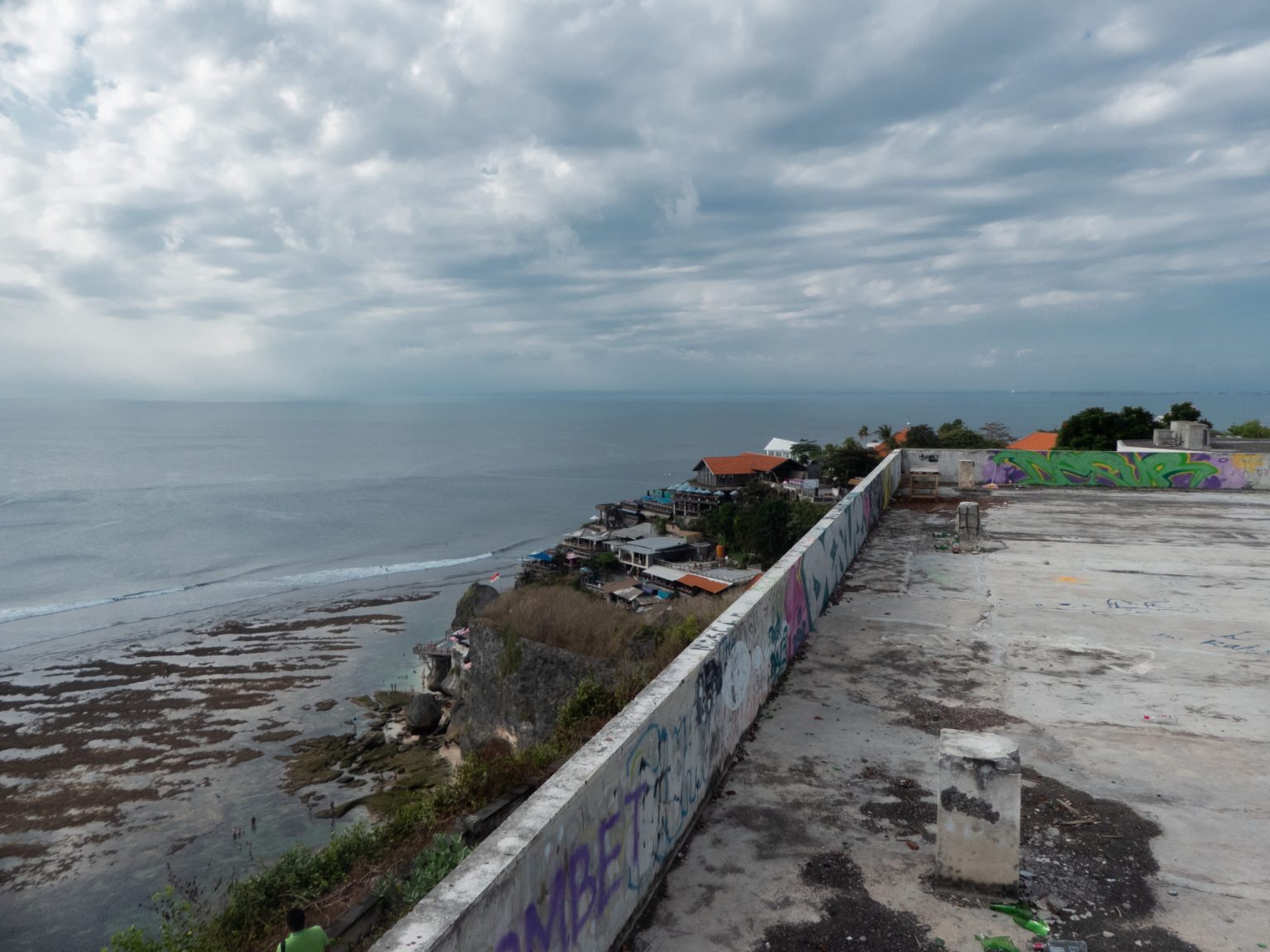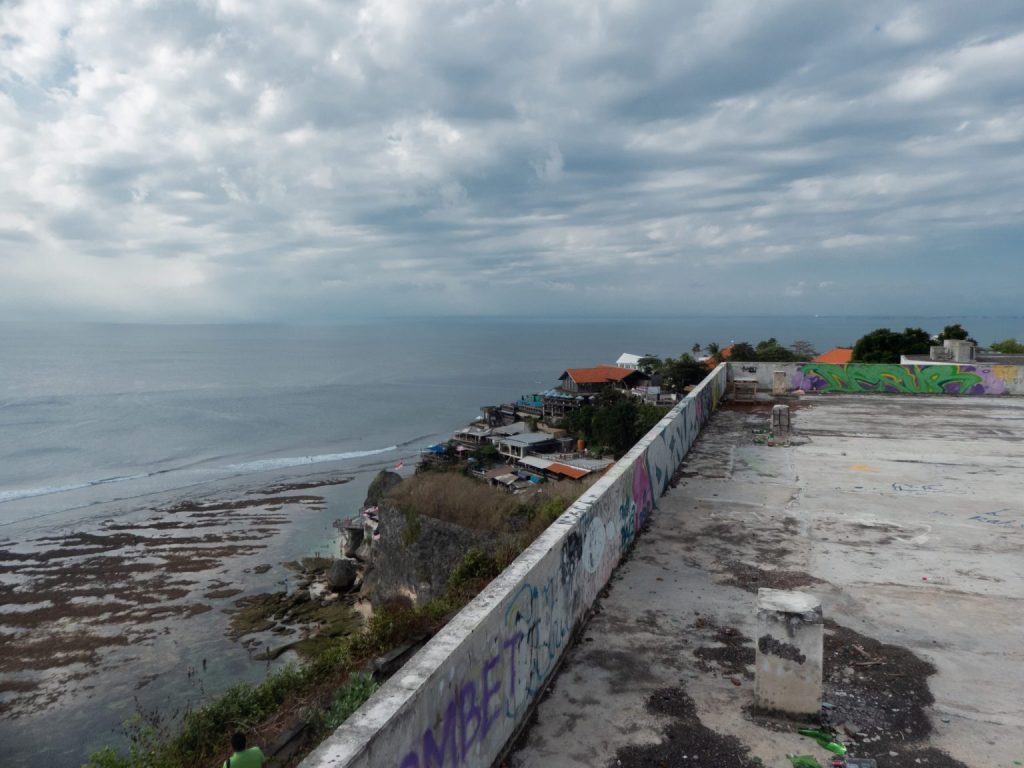 What about a Grab, Gojek or a Bluebird Taxi?
In theory, you could take a Grab, Gojek or taxi to some of the destinations on this itinerary. However, you would most likely end up spending more during the day than you would for a driver.
In addition to that Grabs and Gojeks are hard to find in some areas of Bali as they are no longer tolerated in many places. You might have trouble finding one to pick you up again, especially close to Uluwatu Temple or the beaches.
Grabs, Gojeks and Taxis are a good way to go longer distances one-way in Bali but are not practical or cheap for a longer day trip.
Travelling on a budget? Here are 21 Tips to save money in Indonesia.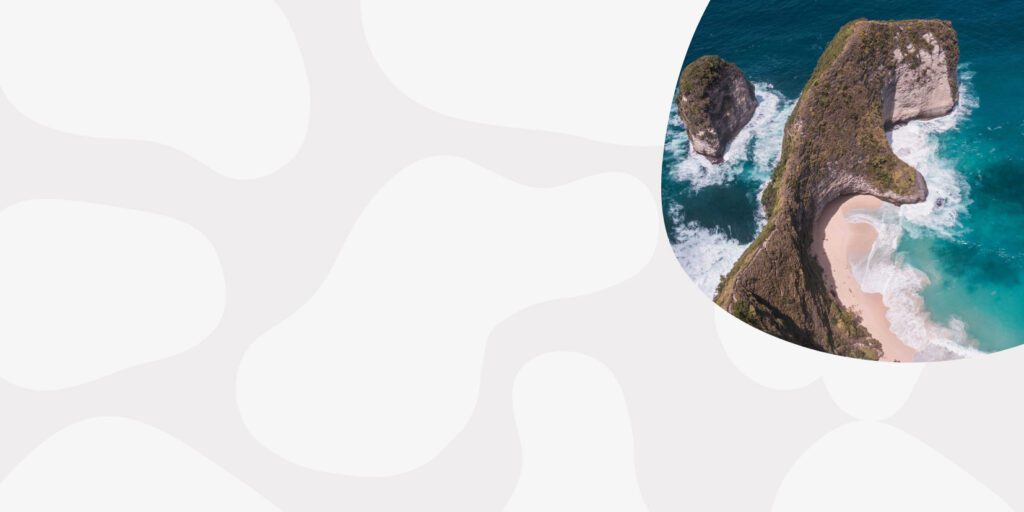 Save time when planning a trip to Bali

➼ 8€ airport pickup? Klook
➼ Best travel insurance? SafetyWing
➼ Accommodation? Agoda or Hostelworld
➼ Where to get cash out for free? Maybank ATM
➼ Best SIM card? Telkomsel
➼ Best place to book flights? Skyscanner
What to bring on a day trip to Uluwatu?
This itinerary includes two beaches, which means you should definitely bring a swimsuit. Dress in light clothing since it will get very hot during the day.
You need to cover your legs at Uluwatu Temple, however, they provide sarongs free of charge. It's still useful to bring your own sarong if you have one to doubles as a beach towel.
It's fine to wear flip-flops or sandals on this day trip. It doesn't include too much walking.
Do not forget to take plenty of water and sunscreen. You will need it in Bali's heat especially if you're on a scooter all day.
Definitely take your camera or GoPro along to capture all the scenic spots.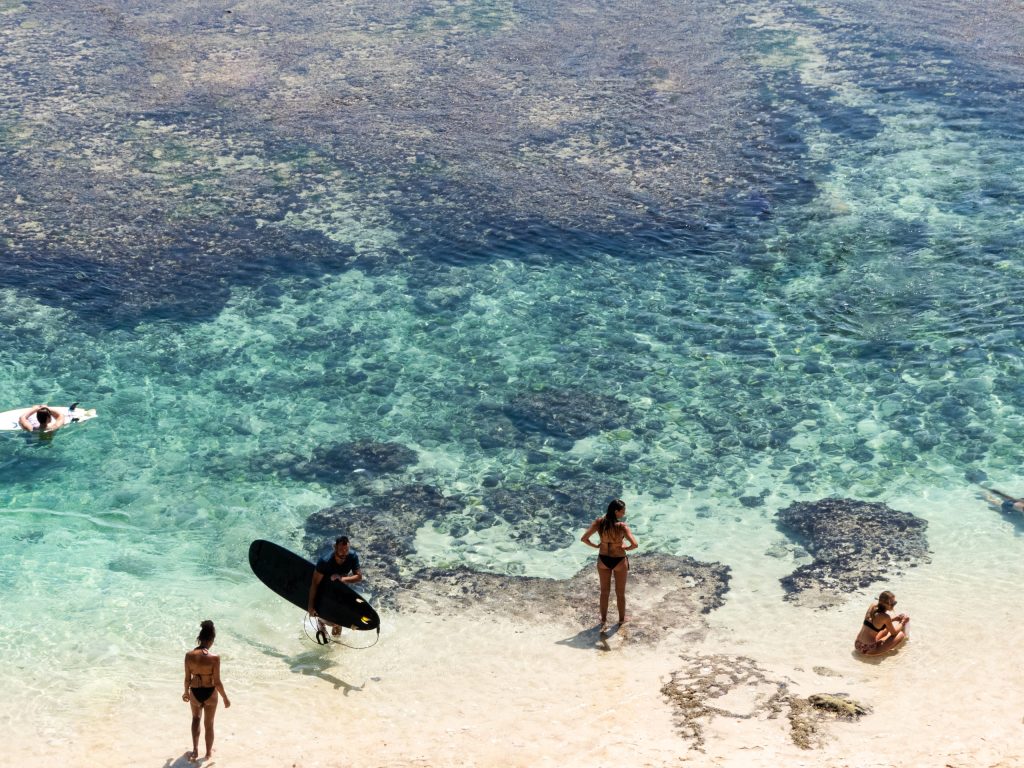 Drones
You can fly your drone at both beaches as well as the lookout point. Drones are prohibited at Uluwatu Temple and the Garuda Wisnu Statue, although you can probably get away with it at the statue if you take off slightly further away.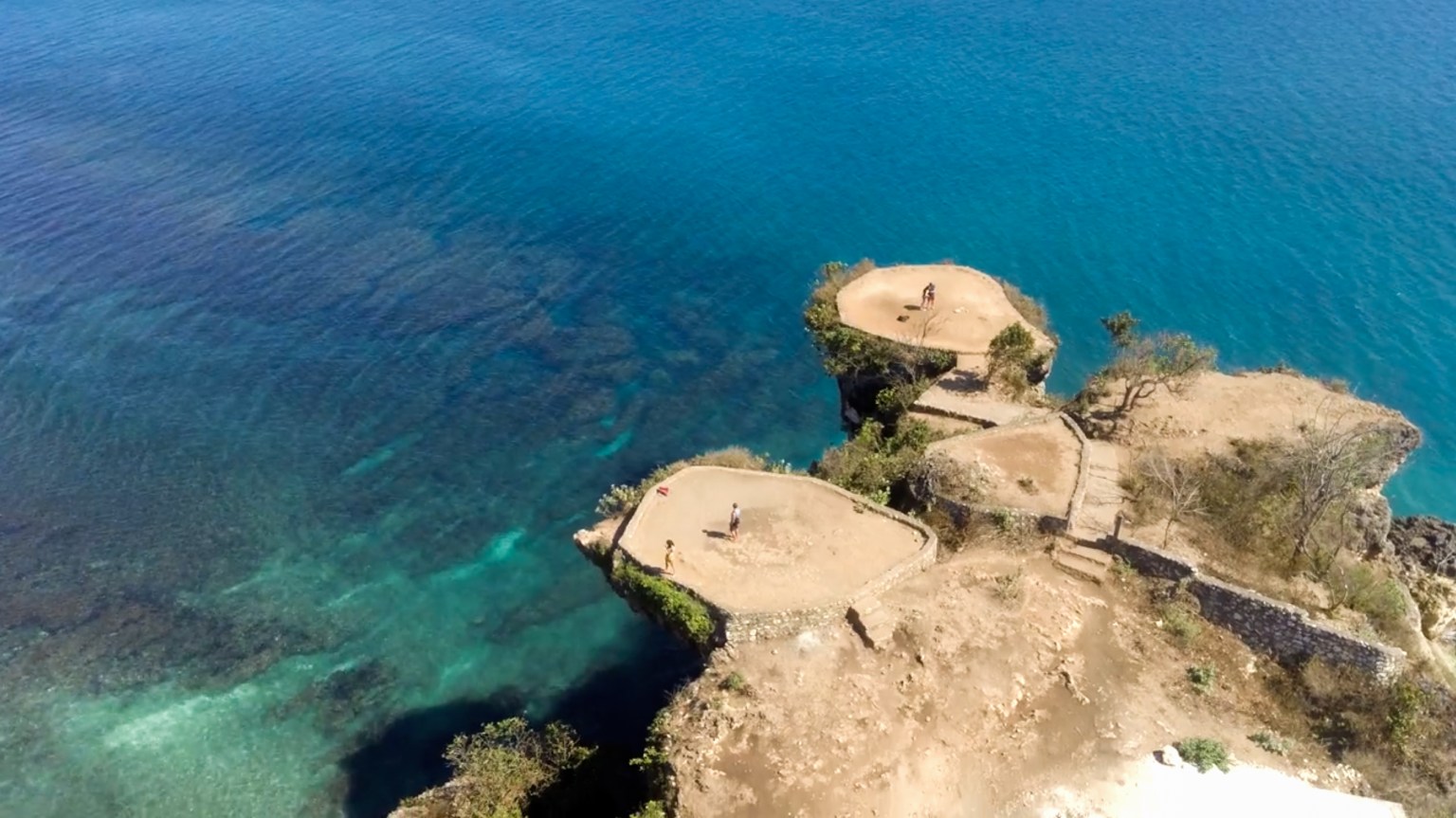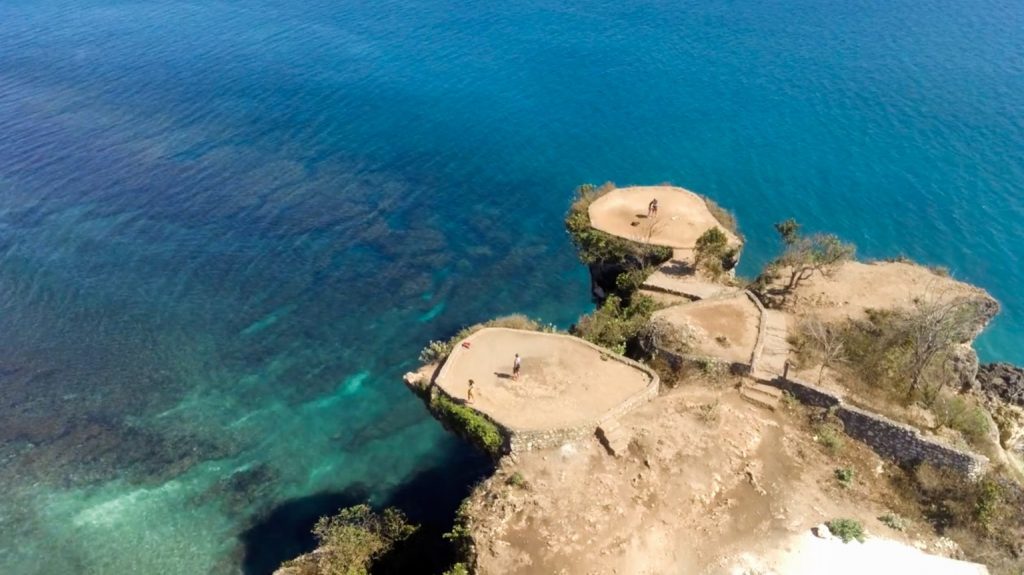 Surfing
Both beaches on this itinerary are popular surf spots. If you do not have your own board you can rent one for a few hours. Be aware that these might not be the best beaches to surf as a complete beginner. A surfboard usually cost IDR 50,000 (~ €3.35) to rent.


Day trip to Uluwatu itinerary
7:00 AM – Start your day trip and head south
This itinerary is constructed so that you leave from somewhere close to Kuta in the morning and make your way to the first stop. You can adjust it depending on where exactly you are staying in Bali.
It's clear that you will have to get up early. The early morning is simply the best time to explore if you want to avoid the crowds and heat.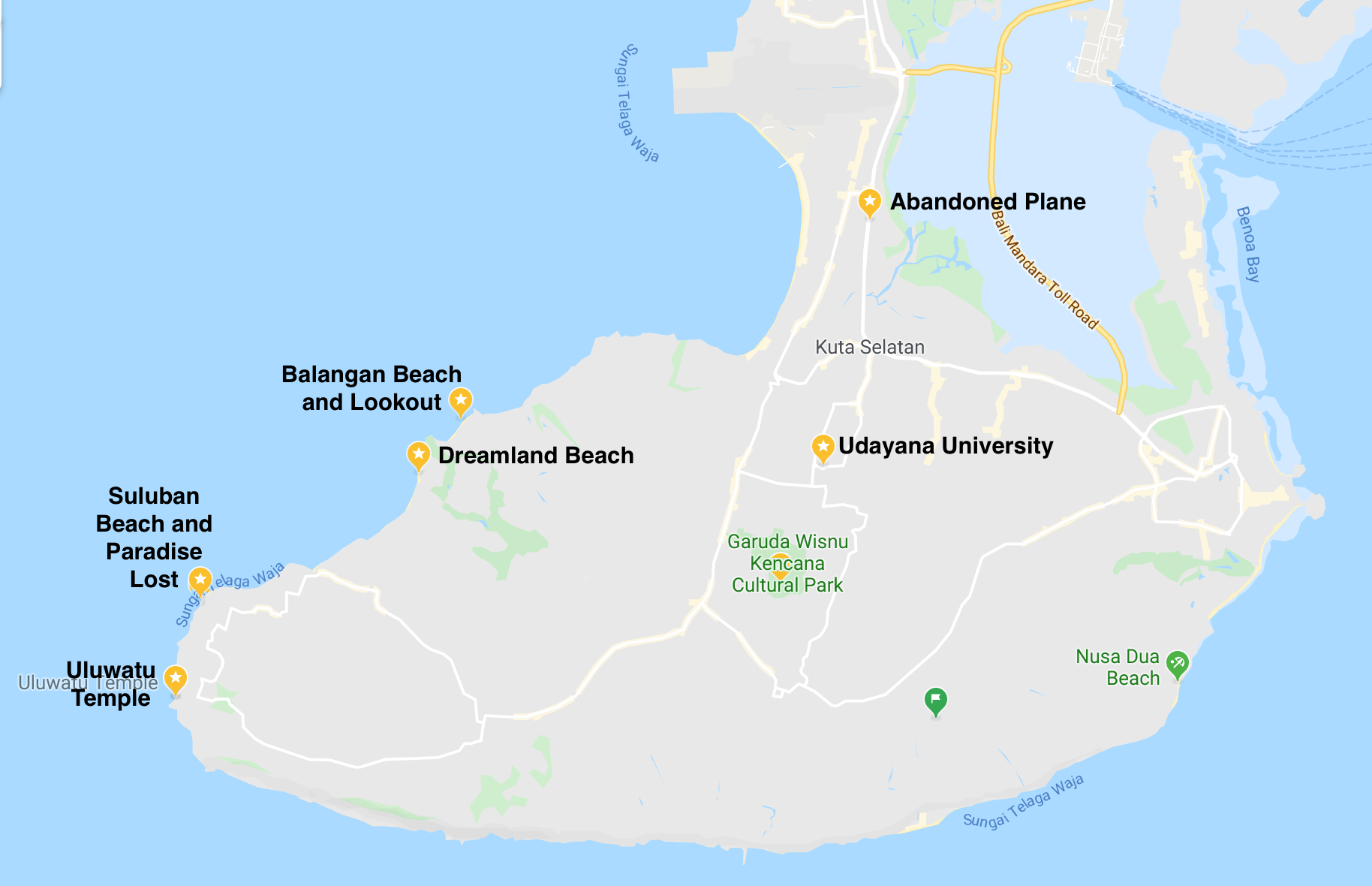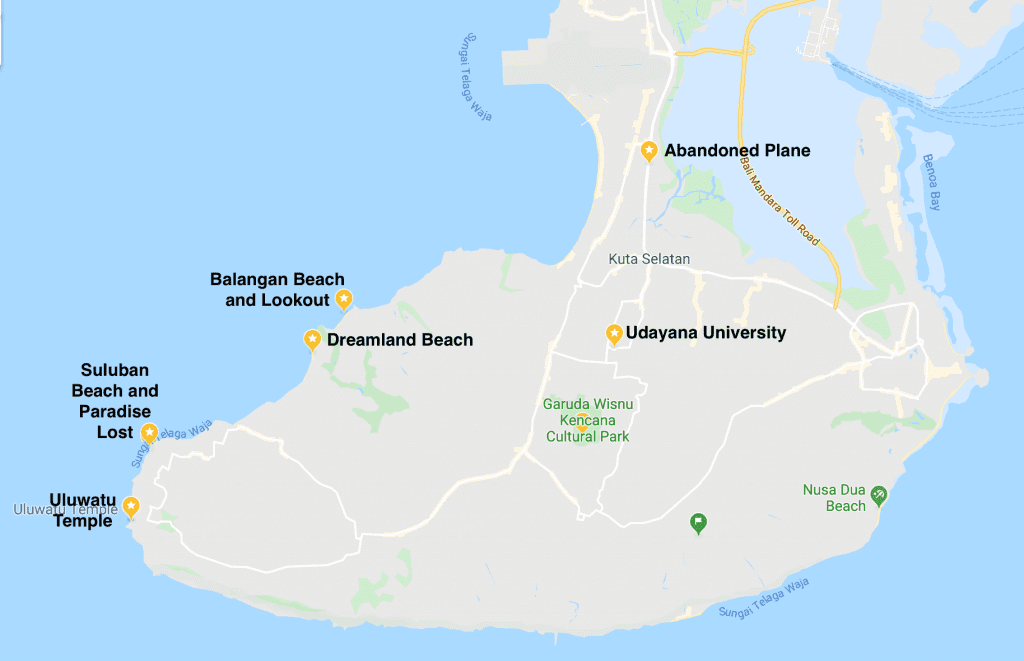 7:30 AM – A quick stop at an abandoned plane
Your first destination of the day is only a quick one. You might not have to stop at all if you're not interested.
Right next to the main road in north Jimbaran, you'll find an abandoned Boing 737. It used to be accessible but recently a small fence was built around the property. You may still find someone to let you in for a few Rupiah if you are lucky, however, the plane is not in great condition.
You can find it right next to a large Dunkin Donuts and it's quite easy to spot even as you're driving by.
Stop to take some photos if you like but don't expect to spend a lot of time here. Maybe get a coffee at Dunkin Donuts if you feel like it.
Address: Jl. By Pass Ngurah Rai No.63, Kedonganan, Kuta, Kabupaten Badung, Bali 80361, Indonesia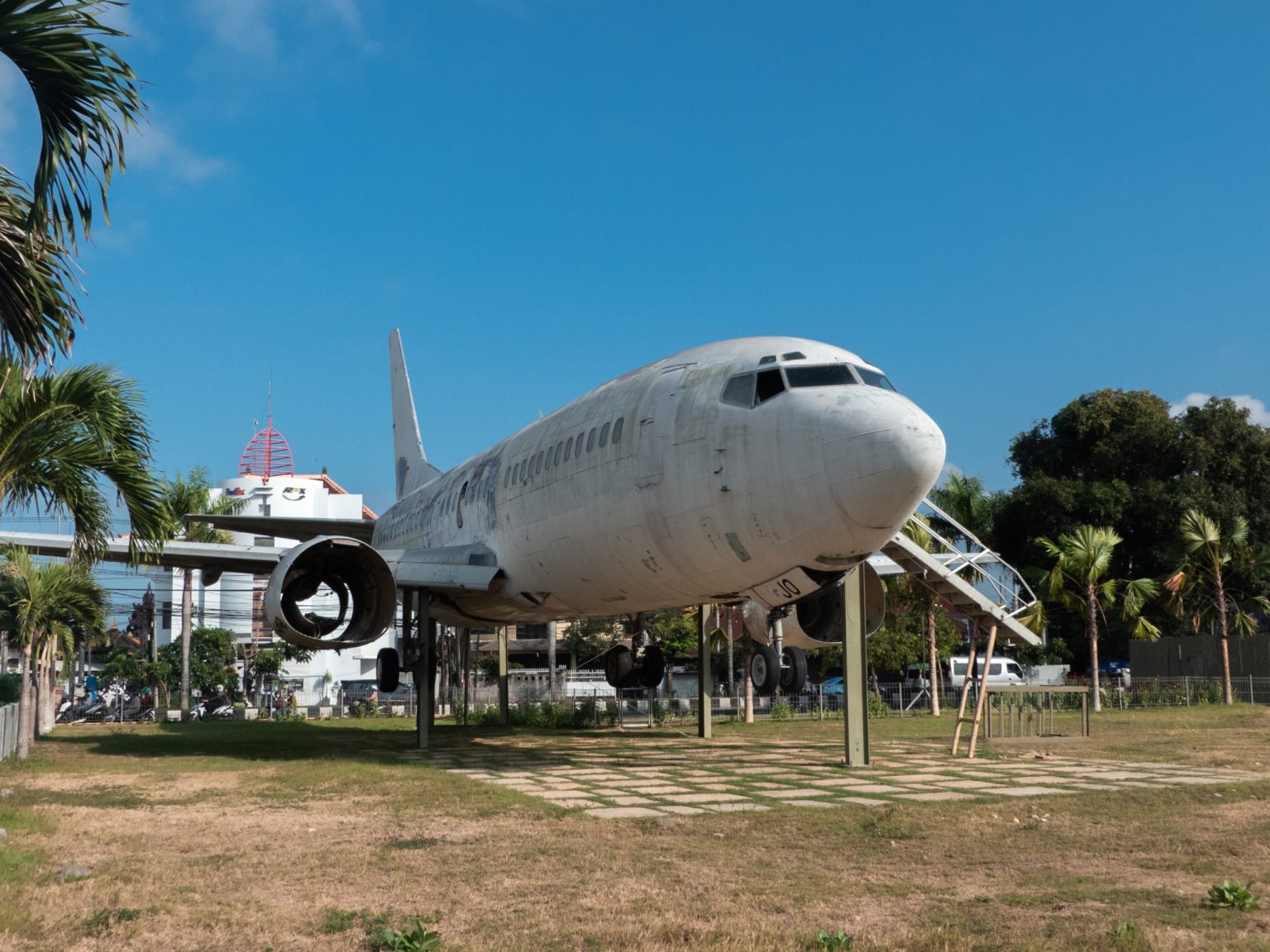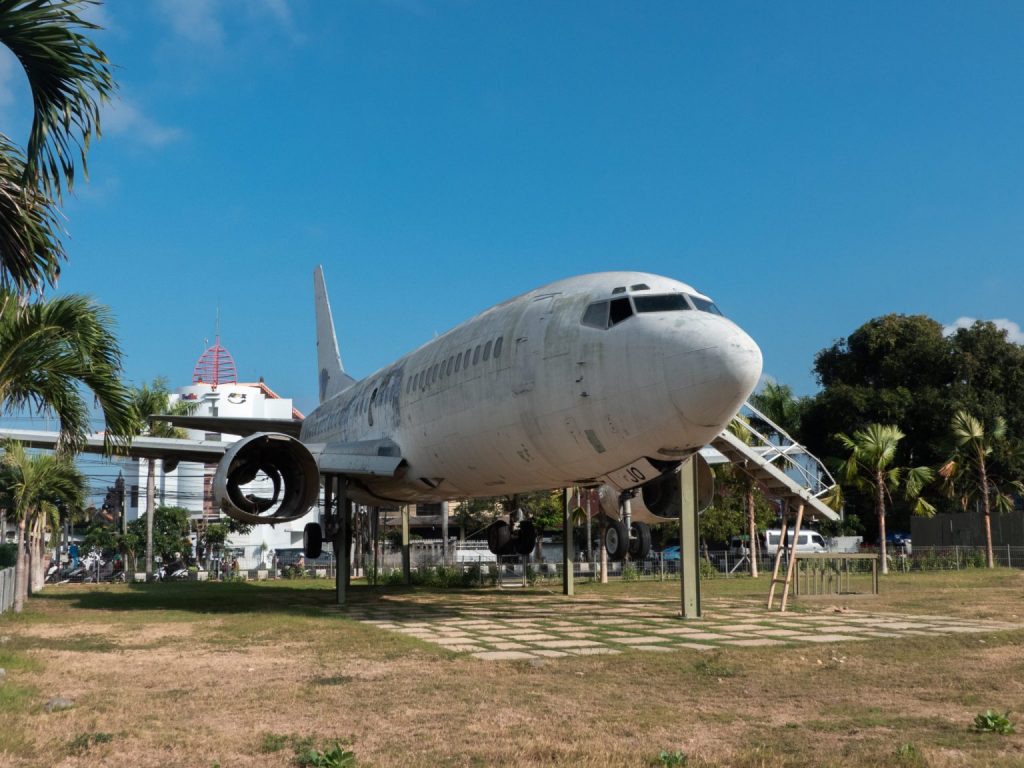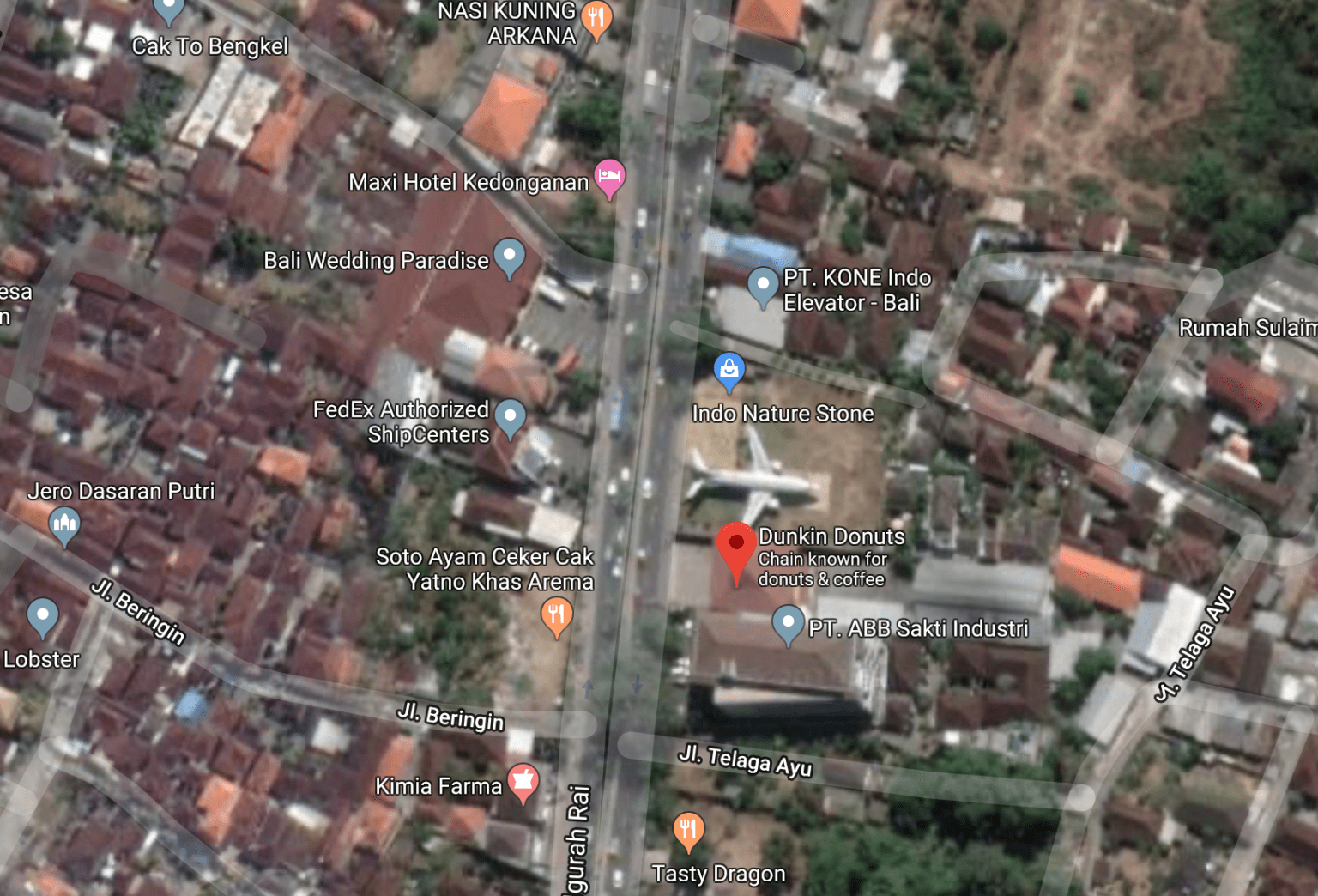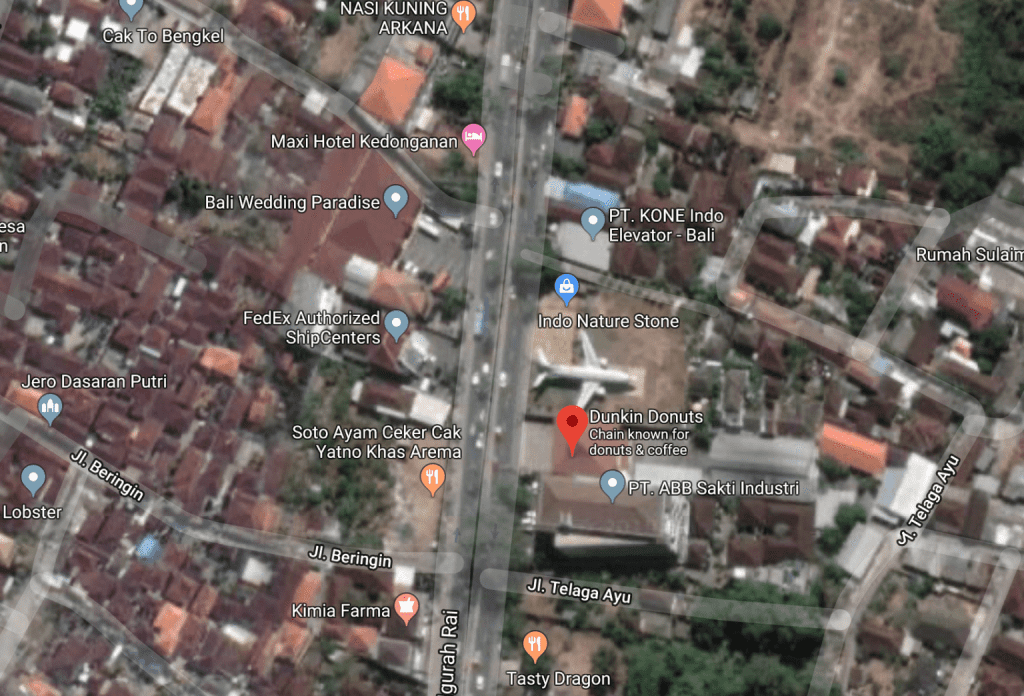 8:00 AM – Breakfast at Balangan Beach
By around 8:00 AM (depending on traffic) you'll reach Balangan Beach. At this time there won't be many people here except for the early morning surfers. Start your day trip to Uluwatu right with great views and a good breakfast.
There are a handful of small restaurants at the beach which are perfect for breakfast. Balangan Paradise Restaurant has an amazing view from its balcony and very affordable prices (around IDR 80,000 (~ €5.35) for two breakfasts with fresh fruit juices and coffee). If you're hungry this is the place to go.
Afterwards, you can explore the beach, go for a swim, surf or simply relax. It's up to you how much time you want to spend here but I would recommend to not stay for too long so you still have time to see all the other beautiful places.
Address: South Kuta, Badung Regency, Bali, Indonesia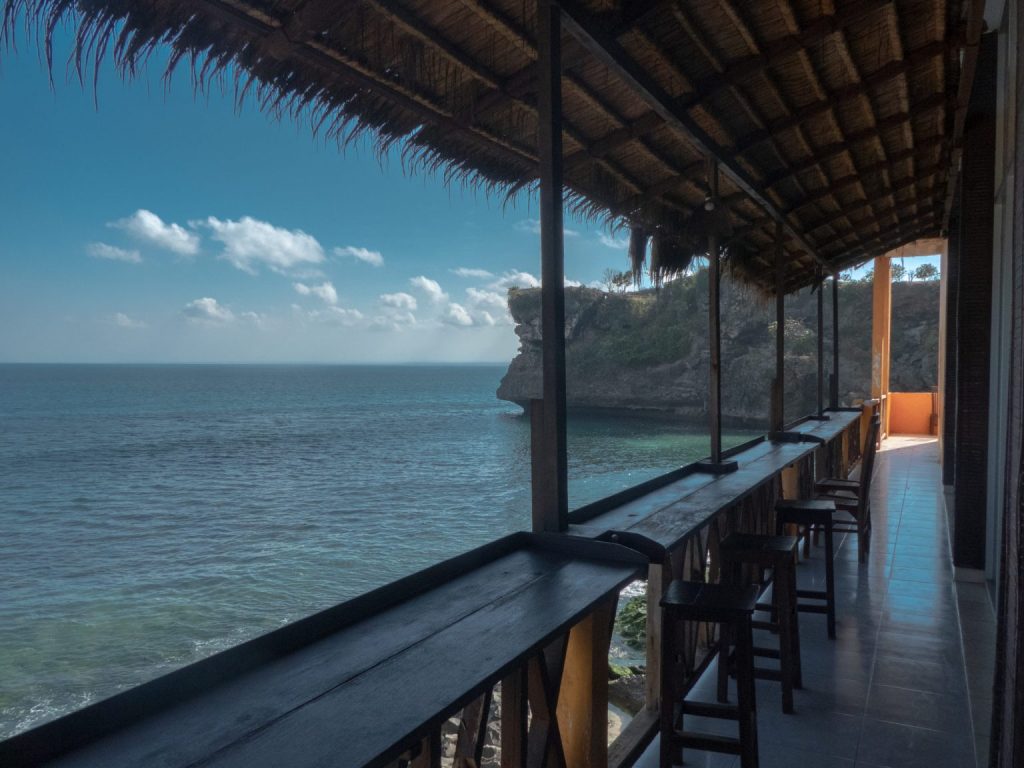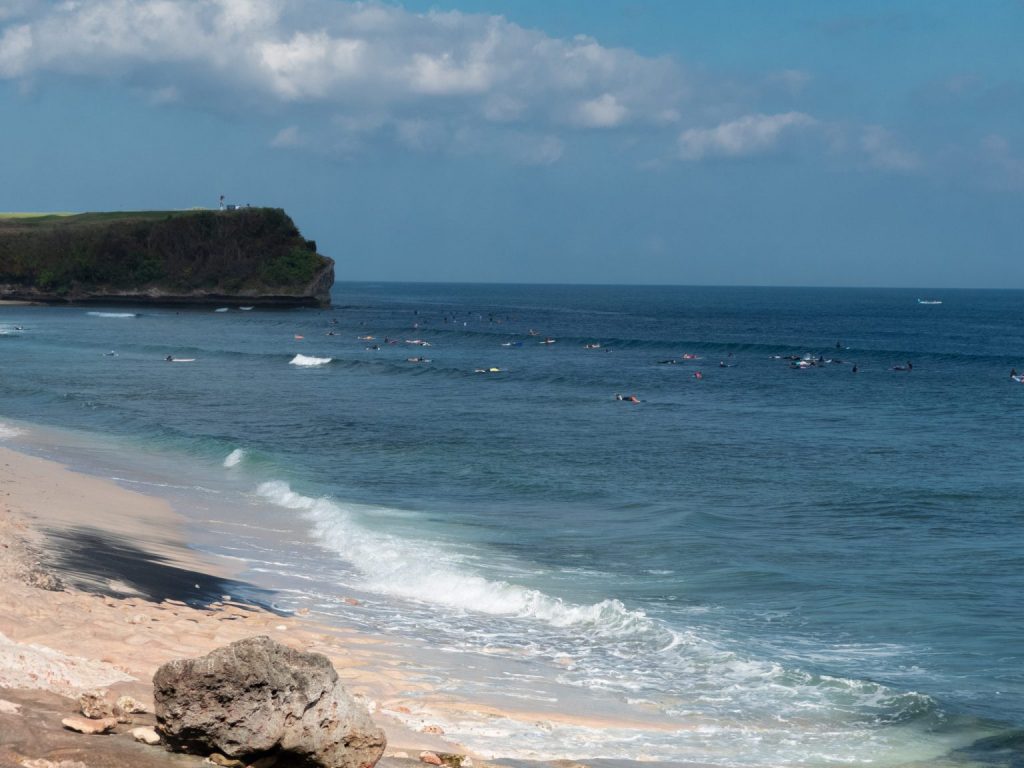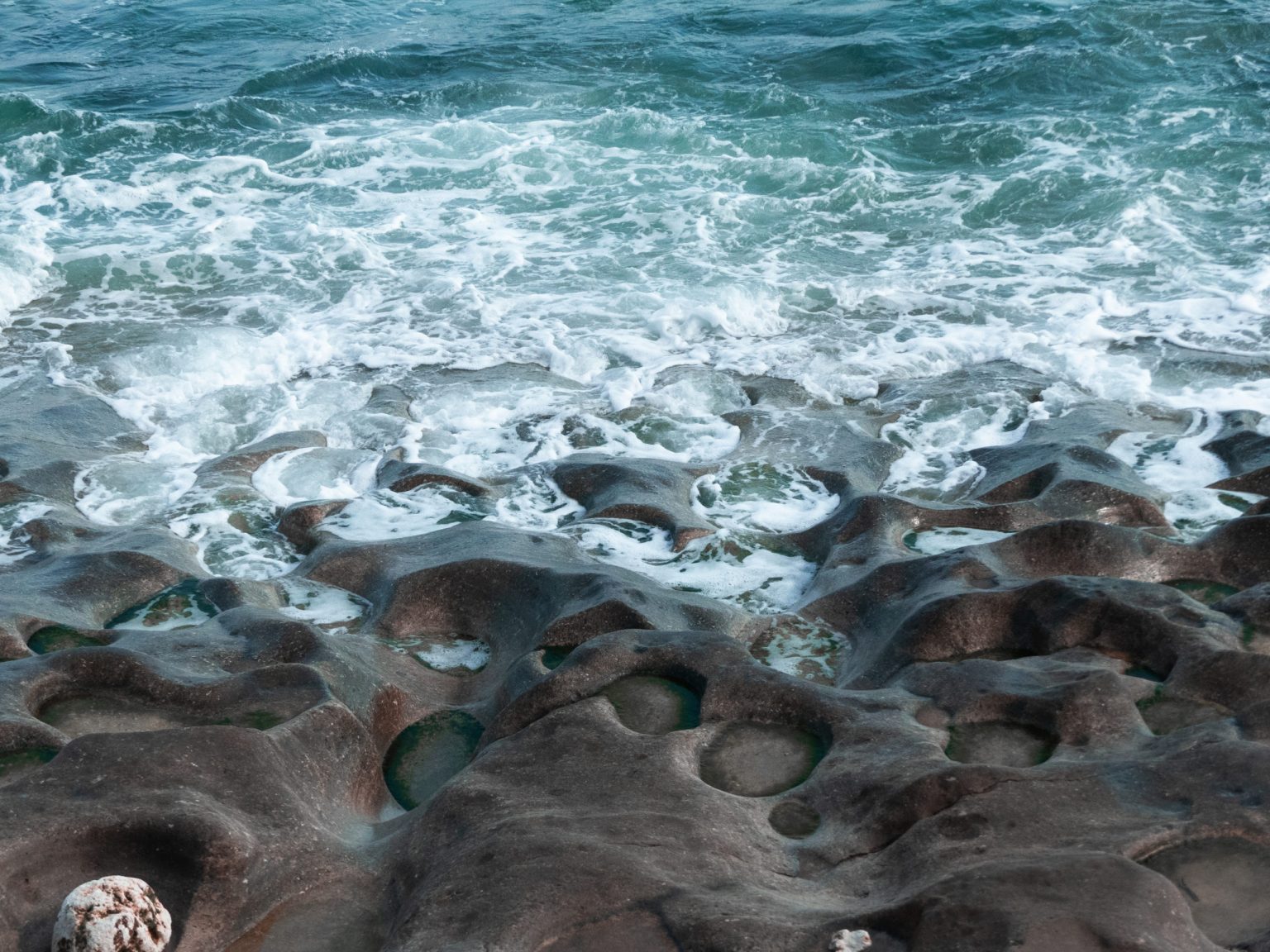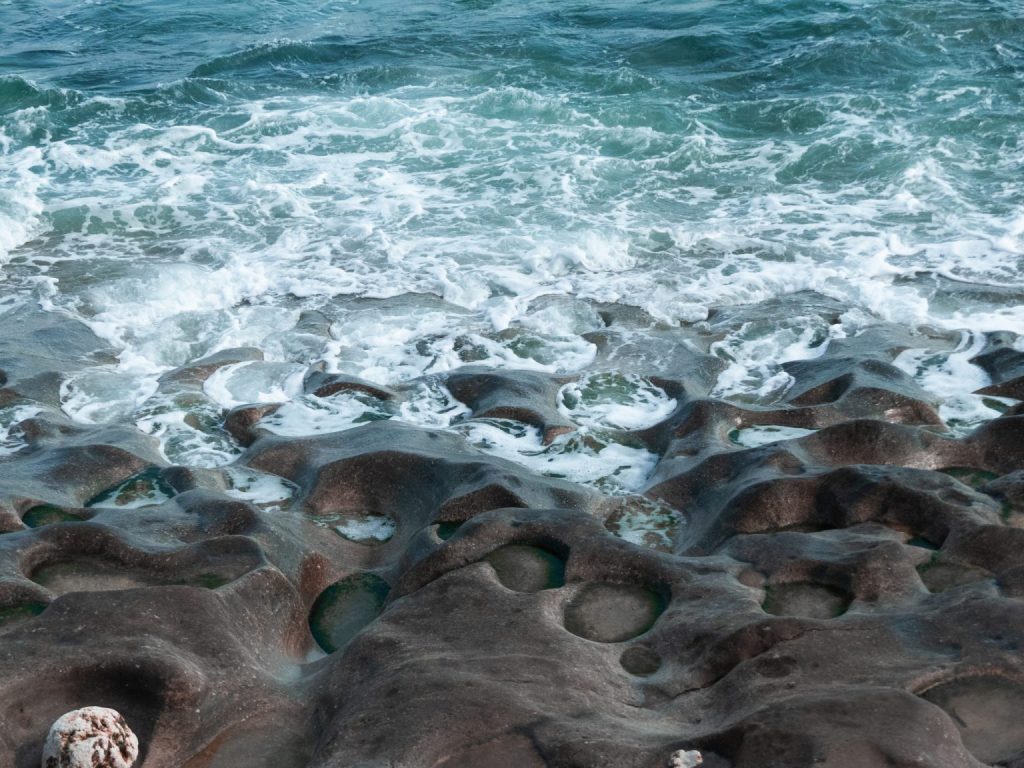 9:15 AM – Balangan Beach viewpoint
If you had breakfast at Balangan Paradise Restaurant you'll have already spotted the viewpoint. It sits on top of a cliff overlooking the beach and is one of the best drone-flying spots in Bali.
You can either walk or take your scooter, it will take only a few minutes.
The viewpoint consists of two different spots. One is the popular photo location where you will find a good number of tourists during the day. Next to it is a circular platform which almost looks like a small helipad. While the first point is slightly better for taking photos, the second is perfect for drone flying.
You can also go down some makeshift steps to a small cave temple with an ocean view. Watch your step though, the cliffs are steep and it's easy to trip and fall.
During this time of the day, you should not encounter many other people at the viewpoint. It gets a lot busier around noon and in the afternoon. It's especially popular for wedding photoshoots.
Address: Jl. Pantai Balangan No.54, Jimbaran, Kec. Kuta Sel., Kabupaten Badung, Bali 80361, Indonesia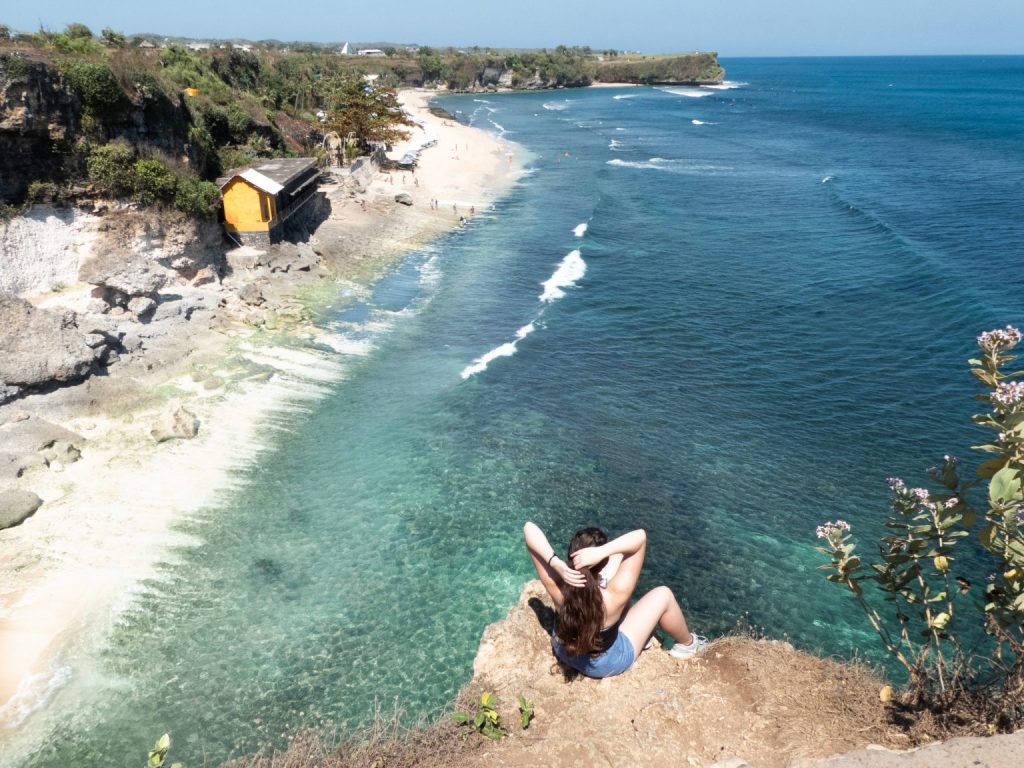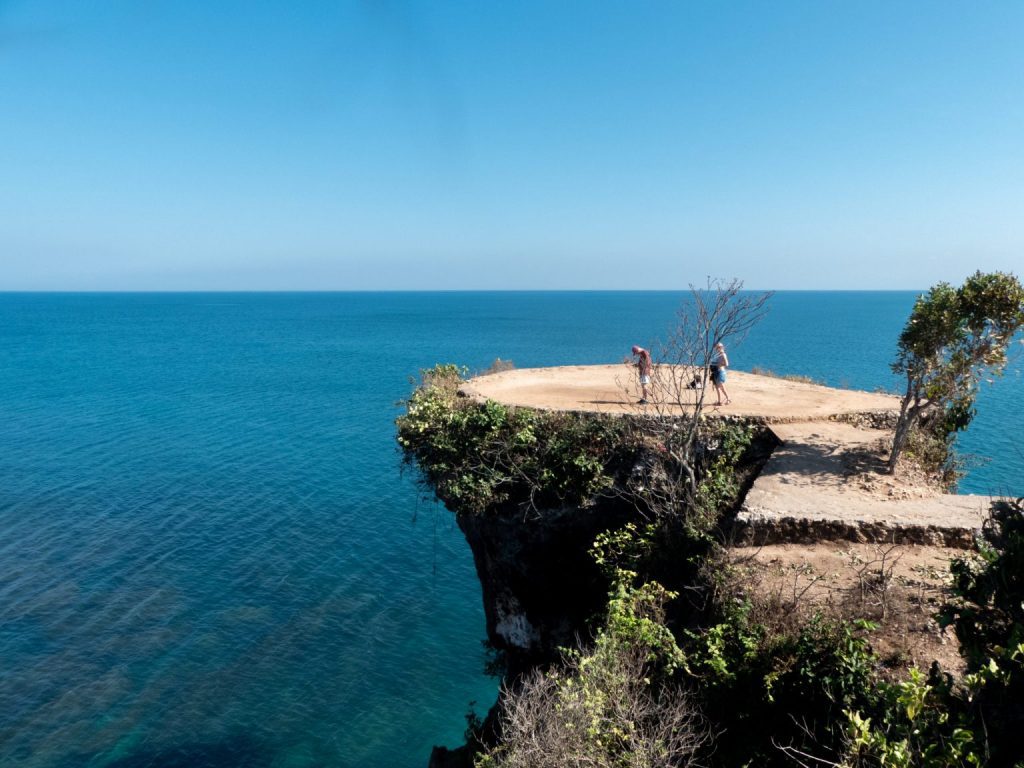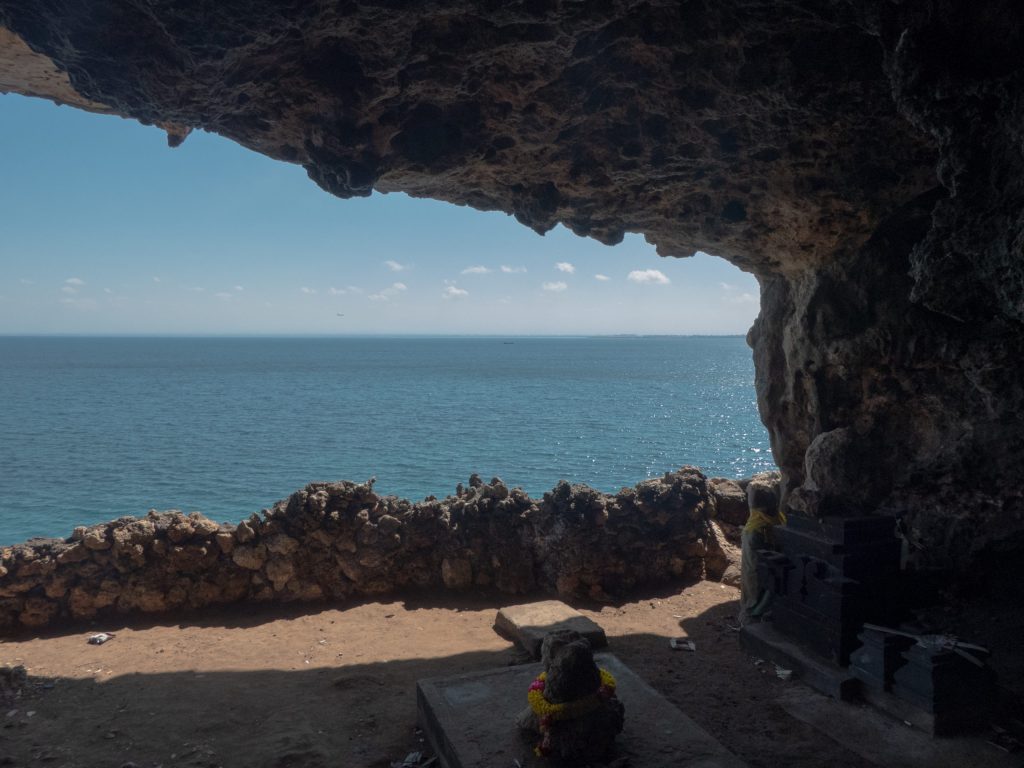 10:20 AM – Uluwatu Temple
On your way to Uluwatu Temple, you should drive through New Kuta Golf if you are on a scooter. The roads here a new and very wide and there is next to no traffic. It's a great spot to practise riding a scooter if you're a beginner as well as to take some photos.
Once you arrive at the temple you'll find yourself in a different world. This is one of Bali's most popular tourist attractions, especially for organised tour groups. You'll be surrounded by other tourists.
If the crowds bother you, consider going to the temple first thing in the morning and you might have a slightly more peaceful experience. Unfortunately, this would mean having to start your day trip to Uluwatu very early, you might be more comfortable staying somewhere close by.
You need to cover your legs when you enter the temple grounds and keep them covered the entire time. You can pick up a sarong free of charge or use your own if you brought one.
The entrance fee to Uluwatu temple is IDR 50,000 (~ €3.35) per person. Parking costs an additional IDR 2,000 (~ €0.15). It is open every day from 7:00 AM to 7:00 PM.
The temple itself is very small and cannot be entered by tourists. The most spectacular part of this spot are probably the steep cliffs that surround it. You can walk along them in either direction to get the best view of the tiny temple.
Be careful of the many monkeys that live close to the temple. They love to steal sunglasses, water bottles or food items.
If you have time you can come back in the evening for the famous Kecak Fire Dance performance. Tickets sell out fast and are quite expensive though.
Address: Jl. Pura Uluwatu, Pecatu, Kec. Kuta Sel., Kabupaten Badung, Bali, Indonesia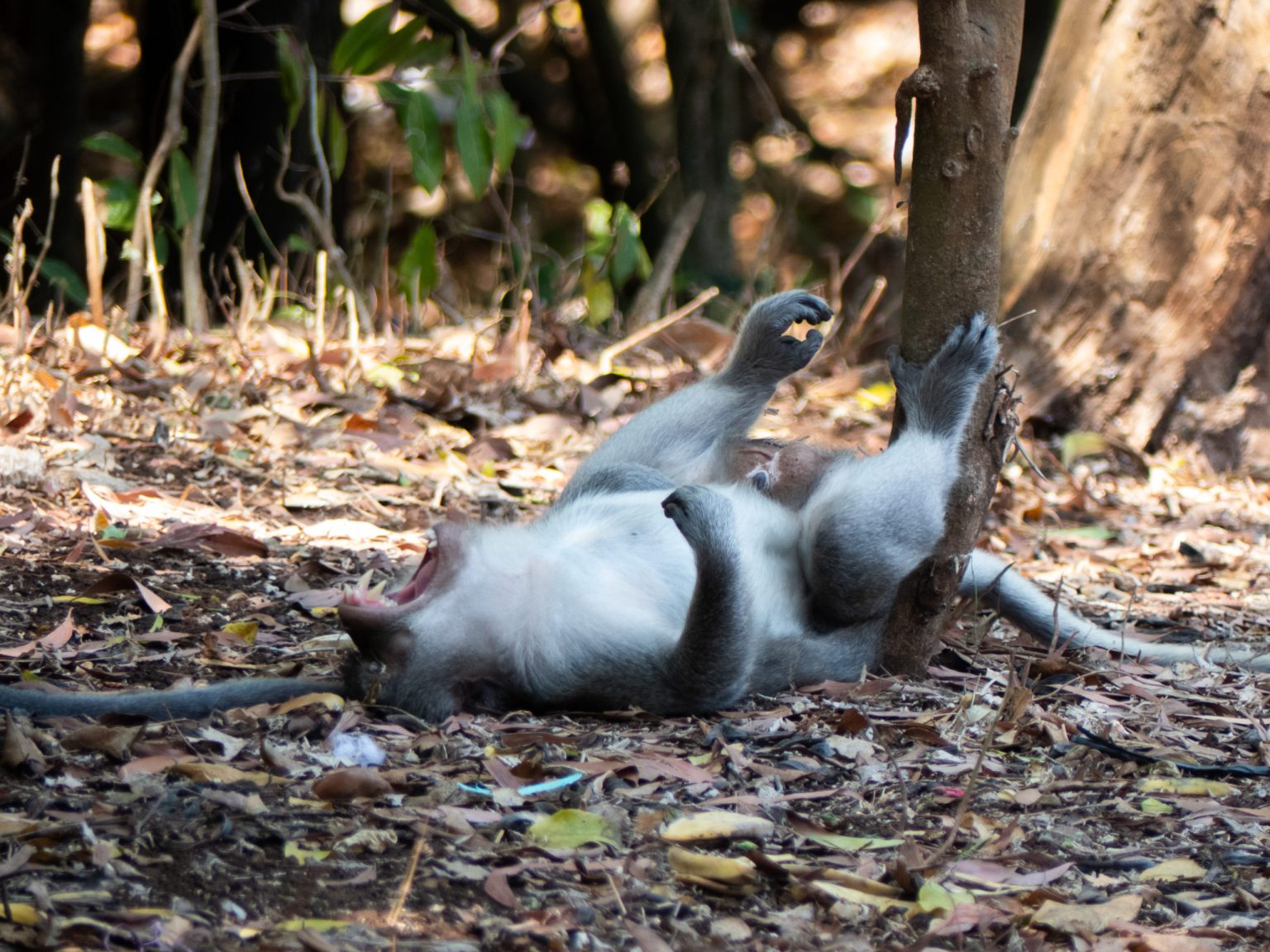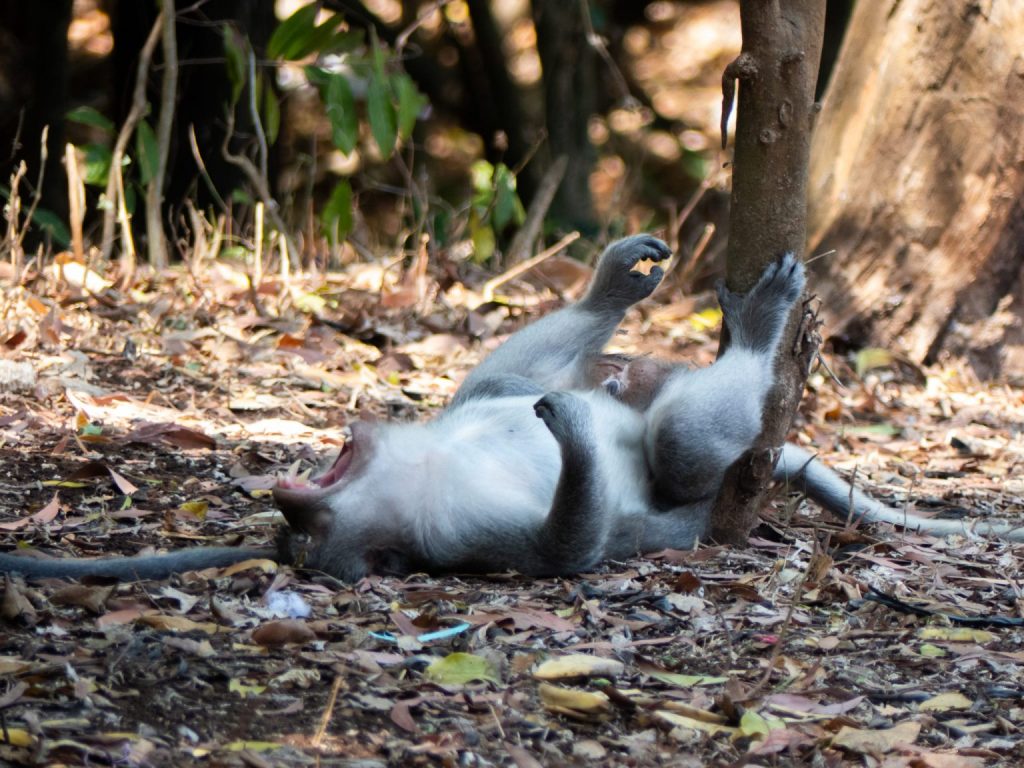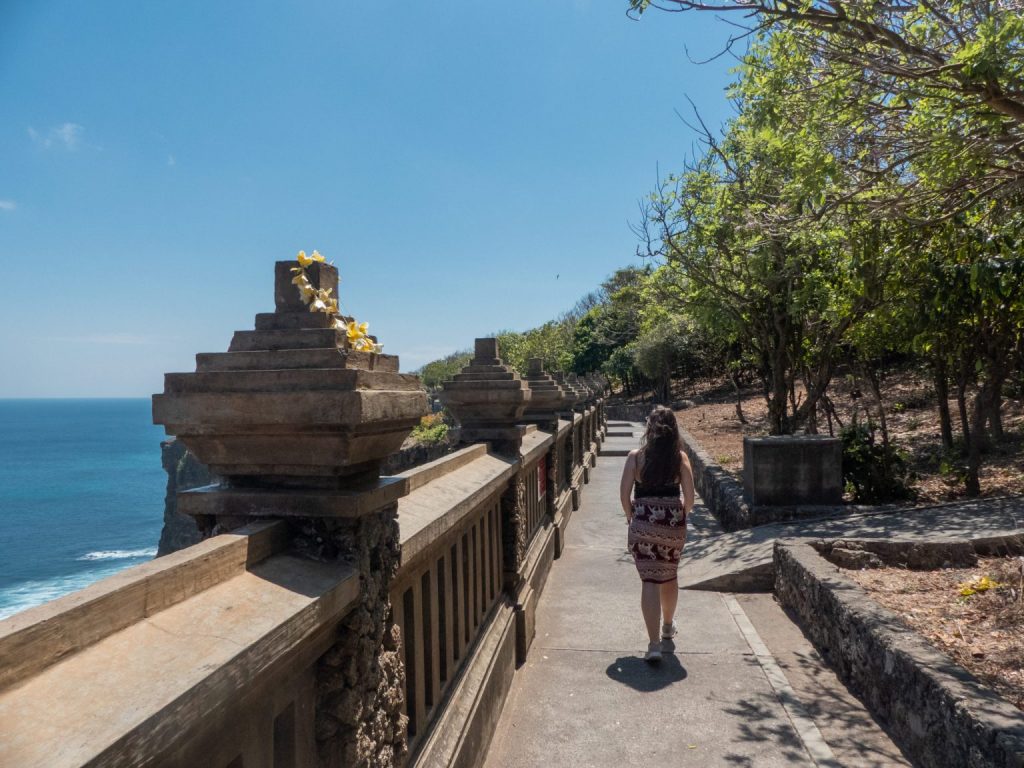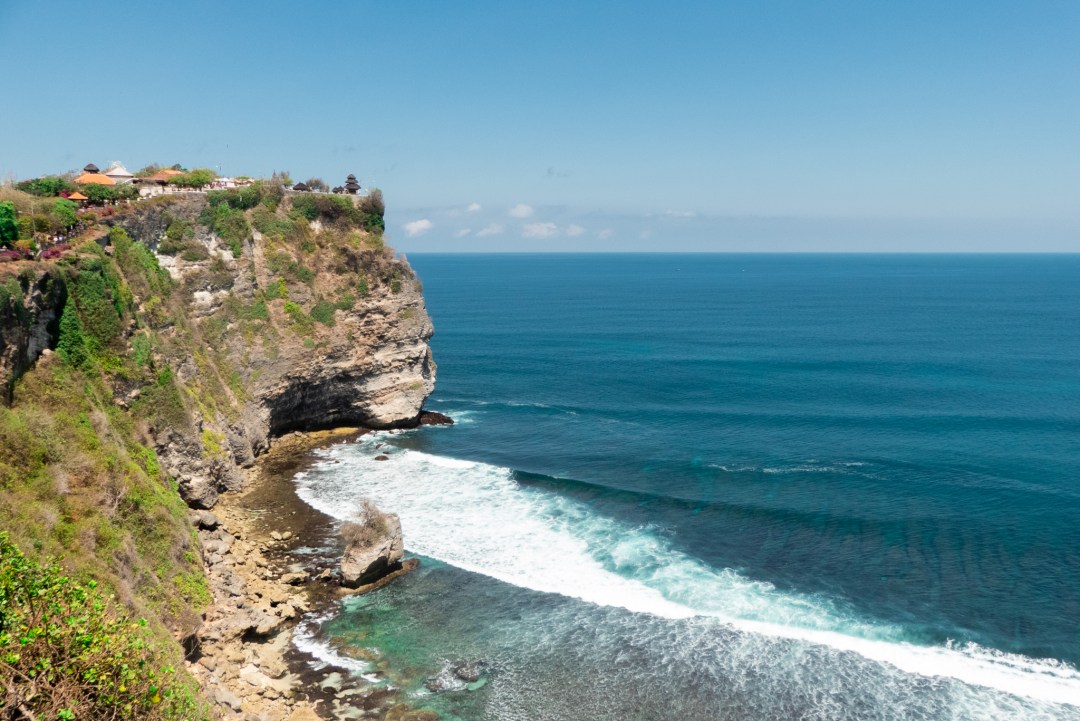 11:45 AM – Suluban Beach
Close to 12:00 PM you'll arrive at Suluban Beach which is less than 2 km away from Uluwatu Temple. Stock up on water along the way, it's more expensive to buy it at the beach.
Suluban Beach is famous for its cave-like cliffs and the small shipwreck that is stranded at the beach.
If you're hungry this is a great time for some lunch at one of the small warungs (local restaurant) above the beach. There are also some more expensive beach clubs if you're okay with spending some money.
This beach is great for surfing. You can rent a board for a few hours if you want to spend some more time here.
Make sure to explore both parts of the beach one of which can be reached by walking through a little cave.
Parking costs IDR 2,000 (~ €0.15).
Address: Indonesia, Bali, Badung Regency, South Kuta, Pecatu, No.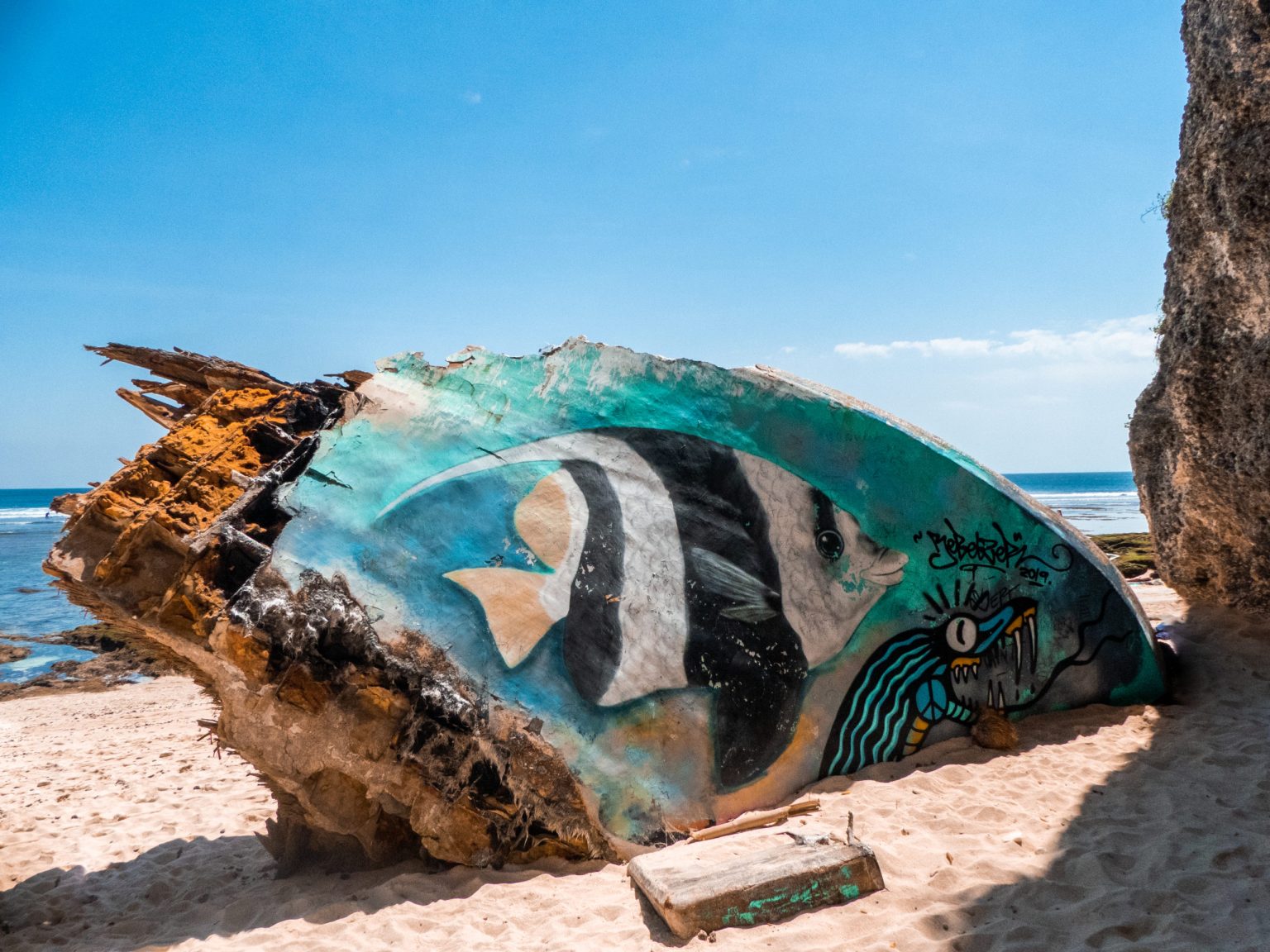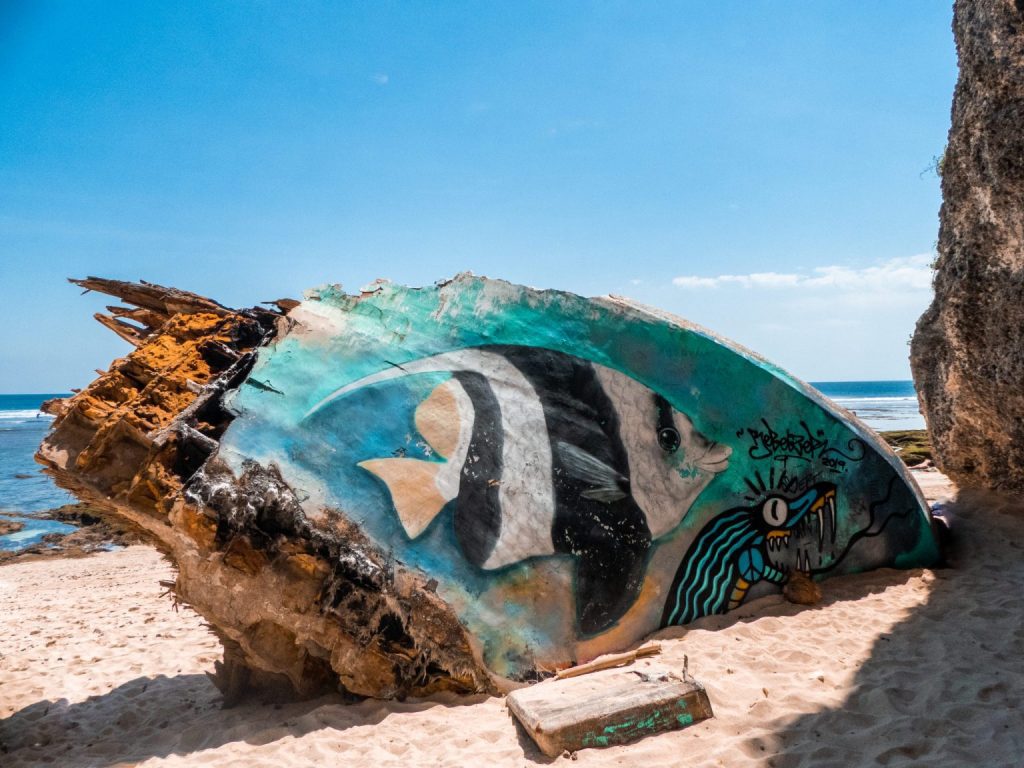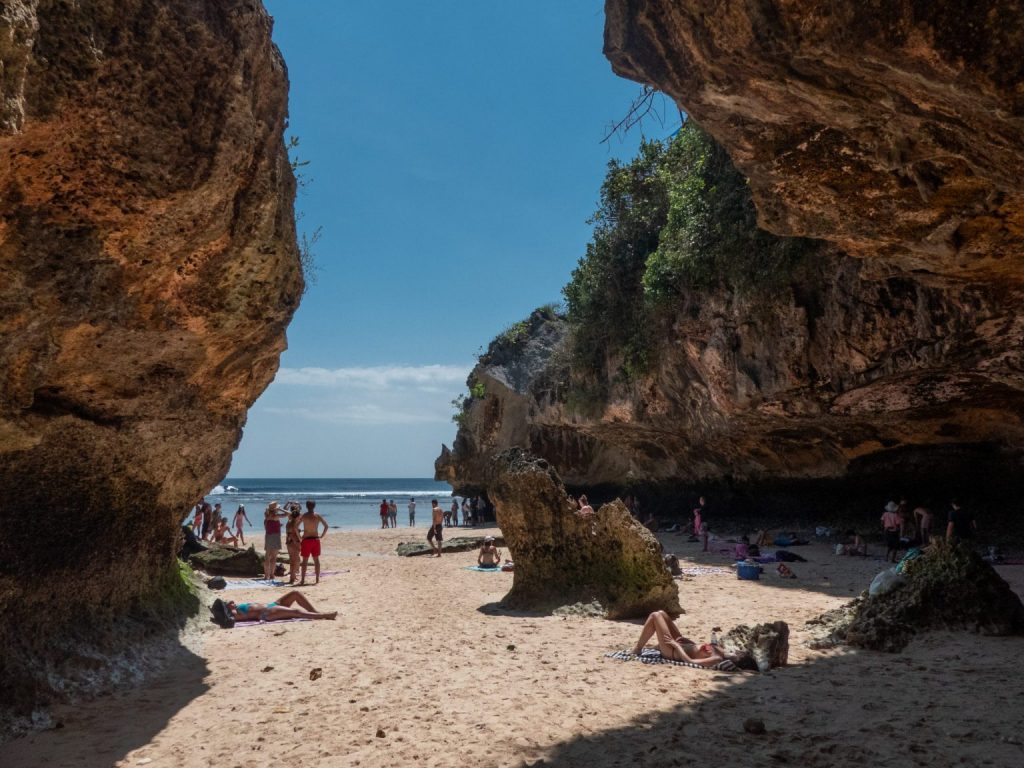 2:45 PM – Sunset Lost abandoned villa
Right next to Suluban Beach is a secret spot that most people do not know exists. This abandoned villa has incredible views, especially during sunset. The place is quite big and especially the rooftop is very impressive.
It's easy to get past the gate and no one lives on the property but it's still advisable to be discreet when entering. It is unclear who this house belongs to and whether it's okay to enter.
This is a great spot to fly a drone or watch the sunset.
Address: No., Pantai Suluban St No.18, Pecatu, South Kuta, Badung Regency, Bali 80361, Indonesia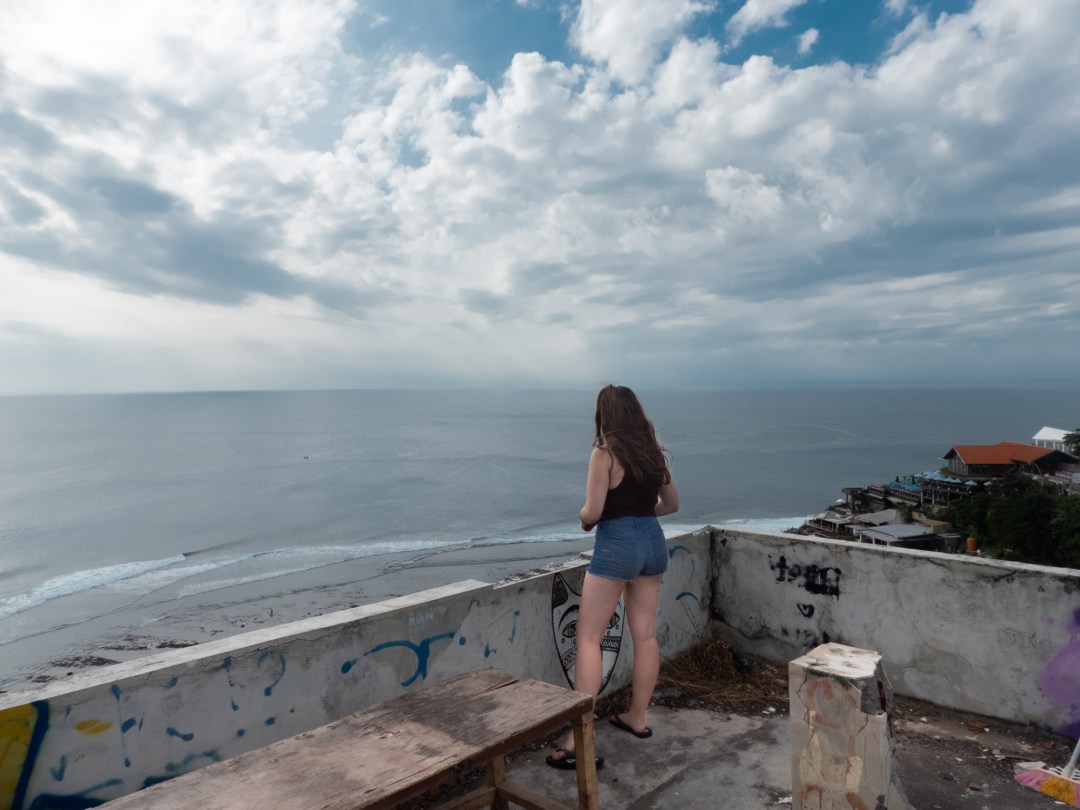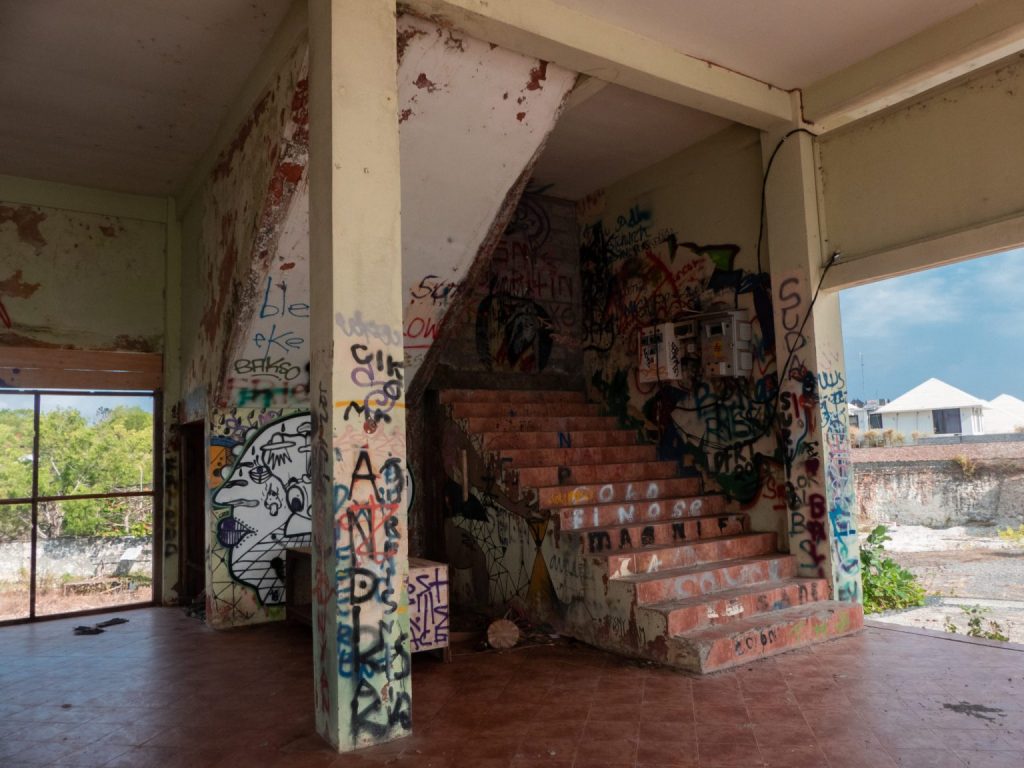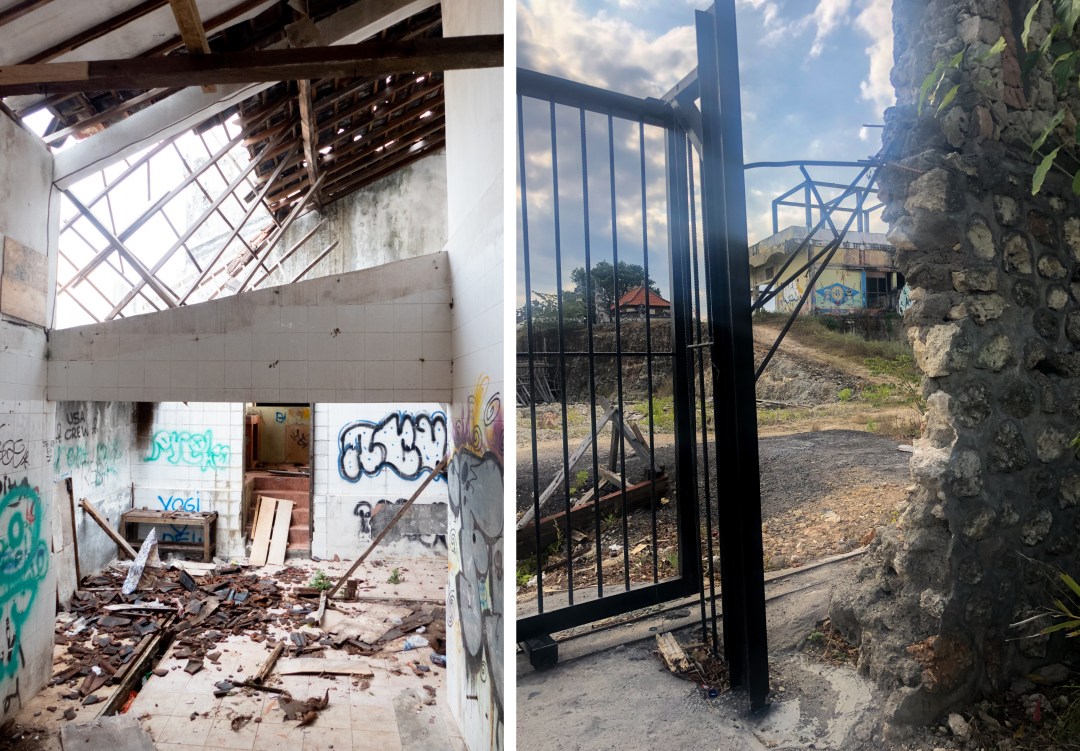 4:45 PM – Garuda Wisnu Kencana Cultural Park or Dreamland Beach
This last stop is entirely up to you and how much time you have left. You can either go to Dreamland Beach, one of Uluwatu's most popular beaches or to Garuda Wisnu Kencana Cultural Park. This park includes Bali's famous Garuda Wisnu Statue that can be seen from much of southern Bali. There are also many other statues, ponds and restaurants.
The entrance fee to the park is IDR 110,000 (~ €7.40) per person which is quite expensive compared to Dreamland Beach which is free.
Dreamland Beach has quite a few large resorts and restaurants. It is definitely a more touristy beach but very beautiful. It's great for surfing or just relaxing. You'll find it right next to Balangan Beach so you can also visit it earlier during the day if you like.
Equally beautiful are Bingin Beach, Padang Padang Beach or Nyang Nyang Beach.
In the end, it's up to you which of the two you choose. There is not that much time left until the sun begins to set so choose wisely.
Address Garuda Wisnu Kencana Cultural Park: Ungasan, Kuta Selatan, Ungasan, Kec. Kuta Sel., Kabupaten Badung, Bali 80361, Indonesia
Address Dreamland Beach: Kawasan Pecatu Indah Jl. Pantai Dreamland, Pecatu, Kec. Kuta Sel., Kabupaten Badung, Bali 80364, Indonesia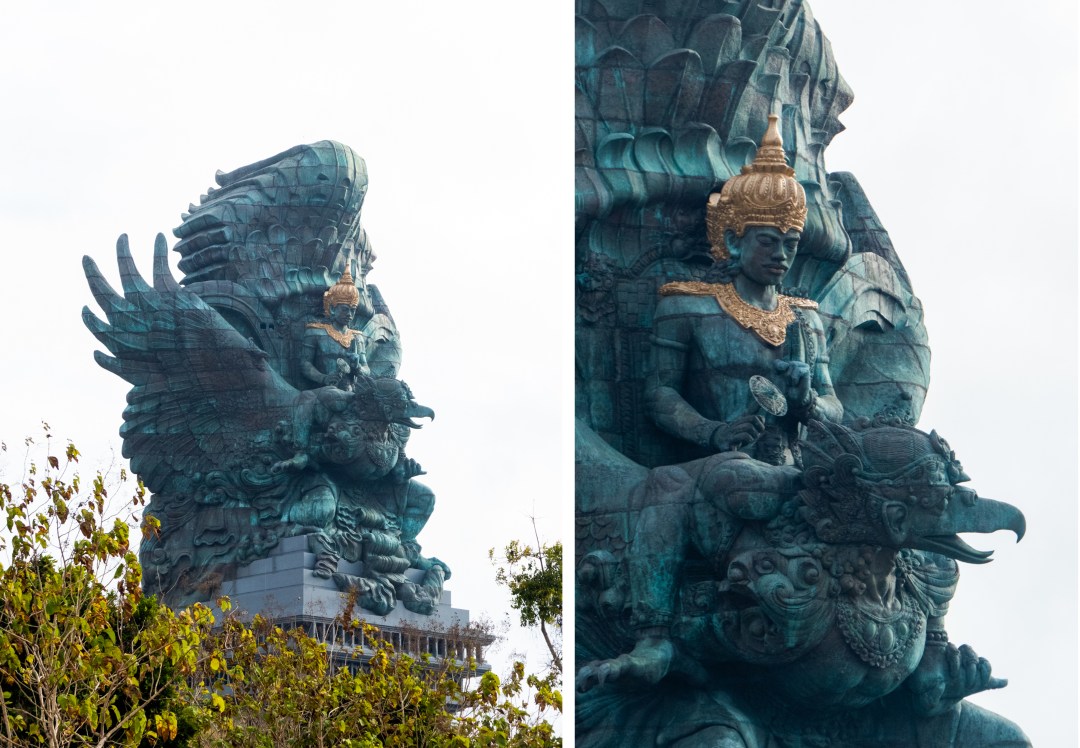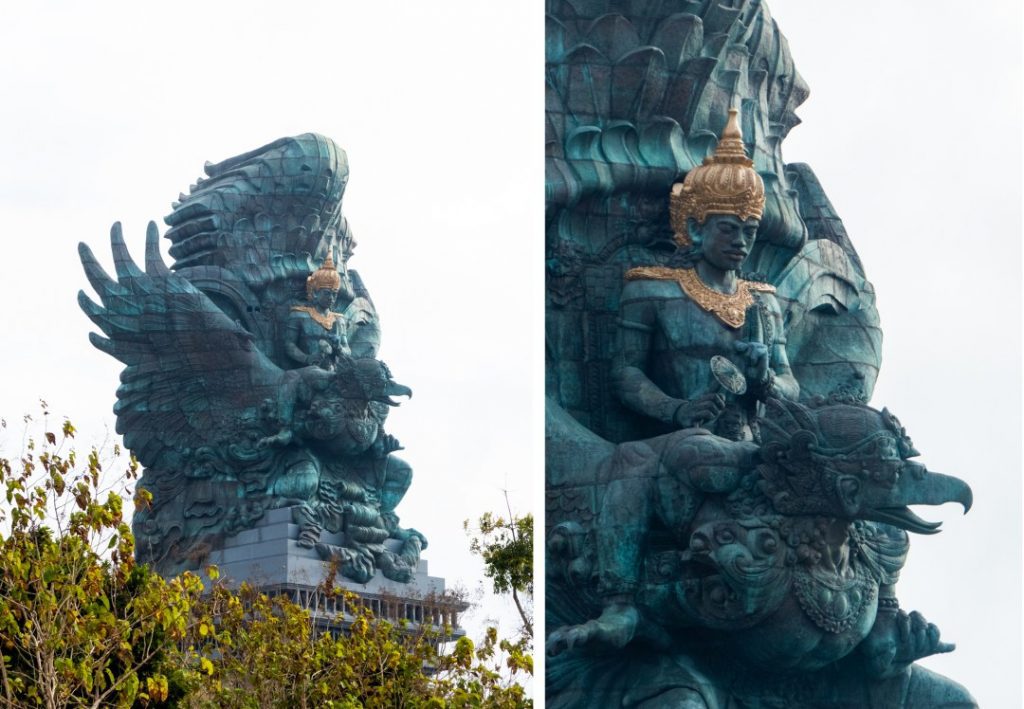 6:00 PM – Dinner at Udayana University
This may seem strange but Bali's Udayana University actually has some of the cheapest and best warungs on the island. Especially along the Jalan Raya Kampus Unud you'll find many small restaurants, great food and resonable prices.
Alternatively, you can also have dinner at Dreamland Beach but expect to pay a bit more.
After dinner, start heading back home and enjoy the rest of your evening after such an exhausting day.
Love abandoned places? Check out Bali's deserted theme park.
Check out this Ubud day trip itinerary if you want to explore Bali's north.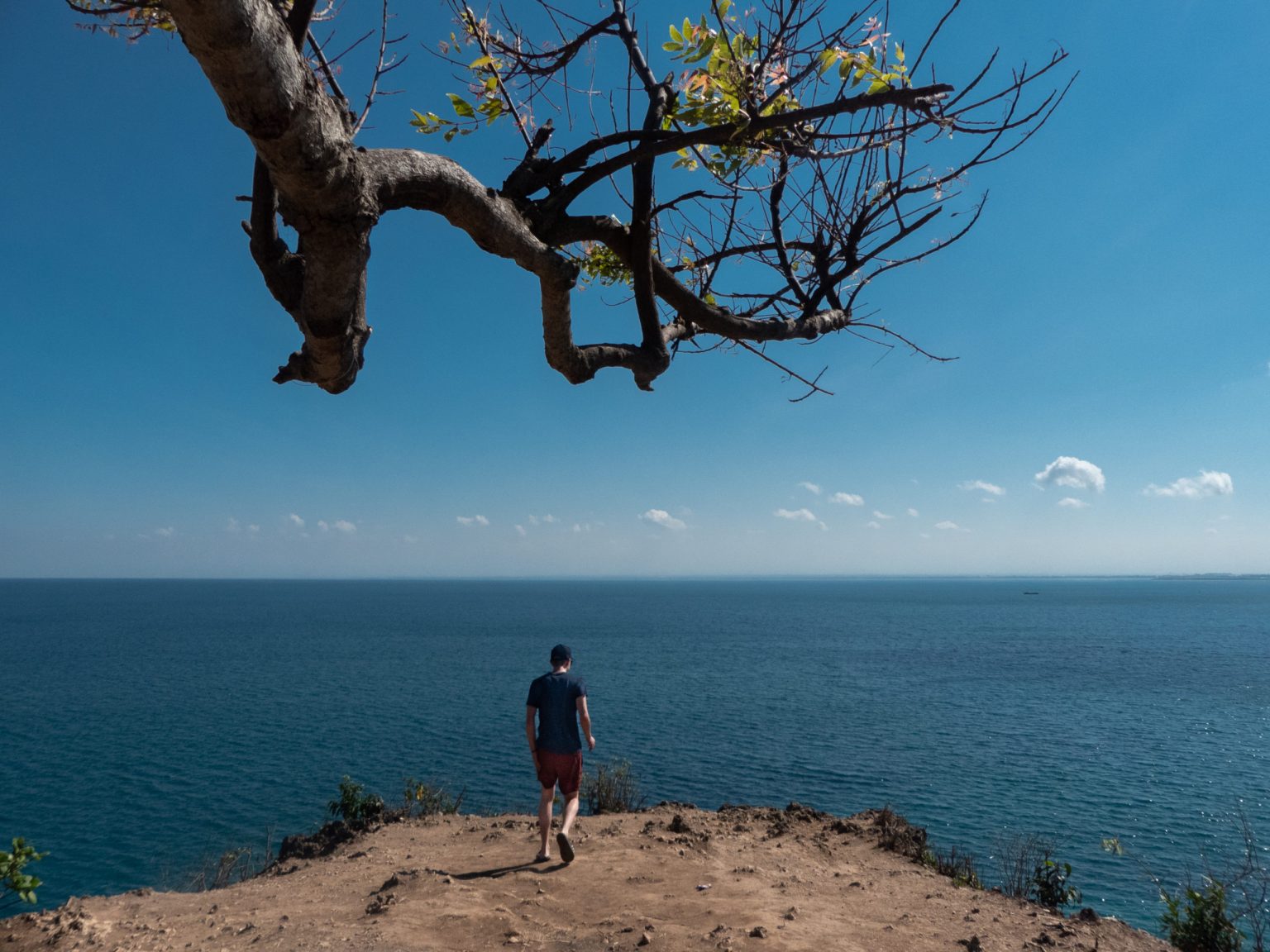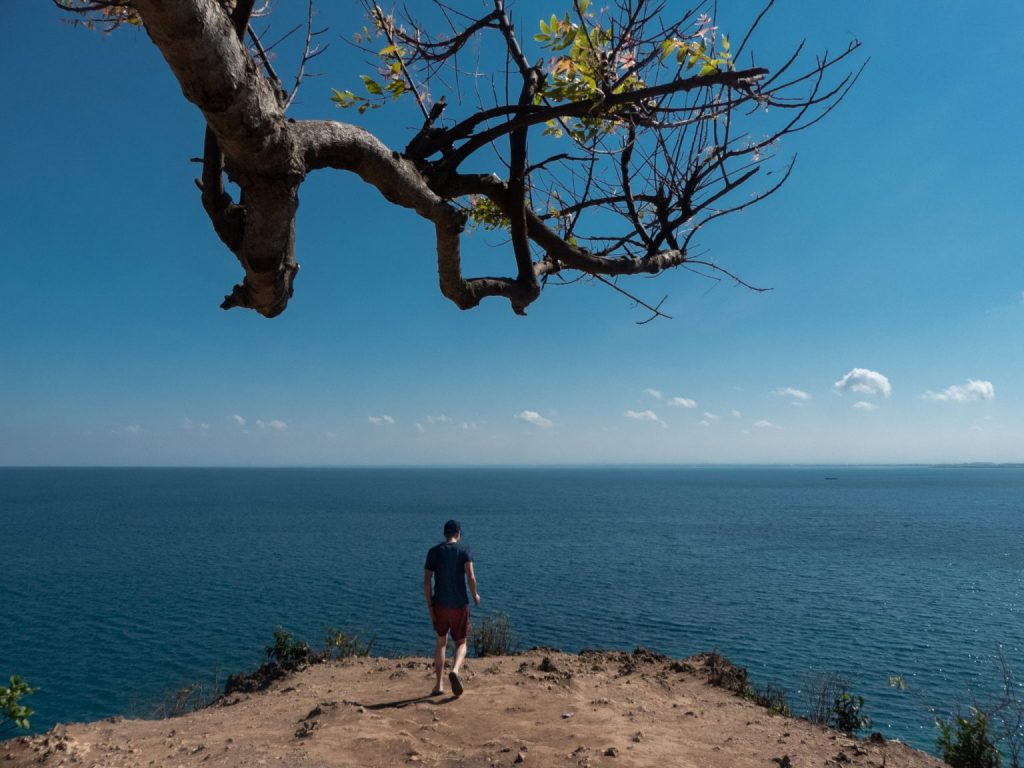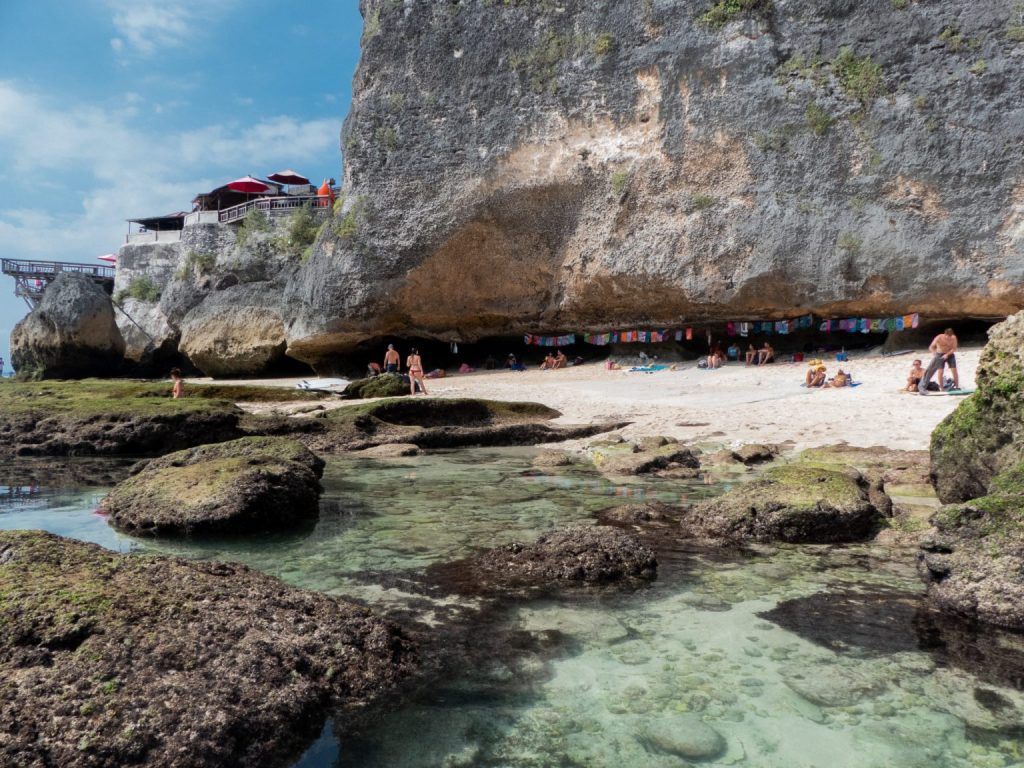 My most important travel tips and resources
Book your flights
Skyscanner is the best website for finding cheap flights since it works like a search engine so you can find the best deals across all airlines.

Book hotels and hostels
• Booking.com: Best world-wide
• Agoda: Best in South East Asia
• Hostelworld: Best for hostels

Book tours, transport and rental cars
•Viator: The best place to book tours, day trips and excursions for al budgets
•12Go: Great for ferries, trains, transfers and buses in South East Asia
•Discover Cars: Best deals for rental cars around the word

Get travel insurance
Every traveller needs travel insurance and I mean every single one. SafetyWing covers you in case of injury, illness or worse and they've got your back if your bag is stolen, flights are cancelled or in case of a natural disaster.

Pay abroad
Ask any traveller, Wise is the best choice when it comes to sending money abroad. They've always got the best exchange rates, lowest fees and their visa card is great for getting cash out or paying abroad.

Things every traveller needs:
➼ Osprey Farpoint 70 Backpack
Detachable daypack, ultra-light, durable and free repairs for life. There's a reason why so many backpackers have this bag.
➼ Packing Cubes
Packing cubes are a gamer changer, keeping your luggage organised and providing tons of extra space.
➼ Power bank
There is nothing worse than running out of battery on an overnight bus journey or a long flight. With a powerbank you can charge your eletronics on the go and make sure you're always connected.
➼ Micro-fibre towel
These lightweight towels are foldable, fast-drying and so useful when you're travelling.

➼ You can find 15 more things every traveller needs here. Some might be a bit controversial but I warned you!
Did I miss anything?
If you have any questions or feel like something is missing from this post please leave a comment below or contact me.