Taman Festival is an abandoned theme park on the beach in Sanur, Bali. It's an absolute highlight for anyone who is interested in urban exploring. But even if you're usually not into seeking out abandoned buildings you should still visit Taman Festival.
The theme park is huge and full of forgotten secrets and some of the best graffiti and street art in Bali made by world-renowned artists. Plus the urban legends and ghost stories surrounding the park may just make you want to see it for yourself.
So hop on a scooter and make your way to Taman Festival, Bali's worst kept secret.
Want to explore more of Bali's hotspots? Check out our day trip itineraries for Uluwatu and Ubud.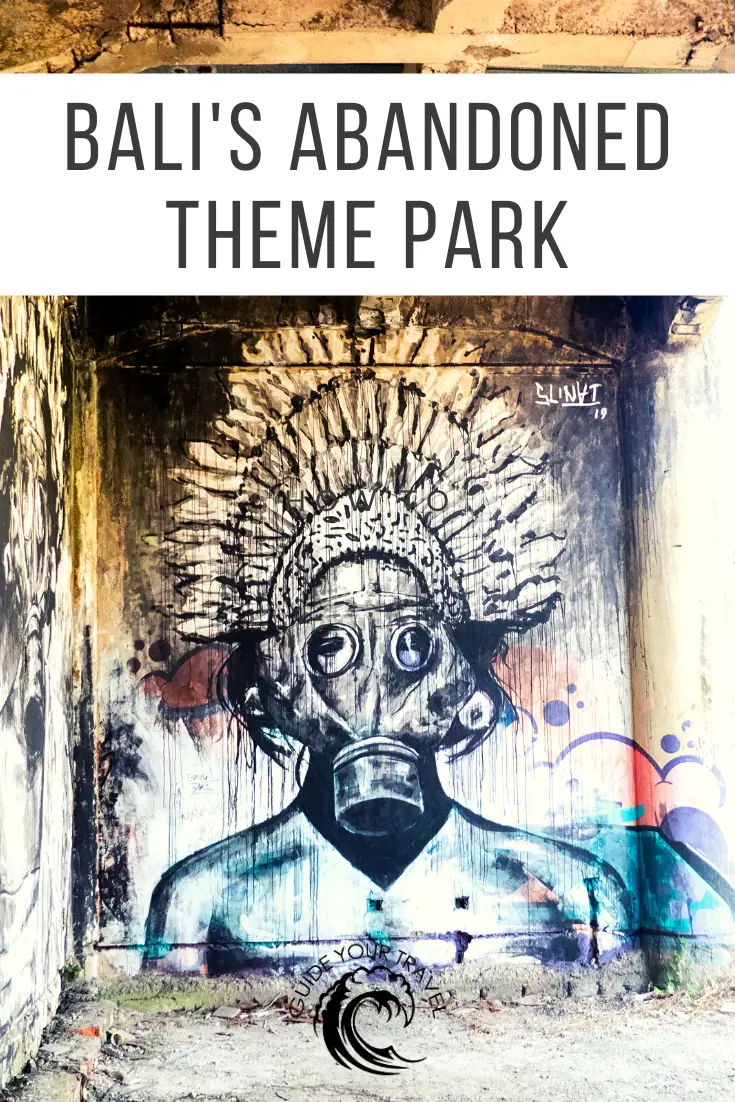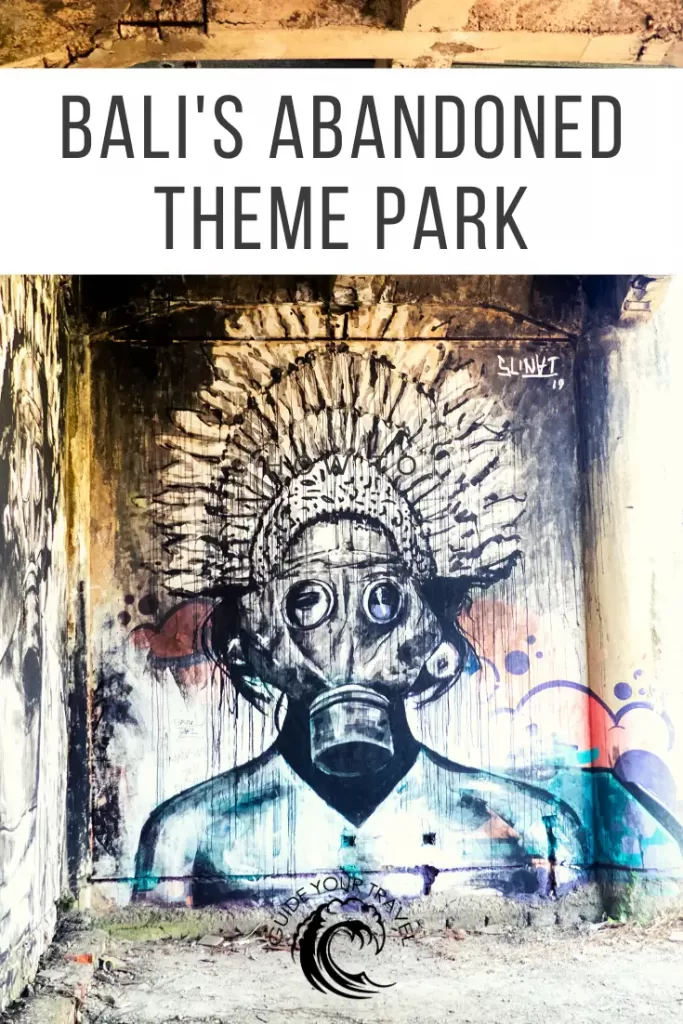 WHY IS THE THEME PARK ABANDONED?
Unfortunately, there is not just one story of why Taman Festival was abandoned. Accounts differ but the most common version is that the theme park never officially opened. Apparently, there was a soft opening in 1997 but due to a lack of visitors, the park was never successful.
It's hard to say why this was the case. Taman Festival's attractions were impressive for theme parks at the time. The government invested 1 trillion IDR (≈ 64 Million €) to build Bali's largest swimming pool, a 3D cinema (which was still quite novel in 1997), a zoo, a working artificial volcano, an insanely expensive laser show (≈4,5 Million €) and what was supposed to be the world's first entirely inverted roller coaster.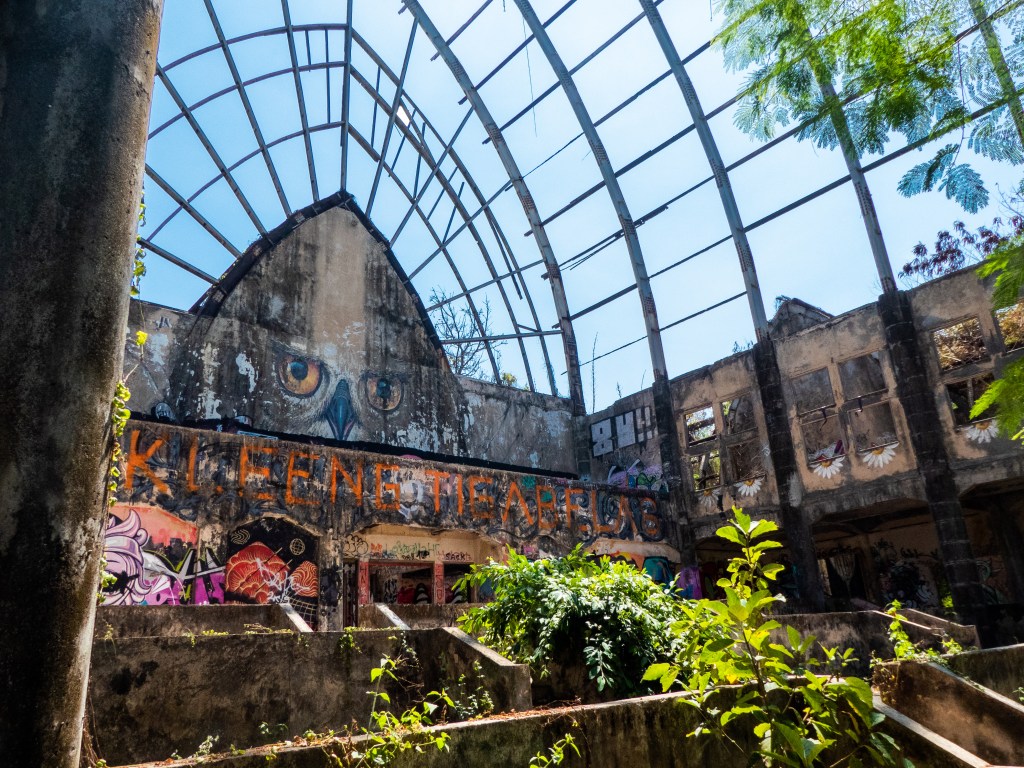 According to locals, lightning struck the machinery needed for the laser show in 1998, causing irreparable damage. The park, which was already struggling financially closed temporarily after declaring bankruptcy in 1999. After the 2002 terrorist attacks on Bali, it became clear that it would not be able to reopen.
The ownership to the land was auctioned off and it's unclear who legally owns the park today. In any case, it is open to the public, although only semi-officially.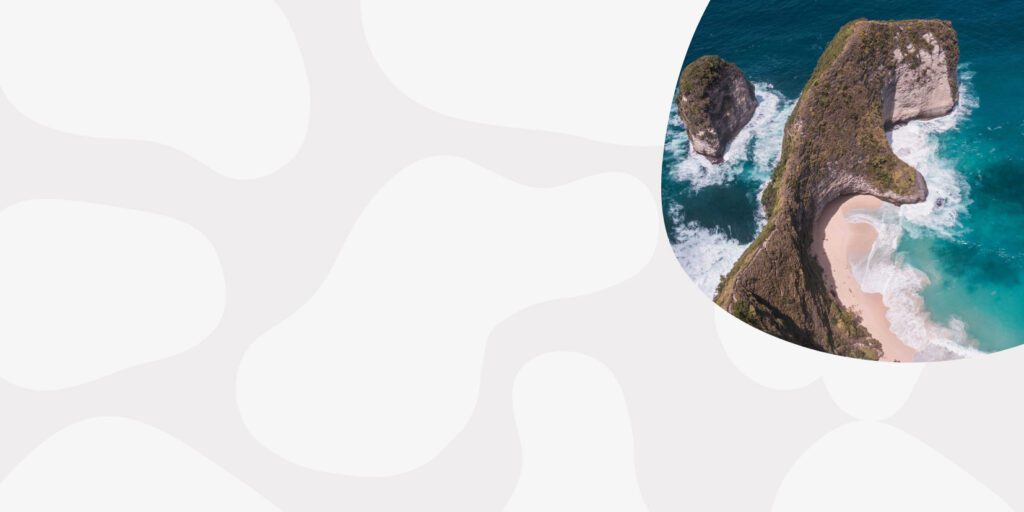 Save time when planning a trip to Bali

➼ 8€ airport pickup? Klook
➼ Best travel insurance? SafetyWing
➼ Accommodation? Agoda or Hostelworld
➼ Where to get cash out for free? Maybank ATM
➼ Best SIM card? Telkomsel
➼ Best place to book flights? Skyscanner
HOW TO GET TO TAMAN FESTIVAL IN BALI
You will find Taman Festival in the south-east of Bali, about 2 kilometres north of Sanur harbour.
The best way to get there is by renting a scooter and driving yourself. If you're not comfortable with this you can get a driver for a few hours or an entire day. Use Facebook groups or ask your accommodation for a contact. To hire a driver for a full day you should be paying between IDR 350,000 to IDR 450,000 (~ €22.50 to €28.90) depending on how good you are at bargaining.
A scooter will cost you anywhere from IDR 50,000 to IDR 70,000 (~ €3.30 to €4.70) for a day.
While you can get a Grab or taxi to take you to Taman Festival, you will have trouble getting a ride on the way back. The area is quite remote and there won't be many drivers around.
If you're staying somewhere in Sanur you can walk along the beach to Taman Festival. This won't take more than 30 minutes from the harbour but will be very hot if the sun is out.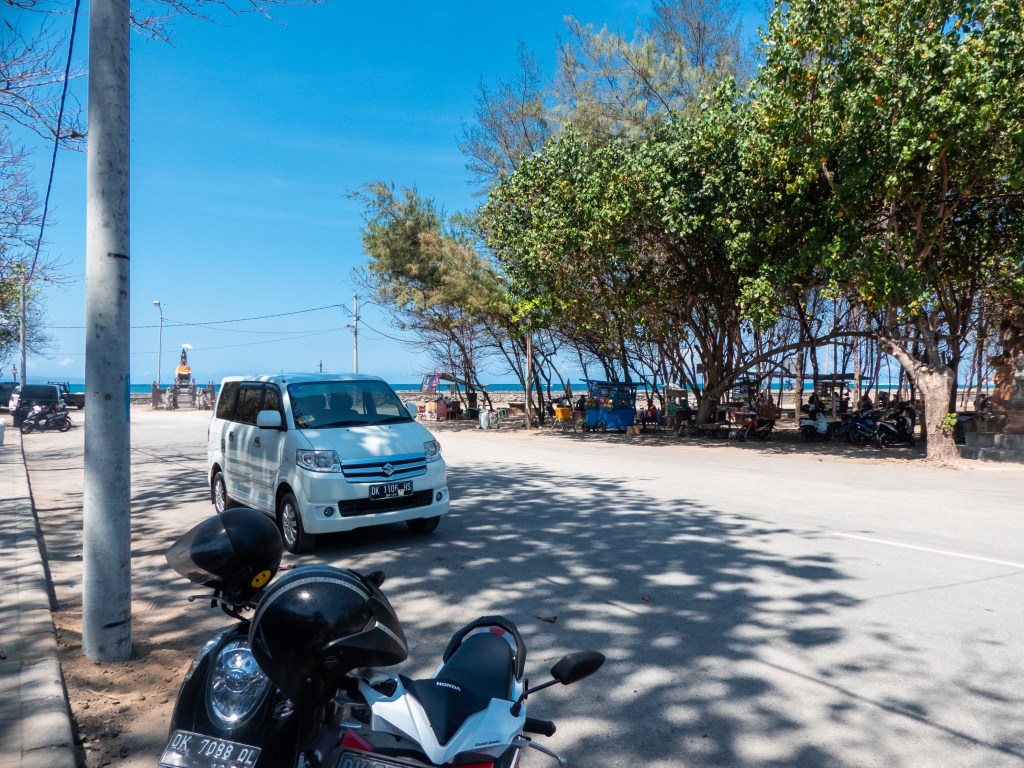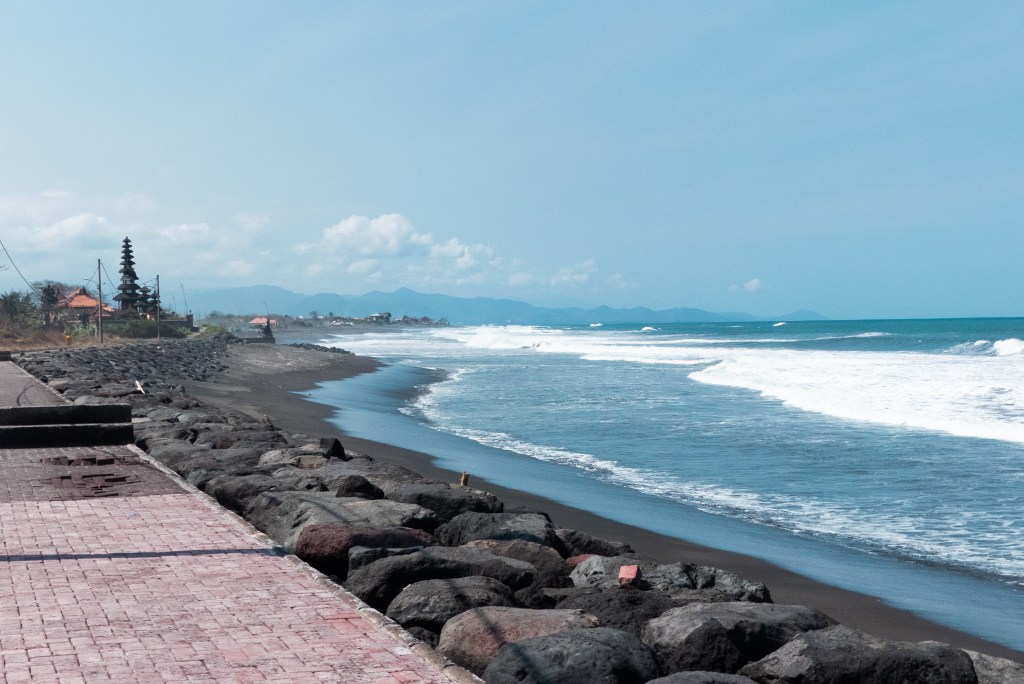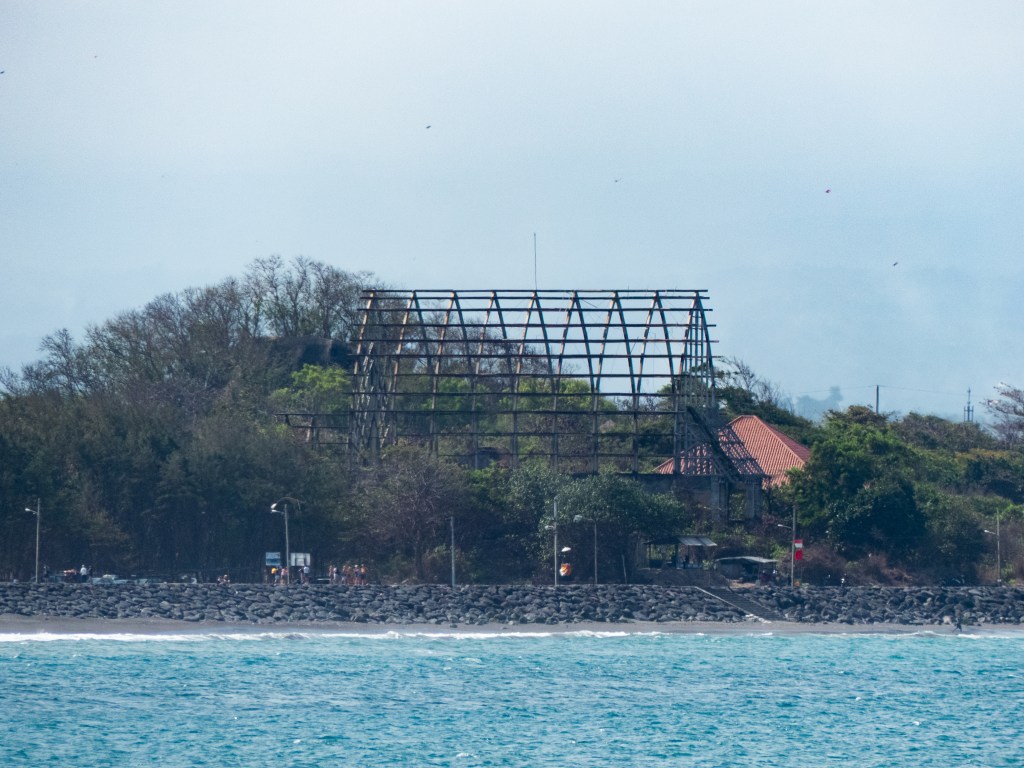 ENTRY FEE
When you arrive at Taman Festival you'll be greeted by some locals asking you to pay an entry fee or "donation" to enter the park. It's best not to argue and simply pay the fee.
This is just another example of opportunism in Bali. Locals noticed that tourists are visiting this abandoned park and start charging entry. Do they own the park? No. Do they provide any sort of service for you? Definitely not. Will your money contribute to the upkeep of the park? Not a chance.
The usual price is IDR 20,000 (~ €1.30) per person. You might be lucky and get away with paying IDR 10,000 (~ €0.60) if no one else is around. Parking is an additional IDR 2,000 (~ €0.13) per scooter.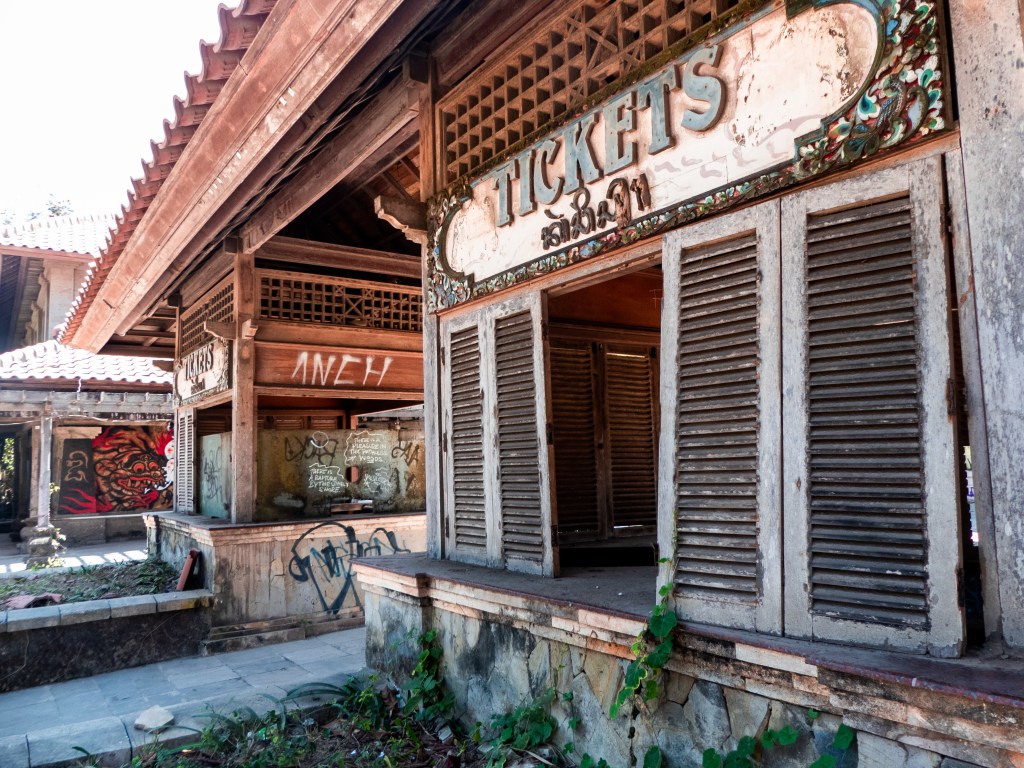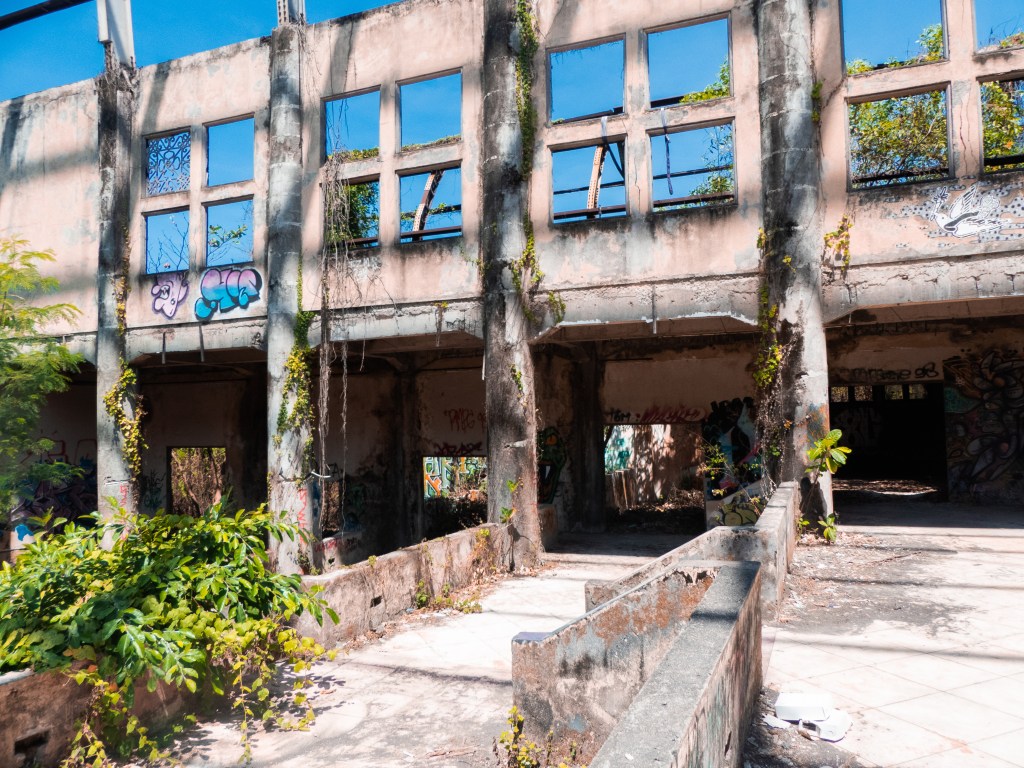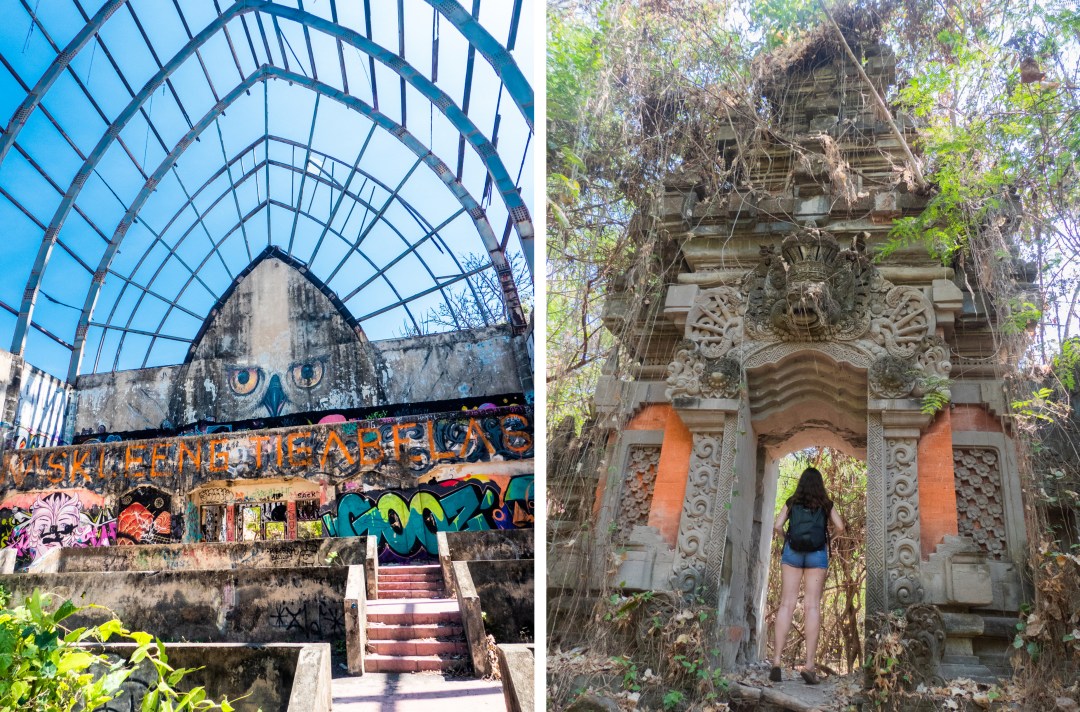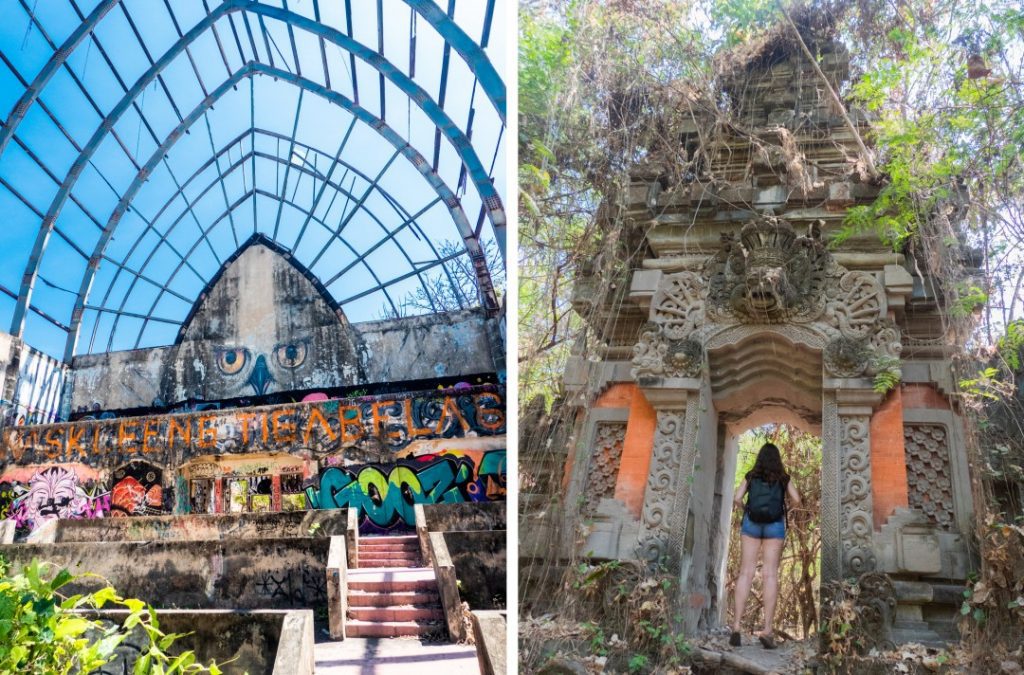 HOW TO GET AROUND THE ENTRY FEE
If scams like this make you angry or you really can't spare the money there is another way of getting in. There is no fence around the park so it's not hard to sneak around the guards. If you go down to the beach and walk left you can get into the park without being seen from the main entrance. Simply look for the small square building below. Behind it, you can enter the park if you walk through the jungle.
Of course, you risk getting caught by the guards who sometimes wander around the park. If you're there during midday when there will be plenty of other visitors you'll get away with it though.
Travelling on a budget? Here are 21 Tips on how to save money in Indonesia.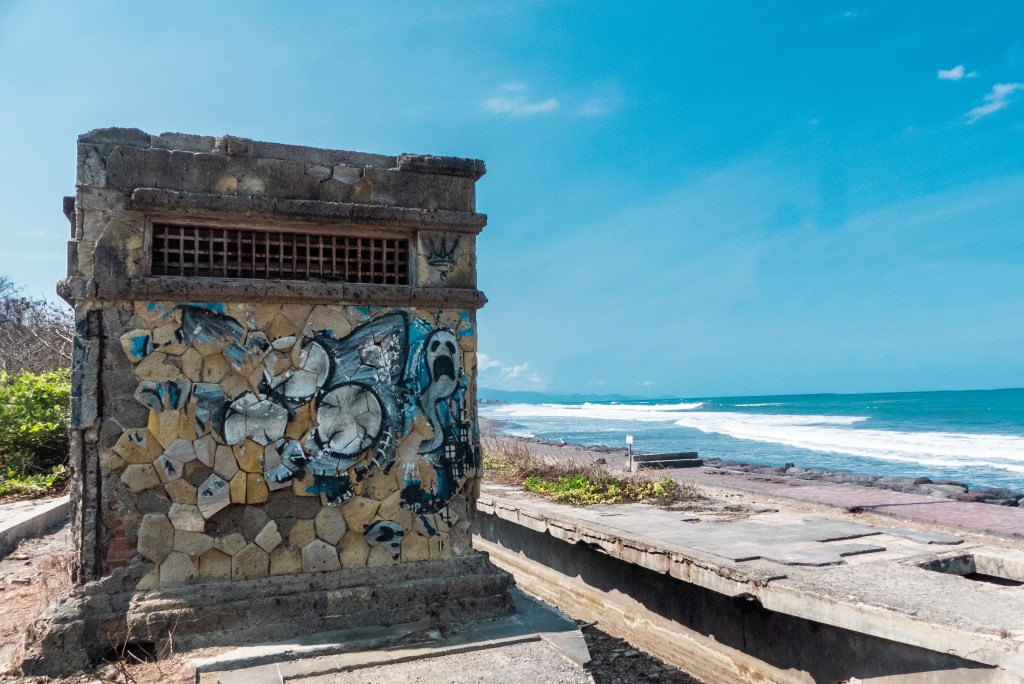 WHEN TO GO TO TAMAN FESTIVAL IN BALI
Taman Festival in Bali has no real opening hours. You can pretty much visit it at any time of the day. During the day you'll share the park with other tourists, although you'll never find huge crowds of people here. Even at midday, there will be maybe 20-30 other people which is still fine since the park is so large.
If you want the park all to yourself you should go very early in the morning.
Or go at night if you're an insane person that wants to be in an abandoned theme park in the dark with lots of nocturnal spiders, snakes and bats.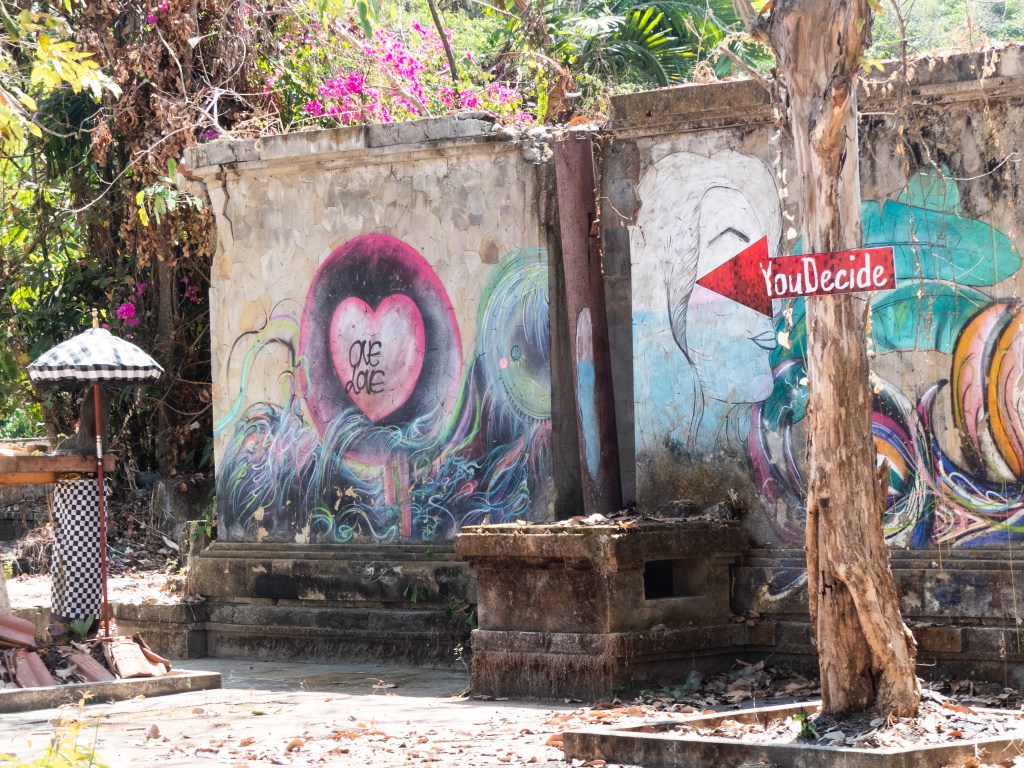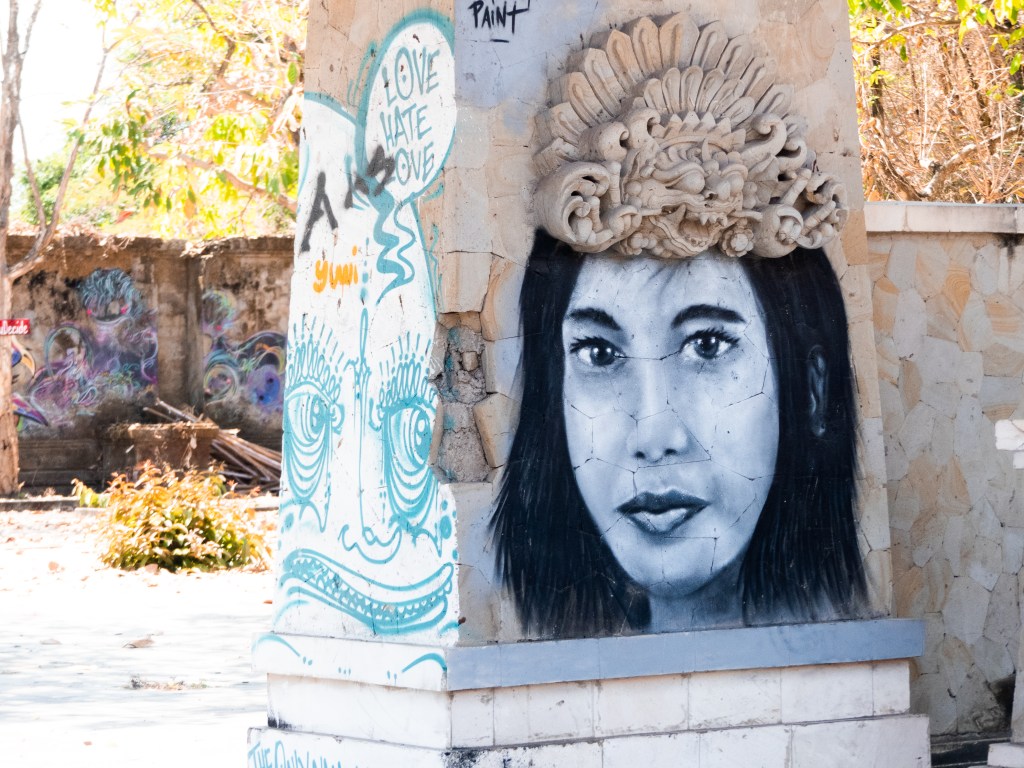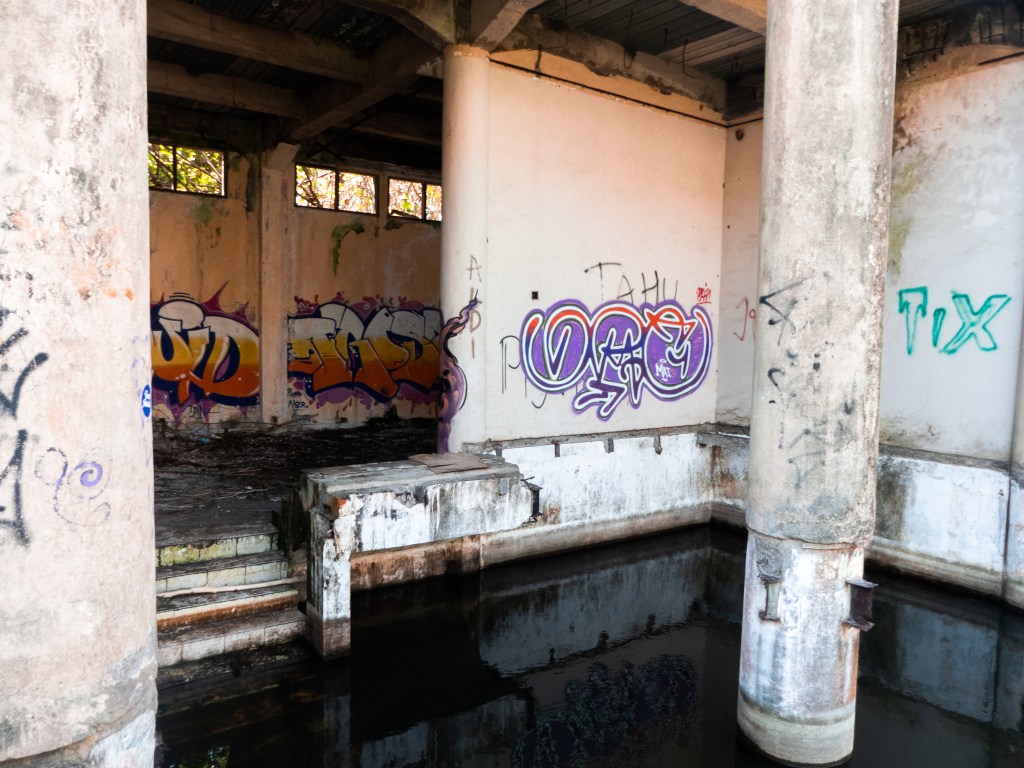 WHAT TO WEAR
The theme park was abandoned years ago. That means that no one came to clean up after everybody left and there is no maintenance of the grounds whatsoever. Broken glass is everywhere as well as exposed pipes and unstable structures. Not to mention the many animals such as snakes and spiders that inhabit the buildings now.
If you're really planning to explore, you'll have a better time wearing proper shoes. Flip-flops are fine if you only want to go to the main building to take some photos. But if you want to venture into the jungle to explore the more remote buildings you should opt for sneakers to protect your feet.
Take insect repellant with you when visiting Taman Festival. The jungle is full of stagnant bodies of water which is a mosquito's paradise.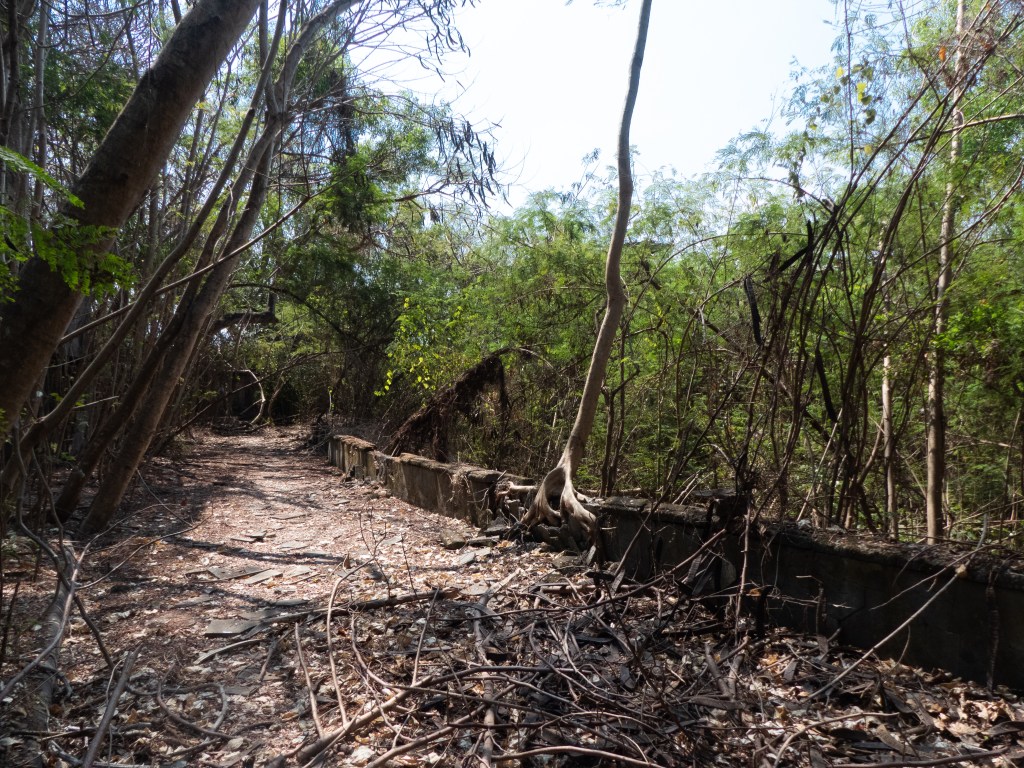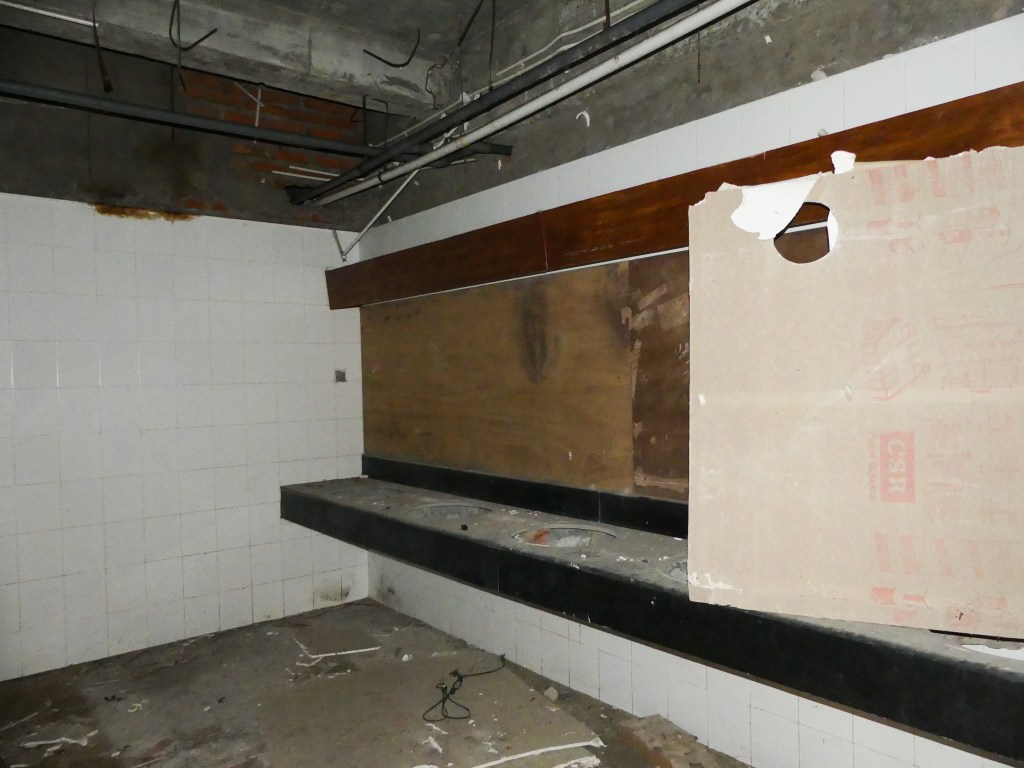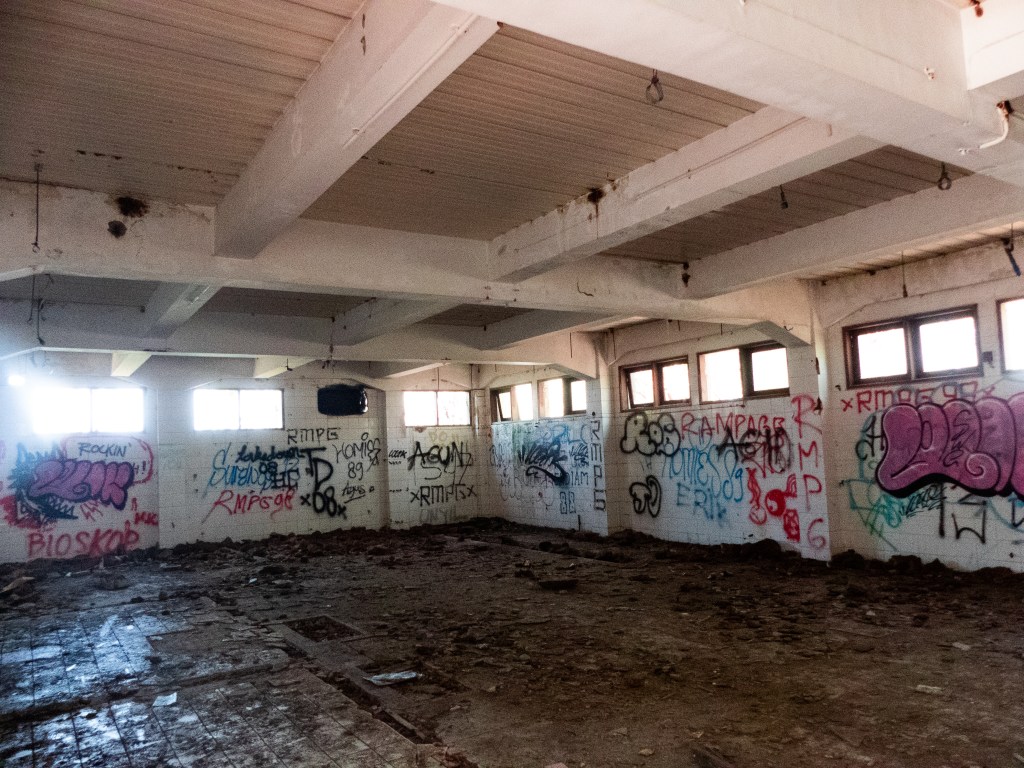 THE PARK
The most famous part of the park is the giant metal structure right by the beach. It's very overgrown but this is the location of some of the best graffiti. Artists such as ROA, Seth Globepainter and Sofles have painted here so take your camera and try to find the best art pieces hidden in the many rooms.
If you venture to the left of the entrance you can find some of the former side-buildings with even more graffiti. There are some rooms that appear to be inhabited by homeless people. Be respectful of their privacy.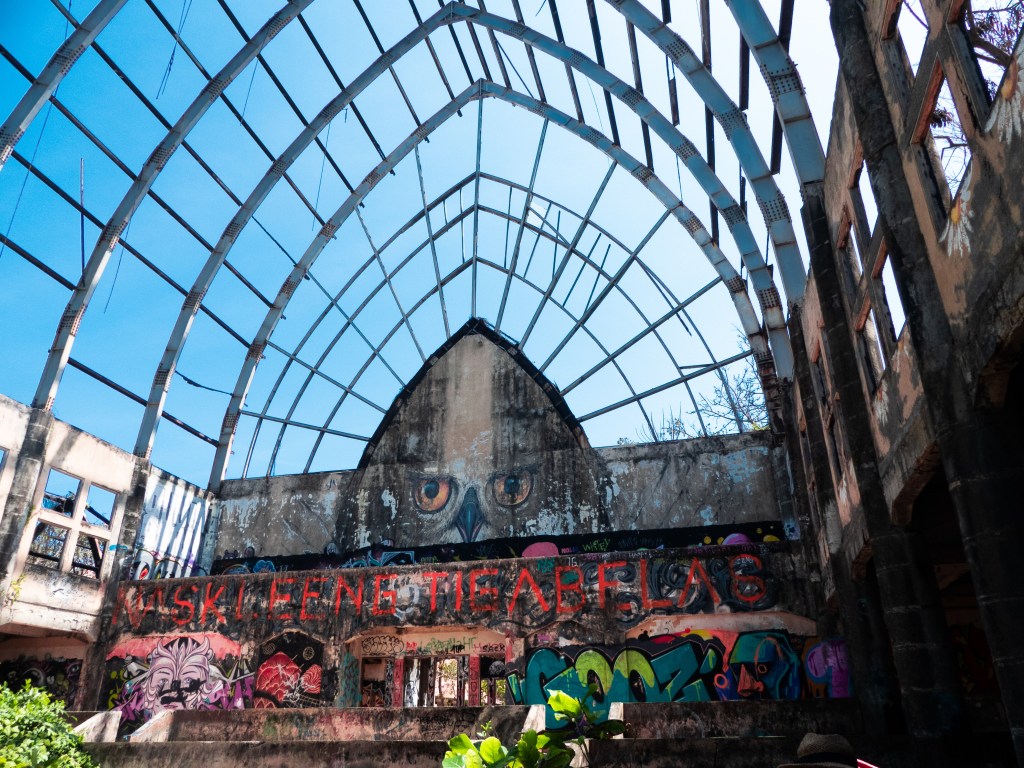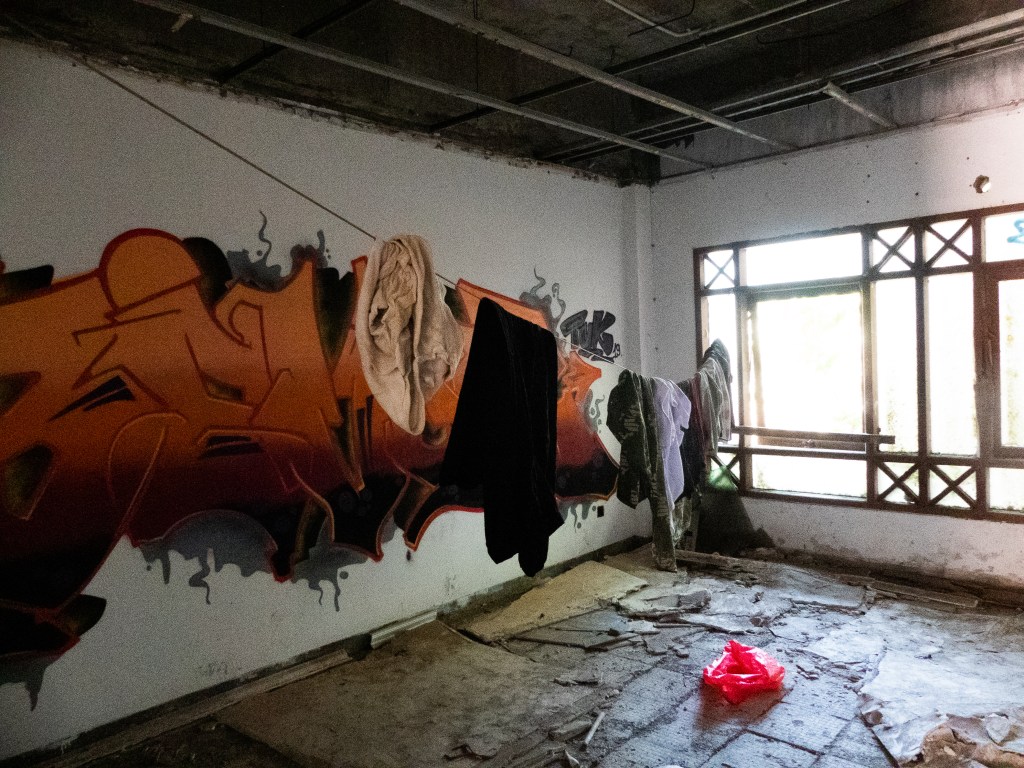 If you go straight ahead after entering the park you'll find yourself in the jungle. Here there are dozens of little paths that lead into a maze of trees and buildings that have become a part of nature again.
This is where you'll find the famous crocodile pit, where, according to an urban legend, the park's crocodiles were left to fend for themselves.
If you walk far enough you'll hit the Ayung River which marks the border of the park.
Unfortunately, most of the actual rides in Bali's Taman Festival were demolished when it was abandoned. Don't expect to find a roller coaster here. However, the buildings that are still intact are in decently good condition considering the fact they were left unattended for more than 20 years.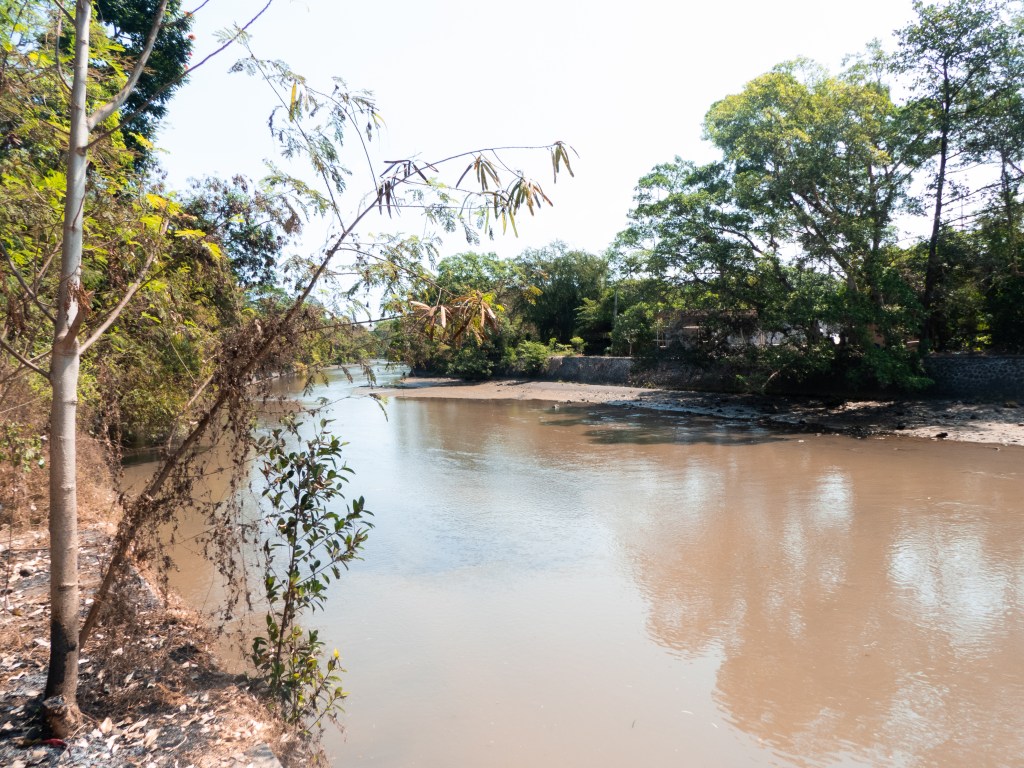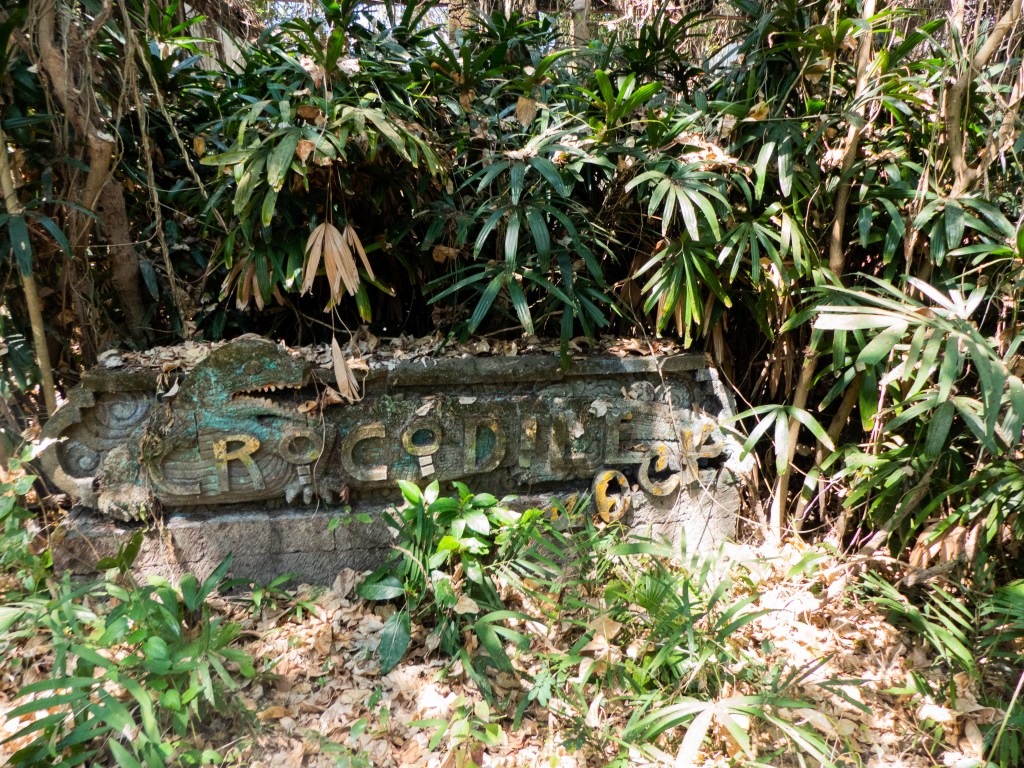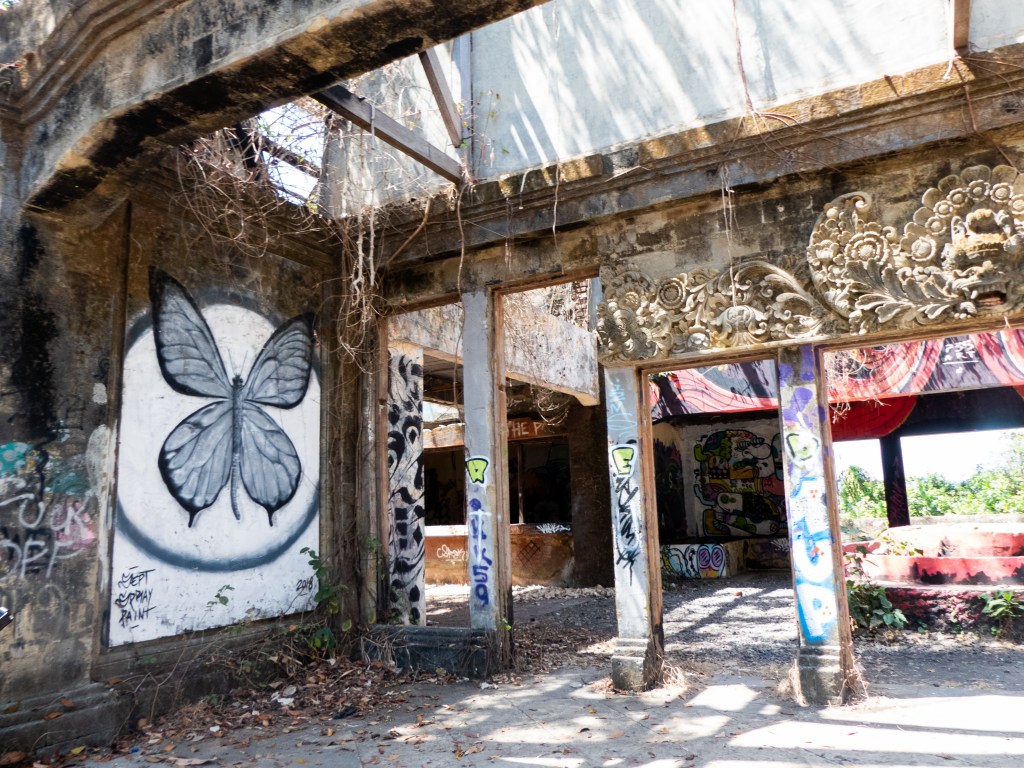 BE CAREFUL!
Nature has reclaimed most of Taman Festival in Bali. Be very careful when exploring the buildings. Although the crocodiles that are supposed to roam the jungle are an urban legend, you could come across pythons or other snakes.
There are also bats in some of the buildings as well as wasp nests and large spiders. Be very careful where you step and use a light to check rooms before you enter. Be wary of stepping on piles of leaves and look above you to check for possible animals hiding on the ceiling.
There are areas in the forest where shafts were dug into the ground, leading to underground rooms, often filled with water. Although these aren't very deep you would not want to fall into one. Try to stay on the paths and watch where you step.
DRONES
Taman Festival is a great place to fly your drone. There are plenty of open spaces and the footage will be amazing.
However, try to be inconspicuous and not let the guards see you. It's not prohibited to fly a drone at the park but there are accounts of people who were asked to pay fees ranging between IDR 100,000 to IDR 200,000 (~ €6.40 to €12.80) when they were seen flying their drone.
This is yet another example of the local "guards" who take advantage of tourists. If someone asks you to pay for flying a drone, simply refuse and leave.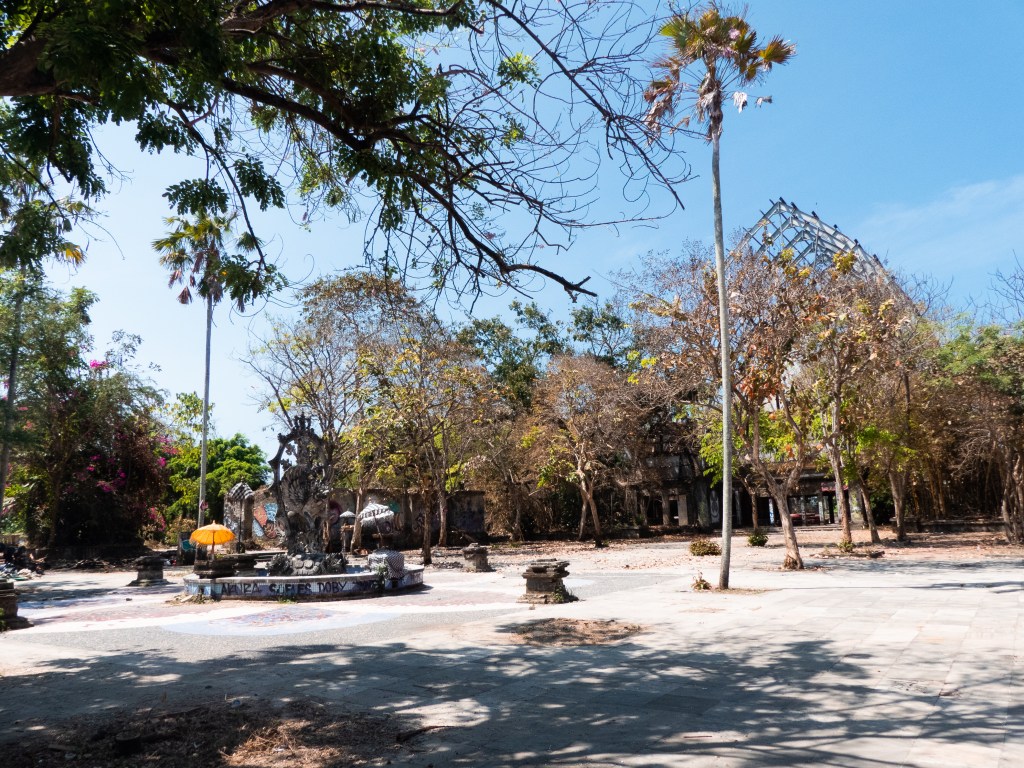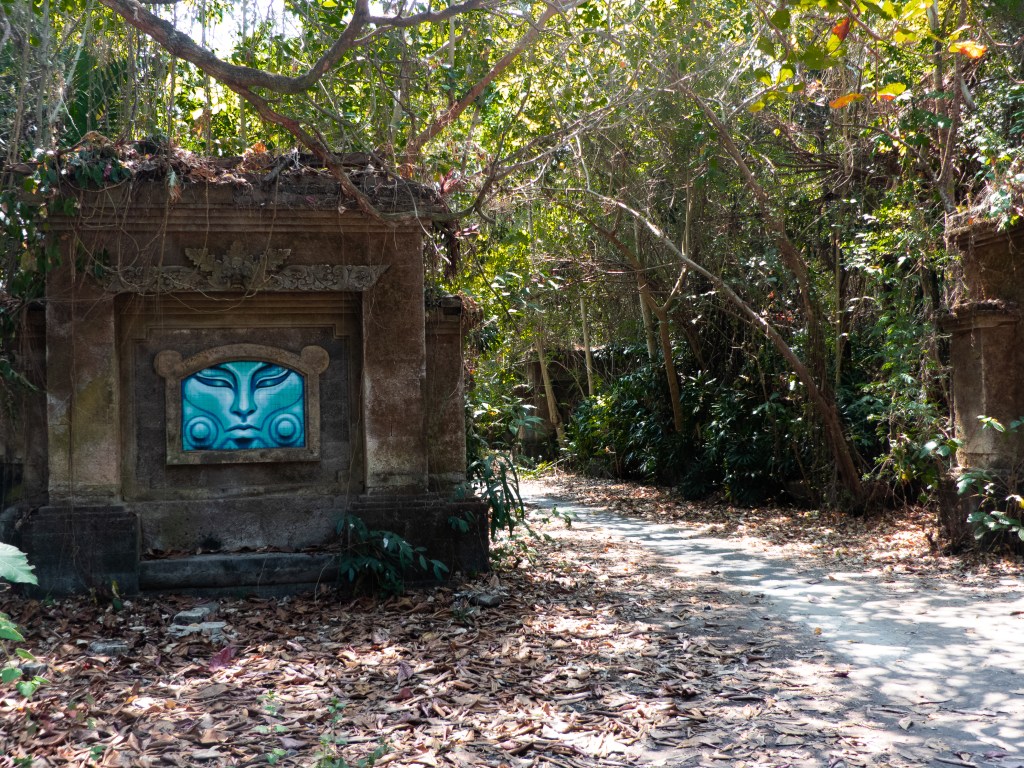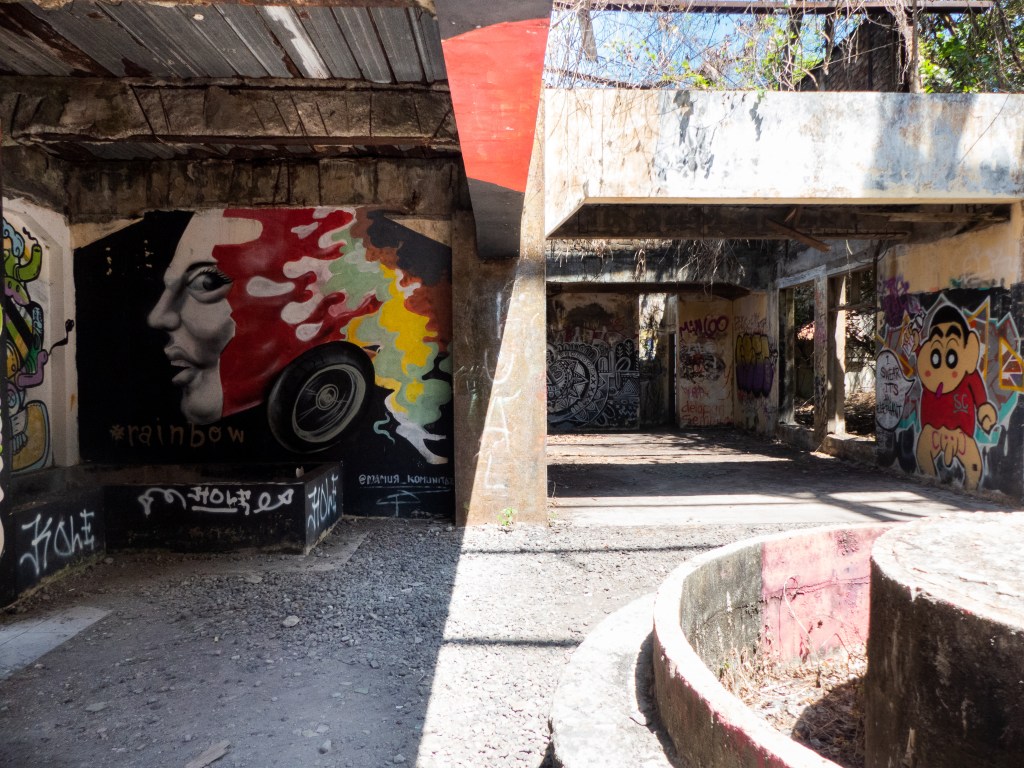 HOW MUCH TIME SHOULD YOU SPEND IN THE PARK?
This depends entirely on how thoroughly you plan to explore. You can either spend 30 minutes at the park to see the basics or 3 hours if you plan to venture deep into the jungle and take lots of pictures.
It's up to you but I would recommend planning at least 2 hours here.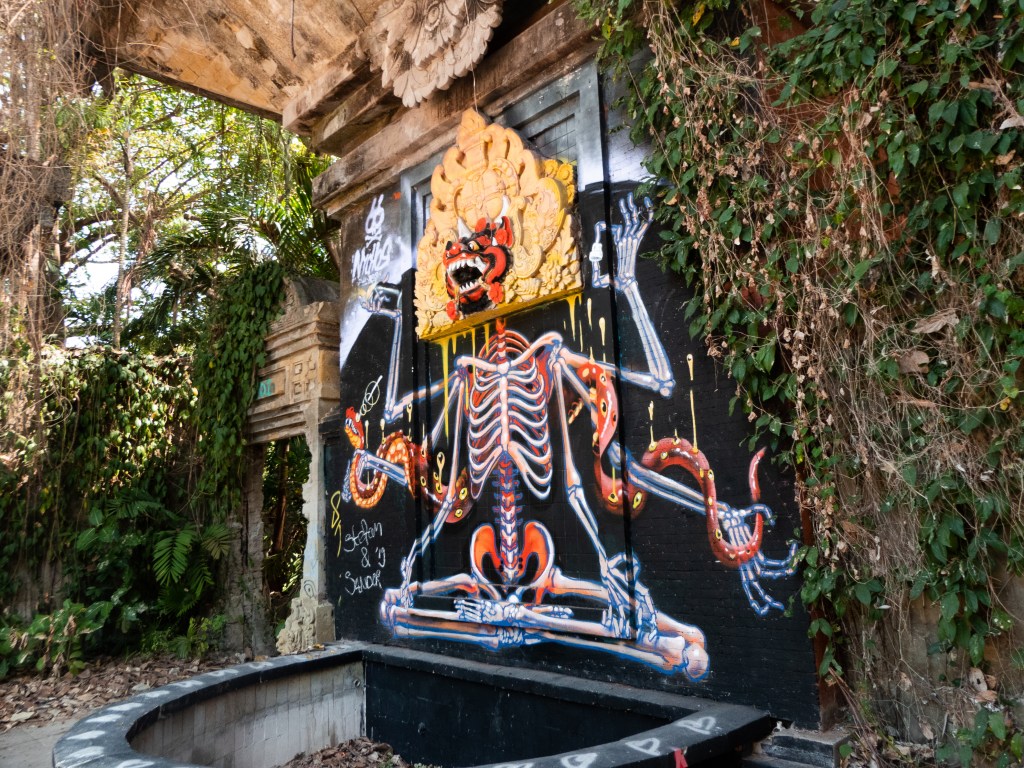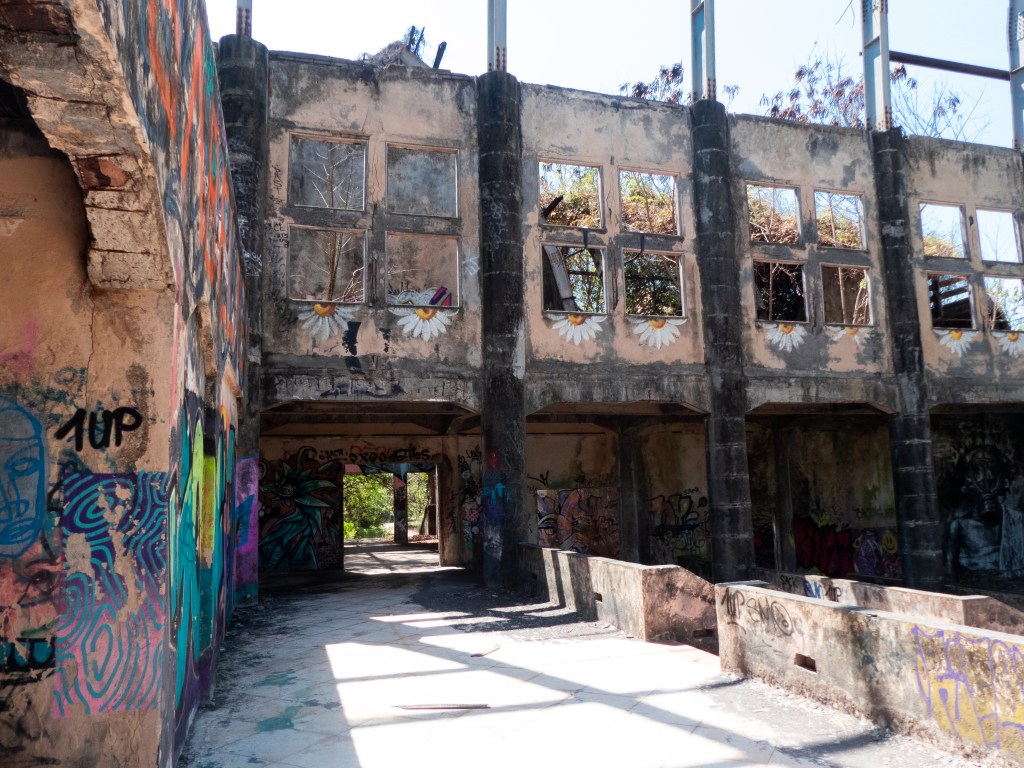 WHAT SHOULD YOU DO AFTER VISITING TAMAN FESTIVAL IN BALI?
You'll be exhausted after exploring Bali's jungle and the abandoned theme park. There are some little food carts next to the parking lot where you can get traditional meals and cold drinks for very little money.
You'll find some larger restaurants only a few kilometres up the road. Why not drive back to Sanur and relax by the beach with a cold beer after such an exciting day.
Not sure how to spend your evening in Bali? Check out LXXY and its incredibly cheap all-you-can-eat-and-drink BBQ.
Going to Nusa Penida next? Click here to read about Kelingking Beach, Diamond Beach and Atuh Beach.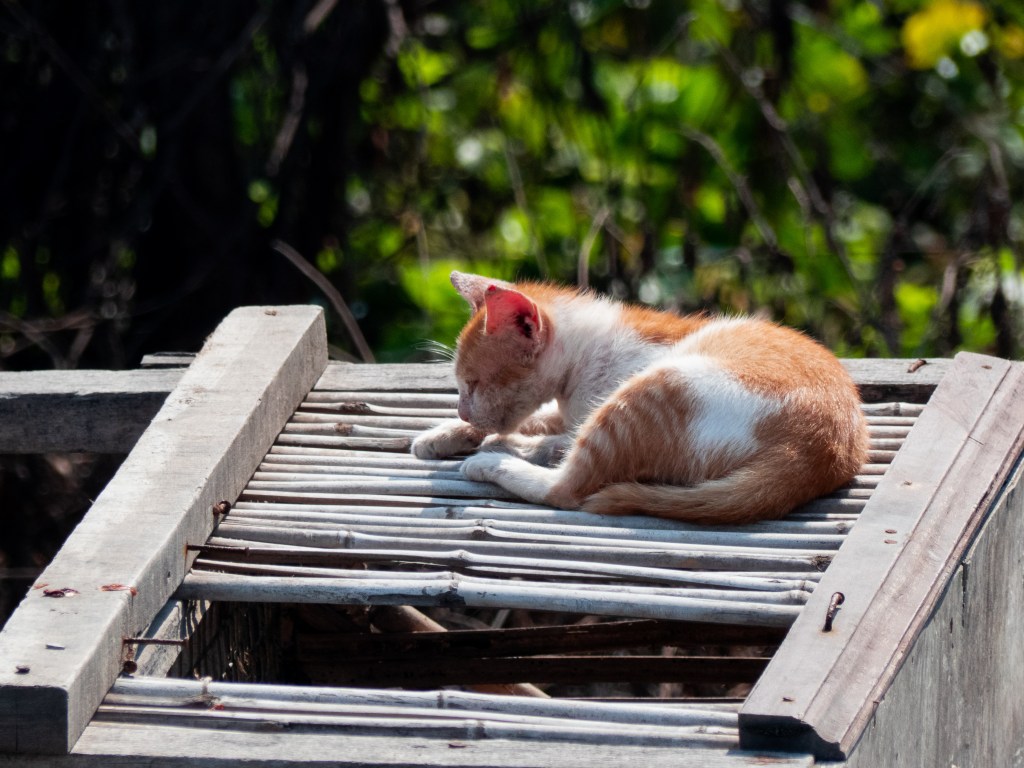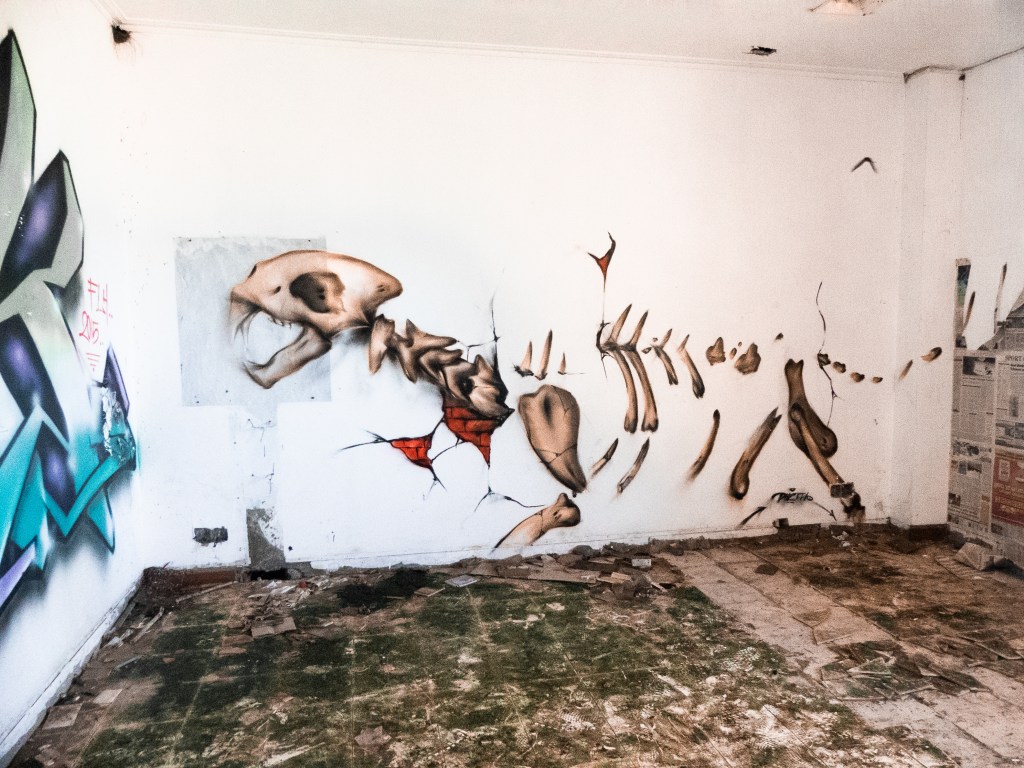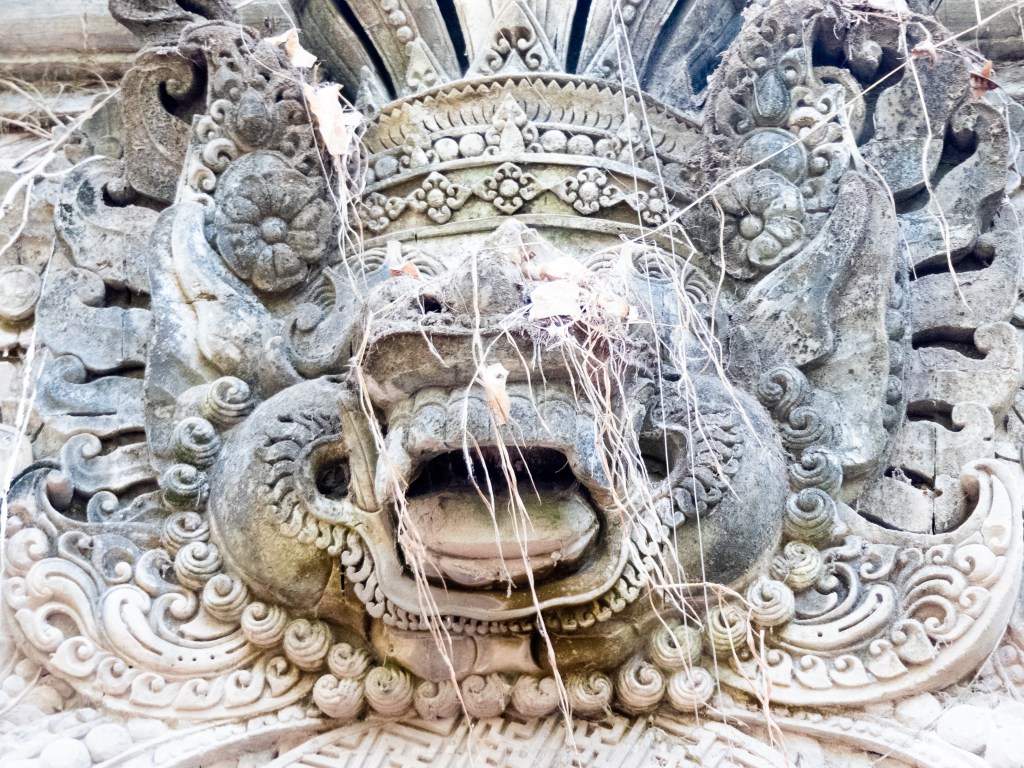 My most important travel tips and resources
Book your flights
Skyscanner is the best website for finding cheap flights since it works like a search engine so you can find the best deals across all airlines.

Book hotels and hostels
• Booking.com: Best world-wide
• Agoda: Best in South East Asia
• Hostelworld: Best for hostels

Book tours, transport and rental cars
•Viator: The best place to book tours, day trips and excursions for al budgets
•12Go: Great for ferries, trains, transfers and buses in South East Asia
•Discover Cars: Best deals for rental cars around the word

Get travel insurance
Every traveller needs travel insurance and I mean every single one. SafetyWing covers you in case of injury, illness or worse and they've got your back if your bag is stolen, flights are cancelled or in case of a natural disaster.

Pay abroad
Ask any traveller, Wise is the best choice when it comes to sending money abroad. They've always got the best exchange rates, lowest fees and their visa card is great for getting cash out or paying abroad.

Things every traveller needs:
➼ Osprey Farpoint 70 Backpack
Detachable daypack, ultra-light, durable and free repairs for life. There's a reason why so many backpackers have this bag.
➼ Packing Cubes
Packing cubes are a gamer changer, keeping your luggage organised and providing tons of extra space.
➼ Power bank
There is nothing worse than running out of battery on an overnight bus journey or a long flight. With a powerbank you can charge your eletronics on the go and make sure you're always connected.
➼ Micro-fibre towel
These lightweight towels are foldable, fast-drying and so useful when you're travelling.

➼ You can find 15 more things every traveller needs here. Some might be a bit controversial but I warned you!
Did I miss anything?
If you have any questions or feel like something is missing from this post please leave a comment below or contact me.