Hidden away in the lush rice terraces of Sayan, just minutes from the heart of Ubud is Uma Kalai, the best new luxury resort in Bali. A stay here allows for true tranquillity as guests immerse themselves in the natural beauty of the region, coupled with the five-star service provided by the dedicated staff of the estate.

Uma Kalai is more than just a luxury resort in Bali, but rather, a home away from home where no wish goes unanswered. Tailored to the needs of families, couples or groups, this brand-new property is guaranteed to make your next stay in Ubud unforgettable.
This post may contain affiliate links, which means we'll receive a commission if you purchase through our links, at no extra cost to you. This helps us keep Guide your Travel free and provide high-quality content for you. Please read the full disclaimer for more information.
Where is Uma Kalai located?
The Uma Kalai estate is located in the small village of Sayan, just outside the centre of Ubud, Bali. Where Ubud has succumbed to mass tourism, causing it to lose some of its charm and authenticity, Sayan picks up. Considered, an epi-centre for culture and architecture, this rural village encompasses what many visitors search for when coming to Ubud. Yet, Sayan lies only a few kilometres from the busy streets of Ubud, allowing guests to decide on their own time whether they prefer serenity and privacy or if they are looking to dive into all that the centre of town has to offer.

Uma Kalai can easily be reached by car or the resort can arrange a pickup service, depending on the guests' wishes and where they are in Bali. The drive to the estate from the heart of Ubud takes less than 15 minutes on days with little traffic.

The one-of-a-kind location of Uma Kalai is without a doubt one of its most enticing features and what many guests fall in love with when stepping foot onto the property. The resort sits on top of lush cliffs, overlooking a picturesque backdrop of rice terraces, a sea of green jungle as well as a murmuring river that provides a calming soundscape. In the background, volcanos tower over the quaint countryside completing the ultimate Bali view.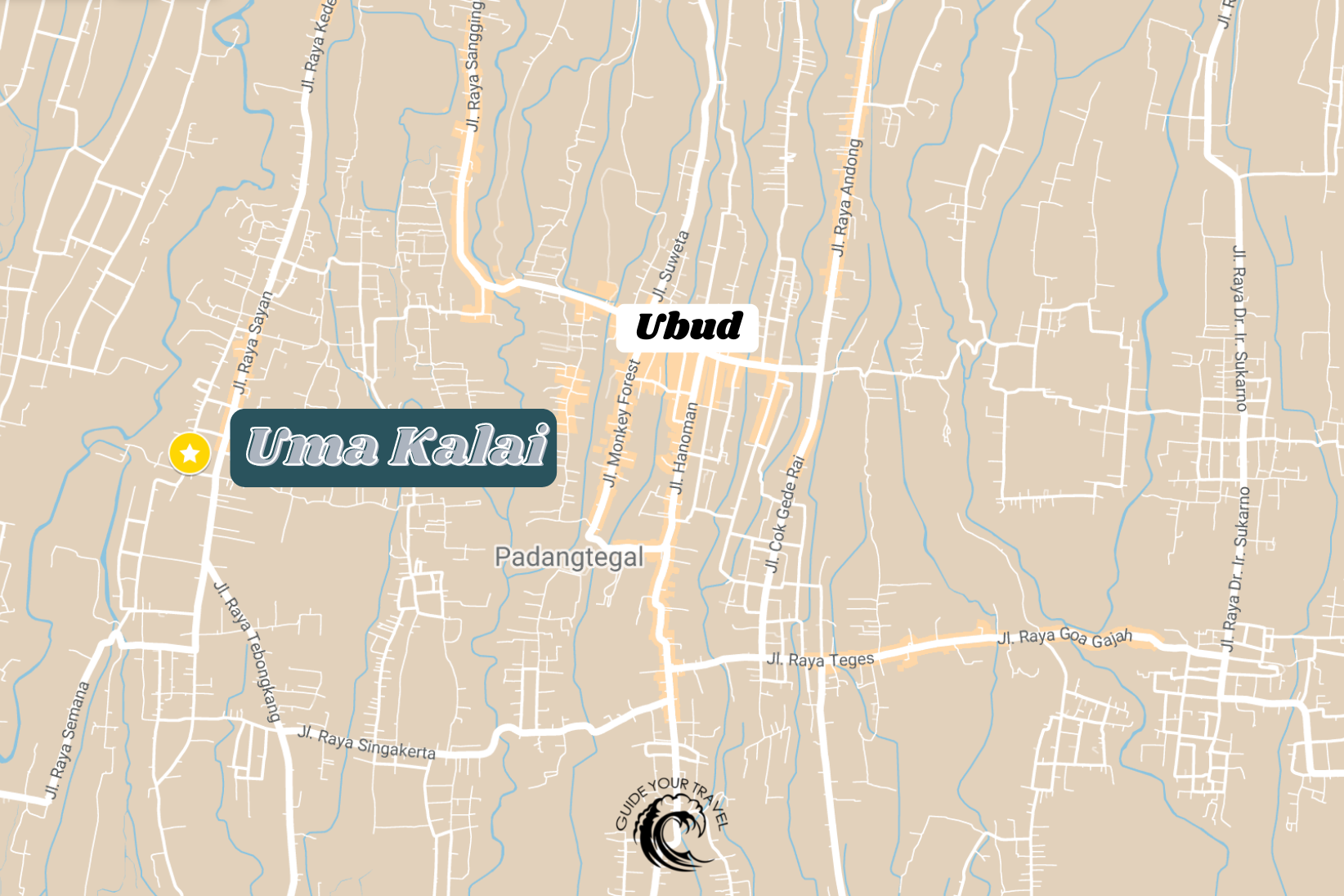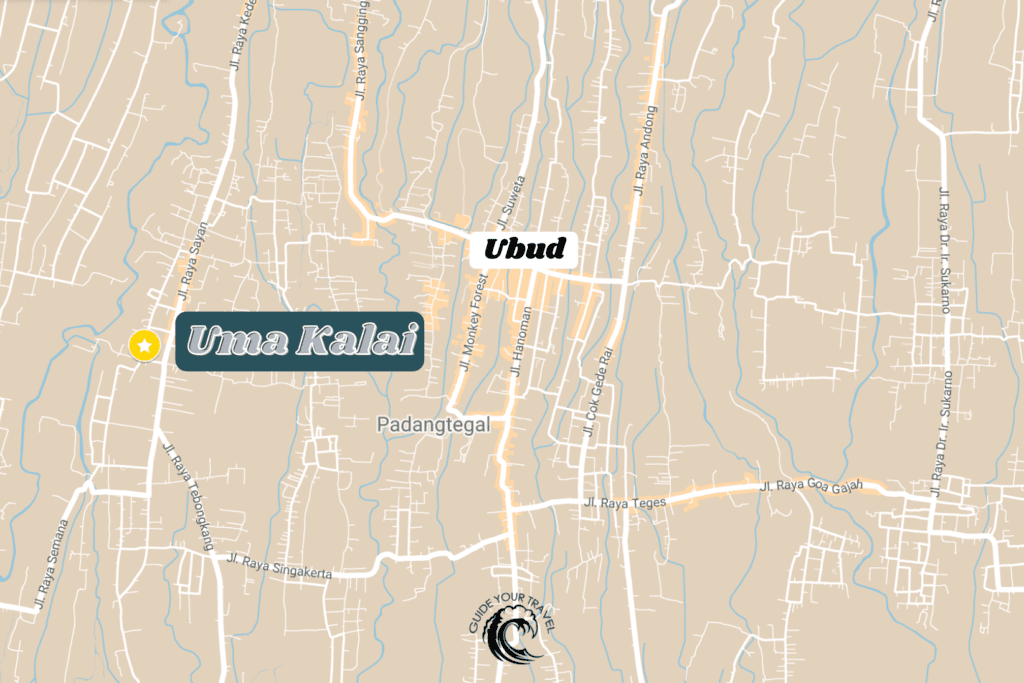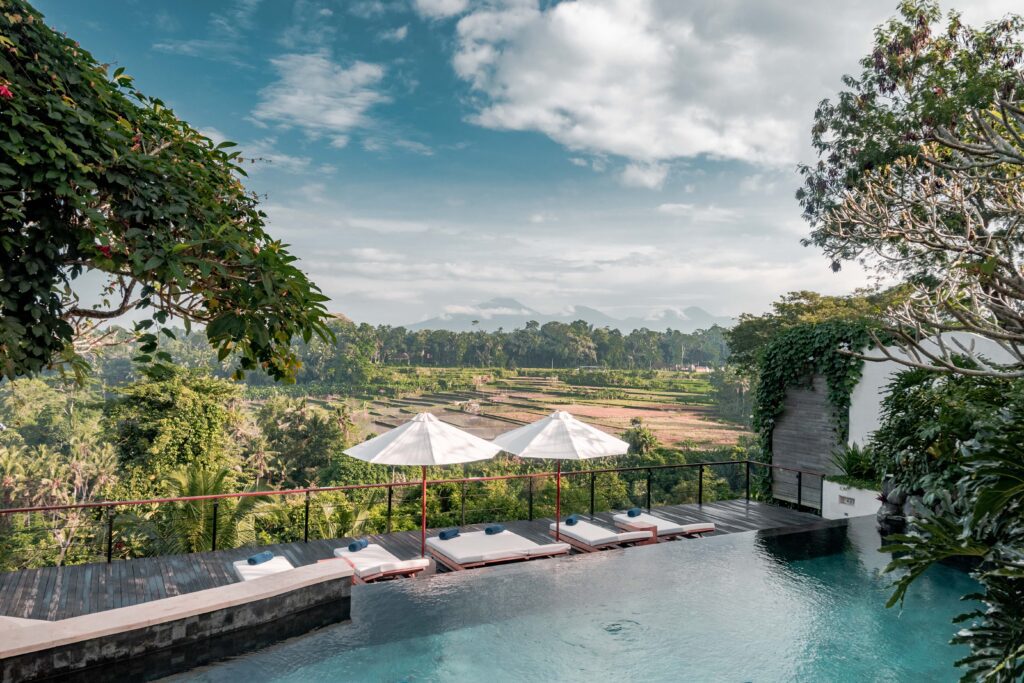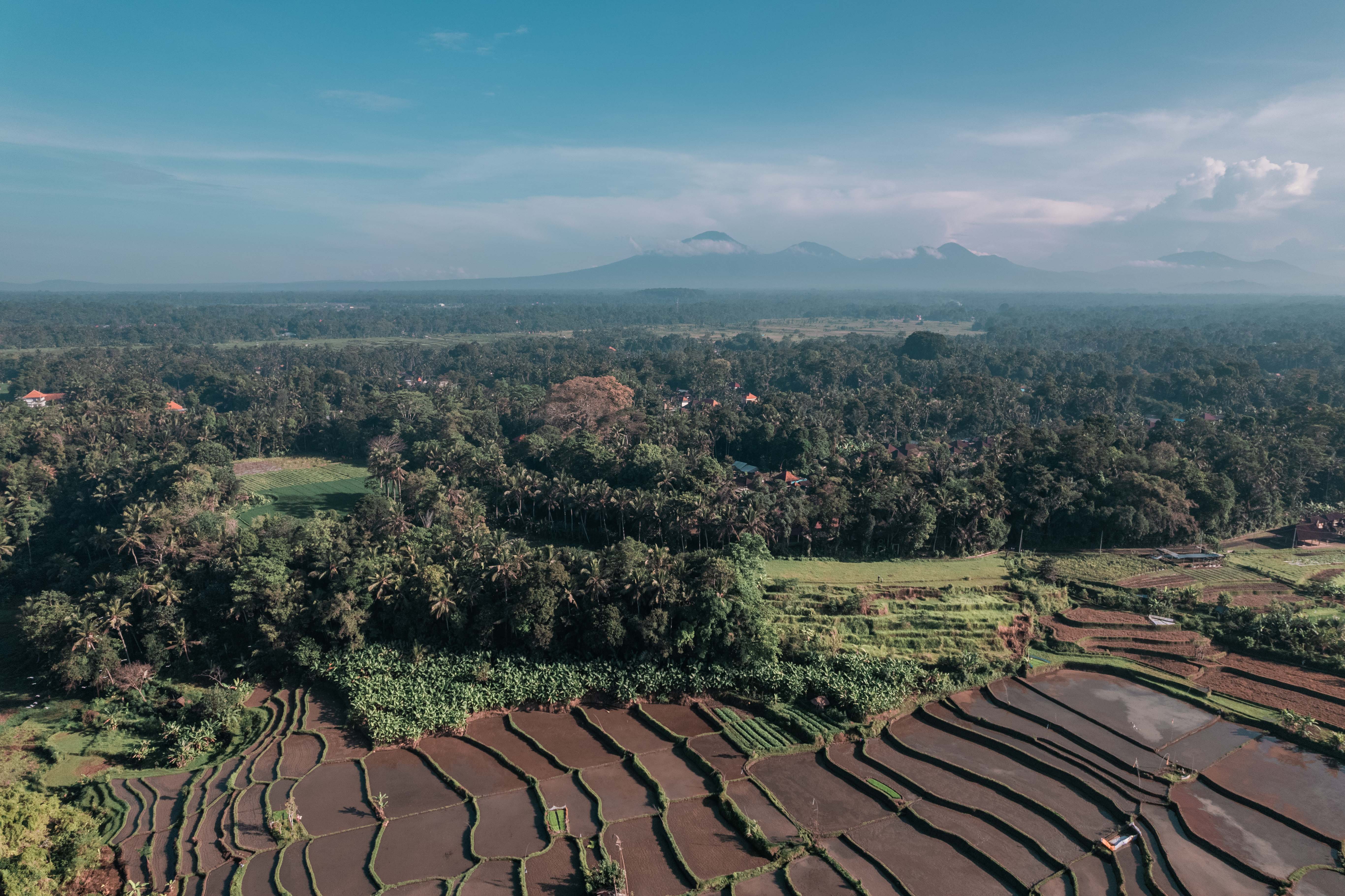 How to get to Ubud and Uma Kalai
No need to worry about transport options, Uma Kalai provides a comfortable pickup service for its guests, taking them to Ubud from wherever they may be located. Just contact the friendly staff before your arrival and a transfer in an air-conditioned van will be organised.

Those arriving with their own vehicle can be assured to know that there is plenty of parking space available on site.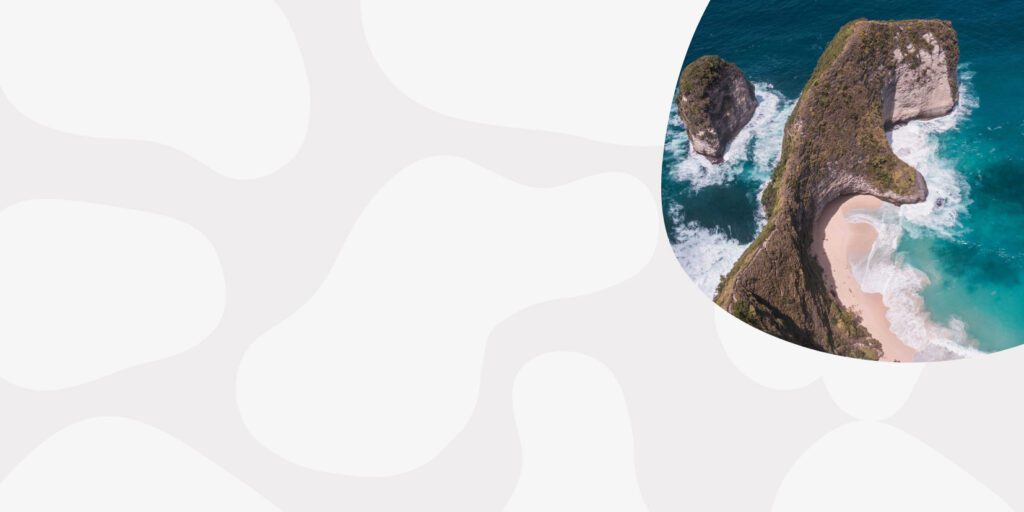 Save time when planning a trip to Bali

➼ 8€ airport pickup? Klook
➼ Best travel insurance? SafetyWing
➼ Accommodation? Agoda or Hostelworld
➼ Where to get cash out for free? Maybank ATM
➼ Best SIM card? Telkomsel
➼ Best place to book flights? Skyscanner
Room and villa types at Uma Kalai
At Uma Kalai, there is no best room to choose but rather a selection of villas and suites that all come with their own distinctive highlights and benefits. This means visitors are able to decide on an option that suits their individual needs with unique features that far surpass the mass travel experience. This is especially beneficial for group travellers, allowing each member to enjoy a tailored stay, with no person being left with less desirable accommodation for the night. This sets Uma Kalai apart from villas in the Ubud area, where oftentimes there is a master bedroom and several smaller rooms that may not fulfil the expectations of guests.

The Uma Kalai resort in Ubud, Bali has three private villas as well as three suites to choose from, all with their own unique layout and atmosphere. Each type is named after a different element, which represents the property's closeness to nature. No matter which room you choose at Uma Kalai, your stay will be one to remember.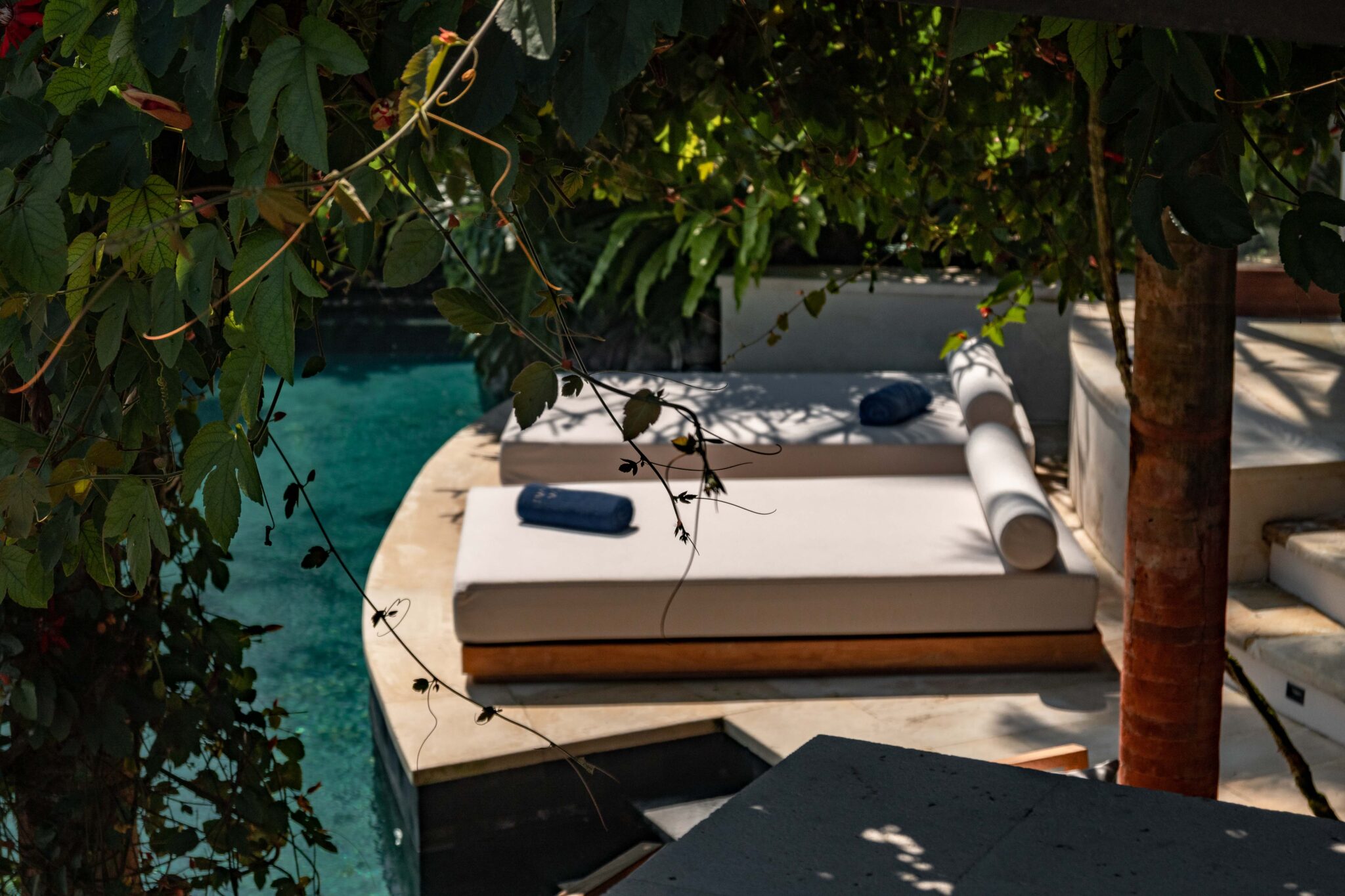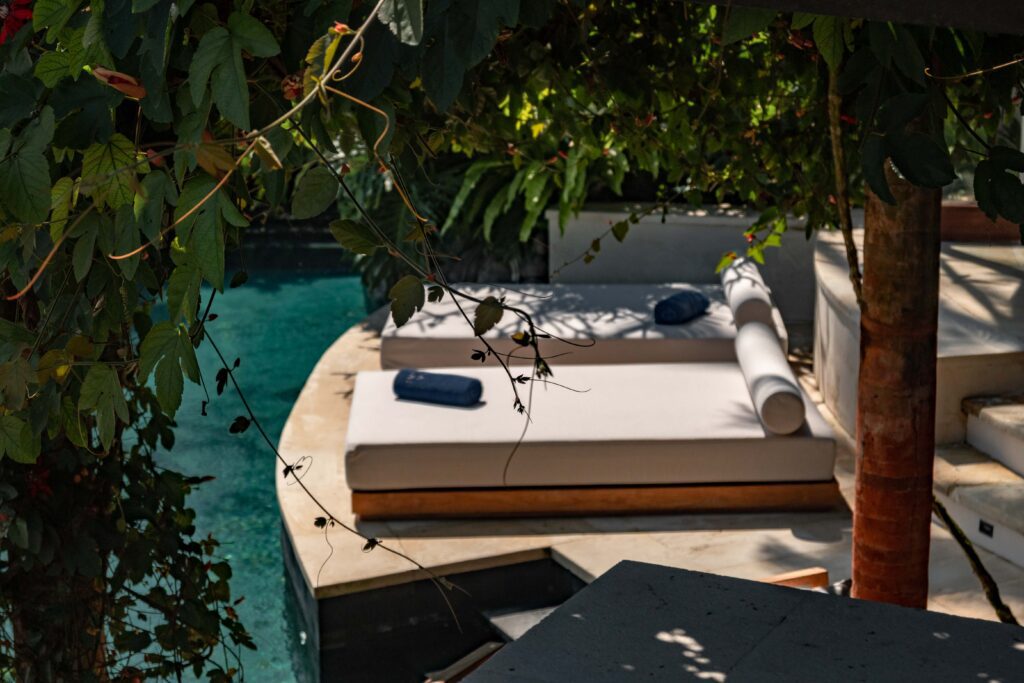 Layout of the property
The three luxury villas Bhumi, Tejas and Vata are independent properties located on the grounds of the Uma Kalai resort estate in Ubud. As separate buildings, a stay here guarantees privacy and comfort with everything you need right at your doorstep.

Vyoman, Aether and Jala are lavish suites all located in the main building of Uma Kalai. Each comes with its own unique features such as direct pool access, a comfortable gazebo with some of the best views on the property or a spacious outdoor bathroom with a freestanding bathtub.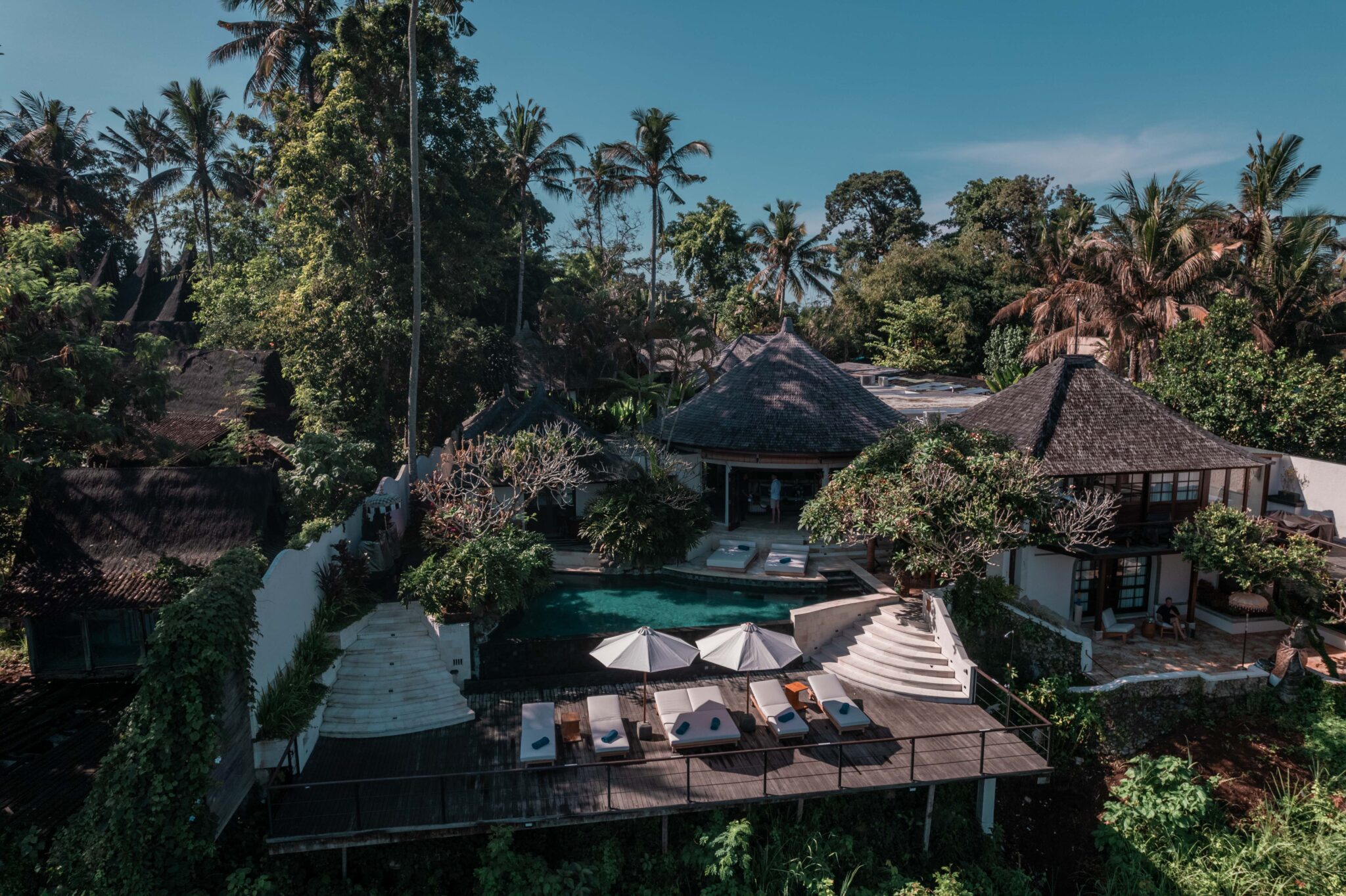 Private villa with heated pool and steam room
The Tejas (Fire) and Vata (Wind) villas at Uma Kalai have similar layouts, featuring a private heated pool, canopy bed and lush garden. Both villas have a size of 143 m2 including the surrounding garden and deck complete with a daybed and private pool. Inside, guests are able to enjoy a king-size canopy bed, spacious ensuite bathroom and steam room, as well as a dedicated office area.

This villa-type is ideal for couples looking for a romantic getaway with the perfect combination of privacy and comfort. Imagine yourself in the heated pool, enjoying a floating breakfast before heading to your private steam room and cooling off with a refreshing shower surrounded by the sounds of the jungle. A stay at Villa Tejas or Vata will turn a good experience into an unforgettable one.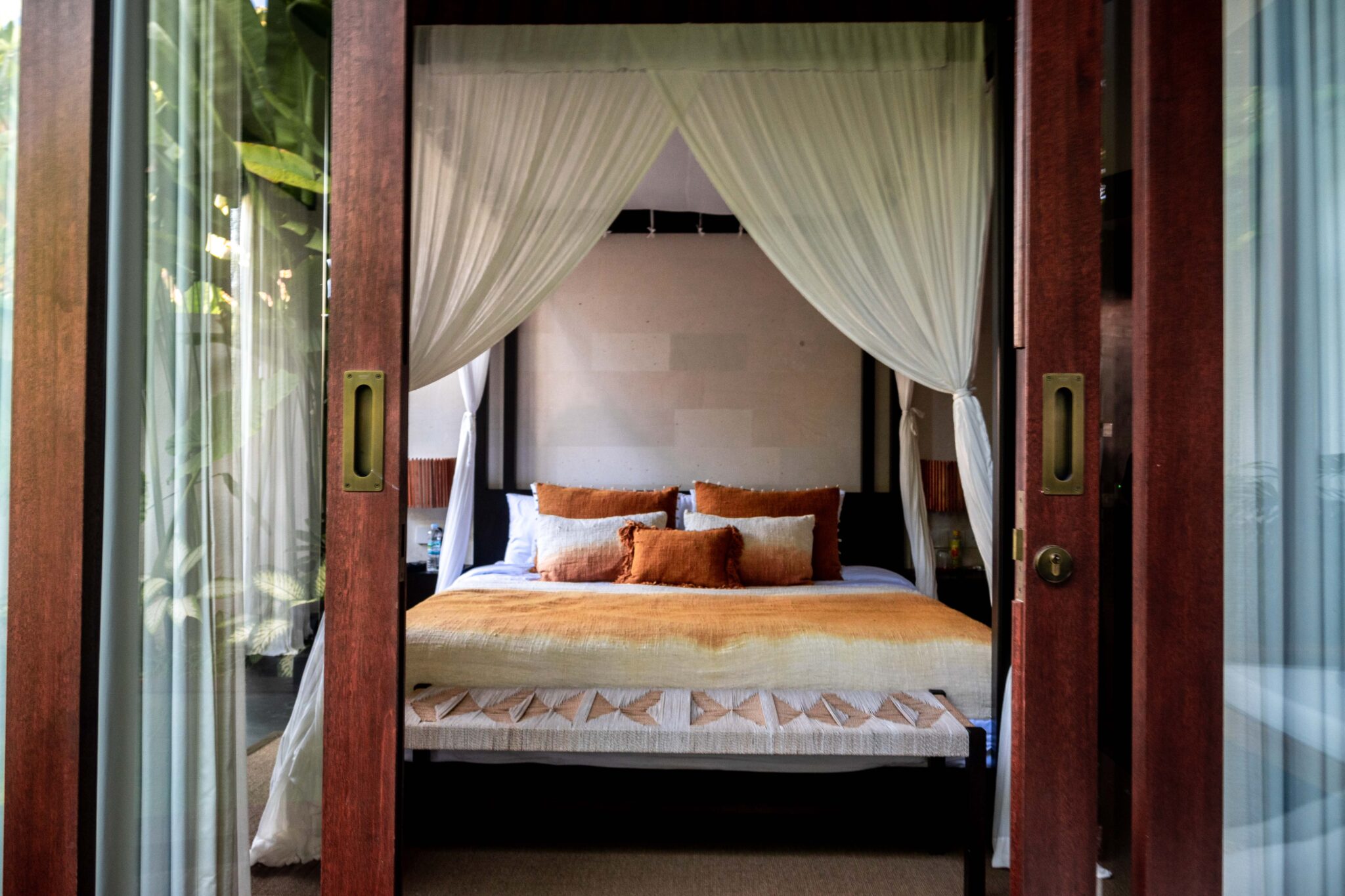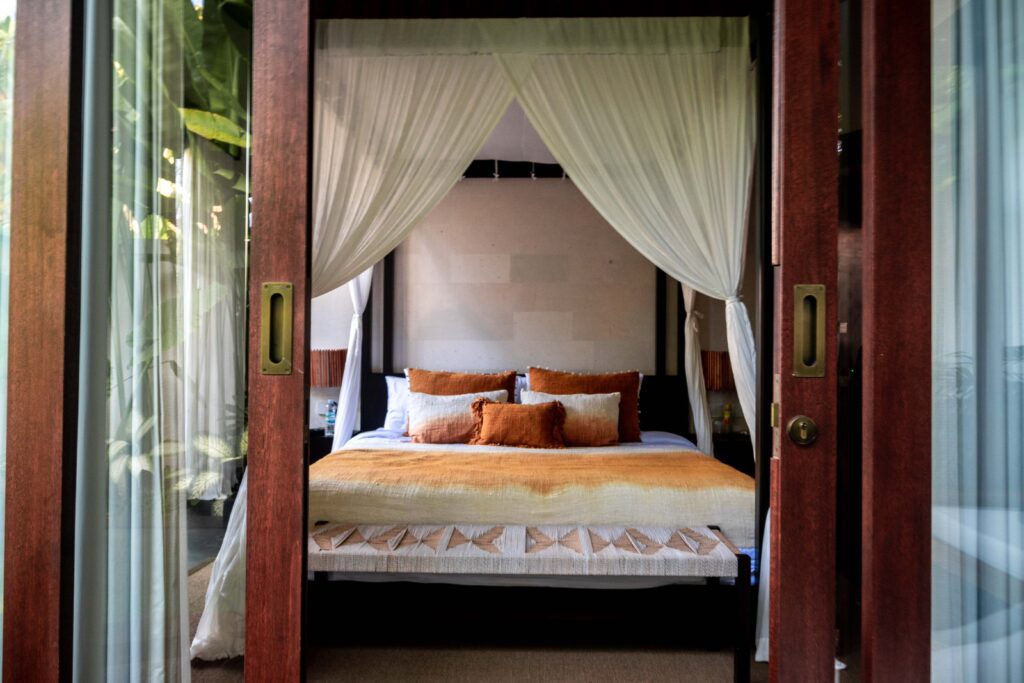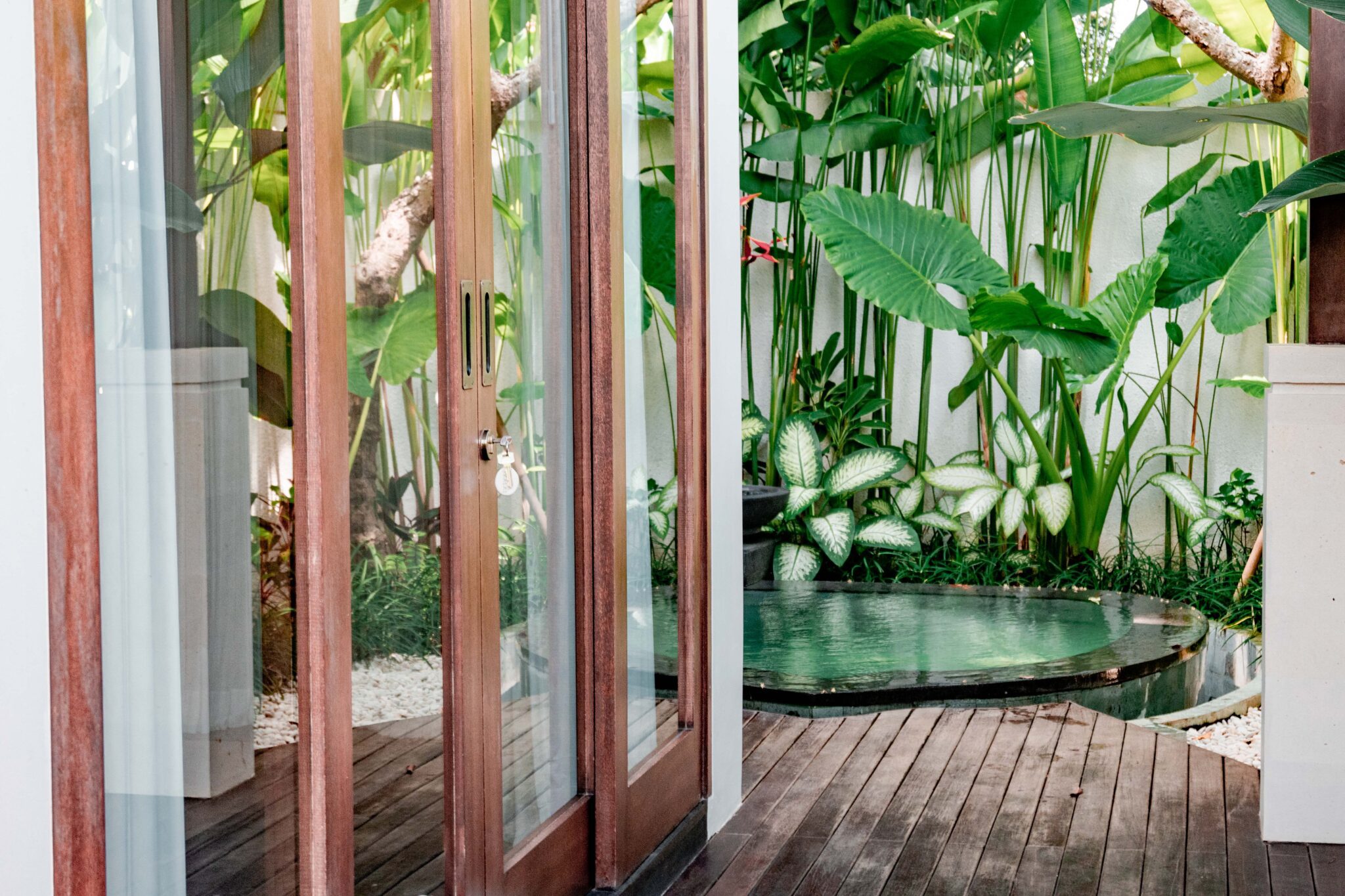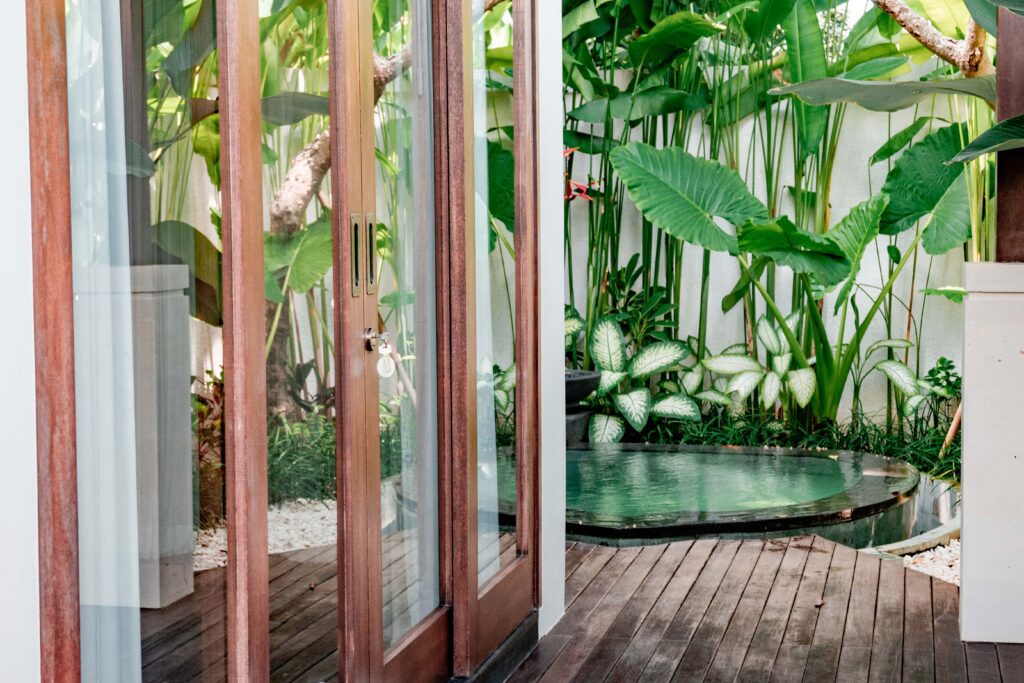 Private villa with heated pool and kitchen
The third villa at Uma Kalai is similar to the twin properties in some ways, and then again completely different in others. Bhumi (Earth) has its own living room with a kitchen and encompasses a total area of 155 m2. The villa has a small garden, a cosy deck with sun loungers and a swing next to a heated pool surrounded by luscious jungle plants. Inside the villa, guests will find a king-size canopy bed, an ensuite bathroom, a private steam room and an outdoor bathtub. A handy kitchen and cosy living room invite guests to spend more than just a few nights at Uma Kalai but rather find a piece of home in the beautiful estate.

This villa is versatile and inviting, combining luxury with functionality and comfort. Families will appreciate the spacious layout with access to a kitchen. Couples or solo travellers hoping for an extended stay in Ubud are guaranteed to find what they are looking for at Bhumi.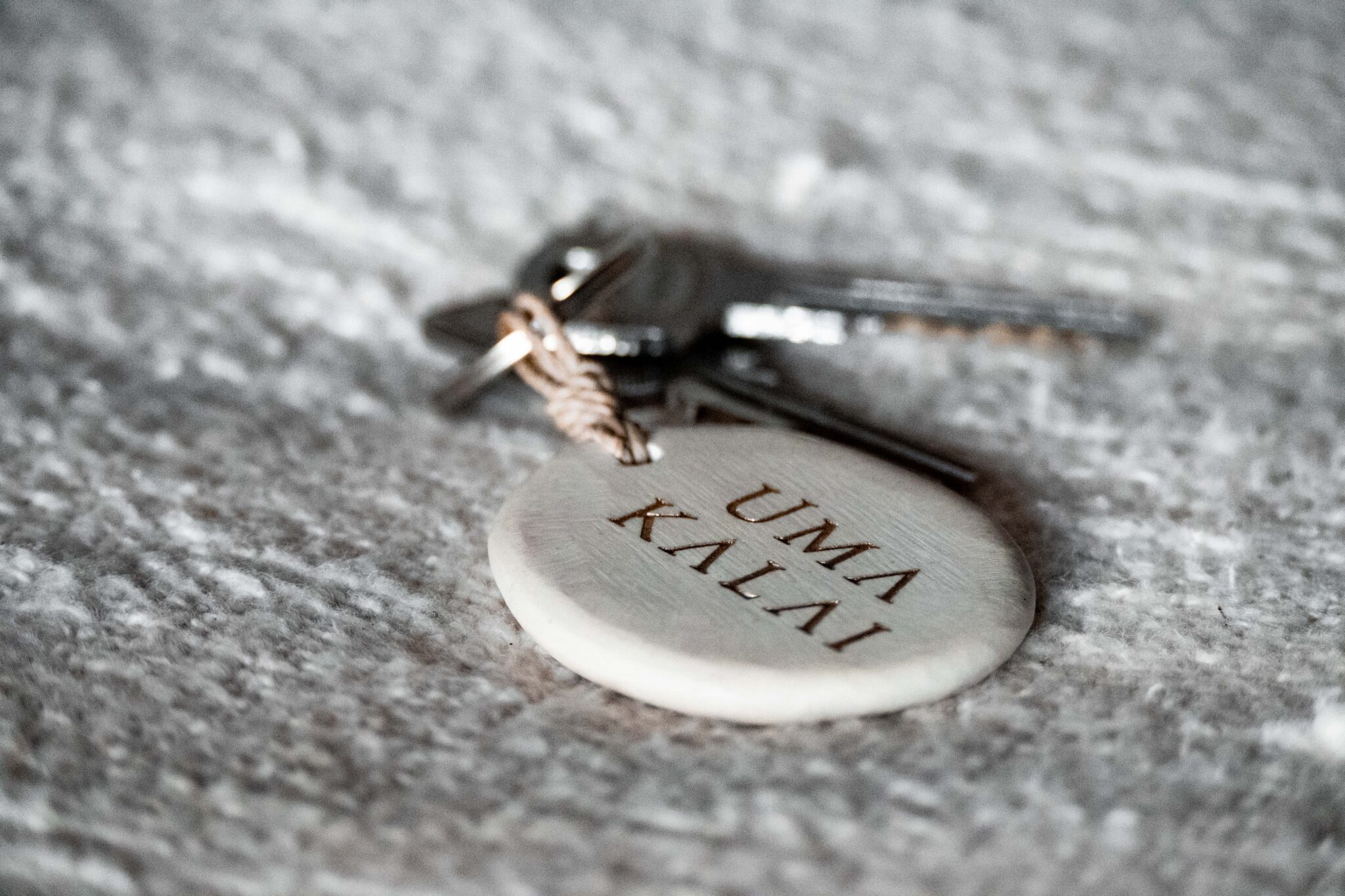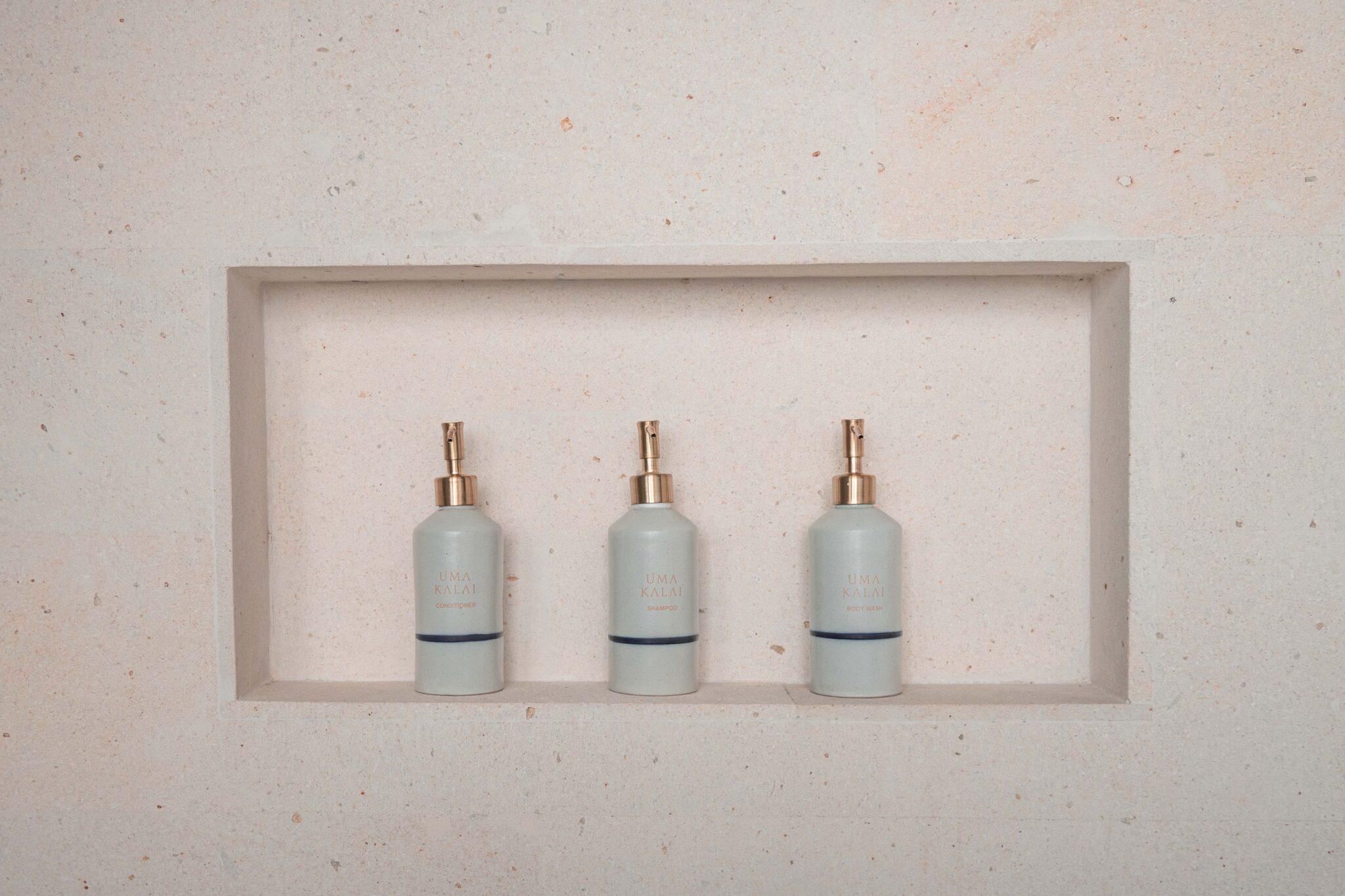 Suites with a private gazebo overlooking the ricefields
The main building of Uma Kalai, which is home to three suites, is considered the heart of the property. The twin suites Jala (Water) and Vyoman (Sky), which are located here, have spacious private terraces ensuite bathrooms and panoramic views of the surrounding rice fields.

The downstairs property, Vyoman has the largest terrace at Uma Kalai, perfect for a morning yoga session or a private breakfast. The covered lounge areas invite you to forget about rainy days in Ubud, allowing visitors to spend every possible second at the luxury resort outside, listening to the sounds of the rain and the jungle.

Inside, the 104 m2 suite boasts a king-size bed, an office desk, ensuite bathroom and dressing area. Can't escape your busy schedule even on a getaway to a boutique resort in Bali? Luckily, Uma Kalai provides a high-speed internet connection and dedicated workspaces around the property.

The upper suite, Jala (Water), has some of the best views in the area. Imagine yourself waking up to sweeping views of Ubud's rice fields as flocks of birds circle the towering trees.

The spacious balcony has a breakfast table which can seat four people, lounge chairs, and a gazebo. Again, the suite is 104 m2, featuring a king-size bed, an office area, ensuite bathroom with an outdoor bathtub as well as a spacious walk-in closet.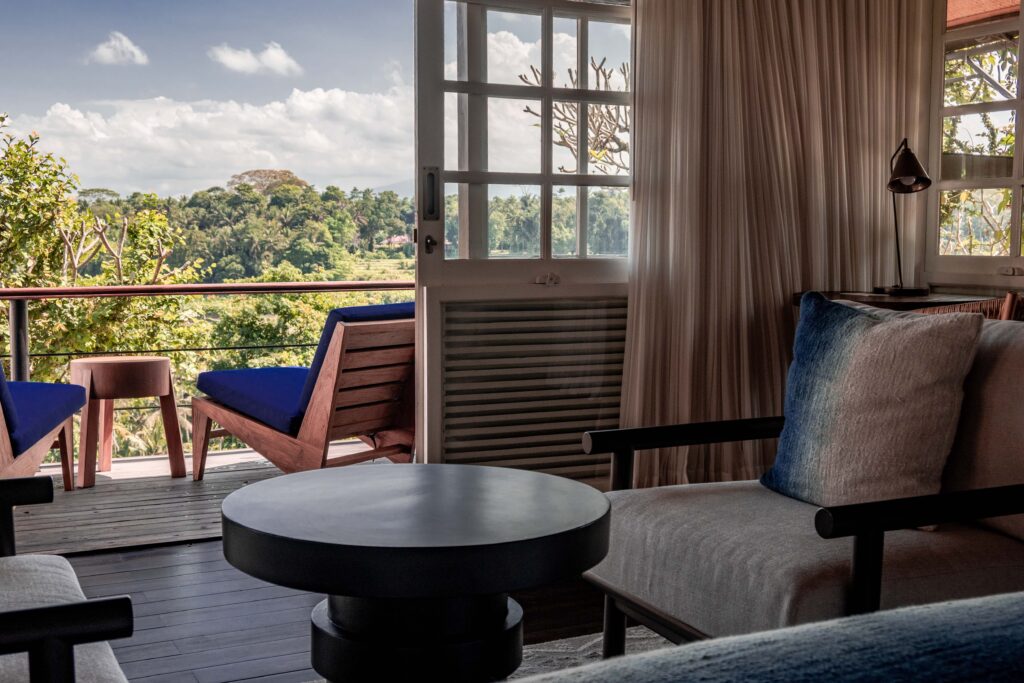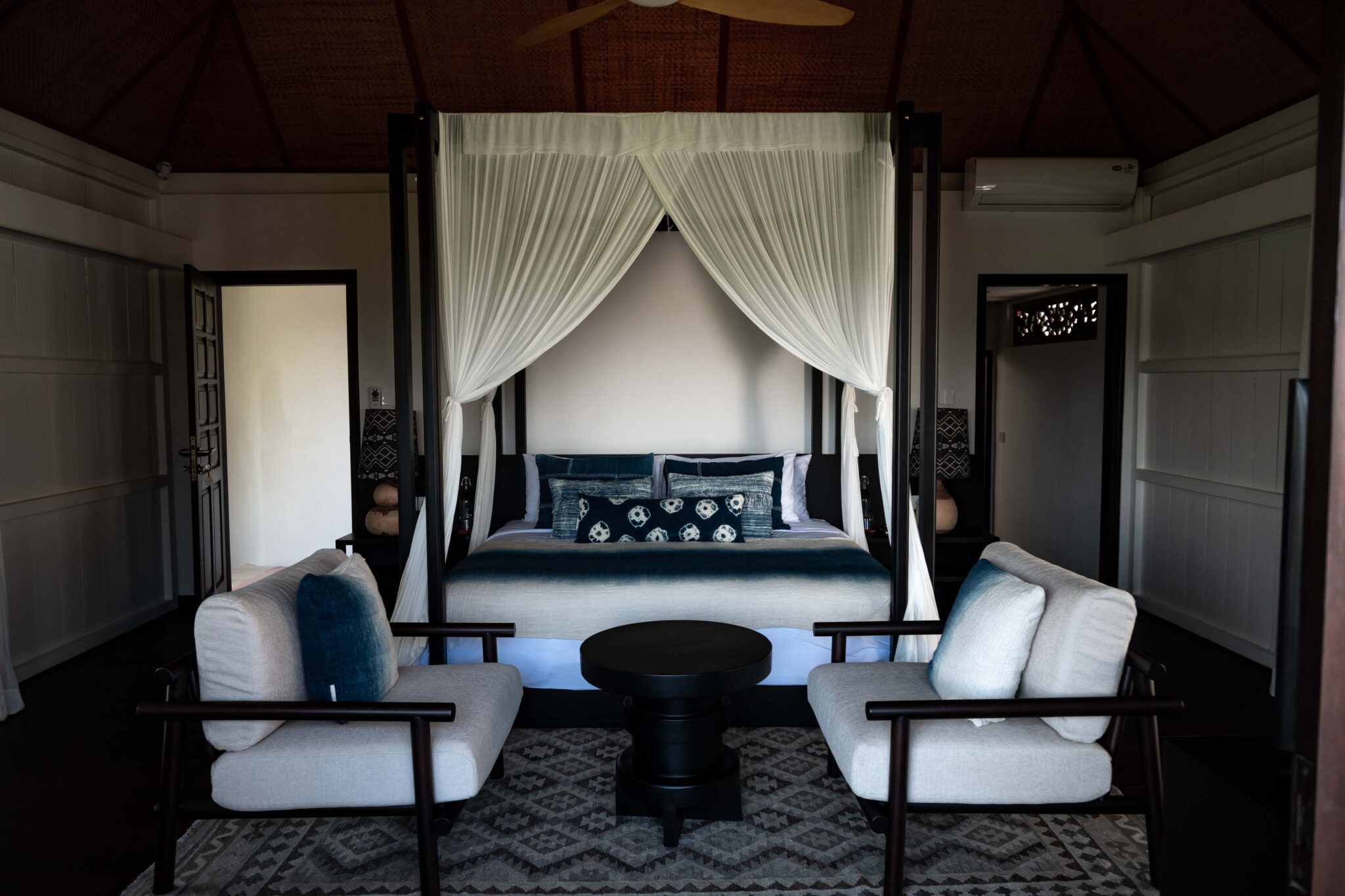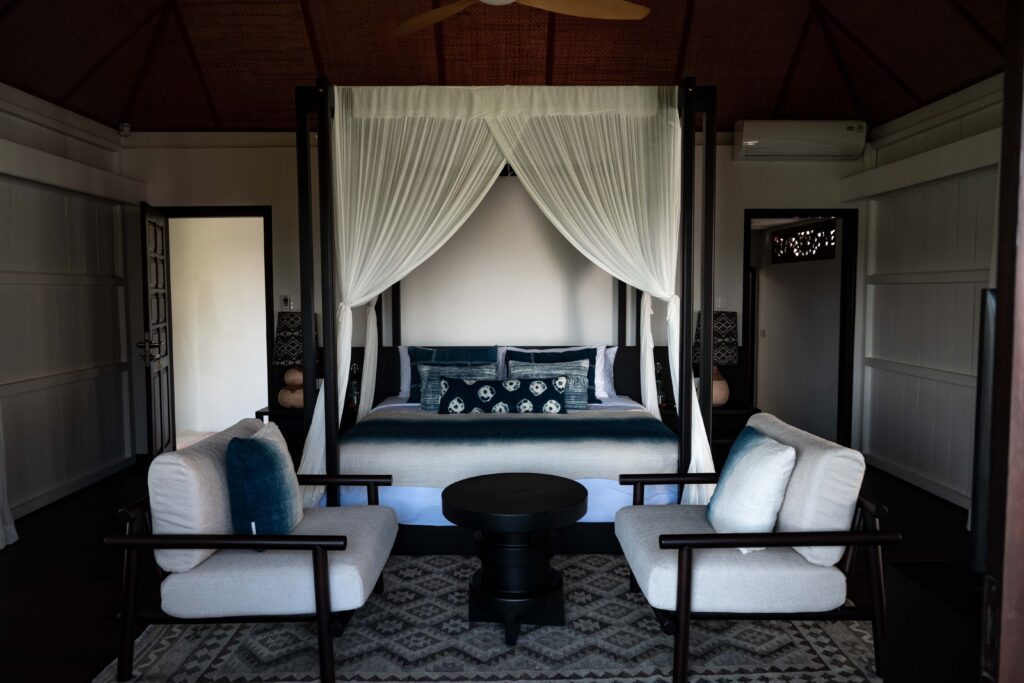 Suite with pool access
Akasa (Aether) is Uma Kalai's cosy suite with direct pool access. Its private terrace invites guests to have breakfast with a view in the morning before diving into the water. At 45 m2, this suite is homey and welcoming, guaranteeing ultimate comfort with its king-size bed and outdoor bathroom. Those looking to stay in a luxury resort in Ubud during their time in Bali will appreciate Uma Kalai's boutique approach, which is reflected in the well-thought-out design of this beautiful suite.
Book your stay at Uma Kalai here.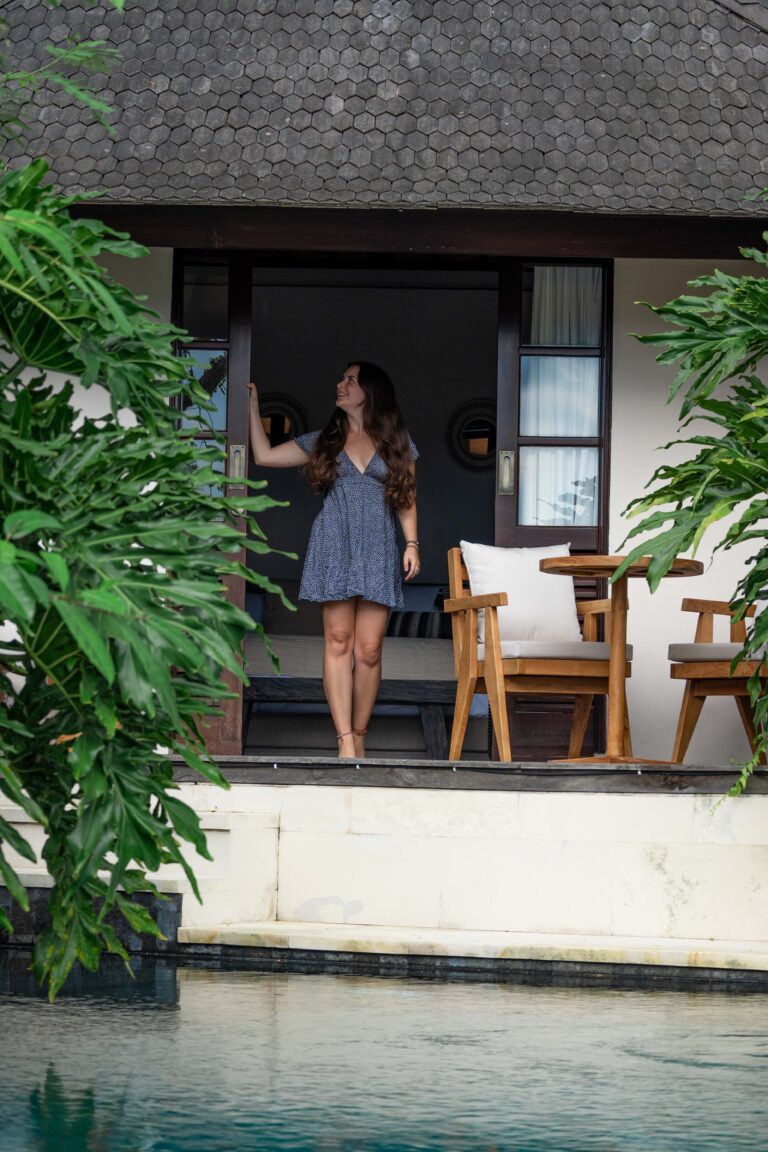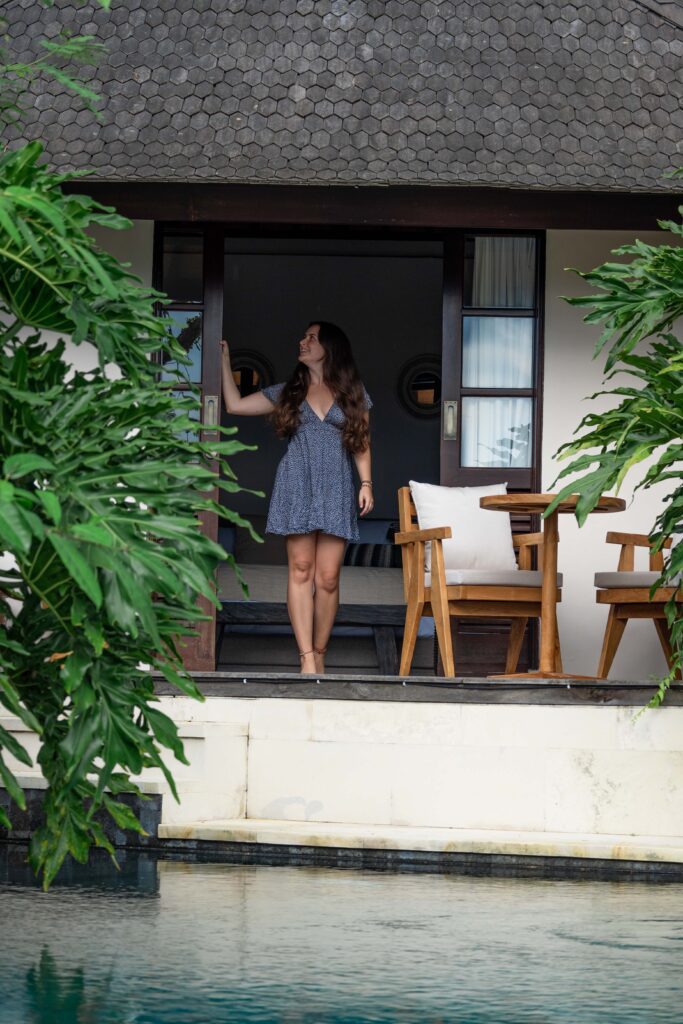 Lounge and pool deck
The pool deck at Uma Kalai is everyone's favourite when they first step foot on the property. Guests are greeted by sweeping views of Sayan's rice terraces coupled with the sound of the rushing river below. The main pool of the luxury resort invites you to take a refreshing dip as you take in the breathtaking scenery of Ubud.

Uma Kalai has several indoor and outdoor seating areas allowing for privacy and comfort. Lay back on a sunlounger after swimming in the pool or relax on a daybed while enjoying a cold drink. Inside, the living room of Uma Kalai perfectly combines indoor and outdoor living. The floor-to-ceiling glass doors open up the living space, allowing you to spend as much time as possible outside without having to worry about the weather. There is a modern kitchen, a large dining room table and a full bar available for them to use.

Ubud has a lot to offer but guests are able to choose for themselves whether they would like to enjoy a night out or rather spend it in the comfort of the luxury resort. The property's collection of board games and its small library of books invite you to enjoy a cosy night in, listening to the patter of the tropical rain on the leaves of palm trees.

This luxury of choice is really what makes Uma Kalai special, setting it apart as a boutique resort in Bali. Everything you might need is available right there on the property of the estate.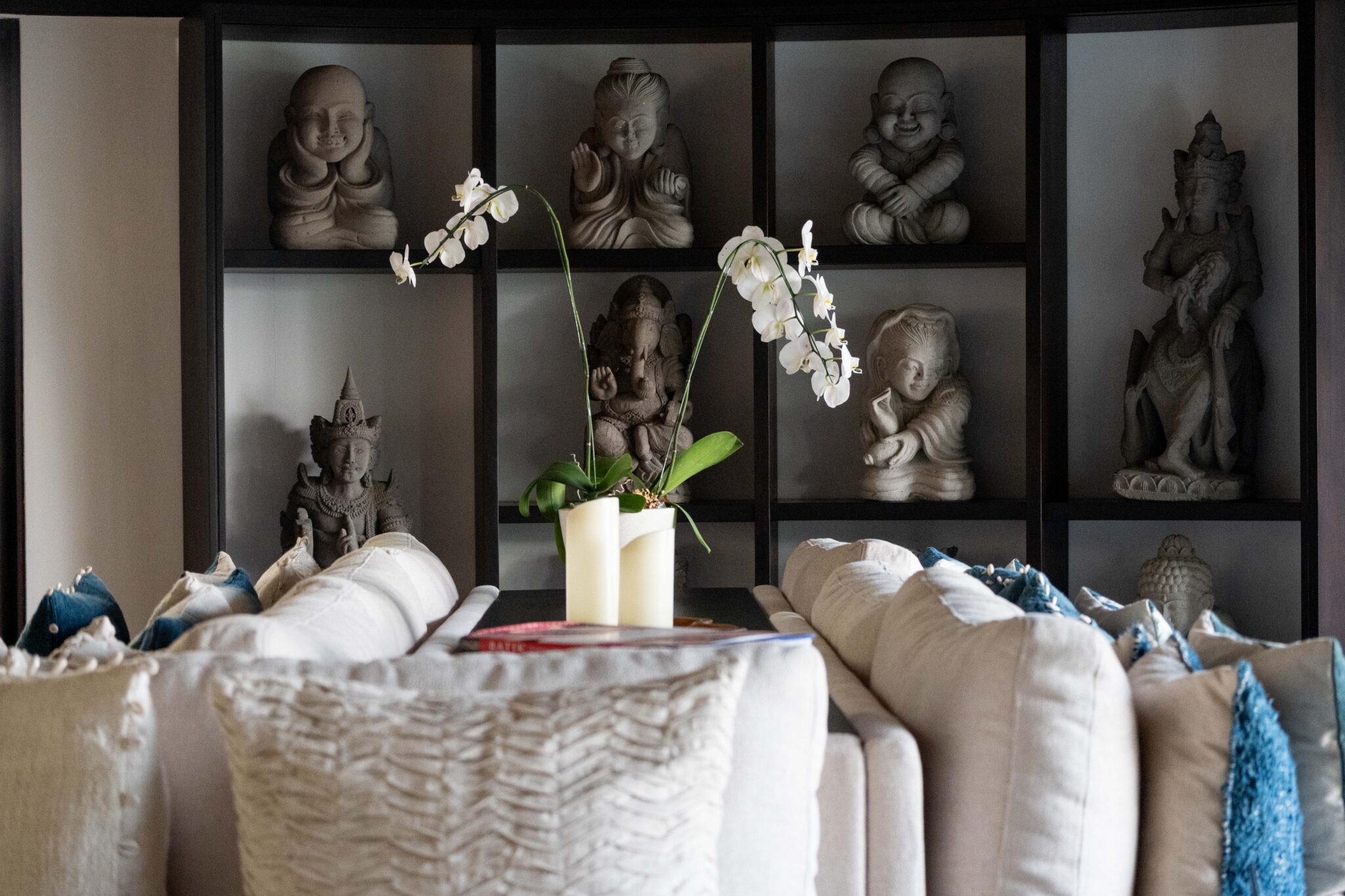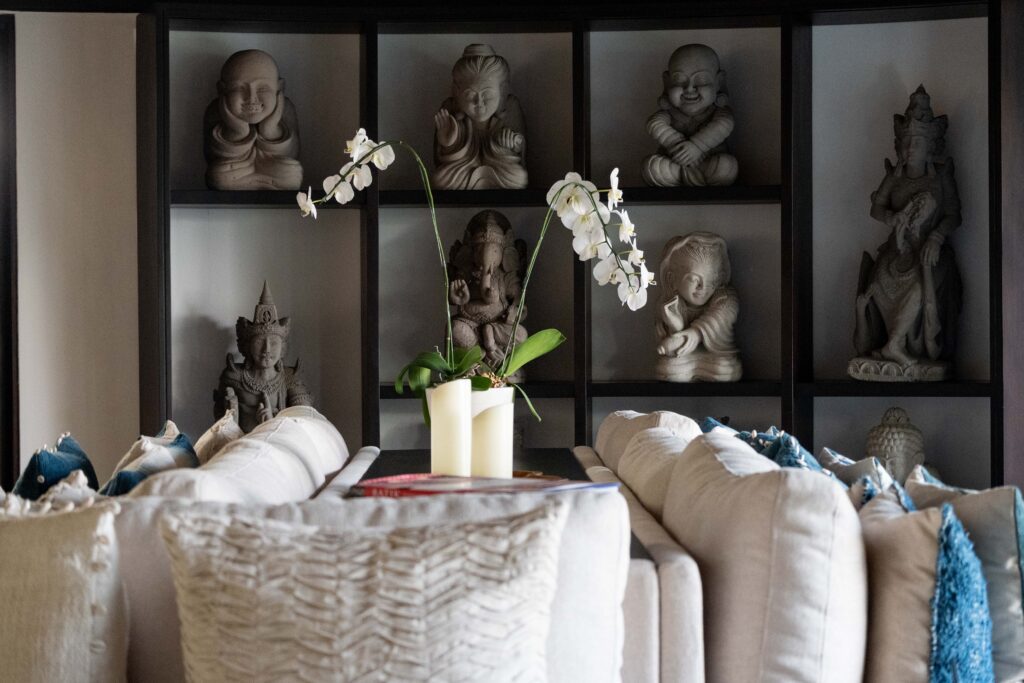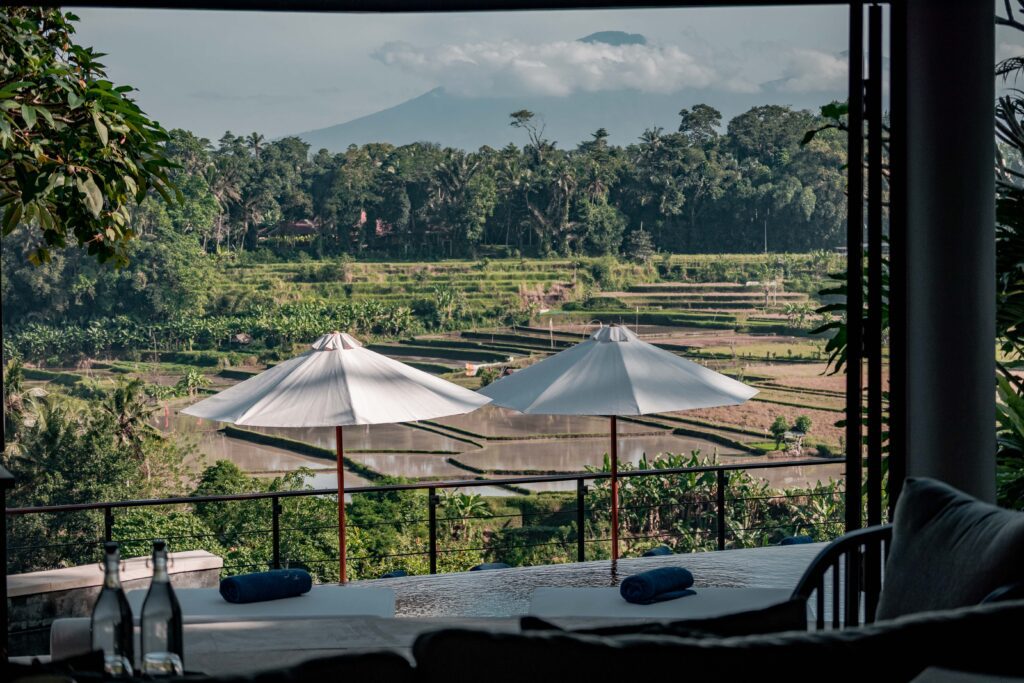 Gym
Even a luxury getaway to a boutique resort in Ubud, Bali is no excuse to let your fitness routine slide. Those hoping to keep their active lifestyle alive during their stay at Uma Kalai will be pleased to find a fully equipped gym on the property grounds complete with free weights, cardio equipment and the latest gym machines.

Of course, it wouldn't be Uma Kalai if the gym didn't have its own unique twist, integrating the magnificent landscapes of Ubud into the facilities of the luxury resort. The spacious workout room features floor-to-ceiling glass doors which can be opened, revealing a gurgling pond and a glimpse into the surrounding greenery. A workout soon becomes a jungle experience as indoor-outdoor living takes on a whole new meaning.

Furthermore, due to the limited number of rooms available at the property, the gym is rarely a busy place, allowing for privacy and a quiet atmosphere. The modern equipment is state-of-the-art and allows you to customise your workout routine perfectly.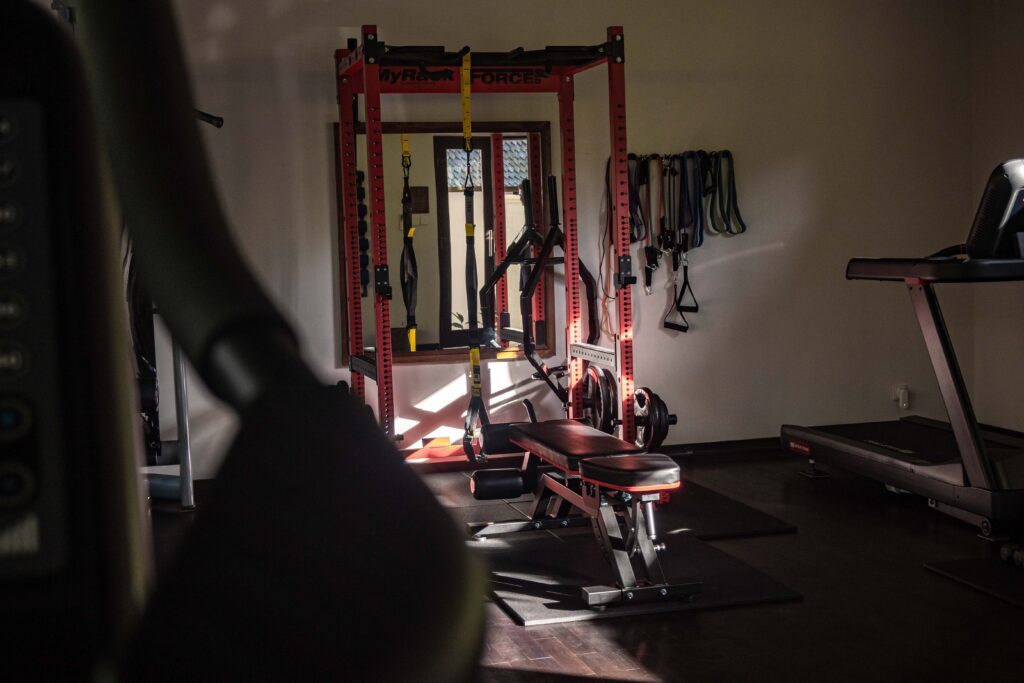 Spa and wellness
Uma Kalai is a place of tranquillity and peace, making a spa treatment almost essential when staying at the estate. The list of treatments offered onsite is long and guests face the challenge of selecting the best option for them. Luckily, the friendly staff will be happy to help with the selection of massages and facials, giving insightful advice on what to choose first. Of course, guests can always try multiple options during their stay at Uma Kalai, allowing for maximum relaxation at this peaceful boutique resort in Bali.

The spa at the property is larger than you might expect, with a variety of private treatment rooms and facilities for not only massages but also manicures and pedicures. Honeymooners or couples on a romantic getaway are encouraged to try a couple's experience in the custom double massage room at Uma Kalai.

The spa is open from 9:00 AM to 9:00 PM and available treatments include:
Reflexology
Full-body massage
Balinese massage
Deep tissue massage
Couple's massage
Balinese Boreh
Javanese Royal Lulur
Facial
Manicure
Pedicure
Find an up-to-date list of spa treatments here.


Services and amenities
At Uma Kalai, no wish goes unanswered as the staff will be ready to assist you with any requests or questions during your stay. Simply let them know what you're looking for during your time in Ubud and they'll be happy to help you out. Not sure how to get around? You'll be provided with a private driver to take you wherever you need to go. Did you forget an essential item at home? The staff will be happy to assist you in finding a replacement close by. Looking for a recommendation on where to go for dinner? You'll be provided with the best insider tips for Ubud. This is all part of Uma Kalai's concierge service which is available 24/7.

Here are some of the small details we noticed during our stay at Uma Kalai that take this hotel from being a great luxury resort to a truly excellent and unique boutique stay in Ubud, Bali.
Considering staying at Uma Kalai? Save this image to have all the important info!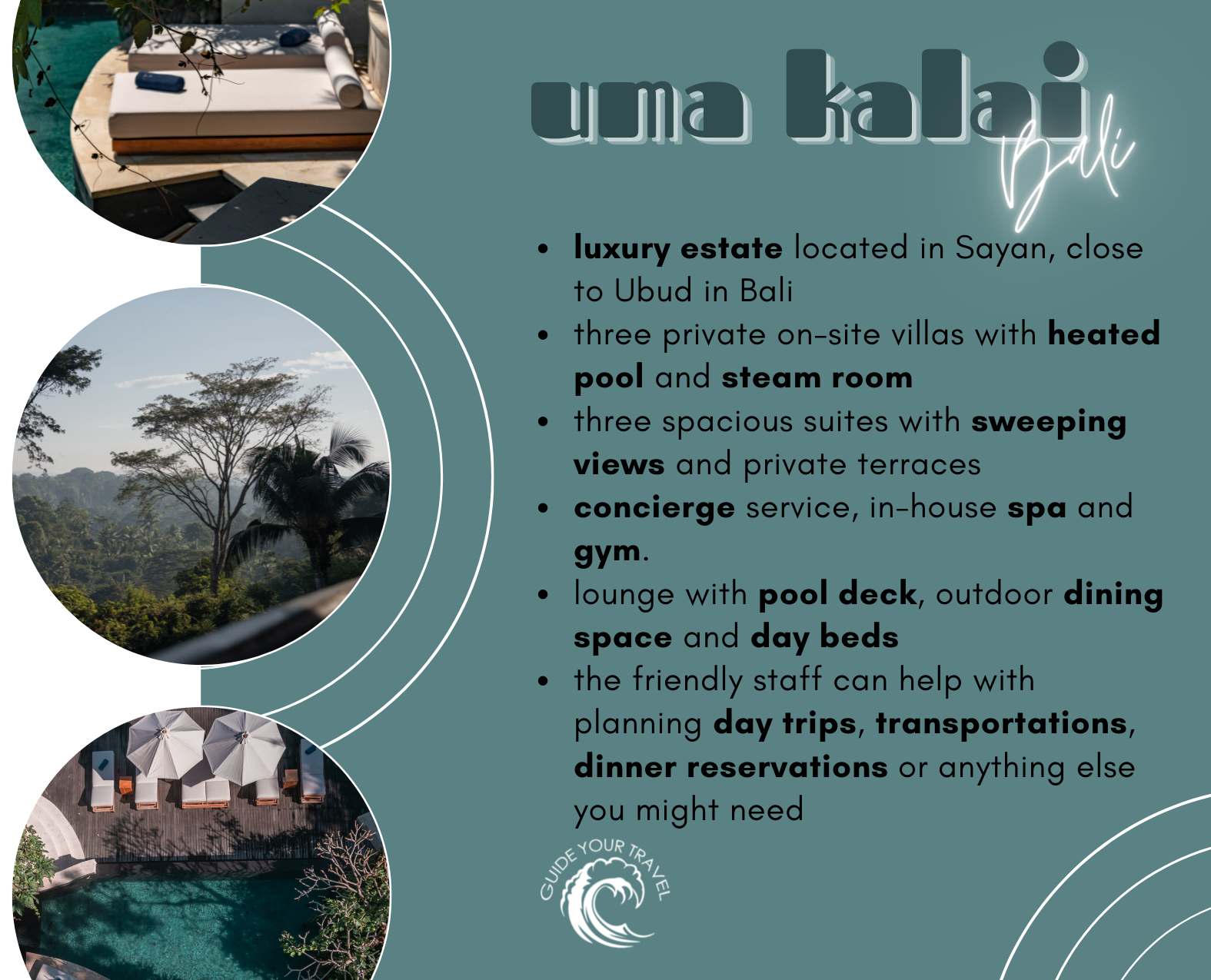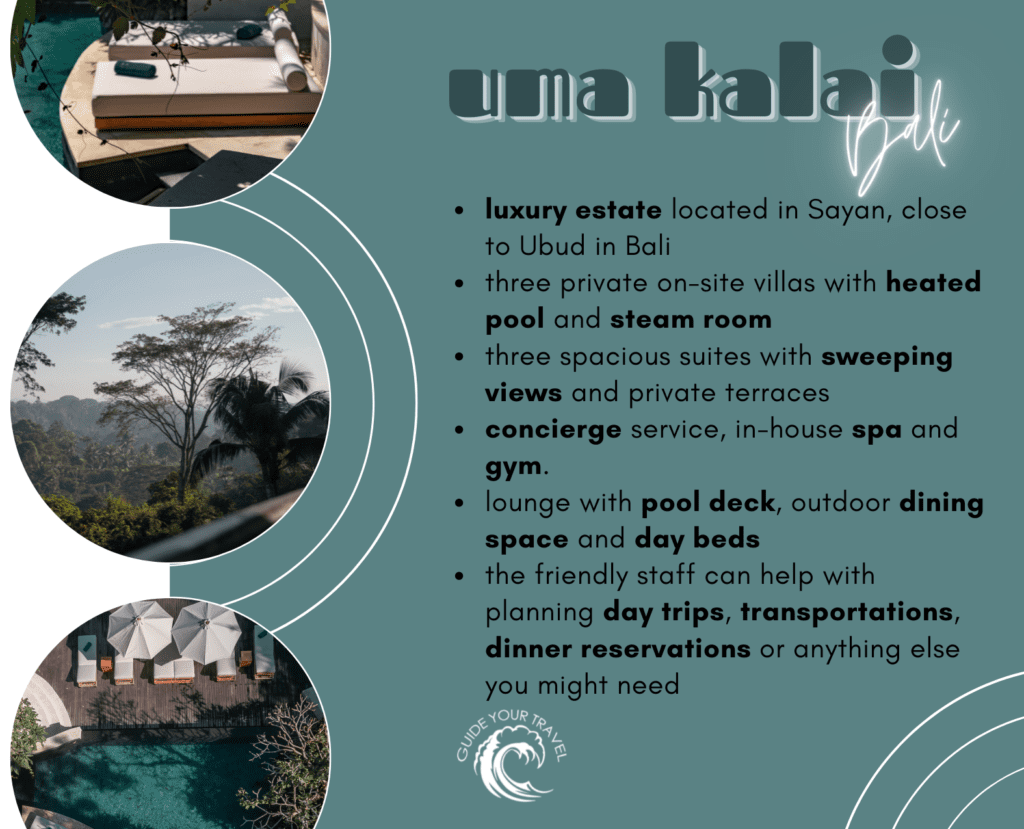 Arriving at Uma Kalai
It begins with the cold towel and refreshing welcome drink, served either in hot or cold form, which are handed to you on arrival at the property. After a quick tour of the estate, you'll be able to relax and make plans for the evening. If desired, guests can have their luggage unpacked by the helpful staff, allowing them to make the most of their time at Uma Kalai.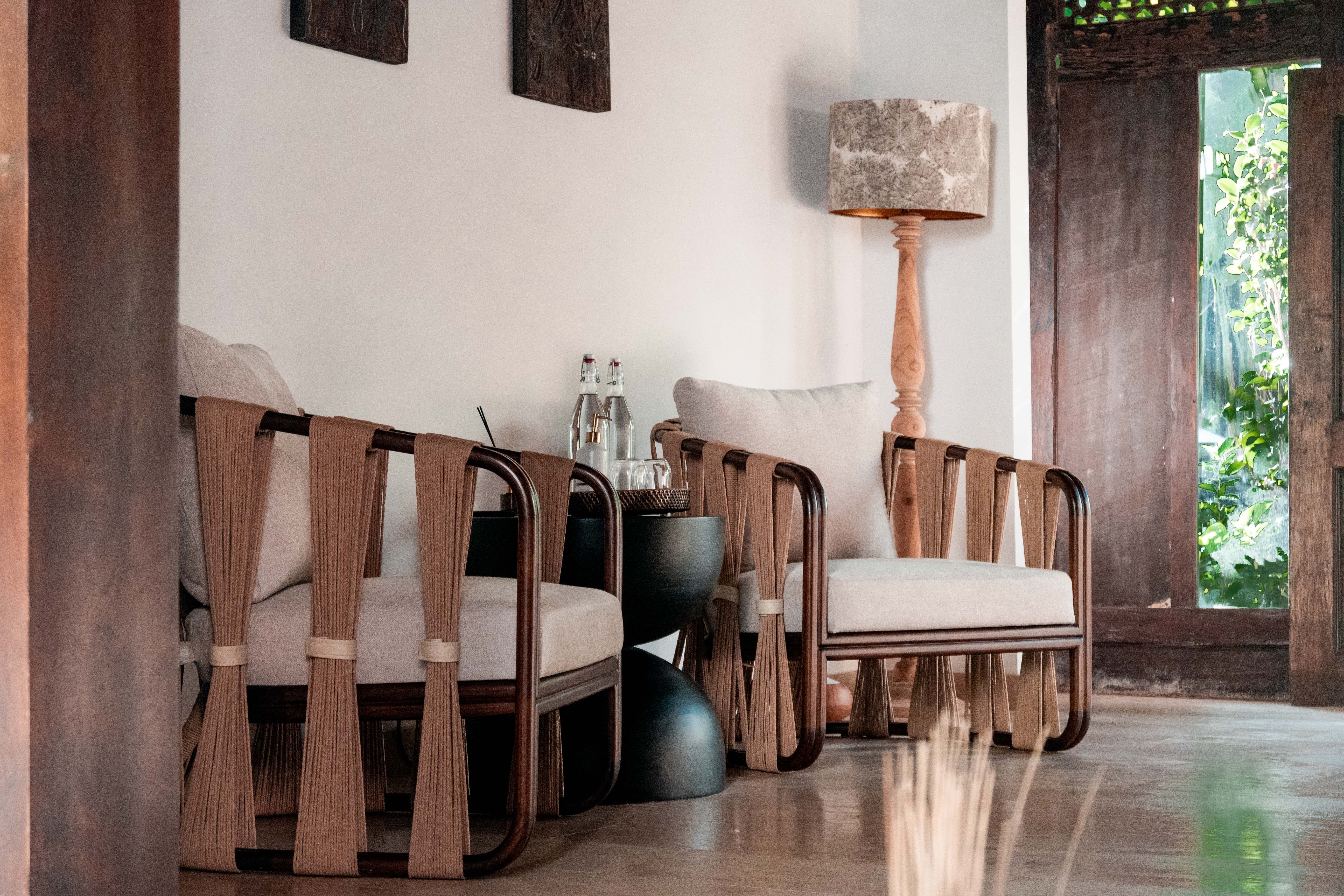 Amenities
Drinking water is provided throughout the property including the rooms, bathrooms, living room, kitchen, spa and gym. Forget about unsightly water dispensers but enjoy a cool glass of water from aesthetically pleasing bottles. You'll rarely find yourself on the property without drinking water available in your direct vicinity.
It goes without saying that the suites at Uma Kalai are exceptionally well-equipped with everything you might need during your stay. Villas and suites at Uma Kalai come with a full Japanese toilet, complete with a heated seat, built-in bidet and a variety of customisable functions. You can tell real thought was put into this property as the small details are what make this estate a rare find. Each room comes with a customised set of Nespresso coffee pods and the corresponding machine, a JBL Bluetooth speaker, a flatscreen TV, comfortable robes and slippers. You'll also find a pair of binoculars which help bring the surrounding ricefields and circling flocks of birds closer to you.
Service
Uma Kalai is not one of the large luxury resorts in Ubud and it doesn't want to be. The limited rooms available at the property give the estate an air of exclusivity and privacy that you won't find anywhere else. The staff is able to get to know your habits and preferences even if you're only staying for a few days, providing true five-star service.
To some, it might be a necessary standard, to others a welcome surprise but it can be said without a doubt that once you get used to having a turn-down service at a hotel it's difficult to go back. At Uma Kalai, you'll be greeted by a freshly made bed, refilled water, fresh towels, a heated toilet seat and slippers when you return from dinner in the evening. Have you ever slept in a hotel room with a pile of decorative pillows and blankets on the floor next to your bed? A problem of the past.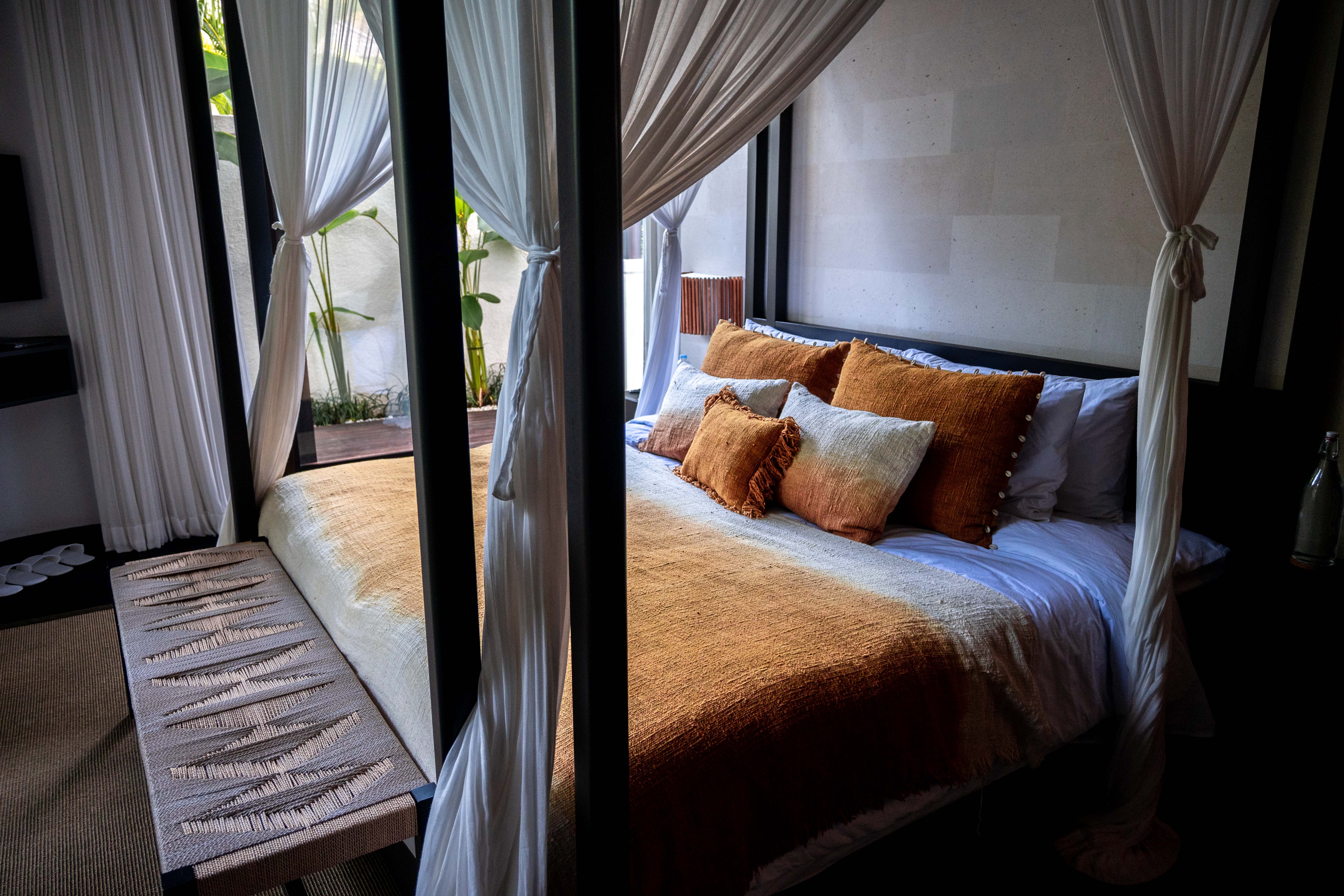 Department of Romance
To help make your stay in Bali an unforgettable experience, the boutique resort offers a "Department of Romance" service, organising romantic experiences that you might not have come up with yourself. Whether you're looking for a romantic dinner under the stars, a movie night in your private pool or an engagement photoshoot, Uma Kalai is guaranteed to have a suggestion that will make your trip extra special.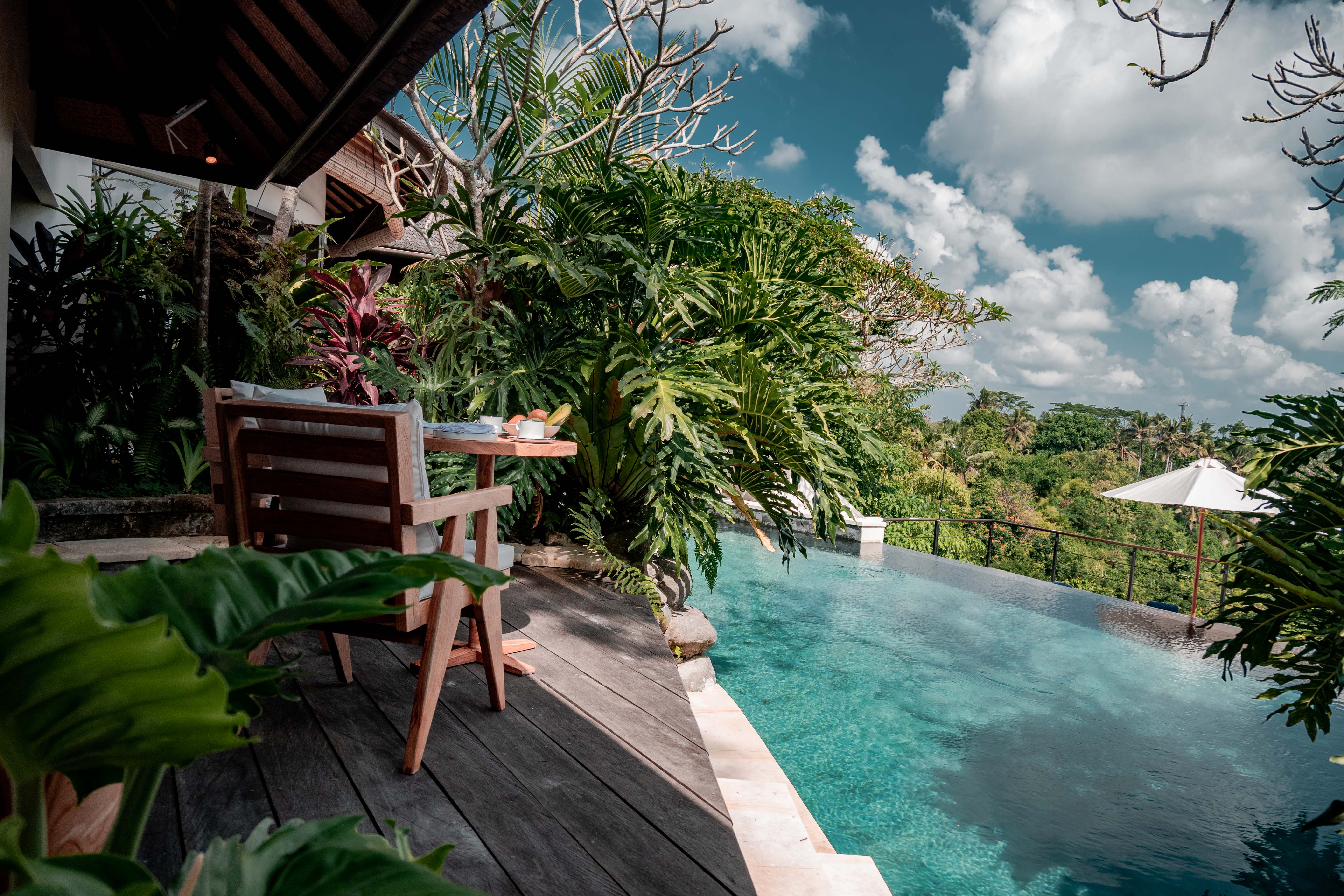 Dining at Uma Kalai
Guests at Uma Kalai can choose from a wide variety of handcrafted breakfast dishes, accompanied by freshly brewed tea, coffee or other refreshing drink options such as passion fruit, mint and lemongrass coolers. Breakfast is served wherever guests prefer for example on the spacious patio, on one of the suite's private terraces or in the property's dining room which is perfect for a rainy day.

Ubud is a prime destination for food lovers and Uma Kalai is no exception. On request, guests can enjoy lunch or dinner at the property or even just a light snack in between meals. The staff will be happy to assist you with culinary requests, allowing you to enjoy anything from a late-night bite to a multi-course meal prepared by a private chef. The sky is the limit when it comes to dining at Uma Kalai and you'll find that no wish goes unanswered during your stay.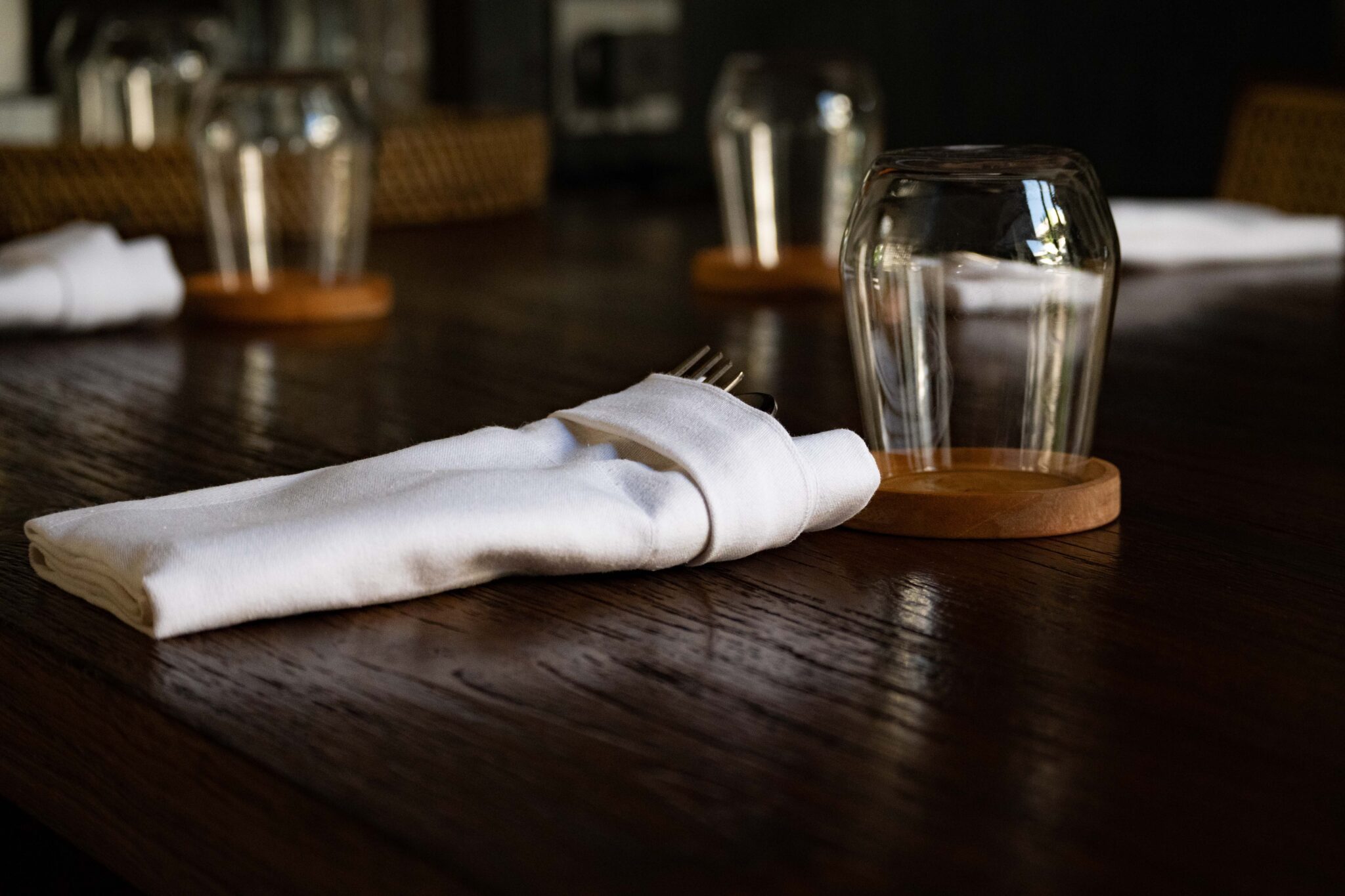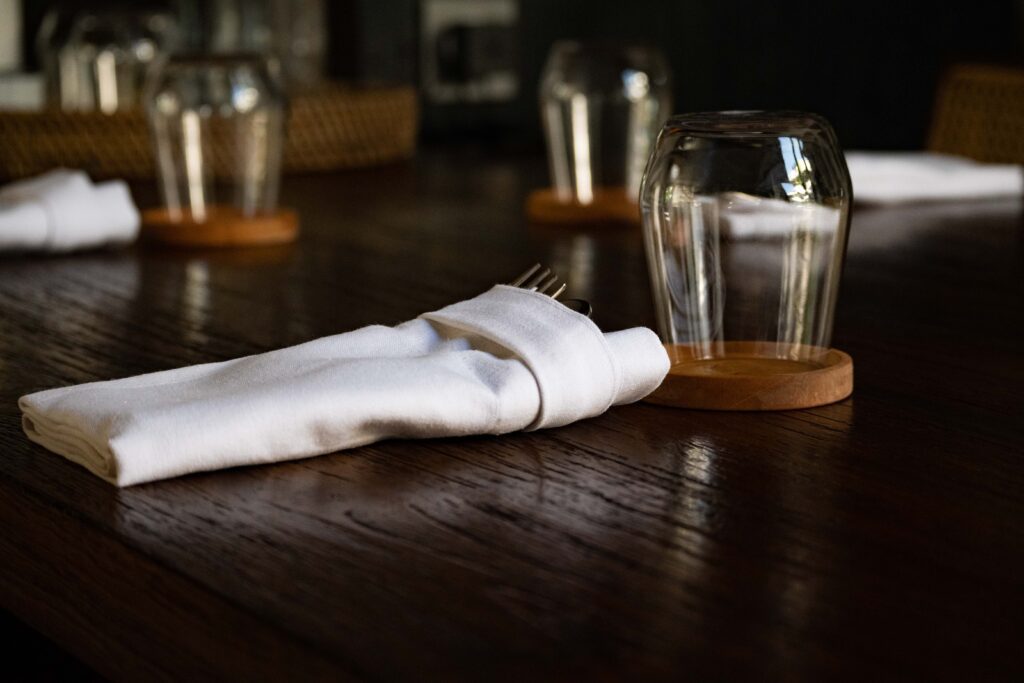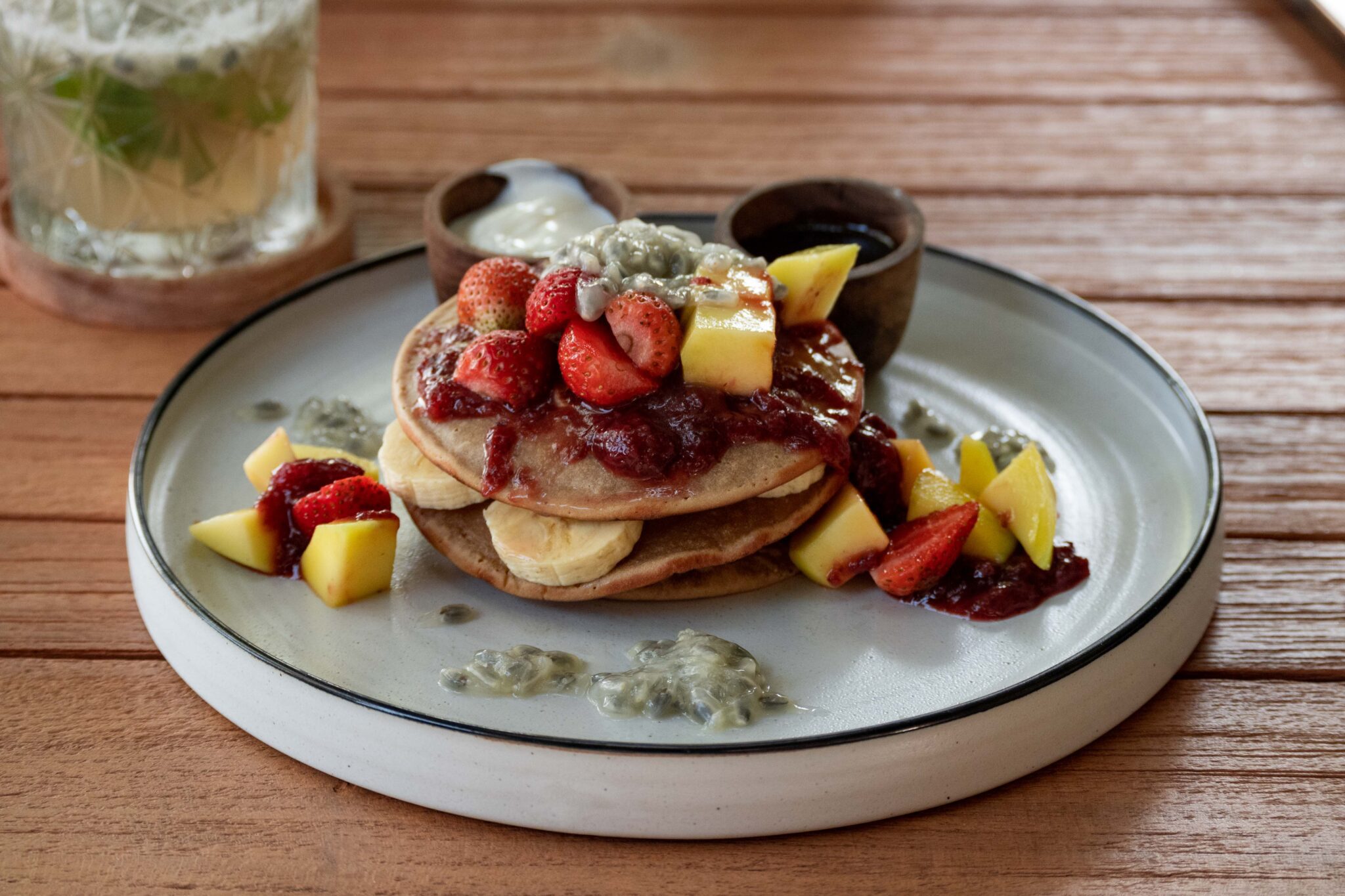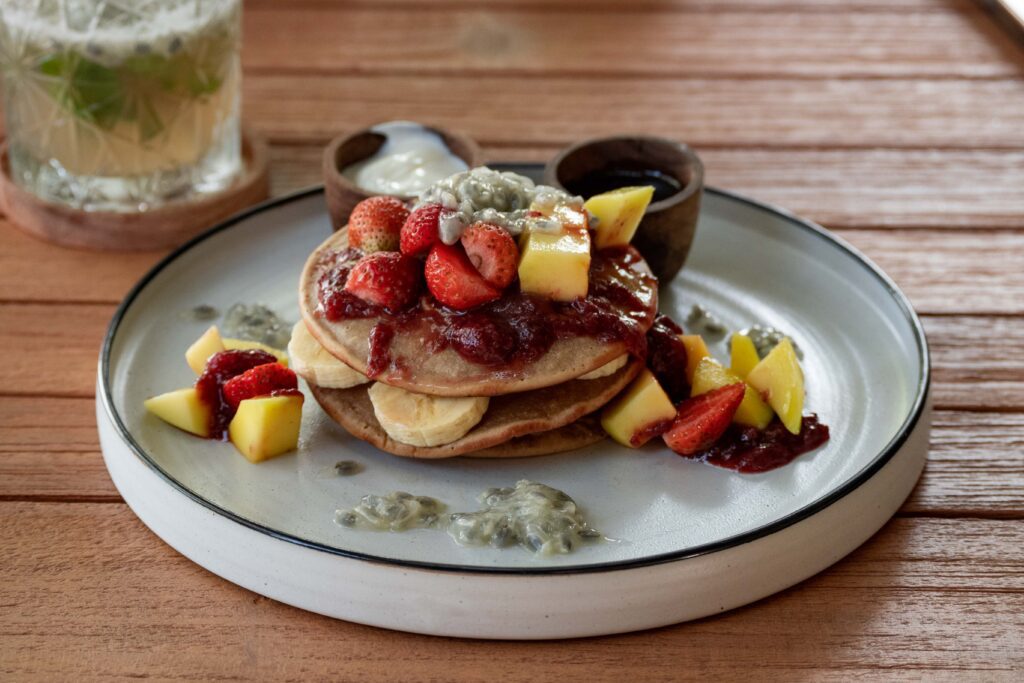 Tours and luxury experiences in Bali offered by the resort
You'll want to make the most of your time in Ubud, so leave the travel planning to the experts. There is a multitude of experiences to enjoy in Bali and Uma Kalai can help you organise excursions to points of interest all around the island. While it's most convenient to choose activities in and around Ubud, there is no reason why you cannot use Uma Kalai as a base and discover Bali's most exciting things to do during your stay. Tour reservations must be made at least 24 hours in advance and availability may depend on weather conditions. Experiences include:
Cultural
Pura Luhur Lempuyang
Uluwatu Kecak Dance
Pura Besakih
Pura Tanah Lot
Pura Gunung Kawi
Spiritual
Tirta Empul
Ida Resi
Visiting a Balinese healer
Pyramids of Chi
Blessing ceremony
Campuhan Sala
Nature
Tukad Cepung Waterfall
Tegenungan Waterfall
Hot springs Kintamani
Ricefield trek
Junge trek
Herb walk
Jatiluwih
Family
Tree top adventure
Mason elephant park
Berawa Art House
Chocolate making workshop
Cooking class
Waterbom
Adventure
ATV tour
Rafting
Mount Batur cycling
Mount Batur sunrise hike
Canyoning
Mount Ijen tour
Stand up Paddleboarding
Mount Agung
Biathlon
Find more information on experiences at Uma Kalai here.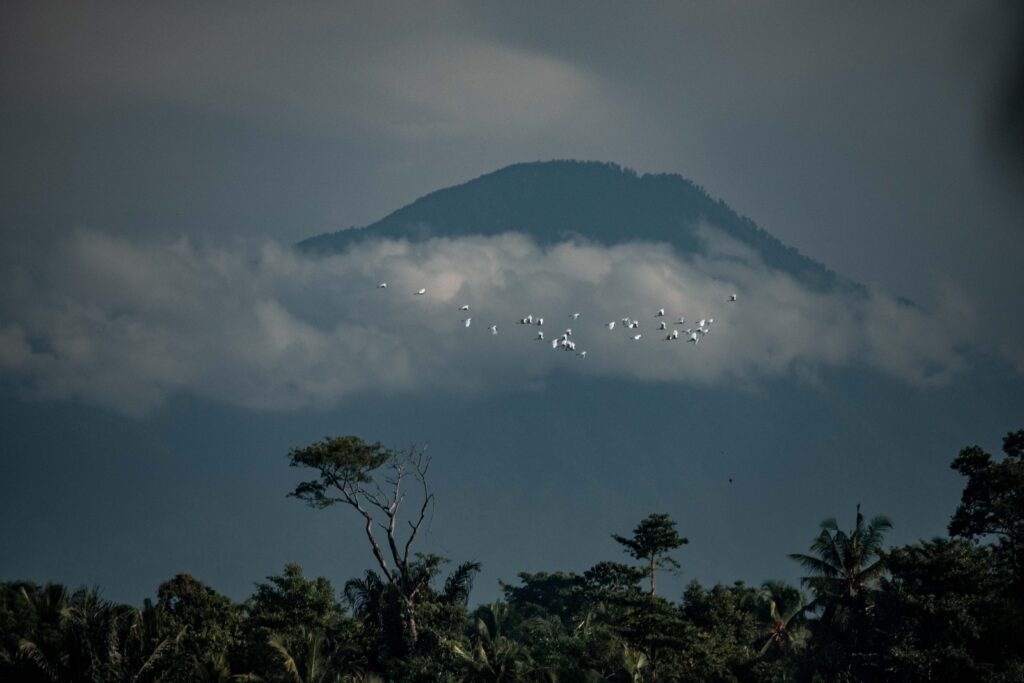 Transport options
Uma Kalai lies just a quick drive from the heart of Ubud and guests can make use of the property's concierge service to help them get around. Enjoy having a private driver take you around the island or zip around the rice terraces on a Vespa. The staff at the property will be happy to help with any transport needs including airport pickup, jeep tours or taxi services.

Enjoy the secluded nature of Uma Kalai's location in its jungle setting without having to worry about being too far away from all the action. With so many different options for getting around, you'll be flexible and comfortable during your stay in Ubud.
Why Uma Kalai is the best luxury resort in Bali for families
Planning a trip with family can be an organisational challenge but often leads to the most treasured memories. Uma Kalai takes away the pressure of planning and allows families to enjoy their time in Ubud and Bali to the fullest, perfectly combining luxury facilities with privacy, while allowing for a unique experience that far surpasses a stay at a large resort. The different suites and villas at Uma Kalai allow guests to spend quality time with their loved ones in an intimate setting but with a much higher quality of experiences than might be the norm at private villa rentals.

The Uma Kalai estate has everything families might be looking for on-site, specialising in customisable and unique experiences tailored to the needs of every visitor.
Why Uma Kalai is the best luxury boutique resort in Bali
In 2022, luxury travellers are looking for unique experiences that go beyond large hotel chains. Uma Kalai is a boutique resort that can only be described as an insider tip given to you by a friend who recently visited Bali. You'll leave the property feeling rejuvenated and refreshed, with a new perspective on Ubud and all of Bali.

A lot of thought was put into this boutique Bali property, making this resort the perfect choice for those who like to pay attention to the small details on their luxury stays. Contact the Uma Kalai team here to plan your trip.
Book your stay at Uma Kalai here.
Click the images below to pin this post to Pinterest and save for later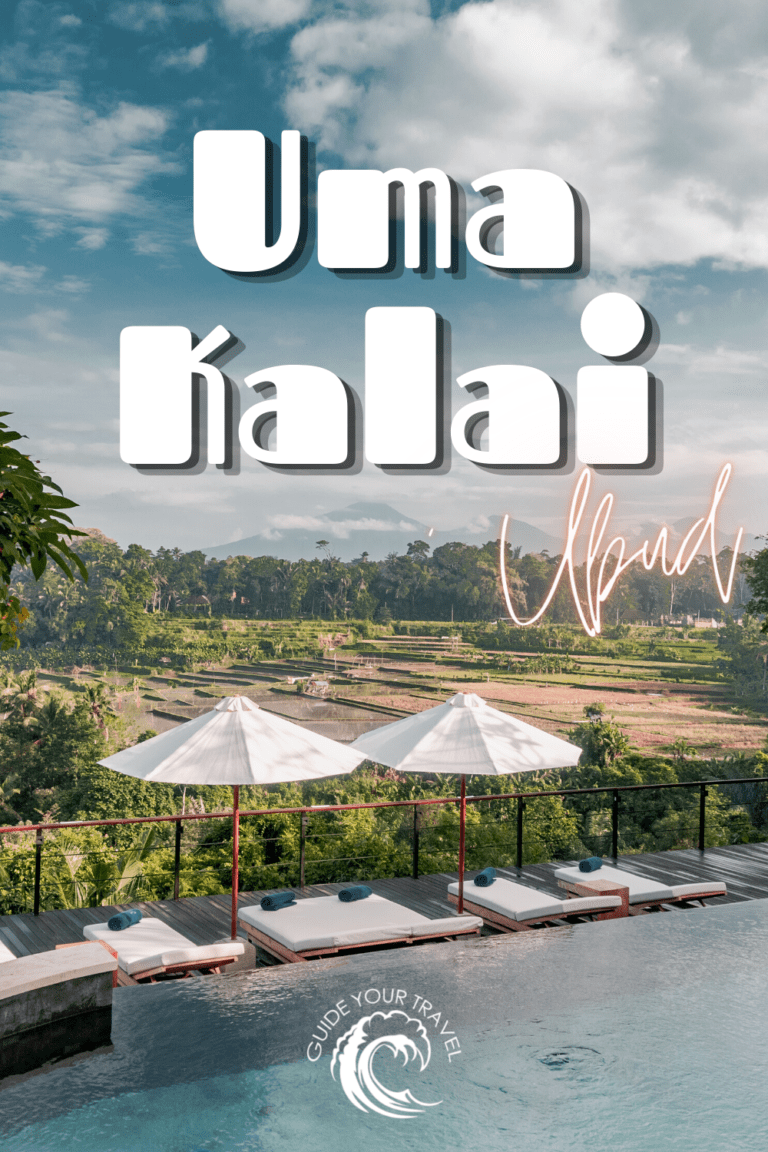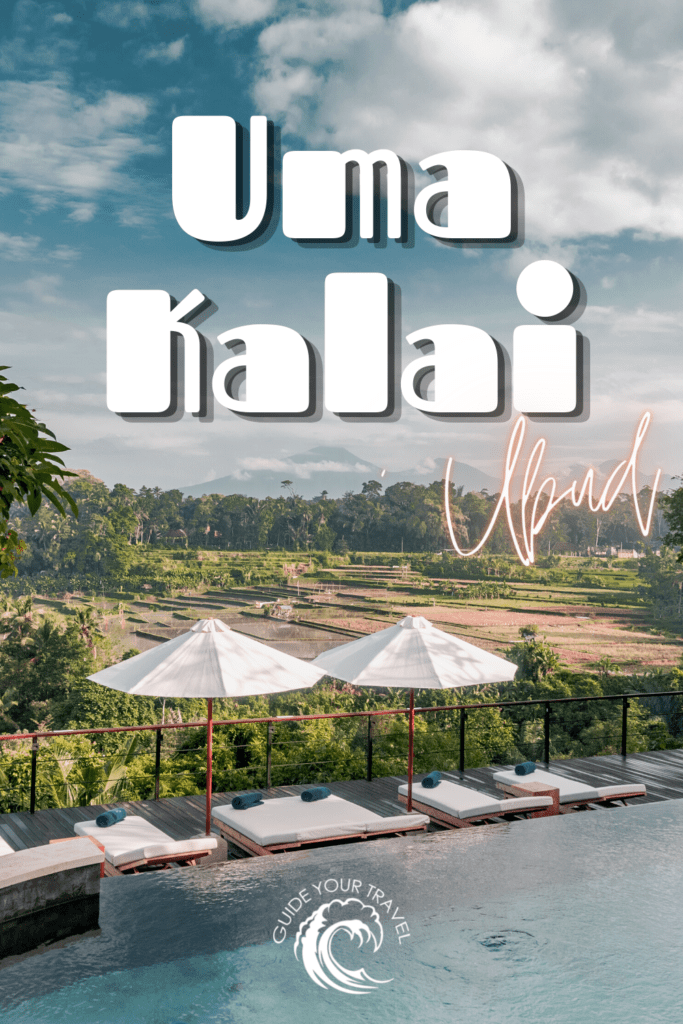 Impressions of Uma Kalai
My most important travel tips and resources
Book your flights
Skyscanner is the best website for finding cheap flights since it works like a search engine so you can find the best deals across all airlines.

Book hotels and hostels
• Booking.com: Best world-wide
• Agoda: Best in South East Asia
• Hostelworld: Best for hostels

Book tours, transport and rental cars
•Viator: The best place to book tours, day trips and excursions for al budgets
•12Go: Great for ferries, trains, transfers and buses in South East Asia
•Discover Cars: Best deals for rental cars around the word

Get travel insurance
Every traveller needs travel insurance and I mean every single one. SafetyWing covers you in case of injury, illness or worse and they've got your back if your bag is stolen, flights are cancelled or in case of a natural disaster.

Pay abroad
Ask any traveller, Wise is the best choice when it comes to sending money abroad. They've always got the best exchange rates, lowest fees and their visa card is great for getting cash out or paying abroad.

Things every traveller needs:
➼ Osprey Farpoint 70 Backpack
Detachable daypack, ultra-light, durable and free repairs for life. There's a reason why so many backpackers have this bag.
➼ Packing Cubes
Packing cubes are a gamer changer, keeping your luggage organised and providing tons of extra space.
➼ Power bank
There is nothing worse than running out of battery on an overnight bus journey or a long flight. With a powerbank you can charge your eletronics on the go and make sure you're always connected.
➼ Micro-fibre towel
These lightweight towels are foldable, fast-drying and so useful when you're travelling.

➼ You can find 15 more things every traveller needs here. Some might be a bit controversial but I warned you!
Did I miss anything?
If you have any questions or feel like something is missing from this post please leave a comment below or contact me.