The Pantheon of Illustrious Men in Madrid is one of the most beautiful Spanish crypts and one of the best unusual things to do in Madrid. The cloister is the burial location for famous Spanish politicians and other illustrious men and is known for its beautiful architecture. A trip here is the perfect way to learn about Spanish history and admire the art that decorates each tomb. This is usually a very quiet place away from the tourist crowds.
This post may contain affiliate links, which means we'll receive a commission if you purchase through our links, at no extra cost to you. This helps us keep Guide your Travel free and provide high-quality content for you. Please read the full disclaimer for more information.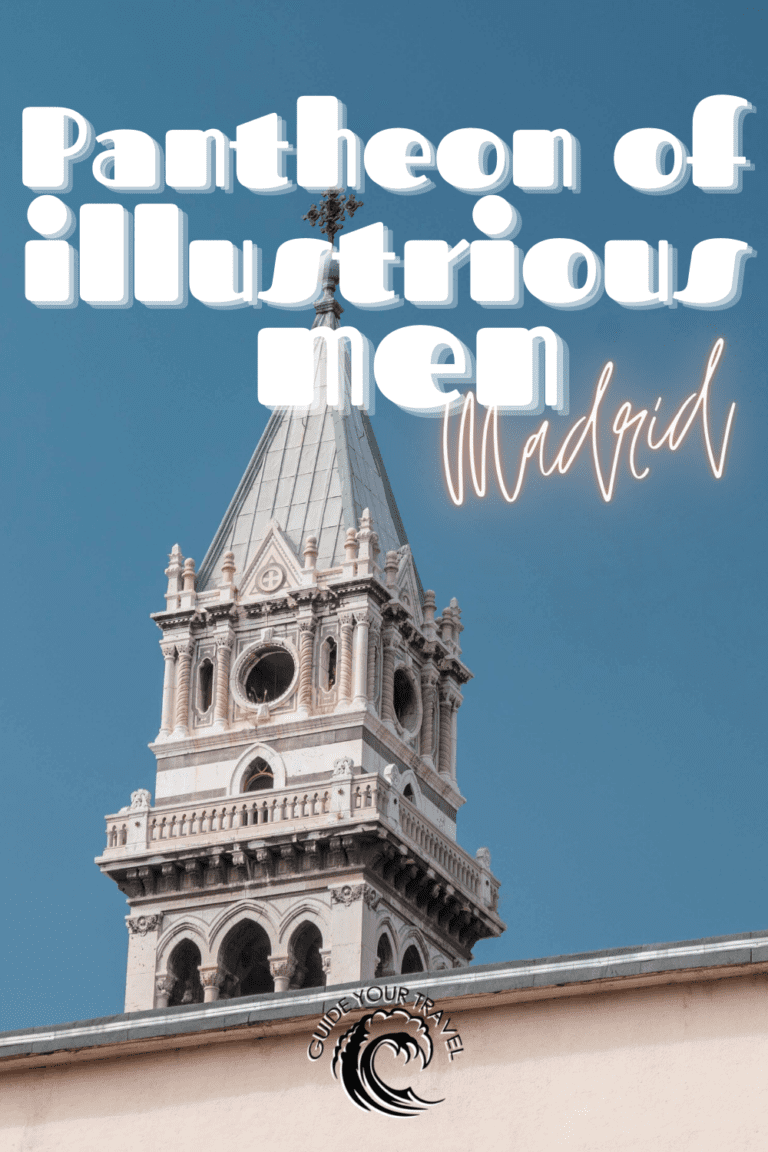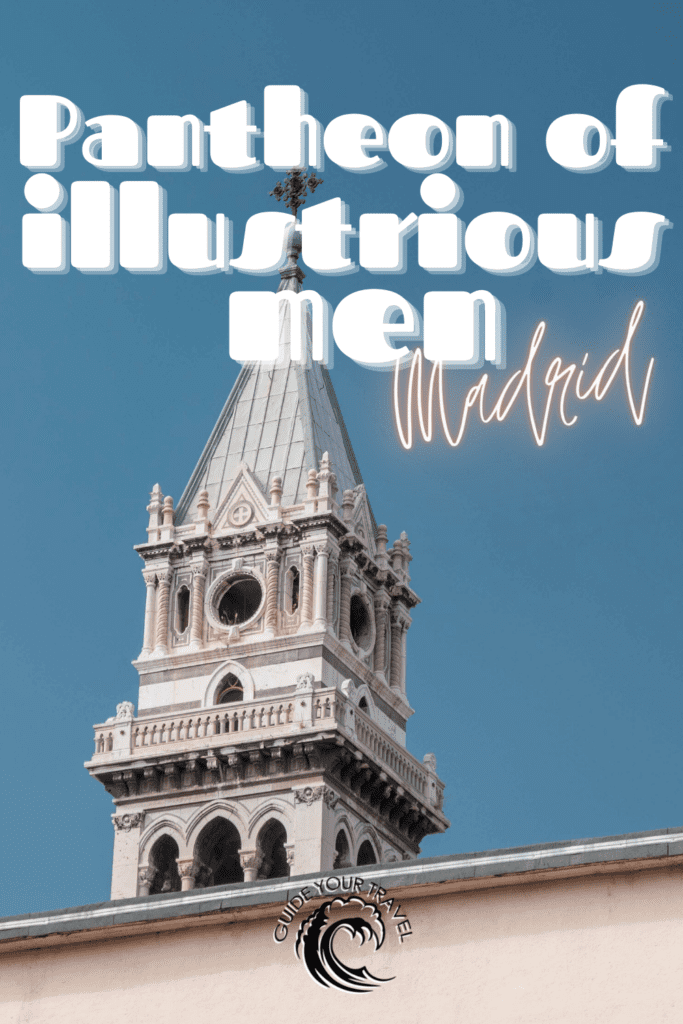 History and significance of the Pantheon of Illustrious Men
The Pantheon of Illustrious Men or Panteón de Hombres Ilustres is a beautiful 19th-century cloister where notable Spanish politicians and persons of interest are buried. It is a royal site and one of the most famous Spanish crypts open to the public. If you're looking for unusual things to do in Madrid this is a fantastic choice.

Designed by the Spanish architect Fernando Arbós y Tremanti, the cloister was initially supposed to be part of a large and impressive basilica that was unfortunately never built. Only the tower of the pantheon acts as a sort of suggestion of what this grand structure might have looked like.

The tower is separated from the rest of the pantheon and is now part of the neighbouring school grounds. However, the project which was supposed to become the temple of the royal court was abandoned because the building costs would have been far too high.

Construction began in 1892 but by 1899 works were halted due to budget issues and the fact that the crypt of the Almudena Cathedral was being constructed at the same time.

During the Spanish civil war parts of the structures of the cloister were damaged and it finally was designated a burial place. The Basilica of Nuestra Señora de Atocha was built in 1951 as a replacement for the unfinished church.

This website has very detailed information about the history and construction of the pantheon and other Spanish crypts.

The cloister has a square shape with two large domes on the corners. Three galleries frame the beautiful courtyard which features a statue of liberty that was constructed by Ponciano Ponzano 26 years before her famous counterpart in New York City.

The pantheon is one of the most beautiful and elaborate Spanish crypts.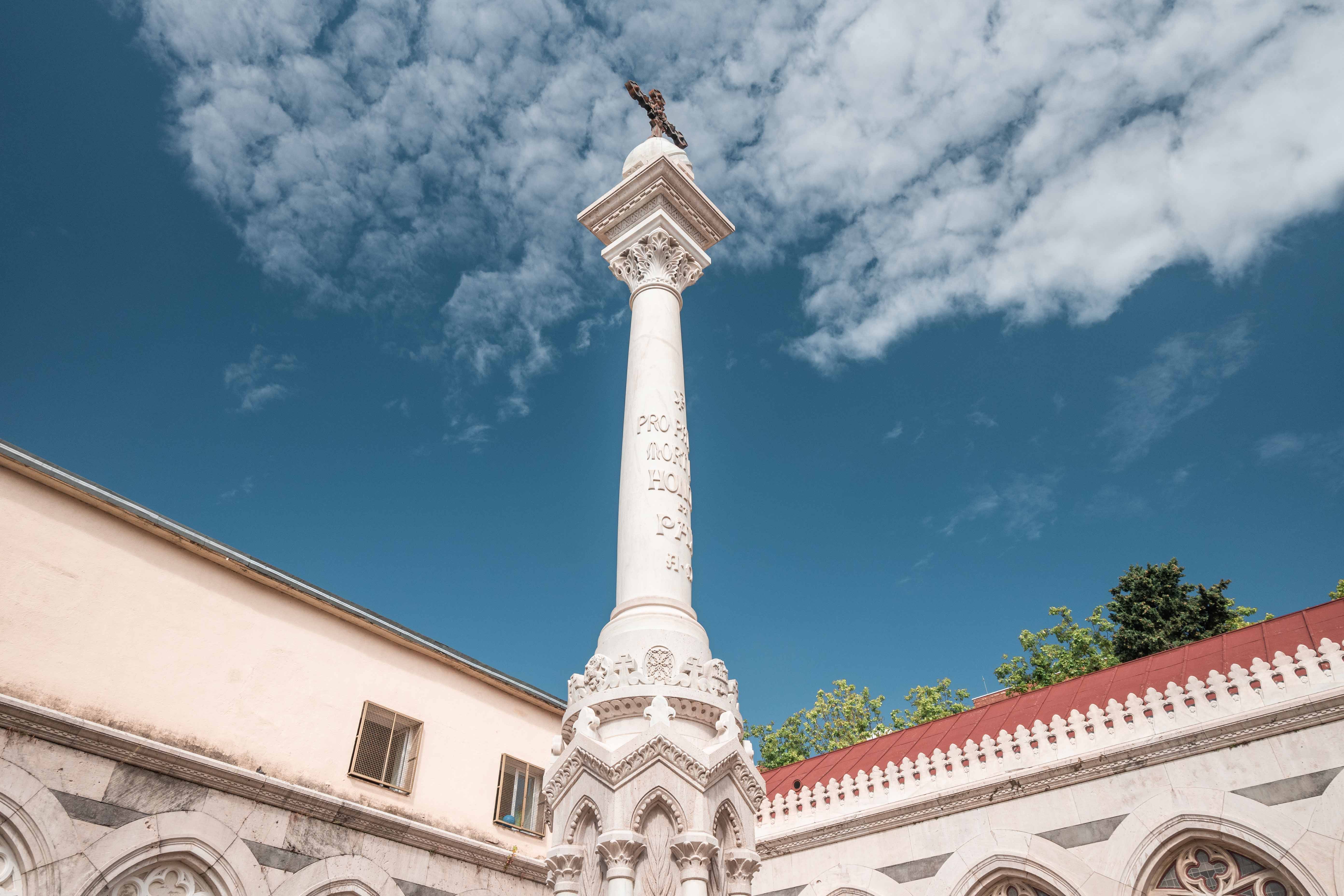 Politicians buried at the Pantheon of Illustrious Men
There are currently thirteen illustrious men buried at the Panteón de Hombres Ilustres. In most cases, their remains were moved here from other burial sites or Spanish crypts. Each tomb is decorated very elaborately with beautiful marble statues.

There are information signs available for each tomb although they are only in Spanish. The following people are buried at the pantheon:
Eduardo Dato (1856-1921) – Three-time prime minister of Spain who was murdered
Antonio de los Ríos y Rosas (1812-1873) – Spanish politician
Francisco Martínez de la Rosa (1787-1862) – Spanish politician and writer
Práxedes Mateo Sagasta (1825-1903) – Eight-time Spanish prime minister for the Liberal Party
Antonio Cánovas del Castillo (1828-1897) – Prime minister of Spain who was murdered
José Canalejas (1854-1912) – Prime minister of Spain, murdered in Madrid while shopping for books
José Calatrava (1781 – 1846) – Prime minister of Spain
Agustín de Argüelles (1776 – 1844) – Spanish liberal politician
Manuel Gutiérrez de La Concha (1808 – 1874) – Spanish politican
Juan Álvarez Mendizábal (1790-1853) – Prime minister of Spain
Diego Muñoz Torrero (1761 – 1829) – Spanish priest and politician nown for defending the freedom of the press
Salustiano Olózaga (1805 – 1873) – Prime minister of Spain and former ambassador to France
Leandro Fernández de Moratín (1760 – 1828) – Spanish poet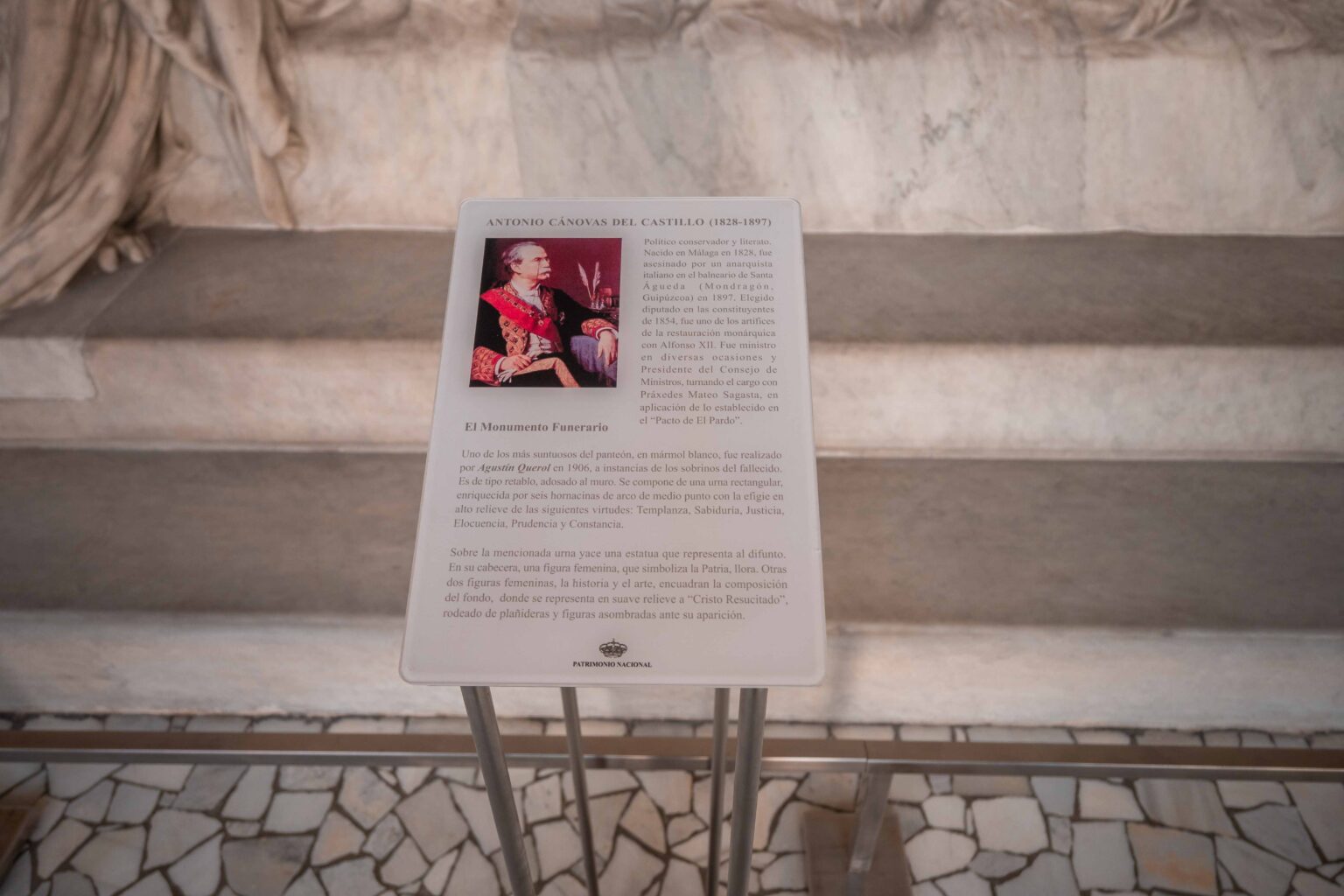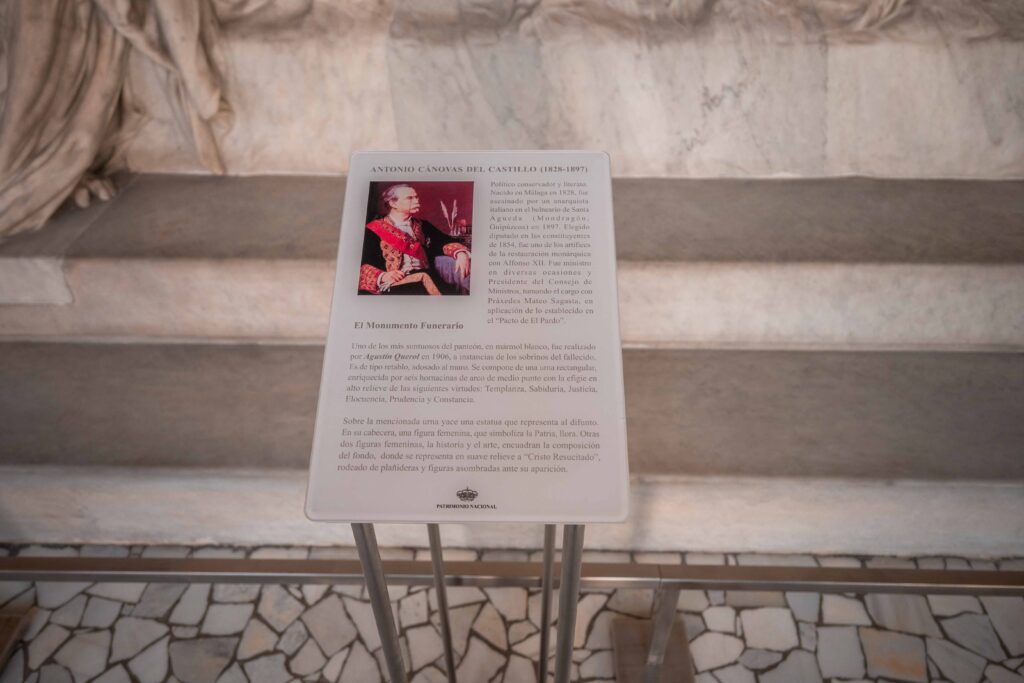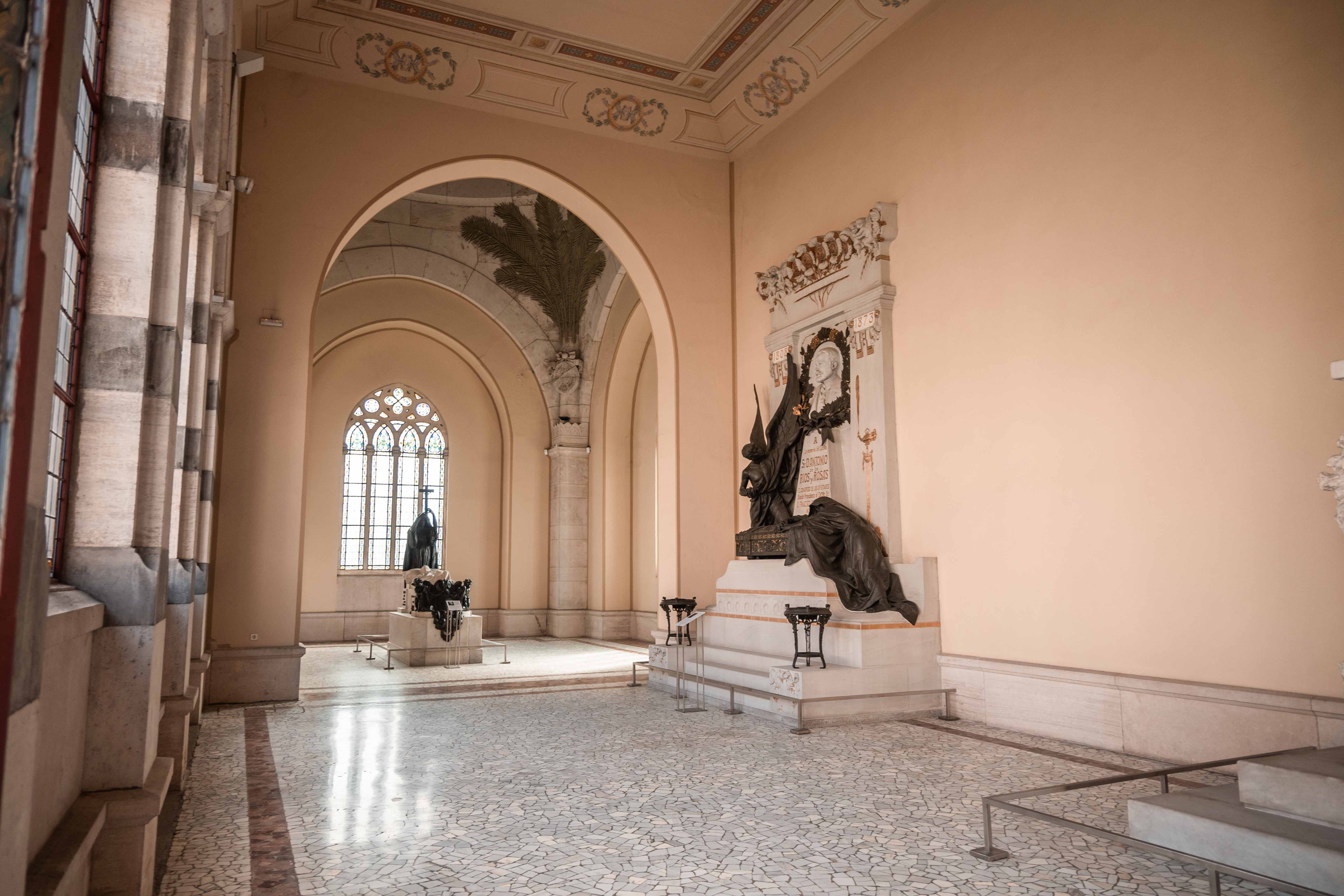 Why you should visit the Pantheon – Is it worth it?
The Pantheon of Illustrious Men always flies under the radar in a city packed to the brim with beautiful buildings and fun attractions. You might be visiting other notable Spanish crypts like the Almudena Cathedral or El Escorial.

Definitely don't skip the pantheon though. This is not a place that all tourists visit when they come to the city. It's somewhat of an unusual spot and perfect for those seeking off the beaten path things to do in Madrid. Since it is free and usually very quiet you'll never have to worry about crowds here.

I think it's definitely worthwhile to stop by and get to know a different side of Madrid. You probably won't stay for several hours but the architecture is very beautiful and even if you know nothing about politics this is an interesting place to learn about Spain's past.

If you're not after an educational experience just enjoy the beauty of the building and the chance to get away from the busy city for a little while.


Where is the Pantheon of Illustrious Men in Madrid?
The Pantheon of Illustrious Men is located south of Retiro Park not too far from the Pacífico neighbourhood. It lies just a quick walk from Atocha train station although its location is not as central as other things to do in Madrid.

The area close to the Panteón de Hombres Ilustres is definitely not very touristy and you'll probably only run into locals here.
The full address is: C. Julián Gayarre, 3, 28014 Madrid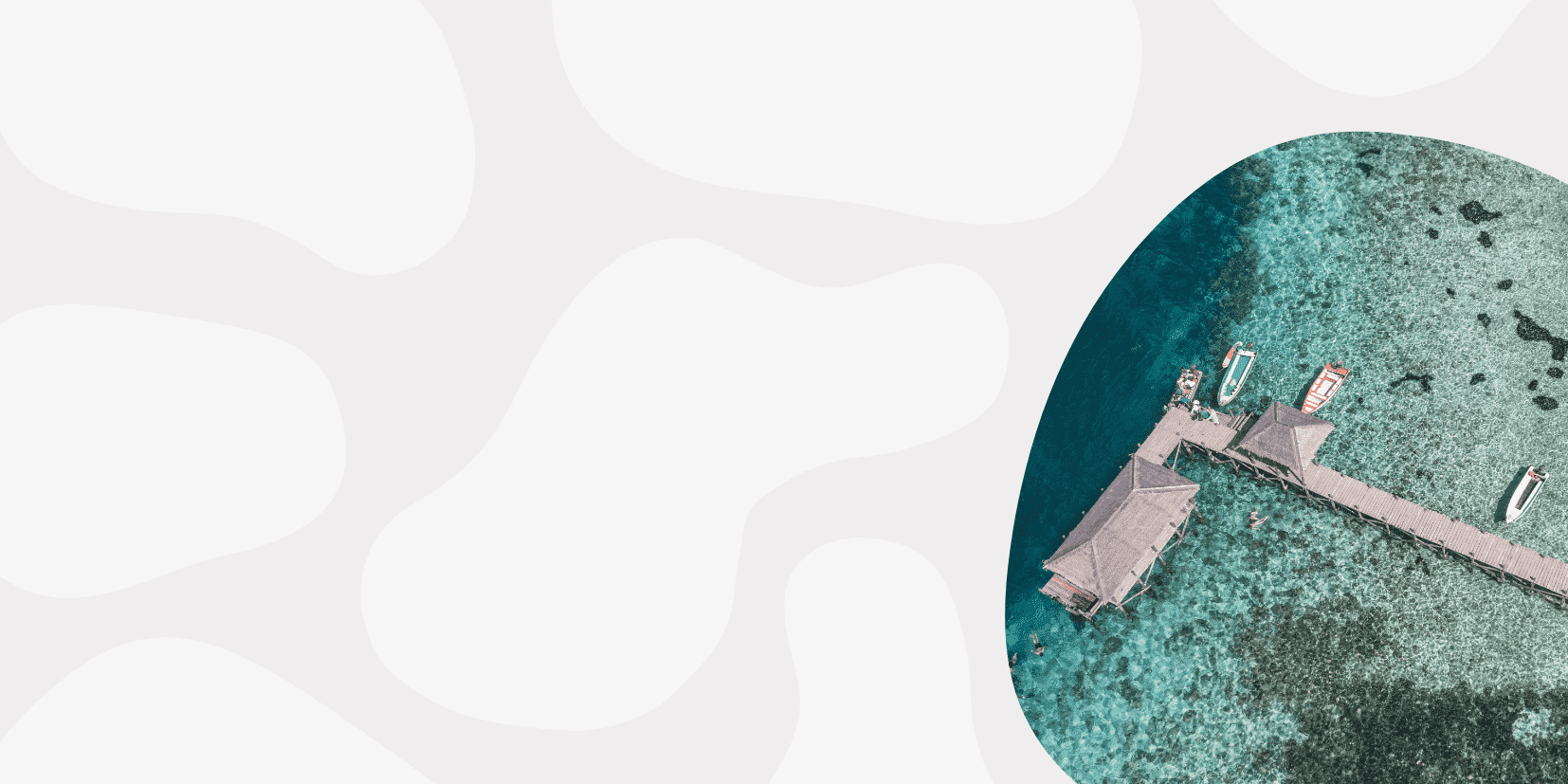 Let me save you time and effort when you're travel planning!

➼ Best travel insurance? SafetyWing
➼ Best place to find cheap flights? Skyscanner
➼ Best bank & credit card for travellers? Wise
➼ Best travel backpack? Osprey Farpoint 70
How to get to the Pantheon of Illustrious Men
Since the Pantheon of Illustrious Men is not as close to the city centre as many other attractions in Madrid it will probably not be one of those unusual places you'll see by chance as you're walking by. You'll have to specifically plan to go here and plan how to get there and back again.
On foot
From the Puerta del Sol which is often considered the centre of Madrid, it takes 30 minutes to walk to the Pantheon of Illustrious Men. You'll pass through interesting neighbourhoods like the Barrio de las Letras so walking is definitely recommended if the weather is nice.

However, 2.4 kilometres is definitely far so look into public transport options which will be far more convenient.

If you're in Retiro Park anyway definitely stop by the pantheon since it's not too far away.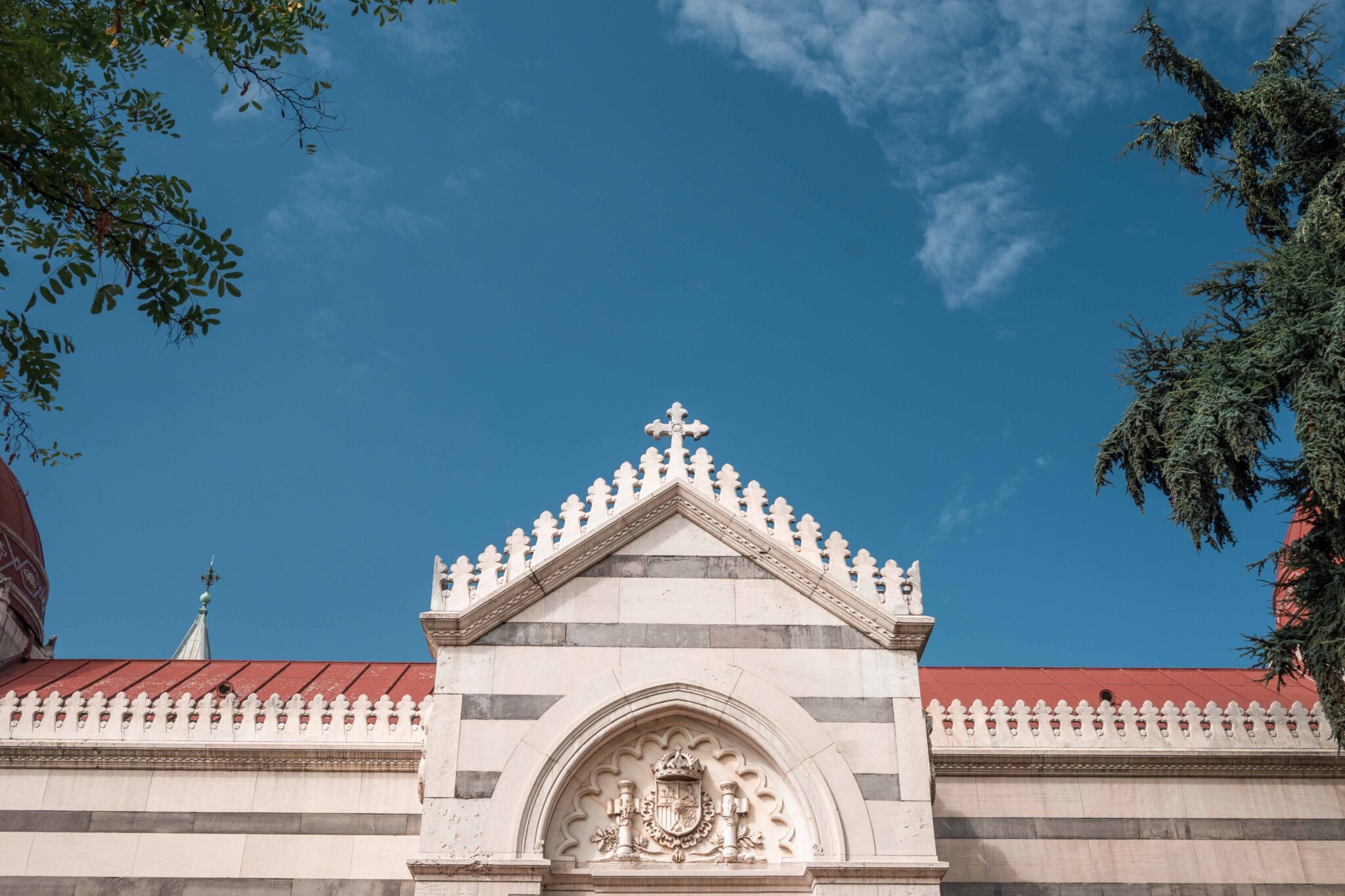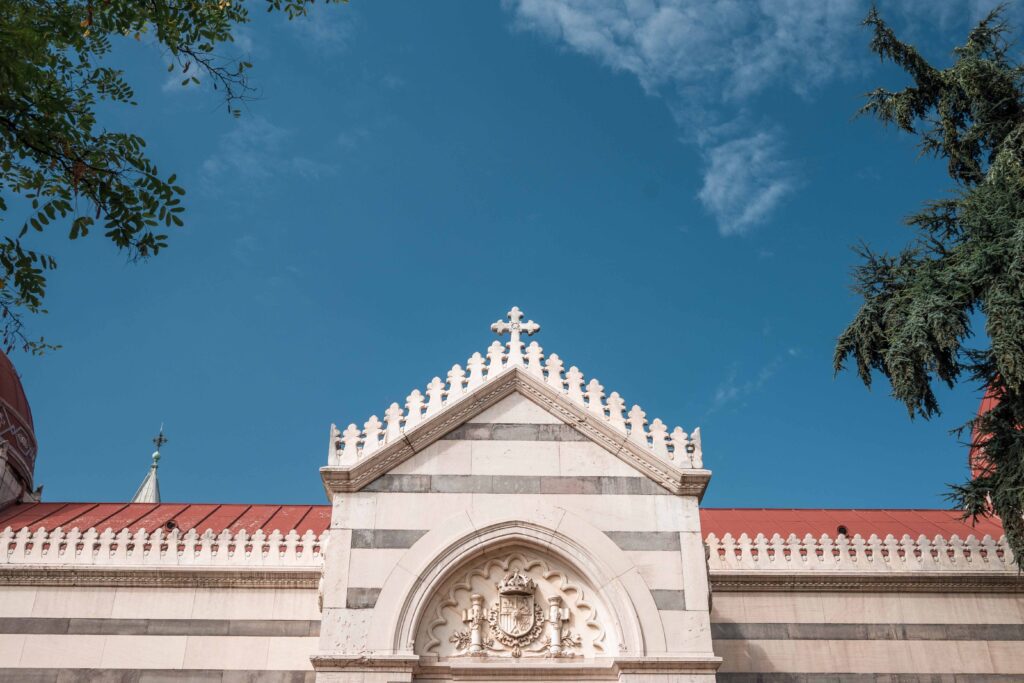 Metro
Since the Pantheon of Illustrious Men is located so close to Atocha which is Madrid's major train station where long-distance trains arrive, the public transport options are decent. Menéndez Pelayo is the closest metro station although Atocha-Renfe is also close by. Conde de Casal is located a bit further away but has a different train connection which might be convenient.

These stations are serviced by the following metro lines:
Menéndez Pelayo – 4 min walk – Line 1
Atocha-Renfe – 6 min walk – Line 1
Conde de Casal – 15 min wal – Line 6
Visiting the Pantheon of Illustrious Men soon? Save this image to have all the important info!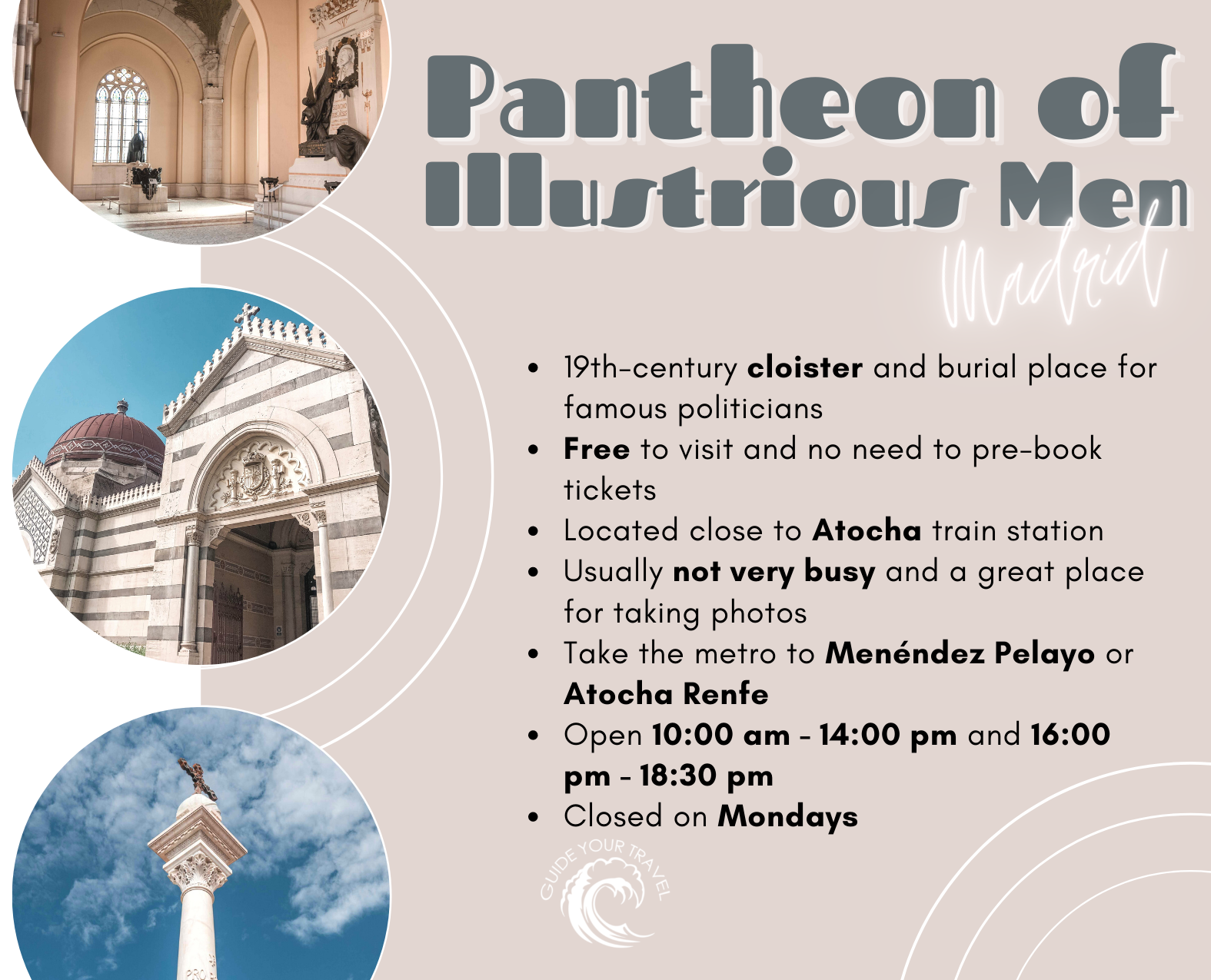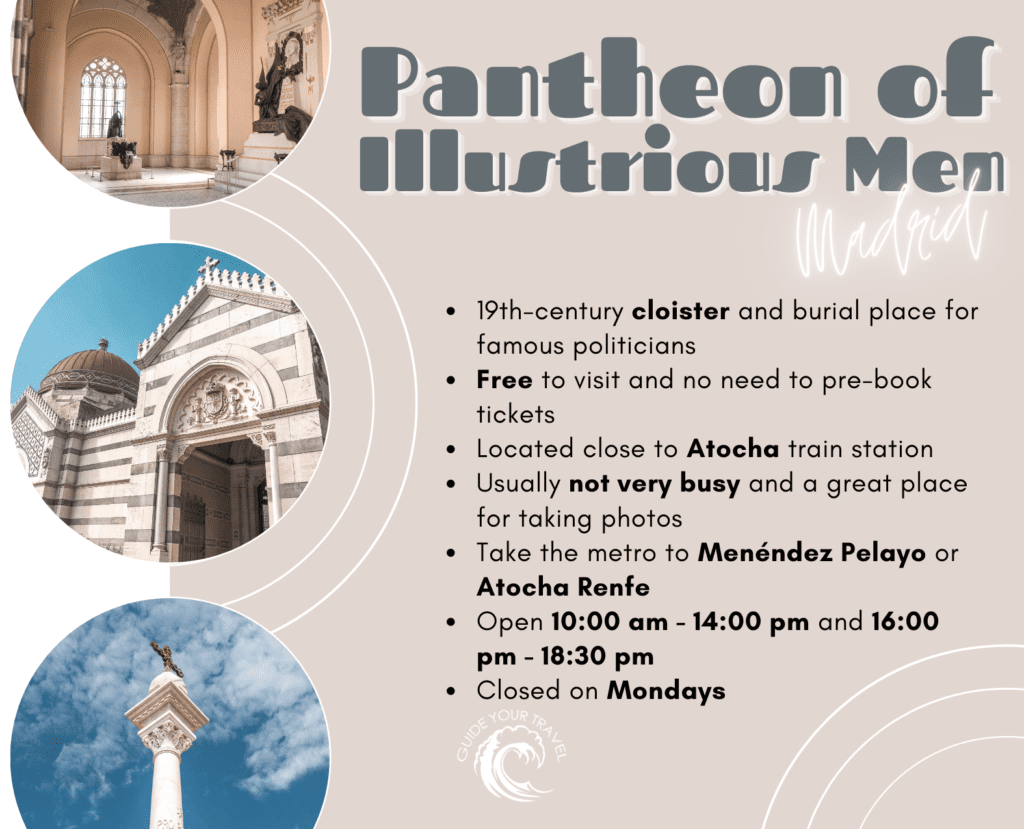 Bus
There are plenty of bus stops surrounding the Pantheon of Illustrious Men. Basílica de Atocha is probably the closest and is only 2 minutes away on foot. Reina Cristina and Metro Menéndez Pelayo are also great options.
Basílica De Atocha – 2 min walk – Lines 10, 14, 24, 26, 32, 37, 54, 57, 141, C2, N9
Reina Cristina – 3 min walk – Lines 10, 14, 26, 32, C2, N9
Metro Menéndez Pelayo – 3 min walk – Lines 24, 37, 54, 57, 141, N10, N25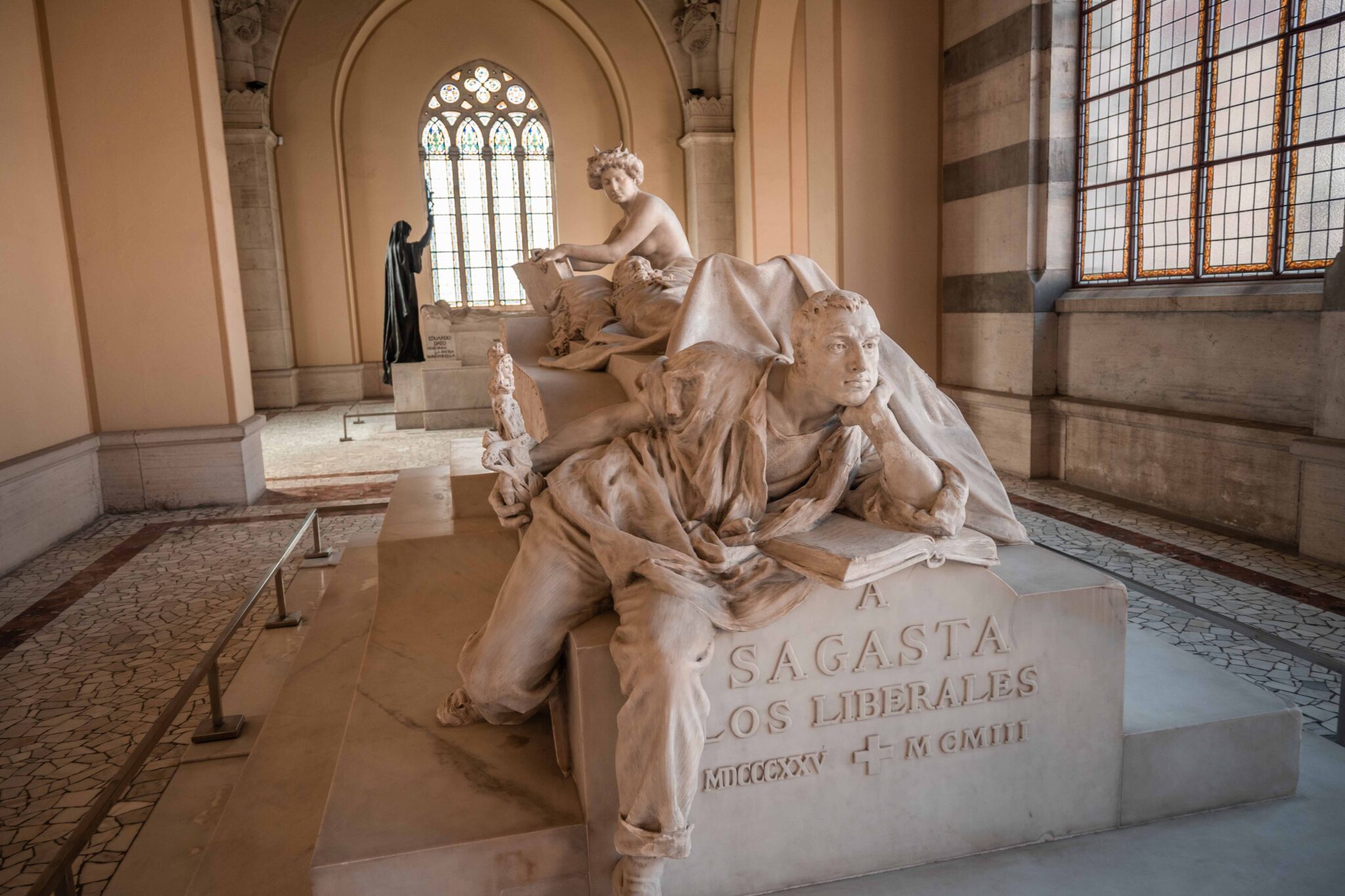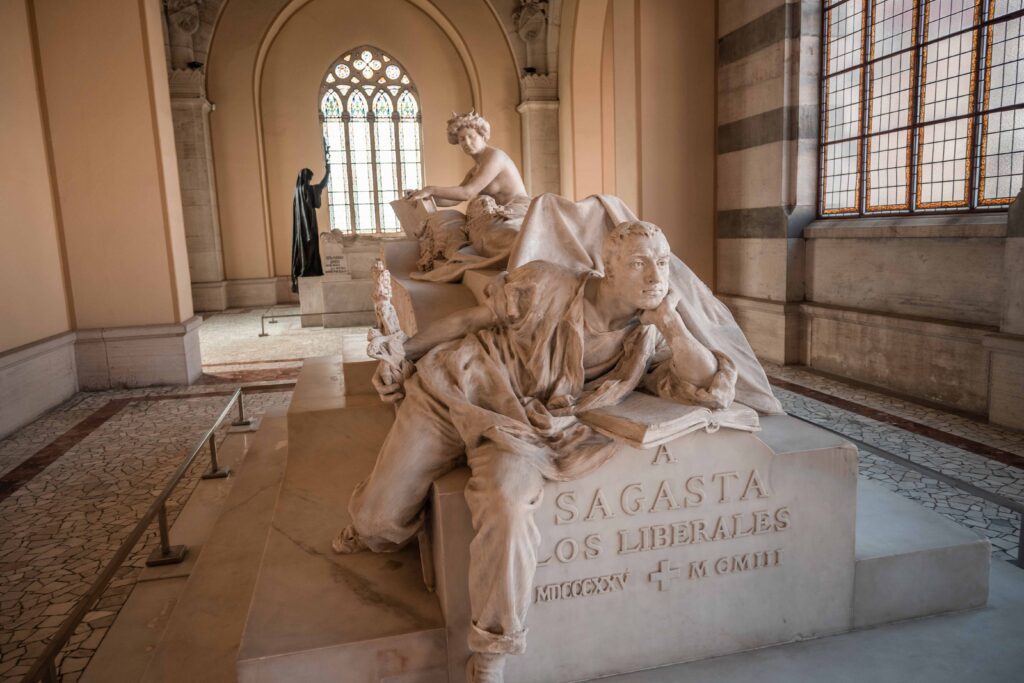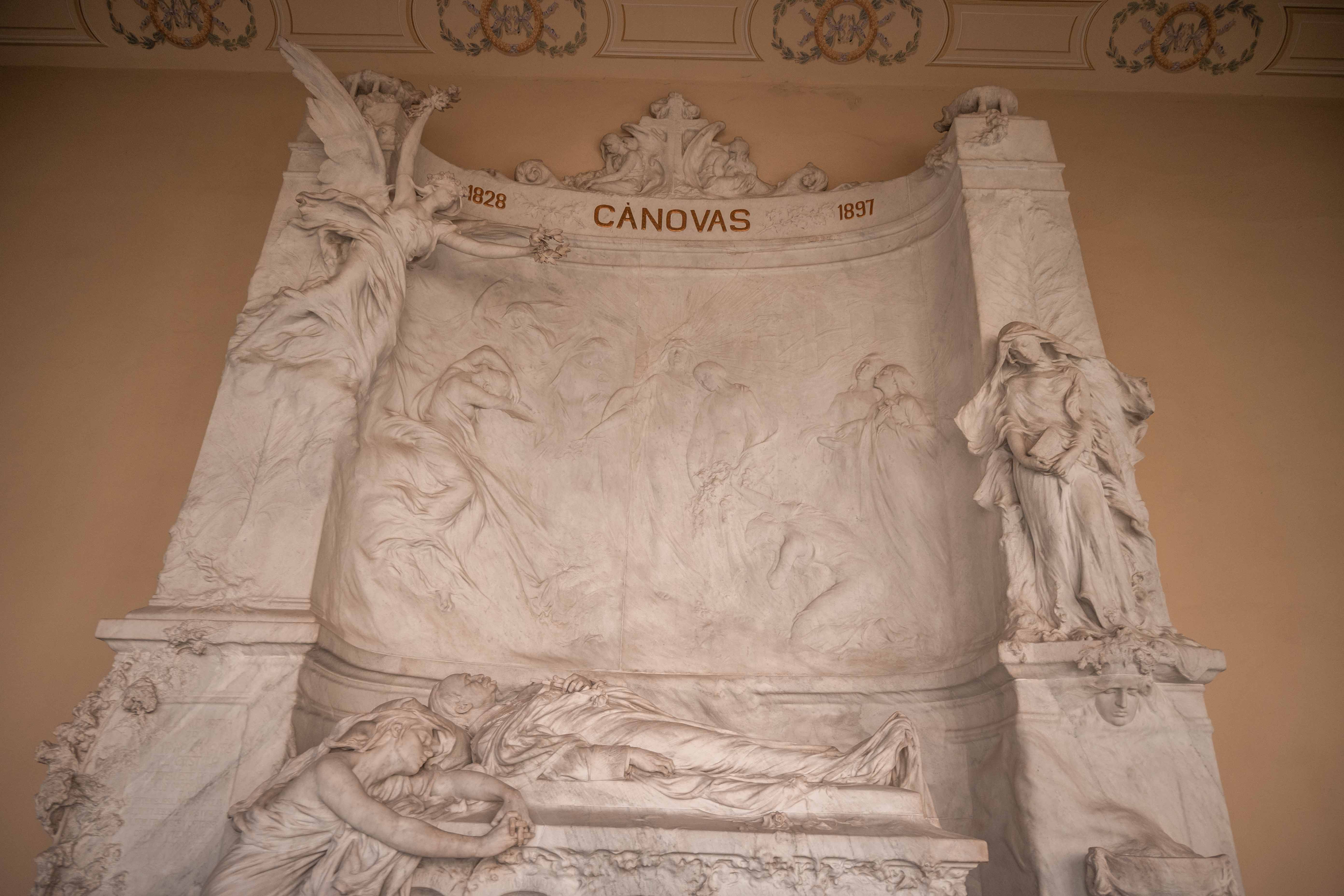 Pantheon of Illustrious Men Ticket Price
You do not need to buy tickets to see the Pantheon of Illustrious Men and the entrance price is free. This is the perfect budget-friendly activity if you're trying to save money during your time in Madrid so put this unusual place at the top of your list.
Pantheon of Illustrious Men Opening Hours
The Pantheon of Illustrious Men is open every day except for Mondays. Opening hours may vary on public holidays so check the Official Tourism Madrid website for up-to-date opening hours and information. Arrive at least 30 minutes before closing. Here are the opening hours:

Tuesday – Saturday: 10:00 am – 14:00 pm and 16:00 pm – 18:30 pm
Sundays and holidays: 10:00 am – 15:00 pm
Mondays closed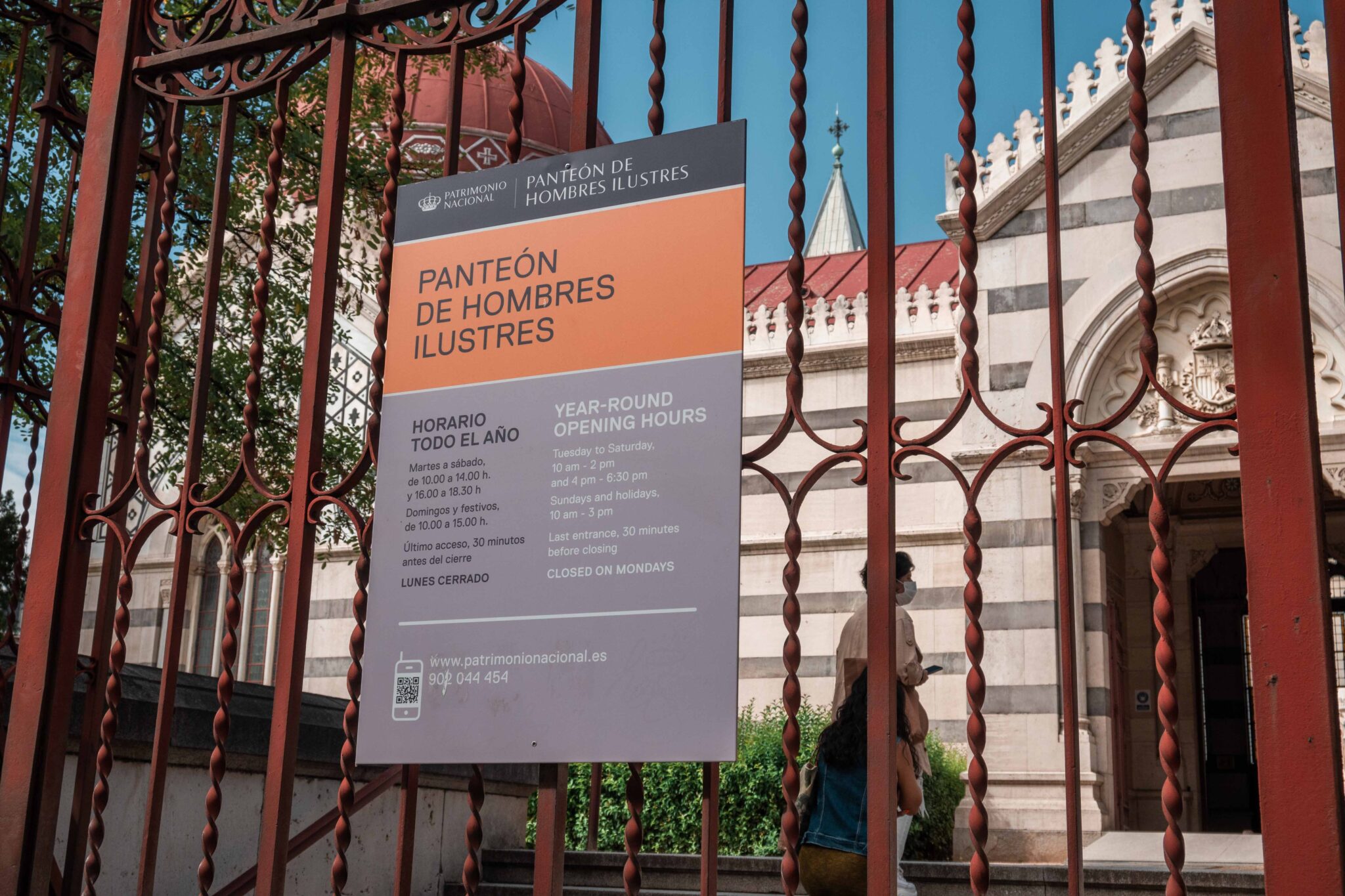 What else is there to do close to the Pantheon of Illustrious Men?
If you've made it to this unusual part of Madrid you might as well do some sightseeing in the area. Here are some of the best attractions located close to the Panteón de Hombres Ilustres:
Atocha train station – Madrid's major train station with beautiful architecture and indoor jungle
Retiro Park Rose Garden – Quiet part of Retiro Park with great photo opportunities
National Museum of Anthropology – Interesting museum with changing exhibitions about global cultures
Royal Tapestry Factory – 18th century traditional tapestry factory offering guided tours
Royal Observatory of Madrid – Historic telescopes and astronomy exhibits that can be seen via guided tours.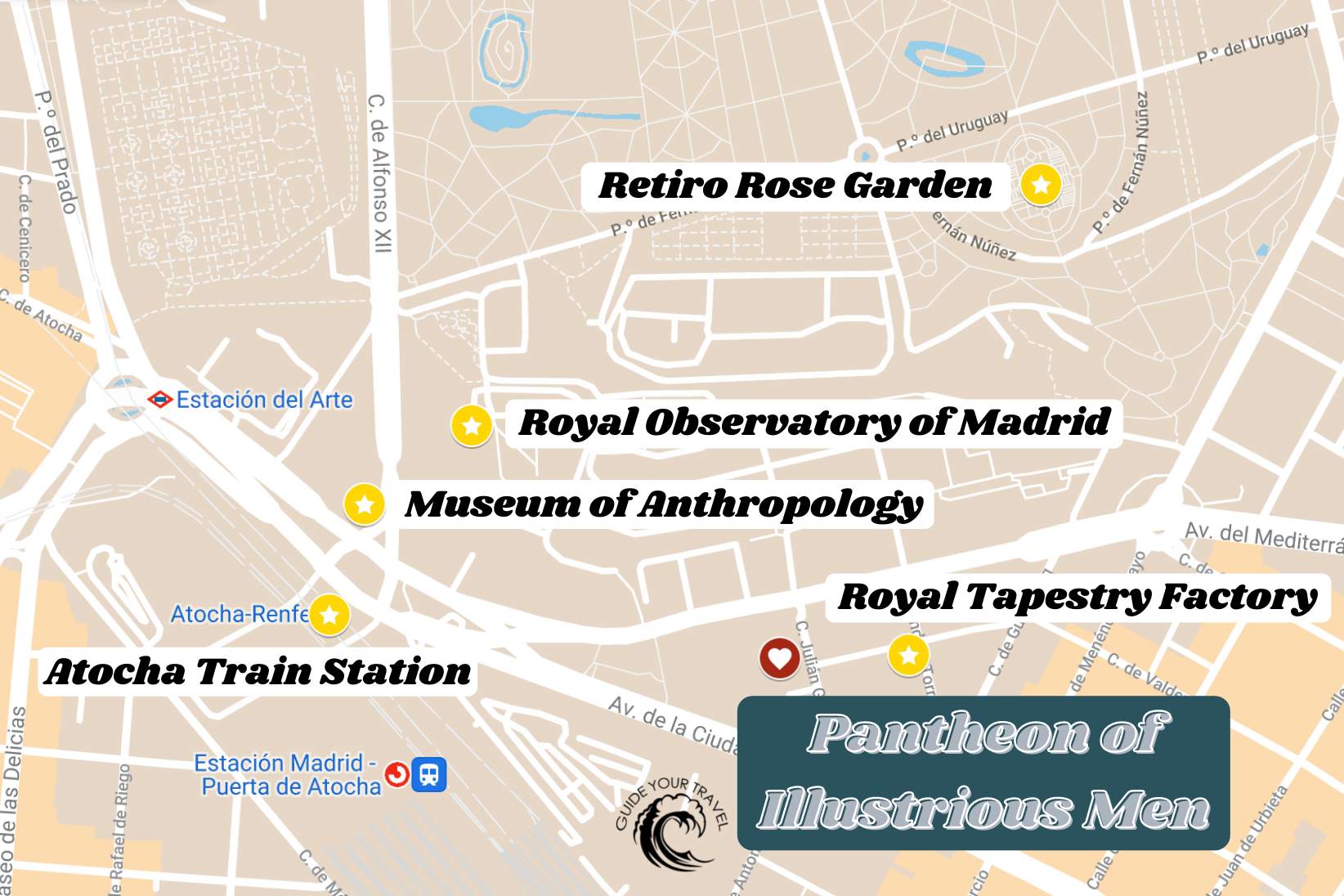 Click the images below to pin this post to Pinterest and save for later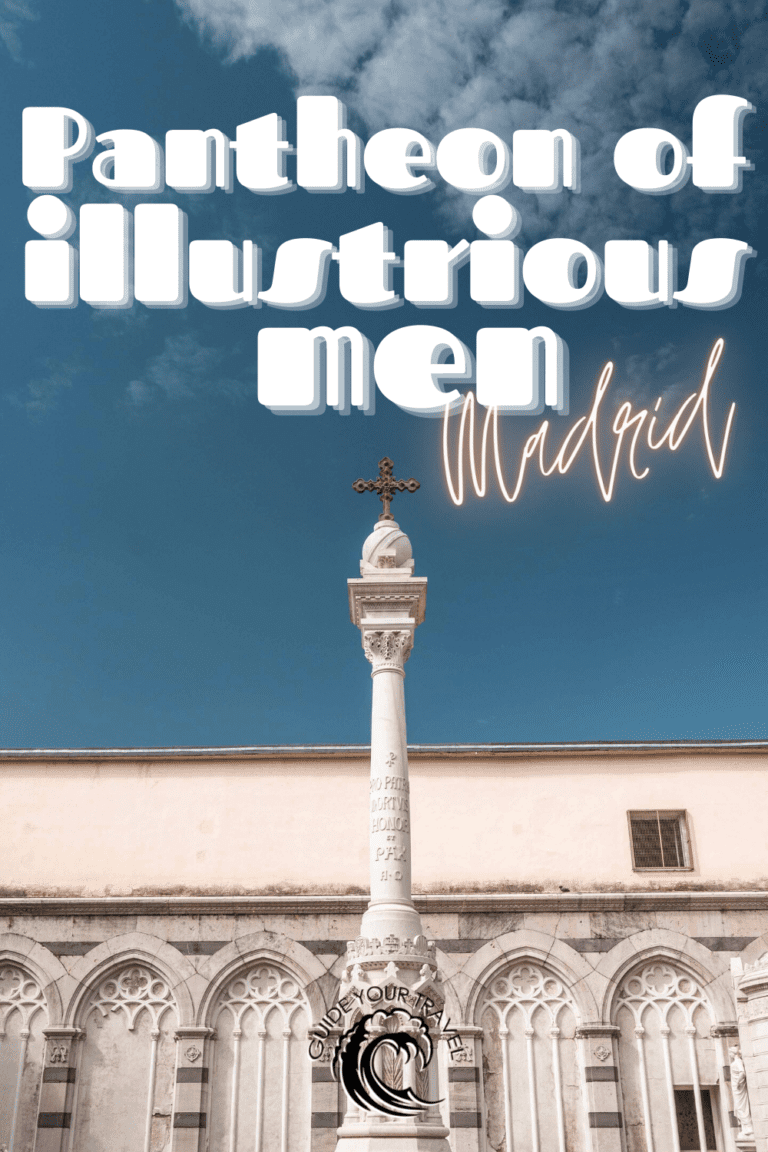 My most important travel tips and resources
Book your flights
Skyscanner is the best website for finding cheap flights since it works like a search engine so you can find the best deals across all airlines.

Book hotels and hostels
• Booking.com: Best world-wide
• Agoda: Best in South East Asia
• Hostelworld: Best for hostels

Book tours, transport and rental cars
•Viator: The best place to book tours, day trips and excursions for al budgets
•12Go: Great for ferries, trains, transfers and buses in South East Asia
•Discover Cars: Best deals for rental cars around the word

Get travel insurance
Every traveller needs travel insurance and I mean every single one. SafetyWing covers you in case of injury, illness or worse and they've got your back if your bag is stolen, flights are cancelled or in case of a natural disaster.

Pay abroad
Ask any traveller, Wise is the best choice when it comes to sending money abroad. They've always got the best exchange rates, lowest fees and their visa card is great for getting cash out or paying abroad.

Things every traveller needs:
➼ Osprey Farpoint 70 Backpack
Detachable daypack, ultra-light, durable and free repairs for life. There's a reason why so many backpackers have this bag.
➼ Packing Cubes
Packing cubes are a gamer changer, keeping your luggage organised and providing tons of extra space.
➼ Power bank
There is nothing worse than running out of battery on an overnight bus journey or a long flight. With a powerbank you can charge your eletronics on the go and make sure you're always connected.
➼ Micro-fibre towel
These lightweight towels are foldable, fast-drying and so useful when you're travelling.

➼ You can find 15 more things every traveller needs here. Some might be a bit controversial but I warned you!
Did I miss anything?
If you have any questions or feel like something is missing from this post please leave a comment below or contact me.