In mid-2019 Qatar Airways debuted their new business class; the Qsuites. While the old business class seats continue to be in operation, more and more Qatar long-haul flights have been fitted with Qsuites.
Having been described as "the best business class in the world" the expectations for the Qsuites were high without a doubt. There have even been some claims that these business class seats are in fact closer to First Class and surpass any of its competition.
We put the Qatar Qsuites to the test on three separate long haul flights. If you're struggling to decide whether a Qatar Qsuites flight is worth the price point for you then keep reading to find out more about our experience.
No part of this post is sponsored or supported by Qatar Airways. It is an unbiased opinion and review.
This post may contain affiliate links, which means we'll receive a commission if you purchase through our links, at no extra cost to you. This helps us keep Guide your Travel free and provide high-quality content for you. Please read the full disclaimer for more information.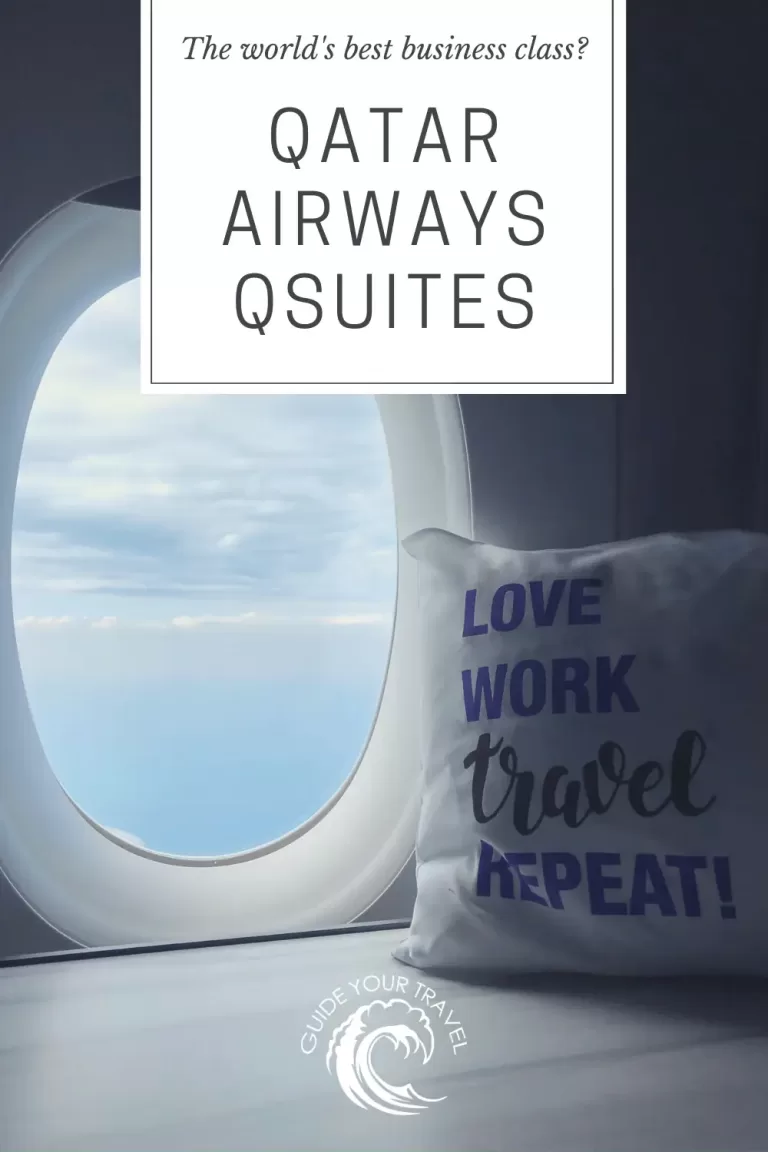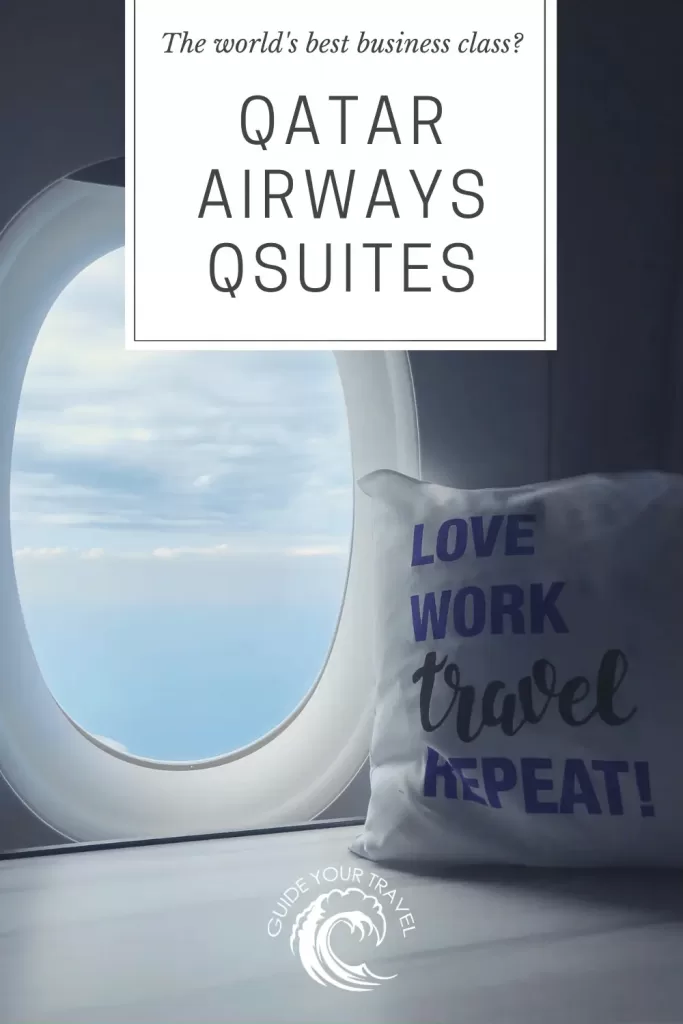 WHICH QATAR FLIGHTS HAVE QSUITES?
It can be a bit tricky to find out which Qatar flights actually have Qsuites. A good amount of their aircraft still operate with their regular business class.
Unfortunately, it's very difficult to be 100% sure that you'll be purchasing tickets for a Qsuites flight. Aircraft types may be switched last minute and Qatar Airways does not guarantee a Qsuite when you purchase your business class tickets.
As a rule of thumb, four different aircraft in Qatar Airways's fleet have Qsuites. Keep an eye out for the A350-1000 which exclusively features Qsuite business class. Some of the Boeing 777-200LR, 777-300ER and Airbus A350-900s also have it but not all.
You can also have a look at seat maps which are usually a dead giveaway for Qsuite flights. Check out this post for a complete list of Qsuite routes and details on how to read seat maps and where to find them.
Qatar Airways's website can also be helpful. They provide a list of routes that usually operate with a Qsuite layout, however, this is not guaranteed.
CABIN LAYOUT
I have found that the Qsuite layout feels a lot less cramped and more private than any other long-haul business class. Each seat is separately accessible with no need to climb over another person.
Usually, there will only be one seat at the window and two in the middle row. This does depend on the aircraft type, however.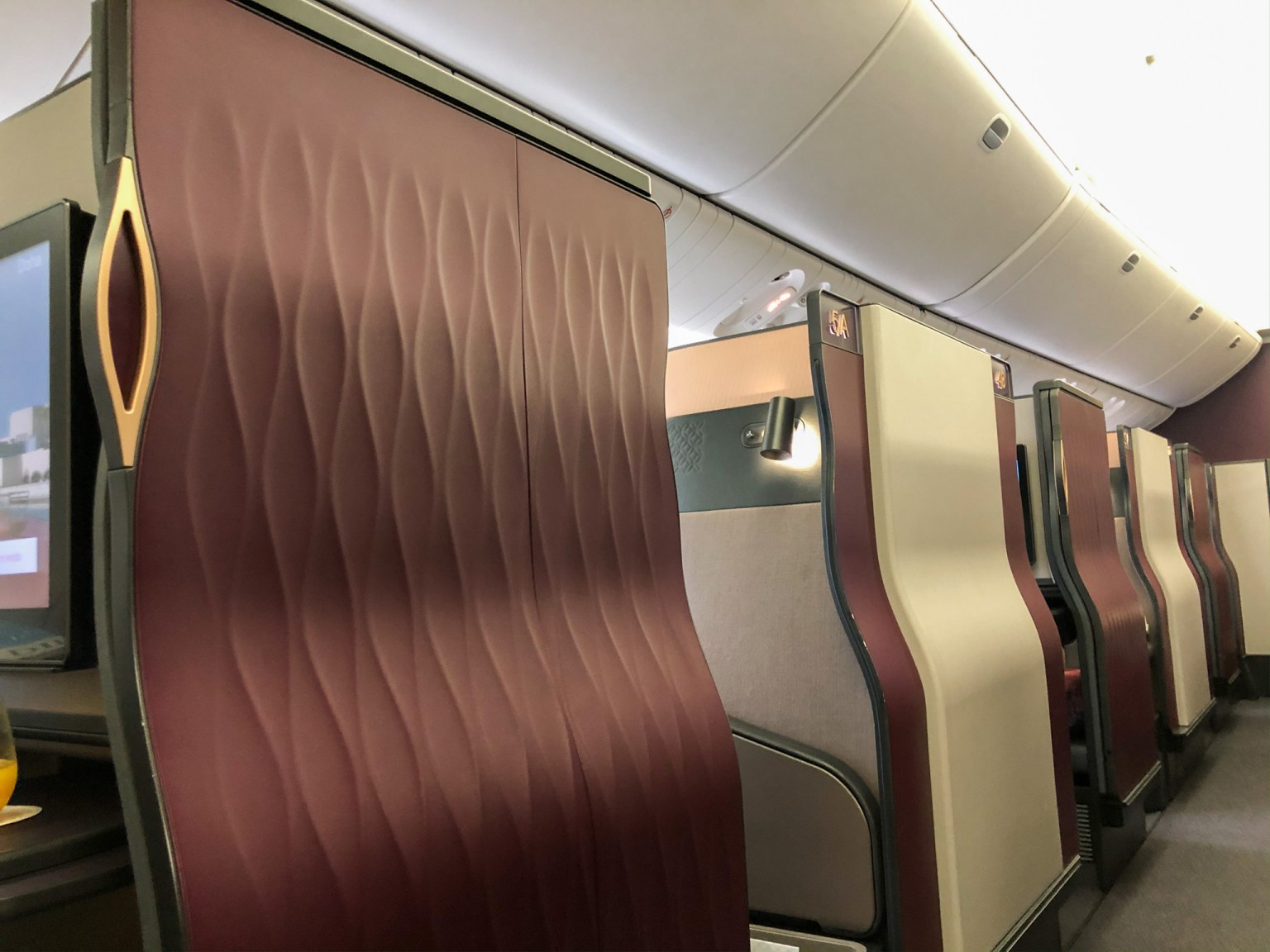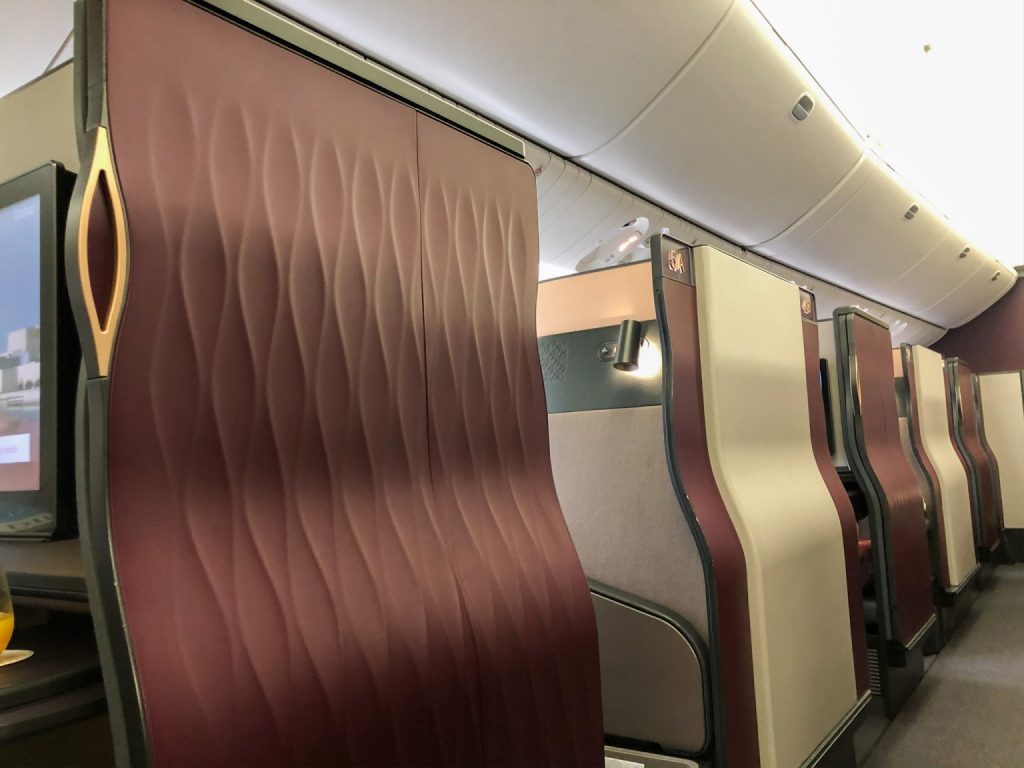 OVERHEAD BINS
Another feature that I thought was worth noting was the collapsable overhead bins above the centre rows (only on some aircraft types). This definitely added to the spacious feeling and made the cabin feel less like a plane but more an actual room.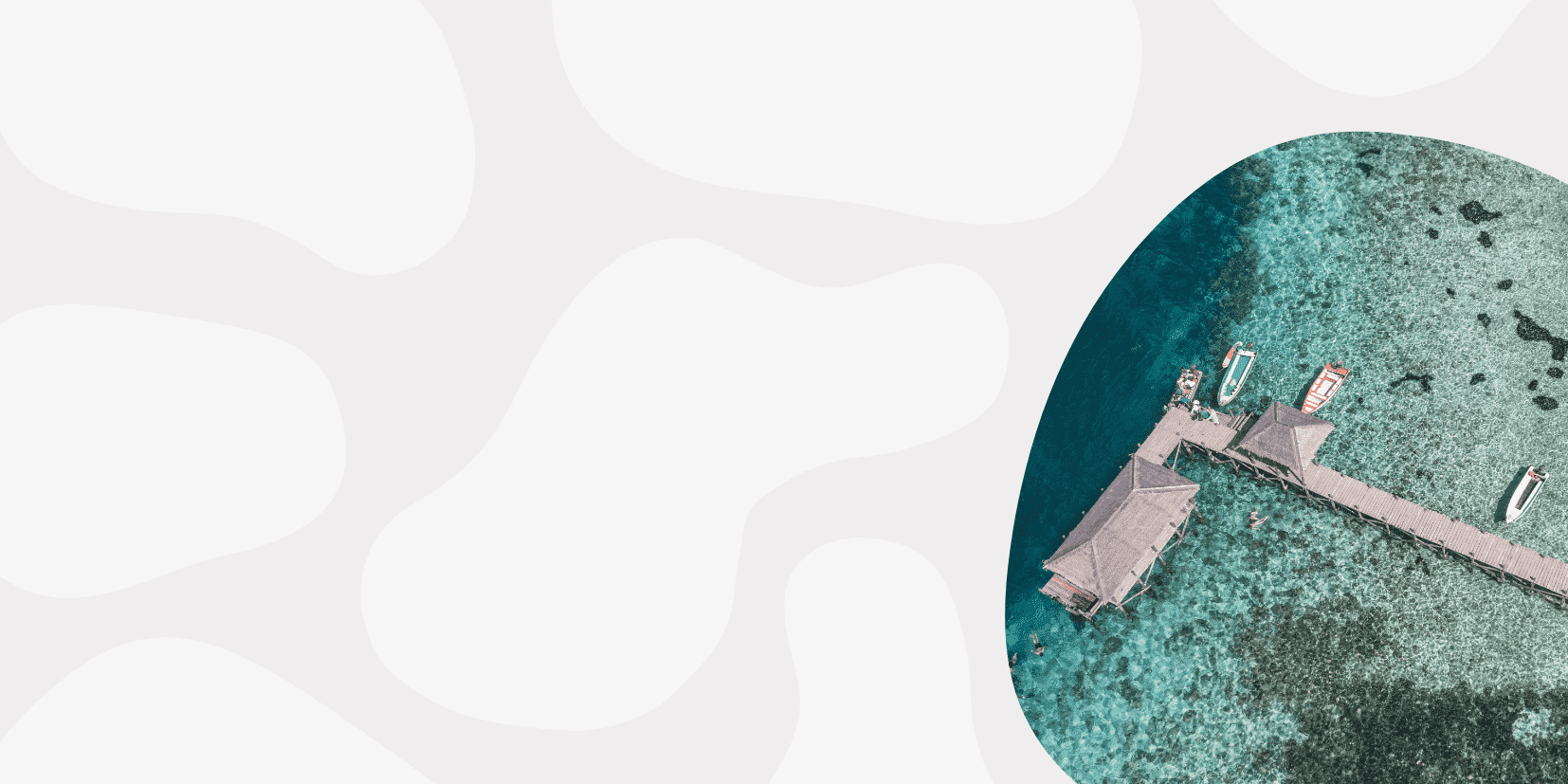 Let me save you time and effort when you're travel planning!

➼ Best travel insurance? SafetyWing
➼ Best place to find cheap flights? Skyscanner
➼ Best bank & credit card for travellers? Wise
➼ Best travel backpack? Osprey Farpoint 70
SEAT POSITIONS IN THE QATAR QSUITES
The Qsuites feature a unique layout where some of the seats face backwards. This is hardly a new idea in the airline industry, however, Qatar Airways has come up with a novel design that lets some seats create a sort of "conference desk" and some others a "double bed". This is done by lowering the partition walls that separate neighbouring seats from one another. It's only possible in the middle row since the window seats are separate.
I was definitely impressed by this design. My only doubt is, however, its usefulness to the majority of passengers. Only specific seats can be turned into either a conference table (usually only one set of four in every cabin section of 12-20 seats.
All four people sitting in this group of four would have to know each other and participate. It is definitely a great option for families or even business travellers but they would have to get lucky and pick out these exact seats. Otherwise, I can not imagine passengers who do not know each other using this feature.
The "double bed" is more practical as there are usually more of them available and more couples or travel companions will actually make use of them. However, note that not all neighbouring seats have this feature as some of them have the table and armrest between them.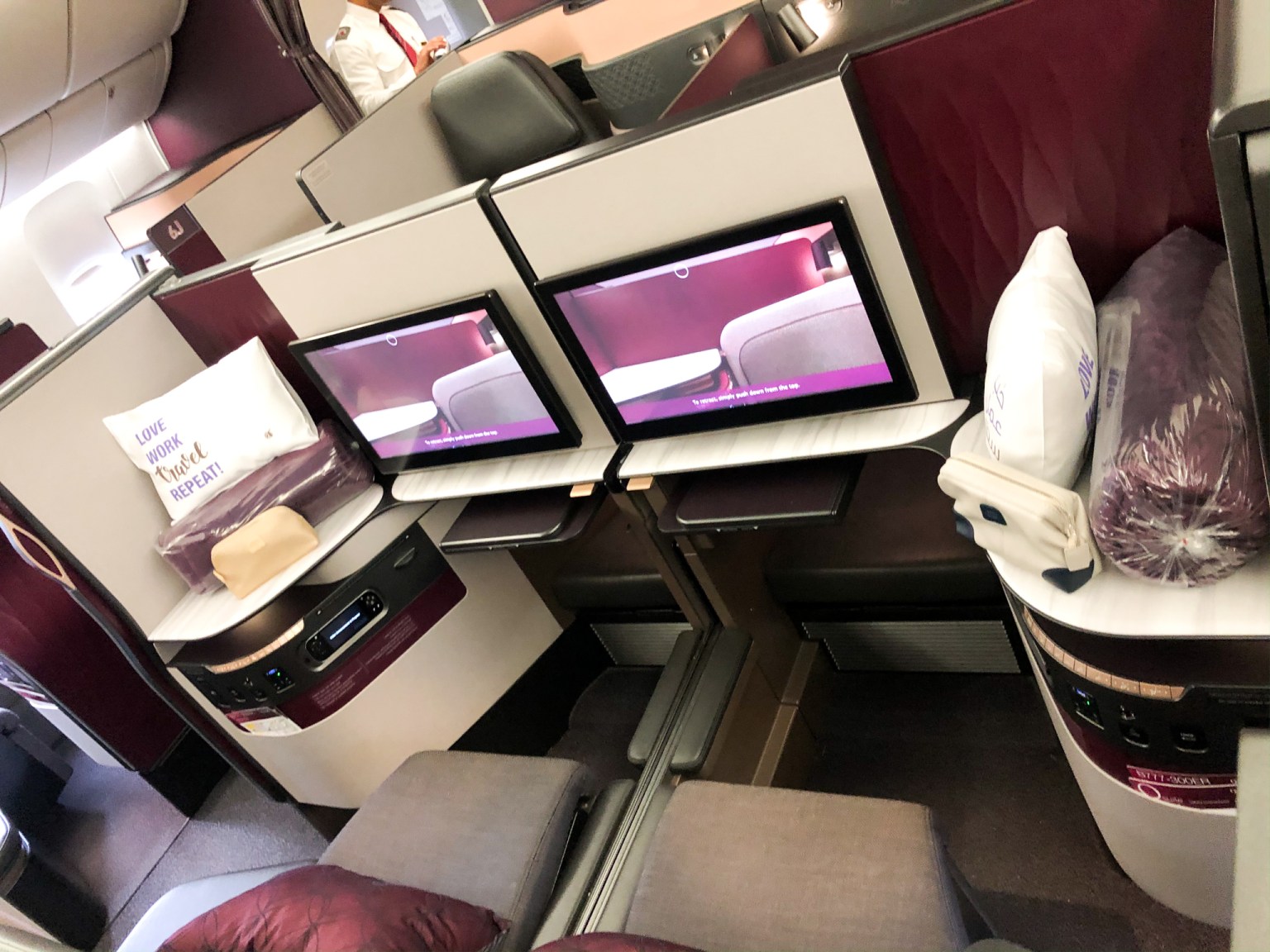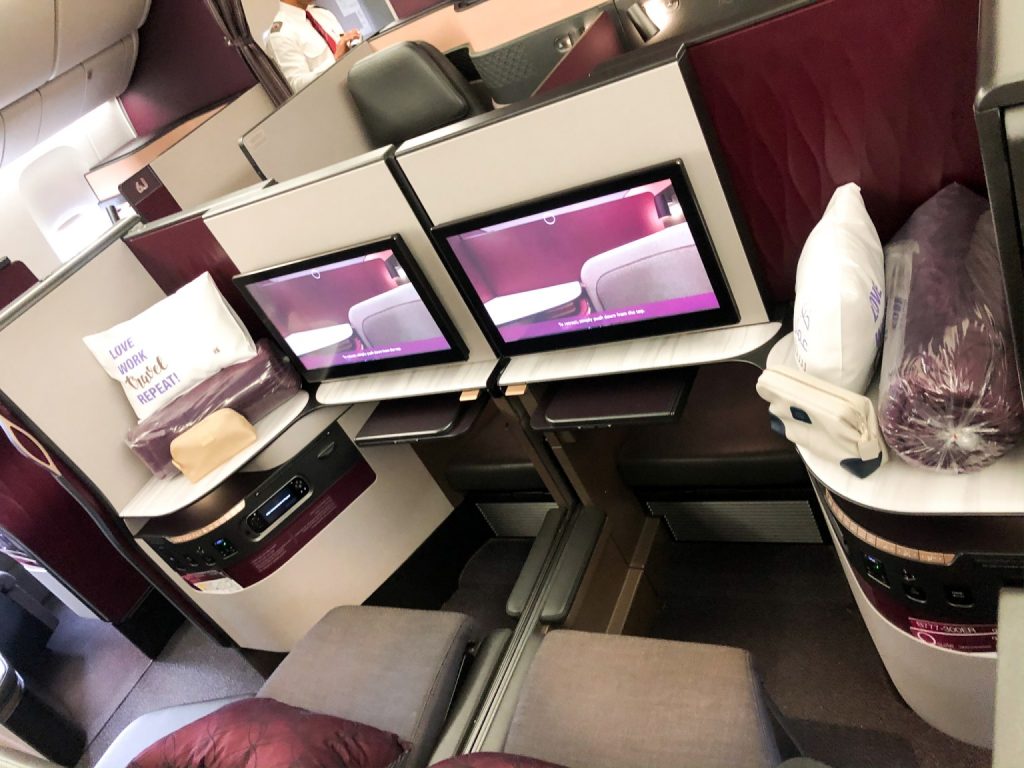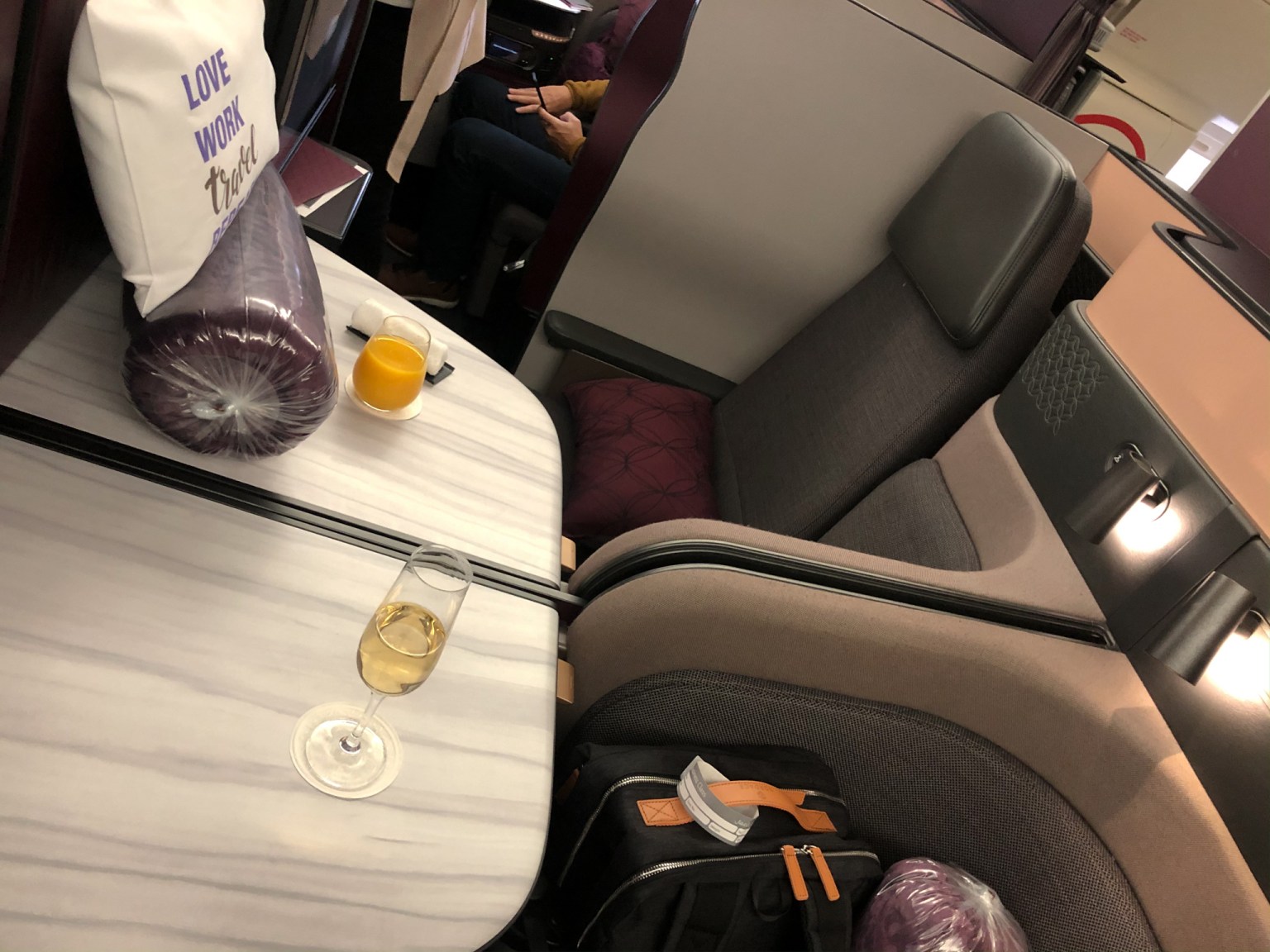 MY OPINION ON THE LAYOUT
In my experience, these unique layout designs are a great feature if you plan ahead and manage to reserve seats exactly where you want them. I do appreciate the fact that all seats can be separated from one another in case the passengers sitting in them do not know each other. All in all the layout is designed well and gives the passenger a private and comfortable flight experience.
For more pictures and videos on how these seats look check out Qatar Airways's website.
THE SEAT
For me, the main selling point of the Qatar Airways Qsuite is the seat. It stands out from other airlines by having an actual sliding door that separates the passenger from the rest of the cabin.
The seat itself is fairly standard and, of course, can be put into a fully horizontal position.
There is an extendable tray table and an additional side-table space which gives you enough room to have your table set for a meal and still be able to operate a laptop or anything you might need.
One thing I noted was how spacious the footrest at the end of the seat was. This space is where your feet go once the seat is extended to a completely horizontal position. Usually, I have found that there is not enough room to lie comfortably, especially for taller passengers who need to scoot all the way up to the top of the seat. However, Qatar's Qsuites provide enough space even for taller guests.
THE STORAGE BOX IN THE QATAR QSUITES
Next to the seat, you'll find a storage box where headphones and a complimentary water bottle are placed. This is a great place to store any things you might need during the flight. It is separated into smaller compartments which is very handy. Once the box is closed you can place smaller luggage items on top even during takeoff and landing.
I was very surprised about this since usually carry-on needs to be stowed under the seat or in another secure place. Having your bag right next to you at all times is very convenient.
There is also a small shoe compartment next to the seat which keeps your shoes from obstructing the automatic seat controls. A very handy design feature that I've missed in many other business classes.
ELECTRONICS
Naturally, every seat comes with its own entertainment screen which is discussed later on in this post.
It can be controlled by either a touch screen or a little remote control that resembles a smart-phone. I have found that there is a difference in what this remote looks like depending on the aircraft model. Some are autonomous and not attached to the seat while others have a cord that can be extended.
The seat controls are easily accessible and again fairly standard. Below them, the passenger is provided with a USB charging port, a universal plug, a headphone port and the option to connect a device with either USB or HDMI. There is also an NFC card reader in every seat that lets customers make onboard purchases.
Every seat is supplied with a set of fairly average over-ear headphones. Note that there are no hygiene covers provided which leaves you with the hope that the headphones are disinfected and cleaned thoroughly after each passenger.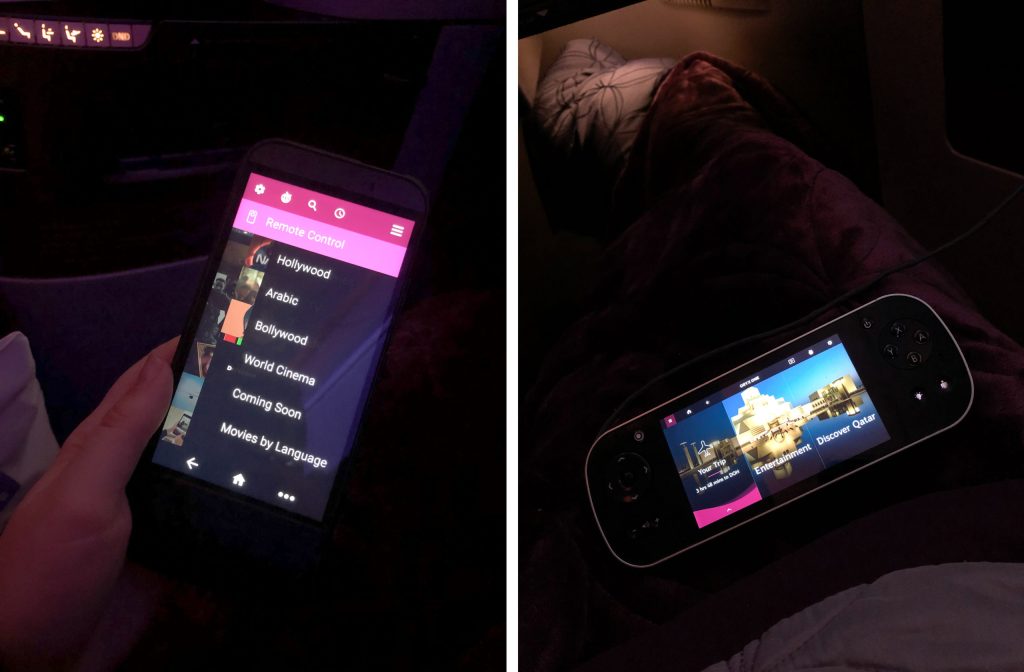 Every seat receives two pillows, one small and one larger. While the larger one is colour coordinated to go with the maroon and purple cabin, the smaller one is white with an inspirational slogan on it.
I appreciated having two pillows of varying sizes, however, it did feel like the aesthetic of the smaller one did not match the rest of the Qsuite experience. The material felt very cheap and seemed like something I would have expected to find on a lower-cost flight.
There is also a blanket provided for every passenger. The quality of this was very high in my opinion. The blanket was quite thick and the material was very soft.
Once you are ready you can request for a flight attendant to make your bed. This means you will receive a mattress topper and a pillowcase for the larger pillow.
For me, this was the crucial moment where I decided that this was certainly not a first-class experience. I found the mattress topper to be very thin and barely noticeable. There are certainly other business classes that give their passengers a more high-quality topper. A first-class experience would warrant something closer to an actual mattress or at least more than a thin sheet.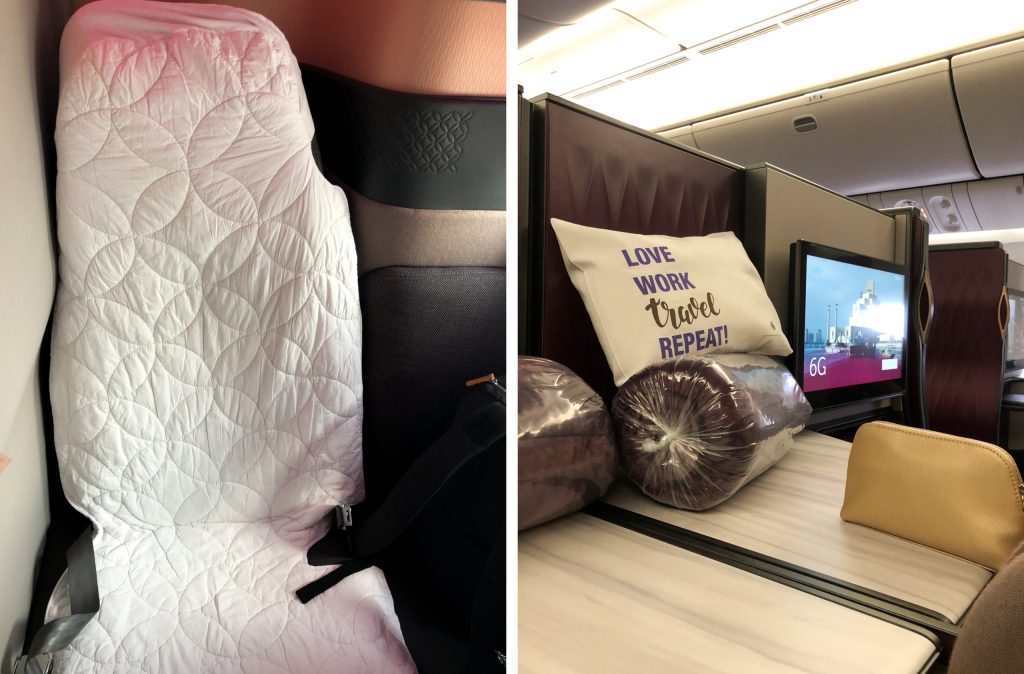 AMENITIES KIT
The amenities kits were handed out personally by cabin staff. They provide gendered versions. The pouch itself was very high quality and provided by the brand BRICS which has done many collaborations with the airline.
The contents were quite basic and not too exciting. There was a sleep mask, a pair of socks, a moisturiser, a facial spray, earplugs and a lip balm. I did not get a chance to see the male amenities kit and I cannot really imagine what the difference between the two might have been since the female one did not contain any gendered products.
For me, I again was missing the "first-class experience" that the Qsuites seem to promise. I was expecting maybe a small hairbrush, a sunscreen, deodorant or at least a toothbrush. Anything really to set this kit apart from the many others.


During the flight, you also received a set of pyjamas (top, bottom and slippers). These were strangely enough not gendered which might have actually been useful, unlike the amenities kit. The sizes were very limited and there was little choice in which one you got. One of the Qsuites flights we experienced only had a size small available for everyone.
That being said, the pyjamas are definitely nice and high quality. I appreciated that they were items that you can continue to wear after the flight if they fit you.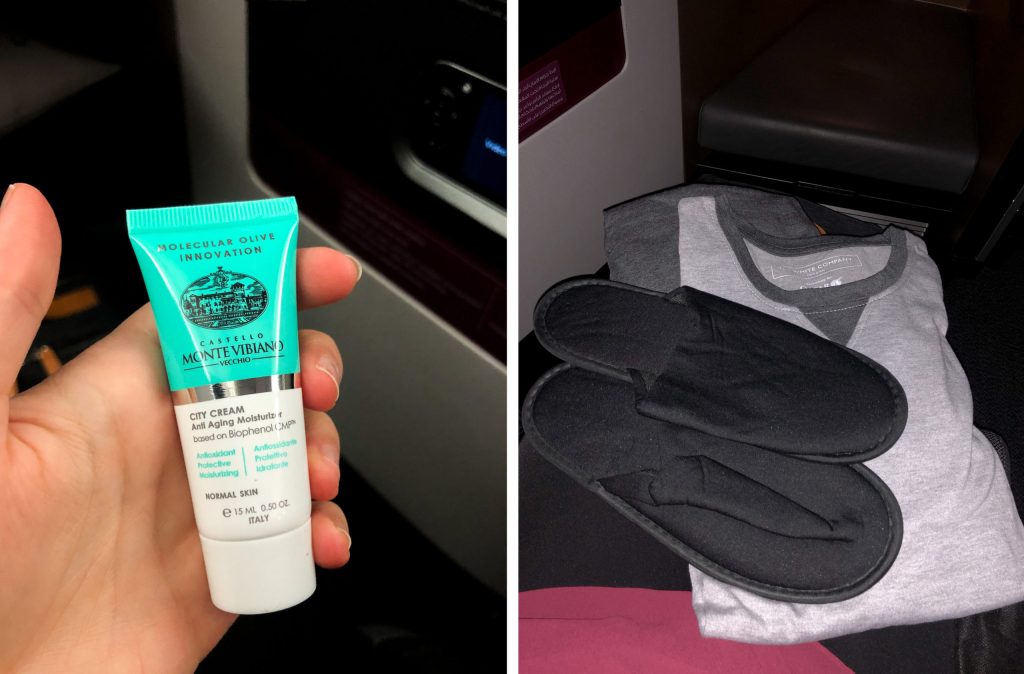 THE ENTERTAINMENT SYSTEM
I found the Qatar Airways entertainment system to be fairly average and not too memorable. Of course, this is not unique to the Qsuites but more a part of the Qatar brand.
The selection of movie genres was very broad with a focus on not only Hollywood cinema but also many international options. However, I thought that there could have been a greater number of movies.
The same goes for TV shows. I would have appreciated a larger selection.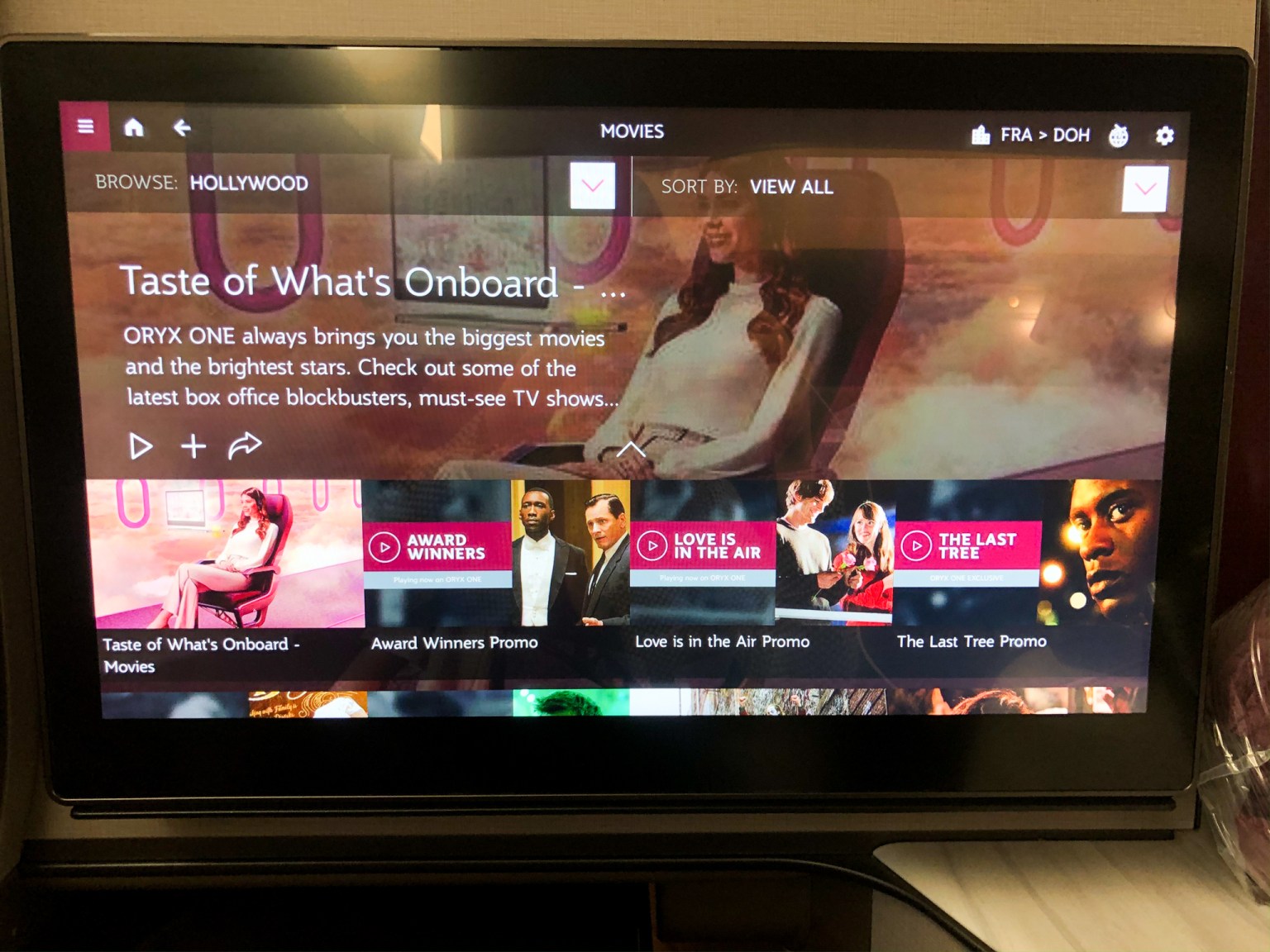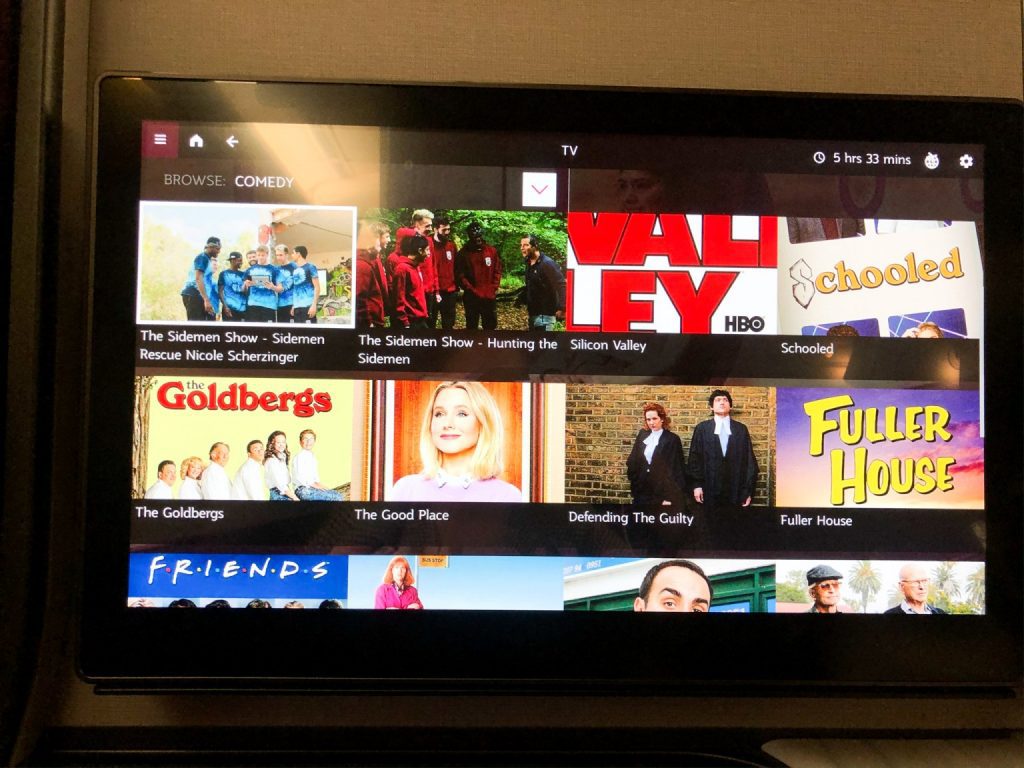 BATHROOMS
Considering the cabins are exclusively Qsuites I had high expectations for the bathrooms. The reality was quite mediocre and not anything to get excited about. Again, another "not very first-class" feature.
In the bathroom, you could help yourself to a shaver and a toothbrush (only available on one Qsuite flight I have taken). This was only the case at the beginning of the flight though, after a few hours these perks were nowhere to be found.
I do have to mention that the staff cleans the bathrooms very frequently and pays attention to the fact that they are always ready for the next guest. I have to give credit to the Qatar Airways crew here as this is not the case on many other long-haul flights.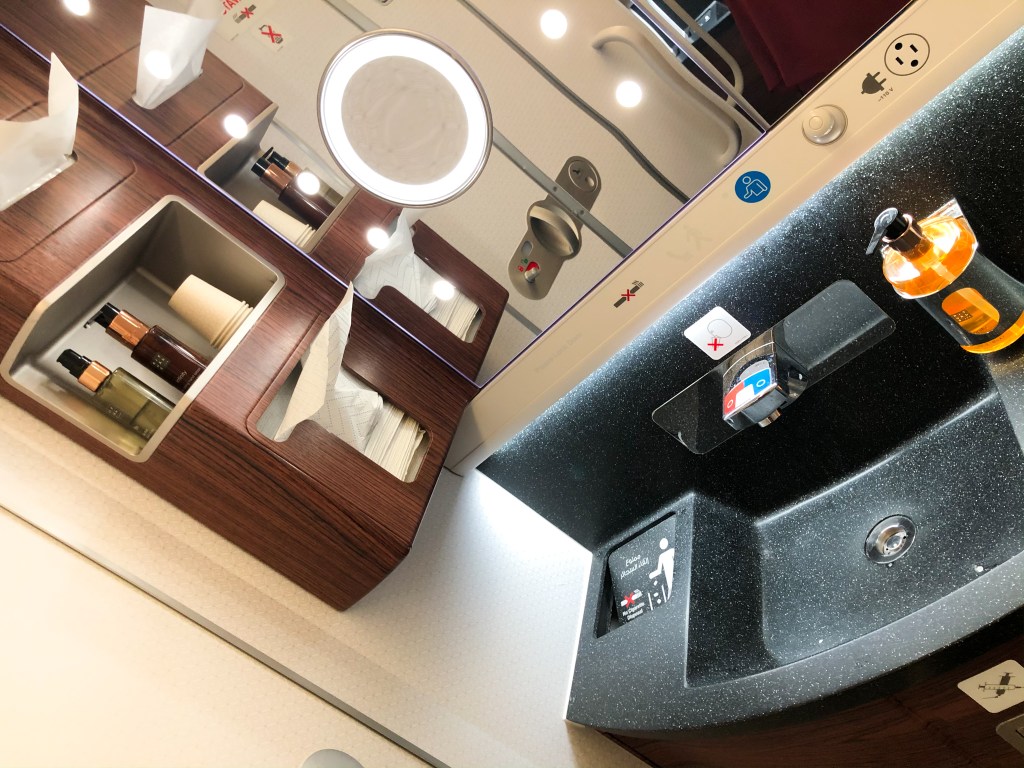 SERVICE
The service is difficult for me to review. On the one hand, all members of the crew were extremely friendly and helpful and did their best to make the experience onboard perfect. However, I have to note that the frequency of service was not what I would have liked it to be.
I found it took a long time to clear dishes or empty glasses. Especially the warm hand towels that were handed out very frequently during the flight sometimes sat at my seat for more than an hour. Now, this is not necessarily a large issue. I did, however, have the same experience when it came to ordering drinks and food. It was often difficult to catch the attention of a crew member and the waiting time between courses was very long.
Especially a few hours into the flight as the cabin started to quiet down it was difficult to reorder a drink. When I compare the Qatar Qsuites to other business class flights I have to note that the service was below average in my experience. Especially considering they are aiming to provide a higher-end service at a large price point I think they can do better.
Now, this is nothing against the crew. As I mentioned they were all lovely and trying their best. I simply think there could be some improvements made to the structure of the service and maybe the staff numbers.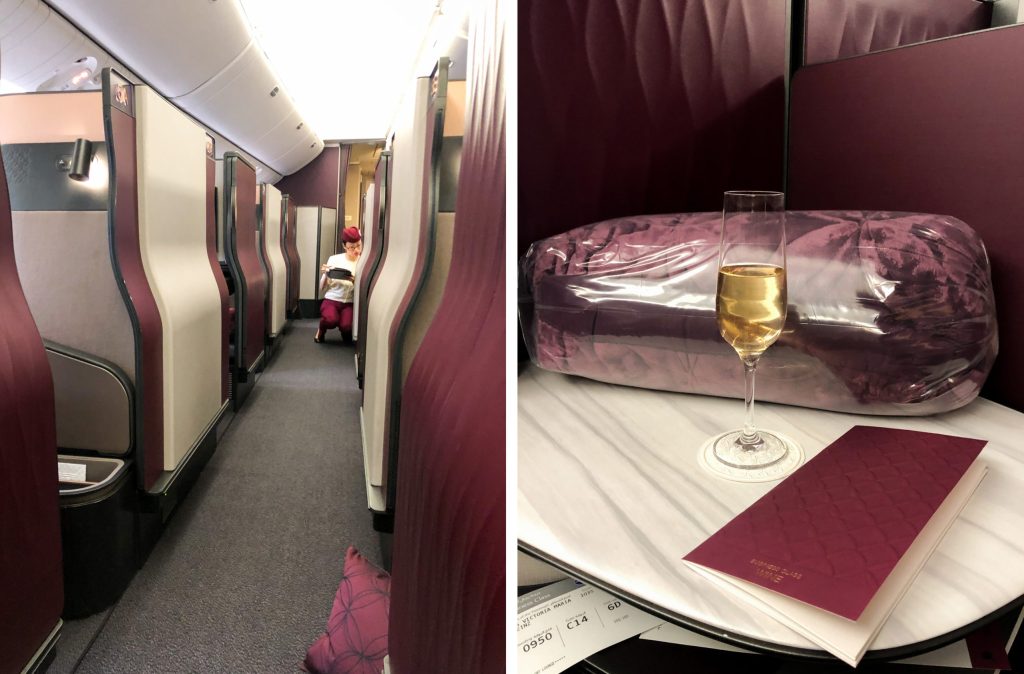 QATAR QSUITES FOOD
The food onboard the Qatar Airways Qsuite flights that I have experienced has always been amazing. The menu was varied and had a good selection of options for all tastes. I was happy to see a vegetarian option for all courses which I highly appreciated.
One thing that stood out to me was the warm nuts they served before the meal as a snack. They were definitely a step up from the usual airplane nuts.
On the longer flights, there is also a breakfast offered just before landing. You have the option to be woken up for breakfast or sleep through it. Again the menu was varied and the food extraordinary.
What set the Qsuites apart was definitely the table setting. It looked very upscale and the little candle on every table was a nice touch. I thought it was a great idea to give every passenger their own little bread basket with a variety of options instead of having to ask for more.
This was also a time where the sliding doors really came into play. You could enjoy your meal in your own private compartment which was great. Usually, there are always people walking past which can be uncomfortable. This was not the case here.
All in all a great experience and really something that set the Qsuites apart for me.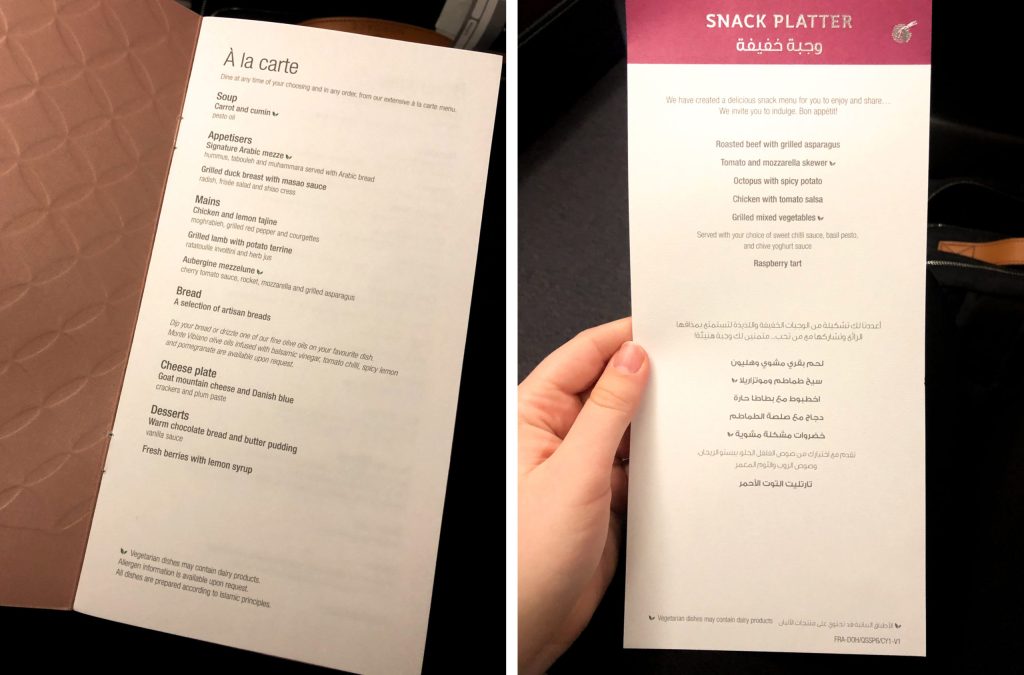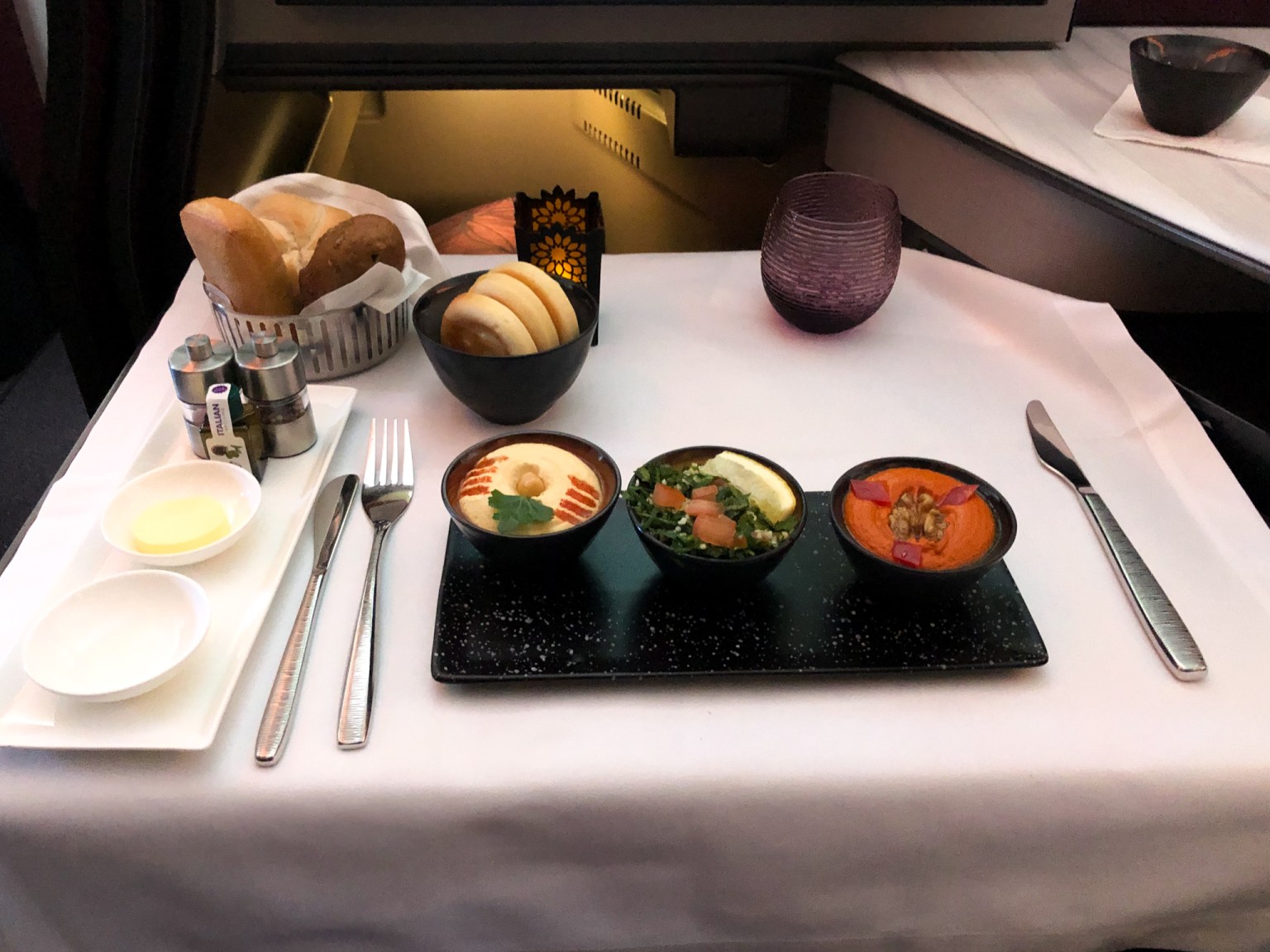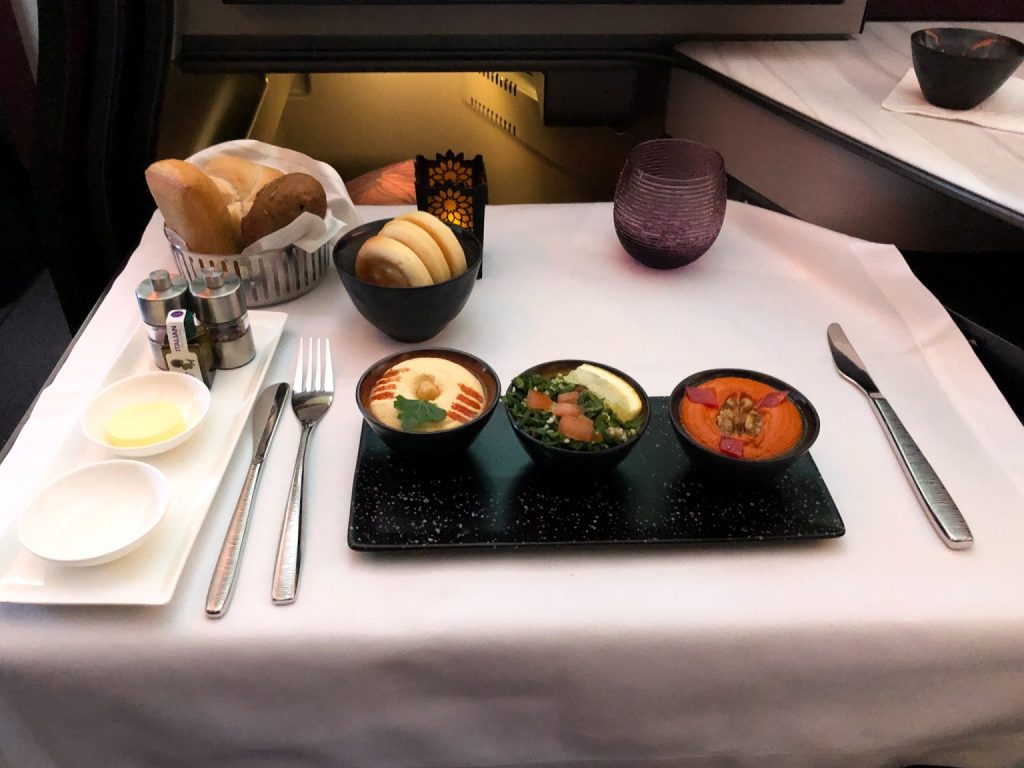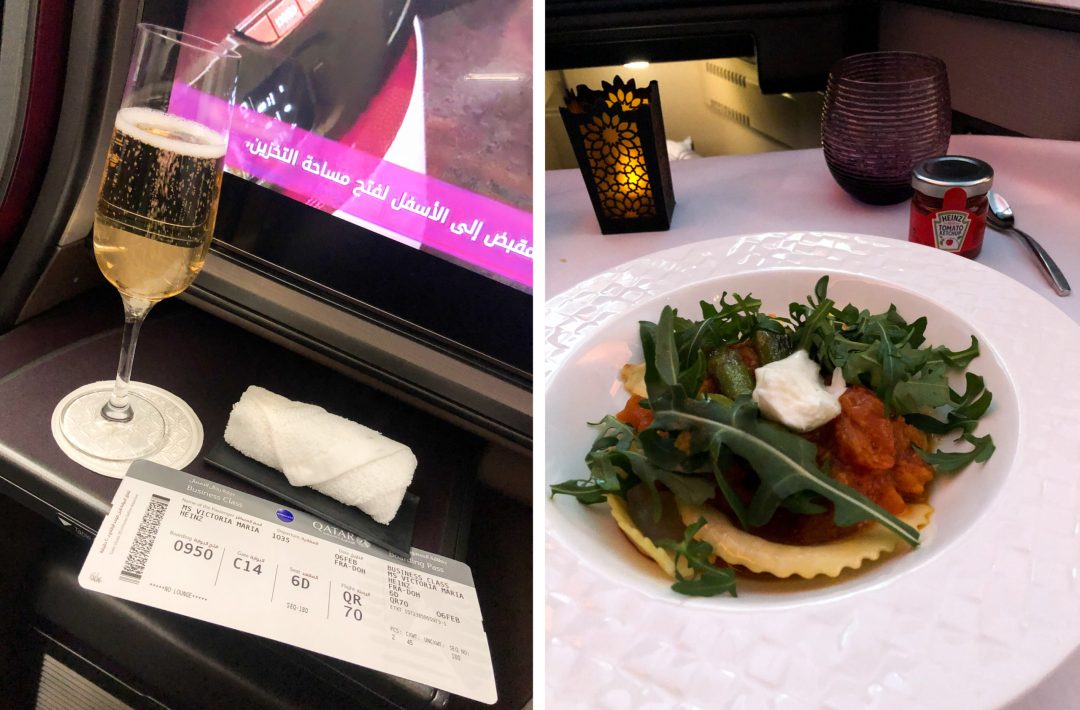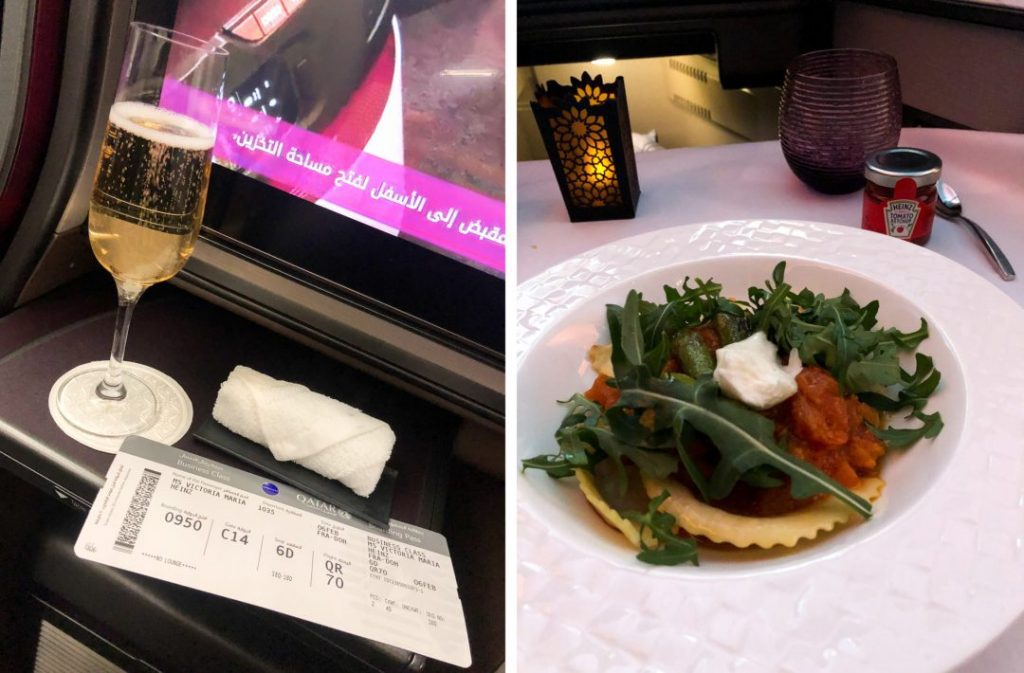 DRINKS
The drinks selection was decent but not extraordinary. There was a good variety of alcoholic beverages and I was delighted to see some cocktails on the menu.
There could have been a better selection of wines and beers I think but it really depends on personal taste.
They offered a welcome drink that I especially enjoyed. It was a blend of mint and lemon and reminded me of a Mojito. Very delicious and much better than the classic orange juice.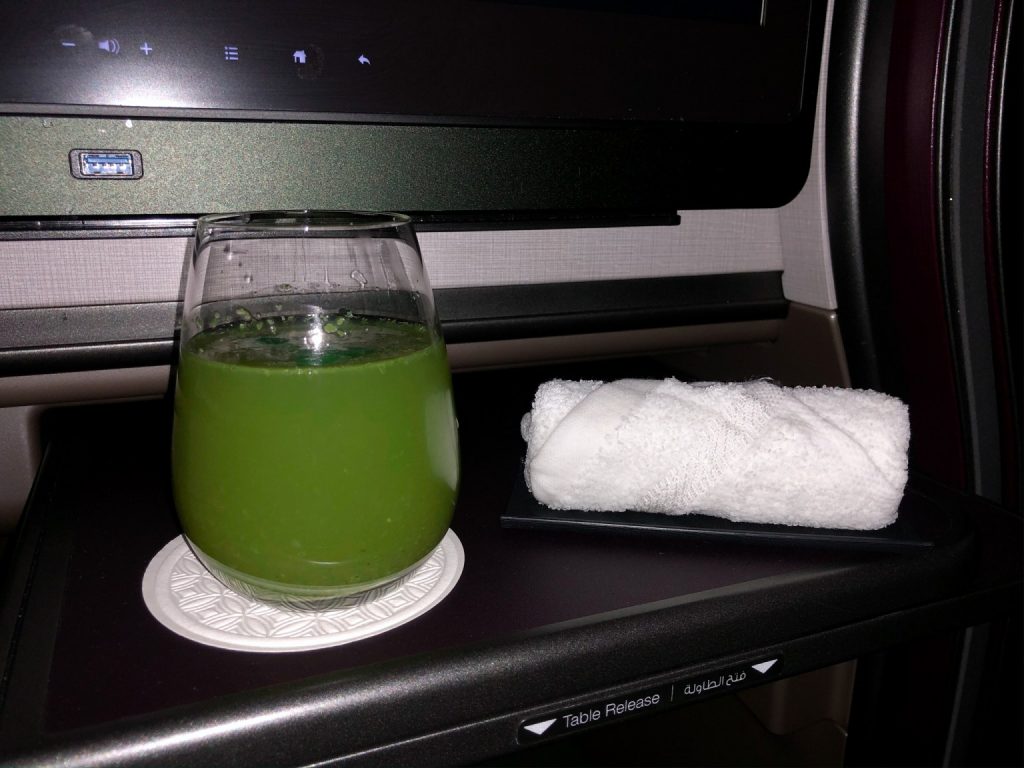 MY EXPERIENCE WITH THE QATAR QSUITES: IS IT WORTH IT?
I really enjoyed being able to experience the Qsuites firsthand. I do think they set themselves apart from a regular business class but almost exclusively in terms of the seat.
There were some small things like the amenities kit and bedding that I found slightly disappointing as I mentioned before. I just expected more from a product like the Qsuites.
The seat, however, was certainly far nicer than any other business class I have ever experienced (especially the regular Qatar business class). Its spaciousness and storage options, as well as the sliding door and raisable walls, were fantastic.
I certainly recommend the Qsuites to anyone looking for a comfortable travel experience that surpasses other business classes (in some regards). Make sure to adjust your expectations in some categories though.
As I mentioned the food onboard was extraordinary, however, I am sure this is not unique to the Qsuites. You will most likely have the same culinary experience on a regular business class flight.
All in all, I think Qatar Airways could make some small but meaningful improvements to their Qsuite product in order to raise the stakes. Placing more focus on the service and upgrading features such as the mattress topper and amenities kit could really take the Qsuites to the next level.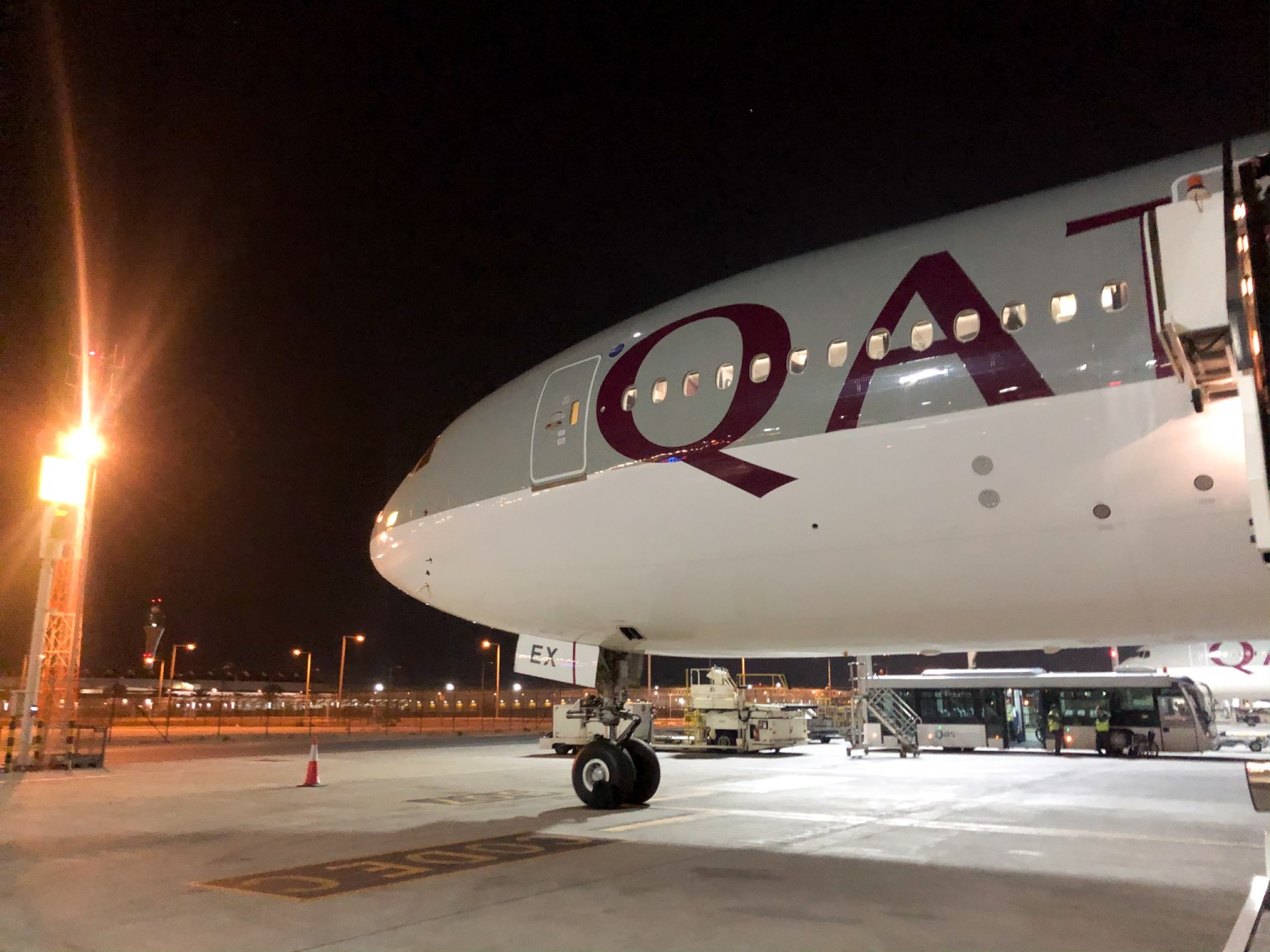 Going to Australia? Check out all you need to know about wild camping here.
Looking for travel inspiration? Click here.
My most important travel tips and resources
Book your flights
Skyscanner is the best website for finding cheap flights since it works like a search engine so you can find the best deals across all airlines.

Book hotels and hostels
• Booking.com: Best world-wide
• Agoda: Best in South East Asia
• Hostelworld: Best for hostels

Book tours, transport and rental cars
•Viator: The best place to book tours, day trips and excursions for al budgets
•12Go: Great for ferries, trains, transfers and buses in South East Asia
•Discover Cars: Best deals for rental cars around the word

Get travel insurance
Every traveller needs travel insurance and I mean every single one. SafetyWing covers you in case of injury, illness or worse and they've got your back if your bag is stolen, flights are cancelled or in case of a natural disaster.

Pay abroad
Ask any traveller, Wise is the best choice when it comes to sending money abroad. They've always got the best exchange rates, lowest fees and their visa card is great for getting cash out or paying abroad.

Things every traveller needs:
➼ Osprey Farpoint 70 Backpack
Detachable daypack, ultra-light, durable and free repairs for life. There's a reason why so many backpackers have this bag.
➼ Packing Cubes
Packing cubes are a gamer changer, keeping your luggage organised and providing tons of extra space.
➼ Power bank
There is nothing worse than running out of battery on an overnight bus journey or a long flight. With a powerbank you can charge your eletronics on the go and make sure you're always connected.
➼ Micro-fibre towel
These lightweight towels are foldable, fast-drying and so useful when you're travelling.

➼ You can find 15 more things every traveller needs here. Some might be a bit controversial but I warned you!
Did I miss anything?
If you have any questions or feel like something is missing from this post please leave a comment below or contact me.