HOW TO PLAN YOUR TRIP TO LANGKAWI
Coming up with a travel itinerary can be difficult and require a lot of planning. Have you found yourself googling: "What to do in Langkawi"? Are the results overwhelming?
Can't decide which activities are worth visiting and which ones to skip? And worst of all: are you only on the island for a couple of days?
If these issues sound familiar then keep reading; this post is for you.
I have come up with what I think is the ultimate one-day itinerary of what to do in Langkawi, Malaysia. If you are lucky enough to have more time on the island you can spend your remaining days either relaxing or adding some more activities.
But if you're on a quick stopover or only came to Langkawi for a weekend trip then I guarantee this itinerary will give you a great sample of what the island has to offer and will leave you wanting to come back for more. Because there is a lot more to see and do on Langkawi island.
Want to extend your trip? These five Thai islands are actually located really close to Langkawi and you should add them to your travel plans.
This post may contain affiliate links, which means we'll receive a commission if you purchase through our links, at no extra cost to you. This helps us keep Guide your Travel free and provide high-quality content for you. Please read the full disclaimer for more information.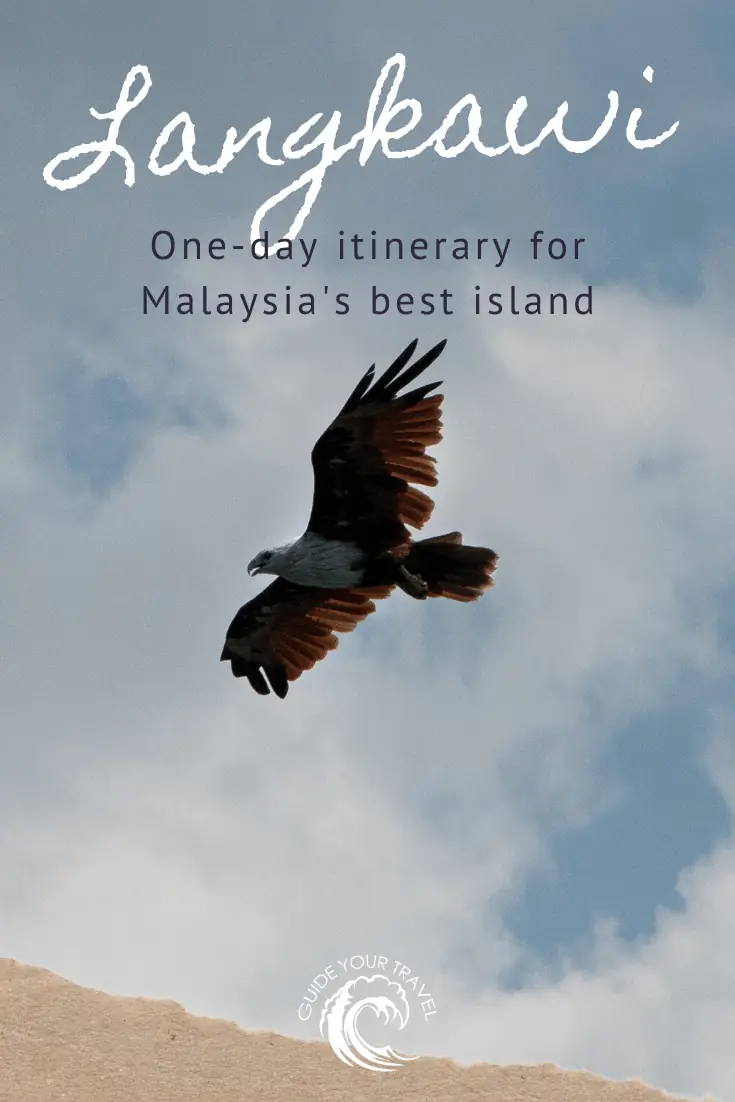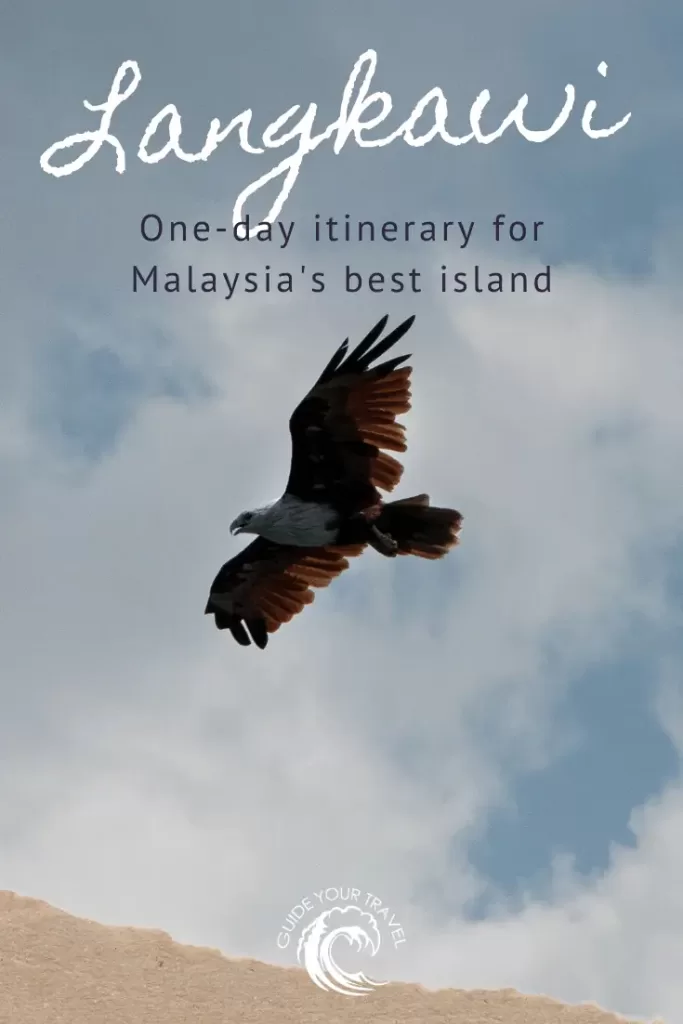 WHAT YOU NEED TO KNOW ABOUT LANGKAWI
Langkawi is located about 30 km off the west coast of the Malaysian peninsula. It sits right at the border which means you can take a ferry to Thailand. You can see the Thai mainland from the island.
Langkawi is comparatively large compared to other islands in the Andaman Sea. It has an area of 480 km2 and inhabits around 85,000 people. 3,6 million tourists visit it every year. The island has two main towns popular with tourists; Kuah and Pantai Cenang. Kuah is where the ferries and boats arrive and is the larger of the two towns. Here you will find shopping malls, stores and popular restaurant chains.
Cenang is slightly smaller and located by the popular Cenang Beach which gives it a more relaxed and laid-back feel. Langkawi's best restaurants and bars are located in Cenang.
You can reach Langkawi either by plane or ferry. Many low-cost carriers such as Malindo Air and Air Asia have multiple flights daily to the island from big hubs such as Singapore, Penang and Kuala Lumpur.
Top tip: Always compare prices for hotels. We at Guide your Travel prefer Booking.com, Agoda or Hostelworld for finding the best deals.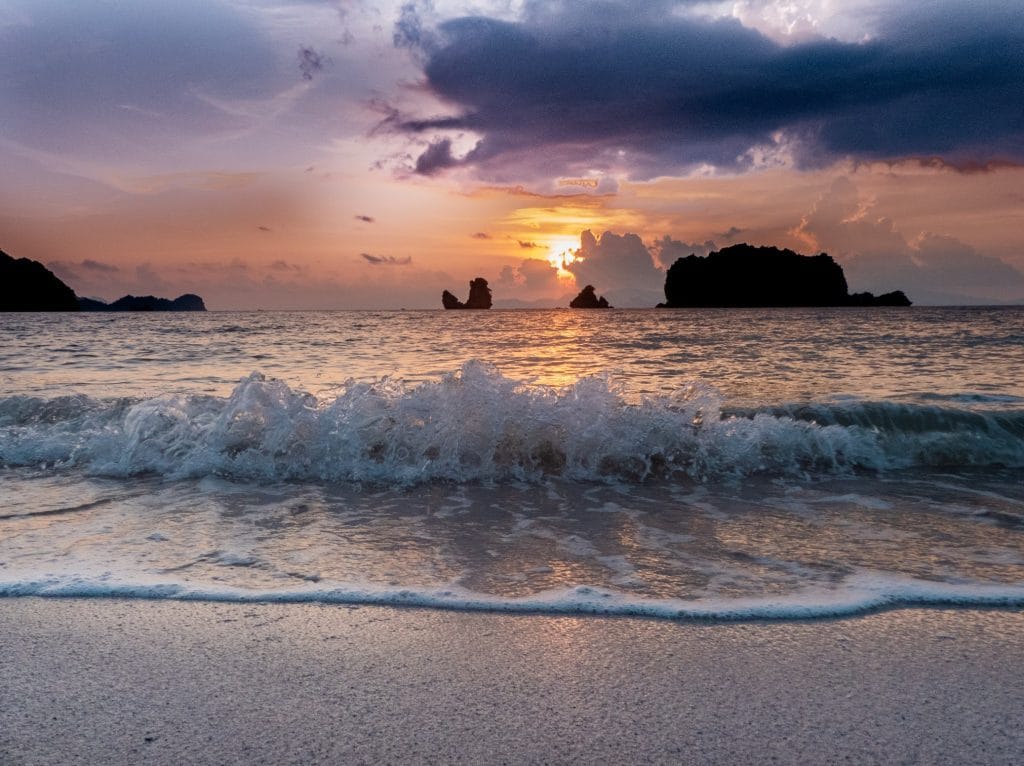 WHAT TO DO IN LANGKAWI
Langkawi offers a wide variety of activities. The island boasts white sand beaches and crystal clear waters so a day at the beach is a must-do. Its most famous attraction is probably the Sky Bridge. This is the longest free span and curved bridge in the world connecting the two peaks of Machinchang mountain at a height of 660m. A cable car takes visitors up to the bridge.
The north and east sides of the island are overgrown by dense mangroves, which are inhabited by an impressive number of animal species. You can tour these mangroves and the surrounding islands by boat. Finally, there are multiple waterfalls hidden in the jungle of the island. Water sports such as jet ski, parasailing, and kayaking are also very popular.
When you are deciding what to do in Langkawi you should consider what type of activities you enjoy. You can customise the following itinerary to fit your needs, be it adrenaline-filled sports or a laid back day at a beach bar.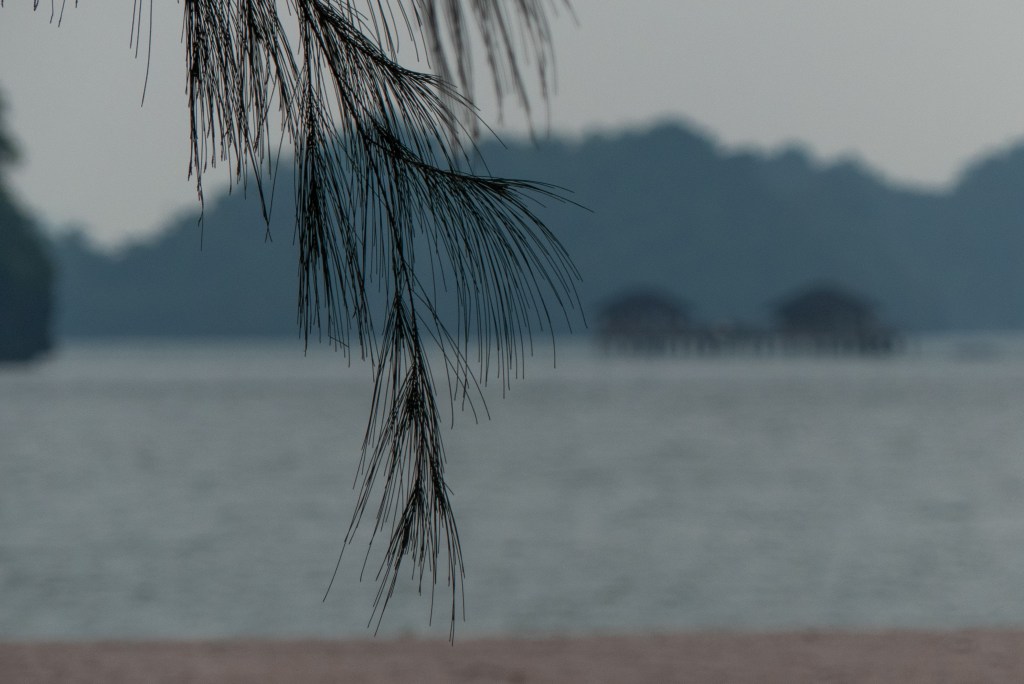 GETTING AROUND THE ISLAND
Langkawi is quite big and it takes around forty minutes to drive from one end to the other. I would highly recommend renting a car or scooter for the day as it will make you more flexible. You can rent a car without pre-booking when you arrive at the airport or online if you prefer to have peace of mind. Prices can be haggled if you do decide to rent on arrival. A small car will cost you around RM 60 (~ €13) per day. Scooters can be rented from little shops all around the island.
Alternatively, you can choose to go everywhere by Grab or taxi but this will be more expensive. Grabs can also take a while to arrive especially if you are not in a commercialized area.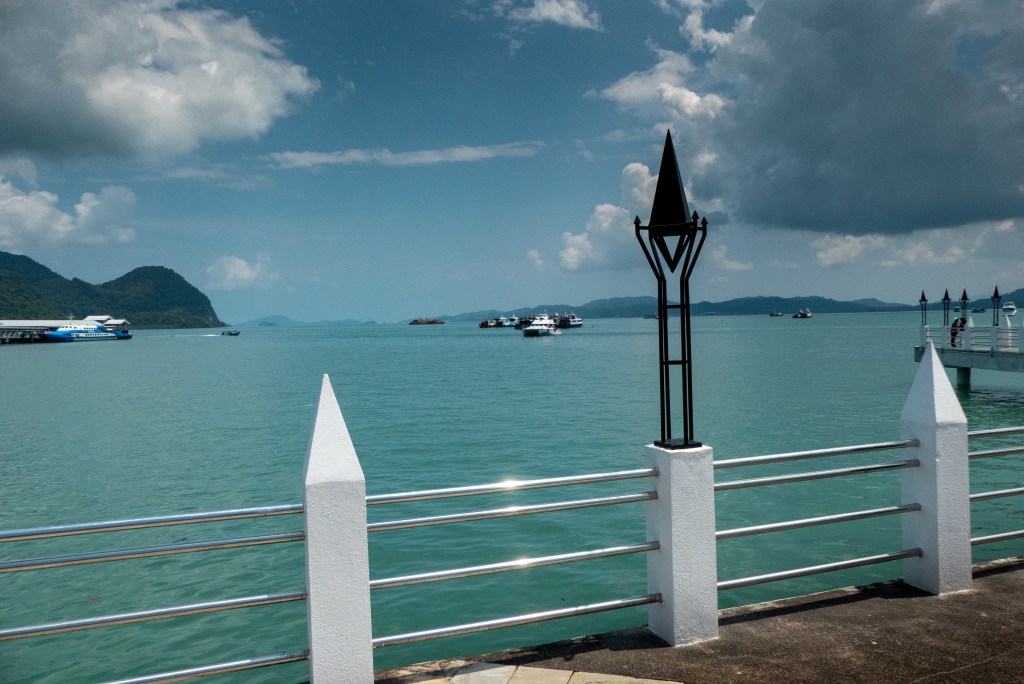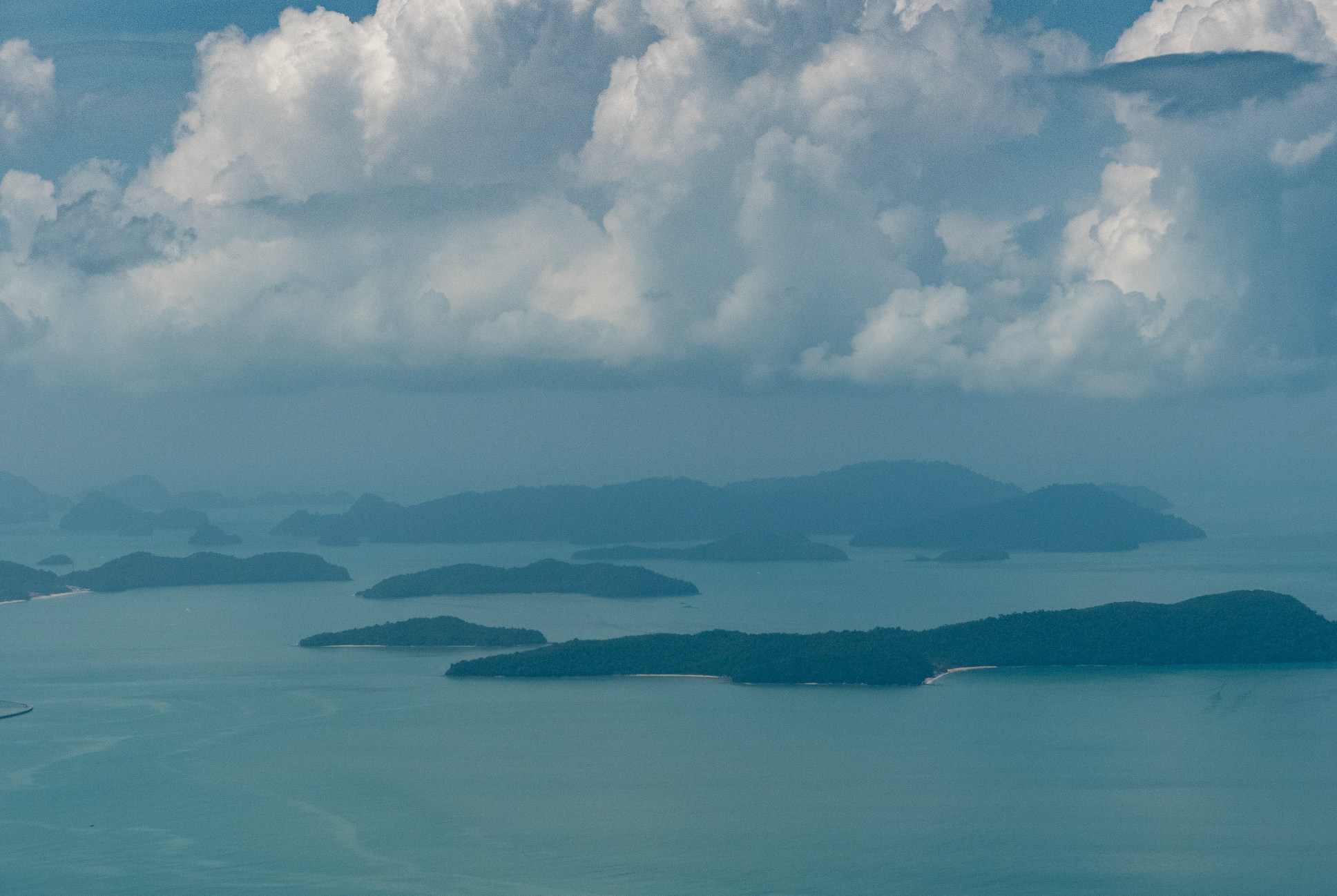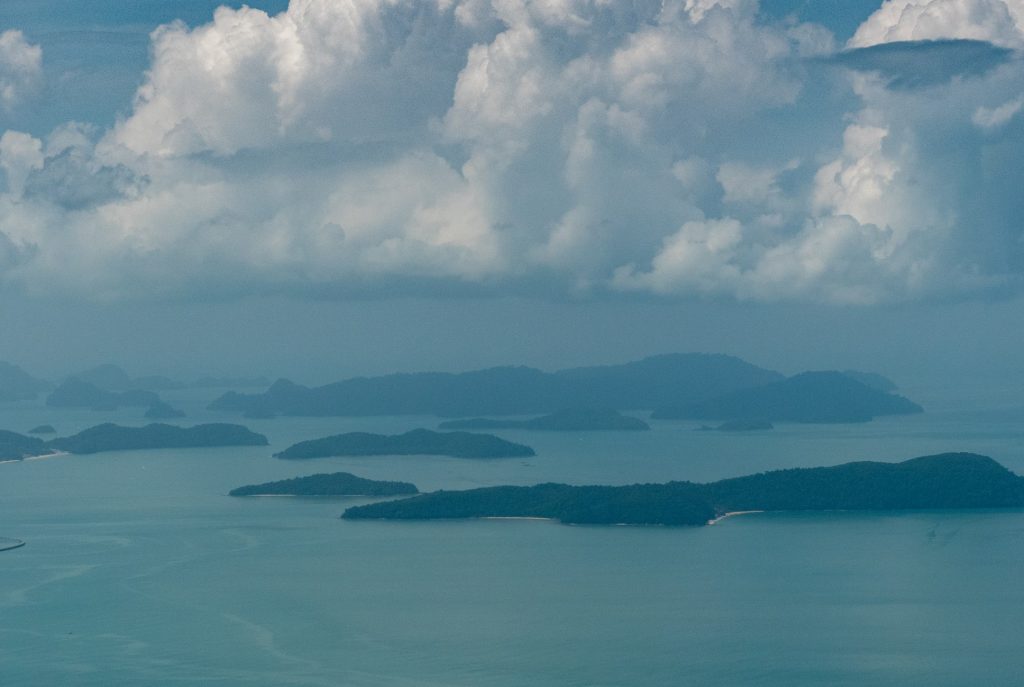 WHAT TO DO IN LANGKAWI: THE ITINERARY
My one-day itinerary of what to do in Langkawi is as follows:
8:00 am Get up and have breakfast
9:30 – 11:30 am Skybridge
12:00 – 13:00 pm Durian Perangin Waterfall
13:30 – 14:30 pm Nasi Dagang Pak Malau Restaurant
15:00 – 16:00 pm Mangrove Tour
17:00 – 19:30 pm Beach and Sunset
20:00 pm – Open-end Dinner and drinks in Cenang
This itinerary will vary slightly depending on where on the island you are staying, the weather that day as well as the season when you visit Langkawi. I added 30 minutes travel time in between stops so the schedule is not so tight, although the drive is shorter sometimes.
If you encounter rain do not be discouraged as it rarely lasts long in this part of the world. Make sure to check the opening times of the Sky Bridge as they sometimes close for scheduled maintenance. If there are strong winds or heavy rain they will not operate.
The same applies to the mangrove tour.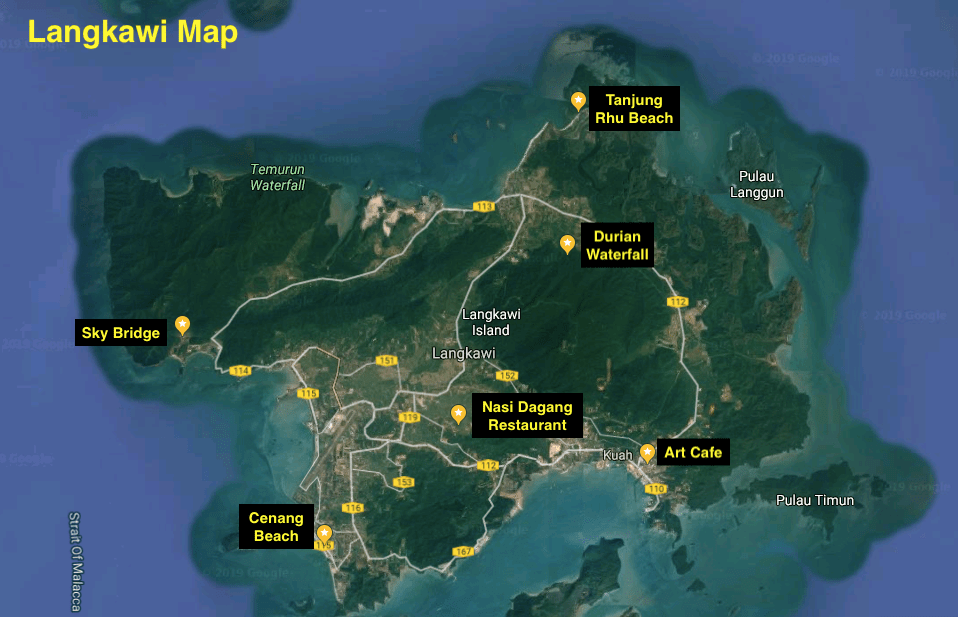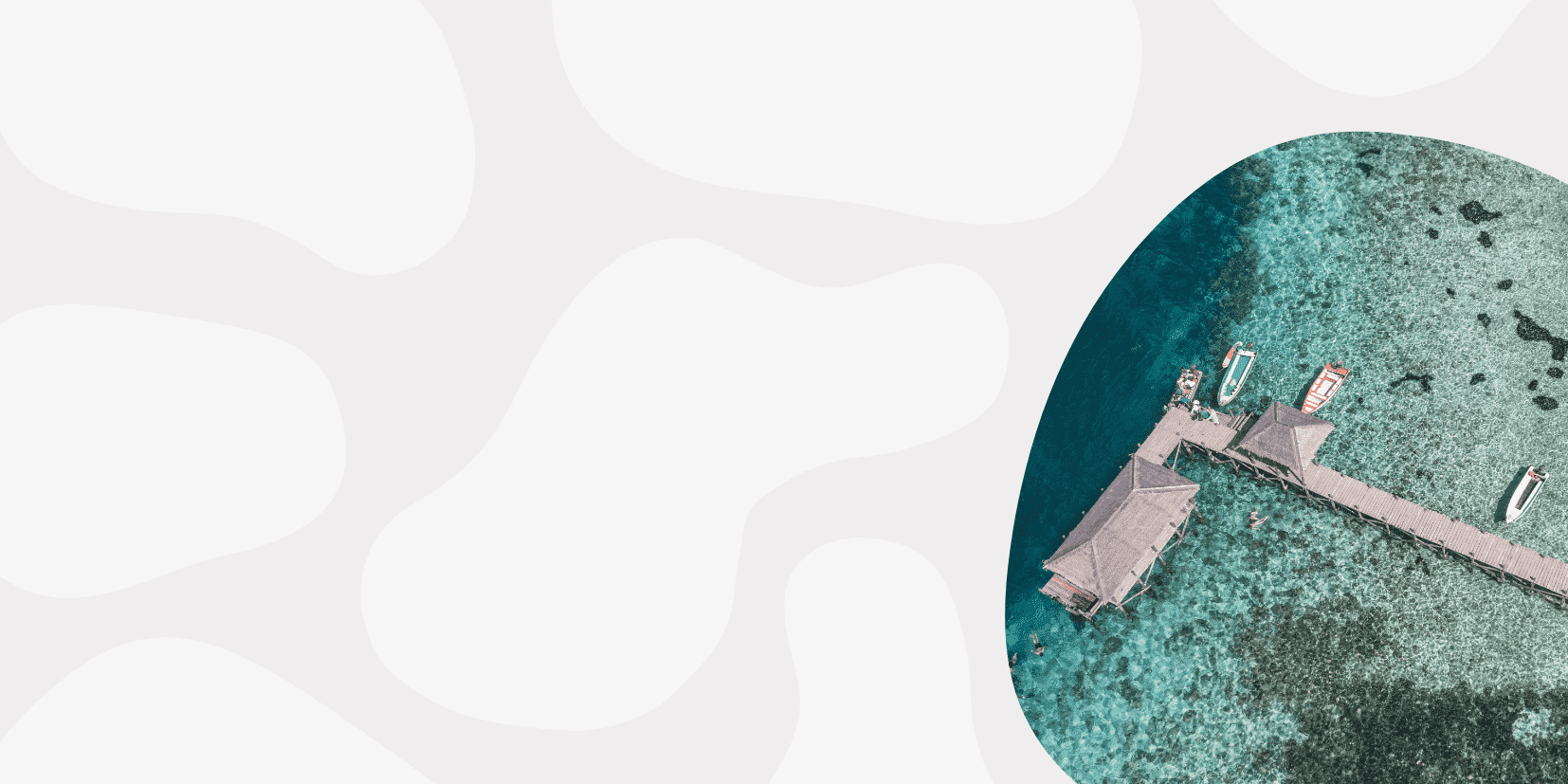 Let me save you time and effort when you're travel planning!

➼ Best travel insurance? SafetyWing
➼ Best place to find cheap flights? Skyscanner
➼ Best bank & credit card for travellers? Wise
➼ Best travel backpack? Osprey Farpoint 70
BREAKFAST (8:30 AM – 9:00 AM)
Unfortunately, this itinerary requires you to get up early. Sorry!
While most people in Langkawi will still be sleeping off their hangovers at this time you can experience the island in some peace and quiet. Find breakfast either in a sit-down restaurant or at one of the street stalls on your way to the Sky Bridge. Make sure to plan more time if you are going to a restaurant.
I can recommend the Art Café in Kuah. Here you will find a large selection of Western and Malay breakfast dishes, fresh juices and even lunch food served early in the morning. A meal will cost around RM 20 to RM 25 (~ €4 to €5).
If you are looking for a cheaper option you should stop at one of the small restaurants on the side of the road. If you are staying in Cenang I would recommend cafes such as Breizh Up or YamYam Restaurant.
THE SKY BRIDGE (9:30 AM – 11:30 AM)
The Sky Bridge opens at 9:30 am and believe me you will thank me later for going early in the morning.
This is the main tourist attraction in Langkawi and the crowds can get intense. Furthermore, the midday sun will have you sweating even at the top of the mountain. There is parking available at the bridge for around RM 10 (~ €2.15).
Access to the Sky Bridge is located in a small activity park called Oriental Village. Here you can find a good selection of restaurants, souvenir shops and attractions such as a bunny petting zoo (free), the SkyRex a 4D cinema that shows a 10-minute dinosaur show every 30 minutes (included in the Sky Cab price), the so-called SkyDome which hosts another 4D show (also included in Sky Cab price), a 3D Art Gallery, an ATV track and many more.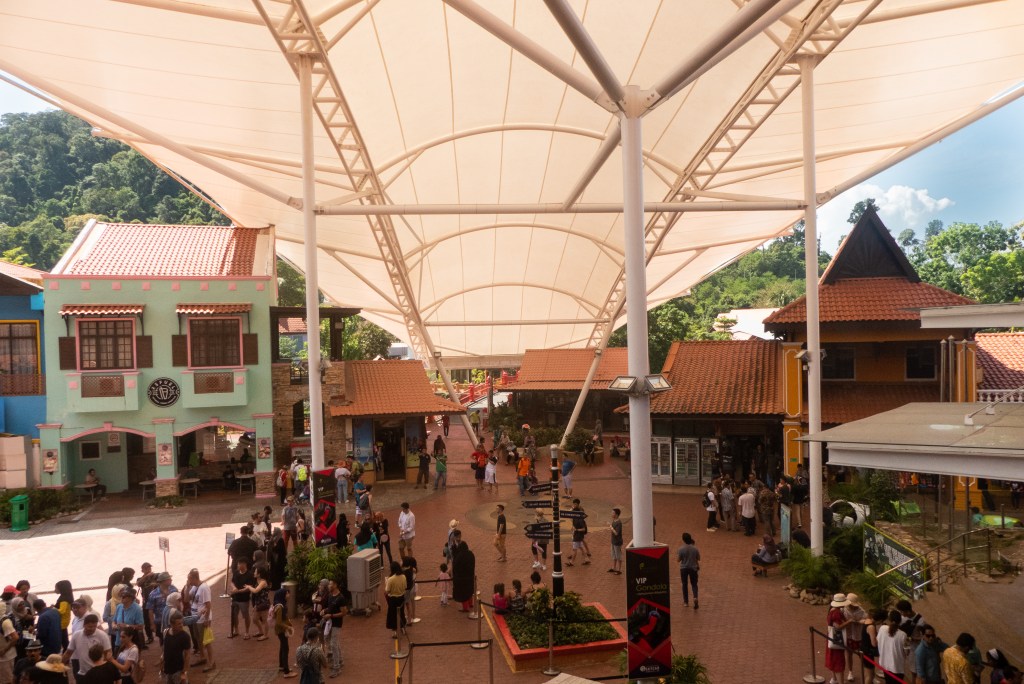 THE SKY CAB
The main attraction is, of course, the Sky Cab that takes tourists up to the Sky Bridge. This is the steepest cable car ride in the world and not for the faint of heart. Tickets cost RM 50 (~ €12) for a basic cab (tourist price). You can also purchase VIP or glass-bottom gondolas. Fast-track passes are available for a further RM 55 (~ €11.85) which will let you skip the lines. This will not be necessary if you go early in the morning though.
There are binoculars available for rent for RM 8 (~ €1.70). I do not think they are a must-have but could be nice if you plan to spend more time at the top.

The cable car ride takes around 20 minutes in total. Six people fit into one gondola and there can be no empty spaces.
There is an intermediary station where you need to disembark on the way up although on the way down you have to stay seated. This station has a large viewing platform and not much else. The view of the surrounding mountains is nice but I think it is better from the top.
The second part of the gondola ride is far shorter and not as steep. Upon arrival at the final station, you are presented with the option of either taking a small cart (so-called Sky Glide) to the Sky Bridge itself or walk. The Glide costs RM 10 (~ €2.15).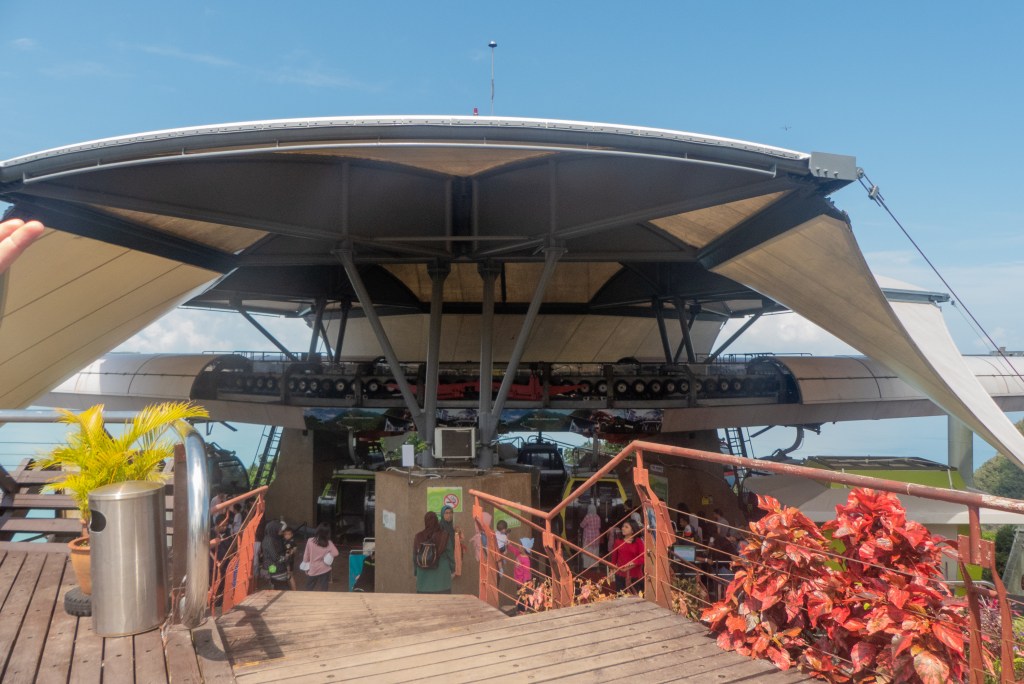 THE BRIDGE
You can find a small convenience store at the top station which sells snacks and water at elevated prices. To access the Sky Bridge you need to buy a separate ticket for RM5 at the top. This cannot be purchased beforehand.
Since the bridge is actually located slightly below the Sky Cab you will have to walk for around 10 minutes to reach it. It is mostly stairs downhill which is not a problem on the way down but can be more challenging on the way back up. If you have trouble walking and climbing stairs I would recommend taking the Sky Glide.
The Sky Bridge is definitely an impressive sight. It is 125 m long and connects two mountains. It leads to another viewing platform that looks out to the other side of the island. The bridge itself is not static and you can feel it move slightly as you walk across. It is only 1,8 m wide and may not be ideal for those with a fear of heights.
There are a few glass panels on the bridge which you can stand on if you want. It is optional however and no part of the bridge is made completely out of glass so you can choose not to.
Flying drones is not allowed anywhere on the premises.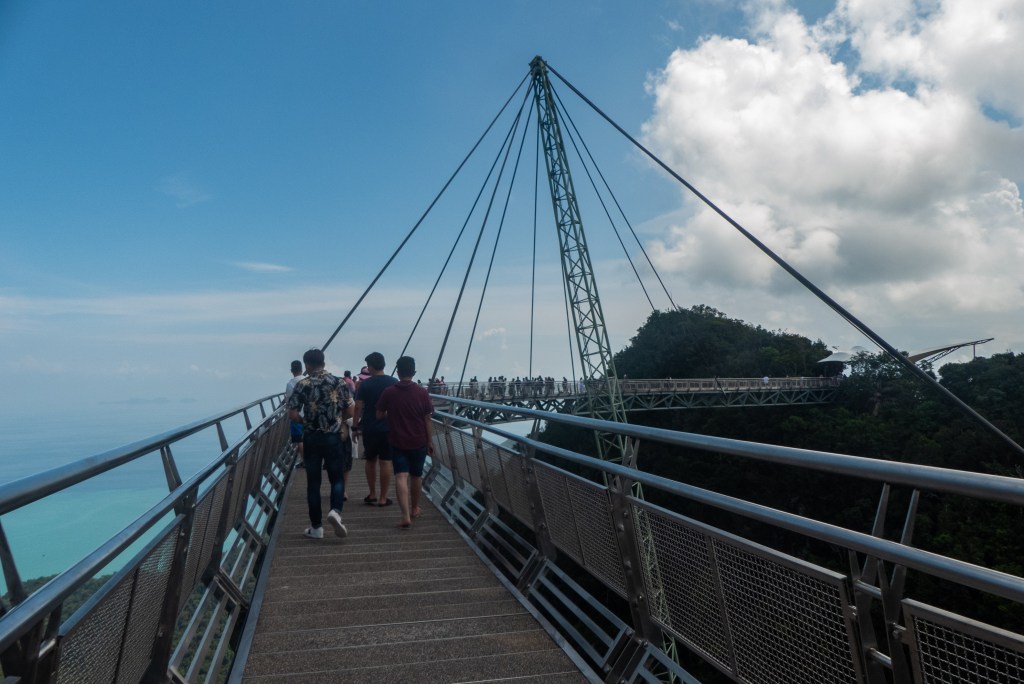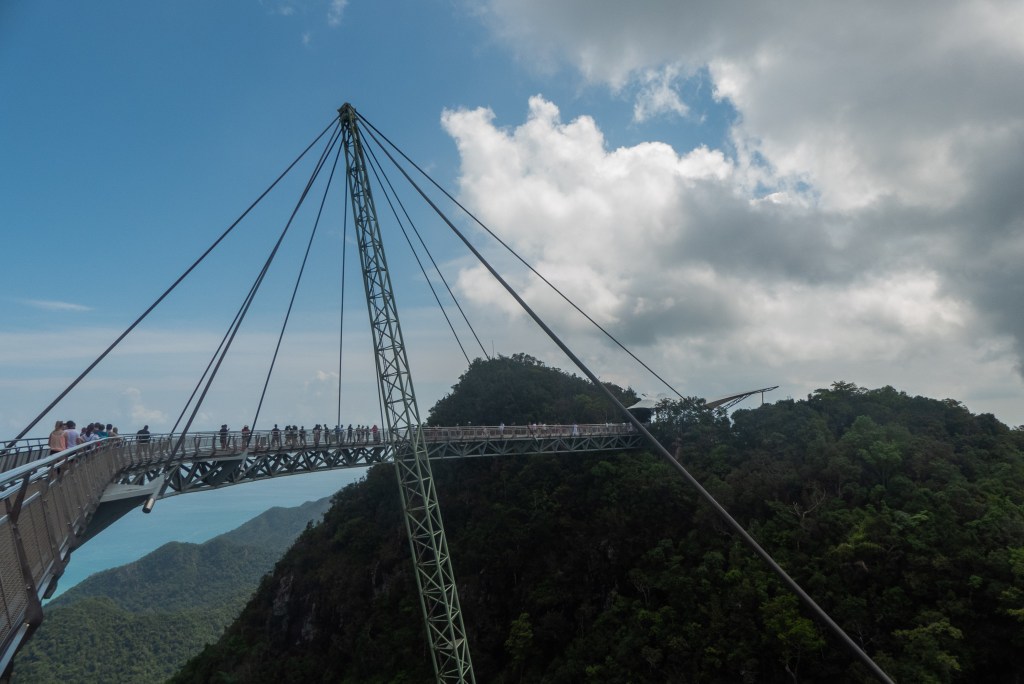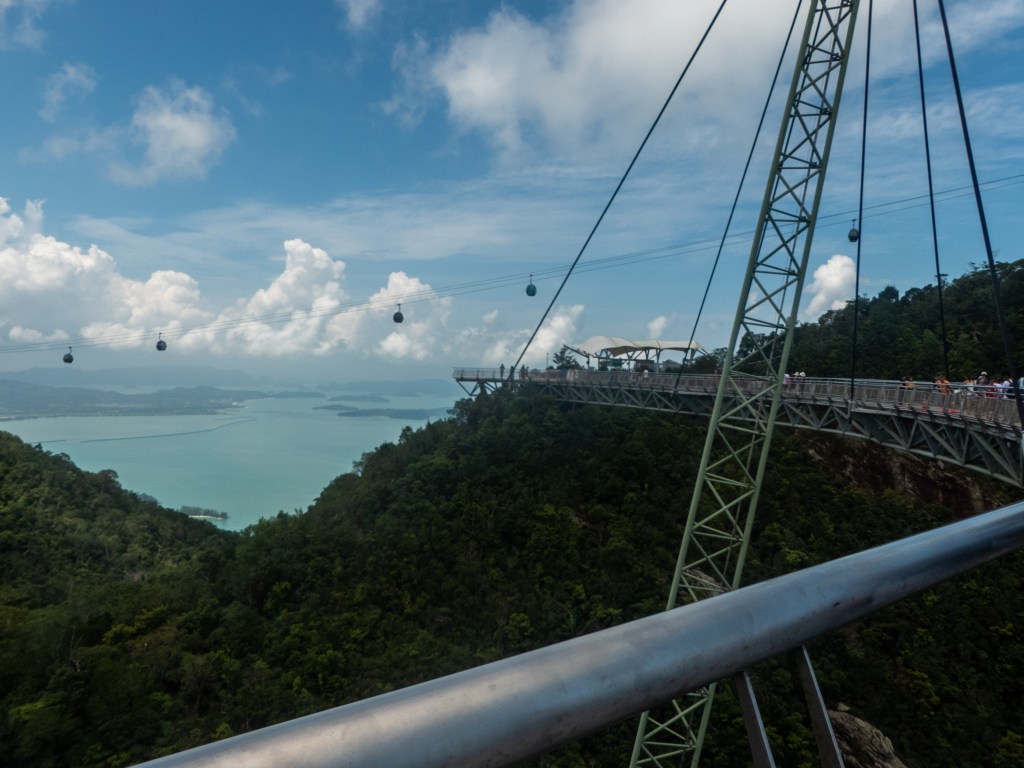 THE VIEWING PLATFORM
If you would like to enjoy the views without leaving solid ground there is always the option of skipping the bridge and just going to the main viewing platform. You do not have to pay extra for this and since the platform is located higher than the Sky Bridge and it offers even better views. You can reach it from the cable car station via stairs (10-minute climb).
Once you are satisfied the cable car takes you back down. If you are interested you can enjoy some of the other activities such as the SkyRex, SkyDome or bunny petting zoo. I cannot claim that these are especially noteworthy though so feel free to skip them. The Sky Bridge and cable car are without a doubt the main attractions. If you are travelling with children these other activities might be fun though.
Depending on how long you stay at the top (and how long you wait in line). The whole visit should take around two hours. I recommend grabbing a snack once you are done, either in one of the many cafes or on your way to the next stop at one of the street stalls.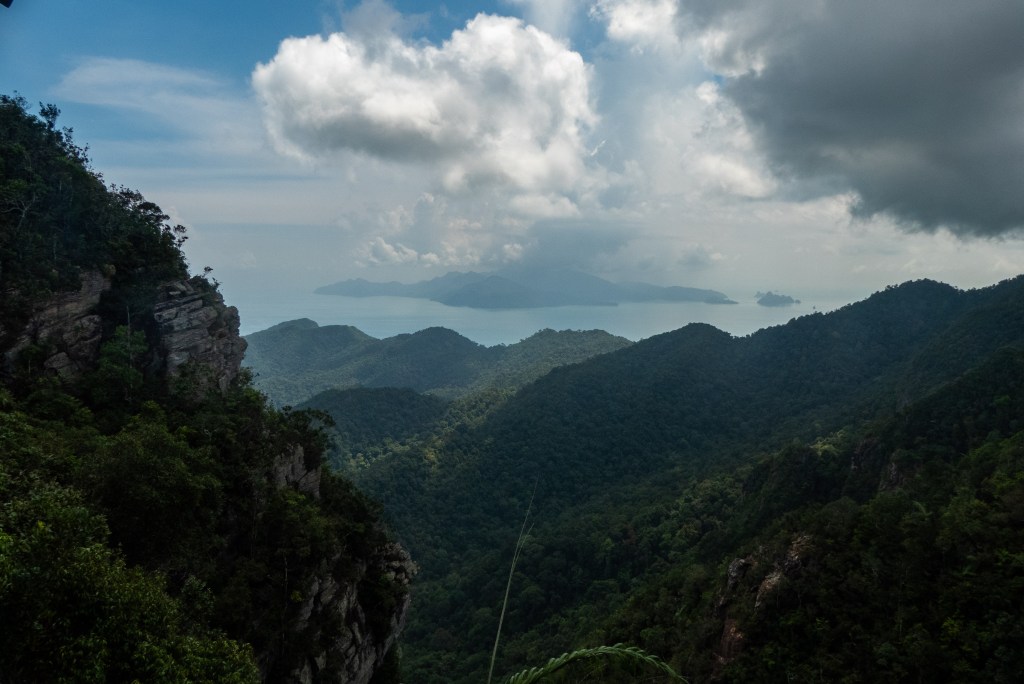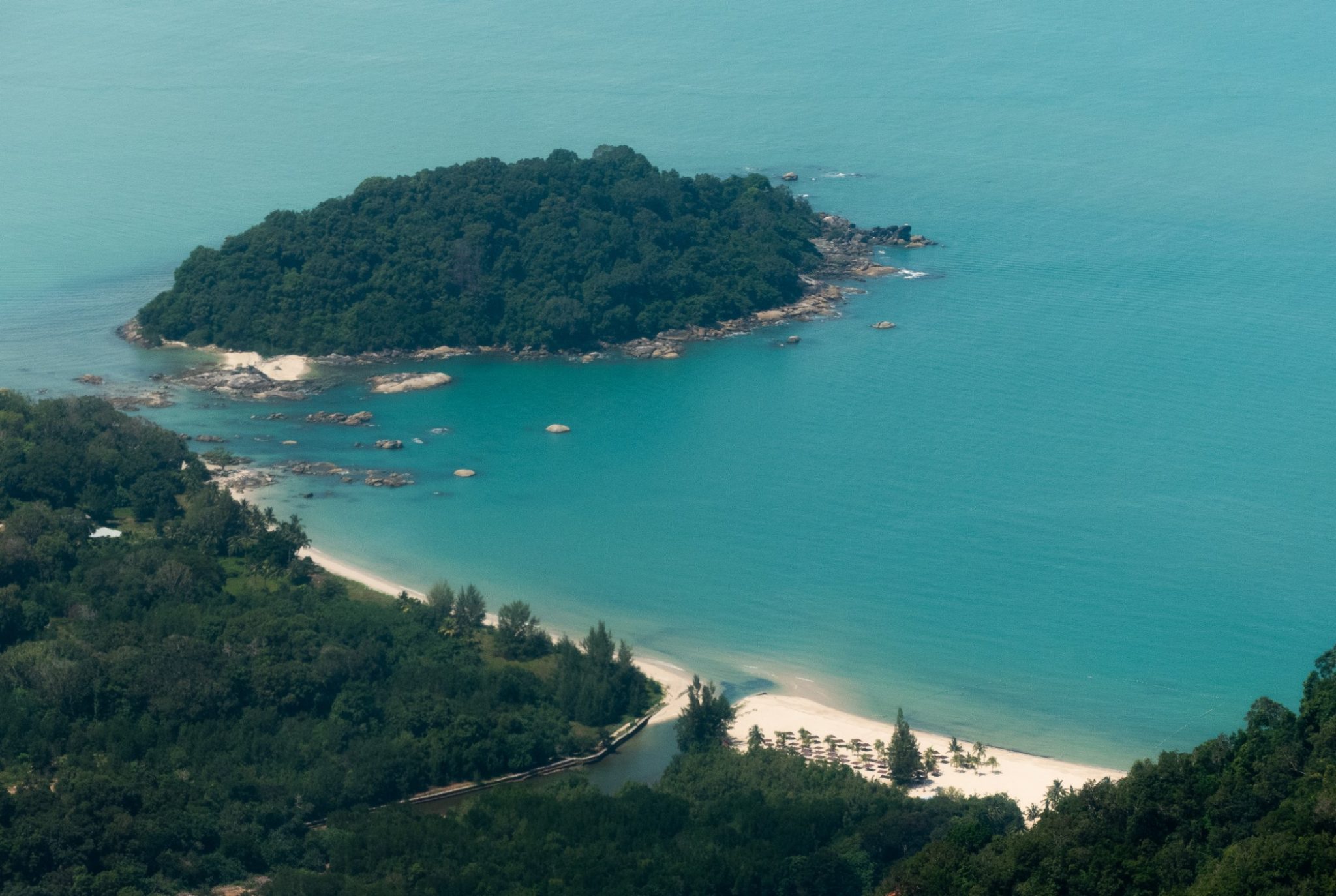 DURIAN PERANGIN WATERFALL (12:00 – 13:00 PM)
Next, you are going to Durian Perangin Waterfall which is located in the jungle close to the centre of the island. From the Sky Bridge, the drive should take around 30 minutes.
You can also choose to have lunch first and do the waterfall afterwards which will mean you have to do less driving. The waterfall is easily accessible by car. From the car park, the walk up will take around 15 minutes (10 minutes on the way down). The climb is quite steep but very manageable as most of it has man-made stairs.
The waterfall is a multi-layered cataract and surrounded by durian trees (hence the name). You can swim here although the plunge pool is not very large. There are also multiple open-air barbecues available where you can grill your own food. Keep an eye out for the beautiful blue butterflies that populate this area.
At the car park, you can find some souvenir shops as well as a small restaurant and store selling cold drinks and fruit. Since the walk to the waterfall is quite short you do not need much more than an hour here. You can, of course, extend your time a bit, have a picnic and skip the restaurant if you want.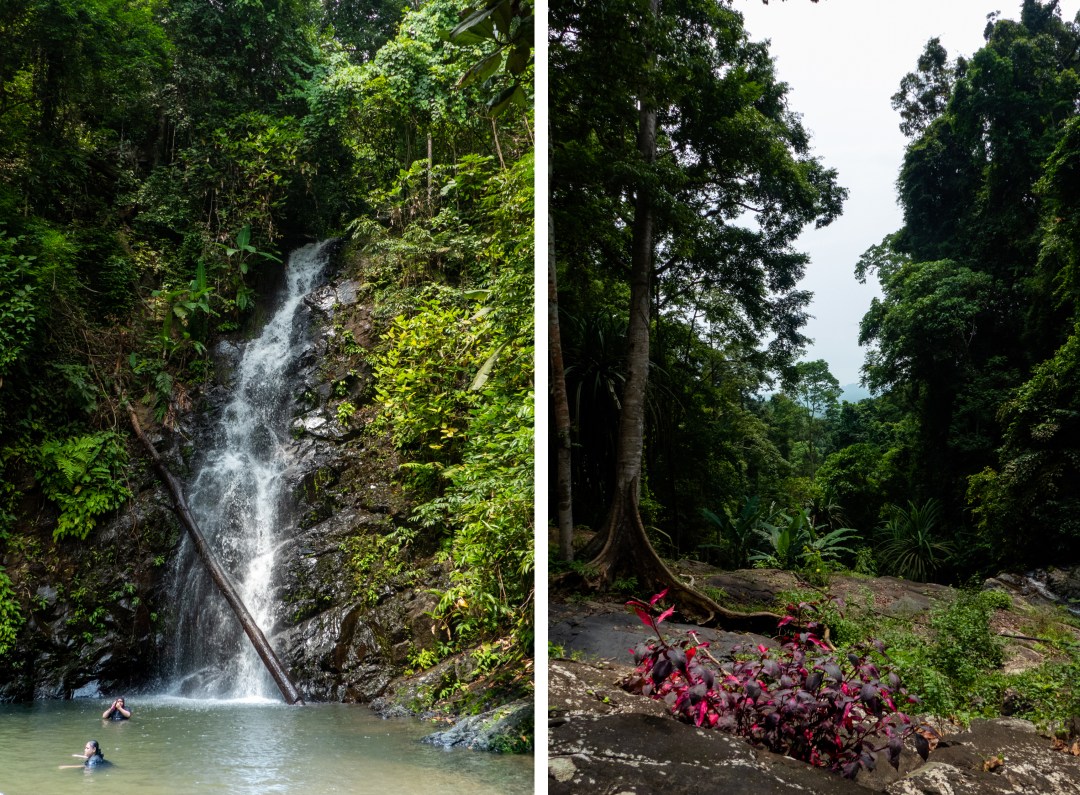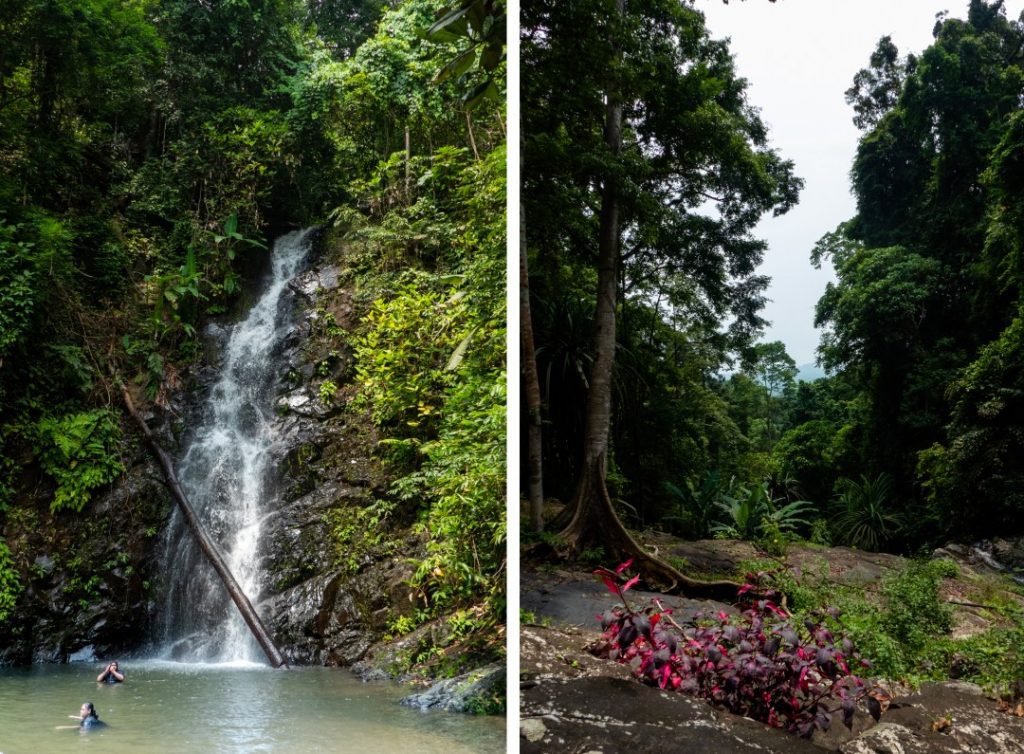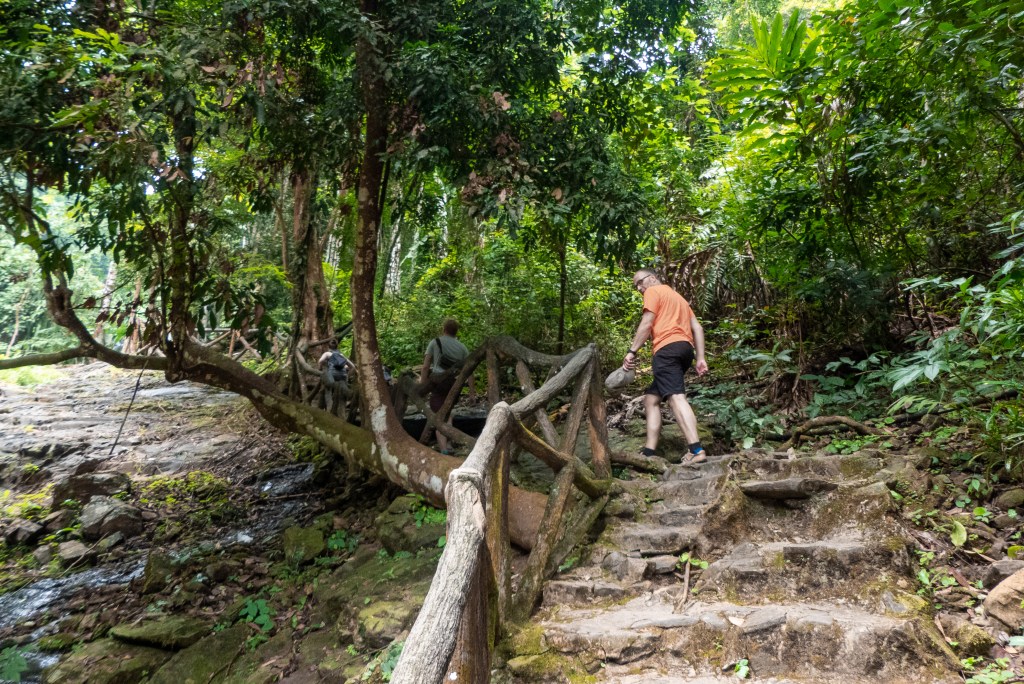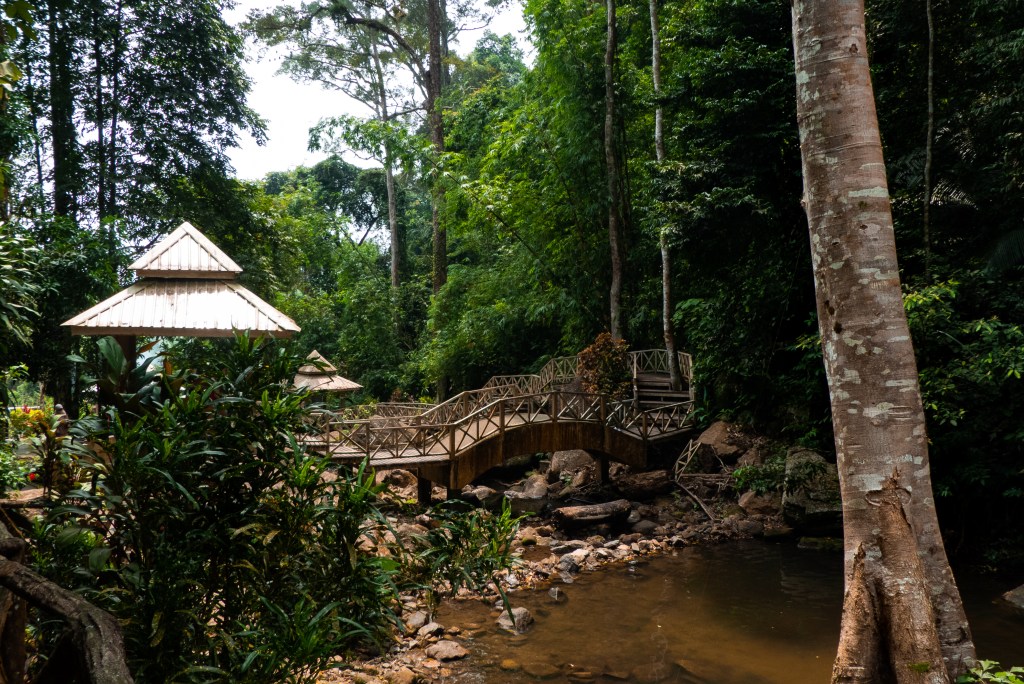 LUNCH AT NASI DAGANG PAK MALAU RESTAURANT (13:30 – 14:30 PM)
By now you will probably be hungry so it's time for lunch. It is up to you where you want to eat but I recommend Nasi Dagang Pak Malau Restaurant which serves traditional Malay food.
It is a little bit off the beaten track and not as crowded with tourists as some of the other options. Its location on the edge of the rice fields and with a view of Gunung Raya mountain is especially noteworthy. They serve mostly Nasi Dagang (a Malaysian curry dish) with a rotating selection of meats. A meal with a drink included will cost around RM 13 (~ €2.80). You can sit in one of the open-air elevated huts and enjoy the peace and quiet. The owners are very friendly and hospitable.
Note that there is no alcohol served here. Check out their Facebook page for details.
If you are looking for something different then there is a good selection of restaurants on the way to the next stop or in Cenang. You can also head to the beach directly and have lunch there at a little beach bar.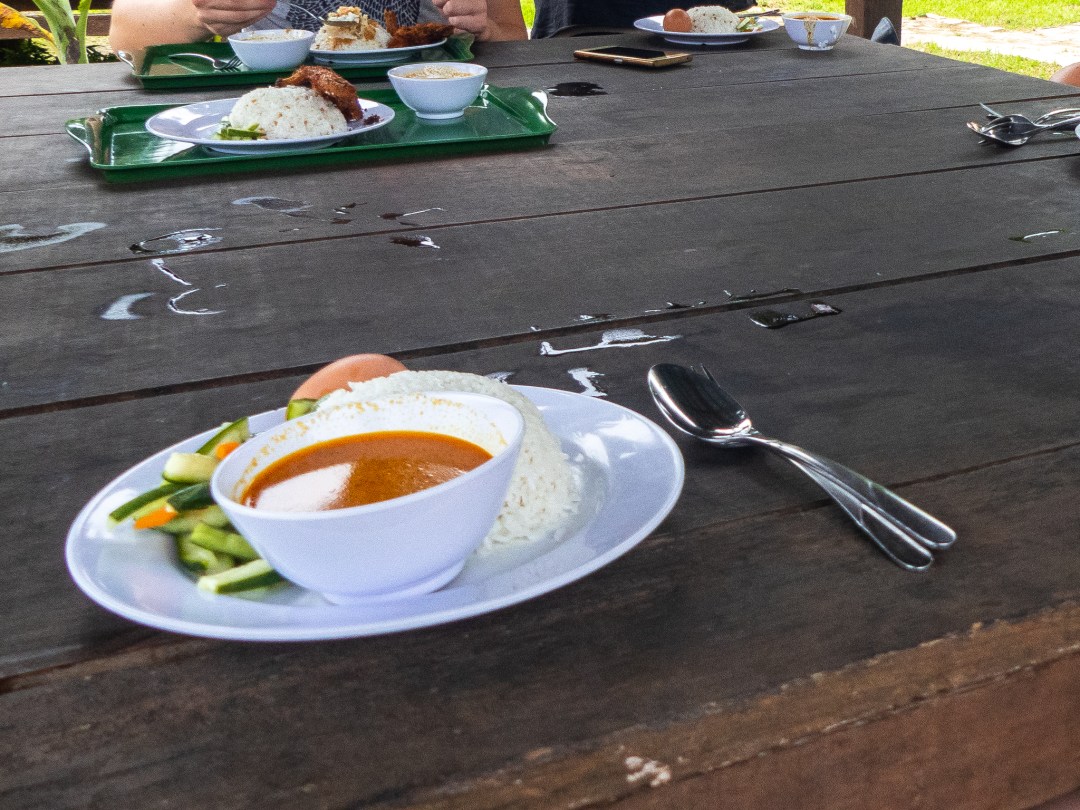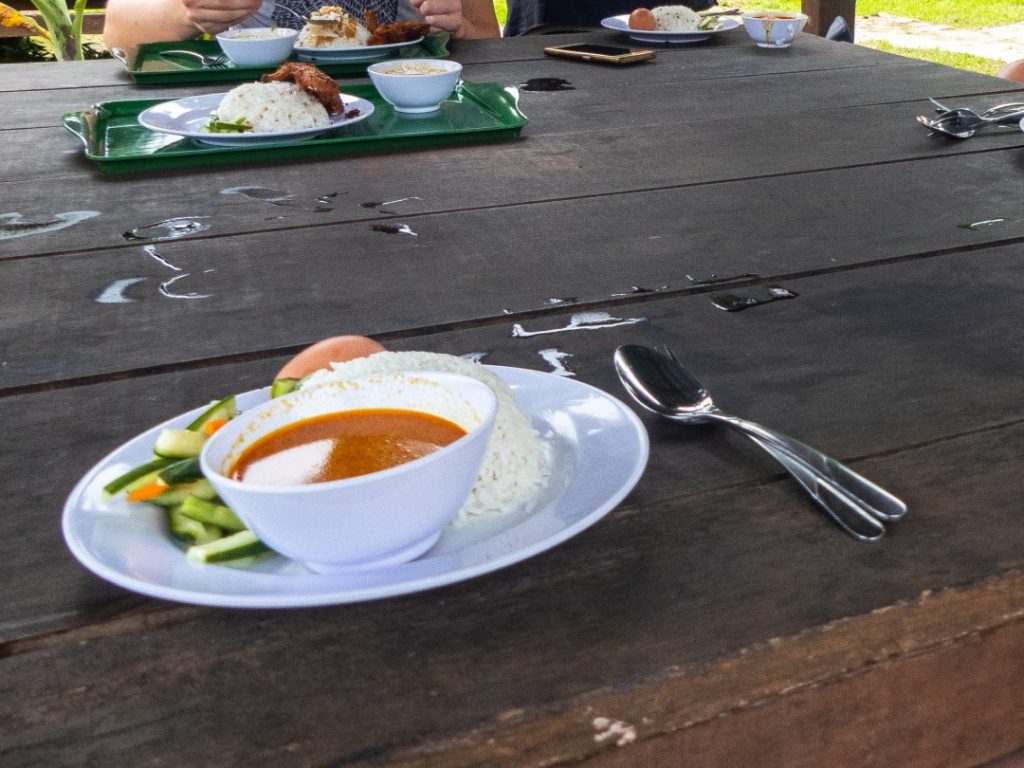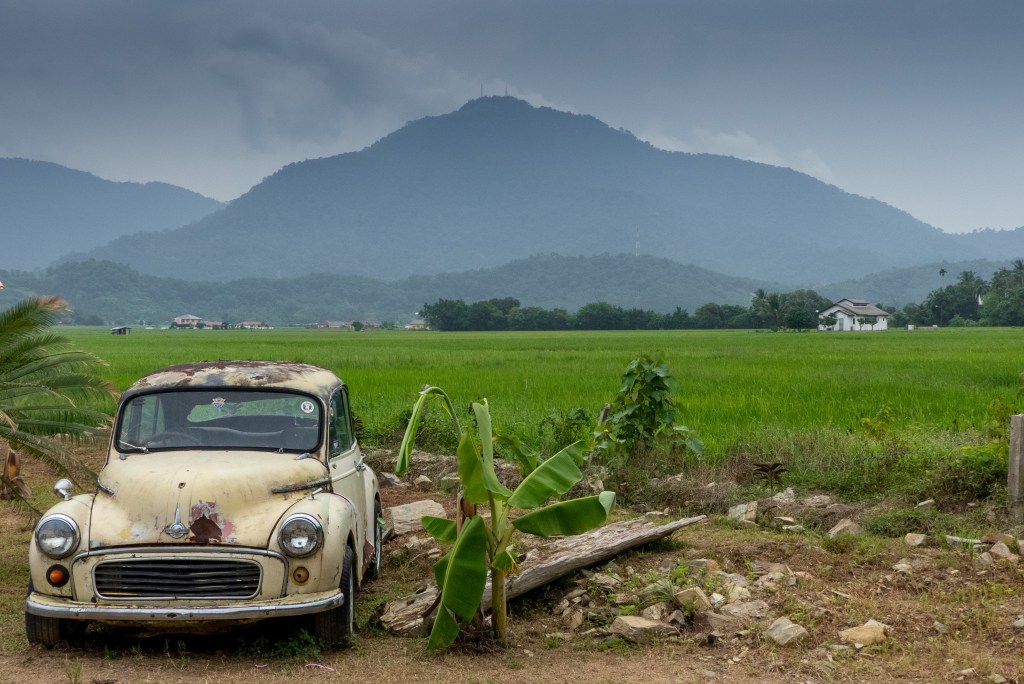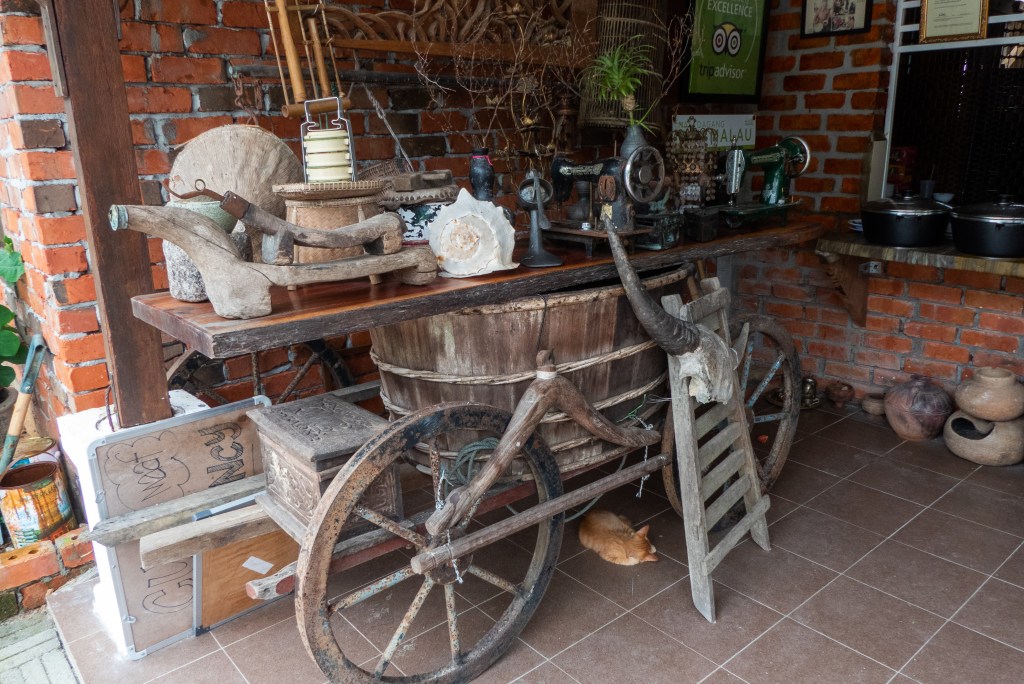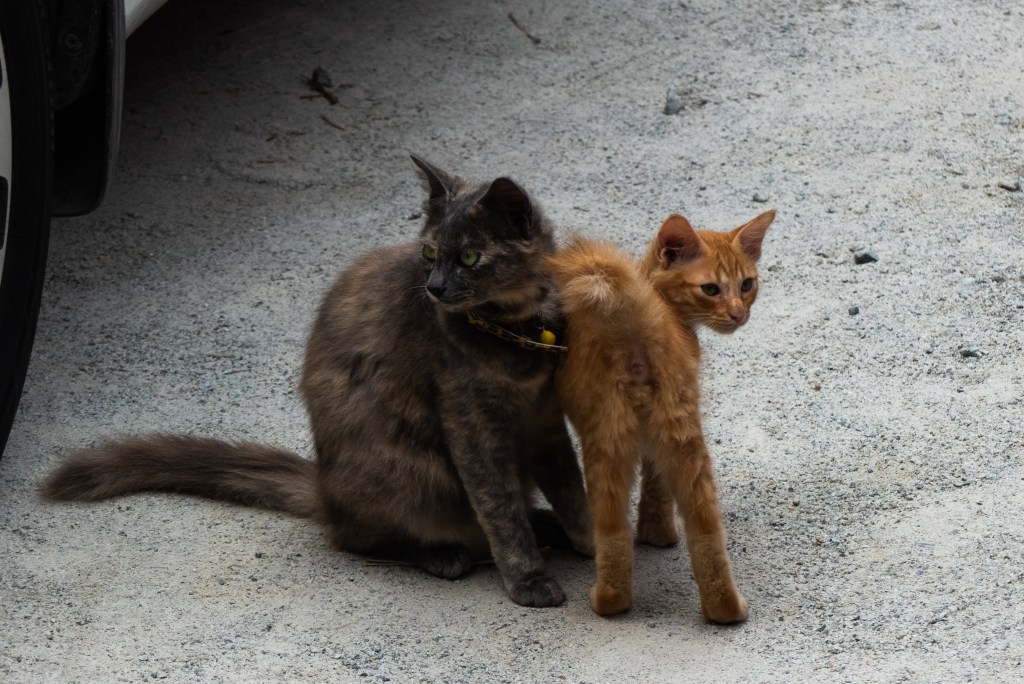 MANGROVE TOUR (3:00 PM – 5:00PM)
Next, you will drive up to Tanjung Rhu Beach. This is considered one of the most beautiful beaches in Langkawi and it is far less crowded than Cenang beach.
Here is where the larger resorts are located and where most of the mangrove and island hopping tours depart.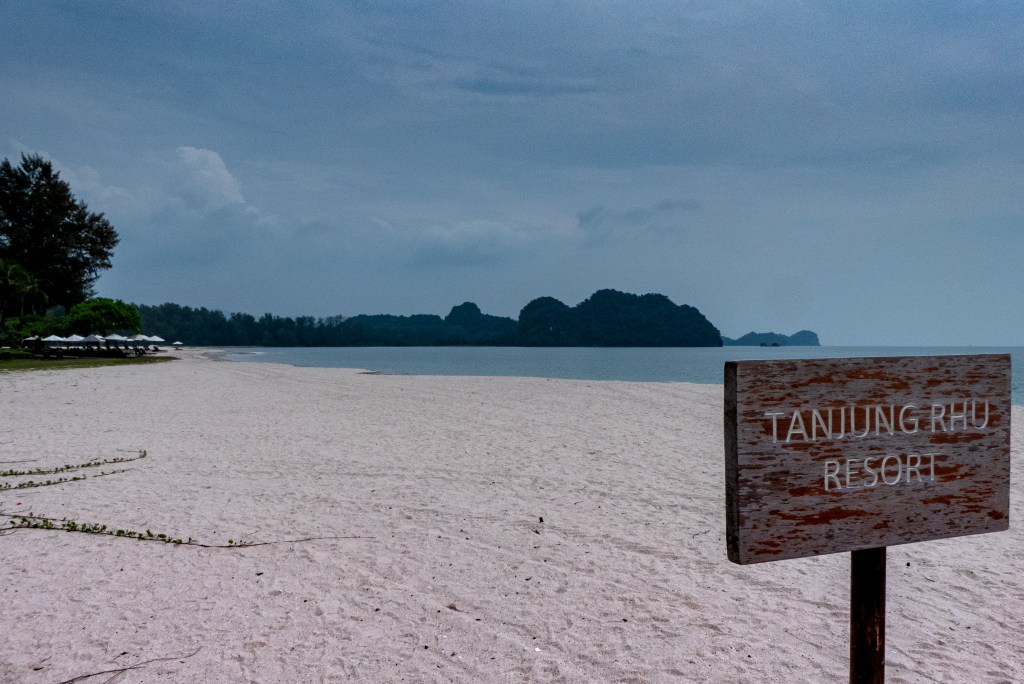 WHICH TOUR SHOULD YOU CHOOSE?
Although you can pre-book a tour there is no real need to. Most tours operate on demand and you pay a flat rate for the boat instead of per passenger. The mangrove tour we chose could fit up to 10 passengers and costs RM 250 (~ €53.85) in total for one hour and RM 350 (~ €73.40) for two. For RM 450 (~ €96.90) they offered an additional hour at a private beach included in the tour.
I recommend the two-hour tour as it gives you a good selection of activities. Depending on how many people you are travelling with the price of RM 350 (~ €73.40) can be either quite cheap or fairly expensive.
If you are alone or a couple I would recommend pre-booking one of the larger tours where you join other people in order to save money. There are also kayak tours available. Definitely take a stroll along the stalls by the beach to compare the tours that are offered. Don't forget to haggle prices as you might be lucky and save some money.
I had a great experience with the tour company whose stall is located right at the entrance to the beach next to a fruit juice cart. The photo below shows its location.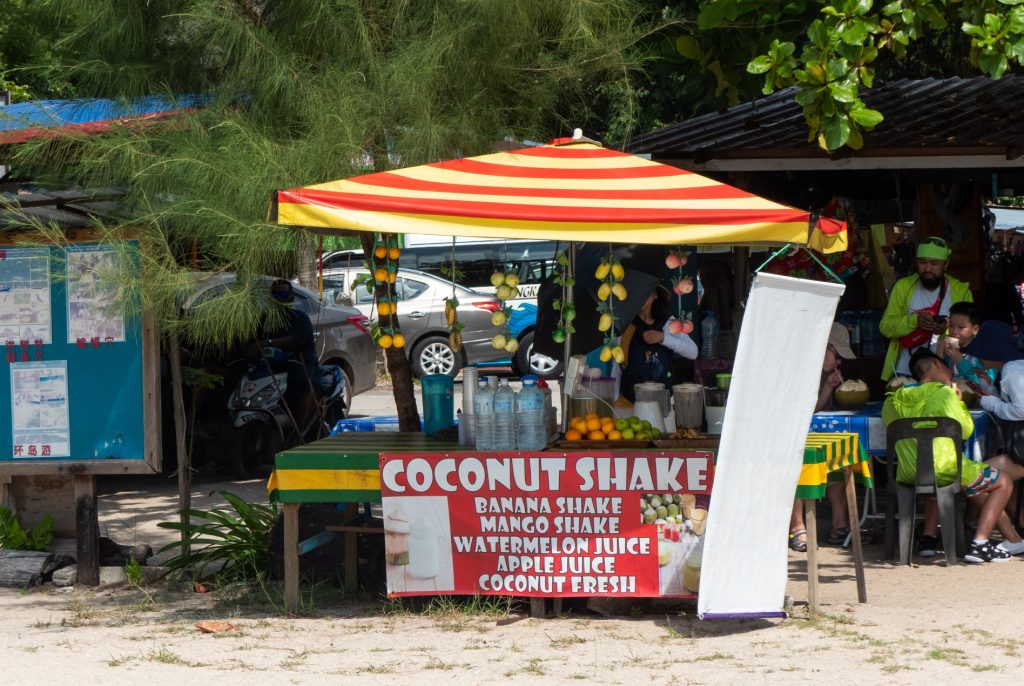 THE TWO-HOUR MANGROVE TOUR BY MOTOR BOAT
Once you have booked your tour it will take around 15 minutes for the boat to arrive. It departs right from the beach so no need to walk very far. The boat you will take is a small motorboat with a sunroof and seating for around 10 people. There is both a guide as well as a captain on board.
The tour is fully customizable. You can ask to skip stops as well as spend more time at others, providing you will stay roughly under 2.5 hours.
The ride is mostly through the mangroves where the water is still but as soon as the boat reaches open water it does get a bit choppy depending on the weather. The boat goes quite fast and takes sharp turns so if you are very prone to seasickness this might not be for you. It is, however, one of the smoother boat experiences I have had in South East Asia and definitely within reason.
Do not be discouraged from booking this tour unless you have very severe seasickness.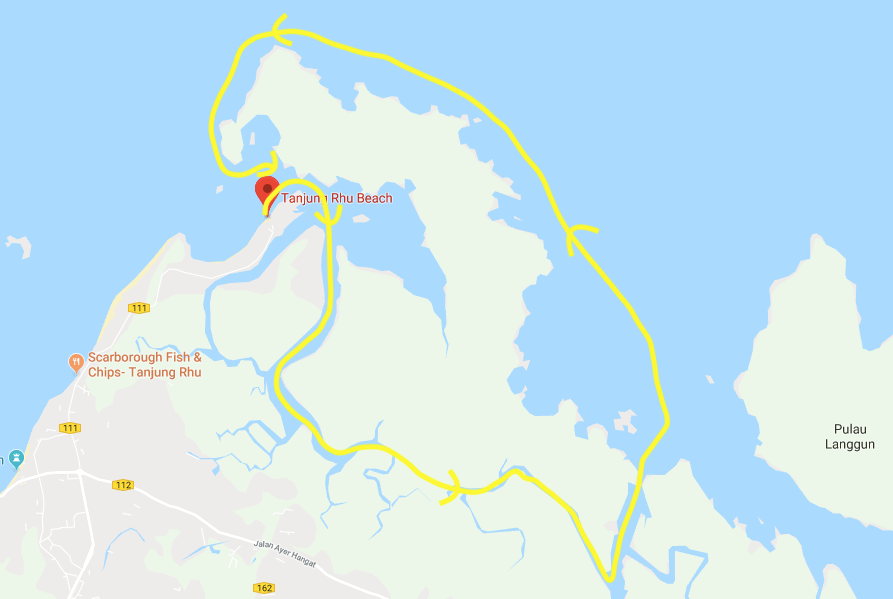 THE STOPS
EAGLE FEEDING
The first stop on the tour is the so-called "eagle feeding". As our guide explained: "Some people feed the eagles here" hence the name. Some people did not include us though.
I have to say I was very surprised by the number of eagles here though. We saw at least 10-15 eagles of different sizes and kinds and they came very close to the boat.
They dove for fish in the water and it was quite easy to capture great photos of them.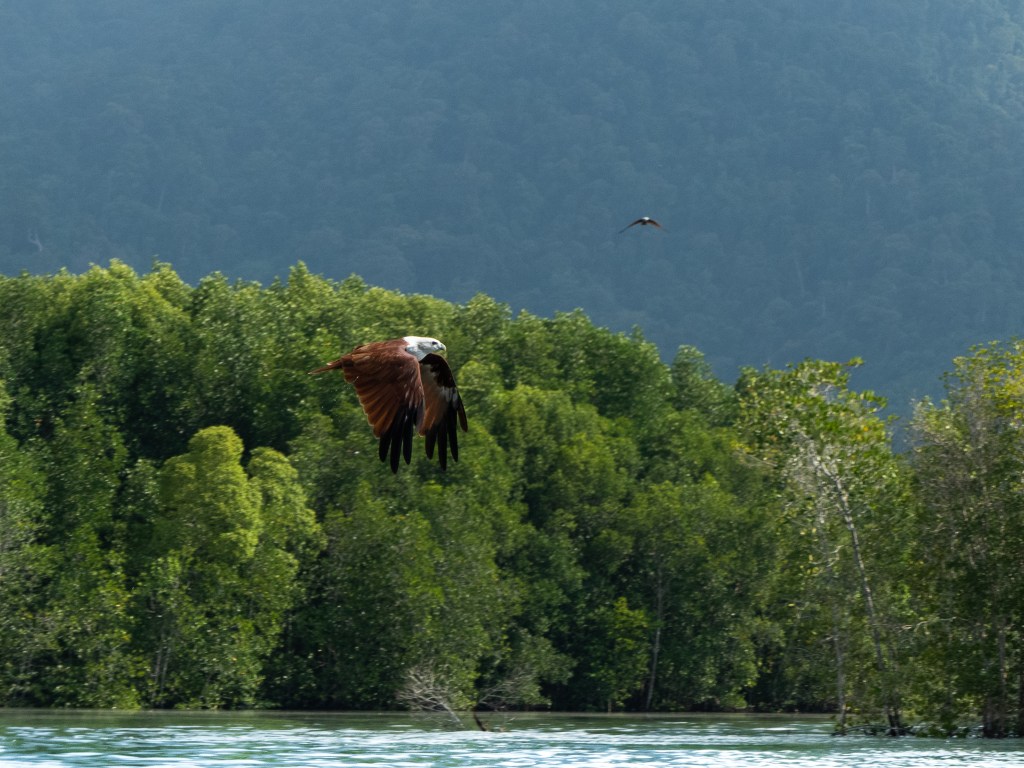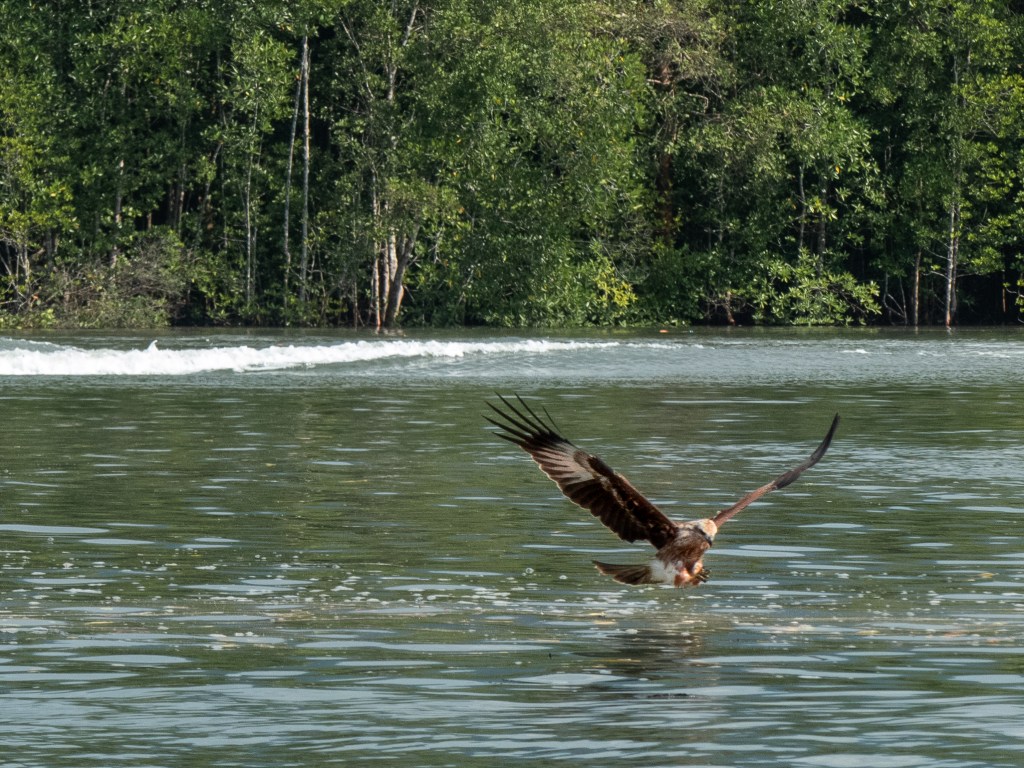 MONKEY VILLAGE
The next stop was the "monkey village". This was a specific spot in a sidearm of the mangrove river where there were at least 50 monkeys sitting in the mangrove trees. They swam in the river and even jumped onto the boats.
The guide said that their boat company does not feed the monkeys for conservation reasons although some other tours do. It surprised me to see this level of awareness for animal treatment emerging especially concerning monkeys. This is one of the reasons why I am recommending this specific tour company.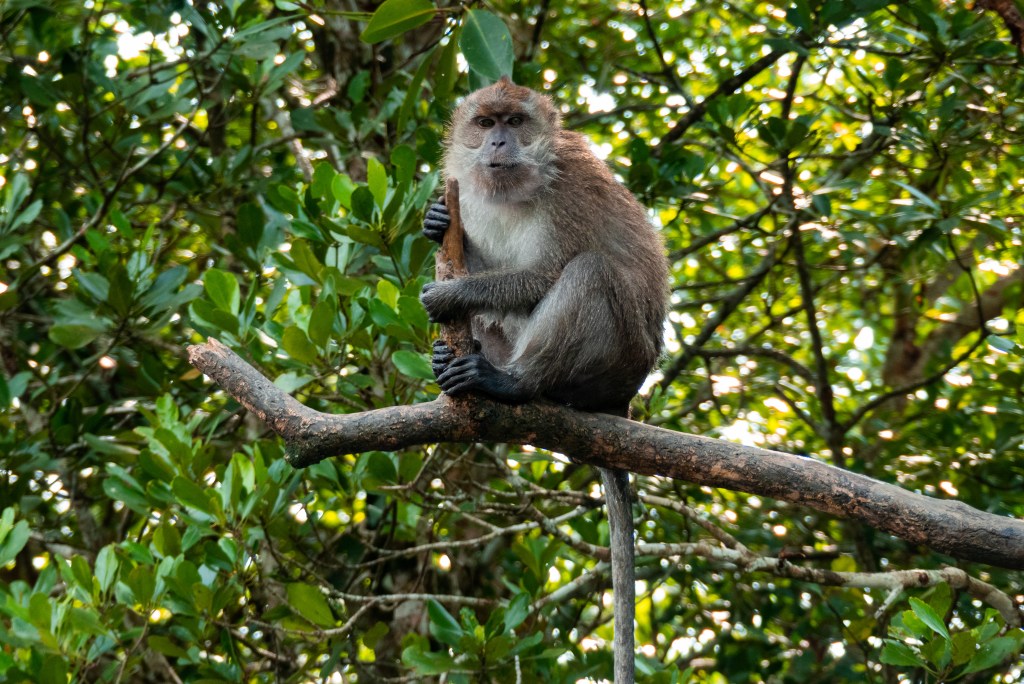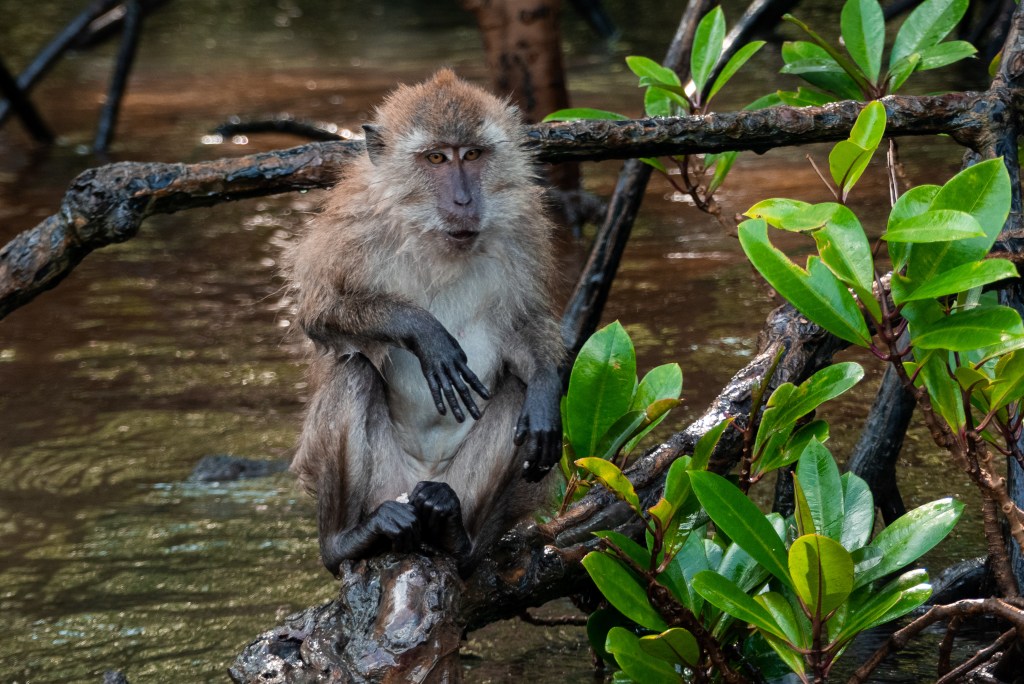 CROCODILE CAVE
Next, we were shown the crocodile cave which was unfortunately not a cave full of crocodiles but rather a cave with a rock in the shape of a crocodile.
Usually, it is possible to enter the cave via boat but it was high tide when we visited so the boat did not fit. The crocodile cave was not the most thrilling attraction on this tour.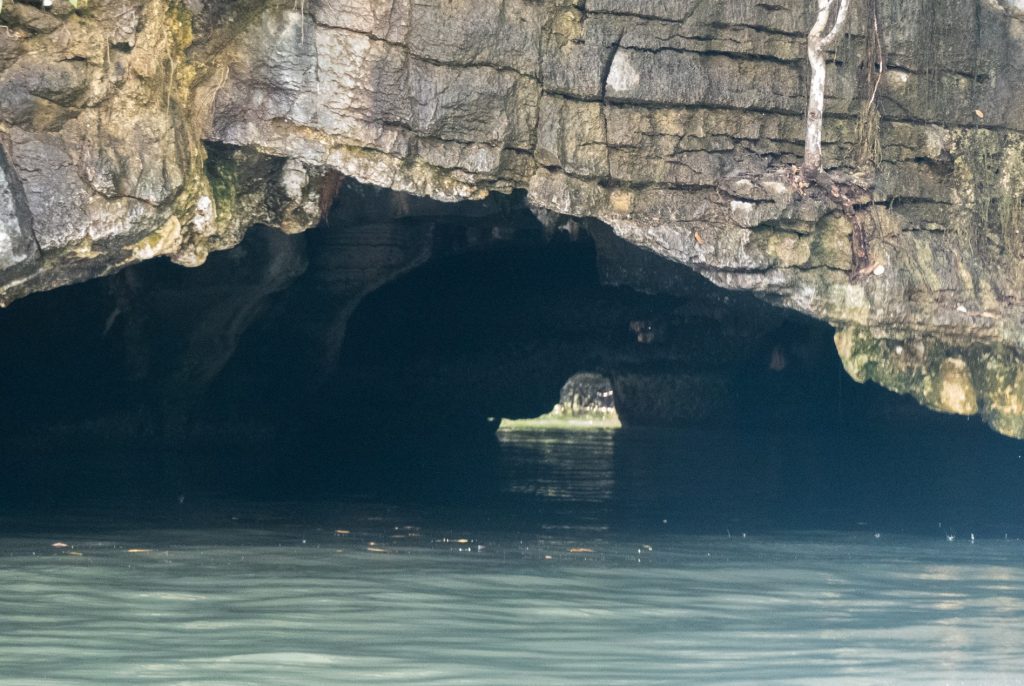 FLOATING RESTAURANTS
The next stop on this tour would have been a floating restaurant but we decided to skip this one. Floating restaurants are all quite similar to one another. They exist on many islands and lakes in South East Asia and are usually included in boat trips to make sure tourists spend money.
But you can definitely make a stop here if you like and have a drink or snack before continuing on, we just did not feel like it. Spoiler alert this was not the last floating restaurant on the trip.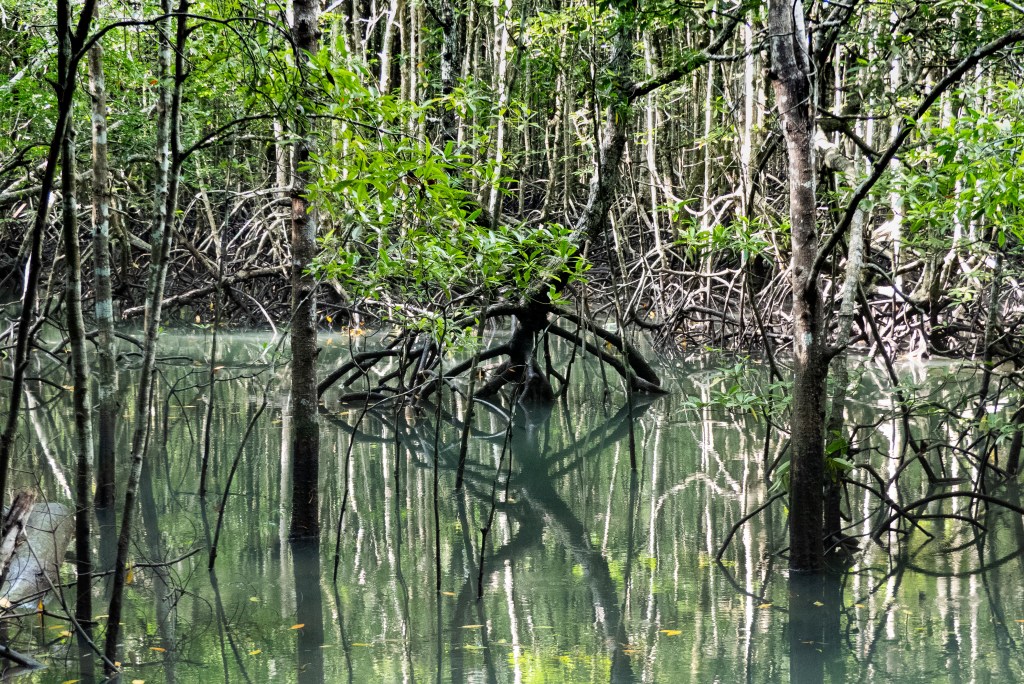 THE BAT CAVE
After another quick ride through the mangroves, the boat dropped us off at the bat cave. Here you had to leave the boat for the first time. Entrance to the cave was RM2 (≈ 0,40 €) per person and again it was optional to go. Flashlights were available to rent for another RM2. It was nice to have one but a strong phone light would have been just as effective.
The cave is quite small but very impressive. The ceilings are low (my guess would be around 3m high) and crowded with hundreds of bats.
Here the flashlight really came into play as it was near pitch black in there. As it should be flash photography was prohibited as to not disturb the bats.
I have seen bats before but usually, they hang very far up on the ceiling of a cave and it's hard to spot them. In this cave, however, they were only a few metres above your head and you could see them quite clearly which I enjoyed. At the other side of the cave, you could walk around in the mangroves on wooden bridges which was also quite nice since it was difficult to see much of the mangroves from the boat.
To exit you need to walk through yet another cave, this one with very low ceilings in places (only about 1m high). Like the first one, the walkthrough the cave is very short.
The boat waits for you so you can spend as much time as you like exploring the cave.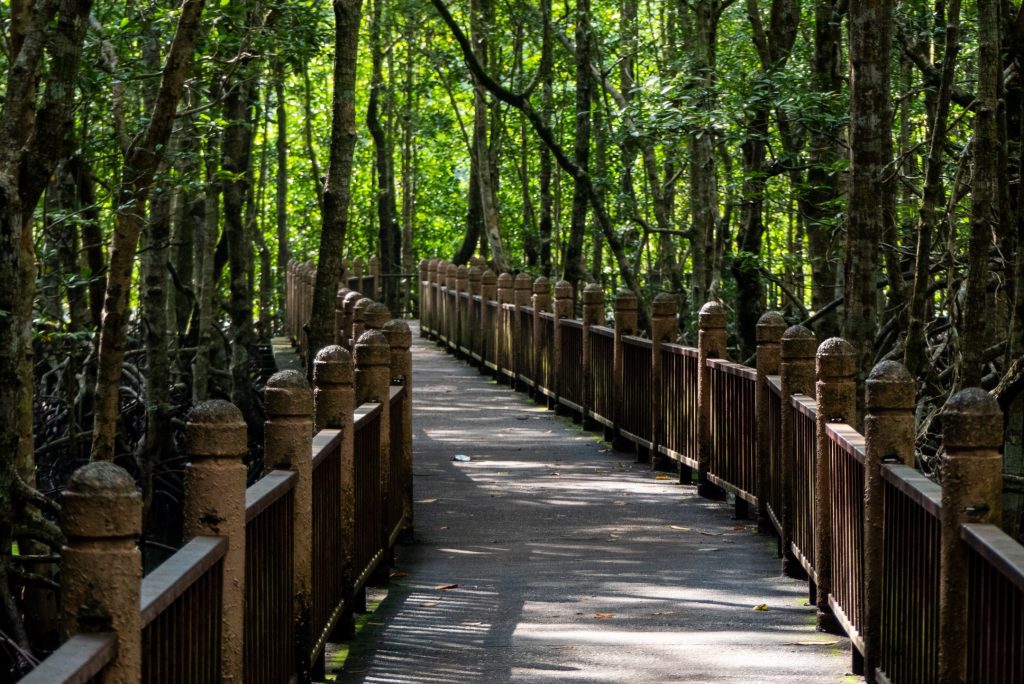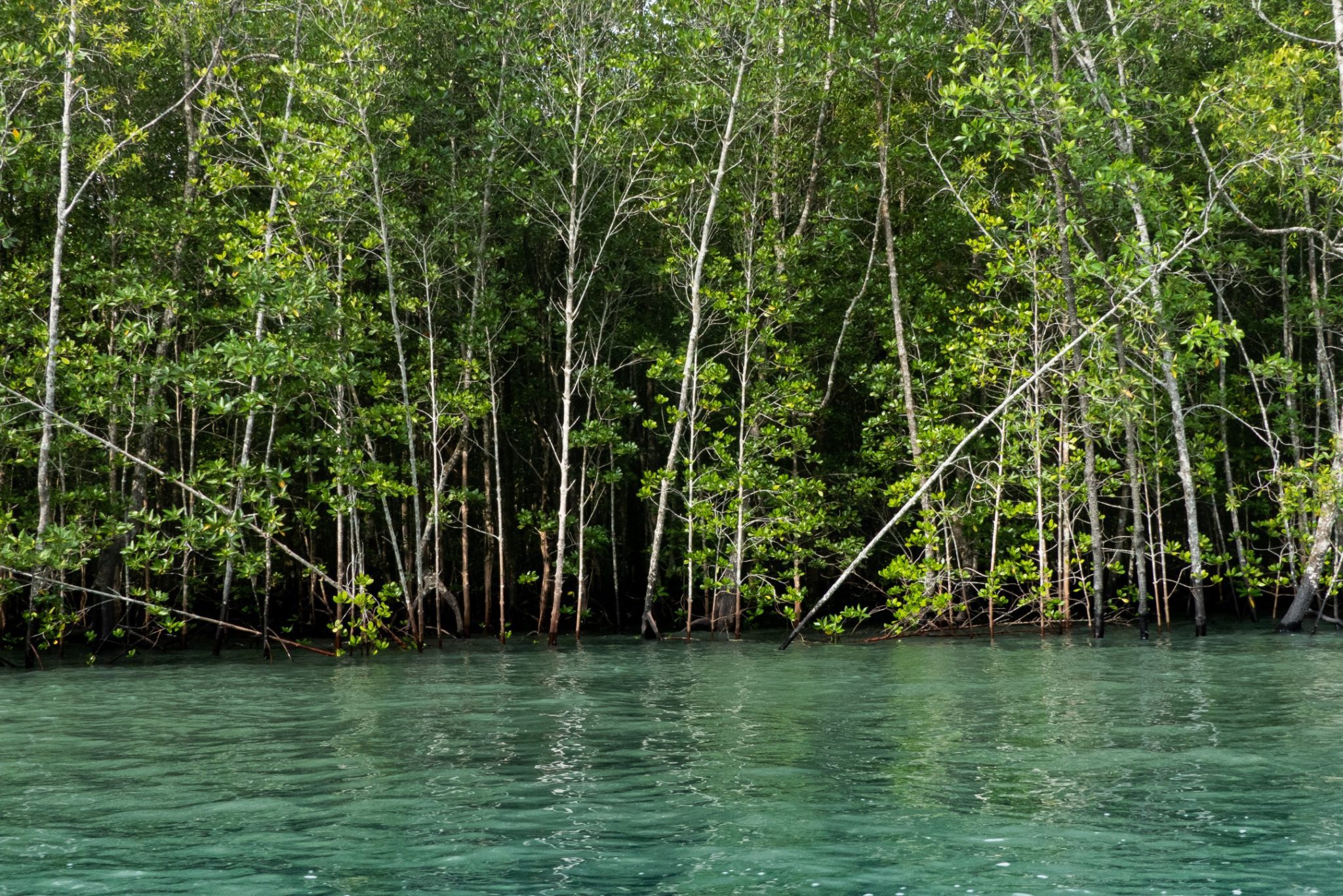 KILIM GEOPARK
This concluded the mangrove part of the tour. Next, the boat went out onto the open ocean. It made a quick stop at the Kilim Geopark sign which is the subject of many pictures of Langkawi. Then the ride takes you past the coastline with its many hidden beaches. It takes around 20 minutes before you reach the last stop.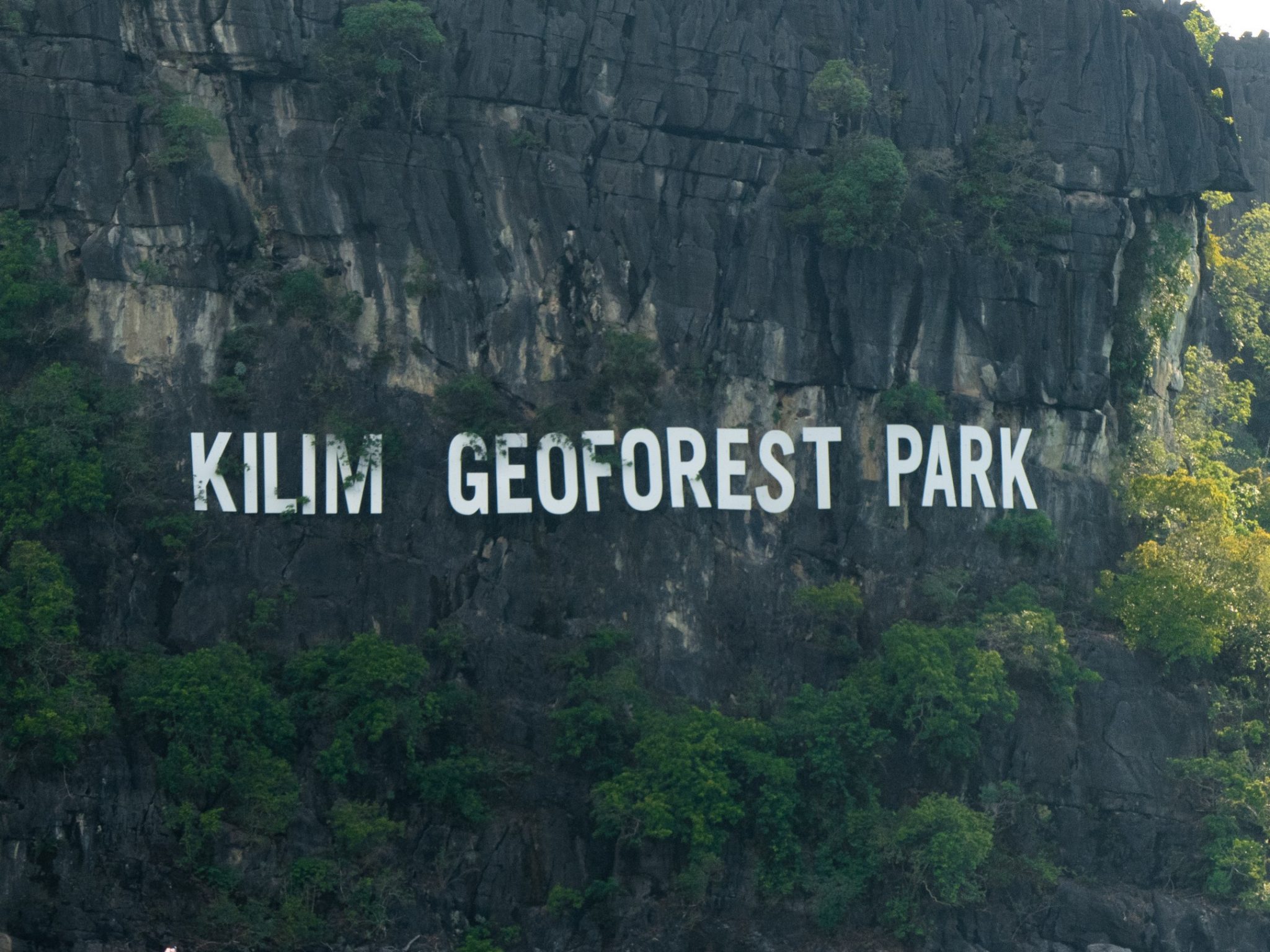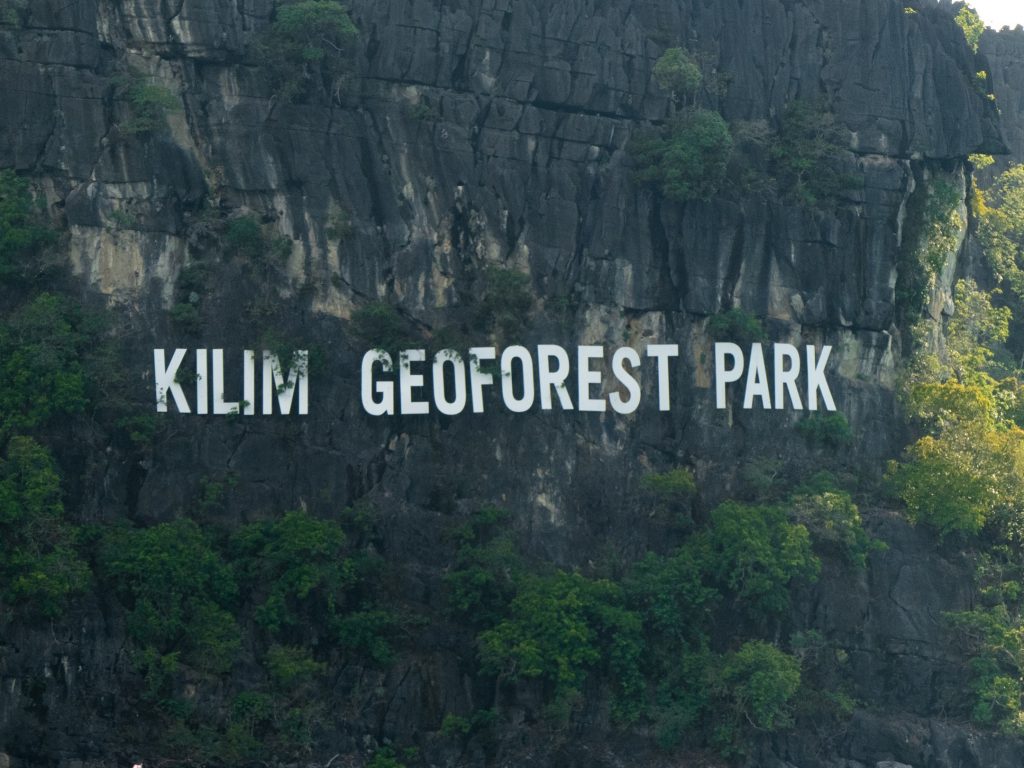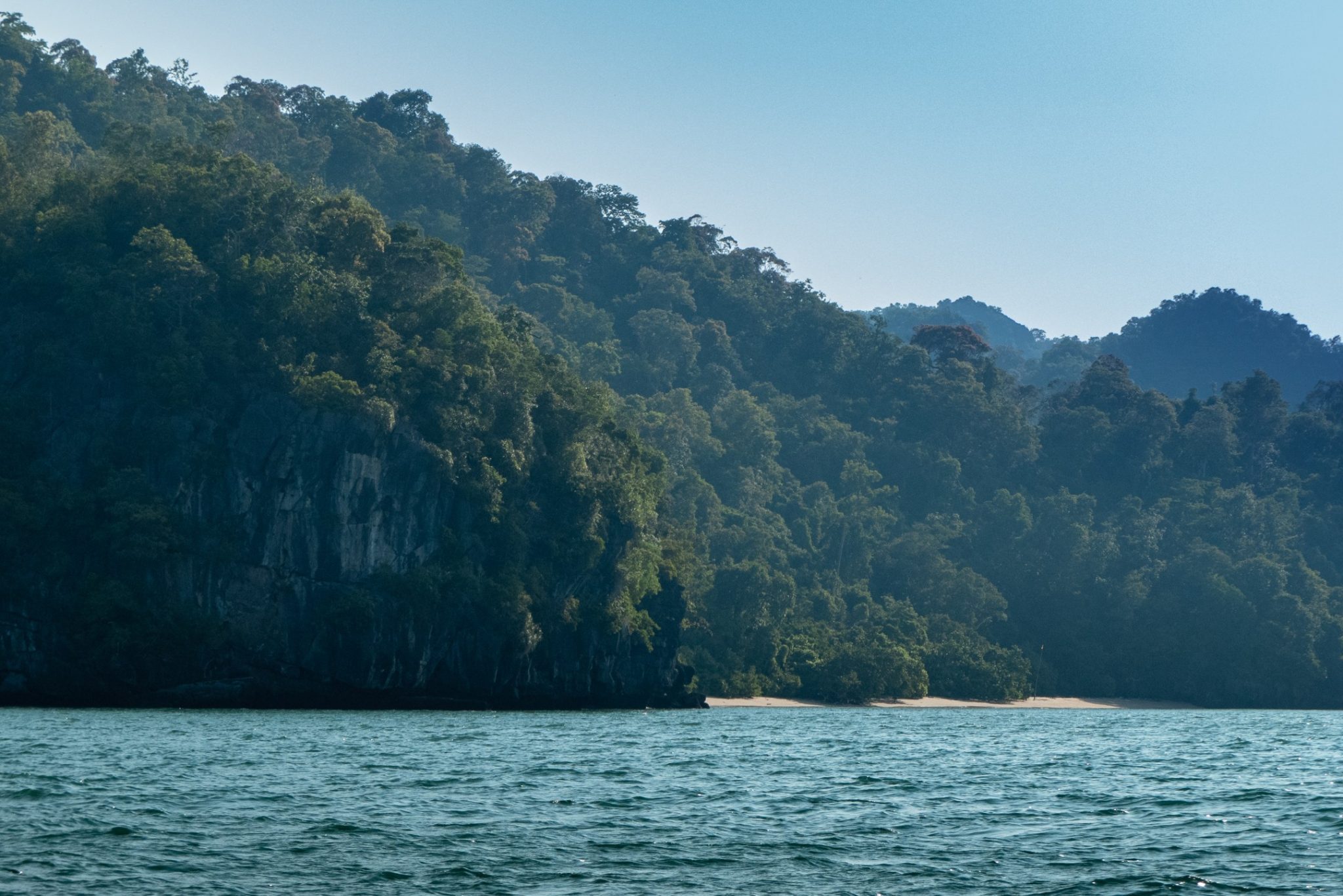 THE FISH FARM
Of course, one floating restaurant was not enough, there needed to be another one! Initially, we had told our captain to skip the floating restaurant but we were not expecting there to be another one so we got out of the boat at this stop.
Unfortunately, this was not only a floating restaurant but also a fish farm. Fish farms are a common attraction on islands and involve different kinds of fish species in nets which can be viewed from wooden planks.
A member of staff explained each species and fed them with pieces of raw fish.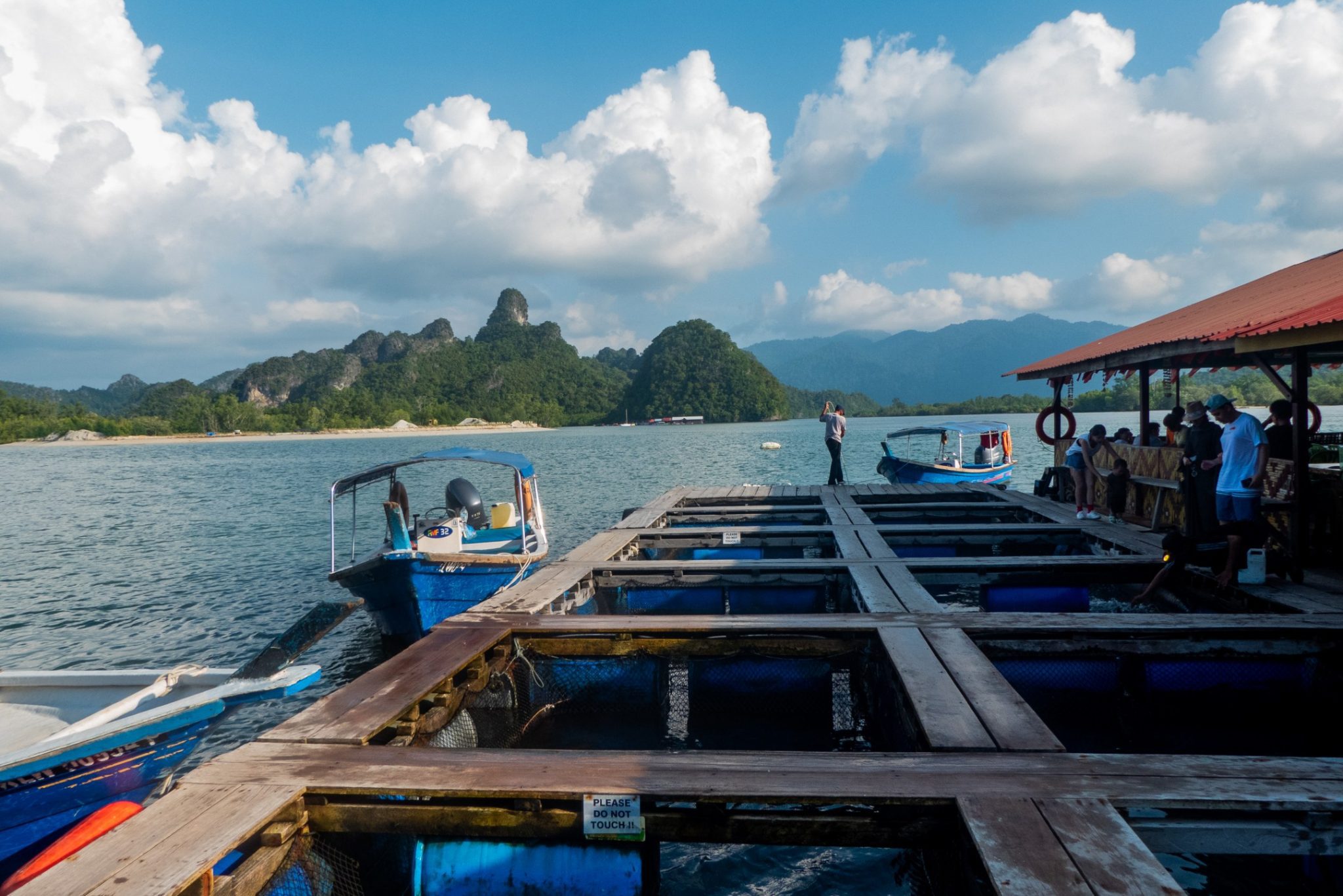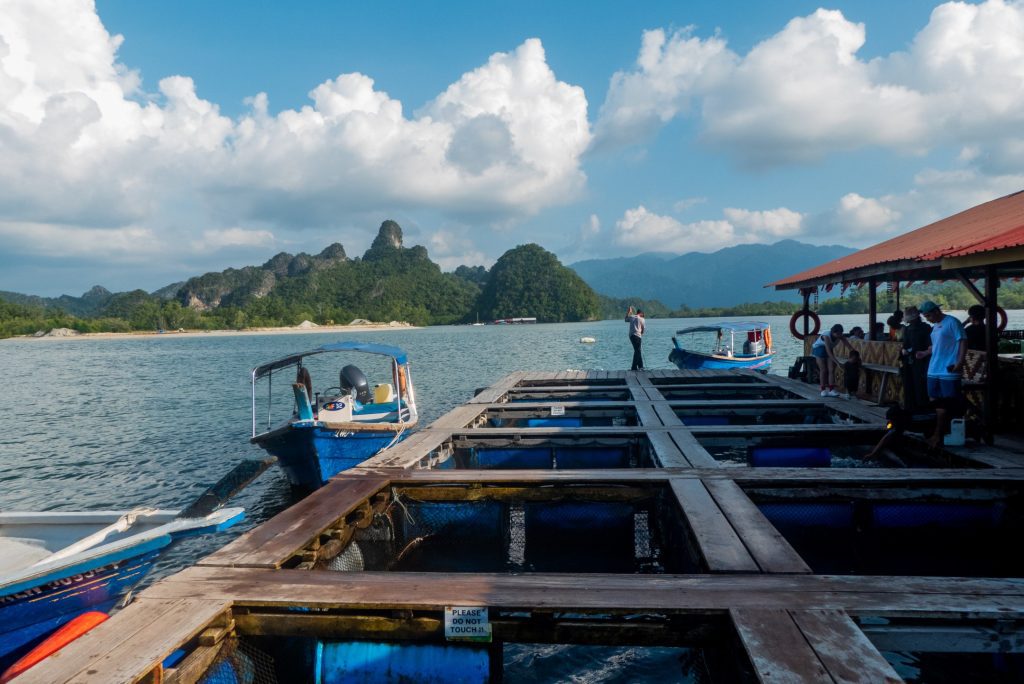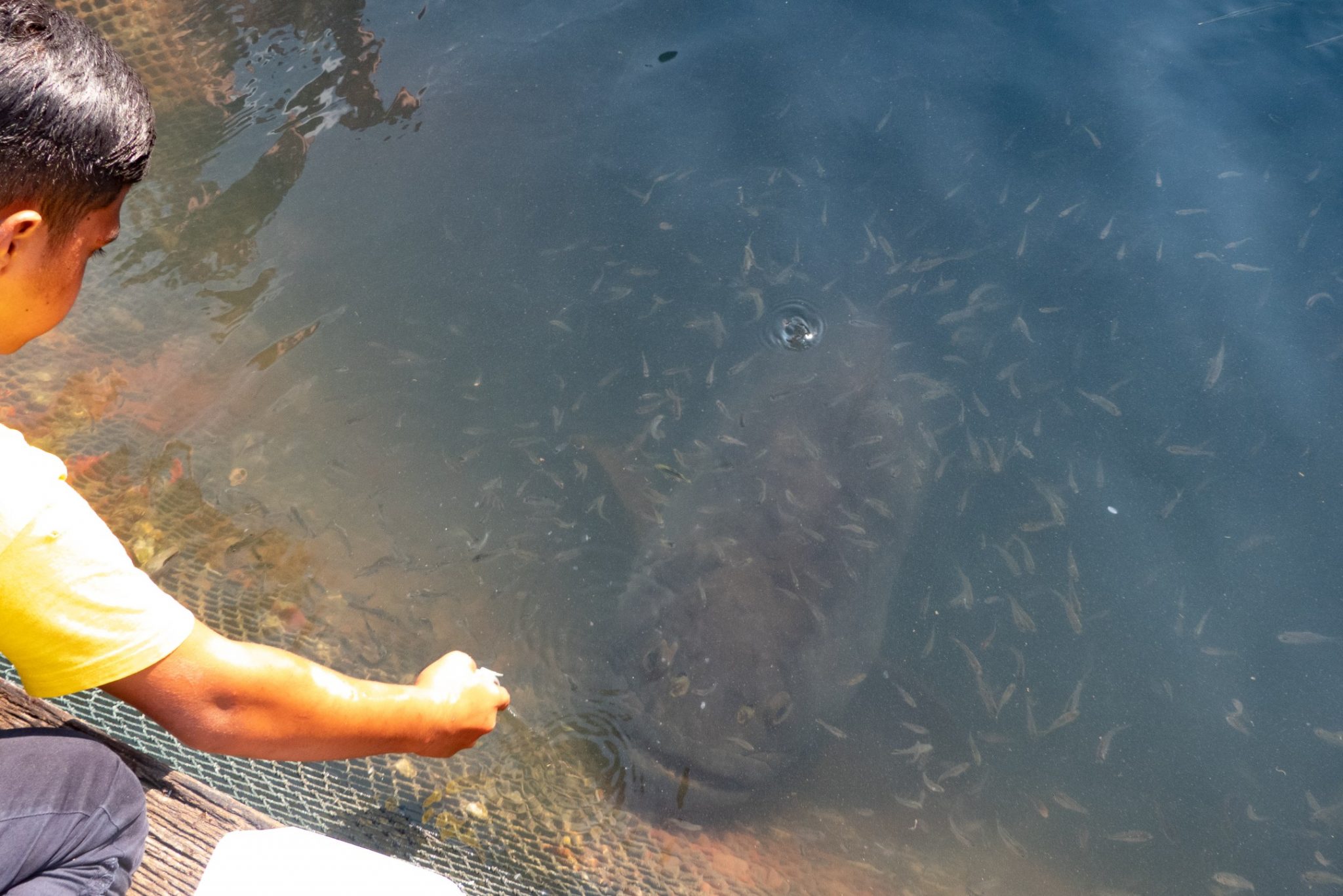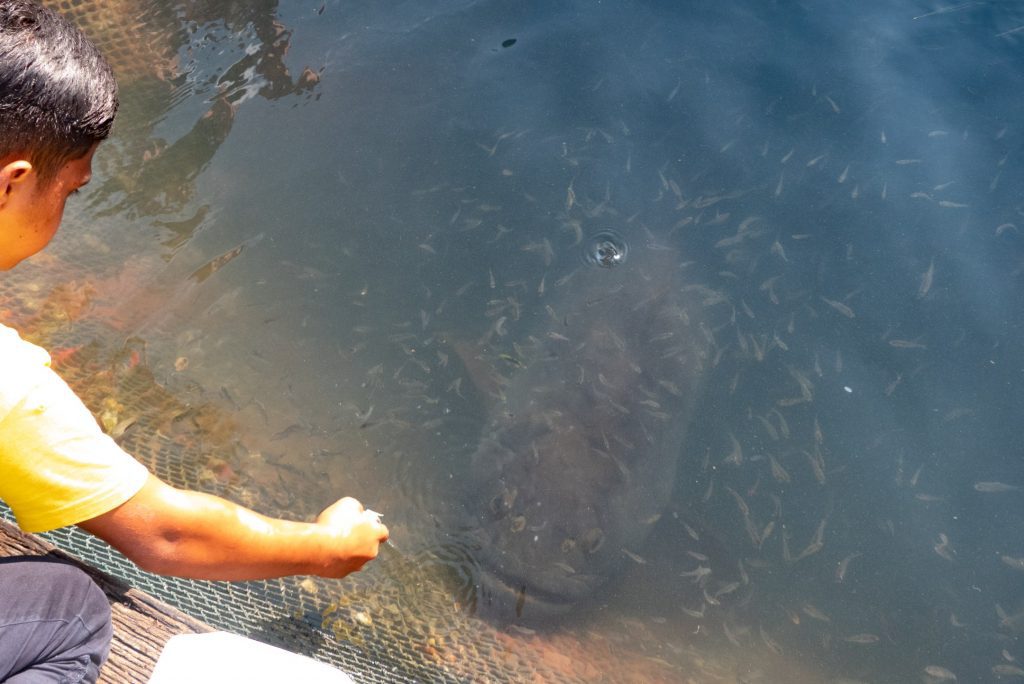 WHY YOU SHOULDN'T VISIT FISH FARMS
Usually, this is not something I would support but we were already on the pier once we realized the nature of this floating restaurant. The fish are all kept in very small nets often in large numbers. It was quite sad considering how close they are to freedom.
The species included small sharks, stingrays (with the stingers cut off), coral fish, pufferfish, groupers and a large selection of shellfish. The staff member would take some of them out of the water and encourage us to touch or hold them in our hands.
We were quick to leave.
Although seeing exotic fish was, of course, interesting I would have preferred to not see them at all if it meant that they had to live in these conditions.
On the other hand, since the fish farm did not cost extra, booking a tour of this kind will support the upkeep of the fish farm whether you look at it or not. It is just a matter of how many tourists are interested in such attractions so by skipping it you would show that this is not something tourists want to see.
In the end, it is up to you but I would recommend skipping this stop if you do not like seeing animals in captivity. You won't be missing much.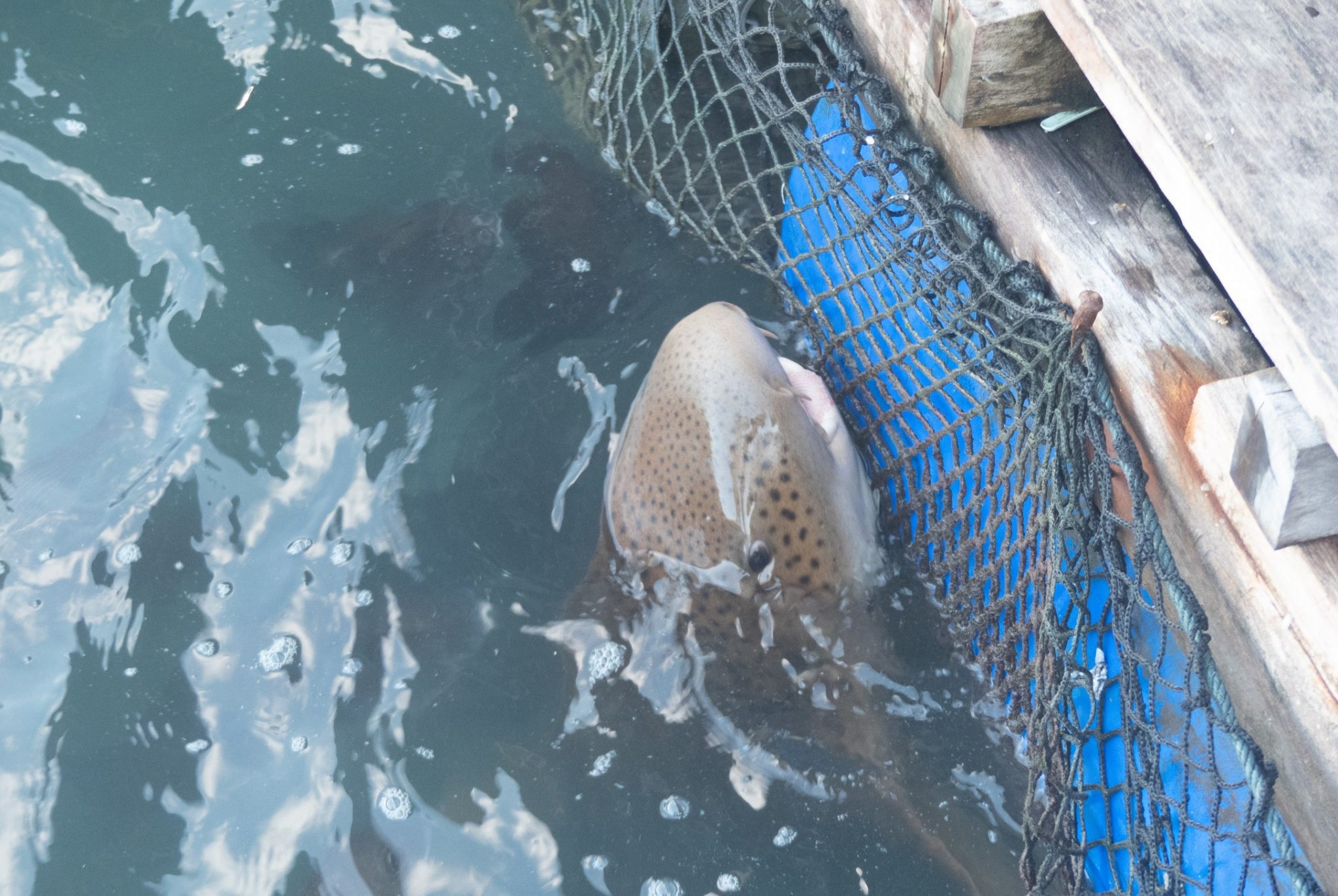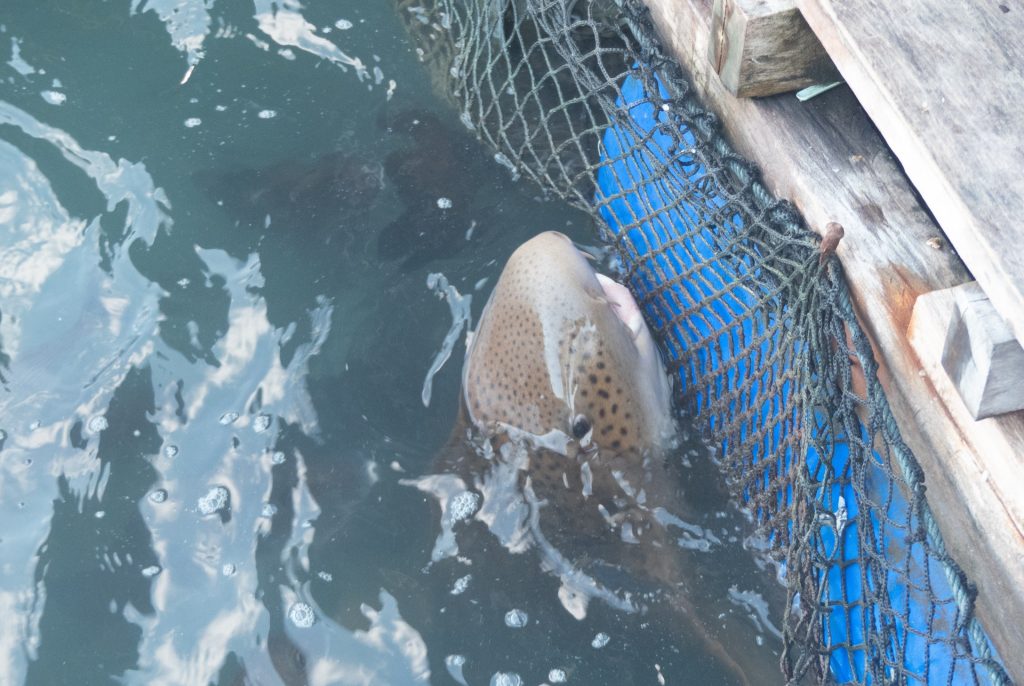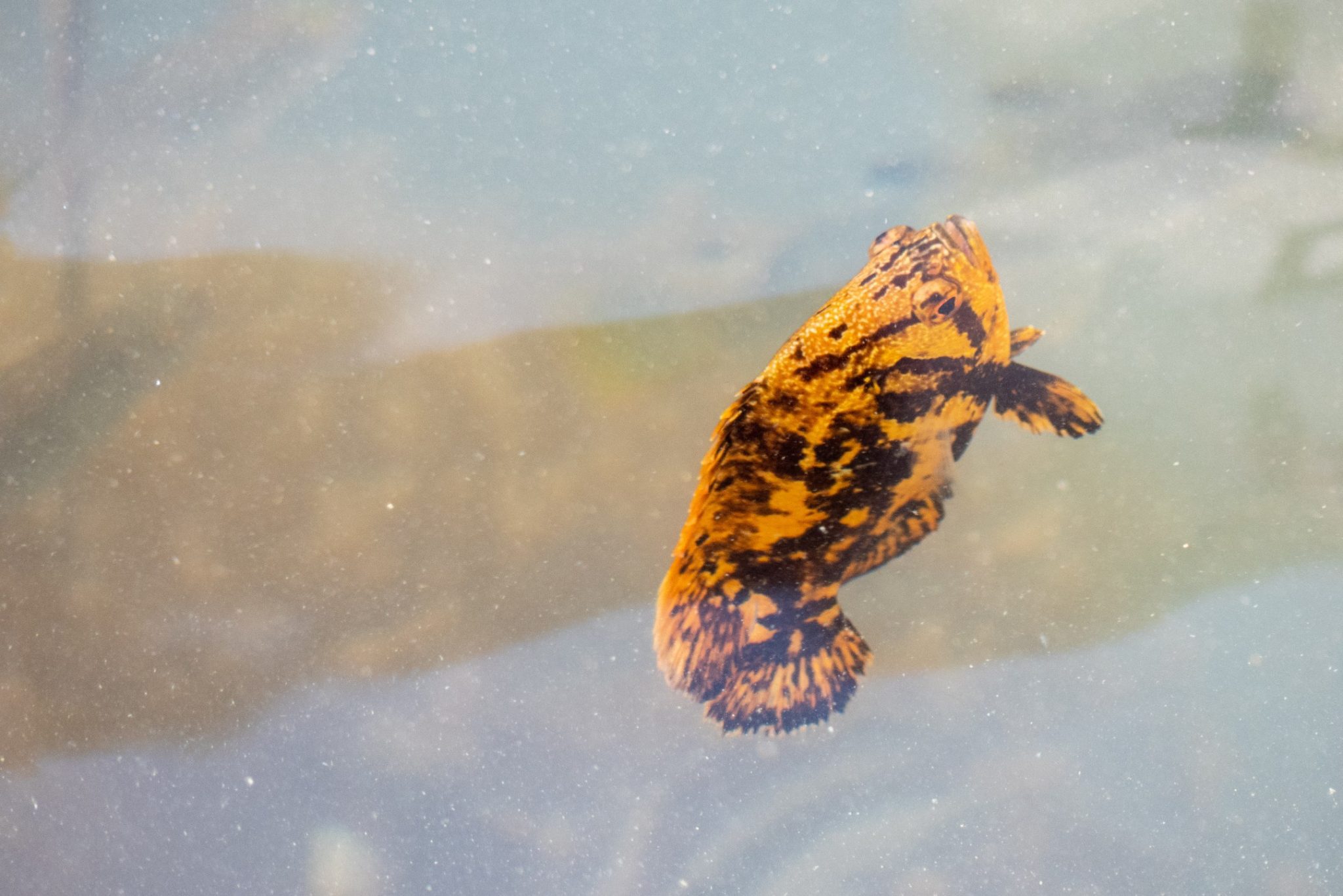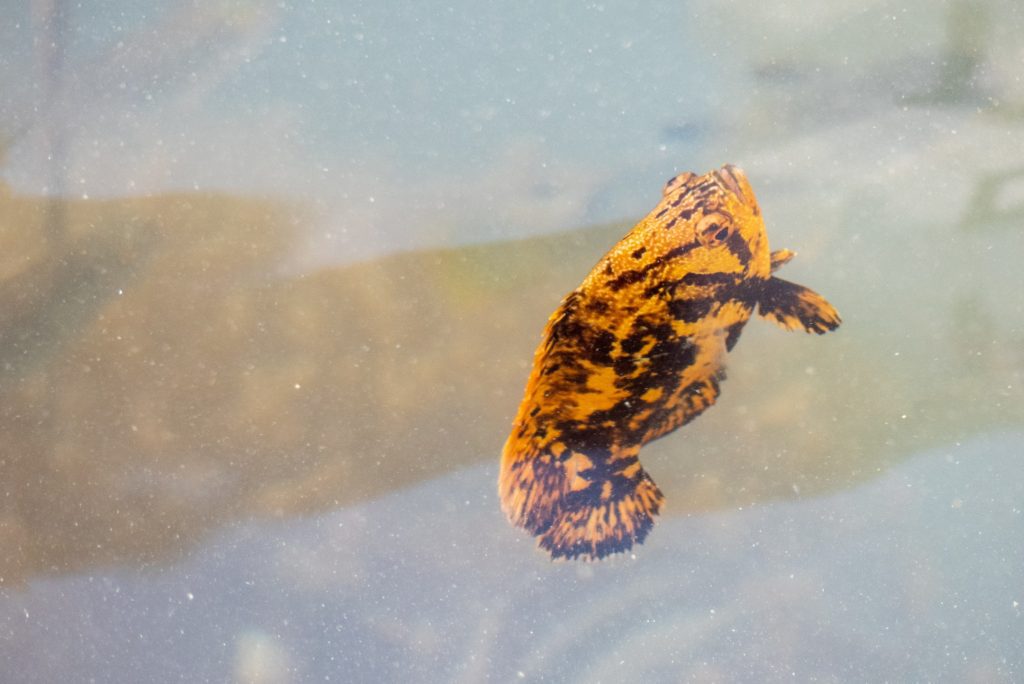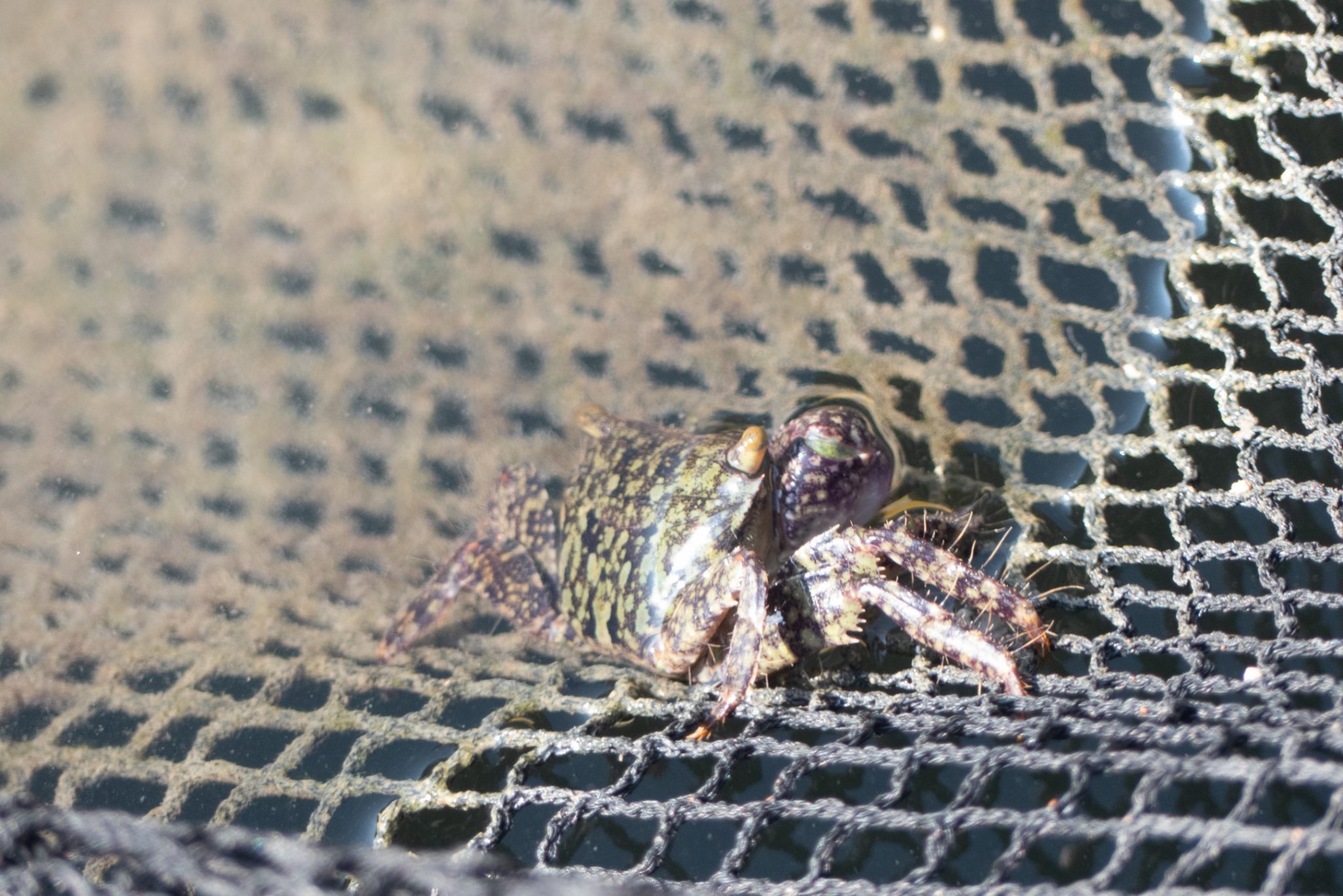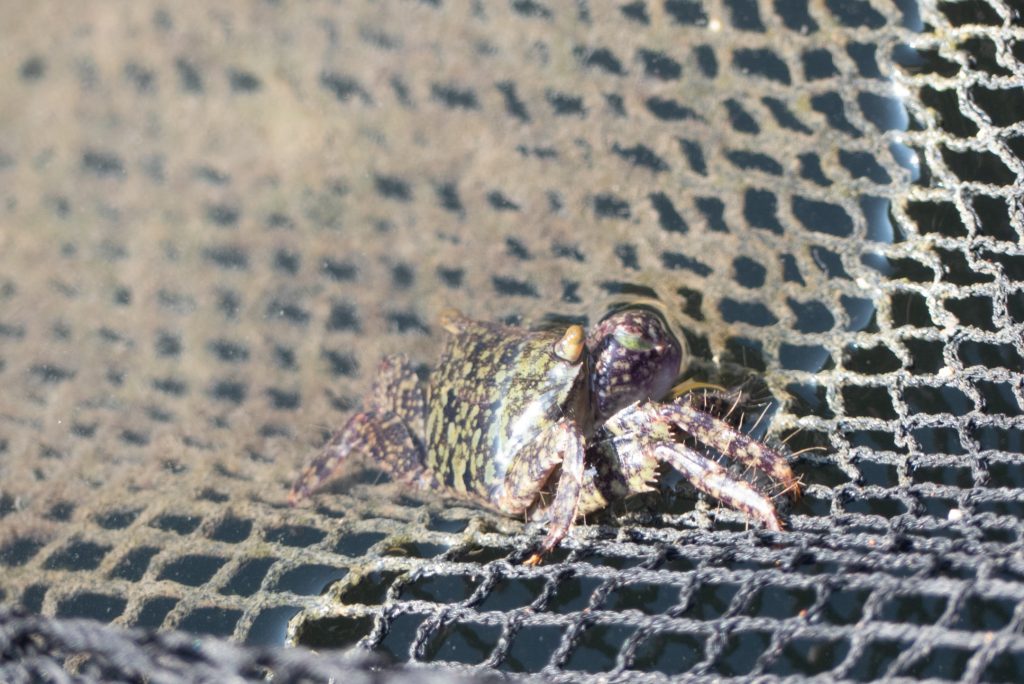 A VERDICT ON THE BOAT TOUR
This concludes the tour. You will be dropped off back at Tanjung Rhu beach where you departed.
All in all, I think this tour is a nice and quick way to see some of the nature in Langkawi which you will not be able to experience by yourself. Since you are renting a private boat the tour is flexible and customisable which I enjoyed. It can, however, be expensive if you are not enough people in which case it might be better to join a pre-booked one.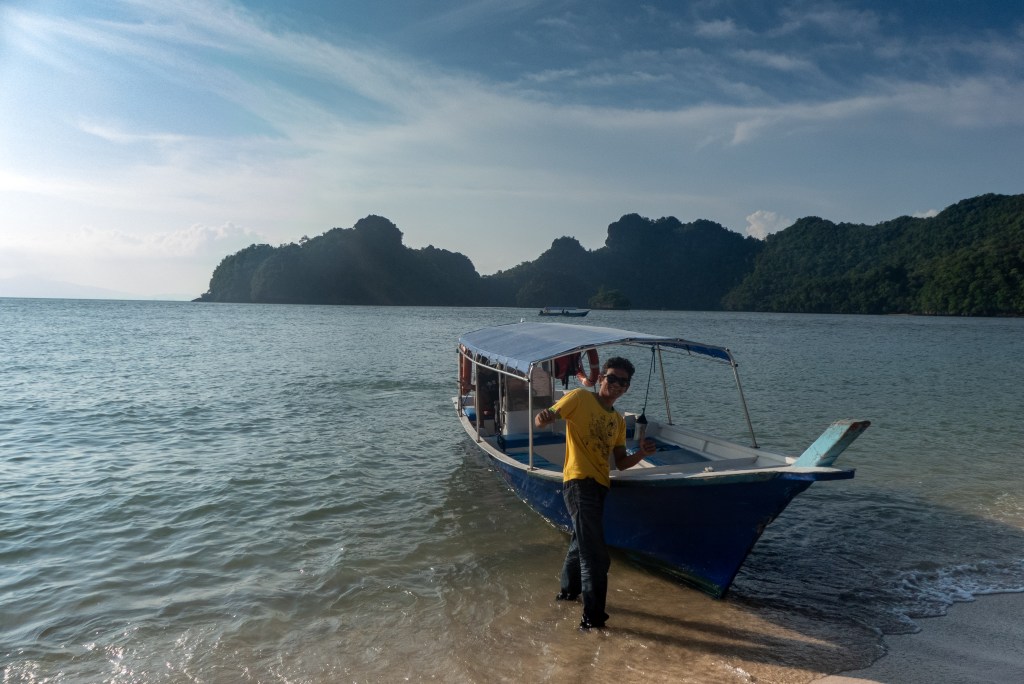 BEACH (5:00 PM – 7:30 PM)
Once you have returned back to the beach the good news is that you do not need to go very far. Next comes the much-needed reward for a day full of activities in Langkawi.
There is a little bar by the beach that serves beer buckets, cocktails and small snacks. Grab a beanbag and relax in the shade or go for a quick swim. The water is warm with next to no waves. As the tide goes down you will be able to walk out into the ocean as sandbanks begin to form. Be careful of the strong currents though especially as the tides change.
At around 19:00 pm the sun begins to set. Since this side of the island faces the north-west you will have the best spot here to see the sunset, far better than Cenang Beach.
Furthermore, this beach is not as crowded so there will not be too many people. Stay as long as you like and enjoy the spectacular views.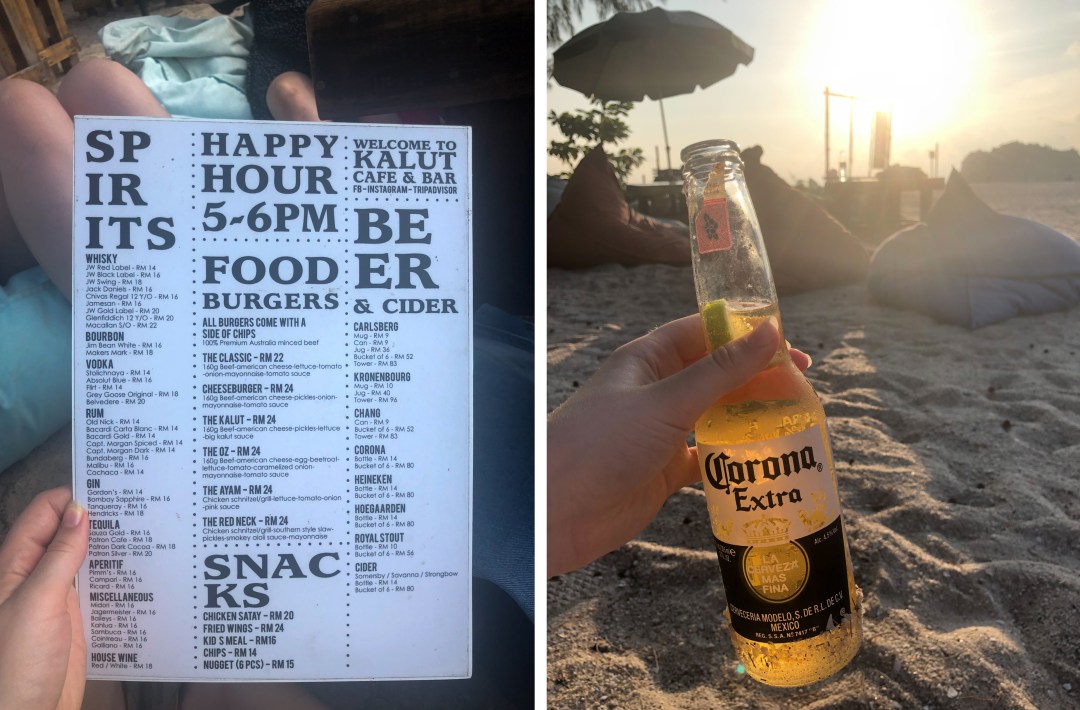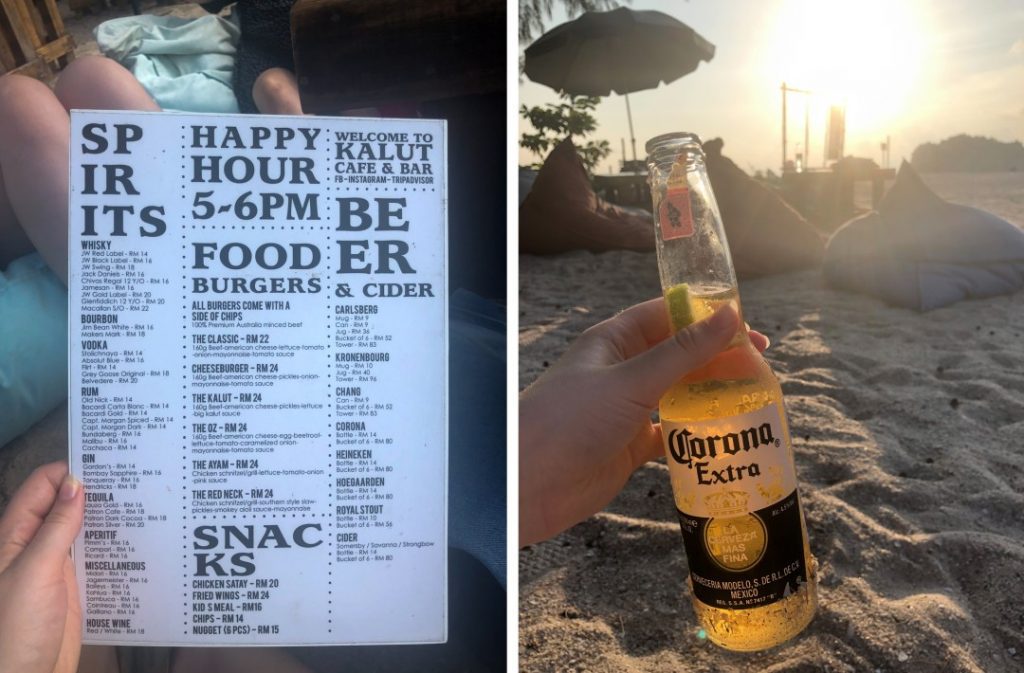 DINNER AND DRINKS IN CENANG (8:00 PM – OPEN END)
Now is the time for you to decide whether you want to take your car back to where you are staying and take a Grab or continue driving yourself. Langkawi is amongst the cheapest spots in Malaysia for alcohol so you might not want to drive and have a few cocktails instead.
I recommend going to Cenang for dinner. During the evening this part of Langkawi comes alive with restaurants and bars, the ideal spot for a relaxed dinner after a fun-filled day.
There are many seafood restaurants where you can pick out which fish, prawns and lobsters you want to have out of aquariums. They are then cooked especially for you. If you are a vegetarian like me do not despair (and try not to look too closely at the sad fish in the tanks). Many of these restaurants offer very large menus and you will find some vegetarian options.
Just make sure to ask and double-check because many dishes sound vegetarian but have hidden fish.
A draft beer in Cenang will cost you around RM 6 (~ €1.30). Enjoy your evening and go bar hopping along the beach. You deserve it after such an exhausting day.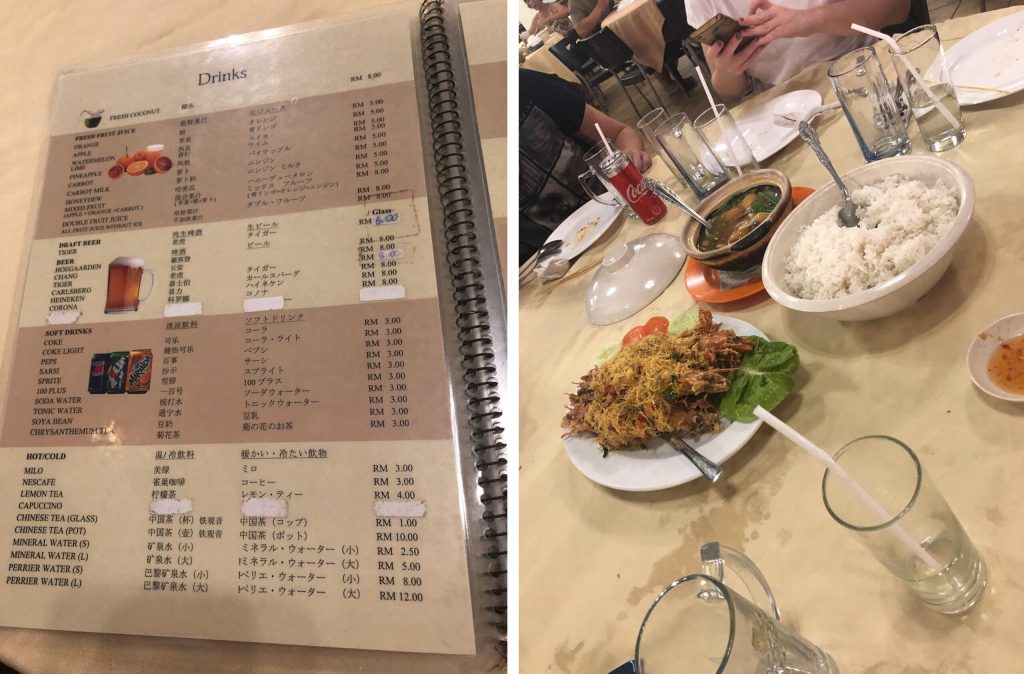 A CONCLUSION OF WHAT TO DO IN LANGKAWI
Are you still unsure of what to do in Langkawi? I hope this itinerary helped you plan your trip and save you some time researching. It is, of course, quite a long day so customize it to fit your needs.
Langkawi offers a lot so definitely add it to your travel bucket list. It's a unique island that is not to be missed.
Are you coming to Langkawi from Kuala Lumpur or heading there next? Why not check out the Batu Caves while you are there? Click here for our Ultimate Guide.
Find out more things to do in Kuala Lumpur here.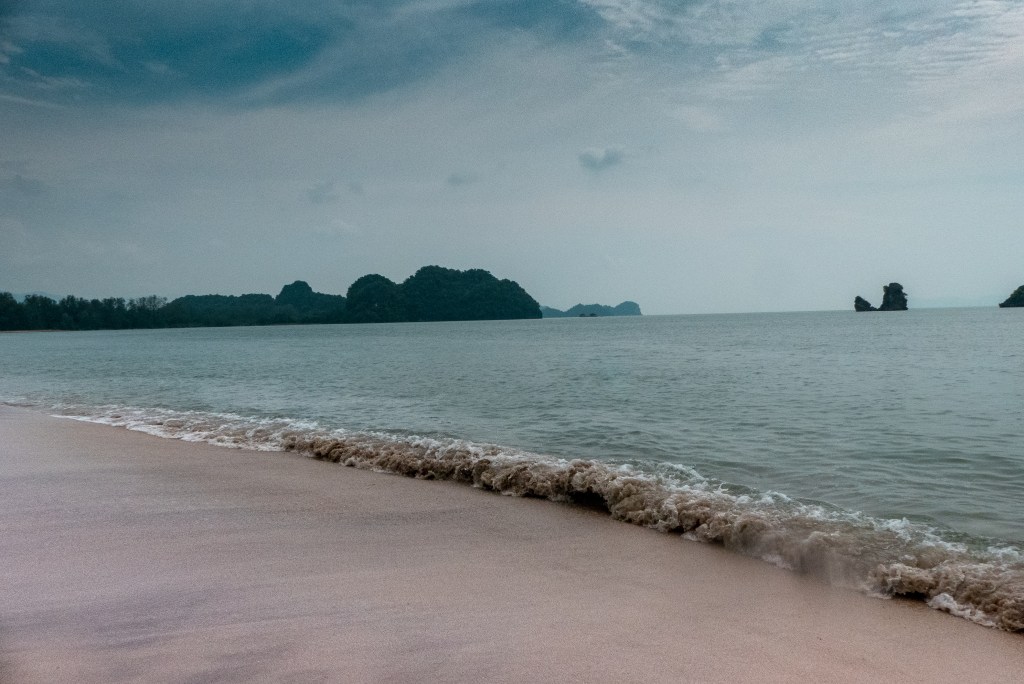 My most important travel tips and resources
Book your flights
Skyscanner is the best website for finding cheap flights since it works like a search engine so you can find the best deals across all airlines.

Book hotels and hostels
• Booking.com: Best world-wide
• Agoda: Best in South East Asia
• Hostelworld: Best for hostels

Book tours, transport and rental cars
•Viator: The best place to book tours, day trips and excursions for al budgets
•12Go: Great for ferries, trains, transfers and buses in South East Asia
•Discover Cars: Best deals for rental cars around the word

Get travel insurance
Every traveller needs travel insurance and I mean every single one. SafetyWing covers you in case of injury, illness or worse and they've got your back if your bag is stolen, flights are cancelled or in case of a natural disaster.

Pay abroad
Ask any traveller, Wise is the best choice when it comes to sending money abroad. They've always got the best exchange rates, lowest fees and their visa card is great for getting cash out or paying abroad.

Things every traveller needs:
➼ Osprey Farpoint 70 Backpack
Detachable daypack, ultra-light, durable and free repairs for life. There's a reason why so many backpackers have this bag.
➼ Packing Cubes
Packing cubes are a gamer changer, keeping your luggage organised and providing tons of extra space.
➼ Power bank
There is nothing worse than running out of battery on an overnight bus journey or a long flight. With a powerbank you can charge your eletronics on the go and make sure you're always connected.
➼ Micro-fibre towel
These lightweight towels are foldable, fast-drying and so useful when you're travelling.

➼ You can find 15 more things every traveller needs here. Some might be a bit controversial but I warned you!
Did I miss anything?
If you have any questions or feel like something is missing from this post please leave a comment below or contact me.