Kuala Lumpur is a city that is often abused by travellers as a quick stop-over to get to Indonesia, Singapore, Thailand or any other South-East Asian backpacker mecca. What most people do not know is that there are plenty of things to do in Kuala Lumpur that you will not find anywhere else in the world.
Although the Malaysian capital is far less flashy than its neighbour Singapore you should give it a chance and plan to stay in Kuala Lumpur for at least three to four days if not more.
The city acts as a melting pot for many Asian cultures, which creates a unique atmosphere and fusion cuisines. There are many cultural as well as nature-based attractions in and around Kuala Lumpur that will not disappoint you.
If you're still not convinced to make visiting KL a priority for your next trip here are 19 things to do in Kuala Lumpur and 6 you should maybe skip.
This post may contain affiliate links, which means we'll receive a commission if you purchase through our links, at no extra cost to you. This helps us keep Guide your Travel free and provide high-quality content for you. Please read the full disclaimer for more information.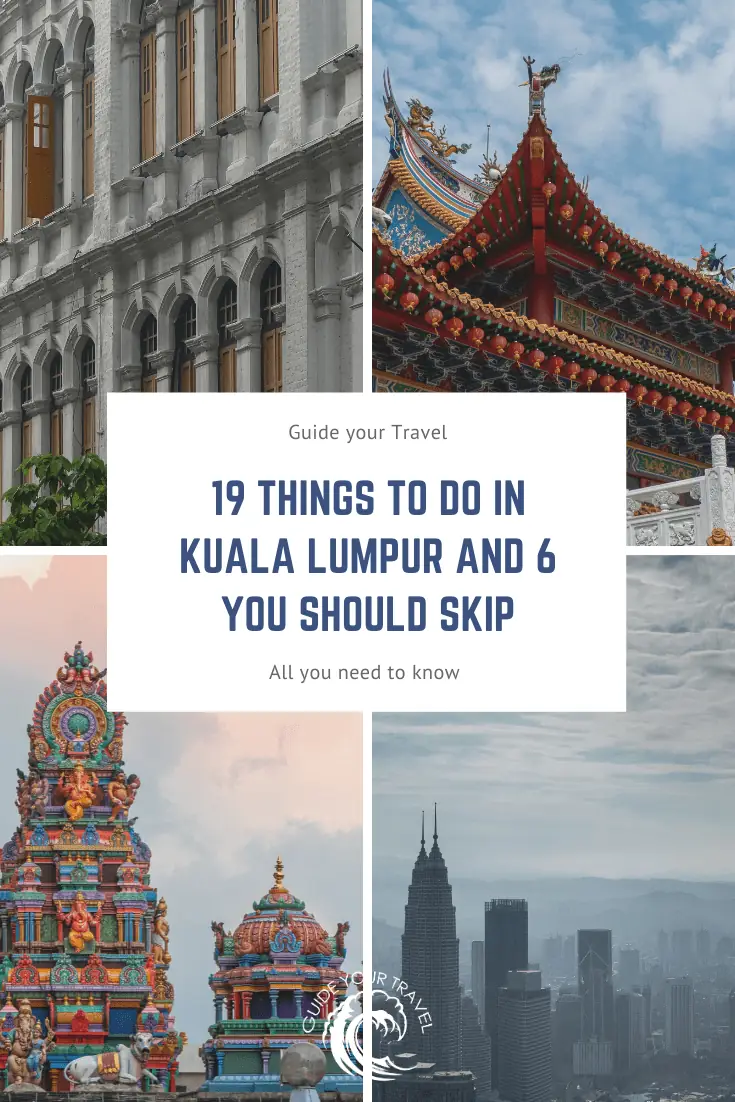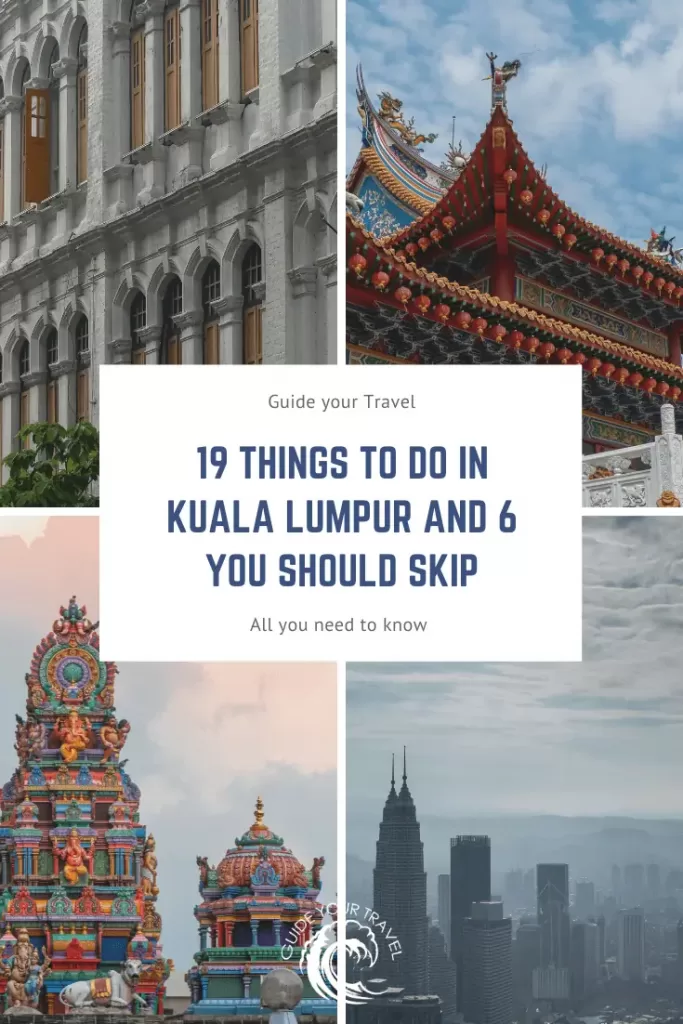 19 THINGS TO DO IN KUALA LUMPUR
1. KUALA LUMPUR FOREST ECO PARK (FORMERLY BUKIT NANAS)
Kuala Lumpur might be Malaysia's largest city but if you go to the Forest Eco Park you will feel as if you're miles away in the middle of the jungle. This tiny eco-reserve is located so close to KLCC it can be hard to believe it exists at all. The park is nestled at the feet of the KL Tower on a hill that lets you overlook parts of the city.
What makes it unique are the elevated footpaths strung through the trees at heights of up to 20 metres. Definitely, a great spot to take pictures.
The park is completely free and easily reachable via Bukit Nanas Monorail or Dang Wangi LRT station. You should combine your visit with going to the KL Tower since the two attractions are so close to each other. You should plan to spend around 45 minutes to one hour here. Bring insect repellant spray! The mosquitos are very persistent.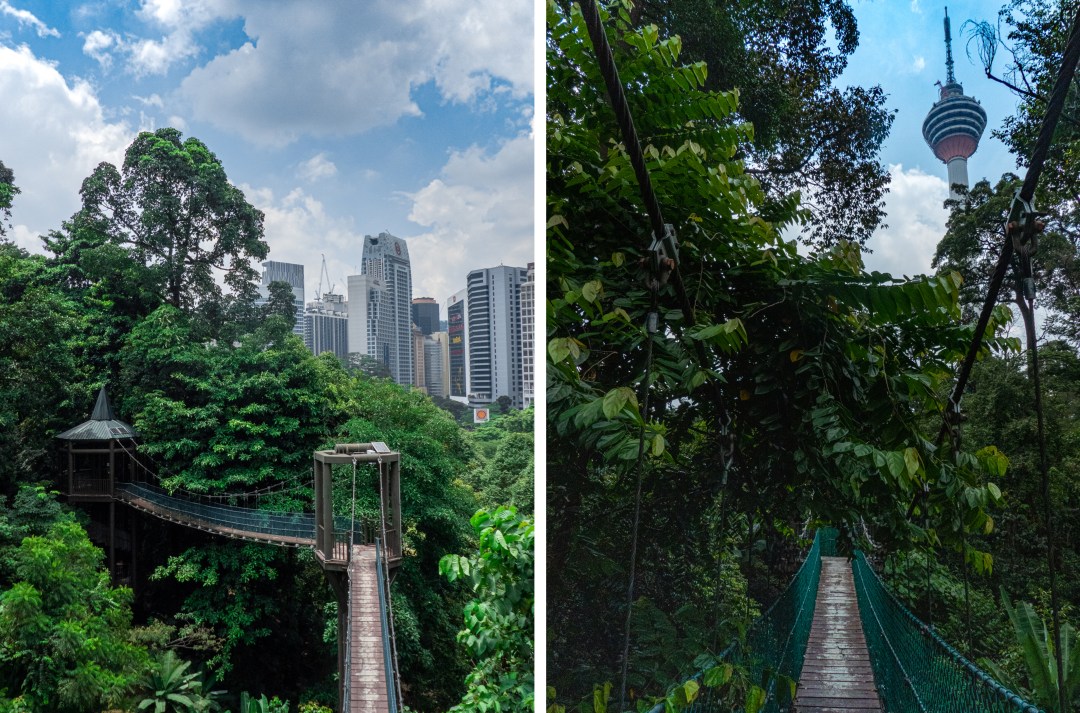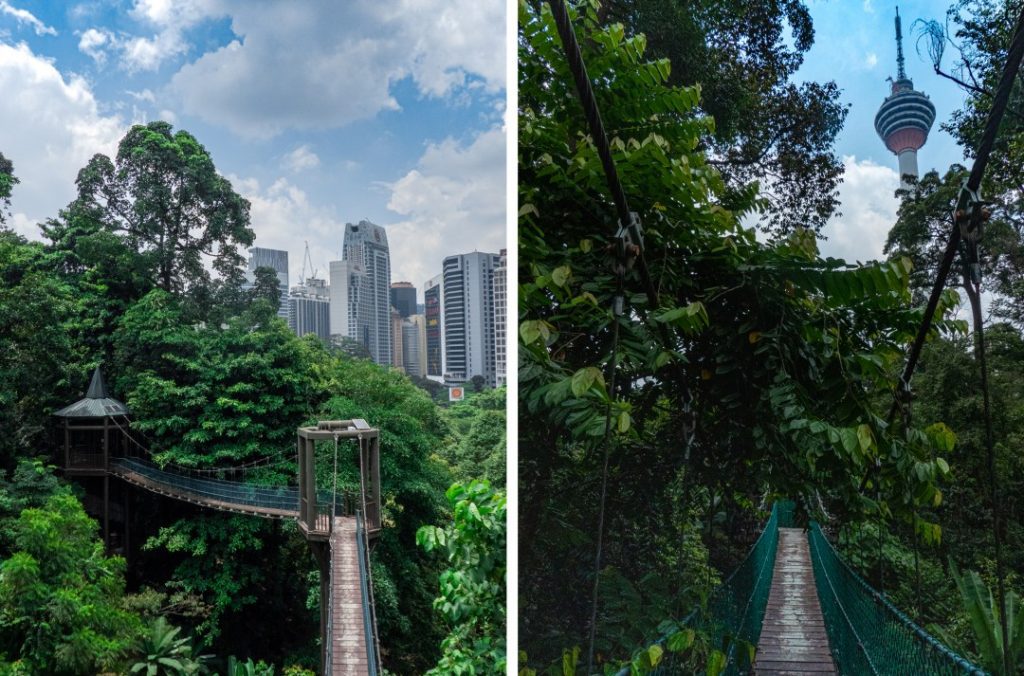 Every large city has a skyscraper that gives you spectacular views of the skyline. Kuala Lumpur happens to have two but let me tell you why you shouldn't forget about the KL Tower just because the Petronas Towers are more famous.
The KL Tower is located on Bukit Nanas, the same hill where the Forest Eco Park also is. Tickets cost RM 49 (~ €10.40) to go up to the enclosed platform and RM 99 (~ €21) for the open-air deck four stories above that.
I have to say it is definitely worth the money to go up all the way. It is just nice to have a clear view of the skyline without dirty glass in between.
The Sky Deck also has two glass boxes that are suspended over the edge of the tower. You can stand in them one-at-a-time and have your picture taken or just marvel at the terrifying drop below.
Not only is the KL Tower cheaper than the Petronas Towers, I think it might just be the better choice if you're only picking one to visit. The Petronas Towers are the most iconic landmark in the Kuala Lumpur Skyline and if you want to enjoy the view and take photos they will turn out much better with the Towers in them. KL's skyline becomes pretty unrecognisable without its famous towers.
Find out more information here.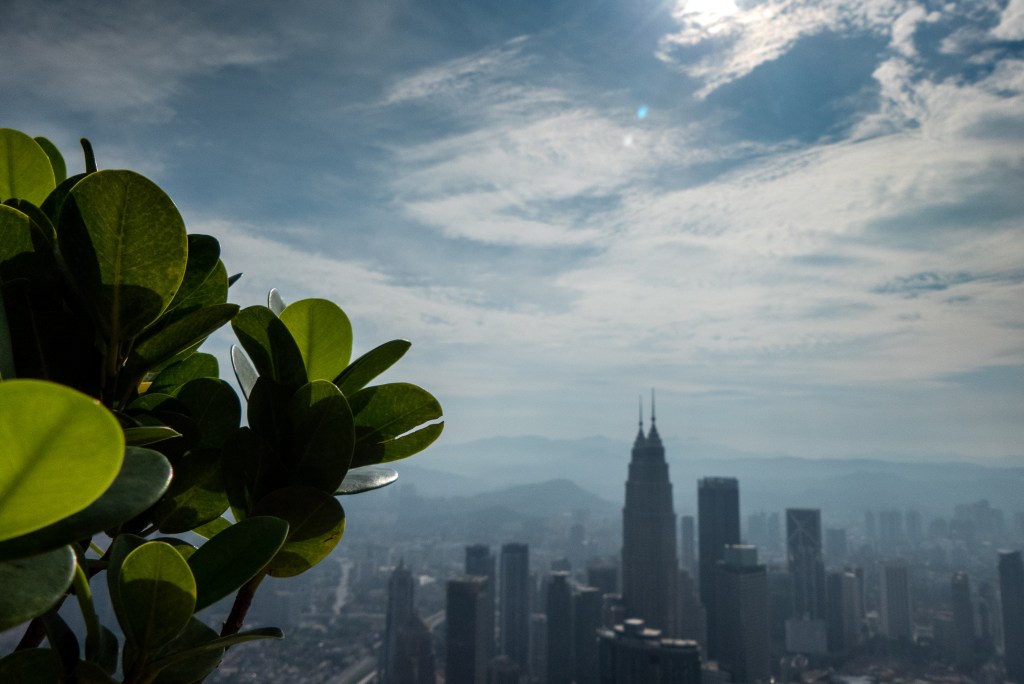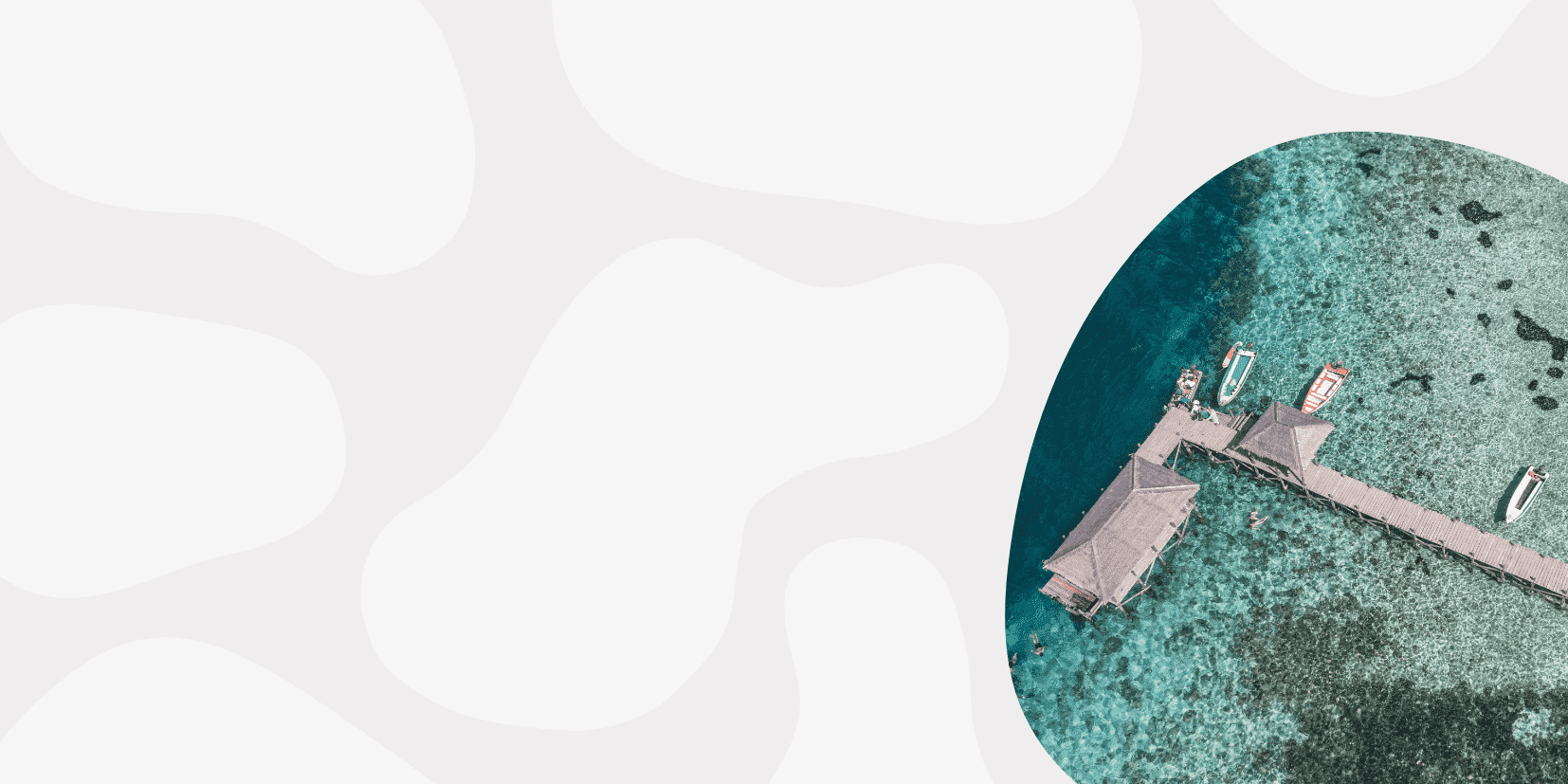 Let me save you time and effort when you're travel planning!

➼ Best travel insurance? SafetyWing
➼ Best place to find cheap flights? Skyscanner
➼ Best bank & credit card for travellers? Wise
➼ Best travel backpack? Osprey Farpoint 70
The Batu Caves are probably Kuala Lumpur's most spectacular and unique attraction. They're a set of caves located about 14 km from the city centre. Their iconic rainbow steps and golden statue of Lord Murugan are the subject of many photos.
Within the caves, you can find multiple temples that act as a pilgrimage destination for millions of Hindus every year especially during the popular Thaipusam festival
Entrance to the Batu Caves is free, although they charge a small fee for some of the smaller side-caves. The Batu Caves can be easily reached via the KTM Komuter train that takes about 35 minutes from KL Sentral.
If you want to find out more about the Batu Caves and why they should be your number one priority when visiting Kuala Lumpur then click here to read our ultimate guide.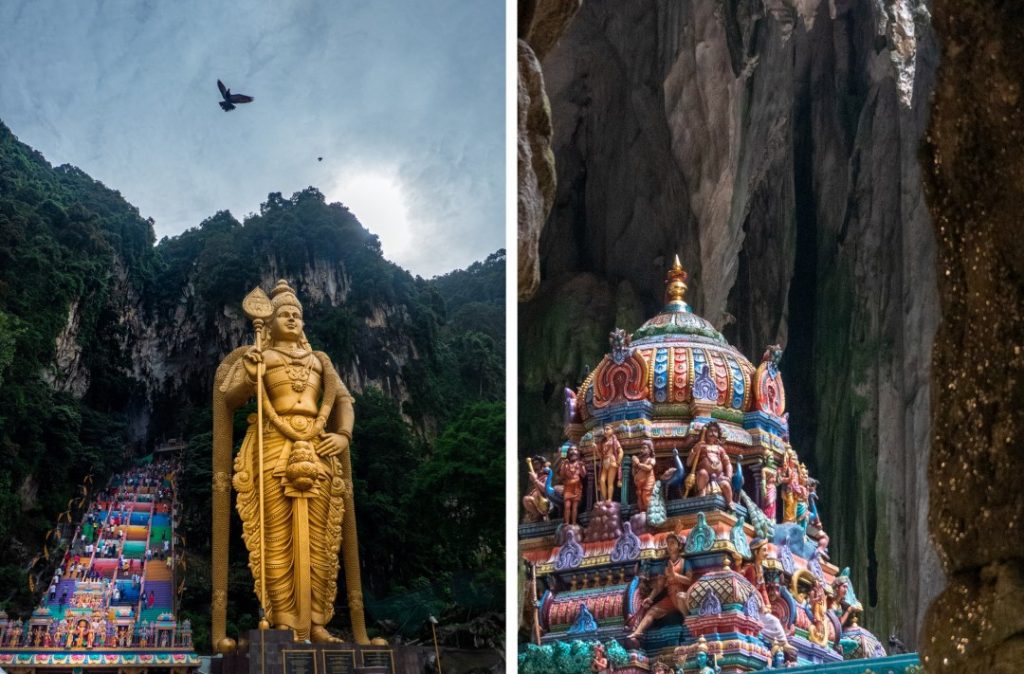 4. KLCC PARK
KLCC Park is a quick and easy destination you should definitely include in your next trip to Kuala Lumpur. Located at the bottom of the Petronas Towers the park is easy to reach via the red LRT line and should not be missed.
There is a 1,4 km running track that lets you enjoy the stunning view of the Petronas Towers while exercising. You will find plenty of seating, grassy lawns for picnics and an expansive children's playground including a water area.
Surround yourself with exotic palm trees and flowers and enjoy a little break from the bustling streets. I recommend going here before 10:00 AM to avoid the crowds. Many people do Thai Chi here during this time and everything feels peaceful and serene.
Since the park is free and easily accessible you should definitely visit it when you are in KL. If you walk through the park you should be able to spend about 30 to 45 minutes here since it is not very large. But why not plan a bit more time and have a picnic?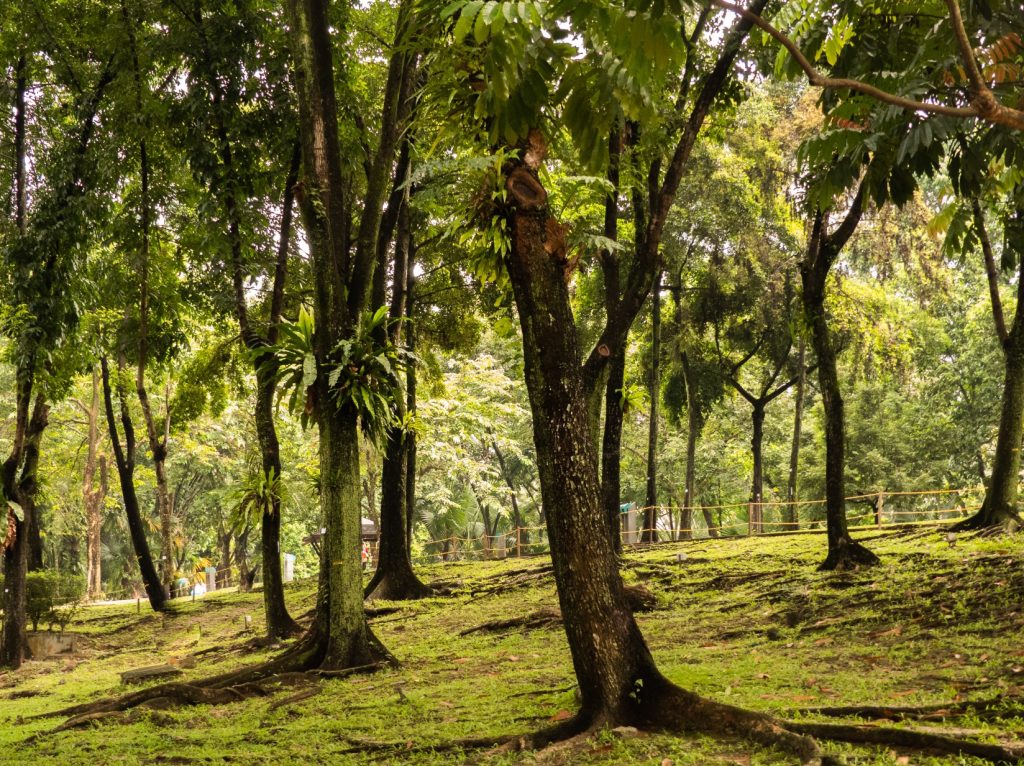 Kuala Lumpur is famous for its speakeasies. These are remnants of a time of prohibition and have turned into a major tourist attraction in KL. Today there are countless secret bars with more or less hidden entrances which you will definitely not stumble upon by accident if you do not know exactly where they are.
Most of them are in and around China Town and Bukit Bintang although some have popped up in KLCC and even the outskirts.
Some of my favourites include Omakase + Appreciate, The Attic, Botakliquor and, of course, the famous PS150 whose entrance is hidden in an old toy shop. There are plenty more to explore.
Most of them offer expensive but extravagant cocktails and a great atmosphere. Read our guide for exact instructions on how to find these bars so you don't get lost.
Visiting a speakeasy is a great way to immerse yourself in Kuala Lumpur's history and experience its mysterious side.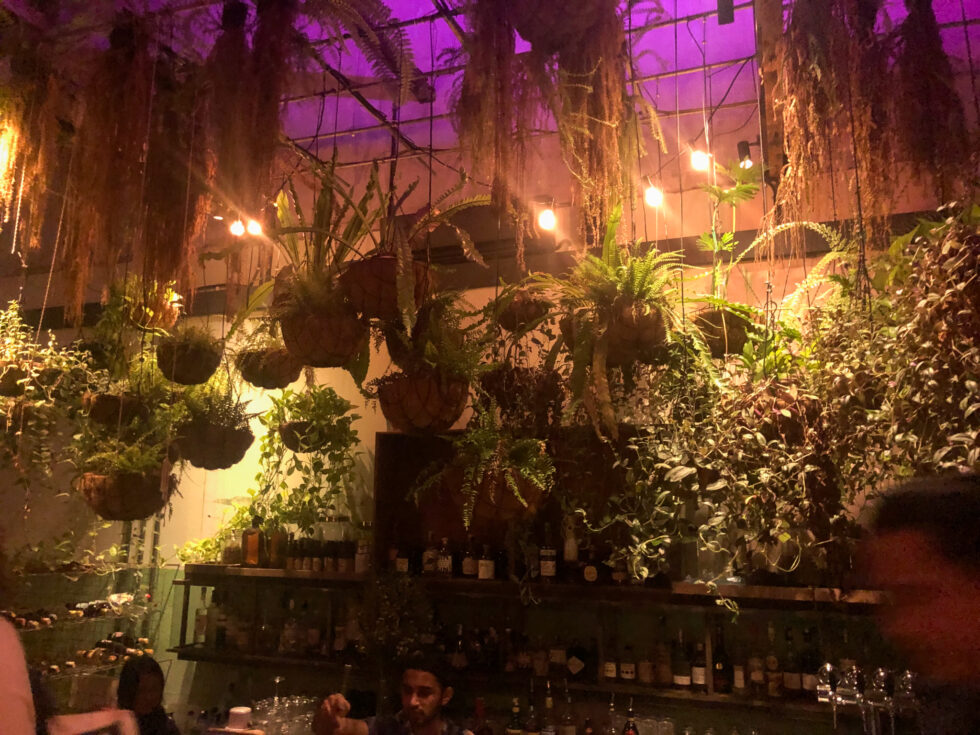 6. CHOW KIT MARKET
Chow Kit Market is the largest wet market in Kuala Lumpur. It's a giant, maze-like cluster of stalls selling just about anything you can imagine. The main attractions are the large selection of fresh fish and meats as well as just about every fruit and vegetable under the sun.
There is also a large part of the market that offers clothing items, shoes and other accessories. Many traditional tailors have stalls here.
In addition to that, the street food selection is, of course, phenomenal. Definitely, plan to spend at least an hour, maybe more here and try the many kinds of fried desserts and other traditional dishes.
You can reach Chow Kit Market by taking the Monorail to Chow KitStation or even walking there from KLCC. It's not too far away if you don't mind the heat.
Kuala Lumpur has an insane number of shopping malls. They are clustered within Bukit Bintang and KLCC and your one-stop-shop for everything you need.
Some of them are unique such as Low Yat which exclusively sells electronics. Then there is Berjaya Times Square, the shopping mall giant at the edge of Bukit Bintang. It includes an indoor theme park, a shooting range, laser tag and a bowling alley.
Even if you do not plan to go shopping on your trip to KL you should not skip the malls. Most of them have amazing food courts with low prices and authentic food. I especially recommend going to Lot 10's Houtong food court which has some of KL's best street food. It's award-winning.
The selection of malls can be overwhelming especially if you only have a limited time in KL. That's why we created a ranking of Kuala Lumpur's 11 best Shopping Malls. That way you can easily determine which ones you should visit, how to get there and whether you get a tourism discount. All you need to know and no additional research needed.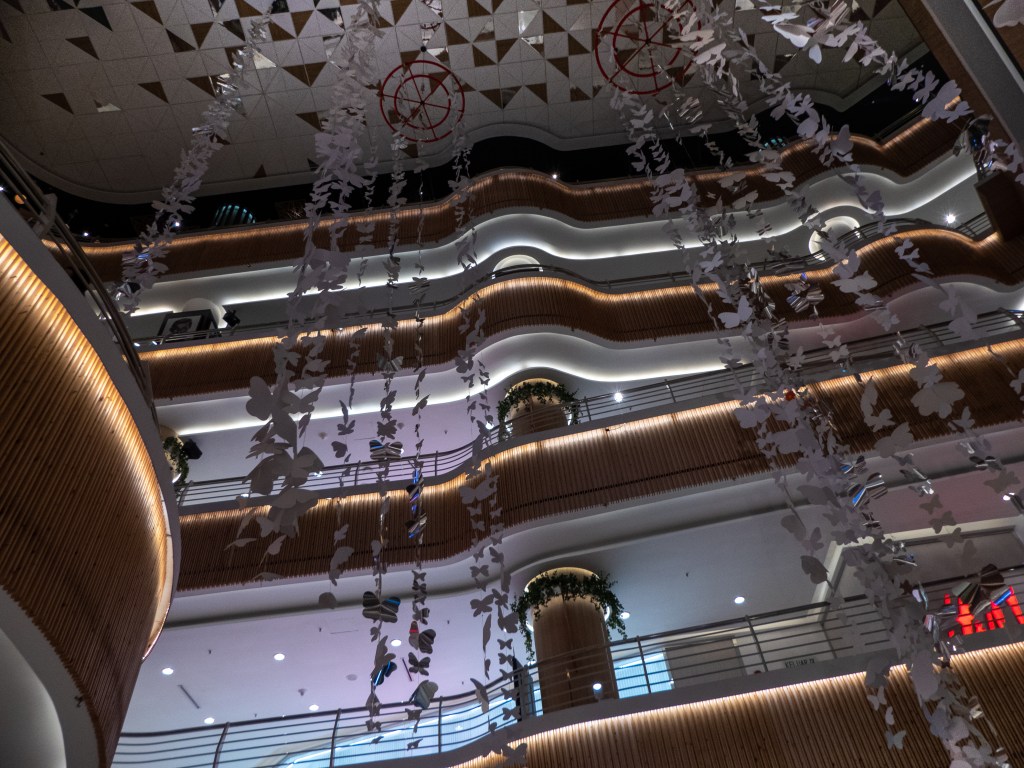 8. GO TO CHINA TOWN
Like many large cities, Kuala Lumpur, of course, has a China Town. The area around Petaling Street is quite famous and should not be missed. Due to the large Chinese population in KL, the culture here is very authentic and especially the street food is world-class.
You should visit Sin Sze Si Ya and Sri Mahamariamman temples while you are there and, of course, don't neglect Petaling Street, Central Market and Kasturi Walk.
These three markets blend into each other and offer a wide spectrum of merchandise and food. You can find fake clothing, shoes, makeup, electronics and accessories here although at very high prices if you don't barter. Come here for authentic Chinese dishes, especially the soy pudding with brown sugar.
China Town should definitely be visited in the late afternoon or evening to experience its atmosphere. Take the LRT or MRT to Pasar Seni Station which will leave you right at Central Market.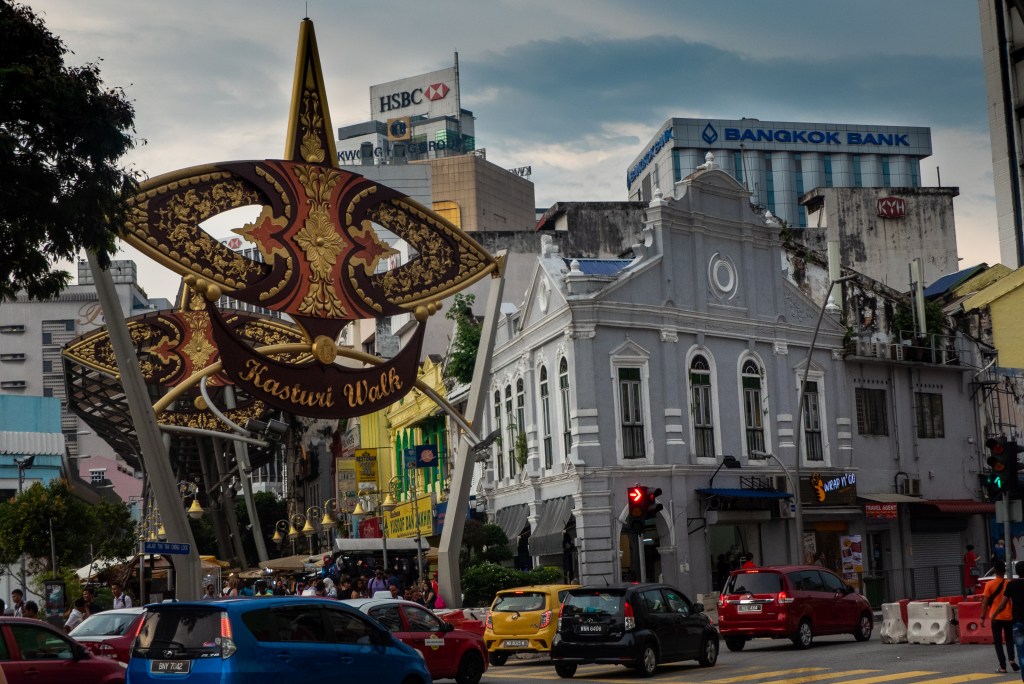 9. PERDANA BOTANICAL GARDENS
Perdana Botanical Gardens is the largest green space in central Kuala Lumpur. They cover an area of 91,6 hectares and are a great way of escaping the busy city. The botanical gardens are perfect for walking around, exploring and admiring the many species of flora and fauna you can find here.
There's a large lake at the centre of the botanical gardens and a designated hibiscus and orchid garden. If you explore further you'll come across an herb and spice garden and a palm garden. So many gardens…
While you're there you can also visit the National Mosque, National Monument and Planetarium. All are located very close to Perdana Botanical Gardens and make for a perfect day-trip. You can spend around 2 hours or more here as the area is so big. Entrance is usually free and apparently RM 1 (~ €0.20) on the weekends, however, I have never been charged that.
Go to Muzium Negara Station or take a Grab to reach the gardens.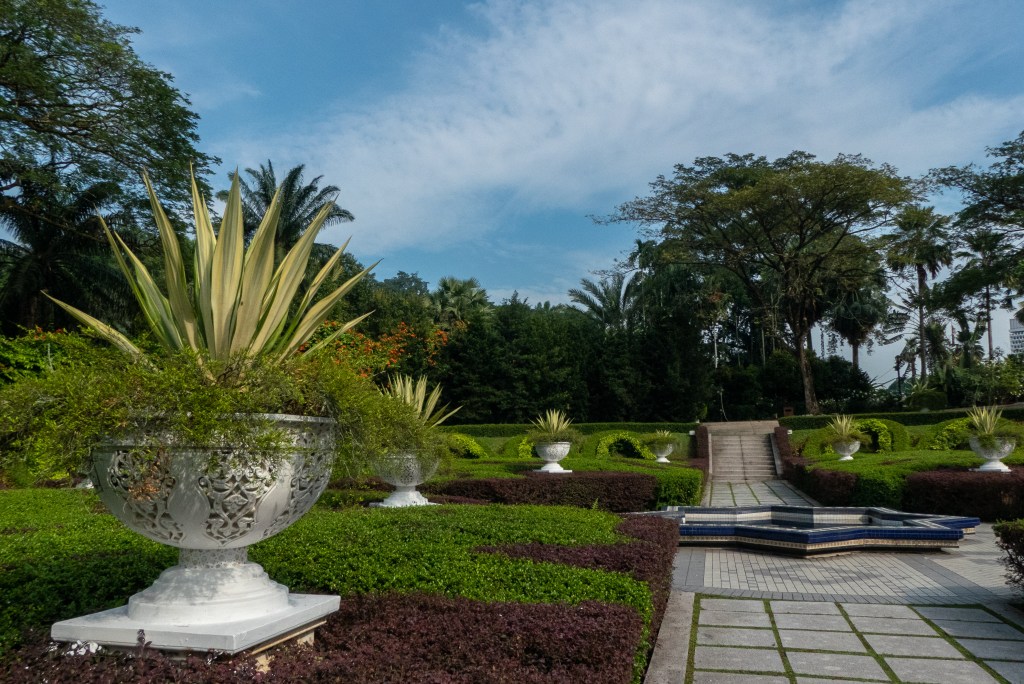 10. JALAN ALOR
Jalan Alor is Kuala Lumpur's famous food street that comes to life every night at around 6:00 PM. The restaurants here serve predominantly seafood but there are some smaller hawker stalls with other options.
Jalan Alor is the perfect place to find a midnight snack before you head out to some of the bars in Bukit Bintang.
The street gets very busy and is worth a visit for the atmosphere alone. You need to try at least some of the delicacies offered here and enjoy an evening at Jalan Alor.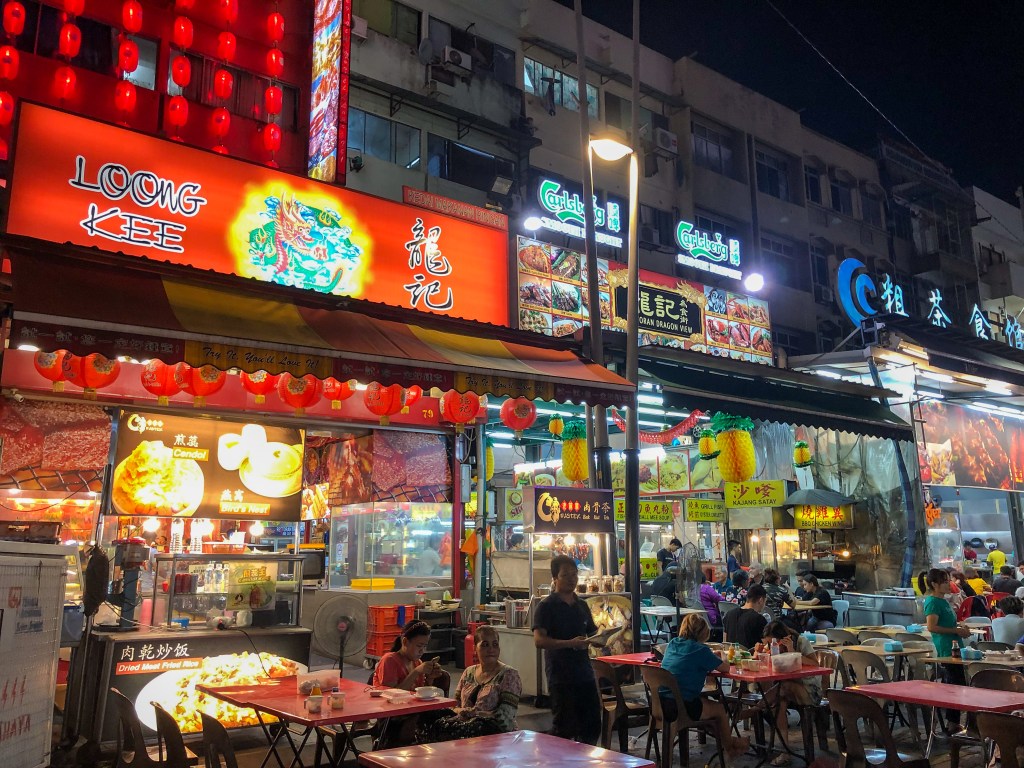 Thean Hou Temple is not very famous amongst tourists and you won't find the crowds of people here that populate more well-known attractions such as China Town, the Batu Caves and the Petronas Towers.
Thean Hou is a Buddhist Temple that sits on top of a hill overlooking parts of Kuala Lumpur. There is no entry fee for the temple and its architecture is some of the most beautiful I have seen in Malaysia.
It's a bit tricky to reach with public transport and I would advise you to take a Grab or taxi to avoid having to walk up the steep hill in the hot sun. The temple is usually quiet and ideal to take pictures if you go on a sunny day.
Find a detailed account here.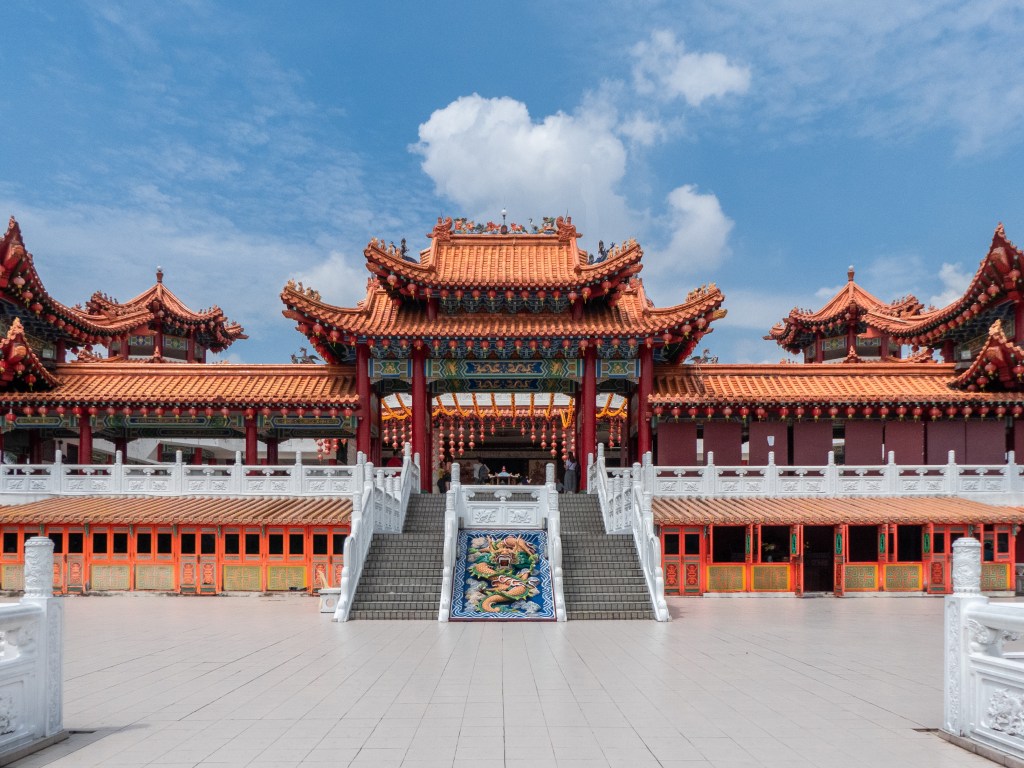 12. BRICKFIELDS
Brickfields is Kuala Lumpur's Little India and the perfect way to spend an afternoon in the busy city. You'll find a vast selection of restaurants and authentic Indian food here. It's a must-visit if you're a vegetarian.
When you are there make sure to walk over to Sri Kandaswamy Kovil Temple, a Hindu place of worship. Tourists are not allowed to enter the temple but its beautiful exterior is worth having a look at.
Brickfields is easily reachable via KL Sentral Station, Kuala Lumpur's main transport hub.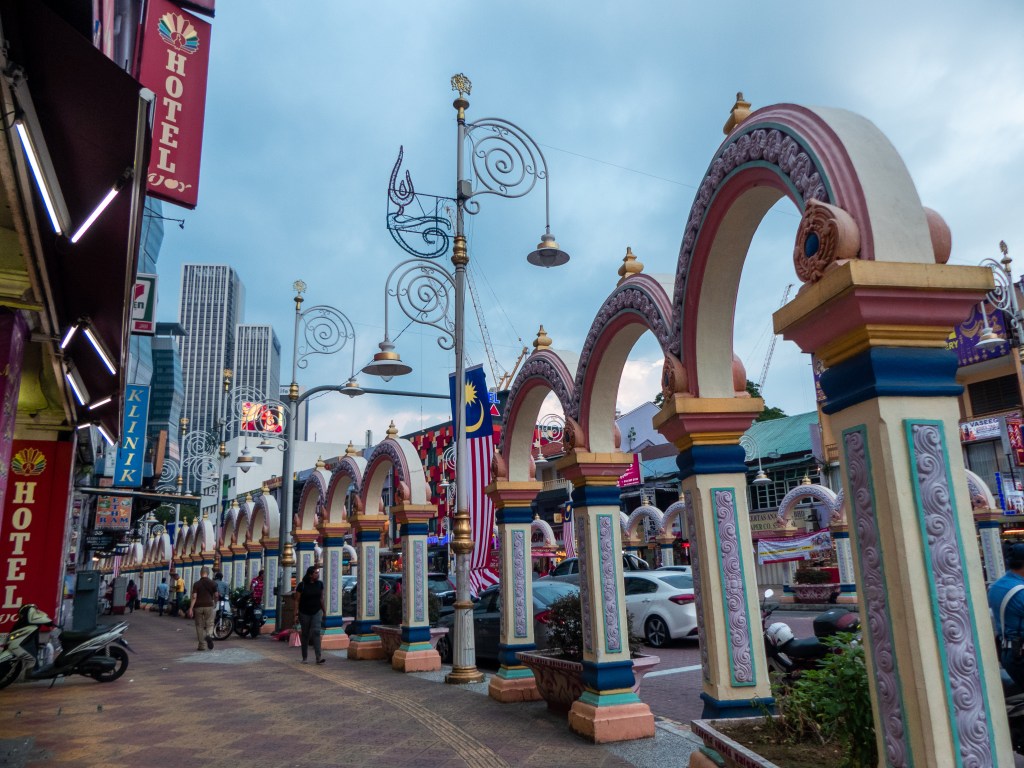 13. TAMAN CONNAUGHT NIGHTMARKET
This night market is slightly off the beaten track and you will have to take a Grab or taxi to reach it. You won't regret putting in the extra effort.
Taman Connaught is Kuala Lumpur's longest market and spans over more than 2km. You can find anything here from clothes, electronics to pet accessories and most importantly: food.
Taman Connaught has such a large selection of food and snacks it's easy to get overwhelmed. Come hungry so you can attempt to try it all.
The market runs every Wednesday evening from 5:00 PM until midnight. It gets busy at around 7:00 PM so prepare for crowds.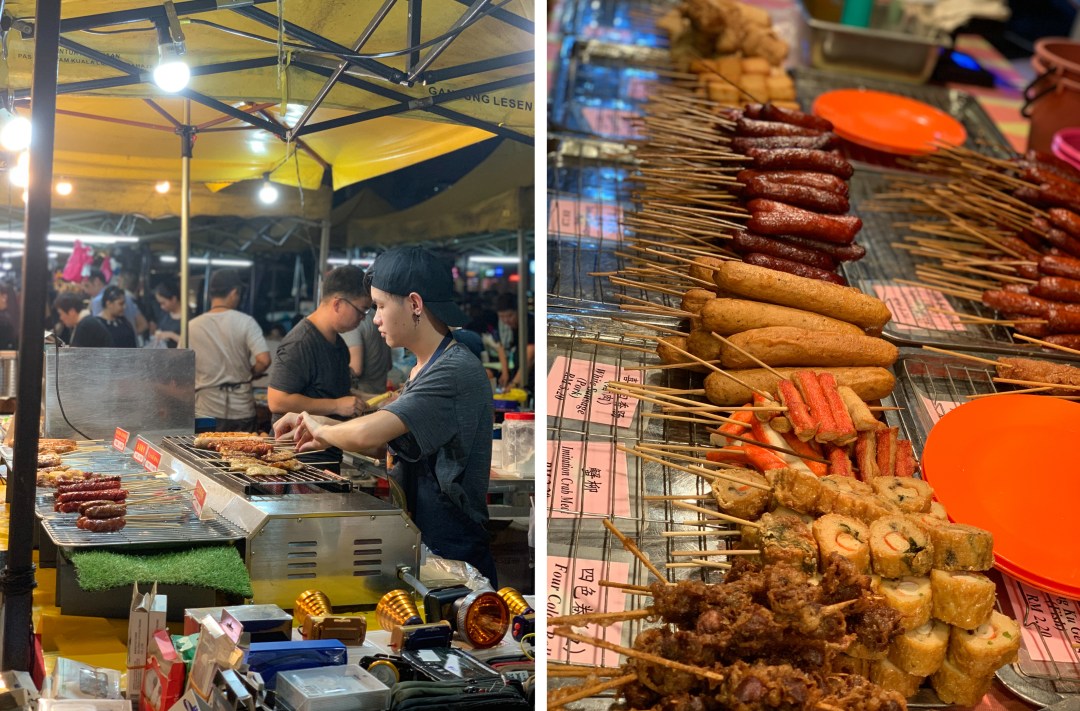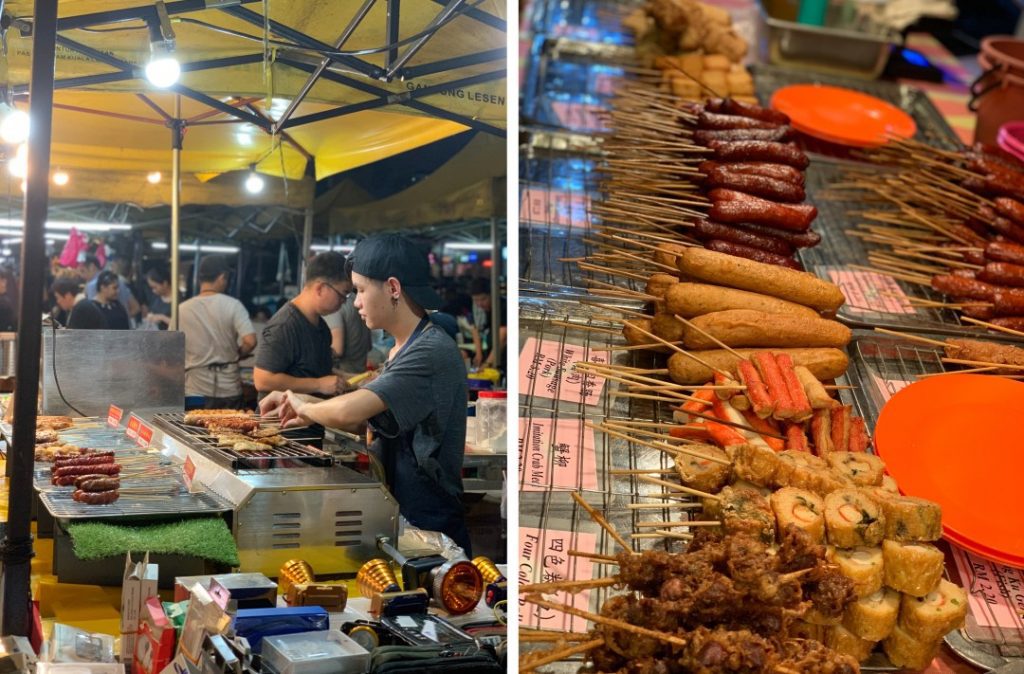 14. SRI NIRWANA MAJU RESTAURANT IN BANGSAR
Sri Nirwana Maju Restaurant or simply Nirwana is one of Kuala Lumpur's hottest restaurants and a popular dinner place for expats and locals alike.
Nirwana serves authentic banana leaf meals at reasonable prices. The atmosphere is homely and friendly despite its location amongst more upscale establishments.
If you want to experience a piece of Kuala Lumpur's Indian culture eating at a banana leaf restaurant is a must. Nirwana is the perfect place.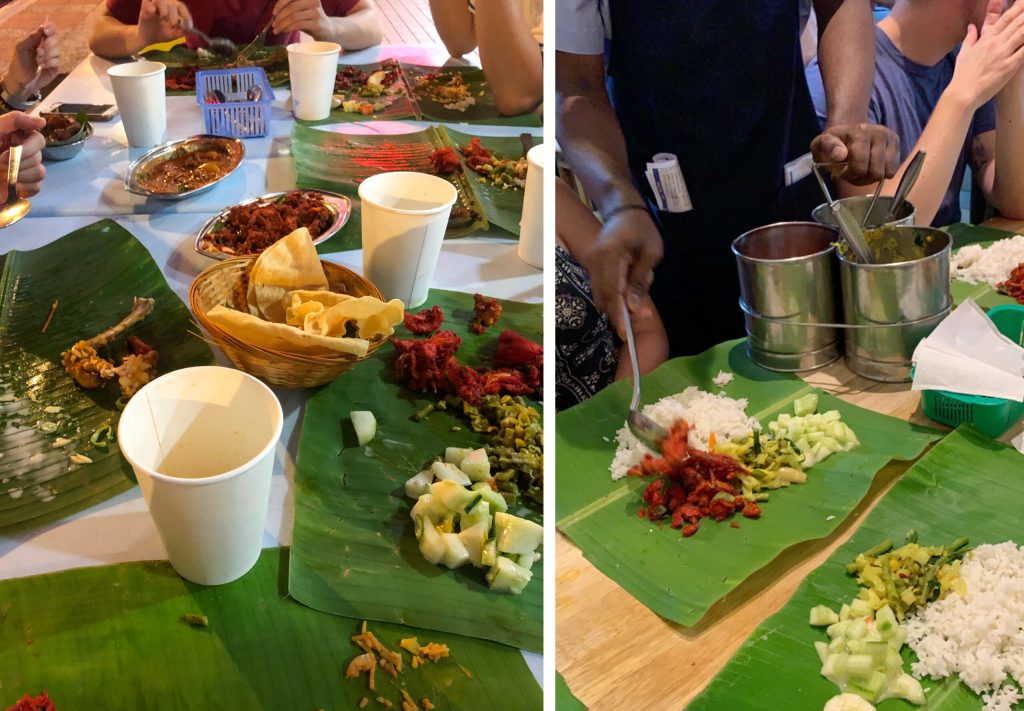 15. NATIONAL MUSEUM
Kuala Lumpur's National Museum should be on your itinerary if you're interested in learning about Malaysia's history and the significance of the capital city. Even if you're usually not a fan of visiting museums while travelling you should give this one a try. The entrance fee is only RM 5 (~ €1) so it won't hurt your budget.
The museum is divided into different time periods of history from prehistoric to modern times.
You will, unfortunately, encounter rain during your time in KL and the National Museum is the perfect way to wait out the bad weather inside.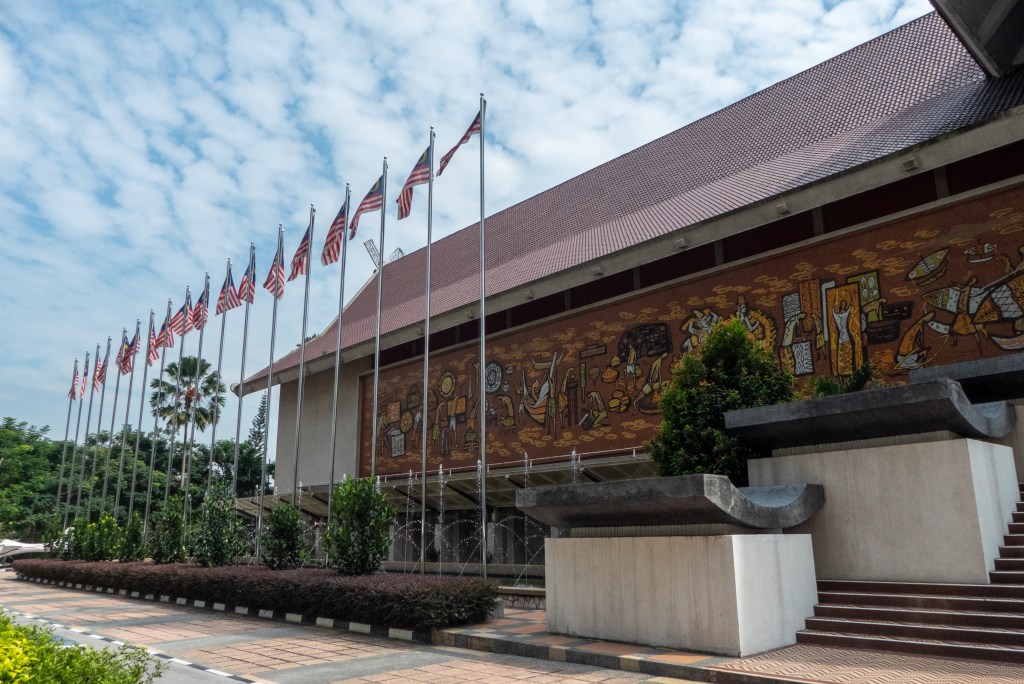 16. HELIPAD LOUNGE
The Helipad Lounge is probably Kuala Lumpur's most famous bar. It boasts spectacular views of the skyline and reasonably cheap drinks.
The bar is set up every night on an active helipad. Seating is basic but the views are worth the climb. There is only a flimsy barrier to separate its intoxicated customers from the heart-stopping drop over the edge so don't go if you have a fear of heights. Or at least stick to the centre of the platform.
The Helipad Lounge opens every evening at 5:00 PM. Reserving a table is smart if you're planning to arrive later. Otherwise, you might be asked to stand. After 9:00 PM the bar has a strict dress code and you'll find a minimum spend for tables. Before that, it's perfect to watch the sunset and enjoy some beers.
To reach the Helipad go to the 34th floor of Menara KH.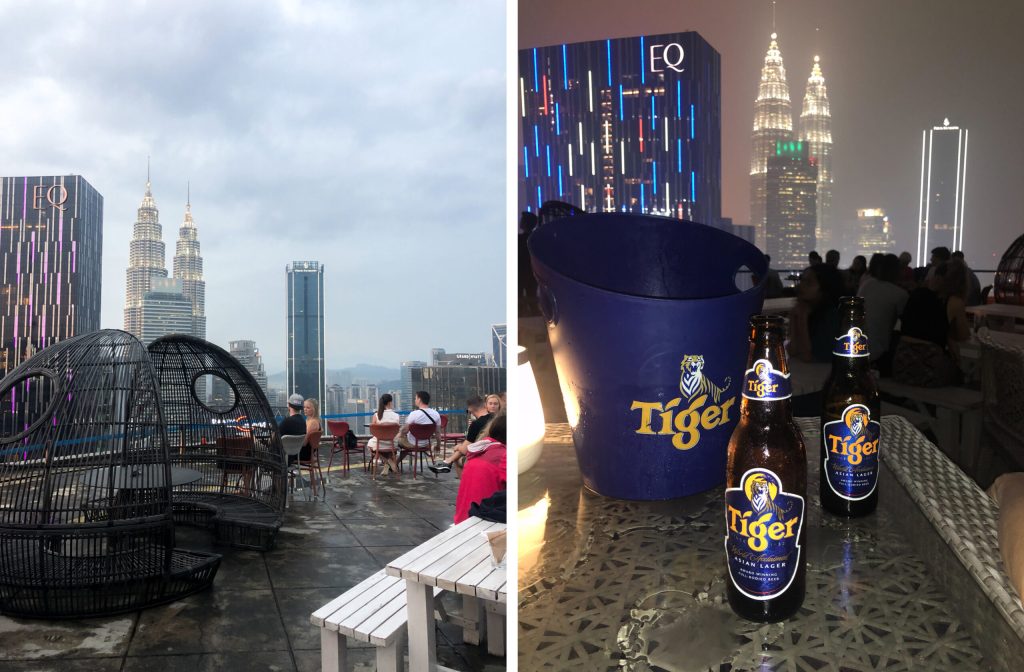 17. TAPAK URBAN STREET DINING
Tapak Urban Street Dining puts a modern twist on street food and is a dinner idea you won't find on every "Things to do in Kuala Lumpur" list.
Every night at 6:00 PM a wide variety of food trucks gather only 400 metres from the Petronas Towers. This is the project of three high school friends who opened Tapak Urban Street Dining in 2016.
The concept is easy: affordable food from all over the world served in a street-style open-air setting.
There is no better place to grab dinner. Enjoy both international as well as local dishes from friendly food truck vendors for unbeatable prices.
Rainy evening? No problem, Tapak even offers roofed seating areas so no need to get wet.
Looking for more cheap places to eat in KLCC? Check out this post!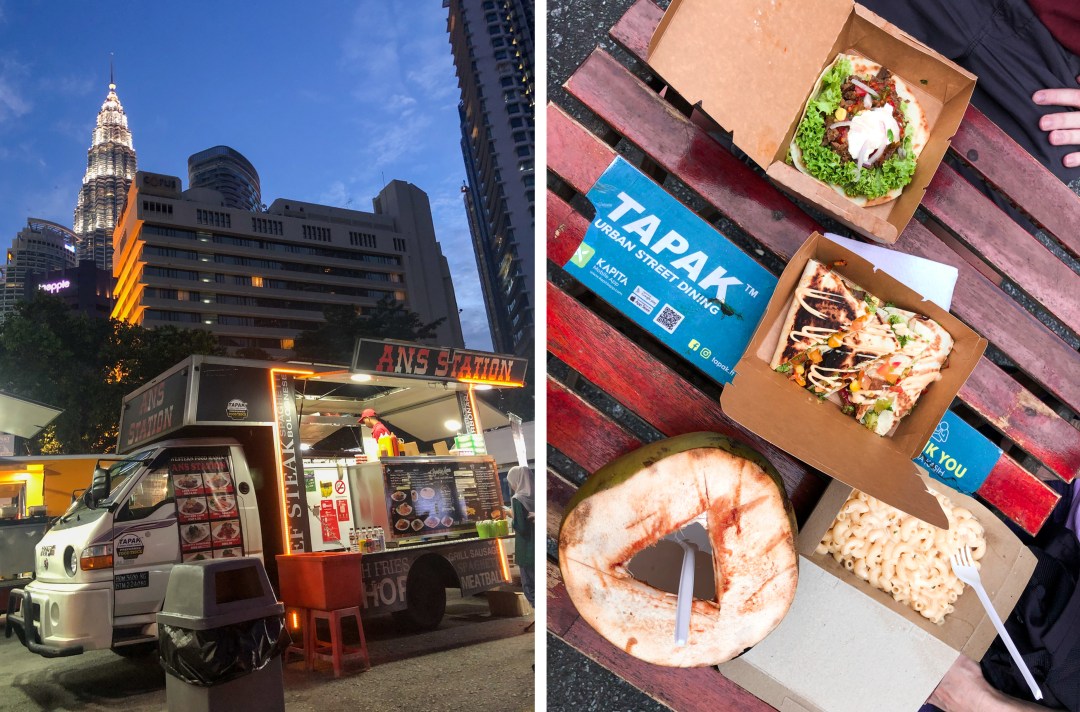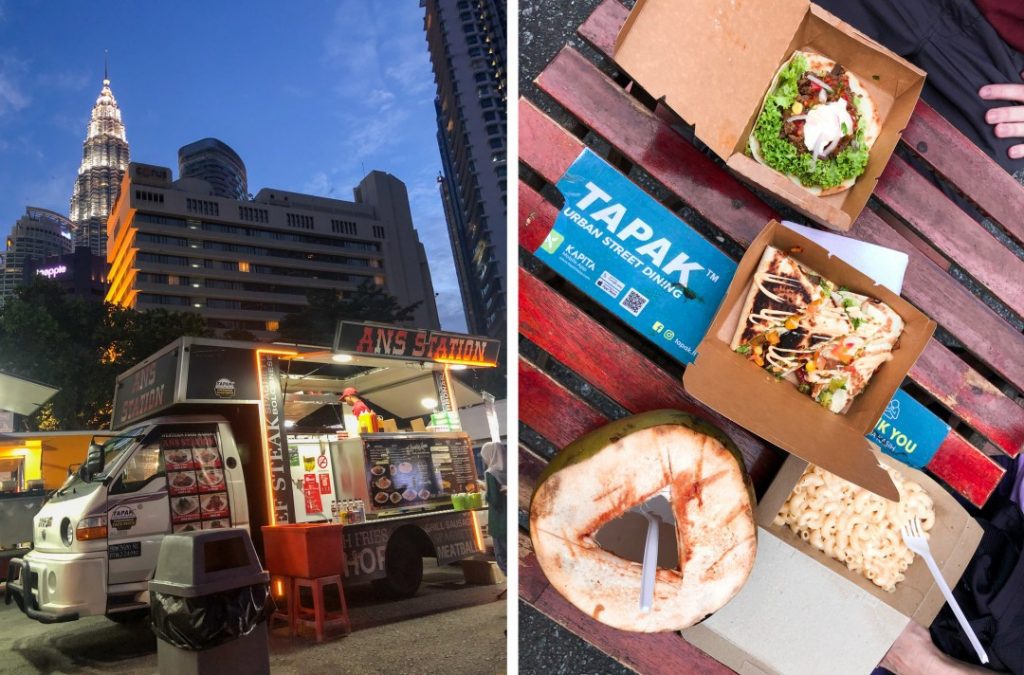 18. PETRONAS TOWERS
The Petronas Towers are Kuala Lumpur's most iconic landmark. No trip to the city is complete without visiting the world's largest twin towers.
While it's free to admire them from the bottom, tickets to the top cost RM 80 (~ €17). Ticket sales are restricted to a certain amount of visitors. It's best to purchase your tickets online up to a week in advance especially if you want to visit during a specific time. You will have only around 45 minutes to visit the Sky Bridge and Observation Deck.
In my opinion, the Petronas Towers are best seen from KLCC Park or the crossing of Jalan Ampang and Jalan P Ramlee. If you have the time it can be interesting to go up to the top of the towers, however, I think the KL Tower has the better view.
Click here to book your tickets if you decide to go and find out details.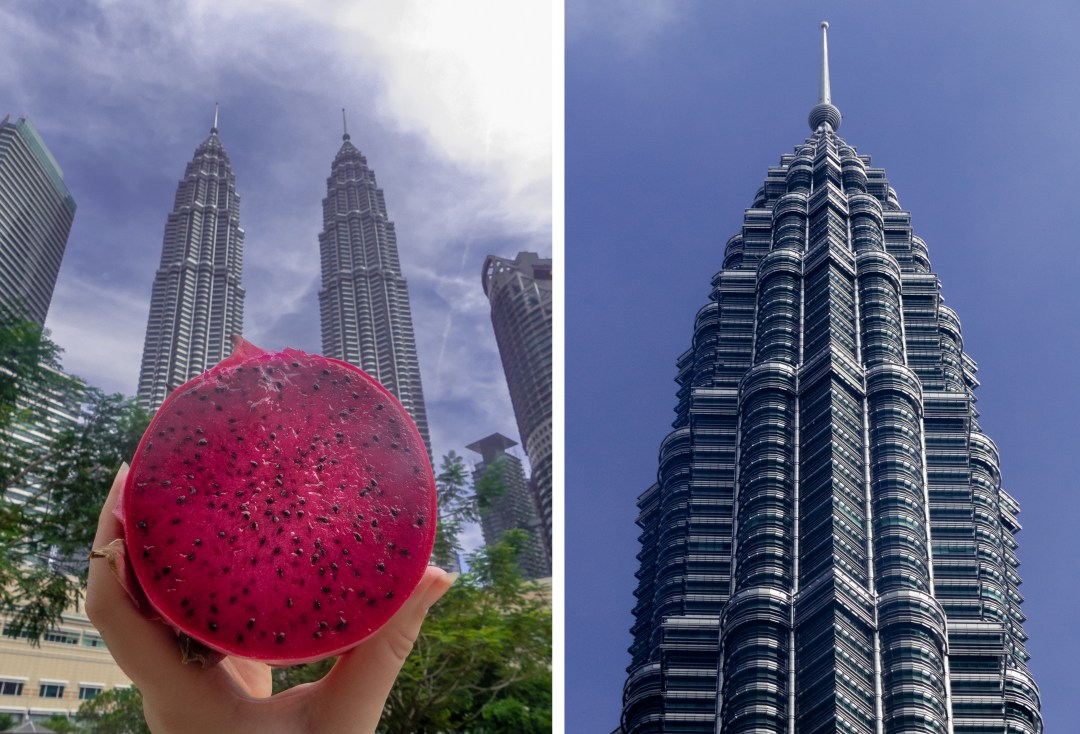 19. BUKIT BINTANG
Bukit Bintang is Kuala Lumpur's busy shopping and nightlife district. Going here at least once is a must on your trip. In Bukit Bintang, you'll find the most popular shopping malls and upscale restaurants.
At night Changkat is the best destination for lively bars and late–night drinks. Don't miss out on some of the speakeasies as well as Jalan Alor (Number 10 on this post).
During the day you should take some time to stroll through the busy streets, have lunch in a food court and explore some of the shops.
6 THINGS YOU SHOULD SKIP IN KUALA LUMPUR
1. THE UPSIDE DOWN HOUSE
The Upside Down House phenomenon is a strange one. They seem to have appeared all over South East Asia and even Europe and I do not understand the appeal. Nevertheless, even if you enjoy going to Upside Down Houses, skip the one in KL. It is exceptionally bad.
The point of an Upside Down House is that the furniture is mounted to the ceiling so if you take a picture of yourself in it it looks as if you are upside down. This could be fun for children but even then I think there are far better activities.
The Upside Down House in Kuala Lumpur is located right next to the KL Tower. You can even buy combination tickets of the two attractions. A regular adult ticket to the house costs RM 25 (~ €5.30) and is probably the biggest waste of money I have ever experienced.
The house is so small that even spending ten minutes in there is too much time. You'll have trouble taking good pictures even if there are just a few other people in there because there is simply no space.
The airconditioning is non-existent and the whole place is stuffy and smells like feet and worse things. This is largely due to the fact that you have to take your shoes off and there are no windows since that would ruin the upside–down effect.
The whole place is dirty and run-down with cheap IKEA furniture that is falling apart on the ceilings.
Skip this one, even if you are travelling with kids. Save your money for something better.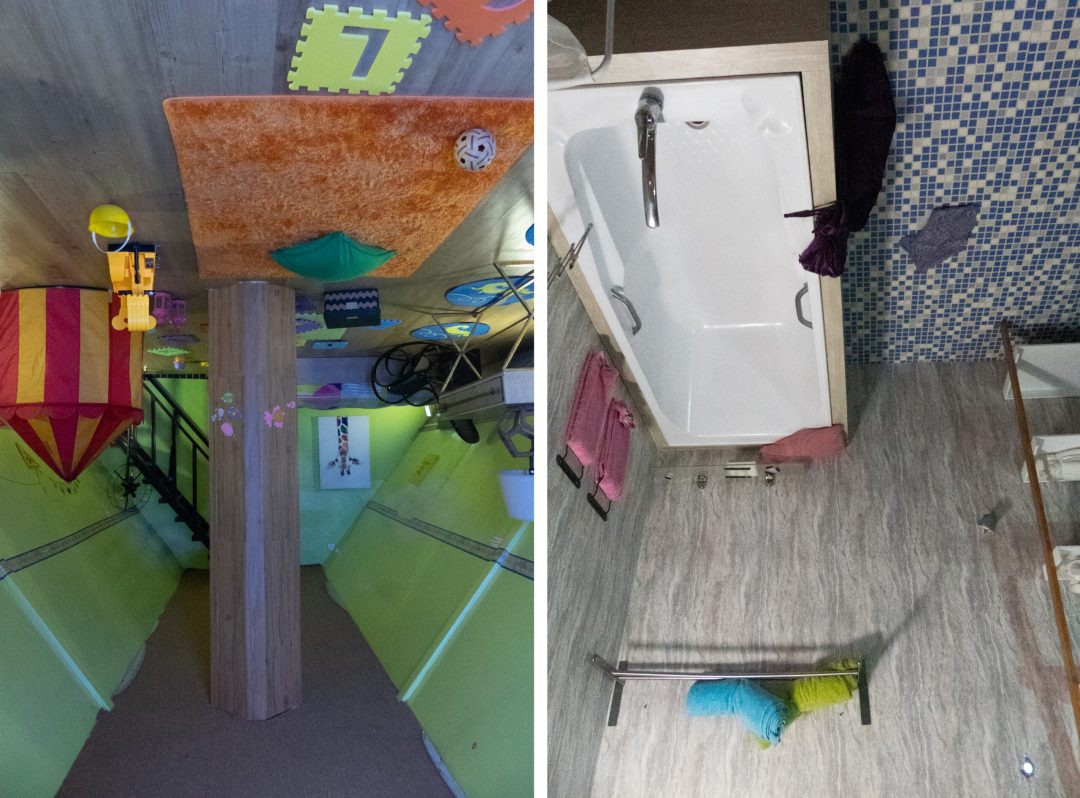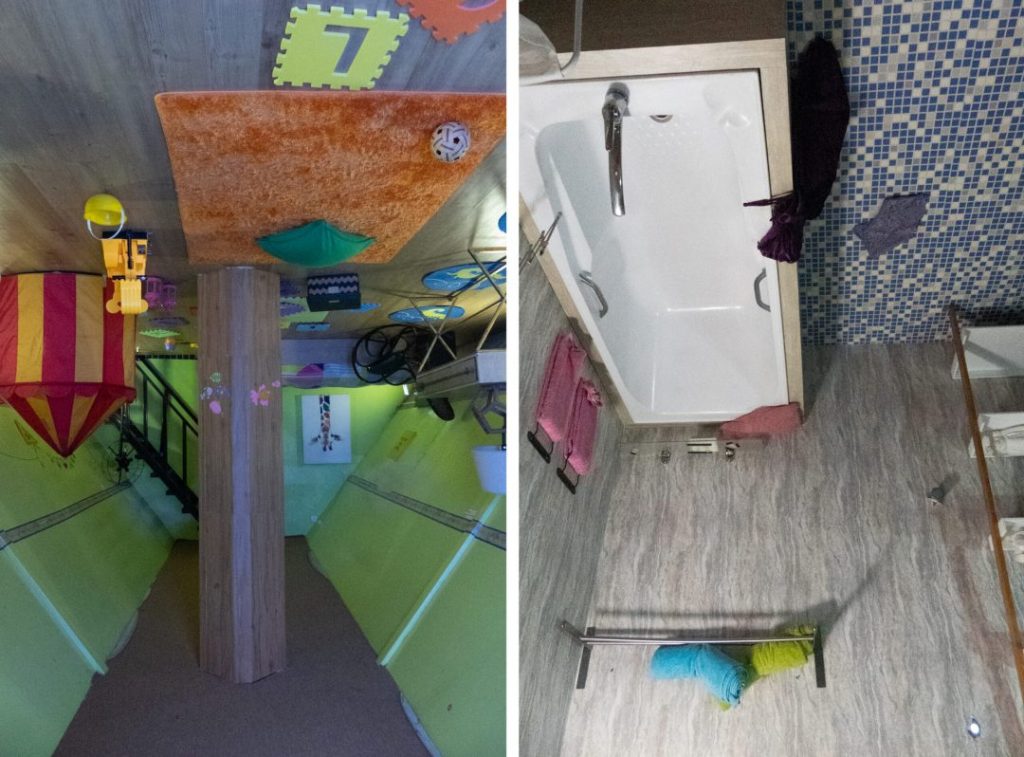 Cave Villa is a separate area within the Batu Caves complex. For an entrance fee of RM 15 (~ €3.20), you get access to two more caves and a small zoo as well as an hourly dance performance.
Considering the fact that the main caves are free, RM 15 (~ €3.20) is a lot to charge for the rundown attractions that are Cave Villa. Their treatment of animals has been heavily criticised and should not be supported by purchasing tickets.
If you want more information on Cave Villa, where it is and what to expect when you go there then click here to read our post on why you should not visit these caves.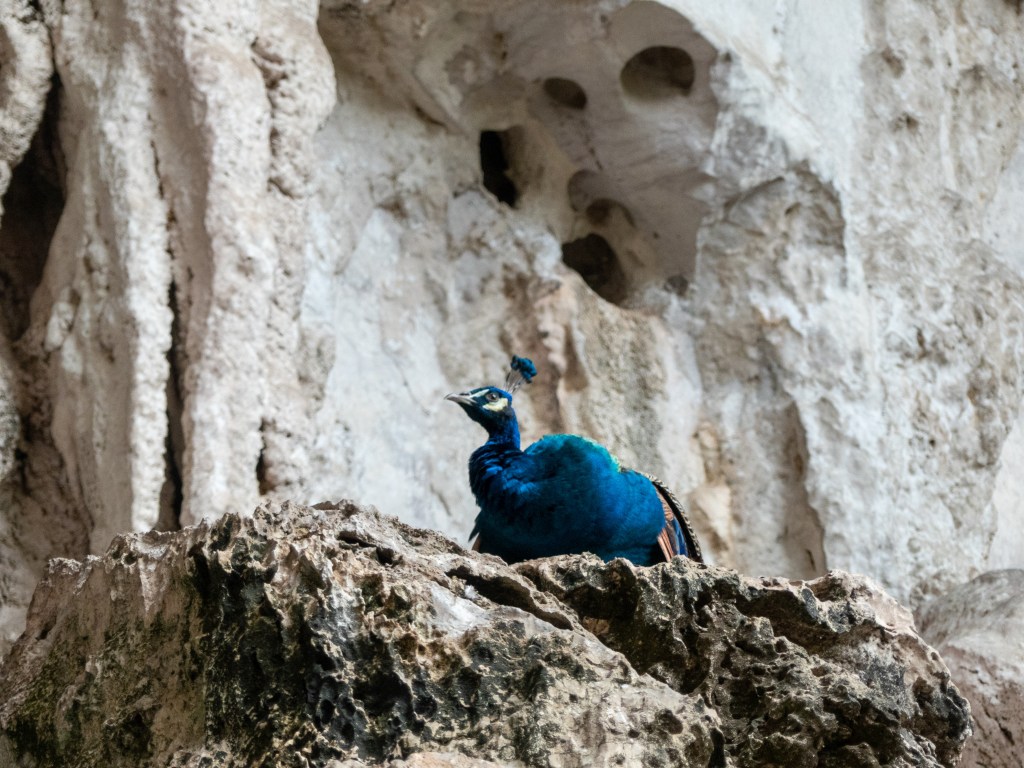 3. PUDU WET MARKET
Information I could find online suggested that Pudu Market is very similar to Chow Kit Market and a worthwhile place to visit. It's meant to be authentic and colourful with fresh produce and friendly vendors.
The reality I experienced when visiting the market was caged animals ranging from puppies, ferrets to chickens and snakes. The treatment of animals was absolutely horrific. Live fish in plastic bags full of water left in the boiling sun and chickens slaughtered right there on the street.
Even the non-livestock part of the market was disappointing. If you want to visit a wet market in Kuala Lumpur definitely chose Chow Kit instead of Pudu Market.
You will have a better experience and can avoid yet another example of blatant animal cruelty in South East Asia.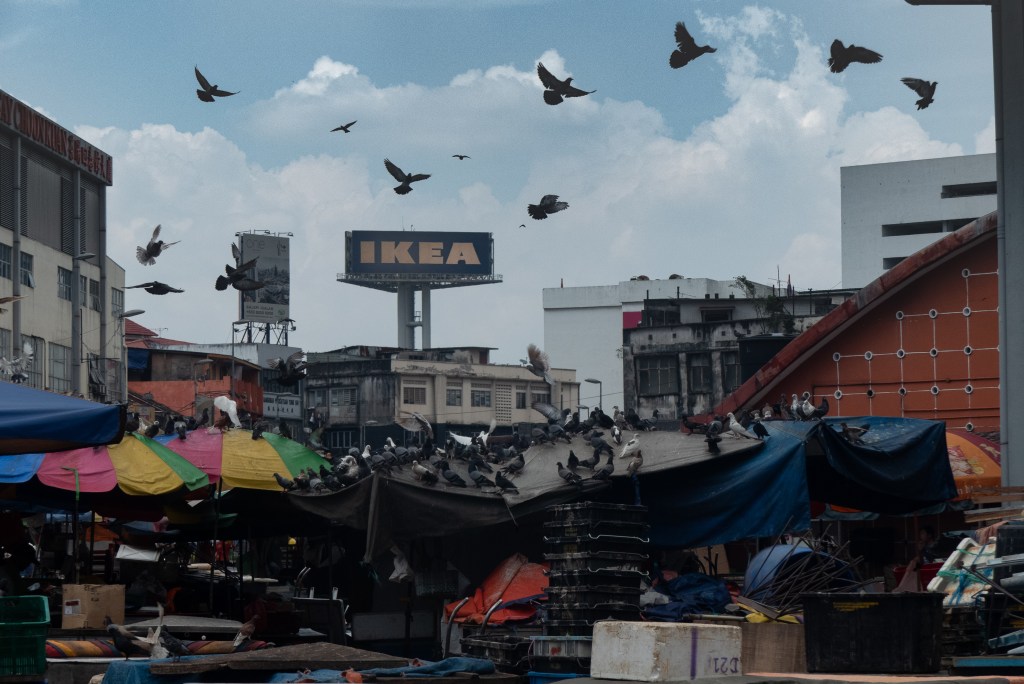 The Butterfly Park can be found right next to the Bird Park close to Perdana Botanical Gardens. While the attraction claims to be the "largest butterfly park in the world", a quick google quickly disputes this claim.
The park is outdated and sad. Dead butterflies on the floor, a lack of staff and simply just not very many butterflies make this an exceptionally bad butterfly park.
While it seems like a fun way to spend an afternoon, I was disappointed by the state of the park and would not recommend it to anyone. You will see plenty of free butterflies if you visit Perdana Botanical Gardens so there is no need to spend your money here.
For a more detailed account of my experience at the park click here.
Kuala Lumpur is supposedly the home of the world's largest free-flight aviary. Conveniently located close to Perdana Botanical Gardens it is a popular attraction on many "What to do in Kuala Lumpur" lists.
Although it is advertised as being especially animal-friendly I was shocked and disappointed when visiting the park.
The majority of birds are caged and not in the free-flight aviary which is itself overpopulated and littered with trash.
For a detailed account on why visiting Kuala Lumpur Bird Park supports animal cruelty and should NOT be wasting your money click here.
6. KL CITY GALLERY
KL City Gallery acts as a tourist information centre more than it is a museum. Go here if you are after fliers or city maps but the rest is quite disappointing.
The Gallery specialises in miniature artwork with the most prominent piece being a miniature version of the city of Kuala Lumpur. A light show is held every 20 minutes at this exhibit and is the only way you get access. While I enjoyed looking at this exhibit I was disappointed to find long queues and a lack of information regarding the miniature buildings. After the show ended we were quickly ushered out of the room the let the next group in.
The rest of the museum was small and underwhelming. There are some of the classic picture-taking spots with photo boards and that was largely it. The gift shop that follows the "gallery" is almost as large as the entire museum.
Don't waste your money and time here.
Travelling on a budget? Click here to read about 24 cheap or free Things to do in Kuala Lumpur
Have you booked your hotel yet? Why not check out Somerset Hotel Ampang or Element Hotel Kuala Lumpur?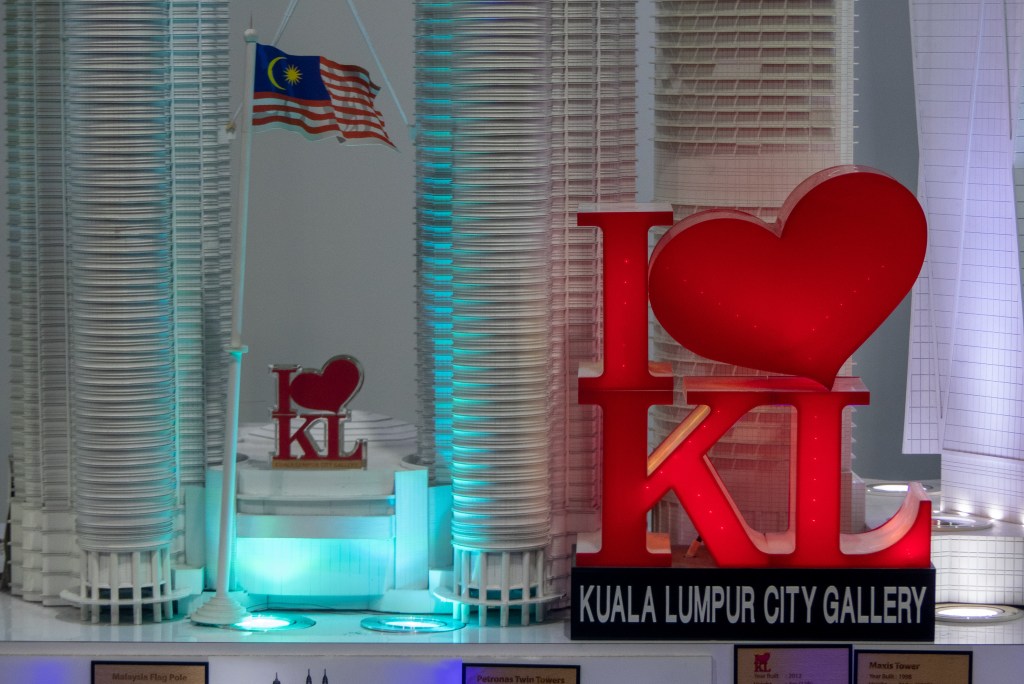 My most important travel tips and resources
Book your flights
Skyscanner is the best website for finding cheap flights since it works like a search engine so you can find the best deals across all airlines.

Book hotels and hostels
• Booking.com: Best world-wide
• Agoda: Best in South East Asia
• Hostelworld: Best for hostels

Book tours, transport and rental cars
•Viator: The best place to book tours, day trips and excursions for al budgets
•12Go: Great for ferries, trains, transfers and buses in South East Asia
•Discover Cars: Best deals for rental cars around the word

Get travel insurance
Every traveller needs travel insurance and I mean every single one. SafetyWing covers you in case of injury, illness or worse and they've got your back if your bag is stolen, flights are cancelled or in case of a natural disaster.

Pay abroad
Ask any traveller, Wise is the best choice when it comes to sending money abroad. They've always got the best exchange rates, lowest fees and their visa card is great for getting cash out or paying abroad.

Things every traveller needs:
➼ Osprey Farpoint 70 Backpack
Detachable daypack, ultra-light, durable and free repairs for life. There's a reason why so many backpackers have this bag.
➼ Packing Cubes
Packing cubes are a gamer changer, keeping your luggage organised and providing tons of extra space.
➼ Power bank
There is nothing worse than running out of battery on an overnight bus journey or a long flight. With a powerbank you can charge your eletronics on the go and make sure you're always connected.
➼ Micro-fibre towel
These lightweight towels are foldable, fast-drying and so useful when you're travelling.

➼ You can find 15 more things every traveller needs here. Some might be a bit controversial but I warned you!
Did I miss anything?
If you have any questions or feel like something is missing from this post please leave a comment below or contact me.