It's hard to cook for yourself when you're travelling which means you will be eating out for most meals of your trip. Finding cheap places to eat in a large city like Kuala Lumpur can be a challenge but it's easier than you think if you know where to go. Find the best cheap lunch or dinner spots in KLCC and the rest of Kuala Lumpur including your new favourite food court, restaurant or street food.
Planning a trip to Kuala Lumpur? Check out these 19 things to do in the city and 6 you should skip.
This post may contain affiliate links, which means we'll receive a commission if you purchase through our links, at no extra cost to you. This helps us keep Guide your Travel free and provide high-quality content for you. Please read the full disclaimer for more information.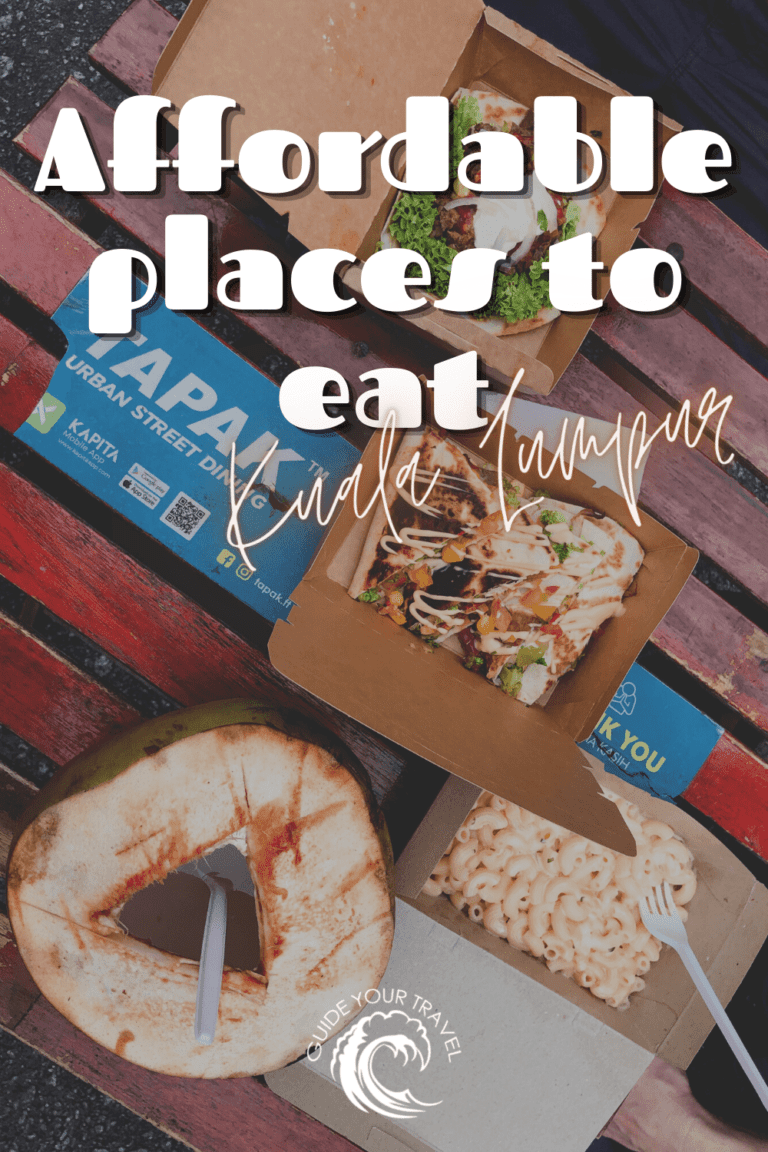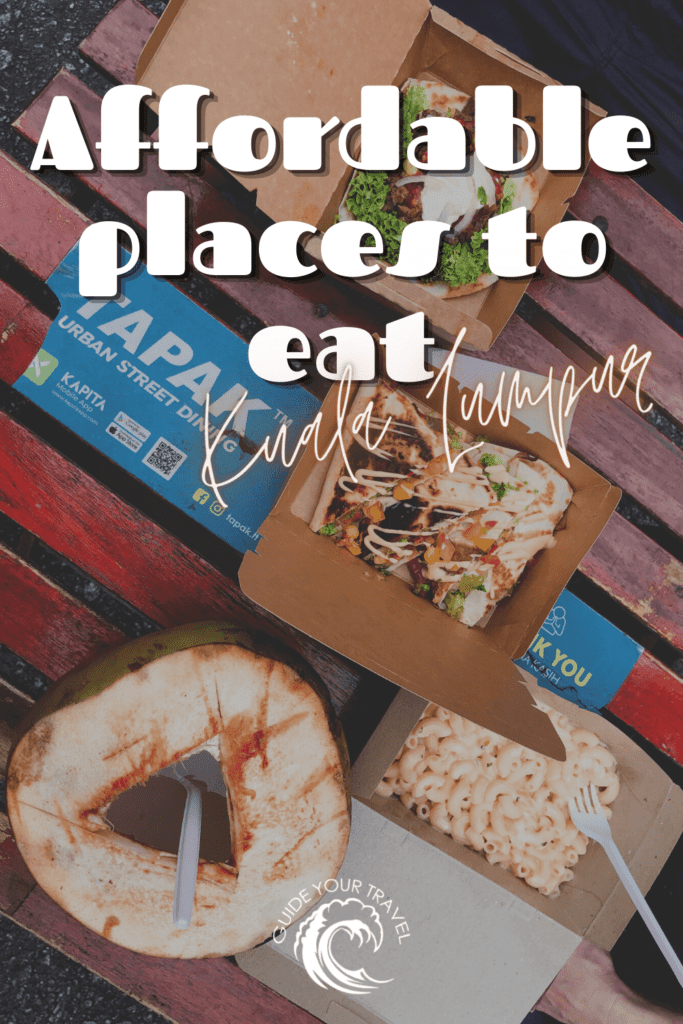 How easy is it to eat cheap in Kuala Lumpur?
Kuala Lumpur is not an extraordinary expensive South East Asian city. It is, however, also not the cheapest.
If you're smart about your travel budget you will have no trouble finding accommodation for around €10 per night. Eating out in Kuala Lumpur can be challenging but with the help of this list, there are plenty of cheap options for restaurants, food courts and street food.
The real danger is spending money at either expensive tourist locations or on drinks. Since Malaysia is a predominantly Muslim country finding alcohol is more difficult and far more expensive than you might be used to.
Expect to pay around RM 13 (~ €2.80) for a local beer during happy hour and upwards of RM 30 (~ €6.50) in a nicer bar or restaurant. Unfortunately, retail prices tend to be very similar.
Cocktails are even more expensive, especially if you go to one of the popular secret bars in Kuala Lumpur. Click here to read about how to find the best speakeasies in the city.
How to find cheap places to eat in Kuala Lumpur (restaurant, food court, street food)
When looking for cheap restaurants to eat at in Kuala Lumpur it is important to try to avoid tourist locations. Here prices will be significantly higher, even for fast-food chains.
This list includes a variety of food courts and hidden spots for lunch close to KLCC. Most of these places are frequented by office workers during their lunch break which is why they tend to be very quiet during the weekends. The locals know best where to find the cheapest food.
At most of the places mentioned in this post you will be able to find a meal for around RM 6 to RM 12 (~ €1.30 to €2.60). Since many operate buffet-style this is really up to how much food you order.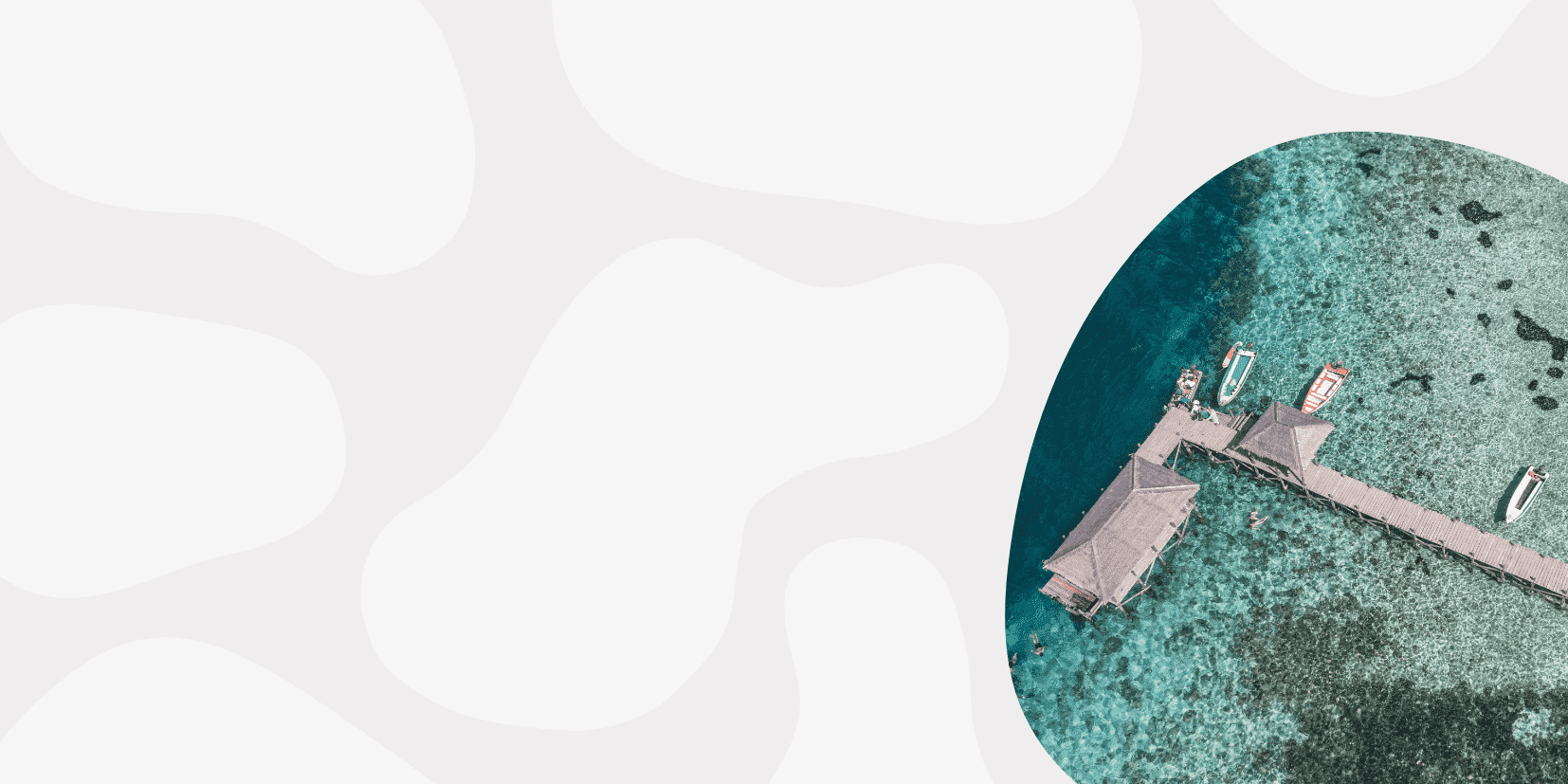 Let me save you time and effort when you're travel planning!

➼ Best travel insurance? SafetyWing
➼ Best place to find cheap flights? Skyscanner
➼ Best bank & credit card for travellers? Wise
➼ Best travel backpack? Osprey Farpoint 70
Where to stay in KLCC on a budget
Kuala Lumpur is generally not an expensive city and there are plenty of budget-friendly accommodation options around if you know where to go. Chinatown or areas outside of the city centre tend to be cheaper but there are still hotels and hostels for affordable prices close to KLCC, especially slightly north west, close to Bukit Nanas. Make your stay in Kuala Lumpur affordable by finding cheap places to eat and to stay.

Here are some of our favourite budget hotel deals in Kuala Lumpur.
Budget – Explorers Guesthouse
If you're looking for a dorm room in the heart of Kuala Lumpur the Explorers Guesthouse is a great choice. Make sure to book early, it usually sells out fast.

Price range: 4€ – 8€ per night
➼ Check prices here
Budget – Travel Hub Guesthouse
This Chinatown hostel is known for its secret rooftop bar and is idea for budget travellers and backpackers. There is a kitchen and both dorm or private rooms to choose from.

Price range: 5€ – 8€ per night
➼ Check prices here
Budget – Five Senses Ceylonz Suite
Enjoy luxury on a budget at this affordable hotel in Bukit Bintang. There is a beautiful rooftop pool and even a gym available.

Price range: 15€ – 20€ per night
➼ Check prices here
Mid-price – Greystone Scarletz Suites
This hotel is comfortable but not too expensive, making it ideal for those who want to avoid staying in a hostel but also don't want to spend too much.

Price range: 25€ – 50€ per night
➼ Check prices here
12 cheap places to eat close to KLCC, Kuala Lumpur
1. Dharma Realm Guan Yin Sagely Monastery
The Dharma Realm Guan Yin Sagely Monastery located inside Kun Yam Thong Temple is one of the best cheap places to eat in Kuala Lumpur.
This Buddhist temple serves an all–vegetarian food buffet on weekdays as well as a selection of freshly made soups, desserts and daily specials. Lunch is available between 11:00 AM and 2:30 PM although it is best to go before 1:00 PM to get the best selection.
The food-hall is at the back of the temple and is not advertised on the outside. Although there is no official dress-code be aware that you are entering a religious site and should dress appropriately.
The prices for food vary according to how many dishes you choose. You can get a meal for as low as RM 5 (~ €1.10).
The monastery is a popular lunch spot for office workers in the area but is not very well known amongst tourists. Although it is only a 7-minute walk from KLCC and the twin towers it feels like a different world.
Old ladies sit at the edges of the food-hall and peel vegetables or cook the dishes right in front of your eyes. The people working here are some of the friendliest I have met in Kuala Lumpur.
The selection of food is so large it can almost be overwhelming. Even if you are not a vegetarian you will find plenty of tasty options here. Most of the foods are Chinese or Chinese-Malaysian dishes. Don't miss out on some traditional barley drink and some sesame balls and sweet pao for dessert.
If you only visit one of the cheap places to eat in Kuala Lumpur on this list, definitely go to Dharma Realm Guan Yin Sagely Monastery.
Address: 161, Jalan Ampang, 50450, Kuala Lumpur, Wilayah Persekutuan, Kuala Lumpur, 55000 Kuala Lumpur, Federal Territory of Kuala Lumpur, Malaysia
Note: The food buffet at Dharma Realm Guan Yin Sagely Monastery is currently still closed due to the covid-19 pandemic. It's expected to reopen soon so make sure to stop by and check when you're in Kuala Lumpur.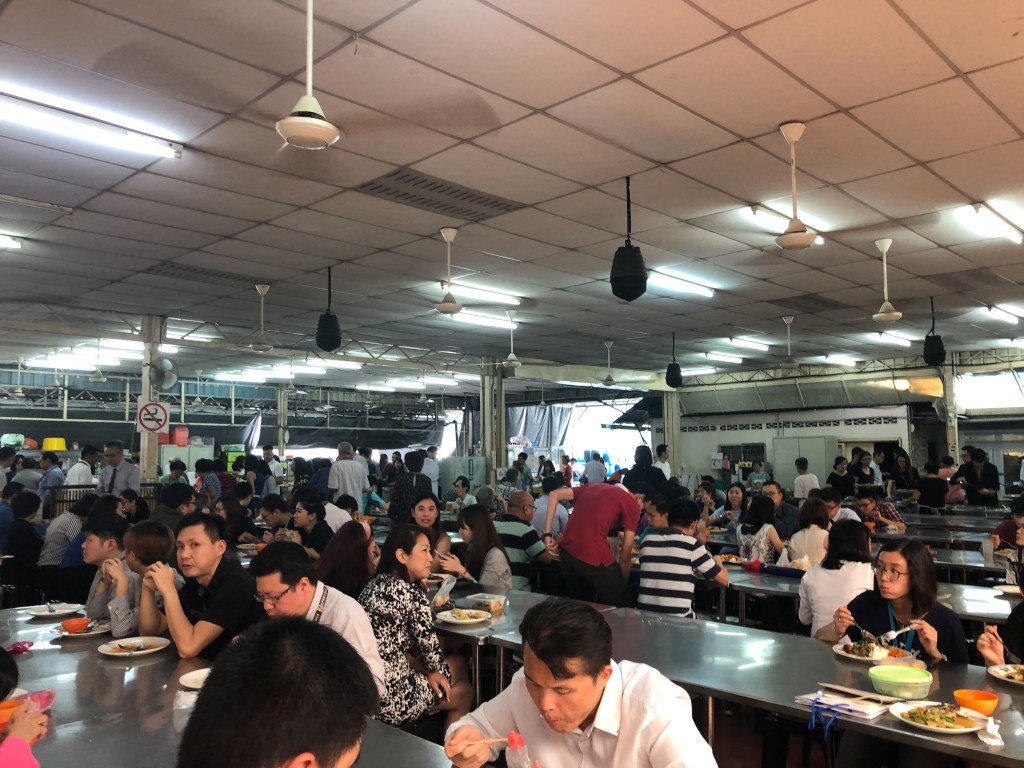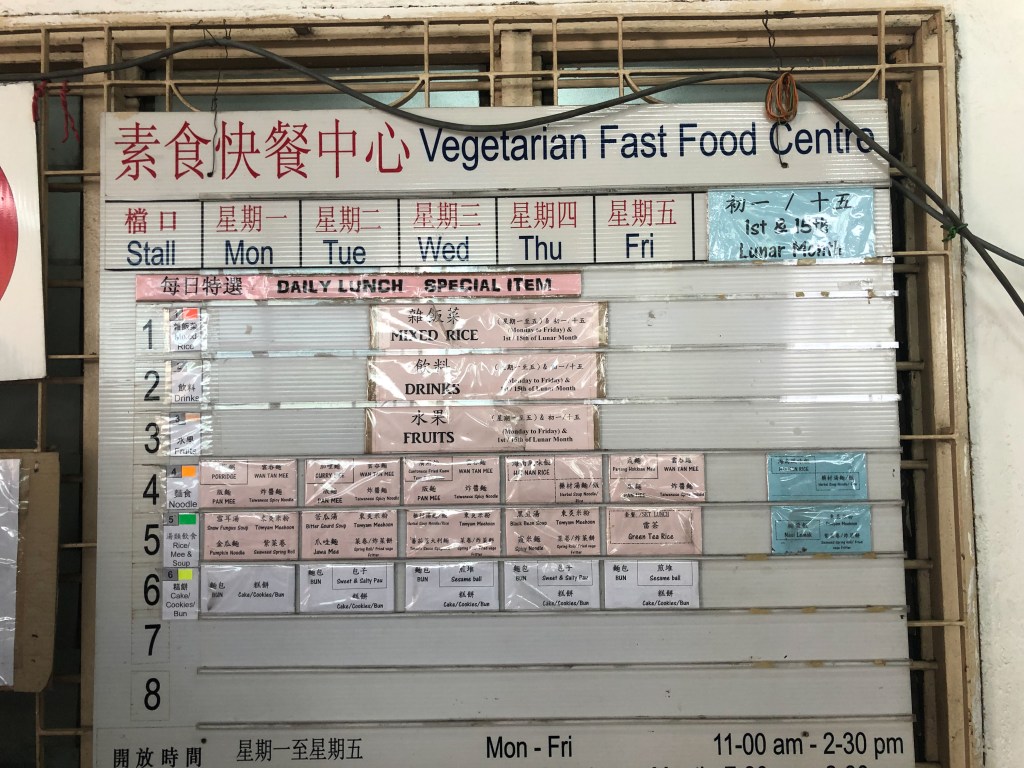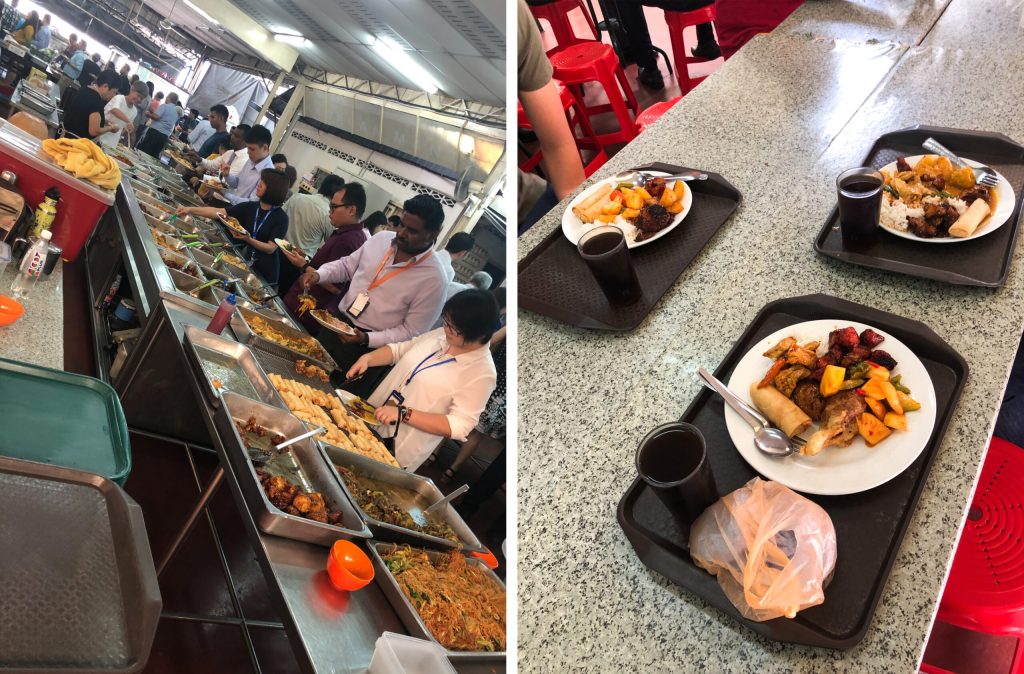 2. Tapak Urban Street Dining
While most of the cheap places to eat on this list are only open for lunch Tapak Urban Street Dining is the best spot in Kuala Lumpur for a cheap and authentic dinner or evening snack.
At 6:00 PM every evening a variety of food trucks take over a parking lot only 400m from the Petronas Towers. You will find both local and international food options here at very low prices.
Each food truck has its own theme with dishes ranging from Italian, Mexican to Indonesian and, of course, Malaysian.
While you'll have no trouble finding a cheap and tasty dinner here it is also a popular place amongst locals to stop by for an evening snack. My absolute favourite is the "Milky Mango", a giant drink of mango blended with ice-cream and condensed milk with more fresh mango on top. It's one of the best mango drinks I have found in KL.
There are also lots of trucks offering churros which are my other favourite snack here.
Definitely stop by Tapak if you're in KLCC in the evening. Especially during sunset, the atmosphere is amazing.
Rainy day? No problem. Tapak Urban Street Dining has roofed seating that will keep you dry while you enjoy your meal.
This modern twist on street food is the project of three high school friends who called it into action in 2016. Each food truck taking part has to be certified and offers very high–quality food.
Of course, the prices are very reasonable. You will find a meal for around RM 7 (~ €1.50) although there are cheaper snack options. A Milky Mango will also cost you RM 7 (~ €1.50). It's a must-try.
Address: Persiaran Hampshire, off, Jalan Ampang, Hampshire Park, 50450 Kuala Lumpur, Wilayah Persekutuan Kuala Lumpur, Malaysia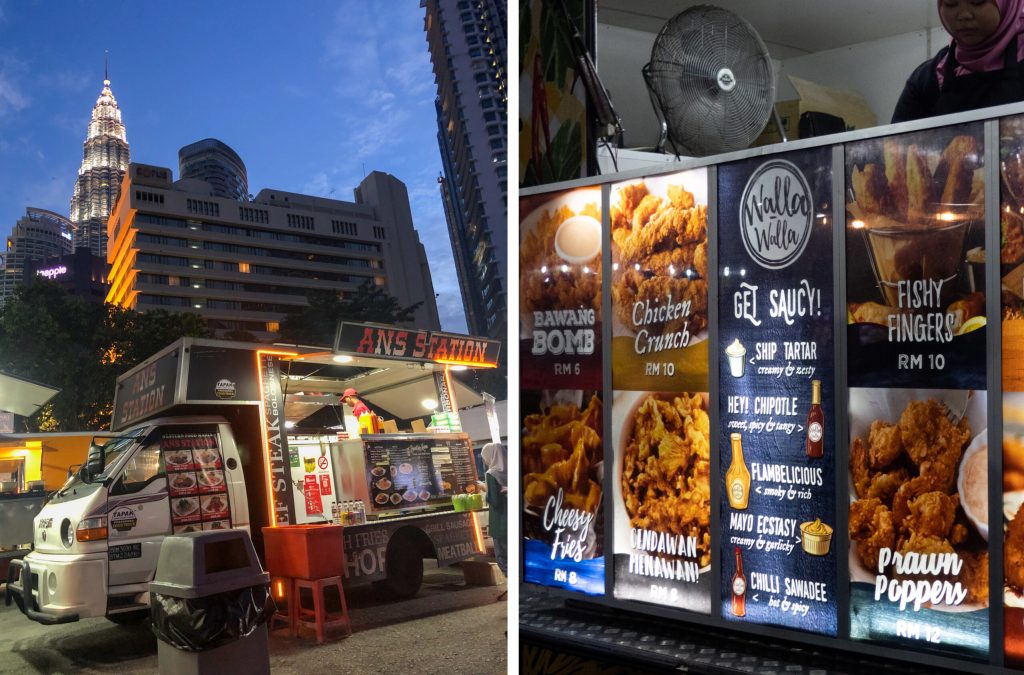 3. Citibank KL food court on level 5
The Citibank Tower is a prominent part of KLCC. On the 5th floor, there is a great food court that is so hidden it's nearly impossible to find for tourists visiting Kuala Lumpur.
It's best to visit on weekdays between 11:00 AM and 2:00 PM. The biggest rush will be at around 12:30 PM when most employees of Citibank and the surrounding offices have their lunch break.
To enter the food court you have to obtain a KL visitors badge from the ground floor reception. You will need an ID such as a passport with you. Sometimes there is a line to get these badges since they are single-use and have to be returned after your visit.
You'll find the food court on the 5th floor of this popular Kuala Lumpur bank. There are around twenty food stalls to choose from with many tasty options. You can find mostly Indian, Chinese and Malaysian dishes here but also some Japanese and many vegetarian options.
A plate of food will cost anything between RM 6 (~ €1.30) and RM 10 (~ 2.20) depending on how much you take.
Having lunch at Citibank is a great way to escape the tourist crowds and immerse yourself in the busy lunch break of the locals. It's only a 10-minute walk from the Petronas Towers and the Ampang Park LRT station is located right in front of the building. Easy to reach, cheap and authentic; what more could you want?
Address: Level 1, Smart Banking Area Menara Citibank, 165, Jalan Ampang, Kuala Lumpur, 50450 Kuala Lumpur, Wilayah Persekutuan Kuala Lumpur, Malaysia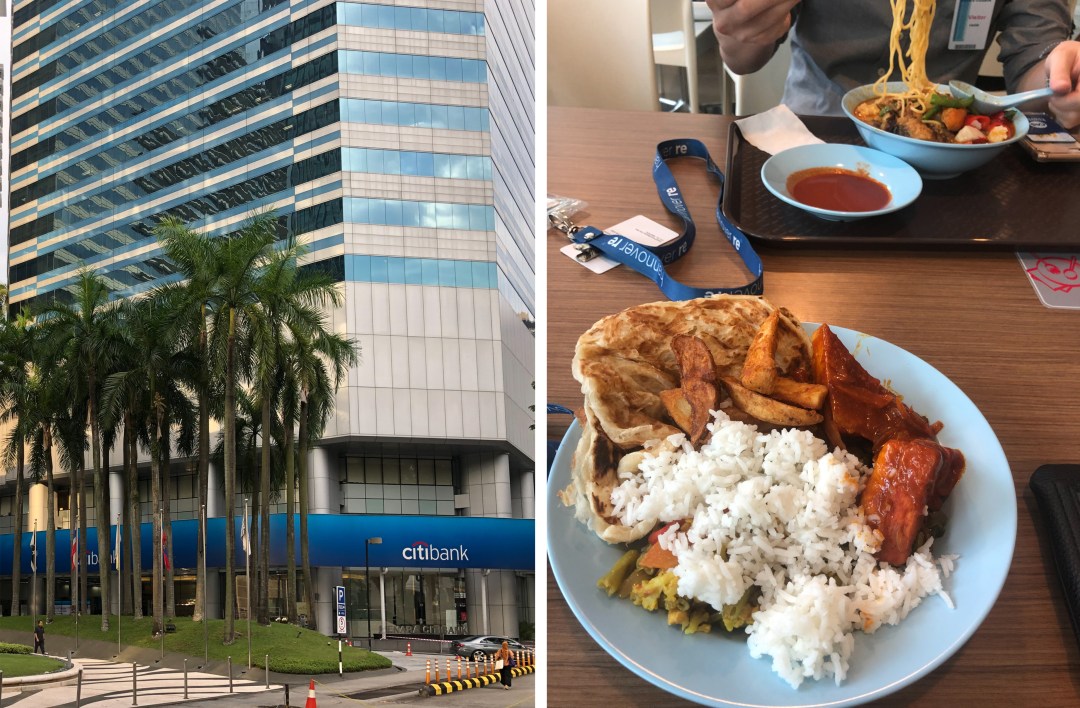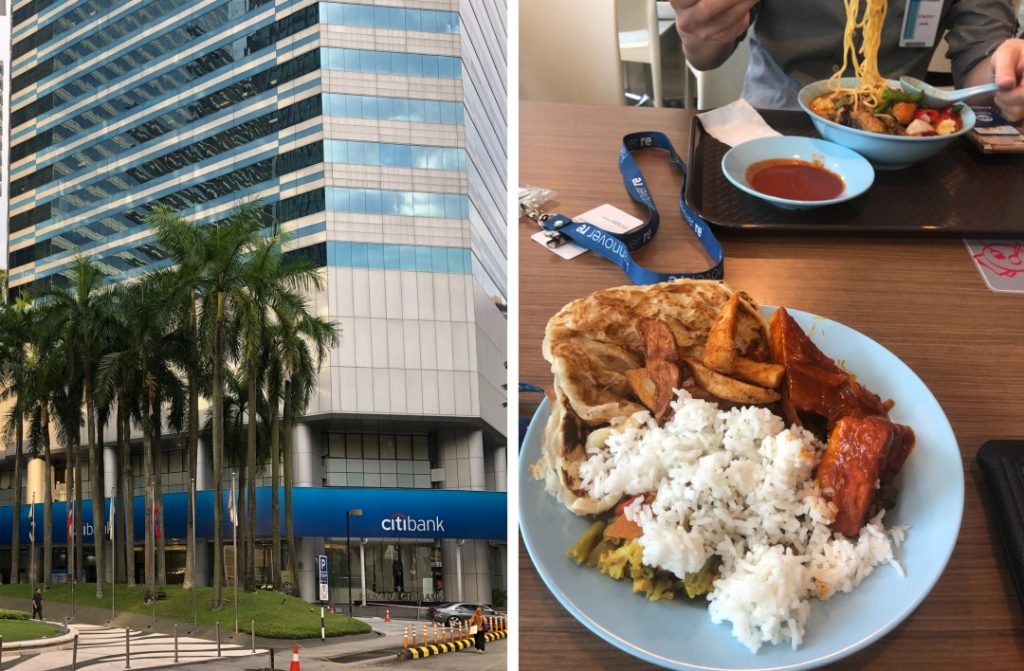 4. The Linc (Ben's Independent Grocer KLCC)
The Linc is a relatively new and upscale shopping mall in KLCC across the road from the Ampang Park LRT station. Inside you will find nicer restaurants and artisanal shops as well as great architecture.
There is a "Ben's Independent Grocer" in the mall, which has a very small food court within it. You'll find a Vietnamese stall and a western one with cheap prices and high-quality food which can be difficult to find in KL.
The cheaper dishes will cost you around RM 8 (~ €1.70) although prices do go up to RM 20 (~ €2.80). If you're lucky you can find a lunch special for a cheaper price.
The Linc is quite expensive other than this little food court hidden away in the heart of KLCC. There is some amazing architecture, however, so why not take some pictures and explore while you are here.
To read more about the Linc and other great shopping malls in KLCC check out our post about the best shopping malls in Kuala Lumpur.
Address: 360, Jalan Tun Razak, Taman U Thant, 50400 Kuala Lumpur, Wilayah Persekutuan Kuala Lumpur, Malaysia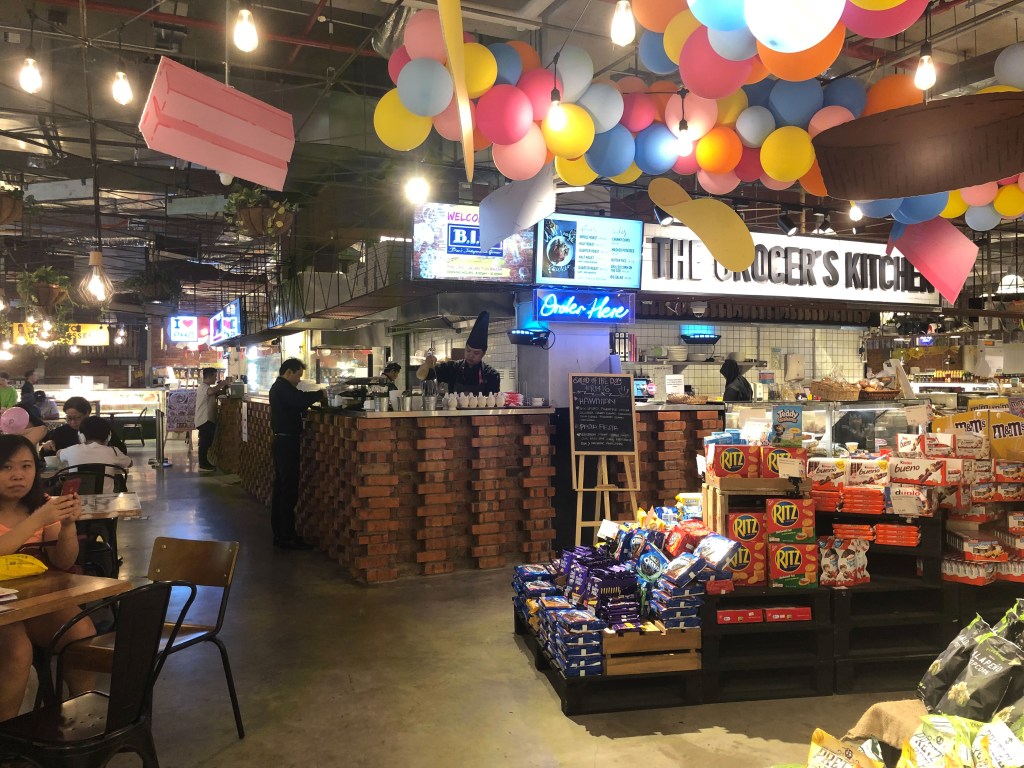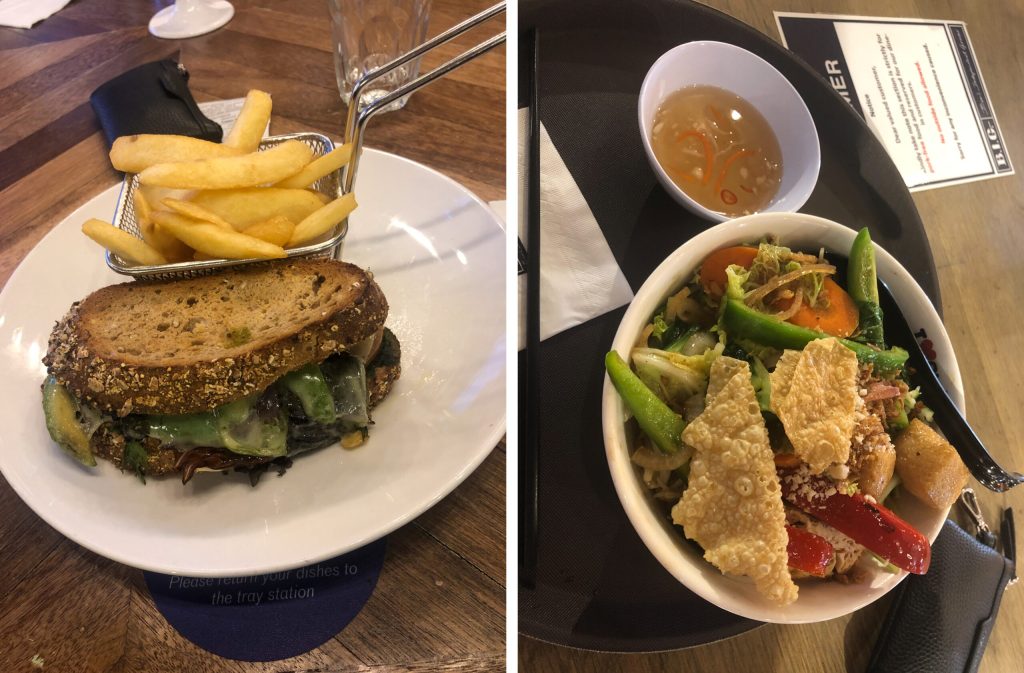 G-Tower is a large hotel and office building opposite the Linc and next to Ampang Park LRT station.
In the basement of the Kuala Lumpur G-Tower, you can find the Food Hive, a small food court with around seven stalls. This food court is generally a bit quieter than the others on this list of cheao restaurants in Kuala Lumpur. Again it is frequently visited by employees on their lunch break so it does get busy at around 12:00 PM.
The restaurants here serve Malaysian as well as Thai and Chinese inspired food dishes. Prices are reasonably low, starting at just RM 8 (~ €1.70).
The Food Hive can be tricky to find as it as its own separate entrance to the right of the main building doors. Follow the stairs to the lower level and you won't miss it.
This food court is a great option for a quick lunch if you're in this part of Kuala Lumpur. Don't miss out on the delicious sweet and sour dishes.
Address: Kuala Lumpur City Center LG-07 & 08, Lower Ground Floor, GTower, 199, Jalan Tun Razak, Kuala Lumpur, Kuala Lumpur, 50450 Kuala Lumpur, Federal Territory of Kuala Lumpur, Malaysia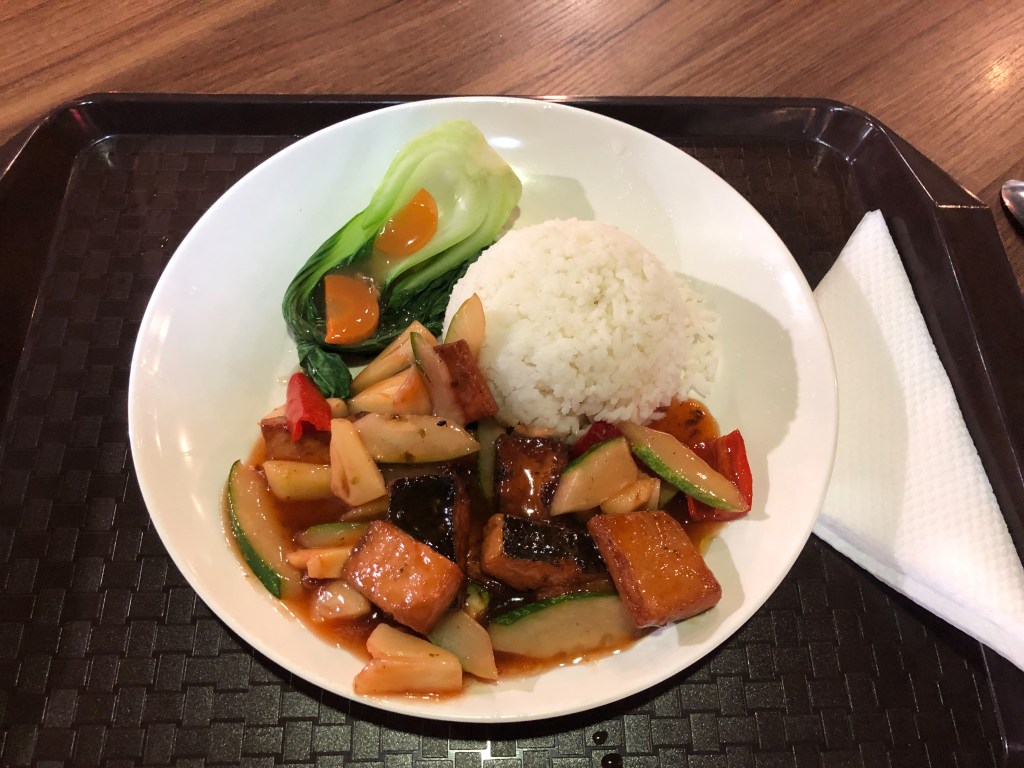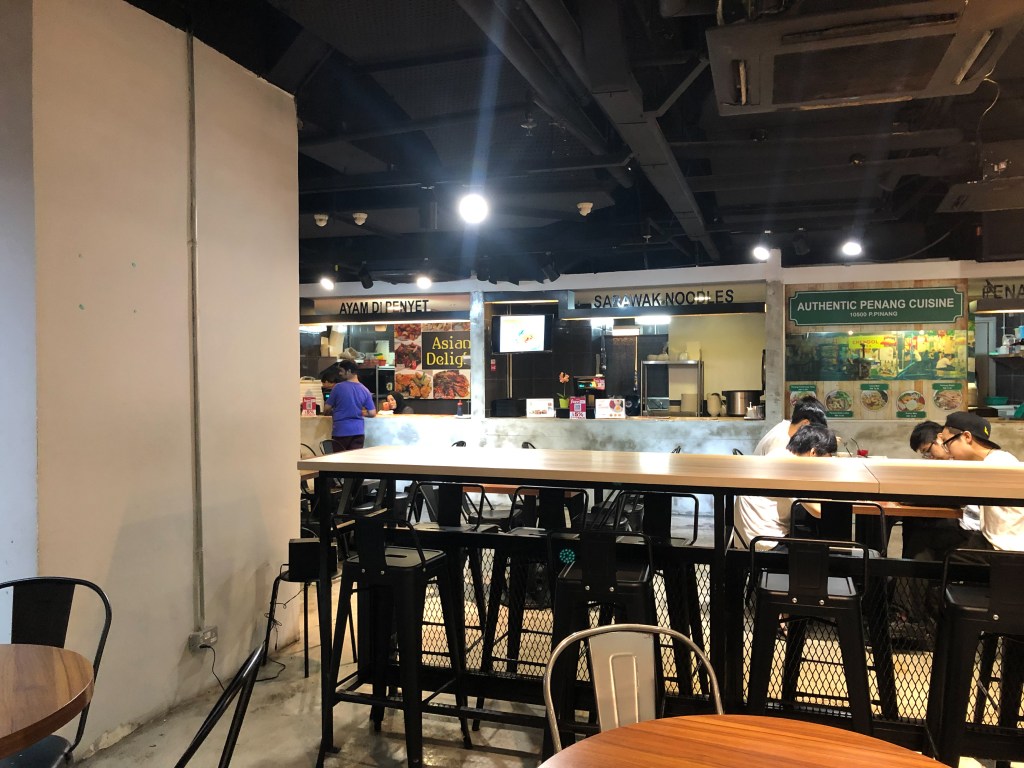 6. The Intermark food court
The Intermark is another shopping mall with a decent selection of restaurants and a food court located very close to the Petronas Towers and KLCC.
On the bottom floor of the building is one of the best and most affordable food courts in the area in my opinion. Even at some of the traditional restaurants next to the food court, you'll be able to find a meal for RM 10 (~ €2.20).
If you order from one of the buffet-style stalls in the food court you'll be able to get a plate of food for only RM 7 (~ €1.50) depending on what you choose.
There are Japanese, Korean, Western, Malaysian and Chinese options in this food court. It's separated into both halal and non-halal cuisine which means there is something for everyone.
The Farmhouse Kitchen is by far my favourite at this food court. Their dishes are varied and even cater for vegetarians.
The Intermark food court gets packed during lunchtime on weekdays. It may be difficult to get a table between 12:00 PM and 1:00 PM if you're in a larger group. During the weekend you will have plenty of space.
If you're still hungry after lunch why not have a delicious dessert at one of the bakeries in the mall?
Address: The Intermark mall, Kampung Datuk Keramat, 50450 Kuala Lumpur, Wilayah Persekutuan Kuala Lumpur, Malaysia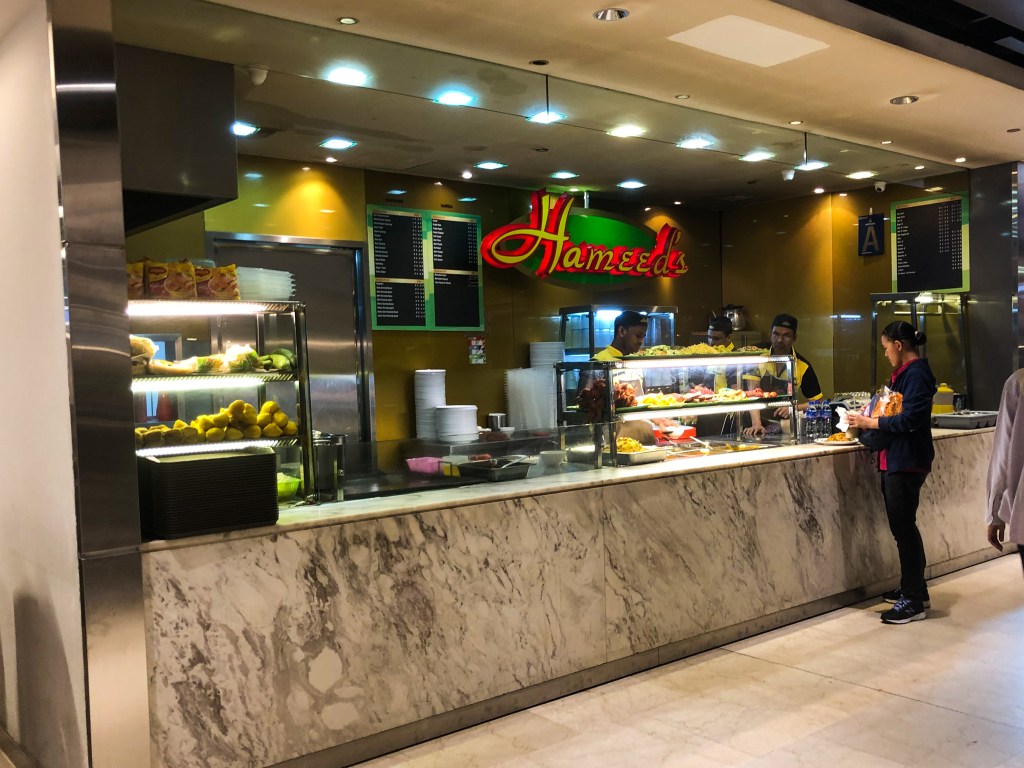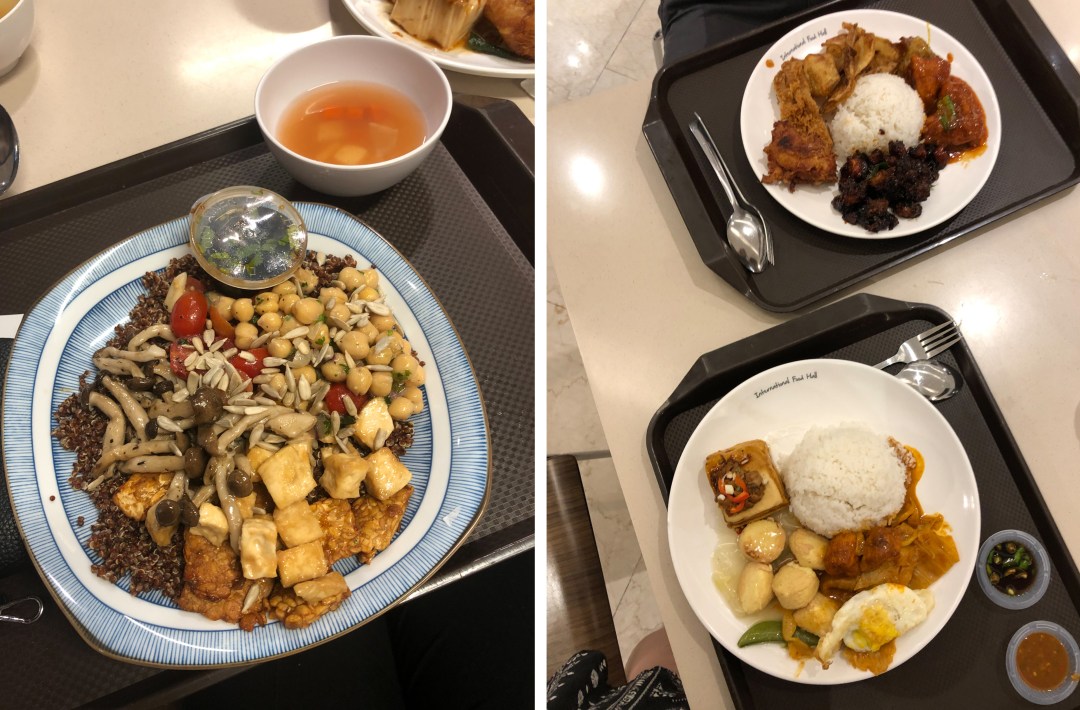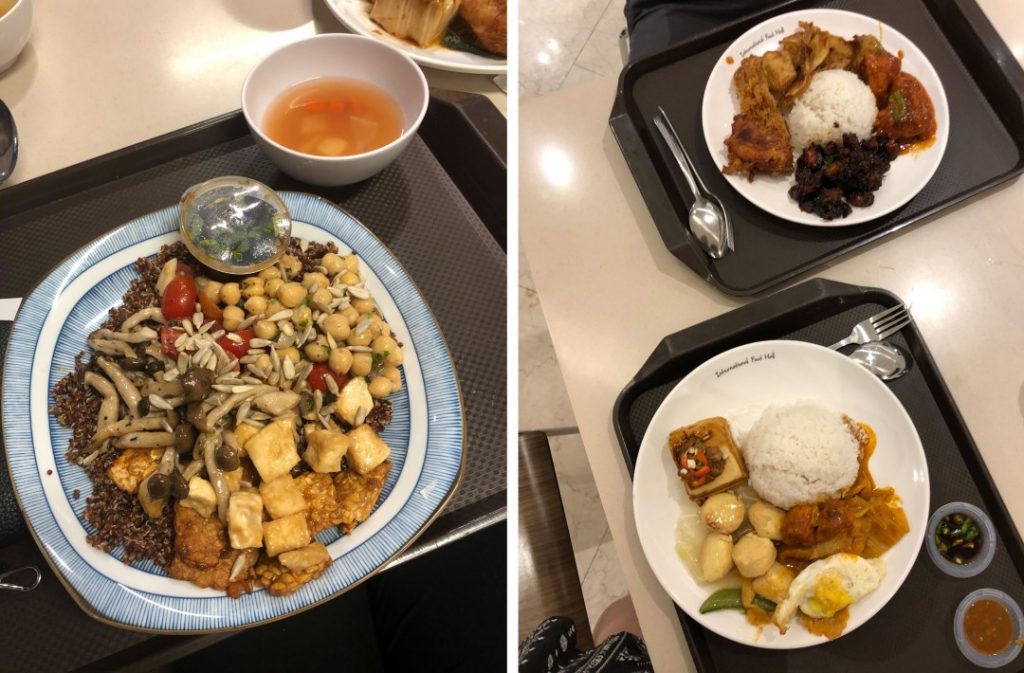 7. Robinsons Malaysia Boleh!
Malaysia Boleh! (translates to "Malaysia can do it") is a popular food court in the basement of the Four Season's Hotel in Kuala Lumpur. You can reach it by going into Robinson's (a large department store) and taking the escalator to the bottom floor.
The food court has a lot of options but not the biggest selection of seating. Getting a table during lunchtime on weekdays is near to impossible. I would recommend getting your meal take-away if you cannot find a seat and having it in KLCC Park.
Malaysia Boleh! aims to recreate authentic Malaysian street food. The food court is decorated in colonial style creating the illusion of dining on a busy street of historic Kuala Lumpur.
The food is very high quality with prices ranging from RM 8 (~ €1.70) to RM 15 (~ €3.25). It is tricky to find vegetarian options here unless you customise existing dishes. For a detailed review of the signature dishes served in Malaysia Boleh! check out this post by Malaysian Flavours.
Malaysia Boleh! is located right next to the twin towers which makes it ideal as a lunch stop when you're tired of sightseeing.
Address: 145, Jalan Ampang, Kuala Lumpur, 50450 Wilayah Persekutuan, Federal Territory of Kuala Lumpur, Malaysia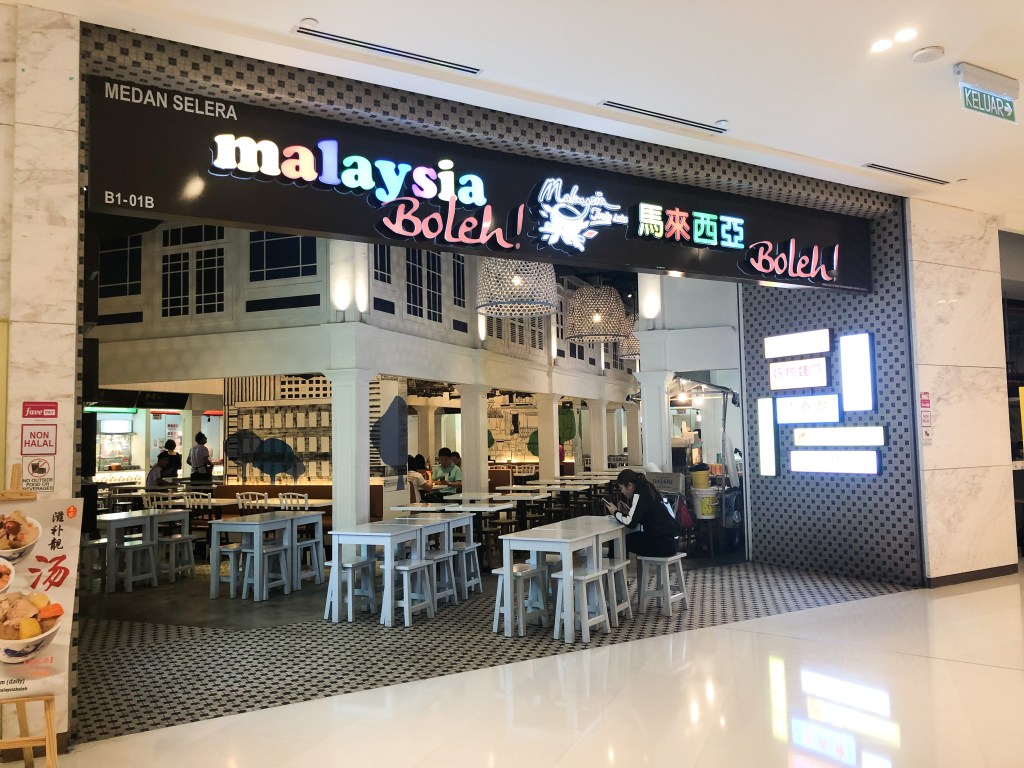 8. Trillion (Taste@Trillion)
Taste@Trillion is a hidden food court that only locals and some Kuala Lumpur expats know about. You'll find it on the ground floor of the Trillion building. It has its own entrance from the outside which can be easy to miss.
The food in here is predominantly Malaysian with some Chinese options. Prices are very low starting at just RM 6 (~ €1.30).
This food court is slightly less busy than its neighbour The Intermark. You'll have less trouble finding a seat here.
The vendors at Taste@Trillion are some of the nicest I have met in the area. They were very helpful in finding vegetarian options and recommending dishes from their menu.
This food court is very authentic and away from the large tourist hubs of Kuala Lumpur. If you're lucky enough to find it you can have one of the best lunches in KL here.
Address: 338, Jalan Tun Razak, Kampung Datuk Keramat, 55000 Kuala Lumpur, Wilayah Persekutuan Kuala Lumpur, Malaysia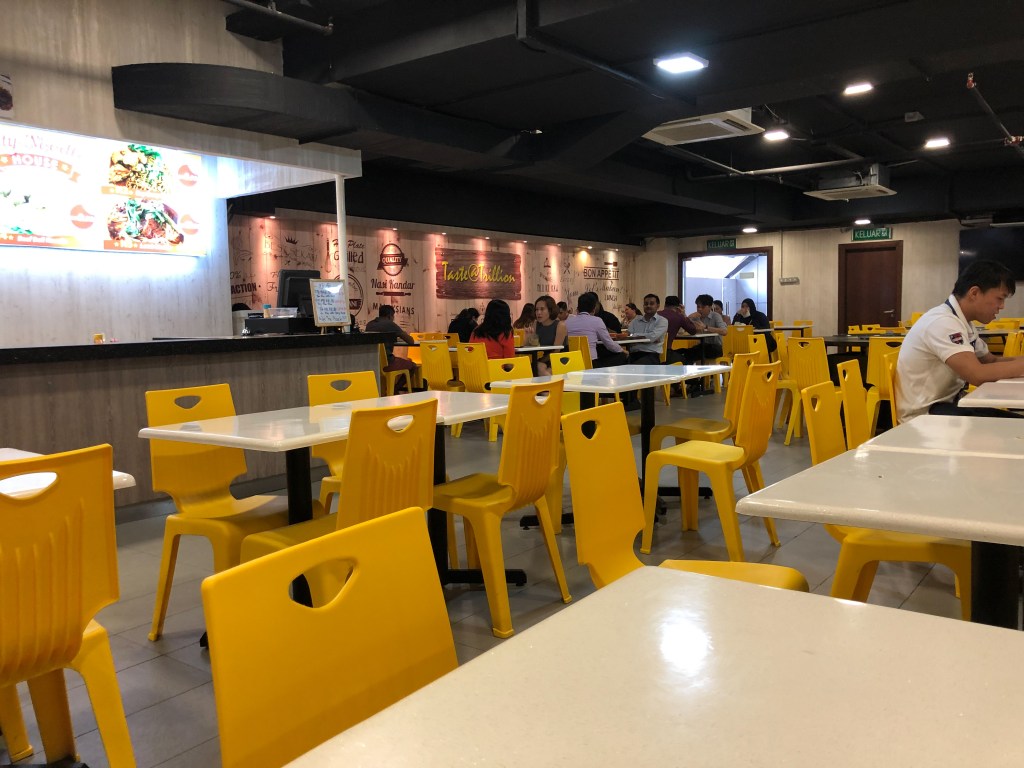 9. Wisma Central
Wisma Central is a hidden gem right next to the Four Season's Hotel and the twin towers. Tourists walk by it every day without knowing the secret food court that hides inside.
The building is old and looks ready to be demolished. Inside is a half-abandoned shopping mall with only some small shops still in operation. If you go up to the first floor you will be greeted with more closed shutters and locked doors. However, if you go around some corners the shops turn into little buffet-style mixed rice restaurants that offer tasty selections of local Malaysian food.
Owners have turned shops into kitchens and seating areas which even spill into the corridors of the old shopping mall.
Most of these restaurants have buffets where you can picking mix your own food but some also offer soups and noodle dishes made on–demand. Don't be afraid to ask the friendly owners as you will not find menus or price lists here.
Wisma Central is mostly popular among workers which makes the prices very cheap. Your meal will cost you anywhere from RM 6 (~ €1.30) to RM 10 (~ €2.20) sometimes even with a drink included.
Eating at Wisma Central is an authentic Malaysian experience that gives you a taste of local everyday life and culture. It's not to be missed.
Address: 147, Jalan Ampang, Kuala Lumpur, 50450 Kuala Lumpur, Wilayah Persekutuan Kuala Lumpur, Malaysia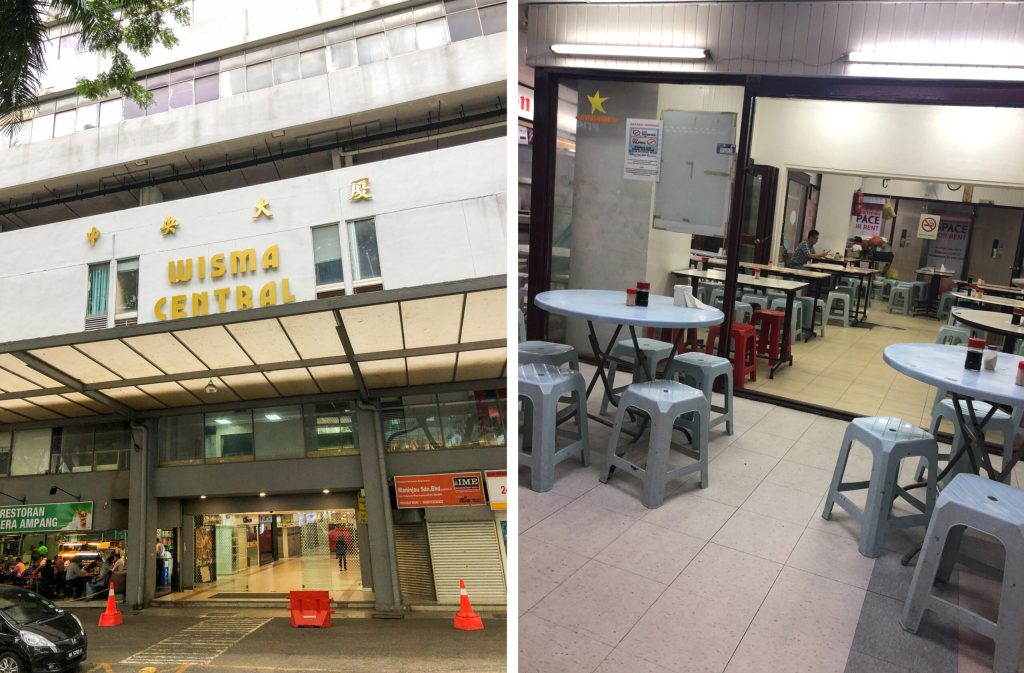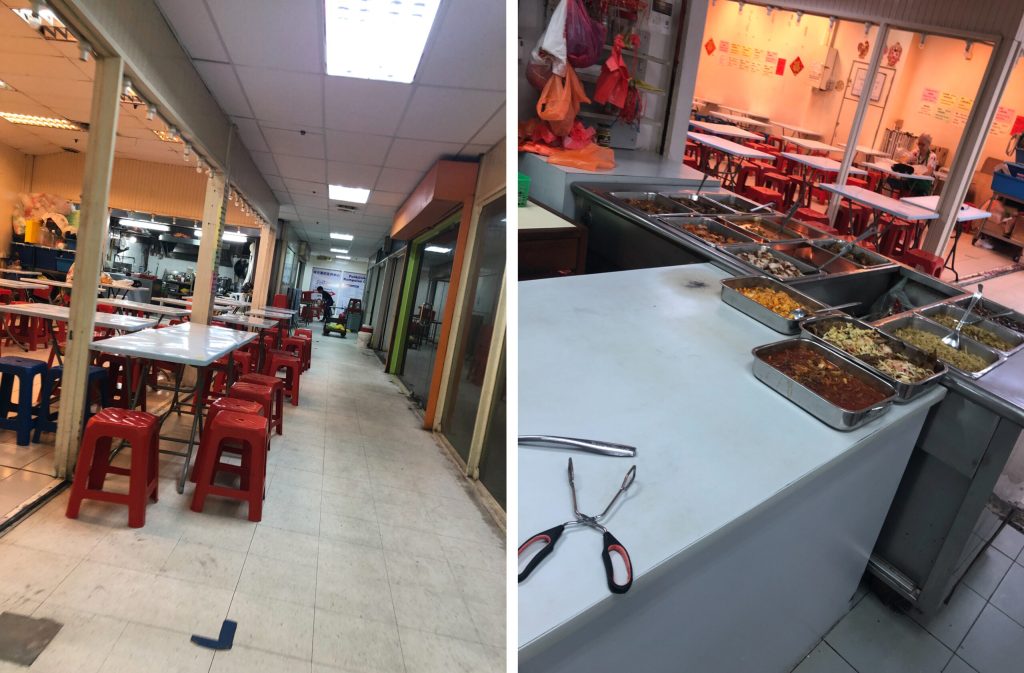 10. RSMY Best Cheese Naan
RSMY Best Cheese Naan will satisfy all your Indian food cravings during your time in Kuala Lumpur without having to spend too much money.
11. Restoran Kudu Abdul
12. NZ Curry House, KLCC
13. Noodle Shack at Avenue K
More cheap places to eat in Kuala Lumpur (Chinatown, Bukit Bintang)
14. Tang City Food Court Chinatown
If you're looking for an affordable food court in the heart of Chinatown, Tang City is not to be missed. Generally, this is the more touristy choice and therefore slightly more expensive than other food courts in and around KLCC which tends to have more local office workers rather than backpackers. However, if you're staying in the area, this is a fantastic spot for lunch. Choose between a wide variety of dishes and you'll be happy to know that there are even some vegetarian options.

This food court is designed mostly for tourists which is why they also serve alcohol here which means buckets of Carsberg beer. Expect to pay somewhere around RM10 to RM15 per meal.
15. Food Republic – Pavilion Food Court
Food Republic is a huge food court located in Pavilion shopping mall in Bukit Bintang. This isn't necessarily one of the cheapest places to eat in Kuala Lumpur but compared to the surrounding area of Bukit Bintang it's still reasonable. Just make sure to pick carefully where you're eating within the food court and try to choose a Malaysian option, not something western.

The vegetarian food stall is reatively affordable and has a good selection of dishes. Highly recommended even if you're not a vegetarian yourself.
There are also some self-service bakeries here which sell baked goods for very low prices. These make for a great snack on the go or dessert and there are tons of options to choose from.
16. Ray Power Corner
This litte food stall is located right next to Petaling Street in Chinatown and makes some of the best affordable food in Kuala Lumpur. Their speciality are sizzling plates and they even make a vegetarian version on request. Expect fried noodles, egg, (meat) and veggies all served in sizzling soy sauce in a clay dish.

The stall is owned by a local family and they cook authentic food for reasonable prices. They're extremely welcoming to tourists and a great spot to support after they struggled to survive throughout the pandemic.

Since this is Chinatown you can also purchase Chang beer here which is very reasonably priced at RM7. Expect to pay between RM12 and RM18 for a dish.
17. Mansion Tea Stall
The Mansion Tea Stall has acquired a decent amount of fame amongst food bloggers and tourists ever since Mark Wiens featured it in one of his Migrationology videos.
This restaurant sits on the edge of the Klang River away from KLCC in an area of Kuala Lumpur that might not be the most beautiful but has a great selection of affordable restaurants.
From Masjid Jamek LRT station you'll walk for around 8 minutes until you reach the Mansion Tea Stall. The restaurant is simple with no-frills seating but very friendly staff.
If you go here you have to try the Roti Special which comes with a mix of dhal, curry and sambal and two soft eggs. It is one of my favourite dishes in Kuala Lumpur.
The Mansion Tea Stall is not only famous for their Roti Special but also their Teh Tarik which is rumoured to be one of the best in the city. This sweet iced tea is the perfect way to balance the deliciously spicy sambal and make your meal complete.
For a Roti Special and a Teh Tarik, you will pay around RM 5 (~ €1.10) which is one of the cheapest prices on this list.
Visiting the Mansion Tea Stall is the perfect way to immerse yourself in Indian-Malaysian culture and have a cheap lunch that you will tell all your friends at home about. It's that good.
Address: Kuala Lumpur City Centre, 50100 Kuala Lumpur, Federal Territory of Kuala Lumpur, Malaysia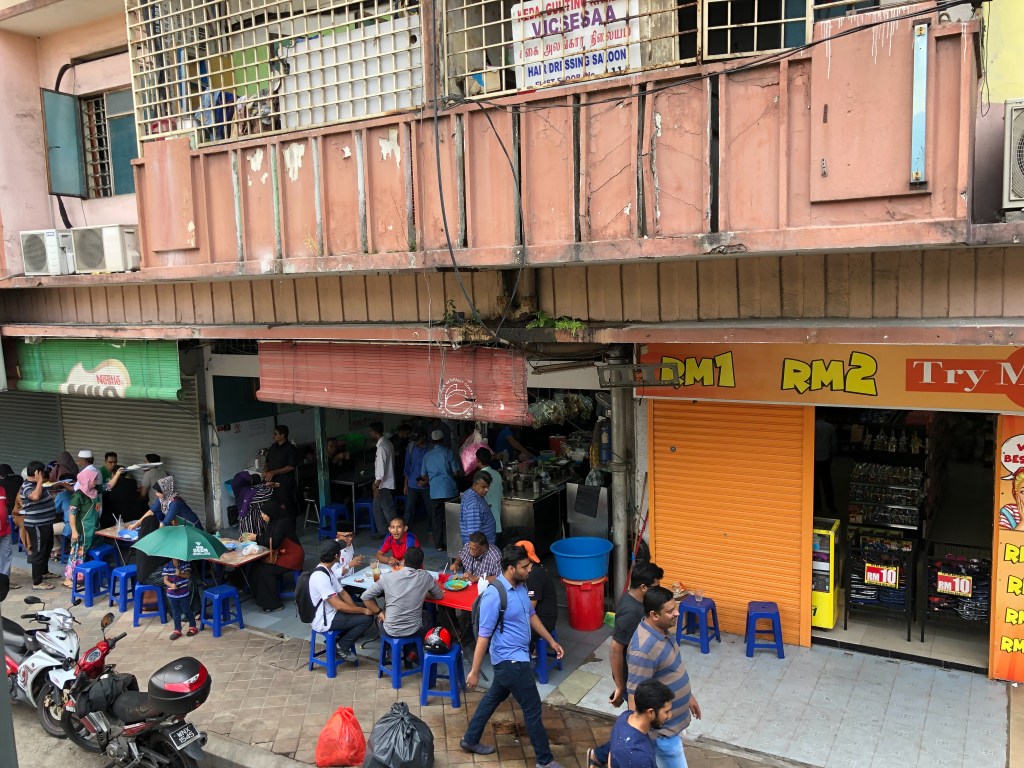 18. Houtong food court
The Houtong isn't just any other food court. It describes itself as a "Food hall with the best hawker stalls of Malaysia". This non-halal establishment is meant to replicate the tight alleyways and bustling streets of Beijing, hence its name.
The stalls here are all 2nd or 3rd generation family businesses with prized dishes and gourmet reputations. The restaurants are hand-picked and have to be traced back at least 40 years with a unique brand to be able to get a spot in the food court.
The atmosphere here is incredible and even if you don't plan to eat you should at least walk through Houtong. Since it is non-halal you will be able to have a beer with your meal and watch the vendors as they prepare each meal fresh.
Prices here will range from RM 8 (~ €1.70) to RM 12 (~ €2.60) so not the cheapest but definitely still reasonable for Kuala Lumpur.
The Houtong food court is located in the basement of the Lot 10 shopping mall in Bukit Bintang. For more details check out our 11 best Shopping Malls in Kuala Lumpur post.
Address: Bukit Bintang, 50250 Kuala Lumpur, Federal Territory of Kuala Lumpur, Malaysia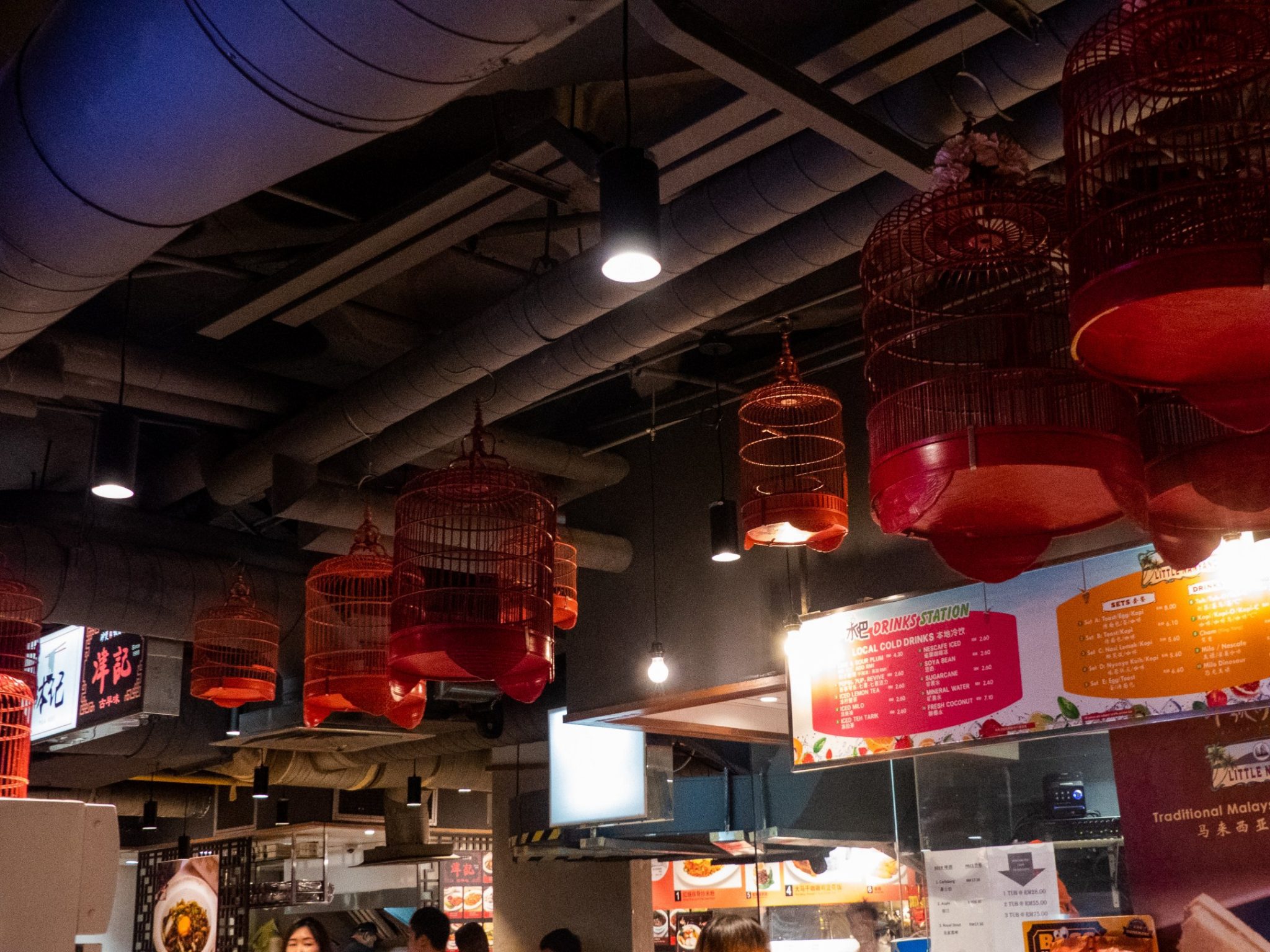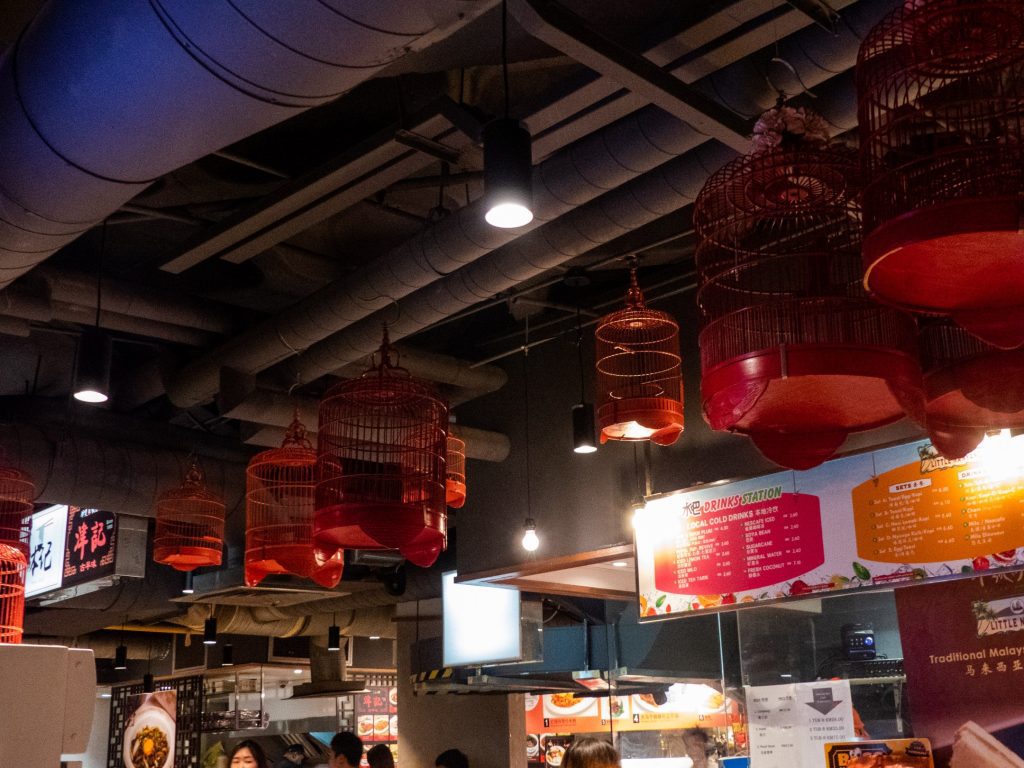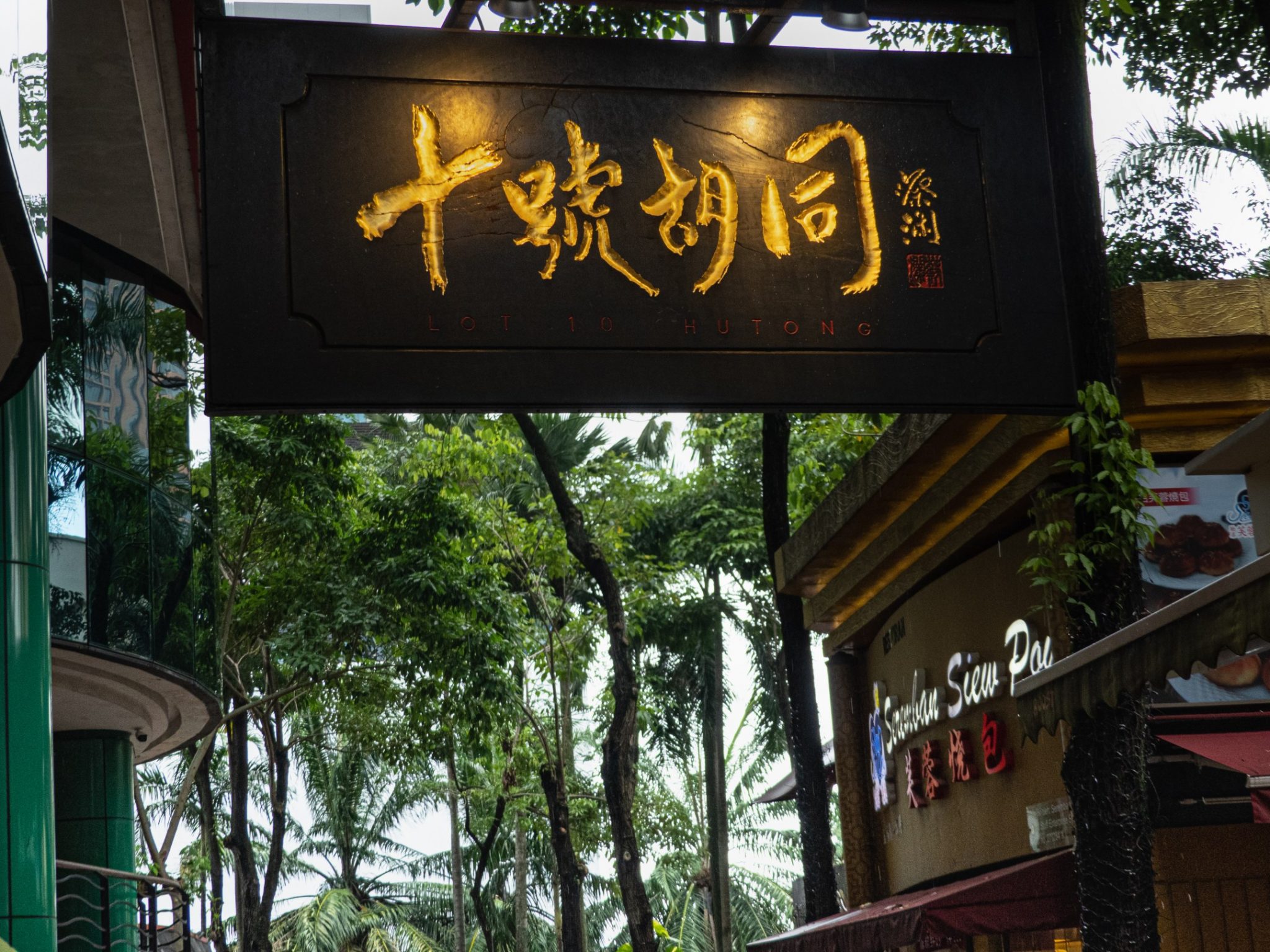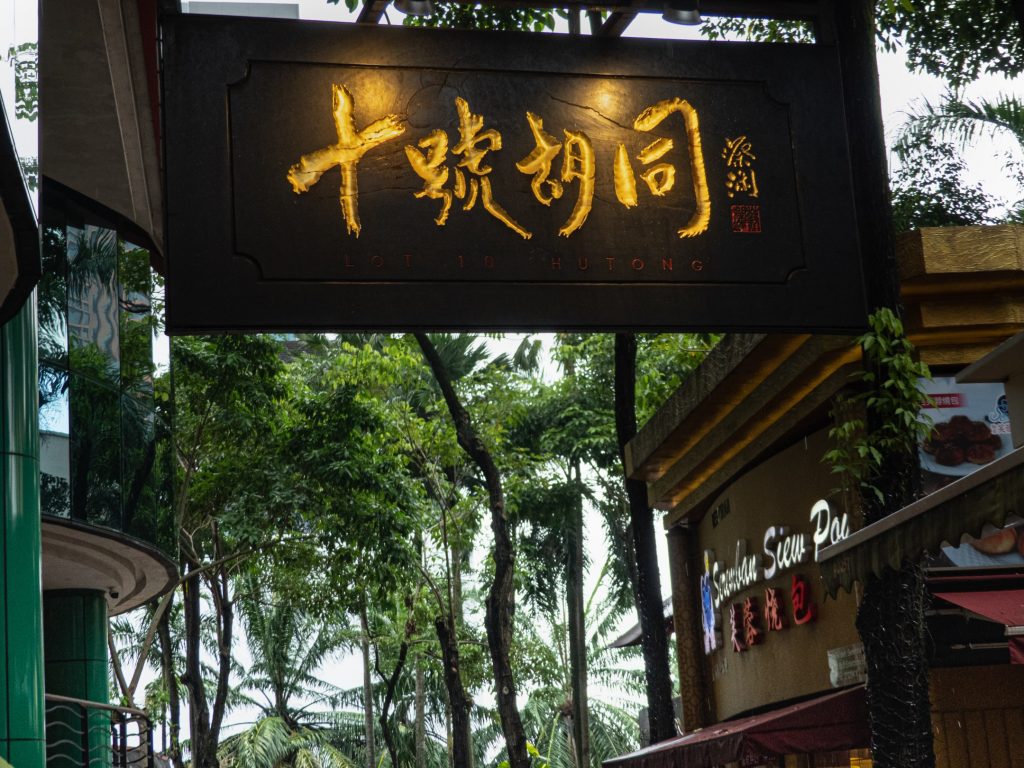 19. Central Market food court
Central Market is a tourist destination you will find on every "What to do in Kuala Lumpur" list. This ancient building houses an indoor market selling arts and crafts as well as souvenirs and batik. It is located in China Town right at the Pasar Seni LRT station.
On the first floor of the building is a very large food court, probably one of the largest on this list. You'll find predominantly Asian food here with a focus on Malaysian, Indonesian and Thai dishes.
Prices are very low, starting at just RM 6 (~ €1.30). The seating is basic but the food is delicious and varied. If you're after an even more authentic experience take the stairs to the top floor of the market. Here you'll find a not-air conditioned food hall that is frequented by workers and locals. Although there are only a few restaurant choices you can find dishes for as little as RM 5 (~ €1.10) if you're willing to take the humidity and heat up here.
China Town offers many flashy eateries and over-priced "street food" in and along the famous Petaling Street. If you're travelling on a budget eating at Central Market may just help you save money while you can still enjoy a delicious local meal.
Address: Kuala Lumpur City Centre, 50050 Kuala Lumpur, Federal Territory of Kuala Lumpur, Malaysia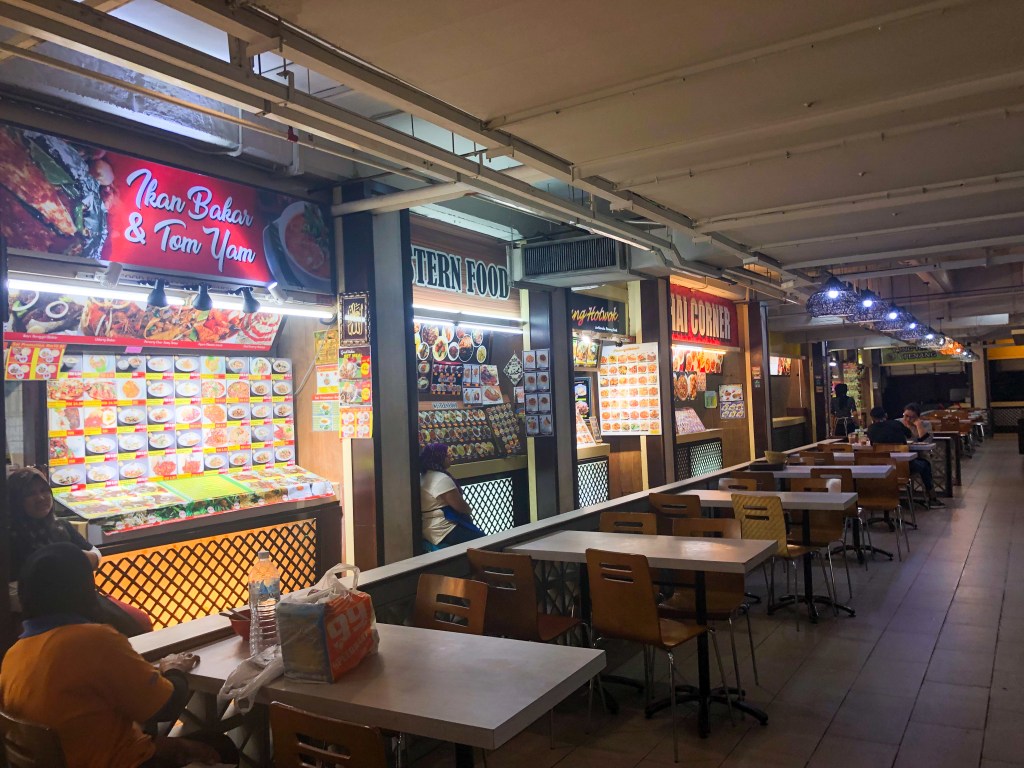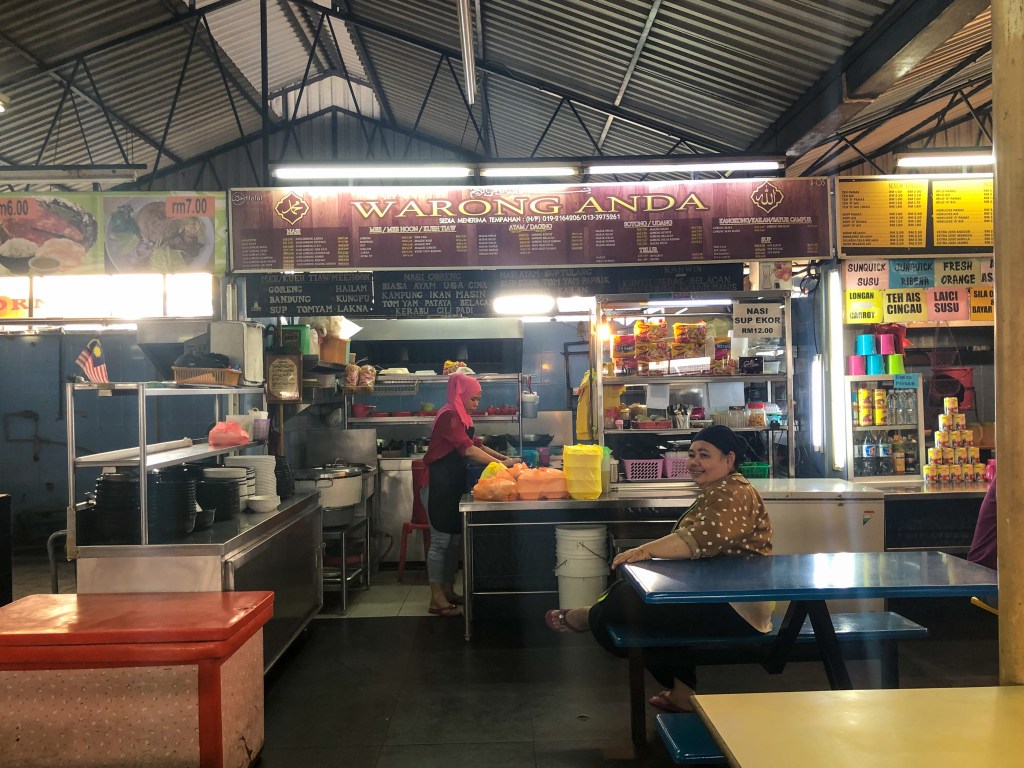 Click the images below to pin this post to Pinterest and save for later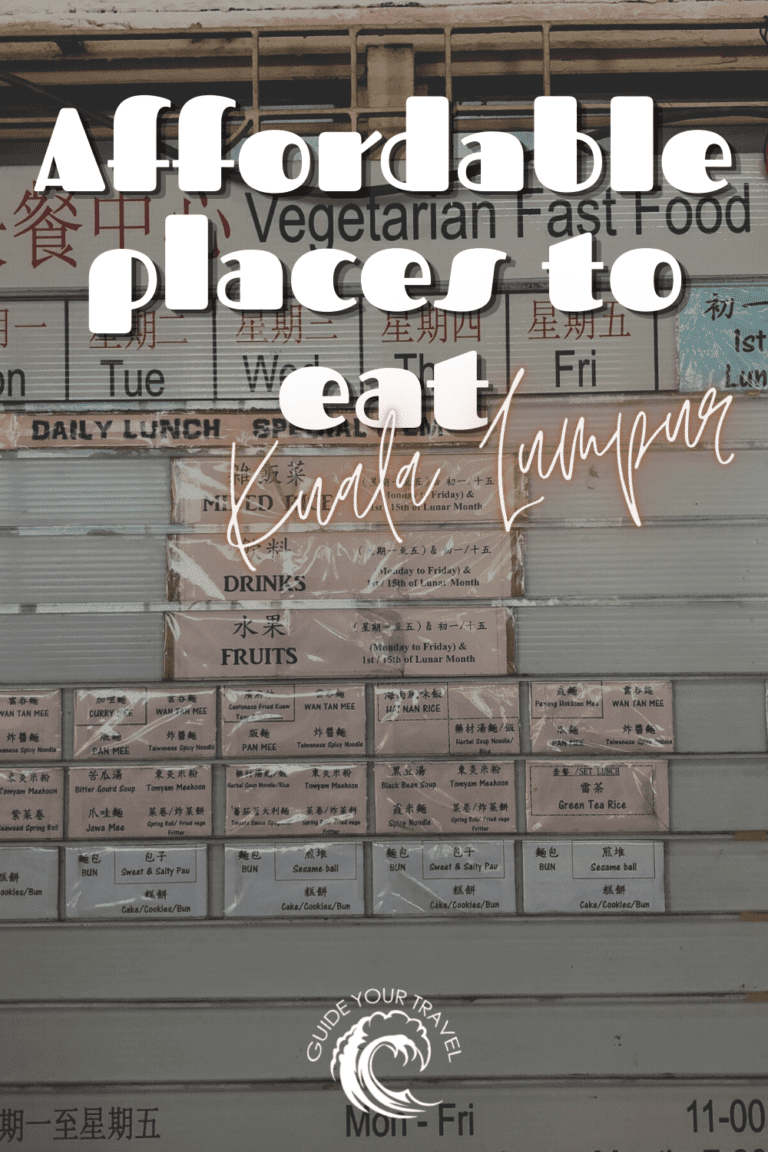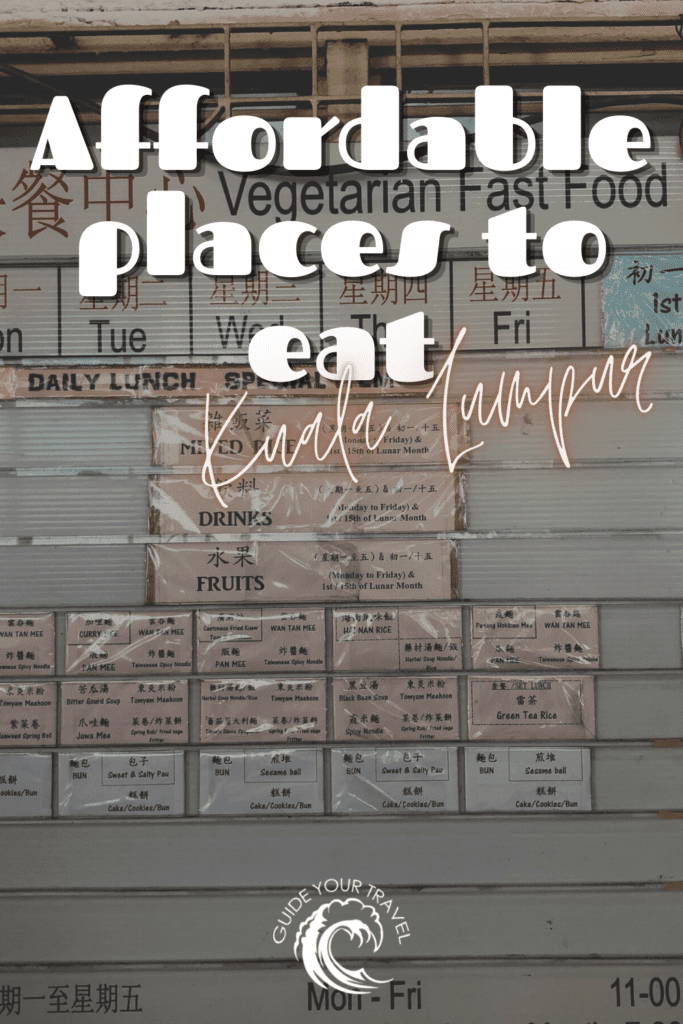 My most important travel tips and resources
Book your flights
Skyscanner is the best website for finding cheap flights since it works like a search engine so you can find the best deals across all airlines.

Book hotels and hostels
• Booking.com: Best world-wide
• Agoda: Best in South East Asia
• Hostelworld: Best for hostels

Book tours, transport and rental cars
•Viator: The best place to book tours, day trips and excursions for al budgets
•12Go: Great for ferries, trains, transfers and buses in South East Asia
•Discover Cars: Best deals for rental cars around the word

Get travel insurance
Every traveller needs travel insurance and I mean every single one. SafetyWing covers you in case of injury, illness or worse and they've got your back if your bag is stolen, flights are cancelled or in case of a natural disaster.

Pay abroad
Ask any traveller, Wise is the best choice when it comes to sending money abroad. They've always got the best exchange rates, lowest fees and their visa card is great for getting cash out or paying abroad.

Things every traveller needs:
➼ Osprey Farpoint 70 Backpack
Detachable daypack, ultra-light, durable and free repairs for life. There's a reason why so many backpackers have this bag.
➼ Packing Cubes
Packing cubes are a gamer changer, keeping your luggage organised and providing tons of extra space.
➼ Power bank
There is nothing worse than running out of battery on an overnight bus journey or a long flight. With a powerbank you can charge your eletronics on the go and make sure you're always connected.
➼ Micro-fibre towel
These lightweight towels are foldable, fast-drying and so useful when you're travelling.

➼ You can find 15 more things every traveller needs here. Some might be a bit controversial but I warned you!
Did I miss anything?
If you have any questions or feel like something is missing from this post please leave a comment below or contact me.