The Batu Caves are one of the most famous and striking attractions you can see when visiting Kuala Lumpur. They are, in my opinion, one of the best sightseeing spots I've ever visited. I know this seems extreme. Sure they're a unique sight; the world's tallest statue of the Hindu God Lord Murugan positioned prominently in front of a set of rainbow stairs that appear to be disappearing into a large limestone mountain. But why are they special?
South-East Asia boasts a myriad of spectacular sights, why is this one different?
Well, they're easy to reach, cheap and for the amount of effort you have to put in to see them you get a lot of value back in return. Most attractions like this require you to hire a driver, book a tour, plan an entire day and most importantly spend a significant amount of money. All this will raise your expectations and leave you disappointed if the attraction is less than you hoped it would be.
So how do you visit the Batu Caves? And how can you make your visit to such a tourist hotspot unique and different from everyone else's experience? How do you take the pressure off?
Keep reading this ultimate Batu Caves how-to-guide to find out.
Looking for more instagramable spots in KL? You need to see Thean Hou Temple!
Planning your itinerary? Check out these 19 things to do in Kuala Lumpur.
This post may contain affiliate links, which means we'll receive a commission if you purchase through our links, at no extra cost to you. This helps us keep Guide your Travel free and provide high-quality content for you. Please read the full disclaimer for more information.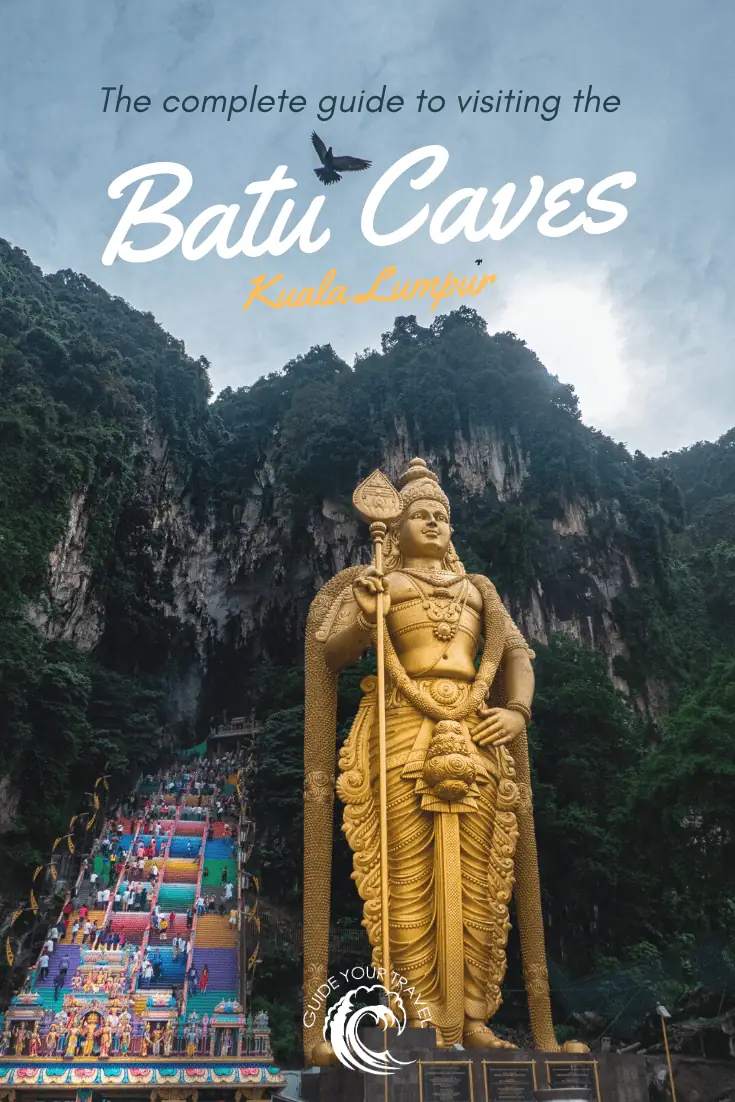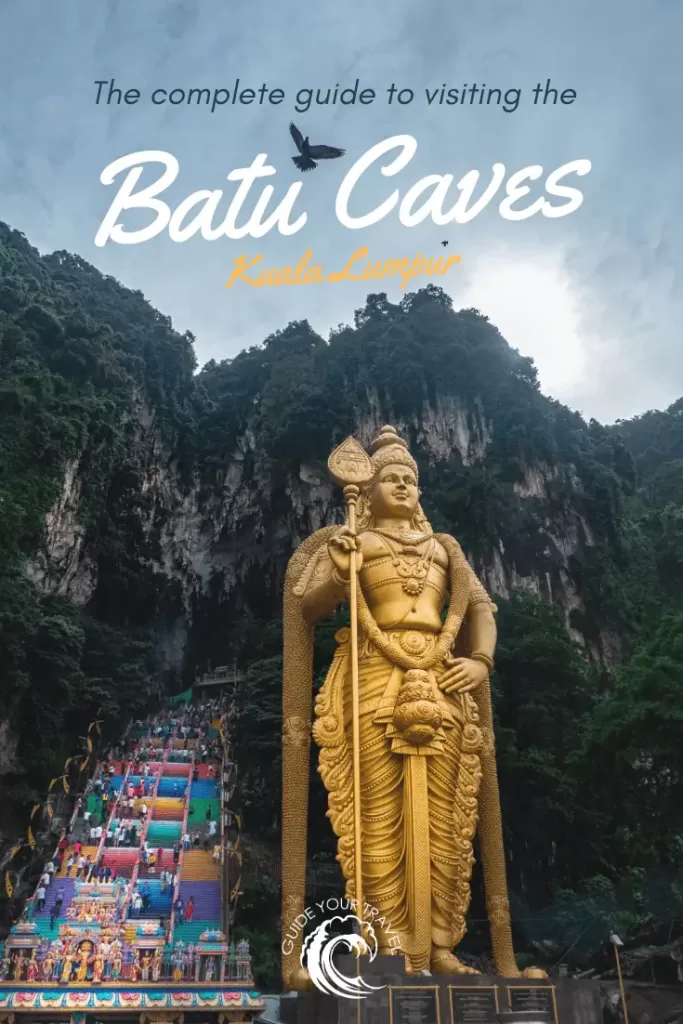 WHAT ARE THE BATU CAVES?
You'll find the Batu Caves about 15km outside of Kuala Lumpur city centre in a densely populated outskirt. They consist of multiple natural caves in a large limestone mountain that is overgrown by jungle.
There are actually five different caves within the complex. There is Ramayana Cave, Cathedral Cave, Dark Cave and the two caves in the Cave Villa, which is separate.
This post gives you a complete guide on how to visit Ramayana Cave as well as Cathedral Cave. If you want to read about the Cave Villa and why you should not visit it then click here. Dark Cave is unfortunately closed indefinitely as of early 2019 (updated May 2020).
272 steps lead up to the entrance of Cathedral Cave which is the largest and most famous of the five. The steps were first built out of wood in 1920 but have been replaced by concrete since then. The caves are estimated to be around 400 million years old. The first records of them by colonialists date back to 1878.
The steps were painted in rainbow colours in August 2018 which made the site look even more spectacular and increased its fame. The 42 m tall statue of the Hindu God Lord Murugan is the third tallest of a Hindu deity in the world. It is the largest statue in Malaysia and was unveiled in 2016.
Although the caves have always been a popular attraction, their two most visually enticing factors, the statue, and the rainbow steps have not existed for very long. This makes them a unique place to visit despite their popularity with tourists.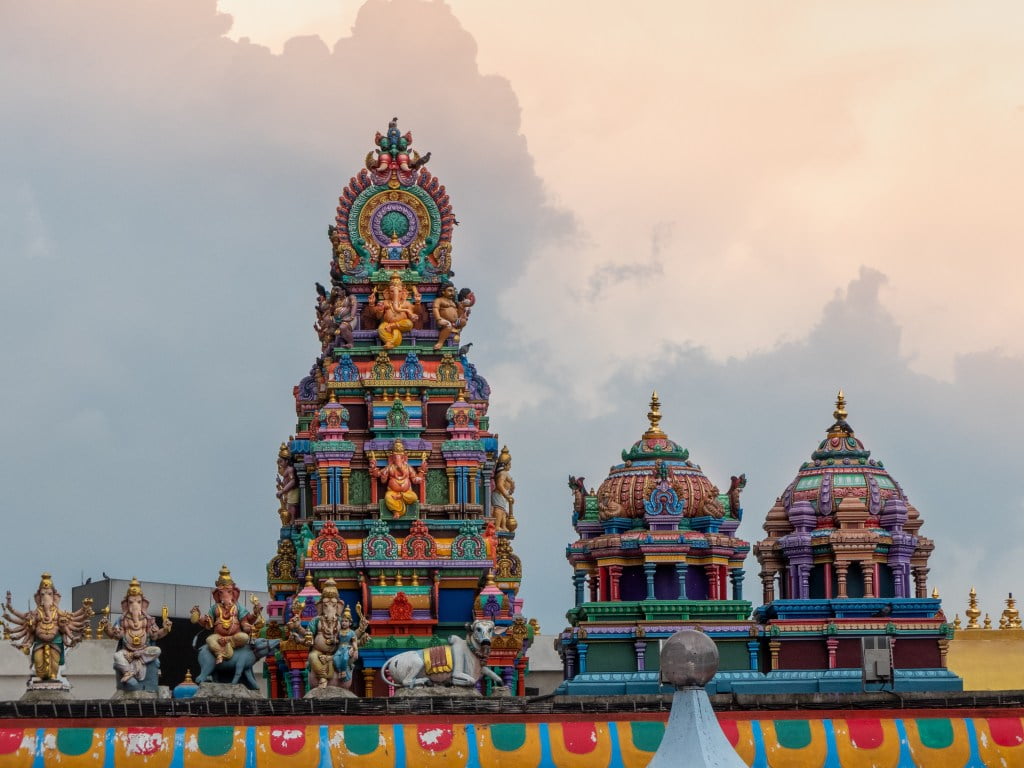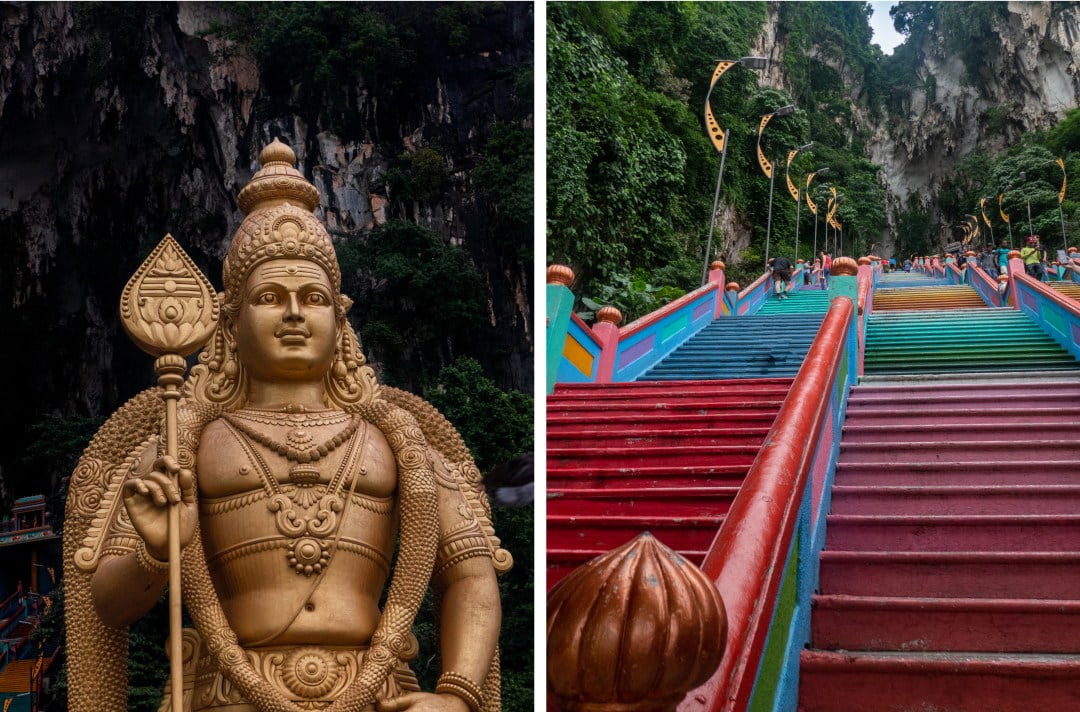 THAIPUSAM FESTIVAL
The caves and its temples have considerable significance for the Hindu faith. They are a pilgrimage destination for Hindus all over the world for the annual Thaipusam festival held in January or February.
Visiting the caves during this time will certainly be an experience although you have to know what to expect. More than one million people will visit the caves during this time. Transportation, as well as accommodation, will be hard to get by. Be aware that the crowds can get pushy and unpleasant. However, the festival itself is supposed to be a fascinating event you'll remember forever. People in trance will have their bodies pierced by long metal skewers and hooks. Objects, mostly different types of fruits dangle from these hooks. It is a fascinating insight into the Hindu religion and its traditions.
The celebration at the Batu Caves is the largest Thaipusam festival in the world. It isn't celebrated in this way anywhere else. If you do visit the caves during this time make sure to be respectful of the religious ceremonies. I would not recommend visiting the caves during Thaipusam if you are planning to have a quiet experience.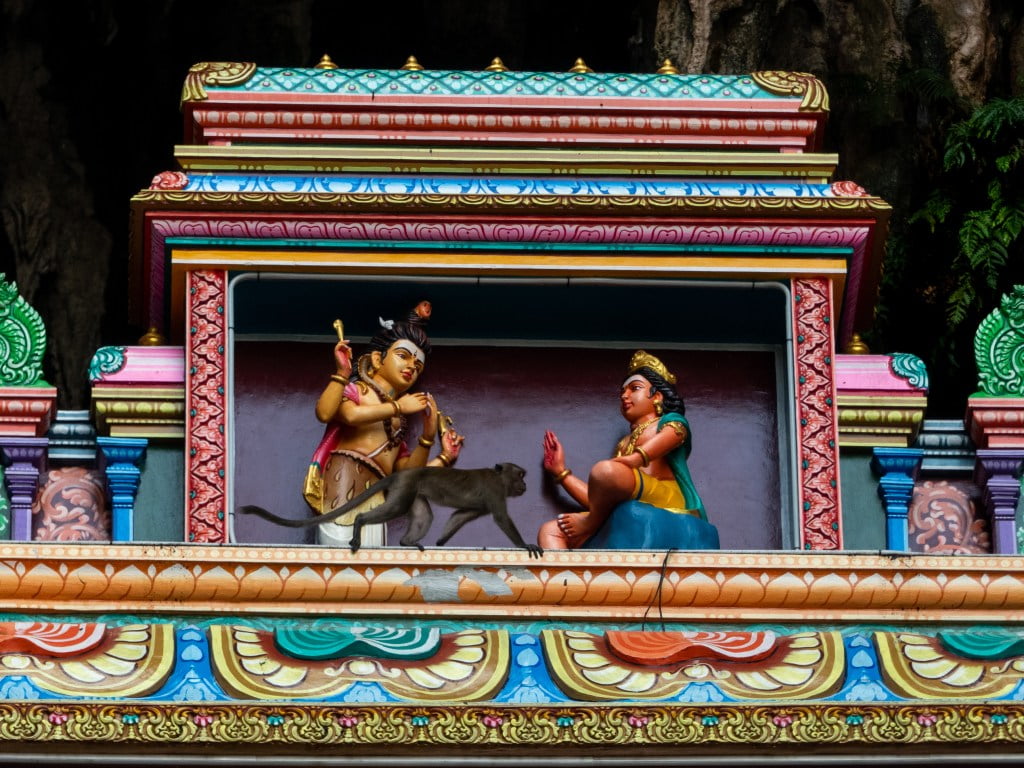 HOW TO GET TO THE BATU CAVES
The best way to get to the Batu Caves from Kuala Lumpur is by train. Take the KTM Komuter train which runs from the city directly to the Caves. The train station is literally right next to the cave complex so there is no need to walk long distances. It's straightforward and easy to find. The train journey takes around 35 minutes and costs only RM 2,60 (≈ 0,60€). You can get on the KTM Komuter train at many places throughout the city but the most popular ones are China Town (Pasar Seni) and KL Sentral. Read our complete guide on how to get to the Batu Caves here for more information and ways to reach the caves.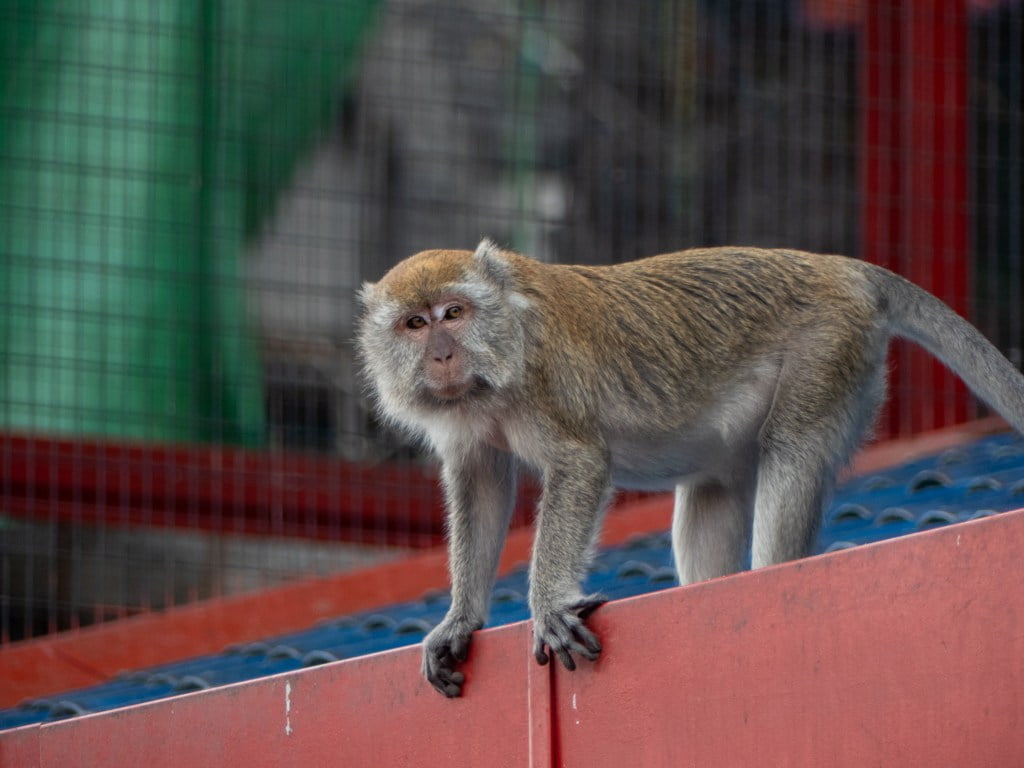 BOOKING A TOUR
Alternatively, you can join one of the many tours that bring tourists to the caves every day. These tourists however usually come from further away and aren't staying in Kuala Lumpur or have booked tours that bring them to multiple attractions in one day. It is up to you if you prefer to see the caves as part of a larger tour group but in my opinion, you will have a better experience if you go by yourself.
If you're looking to have a guide with you to give you more information about the caves there are plenty available to hire when you arrive. There is no real reason why you should join the larger tours.
WHAT TO WEAR TO THE BATU CAVES
Although it is easy to forget, remember that you are visiting a religious site and should be respectful of that. You will see that a large number of the people visiting the caves will not be tourists at all but people coming to the temples for religious reasons.
You should wear clothes that cover your shoulders and knees (for women) and do not show too much skin. Avoid low cut tops, crop tops or clothing that is very tight fitting.
Men get away with shorts usually if they reach the knees and aren't too short. You can usually rent sarongs at the bottom of the steps to cover up for about RM 5 (≈ 1€). However, this service is not always available, especially in the early mornings. It's better to come prepared and dress appropriately. You may be hot and sweating but this is a small way to pay respect to the location you are visiting and the people who are there to pray.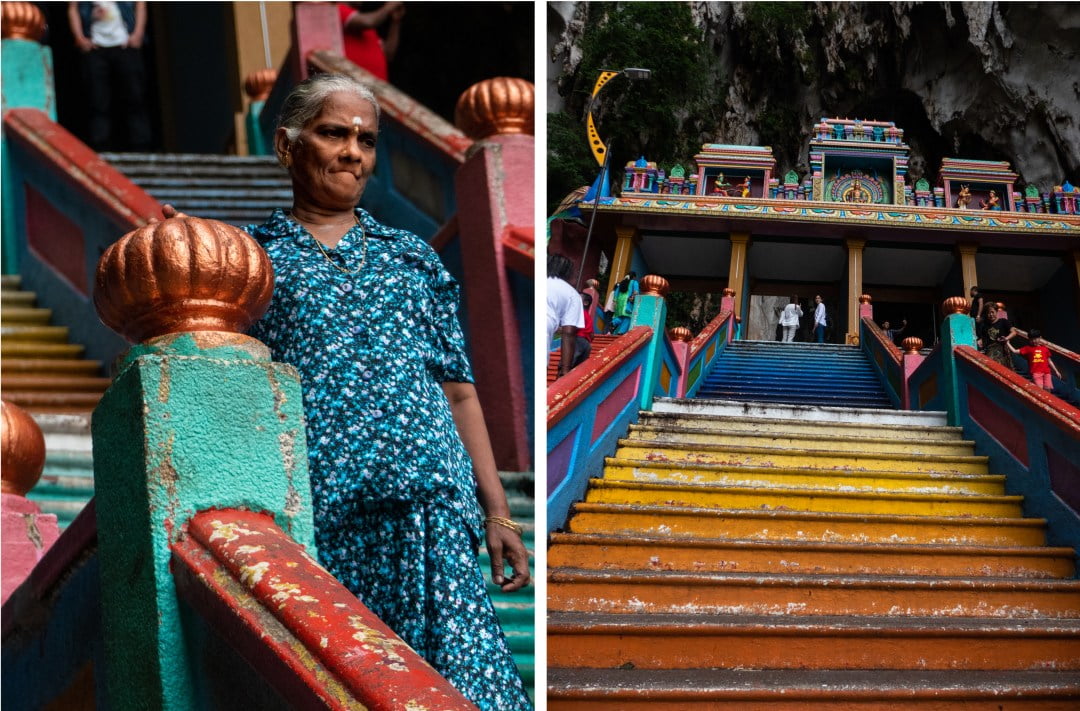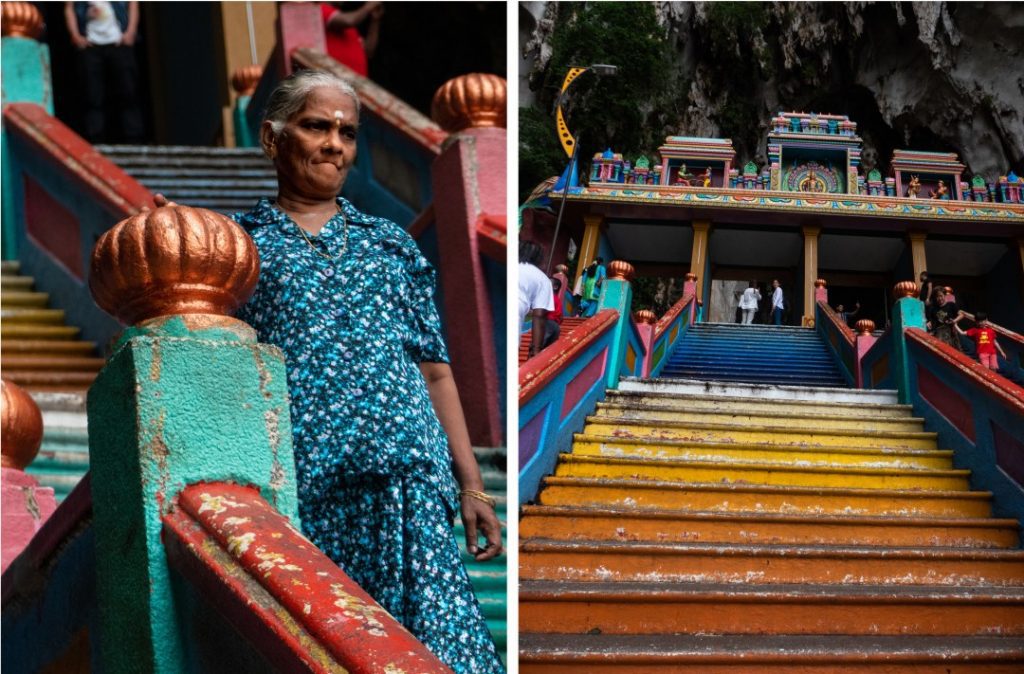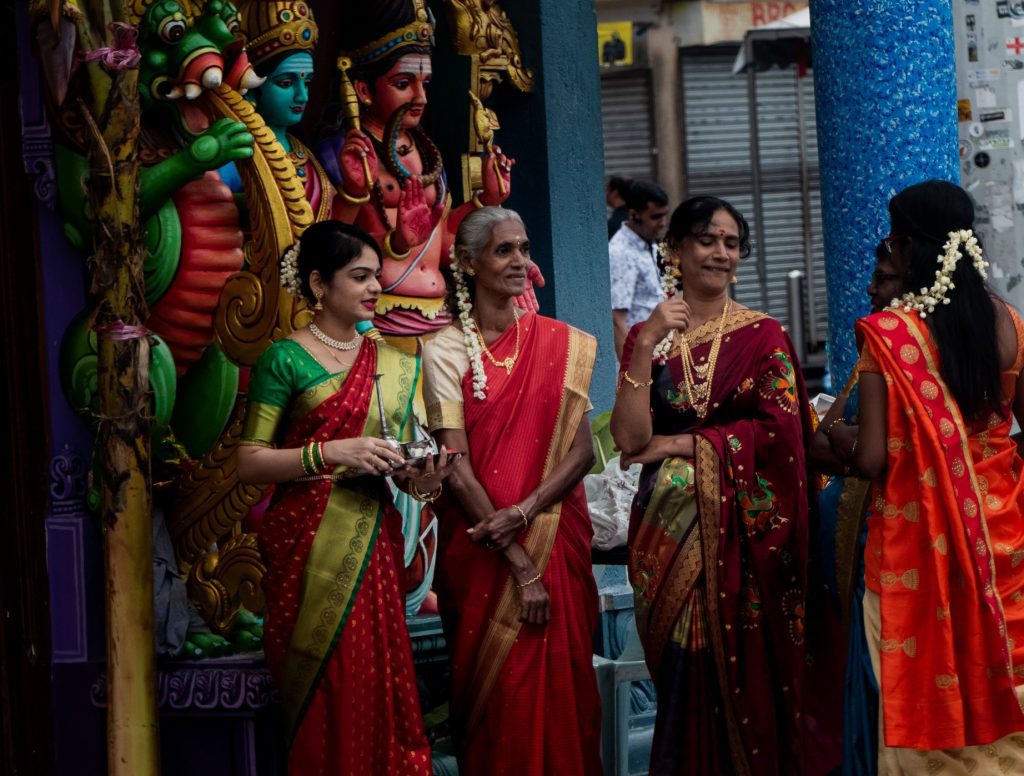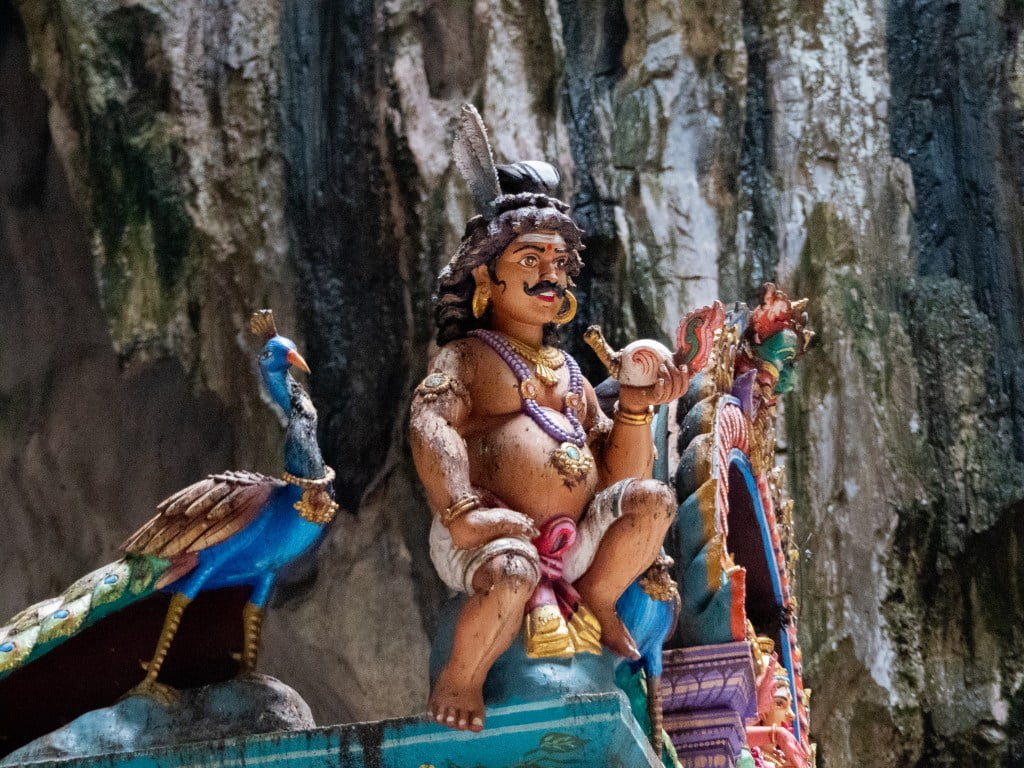 FOOTWEAR
Bring good shoes. The stairs are fairly easy to climb, not very steep compared to other temples I've visited. They're easily manageable in 15-20 minutes depending on how many photos you take on the way.
Still, wearing flip flops, strappy sandals or worst of all heels poses an unnecessary risk and will make your way down considerably harder. The floor inside of the cave is uneven and often wet, depending on when it last rained.
Since there are multiple natural holes in the ceiling there is water dripping down everywhere creating a sort of perpetual rain even when it's not raining outside. This means the floor is flooded in some places and your shoes will get wet if you're not careful.
Not a big problem but be aware of this and maybe don't wear your best white sneakers. If you're lucky and it hasn't rained in a while you might not have this issue but keep it in mind.


SHOULD YOU STILL VISIT THE CAVES WHEN IT'S RAINING?
If it is raining when you arrive at the caves it's still worth going up. Depending on how heavy the rain is they might close the caves temporarily in which case you should wait it out at one of the small restaurants/stores or maybe come back another time if you can.
The stairs can be slippery in rain so be careful. The sight will be spectacular though so make the most of it.
BEWARE OF THE TRAIN AIR-CON
It may be worth mentioning that the Komuter train can get quite cold, especially if it's early in the morning and there aren't a lot of people travelling yet. So maybe bring a light jacket if you're prone to being cold.
It's not a very long train ride though so you should be fine.
WHAT TO BRING TO THE BATU CAVES
There isn't anything specific you need to bring on your trip to the caves, at least not anything other than what you should bring on any sightseeing excursion.
Here are some things you should have with you.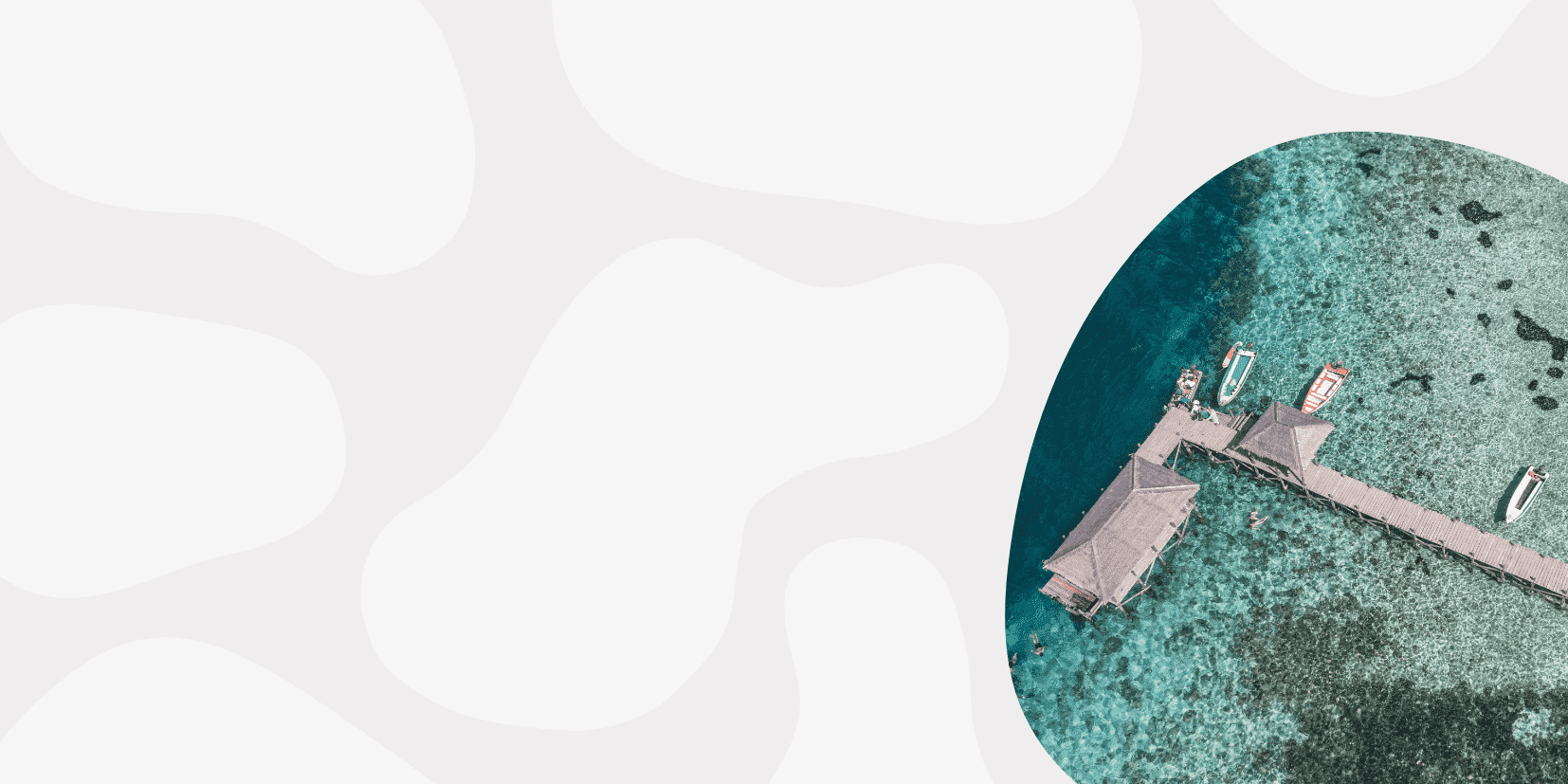 Let me save you time and effort when you're travel planning!

➼ Best travel insurance? SafetyWing
➼ Best place to find cheap flights? Skyscanner
➼ Best bank & credit card for travellers? Wise
➼ Best travel backpack? Osprey Farpoint 70
CAMERA AND EQUIPMENT
The caves are an insanely beautiful spot giving you photo opportunities that you don't want to miss. Definitely bring enough SD cards and extra batteries for your camera so you don't run out of memory or power. It's also a great spot to get GoPro shots so grab your tripods and mounts to get amazing time-lapses.
Be aware that although they're not completely dark, the lighting in the caves is not the best and it is difficult to get the shots you want if you do not know how to shoot in low light situations. If taking photos is very important to you make sure you read up on how to shoot pictures in the dark so you aren't disappointed by your outcome.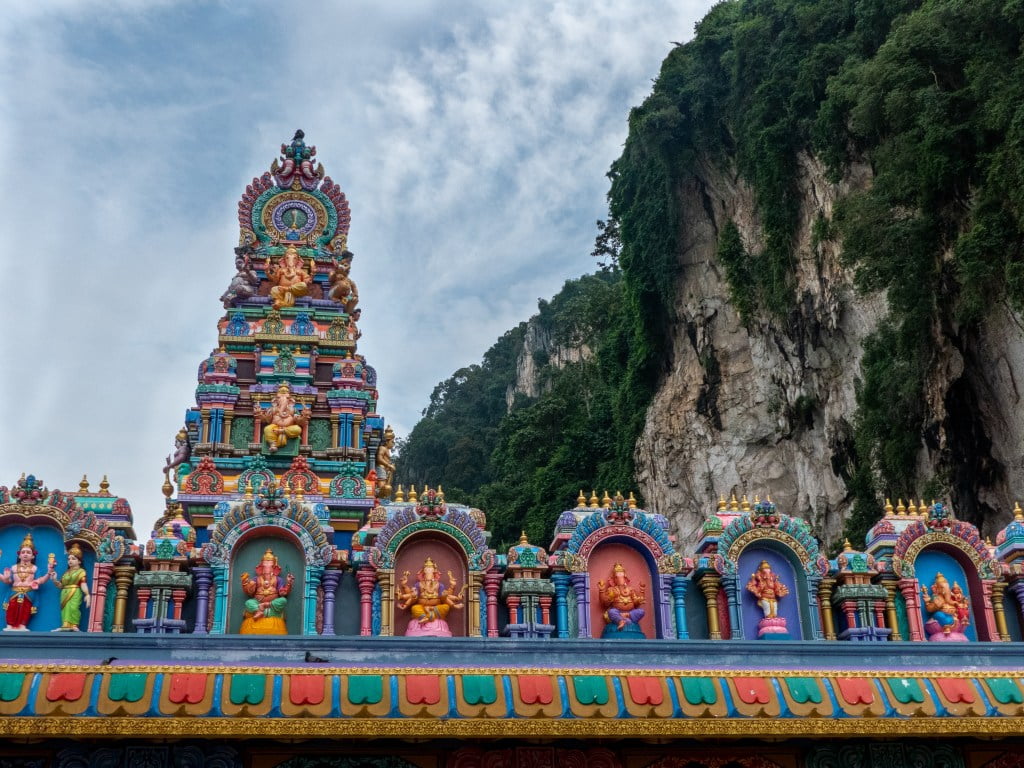 DRONES
Although I have seen people fly their drone at the caves I would say it's only advisable very early in the morning or possibly late in the evening if there aren't many people. You are not allowed to fly drones in Malaysia above crowds of more than 1,000 people which makes it a questionable situation.
There are good opportunities for take-off and landing the drone on the car park. Don't be too obvious though as the parking attendants and guards are not big fans. 
Also, be aware of the thousands of pigeons that populate the square in front of the caves. People feed them and they tend to take off in large flocks. I can't decide who would be worse off in a drone vs pigeon collision but I don't think it would be beneficial to either party. In addition to a possible pigeon fatality, a crashing drone could also cause severe injury to the people standing below so be careful. You, of course, shouldn't fly a drone inside the cave.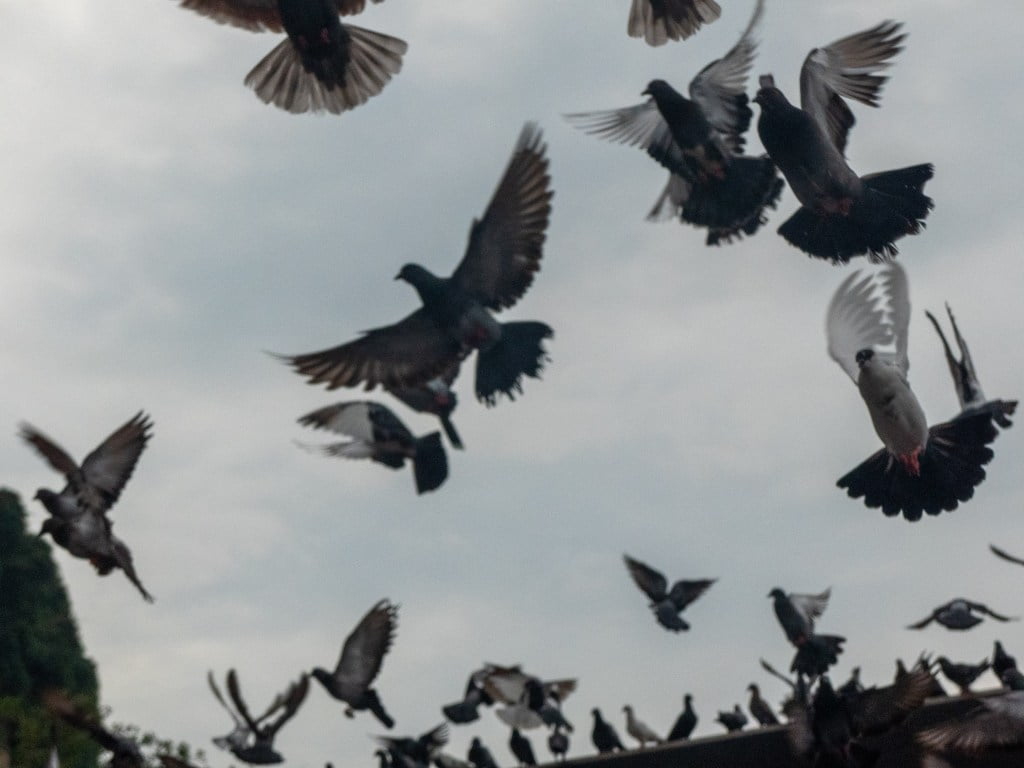 SHOULD YOU BRING WATER?
I always bring a small water bottle with me everywhere I go. Especially on hot days, it's a lifesaver. However, there are plenty of options to buy one for around 1 or 2 Ringgit once you step out of the train at the Batu Caves.
There's even a small shop inside the cave itself. So no need to bring a large bottle or bring one at all if you don't feel like carrying it.
DO NOT BRING FOOD TO THE CAVES
Snacks are always a good thing to have in your bag in case you cannot find anything to eat. In this case, however, I strongly advise you not to bring any food with you.
Hundreds of monkeys live at the cave. They seem to be able to spot anything edible even if it's hidden away at the bottom of your bag. They know it's there and have no fear of attacking you and stealing it from you as well as your sunglasses, hats and really anything else they can get their hands on.
The only way the monkeys will leave you alone is if you don't have any food with you. Definitely, don't provoke them and don't make direct eye contact. Never feed them.
Monkeys can, however, be very entertaining to watch from afar and great subjects for photos. They tend to steal coconuts and bananas from the temples inside the caves which will give you enough picture material without having to feed them yourself.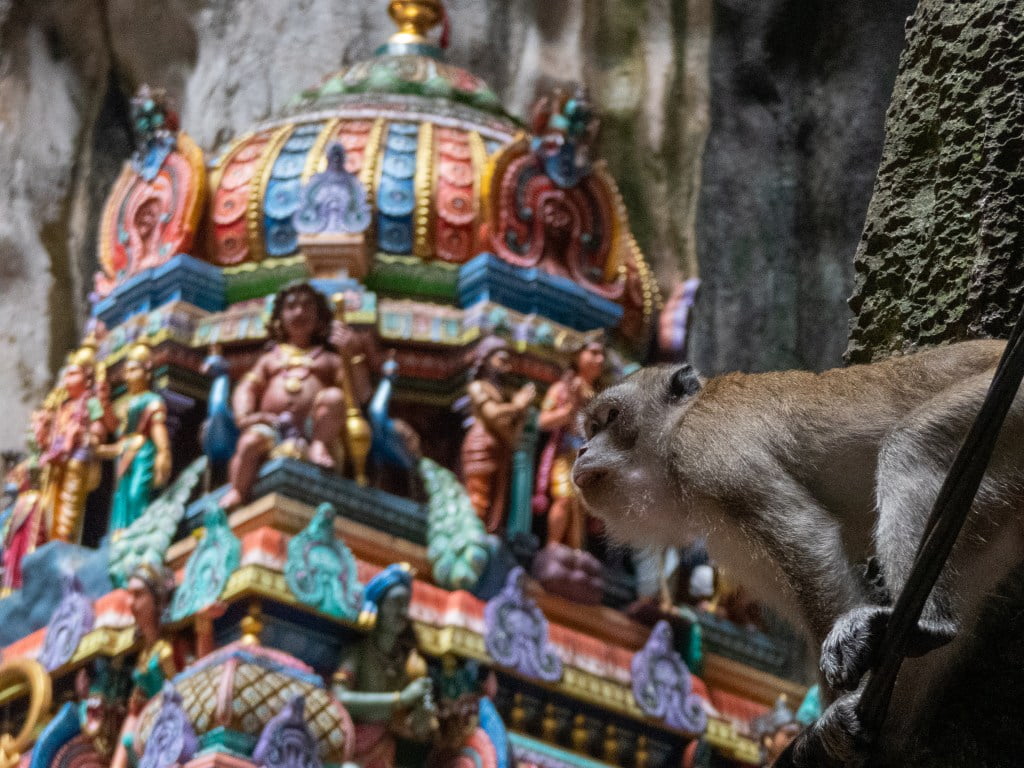 HOW MUCH CASH DO YOU NEED?
Entrance to Cathedral Cave is free and Ramayana Cave will only cost you RM 5 (≈1€) so there's no need to bring a lot of money with you. Only bring what you plan to spend on your train ticket, food and any souvenirs.
RM 100 (≈ 21€) should be more than enough for the trip if you plan to eat cheap. Make sure to bring cash, as shops and restaurants rarely accept card payments. Consider donating something to the temples if you can spare it. The Batu Caves remain one of the few free major attractions and it would be great if it stayed like that.
There are large metal donation boxes in front of the temples where you can donate a small sum as a way of saying thank you and supporting the site.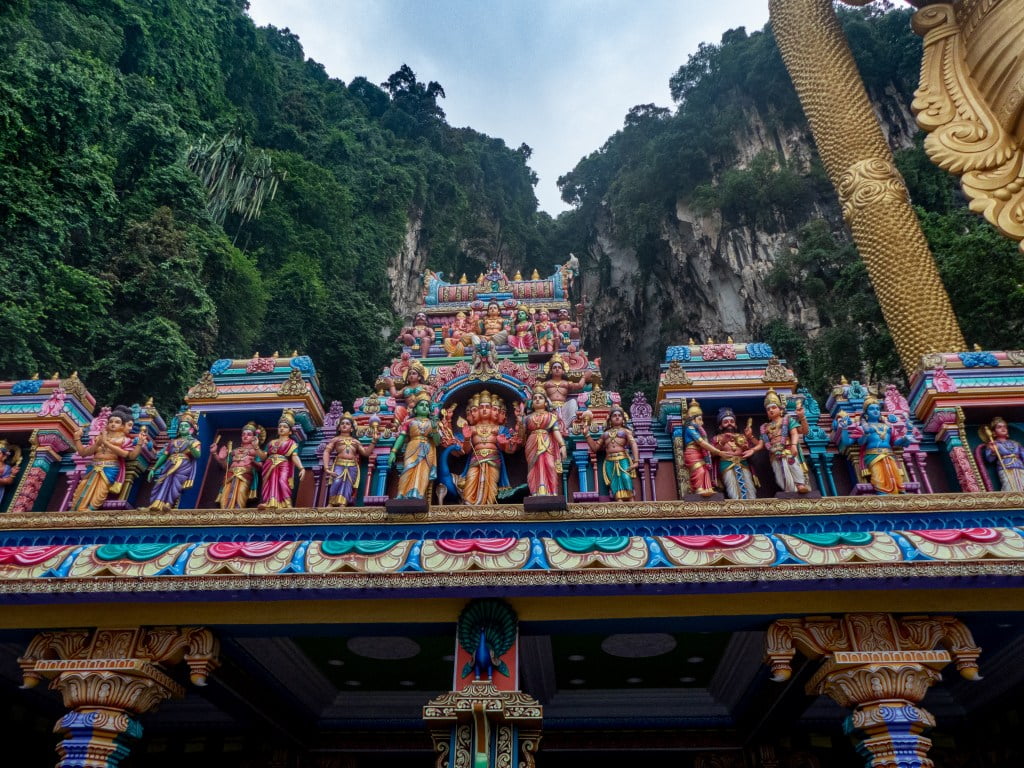 SAMPLE EXPENSES FOR A HALF-DAY AT THE BATU CAVES:
Ticket from KL Sentral to the Batu Caves RM 2,60 (≈ 0,60€)
Entrance fee for Ramayana Cave RM 5 (≈ 1€)
Large water bottle RM 2 (≈ 0,40€)
Fresh coconut RM 6 (≈ 1,30€)
Lunch RM 20 (≈ 4,30€)
Train ticket back to Kl Sentral RM 2,60 (≈ 0,60€)
Total: RM 38,20 (≈ 8,20€)
INSECT REPELLANT
You'll be surrounded by jungle when you climb the stairs up to the caves. Definitely spray yourself with insect repellant before you go up to avoid being bitten.
UMBRELLA OR RAINCOAT
Depending on which season it is it can rain at any time and last for minutes or hours. Better be prepared by carrying either one of those foldable raincoats or a small umbrella with you.
The walk from the caves to the station is very short so you can make it back any time to avoid getting wet should it start to rain
ARE THERE BATHROOMS AT THE CAVES?
Knowing where the nearest bathroom is is always important.
When you get off the train at the station you walk up some stairs and to your left, you will find a fairly nice and clean bathroom (both squat and western toilets available). It is operated by a lady also selling water and snacks. She charges RM 0,30 (≈ 0,06 €) to use it and I advise you to go to the bathroom here before you make your way to the caves. There is no toilet paper just the hose next to the toilet so bring your own if you need it.
At the bottom of the caves, you can also find bathrooms although they are attached to small shops or restaurants and less nice. Definitely use them if you feel like you need to go though because once you've gone up all 272 stairs the situation is very bleak.
Behind the temples inside the caves, there is a dixie toilet but it is locked. If you are very desperate I can imagine you can ask the priests in the temples if you can use it but there is no guarantee that you will find someone with the key.
Just go at the bottom and avoid this awkward situation. Otherwise, you will find a bathroom inside the Cave Villa complex but you will have to pay the RM15 (≈ 3,20€) entrance fee to get access.
THE FOOD SITUATION
So you followed my advice of not bringing any food with you to the caves but what are you going to eat now?
There are a multitude of different shops and restaurants at the bottom of the caves to choose from. Many are vegetarian. They offer basic seating and often no air-conditioning but the food is decent although not cheap.
Meals will cost you around RM20 (≈ 4,30€) which is comparatively expensive. Most of the food is Indian unless you venture away from the caves into the smaller side streets.
If you can't find anything you like you can also take the train back to Sentral Station which is located in Brickfields. Here you will find a large selection of food options by either just walking around the area or going to Nu Sentral, the giant shopping mall that is connected to the station.
If you aren't very hungry you can just get something small at the caves before heading back. Vendors sell durian and other fruits which are a great option or there are little convenience type stores to sell chips, ice cream, and other snacks.
My favourites are the fresh coconuts you can buy for RM6 (≈ 1,30€). They are opened right in front of you and drinking the cold coconut water is probably the most refreshing thing you can have after climbing up and down the stairs.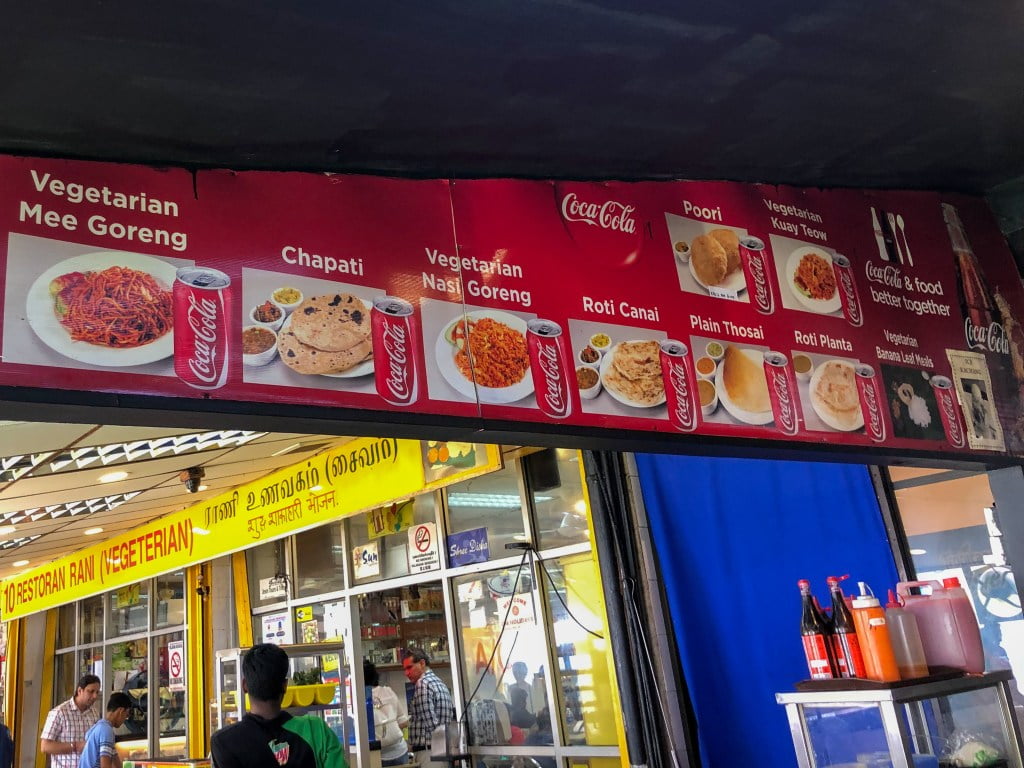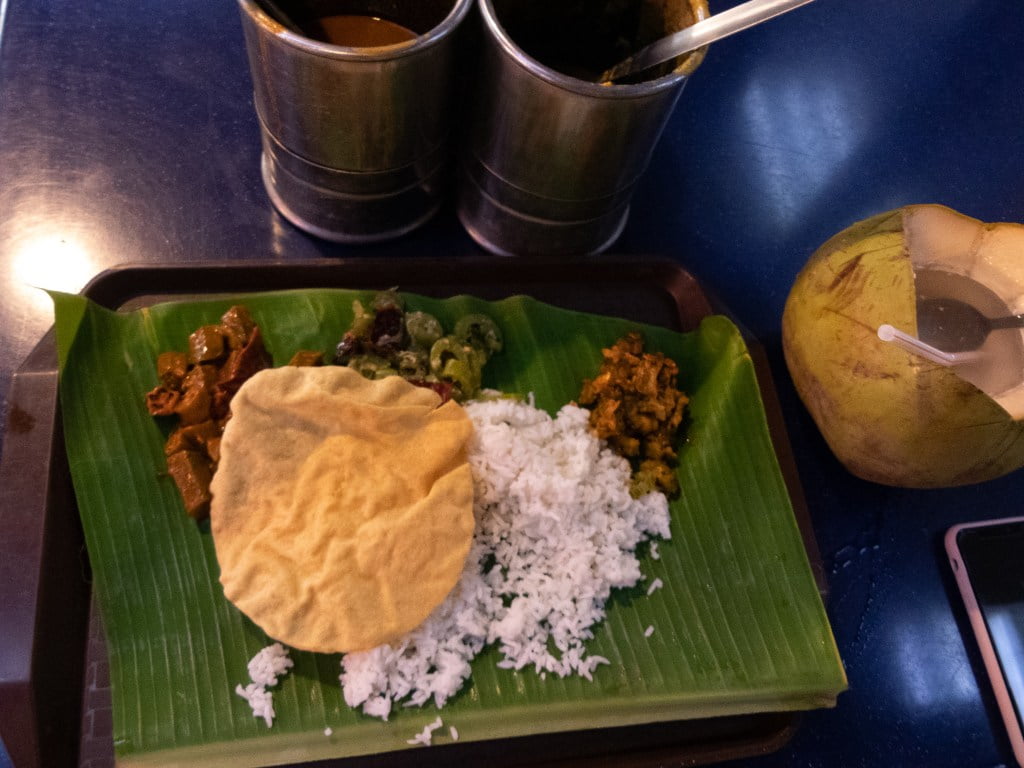 WHERE SHOULD YOU GO FIRST WHEN YOU ARRIVE AT THE CAVES?
Once you step out of Batu Caves station it is hard to miss the entrance to the site. Depending on what time you arrive there will be a row of street vendors trying to sell you souvenirs, drinks, and clothing. They are usually very vocal and will try to get your attention. Ignore them if you are not interested in buying anything and don't forget to haggle if you do. Prices will be far too high so you're almost certain to spend more money than you should on a souvenir.
Right after the vendors, there is a gate with security guards that will briefly check your bag if you have one. Once you pass the gate there is a large statue to your right of the monkey God Hanuman.
The statue and its adjourning prayer hall have been undergoing renovation which is why they were covered when I last visited the caves.
There are often women in traditional clothing sitting on the ground here selling small items. Sometimes you can find a woman offering fortune telling and palm reading here.
There are monkeys everywhere so be careful with any food you have with you.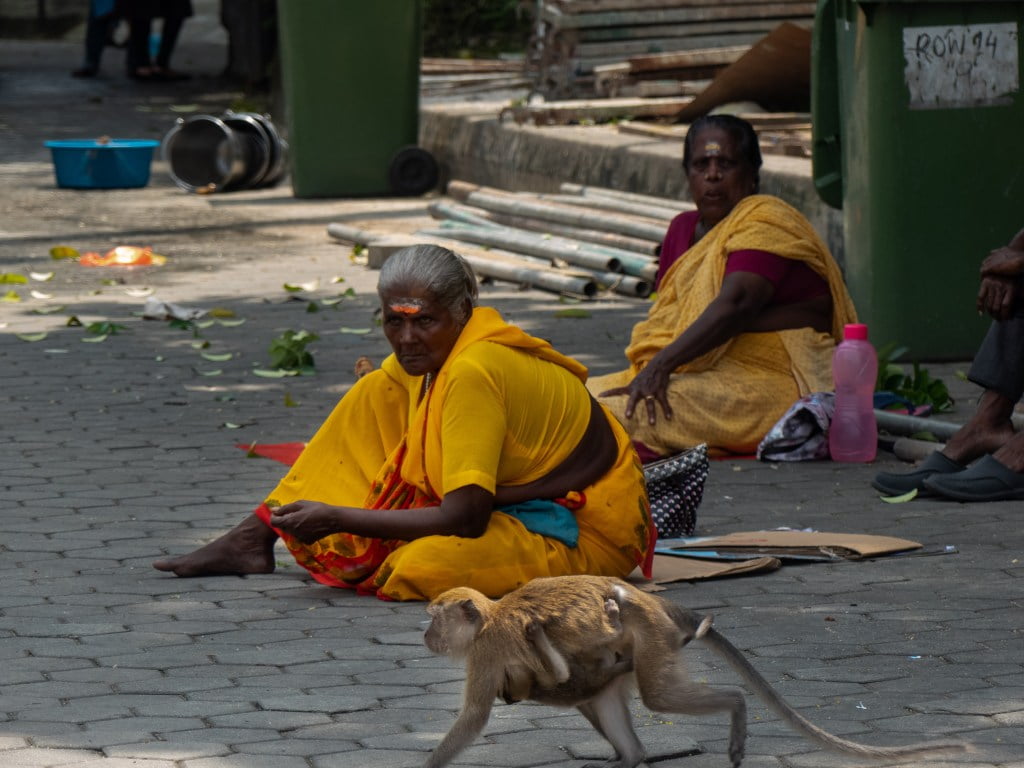 RAMAYANA CAVE (MONKEY CAVE)
Although Cathedral Cave is by far the most famous, there are smaller side caves in the complex that you can also visit. You can find Ramayana Cave directly to your left when you come through the entrance gates. The large green Hanuman statue will give you an idea of where you need to go.
As you pass the prayer hall to the left there is a gate where you pay RM5 (≈ 1€) to enter the cave. In my opinion, this is a fair price and worth paying. Once past the gates, there is a walkway leading into the cave over a small pond with a large brass statue of rearing horses to your left. In front of the mouth of the cave and underneath a near-vertical wall of limestone is a large statue of the Hindu God Krishna.
WHAT IS RAMAYANA CAVE LIKE?
Inside the cave, you find yourself in a dimly lit room with statues of Hindu deities lining the sides. They are painted beautifully and lit by individual lights. Small placards explain the scenes depicted. The most prominent statue is probably the large reclining Kumbhakarna, 'the deep sleeper'.
The second chamber of the cave is impressively large, with incredibly high ceilings and even more statues. A manmade winding staircase leads up to the top of the cave. Unlike the rainbow stairs leading up to Cathedral Cave, these steps are steep and more difficult to climb, although far shorter. At the top of the climb is a small landing where devotees often sit and pray to two large stalactites with considerable significance in Hindu faith.
You have a great view of the entire cave from up here. Unlike Cathedral Cave, there is no natural light, which gives it a different and more cave-like feeling. The space is quite impressive when you first step into the room and it's worth the RM5 you pay to enter I think.
Since you have to pay to enter this cave it's also less busy even during peak hours which gives you a welcome break from the crowds and a nice escape from the heat. Once you are ready to go retrace your steps back to the main entrance of the cave complex and make your way straight ahead towards the main caves. To the left, you will see the first of many temples. Many people come to Batu Caves just to pray and visit these holy sites.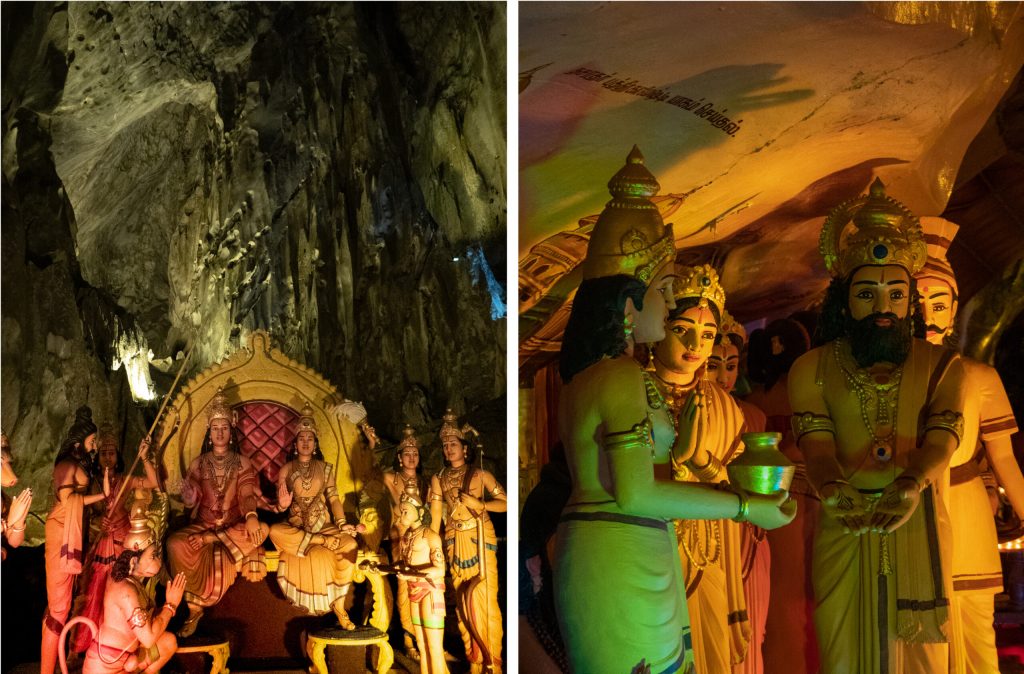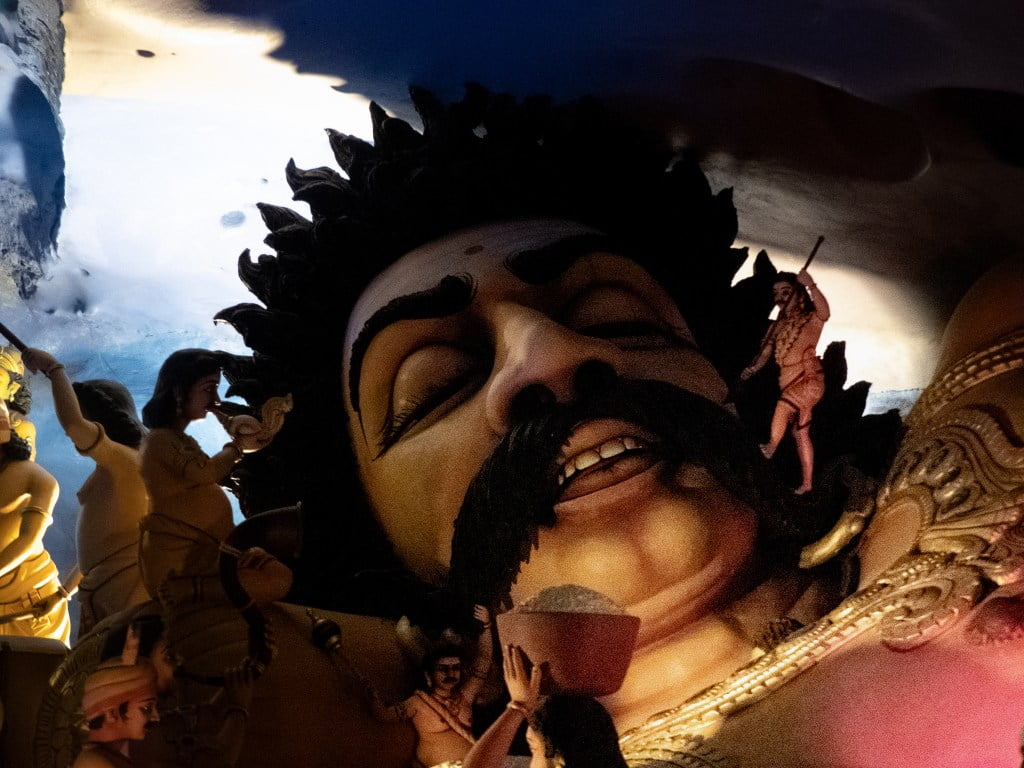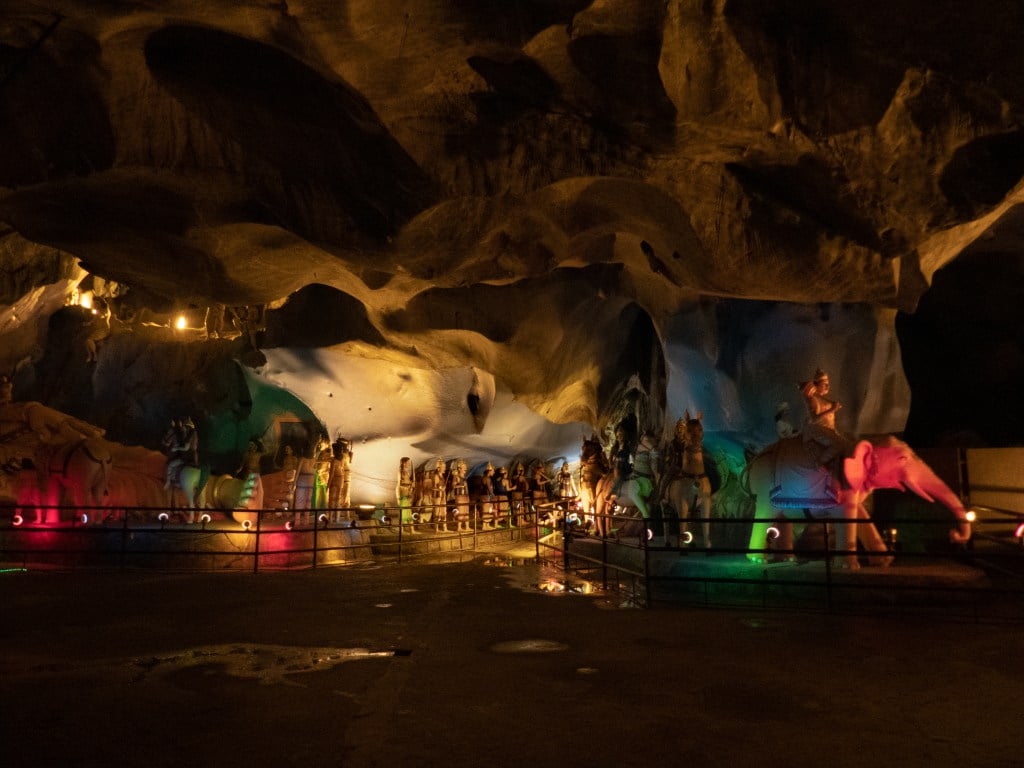 CAN YOU GO INSIDE THE BATU CAVES TEMPLES?
The short answer is: yes, you can. The temples are open to everyone. The question is more: SHOULD you go inside the temples?
In my opinion, you should not unless you are a practising Hindu and are visiting for religious reasons. If that is the case then, by all means, go ahead but if you are a tourist and just want to take photos or look around then I don't think a religious temple is the place for that.
The temples both outside and inside the caves are quite small and are not closed off which means you can see parts of the inside when you look in. So if you are desperately curious you can have a look from the outside and then move along respectfully. Do not stand and stare at people who are practising religious rituals or praying.
If you decide to not follow this advice and go inside the temple anyway take your shoes off like everyone else and do not take pictures. Again there are plenty of ways to enjoy the caves and its beautiful temples without actually going inside of one.
Prayers are held at 8:30 am and 16:30 pm every day if you plan to take part in one. You can still visit the caves during these times.
Next, you will pass the first of two entrances to the Cave Villa. This is a separate area with a RM15 (≈ 3,20€) entrance fee where you can see a variety of caged animals and visit two other smaller caves similar to Ramayana Cave.
I do not advise you to visit these caves. Read my full article on the Cave Villa here to find out why.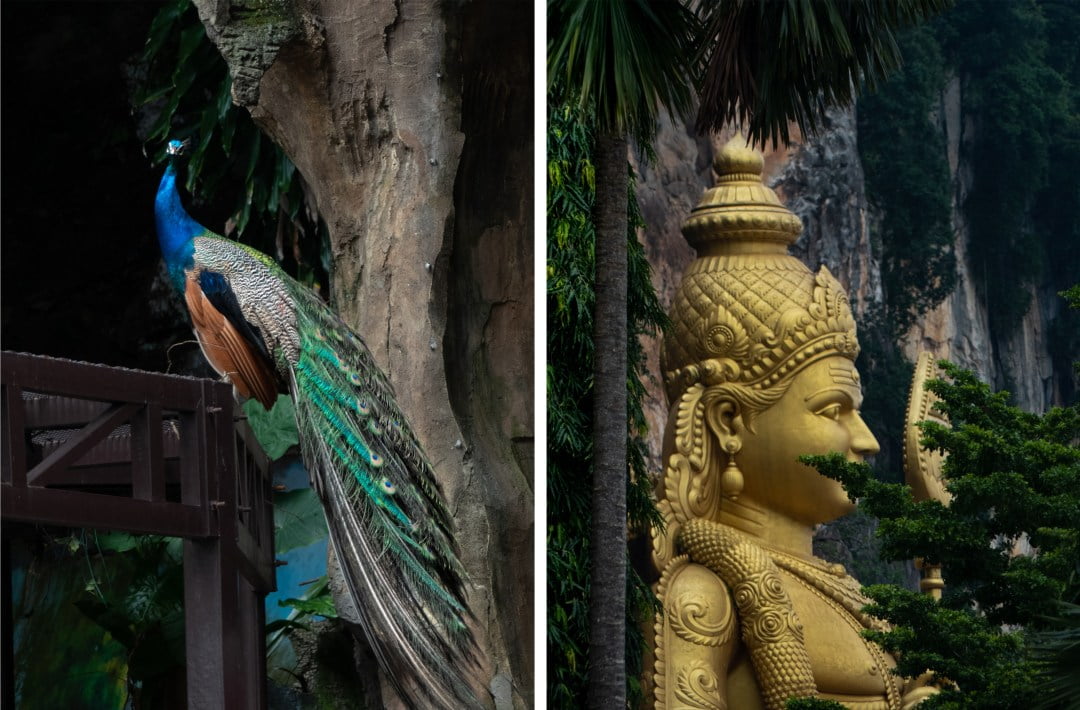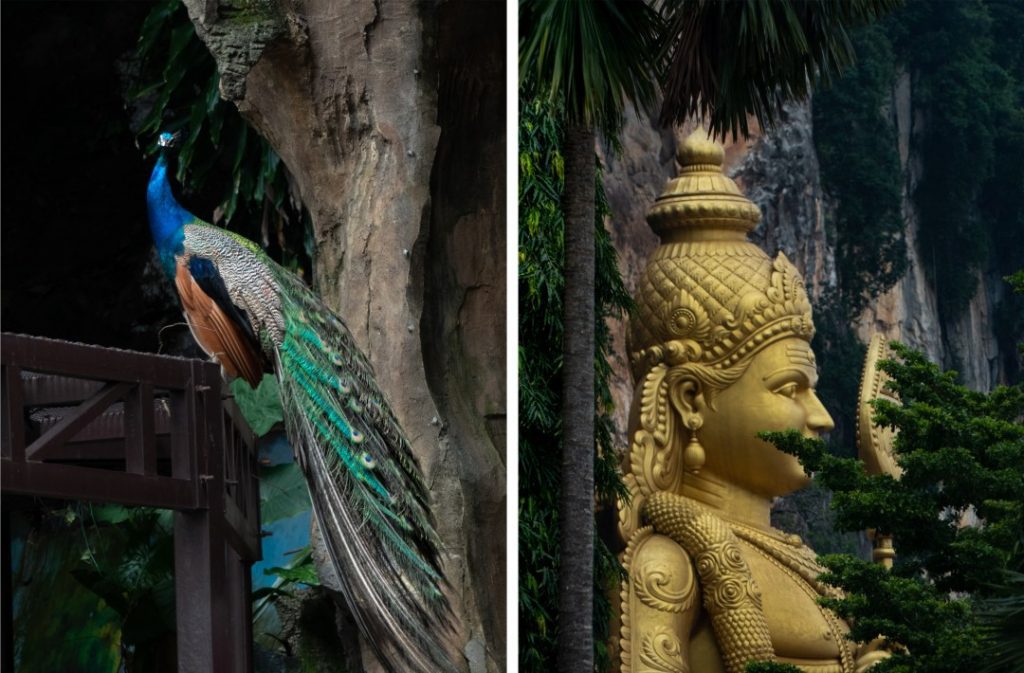 THE CLIMB
There are more vendors on either side of you as you reach the big square in front of the stairs leading up to the caves. This is where you can get the best pictures of the golden statue and the rainbow steps in the background.
Definitely stop here and get the obligatory photos. If you go early in the morning you should have a quieter experience without having so many people in the way of the great view. Hundreds of pigeons fly around here as people feed them. To your left is the large prayer hall. It is beautifully decorated with intricate carvings in vibrant colours.
Once you're ready you can head up the rainbow stairs to enter the cave. Beware of pickpockets while you are distracted by the scenery and always keep your bag close, preferably in front of you.
HOW DIFFICULT IS IT TO CLIMB THE STAIRS?
There is yet another bag check after which you can begin your climb. As mentioned before the stairs are not difficult to climb and it takes about 20 minutes to reach the top depending on your level of fitness. There are little landings in between flights of stairs which let you have a nice little break to take photos.
The stairs are separated into four sections which have low stone railings between them. Make sure to chose your section carefully. There are no specific rules but people tend to climb on the left and go down on the right. The middle sections are usually more densely populated than the outer ones. It's not easy to change section once you start climbing. There are very few breaks in the railing where you could move to another one unless you climb over which is also possible but difficult if there are many people.
You can only really get a good shot of the rainbow stairs from this angle if there are no other people above you. That is why the early morning is ideal to visit otherwise your photos will be full of other tourists which greatly diminishes the quality of your pictures.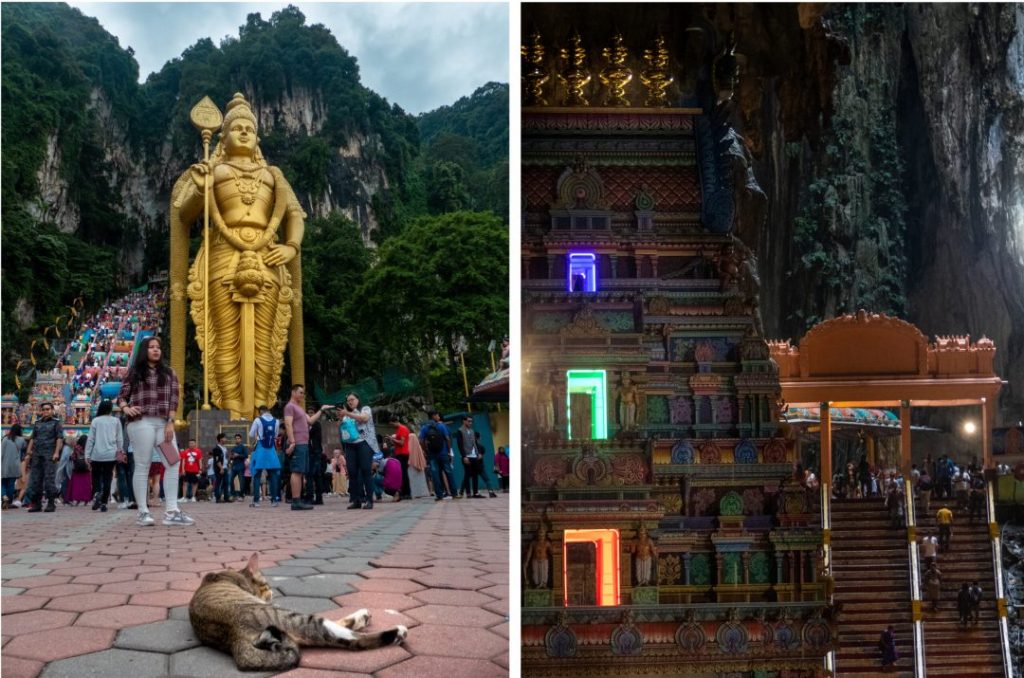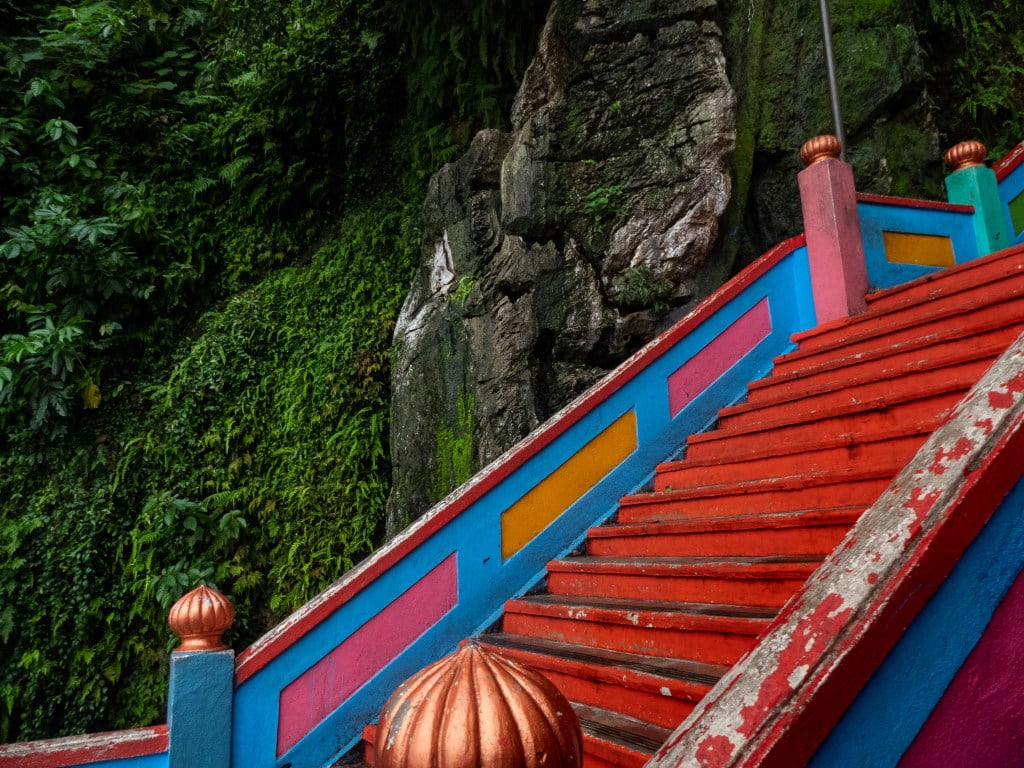 WHEN SHOULD YOU GO?
The site opens at 6:00 am every day. My advice would be to be there as early as possible.
As soon as it's 10:00 am there will be considerably more people which makes the experience less magical and more stressful. In addition to that, the midday heat will make it considerably harder to climb the steps and spend time taking pictures in front of the caves as there is next to no shade. Definitely bring sunscreen if you plan to go around noon.
Since the sun rises towards the side of the mountain, sunrise at the caves is not the most spectacular sight. I'd advise you to be there by 7:00 am to really get the best experience.
Another option would be to go in the early evening and maybe catch the sunset if you're lucky. But be aware that the caves close at 9:00 pm and you'll have time pressure to not miss the last train or suddenly be surprised by the dark. The morning is definitely your best bet. If you cannot be convinced to get up so early then, by all means, go whenever suits you during the day. The caves will still be great but you'll be exposed to the midday heat and large crowds.
The caves are open every day but pay attention to Hindu holidays and celebrations. It is best to avoid the caves during these days as they will be extra crowded and people leave a lot of trash behind. If you have no other option you can still go during a celebration but try to reschedule for another day if you can.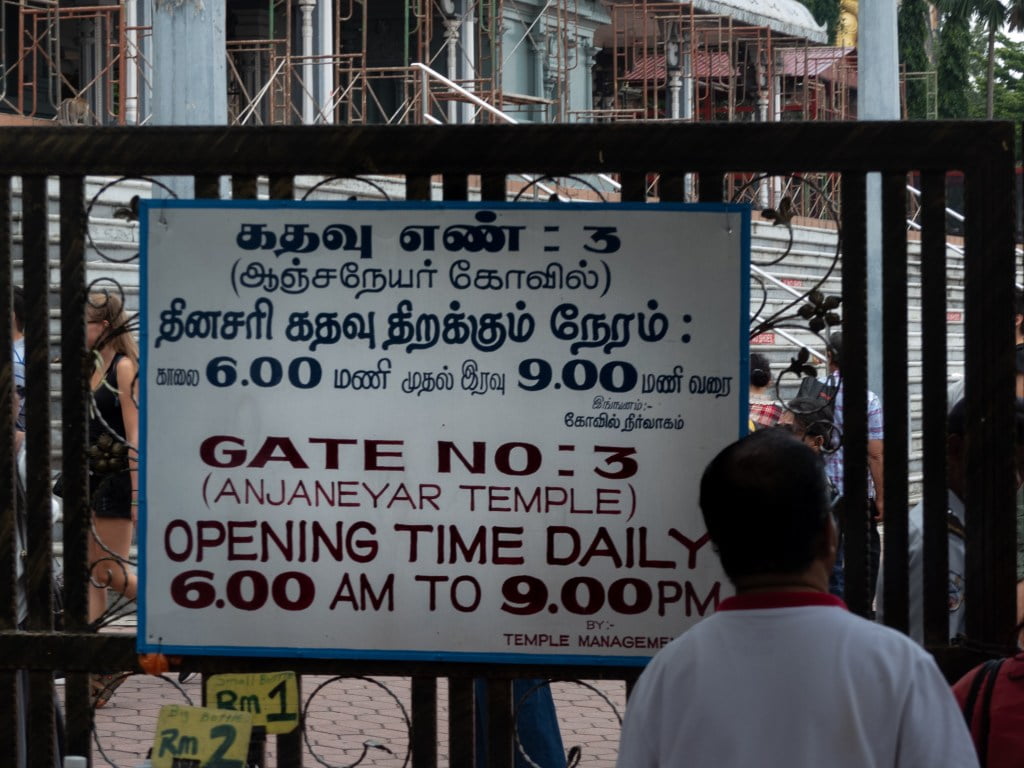 DARK CAVE
About halfway up the stairs, there is another cave to the left. It's called Dark Cave and used to be open to the public but only with a guide.
Unfortunately, it has been closed indefinitely since early 2019 so I have never had the chance to visit it. I have read however that it was a good experience so I would recommend you visit it should it have reopened. 
Updated May 2020 it is still closed with no plans of reopening.
CATHEDRAL CAVE
At the very top of the stairs is the entrance to the main cave. There are some smaller altars at the sides and a large statue. Then there is a tourist shop selling souvenirs, drinks, and snacks.
If you move further into the caves you will find another temple to your left, again a great photo opportunity. Have a lookout for the occasional chickens and dogs running around the caves as well as the many bats that swoop down from the ceiling. It's an amazing atmosphere.
As you reach the back of the cave you will find another set of steps leading to the second temple. Here the monkeys are ready to snatch away the snacks you just bought at the souvenir shop. Once you climb up this last flight of stairs you enter into the last cave with the last temple. There is a giant hole in the ceiling of this cave that lets in plenty of natural light. The jungle hangs over rocks just balancing on the edge of the hole, seemingly about to fall down at any second.
It's breathtaking.
To the right is what I like to call the monkey wall, a near-vertical wall of jungle occupied by monkeys of all sizes. They fight over stolen food from the temple and run around the feet of unsuspecting tourists, hopping up and down the cave walls. Watching them never gets old.
Behind the temple, there are two other, smaller shrines and not much else. Once you've had enough of monkey watching you can retrace your steps and head back to the entrance.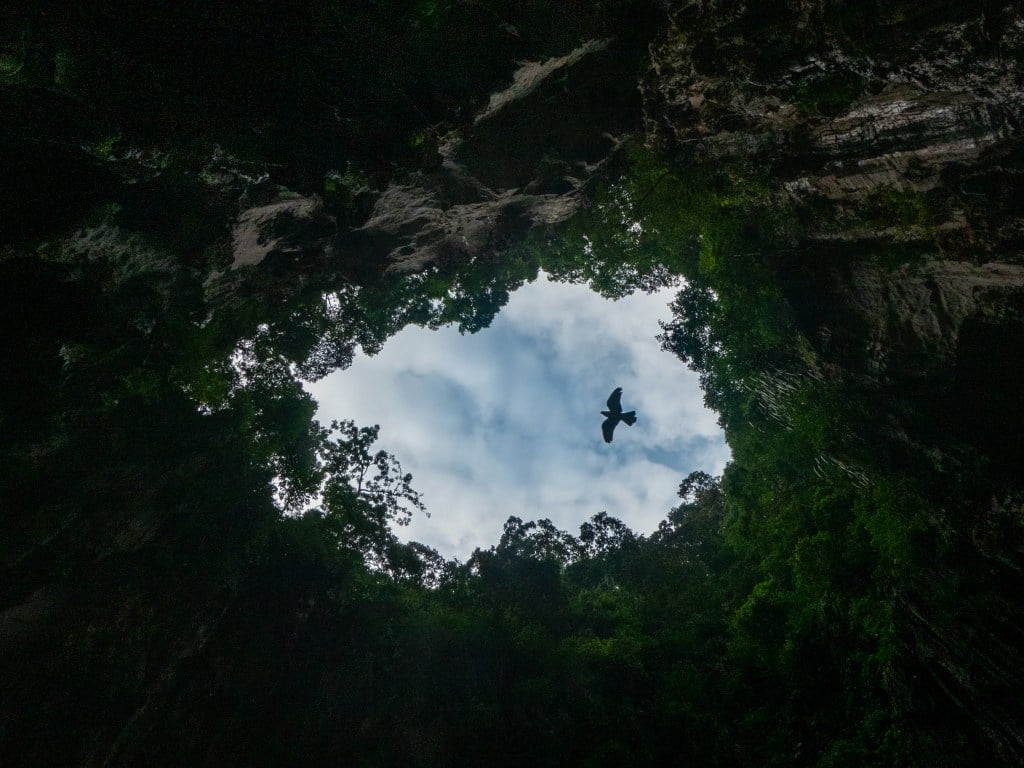 HOW MUCH TIME DO YOU NEED TO SEE THE CAVES?
This all depends on how thorough you want to be with your sightseeing and what type of tourist you are. Are you coming to take a lot of photos and capture video footage? Plan at least 4-5 hours for your stay.
Are you the type of person that walks into a place, takes three pictures and looks around and is satisfied? 2 hours should be fine.
If you really want to walk around and explore everything and maybe relax with some rewarding ice cream when you're back down I would say 3 hours is a good place to start.
This would be my sample itinerary for the day:
5:00 am – get up and have breakfast
6:00 am – leave your hotel and make your way to KL Sentral Station (differs depending on where you are staying)
6:30 am – take the Komuter train to the Batu Caves
7:00 am – arrive at the caves and walk to the main square
7:00 – 10:00 am – explore the caves and surrounding area
10:00 – 10:30 am – rest and reward yourself with a coconut
10:30 am – take the train back to KL Sentral
As you can see from my sample itinerary you can be back at your hotel at roughly 11:00 am and still have the entire day to do whatever you want. Most people only just had breakfast and are getting ready to leave around that time. So why not get up early just once and experience a whole attraction while everyone else is still in bed. Afterwards, you can go back home, have a nap and then get ready again for more activities in the late afternoon.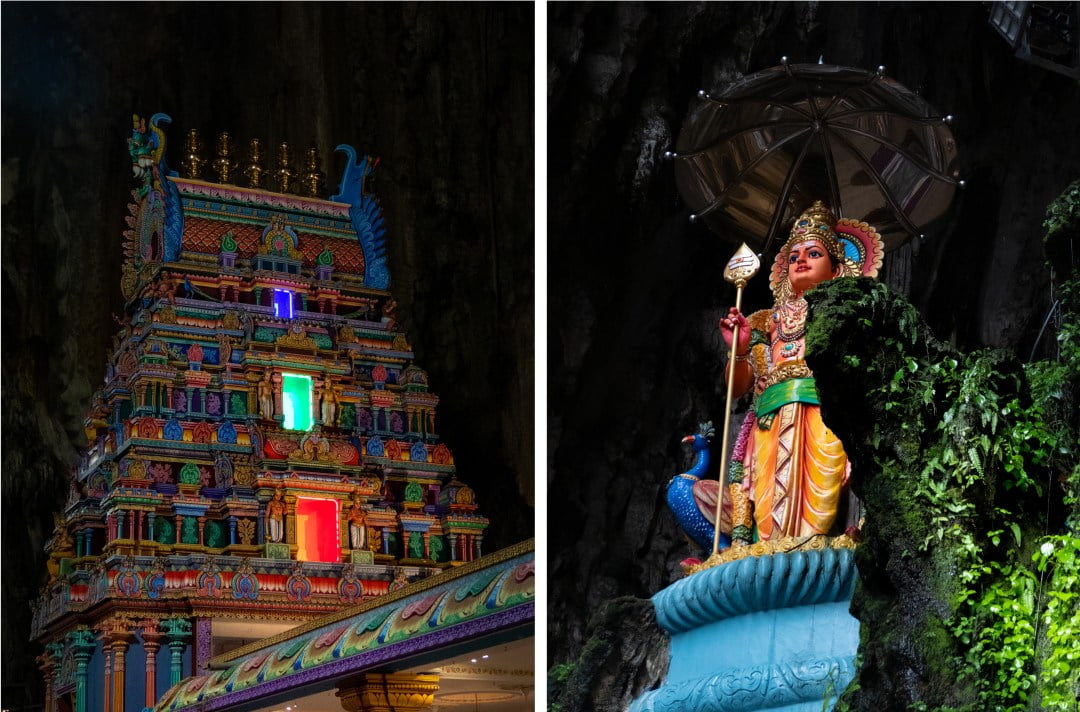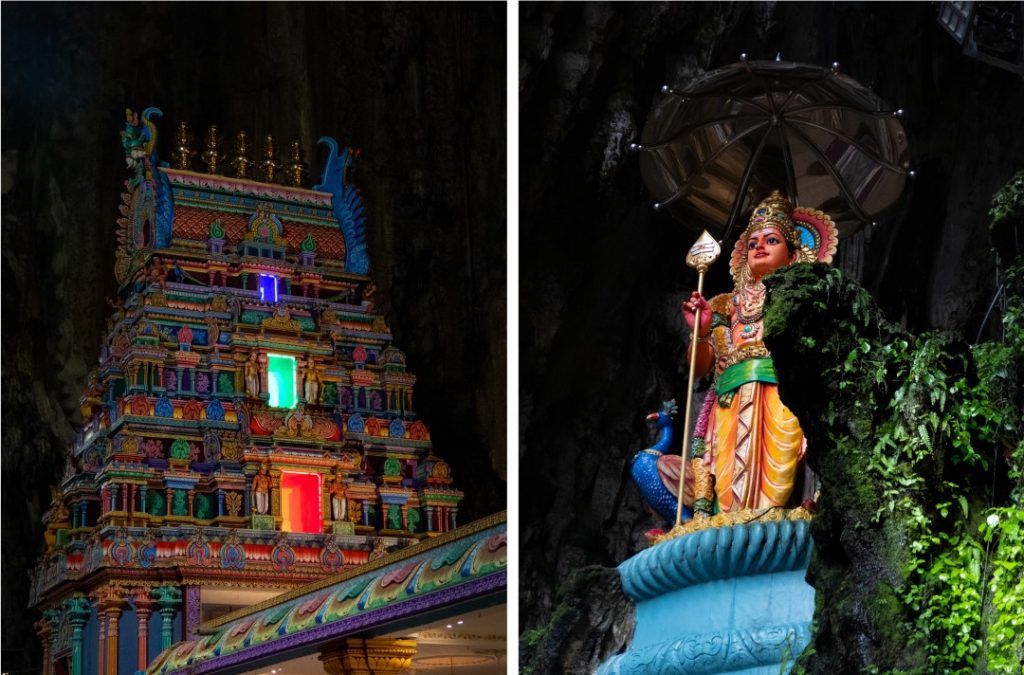 THE WAY BACK FROM THE BATU CAVES TO THE CITY
The way back from the Batu Caves to Kuala Lumpur can be slightly tricky as the trains sometimes run infrequently. Read more about the free shuttle buses that are sometimes offered here.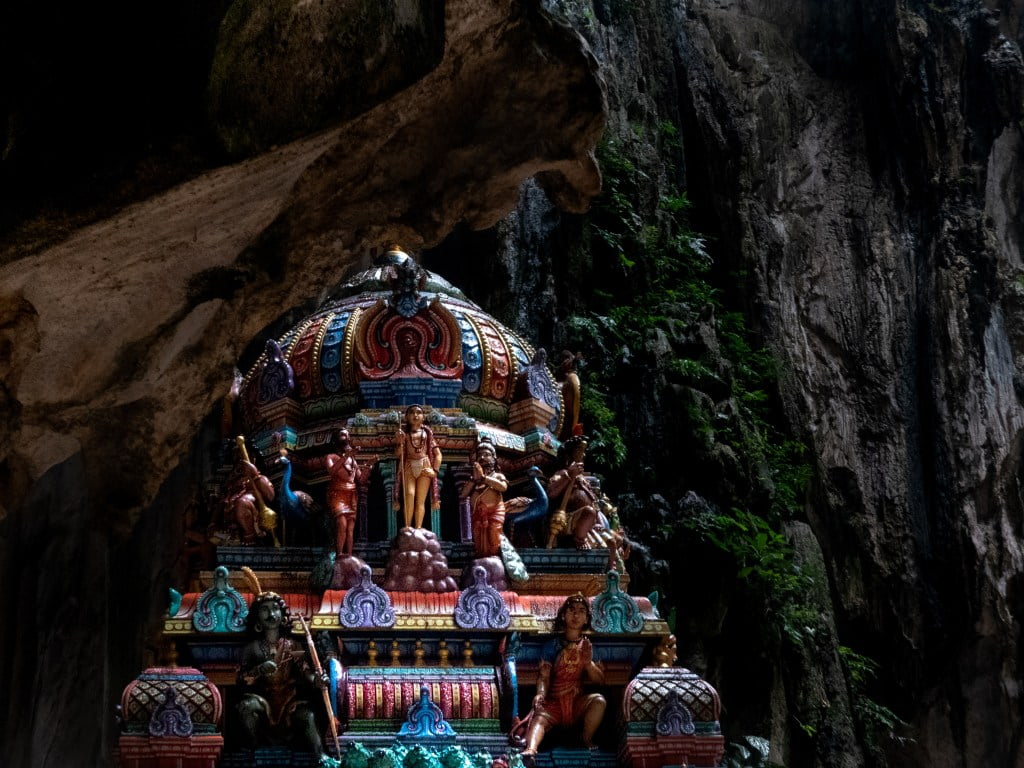 THE BATU CAVES: A SUMMARY
A free attraction reachable within 30 minutes of KLCC with public transport with stunning scenery; what more is there to want?
Someone not familiar with KL will never believe you that this cave is literally right in the city and not in a remote jungle in South India. Definitely worth a visit and my favourite attraction in KL by far especially if you're on a tight budget.
No idea where to stay in Kuala Lumpur? The Somerset Ampang and the Element Hotel are both great options. Click the links for our full reviews.
Travelling on a budget? Here are 24 cheap things to do in KL and 12 really cheap places to eat in and around KLCC.
My most important travel tips and resources
Book your flights
Skyscanner is the best website for finding cheap flights since it works like a search engine so you can find the best deals across all airlines.

Book hotels and hostels
• Booking.com: Best world-wide
• Agoda: Best in South East Asia
• Hostelworld: Best for hostels

Book tours, transport and rental cars
•Viator: The best place to book tours, day trips and excursions for al budgets
•12Go: Great for ferries, trains, transfers and buses in South East Asia
•Discover Cars: Best deals for rental cars around the word

Get travel insurance
Every traveller needs travel insurance and I mean every single one. SafetyWing covers you in case of injury, illness or worse and they've got your back if your bag is stolen, flights are cancelled or in case of a natural disaster.

Pay abroad
Ask any traveller, Wise is the best choice when it comes to sending money abroad. They've always got the best exchange rates, lowest fees and their visa card is great for getting cash out or paying abroad.

Things every traveller needs:
➼ Osprey Farpoint 70 Backpack
Detachable daypack, ultra-light, durable and free repairs for life. There's a reason why so many backpackers have this bag.
➼ Packing Cubes
Packing cubes are a gamer changer, keeping your luggage organised and providing tons of extra space.
➼ Power bank
There is nothing worse than running out of battery on an overnight bus journey or a long flight. With a powerbank you can charge your eletronics on the go and make sure you're always connected.
➼ Micro-fibre towel
These lightweight towels are foldable, fast-drying and so useful when you're travelling.

➼ You can find 15 more things every traveller needs here. Some might be a bit controversial but I warned you!
Did I miss anything?
If you have any questions or feel like something is missing from this post please leave a comment below or contact me.