WHY YOU SHOULDN'T VISIT THE CAVE VILLA
Read this article to find out why you should not visit the Cave Villa when you are at the Batu Caves in Kuala Lumpur. I will also give you a detailed description of what you can expect when you go there and what you're missing out on if you don't. Spoiler alert: it's not much.
Are you planning your trip to KL? Check out these 19 things to do in the city and add them to your itinerary.
Travelling on a budget? Here are 12 beyond cheap places to eat in Kuala Lumpur.
This post may contain affiliate links, which means we'll receive a commission if you purchase through our links, at no extra cost to you. This helps us keep Guide your Travel free and provide high-quality content for you. Please read the full disclaimer for more information.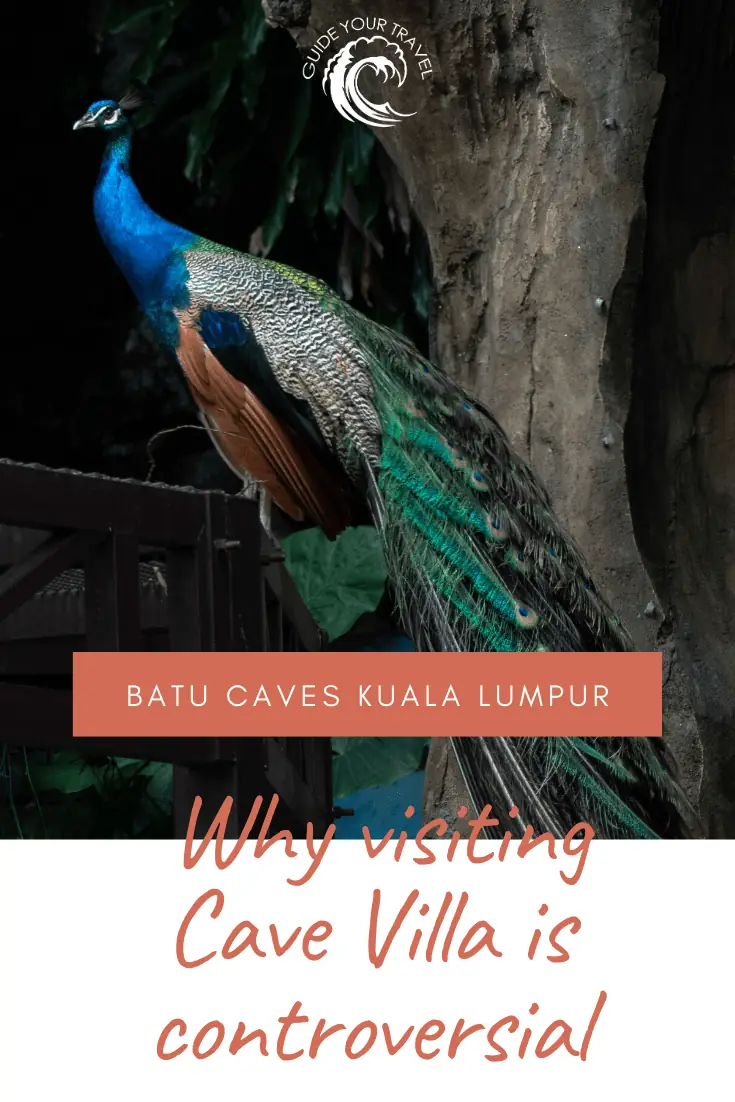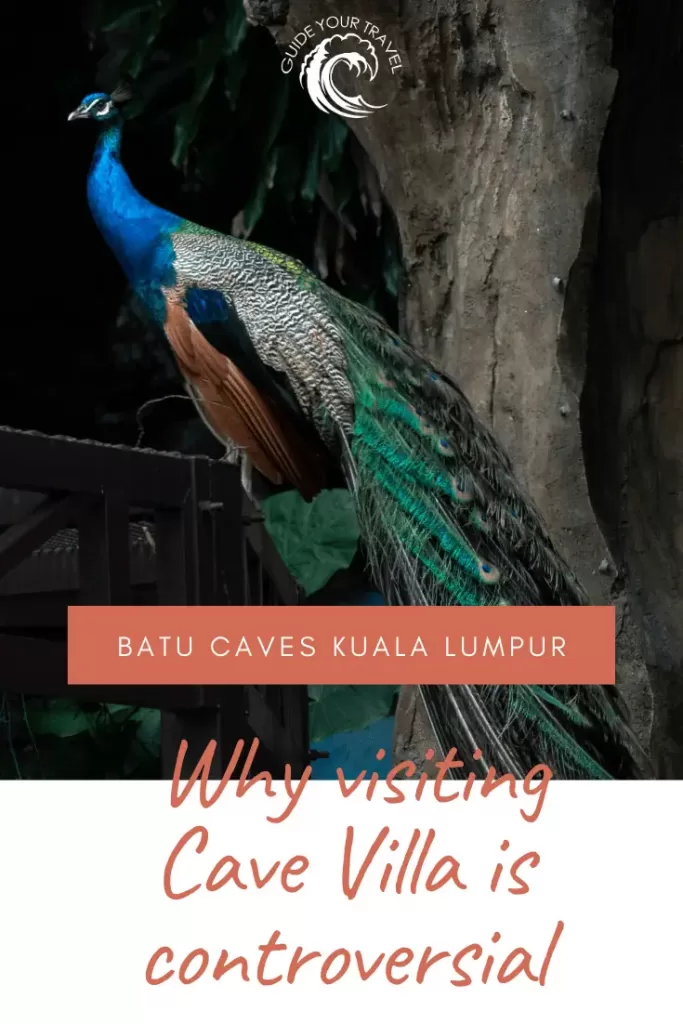 YOU'VE HEARD OF THE BATU CAVES BUT WHAT IS CAVE VILLA?
The Batu Caves in Kuala Lumpur are a popular tourist attraction as well as a religious pilgrimage destination for Hindus. They are easily reachable by train and entrance to the main cave (Cathedral Cave) is completely free. There are, however, four smaller caves with varying entrance charges you can also visit while you are there. These are:
Dark Cave, which is currently closed indefinitely (updated May 2020)
Ramayana Cave, an impressive cave decorated with a large variety of statues (RM 5 (≈ 1€) entrance fee)
and the two caves within the Cave Villa.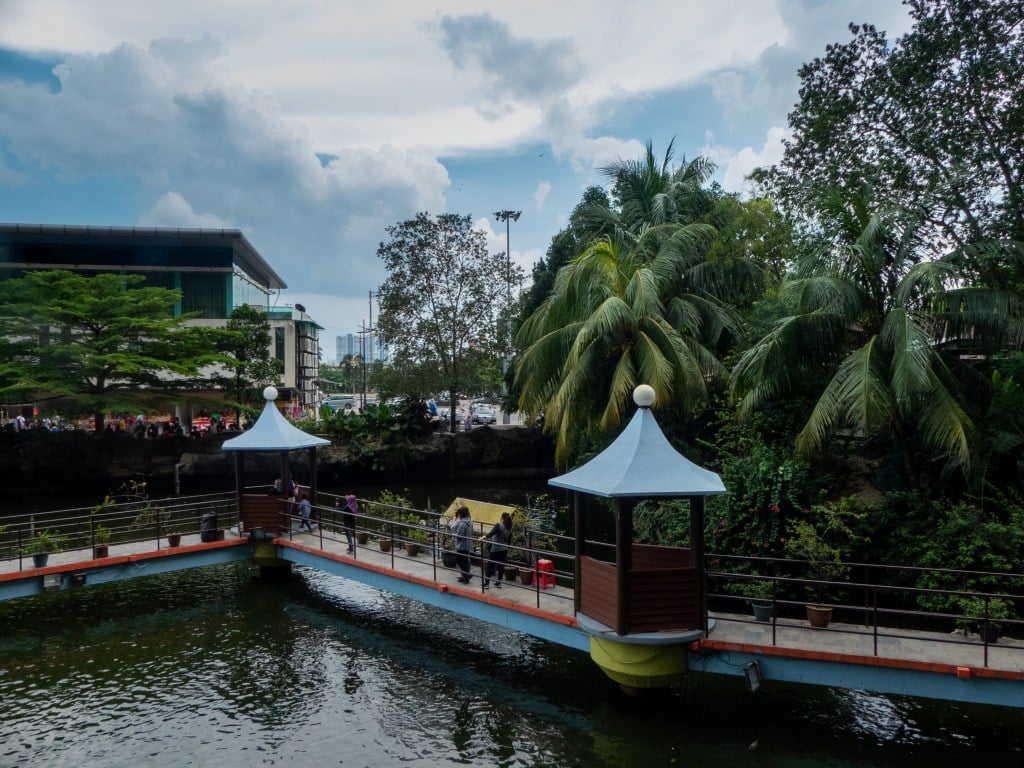 Click here to read about Ramayana Cave and Cathedral Cave with its beautiful rainbow steps and temples.
This post focuses on the Cave Villa which is the name of a separate area within the Batu Caves complex. The entrance fee is RM 15 (≈ 3,20 €) while the most famous cave Cathedral Cave is free. This leaves many travellers with the question of whether or not these caves are worth visiting and spending money on.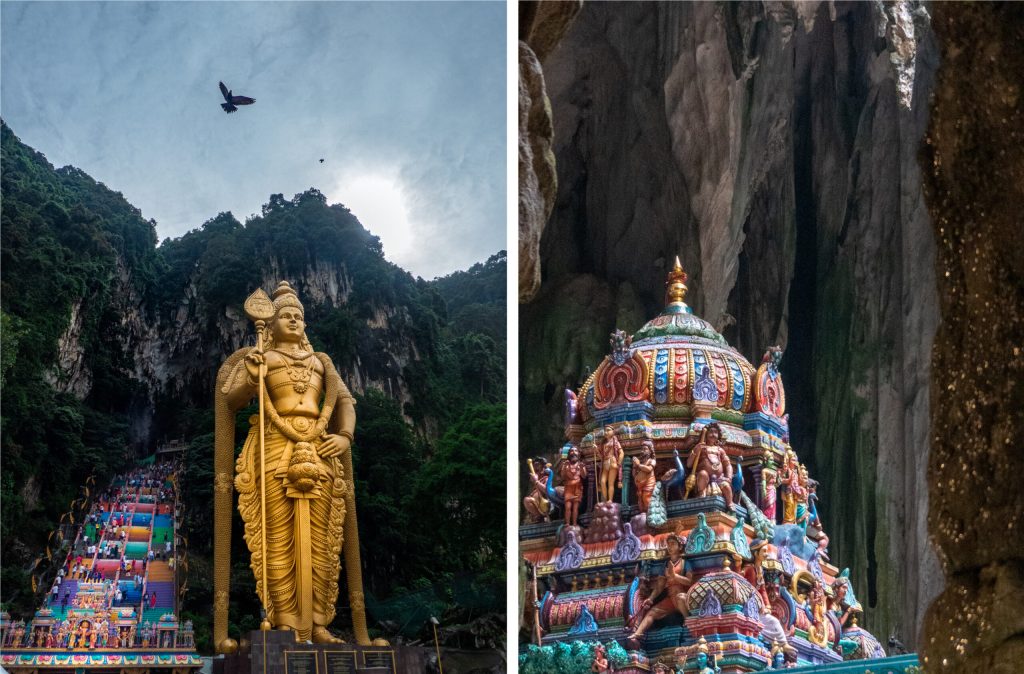 WHAT CAN YOU EXPECT WHEN VISITING THE CAVE VILLA?
The Cave Villa consists of two caves that are located in a sort of separate area to the left of the rainbow steps leading up to Cathedral Cave. It costs RM 15 (3,20 €) for tourists and RM 7 (1,50 €) for Malaysian nationals to enter. The opening times are from 9:00 am to 5:00 pm. There are two entrances and you walk past both of them on your way to the main cave. For the entrance fee, you will get access to:
the Balinese style pond with zigzag bridges which you can see from the outside
a roofed stage area with seating where you can watch a cultural dance show every hour 
an outdoor mini zoo displaying caged miniature chickens, rabbits, iguanas, parrots and other types of birds. Peacocks roam the entire area freely
various sad-looking catfish in small tanks
aquatic turtles and small koi fish
a souvenir shop and a 'fish spa'
bathrooms and a small restaurant that is accessible from the outside
two caves that are very similar to Ramayana Cave, one displaying a small selection of caged snakes and iguanas
The Cave Villa has long been under fire for its mistreatment of animals and rundown attractions considering the fact they are charging RM 15 (≈ 3,20€) as an entrance fee. The Cave Villa is not associated with the main Batu Caves and is privately owned. It has lost and then regained its licence for keeping animals several times and boasts many bad reviews online. Read some of the Trip Advisor reviews for a second opinion.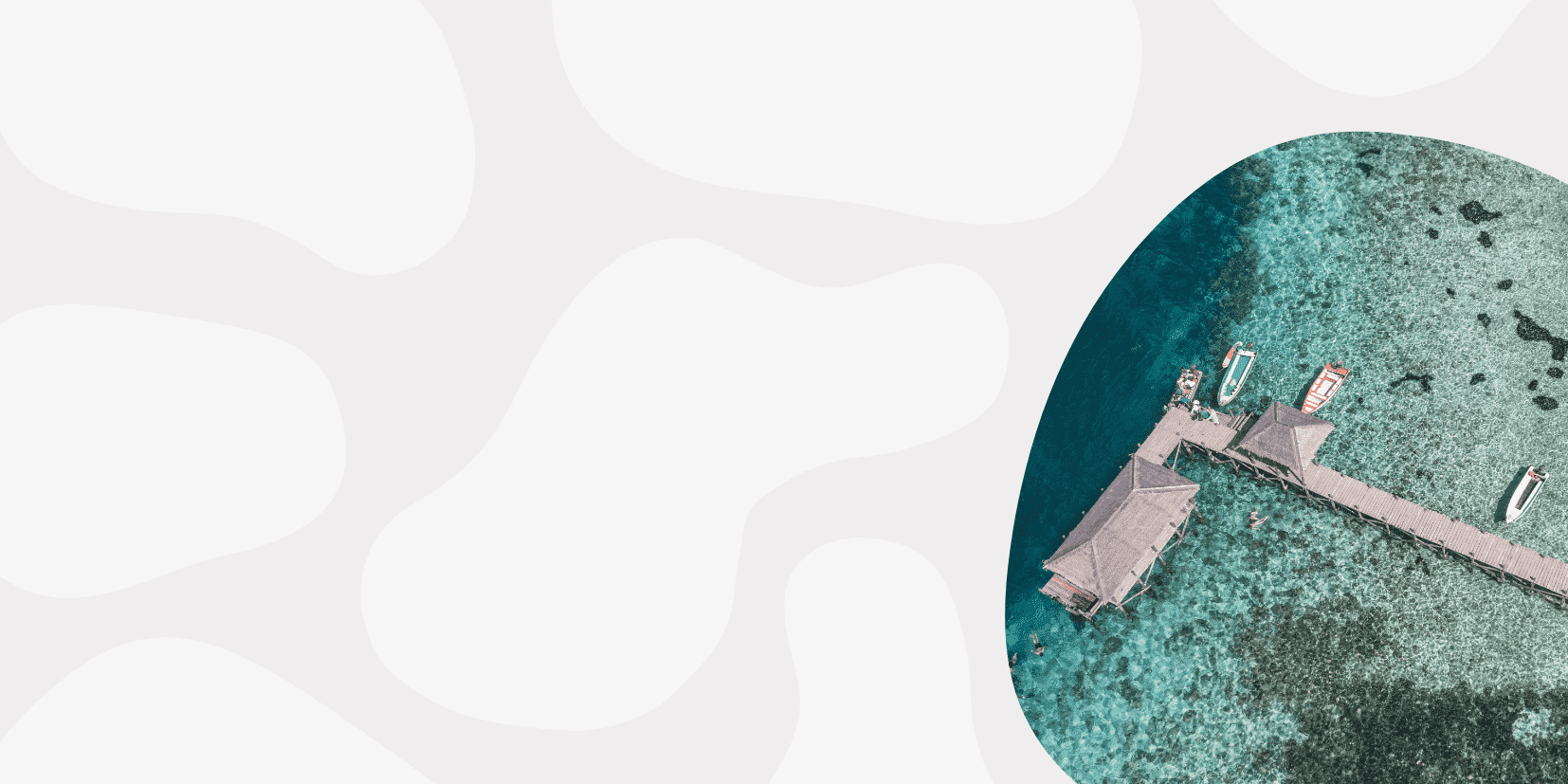 Let me save you time and effort when you're travel planning!

➼ Best travel insurance? SafetyWing
➼ Best place to find cheap flights? Skyscanner
➼ Best bank & credit card for travellers? Wise
➼ Best travel backpack? Osprey Farpoint 70
IF THE CONDITIONS ARE SO BAD, WHY DID I SPEND MONEY ON SUPPORTING THE CAVE VILLA?
I visited Cave Villa somewhat accidentally. I had read online how the animals are kept and adamantly walked past the first entrance, determined not to contribute to animal cruelty even if it meant missing out on some of the caves. But on my way back I was intrigued by the pond and its bridges and paid the entrance fee at the second entrance, unknowing that this was the same attraction I had just vowed to boycott.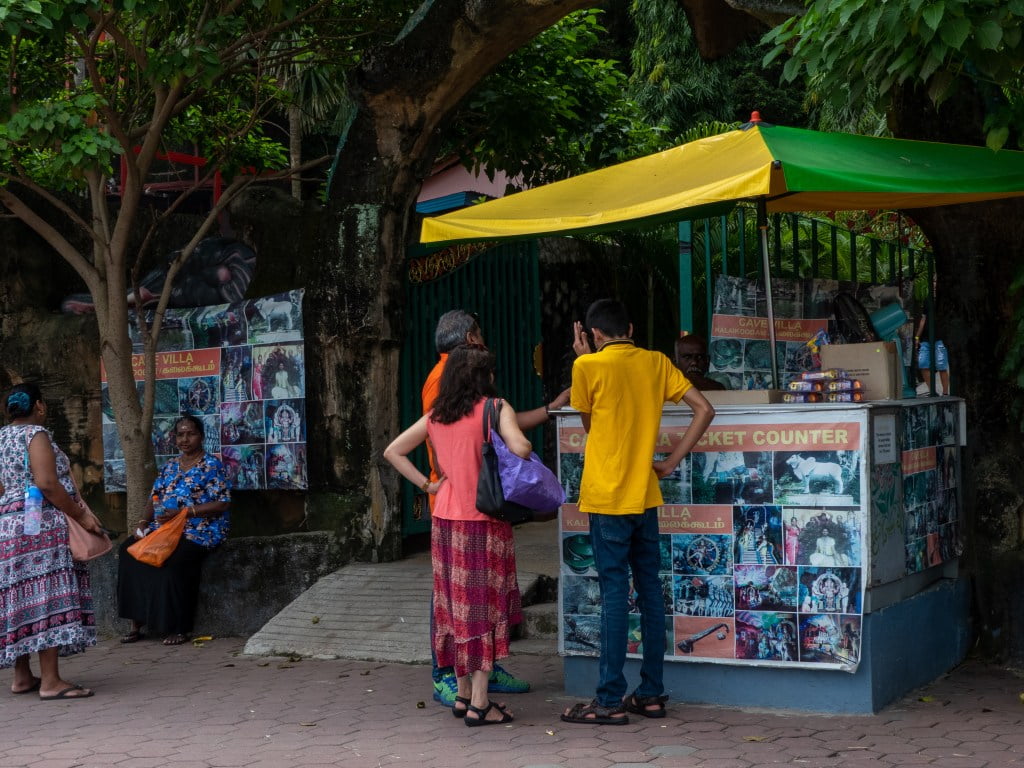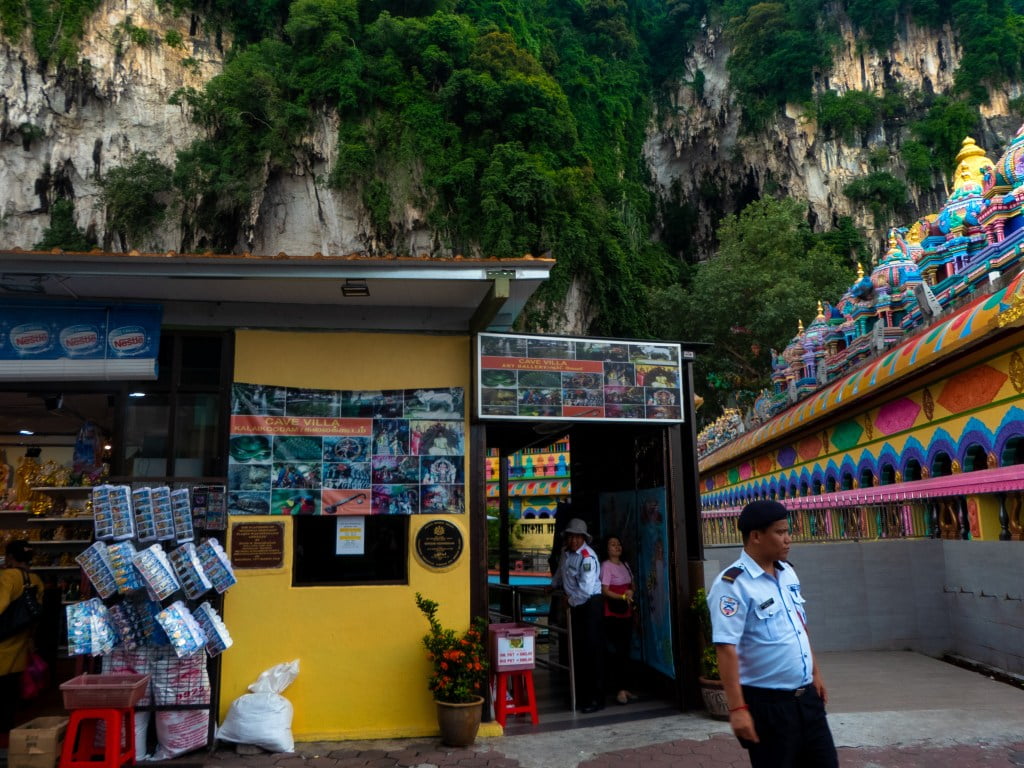 Once I realised where I was it was too late. I decided to look around and take some photos so I could let other travellers know what to expect. 
So if you're unsure of whether you want to visit the Cave Villa why not read about my experience there and then make up your mind?
If you normally wouldn't support something like this but feel as though you're missing out and want to make an exception you can have a look at the photos I took and read about exactly what you are getting for RM 15 (≈ 3,20). Then you can safely decide whether you need to see it for yourself or if maybe you're ok with taking a peek from the outside and moving along to the bigger and better caves.
Because trust me you'll be perfectly fine if you skip this one.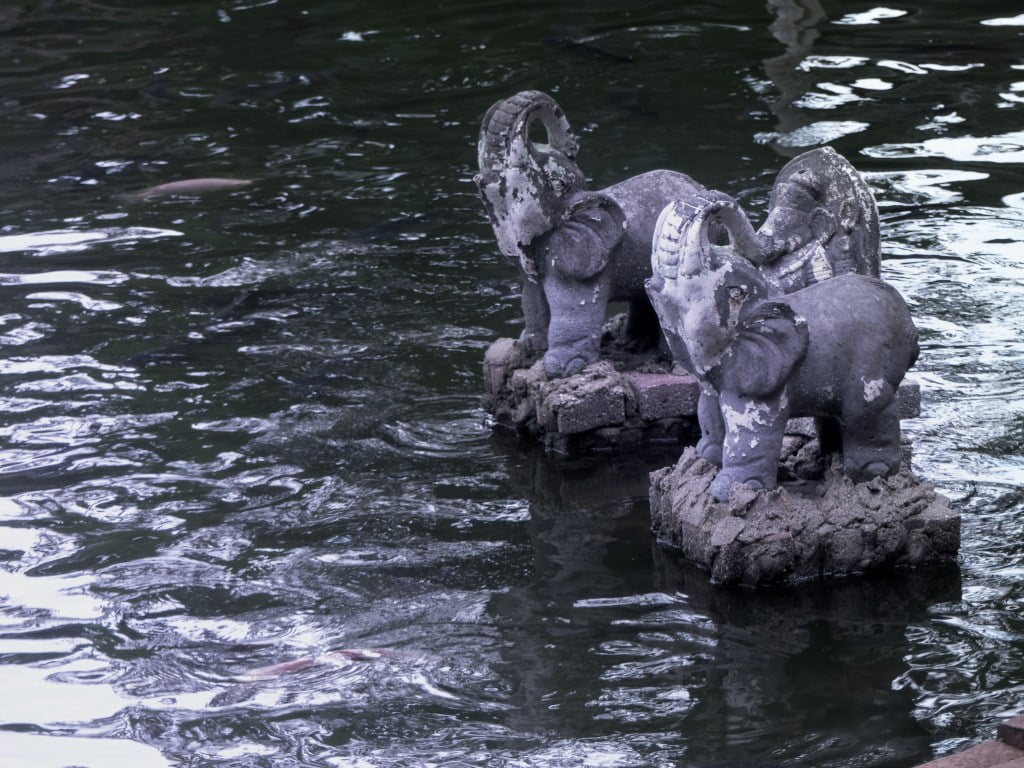 ABOUT THE PRICE
As mentioned before there are two entrances to the Cave Villa. They are about 50m apart from each other on the main path between Batu Caves Station and Cathedral Cave.
To enter Cave Villa, you are asked to pay RM 15 (for foreigners) and RM 7 as a Malaysian national. Having different prices for tourists and locals is a common practice for attractions in South East Asia and I understand why this is effective.
However, RM 15 (≈ 3,20€) is, in my opinion, a bit pricey for what you get. Considering Cathedral Cave is free and Ramayana Cave is only RM 5 (≈ 1€) it isn't far fetched to realise that what you are mainly paying for here are the animals and maybe the cultural dance show.
And neither of those is worth the price I think.
SO YOU'RE GOING TO BATU CAVES, SHOULD YOU VISIT CAVE VILLA?
Upon entering you are given a paper wristband, which I'm assuming means you can exit and re-enter the premises later. I didn't try this out though. One the way in you can buy small bags of dog kibble (RM 3 – 5 depending on the size) which is marketed as fish food. With this, you can feed the hundreds of grey koi in the main pond as well as some of the catfish in tanks.
Whether dog food is appropriate for koi fish to eat is not within my expertise but I find it questionable.
The zig-zag walkways on the pond are quite nice and let you take great photos of the adjacent temple (not accessible from Cave Villa). The koi however as mentioned are grey, not colourful which does not add to the beauty of the location. There is also a complete lack of vegetation, no water lilies or lotus flowers as advertised in many of the leaflets. The only decoration is a little floating house on the pond where small turtles bask in the sun.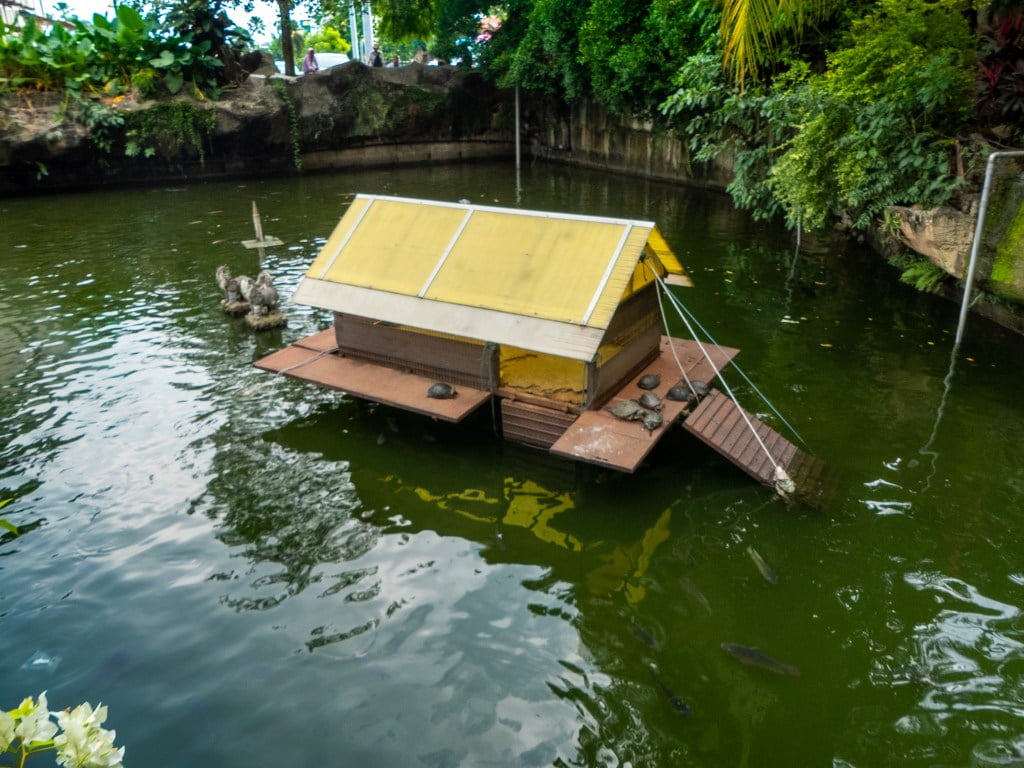 THE CAVE VILLA GROUNDS
Via the walkways, you reach the main grounds of the Cave Villa. Here you'll find a souvenir shop, the very dirty looking fish spa (RM 15 (≈ 3,20€) for 15 minutes) and the stage with a seating area. For me, this was the main benefit of the Cave Villa as the area is sheltered from the sun and has a slight breeze. Sitting here was a welcome rest from walking around all day.
Dancers in traditional costumes perform a 15-minute show on every full hour. The performance was good but nothing groundbreaking you definitely need to see. Many shopping malls in Kuala Lumpur put on similar shows on the weekends for free.
Opposite the stage is a bathroom (the second best part of this attraction) which operates free of charge as far as I could tell. It looked fairly clean. Then there are doors leading to the restaurant/souvenir shop that can also be accessed from the outside. It advertised vegetarian dishes but was not open when I visited although it was lunchtime so I cannot say anything about the prices or quality of food. It looked fairly small.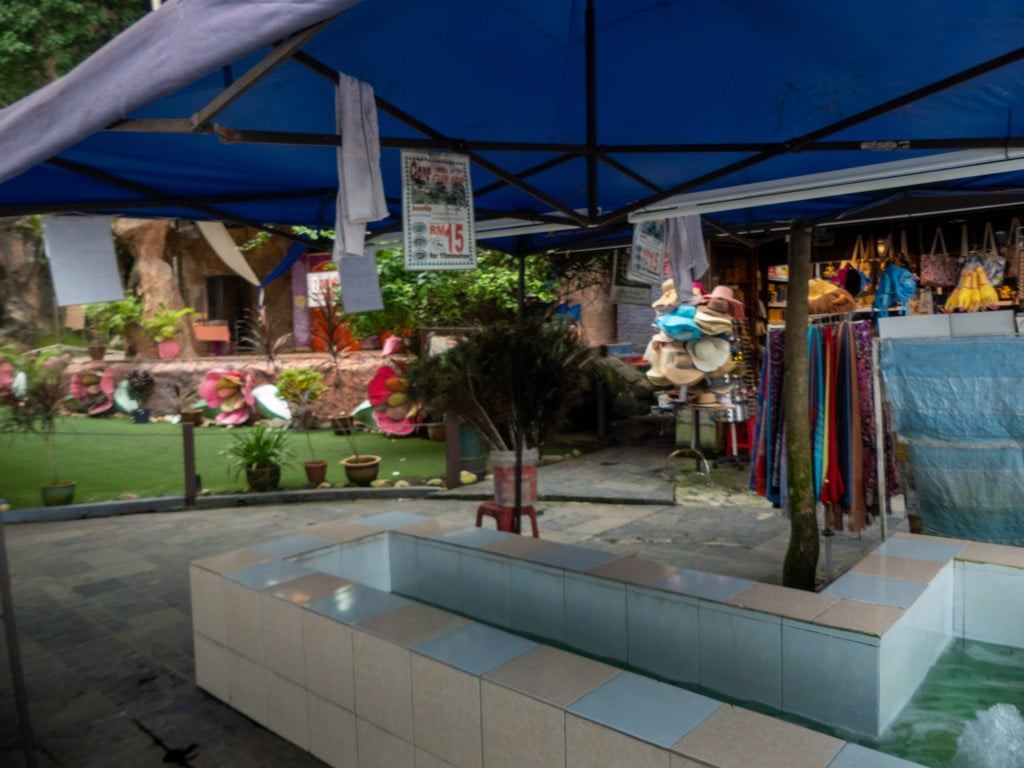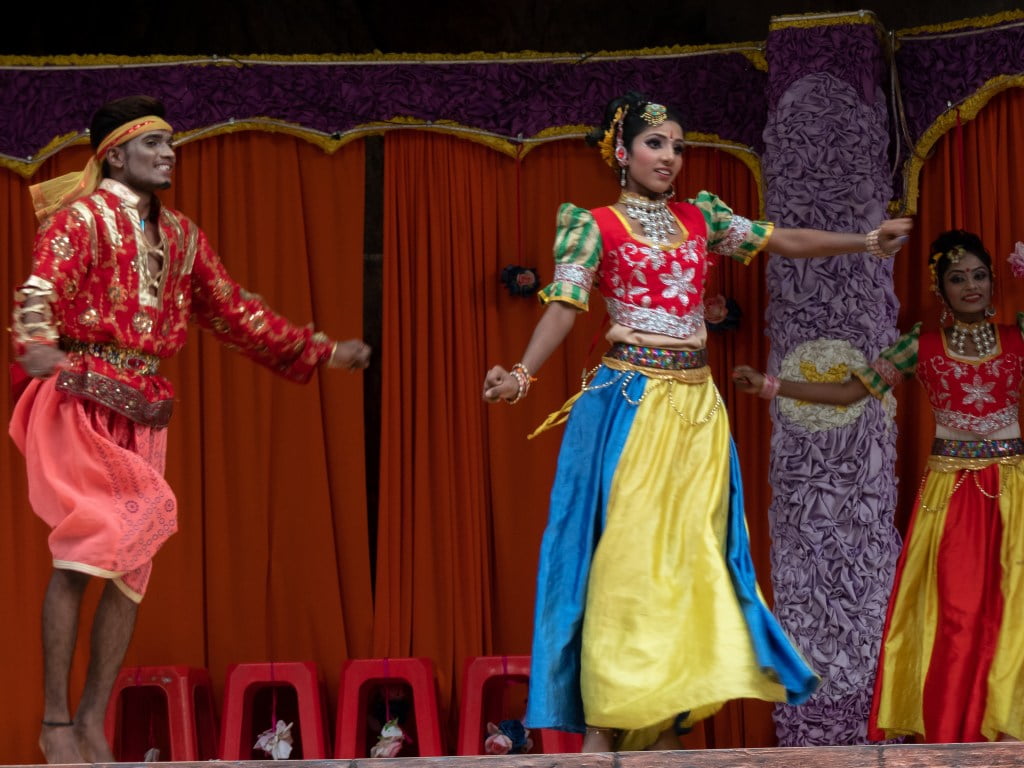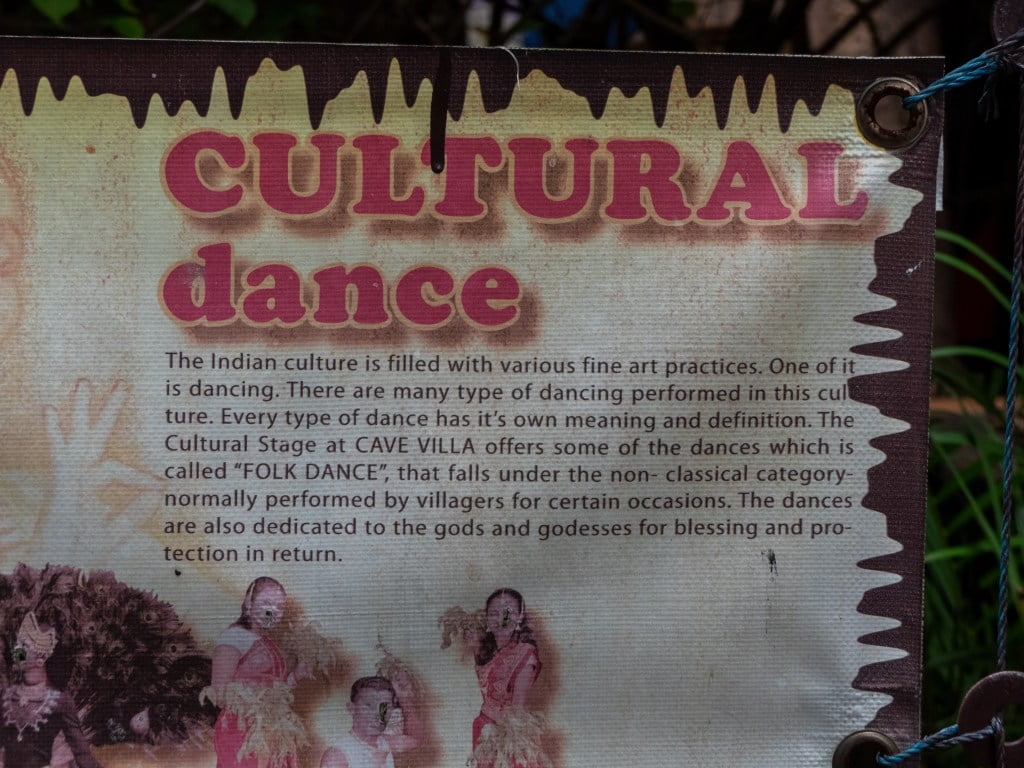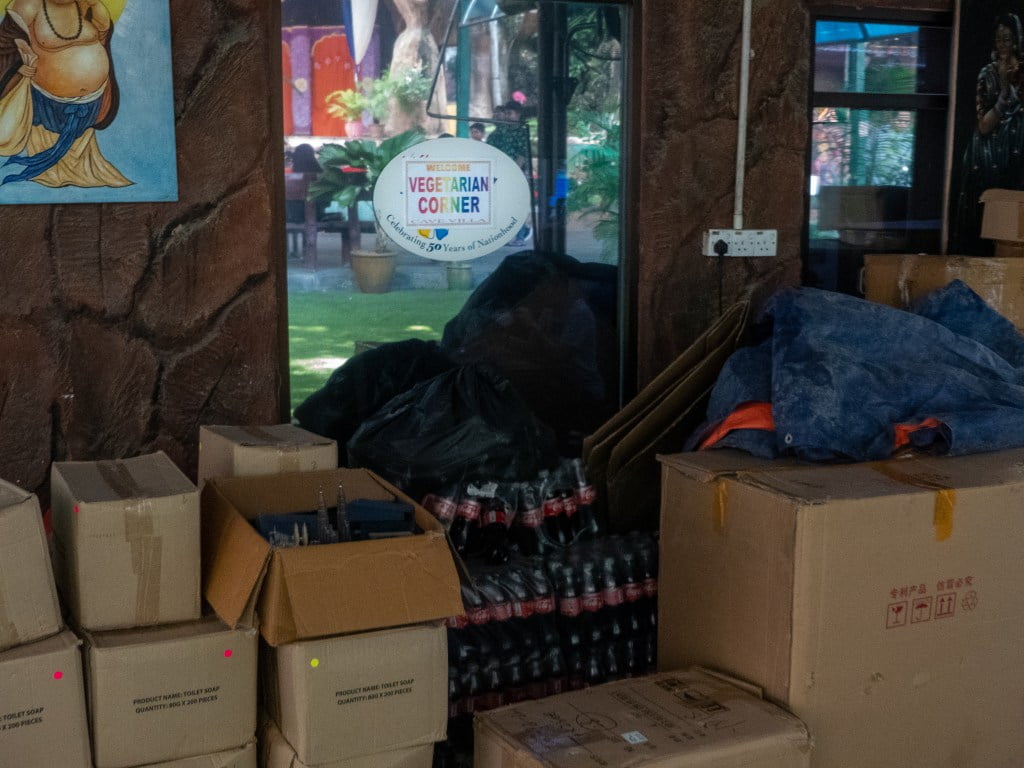 THE TREATMENT OF ANIMALS AT THE CAVE VILLA


TILED FISHTANKS
Throughout the Cave Villa, there are a variety of catfish on display, all advertised as 'river monsters' which I found a bit bizarre. Animals should not be exhibited at all in my opinion but it can at least serve an educational purpose. However, there are next to no labels or explanations for the animals on display at the Cave Villa.
The tanks are tiled on the inside and very shallow. They are completely bare with no effort to make them even slightly habitable. I cannot imagine a worse environment for a 1,5m catfish.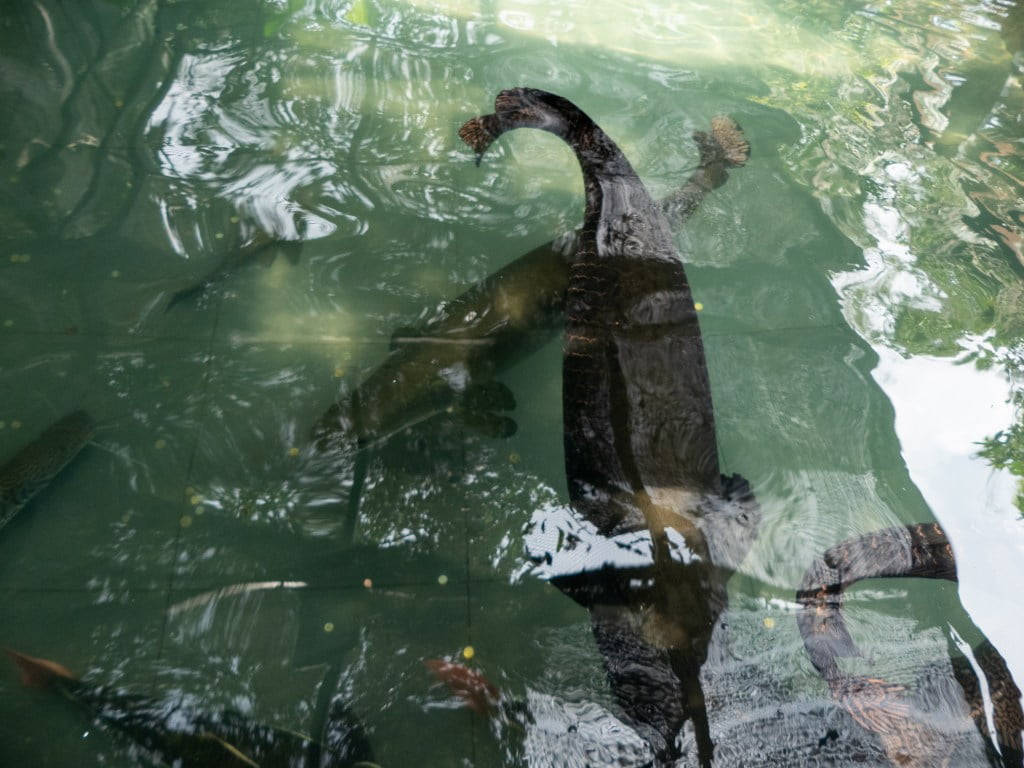 CHARGING RM 20 FOR PHOTOS WITH A MISERABLE PARROT
Towards the left of the stage is the parrot area where different varieties of cockatoos and parrots are perched on open-air throngs. They are not chained or in cages which usually means that their wings have been clipped to keep them from flying away.
Here photography is not allowed as stated by several large signs. Instead, there is a photographer with a DSLR camera whom you can ask to take pictures of you holding a parrot for a fee (Rm 20 (≈ 4,25€) for 4 photos).
Parrots are usually very lively animals but these birds were barely moving or making a sound. Considering you just paid a fee at the entrance I would have expected to at least be allowed to take my own depressing parrot photo.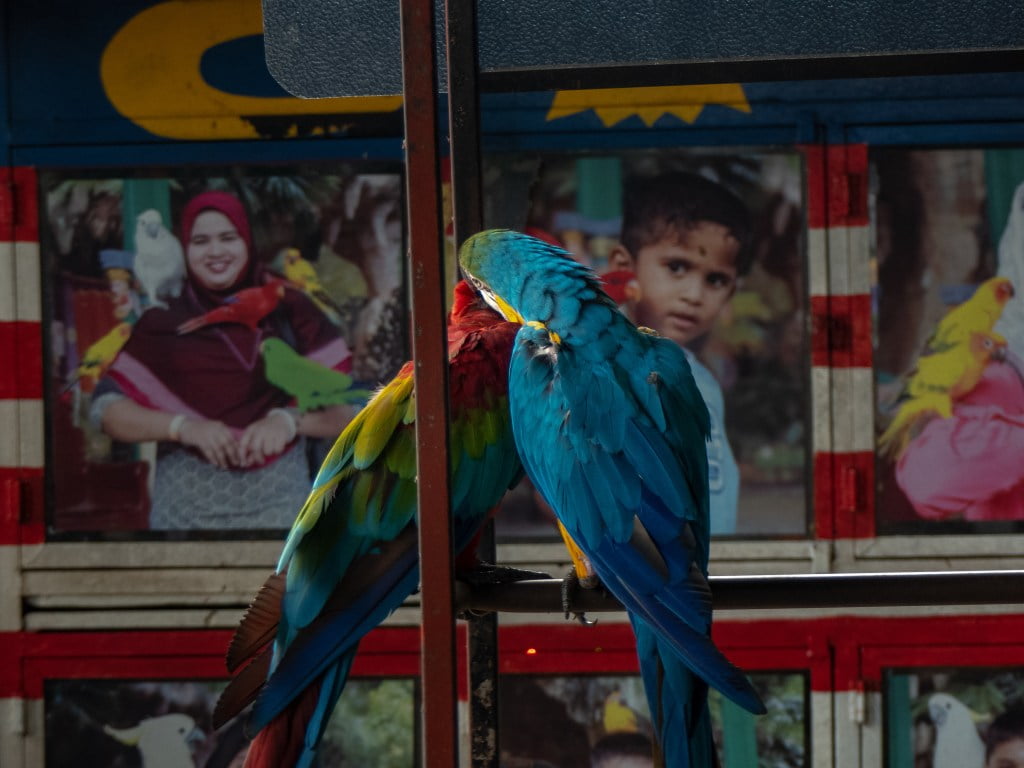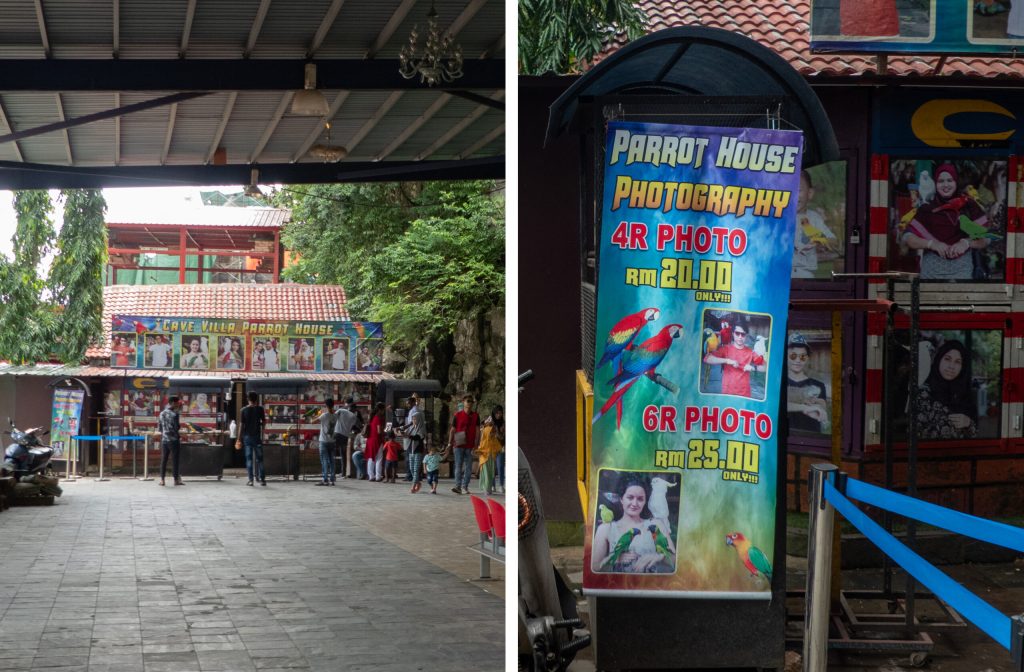 THE WORLD'S SADDEST ZOO
Further, towards the left are a collection of aviaries and cages which make up the zoo portion of the area. It is disappointing and small. Animals are seemingly mixed and matched into cages at random. You'll find a bizarre combination of bunnies, peacocks, iguanas, and chickens which is a pretty good summary of the variety of species you'll be able to see here.
It's pathetic to call this a zoo.
The cages are all very bleak with next to no vegetation or forms of entertainment for the animals. Keeping bunnies alongside large birds and chickens was such a strange sight for me. There are no hiding spaces for them which meant that they were lying in the sandy dirt close to the fence to at least get some sort of shelter.
It was a sad sight and not even remotely interesting or educational even for children. I'm definitely not an advocate of zoos but there are definitely better ones than this. The conditions are horrible and the variety of animal species is pathetic.
Why would you want to look at a caged bunny or chicken when there are monkeys everywhere in their natural habitat?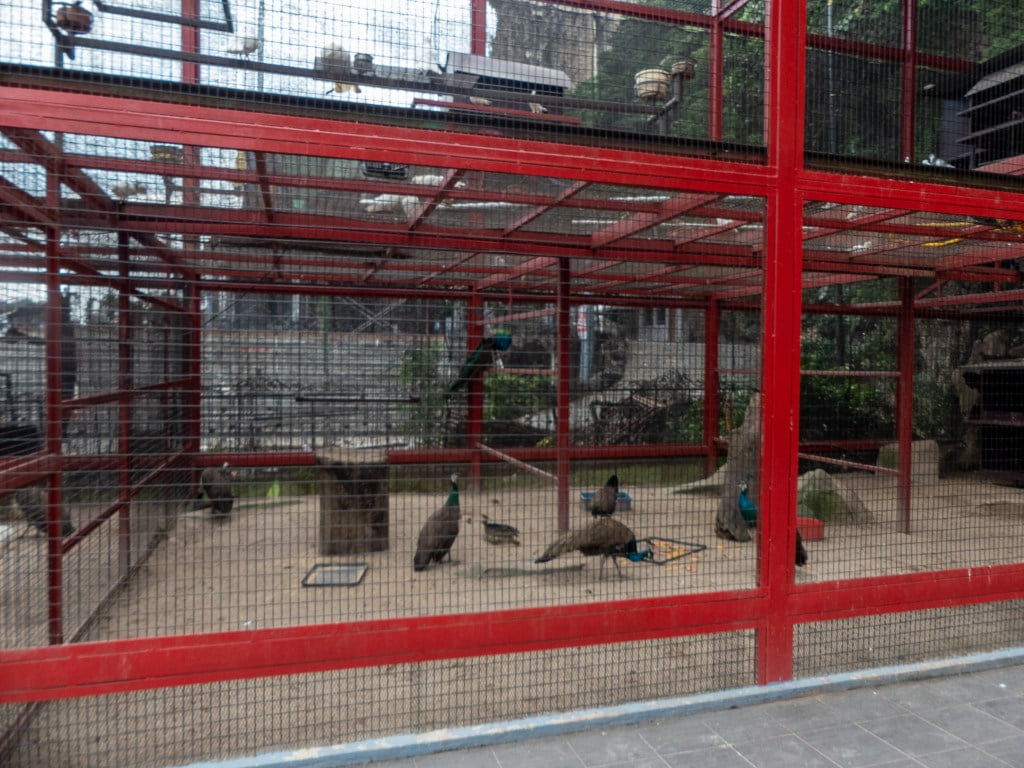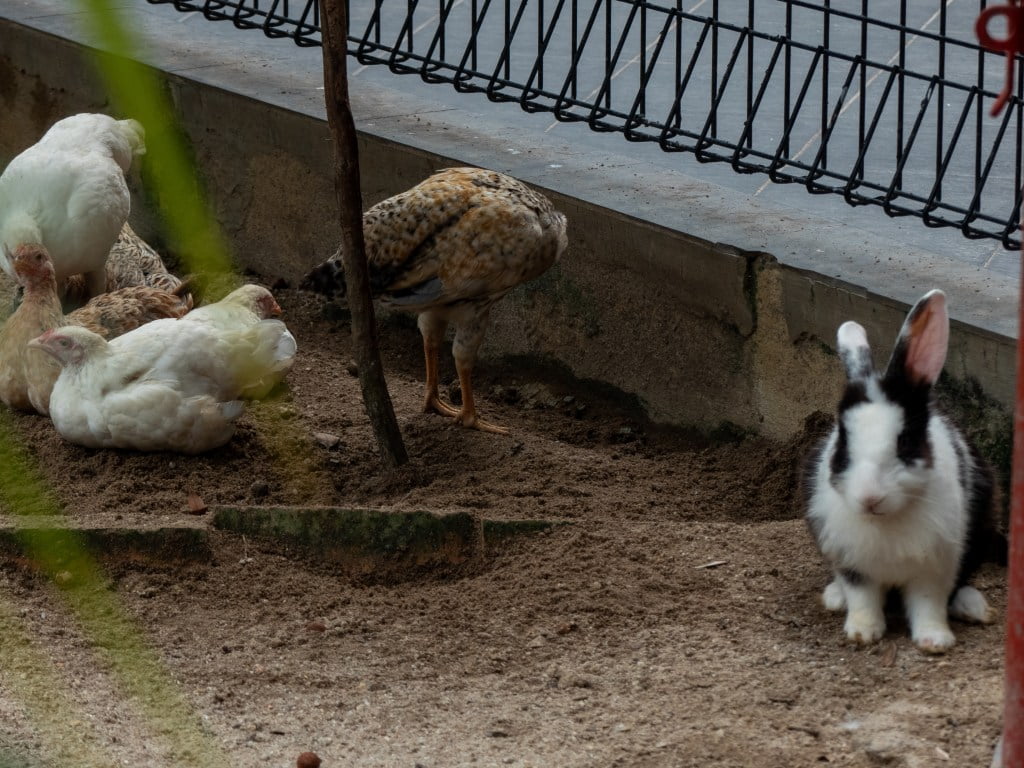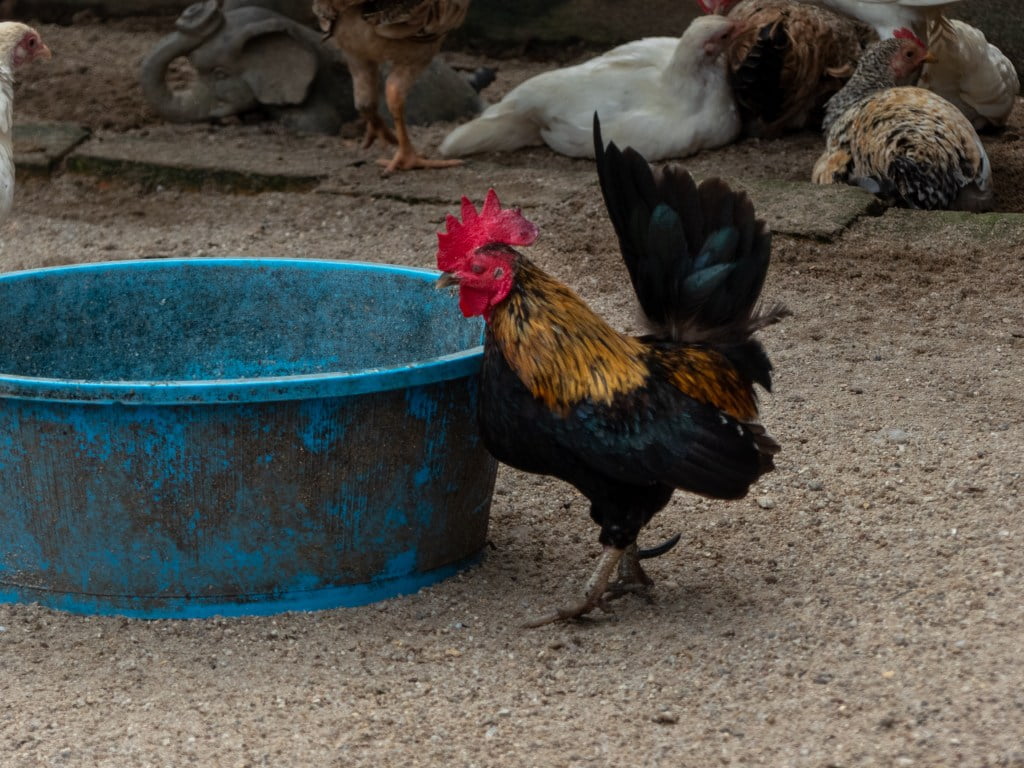 THE CAVES
Now for the caves. There are two large caves, both quite similar to Ramayana Cave. The one to the left of the stage has a little walkway leading into the cave with some small fish tanks displaying more catfish. Then there is a small man-made waterfall and four large pictures of scenes from Thaipusam festival. A little bridge leads you over another koi pond (this one has colourful but small koi) into the main cave.
The cave itself is beautifully painted in almost psychedelic patterns and, much like the Ramayana Cave decorated with a large variety of statues of Hindu deities. Small placards explain the significance of each one.
It is not very large and yes it's pretty and fun to look at but I would not say you're missing out if you went to Ramayana Cave instead.
THE CONDITION OF THE CAVES
Throughout the caves, there are some seemingly random decorations that I found slightly confusing. It seemed as if someone had just put whatever they could find on display such as a little jade Buddha (in a Hindu temple) or this koi lamp with the electrical cable wrapped around it.
Considering they charge a fee to enter this place it does not seem as though they put a lot of love and care into the decorations.
There were also open electrical cables and easily accessible gas tanks throughout the caves. I cannot describe this as visually pleasing and it did not seem safe considering the caves are always wet.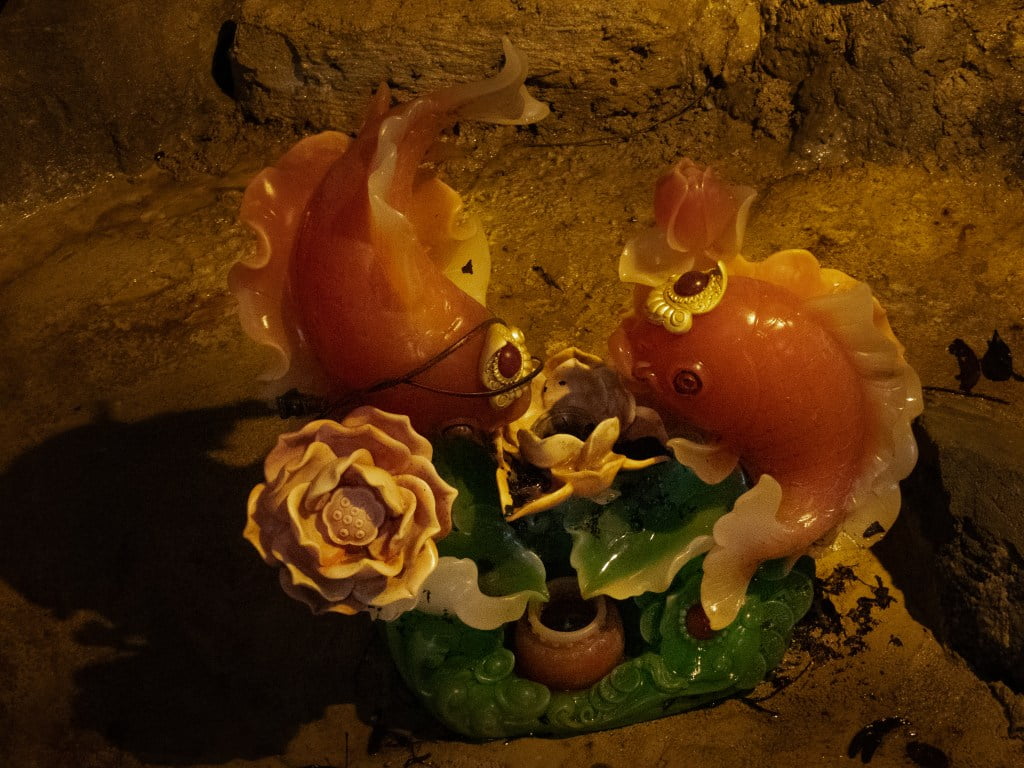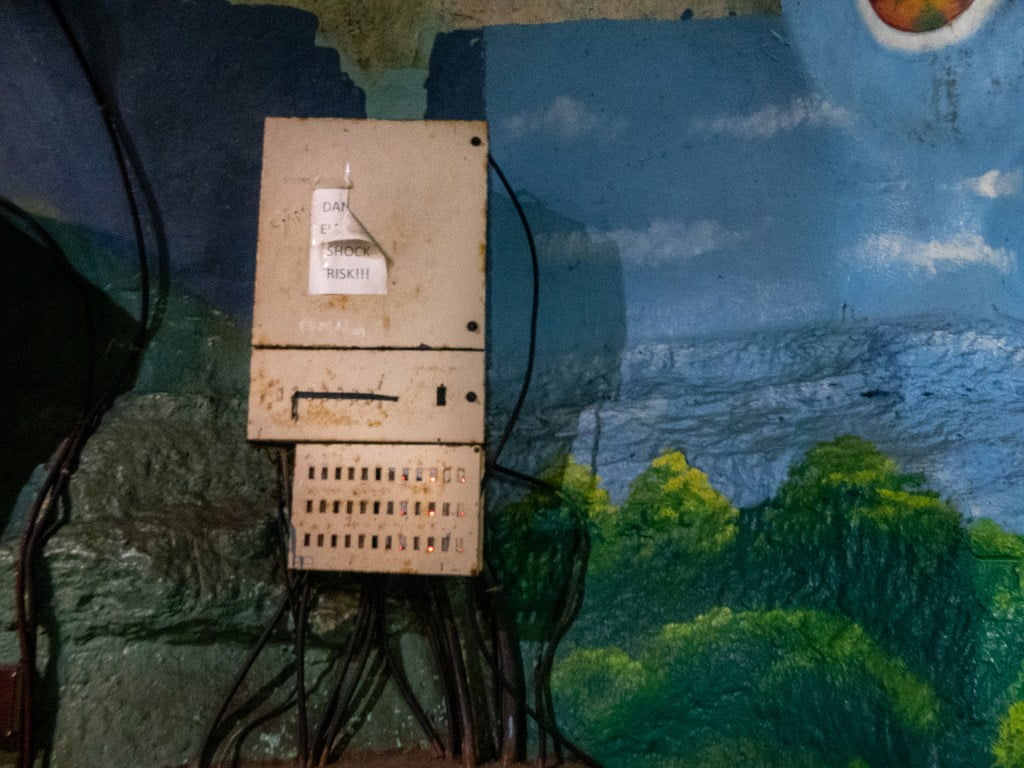 THE ACTUAL CAVE VILLA
The second and larger cave is to the right of the stage with a painted mural at the front advertising it as the actual Cave Villa. Inside is a large corridor depicting Hindu history on the walls in the form of paintings. Unfortunately, these are all in scripture with only small and infrequent explanations in English.
The floor is tiled and very slippery. You can walk into several connected cave chambers, all very similarly decorated with paintings and statues. When I visited the cave there was an area where statues were still white and in the process of being painted so the caves are clearly still in development.
Towards the back is a small altar dedicated to Thiruvalluvar, a Tamil poet, and philosopher. A large painted stalactite hangs from the ceiling, which looks cool I have to admit.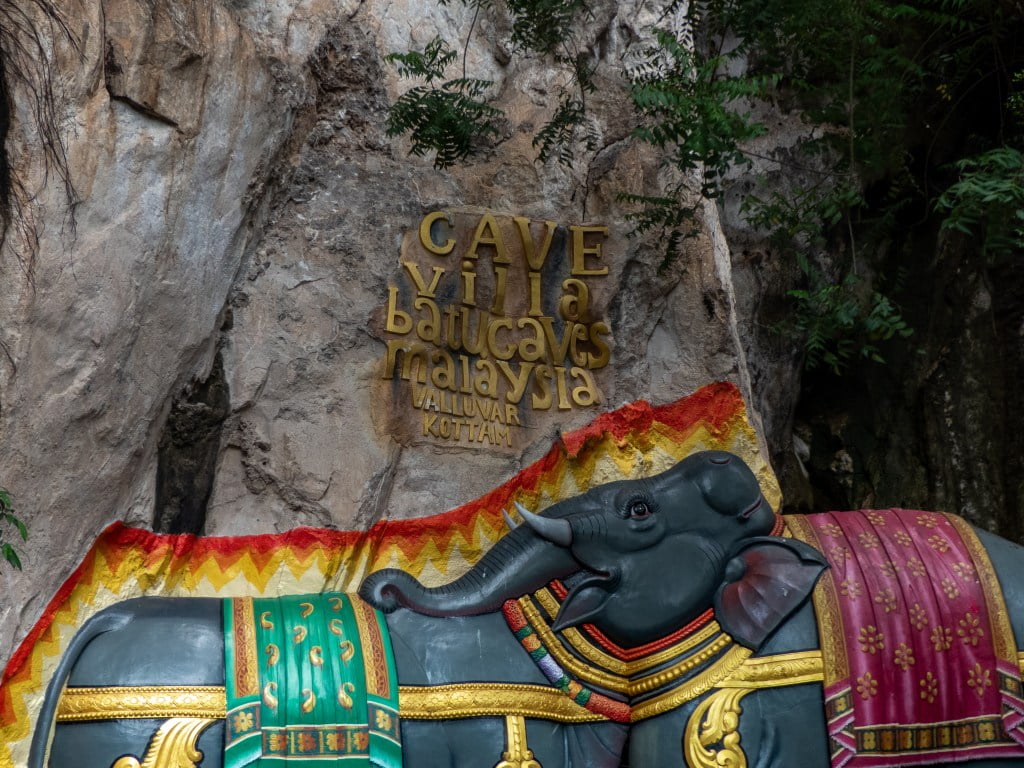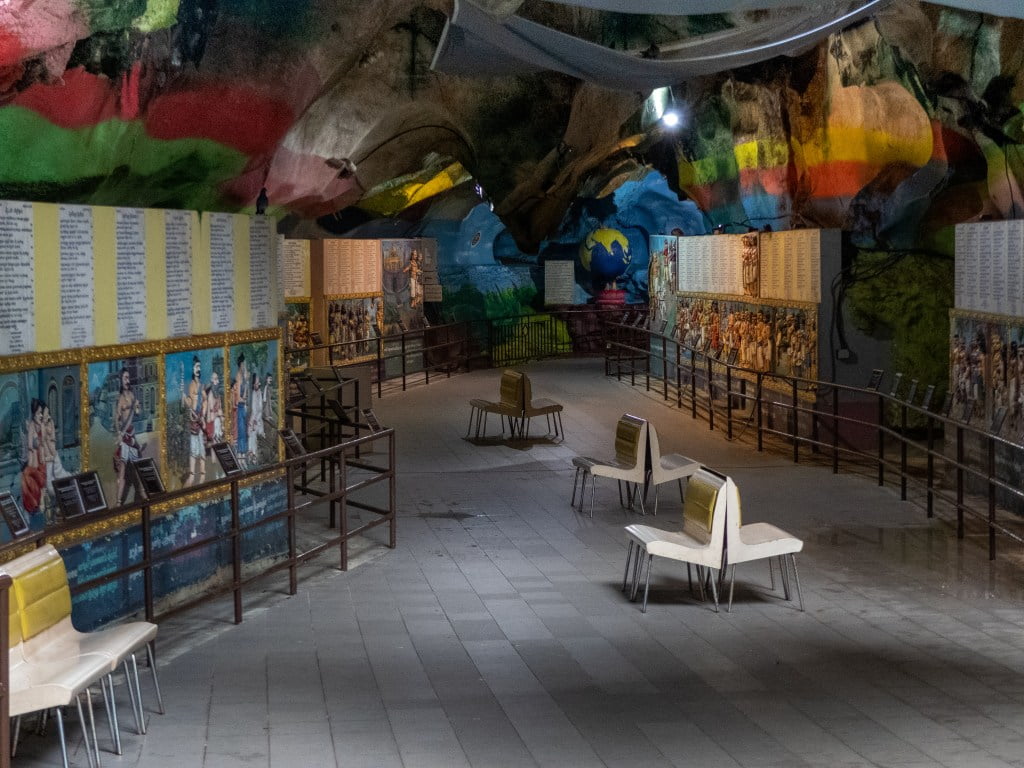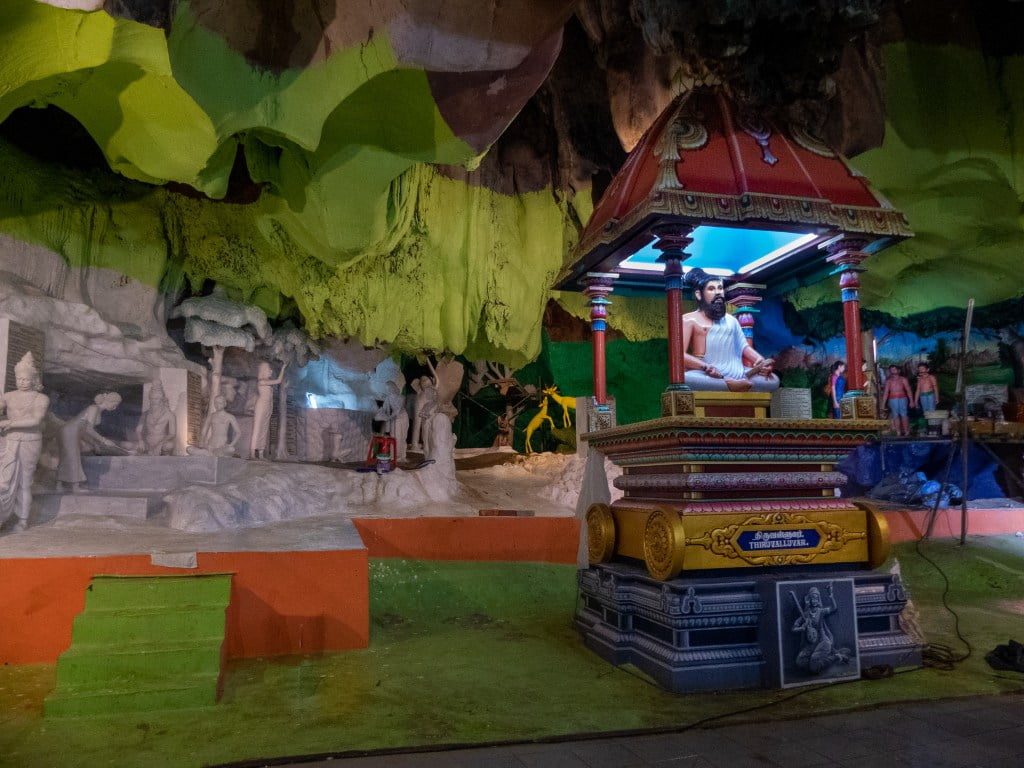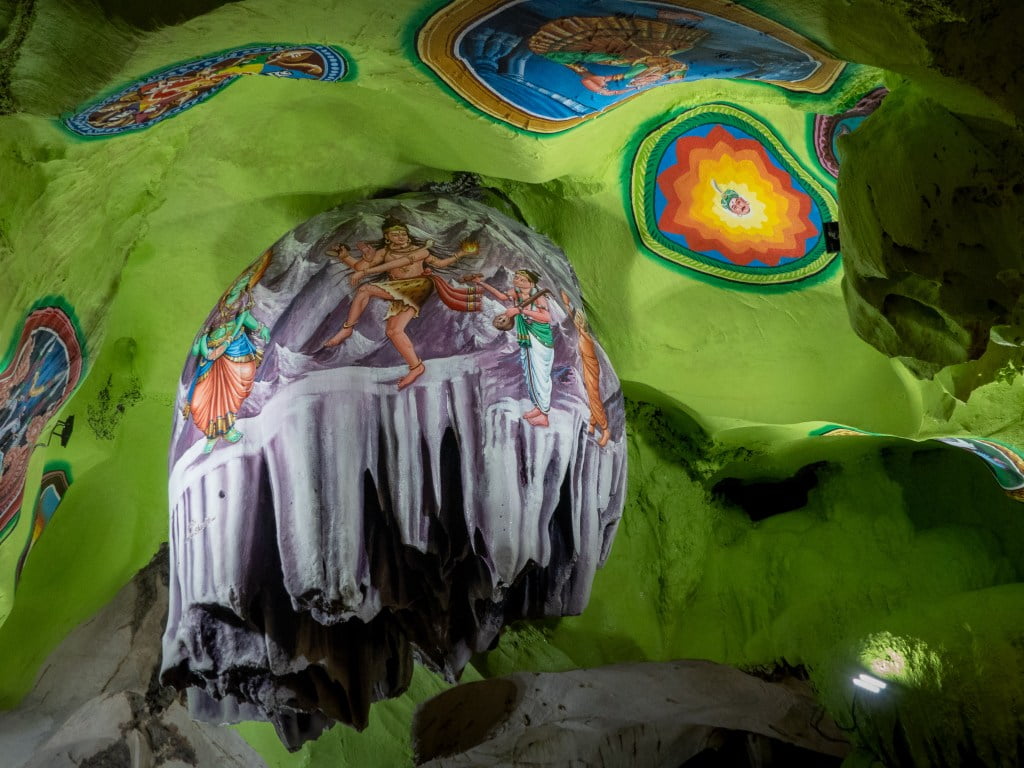 THE REPTILES: SMELLY, SAD AND CREEPY
At the very back of the cave, a set of steps leads up to the entrance to the much-advertised reptile section. Photography was not allowed here and I did not spend much time in this unpleasant place.
The walls of the subsequent cave are lined with cages, built more or less into the cave itself. Inside the cages, are sad looking snakes and lizards. I don't have to mention how bleak and depressing their cages are. The temperature in all the other caves is quite cool compared to the outside but the reptile cave is hot and stuffy. The smell of many reptiles in a small space is horrible.
Of course, they charge for pictures so I only took a quick look around before leaving immediately.
Both the caves in the Cave Villa were pretty empty even though I visited them during peak hours where the Cathedral Cave is crowded with visitors. It was nice to look at the statues in peace but also gave me an undeniably creepy feeling walking through empty caves lined with lifelike statues of humans. They seemed to come to life every time I turned my head and I was happy to be back outside.
Don't go.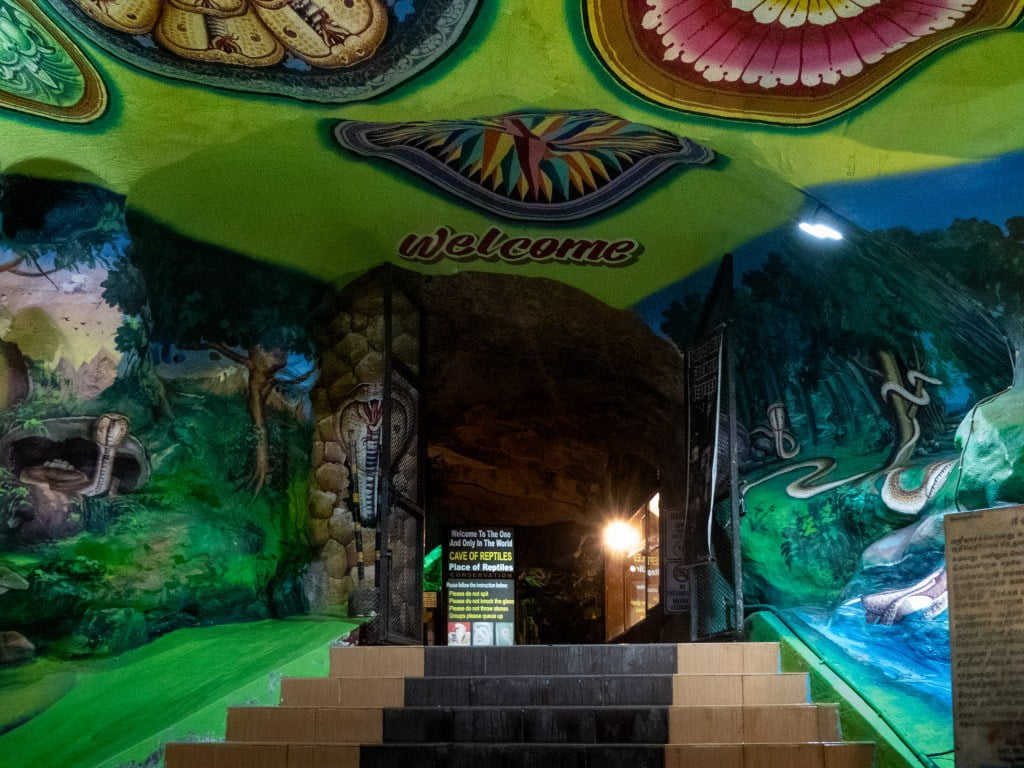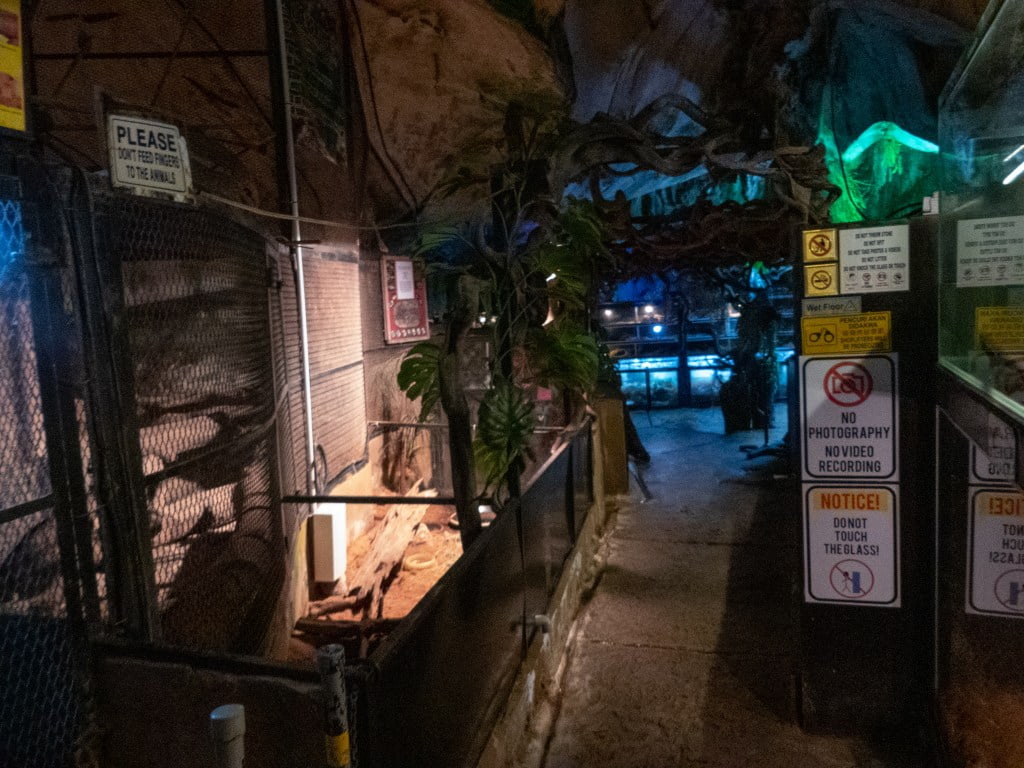 CAVE VILLA AT BATU CAVES: A VERDICT
Don't get me wrong the dance show was nice, the caves were cool and I'd probably recommend them if it weren't for two things: the price and the animals.
In my opinion, RM 15 (≈ 3,20€) is too expensive considering you can get a very similar and even better cave experience at Ramayana Cave for RM 5 (≈ 1€). And paying RM 15 just for the dance show is not worth it.
Of course, this is still very little money compared to what you pay for many tourist attractions elsewhere but since the profits go towards keeping animals in terrible conditions it is not a worthy cause to support in my opinion. Plus the whole place does not appear to be well kept which is not okay I think considering it is owned by a private company and charges for entrance.
I don't think supporting this venue can be justified and I never would have gone here purposefully. The only reason why I did is that I wasn't paying attention to what I was paying for. At least I can maybe help other travellers such as you avoid making this decision.
In the end, it's your choice whether you want to see every single cave at the Batu Caves or whether maybe you're okay with skipping this one. I will definitely not be returning until the conditions at the Cave Villa change considerably.
Have your heard of KL's secret bars? Click here for a complete guide on how to find the best ones.
Are you seeing KL on a budget? Here are 24 cheap or free things to do in the city.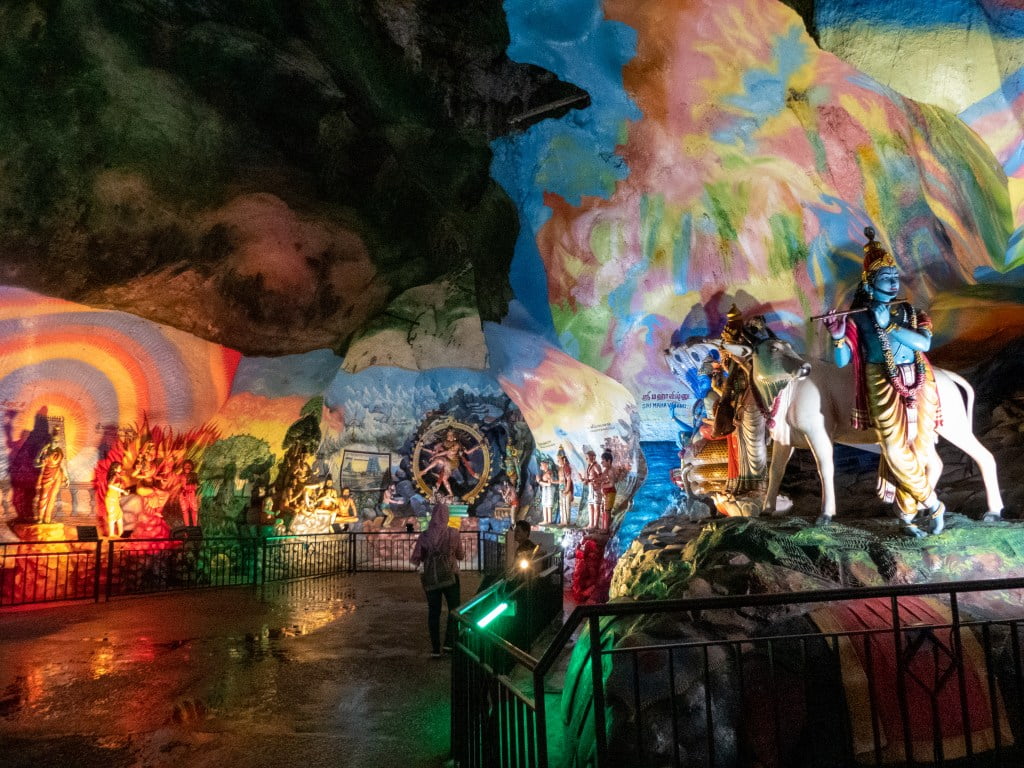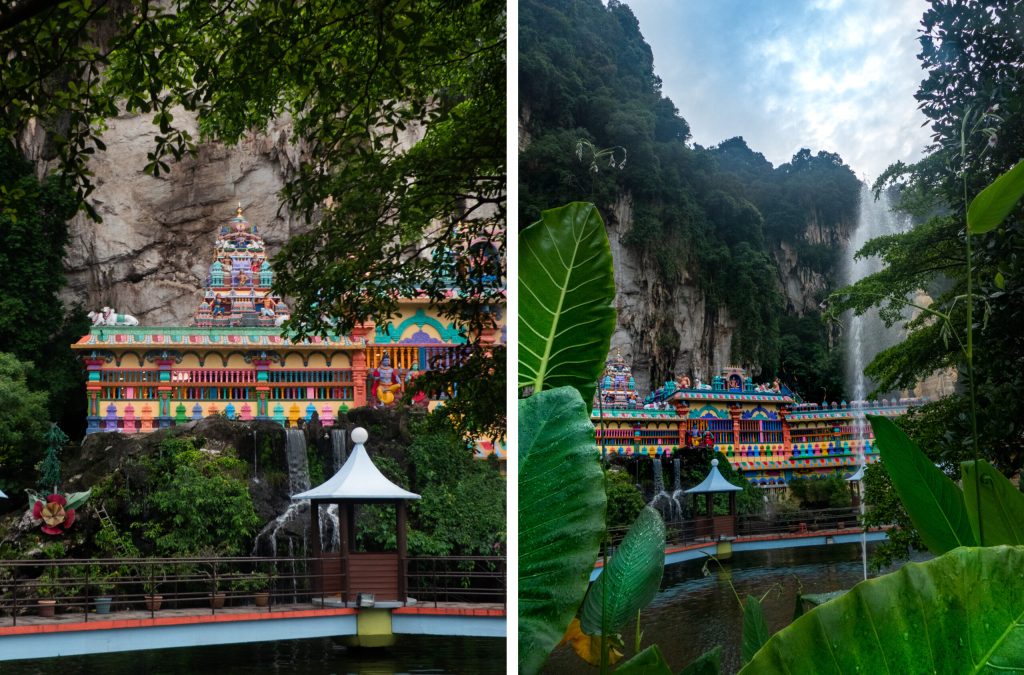 My most important travel tips and resources
Book your flights
Skyscanner is the best website for finding cheap flights since it works like a search engine so you can find the best deals across all airlines.

Book hotels and hostels
• Booking.com: Best world-wide
• Agoda: Best in South East Asia
• Hostelworld: Best for hostels

Book tours, transport and rental cars
•Viator: The best place to book tours, day trips and excursions for al budgets
•12Go: Great for ferries, trains, transfers and buses in South East Asia
•Discover Cars: Best deals for rental cars around the word

Get travel insurance
Every traveller needs travel insurance and I mean every single one. SafetyWing covers you in case of injury, illness or worse and they've got your back if your bag is stolen, flights are cancelled or in case of a natural disaster.

Pay abroad
Ask any traveller, Wise is the best choice when it comes to sending money abroad. They've always got the best exchange rates, lowest fees and their visa card is great for getting cash out or paying abroad.

Things every traveller needs:
➼ Osprey Farpoint 70 Backpack
Detachable daypack, ultra-light, durable and free repairs for life. There's a reason why so many backpackers have this bag.
➼ Packing Cubes
Packing cubes are a gamer changer, keeping your luggage organised and providing tons of extra space.
➼ Power bank
There is nothing worse than running out of battery on an overnight bus journey or a long flight. With a powerbank you can charge your eletronics on the go and make sure you're always connected.
➼ Micro-fibre towel
These lightweight towels are foldable, fast-drying and so useful when you're travelling.

➼ You can find 15 more things every traveller needs here. Some might be a bit controversial but I warned you!
Did I miss anything?
If you have any questions or feel like something is missing from this post please leave a comment below or contact me.