Kuala Lumpur has a great selection of attractions and activities for tourists, some more well known than others. While most visitors prioritise the Petronas Towers, the Batu Caves and Petaling Street I highly recommend putting Thean Hou Temple in KL at the top of your to-do list.
This temple might be one of the most photogenic and beautiful spots in all of Kuala Lumpur. The architecture is amazing and on a sunny day, you'll be able to take some of the best photos of your entire trip.
In addition to that, there is no entrance fee and even during peak times, the temple is rarely overly crowded. You won't be disappointed when you visit.
This post may contain affiliate links, which means we'll receive a commission if you purchase through our links, at no extra cost to you. This helps us keep Guide your Travel free and provide high-quality content for you. Please read the full disclaimer for more information.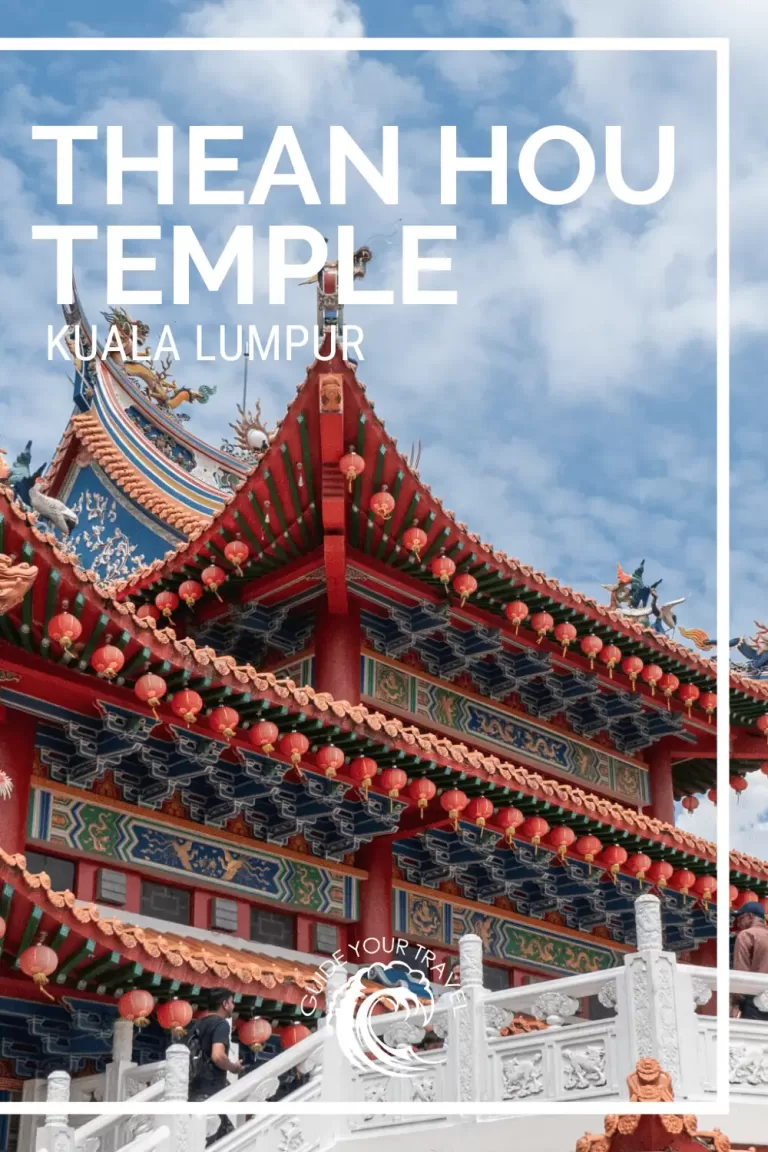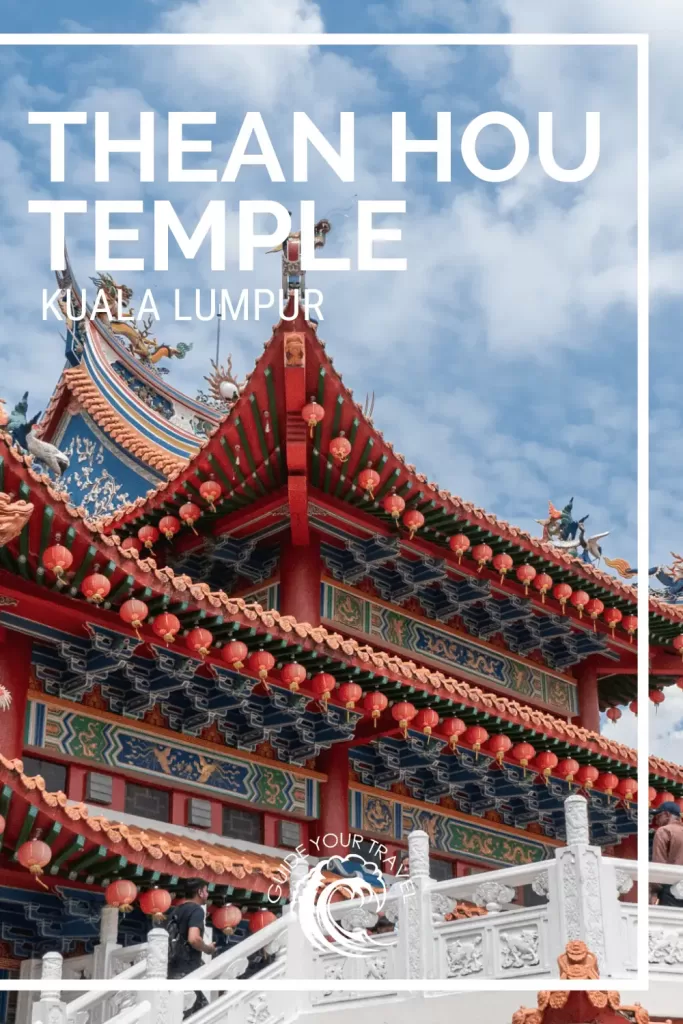 THEAN HOU TEMPLE FACTS AND HISTORY
Thean Hou is a Buddhist place of worship although it incorporates elements of Taoism and Confucianism. It was constructed in the late 1980s and opened to the public in 1989. It is a popular venue for weddings and religious celebrations due to its picturesque views of the city.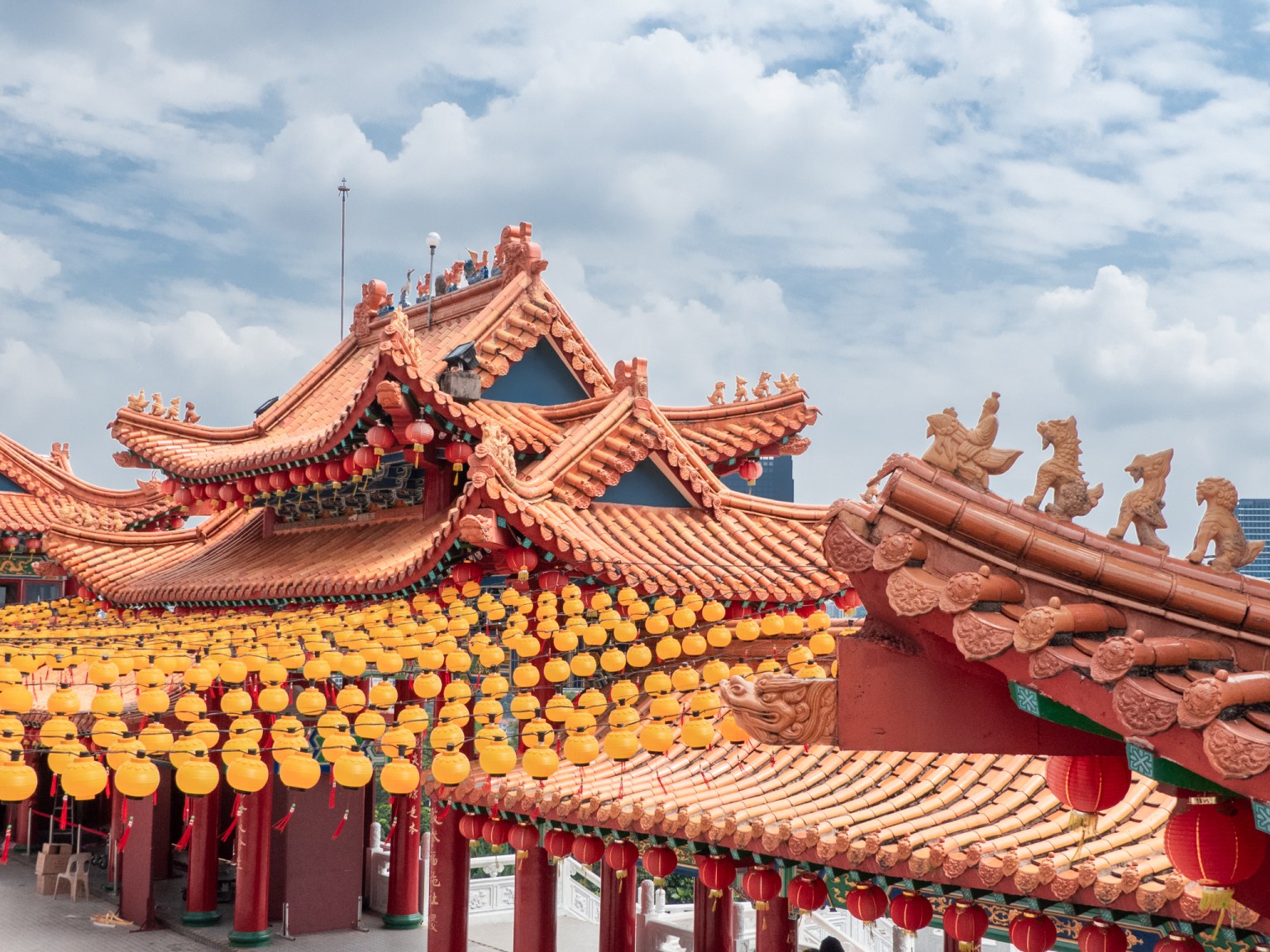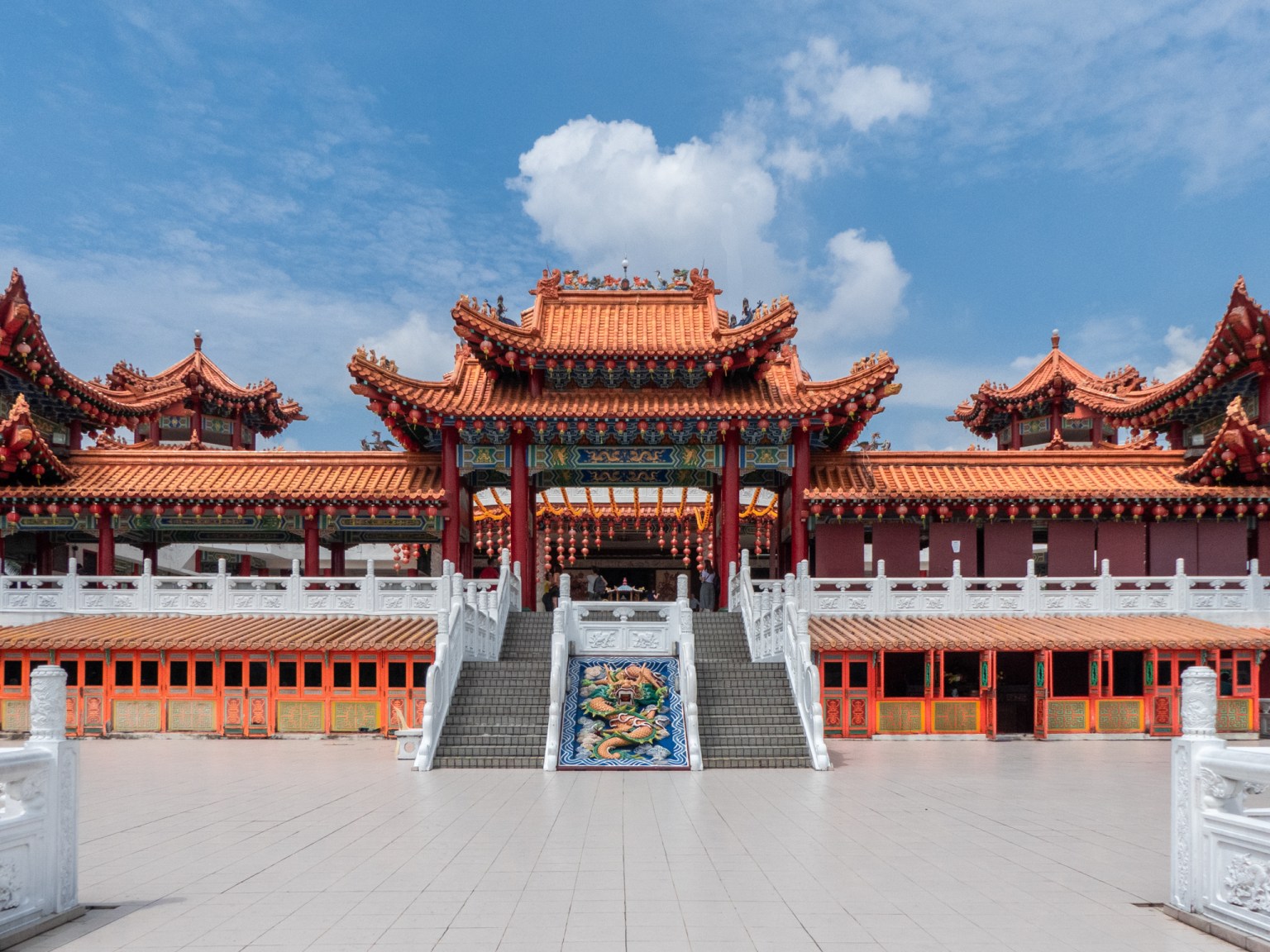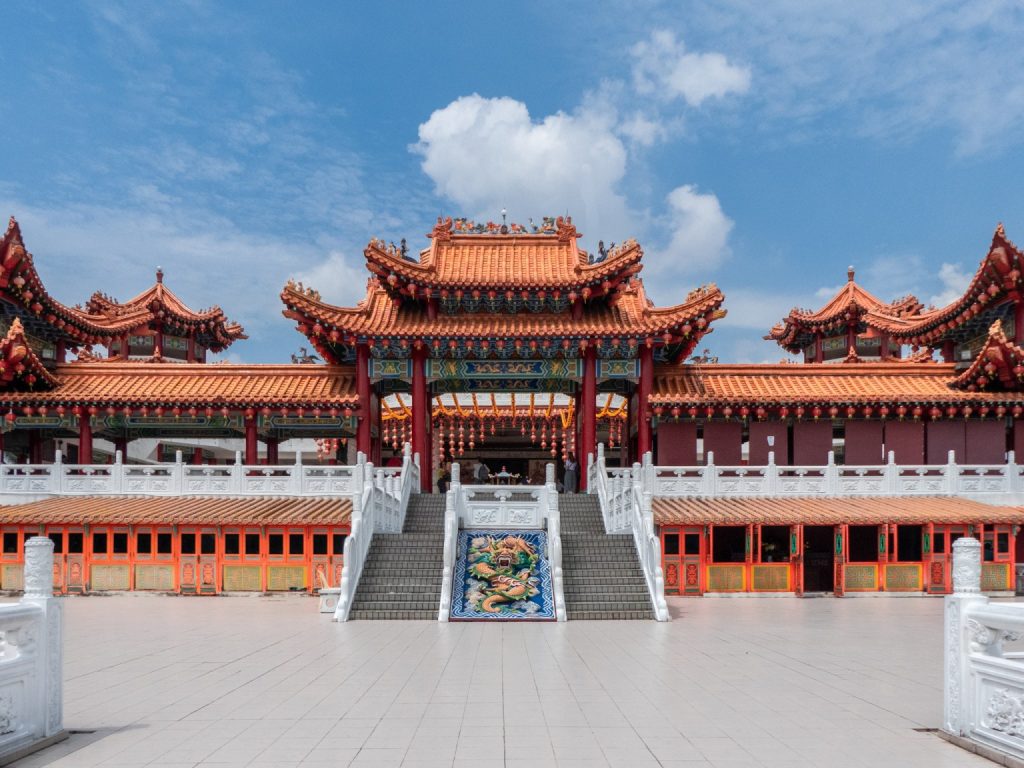 Also known as the Temple of the Goddess of Heaven the temple is dedicated to the goddess Tian Hou (also known as Mazu) who protects fishermen and those at sea.
The temple consists of four levels which include a banquet hall, a food court, souvenir shops as well as administrative offices which handle wedding certificates and official documents. The top-level's large prayer hall is the main area of the temple that can be visited by tourists. There are many walkways and small pagoda here as well as a large terrace with a beautiful view of the city.
Surrounding the temple there are various large animal statues a well a Chinese medicinal herb garden and a koi pond.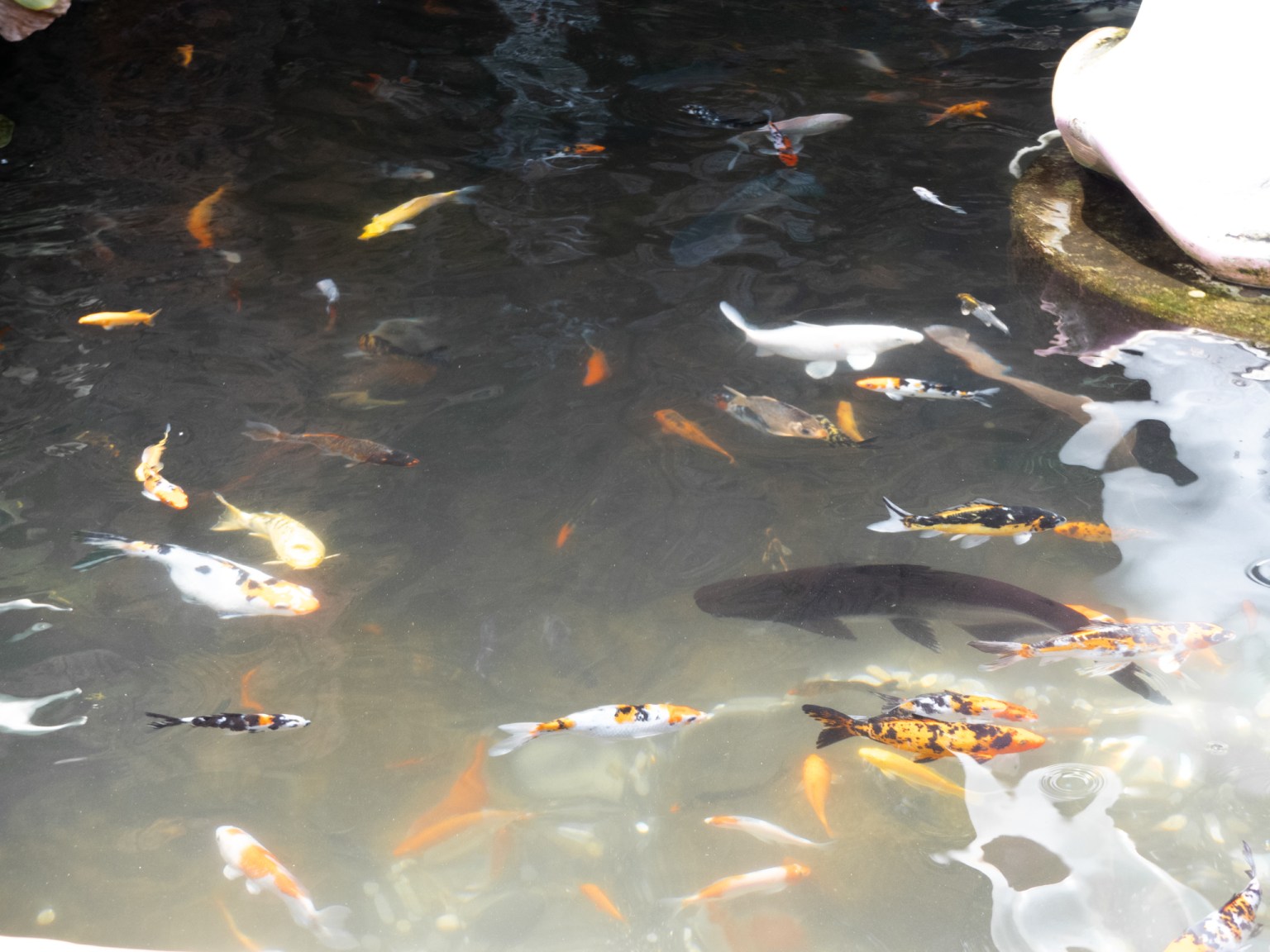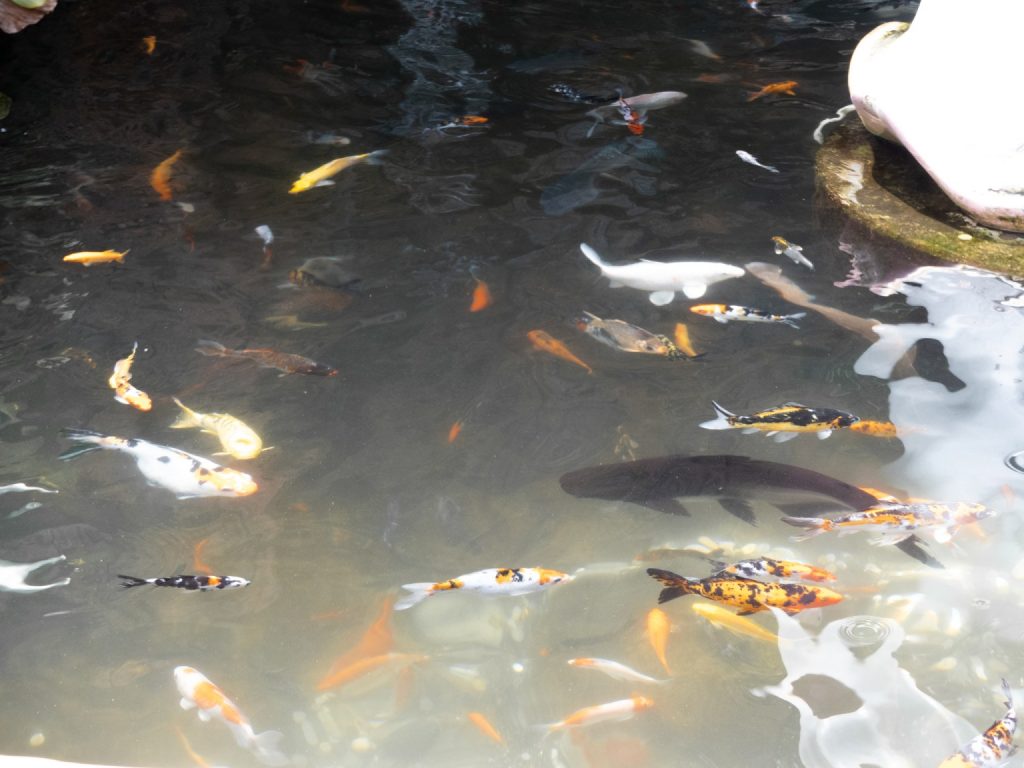 EVENTS
Besides weddings and religious celebrations, the temple also hosts regular Qigong and tai-chi classes a well as traditional Chinese exercise and even fortune-telling.
There is also a regular all-vegetarian food buffet held on 1st and 15th of the lunar month.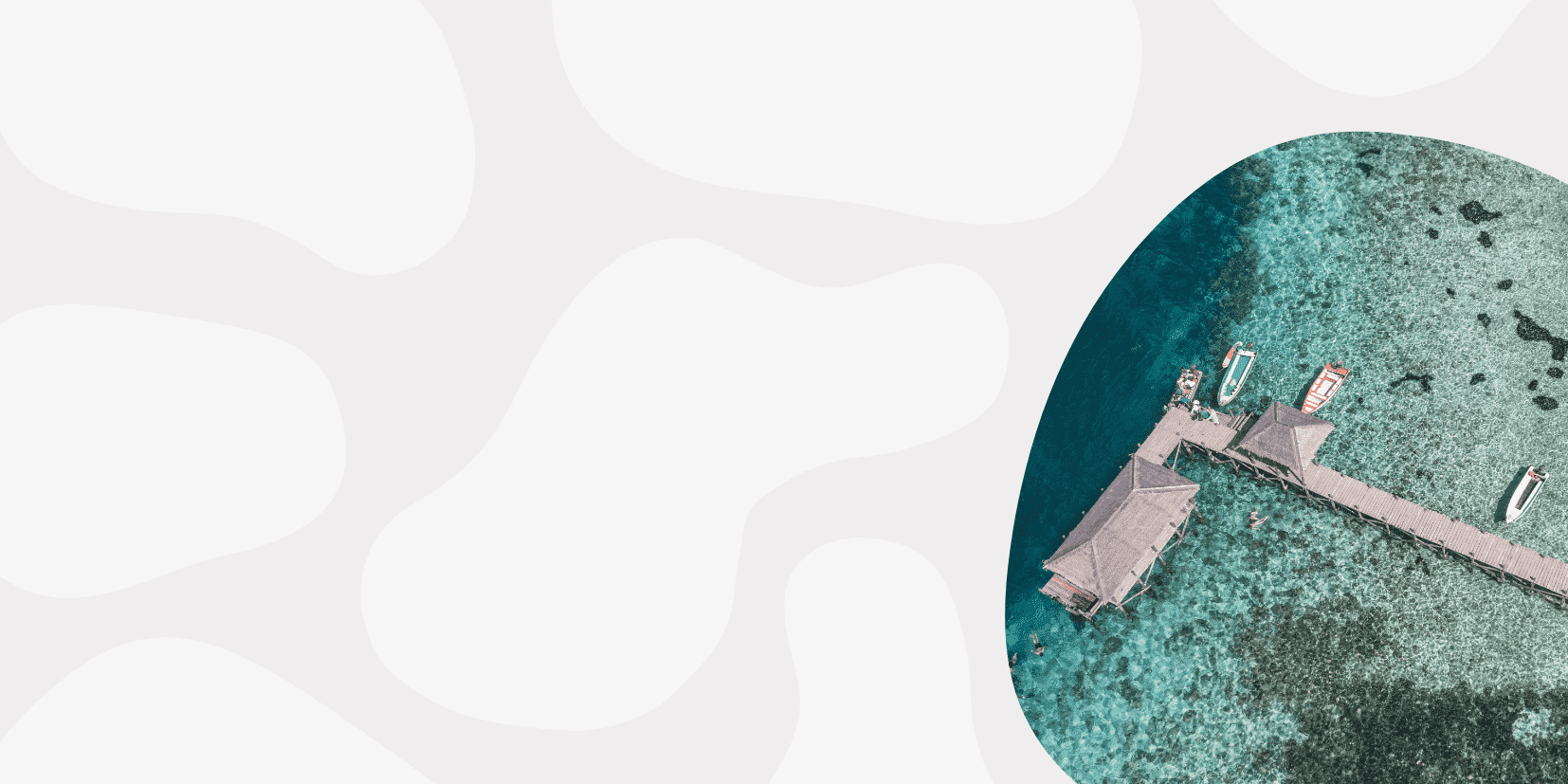 Let me save you time and effort when you're travel planning!

➼ Best travel insurance? SafetyWing
➼ Best place to find cheap flights? Skyscanner
➼ Best bank & credit card for travellers? Wise
➼ Best travel backpack? Osprey Farpoint 70
WHERE IS THEAN HOU TEMPLE
Thean Hou Temple sits in the south-west of KL, around 15-20 minutes away from the city centre by car. Both Bangsar and Brickfields are fairly close although not close enough to be able to get there on foot.
Address: 65, Persiaran Endah, Taman Persiaran Desa, 50460 Kuala Lumpur, Wilayah Persekutuan Kuala Lumpur, Malaysia
HOW TO GET TO THEAN HOU TEMPLE
PUBLIC TRANSPORT
LRT, KMUTER AND MONORAIL
Unfortunately, Thean Hou is not exactly easy to reach by public transport. If you're coming from further away I'd recommend taking the LRT train to either Bangsar or KL Sentral and then ordering a Grab or taxi to get to Thean Hou Temple from there. This should not cost you more than RM 5 to RM 8 (~ €1 to €1.70) depending on the traffic.
You can do the same if you take the KMUTER to Mid Valley Station or the Monorail to Stesen Monorail Tun Sambanthan. All of these train stations are around the same distance from Thean Hou Temple and you shouldn't have any problem finding a Grab or taxi from there.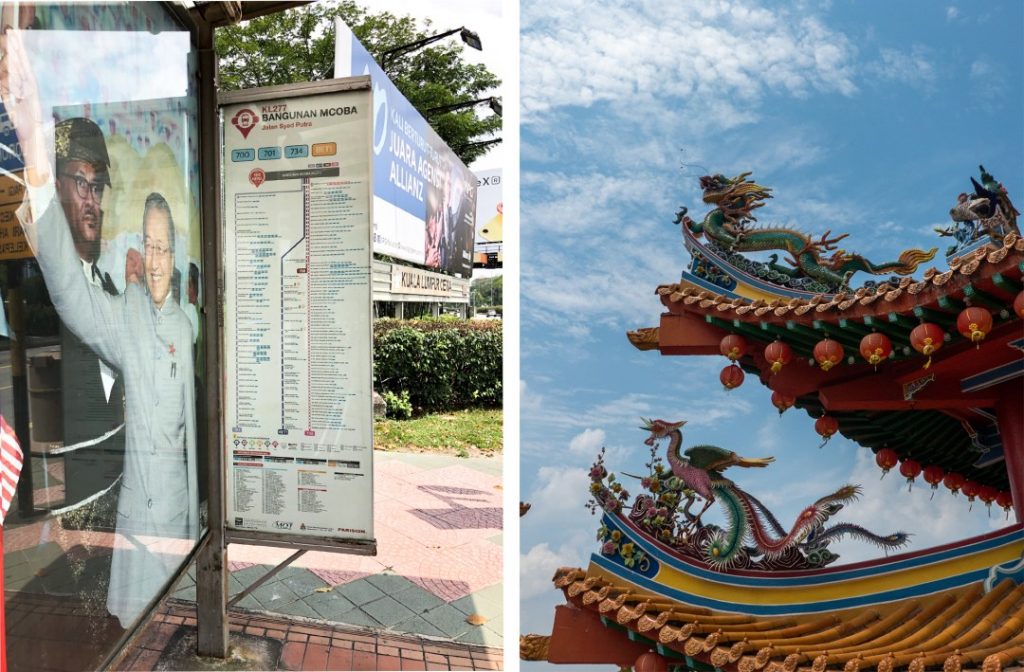 BUS
You can reach Thean Hou Temple by bus, however, you will have to walk uphill for around 600 metres which can be exhausting in the heat. KL 277 Bangunan Mcoba, Jalan Syed Putra is the closest bus stop. The 700, 734, BET 11 and P701 buses all stop here (look at the photo above).
WALKING
While it may seem tempting do not try to walk to Thean Hou Temple, especially not from any of the train stations. While Google Maps might tell you it will take just over half an hour this is not possible.
The temple sits right next to Jalan Syed Putra, a giant highway as well as the Klang river. It is nearly impossible to cross either of them close to the temple which means you cannot walk to Brickfields as close as it may seem.
You will end up having to walk by the side of the road which is very dangerous and not enjoyable. Do yourself a favour and invest in a Grab or take the bus if your budget is tight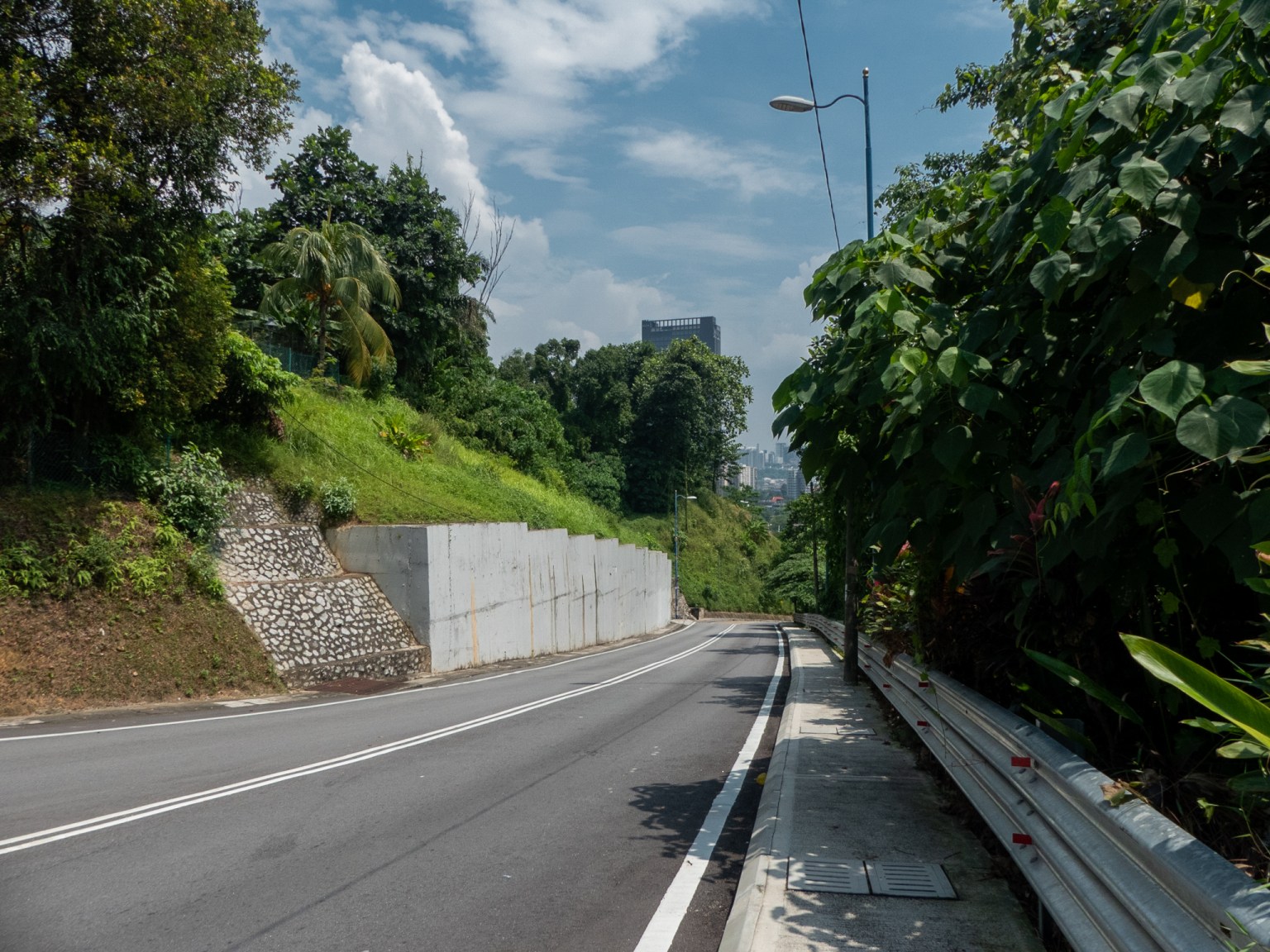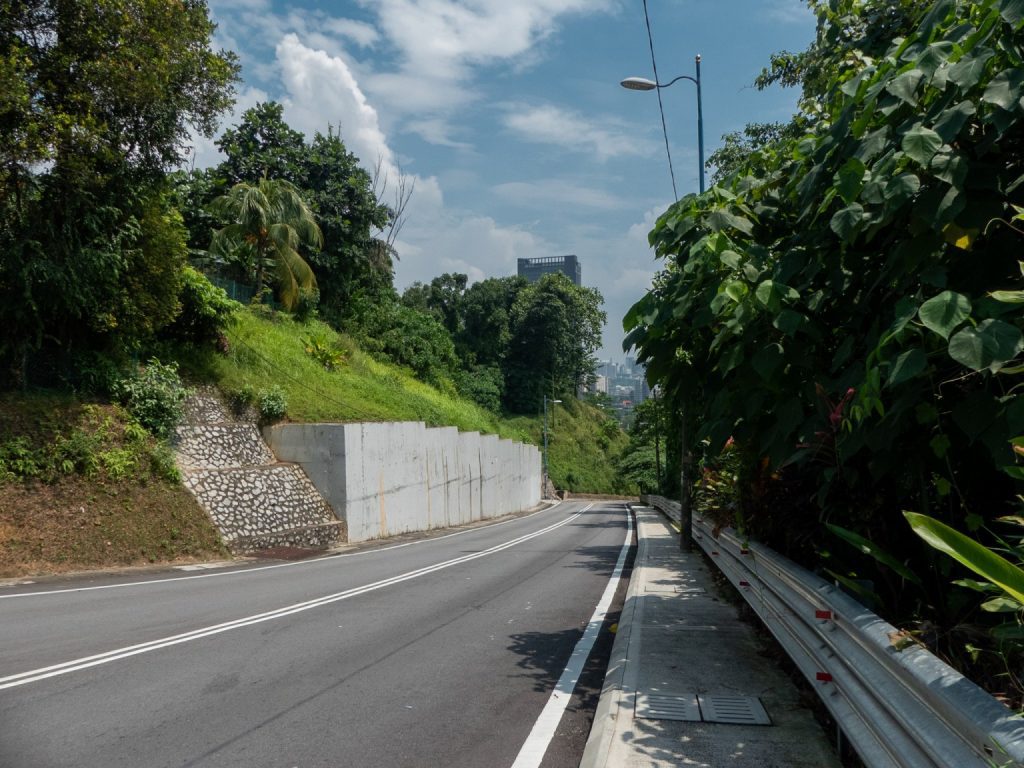 GRAB
It's very easy to get a Grab or taxi to take you to the temple. The way back home, however, is slightly more problematic. Since the temple sits on top of a hill in a quiet street there are usually not many drivers nearby.
It can take a while to find a Grab so be patient. If you're having trouble you can always walk down the hill (5-8 minutes) and try from somewhere close to the bus station which is on a busier road.
THEAN HOU TEMPLE PRICE
Entry to the temple is completely free for both foreigners and Malaysian citizens.
Looking for more budget-friendly activities in KL? Check out these 24 cheap or free things to do in Kuala Lumpur if you're on a budget.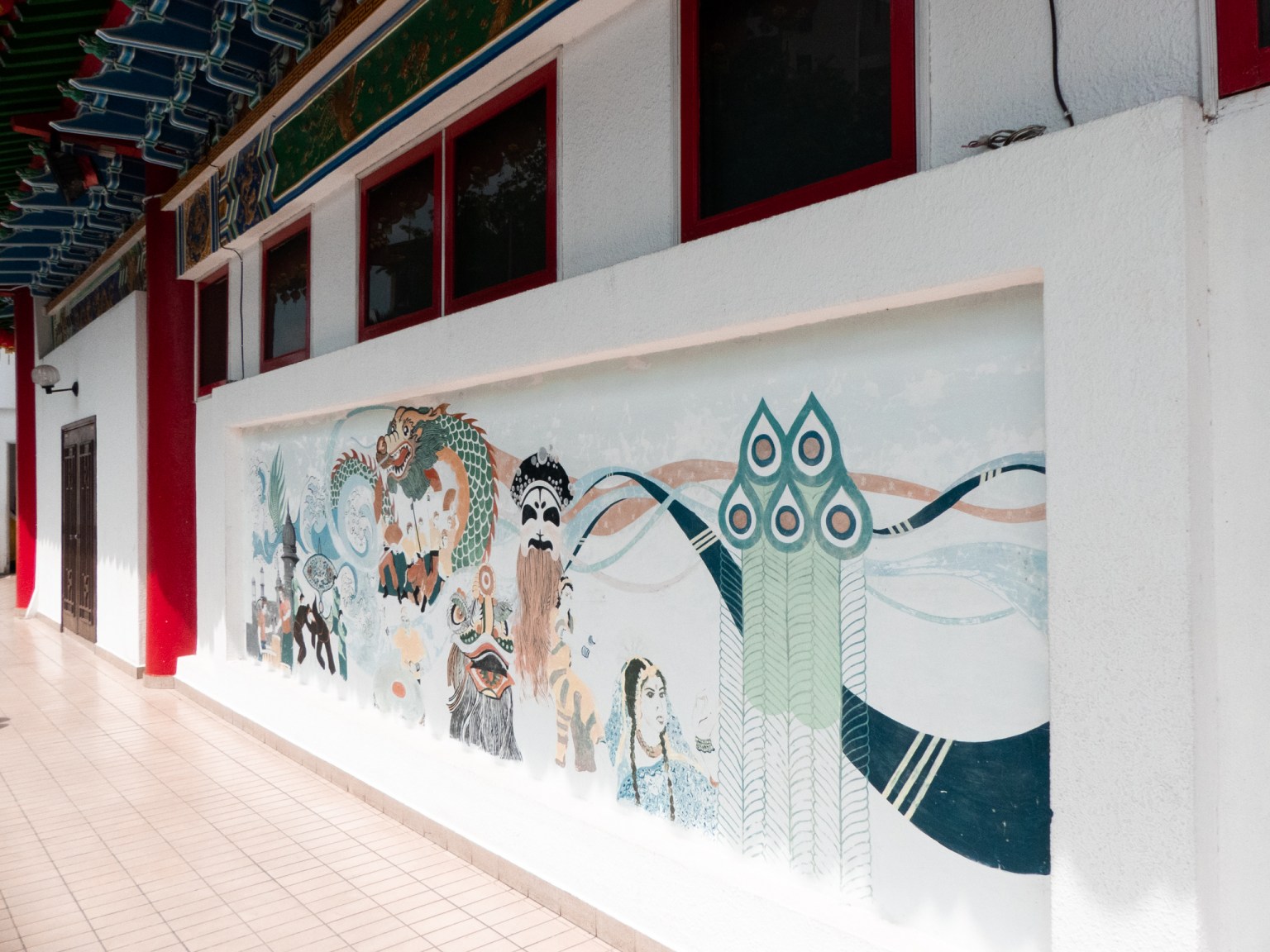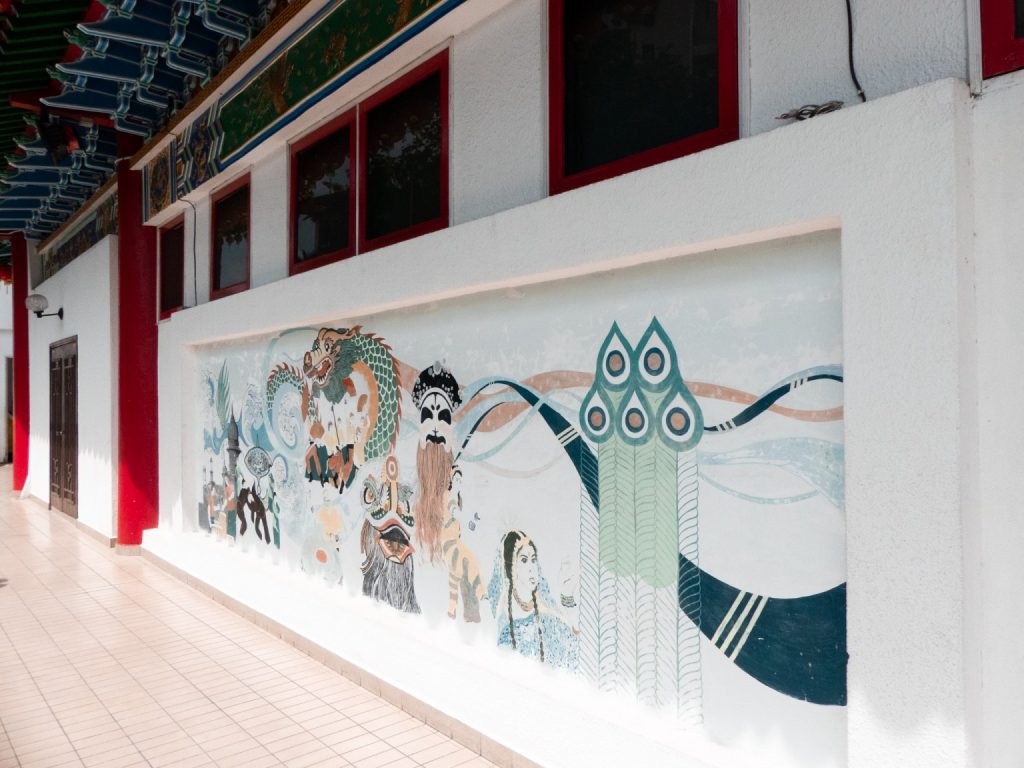 OPENING HOURS
The temple is open to tourists from 8:00 AM to 10:00 PM every day. These times might change during religious holidays or festivities. Since the temple does not have an English website it can be tricky to find up-to-date information online.
This website might help if you have any other questions. You can also try calling the temple admin at this phone number: +603 227 4 7088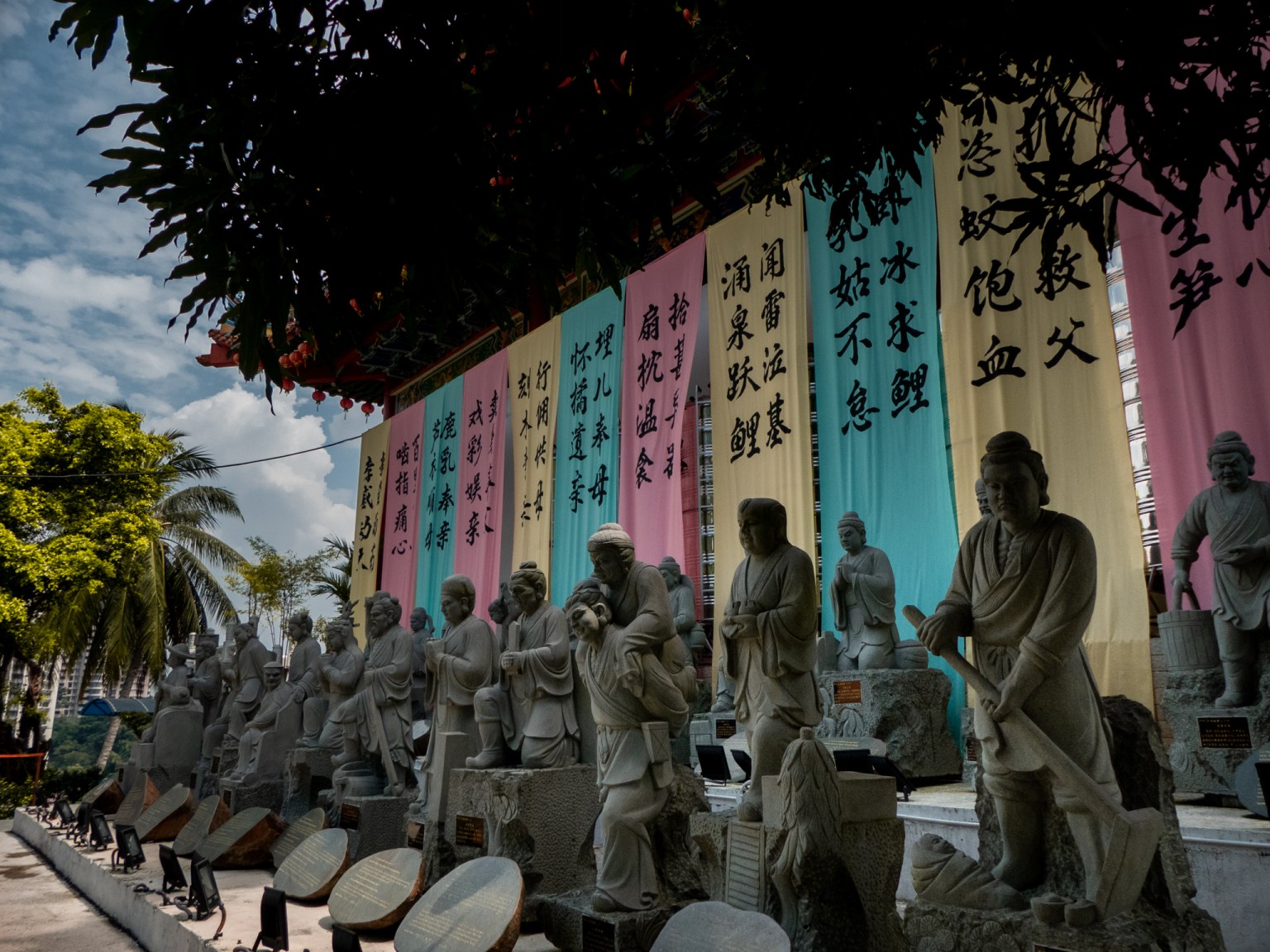 WHEN TO GO
It probably doesn't come as a surprise that you should try to visit Thean Hou Temple as early in the morning as possible. While the temple rarely gets extremely busy the main problem with visiting later during the day is usually the heat. Since the top floor is mostly exposed to the sun with little shade you will be sweating and getting a horrible sunburn.
That being said the sun is, of course, also your friend as it will make the temple look exponentially more beautiful in pictures. Make sure to visit on a day without rain and clear skies to make the most of your visit.


DRESS CODE
Thean Hou temple has no official dress code which is unusual for KL and South East Asia in general. However, remember that you are visiting a religious place and try to dress appropriately.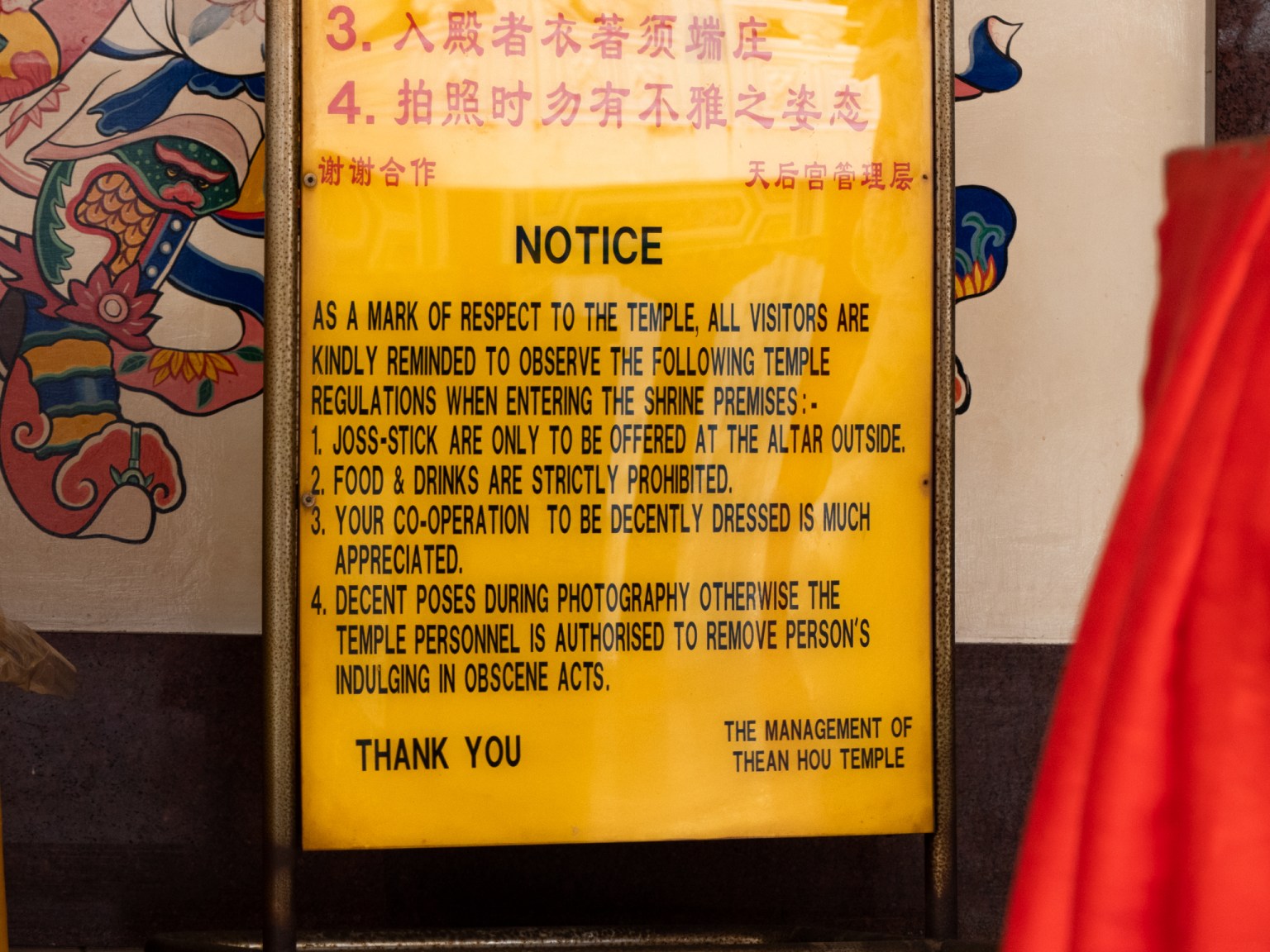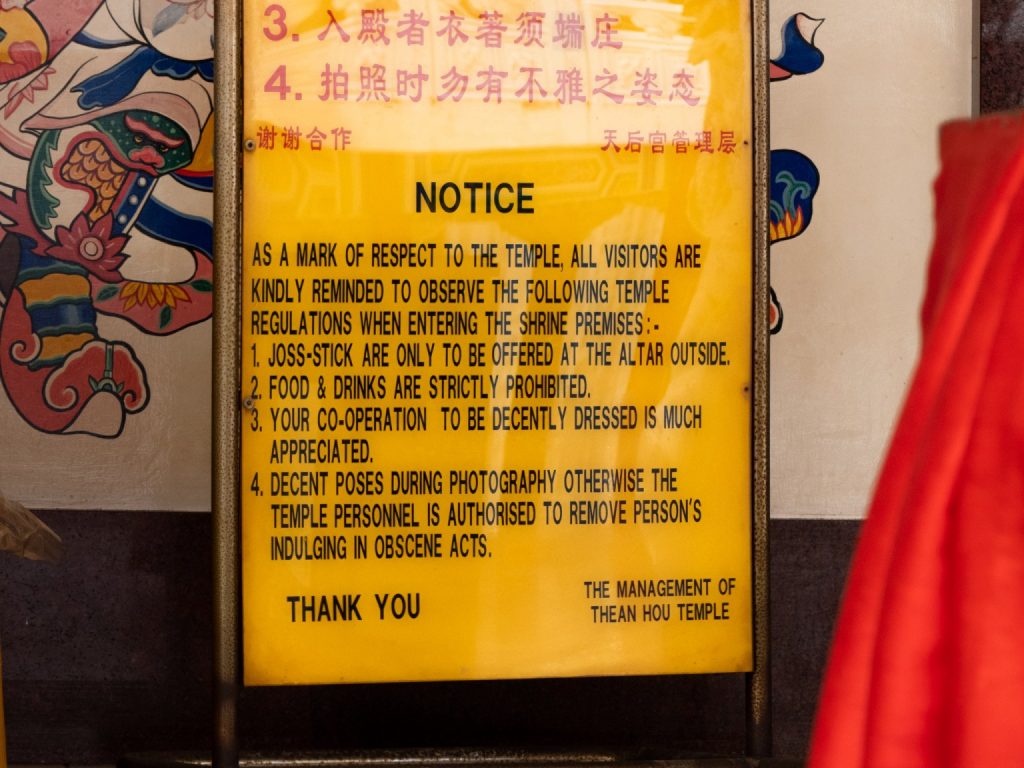 DRONES
The temple has no official restrictions on flying a drone but I would advise you not to attempt it. As with the dress code, you should keep in mind that people come to this place to pray and flying a drone would not be appropriate.
Thean Hou Temple is a very peaceful and serene place and you should try your best not to disturb it too much when you visit.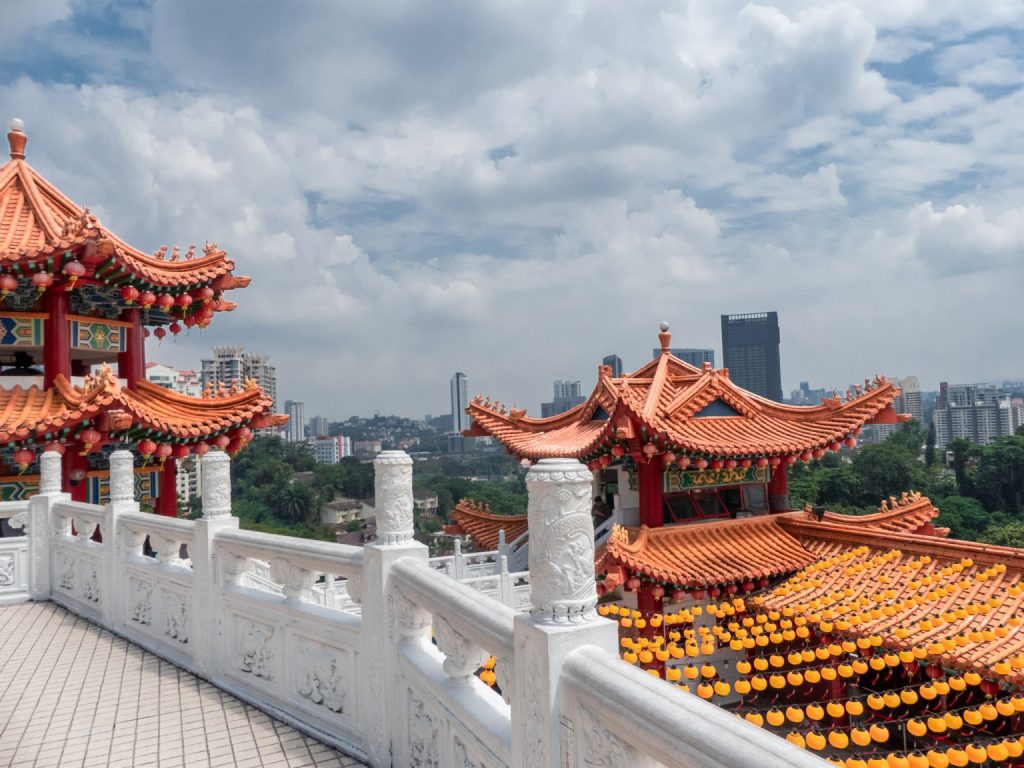 TEMPLE LAYOUT AND MY EXPERIENCE AT THEAN HOU
When entering the temple through the main gates you first have to walk up multiple staircases and across walkways before you finally reach the top floor. Follow the signs to make sure you don't get lost.
The top floor is by far the most beautiful part of Thean Hou. Take lots of photos here but be respectful of the people praying.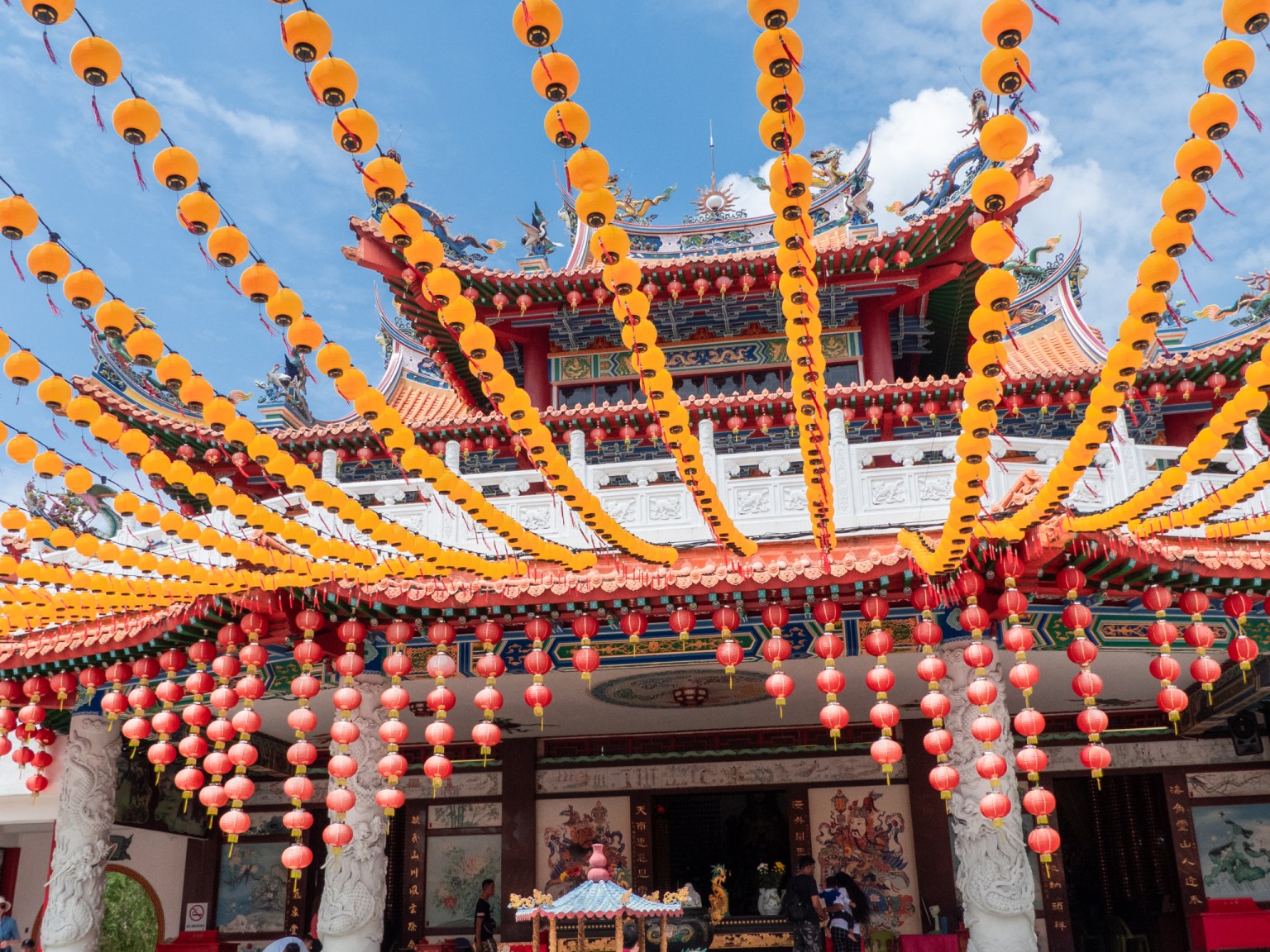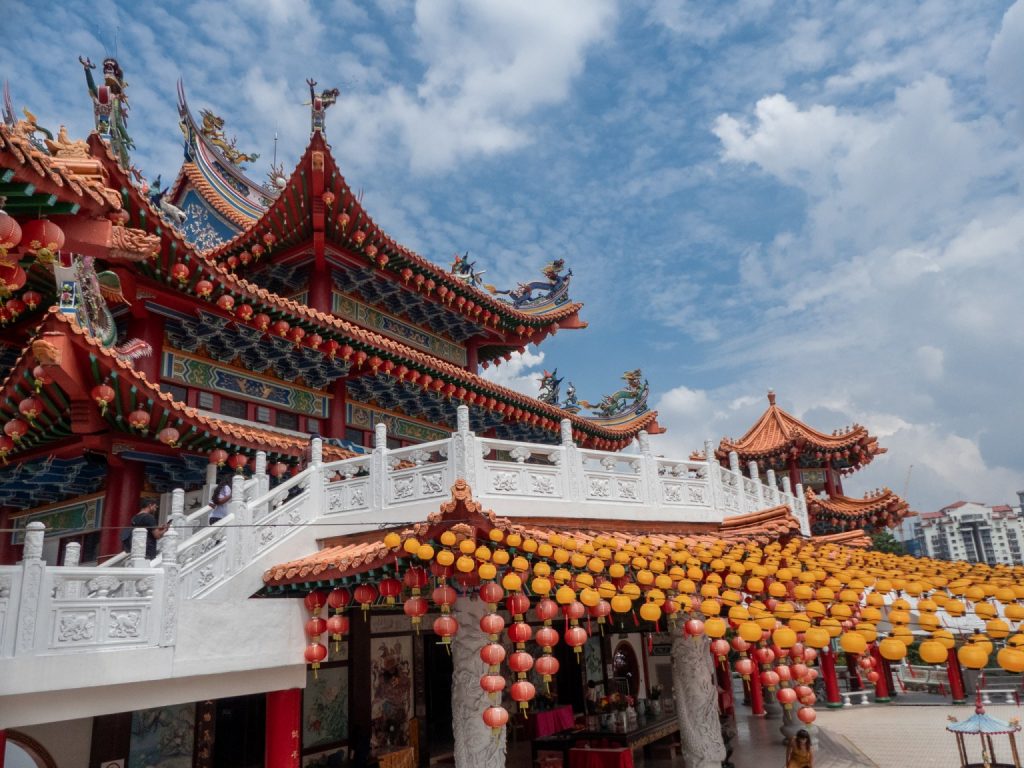 The large terrace is definitely my favourite. You can see most of the temple from here and it's simply beautiful.
Venture further into the temple complex and explore all the different walkways and terraces. If you're feeling tired from the heat you can have a little rest in one of the small seating areas and enjoy the views.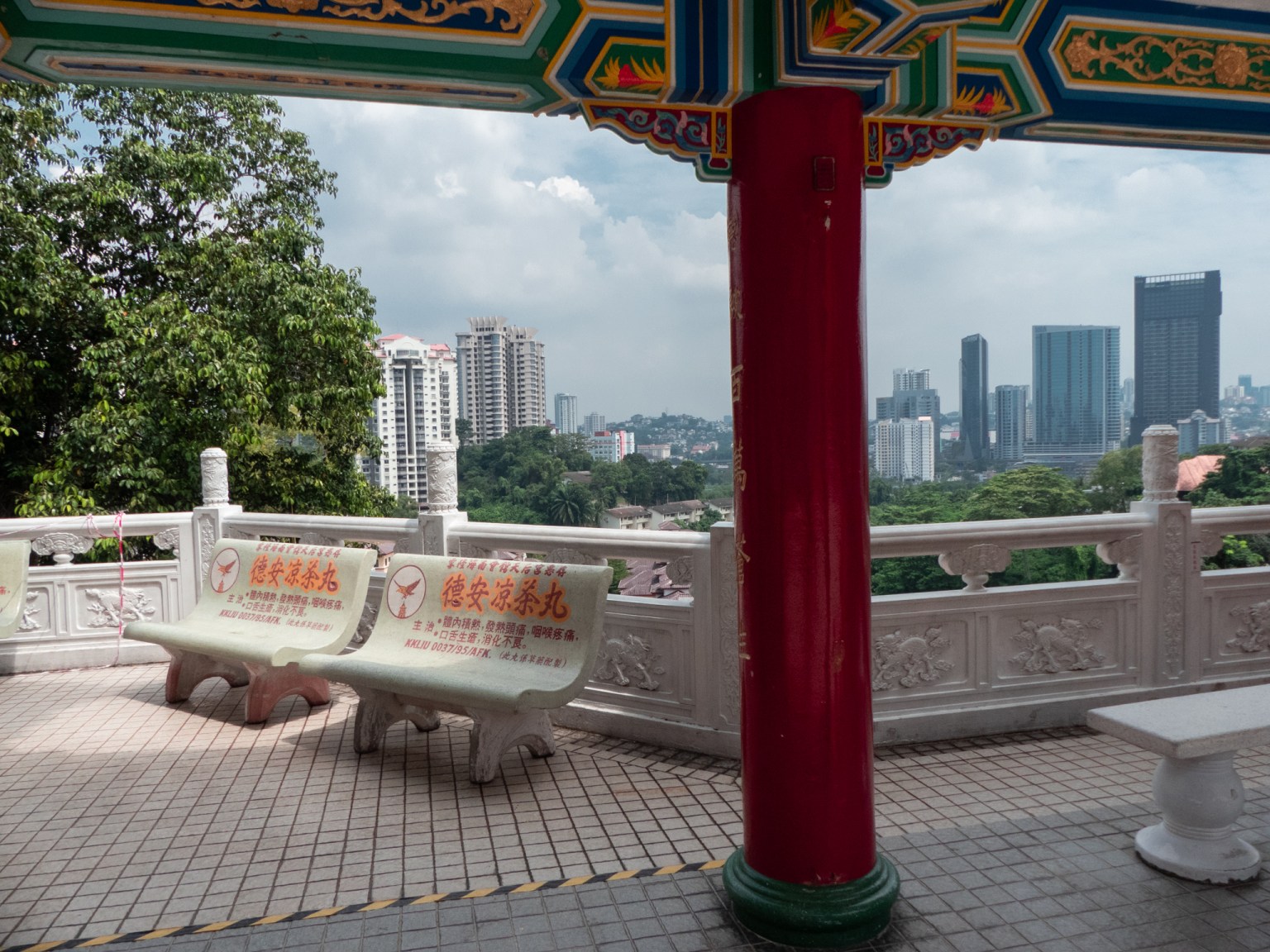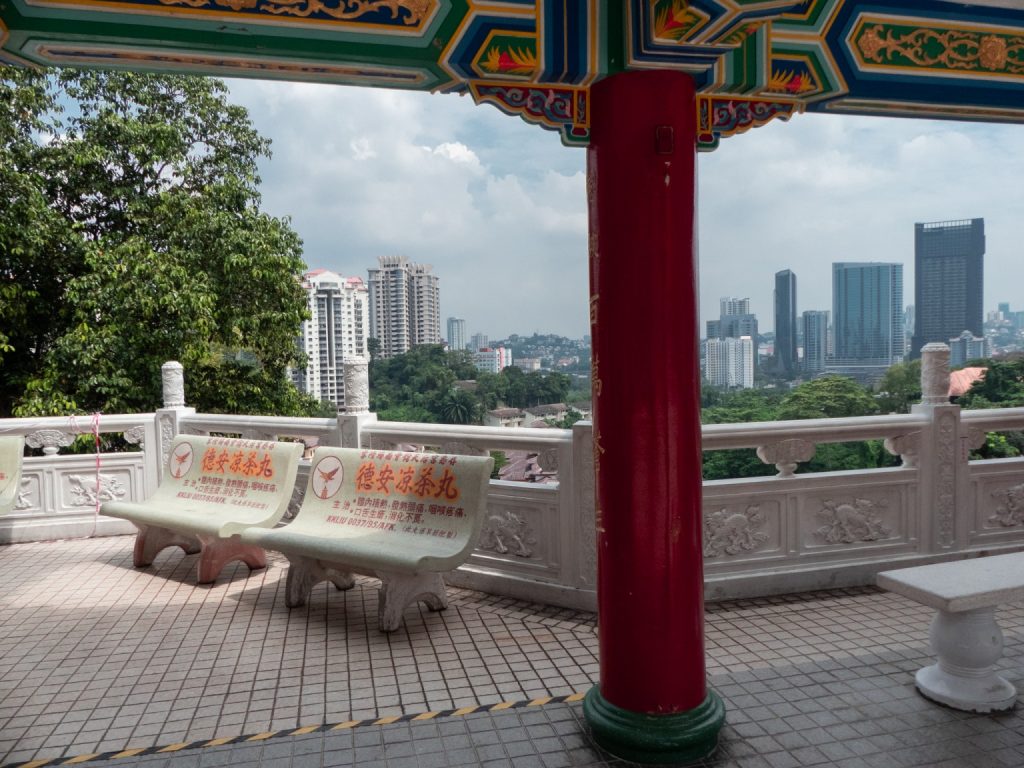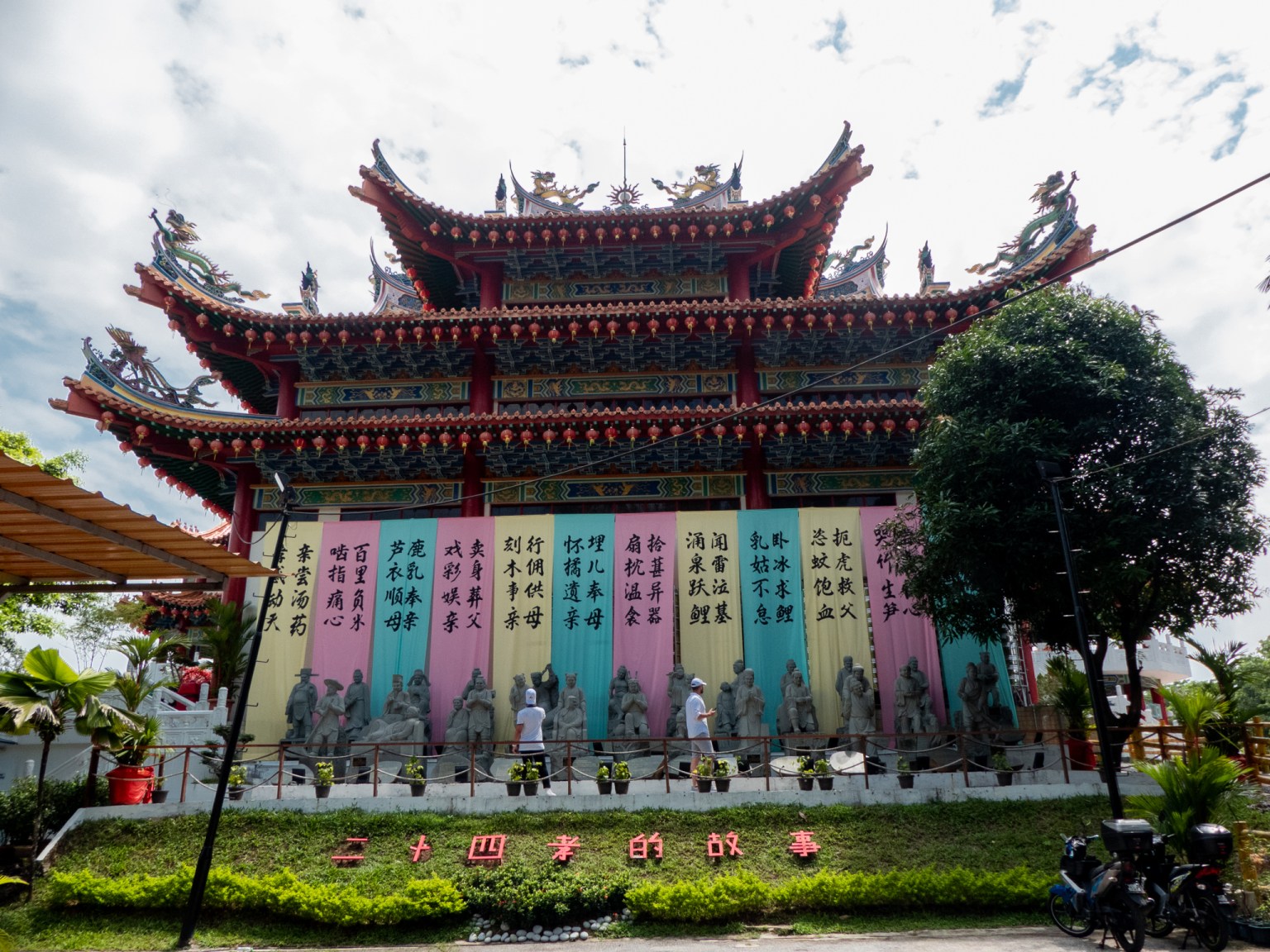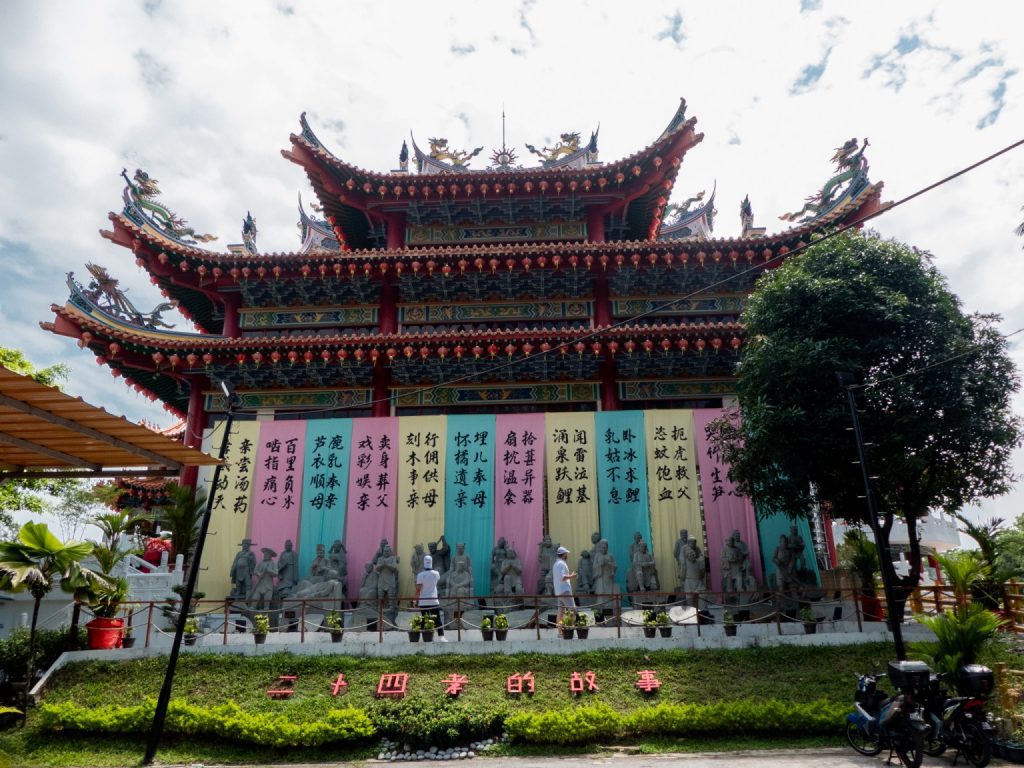 Once you're satisfied you can use the back stairs to climb down to the temple gardens. Here you can see the rear of the temple with its colourful banners as well as some artwork painted on nearby buildings.
Admire the intricate statues and take your time to wander through this area before you make your way back to the parking lot and the front of the temple.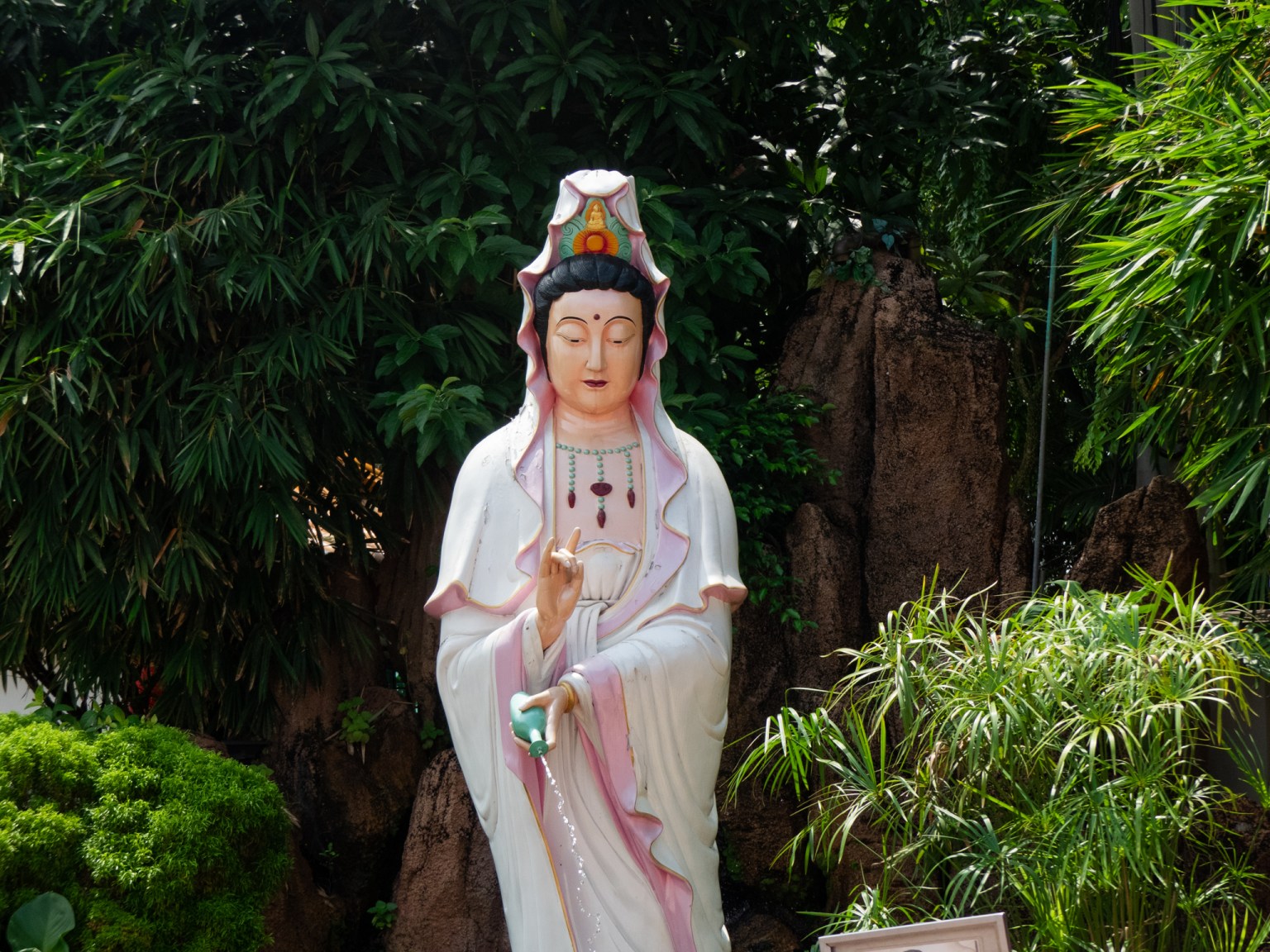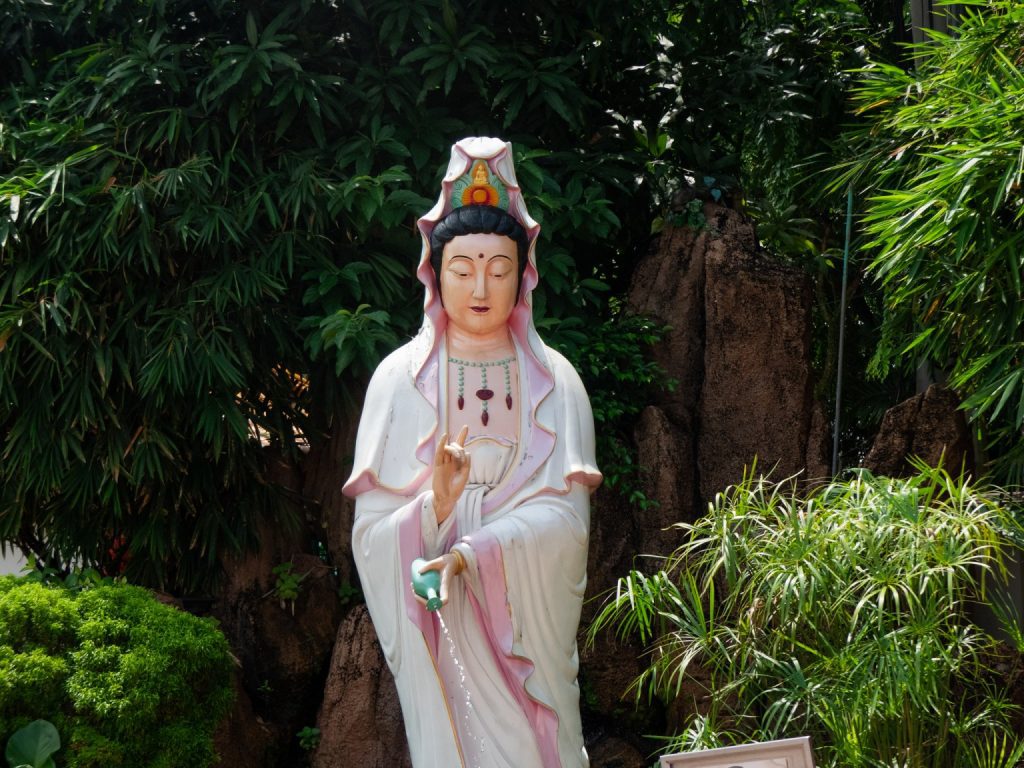 FOOD, BATHROOMS AND SHOPS
If you're feeling hungry you can go to one of the small snack shops in the "food court" at the bottom level of the temple. Here you'll also find plenty of souvenir shops as well as bathrooms.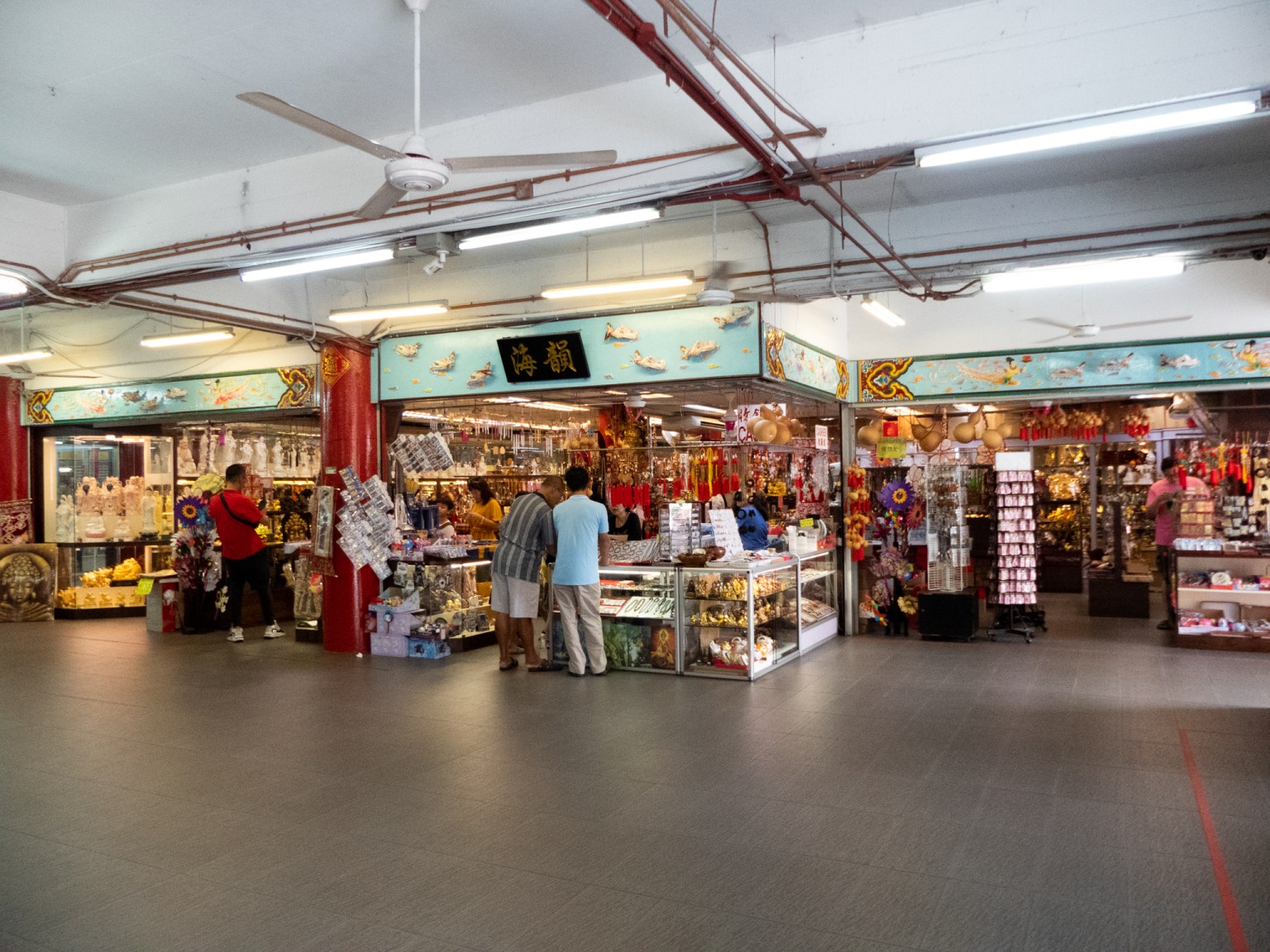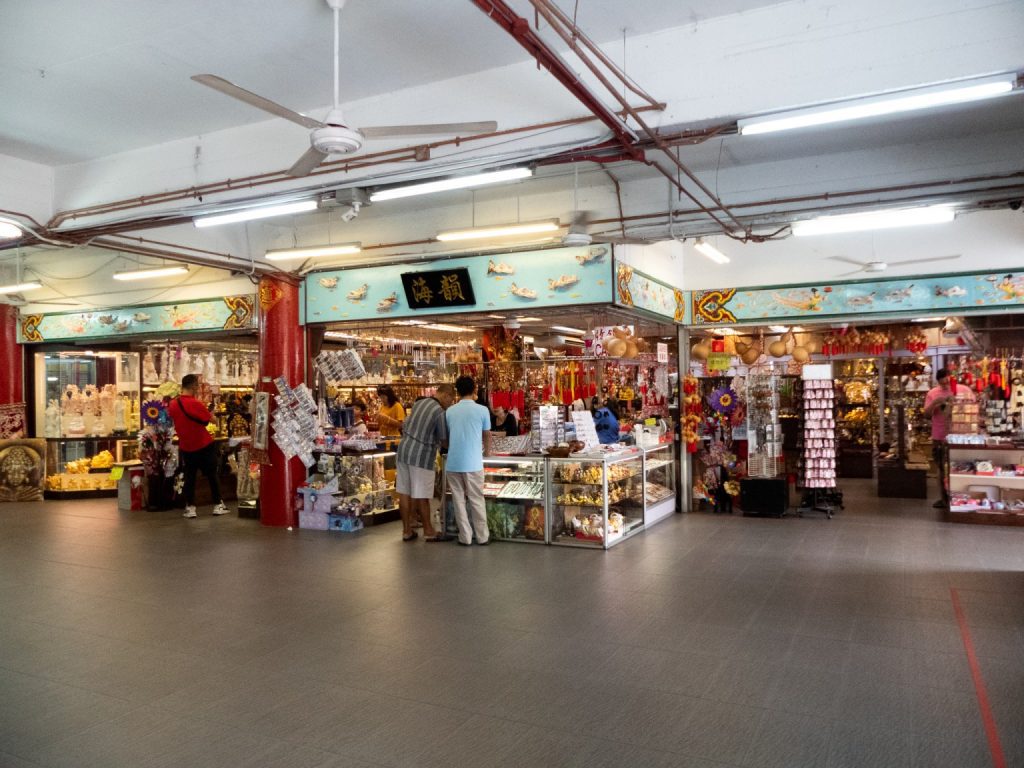 WHAT TO DO IN KL AFTER YOU VISIT THEAN HOU TEMPLE
If you're not ready to go home then why not visit some of KL's other popular tourist attractions? While there is not much to see within walking distance of the temple I would recommend getting a Grab to take you to Brickfields which is fairly close by.
Here you can enjoy authentic Indian food as well as the Sri Kandaswamy Kovil Temple (if you haven't had enough temples for today!). You can stroll through the streets and experience a completely different side of KL. Afterwards, you can go on a shopping spree in Nu Sentral, one of KL's most popular shopping malls.
Need more options? Check out our post about the 11 best Shopping Malls in Kuala Lumpur. This includes Bangsar Village and Bangsar Village 2 which are only a 10-minute car-ride from Thean Hou Temple in the popular area of Bangsar. Here you'll find lots of little cafes, bars and restaurants which are perfect for lunch.
If you're looking for a place to eat closer to KLCC then check out this link for a list of the best secret lunch spots.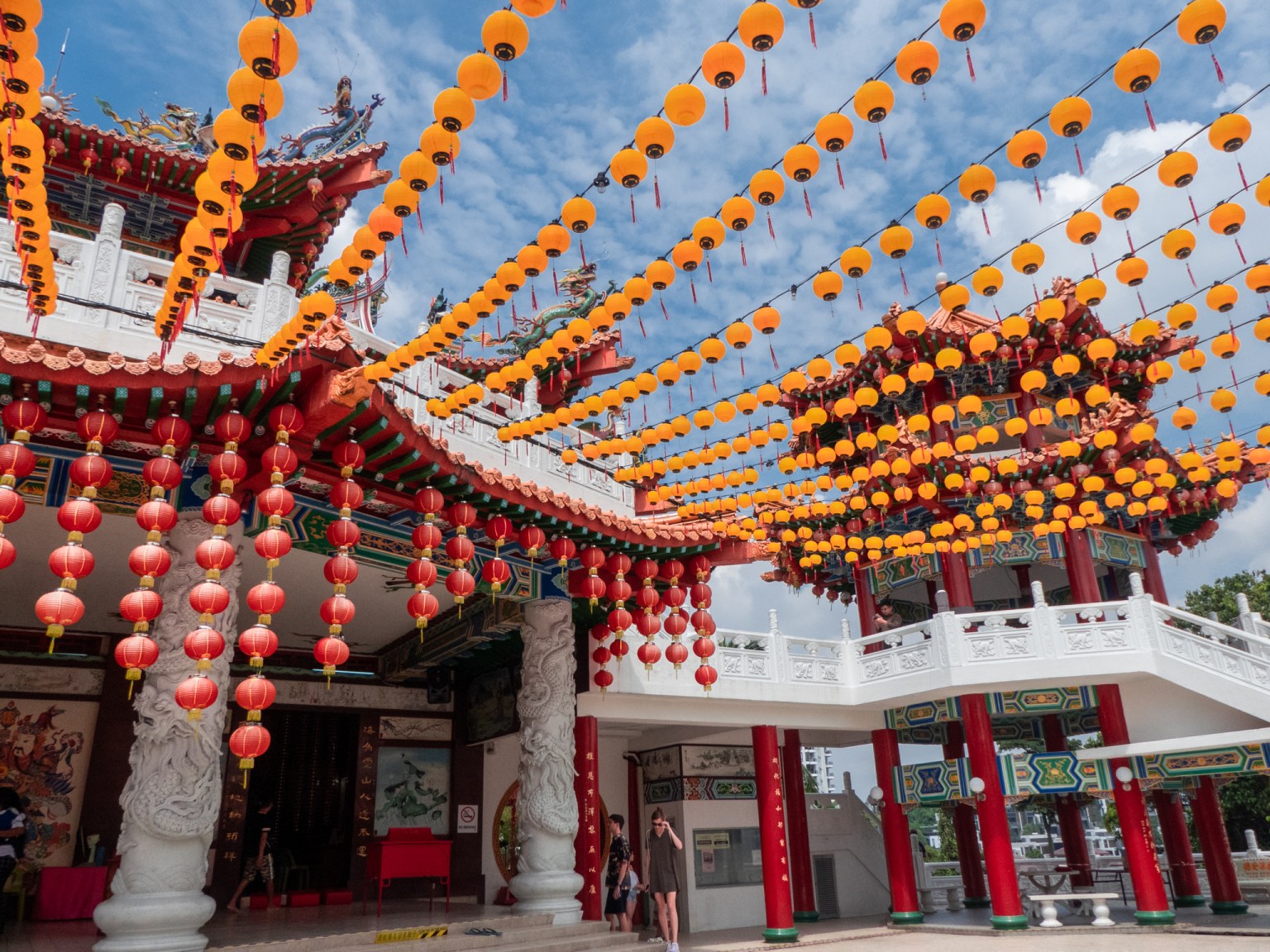 My most important travel tips and resources
Book your flights
Skyscanner is the best website for finding cheap flights since it works like a search engine so you can find the best deals across all airlines.

Book hotels and hostels
• Booking.com: Best world-wide
• Agoda: Best in South East Asia
• Hostelworld: Best for hostels

Book tours, transport and rental cars
•Viator: The best place to book tours, day trips and excursions for al budgets
•12Go: Great for ferries, trains, transfers and buses in South East Asia
•Discover Cars: Best deals for rental cars around the word

Get travel insurance
Every traveller needs travel insurance and I mean every single one. SafetyWing covers you in case of injury, illness or worse and they've got your back if your bag is stolen, flights are cancelled or in case of a natural disaster.

Pay abroad
Ask any traveller, Wise is the best choice when it comes to sending money abroad. They've always got the best exchange rates, lowest fees and their visa card is great for getting cash out or paying abroad.

Things every traveller needs:
➼ Osprey Farpoint 70 Backpack
Detachable daypack, ultra-light, durable and free repairs for life. There's a reason why so many backpackers have this bag.
➼ Packing Cubes
Packing cubes are a gamer changer, keeping your luggage organised and providing tons of extra space.
➼ Power bank
There is nothing worse than running out of battery on an overnight bus journey or a long flight. With a powerbank you can charge your eletronics on the go and make sure you're always connected.
➼ Micro-fibre towel
These lightweight towels are foldable, fast-drying and so useful when you're travelling.

➼ You can find 15 more things every traveller needs here. Some might be a bit controversial but I warned you!
Did I miss anything?
If you have any questions or feel like something is missing from this post please leave a comment below or contact me.